Category archive:

Harvard Crimson
August, 21, 2013
08/21/13
1:16
PM ET
Harvard University has fielded a men's basketball team for the past 113 years.
Never in all that time has there been preseason buzz quite like the anticipation surrounding this season's Crimson team. Never anything close.
Not when Jeremy Lin was in Cambridge. Not in any season since.
And certainly not in any season prior.
Harvard is a legitimate preseason top-25 team. This once-dormant program has shared or won the Ivy League title the past three seasons, been to the NCAA tournament in consecutive seasons and is coming off a win in the NCAAs over 3-seed New Mexico, the school's first victory in the Big Dance.
[+] Enlarge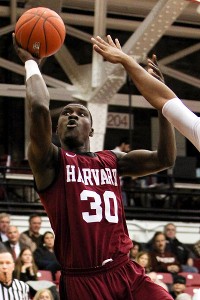 Debby Wong/US PresswireKyle Casey led Harvard in scoring in 2011-12 and now returns, along with Brandyn Curry, after withdrawing from school for a year.
Oh, and they essentially have the whole team back -- plus 2012 starters Kyle Casey and Brandyn Curry, who withdrew from school for a year, after being implicated along with a slew of other students in an academic scandal.
Harvard coach Tommy Amaker said Casey and Curry are back on campus, and have been cleared through the re-admittance process. There is no jealousy with their former teammates who did something they did not the previous season. There is apparently no fear of fighting for playing time.
"These guys were instrumental in recruiting Siyani Chambers and Wesley Saunders,'' Amaker said. "They all have a great relationship. Everyone is asking me who is going to play and I say, 'Why can't they play together?' I think we'll end up doing that. They all care about winning. That's how they are wired.''
Saunders averaged 16.5 PPG last season, while Chambers added 12.9. Two seasons ago, Casey led the Crimson at 11.4 points a game while Curry was the lead guard at 4.9 assists a game.
The Crimson don't get the national pub they deserve, but they certainly have earned respect within the sport the past few years. This offseason, the re-arrival of Curry and Casey hasn't been a major storyline nationally, but it should be. They did what they were told. They sat out a season. They worked. They waited. And they earned their way back.
"We talk about moments that can make for a great opportunity,'' Amaker said. "Oprah Winfrey spoke about moments and setbacks and failure at our commencement. These are Harvard kids. But it's still going to happen to them. It did. This was their moment. Embrace it. This is their time. We have a chance to be one of those stories this year.''
A series of firsts under Amaker have been checked off the past three seasons. A preseason top 25 ranking would be yet another. Reaching the Sweet 16 in March would certainly be a capper.
"We know that these things don't happen very often to programs or teams at our level,'' Amaker said. "For us to have the season we have had the past two years is amazing. We're proud of it. We embrace it. But we're hungrier to have it be even more meaningful. Our goal is to be a contender and to maintain our identity.''
The Crimson don't have summer school. So the players had internships, traveled and mostly played back in their hometowns. They went on trips together and they stayed in touch with each other. Now they're heading back to potentially have one of those memorable, special seasons that can last a lifetime.
The schedule is decent but could have been stronger. The Crimson are in a watered-down Great Alaska Shootout and should be the favorite to win in Anchorage. Road games at UConn and Colorado (on the way to Anchorage) will be benchmark games and should provide evidence of whether they're worthy of a national ranking. A home game against Boston College could be another indicator that the Crimson are the team of record in the state.
Amaker has played at the highest level at Duke, coached at a comparable spot in Michigan and also was at Seton Hall in the Big East. But the Harvard job has given him the most satisfaction of his career and now he's facing what he deemed "for sure" his most anticipated season.
"The whole journey has been meaningful,'' Amaker said. "The impact we've made on the Harvard community has been great. We have helped with the spirit at Harvard. We have added to it. We have connected people. I've heard this from so many people from all walks of life. And that is very meaningful to me.''
September, 11, 2012
09/11/12
12:13
PM ET
Harvard can afford to lose just senior forward
Kyle Casey
. But point guard
Brandyn Curry
as well?
That could be another story.
If they're both gone from the 2012-13 team, the glory of Harvard's first NCAA tournament appearance since 1946 might end up being a one-hit wonder. The Crimson is still bringing in more talent than any other school in the conference, but not enough to deflect the effect of losing two of its best players right before the season.
That was the consensus among folks around the Ivy League on Tuesday after the SI.com report that includes two men's basketball players in an academic cheating scandal at the country's most prestigious institution. According to Sports Illustrated, Casey will withdraw from school this season, while fellow co-captain Curry -- also part of the scandal -- is still deciding.
A Harvard athletic department spokesperson said Tuesday that the school would have no comment on the report or confirm or deny that Casey and Curry are off the team as they potentially reapply for admission in a year.
[+] Enlarge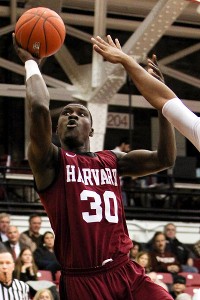 Debby Wong/US PresswireKyle Casey was the leading scorer on the first Harvard team in 65 years to make the NCAA tourney.
If they're both gone for the 2012-13 season, the hit will be severe for the Ivy League favorites.
The Crimson were already losing two valuable seniors (Keith Wright and Oliver McNally) from last season's 26-5 team. Casey is the team's leading scorer and was expected to be the anchor inside, and Curry runs the team at the point.
Harvard does have depth inside, with talented players like Kenyatta Smith and Steve Moundou-Missi. Neither have played significant minutes as freshmen, but the depth on this team (Wesley Saunders, Christian Webster, Jonah Travis, etc.) is still better than most teams in the league. And the Crimson haven't had to rely on one star player the way Princeton had to and will with Ian Hummer.
One source said that Curry's absence means freshman Siyani Chambers, a point guard from Minnesota, would be thrust into the role of leading the Crimson. No one knows if he is up to the challenge in year one. The depth inside, with freshmen recruits Evan Cummins, Mike Hall and Agunwa Okolie, makes the Casey loss somewhat absorbable, but these are newcomers. The Ivy League is an older, veteran league. Taking Casey's leadership out of the frontline means the Crimson will be incredibly young and inexperienced at key positions. If Curry is gone too, then coach Tommy Amaker will have to be even more patient with his playmakers.
The Crimson went to Italy this summer and went 4-0 as they started adjusting to life without Wright and McNally. Now this group will have to find a way to play without Casey and possibly Curry, meaning some of the things worked on overseas won't translate to the start of practice next month.
One source who witnessed the trip said that Saunders was outstanding for the Crimson. Travis made a huge jump, too. But those two players played with Casey and Curry. How will they do without the experience upfront and on the perimeter?
A number of the top players for Harvard were recruited by power-six schools at some point. That bodes well for their development. But this is also a school and place where it's hard to be successful as a freshman.
The Ivy League has improved tremendously recently. Harvard's rise has contributed greatly. As did Cornell's run to the Sweet 16, which gave hope to the rest of the league that Penn and Princeton weren't predestined to dominate every year. Now there is legitimate depth in the league.
One former Ivy coach talked about what a grind the league is these days. The players are intelligent and eat up the scouting report. The gyms are small and everyone is extremely familiar with each team, making it even harder for any team to coast. Harvard learned this the past two seasons in trying to make the tournament. The Crimson lost a last-second tiebreaker game to Princeton in 2011, and only clinched the bid this March when Penn lost to Princeton in the final regular-season game.
One current coach said he would still pick Harvard as the favorite due to its depth. But losing Casey and Curry means it would be a projection based on talent, not on proven production.
No Ivy coaches wanted their names attached to this story. The league and everyone associated with it is very careful not to throw stones at fellow members. But the consensus was that an academic scandal is bad news for all of them. It sullies the reputation of one and hurts the brand for them all.
No one benefits from an academic scandal within the conference, even if it opens up an opportunity to move higher in the standings. The Ivy League needs multiple teams competing for its title and winning key nonconference games. If Harvard can't do that this season, the whole league suffers.
Harvard basketball can recover from this scandal, especially since it's schoolwide and not just limited to the athletic department. Amaker's recruiting has been outstanding and he's got two more good ones already committed for 2013. This shouldn't hurt him going forward. What will hurt is if the Crimson take a step back on the court and can't compete for the title this season.
It's too early to determine whether that will occur. But one thing is for sure: Those highly touted recruiting classes will need to prove their worth -- and a lot earlier than anyone expected.
July, 13, 2012
07/13/12
12:09
PM ET
College basketball coaches love the rule change that allows them to work out their current players for two hours a week if they're in summer school.
A few have said recently that it's the best decision the NCAA has made in more than a decade.
But what if you don't have summer school? What then?
Well, Harvard coach Tommy Amaker found a way to even the playing court a bit: take a foreign trip.
The Crimson, who are coming off their first NCAA tournament trip since 1946 after winning the Ivy title outright, have set their sights on Italy, where they'll be Aug. 18-28.
But the Ivy League and the NCAA still can be stubborn. The NCAA allows incoming freshmen to go on foreign trips, but only if they've been enrolled in summer school in advance of the trip. If there is no summer school -- and there is not at Harvard -- then they can't go.
So the program's heralded four-player freshmen class, which is expected to keep the Crimson atop the league standings, won't be able to go on the trip. That means touted prospects like power forward Agunwa Okolie of Canada and 6-10 center Mike Hall of Atlanta can't get a jump start on the season.
Amaker said it's a shame these freshmen won't experience a foreign trip. The NCAA allows teams these excursions only once every four years, so this group will have graduated by the time the next one comes around.
"In some ways, the kids not being able to go to summer school makes us very attractive,'' Amaker said. "We love that our kids are engaged in other things with internships. We encourage that. They do have internships in Boston and can use the facilities, but we can't work them out.''
Amaker did use his players for an elite camp in June, but the rules were strict.
"They were working the camp and doing normal things a counselor can do at the camp,'' Amaker said. "We can use the coaches and players as demonstrators, but can we work them out in the gym by themselves? No. They can demonstrate drills. But we can't take them on the side and do basketball things with just them.''
The Ivy also limits the number of practice days a team can have before a foreign trip to five. Every other conference can get 10.
"But we will make this as productive and as enjoyable as possible,'' Amaker said. "We will get plenty in during the five days.''
The Crimson did lose seniors Keith Wright and Oliver McNally, but another Ivy League title is the expectation. A strong core returns with Kyle Casey, Laurent Rivard, Brandyn Curry, Steve Moundou-Missi and Christian Webster, in addition to the four freshmen.
As for the regular-season schedule, Amaker said it's still being finalized. Last year, the Crimson began their special season in earnest with a Battle 4 Atlantis tournament title run in the Bahamas. Harvard won't be in an early-season tourney this time around, but will play at rising UMass during the ESPN's Tip-Off Marathon on Nov. 13.
March, 14, 2012
03/14/12
9:35
AM ET
ALBUQUERQUE, N.M. -- Don Swegan reached out to Harvard once he saw the Crimson were on the verge of their first NCAA tournament berth since he played for them in 1946.
After the Crimson failed to earn a bid in 2011, Swegan kept on following the team and sought out head coach Tommy Amaker again last month.
And when Harvard won the Ivy League title outright with Penn's loss at Princeton on March 6, the 86-year-old Swegan suddenly became in demand.
Now Harvard is giving back to him, 66 years after he scored the final basket in a Final Four loss to Ohio State.
Swegan told ESPN.com on Tuesday night that a collection of three or four Harvard alumni, who call themselves "Friends of Harvard Basketball,'' are going to fly Swegan to Albuquerque for the NCAA tournament second-round game against Vanderbilt on Thursday.
"There are three or four guys who are underwriting the whole thing,'' said Swegan. "I'm sort of their guest. I'm going, and I'll stay the whole time.''
Swegan, who lives near Youngstown, Ohio, said a recent ESPN.com story allowed him to reconnect with the only other three living members of the '46 team.
"I reconnected with them,'' said Swegan. "The rest are deceased. The ones that are still alive, we've all connected by phone but none of them can make it. I'll be the only one from that team there.''
Swegan said he was hoping that Harvard would play closer to his home -- in Pittsburgh, Columbus, Louisville or Nashville. Harvard is in the East Region, but in a pod in Albuquerque. If Harvard upset Vanderbilt in a first-round game, it would play the winner of Wisconsin-Montana in the third round.
The Crimson's arrival in the NCAA tournament was celebrated in Washington, too. President Barack Obama went to Harvard Law School and has strong ties to the school with a close friend's son on the squad.
"But I think beating Vanderbilt, after they have been on this run [SEC tournament title] is just too much of a stretch,'' Obama said. "But I'll be rooting for Harvard.''
Arne Duncan, the U.S. Secretary of Education, played at Harvard in the mid-1980s.
"It's impossible to be first in anything at Harvard,'' said Duncan. "They've done it.''
Duncan said the difference with Harvard is that there is now commitment to the institution.
"The president [at Harvard] is 100 percent behind Coach Amaker,'' Duncan said. "There is now prestige and status with the program. That wasn't always the case. I don't have answer why it wasn't there in the past. The building blocks are now there to lead to success.''
Duncan said part of the reason he chose Harvard was the hope that he would be on the team that got the Crimson to the NCAA tournament. But that didn't happen.
"My dream was to be on the first team that went in a long time and go to the tournament,'' Duncan said. "But it never happened. The commitment has always been there for football and ice hockey.''
Duncan credits Jeremy Lin's success in helping break open the gates. Obviously adding Keith Wright and Kyle Casey, two key players on this team, has helped transform this squad.
And now the Crimson have added a steal in recruiting for 2013 with power forward Zena Edosomwan out of North Hollywood, Calif. Getting the 6-foot-8 forward to commit was viewed as a major coup.
"I couldn't be more thrilled for Coach Amaker and the players,'' Duncan said. "They've worked so hard for this and came about as close as you can last year. Princeton hit a great shot [to beat Harvard in a one-game playoff and clinch the Ivy League's automatic bid last season] and broke their heart.''
But Harvard came back this season and won 26 games (12 in the Ivy) to earn a No. 12 seed.
And Swegan will be there to watch how it unfolds.
"I'm looking forward to this,'' Swegan said. "There are going to be so many good teams there.''
• Syracuse did fine without Fab Melo in a win at Cincinnati in late January. More C.J. Fair may make the Orange quicker and even more versatile offensively. The shot-blocking will fade, but the offense won't without Melo.
• I'm not surprised UCLA coach Ben Howland is coming back. The recruiting class is too good next season. And athletic director Dan Guerrero hired Howland. He has to give him one more year to get the Bruins back on track.
• It wasn't a shocker to see South Carolina's Darrin Horn and SMU's Matt Doherty were fired Tuesday. Former Boston College coach Al Skinner has a home in South Carolina and is trying to make a play for the Gamecocks gig. He could do for South Carolina what Bobby Cremins did for College of Charleston. Of course, Wichita State's Gregg Marshall is likely first up on the docket. But Marshall may feel he can get a better job with the Shockers' success. SMU should go get my ESPN colleague Fran Fraschilla. But if the Mustangs choose not to or if Fraschilla isn't interested, look to Marquette associate head coach Tony Benford to make a strong play. He played in the old Southwest Conference at Texas Tech and has deep Texas ties.
• I was waiting for the official story about Rhode Island contacting Wagner to talk with Danny Hurley. If Hurley takes the job, it contradicts what he said about Wagner being the perfect place to coach because there is a strong connection to the kids at a real local, grassroots level.
• Guess who is ready to be a head coach? Former Kansas star and current Jayhawks assistant Danny Manning. If Shaka Smart left VCU for Illinois, Manning would go heavily after that job. If Marshall left, he would do the same at Wichita State. And he wouldn't mind getting a look from Southern Illinois, as well.
February, 27, 2012
02/27/12
9:09
AM ET
Quick hitters for a Monday:
• South Florida coach Stan Heath coached the Bulls to their 11th Big East win, leading them over Cincinnati on Sunday. The Bulls have won five of six games, holding opponents to fewer than 52 points each time. Their loss was to Syracuse, a game in which the Orange scored just 56.
"We grind it out," Heath said Sunday. "We're not great offensively but we guard."
[+] Enlarge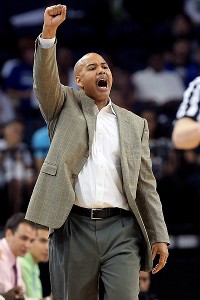 Kim Klement/US PresswireWith commitments for Chris Perry and John Egbunu, USF coach Stan Heath has his frontcourt of the future.
So, do the Bulls deserve an NCAA berth? Their overall résumé says no. The selection committee judges each team individually, regardless of conference affiliation, and the Bulls simply don't have any meat with the best nonconference win coming against Cleveland State. And only one of the 11 Big East wins was against a team in the top six (Cincinnati).
The Bulls have two games left, at Louisville on Wednesday and then home versus West Virginia on Saturday.
Beating Louisville would suffice for a top six Big East win. West Virginia would not.
"I think this team is worthy," Heath said of a bid. "I know we have to continue to win. But 11 wins in this conference? Should we be penalized for beating Pitt [twice] when they had a full deck? Or sweeping Villanova?"
Heath's point is that in a normal year picking up four wins against those two traditional powers would have meant a bid. But Pitt and Villanova will play on the first day of the Big East tournament. South Florida will not. The Bulls won't get a double bye but will likely have a single bye.
"We haven't lost to a team that isn't ranked in the Top 25 since Dec. 28 and the only other teams that can say that are Kentucky, North Carolina and Syracuse," Heath said. "We should get credit for the teams you're supposed to beat."
Notre Dame was awful in the nonconference. South Florida wasn't much better. The Irish have one more win in the Big East than South Florida. But the Irish beat elite Big East teams Syracuse, Marquette, Louisville and South Florida.
"It shouldn't be us or them," Heath said.
And it's not. The Bulls will be judged independently and that's why the 11 Big East wins isn't enough yet due to the unbalanced schedule. The Bulls continue to give themselves a chance. But they're not in yet.
• Drexel won the Colonial Athletic Association for the first time since joining the conference and will be the top seed in the CAA tournament. I've gone on record that I believe the selection committee will reward the Dragons for winning the CAA regular season outright, regardless of the nonconference RPI or strength of schedule. Drexel coach Bruiser Flint agrees. Flint said winning 17 games in a row and 23 out of 24 should count for something. The Dragons have lost one game in 2012 -- at Georgia State on Jan. 2. Flint makes one more strong argument: "We're good." Hard to debate.
• VCU was in the Final Four a year ago and to get back in the Dance, the Rams may need some help. Or will they? VCU finished second to Drexel and could be headed for a 1-2 matchup in the CAA tournament in VCU's home in Richmond. VCU coach Shaka Smart doesn't want to promote the Rams' case, but it's extremely similar to that of Drexel. VCU has won 14 out of 15 and has lost just three times in 2012. VCU took a while to figure itself out after losing most of the core from last season's team. One thing Smart said is that he wishes he could have replayed some of the nonconference games. Smart said this season's team had a better regular season than a year ago. And he quoted Butler's Brad Stevens that the pressure is on teams like VCU and Butler during the regular season but once they get in the NCAAs it's all off. All true.
• Harvard is potentially going to have to earn the NCAA bid again the hard way -- through a playoff game. The loss to Penn on Saturday means that the Crimson will have to sweep Columbia and Cornell on the road and then wait to watch Penn go to Princeton on March 6. That's assuming Penn sweeps Brown and Yale at home. If the home teams prevail and Penn beats Princeton, Penn will play Harvard in a playoff for the bid. If Princeton beats Penn and the Crimson win out, Harvard wins by not playing.
• Harvard coach Tommy Amaker said the Ivy is crazy like all the other conferences. And he won't dare look ahead past Columbia.
• Penn's Zack Rosen has been "super human," according to the Quakers' staff. Penn's staff firmly believes it has the defense to win these three games to force a playoff but this is still a tall task.
• Purdue coach Matt Painter said that putting more shooters on the floor offensively and playing better position defense has been the difference for the Boilermakers. Purdue clinched a bid -- if it was ever in doubt -- by winning at Michigan over the weekend.
• Wichita State coach Gregg Marshall isn't taking anything for granted with the Missouri Valley Conference title. The bracket has potholes for the Shockers. Indiana State could be the first opponent if it gets past Southern Illinois. Northern Iowa, which faces Illinois State, could be next, and then a possible final game against rival Creighton. "It is no easy road," Marshall said. "Indiana State won it last year. UNI was 11 in the RPI coming out of the nonconference. There are going to be a lot of tough teams."
• Butler has quite a road to get back to the NCAAs as the Horizon League automatic qualifier. The Bulldogs have to beat Wright State and then possible nemesis Milwaukee before playing at champ Valparaiso in a possible semifinal. "It's a tough draw and we look forward to the challenge," Butler's Brad Stevens said. Does this team have the ability to win three games? "We will find out."
• Georgia has won at Mississippi State and upset Florida at home. The Bulldogs could be a spoiler in the SEC tournament. How has Mark Fox done this so far? "Without [Trey] Thompkins and [Travis] Leslie we've been a jump shooting team," Fox said. "When it goes in, we can compete with most people."
December, 8, 2011
12/08/11
9:11
AM ET
STORRS, Conn. -- No other game in New England this season will match Harvard-Connecticut.
Sure, the Huskies will play some marquee Big East home games after Jan. 1. But no other contest between two New England schools will come close to Thursday night's game (ESPN2/ESPN3, 7 ET).
Harvard has its best team ever. The Crimson are ranked for the first time in school history at No. 24. Connecticut is at No. 9 and has the talent to reach another Final Four. It's the first game between ranked New England schools since UConn-BC in 2005 and just the second since a 1997 game between UConn and Providence.
The two teams could have played in the Battle 4 Atlantis title at Paradise Island in the Bahamas two weeks ago, but Central Florida upset UConn in the semifinals.
"We thought we'd be playing Florida State in the championship game, but then Harvard shocked everybody and ended up winning the whole thing,'' said UConn freshman center Andre Drummond. "Now we can see what they're all about Thursday.''
[+] Enlarge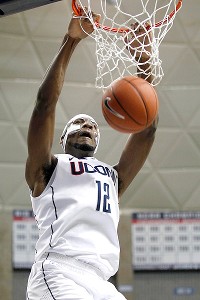 David Butler II/US PresswireAndre Drummond and UConn look to extend their 38-game nonconference home-court win streak against Harvard.
Drummond admitted that he wasn't well-versed in Harvard hoops. He wasn't sure about his opponent in the middle, either. The Crimson's Keith Wright, a preseason Wooden All-American candidate, certainly knows about Drummond and said he exchanged greetings and salutations at Atlantis. But Drummond shouldn't be faulted for not having heard of Wright or anyone else on Harvard. This team lacks a known commodity nationally -- unlike when it had guard Jeremy Lin two seasons ago.
"Our plan was to play UConn down there, but no one expected them to lose to Central Florida,'' Wright said. "Our focus was to go down there and win it. It will be nice to go up against those guys. It should have been the championship game.''
The odds are stacked against the Crimson, as UConn has a 38-game home-court nonconference streak. The Huskies have won 101 straight regular-season games in November and December at Gampel Pavilion in Storrs, although that is largely because of a soft slate of home games.
Harvard's last win over UConn was in 1972, but forget about that stat. This Crimson team can't be compared to their teams from the past. The Crimson are essentially intact after winning a share of the Ivy League title last season with Princeton. Harvard coach Tommy Amaker decided to raise a banner, even though the Crimson didn't win the title outright or get the league's tourney bid.
They are the overwhelming favorite to clinch the championship and the school's first NCAA tournament berth since 1946 this season.
"No one likes to share a championship,'' Wright said. "No one likes ties. But we made history, and we're aware of our accomplishments. Tying for the Ivy League title gives us even more motivation.''
The Crimson won't have another game the rest of this season, let alone in the nonconference schedule, that they won't be expected to win. That is also new territory for them. This program wasn't a given to do much of anything before Amaker arrived in Cambridge, Mass.
"It's just been so awesome for the seniors on this team,'' Wright said. "[To be ranked] is a testament to all the hard work, and it started from losing to Princeton at the buzzer [in last season's playoff game] and then getting beat at Oklahoma State [in the NIT] like we did. We've had a dedication to defense. We have guys that have really bought in and are very unselfish.''
Harvard has been stingy defensively, as the 14-14 halftime score against Florida State in the Bahamas indicated. The Crimson are allowing 54.4 points a game, 10th-best in the nation. And they shoot 72 percent at the line, which will come in handy in a tight game.
If Wright has to defend a player like Drummond or Alex Oriakhi, that will be his toughest test of the season.
"It's a team effort, and we all have to sacrifice on the defensive end to block out and keep those guys off the glass,'' Wright said. "It was similar to the Florida State game. Those guys had inches on us at every position. But it was a team effort to keep them off the glass. We have to give the same effort to keep those guys from playing volleyball on the backboard.''
Harvard returns all five starters. UConn has sprinkled in two key freshmen in Drummond and guard Ryan Boatright to complement returnees Jeremy Lamb, Oriakhi and Shabazz Napier. Boatright, who was suspended for the first six games of the season, has given the Huskies a major pop off the bench. He scored 23 points in a win over Arkansas on Dec. 3. Drummond is averaging a modest 7.3 points and 6.3 rebounds, which is fine with him as long as he's contributing.
"I'm not concerned about scoring points,'' Drummond said. "My main goal is to stop the other team from scoring. We can't win a game if the other team is scoring well.''
Drummond was recruited by fellow elite programs Kentucky and Pitt, but his hometown UConn won out. The Huskies are filled with top-level talent. Harvard is recruiting at a much higher level, but Wright was a typical Ivy League recruit. His suitors came from the Ivy as well as other lower-level regional schools and a brief flirtation from Virginia.
That doesn't matter. This Harvard team is experienced, has grown together and is prepared for a challenge of this nature. A win against UConn would ensure the Crimson will stay in the top 25 for the foreseeable future. But if they push the Huskies and lose, they shouldn't be judged too harshly. This is a team that isn't going away any time soon.
"They are ranked; they have good players,'' Drummond said. "I don't know anything about this Harvard team or its history. So, let's see what happens with the outcome [Thursday night].
The outcome is unknown. But the lead-up is indisputable -- New England has a marquee game for the only time this season.
December, 1, 2011
12/01/11
12:02
PM ET
Post-tournament games haven't been good to some teams.
• Duke had the toughest post-tourney matchup at Ohio State. And the Blue Devils lost -- big.
• Dayton followed its Old Spice Classic win by getting smoked by Buffalo -- at home.
• Saint Louis added a game at Loyola Marymount in nearby Anaheim on the back end of its 76 Classic title game. SLU, fresh off a No. 25 ranking, lost to LMU.
Will Harvard be next in line to fall on Thursday night?
Yes, it's a new world when there is legitimate reason to pay attention to a Harvard at Vermont game in Burlington.
The Crimson won the Battle 4 Atlantis and are thisclose to joining the top 25. They have a big-time game next Thursday at Connecticut, which would be an acceptable loss in the maturation of a possible NCAA-bound team.
[+] Enlarge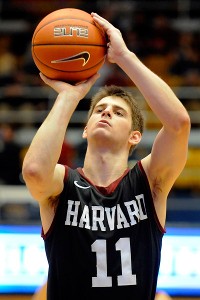 Mitchell Layton/Getty ImagesDon't expect Oliver McNally and Harvard to overlook Vermont.
But what will the perception be if the Crimson lose at Vermont?
Well, it shouldn't be diminished all that much. The Catamounts are off to a 4-2 start under new head coach John Becker. Vermont won in overtime at Old Dominion and squeaked out a win over Siena. The losses -- at downtrodden South Florida and to NEC favorite Long Island University -- aren't horrible.
Vermont is more than capable of fending off Boston University and others to ultimately win the America East. For Harvard, beating the Catamounts would be akin to what Creighton has consistently done when challenged -- win games it should, even on the road, if it is to be taken seriously at a high level. The Bluejays won at UAB, a team that is playing subpar at this juncture in Conference USA. But that's still a road win. They also beat a struggling Iowa squad on a neutral court. But their first real quality win came late Wednesday night in an 85-83 comeback win at San Diego State. That's the same Aztecs team that won at Arizona. Harvard winning at Vermont won't be on equal footing with Creighton's victory over San Diego State. But it would fall in line with what the Crimson have done previously in winning at Loyola Marymount, which beat a mediocre UCLA team and knocked off an elite A-10 squad in the Billikens.
Harvard senior Oliver McNally made it clear en route from the Bahamas last Sunday that the Crimson wouldn't overlook Vermont. He said that the game should have an Ivy League feel to it, and he fully expected the Catamounts to treat the Crimson with respect. The target is clearly on Harvard's back because beating the Crimson is now a quality win for the opponent. "We're really excited about this," Becker said. "Harvard is very good and playing real well. They understand that this will be a challenge. They realize that they're coming into Patrick Gym and it's not going to be easy for them. I don't think Coach [Tommy] Amaker will let them come out flat."
In the strange twist of scheduling, Becker saw the Harvard win at Loyola Marymount -- a key sign that the Crimson are no fluke -- and then watched LMU-Saint Louis since Vermont visits SLU on Dec. 7. He noticed the poise the Crimson play with on the road. "I told our kids that this is a great opportunity for us," Becker said. "We feel that we have a really good mid-major program, one of the best in the last 10 years. Outside of UConn, no other program in New England has won more games. We have a lot of pride. Harvard has been coming on strong under Coach Amaker. But we've got a really good program. We've got a lot of good players."
Vermont hosting Harvard is a quality game, one that will have significance for the Crimson.
Yes, that statement is being written on Dec. 1. And it's true, Vermont would still have to win the America East tournament to earn an NCAA berth. There is always an outside shot if Harvard has a gaudy record that it could be in the mix for an at-large berth. Winning games like Thursday, though, are a must.
"Harvard at Vermont, it's great. It will be a great environment," Becker said. "It's early in the year but we can show that we can compete. This is really exciting for us, a great opportunity. I think you'll see where some of the mid-major programs are. The town is exciting. Burlington is buzzing over this game."
November, 10, 2011
11/10/11
10:51
AM ET
The elite powers have resurfaced at the top of the Top 25 and across the high-major conferences.
A few schools, like Xavier, Gonzaga and Memphis, as well as newcomers Baylor, Marquette and Vanderbilt are expected to challenge with deep NCAA tournament runs and possible Final Four berths.
But what about the programs that missed the NCAA tournament a season ago? The ones that appear destined to rise this season?
A run to New Orleans might not be prudent to predict. But then again, no one had VCU headed to Houston last April. But even the Rams didn't have a consistent regular season. VCU squeaked into the field and then enjoyed a magnificent postseason run. Connecticut, another team that had been nearly as erratic, albeit against superior competition, won the national title.
Below are 10 programs headed for breakout seasons. If they fall flat, they may have no one to blame but themselves. The talent is in place. The landscape is open. And the opportunity exists for any team in this group to make the bracket its own for a weekend or two in March.
[+] Enlarge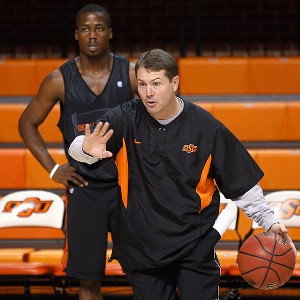 AP Photo/Sue OgrockiThe addition of freshman LeBryan Nash makes Travis Ford's Cowboys a team to watch in the Big 12.
Oklahoma State: The Cowboys are picked to finish in the middle of the pack in the Big 12 -- and with good reason. Baylor, Texas A&M, Kansas and Missouri should all be deemed favorites. Texas arguably could finish higher than the Cowboys. But Oklahoma State has one of the top freshmen in the country who few discuss outside of the region in LeBryan Nash. He could be a star by midseason. Oklahoma State coach Travis Ford has assembled a cast that is more apt to run this season and cause havoc the way he's envisioned. The Cowboys have a loaded schedule after picking up a challenging game versus Pitt at Madison Square Garden on Dec. 10. Oklahoma State may still finish as low as fifth or sixth in the Big 12. But if they get into the NCAA field, consider the Cowboys a potential breakthrough team with an ability to cause problems in March.
Marshall: Memphis is the clear favorite in Conference USA. But the Thundering Herd have two guards -- DeAndre Kane and Damier Pitts -- who can match up with any of the players on the Tigers. Marshall has plenty to prove to be worthy of a team that should be taken seriously. There are a number of nonconference games -- Belmont, Iona, West Virginia and Cincinnati -- that will show if Marshall is worthy of significant hype. And of course the Herd must make Huntington a tough place to play and be consistent to nudge at Memphis throughout the winter. If Marshall does that, you'll take the Herd seriously in March.
Harvard: The Crimson are the pick to win the Ivy. They technically won a share of the regular-season title with Princeton last season. But Harvard lost the playoff game against the Tigers on a buzzer-beater and then got blasted at Oklahoma State in the NIT. Harvard is finally ready to be the Ivy leader from the season's start to its finish. Coach Tommy Amaker has the core of his team returning, and Harvard can compete with most teams in the country. Keith Wright is a legit All-America candidate. Kyle Casey, Brandyn Curry, Christian Webster and Oliver McNally are all experienced. The Crimson can make a name for themselves with a win at Connecticut on Dec. 8, easily the most recognizable game on the schedule. But if not, don't fade on Harvard during the winter. This team will be relevant in March and a trendy first-weekend upset pick.
Detroit: Slaying Butler in the Horizon League has been like the search for the Holy Grail for conference opponents. Milwaukee thought it had the Bulldogs beaten when it hosted the conference tournament title game, only to lose. Detroit has the personnel to dethrone Butler, even with Eli Holman's status in doubt. The majority of coaches in the league tab the Titans as the team to beat and the most talented with Ray McCallum Jr., Chase Simon, Nick Minnerath and Doug Anderson. Members of the Valparaiso staff said last week that the Titans look like a formidable Big Ten team when they step on the court. Detroit has the opportunity to make the NCAAs with a solid schedule. Get there, and the Titans will be a hard out.
Creighton: Greg McDermott was no fool when he left Iowa State on his own terms and seized the Bluejays' job once Dana Altman went to Oregon last year. McDermott had been in the Missouri Valley at Northern Iowa and seen the success and potential of arguably the top job in the conference. The Bluejays have a number of hidden gems who are flying under the national radar in Doug McDermott, Greg Echenique and Antoine Young. The problem for Creighton is that the schedule could have been stronger. It may need to have a significant run during the Valley tournament, which won't be easy at all due to the strength of Wichita State and Indiana State, to ensure a bid. But once they're in, the Bluejays have the personnel in the right positions to be a serious pest.
New Mexico: Coach Steve Alford is going through a bit of a renaissance in Albuquerque. The Lobos had a big-time run two seasons ago but then took a dip last season. The ability to bounce back quickly will be on display in 2011-12. Alford has found the right mix of four-year transfers (Drew Gordon and Demetrius Walker), hidden gems out of high school (Kendall Williams and A.J. Hardeman) and an international sharp shooter (Australia's Hugh Greenwood) to put together a conference champ. The Lobos will have to manage the nonconference well and get past UNLV, but this team has the ability to be a second-weekend squad in the tournament.
Saint Louis: Rick Majerus had a horrendous personal year with the death of his mother and multiple injuries and illnesses. He's also had to deal with the suspensions of his two best players. But he seems energized this fall and has a team that is committed to making serious strides in the A-10. Kwamain Mitchell is back after a suspension. He joins Mike McCall and Kyle Cassity as the core of this team. Majerus put together a challenging slate of nonconference games, giving the Billikens ample tests to see if they're worthy of the praise. Xavier and Temple are the standards in the A-10. St. Bonaventure is a legitimate upstart with perhaps the best all-around player in the league in Andrew Nicholson. But Saint Louis should a formidable team, poised to get Majerus back to the NCAA tournament.
Virginia: The plan at Washington State was to get players out of high schools and take chances, in hopes they develop and reach their potential. The Cougars did, and Tony Bennett got them to the NCAA tournament. Wazzu's program isn't close to Virginia's. The Cavs have more resources, finances and access to players. Still, Bennett hasn't deviated from his plan. And now that Mike Scott is healthy inside, Bennett has a team that gets him, his style and his commitment to defense. The Cavs should be able to score and close games, rather than sit on the doorstep, unable to get significant wins. The timing is perfect for Virginia, too. The ACC is in a rebuilding mode outside of North Carolina, Duke and to some extent Florida State. The rest of the league is in flux, giving Virginia ample chances for wins and to establish itself as a top-four team en route to the NCAAs.
Oregon: The Ducks have the Nike resources, the state-of-the-art everything and have been consistently recruiting talented players to the Northwest from urban centers in the Midwest -- regardless of the coach. Dana Altman also fully understood the need to infuse a few transfers, one is a risk in Wake Forest's Tony Woods, and another is a lock for success in Louisiana Tech graduate Olu Ashaolu. The infusion of newcomer Jabari Brown, who was a hit on a summer trip to Italy, is a game-changer for the Ducks. Altman said Brown still needs to be consistent, but who doesn't at this stage in the season? Oregon has a challenging schedule, which includes opening at Vanderbilt, so be patient with the Ducks. In a Pac-12 where there is no clear favorite (not Cal, UCLA, Washington or Arizona), the opportunity is there for Oregon to surprise. The Ducks won the CBI tournament over Altman's old team, Creighton. The natural next step will be the NCAAs.
Long Beach State: Dan Monson has had a long road back to the point where he feels comfortable in the game. He left Gonzaga to try to rebuild Minnesota after NCAA violations. He wasn't able to turn that program around on a consistent basis. Now he's done that at Long Beach State. The 49ers were atop the Big West last season but didn't win the conference tournament. Long Beach will have to fend off Orlando Johnson and UC Santa Barbara again, but with Casper Ware and Larry Anderson, the 49ers should prevail. Long Beach has a monster nonconference schedule that could set up an at-large berth if it falls short in the Big West tourney. Long Beach will have the talent to win a game in March.
October, 18, 2011
10/18/11
9:00
AM ET
BOSTON -- Harvard will hang its Ivy League championship banner at Lavietes Pavilion.
According to the Ivy League, this is completely legitimate. The Crimson did share the Ivy League regular-season championship with Princeton, which matched Harvard with a 12-2 conference mark last season. The Crimson get rings if they want -- just like Princeton. The league doesn't issue co-champs on the banner, so both programs are Ivy League champions.
But Princeton won a one-game playoff between the teams, earning the NCAA tournament automatic bid on a shot at the buzzer by Douglas Davis that denied the Crimson their first NCAA tournament berth since 1946.
Harvard coach Tommy Amaker celebrated the title. He's making sure that everyone knows the Ivy League championship is a big deal in Cambridge. But the problem is that the rest of the world and even his own players know the NCAA tournament berth is what matters most.
"For our school, winning the Ivy is, in some ways, maybe as big as going to the tournament,'' said Amaker, who has transformed the Crimson into legit Ivy title contenders the past four seasons with players like former standout Jeremy Lin to current preseason Wooden All-America candidate, senior forward Keith Wright. "We have been to the tournament in 1946 but never had a chance to put up an Ivy League banner. There was a hollow feeling at Harvard, and they don't have to feel that way anymore.''
[+] Enlarge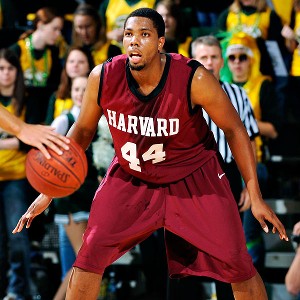 Rafael Suanes/US PresswireForward Keith Wright thinks Harvard has all the pieces in place to make an NCAA tournament run this season.
But the Ivy League championship didn't turn into an NCAA berth. Like it or not, that's the barometer for all Division I programs.
"I'm very thankful this is my senior year, and Coach Amaker is here for another chance to win an Ivy League title since that one [last season] wasn't a legit one,'' said senior co-captain (along with Wright) Oliver McNally. "We want to make the tournament. It's all about that. We're fortunate to come back after a brutal way to end the season. Our No. 1 goal is to make the tournament. This thing really doesn't go away. You'd like to say it does. But until we do something this year, it's not going to go away.''
Harvard had a 62-61 lead before Davis hit the leaning jumper. The Crimson went to Oklahoma State in the NIT and got smacked 71-54, while Princeton nearly knocked off Kentucky in the NCAA tournament's second round.
"Everybody talks about it, from the grocery store, to Target, to the airport, it's tough,'' said Wright. "It was 2.8 seconds from us going to the Dance, going to the tournament. It's a tough loss, but it's motivating us. We lost at the buzzer to Yale. If we take care of our business against Yale, then maybe this playoff game wouldn't have happened.''
And the Crimson have a window to win it this season with Wright anchoring a balanced team.
"Everybody will be disappointed if we fall short,'' Wright said last week during a Boston-area media day, where the total number of media members in attendance far surpassed the other five Division I schools in the state of Massachusetts. Harvard is the only school in the state, save Boston University out of the America East, that even has a chance to make the NCAAs this season, as Boston College (ACC), Holy Cross (Patriot), UMass (A-10) and Northeastern (CAA) are all rebuilding.
"I'm not going to be happy if we fall short,'' said Wright. "No one will be happy.''
Wright said the Crimson have all the pieces to make a run this season. He went on and on about the impact of newcomers Wesley Saunders , Jonah Travis and Corbin Miller. He said Christian Webster and Kyle Casey have shot exceptionally well and called Brandyn Curry the best point guard he has ever played with at Harvard.
"Jeremy was an all-guard; I'm saying the best point guard,'' Wright said of the Curry-Lin comparison. "The targets are on our back. Princeton was expected to win it last year and Cornell the year before. Now everyone will want to beat Harvard.''
Former Ivy League coaches Fran Dunphy, formerly of Penn and now at Temple, and Boston College's Steve Donahue, a three-time Ivy winner at Cornell, said they aren't surprised by Harvard's ascension because of its rich academic history, the brand and the new desire to be competitive. Dunphy was extremely close with former Harvard coach Frank Sullivan and was convinced at the time that if given the chance, Sullivan could have succeeded. But he was out and Amaker has taken the talent to another level.
But now what?
Losing to Princeton will be a huge motivation for the Crimson, according to Donahue.
"It's the best motivation for them since they've got them all back,'' Donahue said. "As a coach, you've got their attention as opposed to if they had won it. I think they have a chance to be really good because of it.''
Dunphy said that the Ivy League schedule, though, will create tension every weekend because there is little room for error. That's what Harvard found out in losing to Yale, which helped force the one-game playoff with Princeton.
"That means every one of the 14 games is critical,'' Dunphy said. "There is no more fair league in the country than the Ivy, and it's not easy. Tommy is now on the doorstep.''
A year ago, Harvard flirted with an at-large berth with an RPI below 40 and wins over Colorado and Boston College -- two bubble teams that didn't get bids last season. The Crimson have an interesting schedule in 2011-12. The road game at Loyola Marymount (Nov. 19) is certainly winnable and would help, while a road loss to a bottom-level WCC team could do some damage to the perception. Harvard has a chance to face Florida State or Connecticut in the Battle 4 Atlantis in the Bahamas Nov. 24-26. Leaving the Bahamas at 2-1 (the Crimson open against Utah) is probably critical.
A road game at Connecticut (Dec. 8) will help the RPI and even road games against Vermont (Dec. 1), Boston University (Dec. 10), Boston College (Dec. 29) and Fordham (Jan. 3) are winnable and will go a long way to determining how serious Harvard should be taken as a possible at-large. At-large teams from a power-six league would be given demerits for losing these type of games (save UConn), so Harvard should too if it can't win against rebuilding teams.
Amaker said the Crimson will have their hands full with the schedule. And they will. But if they are to be treated like the big boys, winning these games is a must before the Ivy League schedule begins with Princeton and Yale nipping at them once again.
"We've earned being selected to win,'' said McNally. "But we can't take it too seriously. We've put ourselves in this position. We experienced a lot of success, some that the program had never had. But if we needed any motivation to do things, then the last two games of last season gave us that.''
March, 10, 2011
03/10/11
5:33
PM ET
Quick hits for Championship Week Thursday:
1. Harvard coach Tommy Amaker checked his voice mail Thursday morning and listened to Don Swegan's message. Amaker paused for a moment and realized the enormity of what the Crimson have accomplished and what could still come Saturday.
[+] Enlarge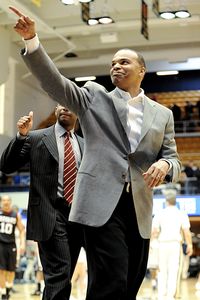 Mitchell Layton/Getty ImagesTommy Amaker is one win away from taking Harvard to the Big Dance.
The 85-year old Swegan was a member of Harvard's only NCAA tournament team in 1946. The Crimson made the NCAA tournament that season, eight years before the Ivy League was formed. Harvard tied for its first-ever Ivy League title when it beat Princeton last Saturday in Cambridge, Mass. Princeton's win over Penn on Tuesday means the Tigers and Crimson will play Saturday (ESPN3, 4 ET) in rival Yale's gym for the Ivy's automatic berth to the NCAA tournament.
Amaker said Swegan was excited about the Crimson winning the Ivy, in addition to having a chance to be in the NCAA tournament for the first time since he played.
"You can tell how big this is getting," Amaker said in relaying Swegan's phone call. "People that played a role in this program all feel a part of this. This has skipped generations, not years, to get this program to this level."
Amaker said it's still hard to grasp that winning the one-game playoff with Princeton would mean an NCAA berth. But taking over the dormant Crimson wasn't going to be easy so why should getting a bid be easy? Jeremy Lin's presence the past few seasons put the Harvard program on the map nationally. Lin departed to the NBA but the Crimson are actually more balanced this season and had the Ivy League Player of the Year in junior Keith Wright.
But Amaker said the Crimson should at least be in the conversation for an at-large bid, even if they lose to Princeton. The Crimson are 23-5 overall, with wins over possible NCAA teams Colorado at home and Boston College on the road. Four of the losses were to likely or possible NCAA teams in UConn, George Mason, Michigan and Princeton -- all on the road. All-Ivy forward Kyle Casey wasn't at the Mason game because he was injured and three of Harvard's losses were by a total of eight points. And more importantly for the number folks, the Crimson have an RPI of 34, which is higher than BC, Virginia Tech, Colorado and others.
"We're gaining momentum now," Amaker said of the program. "This has been fun and exciting. This is what we envisioned. I'm hoping we can take this to a different stage."
2. The NCAA should be applauded for how quick it has been to defend itself and offer further explanation in response to violations, especially when schools protest the timing and the penalties. But the NCAA needs to change the process. The NCAA is pointing the finger at Baylor for the timing of the Perry Jones III suspension Tuesday. NCAA spokesperson Erik Christianson told ESPN.com that the NCAA had notified Baylor in January of potential eligibility issues with Jones. But Baylor didn't declare Jones ineligible until Monday and then sought reinstatement from the NCAA. Baylor, not the NCAA, declares a student-athlete ineligible and then has to seek reinstatement from the student-athlete reinstatement committee. It's a technicality. The NCAA is essentially telling the school that if it doesn't rule the player ineligible and plays him then the school is subject to forfeiting games in which the ineligible player competes. So Baylor has no choice. What is hard to accept is that this information was available only in January when the issue occurred prior to Jones' enrollment. That's an issue for the NCAA.
As for Baylor, if it knew that Jones could be ineligible in January then it should have declared him ineligible then and sought reinstatement -- which probably would have come -- so that the postseason wouldn't have been a disaster. Now Baylor is out of the Big 12 tournament and off the NCAA tournament selection committee's board since its loss to Oklahoma, in which Jones didn't play.
3. I still think the Big East made a major mistake by sending all 16 teams to New York. Connecticut will have to win five games to win the tournament. That's simply ridiculous for one of the best teams. The Big East Conference, notably the coaches who fought for this, put their own at risk. UConn had no business playing Tuesday against DePaul. That game did nothing for the Huskies. It could have only hurt UConn.
4. If Colorado makes the NCAA tournament field then two coaches who were at Northern Colorado last season will be in the field: Buffs head coach Tad Boyle and Northern Colorado coach B.J. Hill. This has been quite a revival of hoops in the area with Colorado State having one of its best seasons in years.
5. I still would be high on Pitt and Kansas State going into the NCAAs despite conference losses, and I'm not down on teams that struggled Thursday like Kansas and BYU.