Category archive:

Towson Tigers
Colonial Athletic Association commissioner Tom Yeager called Southern Conference commissioner John Iamarino on Thursday to give him the professional courtesy of knowing that he would be contacting a few of Iamarino's member schools, widely believed to be Davidson and College of Charleston.
[+] Enlarge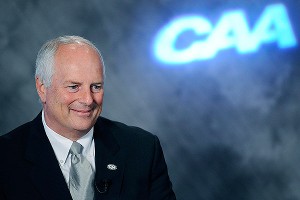 Rafael Suanes/US PresswireCAA commissioner Tom Yeager has seen three member schools depart in recent weeks.
"I appreciate that and I'm hoping to convince them [to stay]," Iamarino said. "We've got league meetings coming up [May 29-June 1 in Asheville, N.C.] and like every other conference, except the Ivy League, I suspect, 85 to 90 percent of the issues will be centered around realignment issues."
The trickle-down effect of conference realignment seems to never end. The CAA loses anchor programs VCU (to the Atlantic 10 in the fall of 2012) and Old Dominion (to Conference USA in the fall of 2013). Those two moves came on the heels of Georgia State moving to the Sun Belt.
The CAA has to do something to maintain relevance, and the Southern Conference, and possibly the America East Conference, are ripe for the pickings. (America East commissioner Amy Huchthausen said the league won't comment on any overtures from the CAA or anyone else toward its programs, such as Boston University and Stony Brook.)
"[The CAA] is such a Southern league I think they have to replace them with Southern teams," Delaware coach Monte Ross said. "I think they have to have that Southern flavor that the league is known for, and Davidson is a quality name and program."
Said Towson coach Pat Skerry: "But we've got to get someone in the North, too. Stony Brook could be a viable option."
Davidson and College of Charleston are the most obvious choices.
Iamarino is well aware of the interest in his league's programs. But he said he has every intent of reminding the schools that they are in a competitive league and the proximity of the member schools offers low travel costs.
"We're all within the geographic footprint," Iamarino said. "We avoid missing class time. The fans can travel to road games. That's why conferences were normally put together in the first place."
Iamarino said the exit fee is $300,000 for notice of two years or more and $600,000 for less than two years.
Charleston athletic director Joe Hull said the school doesn't have a position on the matter yet and said his school was happy in the Southern Conference.
Davidson athletic director James Murphy said it wouldn't be appropriate to comment on conference affiliation. But head coach Bob McKillop was willing to speak.
He said that 25 percent of the 1,800 students on campus play a sport, meaning that a move to the CAA affects a high percentage of the student population.
[+] Enlarge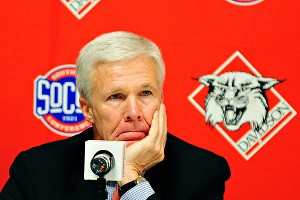 Jeff Siner/Getty ImagesDavidson head coach Bob McKillop doesn't necessarily believe the Wildcats' prospects would be improved by a move out of the Southern Conference.
"We have rigorous academic standards," McKillop said. "We've been to the NCAA tournament five times and the NIT twice in the past 10 years. We present a unique situation. But any decision will be made at the presidential level, not just a basketball decision."
Translation: Davidson is doing just fine in the Southern and doesn't necessarily need to move to the CAA. It also means that their options may not be limited to the CAA. The CAA needs Davidson to beef up its membership and provide a consistent competitor for the likes of George Mason and Drexel.
"VCU left the Colonial for the A-10, but who is to say the A-10 isn't going to change in the next three to four months? Who is to say the Big East or who is to say the Colonial won't change more?" McKillop said. "The dominoes have been blowing from the BCS. There are so many kinds of hypotheticals. Maybe James Madison and Delaware will go to the MAC in football or William & Mary to the Patriot."
Northeastern coach Bill Coen said he's hopeful that there are no knee-jerk reactions in the CAA.
"I think everyone needs to take a breath," Coen said. "You have to guard against doing something quickly that might not be a long-term solution."
George Mason athletic director Tom O'Connor said the onus is on the remaining schools to continue to show a commitment to remaining in the league.
"We all need to be proactive," O'Connor said. "You can't be stagnant. If you look internally and basketball is important to you then make sure you give the program all the tools to be successful."
Georgia State and Old Dominion are in the Colonial next season, but league bylaws prohibit their participation in the conference tournament. Towson and UNC Wilmington are ineligible for the tournament based on poor academic scores; Towson is appealing.
At this juncture, unless something changes, only seven schools would be eligible for the conference tournament in 2013.
O'Connor said the bylaw preventing Old Dominion and Georgia State from postseason participation should be changed when the league meets next week.
"My philosophy is that we should let the student-athletes play in championships," O'Connor said. "I think we can have conversations about our bylaws in the CAA."
O'Connor said there should be discussion about suspending or doing away with the rule altogether. He said the bylaw was put in place 10 years ago but "the world has changed in a lot of different ways. Student-athletes should have an opportunity to participate in championships."
If the membership can resolve the tournament issue, that might be the first step in trying to move ahead as one conference thinking about each other rather than the individual interests.
The CAA has to stick together at this point, or it will quickly fade from relevance.
May, 11, 2011
05/11/11
12:05
PM ET
The most coveted assistant coaching job in the Big East might be on Jamie Dixon's staff at Pitt.
Get on that bench and suddenly your chances of landing a head-coaching job increase dramatically.
Mike Rice arrived from Saint Joseph's and landed a head-coaching gig at Robert Morris and then at Rutgers.
Tom Herrion arrived from the unemployment line and is now the head coach at Marshall.
Barry Rohrssen was a carryover from Ben Howland's staff and spent three years as Dixon's associate head coach before landing the Manhattan job.
Pat Skerry came for one season after being a longtime assistant for Herrion at Charleston, for Jim Baron at Rhode Island and then for Keno Davis at Providence.
Now Skerry is the head coach at Towson.
"Why wouldn't an administration want a coach who works for him?" Skerry said of Dixon. "He's incredibly focused. He's incredibly consistent. The way [his teams] play, he gives a team a chance to win every night. The focus is on defense, rebounding."
Herrion was on Dixon's bench when the Panthers lost to Villanova on a last-second basket in the 2009 Elite Eight. He coached Marshall to a 22-12 record in his first season with the Thundering Herd.
"I believe that people across the country truly appreciate and respect the level of success that Jamie and the Pitt program have established and, more importantly, the integrity with which Jamie lives and coaches," Herrion said.
Rice, who is recruiting well at Rutgers and just secured transfer Wally Judge from Kansas State, said "everyone wants to copy the success Pitt has had."
"Jamie does it right on and off the floor, and everyone wants to emulate what he has created," Rice said. "The quickest way to do that is by hiring his assistants. I never thought I'd be there one year. But I jumped at the chance to go to Robert Morris in my hometown. He's consistent with who he's hired. He has an eye for talent."
Rice and Herrion aren't only from Dixon's family tree. Rice worked for Phil Martelli; Herrion for Pete Gillen. They have formed their own identities. So, too, has Skerry. But Dixon seems to have given them the final push into head coaching. So far Rice and Herrion are off to solid starts in their new gigs.
Can Skerry do the same?
"He's a relentless worker," Dixon said. "He's bright. He went to Tufts. He's determined and a good fit in terms of the job. There are resources there. And there's nowhere to go but up."
That's because Towson finished winless (0-18) in the Colonial Athletic Association last season, Pat Kennedy's final year at the Baltimore school. The Tigers were 4-26 overall, one of the worst teams in Division I last season. They lost 144 games in Kennedy's seven seasons.
In a league like the Colonial, which put three teams in the NCAA tournament and one in the Final Four, Skerry has one heck of a challenge.
For all his ties to the Northeast -- from his native Medford, Mass.; to Tufts; to being the head coach at Division III Curry College (Mass.); to being an assistant at Stonehill College, Northeastern and then URI, Providence and Pitt -- Skerry did spend time in the CAA as an assistant at William & Mary under Rick Boyages and also coached in the South under Herrion at Charleston.
"Pat has paid his dues through his coaching career," Herrion said. "He has proven his worth as a recruiter at every stop, but he has a terrific basketball mind and is an excellent teacher. He will pump new life into the Towson basketball program."
Skerry started by hiring Rhode Island assistant Kevin Clark, who was once the interim coach at St. John's.
Towson is also showing a commitment to basketball now with the groundbreaking for a new $68 million, 5,200-seat arena that will open in two years.
Towson hasn't had relevance locally or in the CAA. But it appears all the postseason success at the top of the league has motivated the bottom to get serious about the sport.
"The situation reminds me a lot of what we had at Rhode Island, where we were coming off a six-win season and then had to flip the roster and three years later we were in the Top 25," Skerry said. "This is a great campus, a great location and they're pumping money into the program. They've had some bad luck here, some injuries, but why not try to catch some kids' eyes and get this thing going?"
Skerry said he wasn't the first choice to be on Dixon's staff to replace Herrion. He was convinced that an older or more experienced coach would get the job. He's also not sure he was the first choice at Towson. Princeton coach Sydney Johnson was a viable candidate, but opted to go to Fairfield.
But Skerry worked the gig, had plenty of support from the Dixon tree and ended up landing his first D-I head-coaching job.
"There's no question that working for a guy like Coach Dixon helps," Skerry said. "I'm going to recruit like an assistant here. This league isn't getting worse; it's getting better. I don't have any illusions of grandeur. There is a commitment here to athletics. It can be done here. [But] the profile of the league is improving. We've got a lot of work ahead of us."