Category archive:

Maryland Terrapins
October, 8, 2012
10/08/12
11:27
PM ET
Maryland's Mark Turgeon swung for a grand slam recruiting haul.
He missed this time, but he's not alone. Nabbing elite recruits away from the perceived favorites is exceedingly rare.
Turgeon had a built-in advantage in that he had recruited the Harrison twins -- Texas natives Aaron and Andrew -- while he was the coach at Texas A&M. The Under Armour influence in College Park was perceived to be a help, too, but clearly that wasn't going to be the difference.
Had Maryland beaten John Calipari and his Kentucky recruiting empire, it would've been a major boon to the rebuilding efforts of the Terrapins, who went to back-to-back Final Fours in 2001 and 2002 but have been mired mostly in mediocrity since.
But look back at how often a school beats out a perceived power for an elite recruit. It's rare. And you can't count examples like Ray McCallum Jr. or Trey Zeigler choosing Detroit and Central Michigan, because their fathers were the coaches at those schools.
Indiana was able to keep Cody Zeller home, and that has proven to be a game-changing situation for the Hoosiers in Tom Crean's revival.
Michigan was able to get Mitch McGary away from Duke, North Carolina and Ohio State, and that may prove to be a decisive move for the Wolverines, who now are a legitimate Big Ten title contender.
Travis Ford ultimately may preserve his long-term security if Marcus Smart lives up to expectations at Oklahoma State. Smart chose the Cowboys over North Carolina, Texas and Kansas.
Turgeon is doing fine in recruiting, though, having landed Nick Faust, Alex Len, Jake Layman, Shaquille Cleare and a player who may turn out to be better than projected in Seth Allen.
"My thing was the whole reason I came to Maryland was to try to win a national championship," Turgeon said. "The team that usually wins the national championship usually has the most pros. We'll sign players in the 50s and they'll end up making the NBA because we'll make them better. You try to recruit the best, do that in a region that you have a connection with. At some point [a top-10 recruit] will pop for us."
It did for Baylor when the Bears got Perry Jones. He may not have had a consistently stellar career in Waco, but Jones was part of an Elite Eight team as a sophomore, and his commitment helped change the perception of the Bears nationally.
"You have to have a player and his family buy into the vision and dream for your program," Baylor coach Scott Drew said. "They have to want to be a leader. There is and was peer pressure. They want to go to the hippest and coolest place.
"Perry was the first perceived national recruit to commit to us and it was hardest for him to come here because people questioned him, 'Why Baylor?' "
Jones had a unique situation where he wanted to be close to his family and stay in state. He also bought into building a program.
Will Jabari Parker, a Mormon from Chicago, upset the establishment and do the same for BYU? Will Maryland bounce back from the Harrison disappointment and land an elite, game-changing prospect?
Landing that first one is sometimes all that is needed to change the perception of the program.
"Once you get one," Drew said, "it gets the ball rolling and [recruiting] can get a lot easier."
October, 4, 2012
10/04/12
6:19
PM ET
If anyone was wondering whether 15 schools could agree and get along in the new ACC, all they had to do was check the reaction to the new primary partners released Wednesday.
There was an unusual consensus. Every school was pleased.
The ACC had to adjust its scheduling format with the addition of Notre Dame, which could join anywhere from 2013 to 2015. The conference, committed to an 18-game schedule, had to lock in to two annual home-and-home series.
For a few schools, such as Virginia, there was nothing to ponder. The Cavaliers have two natural rivals in Virginia Tech and Maryland. Done.
"It makes sense geographically," UVa coach Tony Bennett said. "They've been our natural rivalries for years."
[+] Enlarge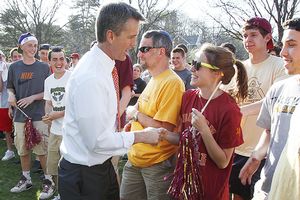 AP Photo/Michael DwyerCoach Steve Donahue believes BC's fans will be pumped to host old conference rivals Syracuse and Notre Dame each season.
Boston College landed two tough opponents, but the Eagles couldn't have been happier to get two schools that will help fill the usually staid Conte Forum. BC will play Notre Dame and Syracuse twice every season.
"It's great for our alumni and fans," Boston College coach Steve Donahue said. "I'm sure excited about it."
Understandbly, no school got both Duke and North Carolina. That would be too cruel, and it would be too hard to pull off with two other schools in the state in Wake Forest and NC State. The ACC had to balance the four schools, and it did.
Duke gets UNC and Wake Forest. NC State got UNC and Wake. Wake Forest got Duke and NC State. And of course that means Carolina got Duke and NC State, which based on the current trajectory of the four schools, is the toughest slate among the schools in North Carolina.
"I loved it," NC State coach Mark Gottfried said. "They got it right."
Wake Forest athletic director Ron Wellman, who is the 2014 chair of the men's basketball selection committee and understands the importance of getting quality teams on the schedule, said "playing two in-state rivals is the best scenario for us."
ACC associate commissioner Karl Hicks, who oversees basketball and scheduling in particular, said the majority of the matchups simply made sense.
The most intriguing issue was what to do with Notre Dame's second rivalry after Boston College. The Irish and Georgia Tech were paired up by process of elimination. Hicks said the schools have a rivalry in football, but not in basketball.
"Notre Dame has a lot of alumni in urban areas," Hicks said. "Maryland was a better fit with the partners they had [Pitt and Virginia]. Washington, D.C., would have been a good place [for Notre Dame], but Maryland's partners fit. Georgia Tech was the next one that made the most sense."
ND coach Mike Brey said it worked for him since he wanted to create new rivalries and, "I love Atlanta."
Tech coach Brian Gregory knew the Yellow Jackets would get Clemson as one rival and was overjoyed that the Irish were the other.
"I think it's great for us," Gregory said. "These are two great academic schools with great traditions. I think it will turn into a great rivalry."
Maryland coach Mark Turgeon said Pitt and Virginia are strong defensive teams which should provide four gritty games for the Terps every season. Pitt coach Jamie Dixon had no issue with Maryland and Syracuse as his school's natural rivals, saying that he expected as much based on geography.
The rest of the 14 games on the schedule will include two more home-and-home opponents (which will rotate every year) and five home and five road games that make up the other 10.
The other set partners are:
Clemson: Florida State and Georgia Tech
Florida State: Clemson and Miami
Miami: Florida State and Virginia Tech
Syracuse: Boston College and Pitt
Virginia Tech: Miami and Virginia
Hicks said the Miami-Virginia Tech series marries two former Big East rivals. Syracuse's two partners are also former Big East foes. Clemson and Florida State got natural regional rivals.
"I'm not bent out of shape one way or another," said Florida State's Leonard Hamilton, who added he wasn't against going to 20 league games. "I like the challenge night in and night out of 18 hard-nosed games."
What the two-team partner lists and the reaction proves is that a 16th team in men's basketball doesn't seem necessary. ACC commissioner John Swofford said the ACC isn't going to go to 16, and frankly, there's really no need.
September, 4, 2012
09/04/12
9:15
PM ET
Maryland is one of the top 15 jobs in the country. The Beltway talent pool is rich, and the ACC provides guaranteed competition against blue-blooded elites North Carolina and Duke (and soon Syracuse).
Former coach Gary Williams resurrected his alma mater and led the Terrapins to back-to-back Final Fours a decade ago, including a national title in 2002. But Williams had to mix and match to find the players who fit his system. Some were elite out of high school (Joe Smith), others were transfers (Steve Francis), some came from outside the continental U.S. (Greivis Vasquez), others were hidden gems that blossomed (Juan Dixon and Steve Blake).
Williams' replacement, Mark Turgeon, has to do it the same way to become an ACC -- and national -- contender. And that's why he was willing to take a chance on Xavier transfer Dez Wells, who was expelled by the school for a violation of the Code of Student Conduct after allegations of a sexual assault. A grand jury in Hamilton County declined to charge Wells.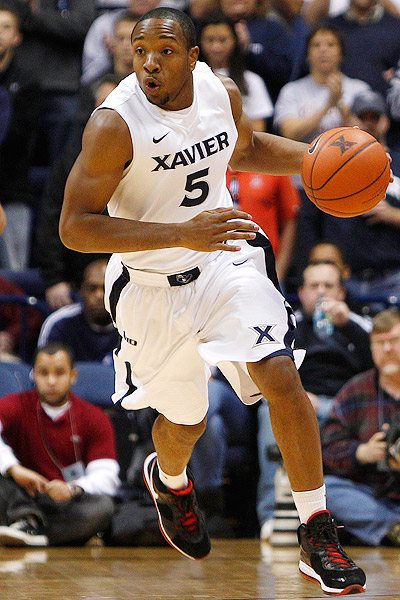 Frank Victores/US PresswireOn Tuesday, former Xavier guard Dezmine Wells announced his transfer to Maryland.
Turgeon couldn't discuss his newest player on Tuesday afternoon since Wells' mother hadn't signed the paperwork yet. But he could speak to his philosophy. Turgeon did research on Wells and trusted his assistant Bino Ransom, who recruited Wells while an assistant at Xavier.
"When it's this late in the game, if there is a good player available, you have to do it and go after him," said Turgeon. "This is a situation where we needed to add talent."
The Terps have Michigan transfer forward Evan Smotrycz sitting out this season, and in all likelihood Wells will be joining him on the bench. Maryland will apply for a waiver with the NCAA for him to play immediately, arguing that he is NCAA eligible but simply not allowed to play at Xavier.
However, it would be a surprise if the NCAA granted the waiver, since it would be creating precedent by allowing a player who was expelled from one university to play at another without sitting out a year in residence.
Rule 14.5.1.2 in the NCAA rulebook details disciplinary suspension:
A student who transfers to any NCAA institution from a collegiate institution while the student is disqualified or suspended from the previous institution for disciplinary reasons (as opposed to academic reasons) must complete one calendar year of residence at the certifying institution. (Revised: 1/14/97 effective 8/1/97)
But Turgeon didn't sign Xavier's top returning scorer to have him for this season. It would be a nice bonus, but it's not a necessity.
Turgeon said he has tried to balance the classes at his previous stops at Wichita State and Texas A&M, adding four-year transfers along the way.
"What we've tried to do is sprinkle in good freshmen with transfers," he said. "It's an avenue I've taken with every program. Is it something we'll do every year? I doubt it."
Turgeon's plan is to always have a scholarship or two open for transfers like Smotrycz and/or Wells.
"At this level you have to do that," he said. "Ideally, you want to keep one open for situations like this. It's a lot easier to keep 10 or 11 players happy on scholarship and redshirt a few more."
The Terrapins needed a slasher, defender and player who would be interchangeable for 2013 -- and Wells was an Atlantic 10 rookie first-team member a year ago, averaging 9.8 points and 4.9 rebounds.
Turgeon said the Class of 2013 isn't deep on the perimeter, and the Terps are realistic as to what they can get to make them better. Having Wells on the court in 2013-14 likely is an upgrade from the high schooler they could grab at that swing position.
Don't sell Maryland short on the recruiting front, though. Turgeon is still trying to land two of the top four prizes in the class in Andrew and Aaron Harrison, a pair of perimeter players who said they will attend the same school. The Harrison twins are likely going to College Park for Midnight Madness on Oct. 12, according to a source. But Maryland will have to beat out Kentucky to land the pair from Texas, which would be a monumental task. Villanova, SMU and Baylor are also in the mix.
Turgeon has landed elite players so far: Nick Faust last year and Shaquille Cleare and Jake Layman this year. Turgeon also brought in an assistant with deep DC-Baltimore ties in Dalonte Hill.
So what will the Terps look like on the court?
Assuming Wells doesn't gain immediate eligibility, UM will have 10 players to use this season. So Turgeon is being careful with his optimistic outlook. He said Cleare and Layman have had very good summers, as has Faust and shooting guard Seth Allen. He said 7-foot-1 center Alex Len has gained a much-needed 20 pounds.
"I like the work habits," said Turgeon, whose Terps began workouts on Tuesday. "The chemistry is really good. It has been a pleasant surprise that we've been better than anticipated."
Does that translate into an upper-division finish in the ACC? The three Triangle schools -- North Carolina, Duke and NC State -- likely will jockey with Florida State for spots 1 through 4.
But Maryland, Miami and Virginia should be in the next tier as teams that can contend for an NCAA tournament bid. And if Wells does get eligible? Look out.
Turgeon took a chance on Wells considering the allegations and the on-court suspension. But adding a quality player from a high-profile school is the norm for him and plenty of others.
Programs like Kentucky, Duke and UNC have all had transfers recently. That's the new norm in order to keep up. Blending the classes with transfers and high school seniors is now expected.
The bottom line is that Turgeon has Maryland relevant and in the news, which isn't easy to do in a conference dominated by a pair of blue-blooded giants.
Williams knew this all too well during his career. Turgeon is following his blueprint as best as possible early on.
August, 30, 2012
08/30/12
10:45
PM ET
The NCAA will have a potentially precedent-setting case if it decides to grant expelled Xavier forward
Dezmine Wells
immediate eligibility.
Wells took a visit Thursday to Kentucky. If he doesn't commit to the Wildcats right away, according to a source, he likely would visit Maryland during the weekend. Terrapins assistant coach Bino Ranson was on the Xavier staff while Wells was being recruited to the school. Memphis is also very much in the mix.
Each school would try to get Wells a waiver so he could play this season, despite the fall semester already starting. But the NCAA has a clear rule on this matter. NCAA spokesperson Stacey Osburn said schools have the ability to file a waiver to allow immediate competition due to special circumstances.
The rule is 14.5.1.2, detailing disciplinary suspension:
A student who transfers to any NCAA institution from a collegiate institution while the student is disqualified or suspended from the previous institution for disciplinary reasons (as opposed to academic reasons) must complete one calendar year of residence at the certifying institution. (Revised: 1/14/97 effective 8/1/97)
Osburn said the NCAA staff would review the waiver and consider several factors, including what "caused the dismissal from school and the results of any institutional appellate processes."
But would the NCAA grant immediate eligibility to a player who was expelled from another school? That is the question. It would certainly put Xavier in a poor light if that were to occur.
Wells was expelled for a "serious violation of the Code of Student Conduct.'' Xavier athletic director Mike Bobinski told ESPN.com that the athletic department had nothing to do with the decision and that this was the university's call.
The Xavier conduct board ruled on the matter, which involved allegations of a sexual assault. The ruling was upheld by an appeals board at the university, but a county grand jury declined to charge Wells on Tuesday, and Hamilton County prosecutor Joe Deters and Wells attorney Merlyn Shiverdecker issued strong statements about the way in which Xavier handled the case
On the court, the Wells departure is a crushing blow for the Musketeers, who already were losing Tu Holloway, Mark Lyons and Kenny Frease off last season's Sweet 16 team.
Wells started 32 games as a freshman in 2011-12 and was set to be the team's leading returning scorer. He was on the Atlantic 10 all-rookie team and averaged 9.8 points and 4.9 rebounds.
So where will he end up? If Wells was cleared to play immediately, he obviously would be a huge boost for any of the reported finalists.
He would give scoring and rebounding help, as well as much-needed game experience to Kentucky's youthful team. The Wildcats will lean heavily on freshmen like Willie Cauley, Alex Poythress and Nerlens Noel, along with sophomore Kyle Wiltjer and Wright State transfer Julius Mays. But Wells would add even more depth and pop to the defending champs.
Memphis would have playing time available next to Tarik Black, Shaq Goodwin, Ferrakohn Hall and Adonis Thomas.
But Maryland may need his game experience more than any other team, with the youngest roster among the three contenders. The Terrapins have some veteran experience, but also will be trying to incorporate five freshmen into the mix, including Shaquille Cleare and Jake Layman. Evan Smotrycz is a Michigan transfer and has to sit out the year.
Will Wells have to do the same? First he has to pick a school, then he'll wait to see on the waiver.
The case is tricky. A precedent would be set. And the direction of a season could change for one of the schools, with the decision on his eligibility possibility not coming until the start of practice in October.
February, 22, 2012
02/22/12
11:41
PM ET
Maryland coach Mark Turgeon and Georgetown coach John Thompson III talked briefly last summer about possibly playing a game again between their two rival schools, according to a source with knowledge of the conversation.
There was no friction. There was no timetable. There was no commitment. And now there may be no game for quite some time.
A matchup between the two area powers is less likely to happen after Maryland athletic director Kevin Anderson made public what was once a private conversation among the Terrapins' coaching staff. Anderson told the Maryland coaches that until Georgetown agrees to play Maryland in men's basketball, all games between the two schools in the non-revenue sports are off.
All current contracts will still be honored. The next matchup that is outstanding is a men's lacrosse game between Georgetown and Maryland. The two programs were slated to play in women's lacrosse, as well, according to Georgetown. Georgetown and Maryland had also competed against each other in men's soccer and in swimming this academic year.
Maryland leads the all-time men's basketball series 36-27. The last time the two schools played was at the Old Spice Classic in Orlando, Fla., in 2008. Maryland played at Georgetown in 1993-94. Georgetown went to Maryland in 1973-74, which marked the last time there was a home-and-home series in consecutive seasons. There were a few neutral site games between 1974 and 2008.
Anderson's original comment to The Washington Post was that "if we're going to play people -- particularly somebody in our own region -- they should be able and willing to play us in everything. If we could sit down and talk about it and have a good dialogue, we're more than happy to pursue other avenues. But we want to play Georgetown in all sports.''
Former Georgetown coach John Thompson Jr. responded Monday on ESPN Radio 980 and called out Anderson for dealing with scheduling in a public format.
Thompson Jr. said, "it's incomprehensible to me.'' Thompson Jr. added that he took Anderson's move as a threat.
Maryland then released a statement from Anderson on Wednesday: "The interest that has arisen from area fans regarding our discussions about possible men's basketball games between Maryland and Georgetown confirms the idea is a good one. The reaction from Maryland fans we've heard from has been overwhelmingly positive and the financial benefits to both institutions cannot be ignored.
"It is not our desire to continue this discussion in the media. We look forward to working with Coach Turgeon and our colleagues at Georgetown University, to see if we can overcome whatever obstacles exist and turn this hope into a reality that will benefit both institutions when the time is right."
Turgeon said Wednesday that he schedules all the team's games. JT3 does the same. Athletic directors rarely get this involved in a game, but they do have to sign off on all contracts.
Maryland's ACC schedule will grow to 18 league games next season. The Terps still play an annual game in the BB&T Classic and the ACC-Big Ten Challenge and are usually in an exempted tournament. The ACC schedule will likely be loaded. Turgeon said he has been told that there will be two games against North Carolina and Duke as well as Virginia next season. When Pitt and Syracuse join the league, there will likely be two against Pitt and Syracuse and a rotation with some of the other traditional ACC rivals.
Fitting in a game against Georgetown would be tough for Maryland even if it makes too much sense. And the moment Georgetown signs off on a game, it would happen.
Meanwhile, JT3 has previously said that the Big East schedule of 18 games, even with new members, was going to make it harder to add old rivals like Syracuse (off to the ACC by 2014) because of other scheduling commitments (such as tournament games and the SEC-Big East Challenge).
The original rift between Georgetown and Maryland dates back to Thompson Jr. and Lefty Driesell, when they were coaching their respective programs. The two schools haven't always recruited against each other, despite the proximity.
Maryland is trying to recruit more in the area after hiring assistant coach Dalonte Hill, while Georgetown has always tried to recruit on a national stage.
The nastiness that exists between the two fan bases isn't as raw as it is between Louisville and Kentucky or Cincinnati and Xavier.
The game would draw great interest in the D.C.-Baltimore area. Sure, there would be complaints about location, even if Georgetown's home-court tickets at the Verizon Center were split down the middle.
The bitterness that has extended to long-standing rivalries that are ending due to conference realignment (Kansas-Missouri and Texas-Texas A&M) isn't applicable in this case. There wasn't a rivalry to end. This is a potential series that would be good for the game. And it would certainly be another power-rating opportunity for both schools.
Yet, egos are now going to be involved in college athletics again. So, non-revenue sports will lose a bus trip because the men's basketball teams still don't play each other.
If this had been left up to Turgeon and JT3, there was at least a chance it could happen. Turgeon and JT3 don't have any animosity. But now that it has gone public, the odds are slim.
If the two schools schedule a game against each other, it will look like Georgetown caved in to a threat. The chances of a Thompson-led program doing such a thing are probably zero.
January, 25, 2012
01/25/12
8:01
PM ET
Former Maryland coach Lefty Driesell expressed concern over the school's decision to name the Comcast Center court after Gary Williams -- a process that will take place during a ceremony before the Terrapins' game against Duke on Wednesday night.
The Baltimore Sun reported Wednesday that Driesell sent an email to Maryland president William Kirwan that conveyed his displeasure with the decision.
[+] Enlarge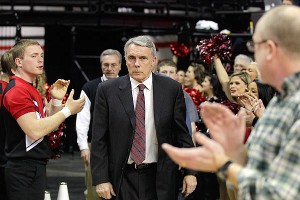 Rob Carr/Getty ImagesNot everyone is happy with Maryland's decision to name the Comcast Center court after former coach Gary Williams.
Driesell told the Sun that "it's not fair to my players that they would put Gary Williams' name on the court. It's a disservice to players such as Tom McMillen, John Lucas, Len Elmore, Brad Davis, Greg Manning, Adrian Branch and Steve Sheppard."
Driesell has his opinion. And there may not be one right answer. But the facts in this situation back Williams more than Driesell or anyone else.
Williams won 461 games in the ACC. Driesell won 348.
Williams went to two Final Fours and won a national title in 2002. Driesell did not.
And most importantly, Williams took over a program that was in a state of disrepair after the shocking, drug-related death of Len Bias, Driesell's departure, three turbulent seasons of Bob Wade and NCAA sanctions that could have crippled the program.
Williams took over UM in 1989. He went to seven Sweet 16s, two Elite Eights and two Final Fours and won a national title. He left the ACC as its third-winningest coach behind Dean Smith and Mike Krzyzewski.
Syracuse named its court after Jim Boeheim. Duke did the same for Krzyzewski. Arizona named its court after Lute Olson, Valparaiso did so after Homer Drew. Of course, on the women's side, Tennessee honored Pat Summitt with her name on the court.
All of them are the iconic face of their respective programs. Maryland has a rich history. Driesell certainly rattled off some of those names. The late Bias may be one of the most iconic because of how he played -- and to some extent how he died.
But in the modern era, Williams did more to turn around a program than almost anyone. He competed in the same league with the two most consistent national programs during his two-plus decades as head coach.
"It's very humbling. There were other coaches and great players who came through here," Williams said. "We were in a conference with two of the best five programs in the last 50 years in Duke and Carolina. That's who we were measured against. And in my first four or five years we couldn't compete against them. We weren't good enough. I knew if we could get good against those two, we could play against anyone in the country."
Williams literally left his sweat at Cole Field House and then at the stately Comcast Center, built amid the athletic fields on campus. His sideline demeanor was chaotic. He screamed at anyone in his wake, but he commanded and received incredible loyalty.
He thrived on getting undervalued players who achieved collective greatness by competing for ACC titles. Sure, he had some high-profile players out of high school (Joe Smith) or junior college (Steve Francis), but he also had his fair share of players who overachieved (Juan Dixon, Steve Blake and Greivis Vasquez).
Williams took heat for not getting in-state studs Carmelo Anthony, Rudy Gay and Kevin Durant. The criticism of Williams not playing the used car salesman recruiting game was fair. But he thrived in coaching up his players to beat the all-star sets from the blue blood teams. "I loved practice," Williams said. "It was the purest basketball. There were no phones, no Internet. You were just getting the players prepared for a game.
"This means a great deal to me," Williams said of the floor naming. "I spent the best years of my coaching life span at my alma mater. It wasn't just about the wins and losses. It was about taking this program to the level where we got the Comcast Center built and winning the national title."
Williams went to Maryland from Ohio State at the most difficult time in the school's athletic history. "We were three years removed from Len Bias dying and we had to overcome the drug stigma that was on the program that was used by other coaches against us," Williams said. "It was used against us in recruiting. The academic reputation was hurt and we had to convince the faculty that we would run a clean program the school would be proud of."
Williams mentioned Baylor as a comparable situation to what Maryland had to endure. Bears coach Scott Drew had to take over a program which was decimated by a scandal that involved a murder by a teammate and NCAA rules violations that were covered up. Drew has done a remarkable job of making the Bears a nationally prominent program in less than 10 seasons. He reached an Elite Eight two seasons ago. And he could reach another one this spring.
Maryland's image in the late '80s may have been worse and certainly Williams was in a tougher situation. "It was almost impossible," Williams said. "We couldn't play on television or go to the postseason that first year. And we had two of the top teams in the country in our league. And Wake Forest was really good, too."
Mark Turgeon, Williams' successor, will get his first taste of the Maryland-Duke rivalry Wednesday night. The crowd will be amped up to celebrate Williams, and the passion to beat Duke will be on full display again. "The main reason I took this job is because of Gary and Lefty and the great job they did," Turgeon said. "I think it's perfect that it's happening against our rival."
Williams has supported Turgeon from the moment he accepted the job. It was Williams' decision to retire and see if there were other avenues in life to channel his passion.
"Gary is at peace with himself," Turgeon said. "He loved Maryland. He has been off the charts. This couldn't have gone any better the first seven months."
"I went into coaching in 1968," said Williams, 66. "No one went into coaching to make money. I loved the game. This was an extension of playing to stay in the game."
And now his name will be on a court where he left so much of his sweat as a player and even more so as a coach.
October, 14, 2011
10/14/11
5:15
PM ET
Locked out by NBA owners,
Kemba Walker
is spending his October working out with his former Connecticut teammates.
Walker doesn't have second thoughts about declaring for the NBA draft. He was gone as soon as the Huskies won the national title, and his decision was probably made far earlier.
As college basketball practices begin Friday evening and the lockout continues, it is worth pondering the players who might be questioning their moves last spring and what their old college teams would look like right now if they'd made the decision to stay in school.
It was no secret that the lockout was a likely occurrence. The possibility was hardly a secret. Yet plenty of questionable moves were made by players who decided to stay in the draft. Some were selected later than they were projected; others weren't selected at all.
[+] Enlarge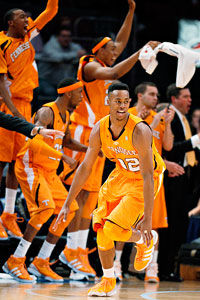 AP Photos/Henny Ray AbramsUndrafted Scotty Hopson certainly could've helped the rebuilding efforts at Tennessee.
Scotty Hopson, Tennessee: Hopson had no business leaving for the NBA, even if Bruce Pearl had not been fired. Hopson was never a consistent shooter and didn't continue to progress on an upward trajectory. He wasn't selected in the NBA draft like his teammate Tobias Harris, who landed in the first round. Had Hopson realized he wasn't going to get picked -- something that he had to have heard many times -- then he would have been a key bridge for new coach Cuonzo Martin. Martin could have used Hopson's experience and shooting to keep the Volunteers relevant in a transition year. Hopson would have been a volume shooter and improved his chances of being selected in 2012. Instead, Hopson and the Vols both lost. Tennessee is in rebuilding mode and will have a hard time staying afloat in the SEC.
Jereme Richmond, Illinois: Richmond clearly had issues, as evidenced by his arrest on assault and weapons charges in August. So it might have been best for all parties that he split. But maybe, just maybe, had he decided to return to Illinois he wouldn't have found himself over the summer as an undrafted, lost young man. This may be a reach, but it would be interesting to see what could have occurred in his life had he decided to stick out his commitment to Illinois. If he had bought into the program for a second year, he would have helped offset some significant senior losses for the Illini. In the end, Illinois wins by not having his baggage on the squad. Richmond lost by declaring, not being selected and now seemingly untouchable due to his arrest. Illinois is a team that has the potential to be a sleeper in the Big Ten with Brandon Paul and Meyers Leonard. But there are plenty of question marks to lock in the Illini as an NCAA tournament team.
Carleton Scott, Notre Dame: Scott surprised the Irish by staying in the NBA draft. He had a chance to play one more season with Tim Abromaitis and help Notre Dame offset the loss of valued senior leader Ben Hansbrough. Scott was never going to be a star for the Irish. He wasn't going to be a lock for the NBA, either. His best bet was to play professional basketball somewhere internationally. Notre Dame was going to take a step back with Hansbrough's departure anyway, but the Irish could have used another anchor inside to keep their head above water in a rugged middle of the conference. Now the Irish is depleted in the post. Scott could have definitely helped there.
Cory Joseph, Texas: Joseph did find his way into the first round, barely. So it's hard to completely fault him here, despite failing to leave his mark in Austin. The Longhorns have one of the top guards in the country in freshman Myck Kabongo. Joseph could have complemented Kabongo and allowed the Horns to have a stellar backcourt. Texas will still have talent, but will be lacking experience. The Longhorns were going to lose Tristan Thompson and Jordan Hamilton early to the draft. But it wasn't a given that Joseph was going to leave, too. The triple hit might be too much for UT to overcome with so many teams competing for the Big 12 title.
Shelvin Mack, Butler: Would Mack have gone to three straight national championship games? The odds would have been exceedingly low. Losing Matt Howard was a crushing blow to the Bulldogs. I didn't blame Mack for leaving last April because of the sting of losing two straight national championship games. Mack had come back without teammate Gordon Hayward and now he was expected to do it again without Howard? Still, the lockout is on, and Mack isn't in Washington playing for the Wizards. Put Mack on the Bulldogs next to Ronald Nored and newcomer Roosevelt Jones with Andrew Smith and Khyle Marshall inside, and the Bulldogs are once again an intriguing threat to go deep. If the lockout lasts well into the winter, Mack may watch Butler games and find himself at Hinkle Fieldhouse longing for his final season of eligibility. It would be a shame if the lockout lasts for months and Mack sits idle. He had one more run in him.
Travis Leslie and Trey Thompkins, Georgia: The Bulldogs made the NCAA tournament last season. If Leslie and Thompkins had come back alongside returnee Gerald Robinson, UGA would have made the NCAAs again. The SEC is stronger this season with possible NCAA teams Kentucky, Florida, Vandy, Alabama and Mississippi State. Georgia would have comfortably made it six. Instead, the Bulldogs are rebuilding or at least seriously retooling under Mark Fox.
[+] Enlarge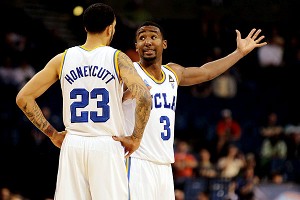 Kim Klement/US PresswireUCLA will still contend in the Pac-12, but Tyler Honeycutt and Malcolm Lee might've been the difference in taking the next step in March.
Tyler Honeycutt and Malcolm Lee, UCLA: The Bruins have a loaded frontcourt with Reeves Nelson, Josh Smith and North Carolina transfers David and Travis Wear. But the Bruins are lacking proven, productive experience on the perimeter. That could be the difference between an NCAA berth and a team that could have made a run toward New Orleans. Honeycutt and Lee didn't get drafted in the first round, going in the second instead. And now they can't play in the NBA for the foreseeable future. UCLA will still be a Pac-12 title contender and NCAA team. But the possibilities had those two returned to Westwood have to gnawing at coach Ben Howland.
Josh Selby, Kansas: Selby wasn't eligible and then he was hurt and never played a full season for the Jayhawks. He didn't get into the first round, either. And it's too bad. Selby should have shown more maturity, or at least someone associated with him maybe could have advised him better. He needed to play a full season to prove that he could do it. If he had, then the Jayhawks would be much more likely to make a Big 12 title run and Final Four quest. The Jayhawks were still selected to win the Big 12 on Thursday. But that might be more out of fear of selecting Baylor or Texas A&M and getting burned by KU once again.
DeAndre Liggins, Kentucky: Liggins did well enough to warrant a second-round selection, and the Wildcats aren't hurting, either. They are a consensus top-four selection in the preseason. But Kentucky still lacks overall experience. Sure, Terrence Jones and Darius Miller are back, but toss in Liggins and suddenly the Cats don't have to rely so much on the freshmen. Liggins would have fit in even better with his length, and the style UK will play this season with the long set of newcomers that John Calipari brought in this season. Liggins may long to be in Rupp Arena if the lockout drags and the Wildcats are pushing for a return trip to the Final Four.
Jordan Williams, Maryland: Williams was selected high in the second round and fulfilled his dream of being an NBA draft pick. His return may not have changed Gary Williams' decision to retire. But had the talented sophomore stayed he would have been beloved by new coach Mark Turgeon, who thirsts for a big halfcourt playes like Williams. He would have been one of the premier bigs in the country and relished his role as the anchor on a Maryland team that would have fed him even more in the post. Maryland probably wasn't an NCAA team even if Williams had returned, but he would have been featured even more as a junior. Now he sits idle and the Terps under Turgeon are in complete rebuild mode.
Darius Morris, Michigan: Morris missed a potential tying bucket against Duke in the NCAA tournament. If he had returned to join Tim Hardaway Jr., there is a chance the seeds would have been reversed if the two teams played again this season. Morris could have been a difference for Michigan. Instead, the Wolverines lack experience next to Hardaway and he loses a quality sidekick who can be just as disruptive as he can be offensively. Morris was picked by the Lakers in the second round, but he's not playing for them now. Michigan may get another crack at Duke if the two teams win first-round games in the Maui Invitational. Meet in Maui with Morris and the Wolverines probably would have been the pick. Instead, Michigan is once again the underdog, seeking respect as a consistent national player.
September, 22, 2011
09/22/11
5:10
PM ET
The ACC's decision to add Pitt and Syracuse will undoubtedly strengthen men's basketball more than its last round of expansion (Boston College, Virginia Tech and Miami).
But it will create more controversy given how a potential 14-team league might be divided.
The Panthers and Orange may come in 2012 if they can buy their way out of the Big East's exit demands of 27 months and a $5 million departure fee. The Big East has publicly stated that it wants the two schools in for the duration and for BCS purposes it may need them to ensure that the league still has the necessary amount of teams. The ACC is in no rush to add Pitt and Syracuse, but those two schools would rather not go through more than one lame-duck season.
Nevertheless, there is already discussion about how the two will be incorporated into the ACC. Formal talks on the matter won't occur until the annual meetings later in the academic year. But if the league goes to divisions, or at the very least goes to a divisional-style scheduling format, there still might be at least one team in a difficult spot: Wake Forest.
Virginia Tech coach Seth Greenberg looks at the divisional setup along regional lines -- and it makes some sense. ACC associate commissioner Karl Hicks agrees, and he acknowledged that's the way it might turn out.
If that were to happen, the North would have to be Virginia Tech, Virginia, Maryland, Pitt, Syracuse, Boston College and one more team.
The South would be Georgia Tech, Clemson, Florida State and Miami, and then there are the three schools in the Research Triangle (Duke, UNC and NC State) that would likely demand to be in the same division together.
[+] Enlarge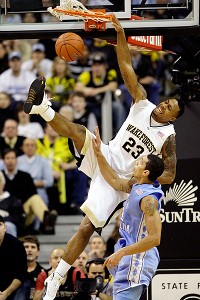 AP Photo/Chuck BurtonThroughout the years, Wake has savored its home games against powerhouses like North Carolina.
That leaves the Demon Deacons as the odd team out. Would Wake have to be put in the North, separated from its three in-state rivals?
The current 12-team divisional alignment in football isn't set up in a North-South split. Wake Forest is in the Atlantic and at least has NC State on its side with Maryland, Clemson, Florida State and Boston College. But the Demon Deacons' two in-state rivals that it would rather play more -- UNC and Duke -- are in the Coastal with Georgia Tech, Virginia Tech, Virginia and Miami.
Wake will make it clear that it doesn't want to be shipped away from the three other North Carolina schools if the league goes to two seven-team divisions. The Demon Deacons want in some form two games against the three in-state schools if there are divisions or if it's one 14-team league.
"If you do it North-South, then one North Carolina team has to be in the North,'' Wake Forest athletic director Ron Wellman said. "We want to play North Carolina more than we do. It's been four years since we played them at home in football, so we are interested in a concept where we play the North Carolina schools. That's a point of emphasis for us. As soon as we announce our schedule, our fans are disappointed that we don't play every North Carolina school in football or [twice in] basketball. Those rivalries were established before the league was in 1953.''
Wellman said when the ACC gets together next month, the topic of how to align a 14-team league will likely be discussed. Wake Forest is nearly two hours away from the Raleigh-Durham-Chapel Hill area, but Deacons fans clearly want to feel attached to the state's other ACC teams.
The other option for the conference would be to keep Wake Forest in the South and ship Miami to the North with the rationale that the Hurricanes would have to fly to every ACC school anyway due to its location (technically, the Hurricanes could drive to Tallahassee for FSU, but even that is a lengthy drive on a school night).
If the ACC were to go to 16 (which is the preferred number by Duke coach Mike Krzyzewski and North Carolina's Roy Williams, among others) and the additions were two more Big East schools (say, UConn and Rutgers), then geography naturally would put both in the North. That would be the easiest solution for the ACC, allowing Wake Forest to compete in the South.
Of course, there will be some other issues here, too. Maryland will demand that it still has its rivalry games with Duke and North Carolina. The Terps would still get to be paired with the two Virginia schools, but losing a Duke home game would seriously dampen the spirits in College Park.
In the end, Hicks said the league doesn't have to go to divisions.
"Ultimately, it will come down to a vote of the ADs and they'll decide what they'll want to do,'' Hicks said. "It will be hard to take those North Carolina schools and separate them. Rivalries and geography will be in play. The good news is that we have time to work through it. We do have permanent partners in our scheduling now. It's the same issue we have now in scheduling, but we added two more teams.''
• If Big 12 commissioner Dan Beebe is officially out of a job, then the NCAA tournament selection committee will have two of its 10 members not working while serving on the committee. The other is Jeff Hathaway, who was forced to retire at Connecticut as athletic director.
WAC commissioner Karl Benson, a former committee member, said that the personnel on the committee has always been overrated and that the committee will be fine since the system itself is all that really matters.
Hathaway's term as chair of the committee started on Sept. 1 (replacing the outgoing chair, Ohio State AD Gene Smith) and NCAA men's basketball tournament spokesperson David Worlock said there has been no change in his position. The same may be true of Beebe if he's officially out. The committee won't meet again until November, and the heart of their work doesn't really begin until January and February, anyway. Hathaway and Beebe certainly would have more time to focus on the national landscape.
The only issue that will be in play for the selection committee: Would Hathaway have to leave the room when UConn is discussed and would the same apply to Beebe when Big 12 teams are talked about, since neither would be employed by either entity?
The consensus from former committee members is that bringing in two more new members to go along with the two regularly scheduled new members to the committee wouldn't be prudent. No one wants to see a committee that has four of its 10 members doing the selections and seeding for the first time. So if Hathaway and Beebe both stay, then the only hiccup will be their role when the teams that they formerly served are being discussed.
July, 28, 2011
07/28/11
4:19
PM ET
LAKE BUENA VISTA, Fla. -- Quick hitters after talking to several coaches here at the AAU nationals:
• The U.S. World University Games team -- led by Purdue coach Matt Painter (U.S. team head coach) along with Butler coach Brad Stevens and Tennessee coach Cuonzo Martin (U.S. assistants) -- continues to lose key players. Xavier's Tu Holloway turned down the invite to stay and play with his XU teammates. Wisconsin's Jordan Taylor is having minor ankle surgery. And now Painter said that UConn forward Alex Oriakhi is also out in order to rest an injury. Stevens said losing Oriakhi will be a big blow since the team that heads to China next month for the competition needs a rebounder like him in the tournament. Painter said Detroit's Ray McCallum Jr. and UConn's Shabazz Napier were added to the tryout list. Pitt's Ashton Gibbs and Syracuse's Scoop Jardine are still on the roster and are certainly favored to make the squad.
• There are still 22 players trying to make the U.S. squad and they'll compete and train in Colorado Springs from Aug. 4-7. The event runs Aug. 13-22 in Shenzhen, China. A number of players could use this international stage as a springboard for their college seasons; these players include Alabama's JaMychal Green, Texas A&M's Khris Middleton, Kentucky's Darius Miller, Northwestern's John Shurna, Minnesota's Trevor Mbakwe, Vanderbilt's John Jenkins, Michigan State's Draymond Green, Missouri's Kim English and Marcus Denmon and Notre Dame's Tim Abromaitis.
But perhaps more than any other player, Cincinnati's Yancy Gates needs to make this team and show he can be a force in order for the Bearcats to continue their rise in the Big East. Last season, he was suspended for a game due to team-related issues. Cincinnati coach Mick Cronin said Gates can come out of this looking like a team player and a stronger player who can change his image with a positive performance in China.
• Painter said fifth-year senior Robbie Hummel is tired of answering questions about his right knee (ACL surgery). And so are the Boilermakers. He said Hummel should be good to go once the season starts. Meanwhile, the Boilermakers are troubled by the foot surgery for John Hart that will keep him out for an extended period. Hart has had trouble with his right foot for quite some time.
• Villanova coach Jay Wright said JayVaughn Pinkston has been cleared by the school to play for the Wildcats this season. Pinkston was not allowed to play last season due to an assault charge. He was expected to have a major impact on last season's team prior to the incident. The Wildcats are prepping for a trip to Amsterdam, where they will play a few national teams. Wright said the Wildcats will be much different than any squad he's coached in recent years, with the team centered more around big men rather than being guard-oriented.
[+] Enlarge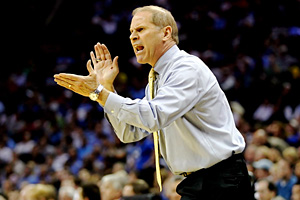 Kevin C. Cox/Getty ImagesJohn Beilein is looking forward to the two new guards he'll have on campus this season.
• Michigan coach John Beilein said the addition of freshmen guards Trey Burke and Carlton Brundidge should allow Stu Douglass to return to his natural off-guard position. Losing Darius Morris to the NBA draft was a huge blow to the Wolverines, but Tim Hardaway Jr. showed with the U-19 team in Latvia that he can create quite well with the ball in his hands. If the freshmen can be facilitators and Douglass can play off them, the Wolverines may not take a step back. Michigan is in the Maui Invitational in a loaded field, has to travel to upstart Virginia in the ACC-Big Ten Challenge, and gets a sleeper Big 12 team at home in Iowa State. The Wolverines are likely going to add a nonconference game at Arkansas that will take place during the Big Ten season.
• While on a recruiting trip in February, North Carolina coach Roy Williams took a side trip to an aircraft carrier in San Diego to see what it would be like in advance of the Carrier Classic on Nov. 11 against Michigan State. The USS Carl Vinson will be the host of the game, but it wasn't the ship that Williams toured. Williams wanted to see how this would work with a game on top of the ship deck. He couldn't get over the narrow passageways through the ship and wondered how his taller players would maneuver through the ship to get to the deck. Well, apparently there will be a lift that will help that occur so that shouldn't be a problem.
• Williams isn't ruling out Leslie McDonald coming back this season from an ACL injury. Williams said McDonald will have surgery on Aug. 3 and made it clear there's no reason to make any declarative statements at this juncture about a return.
• There was no consensus among the coaches in Orlando about whether to add a stipend, how it would be handled and how it could be divided up for all student-athletes. UConn's Jim Calhoun and Louisville's Rick Pitino said they would like to see $75 to $100 a week for the athletes -- roughly $400 a month.
• Not one coach endorsed the NCAA's new draft early-entry withdrawal date of April 10, 2012, after which no player will be allowed to enter the NBA draft. Makes you wonder why this was passed. Every coach who discussed it said it would lead to more poor decisions of players leaving early.
• Ole Miss coach Andy Kennedy tossed out this prediction about Vanderbilt: The Commodores are a Final Four contender.
• Old Dominion coach Blaine Taylor has gone to the Fred Hill makeover school. Hill, the former Rutgers head coach and current Northwestern assistant, was bald when he was head coach of the Scarlet Knights. Now he's gone with long hair in the back and new glasses. As for Taylor, he got rid of his famed mustache and dark hair. He's gone with something of an auburn or almost light red look. He was standing to the side of our TV set, and I wasn't the only one who had no idea who he was until you could read ODU on his golf shirt.
• Stanford is prepping for a trip to Spain in early September. The Cardinal and coach Johnny Dawkins need to get away to figure out who will stand out for them now that Jeremy Green is gone.
• New Fairfield coach Sydney Johnson squeezed in a team trip to Italy next month, which will be critical for him to get to know his players more and see how Boston College transfer Rakim Sanders meshes with a team that won the MAAC regular-season title last season and is back almost in full.
• The travel some of these coaches put on themselves is a bit ridiculous. Dawkins was in Orlando on Monday, then took off for Phoenix and then Los Angeles before he headed back to Orlando by Thursday. Temple coach Fran Dunphy was in Orlando on Monday and was off to Phoenix before a return to Orlando by the end of the week.
• New Maryland coach Mark Turgeon said he has reviewed his team enough to know that scoring up front will be a challenge. He said he'll likely go with four guards on the court on a consistent basis.
• Northwestern's Bill Carmody clearly wanted to be noticed in showing his school spirit. He had a rather loud pair of purple sweat pants that I'm not sure you could or would want to buy at the campus bookstore. Michigan State's Tom Izzo went with Spartan green, which Carmody pointed out, but the green was certainly more muted than the purple.
May, 18, 2011
05/18/11
7:37
PM ET
COLLEGE PARK, Md. -- The pained expression Mark Turgeon sometimes had during his first two years at Texas A&M wasn't just related to a tight game, a bad call or some anxious moment en route to the NCAA tournament.
Turgeon wasn't at peace in College Station.
He arrived from Wichita State to replace Billy Gillispie, and for the first time in 10 years he was back at a major-conference school after playing at Kansas and coaching at KU and Oregon as an assistant.
Turgeon didn't handle the transition well.
"I was miserable the first two years," Turgeon said.
He arrived from the Missouri Valley knowing that if he was going to keep heralded star recruit DeAndre Jordan, he had to retain his one-time AAU coach Byron Smith on the A&M staff. He did, but reluctantly. There were apparently other situations that Turgeon was never comfortable with as well.
[+] Enlarge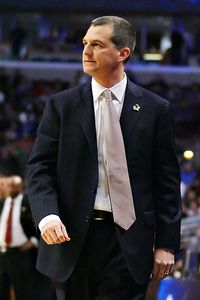 Dennis Wierzbicki/US PresswireMark Turgeon never won fewer than 24 games in any of his four seasons at Texas A&M.
"The most important person is me and I've got to be happy and I tried to make everybody happy when I took the job," Turgeon said. "The fan support was great. The administration was great. The young men coaching for the most part were great. But there were a lot of agendas that I inherited."
A number of college coaches that have ties to the state of Texas told ESPN.com that high school and AAU coaches in the Lone Star State are famously provincial. If the staff isn't Texas-based, if there isn't a tendency to really cultivate the in-state coaches, there can be a backlash.
Turgeon, a Kansas native, still coached the Aggies to four straight NCAA tournament appearances despite not feeling totally at home. Things had gotten better the last couple of years and he wasn't considering leaving College Station when the season ended.
But then a call came in from a source close to Maryland athletic director Kevin Anderson, two days before longtime Terps coach Gary Williams was set to announce his retirement.
"I got the phone call and the person said Gary was going to retire and that your name is on the list," Turgeon said. "The person asked if I were interested. I said I would be. I had been offered a few jobs in the last four years but never told my wife. But I told her that this is one we have to think about it. I said, 'Maryland might open and we might have a shot."'
But when Turgeon left on May 6 for a family camping trip in Pennsylvania, he was convinced Arizona coach Sean Miller would take the job. Turgeon's cell phone went dead in the mountains.
"I told her don't worry about it, Sean's an East Coast guy and he'll go," Turgeon said. Miller did meet with Anderson in Las Vegas the next day, but later that night Arizona announced he had agreed to an extension. By Sunday, when Turgeon regained cell service, his phone was filled with messages.
"That's when I knew I was probably their guy," Turgeon said. "I don't care what choice I am. I just know that I'm the coach at Maryland right now and it's a great opportunity for me. Roy Williams wasn't the first choice at Kansas. I'm not saying I'm Roy, but that didn't bother him and he's done pretty well."
Judging by how he handled his first week in College Park, Turgeon isn't doing so bad himself.
His first two assistant coaching moves were to keep Maryland assistant Orlando "Bino" Ranson and then reach out to Kansas State assistant Dalonte Hill, who was once the head coach of AAU powerhouse DC Assault and created a pipeline to K-State with Michael Beasley, Rodney McGruder and Wally Judge, who recently transferred to Rutgers.
Hill, who at KSU was one of the highest-paid assistants in the country at $420,000, is expected to take a pay cut in his return to the Beltway. Turgeon made it official Tuesday when he said Hill had accepted the job with the details to come on the agreement. Landing Hill and keeping Ranson was key in establishing firm recruiting roots in the D.C.-Baltimore area -- fertile ground for recruiting and a sticking point for Gary Williams in the past, when elite players like Beasley, Kevin Durant, Rudy Gay and Carmelo Anthony departed.
Turgeon firmed up the staff when he brought with him Scott Spinelli from Texas A&M after Spinelli lost out to Murray State's Billy Kennedy for the Aggies' head-coaching job. The Massachusetts native has strong ties in the East and has been a longtime assistant to Turgeon at Texas A&M and Wichita State. Spinelli had been recruiting Virginia-area guard Seth Allen for the Aggies and ended up locking him up as Turgeon's first Terrapins recruit.
Turgeon also brought along Dustin Clark from College Station and was going to bring Bill Walker too, but the salary structure didn't work out. So Walker will stay in College Station to finish out his one year remaining on his contract as an assistant coach.
"I've learned a lot from the Texas A&M situation," Turgeon said. "I was out of the BCS for a long time. Everything had changed tremendously. I'm going to be a much better person this time around. I'm hiring the right staff and I'm going to be a much better communicator. I know in this area you have to be to be successful. Everyone here in the area has welcomed me with open arms -- every prominent high school, AAU coach, everyone."
[+] Enlarge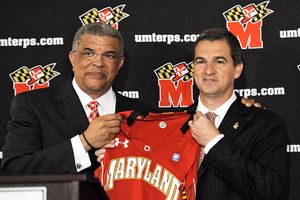 AP Photo/Nick WassWhile it's clear Mark Turgeon wasn't the first choice of Maryland AD Kevin Anderson, that doesn't seem to matter much now.
Soon after his retirement, Gary Williams told ESPN.com that Turgeon was a name on the list and that he was a quality coach. Having Williams' blessing is and will be key in this process. The 66-year-old Williams didn't have a succession plan upon his sudden announcement to move on with his life, so Turgeon will need the support of Williams, who does plan on being around the program as a special assistant to Anderson.
"Gary is supportive and that's a must," Turgeon said.
And like Williams, the new Maryland coach still will seek out the hard-nosed, defensive-minded players. Turgeon will covet the elite players to compete with Duke and North Carolina, but he has had a history of going after the undervalued recruit who emerges as a star, the latest being Khris Middleton at Texas A&M.
"We're going to get the player that really wants to be here," he said.
Leaving a power-six school for a power-six school is becoming increasingly rare. Salaries are higher across the board and coaches don't want to leave Top 25 teams for rebuilding projects.
Well, Texas A&M is poised to be a Big 12 title contender. The Aggies should be in the thick of the race with Baylor, Missouri and Kansas.
As for the Terps, they should be somewhere near the bottom of the ACC with limited bodies and no star power after sophomore forward Jordan Williams declared for the NBA draft. But long-term, the comparison between the two jobs isn't close.
"Sunday [May 8] was one of the best days we had at Texas A&M in my four years," Turgeon said. "All three Texas kids went pro [Jordan Hamilton, Cory Joseph and Tristan Thompson], David Loubeau returned from the draft to us, Kansas lost a lot of guys, too. And then the next day I take the Maryland job.
"I don't want to put a lot of pressure on the next coach [Billy Kennedy], but I know what we had there and we were confident we were going to win," Turgeon said. "We'll have nine bodies here. But you can turn it around quickly. We're not panicking."
Turgeon walked through the concourse of the Comcast Center on Monday, acknowledging the history and marveling at the potential of his new program.
Turgeon agreed to a seven-year contract and said he might get another year added on soon after a couple of signed players decommitted from Maryland. (Although Ranson and the Terps were able to retain Baltimore guard Nick Faust after he flirted with leaving.)
"I'm not about one year," Turgeon said. "It's what we're going to do 15 to 20 years. We're going to do this the right way. We have a lot of work to do, but we're going to win. We're going to win a lot of games. I have more energy now than I've had in a long time. I haven't felt this passionate about something in a long time. My energy level is at an all-time high. Everyone here made me feel like I'm their guy from day one and that meant a lot to me."
Turgeon is well aware Maryland fans expect the Terps to be in the mix with Duke and North Carolina, and ahead of every other ACC program.
Williams, who led the program to its only national championship (2002), is beloved here. The students wanted him to speak at graduation Thursday, so he will. And don't be surprised if they end up naming the Comcast floor for him. University president Dr. Wallace D. Loh already got the ball rolling by saying he will work with the athletic department to make it happen.
"Gary had a great run and I expect to have a great run, too," Turgeon said. "This is a destination. I'd be divorced if I had to do this again."
Turgeon's one-time dream job was Kansas, his home state and alma mater. But Bill Self isn't going anywhere, and if he did, Turgeon swears it wouldn't matter.
"This is the destination for me now," Turgeon said. "I want them to be talking about naming the floor after me in 20 years, too."