Category archive:

Michigan State Spartans
November, 12, 2012
11/12/12
11:10
AM ET
Michigan State lost a tight game in its season opener to Connecticut on Friday. It was one that the Spartans were convinced they were going to win.
So, what happened after the game?
Did Tom Izzo and the players sit in the locker room and sulk? Hardly.
[+] Enlarge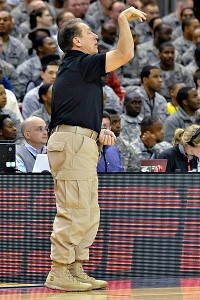 Martin Goldhahn/US PresswireAlthough his team lost to Connecticut, Tom Izzo and the Spartans had a memorable trip to Germany.
They spent a solid 30 minutes-plus on the court, talking to members of the Air Force and Army. They took photos. They signed autographs. And they shared thank-you messages with the troops, who were equally appreciative of the appearance by the players and staff.
The game at Ramstein Air Base was a huge success. I don't know what the ratings will show, and I don't have any financial figures to back up the claim. I can just tell you that's the case based on what I witnessed in person.
This USO-style tour is now in Year 1 of 5 (the plan is for ESPN and the Department of Defense to coordinate games at sites related to the four other branches -- Army, Coast Guard, Marines and Navy), and it works. The two games on the aircraft carriers that were canceled Friday in Mount Pleasant, S.C., and Jacksonville, Fla., were poorly timed. The games should never have been played on the East Coast and at night.
The game on the USS Carl Vinson last season in San Diego tipped at 4 p.m. local time. It started to rain about 40 minutes after that game. So when this year's contest between Syracuse and San Diego State on the USS Midway in San Diego was moved back from Friday to Sunday because of weather concerns, it made sense to play it during the day.
I'm not sure how much Ohio State, Marquette, Florida and Georgetown endorse the concept after dealing with canceled games. But if you talk to anyone on Michigan State or Connecticut who was in Germany, you're going to receive a glowing response.
The experience was unmatched for these two teams, as they were immersed on the base. You couldn't walk two feet without running into a member of the military in fatigues. And the educational aspect probably will be more beneficial than any other trip these players will take during their college basketball careers.
The players listened closely while medical personnel explained how they handled the wounded and fatalities. It was a sobering experience for players and coaches as they went from room to room at the hospital in Landstuhl and visited with the Wounded Warrior Center's injured troops.
The fun stuff -- flying in a C-130 plane -- can be duplicated in some similar form on various bases. Playing on a base ensures the game won't be interrupted by weather and guarantees a unique environment.
Those of us not in the military can't fully comprehend the sacrifice of being in a foreign land, living and working in a bubble and missing family milestones stateside.
The troops, officers, the families, the children of the enlisted and the civilian staff were incredibly appreciative to have a game on their terms. The line outside Hangar 5 stretched for blocks as troops filed in for the midnight tip. There was enough room for 3,100 to watch the game. There are 54,000 Americans in the area at the combined bases -- the largest number of Americans in a concentrated section outside the United States. If they could have fit seats for 10,000 fans in the hangar, I'm sure it would have been standing-room only.
Every single serviceman and woman appreciated having a game on their base. Many are career officers, a number are on multiple-year tours and getting to a game is almost impossible based on their schedules and location.
You can squawk that the games on ships are gimmicks. And maybe there were too many of them, considering two were canceled (with one shut down at halftime). But the military was genuinely overwhelmed that there was this much interest and commitment from two programs to fly to Europe.
The result had consequences for Kevin Ollie to potentially get the head-coaching job at Connecticut for the long-term. But neither teams' seasons will be affected dramatically by playing in Europe. This game was for the military -- a treat they were overjoyed to witness.
Brig. Gen. C.K. Hyde spoke Friday night about what it meant to the personnel to have this game on the base. This is arguably one of the most important military installations in the world with its gateway to North Africa, the Middle East and the rest of Europe.
Ramstein handles the wounded from down range. The base also handles the remains as a stop en route to the United States. Most recently, personnel at Ramstein dealt with the remains of the four Americans, including Ambassador Chris Stevens, killed in Libya.
It is a real and deep. And yet another reason why it meant so much to everyone in Germany to have a game played in front of them.
Bringing a game to a base is the right thing to do. I saw how much it meant to the men and women who are away from their families and friends. I saw the emotion. I heard the stories.
You don't think it meant something to a wounded warrior (Spc. Cory Gizzi) whose family probably saw him on television before he heads home to meet his 6-month-old daughter?
The military personnel are in a bubble away from home. College basketball came to them.
The game between the Huskies and Spartans was competitive, and that was a plus. But the event should be judged by the access the players and staff had with the military and vice versa.
And after three days on the base, the players were left in awe of their peers. That made it a win for everyone.
November, 9, 2012
11/09/12
10:44
PM ET
RAMSTEIN AIR BASE, Germany -- The Connecticut players circled around Kevin Ollie and hugged him.
Then, one by one, they ran over to congratulate their former coach, Jim Calhoun, who had watched his successor's debut, as a fill-in radio analyst.
Then, finally, Ollie and Calhoun embraced. The exchange was genuine. The emotion raw.
[+] Enlarge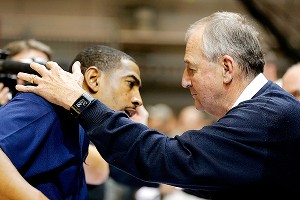 AP Photo/Michael ProbstMentor and mentee shared an emotional embrace after Connecticut's victory Friday night.
Ollie, who was given just a seven-month contract on Sept. 13, beat legendary coach Tom Izzo and No. 14 Michigan State 66-62 Friday night in a season-opening game that tipped off at midnight local time and ended well after 2 a.m., the first college basketball game on European soil.
And if that wasn't enough, despite the late hour, Ollie and the rest of the UConn players, along with the entire Michigan State staff and players, spent quality time taking pictures and signing autographs with hundreds of the 3,100 troops in attendance at Hangar 5 at Ramstein Air Base.
What a night for Connecticut and Ollie.
What an event for the men and women serving here.
What a moving few days for everyone who made the trip to Germany -- to be immersed here on the base, educated about the mission and then inspired and moved by the wounded warriors at the game and those visited in the Landstuhl hospital.
Forget about the moisture on the aircraft carrier courts that canceled the Ohio State-Marquette and Florida-Georgetown games. The decision to move games to the military bases is a home run.
And it made for the perfect opening for Ollie to prove himself to the decision-makers -- UConn president Susan Herbst and athletic director Warde Manuel -- who were sitting behind his bench.
"I was very impressed," said Manuel, who couldn't stop smiling after the game. "It was an unbelievable debut as a head coach."
"It was fabulous," said Herbst. "Kevin has so much heart and integrity. He's so connected to these guys. They overcame a highly ranked team with big guys. It's going to be a great season."
Herbst has been a fan of Ollie for the past two years, singing his praises when the Huskies went to the White House after the 2011 national title. She has listened intently to Calhoun's praise of Ollie. But she has empowered Manuel to make the call.
He might not wait long.
Manuel was at multiple practices here and saw the intensity with which Ollie coaches, pushing the depleted Huskies to defend and stay in the passing lanes and pressure the ball. And that's exactly how UConn beat the Spartans, by dictating tempo and forcing turnovers. Michigan State had 15 and had to play catch-up all game.
"I'm happy for him," said Izzo. "I thought he did a helluva job in the first 10 minutes. They played their butt off. It dropped down to normal, but give him credit, that was what he was as a player. He did a helluva job as a coach. He deserves way more than a one-year contract."
Calhoun certainly agrees. He wants Manuel to make a decision now so recruiting doesn't suffer.
"Kevin got them so jacked up," said Calhoun. "They ran out of gas, but as they made a rush, we found a little something. I've seen it before in Connecticut, and Kevin brought it out of them. It was special."
Calhoun couldn't stop grinning about the Huskies' performance.
"My hands were shaking," he said. "I'm so darn proud of them."
Calhoun credited Ollie for his substitutions, putting four guards on the floor and forcing Michigan State to shoot quickly and make poor decisions late.
[+] Enlarge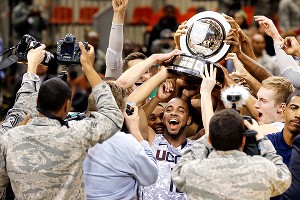 AP Photo/Michael ProbstThe Huskies were all smiles after a surprising win over No. 14 Michigan State.
"They just put in the work and executed the game plan," said Ollie. "It got tough in the second half, but they pursued the basketball and made plays. It was a collective effort."
Ollie isn't about to take any credit. When I was interviewing him for ESPN after the game, he made a point of getting his whole team in the shot. He said it's not about him.
But until Manuel and Herbst make the decision, it is all about Ollie.
"Kevin really inspires them," said Herbst. "The soldiers were so inspiring for our players. The whole atmosphere really made them step up during the game."
As for MSU, Izzo said he wasn't upset about his team's preparation. The focus wasn't there at the beginning, and he said as much as he loves playing in these military-themed games, he would like to win one, too.
He said his team can't turn the ball over like it did, Adreian Payne has to be more focused (three turnovers), and the freshmen need to tighten up their games (Gary Harris was 1-of-7 and Denzel Valentine had a pair of turnovers). But the Spartans have time to fix their issues, even before Tuesday's game in Atlanta against Kansas in the Champions Classic. Keith Appling, who like the rest of the players followed Draymond Green's lead of a year ago and donated his camo jersey to the troops, said that despite the loss, the experience at Ramstein was worth every second.
That feeling was felt by everyone here. The troops couldn't stop thanking the two teams enough for coming to Germany.
UConn won a competitive, intense game in Ollie's debut. The Huskies can't play in the postseason, or even the Big East tournament, due to a poor academic report card. So what are they playing for?
"Pride," said UConn guard Ryan Boatright, who played on a sprained left ankle and said he wasn't about to quit with real warriors in the crowd. "We want to prove everybody wrong. Nobody expected nothing from us. Everybody thought we didn't have enough talent. But we came out and grinded."
Boatright and Shabazz Napier combined for 38 points, with DeAndre Daniels adding a dozen. That's probably the ratio the Huskies will need to be successful. Forcing 15 turnovers and converting them helped, too.
But nothing topped the emotion of playing this game and being here for three days. The players and coaches -- all of them -- leave Germany humbled by the experience.
"It's a blessing to be here," said Boatright. "We see what they all do for us to have a free country. I'm calling this a blessing. I've learned a lot on this trip."
So, too, did the UConn decision-makers. One game doesn't give a coach a job. But the preparation, the adversity and the final product might help push a resolution sooner.
"God is in control," said Ollie. "I feel pressure inside, but they played hard like UConn always plays. I know there are going to be ups and downs and it won't be easy. But we showed resilience. We played tremendously hard. It means the world for [Calhoun] to be here. He just told me he's proud of me and said we played the right way. He told me to build on the success and don't lay on it."
November, 9, 2012
11/09/12
8:09
AM ET
RAMSTEIN AIR BASE, Germany -- Kevin Ollie's voice was hoarse.
But his energy was unchanged.
Sitting in the stands was UConn athletic director Warde Manuel, getting a strong look at his new "head" coach, in whom he was so confident that he gave Ollie a seven-month contract.
Seated courtside was Jim Calhoun, Ollie's mentor, former head coach and the three-time national champion Hall of Famer.
That was Wednesday night.
Manuel didn't attend UConn's Thursday night practice at the Ramstein Fitness Center.
What he missed was seeing Ollie as an equal clinician to Michigan State's Tom Izzo, a likely Hall of Famer in due time, in front of 100 military children who live on or off the base.
Manuel would have seen Ollie jump right into action during half-court defensive work. Sophomore Ryan Boatright couldn't match Ollie step for step. Calhoun was quick to point out from his courtside seat that he would never be able to do that during practice.
Ollie's seven-month contract is the story for UConn to start this season.
The Huskies cannot go to the postseason because of poor academic scores. They cannot be in the Big East tournament. Their numbers are limited and the frontcourt is devoid of depth, let alone reliable low-post scoring. UConn will be pesky defensively, pushing the ball and relying heavily on its guard play from Boatright, Shabazz Napier and Omar Calhoun.
But the decision on Ollie will drive the news cycle around the program.
And it starts here in Germany against Michigan State on Friday night.
"I'm as ready as I can be," Ollie said about coaching his first game. "It's all about our team and our will to prepare."
[+] Enlarge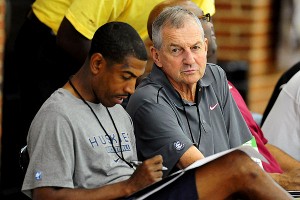 Evan Habeeb/US PRESSWIREJim Calhoun is still around the program, but it's Kevin Ollie runs the show now.
Ollie said having Calhoun being on this trip and working courtside as a radio analyst (he'll also be in the Virgin Islands next week for the Paradise Jam) is welcomed considering "he's a second father to me. He taught me a lot of things, supported me off the court. I love having him as a resource."
Calhoun wants Ollie to get the full-time job with a longer-term contract (say, three to four years) sooner than later. He's hoping Manuel sees the need to make this move to ensure recruiting is locked up in the coming years.
But as Calhoun sits courtside, he remarks about his "family" that is on the court and sideline. The entire staff -- Ollie, George Blaney, Karl Hobbs, Glen Miller and now Kevin Freeman and Ricky Moore -- has a UConn or Northeastern tie from Calhoun.
If Ollie isn't hired, the bond would be broken. If Ollie gets the job -- even for three years -- then at least he had a real shot instead of this season being a waste, especially in recruiting.
"I'm very pleased with what he has done as a coach and leader on and off the court," said Manuel, was at Friday afternoon's shootaround at Hanger 5.
"I'm an open person and once I make a decision to move we will. I'm not going to go behind his back and look at other people. If in the end Kevin is the choice I will be very happy and if he is not, we will find the best person to keep UConn moving in the right direction."
Manuel said he won't and doesn't have to wait until the end of the season to make a decision. He said it could come at any point.
"I'm always being evaluated," Ollie said of Manuel being on the trip. "I'm going to coach the way I coach and [if] they don't like it, they don't like it. It's all I can do. I can't reinvent myself. I can't be Coach Calhoun. I can't be Tom Izzo. At the end of the day, they'll either like me or not. Hopefully I'll be good enough. If not I'll move on. [Manuel] knows I want to be here.
"I'm coming in guns blazing," Ollie said. "I got an opportunity and I'm going to keep going. I'm not worried. I care, but I'm not worried."
Meanwhile, the only concern Izzo has is whether his star freshman guard, Gary Harris, is ready for the prime time of a unique season opener and whether Branden Dawson, coming back from a knee injury suffered last season, can handle the rigors of a long season.
If those two players answer quickly, then the Spartans could be a Big Ten title team and Final Four-bound.
Izzo coached the Spartans in consecutive Final Fours in 2009 and 2010 and had a locker-room leader and inspirational player in Draymond Green last season. The Spartans started 0-2 last season but, behind Green, still won a share of the Big Ten and earned a No. 1 seed.
Izzo said this is one of his more versatile and deepest teams. He has a leading voice in Keith Appling at guard, Harris and a plethora of big men led by Dawson and joined by Adreian Payne and Derrick Nix.
"I think we're ready," Izzo said. "I can't continue to worry about [Dawson] but he was out seven months. We're ready to play hard. But it will be unique for the first time in this environment. We'll be a work in progress for a while."
Izzo said he'll probably go big with Dawson, Payne and Nix for 10-12 minutes a game. He said he could go small with Appling, Harris, move Dawson to power forward and add in Travis Trice or Denzel Valentine.
The Armed Forces Classic is a USO-style game brought here for the troops. But Izzo and Ollie have plenty to focus on as well. Izzo has a title team to build. Ollie has a job to earn.
November, 8, 2012
11/08/12
12:15
PM ET
LANDSTUHL, Germany -- 1st Sgt. Davidson Christmas sat up in his bed as Michigan State coach Tom Izzo and captains
Derrick Nix
and
Russell Byrd
walked into his hospital room, ecstatic that he had visitors, even for just a few minutes.
Christmas was injured "down range," the term used here by military personnel for Afghanistan. He didn't want to get into how he was hurt or the extent of his injuries. All he knew was that he was going home to the United States. He wasn't happy.
"It's tough to leave this team here," he said. "I'm disappointed."
His reaction left the three Spartans stunned. Christmas told them that he wanted to conclude the mission with his team, not leaving anyone behind or letting them fend for themselves.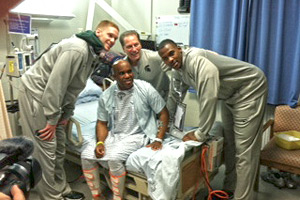 Courtesy Andy Katz Michigan State coach Tom Izzo and captains Derrick Nix and Russell Byrd visited with 1st Sgt. Davidson Christmas in Landstuhl, Germany.
The story resonated.
And this was Day 1 in Germany.
There is a different feel in the hours after Michigan State and Connecticut landed in Frankfurt and made the 90-minute drive to Ramstein Air Base, the largest concentration of American military personnel in Europe.
The celebratory nature of last season's inaugural military game on the USS Carl Vinson off Coronado Island in San Diego's harbor is gone. That game -- including the arrival of President Barack Obama and first lady Michelle Obama -- was an event.
This game, this trip, has had a sobering effect on the two teams involved.
"It hit me," said Izzo. "He wants to be with his team. We talk about sacrifice in sports, but this is the ultimate sacrifice."
The two teams spent the first few hours Wednesday on the ground touring the medical facilities at Ramstein and Landstuhl to fully grasp the importance of the work.
Flight commander Maj. Maria-Elena Coppola gave a tutorial to the two teams in separate classroom sessions Wednesday. She went into great detail on how this base is essentially the way station from the theater of war -- much earlier in the decade in Iraq, for much of the past five years in Afghanistan and at times in North Africa -- before the injured can be transported home or back into the field.
The injured are evacuated from the field to Ramstein, transported on gutted-out school buses and lined up -- literally stacked two in a row -- for transport to Landstuhl's hospital. Nurses, medics and doctors get the patients to the hospital in a glorified taxi service.
Coppola said at its height there were 1,500 to 1,700 patients a month coming through the hospital. Now the numbers have been cut down to roughly 600. The average number of battle injuries is 20 to 22 percent. Other injuries can be sports-related on the base or injuries in the field that aren't combat-related but, instead, could be a result of the conditions.
One female officer the players met Wednesday fell out of a makeshift bunk in the field and broke her back. Officials said she was a bit ashamed of her injury, but no one treated her differently. The players were thankful for her service. She, in turn, was extremely appreciative of their visit.
While seated in a small lecture room, Michigan State assistant coach Mike Garland asked what the average age of those here was. Coppola's response: 20-21. Garland said that was the same age as his players.
That's reality.
Nix said being a college student protects the players from feeling any sense of war. Here they don't see combat. But the visuals at the hospital and the words from the officers of what it means can penetrate.
While walking through the halls at Landstuhl, one woman from Indianapolis came out to see the Huskies and Spartans. She wanted hugs. She couldn't stop smiling that there were visitors.
"It makes the pain go away today," she said.
[+] Enlarge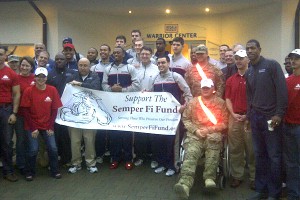 Courtesy Andy Katz UConn players and coach Kevin Ollie met with military personnel at the USO Wounded Warrior Center.
While only a few players and one coach from Michigan State and Connecticut toured the hospital rooms, the rest took turns hanging out with those injured in the USO Wounded Warrior Center. There were televisions, a kitchen, computers and game rooms to keep everyone as content as possible.
The Landstuhl facility, which is about 20 minutes off base from Ramstein, is about to get its 70,000th patient since the Iraq and Afghanistan wars began. The average stay is roughly three days before they move home or back out.
With troops out of Iraq, Coppola said the numbers are dropping. If the withdrawal continues out of Afghanistan by 2014, it will dwindle even more. But there has to be substantial personnel in case of action elsewhere.
Landstuhl treats patients from all over NATO, dealing with troops from 51 countries. It also gets good news daily, as babies are born from the many who live here.
The teams were scheduled to see the working part of the base Thursday by taking C-130 flights. The base is one of the main refueling stops for military personnel who come through Europe on their way to the Middle East and Africa, as well as a dignitary stop for members of the presidential administration, Congress and the Department of Defense.
The base works like its own city. There is traffic toward the end of the day, with thousands of personnel leaving to go home off the base. The hotel and mall is fully functional, and the fitness center, where the two teams worked out Wednesday night, looked just like a number of practice facilities in the United States.
Both Michigan State and Connecticut attempted to stay on East Coast time, which created a long Wednesday after arriving on red-eye flights in the morning. UConn practiced from 8 to 10 p.m. in Germany while Michigan State went from 10 to midnight. In his true form, new UConn coach Kevin Ollie was as intense as ever, drilling his Huskies into believing they are the quickest and most athletic team in the game Friday night. It's his way to combat the physical play of the Spartans.
Izzo led just as spirited a practice late into the night.
The intensity has rubbed off. Maybe it was the sight of fatigue by most personnel on the base, or possibly the sobering talks they had earlier in the day. But it is hitting home.
One officer said Friday night may be the only time any of the troops see a college basketball game in person. It's a cool distraction for a regimented life with a well-intended purpose.
How much the players remember this when they get home is unknown. But you can tell they are soaking it all in while they're here.
November, 7, 2012
11/07/12
12:43
PM ET
Ramstein Air Base, Rheinland-Pfalz, Germany -- From the moment he stepped onto the USS Carl Vinson last season to the second he stepped off, Michigan State coach Tom Izzo was in awe.
He wanted to experience that feeling again.
So when the call came from ESPN to gauge his interest in another game on a military facility -- this time in Germany at the United States Air Forces headquarters in Europe, a NATO installation facility -- he didn't blink.
He just needed to know when and who he would be playing.
[+] Enlarge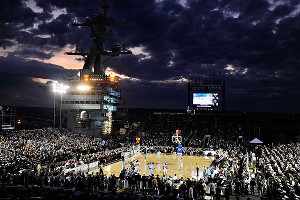 Christopher Hanewinckel/US PresswireThe Spartans, who played on the USS Carl Vinson to open the 2011 season, will face UConn at the Ramstein Air Base on Friday.
Connecticut had already been secured as the first team well before it was known that the Huskies would not be able to play in the 2013 postseason due to a poor APR score.
"It was a no-brainer,'' said former UConn coach Jim Calhoun, who retired in September but will be on the trip as a special radio analyst. "In my era as a college student, Vietnam vets were coming home and no one really truly appreciated when the guys were thrown into the war. They didn't believe in it. It was unpopular. Obviously, we're going after people in Afghanistan, and we're trying to get Iraq to be self-sufficient. But we need those kids home.
"Those men and women are doing incredible things by putting their life on the line every single day for us, and to be able to go to a base with so many different military personnel there and put a game on, to do a clinic with all the people is the least we can do,'' said Calhoun.
Calhoun was on board, and so too was his replacement Kevin Ollie, who had no choice, but has embraced it just as much.
"What an honor this is,'' said Ollie. "We want to go out there and play competitive basketball, but we understand there is more than basketball. They're fighting and battling for us so we can have freedoms and liberties in the States. We want to thank them, and that's why we're going to Germany to play for them.''
The chore for ESPN's programming department, led by Nick Dawson, the network's director of programming and acquisitions, was to find a suitable opponent that would resonate nationally, especially if it was ranked.
The easy call was Michigan State -- again.
The Spartans had been the creators of the Carrier Classic, as innovative athletic director Mark Hollis hatched the idea years earlier and saw it come to fruition against top-ranked North Carolina on 11-11-11. The event became even more memorable since the ship -- the USS Carl Vinson -- was used to dump the body of Osama Bin Laden. President Barack Obama, who was en route to a conference in the South Pacific, watched the game from courtside, making it even more palatable.
"The game starts, and I look across and there is the president with his wife, there are all these military people that have done so much for us, and you look up and there is a sky,'' said Izzo. "I felt like I was back in Iron Mountain [Mich.], in a way. Then they stopped the game to play 'Taps' and that was like, wow, that was something special.''
The event moved Izzo so much that he's ecstatic to get another chance to experience it all.
"When they called, I said, 'God, I've got to play Kansas four days later [in the Champions Classic in Atlanta] -- can we move the game back a couple of days?' But then I thought to myself, I always want my guys to get to do things that are memory-makers,'' said Izzo. "To open up college basketball two years in a row, I think these are the unique things that Michigan State has to do, does do, to keep ourselves up there where we need to be.''
Izzo said his affection for the troops was brought to the forefront when he went to Kuwait nearly eight years ago as part of a coaching outreach to live, eat and sleep with the troops as they played in a tournament on the edge of a war zone.
"We shared something, and it was a life-changing experience,'' said Izzo. "When I got back at 2 a.m. from that trip, I'm driving back from Detroit and I called my assistant and said have every player at my office. It was August, and it was 2 o'clock in the morning. I showed them food bags and talked to them about it. … I got up with [the troops] at 5:30 a.m., slept in the barracks, and that changed my perception of everything. I can only apologize to those troops that I didn't have respect for them [before then] because I didn't know.
"They give up their life for us,'' said Izzo. "We think sports is life or death. We found out that's not the case.''
Izzo doesn't know how he'll feel once he walks into the hanger at Ramstein. But he can only guess.
"I'm going to be coaching my own team in front of the troops,'' said Izzo. "It's going to be awesome.''
The Spartans and Huskies will visit wounded troops in a military hospital, visit with military families, and take a C-130 flight over the area to get the full experience. Three players from Germany, coincidentally, are on UConn's roster this season -- Niels Giffey, Enosch Wolf and Leon Tolksdorf. They've gobbled up countless tickets for their families, who will make the drive across the country to the game.
The goal is to keep the players on East Coast time by practicing late in the night and eating dinner at an odd hour, as well. There won't be much time, if any at all, for sightseeing. This is about the military and the game.
Giffey summed up what this game would mean to the troops stationed at Ramstein.
"It's going to be big for them because they don't have a chance to go back, either,'' Giffey said of the troops who are far away from home, much like the three Germans in the States. "I know exactly how they feel [about being homesick]. They don't see their family a lot, they don't get a chance to see a game like this. Sure, it's going to be a great time for us, but it is a chance for us to give something back to them. You get so much on a college campus every day. You experience so much, but this is something that can settle you down. It can bring you to the point where you say, 'OK, these people give so much to their country, and it's a great time to give something back to them.'''
October, 25, 2012
10/25/12
10:27
AM ET
EAST LANSING, Mich. -- Tom Izzo didn't let up one bit in practice -- encouraging, yelling, constructively criticizing and pushing his players to be fundamentally sound and efficient on every possession.
He can't let up. Not with this team. Not with Draymond Green in the NBA.
Izzo is igniting a fire underneath Michigan State because he knows he could have something special again. And this tends to be when he's at his best. No coach has been as consistent the last 14 years with six Final Four appearances, including one national title.
And the beauty of Izzo is that he can rip his players, break them down and within seconds after practice they are laughing, seeking his counsel and advice. Tuesday's practice wasn't as sharp as the previous few days, according to associate head coach Dwayne Stephens. But there was no denying the talent.
The Spartans weren't picked to finish in the Big Ten's top three in the preseason media poll released Thursday at the league's media day. Indiana is the favorite behind consensus player of the year candidate Cody Zeller. Arguments can be made for Ohio State and Michigan as well. But MSU has to be considered a real threat to win the conference and challenge for a top seed yet again.
Remember, the Spartans started last season much like they will have to begin this one. They were 0-2 after playing North Carolina on the deck of the USS Carl Vinson across the waterway from San Diego. They followed that up with a stop in East Lansing before being fodder for a record-breaking win for Duke coach Mike Krzyzewski at Madison Square Garden.
But the Spartans ended the season by tying for the regular-season title, winning the Big Ten tournament and earning a No. 1 seed before being upset by Louisville in the Sweet 16.
Izzo is taking the same approach this season by agreeing without hesitation to play in the first-ever regular-season game in Europe (although he did ask Keith Appling and Russell Byrd for input). MSU will play Connecticut at Ramstein Air Base in Germany on Nov. 9 in the Armed Forces Classic, followed by a matchup with Kansas four days later in Atlanta in Year 2 of the Champions Classic.
"I just think it gives me a little better perception of the different conference foes I might play because I think every conference plays a little different,'' Izzo said. "That's why I think it helps me. Other than that, it's kind of insane.''
The players love the idea, though. Each one I talked to this week in East Lansing said they can't wait to play the games in Germany and Atlanta. A number of them have never been out of the country.
Izzo knows the trip (with a pit stop in East Lansing for a day) will require a mentally strong group. And it's clear he's trying to establish this team's identity.
Green dominated the speaking roles in practice, the locker room and in the huddles during games the last couple of years. Now, Izzo's voice reigns supreme even more, with the need for a collection of others to speak up.
[+] Enlarge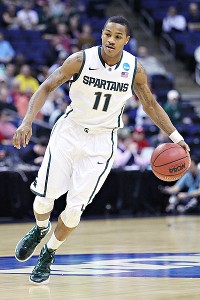 Greg Bartram/US PresswireKeith Appling will look to replace some of the verbal leadership lost with the graduation of Draymond Green.
Appling is hoping to take on a Mateen Cleaves-Charlie Bell approach. He needs to be as outspoken as Cleaves but his game mirrors the more speedy, disciplined and defensive-minded Bell.
"I'll have the ball in my hands and as the quarterback of this team I'll have to do the majority of communicating,'' Appling said. "Draymond is gone so now it's a collection of guys willing to help each other. That's what we have to do.''
Appling has a new backcourt mate in highly touted Gary Harris. Harris is more introverted with his voice, but not his game. He can dominate the ball, create his own shot and already has sold Izzo on his knowledge of the game.
"He's one of the best defensive guards I've had since Charlie Bell,'' Izzo said. "He is one of the smartest players I've ever coached. He's an unbelievable kid, a fun kid to coach and a guy that I see big things out of this year.''
Izzo is pushing Harris in practice. He knows he can excel and be a star in the Big Ten. And having Byrd and Travis Trice as backups gives the Spartans a legitimate four-guard rotation with each one having a different role.
The frontcourt might be one of the deepest Izzo has had with a finally healthy Branden Dawson (he should have his left knee brace off soon) able to score inside and out; the possibility of Adreian Payne as a possible stretch 4 (Izzo loves his ability to make shots now); and the foot movement of Derrick Nix making him a formidable post scorer. Add in a tweener like freshman Denzel Valentine and MSU has one of its most versatile teams under Izzo, who said he doesn't have a slew of all-stars but "a lot of guys that are interchangeable that can play together."
"I think we can play with that type of team that's been successful for us -- versatile teams," Izzo said. "If we go against someone that's real big, we can go big. If we are against someone that's real small, we can go small. This is one of the more athletic teams we've had and those teams have always been good for me.''
In terms of roster makeup, the comparison being tossed around by some around here is to the 2000 club that won it all. But that team had a leader in Cleaves and an NBA lock in Morris Peterson. No one is quite ready to make that prediction. But there is a genuine affection that each player has for each other and Izzo -- that much is obvious.
It's no secret that Izzo had some locker room duds for a recent stretch -- one that resulted in some transfer attrition. Just like a year ago, that doesn't appear to be an issue this season.
The identity of this group will be its ability to get along.
"I don't think I have a great leader,'' Izzo said. "I think we are working towards it. We are working at it. But I've had teams that have had no leadership and no chemistry. I've had some teams that have great leadership and average chemistry. Last year, I had a team with great leadership and great chemistry. Right now I think the chemistry of this team is as good as it's been in a while. Why? I don't know, but I like it.''
March, 20, 2012
03/20/12
12:06
PM ET
A Sweet 16 appearance elevates a program to the next level.
A Final Four moves it up another notch.
The matchups usually make the difference in getting this far. Talent -- and star power -- also play big roles.
There is a certain level of pressure for all coaches and programs. For some, it's self-induced. For others, it comes from a passionate fan base. Some programs need to reach the Final Four for the season to be considered a success. Some do not.
With that being said, here is our Final Four pressure-meter (1 feels the least amount of pressure and 10 feels the most):
[+] Enlarge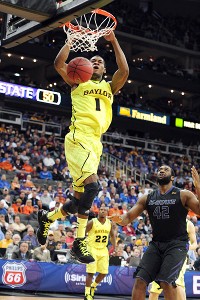 Peter G. Aiken/US PresswirePerry Jones' Bears have the talent to reach New Orleans, but they have a big hurdle to clear in the South Region.
Baylor (5): The men's team doesn't need to make a Final Four appearance. The women will take care of that, as they are the favorites to win the national title. But the men's team has the makeup to make this run a rare one. Few teams have length like the Bears do, and it's unlikely that Perry Jones III will stick around for a third season. The reason Baylor doesn't have as much pressure to reach the Final Four, even though it has the personnel to make it to New Orleans, is the bracket it's in. Kentucky could stand in the way of Baylor's potential first men's Final Four appearance. The Wildcats are the clear favorites, so expecting the Bears to advance to the Final Four from the South wouldn't be fair.
Cincinnati (3): Cincinnati has survived suspensions and a bumpy ride in the Big East. The Bearcats thrived at the end of the season and reached the conference title game. Mick Cronin and this crew have exceeded expectations by reaching the Sweet 16. Playing one of the favorites in Ohio State takes more pressure off the Bearcats. This ride now is all about extra credit for Cronin and Co.
Florida (4): The Gators won two national titles in consecutive seasons. It will be hard for any program to duplicate that -- ever again. Keeping a team together like the '04 class for the '06 and '07 titles will be extremely difficult to match unless the NBA draft rules change again. The Gators had an easier road to the Sweet 16 thanks to a depleted Virginia team and playing Norfolk State, which exhausted itself with the stunning upset over Missouri. But the Gators don't need to get to the Final Four. If Florida does reach New Orleans with this flawed group and its suspect inside game, it would be quite a feat. The Gators are the lowest remaining seed in the West, too. Expecting them to get past Marquette and possibly top seed Michigan State would be a bit much.
Indiana (3): Tom Crean has turned the corner in Bloomington. There was legitimate reason to be concerned last season. But Crean recruited exceptionally well, getting a star in Cody Zeller, and he got his players to believe they could win big-time games. The victory over Kentucky will resonate for some time. Reaching the Sweet 16 gives Crean even more credibility and respect in the state. However, for this team to get past Kentucky would be asking too much. No one should expect a win over the Wildcats again. To advance to the Elite Eight and the Final Four would be sensational accomplishments. Even though the fan base expects greatness, Indiana has already exceeded any expectations by getting this far.
Louisville (5): The Cardinals are the "pro" team in town. And like Kentucky, the expectations include Final Four appearances. But Louisville has gone through a slew of injuries, and there was no reason to believe it could maintain a high level of play throughout the season. Still, the Cards survived to reach the Sweet 16 and face top-seeded Michigan State. The most pressure may be felt in trying to keep up with rival Kentucky. The expectation is that the Wildcats will be in the Final Four, so why not join them and create even more frenzy in a hoops-crazed state?
Kansas (9): The Jayhawks have two of the top players at their positions in Thomas Robinson and Tyshawn Taylor. Kansas expects to compete for conference and national titles, regardless of personnel, every season. And while Bill Self had to deal with rotation players not being eligible, including top newcomer Ben McLemore, the Jayhawks still won the Big 12 regular-season title for the eighth straight time. Kansas survived against Purdue, but had it not been for a guard meltdown the Jayhawks may be idle right now. Instead, they have new life in the Midwest, thanks to NC State's Sweet 16 run and North Carolina potentially being without Kendall Marshall in the Elite Eight (if the Tar Heels get past Ohio). The pressure has ratcheted up for the Jayhawks. If Marshall is out for this weekend in St. Louis, the Jayhawks are the new favorites in the Midwest.
[+] Enlarge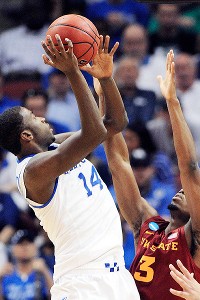 Jamie Rhodes/US PresswireAs the favorite to win the title, Michael Kidd-Gilchrist and Kentucky have to feel the pressure.
Kentucky (10): The Wildcats are the front-runners to win the national title, not just get to the Final Four. Let's be honest, anything less than a title would be a disappointment. No team in the Sweet 16 has as much pressure to get to the Final Four as Kentucky. The Wildcats have the most talent, the national player of the year in Anthony Davis, and plenty of other pro talent on the roster (Michael Kidd-Gilchrist, Terrence Jones and Doron Lamb). Darius Miller also played in the Final Four last season. John Calipari has coached in three Final Fours. The Wildcats are playing a team that handed them their only regular-season loss. A possible matchup with Baylor is more than formidable. The Bears can match Kentucky's length and shooting, but Baylor's defense has never been its strong suit. The region still lays out well for Kentucky in SEC-rich Catlanta.
Marquette (6): The Golden Eagles play as hard, if not harder, than any other team in the field. Marquette's beat down of BYU in the second half and its ability to run past Murray State late were quite impressive. Now, the Eagles get a Florida team that it matches up well with since they can defend the 3-point shot. Marquette should be the favorite in this game and has the personnel and the toughness to beat Michigan State or Louisville. A Final Four isn't expected with this group, but now the bracket has opened up a bit with Missouri gone. A loss in the Elite Eight makes more sense, but there is some pressure for Marquette to advance with Jae Crowder and Darius Johnson-Odom leading the way. The Eagles have been to a Final Four with Dwyane Wade under Crean. A berth for Buzz Williams would raise his coaching profile.
Michigan State (8): The Spartans lost one of their key rotation players in Branden Dawson in the final regular-season game against Ohio State. But they won the Big Ten tournament title without him and earned a No. 1 seed in the NCAAs. Draymond Green has been the most valuable player so far in the NCAA tournament and has a legit shot to lead the Spartans to another Final Four. Michigan State expects Final Fours under Tom Izzo, but this team certainly didn't look the part early in the season. It has matured into a title contender. And while the bracket is filled with potential hurdles, the Spartans have the pressure of being a top seed and the expectation of a Final Four appearance.
North Carolina (8): The Tar Heels would have had a 10 in this spot if Marshall didn't fracture his wrist against Creighton and have surgery on Monday. Now, the pressure of reaching the Final Four has dropped a few spots. North Carolina was as healthy as it had been in weeks at the start of the game with the Bluejays. But the Marshall injury makes the Tar Heels extremely vulnerable. Ohio is capable of pulling off another upset. And if the Tar Heels get past Ohio, a revenge-minded NC State team or title-contending Kansas awaits. The Tar Heels were built to win a title. That's why Harrison Barnes didn't opt for the NBA. Tyler Zeller had opportunities, as well. The roster is deep enough to absorb injuries to Leslie McDonald and Dexter Strickland. Let's see if it can take its worst hit and survive without Marshall or having him only on a limited basis. The expectations for a Final Four may have dropped outside of Chapel Hill, but it hasn't inside the Dean Smith Center. Carolina should expect to be in the Final Four yet again. It's just tougher with Marshall's injury and Kansas potentially looming.
NC State (2): The Wolfpack have far exceeded expectations under Mark Gottfried. NC State was the last team revealed on Selection Sunday. It had to be one of the last teams in the field prior to the four at-large teams that played in the First Four. NC State lost a 19-point lead at Duke, and the Wolfpack couldn't close out UNC in the ACC tournament. But they grinded out wins over San Diego State and Georgetown in their first two games of the tournament. This program has had low expectations for years. The Final Four would be gravy on what has already been deemed a highly successful season. The Wolfpack draw Kansas and if they somehow get past KU (not improbable), they could face a rematch with UNC. One can only imagine the scene in Raleigh if NC State, and not UNC, made the Final Four.
[+] Enlarge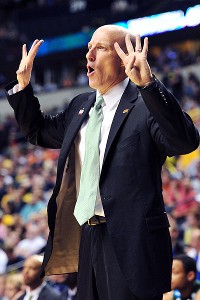 Don McPeak/US PresswireOhio coach John Groce could be walking into a difficult situation if he leaves for Illinois.
Ohio (1): The Bobcats are one of the tournament's great stories. Ohio played one of the more dramatic conference tournament title games when it knocked off Akron in thrilling fashion. The Bobcats got a decent seed at 13 and were matched up against a flawed Michigan squad. Ohio was aggressive and had the more experienced lead guard in D.J. Cooper (vs. the heralded Trey Burke) against the Wolverines. The Bobcats then faced a 12-seed in South Florida that couldn't score and was playing its third game of the tournament. Now, Ohio is playing with house money. The Bobcats have zero pressure in reaching the Final Four. Sure, they are facing a North Carolina team that will likely be sans Marshall. But to expect Ohio to win two more and get to the Final Four would be unfair. Ohio has already made its mark with this Sweet 16 appearance and coach John Groce can likely write his own ticket to a higher-paying job in the Big Ten if he chooses to do so.
Ohio State (9): The Buckeyes would have been a 1-seed if they had beaten Michigan State in the Big Ten title game. Jared Sullinger is healthy again, and the personnel hasn't changed. The Buckeyes possess some of the top players at their respective positions in Aaron Craft (top on-ball defender), William Buford (elite shooter) and Deshaun Thomas (a tough matchup as a face-up forward). Ohio State drew an instate rival in Cincinnati. The Bearcats will muck up the game and challenge everything. The top part of the bracket would be just as difficult with either a lock-down defensive team in Wisconsin or an up-and-down transition squad with a pesky zone in top seed Syracuse. But the Orange don't have Fab Melo, so if you were to re-rank the East bracket, the Buckeyes would have to be the favorites. That puts more pressure on Ohio State, and with Sullinger possibly leaving for the NBA, the window to reach the Final Four is now.
Syracuse (9): The Orange were built for a Final Four run. No team had players coming off the bench like Dion Waiters, C.J. Fair and Michael Carter-Williams. Fair is starting now, but the overall depth is still impressive. Melo's ineligibility knocks the Orange down from a 10. The expectation was Final Four or bust since they started showing their dominance during the Big East season. Syracuse has tremendous versatility with Scoop Jardine, Brandon Triche and Kris Joseph all able to make key shots. The Orange weren't tested by Kansas State after surviving a scare from UNC Asheville. The expectation is that it should beat Wisconsin and play against Ohio State. Syracuse may not be projected to beat the Buckeyes in a possible Elite Eight matchup now, sans Melo, but the pressure is there to get to a Final Four with a group that won't be together next season.
Wisconsin (4): Bo Ryan has never reached the Final Four. But he has had better teams projected to go farther. This squad has improved more than any of the previous teams he's coached at Wisconsin. The Badgers lost three early-season home games, and that rattled their confidence. But it didn't take away their resolve. Wisconsin found its shooting stroke, maintained its defensive intensity and got star-level play out of a role player in Ryan Evans. Jordan Taylor is still the leader and will take -- and make -- the big shots. The Badgers were the more polished team in wins over Montana and Vanderbilt. The expectation to knock off Syracuse isn't high. But if that occurs, then a team they already beat -- Ohio State -- could be standing in their way. The Badgers' last Final Four appearance was in 2000. The fan base is hungry for another run, but it doesn't need one. Ryan would like one, but he knows this may not be his best shot. Still, it's plausible in the current bracket.
Xavier (3): The Musketeers may not have been here had it not been for an A-10 title game appearance. Xavier had to mount a season-long repair project to get to this point. And it worked. Coach Chris Mack deserves as much credit for this run as the criticism he took for the way he initially handled the post-brawl situation. He matured as a coach during the season, dealt with his own knee injury and clearly got his lead guards, notably Tu Holloway, to refocus on the task at hand. Xavier survived Notre Dame by playing smarter than the Irish. It showed more moxie than Lehigh in finishing with a strong kick. No one is expecting Xavier to make the Final Four, even those that projected the Musketeers to do so in November. But Baylor is beatable. Taking down Kentucky would be quite a feat. The pressure is low. Xavier has already exceeded the expectations of a team that once had Final Four aspirations but didn't play that way for most of the Atlantic 10 season. Now that it's two wins away, the pressure is even lower. Xavier has already done well to finish the season on a high.
January, 26, 2012
01/26/12
10:40
AM ET
Scandals don't discriminate. They can catch anybody in the sport, regardless of age, ethnicity or level of play.
No one is immune.
But for the sake of the coaching profession, and maybe for faith that there are real and genuine coaches in the sport, Tom Izzo needs to stay scandal-free.
I've covered the sport since I was in college in the late '80s and there has never been someone who has achieved so much success that defines true character than Izzo. He is deserving of the praise that was flooding Twitter on Thursday.
Izzo got his 400th career victory at Michigan State on Wednesday with a win over Minnesota.
Izzo hasn't changed one bit since he was an assistant under Jud Heathcote.
This is who he is:
• A grinder.
• Loyal.
• Passionate.
• Compassionate.
• Dedicated.
• Winner.
• Real.
[+] Enlarge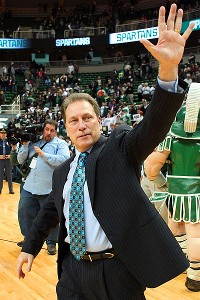 Mike Carter/US PresswireMichigan State coach Tom Izzo got his 400th victory Wednesday night.
Izzo is an icon at Michigan State, but there are no walls between him and the masses. He is one of the people, always has been, always will be at Michigan State.
And he's not afraid to call out his own. He took offense, as he should, to one of his Izzone fans calling for Purdue's Robbie Hummel to suffer a third ACL tear. He is protective of his team but will not tolerate any poor behavior, regardless of it wearing green and white.
He doesn't hide from giving the sport challenging games by playing anybody, anytime.
When the Champions Classic field with Kansas, Duke, Kentucky and Michigan State was put together, which school do you think didn't hesitate or need to hear the matchups or the sites? Michigan State.
Just think for a moment that the Spartans are easily in this group when it comes to putting together an elite event. The traction after the 1979 national title didn't exist. The Spartans weren't a dominant program through the '80s or early to mid '90s. Izzo changed that beginning in 1999. And while Ohio State has the resources and usually the more recognizable recruits, the Spartans are the team of record in this new century in the Big Ten.
And there is no indication that it will end. Does anyone really believe that an Izzo-coached team is out of contention for a bid, or a March run? The Spartans aren't always the favorites, and Izzo's teams have had plenty of flaws, but he always gets his players up for any challenge.
Striking a balance as a father and a husband is a constant chore for any coach. We can't pretend to know how he is at home, but from what I have seen in short snippets he does his best to create the balance.
Izzo is intense but not to the point that it leads to a lonely life where the job is all that he cares about. There are plenty of failed husbands and absentee fathers in the coaching ranks. Izzo isn't one of them.
He is also an incredibly loyal friend to his former assistant coaches, to the rest of the athletic department and to his boss, athletic director Mark Hollis.
Seeing Izzo on the deck of the USS Carl Vinson in San Diego in November, you could tell how he genuinely was in awe of the moment and of the sailors on deck. He wasn't going to make this about him, or his program. He was honored to be asked. It didn't matter who talked to him while walking on the deck. Izzo stopped for photos, shook hands and talked to anyone who approached.
Izzo knew that going to Cleveland to coach the LeBron-less Cavs wasn't for him. He would have had a pay increase, but the life he would have led would have been flawed. Rarely has there been a coach in this era who is a throwback to what a college coach should be on a campus. He is entrenched at the school, a true representative of the university and willing to give back to a school that gave him an opportunity.
Izzo's milestone victory led to Internet plaudits Thursday. But they could come any day.
You can have battles with Izzo over stories and questions. He wouldn't be real without the fire and testiness at times. But that's Izzo being Izzo, someone who hasn't let success define or change him. And that's what all coaches should strive to achieve: be yourself, regardless of success.
January, 17, 2012
01/17/12
1:29
PM ET
College basketball could use a Heisman-like award, one main honor instead of the five mainstream national awards.
The problem is that finding a consensus for the Wooden, Naismith, AP, Rupp and Oscar Robertson honors is no easy task.
The awards voters do tend to coalesce behind one candidate. And maybe that will be the case again.
But it seems that this season's race will be as wide open as ever. If you need more evidence, take a look at the 25 finalists for the Wooden Award, released on ESPNU and ESPN.com on Tuesday.
It appears that the only two players who are consensus candidates are Kansas' Thomas Robinson and Creighton's Doug McDermott. It's not a reach to say these two players are the favorites in mid-January, a stunning development considering how much preseason hype Ohio State's Jared Sullinger and North Carolina's Harrison Barnes received. The amazing part thus far is that I don't believe Sullinger nor Barnes would be a first-team All-American if the voting were conducted today.
Before we get to the list of players compiled by the Wooden folks, it's important to note that these are simply the 25 players who they felt should be honored on their midseason list. Players who do not show up are still very much eligible to win the Wooden Award at the end of the season and will be given equal consideration.
So players who have legitimate claims to being on this list -- Maryland's Terrell Stoglin and Seton Hall teammates Herb Pope and Jordan Theodore come to mind -- still have a shot.
So without further ado, here are the 25 Wooden finalists (in alphabetical order):
Harrison Barnes, 6-foot-8, So., F, North Carolina Stat line: 16.8 ppg, 4.8 rpg
Chances: Fading. Still has a shot to be a second-team All-American. Barnes hasn't been the dominating player on the Tar Heels. To be fair, he has some of the best talent in the country (John Henson, Tyler Zeller and Kendall Marshall) surrounding him. UNC's 33-point loss to Florida State didn't help his case, either.
Will Barton, 6-6, So., F, Memphis Stat line: 18.2 ppg, 9.0 rpg
Chances: No shot. He could be the Conference USA Player of the Year, though. Barton has greatly improved and has been the most consistent player during the Tigers' inconsistent season.
William Buford, 6-6, Sr., G, Ohio State Stat line: 15.2 ppg, 4.6 rpg
Chances: No shot. Buford won't win Big Ten POY, either. He has been OSU's best perimeter threat, but he won't be a first-team All-American. Buford might not even be first-team All-Big Ten. He is an integral part of the Buckeyes' title hopes, but is not a POY contender.
Anthony Davis, 6-10, Fr., C, Kentucky Stat line: 13.1 ppg, 10.2 rpg, 4.6 bpg
Chances: High. Davis has been the most dominant post player in the country. He blocked a last-second shot by North Carolina's John Henson in December, preventing the Tar Heels from winning a game at Rupp. He alters and changes more shots than any other player. If the Wildcats win the national title, Davis will be one of the reasons why. He would be ahead of Ohio State's Jared Sullinger on the All-America ballot if you had to choose one of them.
Marcus Denmon, 6-3, Sr., G, Missouri Stat line: 17.8 ppg, 5.5 rpg
Chances: Not great. Denmon is the leading scorer for Mizzou. But it's hard to separate him from Kim English, Ricardo Ratliffe, Michael Dixon and Flip Pressey in his importance to the Tigers. They all have played an equal role in Missouri's impressive start. It will be interesting to see which of these players earns first-team All-Big 12.
Draymond Green, 6-7, Sr., F, Michigan State Stat line: 15.8 ppg, 10.1 rpg
Chances: In the mix. If he continues his current pace of scoring and rebounding, Green could end up nudging out Sullinger for Big Ten Player of the Year. The Spartans did lose at Northwestern on Saturday, but Green has been a tremendous leader. He will stay in the chase for a first-team All-American spot if his team stays in the race for the Big Ten title.
John Henson, 6-11, Jr., C, North Carolina Stat line: 14.4 ppg, 9.7 rpg
Chances: No shot. Henson didn't convert the biggest shot of his season against Kentucky. Davis blocked it. And if Barnes isn't the national player of the year, Henson isn't either. The 33-point loss to Florida State will haunt all Tar Heels candidates.
John Jenkins, 6-4, Jr., G, Vanderbilt Stat line: 19.8 ppg, 2.8 rpg
Chances: No shot. Jenkins is a superb shooter and scorer and is leading the revitalized Commodores. But his role isn't more important than Jeffery Taylor, Brad Tinsley or Festus Ezeli -- it is equally important. The 'Dores mid-nonconference slide hurts Jenkins' campaign. The success of the Kentucky freshmen also makes it almost impossible for Jenkins to get SEC Player of the Year.
Orlando Johnson, 6-5, Sr., G, UCSB Stat line: 20.2 ppg, 6.4 rpg
Chances: No shot. Johnson is having a stellar season for the Gauchos, and he may be one of the higher draft picks on this list. But the Gauchos are 8-6 and are trailing Long Beach State in the Big West. Johnson should be an All-American, but he won't make the first team.
Darius Johnson-Odom, 6-2, Sr., G, Marquette Stat line: 18.2 ppg, 3.3 rpg
Chances: No shot. DJO has had a superb season for the Golden Eagles. He has a legit shot at Big East Player of the Year. But that won't be enough to get a first-team All-American spot or the national POY. Marquette has been decent, but not great enough for DJO to stand out on that pedestal.
Kevin Jones, 6-8, Sr., F, West Virginia Stat line: 20.6 ppg, 11.1 rpg
Chances: Decent. Jones has put it all together as a senior and has put up just a monster season for the Mountaineers. Just seems like it's double-double after double-double for Jones, who will need to keep the Mountaineers in the top 3 of the Big East in order to stay in Wooden contention.
Perry Jones III, 6-11, So., C, Baylor Stat line: 14.2 ppg, 7.5 rpg
Chances: No shot at player of the year, but he is in the hunt for a first-team All-American slot. The problem for Jones' candidacy is that Quincy Acy has been a comparable inside scorer and guard Pierre Jackson has been an integral member of this team. Jones didn't help his case when he and the Bears were dominated by Kansas' Thomas Robinson in a loss on Monday night. But he can't win national POY if he isn't the Big 12 Player of the Year. And Robinson is the favorite for that honor.
Kris Joseph, 6-7, Sr., F, Syracuse Stat line: 13.7 ppg, 4.6 rpg
Chances: No shot. Joseph is leading the Orange, but this team is so deep, so talented and so balanced that you would have a hard time picking just him. Dion Waiters may be Syracuse's MVP. A number of other players have taken turns being the star for the Orange, too.
Michael Kidd-Gilchrist, 6-7, Fr., F, Kentucky Stat line: 13.4 ppg, 7.7 rpg, 49.4 FG percentage
Chances: Solid. Kidd-Gilchrist could be the SEC Player of the Year. And if he gets that honor, he'll be in contention for the national POY. Kidd-Gilchrist took a few games to get going, but once he did he was an offensive force. He has delivered on his talent and effort.
Jeremy Lamb, 6-5, So., G, Connecticut Stat line: 17.9 ppg, 4.2 rpg
Chances: No shot. Lamb is leading the Huskies in scoring. But UConn is still finding its way in the Big East. The Huskies haven't featured Lamb as much, either. Andre Drummond may end up being the team's featured scorer by season's end. Lamb isn't the Big East Player of the Year right now, so he isn't winning the national honor.
Damian Lillard, 6-3, Jr., G, Weber State Stat line: 25.5 ppg, 5.8 rpg, 3.5 apg
Chances: He won't win national POY, but he should be in contention for second-team All-American honors. Lillard is having a stellar season for the Wildcats, who are in first place in the Big Sky. He leads the nation in scoring and his stat line is as good as any in the country. The problem is that Weber has been in obscurity so far this season. Lillard will likely not be seen by the masses until March.
Doug McDermott, 6-7, So., F, Creighton Stat line: 24.3 ppg, 8.5 rpg, 62.1 FG
Chances: High. McDermott has been one of the most complete players in the country and is a first-team All-American, at the very least. He could be this season's Jimmer Fredette, coming from outside a power six conference to win the national player of the year honor. McDermott has led the Bluejays to the top of the Missouri Valley and into the Top 25. He is the focus of every opposing defense, too.
Scott Machado, 6-1, Sr., G, Iona Stat line: 13.1 ppg, 4.7 rpg, 10.3 apg
Chances: Not happening for POY, but he's in the hunt as a first-team All-American. Machado has been the most dominant point guard this season and easily leads the country in assists. Iona has played a decent schedule and is the team to beat in the MAAC. Few teams will want to face the Gaels in March, and Machado is one of the key reasons why.
Kendall Marshall, 6-4, So., G, North Carolina Stat line: 5.8 ppg, 9.6 apg
Chances: No shot. Marshall is a key for the Tar Heels. He hasn't been the best point guard in the country, but has been a solid contributor this season and does rank second behind Machado in assists. But that isn't enough to win the award or be a first-team candidate.
Mike Moser, 6-8, So., F, UNLV Stat line: 13.9 ppg, 11.2 rpg
Chances: No shot. But Moser has to be in contention for a first- or second-team All-American spot. His rebounding has been epic (especially against North Carolina). Moser and fellow UCLA transfer Chace Stanback have been the major reasons the Runnin' Rebels are ranked and in contention for the MWC title.
Arnett Moultrie, 6-11, Jr., C, Mississippi State Stat line: 16.5 ppg, 10.9 rpg, 0.9 bpg
Chances: Not good for POY, but he's a serious candidate for first-team All-American. Outside of Moser, Moultrie has had the most impact of any transfer. He has increased MSU's chances of being a serious threat to Kentucky in the SEC. Moultrie is a double-double machine for coach Rick Stansbury and has allowed the Bulldogs to avoid relying only on Renardo Sidney.
Thomas Robinson, 6-9, Jr., F, Kansas Stat line: 17.8 ppg, 12.3 rpg
Chances: High. Robinson is the POY favorite at this juncture. He should be a consensus first-team All-American. He has had to take on immense responsibility with the departure of the Morris twins and has responded without a hitch. He carries the weight of the incredible burden of losing his mother during last season. And yet he is as focused as ever in 2011-12. Robinson dominated in the rout over Baylor on Monday night with 27 points and 14 rebounds.
Mike Scott, 6-8, Sr., F, Virginia Stat line: 16.9 ppg, 8.9 rpg
Chances: He has no shot for national POY, but Scott is one of the favorites for ACC Player of the Year. He has been the most consistent big man in the league. Take Scott off the Cavs, and they don't come close to the top of the league standings. But Virginia did lose at Duke and also fell to TCU. Scott will have to keep the Cavs in the ACC's top three to have a chance at the league's POY.
Jared Sullinger, 6-9, So., F, Ohio State Stat line: 17.3 ppg, 9.3 rpg
Chances: Still strong. Sullinger has been battling injuries (back, foot) and missed the road game at Kansas in December. That's part of the reason he is not the favorite right now. Sullinger still has plenty of time to be a first-team All-American and the Big Ten Player of the Year. But it would help if he had some dominating performances down the stretch.
Cody Zeller, 6-11, Fr., C, Indiana Stat line: 14.8 ppg, 6.4 rpg, 1.4 bpg
Chances: No shot. But Zeller is in the chase for Big Ten Player of the Year. At the very least, he'll be the Big Ten Rookie of the Year. It's amazing that he's on this list and his older brother Tyler (a senior at North Carolina) is not. Cody has helped transform Indiana into a national player, but the Hoosiers' recent two-game skid does take his chances for Big Ten POY down a peg.
My midseason All-America team choices: First team: Robinson, McDermott, Davis, Moultrie, Machado Second team: Kidd-Gilchrist, Sullinger, Green, K. Jones, C. Zeller