Category archive:

Michigan Wolverines
May, 3, 2013
05/03/13
8:15
PM ET
John Beilein has big plans for Saturday.
He's going to mow his lawn, listen to the Cardinals-Brewers game and play with his grandchildren.
Now that's a day off.
He hasn't had many of them -- zero, actually -- since Louisville beat Michigan on April 8 in the national title game in Atlanta.
The schedule has been a good kind of crazy and something Beilein has embraced with as much zeal as he did every practice day during Michigan's momentous, program-changing season.
"I can't wait to mow that lawn,'' Beilein said Friday. "When you can cut your lawn, you know things are starting to wind down. It's all good. Every bit of it is good. I highly recommend we do this again next year.''
Beilein doesn't think he has slept in his own bed more than three consecutive nights since he left for Auburn Hills, Mich., and the first round of the NCAA tournament on March 20. Getting two in a row was pushing it, too.
"The suitcase has been sitting there in my room, and I just reload it,'' Beilein said. "Kathleen [his wife] understands it. The entire family has been with me for most of it. It's almost been a family reunion of sorts along the way. I've got eight brothers and sisters, and I think three or four of them made it to Atlanta.''
Take a look at Beilein and the rest of his coaching staff's schedule in the past four weeks.
April 8: Title game in Atlanta.
April 9: Return to Ann Arbor, welcome-back reception at Crisler Arena.
April 10: In the office.
April 11: Player meetings.
April 12-14: Beilein and Trey Burke in Los Angeles for the Wooden Award.
April 14: Burke and Beilein return for Burke's news conference to announce he's leaving for the NBA draft.
April 15: Burke and Beilein in Oklahoma City for Burke to receive the Oscar Robertson Award.
April 16: Team goes through individual workouts on campus.
April 17: Tim Hardaway Jr. news conference to announce he's leaving for the NBA.
April 18: Board of regents recognizes Michigan in Ann Arbor in the morning; Mitch McGary and Glen Robinson III hold news conference to announce they're staying.
April 19-21: Beilein returns to Los Angeles to recruit while staff is in Pittsburgh and New Jersey.
April 22: Return to make calls and recruiting.
April 23-25: Open gym recruiting allowed as staff heads to Chicago.
April 26-28: Beilein and staff recruit at events in Hampton, Va., Atlanta, Indianapolis and Akron.
April 29-May 1: In the office, meeting with players.
May 2: Head to Lansing to be recognized by the governor at the state house.
May 3: In the office.
May 4: Mow lawn.
Beilein said the staff was rushed into making sure the players' decisions about their futures were fully vetted. He said he said as soon as the Wolverines got back to Ann Arbor on April 9, they put together the paperwork to get to the NBA by noon the next day so the NBA advisory committee could return with advice for the Wolverines' underclassmen.
Beilein was on the road with Burke when the star guard said he was leaving for the NBA.
"And then I came back and Tim said he was ready,'' Beilein said. "All four of the major decisions were back-to-back. All of them made educated decisions, and they're doing it for the right reasons.''
Heading back on the road to recruit and evaluate, so soon after playing in the pressure-packed title game, was actually welcomed by Beilein.
"I really enjoy that part of it,'' Beilein said. "I've come to the realization that if you get good players and good teammates that have a great passion for the game, you can really achieve a lot more success than we've ever had.
"There wasn't one day I went out there that I said, 'Oh, I've got to recruit today.' I want to continue to build this program and look for the next Trey Burke and Tim Hardaway. It only made me want to recruit even more.''
Beilein said amid the hectic schedule he was able to get priceless time with Burke, Michigan State coach Tom Izzo and Robertson on the day of the award.
The Wolverines also had a few individual workout days remaining and immediately took advantage in the week after the title game.
"We wanted to look at everybody's game,'' Beilein said. "We worked on Mitch's inside and outside, Glen using more ball screens and getting everyone set up for summer workouts.''
Beilein is already looking at how he's going to replace Burke and Hardaway. Clearly there will be more offensive touches for McGary and a way to involve Robinson even more. The same is true of Nik Stauskas, getting him more shots as he continues to post videos of his prolific shooting of 3s in a short period.
Beilein said he stressed to Stauskas, Caris LeVert and Spike Albrecht, who made a national name for himself with 17 points in the first half against Louisville, the need to get into the weight room and bulk up their slender frames.
And he's adamant that newcomers Zak Irvin and Derrick Walton will have an impact next season. Walton could be the point guard of record by the start of the season. Mark Donnal is the third member of the recruiting class.
"One thing Tim and Trey could really do is if our offensive options weren't there they could get their own shot,'' said Beilein. "That's something Derrick Walton and Zak Irvin can do. Mark is a big man who can play the 4 or the 5 and really shoot. All three will have an opportunity to come in and play when they come in.''
Big men Jon Horford and Jordan Morgan also return, giving the Wolverines quality depth, even if they're missing the player of the year and his running mate.
The Wolverines aren't shying away from proving it early in the nonconference schedule, either.
Michigan, which will be picked again to finish in the top four in the Big Ten, will likely draw a high-profile ACC team in the ACC-Big Ten Challenge. The Wolverines will also play in the Puerto Rico Classic with fellow headline teams VCU, Georgetown, Kansas State and Florida State. (Long Beach State, Charlotte and Auburn are also in the field.)
Michigan is also playing Stanford at the Barclays Center in Brooklyn.. Beilein said he wants to play in New York City every year or every other year to satisfy the Michigan alumni in the area.
But the marquee game of the schedule will be when fellow top-10 team Arizona comes to Ann Arbor in a home-and-home series.
Beilein can't wait for those games, practices over the summer and into the fall and even recruiting, too. He's enjoying every second of it. Just don't bother him Saturday while he's finally getting a chance to cut his grass.
April, 9, 2013
04/09/13
11:04
AM ET
ATLANTA -- That's what we all want.
That's what the sport needs and craves.
What Louisville and Michigan did Monday night in the national championship game must be duplicated for college basketball to thrive. Officials need to find ways to increase freedom of movement when the rules committee meets next month.
Players need to work on their skill set, especially making the open jumper and 3-pointer. Converting on the offensive putback and at the free throw line are musts too.
Louisville won the national title 82-76, and both teams made eight 3s, attempting nearly the same number of free throws and shooting better than 45 (Louisville) and 52 percent (Michigan).
Beauty.
There was no slogging through 40 minutes. The clutching and grabbing wasn't the norm. Players ran, pushed tempo, forced turnovers and raced down the other end.
"I enjoyed it," Michigan coach John Beilein said. And that was after his team lost the national title game.
Beilein was thoroughly entertained and said that college basketball continues to sustain itself. It reinvented itself again for 40 minutes on Monday night. Beilein and Louisville coach Rick Pitino predicted Sunday that there was a chance, if both teams played to their offensive potential, this game's final score could be in the 70s or 80s.
It was.
"Sometimes expectations get so high, I knew it would be a great game," Pitino said. "You never know if you're going to win. The other night I knew that Michigan-Syracuse wouldn't be a great game. I knew our game against Wichita State wasn't going to be a great game because of the type of defense Syracuse and Wichita play.
"I knew [the title game] would be a great game. Two great offensive teams doing battle. Two great backcourts, great frontcourts, great talent. I was so happy to see that, because I knew it would be a great game. Didn't know we'd win, but I knew it would be a great game."
OK, so now comes the hard part: How does college basketball keep this going?
I searched for answers immediately after the game and found two sage men sitting a few rows behind the court, former Arkansas coach Nolan Richardson and former South Carolina/Wake Forest coach Dave Odom.
"When you play any way that you need to play to win, then that's what can happen," Richardson said.
Richardson said Louisville wasn't pressing like his Razorbacks team did in the 1990s. That's OK. They may not have had an identity like the Hogs or UNLV in the '90s, but there is still something to work with, a style that can be copied with the commitment and personnel.
Odom echoed Richardson's assessment: A team must be able to play differently to pull off an entertaining victory with a final score that isn't locked in the 50s or low 60s.
"[Louisville was] the most versatile team in the country," Odom said. "They could play fast; they could play in the 70s or the 80s. To beat Wichita State, they could play in the 50s or 60s. You've got to have a versatile team to meet the requirements of the night. What coaches do in the offseason is that they remember what won and try to mimic it."
But they do it only if they have the players.
"Can it happen?" said Louisville's Luke Hancock, the Final Four's MVP. "It's rare that you'll get two teams like that on the floor together. We're a pretty good team, and Michigan is a great team. It's rare that type of matchup happens."
The Butler-UConn game in 2011 was a brutal watch. Neither team could score effectively. There have been other years when one team had been dominant offensively and the other slogged through the game. In 2008, Kansas-Memphis provided drama and big shots.
But title games that produce high-scoring, must-see affairs have been rare.
Coaches aren't going to suddenly change the way they approach the game. But if the personnel provides an alternative, if there is an opportunity to emphasize the offensive skills, then it can happen.
Look, this was a national title game in which two players -- Michigan's Spike Albrecht and Hancock -- ended up in a shootout while other players struggled. Having players who can finish on the offensive glass and those who can flush the ball on a drive are a plus. There was a little bit of everything in this national championship game.
Copying the game plan sounds easy enough. Actually pulling it off is probably wishful thinking. But we can hope it occurs.
Coaches, players and officials unite. Watch what occurred in the Georgia Dome on Saturday night. Build off it. Believe that it can be possible. Finish the shots that must be made, look for the opportunity to run when it's available, defend and force turnovers to ensure there is tempo change to create more possessions.
This is all possible and plausible if there is a commitment to change and making sure the game is as entertaining on a regular basis as the national title game was Monday night.
"You know, a lot of times when you get to the Final Four, you get to a championship, the game's not always great, not always pretty," Pitino said. "This was a great college basketball game."
Let's hope that this was not a fluke but rather the start of something that will create a hunger for more.
December, 27, 2012
12/27/12
11:48
PM ET
The beauty of the college basketball regular season is that a team can lose a few games and still be in fine position for a national championship run.
But there is always an allure about those who enter their conference season unblemished to see how invincible they will be entering the New Year.
Prior to Thursday night's games, there were five remaining unbeaten teams and 19 one-loss teams, as well as two others (Florida, 8-2) and (Kentucky, 8-3) that cannot and should not be dismissed from any Final Four discussion. Both the Wildcats and Gators have played a much more difficult schedule than the majority of one-loss and undefeated teams.
There are a slew of one-loss teams that are more than capable of winning the national title such as Kansas (10-1), Louisville (11-1), Syracuse (10-1), Indiana (11-1), Creighton (11-1), UNLV (11-1), Missouri (10-1) and Gonzaga (11-1). And it's easy to make the argument that those teams, such as Kansas, Louisville, Syracuse and Indiana, are more likely to challenge for the national title than the five remaining undefeated teams.
But for the purposes of this argument, let's look at the remaining unbeatens as they stand today:
Duke (11-0)

Most impressive wins: Minnesota, VCU and Louisville in successive days in Atlantis; Kentucky in Atlanta; Ohio State at home and Temple in New Jersey.
Biggest question answered: Quinn Cook is a starting point guard and has been a stable presence.
National player of the year candidate: Mason Plumlee. Plumlee has been a double-double machine for the Blue Devils. He may be the most reliable player at his position in the country.
Difference-maker: When Seth Curry is making 3s, the Blue Devils are even harder to beat.
What to watch for: How will Duke handle true road games in the ACC? The three toughest games on the schedule would seem to be at NC State (Jan. 12), at Maryland (Feb. 16) and at North Carolina (March 9).
Final Four potential: Duke has to be considered a favorite to land in Atlanta. The team possesses experience at key positions, younger players who are becoming increasingly comfortable, there is size inside and now a growing confidence that it can win the championship.
Michigan (12-0)

Most impressive wins: Pitt in New York at the NIT Season Tip-Off and NC State in the ACC-Big Ten Challenge.
Biggest question answered: The Wolverines don't miss Stu Douglass and Zach Novak as much as was predicted. The youthful Wolverines have bought into John Beilein's defensive concepts.
National player of the year candidate: Trey Burke is an exceptional point guard. He gets the Wolverines up and running as efficiently as any point in the country. His play has allowed Tim Hardaway Jr., to flourish in his natural position.
Difference-maker: The continued development of the Michigan big men in Jordan Morgan, Mitch McGary and Glen Robinson III as well as the stretch shooting of Nik Stauskas.
What to watch for: How does Michigan get through the Big Ten gauntlet? The Big Ten is the toughest conference this season, and Michigan will have to navigate trips to Ohio State (Jan. 13), Minnesota (Jan. 17), Illinois (Jan. 27), Indiana (Feb. 2), Wisconsin (Feb. 9) and Michigan State (Feb. 12). I would put that conference road schedule against any other contender in the country. It's not close. This is the toughest.
Final Four potential: Michigan has proved that it has the point guard play, the shooting, the power play inside and can defend well enough to get to Atlanta.
Arizona (12-0)

Most impressive wins: Florida in Tucson and San Diego State in the final of the Diamond Head Classic in Honolulu.
Biggest question answered: Mark Lyons has adjusted as well as any one-year transfer I can remember. He was handed a leadership role and has excelled, making a game-winning shot to beat Florida. He has proved to be a consistent presence for the Wildcats at the point.
National player of the year candidate: Lyons, Solomon Hill and Nick Johnson have all had their moments and will be in contention for Pac-12 player of the year. But none will get enough momentum for consideration for national player of the year.
Difference-maker: Johnson. He has been the ultimate glue guy, making key plays in a variety of ways, none bigger than blocking Chase Tapley's potential game-winning layup in the Diamond Head final.
What to watch for: Arizona is the favorite in the Pac-12 and enters the conference doing more than enough to raise the conference's profile. The road wins at Texas Tech and Clemson were games the Wildcats should have won and they did. The comeback win over Florida was a tremendous effort and confidence boost. Getting through the rugged Diamond Head proved they had the stamina. Now, Arizona has to rise to the challenge of being the team to beat in the Pac-12. It is more than doable based on the inconsistency of the rest of the conference.
Final Four potential: This squad has it. The key will be the continued development of the newcomers, notably Kaleb Tarczewski, who is getting featured more and more as he improves his activity on the court.
Cincinnati (12-0)

Most impressive wins: Oregon in Las Vegas; Xavier in a rivalry game and Alabama at home when the Tide were playing well.
Biggest question answered: The Bearcats are never going to be a dominant low-post scoring team. But when needed, the Bearcats have been able to finish around the basket. Titus Rubles, JaQuon Parker, Justin Jackson and Cheikh Mbodj can take care of business of scoring and defending the post when locked in to the task at hand. The Bearcats have bigs serviceable enough to get by in the Big East.
National player of the year candidate: Sean Kilpatrick will enter the Big East as a legit player of the year contender. He has the ability to score in bunches. He flourishes playing off Cashmere Wright, who has stabilized the point.
Difference-maker: Wright. Mick Cronin has the confidence to hand him the ball and let him make a play, as he did against Alabama. Wright is a senior and has asserted himself as much more of a leader on a team that desperately needed to be led.
What to watch for: The Bearcats take possessions off and sometimes go through the motions. That cannot happen in the Big East with a host of teams that could easily knock them from their perch. Cincinnati believes it is in the same category as Louisville and Syracuse and above Pitt, Georgetown and Notre Dame in the pecking order of Big East title contenders. Now the Bearcats have to prove it. The schedule didn't do them any favors since they go to Syracuse (Jan. 21) and Louisville (March 4) without a return game. Cincinnati will find out about itself early at Pitt (Dec. 31) and at home against Notre Dame (Jan. 7).
Final Four potential: The Bearcats have it, but I'd be surprised. The lack of a proven post player may cost them in trying to win four in the NCAA tournament. Their lack of focus at times could bite them in an early round.
Wyoming (12-0)

Most impressive wins: Colorado and at Illinois State.
Biggest question answered: Leonard Washington has been a leader for the Cowboys despite all his issues, including a suspension last year. The Cowboys weren't sure who they could rely on early on but Washington has done everything asked of him so far.
National player of the year candidate: Washington is a Mountain West Conference Player of the Year candidate, but he won't be in the conversation for the national honor.
Difference-maker: Larry Nance Jr. The sophomore has played up in the big games for Wyoming, scoring 14 against Colorado, 19 in the win over Illinois State and 21 in a win over rival Denver. The Cowboys' staple has been their defense, as you'd expect from a Larry Shyatt-coached team, but it's their surprisingly-balanced offense that has been a pleasant plus.
What to watch for: Wyoming may be in the most balanced league in the country. It has to deal with two games against UNLV, San Diego State, New Mexico, Colorado State and Boise State, let alone playing Nevada and Air Force. There are zero easy games on this schedule. To expect Wyoming to get through this without getting beaten up is unrealistic.
Final Four potential: No shot. But the Cowboys are going to the postseason. Shyatt has already put the Cowboys in the NIT conversation, barring a complete collapse. An NCAA berth is hardly out of the question if they can hold serve at the Arena Auditorium.
October, 28, 2011
10/28/11
9:03
PM ET
Ohio State was tabbed as the consensus Big Ten favorite on media day Thursday in Chicago -- and the conference certainly plans to reward the Buckeyes early on in league play.
Examine the conference schedules of the contenders and it's clear that, barring early missteps or injuries, the Bucks should get out to a solid start early on and get out to a comfortable league lead.
Let's examine six of the more interesting schedules in the Big Ten this season:
The favorite

Ohio State
First eight: Northwestern, at Indiana, Nebraska, at Iowa, at Illinois, Indiana, at Nebraska, Penn State
The Buckeyes don't play a ranked team until Michigan on Jan. 29. They should be 8-0 heading into that game.
The middle six: Michigan, at Wisconsin, Purdue, Michigan State, at Minnesota, at Michigan
Clearly there are speed bumps here with the UW road game and plenty of danger spots along the way.
The final four: Illinois, Wisconsin, at Northwestern, at Michigan State
Ohio State has struggled in the past at Northwestern. This could be a dicey finish to the season if these last two games matter. Wisconsin will get its last shot in Columbus, but will it be too late for the Badgers? The Buckeyes also will be in tournament form by the time they get to this stage.
The contenders

Wisconsin
First eight: at Nebraska, Iowa, Michigan State, at Michigan, at Purdue, Nebraska, Northwestern, at Illinois
There are four road games in here, and none will be easy. The Badgers might have a hard time keeping pace with Ohio State early in the conference race. Nebraska will be up for its first Big Ten home game. Winning at Michigan, Purdue and Illinois will be quite a chore for this team. The Badgers run the risk of being two to three games behind Ohio State.
The middle six: Indiana, at Penn State, Ohio State, at Minnesota, at Michigan State, Penn State
Wisconsin doesn't get much of a break here, either. The Badgers will be looking at a three-game grouping of OSU, at Minnesota and at Michigan State. Keeping pace with OSU in the middle of the conference will be exceedingly difficult.
The final four: at Iowa, at Ohio State, Minnesota, Illinois
The Badgers might have to concede the Big Ten title by the time it gets to the road game at Ohio State -- unless the Buckeyes have slipped up. The final two games should give the Badgers the momentum needed to be strong going into the Big Ten tournament.

Michigan State
The first eight: Indiana, at Nebraska, at Wisconsin, Iowa, at Northwestern, at Michigan, Purdue, Minnesota
The Spartans will have to play four of the first six on the road. Michigan State will be road tested by this time with the games against North Carolina in San Diego, versus Duke in New York and at Gonzaga. Still, the environments will be tough. MSU will have to weather this to stay in the race early.
The middle six: at Illinois, Michigan, Penn State, at Ohio State, Wisconsin, at Purdue
Once again, the Spartans have a consistent schedule in which no grouping is free of potholes. They will have to steal a road game in this group to stay in the race.
The final four: at Minnesota, Nebraska, at Indiana, Ohio State
If the Spartans are still in the race, hosting OSU to end the season is a coup. It could also dramatically help MSU's seed potential in the NCAAs. The most dangerous game, though, could end up being at Minnesota. That could turn out to be a pivotal game for both schools.

Michigan
The first eight: Penn State, Minnesota, at Indiana, Wisconsin, Northwestern, at Iowa, Michigan State, at Purdue
The Wolverines could get off to a contending start with this opening. Don't be surprised to see Michigan, instead of the Badgers, on Ohio State's heels early in the conference season based on this schedule.
The middle six: at Ohio State, Indiana, at Michigan State, at Nebraska, Illinois, Ohio State
This is where we'll know whether Michigan is a pretender or contender. The Wolverines get two shots at Ohio State in this group, go to Michigan State and face a possible danger game at Nebraska.
The final four: at Northwestern, Purdue, at Illinois, at Penn State
Michigan could be in the chase and might need another road win here or could be positioning itself well for seeding in the Big Ten tournament.
No favors for the rebuilder

Iowa
The first eight: Purdue, at Wisconsin, at Minnesota, Ohio State, at Michigan State, Michigan, at Purdue, Nebraska
The Hawkeyes are expected to be improved this season, but the record in the Big Ten might not look that way early with road games at Wisconsin, Minnesota and MSU, plus Ohio State in Iowa City, in the first five games.
The middle six: at Indiana, Minnesota, Penn State, at Northwestern, at Penn State, Indiana
If it still has confidence, Iowa has a chance to pick up a significant number of wins here.
The final four: Wisconsin, at Illinois, at Nebraska, Northwestern
The Hawkeyes are a legit spoiler in this scenario and could have a strong finishing kick to be trouble in the Big Ten tournament.
Can the Cats finally do it?

Northwestern
The first eight: at Ohio State, Penn State, Illinois, at Michigan, Michigan State, at Wisconsin, at Minnesota, Purdue
Northwestern hasn't had great starts in the Big Ten. This won't be an easy chore with road games at OSU, Michigan and Wisconsin. But that does mean getting three of the toughest out of the way early.
The middle six: Nebraska, at Illinois, Iowa, at Purdue, at Indiana, Minnesota
This is where the Wildcats have to make up ground and mount a bid campaign. Stumble here and the bid-less streak could continue.
The final four: Michigan, at Penn State, Ohio State, at Iowa
The Wildcats have an intriguing finish. OSU will be a struggle, of course, but Northwestern does have a schedule that provides a strong opportunity to impress the committee. The key will be weathering that rough start.
October, 14, 2011
10/14/11
5:15
PM ET
Locked out by NBA owners,
Kemba Walker
is spending his October working out with his former Connecticut teammates.
Walker doesn't have second thoughts about declaring for the NBA draft. He was gone as soon as the Huskies won the national title, and his decision was probably made far earlier.
As college basketball practices begin Friday evening and the lockout continues, it is worth pondering the players who might be questioning their moves last spring and what their old college teams would look like right now if they'd made the decision to stay in school.
It was no secret that the lockout was a likely occurrence. The possibility was hardly a secret. Yet plenty of questionable moves were made by players who decided to stay in the draft. Some were selected later than they were projected; others weren't selected at all.
Scotty Hopson, Tennessee: Hopson had no business leaving for the NBA, even if Bruce Pearl had not been fired. Hopson was never a consistent shooter and didn't continue to progress on an upward trajectory. He wasn't selected in the NBA draft like his teammate Tobias Harris, who landed in the first round. Had Hopson realized he wasn't going to get picked -- something that he had to have heard many times -- then he would have been a key bridge for new coach Cuonzo Martin. Martin could have used Hopson's experience and shooting to keep the Volunteers relevant in a transition year. Hopson would have been a volume shooter and improved his chances of being selected in 2012. Instead, Hopson and the Vols both lost. Tennessee is in rebuilding mode and will have a hard time staying afloat in the SEC.
Jereme Richmond, Illinois: Richmond clearly had issues, as evidenced by his arrest on assault and weapons charges in August. So it might have been best for all parties that he split. But maybe, just maybe, had he decided to return to Illinois he wouldn't have found himself over the summer as an undrafted, lost young man. This may be a reach, but it would be interesting to see what could have occurred in his life had he decided to stick out his commitment to Illinois. If he had bought into the program for a second year, he would have helped offset some significant senior losses for the Illini. In the end, Illinois wins by not having his baggage on the squad. Richmond lost by declaring, not being selected and now seemingly untouchable due to his arrest. Illinois is a team that has the potential to be a sleeper in the Big Ten with Brandon Paul and Meyers Leonard. But there are plenty of question marks to lock in the Illini as an NCAA tournament team.
Carleton Scott, Notre Dame: Scott surprised the Irish by staying in the NBA draft. He had a chance to play one more season with Tim Abromaitis and help Notre Dame offset the loss of valued senior leader Ben Hansbrough. Scott was never going to be a star for the Irish. He wasn't going to be a lock for the NBA, either. His best bet was to play professional basketball somewhere internationally. Notre Dame was going to take a step back with Hansbrough's departure anyway, but the Irish could have used another anchor inside to keep their head above water in a rugged middle of the conference. Now the Irish is depleted in the post. Scott could have definitely helped there.
Cory Joseph, Texas: Joseph did find his way into the first round, barely. So it's hard to completely fault him here, despite failing to leave his mark in Austin. The Longhorns have one of the top guards in the country in freshman Myck Kabongo. Joseph could have complemented Kabongo and allowed the Horns to have a stellar backcourt. Texas will still have talent, but will be lacking experience. The Longhorns were going to lose Tristan Thompson and Jordan Hamilton early to the draft. But it wasn't a given that Joseph was going to leave, too. The triple hit might be too much for UT to overcome with so many teams competing for the Big 12 title.
Shelvin Mack, Butler: Would Mack have gone to three straight national championship games? The odds would have been exceedingly low. Losing Matt Howard was a crushing blow to the Bulldogs. I didn't blame Mack for leaving last April because of the sting of losing two straight national championship games. Mack had come back without teammate Gordon Hayward and now he was expected to do it again without Howard? Still, the lockout is on, and Mack isn't in Washington playing for the Wizards. Put Mack on the Bulldogs next to Ronald Nored and newcomer Roosevelt Jones with Andrew Smith and Khyle Marshall inside, and the Bulldogs are once again an intriguing threat to go deep. If the lockout lasts well into the winter, Mack may watch Butler games and find himself at Hinkle Fieldhouse longing for his final season of eligibility. It would be a shame if the lockout lasts for months and Mack sits idle. He had one more run in him.
Travis Leslie and Trey Thompkins, Georgia: The Bulldogs made the NCAA tournament last season. If Leslie and Thompkins had come back alongside returnee Gerald Robinson, UGA would have made the NCAAs again. The SEC is stronger this season with possible NCAA teams Kentucky, Florida, Vandy, Alabama and Mississippi State. Georgia would have comfortably made it six. Instead, the Bulldogs are rebuilding or at least seriously retooling under Mark Fox.
Tyler Honeycutt and Malcolm Lee, UCLA: The Bruins have a loaded frontcourt with Reeves Nelson, Josh Smith and North Carolina transfers David and Travis Wear. But the Bruins are lacking proven, productive experience on the perimeter. That could be the difference between an NCAA berth and a team that could have made a run toward New Orleans. Honeycutt and Lee didn't get drafted in the first round, going in the second instead. And now they can't play in the NBA for the foreseeable future. UCLA will still be a Pac-12 title contender and NCAA team. But the possibilities had those two returned to Westwood have to gnawing at coach Ben Howland.
Josh Selby, Kansas: Selby wasn't eligible and then he was hurt and never played a full season for the Jayhawks. He didn't get into the first round, either. And it's too bad. Selby should have shown more maturity, or at least someone associated with him maybe could have advised him better. He needed to play a full season to prove that he could do it. If he had, then the Jayhawks would be much more likely to make a Big 12 title run and Final Four quest. The Jayhawks were still selected to win the Big 12 on Thursday. But that might be more out of fear of selecting Baylor or Texas A&M and getting burned by KU once again.
DeAndre Liggins, Kentucky: Liggins did well enough to warrant a second-round selection, and the Wildcats aren't hurting, either. They are a consensus top-four selection in the preseason. But Kentucky still lacks overall experience. Sure, Terrence Jones and Darius Miller are back, but toss in Liggins and suddenly the Cats don't have to rely so much on the freshmen. Liggins would have fit in even better with his length, and the style UK will play this season with the long set of newcomers that John Calipari brought in this season. Liggins may long to be in Rupp Arena if the lockout drags and the Wildcats are pushing for a return trip to the Final Four.
Jordan Williams, Maryland: Williams was selected high in the second round and fulfilled his dream of being an NBA draft pick. His return may not have changed Gary Williams' decision to retire. But had the talented sophomore stayed he would have been beloved by new coach Mark Turgeon, who thirsts for a big halfcourt playes like Williams. He would have been one of the premier bigs in the country and relished his role as the anchor on a Maryland team that would have fed him even more in the post. Maryland probably wasn't an NCAA team even if Williams had returned, but he would have been featured even more as a junior. Now he sits idle and the Terps under Turgeon are in complete rebuild mode.
Darius Morris, Michigan: Morris missed a potential tying bucket against Duke in the NCAA tournament. If he had returned to join Tim Hardaway Jr., there is a chance the seeds would have been reversed if the two teams played again this season. Morris could have been a difference for Michigan. Instead, the Wolverines lack experience next to Hardaway and he loses a quality sidekick who can be just as disruptive as he can be offensively. Morris was picked by the Lakers in the second round, but he's not playing for them now. Michigan may get another crack at Duke if the two teams win first-round games in the Maui Invitational. Meet in Maui with Morris and the Wolverines probably would have been the pick. Instead, Michigan is once again the underdog, seeking respect as a consistent national player.
July, 28, 2011
07/28/11
4:19
PM ET
LAKE BUENA VISTA, Fla. -- Quick hitters after talking to several coaches here at the AAU nationals:
• The U.S. World University Games team -- led by Purdue coach Matt Painter (U.S. team head coach) along with Butler coach Brad Stevens and Tennessee coach Cuonzo Martin (U.S. assistants) -- continues to lose key players. Xavier's Tu Holloway turned down the invite to stay and play with his XU teammates. Wisconsin's Jordan Taylor is having minor ankle surgery. And now Painter said that UConn forward Alex Oriakhi is also out in order to rest an injury. Stevens said losing Oriakhi will be a big blow since the team that heads to China next month for the competition needs a rebounder like him in the tournament. Painter said Detroit's Ray McCallum Jr. and UConn's Shabazz Napier were added to the tryout list. Pitt's Ashton Gibbs and Syracuse's Scoop Jardine are still on the roster and are certainly favored to make the squad.
• There are still 22 players trying to make the U.S. squad and they'll compete and train in Colorado Springs from Aug. 4-7. The event runs Aug. 13-22 in Shenzhen, China. A number of players could use this international stage as a springboard for their college seasons; these players include Alabama's JaMychal Green, Texas A&M's Khris Middleton, Kentucky's Darius Miller, Northwestern's John Shurna, Minnesota's Trevor Mbakwe, Vanderbilt's John Jenkins, Michigan State's Draymond Green, Missouri's Kim English and Marcus Denmon and Notre Dame's Tim Abromaitis.
But perhaps more than any other player, Cincinnati's Yancy Gates needs to make this team and show he can be a force in order for the Bearcats to continue their rise in the Big East. Last season, he was suspended for a game due to team-related issues. Cincinnati coach Mick Cronin said Gates can come out of this looking like a team player and a stronger player who can change his image with a positive performance in China.
• Painter said fifth-year senior Robbie Hummel is tired of answering questions about his right knee (ACL surgery). And so are the Boilermakers. He said Hummel should be good to go once the season starts. Meanwhile, the Boilermakers are troubled by the foot surgery for John Hart that will keep him out for an extended period. Hart has had trouble with his right foot for quite some time.
• Villanova coach Jay Wright said JayVaughn Pinkston has been cleared by the school to play for the Wildcats this season. Pinkston was not allowed to play last season due to an assault charge. He was expected to have a major impact on last season's team prior to the incident. The Wildcats are prepping for a trip to Amsterdam, where they will play a few national teams. Wright said the Wildcats will be much different than any squad he's coached in recent years, with the team centered more around big men rather than being guard-oriented.
[+] Enlarge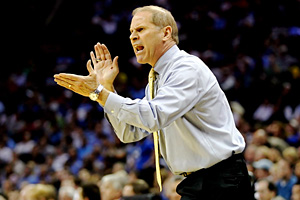 Kevin C. Cox/Getty ImagesJohn Beilein is looking forward to the two new guards he'll have on campus this season.
• Michigan coach John Beilein said the addition of freshmen guards Trey Burke and Carlton Brundidge should allow Stu Douglass to return to his natural off-guard position. Losing Darius Morris to the NBA draft was a huge blow to the Wolverines, but Tim Hardaway Jr. showed with the U-19 team in Latvia that he can create quite well with the ball in his hands. If the freshmen can be facilitators and Douglass can play off them, the Wolverines may not take a step back. Michigan is in the Maui Invitational in a loaded field, has to travel to upstart Virginia in the ACC-Big Ten Challenge, and gets a sleeper Big 12 team at home in Iowa State. The Wolverines are likely going to add a nonconference game at Arkansas that will take place during the Big Ten season.
• While on a recruiting trip in February, North Carolina coach Roy Williams took a side trip to an aircraft carrier in San Diego to see what it would be like in advance of the Carrier Classic on Nov. 11 against Michigan State. The USS Carl Vinson will be the host of the game, but it wasn't the ship that Williams toured. Williams wanted to see how this would work with a game on top of the ship deck. He couldn't get over the narrow passageways through the ship and wondered how his taller players would maneuver through the ship to get to the deck. Well, apparently there will be a lift that will help that occur so that shouldn't be a problem.
• Williams isn't ruling out Leslie McDonald coming back this season from an ACL injury. Williams said McDonald will have surgery on Aug. 3 and made it clear there's no reason to make any declarative statements at this juncture about a return.
• There was no consensus among the coaches in Orlando about whether to add a stipend, how it would be handled and how it could be divided up for all student-athletes. UConn's Jim Calhoun and Louisville's Rick Pitino said they would like to see $75 to $100 a week for the athletes -- roughly $400 a month.
• Not one coach endorsed the NCAA's new draft early-entry withdrawal date of April 10, 2012, after which no player will be allowed to enter the NBA draft. Makes you wonder why this was passed. Every coach who discussed it said it would lead to more poor decisions of players leaving early.
• Ole Miss coach Andy Kennedy tossed out this prediction about Vanderbilt: The Commodores are a Final Four contender.
• Old Dominion coach Blaine Taylor has gone to the Fred Hill makeover school. Hill, the former Rutgers head coach and current Northwestern assistant, was bald when he was head coach of the Scarlet Knights. Now he's gone with long hair in the back and new glasses. As for Taylor, he got rid of his famed mustache and dark hair. He's gone with something of an auburn or almost light red look. He was standing to the side of our TV set, and I wasn't the only one who had no idea who he was until you could read ODU on his golf shirt.
• Stanford is prepping for a trip to Spain in early September. The Cardinal and coach Johnny Dawkins need to get away to figure out who will stand out for them now that Jeremy Green is gone.
• New Fairfield coach Sydney Johnson squeezed in a team trip to Italy next month, which will be critical for him to get to know his players more and see how Boston College transfer Rakim Sanders meshes with a team that won the MAAC regular-season title last season and is back almost in full.
• The travel some of these coaches put on themselves is a bit ridiculous. Dawkins was in Orlando on Monday, then took off for Phoenix and then Los Angeles before he headed back to Orlando by Thursday. Temple coach Fran Dunphy was in Orlando on Monday and was off to Phoenix before a return to Orlando by the end of the week.
• New Maryland coach Mark Turgeon said he has reviewed his team enough to know that scoring up front will be a challenge. He said he'll likely go with four guards on the court on a consistent basis.
• Northwestern's Bill Carmody clearly wanted to be noticed in showing his school spirit. He had a rather loud pair of purple sweat pants that I'm not sure you could or would want to buy at the campus bookstore. Michigan State's Tom Izzo went with Spartan green, which Carmody pointed out, but the green was certainly more muted than the purple.