Category archive:

Minnesota Golden Gophers
August, 10, 2011
08/10/11
9:53
PM ET
The World University Games is usually the one international competition, outside of the Olympics, the U.S. expects to win.
Elite European players aren't usually in school. And in an Olympic qualifying year, the likelihood that national teams would have top players playing in this event is low.
Still, the Americans lost this event two years ago, falling to Russia in the semifinals. The U.S. beat Israel in the consolation game to take home the bronze medal with a 6-1 mark. Host Serbia won the gold.
Purdue coach Matt Painter is well-aware of the stakes in China over the next two weeks. The U.S. is coming off a disappointing fifth-place finish at the FIBA U-19 World Championships in Latvia last month. The gold in the World University Games isn't with Team USA, either.
And that's exactly why Painter, who will be assisted by Butler's Brad Stevens and Tennessee's Cuonzo Martin, wanted to put together a team, not an all-star tour.
"We have three weeks together and we have to have the right mindset,'' Painter said prior to leaving for China on Monday. Painter was an assistant on the U-19 gold medal team two years ago in New Zealand. "It's very important to be on the same page.''
That's why he was thrilled to see two players from that U-19 gold medal-winning team on this roster in Pitt's Ashton Gibbs and Kentucky's Darius Miller.
"It was important for them to talk about their experience in New Zealand and what it meant to sacrifice minutes and how important this was,'' Painter said.
On Thursday in Huizhou, the Americans play a Chinese team called New Century in an exhibition game before pool play starts Saturday. Based on the groupings, the U.S. should win its group with the toughest challenger probably being Israel (Finland, Hungary, Mexico and South Korea are also in Group D). Host China and Brazil are in Group A; Serbia, Turkey, Canada and Australia are in Group B; and Russia and Lithuania headline Group C. The medal round is Aug. 20-22.
Here is Painter's breakdown of the 12 finalists representing the United States:
Tim Abromaitis, Sr., F, Notre Dame: "He's a very good player, and a guy that we can swing between small forward and power forward. He'll cause a lot of matchup problems for other teams.''
Marcus Denmon, Sr., G, Missouri: "When he's on, he changes the game. He can be a high-energy guy. His performances in practice have been strong. He has the potential to carry this team with his shooting and energy.''
Ashton Gibbs, Sr., G, Pitt: "He's a tough, hard-nosed player that simply gets the job done. He comes early and stays late. He's a very good shooter, can make 3s and will knock down the shots for us. He's our point like he was for us on the U-19 team.''
Draymond Green, Sr., F, Michigan State: "He's a very versatile, intelligent basketball player. He knows what's going on. He plays hard and he cares. He wants to win. He will impact the game for us.''
JaMychal Green, Sr., F, Alabama: "He's a guy that is going to have to score down low for us. He's a very talented kid. He's going to have score and rebound for this team to win.''
Scoop Jardine, Sr., G, Syracuse: "He's a very experienced player who has played in a lot of big-time games. He will help us get through the dog days of pool play to the medal round. He's a point guard who will help us and create for himself.''
John Jenkins, Jr., G, Vanderbilt: "He's a big-time shooter. He needs to score for us. He has to be aggressive. He will look for his shot and help us defensively at the 2-guard. I think we'll win the battle at the 2-guard with him.''
Orlando Johnson, Sr., G, UC Santa Barbara: "He can score the basketball. He's a good shooter, can drive the ball, post-up and pull-up with his left hand. He has to help us defensively and put points on the board. He was someone who positively surprised us at the trials. We recruited him when he left Loyola Marymount, and I'm kicking myself now that we didn't get him. He's a really good player.''
Greg Mangano, Sr., F, Yale: "I think he was the right piece for this team. He plays his role. He defends and plays post defense. He runs the court and does the little things. He could do for us what Arnett Moultrie and John Shurna did for the U-19 team two years ago -- doing key things down the stretch in the medal round. We wanted that last spot on the team to be a player with size and it came down to him and Aaric Murray [West Virginia] and Yancy Gates [Cincinnati], and we just felt that Greg would complement the other guys.''
Trevor Mbakwe, Sr., F, Minnesota: "He's tough. He's hard to handle. He's got great energy. He's got a great motor. He can really move his feet on the perimeter. He's got an impressive work ethic and a joy to coach. We were always in awe of him at Purdue. He's got brute strength and athleticism and will do a great job for us around the basket.''
Ray McCallum, So., G, Detroit: "He's so talented. His young. But he can play either guard spot and you can tell how hungry he was to make this team. He was one of the last guys we invited but he has a chance to really impact these games.''
Darius Miller, Sr., G, Kentucky: "If we throw Darius in there with Abromaitis and Green, we can play different ways. He can help us play bigger or smaller. He has really improved his shooting since we had him in New Zealand. He's going to be good against a zone, and we'll just have to find the right place to play him. He's a very good player and will help us a lot defensively.''
August, 4, 2011
08/04/11
10:50
PM ET
The final two cuts were made in Colorado Springs for the World University Games team, and the unlucky pair was Connecticut's
Shabazz Napier
and West Virginia transfer
Aaric Murray
. Among those cut earlier in the week were
Yancy Gates
(Cincinnati),
John Shurna
(Northwestern) and
Khris Middleton
(Texas A&M).
Trust me, though, you will see plenty of Gates, Shurna and Middleton this season. All will star for their teams in high-profile games.
You can't necessarily say the same for Yale's Greg Mangano and UC-Santa Barbara's Orlando Johnson. Yet both of these players are among the 12 who will wear the Team USA jersey in China at the WUG. Since 1965, the Americans are 131-8 in the event, but are looking to bounce back from a surprising second-place finish in 2009.
[+] Enlarge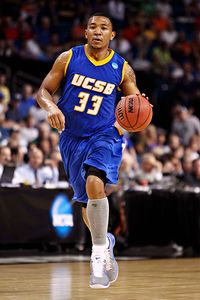 Derick E. Hingle/US PresswireOrlando Johnson flirted with the NBA, but decided to return to Santa Barbara.
Having Mangano and Johnson on this squad speaks volumes about their development on the national scale. Last season, the 6-foot-10 Mangano averaged a double-double (16.3 ppg, 10 rpg) for the Bulldogs, while Johnson led the Gauchos with 21.2 ppg and 6.2 rpg for the Gauchos.
"It's an honor and it validates OJ and his determination and dedication,'' UCSB coach Bob Williams said of his 6-5 wing making the cut. "He's the first Gaucho since Brian Shaw to be honored on the national stage. It will only heighten the attention that he will receive in and out of games this year.''
Johnson and Mangano both declared for the NBA draft in the spring, but withdrew shortly thereafter as it was apparent neither was gaining traction for a possible selection.
"Greg is a really good talent and he's got a European game to him,'' said Yale coach James Jones, who went to the Springs to watch one of the workouts. "He was second on our team in 3-pointers made, led the combine in rebounding out there. He's a local player who wanted to come to Yale.''
Jones said players like Mangano and Johnson making the WUG team shows there's talent at all levels of Division I. (Detroit's Ray McCallum Jr. also made the squad, but he was a high-major talent coming out of high school.)
"There are really good players,'' Jones said. "Greg was ninth in the nation in blocked shots and 18th in rebounding. I know a lot of those were against Ivy League competition, but we also played Illinois and Stanford. He's been able to play at a high level and he's got the potential to be a future pro if he continues to step up his game to another level.''
A few more quick hitters on this Thursday afternoon:
• Florida released its nonconference schedule, which presents plenty of challenges for the Gators. This may actually be one of Billy Donovan's toughest nonconference schedules, especially for a coach that doesn't like to leave home much. The Gators go to Big Ten favorite Ohio State on Nov. 15, play perennial Horizon League troublemaker Wright State in Tampa, go to Big East favorite Syracuse on Dec. 2, host one of the Pac-12 favorites in Arizona on Dec. 7, play Big 12 favorite Texas A&M on Dec. 17 and play likely top-three ACC team Florida State on Dec. 22 before facing a pesky Big East team in Rutgers on Dec. 29. A pesky Yale team arrives on Dec. 31 and the nonconference slate ends with always-tough UAB on Jan. 3. That's a heck of a way to test your team in the first month and a half of the season.
• The Big 12 released its first-ever round-robin, 18-game conference schedule. There are a number of games to circle. The two Baylor-Texas A&M games should be two of the best but come earlier in the schedule -- Jan. 2 in Waco and Feb. 1 in College Station. These two teams could be predicted 1-2 in the preseason poll with Missouri, Kansas and Texas right on their heels. But of course these two in-state teams played in years past under the old format. In the new 10-team league, everyone will play each other twice.
• Minnesota also released in nonconference slate. The Golden Gophers want to be considered an NCAA tournament team again, but they better win a watered-down Old Spice Classic in Orlando and then take out Virginia Tech and USC at home. Minnesota will need to enter the Big Ten with a strong nonconference record and a few significant wins, and hope those teams do well in their respective conferences.
• Missouri is selling premier courtside seats at $500 a pop for the Oct. 30 Mizzou-Missouri Southern exhibition game in Joplin, which will benefit that city's tornado relief fund.
May, 6, 2011
05/06/11
6:34
PM ET
To put it simply, Maryland is one of the best jobs in the country.
The Terrapins can boast fertile recruiting territory in the Beltway and surrounding areas. Maryland fans are as loyal and passionate as any in college basketball. The facilities are top-notch.
Yes, North Carolina and Duke are the perennial favorites in the ACC, but there's no shame in being the third-best job in the conference behind those two. That just means it's among the top 10 or 15 in the country. So why wouldn't top-tier coaches run to College Park if athletic director Kevin Anderson calls to find a replacement for Gary Williams, who abruptly resigned Thursday?
Well, after discussing the topic with a number of sources that have direct knowledge on the subject as it relates to these coaches, there are reasons that make moving to Maryland difficult.
Some of the key points that have come up:
• How many coaches leave an elite job to go to another elite job when things are going well?
• How many coaches in their late 40s or early 50s want to rebuild again if they don't have to?
• How many coaches want to go to a team next season that will likely miss the postseason when they have an NCAA tourney team on their own campus?
• How many want to re-invent themselves in a new community and go through the rigors of establishing new contacts?
• How many are willing to go laterally financially if they're already making millions in their current job?

A while back, moving to Maryland from a school like Pittsburgh (see Jamie Dixon) would've been a no-brainer. But now schools like Pitt have emerged as national players, which makes a decision to leave a good situation a tough one to digest.
[+] Enlarge

AP Photo/Rob CarrKevin Anderson has already hired a football coach during his short tenure as Maryland's AD. Now he has the monumental task of replacing Gary Williams.
The big-to-big moves of note recently were easy to explain. Roy Williams went from Kansas to North Carolina. That's two of the top five jobs in the country and Williams is a UNC alumnus. Bill Self left Illinois to replace Williams at Kansas, and that one made sense too.
Herb Sendek going from NC State to Arizona State was a geographic move and one in which he simply didn't feel appreciated enough at his old school.
Ben Howland left Pittsburgh for UCLA. Pitt was a new player in the Big East at the time. UCLA is, well, UCLA and Howland is from Santa Barbara. No need for an explanation.
Frank Haith going from Miami to Missouri was an obvious move. Missouri is a much better job. Mike Anderson going from Missouri to Arkansas was an easy choice since he had once coached at Arkansas.
But not every situation provides an obvious answer.
Let's look at the candidates Maryland will likely pursue based on a number of sources. It may not be limited to this list, but these guys will likely be among the first to get a call, if they haven't already:
Mike Brey, Notre Dame: This one seems obvious. Brey, 52, is from Maryland. He has a beach home in Delaware. He coached at Delaware. He played at George Washington. But he also hasn't lived in the area for more than two decades. Yes, Brey had a senior-laden team last season, including Big East player of the year Ben Hansbrough. But the Fighting Irish will be better than the Terrapins next season and Brey feels like he has created his own program in South Bend. He doesn't necessarily have the energy to re-start his career. He loves coaching the Irish and doesn't need a new challenge. If he were in his 40s, he might reconsider. But if he were asked now if he wants to stay at Notre Dame or coach at Maryland, his answer would likely be to stick with the Irish.
Jamie Dixon, Pitt: Dixon and Anderson have a special relationship. Anderson was the athletic director who hired Dixon's late sister Maggie at Army. They have shared a closeness since her death. So Dixon will likely be asked by his friend for advice, but it's not likely he will take the Maryland job if asked unless something were to change. Pitt is a Big East power now and has been within a layup of the Final Four. Dixon is entrenched in the Pittsburgh community. There is no reason for him to leave.
Jay Wright, Villanova: Wright has built Nova into a Big East perennial power. He has recruiting locked up in the corridor. He has coached the Wildcats to the Final Four. And he is extremely comfortable in Philadelphia. If there is a next move for Wright, it's likely to the NBA. Wright doesn't need to jump to a basketball-football school. According to sources, Wright wouldn't leave Villanova for Maryland.
Tubby Smith, Minnesota: Smith was reportedly high on the lists at Georgia Tech and NC State but claimed all along he had no plans of leaving Minneapolis. Georgia Tech couldn't have paid him what he could command anyway. Smith is from Maryland, so it would make sense for him to go home. But is that what Anderson wants? Smith is in his 60s and Williams just retired at 66. Smith is in the same coaching era as Williams, Mike Krzyzewski, Jim Boeheim, Jim Calhoun and Roy Williams. He has coaching left in him, but Maryland is in a rebuilding situation. Yes, Jim Larranaga at age 61 just went to Miami, but the Hurricanes have players and can win next season. Smith is an intriguing name with a national title to his credit, but would he be a long-term solution?
Mark Few, Gonzaga: Few has flirted with plenty of jobs in the past, notably Indiana. But he's never bitten. He loves his life in Spokane and with the Zags. He has built a national name at Gonzaga and the Zags recruit at a high level now. He makes over $1 million and is firmly entrenched in the Northwest. He would listen, according to sources, but would he really be willing to go from Spokane to College Park? Does Anderson want to pluck someone who doesn't have any ties to the area, as good a name as he is nationally?
Brad Stevens, Butler: Stevens should only leave Butler for a top 10-15 national job after coaching the Bulldogs to consecutive national title games. This is one of those jobs he would have to listen to if called. But Stevens has never worked outside Indiana. Is this the right fit for him? Anderson would hit a home run with this hire. Stevens has become one of the most well-respected coaches in the business in such a short time, drawing immense praise from none other than Krzyzewski the past two seasons. But would Stevens leave the two-time defending national runner-up? Tough call. If Stevens is going to move, he'll likely stay in the Midwest at an elite job in the Big Ten.
Mark Turgeon, Texas A&M: Turgeon played at Kansas. He fully understands what it's like to be at a basketball-crazed school. He coached at one in Wichita State. He would enjoy being at a basketball-first school like Maryland. He has done a wonderful job keeping the Aggies relevant in the Big 12 and A&M will again be in the mix in the conference title race next season. But would Turgeon be the choice for Anderson? That's still an unknown. As one source said, Turgeon may not be the news conference name that Tubby Smith would be on day one, but two years into his tenure at Maryland they would know they had an elite coach and a winner.
Sean Miller, Arizona: This is by far the most intriguing name. If this were a year ago, Miller would have probably run to Maryland. His first year at Arizona wasn't easy after taking over for two interim coaches who succeeded Hall of Famer Lute Olson. But Miller then coached the Wildcats to the Pac-10 title and a trip to the Elite Eight. He has an elite recruiting class coming to Tucson. This is a great time to be in the Pac-12 at a school like Arizona because it is winnable with so many programs in flux. Unlike Dixon, Wright, Brey, Few or even Stevens, Miller isn't entrenched in his community or the school. He went from Xavier to Tucson just two years ago. He is an East Coast coach, he played at Pitt and coached in the ACC at NC State. So he would be a great fit at Maryland, but is he willing to move after bringing back some of the glory to Zona? Is he willing to start over again and rebuild? Does he have the energy for that type of move again? This might be the most agonizing call.
Shaka Smart, VCU: Obviously Smart's name wouldn't have been on this list a year ago. But that was before he coached the Rams to an improbable Final Four run. He committed to VCU by staying put this offseason and the school upped his salary quite a bit. But he would almost certainly jump at an offer from Maryland. The question: Is this too big a leap for Maryland to make?
Johnny Dawkins, Stanford: Dawkins is from Maryland. He is an all-time great Duke player. He is trying to establish himself at Stanford, but it doesn't appear he's done enough to warrant interest from the Terps. But he does have a name that would resonate locally and in the ACC.
There likely will be others, possibly some names from the NBA. But any list that Anderson checks off should at least begin with the aforementioned coaches. Maryland shouldn't aim for anything less.
January, 24, 2011
01/24/11
10:41
PM ET
If things had worked out differently, Devoe Joseph would have been Minnesota's starting guard during a critical stretch for the Gophers in the Big Ten, replacing the injured Al Nolen. Instead, Joseph is at Oregon, and the Gophers are holding out hope for Nolen.
Nolen suffered a broken right foot during Saturday's win at Michigan and will have surgery to insert a pin Wednesday. According to the Gophers' staff, there is a possibility that Nolen, the team's leader, top defender and senior guard, could be back by the end of February.
[+] Enlarge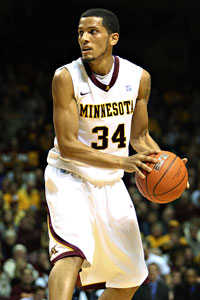 Brace Hemmelgarn/US PresswireDevoe Joseph averaged over 11 points per game this season before transferring.
"We will definitely miss the leadership of our senior point guard," Gophers head coach Tubby Smith said in a statement. "We knew that Al was playing with a lot of pain since the previous injury occurred so we are hoping that the procedure will relieve the pain and make it possible for him to return to the lineup by the end of the season. In the meantime, we know that Al will continue to be a leader from the bench."
The timetable to return obviously is hard to project.
Joseph's transfer made little sense then and makes less now, especially when you go back and read the comments from Joseph's AAU coach, Ro Russell, as told to the Star Tribune on Jan. 9.
Russell said then that Joseph wanted to "figure out the best playing opportunity.'' He continued by saying, "His main thing was senior year, he wanted to make a major impact.''
Really? Smith told ESPN.com when this move occurred that Joseph came to his office and complained about his playing time and shots. Smith was befuddled by the action.
Joseph was averaging 25.1 minutes a game, 11.3 points and 3.5 assists. He had taken 81 shots in just eight games, that's already half of what he had taken in 33 games as a freshman. He took 285 as a sophomore. The reason he missed the first six games of the season was due to a violation of team rules. Joseph didn't make the trip to Puerto Rico for the Gophers' win in the Honda Puerto Rico Tip-Off.
Throughout that event the players, notably Nolen and fellow senior Blake Hoffarber as well as the staff, said that Joseph was the team's best creator off the dribble in getting a bucket. They all fully expected him to return to the team in good standing and make a contribution.
He did, although the team lost three of the eight games he played in, including a home game to Virginia when Nolen was out with a foot injury. He took 12 shots in Nolen's absence. He shot in double figures in all but three of the eight games he played in this season.
Russell was also quoted as saying that Joseph chose Oregon due to coach Dana Altman's high-paced offense and that "he felt he needed to make a change.''
Once again, another move by a player in the middle of the season that was short-sighted. Could Joseph have predicted that Nolen would go down? Of course not. But this is a classic example of why bolting on your team midseason is rarely a good idea and leaves carnage behind in its wake.
The Gophers had so much promise in the preseason. I saw it firsthand in late October with Nolen, Joseph and Hoffarber as the main three on the perimeter. Underclassmen Chip Armelin, Maverick Ahanmisi and Austin Hollins added depth and were allowed to develop at their own pace.
The athletic wing was set with Rodney Williams and the front line was as imposing as any team's in the country with Trevor Mbakwe, Ralph Sampson III, Colton Iverson and Mo Walker.
Since then, Nolen has missed five games due to a foot injury and will now, at the very least, likely miss the next seven with the staff's best-case scenario being a return for Michigan State on Feb. 22. And don't forget that Walker tore his ACL after the first 12 games. Mbakwe didn't miss any games but did spend a few hours in jail after he was arrested for violating a restraining order by sending a Facebook message. Mbakwe, who pleaded not guilty and faces another court appearance in February, lost his starting position as a result but remains the Gophers' best all-around player.
Smith can go with Armelin as the lead guard in Nolen's place, or if he opts to put the five best players on the court, he'll go big with Hoffarber, Williams, Mbakwe, Sampson III and Iverson. At some point during the game that lineup will be on the floor and it's a tough matchup for opponents, although on-the-ball defense against a quick guard will be dicey at times for the Gophers.
Minnesota (15-4, 4-3) had the toughest opening to the Big Ten of any of the league contenders, going to Wisconsin, Michigan State and Ohio State in three of its first four games. The Gophers lost all three. Now the trick for Minnesota will be to survive the next month without Nolen, with critical games at home against Northwestern (Wednesday), Ohio State (Feb. 6) and Illinois (Feb. 10). Let's assume the Gophers lose at Purdue on Saturday. But a more intriguing question is can they win the games they should win on the road at Indiana (Feb. 2) and Iowa (Feb. 13) before they go to a tricky spot for contenders, Penn State (Feb. 17).
Hollins and Armelin are more than capable of making shots for the Gophers. Sampson's face-up game is a difficult matchup. Williams probably has the best ceiling to improve the Gophers going forward.
But losing Nolen's experience can't be replaced. Joseph would have helped immeasurably. But he left. The Gophers will feel the effects of that now, but ultimately it will be Joseph's loss since he would have had a chance to shine on an NCAA tournament team, not increase his scoring for a program that is likely still years away from being in the Dance.
January, 10, 2011
01/10/11
9:52
PM ET
Minnesota could be just fine in March as a top-four finisher in the Big Ten and a ranked team that's ready to win a few games in the NCAA tournament.
That's the global, more optimistic view for the Minnesota fan.
But it will be a dicey road to get to that point. The Gophers have left little room to navigate through the Big Ten schedule, which was front-loaded with three of the five hardest road stops in the league. Minnesota opened at Wisconsin (68-60 loss), then visited Michigan State (71-62 loss) before Sunday's game at Ohio State (67-64 loss). The toughest road game left on the schedule is at Purdue on Jan. 29, and it's not even February yet. The Gophers don't go to Illinois this season. In the unbalanced schedule, the Big Ten gave Minnesota a break, and Illinois comes to Minneapolis on Feb. 10 for its only meeting. And while Ohio State (Feb. 6) and Michigan State (Feb. 22) visit the Gophers this season, the Badgers don't.
Purdue visits Minnesota on Thursday. And with the Gophers at 1-3 in the league (the one win coming over four-loss Indiana at home by only four points), the must-win tag aptly applies to that game. "I don't look at the schedule,'' Minnesota coach Tubby Smith said Monday. "I thought we should be 3-1, and here we are 1-3. I really believe we had the opportunities [to win the games]. But we've had major setbacks.''
[+] Enlarge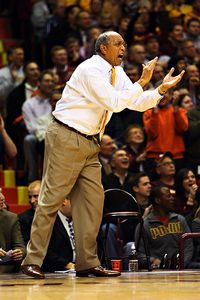 Brace Hemmelgarn/US PresswireTubby Smith and Minnesota are just 1-3 in the Big Ten.
Minnesota had issues off the court last season and was never able to put the team on the floor it hoped it could. Trevor Mbakwe waited out a legal case, and Royce White was suspended. White has since transferred to Iowa State. Al Nolen was then academically ineligible in February. The Gophers still advanced to the NCAAs after reaching the Big Ten tournament title game for the first time, and lost to Xavier in the NCAA first round. But it was a missed opportunity.
The Gophers had the look of a preseason Big Ten title contender. But before the season started, junior guard Devoe Joseph was suspended. Minnesota won the Puerto Rico Tip-Off, which included quality victories over North Carolina and West Virginia. Joseph returned just as Nolen went down with a foot injury, and the Gophers promptly lost to Virginia at home in the ACC-Big Ten Challenge. Joseph played in the next eight games, and Minnesota lost two more contests -- at Wisconsin and at Michigan State.
The loss to Ohio State on Sunday was the Gophers' first defeat with Joseph out of the lineup. He had been granted a release from his scholarship after deciding to transfer to another school.
"We were 7-0 without him until [Sunday], 5-3 with him,'' Smith said. In Puerto Rico, the Minnesota staff raved about the creativity of Joseph and his ability to score. But apparently Joseph wanted more of those opportunities, not less. He did attempt double-figure field goals in five of the eight games he played in this season. He was averaging 25 minutes and 11 points per game.
"He wanted more shots,'' Smith said. "Hard to understand. … The gratitude isn't there. He thought he deserved more. He wanted more shots. We're a ranked team. We knew early on to beat these teams we couldn't have disruptions, we needed everyone on the same page. How are we going to overcome it? We almost did [Sunday]. We'll get better and just need more consistent play out of everybody. We've been up and down.''
So Joseph is gone, reportedly to Oregon. Losing him hurts the Gophers' depth, but it may help the chemistry. What didn't help, maybe more so, was the season-ending knee injury to Mo Walker. The 6-foot-10, 289-pound freshman was starting to be a real factor. He scored 10 points on 5-of-8 shooting, grabbed five boards and dished out four assists from the post in a win at Saint Joseph's on Dec. 8. He would have given the Gophers more size and five more fouls against Ohio State's Jared Sullinger on Sunday.
Instead, Minnesota is now relying even more on its most consistent player -- Mbakwe (13.4 ppg, 10.4 rpg), and it needs to see if Ralph Sampson III and Colton Iverson can be much more aggressive, which may or may not be in their makeup.
"It's not even close that Trevor is our most consistent player,'' Smith said. "He's the guy we lean on right now. We're trying to get Ralph more aggressive. It's not his game. He knocked down a couple of jumpers, but he was going against one of the best players in the country in Jared Sullinger. We've got to get more out of Rodney [Williams, a slashing forward] and out of Ralph.''
Williams has been bothered by a back injury. And freshmen Austin Hollins, Chip Armelin and Maverick Ahanmisi are more than serviceable, but they're inexperienced right now. That means there's even more pressure on Nolen, who Smith said wears a protective boot when he's not practicing or playing, and on fellow senior Blake Hoffarber to defend, make shots and avoid mistakes.
The Gophers had 14 turnovers in the loss at Michigan State, and 15 in the setback to Ohio State on Sunday.
"Turnovers hurt us,'' Smith said. "We're shooting ourselves in the foot. Last year, we had experience with Lawrence Westbrook and Damian Johnson. They were strong, athletic and mentally tough. Al is a good player, but he has stamina and endurance [issues] with the bad foot. We may have to make Hoffarber more of a ballhandling role.''
But of course the Gophers need Hoffarber to be a game-changer with his 3-point shooting, too.
The schedule is in Minnesota's favor with three of the next four at home. But nothing should be taken for granted against Purdue, Iowa or Northwestern, let alone the road game at Michigan, which nearly beat Kansas on Sunday. The Gophers will have to slog through the Big Ten to reach their potential. But if they do, then their record should balance out with road games against Iowa, Penn State and Northwestern and home games against Michigan State, Michigan and Penn State. One would think that should be "easier" than games against Wisconsin, at Michigan State and at Ohio State.
"We've got to protect our home,'' Smith said of Williams Arena. "We'll win our share of games. We can play with anyone as long as we execute.''
November, 30, 2010
11/30/10
5:37
PM ET
The Big Ten is seven or eight deep in potential NCAA tournament teams. The ACC has Duke and a host of teams that are hard to discern from No. 2 on down.
So of course the Big Ten will capture the ACC/Big Ten Challenge, right?
Not quite. Virginia revealed the unpredictability of this event on Day 1. The Cavaliers were expected to be battling at the bottom of the ACC and Minnesota, even with senior point guard Al Nolen out of the game due to injury, was expected to walk over the Cavs after winning the Puerto Rico Tip-Off last week.
[+] Enlarge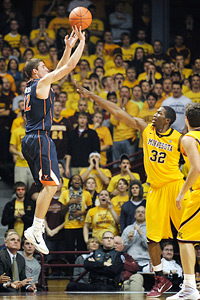 AP Photo/Tom OlmscheidJoe Harris' 24 points led Virginia to a surprising win over Minnesota on Monday night.
Instead, Virginia won 87-79 in Minneapolis, which might help the ACC win the event because it has advantageous matchups with top-ranked Duke hosting Michigan State, Clemson hosting Michigan, Virginia Tech hosting Purdue, Maryland visiting a weak Penn State team and toss-up ACC home games that include Iowa-Wake Forest and Indiana-Boston College, plus a potential upset if Florida State can beat Ohio State in Tallahassee.
For the sake of argument, that would mean home Big Ten victories by Northwestern (vs. Georgia Tech), Illinois (vs. North Carolina) and Wisconsin (vs. NC State) wouldn't even be enough to offset an ACC victory.
But regardless of what occurs, the ACC/Big Ten Challenge has provided an opportunity for a number of teams -- the opportunity to right a loss in an early-season tournament and/or pick up a much-needed quality win.
"We're all trying to figure ourself out now,'' Illinois coach Bruce Weber said. "Whether you're coming off a big win or a loss. Now you've got Big Ten, high-level games with a lot of attention. It's a good test for your team to figure out if you're for real or not. Your season can go in a lot of different ways. It's a good test to see how your team will respond, whether it's off a loss or a win.''
Florida State lost at home Sunday to Florida. The Seminoles could erase that with a win over second-ranked Ohio State, which has already won at Florida. Wisconsin is hosting NC State after losing to Notre Dame on Sunday in the final of the Old Spice Classic. The Badgers had already lost at UNLV. NC State dropped the title game of the Charleston Classic to Georgetown. Both teams could use a quality nonconference win.
Northwestern is undefeated and hoping to go to the NCAA tournament for the first time. But if the host Wildcats are to be taken seriously, shouldn't they beat Georgia Tech, which lost at Kennesaw State? Maryland failed to win a 2K Sports Classic game in New York against Pitt and Illinois. So if the Terps are a real threat to finish second in the ACC, shouldn't they win at struggling Penn State?
Purdue is fresh off a loss to Richmond in the final of the Chicago Invitational, and Virginia Tech lost Sunday night to UNLV in the final of the 76 Classic. The Hokies had already lost at Kansas State on Nov. 16. The combination of ensuring enough prep time and cost containment led Virginia Tech to chip in with Tulsa for a charter flight on the way to and from Anaheim. Hokies coach Seth Greenberg said the plane dropped Tulsa off early Monday morning. The Hokies arrived in Blacksburg at 8 a.m. after playing the night before against UNLV. The importance of the Purdue game pushed Greenberg to secure the flight.
Virginia Tech opened the season at home against Campbell, then went to Kansas State and UNC Greensboro (at Greensboro Coliseum, site of the ACC tournament) before visiting Anaheim for three games. The Hokies play Purdue at home, host Virginia to open the ACC schedule, host Penn State and then play Mississippi State at the Atlantis resort on Paradise Island in the Bahamas. This will be the first game heralded newcomer and Bulldogs center Renardo Sidney is eligible.
"This is a big stretch for us,'' Greenberg said. "The pre-Thanksgiving tournaments might make more sense when you're in the ACC/Big Ten Challenge. But we wouldn't get a Purdue to come to Blacksburg if it weren't for the Challenge. That's part of the culture. It's part of the business. Anytime you're playing an opponent like this, it's an opportunity. It sounds crazy now in November, but you're building your profile and your résumé.
"These games don't hurt you, but they can sure help you.''
He's right. So far, Virginia Tech has played three games against possible NCAA teams and lost two (Kansas State and UNLV) and the one it won (Oklahoma State) is a bubble team at best at this point. That's why a game against Purdue takes on even more significance, regardless of what event it is folded into. The Hokies won't get much bang out of a win over Penn State at home, leaving a neutral-site tilt against Mississippi State as their last significant nonconference game.
Virginia Tech knows all too well that it can't rely solely on the ACC getting its profile up to earn a potential at-large berth.
Duke and Michigan State, the opponents in the headline game in this event, will be fine either way. Both schools will be in the field, possibly as No. 1 seeds, and they'll play enough quality teams to place too much emphasis on this one game.
That's not the case for the other games.
North Carolina (lost two games in Puerto Rico) can turn its season around with a win at Illinois and a game against Kentucky at home Saturday.
Illinois beat Maryland and follows the Carolina game with a matchup in Seattle against Gonzaga on Saturday. Playing Missouri in St. Louis in a few weeks will create another opportunity for a quality win before the loaded Big Ten schedule.
"This is like a Big Ten week for us,'' Weber said. "We had a little test in New York. Now we have another test this week. These are really good games for us. We're at home. You hope you can win. But there are no guarantees.''
Just ask Minnesota, which appeared to be the one lock for the Big Ten when it hosted Virginia. The Cavs didn't see it that way.
No guarantees indeed.
November, 22, 2010
11/22/10
8:56
PM ET
SAN JUAN, Puerto Rico -- November tournaments don't make or break a season, but they can be a strong indicator.
UCLA went winless in Anaheim last season. The Bruins then missed the NCAA tournament.
West Virginia won Anaheim and eventually reached the Final Four.
Meanwhile, Butler was in the same field and looked horribly mediocre but was within one possession of the national title.
So, we report, evaluate and speculate.
Here are some impressions from four days in Puerto Rico with eight teams (and for more analysis, check out my video wrap from San Juan).
• I was convinced Minnesota would be a factor when I saw it practice last month. The Gophers were just too big inside with Trevor Mbakwe, Ralph Sampson III, Colton Iverson and Maurice Walker to be a fluke.
[+] Enlarge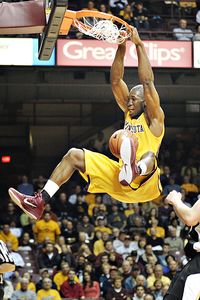 AP Photo/Tom OlmscheidTrevor Mbakwe and Minnesota's toughness and size were big factors in San Juan.
Al Nolen is back as the lead guard and top on-ball defender, Blake Hoffarber is raining down 3s, and with the possibility that Rodney Williams and eventually Devoe Joseph can slash to the basket for buckets, this team is extremely formidable.
• Minnesota didn't disappoint. The Gophers' size was the story here all week. The coaches couldn't stop talking about how physical, tall and dominating the Gophers could be in the post. The confidence that Sampson III is exhibiting -- even with his subpar game Sunday night -- could be a game-changer for this team. Mbakwe gives the Gophers the toughness they covet, and he'll be a strong man in the Big Ten.
• The Gophers keep saying how wonderful Joseph will be for this team when he gets back from his team suspension. He wasn't a dominating scorer for the Gophers, so we'll take their word on this one for now. But he'll have to fall in line with a team that has found its mojo here in the Caribbean.
• Coach Tubby Smith should be applauded for the job he has done at Minnesota. Smith has put together a defensive-minded team that has balance and enjoys being with one another. The staff is a veteran crew, and there is a sense this could be a special year.
• West Virginia will be fine and a real contender for the Big East title. The Mountaineers had some questions about perimeter shooting with the departure of Da'Sean Butler. But Casey Mitchell was phenomenal in San Juan. If Mitchell keeps his word and remains quiet, the Mountaineers will be a player. Mitchell was subdued throughout the week, almost going to the extreme of not talking back to coach Bob Huggins. Mitchell doesn't smile much, but he clearly has a shooter's mentality.
• The reason for the optimism is that Kevin Jones wasn't "on" throughout the week. He can play much better and be more of a factor than he was in this tournament. John Flowers is still working to be a consistent scorer, as well. While the Mountaineers are undersized, they do have the toughness to board in the Big East. The team just needs Deniz Kilicli to be more efficient as a starter. Backup Kevin Noreen gave them much-needed energy off the bench in Sunday's title game.
• Point guard Darryl Bryant won't have an off game like he did on Sunday too often (0-for-1 from the field, zero points). He knew it. There was no reason for it. He'll be back as a major factor for the Mountaineers. Joe Mazzulla and Bryant in the backcourt are a formidable pair. I wouldn't worry too much about this squad. As Huggins said, his teams compete for championships.
• Vanderbilt was impressive after leaving with a 2-1 mark. Coach Kevin Stallings was adamant that the Commodores could be a contender in the SEC East without A.J. Ogilvy and Jermaine Beal. The Dores have an extremely effective perimeter with Jeffery Taylor's versatility, John Jenkins' long-range shooting, and the combination of Brad Tinsley and Kyle Fuller at the point.
• But the biggest surprise from Vanderbilt was its power game. The Dores were one of the top three tough teams here, and it showed. Festus Ezeli can finish on the offensive backboard and Lance Goulbourne doesn't show fear going in for the offensive putback.
• Stallings never gets full credit. The man can coach. He was a candidate at Ohio State prior to Thad Matta taking the job. The Buckeyes couldn't have gone wrong either way. Obviously, Matta has done a tremendous job in Columbus, but Vandy should realize, if it hasn't already, that it has quite a catch in Stallings. He has made this program relevant for years and will continue to do so.
• North Carolina, well, what is there to say about the Tar Heels? UNC is just missing something. What it needs is a player in the locker room who can grab the rest of the crew and shake them up a bit. They don't have an enforcer, someone with an edge. The talent is there, but something isn't. Coach Roy Williams said that attitude and leadership will have to come from the coaches until the players develop it in the locker room. But who will be that guy? Can it be someone like freshman Kendall Marshall? Will Harrison Barnes develop that type of edge? Barnes is a phenomenal talent, but he got pushed around and had trouble fighting for his own shot in the last two games. Sure, there were missed defensive assignments, and Barnes did flourish against a zone. But in the Minnesota game, the Gophers bodied him up, and he went 0-for-12 from the field. That's not good. Tyler Zeller and John Henson have incredible length, skill and athleticism, but they just don't exude the type of personality to take over. How this team develops over the course of the season, when it is sure to take on more losses (possibly at Illinois next week), will be intriguing to watch. But know this: UNC is in the ACC mix with Florida State, Maryland, Virginia Tech and NC State for second place behind Duke. The Tar Heels aren't at all ahead of the pack. They are in the mix, just like everyone else. The bottom of the ACC has been awful so far, so there is hope that the records for those teams fighting for second won't come close to last season.
• Davidson coach Bob McKillop should be listed high if you're ranking elite coaches. The Wildcats had no business leaving 2-1 with a roster loaded with freshmen and sophomores. Western Kentucky had a few players (Juan Pattillo and Steffphon Pettigrew) who are going to play pro basketball somewhere on the globe. Davidson may not have guys like that. Yet Davidson was the better team, the more efficient team, and leaves here with oodles of confidence going forward into the Southern Conference. Western Kentucky, a Sun Belt favorite, is now confused, unsure why it can't find any cohesion. The Hilltoppers were selfish at times and lost at others. The only good news is that their press and trap allowed them to come back and beat Hofstra, or the Hilltoppers could have left here 0-3.
• Hofstra's Charles Jenkins could be this season's Rodney Stuckey. He's a lower-profile player who could be a first-round NBA draft pick. He can find his shot anywhere on the court and is also a solid leader. But he has to be more selfish on this team. He passed up one shot against Western Kentucky and then didn't command the ball on the last possession. Hofstra will be in trouble throughout the season if Jenkins doesn't dominate the ball.
• Nebraska will have issues in the Big 12 if it doesn't get better guard play. The Cornhuskers need some consistent play on the perimeter to stay in games. They can defend and board, but the perimeter is a sore spot. Nebraska coach Doc Sadler is well-respected for a reason -- his teams play hard, and he gets them to defend. But that won't be enough for the Huskers to be a winner in the last season of the Big 12. They need game-changers on the perimeter.
• And a memo to future teams -- the Coliseo de Puerto Rico was as impressive a building as I've seen in one of these early November tournaments off the grid. And surprisingly, the fans came out locally for the final. As always, West Virginia fans came strong, but there was a loyal following from Minnesota and North Carolina, too.
November, 12, 2010
11/12/10
8:05
PM ET
College basketball starts with a heavy dose of weekend games, before ESPN's 24-hour Tip-Off Marathon offers up a slew of must-see affairs Tuesday. But before looking forward, there must be some housecleaning done on a few issues. So here are my first impressions from a sprinkling of games this week: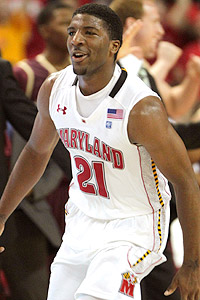 AP Photo/Rob CarrPe'Shon Howard made quite a first impression for Maryland this week.
Name to remember: Maryland freshman point guard Pe'Shon Howard
The offseason question for the Terps was who would replace Greivis Vasquez's leadership, moxie and overall late-game magic. The answer came rather quickly toward the end of the College of Charleston game. Howard made not just one, but two big-time shots to beat the Cougars. The second was all Howard, taking the ball down court and hitting a fall-back dagger of a jumper to win the game at the last second. I loved Maryland coach Gary Williams' stunned face as the buzzer sounded. He was obviously relieved, but also had to be thrilled that he had found a player who shares Vasquez's drive to do something special when the game matters most. Howard was an efficient 8-of-11 (2-of-7 at the line, though) in two games this week, scoring 19 points, dishing out 12 assists and snagging five steals.
Illinois can score: The Fighting Illini have been offensively challenged in recent years (who can forget the 38-33 loss to Penn State in '09?). But in two games this week -- albeit against poor competition -- Illinois averaged 81.5 points a game. That bodes well for a team that has plenty of talent that can push the basketball (expect games against North Carolina and at Gonzaga to be high-scoring affairs).
Texas has another stud freshman: Forward Tristan Thompson averaged 14.5 points in two games, but was even more impressive with a 17-point, seven-rebound, three-steal performance in a win over Louisiana Tech on Wednesday.
Pitt will rely on its veteran backcourt to win big: The Panthers played without injured forward Nasir Robinson in the first two games, and the consistency and production of the frontcourt is still an unknown. But Pittsburgh has two players in Ashton Gibbs and Brad Wanamaker who have matured into leaders, reliable scorers and money players in the final few minutes. Jamie Dixon can rely on these two to take over a game when needed. They carry themselves as mature young adults, ready to take the baton of leading Pitt to a possible Final Four.
Still-unresolved situations:
• Baylor coach Scott Drew said in a text message Thursday night that there had been no movement on reinstating senior guard LaceDarius Dunn for Friday's opener against Grambling State. The Bears can get by without Dunn for some time since the schedule is soft until Arizona State on Dec. 2 and Gonzaga in Dallas on Dec. 18.
• Kansas coach Bill Self said in a text Thursday night that he was hopeful there will soon be a resolution on the eligibility of point guard Josh Selby. But it didn't sound promising for the immediate future: Friday's game against Longwood and Monday against Valparaiso. Kansas starts the meat of its nonconference schedule with a rugged seven-game stretch -- Ohio, Arizona, UCLA, Memphis in New York, Colorado State, USC and at California. All of those teams, save perhaps Cal, should be in postseason contention. But the game against the defending Pac-10 champion is in Berkeley, which still makes it a difficult stop.
• Minnesota coach Tubby Smith suspended Devoe Joseph for a violation of team rules. The Gophers open against Wofford and then play Siena on Monday before going to Puerto Rico for three games, starting with Western Kentucky. Joseph is one of the better scorers for the Gophers, but this Minnesota team can take at least one suspension (unlike last season's team). In discussing this with the Minnesota staff Thursday night, I got the sense Joseph will be back sooner rather than later as long as he adheres to Smith's rules.
And now a glimpse at the weekend ahead:
Best games
No. 21 Georgetown at Old Dominion, Friday, 7 p.m. ET: The Monarchs are a CAA cofavorite, while Georgetown is a top-five Big East team. The Hoyas, who have lost two of their past three against the Monarchs, will be entering a rocking arena and will have to play well to win. This should have a February feel to it. Clearly, an ODU win will have more shelf life than a Georgetown road win. And the Hoyas have already started the season with one setback, as the school announced Friday that freshman center Moses Ayegba has to sit out the first nine games because someone who wasn't an immediate family member paid for his plane ticket to come to the United States before he enrolled in high school.
[+] Enlarge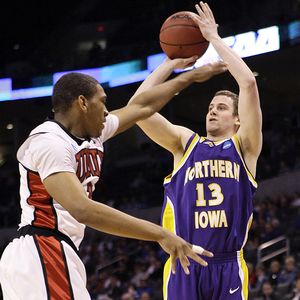 AP Photo/Tony GutierrezFresh off charming America in March, Johnny Moran and his UNI teammates open Friday at Syracuse.
Northern Iowa at No. 13 Syracuse, Friday, 7 ET (ESPN3): Don't be fooled into thinking this is the same Panthers team that upset Kansas. It's not. The Panthers lost too much of that squad to be looked at as a major threat to win at the Carrier Dome. But they will test the Orange zone. How well Kris Joseph emerges as the go-to guy and the impact of Fab Melo along the backline will be interesting developments to track.
Seton Hall at No. 22 Temple, Friday, 7:30 ET: The Pirates have been flying under the radar during all the Big East preseason talk, but still have enough talent to be a major player in the league's muddled middle. Meanwhile, Temple is the Atlantic 10 favorite and the one school at the top of the conference that has had no drama in the offseason. But a loss here at home could start the questions for Fran Dunphy's group.
Sneaky game to watch
Southern Miss at South Florida, Friday, 7 ET: The Golden Eagles project themselves as a real threat to take down Memphis in Conference USA. The Bulls are rebuilding a bit after losing Dominique Jones to the NBA. But USF is still a Big East team that won 20 games last season, so a road win here by Larry Eustachy's crew will go a long way toward earning credibility.
Notable debuts
East Tennessee State at No. 10 Kentucky, Friday, 7 ET (ESPN3): How well Brandon Knight plays at the point, Doron Lamb and Terrence Jones play on the wing and Eloy Vargas plays inside will all be interesting subplots for an Enes Kanter-less Kentucky squad. Don't forget that ETSU has gone to the NCAA tournament in each of the past two years. An upset is highly unlikely, but a young UK team had all sorts of problems with teams like Miami (Ohio) and Sam Houston State early this past season.
North Carolina A&T at No. 5 Ohio State, Friday, 7 ET (ESPN3): The Buckeyes' new stud forward, Jared Sullinger, is being billed as the possible Big Ten player/freshman of the year. Let's see if he lives up to the early-season hype.
Lipscomb at No. 9 North Carolina, Friday, 7 ET: The Tar Heels will be major players if freshman Harrison Barnes is a stud. This is our first look at America's No. 1 recruit, his fellow stud freshmen and a motivated group of UNC returnees.
Chattanooga at No. 20 Tennessee, Friday, 9 ET: The Vols have been the center of controversy this offseason due to the admitted NCAA violations by head coach Bruce Pearl and his staff. Then Tennessee lost an exhibition game to Indianapolis this week and had the critics howling. But the focus can, at least for now, return to the court and the expectations around Tobias Harris in his first game.
Detroit at New Mexico, Saturday, 9:30 ET: The Titans start the season at the refurbished Pit and get to unveil the hyped Ray McCallum Jr. The Lobos will play Tennessee transfer Emmanuel Negedu, who had to have a defibrillator put in his chest after he nearly died in 2009.
Tricky road starts
San Diego State at Long Beach State, Saturday, 7 ET: The MWC favorites begin a five-game road swing to start the season that will take them next to Spokane and then to Oxford, Ohio. Long Beach State is a Big West title contender and a heck of an opening challenge for a team with the highest expectations in SDSU history.
Florida State at UNC Greensboro, Sunday, 3:30 ET: The Seminoles, who fancy themselves to be a possible second-place finisher in the ACC, are going out of their way to challenge themselves this season with interesting road games. Florida State also goes to FIU on Nov. 18 and Loyola Marymount on Dec. 18 before opening up the Diamond Head Classic in Honolulu with a true road game against host Hawaii on Dec. 22.
November, 5, 2010
11/05/10
7:02
PM ET
MINNEAPOLIS -- Trevor Mbakwe would walk around campus and hear mumblings from those who passed him. He knew they were well aware of his identity and what he was accused of doing, even as he professed his innocence.
Mbakwe spent last year on Minnesota's campus, able to practice yet unable to play as the university awaited the conclusion of a Florida assault case that had hung over him like a dark cloud.
"There were whispers of, 'That's the guy with the charges,'" Mbakwe said. "People just wanted to hear the bad things. It was tough. They thought I was a thug, a woman beater. My family raised me better than that to say that's something I would do. Everyone who knew me knew that's not something I would do. It was tough reading the articles."
In August, Mbakwe received closure on the ordeal when he decided to enroll in a pretrial program and not go to trial on the charges. The program, which isn't an admission of guilt, lasts six months and calls for Mbakwe to serve 100 hours of community service and donate $100 to a Florida shelter for abuse victims.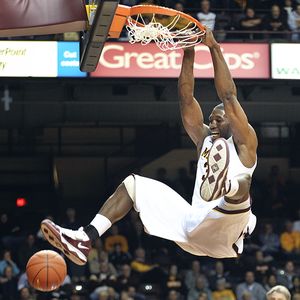 AP Photo/Tom OlmscheidWith his legal issues cleared, Trevor Mbakwe promises to be a force inside for Minnesota.
"I never thought [the case] would last this long," Mbakwe said recently at Williams Arena court after practice. "I was allowed to practice with the team, but was at first shocked I couldn't play. But I understood the ruling since it was a charge against a woman. I'm glad it's over, and I'm ready to play ball again."
If the Golden Gophers are going to challenge for the Big Ten title, it could be thanks to Mbakwe's power play inside, giving Minnesota a toughness and edge and adding even more production to a frontcourt that was already deep with Ralph Sampson III, Colton Iverson and Mo Walker. Mbakwe scored 13 points, made 4 of 5 shots and grabbed three rebounds in 13 minutes in the Gophers' 109-59 exhibition win over Division II Northeastern State (Okla.) on Tuesday night at Williams Arena.
As for the assault charge, Mbakwe's attorney, Gregory Samms, was quoted by The Associated Press in August as explaining the rationale for the deal like this: "Basically the only reason that we took it is one more of convenience and also the fact that by doing this we get to the same end result as if we went to trial and won without the trauma and time constraints of that." Miami-Dade State Attorney's office spokeswoman Terry Chavez was quoted as saying, "The victim was in full agreement with the decision made in this case. The past year has been very difficult for her."
Mbakwe was enrolled at Miami Dade College when the April 2009 incident occurred. He had spent an injury-plagued season at Marquette that lasted just 11 games before arriving at the college, which is primarily a junior college. He was at a birthday party for a friend who had just turned 21. Mbakwe said he left the party after it ended.
"I woke up the next morning and heard five different stories, that a girl got raped, a girl got jumped, a girl got beat up, and I heard by the afternoon that they were looking for three suspects," Mbakwe said. "And then I heard I was one of them. I brushed it off because I didn't do anything."
Two weeks later, Mbakwe was called into the basketball office at Miami Dade and told a warrant had been issued for his arrest.
"My heart just dropped," Mbakwe said. "It was a whole new world after that. My emotions were all over the place. I said, 'This can't happen.' I watch a lot of 'Law & Order,' and the first thing I thought about were these people that spend 30 years in jail over crimes they didn't commit. The whole thing was surreal."
Soon afterward, Mbakwe called Minnesota coach Tubby Smith.
"I was at the Final Four [in Detroit], and I got the call," Smith said. "I told him he needs to get a lawyer. He was worried about his safety. I told him you need to look out for yourself."
Mbakwe said he went back home to St. Paul, Minn., then had to return to Miami to turn himself in. He was released, then made another appearance in Miami to meet with his attorney.
"There was a lot of stuff we found out that the story went back and forth and that there was no evidence on me," Mbakwe said. "Unfortunately, we had three separate judges, two different prosecutors. Anything that could happen to me did happen to me to force a delay."
When Mbakwe arrived at Minnesota, he wasn't allowed to play until his legal issues were resolved.
"At the time, you don't agree why he was suspended because he didn't do anything wrong and nothing had been proven, so it was hard for me to accept, much less him," Smith said. "It was a charge. We wanted to stick by him and be a part of something special. That hasn't changed. I told him that if he could get past this, the people here would embrace him. It ended up being a great story, a story that should be told."
Mbakwe's case came at a troubling time for Minnesota. Another highly touted player in Smith's recruiting class, Royce White, never played for the Gophers after he pled guilty to charges of shoplifting and disorderly conduct. He left the program in February after he was charged with trespassing in connection with an alleged theft of a laptop from a dorm. He enrolled at Iowa State after leaving Minnesota.
"Every time Royce's name was mentioned, my name was mentioned," Mbakwe said. "The trouble was automatically linked in with everybody else. I was frustrated that I couldn't play, but it was their jobs on the line. For the most part, everyone stuck behind me. Mr. [Joel] Maturi [Minnesota athletic director] had nothing but good things to say. So did Coach Smith. He supported me. They allowed me to stay in school and be on track to graduate. They didn't have to let me stay here. They could have pushed me on out."
But Mbakwe nearly left. Frustrated by the slow-moving nature of the process, he wondered whether he should pursue his playing career elsewhere. He asked for a release to pursue a transfer and visited Memphis and said he was planning to visit Georgia Tech before his case was mediated.
"The delays kept happening, and I just didn't want to go through this again," Mbakwe said. "[Minnesota] had already said I couldn't play here as long as there was a charge. Memphis was a great school. I loved it, and I did consider it. I didn't want to go another year without playing. But I'm glad everything worked out."
Smith didn't challenge Mbakwe's interest in looking elsewhere. He said the patience that Minnesota and Mbakwe showed in this case should be a lesson for other schools around the country to stay with each other and seek a resolution instead of choosing the easy route of separating.
"I can't imagine what Coach Smith was thinking; he had to be stressed with all the problems …," Mbakwe said. "They still got into the tournament, finished the season strong and made it to the Big Ten championship game. Coach stuck by me. He respected me and stuck with me despite the charge. I'm very appreciative."
Mbakwe didn't start in the Gophers' exhibition game, but it will be hard for Smith to keep him off the court.
"He'll have an impact on our team because the way he plays, the type of competitor he is," Sampson said. "He brings so much energy. He uplifts our spirits. He's a great person to play against. He's strong and athletic. He handled everything very well. He would be at practice and support the team. He handled it the way you're supposed to."
Smith echoed that sentiment, saying Mbakwe was a mature young man dealing with an enormously difficult situation -- being charged with a crime he said he didn't commit.
"I worked so hard to get to this point; I was so excited to play last season after what happened at Marquette," said Mbakwe, who was cleared just in time to go with the Gophers on a three-day trip to Vancouver, British Columbia, in August. "I haven't really played in over two years. I'm so hungry. I can't wait to play. I feel like it's my freshman year all over again."
Minnesota could be a sleeper team and surprise teams in the Puerto Rico Tip-Off if the Gophers meet North Carolina in the semifinals on Nov. 19 in San Juan. Returning point guard Al Nolen, shooter Blake Hoffarber, and scoring wings Rodney Williams and Devoe Joseph will balance the length inside of Mbakwe, Sampson, Iverson and Walker.
When the season starts, what Mbakwe wants more than anything is to be recognized by students, fans and the media for his on-court prowess rather than for anything he was alleged to have done off the court.
"I just want people to say, 'That's the guy who had a double-double against Michigan State,' not 'the guy who assaulted someone who had to miss the year,'" Mbakwe said. "It's going to be great. I just can't wait for the first jump ball and for the games to start."
August, 31, 2010
08/31/10
6:31
PM ET
Minnesota coach Tubby Smith is in a good place, best he's been in since his surprising move from Kentucky 3½ years ago.
He just finished 10 practices prepping for this week's three-game trip to Vancouver and two of his stars are rid of their previous issues -- one legal, one academic.
Smith is also fresh off a life-changing trip to Africa that included missionary work as well as a once-in-a-lifetime safari experience. And he's a grandfather for the first time as his eldest son G.G., an assistant at Loyola (Md.), and his wife are the new parents of a baby girl.
Andy Altenburger/Icon SMITubby Smith likes the direction his Minnesota program is headed.
"It's been a great summer, a lot of things have been resolved,'' said Smith on the eve of Tuesday's departure to Canada.
Starting point guard Al Nolen is back after missing most of the Big Ten season once he was declared academically ineligible last January. At the time, the 6-foot-1 junior had averaged 4.6 assists a game and was one of the best on-ball defenders for the Gophers.
Trevor Mbakwe was supposed to be an impact player with the Gophers last season. But he was prevented from playing because of an assault allegation. The felony assault charge came from an incident while he was at Miami-Dade Community College in April 2009. The case took more than a year to be resolved and during that time Minnesota athletic director Joel Maturi ruled that the St. Paul native couldn't play until the case was over.
Last week, Mbakwe finally had resolution as he entered a plea in a pre-trial intervention program that allowed the charges to be dropped upon completing 100 hours of community service. (Doing so was not an admission of guilt.) Mbakwe also will make a donation to a shelter for victims of abuse in Florida. An Associated Press story said he expects to finish everything by the time the season starts.
What the Nolan and Mbakwe cases have proved for Smith and Minnesota is that preaching patience with players dealing with off-court issues can be beneficial. There was no need to rush to judgment and dismiss either one from the program.
"There are a lot of lessons to be learned,'' Smith said. "The administration and I learned a lesson.''
Smith said that the players and the staff were constantly asked about Mbakwe and Nolen. Both could have easily bolted. Smith said Mbakwe did have his release and made recruiting visits (including one to Memphis) but decided to stay put.
"It shows a lot about the young man's character to stick through this and come through it,'' Smith said. "He saw that the best thing for him was to stay here and play at the U. He had his release. He checked out other schools. But our fans embraced him. It was a great story. What this can show is how we should work with kids when they're suspended. There is a lot of pressure on people but he was only charged. The charges were dropped. There had to be patience.''
The Gophers also had to deal with whether or not heralded recruit Royce White would ever play for Minnesota. White wasn't allowed to play last season as he waited for resolution on his disorderly conduct and theft cases from an incident at the Mall of America. White had some on-again, off-again statements about whether he would return to Minnesota. Ultimately, his highly publicized case led him to look elsewhere and he has resurfaced at Iowa State.
"We had to deal with distractions and learn how to eliminate them,'' Smith said. "When we lost Al it wasn't just everyone asking me, it was also asking all the players.''
In the recent practices, Nolen and Mbakwe were two of the most significant talents on the court. While Smith won't say it publicly, his staff isn't shy about promoting the frontline of Mbakwe, Colton Iverson and Ralph Sampson III as one of the top frontcourts in the country. Toss in the return of Rodney Williams, who could be one of the sleeper stars in the Big Ten, and the Gophers have a solid, respectable and impressive rotation of four frontcourt players.
Nolan and Devoe Joseph give the Gophers a solid perimeter defense and sharp-shooter Blake Hoffarber can be a difference-maker with his ability to change a game with 3s.
"Trevor is so hungry after sitting out a year and he's what we were lacking,'' Smith said. "We had a tough time rebounding the ball. We've added some real depth and strength. Last year, we had [then seniors] Damian Johnson and Paul Carter at 6-7 playing power forwards with no true center. With Royce White and Trevor not being able to play, we were limited.
"We fought and scratched and clawed and overachieved and underachieved at times. We got to the Big Ten championship game -- something this school has never done -- and we got to the NCAAs (for the second consecutive season) when everyone thought we were NIT-bound. The goal this year is that we should compete for the Big Ten title.''
That would be quite an accomplishment considering the league includes national title contenders Michigan State and Purdue, as well as two other teams -- Ohio State and Illinois -- that could lay claim to being conference-title contenders. And don't dare dismiss Wisconsin and the Badgers' ability to be a factor for a top-three finish.
The Gophers return from Canada later this week in preparation for what could be a program-turning season for Smith. They have a real shot to disrupt the Puerto Rico Tip-Off in November if they get past Western Kentucky in the first round and knock off North Carolina in the second round. West Virginia and Vanderbilt are the marquee teams on the other side of the bracket.
As far as conference play goes, opening up the Big Ten at Michigan State and Wisconsin (and then at Ohio State after a home game against Indiana) will give the Gophers little room to wiggle.
"I've never seen a conference so good get so few players drafted,'' said Smith of the Big Ten's lone pick -- No. 2 Ohio State's Evan Turner. "That tells me one thing -- there's a lot of good players returning.''
And Mbakwe and Nolen are definitely two of them.