Category archive:

Missouri Tigers
April, 4, 2013
04/04/13
11:50
AM ET
If the allegations in a letter sent by the University of Miami to drop the case against the school are true, the NCAA needs to officially exonerate former Hurricanes and current Missouri men's basketball coach Frank Haith so he can move forward from this mess.
ESPN obtained a copy of the document on Wednesday, and the manner in which NCAA enforcement allegedly lied and tried to turn one assistant against Haith to get him to say something incriminating was shocking.
Haith was not charged with unethical conduct in the notice of allegations released in February, but he was cited for lacking an atmosphere of compliance. He has been tainted by this investigation and a cloud hangs over him and his current job.
[+] Enlarge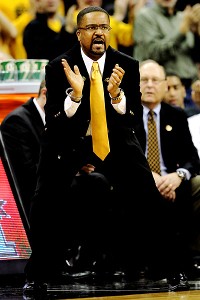 Jamie Squire/Getty ImagesIf the report is true, the NCAA needs to clear Frank Haith of any wrongdoing.
Item six in the lengthy report to the NCAA is headlined: "The Tactics Employed During the Questioning of Frank Haith and Jake Morton were Impermissible and Unethical.''
The report states that two investigators, including the fired Abby Grantstein, "exhibited the enforcement staff's fixation on obtaining evidence that substantiates the most scandalous allegations involving the most high-profile individuals at the expense of behaving in an ethical manner and in accord with the NCAA Bylaws in their questioning of former Miami Head Men's Basketball Coach Frank Haith and former Miami Assistant Men's Basketball Coach Jake Morton.''
The report continues to allege that the two investigators provided Haith and his former assistant Morton with "false information regarding what other interview subjects had reported in attempt to elicit confessions of NCAA violations.'' The report states that this investigative tactic is against "the NCAA's bedrock principles of honesty, integrity and cooperation.''
And apparently there's more.
Investigator Brynna Barnhart allegedly tried to trick Morton into turning on Haith by twisting his words against him in this piece of the report. The document said that Morton had denied that he told Haith he intended to use a June 10, 2010 check that Haith gave to him to repay Miami booster Nevin Shapiro for a personal loan.
Instead, the enforcement staff told Morton that Haith said he was giving Morton the money to pay Shapiro. Morton told the enforcement staff that he didn't think Haith had any knowledge of Morton's personal deal with Shapiro until Yahoo! reported the allegations in an August 2011 story. The report states that even though Morton had denied that Haith knew of the "transaction," Barnhart committed an unethical move by lying to Morton.
The report states that Barnhart said this to Morton in a Sept. 19, 2012 interview: "I'll be honest, [Haith] put a lot of the relationship between the men's basketball program and Nevin on you. And that, I'm just going to put it out there for you to respond, specifically that you were the first person to know Nevin, that you're the one … you were essentially the one that kind of brought Nevin into the program, that he didn't really know Nevin as well as you did. And so, I just wanted to give you an opportunity to respond to that."
The report continues: "Based upon an analysis of Haith's interviews, it is clear that this statement was false. In his September 5, 2012, interview, Haith made repeated statements that are the complete opposite of what Barnhart reported to Morton. Haith reported that Shapiro was introduced to the men's basketball program through the University's development office, not Morton. Haith also reported that he had no knowledge of how Morton's relationship with Shapiro developed and that he believed that he was the one who introduced Morton to Shapiro.
At no time during his interviews with the enforcement staff did Haith ever report that Morton was the "first person to know Nevin" or that Morton "brought Nevin into the program" as Barnhart relayed to Morton. Haith acknowledged that Morton had a relationship with Shapiro, but made no other assertions. Barnhart's false statements to Morton were clearly an attempt to make Morton believe that Haith had "thrown him under the bus" in order to trigger Morton to provide the enforcement staff with condemning information on Haith. This investigative tactic is clearly contrary to the NCAA's principles, procedures, and expectations, and is further evidence of the enforcement staff's bad faith and unethical behavior in the Investigation."
The unethical behavior of Granstein and Barnhart continued apparently, as detailed in this Sept. 5, 2012 interview. Here is another excerpt: "In Haith's September 5, 2012 interview, Grantstein -- who, as explained above, was fired from the enforcement staff for her attitude of attempting "to get" high profile figures in collegiate athletics -- misrepresented to Haith that Morton reported to the enforcement staff that he had delivered $10,000 in cash to Shapiro's mother's house on June 10, 2010.
In truth, Morton reported that he delivered $5,000 to Shapiro's mother's house to repay a previous loan he had received from Shapiro, not $10,000. Morton detailed the delivery of that $5,000 to Shapiro's mother's house in his interviews on October 13, 2011 and September 19, 2012.
"Grantstein also told Haith that Mario Sanchez, Shapiro's former bodyguard, reported that Morton delivered $10,000 to Shapiro's mother's house. To the University's knowledge, Sanchez was never interviewed. Grantstein's intent to mislead Haith is evident in the fact that after she provided false information to Haith regarding Morton, Haith specifically asked her if Morton had indeed reported that he delivered $10,000 to Shapiro's mother's house, and Grantstein responded affirmatively, thus stating false information on the record on two separate occasions."
The final conclusion on the Haith matter was this: "This willful deceit not only sheds light on the relevant enforcement staff's lack of investigative ethics in this case and demonstrates the very attitude for which Grantstein was ultimately terminated, but has also irreparably tainted the Investigation."
Haith's former school, Miami, is clearly supporting him by putting this in a letter to drop this case. Haith has had unequivocal support from Missouri and its athletic director Mike Alden. He's been beaten down many times over the past year and has used thousands of dollars of his own money in his defense.
He had a phenomenal regular season in Year 1, only to finish with a disappointing round-of-64 loss to Norfolk State. This past season, Missouri was tough at home but struggled on the road. The Tigers, a team mashed together with transfers and a few returnees, ultimately lost to Colorado State in the round of 64.
Haith deserves a chance to coach Missouri free from the distractions of this NCAA investigation. If all that is written in this report is true, the NCAA must clear Haith based on the unethical behavior used against him. If that occurs, he can finally coach with a clear head and can be judged going forward on his performance and his program's development in the SEC.
December, 12, 2012
12/12/12
11:25
AM ET
Picking up a name player in December always sounds like a cool move, something that will improve a program in practice and the following year.
The hype of the transfer usually takes on a life of its own.
But does it work?
[+] Enlarge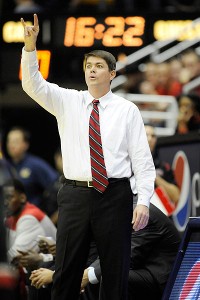 Bob Stanton/USA TODAY SportsUNLV coach Dave Rice says he's accustomed to being flexible and the injury to leading rebounder Mike Moser will mean more adjustments.
Not always. The player has to be a fit. The opening has to be in the rotation. And the player and his teammates have to buy in to ensure that it goes smoothly.
"I had Jelan Kendrick last year,'' said Ole Miss coach Andy Kennedy. "He missed the first eight games before he was eligible midseason. It was difficult to integrate him into the rotation based on the rotation being set to that point. It was more challenging than I anticipated.''
The key is whether there is a need when the player is eligible.
"It's always difficult to join the rotation midseason,'' said UNLV coach Dave Rice. "It usually works out, just not as quickly as you would like.''
UNLV is adding Pitt transfer center Khem Birch for Monday's game at UTEP. He arrives just in time because the Rebels lost leading rebounder Mike Moser for an indefinite period with a dislocated elbow.
Missouri is adding Oregon transfer Jabari Brown in time for Monday's game against South Carolina State and in advance of a slew of tough games over the next three weeks: against Illinois in St. Louis, at UCLA, and at home against Bucknell and Alabama.
Moser was hurt in the win at Cal on Sunday night. The Rebels need as much frontcourt help as possible with upcoming games against Northern Iowa, at North Carolina and the MWC opener at New Mexico. Freshman Anthony Bennett is leading the team in scoring. But he'll need help to offset defenses without Moser. That's where Birch can come in immediately and help -- if he's effective. There may not be as much patience since he needs to be ready to go.
"Khem Birch has been very good in practice,'' said Rice. "He was always counted on for this season and even more immediately now with the Moser injury. In our case, we had only five returning guys, plus the Moser injury has affected our rotation already. So we are accustomed to being flexible.''
Missouri doesn't have Michael Dixon Jr. anymore, now that he's off the team. He wasn't a part of this squad while suspended but Brown has been practicing. And Missouri has already had to deal with transfers blending in because five are already on the roster, including Alex Oriakhi from Connecticut.
"I haven't had a player added midstream like this,'' said coach Frank Haith. "He's practiced with our team for a year starting last spring. We'll see how it goes. But he's like a freshman: He played in only two games for Oregon. We understand that. We're not expecting him to give us 30 points a game. He's going to be a welcome addition and help our skill set. We've got 10 guys who are competing for playing time right now.''
Brown will have to slide in with the rest of the perimeter players, including Phil Pressey and Keion Bell. Brown was billed as a scorer but he simply needs to make shots within the flow of the offense and, more important, defend. He shouldn't have a problem getting out on the break in what has been a very good running team.
Missouri and UNLV are NCAA-bound teams with a chance to go deep in March.
Providence is not. But the Friars will gladly take the infusion of a midseason transfer like Arizona's Sidiki Johnson and of course the readiness of a healthy guard in Kris Dunn, who is finally ready to play after a shoulder injury before his arrival.
"We'll be happy to have them,'' said Providence coach Ed Cooley. "We must regroup and we'll play a different style. We'll be more talented yet different.''
Whether the midseason transfers make an impact depends on the player, the need from the team and whether everyone is on board with the idea.
But UNLV and Missouri need their transfers more than most teams at this time of the year.
October, 2, 2012
10/02/12
10:22
AM ET
After falling victim to the ultimate Cinderella (Norfolk State) in the NCAA tournament, it's time to turn the page at Missouri.
A new conference. Basically a new roster.
Outside Kentucky, no national contender from 2011-12 had as much of an offseason makeover as Mizzou. The Tigers are now relying on five transfers, four of whom come directly from four-year colleges and one via junior college after a stint at a four-year school.
All five are expected to play major roles, complementing star returnees Michael Dixon Jr. and Phil Pressey in the backcourt and the return of forward Laurence Bowers, who missed all of Frank Haith's first season at Missouri with a torn ACL suffered in the preseason.
Haith had to be creative with a senior-laden roster a season ago. He wanted to be competitive from the moment the Tigers stepped foot in the new league. And they will be.
[+] Enlarge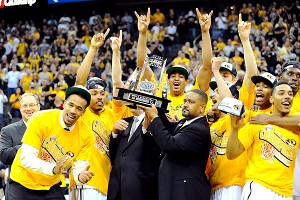 Denny Medley/US PRESSWIREThis Missouri team will look a lot different than the one that won the Big 12 tournament title in March.
An August trip to France was the jumping-off point for a program that should hit the ground running in the SEC, even after one of the toughest nonconference slates for any team in the conference (Stanford, Illinois, at UCLA, sneaky-good Bucknell and a loaded field in the Bahamas that could have all eight of its participants end up in the NCAAs).
"We had a productive summer," said Haith. "Everything is going well. These guys worked so hard and have been pounding it and putting in the work together."
Haith said hasn't had as much anticipation for a season since he's been a head coach. He also gets a chance to coach his son Corey Haith, a 5-foot-10 walk-on. Haith admits he missed plenty of Corey's athletic events during the past year of transitioning from Miami to Missouri.
"I did miss games, and now that he's around, I'm so excited about it," said Haith. "I want to have that four-year impact with him that you normally don't get. I've always been out recruiting. I'm so looking forward to it."
Corey Haith is one of a host of newcomers. Jordan Clarkson will likely join Corey on the scout team since he has to sit out this season after transferring from Tulsa.
But the other five transfers are all going to have a footprint on this team as potential game-changing players. Here's Haith's assessmen of each:
Alex Oriakhi, 6-9, Sr. (Connecticut): "He's really worked his tail off. He's got 8 percent body fat. He came in a bit heavy but got his body right. He's become more athletic and driven to have a great year. We've asked him to be even more of an offensive threat for us, and he has bought into that. We'll use him in the pick-and-roll. We want him to be assertive. He's a guy we can throw the ball to and he'll have success. He'll defend and rebound and block shots. He's also been a quiet kid, but we want him to be more assertive. Those credentials are impressive. He's won a Big East championship and a national title. He has to get that vocal side of him out once he's more acquainted with everyone."
Jabari Brown, 6-5, So. (Oregon): "He's not eligible until December. But he can really score the ball. We lost Marcus [Denmon] and Kim [English] and he can have the kind of 20-point nights those guys had. He shoots the ball extremely well. The key will be how do we mainstream him into the lineup midyear. We've got tough early games in the Bahamas, and he won't be there, but he will be back for UCLA [Dec. 28] and maybe Illinois [Dec. 22]."
Earnest Ross, 6-5, Jr. (Auburn): "He's doing great. He's got to figure out the best way to be successful. Is he starting or coming off the bench? We don't know yet. He's tough and can rebound and score. He's a good shooter, and we're hoping that he's a better defender. He has the size and ability to be physical. He's got to be a lockdown defender for us. He can score in a variety of ways, and he has a tremendous instinct for rebounding."
Keion Bell, 6-4, Sr. (Pepperdine): "He's a guy who is going to have to make the biggest adjustment to his game. He scored almost 1,400 points in three years at Pepperdine. I'm not sure if he'll be more than a 10-point guy with Dixon and Bowers. He's not going to be the focal point. He scored a lot with the ball in his hands, but we don't play like that. He played well in Europe and had to score off the ball. He has to be a lockdown defender, too, something that he's never done in his career. He has to buy into his role, and he's done it so far."
Tony Criswell, 6-9, Jr. (Independence CC/UAB): "He's been incredible. He's probably the biggest surprise with how well he's played and performed. He will see substantial minutes. I didn't realize how skilled he was and how much he can score. He's very quick and has great feet. He may be our best runner of our bigs. He has a chance to help us big-time."
The Tigers will need Criswell as much as anyone with Bowers coming back from injury and not quite 100 percent yet and the departure of Ricardo Ratliffe, who was one of the only traditional forwards on last season's 30-win team.
The schedule is arduous and the SEC slate isn't kind (Florida twice and the only game against Kentucky is on the road), but the pieces are in place for another special season.
"This year's team is talented on paper," said Haith. "But can we get them to all play together? That's the question."
February, 14, 2012
02/14/12
3:38
PM ET
The Big 12 essentially traded Missouri for West Virginia and Texas A&M for TCU for the 2012-13 season, and no one associated with Big 12 basketball seems to be fretting one bit.
Missouri should be able to find its way toward the top five in the SEC, while Texas A&M will have to slog through a muddled middle of the conference.
The absence of a Missouri-Kansas and Texas-Texas A&M rivalry will hurt the Big 12. No one will debate that fact since those four games are always well-attended and hotly contested, and usually mean something in the standings.
And while Mizzou and A&M plan to continue the rivalry, Kansas and Texas have said no.
So, ultimately nobody in the Big 12 appears to be whining over the departures. The 10-team Big 12 can go forward without a hitch in its new round-robin schedule and its equitable conference tournament.
[+] Enlarge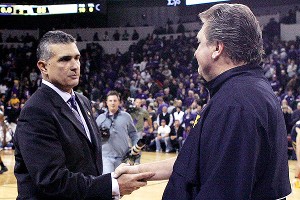 Scott Sewell/US PresswireFrank Martin is happy to welcome old boss Bob Huggins and WVU into the Big 12.
West Virginia's location in Morgantown is just another college campus that isn't easily accessible by a major airport, so that's nothing new for the Big 12. Try getting to other league schools in Columbia, Ames, Lubbock, Stillwater or Manhattan. TCU, in the Dallas/Fort Worth area, is actually easier to get to by air or car than Texas A&M is in College Station.
TCU has plenty to do to be highly competitive in the Big 12. But West Virginia will step in immediately and provide a highly competitive team that will be a tough out in Morgantown and on the road.
The Mountaineers have a top transfer sitting out this season, former La Salle big man Aaric Murray, and ex-Dayton guard Juwan Staten isn't too shabby, either.
No one seems to care about the Mountaineers' roster as long as Bob Huggins is the coach. He was universally applauded by his new Big 12 colleagues Tuesday.
"He's one of the most respected coaches in the country," Iowa State's Fred Hoiberg said. "They instantly will make our league tougher. We're getting an outstanding program, one with great tradition. West Virginia has been an NCAA tournament team in six of the last seven years."
Kansas coach Bill Self said that West Virginia adds tremendous value, and with TCU the Big 12 schools can recruit in the Metroplex area even more.
"It all adds stability to an already great league," said Self.
Kansas State's Frank Martin said the addition of West Virginia ensures that the Big 12 will be even stronger going forward.
"We're adding a Final Four team, and a Hall of Fame coach," Martin said.
Martin's praise is understandable. He's one of Huggins' closest friends, having worked for him at Cincinnati and heading to Kansas State with him for one season before Huggins went to his alma mater at West Virginia. Martin then replaced him at Kansas State.
"I have tremendous respect for that league," Huggins said Tuesday. "We're going from one great league to another."
Huggins said the travel won't be an issue for West Virginia.
"We've got a lot further to go than everybody else, but we'll just charter in and out," Huggins said. "I tell you what impressed me [in the Big 12] is the student turnout is terrific. When the students are in there, there is such enthusiasm."
Huggins is right. The Big East's college campus arenas don't come close to the Big 12's arenas. The Big 12 blows the Big East away, save a few places like Louisville and Pitt.
Huggins said the Mountaineers will be in the mix immediately in the Big 12 with the transfer additions, even with the departure of senior Kevin Jones.
West Virginia is still scheduled to play Kansas State in a return game, but Huggins said he'll let Martin out of the game unless he wants to come to the state twice in the same season.
West Virginia athletic director Oliver Luck said on a conference call Tuesday that the Backyard Brawl in football between Pitt and West Virginia won't be played in 2012. If that's the case, then don't expect it to be played in men's basketball as the Mountaineers will have an 18-game Big 12 schedule and will need to adjust their nonconference slate. Pitt will still play an 18-game Big East schedule in 2012-13. The Big East was noncommittal about the changes to the Big East schedule with a 15-team league for one regular season and conference tournament. Pitt and Syracuse could still depart for the ACC a year earlier than projected, but not for 2012-13.
The ACC got better with those additions. Those moves weren't done for survival, though. The Big 12 had to replace Mizzou for 2012-13 or face a nine-team league that would have been down a notch. West Virginia allows the Big 12 to avoid a major hiccup. The league should still have one of the most competitive conferences with multiple bids in 2013, too.
January, 17, 2012
01/17/12
1:29
PM ET
College basketball could use a Heisman-like award, one main honor instead of the five mainstream national awards.
The problem is that finding a consensus for the Wooden, Naismith, AP, Rupp and Oscar Robertson honors is no easy task.
The awards voters do tend to coalesce behind one candidate. And maybe that will be the case again.
But it seems that this season's race will be as wide open as ever. If you need more evidence, take a look at the 25 finalists for the Wooden Award, released on ESPNU and ESPN.com on Tuesday.
It appears that the only two players who are consensus candidates are Kansas' Thomas Robinson and Creighton's Doug McDermott. It's not a reach to say these two players are the favorites in mid-January, a stunning development considering how much preseason hype Ohio State's Jared Sullinger and North Carolina's Harrison Barnes received. The amazing part thus far is that I don't believe Sullinger nor Barnes would be a first-team All-American if the voting were conducted today.
Before we get to the list of players compiled by the Wooden folks, it's important to note that these are simply the 25 players who they felt should be honored on their midseason list. Players who do not show up are still very much eligible to win the Wooden Award at the end of the season and will be given equal consideration.
So players who have legitimate claims to being on this list -- Maryland's Terrell Stoglin and Seton Hall teammates Herb Pope and Jordan Theodore come to mind -- still have a shot.
So without further ado, here are the 25 Wooden finalists (in alphabetical order):
Harrison Barnes, 6-foot-8, So., F, North Carolina Stat line: 16.8 ppg, 4.8 rpg
Chances: Fading. Still has a shot to be a second-team All-American. Barnes hasn't been the dominating player on the Tar Heels. To be fair, he has some of the best talent in the country (John Henson, Tyler Zeller and Kendall Marshall) surrounding him. UNC's 33-point loss to Florida State didn't help his case, either.
Will Barton, 6-6, So., F, Memphis Stat line: 18.2 ppg, 9.0 rpg
Chances: No shot. He could be the Conference USA Player of the Year, though. Barton has greatly improved and has been the most consistent player during the Tigers' inconsistent season.
William Buford, 6-6, Sr., G, Ohio State Stat line: 15.2 ppg, 4.6 rpg
Chances: No shot. Buford won't win Big Ten POY, either. He has been OSU's best perimeter threat, but he won't be a first-team All-American. Buford might not even be first-team All-Big Ten. He is an integral part of the Buckeyes' title hopes, but is not a POY contender.
Anthony Davis, 6-10, Fr., C, Kentucky Stat line: 13.1 ppg, 10.2 rpg, 4.6 bpg
Chances: High. Davis has been the most dominant post player in the country. He blocked a last-second shot by North Carolina's John Henson in December, preventing the Tar Heels from winning a game at Rupp. He alters and changes more shots than any other player. If the Wildcats win the national title, Davis will be one of the reasons why. He would be ahead of Ohio State's Jared Sullinger on the All-America ballot if you had to choose one of them.
Marcus Denmon, 6-3, Sr., G, Missouri Stat line: 17.8 ppg, 5.5 rpg
Chances: Not great. Denmon is the leading scorer for Mizzou. But it's hard to separate him from Kim English, Ricardo Ratliffe, Michael Dixon and Flip Pressey in his importance to the Tigers. They all have played an equal role in Missouri's impressive start. It will be interesting to see which of these players earns first-team All-Big 12.
Draymond Green, 6-7, Sr., F, Michigan State Stat line: 15.8 ppg, 10.1 rpg
Chances: In the mix. If he continues his current pace of scoring and rebounding, Green could end up nudging out Sullinger for Big Ten Player of the Year. The Spartans did lose at Northwestern on Saturday, but Green has been a tremendous leader. He will stay in the chase for a first-team All-American spot if his team stays in the race for the Big Ten title.
John Henson, 6-11, Jr., C, North Carolina Stat line: 14.4 ppg, 9.7 rpg
Chances: No shot. Henson didn't convert the biggest shot of his season against Kentucky. Davis blocked it. And if Barnes isn't the national player of the year, Henson isn't either. The 33-point loss to Florida State will haunt all Tar Heels candidates.
John Jenkins, 6-4, Jr., G, Vanderbilt Stat line: 19.8 ppg, 2.8 rpg
Chances: No shot. Jenkins is a superb shooter and scorer and is leading the revitalized Commodores. But his role isn't more important than Jeffery Taylor, Brad Tinsley or Festus Ezeli -- it is equally important. The 'Dores mid-nonconference slide hurts Jenkins' campaign. The success of the Kentucky freshmen also makes it almost impossible for Jenkins to get SEC Player of the Year.
Orlando Johnson, 6-5, Sr., G, UCSB Stat line: 20.2 ppg, 6.4 rpg
Chances: No shot. Johnson is having a stellar season for the Gauchos, and he may be one of the higher draft picks on this list. But the Gauchos are 8-6 and are trailing Long Beach State in the Big West. Johnson should be an All-American, but he won't make the first team.
Darius Johnson-Odom, 6-2, Sr., G, Marquette Stat line: 18.2 ppg, 3.3 rpg
Chances: No shot. DJO has had a superb season for the Golden Eagles. He has a legit shot at Big East Player of the Year. But that won't be enough to get a first-team All-American spot or the national POY. Marquette has been decent, but not great enough for DJO to stand out on that pedestal.
Kevin Jones, 6-8, Sr., F, West Virginia Stat line: 20.6 ppg, 11.1 rpg
Chances: Decent. Jones has put it all together as a senior and has put up just a monster season for the Mountaineers. Just seems like it's double-double after double-double for Jones, who will need to keep the Mountaineers in the top 3 of the Big East in order to stay in Wooden contention.
Perry Jones III, 6-11, So., C, Baylor Stat line: 14.2 ppg, 7.5 rpg
Chances: No shot at player of the year, but he is in the hunt for a first-team All-American slot. The problem for Jones' candidacy is that Quincy Acy has been a comparable inside scorer and guard Pierre Jackson has been an integral member of this team. Jones didn't help his case when he and the Bears were dominated by Kansas' Thomas Robinson in a loss on Monday night. But he can't win national POY if he isn't the Big 12 Player of the Year. And Robinson is the favorite for that honor.
Kris Joseph, 6-7, Sr., F, Syracuse Stat line: 13.7 ppg, 4.6 rpg
Chances: No shot. Joseph is leading the Orange, but this team is so deep, so talented and so balanced that you would have a hard time picking just him. Dion Waiters may be Syracuse's MVP. A number of other players have taken turns being the star for the Orange, too.
Michael Kidd-Gilchrist, 6-7, Fr., F, Kentucky Stat line: 13.4 ppg, 7.7 rpg, 49.4 FG percentage
Chances: Solid. Kidd-Gilchrist could be the SEC Player of the Year. And if he gets that honor, he'll be in contention for the national POY. Kidd-Gilchrist took a few games to get going, but once he did he was an offensive force. He has delivered on his talent and effort.
Jeremy Lamb, 6-5, So., G, Connecticut Stat line: 17.9 ppg, 4.2 rpg
Chances: No shot. Lamb is leading the Huskies in scoring. But UConn is still finding its way in the Big East. The Huskies haven't featured Lamb as much, either. Andre Drummond may end up being the team's featured scorer by season's end. Lamb isn't the Big East Player of the Year right now, so he isn't winning the national honor.
Damian Lillard, 6-3, Jr., G, Weber State Stat line: 25.5 ppg, 5.8 rpg, 3.5 apg
Chances: He won't win national POY, but he should be in contention for second-team All-American honors. Lillard is having a stellar season for the Wildcats, who are in first place in the Big Sky. He leads the nation in scoring and his stat line is as good as any in the country. The problem is that Weber has been in obscurity so far this season. Lillard will likely not be seen by the masses until March.
Doug McDermott, 6-7, So., F, Creighton Stat line: 24.3 ppg, 8.5 rpg, 62.1 FG
Chances: High. McDermott has been one of the most complete players in the country and is a first-team All-American, at the very least. He could be this season's Jimmer Fredette, coming from outside a power six conference to win the national player of the year honor. McDermott has led the Bluejays to the top of the Missouri Valley and into the Top 25. He is the focus of every opposing defense, too.
Scott Machado, 6-1, Sr., G, Iona Stat line: 13.1 ppg, 4.7 rpg, 10.3 apg
Chances: Not happening for POY, but he's in the hunt as a first-team All-American. Machado has been the most dominant point guard this season and easily leads the country in assists. Iona has played a decent schedule and is the team to beat in the MAAC. Few teams will want to face the Gaels in March, and Machado is one of the key reasons why.
Kendall Marshall, 6-4, So., G, North Carolina Stat line: 5.8 ppg, 9.6 apg
Chances: No shot. Marshall is a key for the Tar Heels. He hasn't been the best point guard in the country, but has been a solid contributor this season and does rank second behind Machado in assists. But that isn't enough to win the award or be a first-team candidate.
Mike Moser, 6-8, So., F, UNLV Stat line: 13.9 ppg, 11.2 rpg
Chances: No shot. But Moser has to be in contention for a first- or second-team All-American spot. His rebounding has been epic (especially against North Carolina). Moser and fellow UCLA transfer Chace Stanback have been the major reasons the Runnin' Rebels are ranked and in contention for the MWC title.
Arnett Moultrie, 6-11, Jr., C, Mississippi State Stat line: 16.5 ppg, 10.9 rpg, 0.9 bpg
Chances: Not good for POY, but he's a serious candidate for first-team All-American. Outside of Moser, Moultrie has had the most impact of any transfer. He has increased MSU's chances of being a serious threat to Kentucky in the SEC. Moultrie is a double-double machine for coach Rick Stansbury and has allowed the Bulldogs to avoid relying only on Renardo Sidney.
Thomas Robinson, 6-9, Jr., F, Kansas Stat line: 17.8 ppg, 12.3 rpg
Chances: High. Robinson is the POY favorite at this juncture. He should be a consensus first-team All-American. He has had to take on immense responsibility with the departure of the Morris twins and has responded without a hitch. He carries the weight of the incredible burden of losing his mother during last season. And yet he is as focused as ever in 2011-12. Robinson dominated in the rout over Baylor on Monday night with 27 points and 14 rebounds.
Mike Scott, 6-8, Sr., F, Virginia Stat line: 16.9 ppg, 8.9 rpg
Chances: He has no shot for national POY, but Scott is one of the favorites for ACC Player of the Year. He has been the most consistent big man in the league. Take Scott off the Cavs, and they don't come close to the top of the league standings. But Virginia did lose at Duke and also fell to TCU. Scott will have to keep the Cavs in the ACC's top three to have a chance at the league's POY.
Jared Sullinger, 6-9, So., F, Ohio State Stat line: 17.3 ppg, 9.3 rpg
Chances: Still strong. Sullinger has been battling injuries (back, foot) and missed the road game at Kansas in December. That's part of the reason he is not the favorite right now. Sullinger still has plenty of time to be a first-team All-American and the Big Ten Player of the Year. But it would help if he had some dominating performances down the stretch.
Cody Zeller, 6-11, Fr., C, Indiana Stat line: 14.8 ppg, 6.4 rpg, 1.4 bpg
Chances: No shot. But Zeller is in the chase for Big Ten Player of the Year. At the very least, he'll be the Big Ten Rookie of the Year. It's amazing that he's on this list and his older brother Tyler (a senior at North Carolina) is not. Cody has helped transform Indiana into a national player, but the Hoosiers' recent two-game skid does take his chances for Big Ten POY down a peg.
My midseason All-America team choices: First team: Robinson, McDermott, Davis, Moultrie, Machado Second team: Kidd-Gilchrist, Sullinger, Green, K. Jones, C. Zeller
December, 16, 2011
12/16/11
1:51
PM ET
Missouri had another smashing victory Thursday night, crushing a weaker opponent -- this time Kennesaw State -- by 37 points, shooting exceptionally well, handing out assists and looking like a contender for a No. 1 seed.
Missouri is on a roll like no other team in the country right now.
One of nine undefeated teams remaining, the Tigers have had one close game so far -- a 10-point win over Villanova at the Jimmy V Classic in New York last week. Cal was supposed to be their toughest test, but the Bears looked like cubs once the Tigers were through with them, pounding them by 39 in Kansas City, Mo.
Granted the rest of the schedule has been a bit light, but the Tigers aren't slowing down at all.
The schedule will get tougher after Sunday's home game against William & Mary. The Tigers play the annual rivalry game against Illinois, also undefeated, in St. Louis on Dec. 22. Then Missouri plays its first true road game of the season, at struggling Old Dominion on Dec. 30. The Big 12 season opens at home against Oklahoma before two dicey road games in tough places at Kansas State and Iowa State.
But there's no indication that this team will hit a significant speed bump.
[+] Enlarge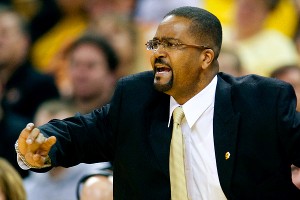 AP Photo/L.G. PattersonMissouri coach Frank Haith says his team "loves playing. And it shows."
"It's as fun a group as I've ever been around," said first-year coach Frank Haith, who had been a head coach at Miami and an assistant at stops like Texas, Wake Forest and Penn State. "The guys who know me say I'm still edgy, but this team is as good as I've been around in executing and being efficient. The senior leadership and point guard play has been great. The whole team has been unselfish."
No one saw the Tigers becoming this good, this fast, and being this dominating, certainly not Haith.
"I saw the talent, but who knew after you lose your second-leading scorer on last year's team in [Laurence] Bowers?" Haith asked. "Who knew Steve Moore would play this well? Phil Pressey didn't play this well last year. Neither did Kim English. Who knew? This group loves playing. And it shows."
How could Haith project the Tigers being an elite team? He was taking over a team from Mike Anderson that was built on speed and quickness but had lapsed defensively at times last season. The Tigers also had a complement to Ricardo Ratliffe in Bowers. But before the season began, Bowers was done for the year with an ACL injury.
Haith had to go smaller, using English at power forward even though he is just 6-foot-6. He assumed that Ratliffe would be fine in the post but had no idea that one-on-one situations would arise for him because of the attention on the perimeter.
But Marcus Denmon (20.9 ppg), Michael Dixon (10.9), Pressey (8.9) and Matt Pressey (8.0) have flourished. And Moore has been a fine third-rotation player with English and Ratliffe in the makeshift frontcourt.
Haith got this job with experienced players. There are 11 seniors or juniors. No one of note bolted on Haith, and how could they with eligibility only available for one season or needing to sit? The situation was perfect for him if he pushed the right buttons with this group.
He has. And if you're going to look at coach of the year candidates through the first two months of the season, he has to be in the top five.
"There's normally an adjustment period," Haith said of taking over a team that is stocked with the previous coach's players. "But there wasn't. These guys have had tremendous leadership. The results don't lie."
Missouri's efficiency was well-documented in this Grantland.com story. The basics are that Missouri is third in points scored (87.3), fourth in field goal percentage (51.9) and 15th in assists (17.2) a game.
"We're small but we're blocking out well," Haith said.
Haith said he watched a slew of tape on smaller teams such as VCU, Louisville and Villanova from past years.
The tweaks that were done to accommodate Bowers' absence have been smooth.
But there is still room for growth.
"We've got to be better at late-game situations," said Haith, whose team hasn't been in one of a serious nature yet this season. "We'll have to understand that really good teams are going to play sound position defense. Offensively, we're doing what we need to do to share the ball and play unselfish. This team trusts each other. We're not a finished product. Teams could still drive on us, because of some dribble penetration problems."
Missouri will have a difficult matchup against Baylor's length in the Big 12. Playing Kansas, because of the rivalry and the potential that it might be the last time the two teams play with the Tigers off to the SEC, will be as intense as ever.
Don't expect Missouri to run the table, let alone definitely beat Illinois or ODU.
But something special is happening in Columbia that no one could have predicted.
"Every day this group loves playing together," Haith said. "And it shows."
November, 8, 2011
11/08/11
4:48
PM ET
First-year Missouri coach Frank Haith wants to play Kansas in a home-and-home series when the Tigers move to the SEC. Haith would like to alternate campus sites each season and not simply limit the rivalry to a neutral-site game in Kansas City.
Haith would love to see the two longtime rivals continue their games much like a number of other nonconference series that match rivals from the same state or border states. Haith plans on continuing the series with Illinois in St. Louis but wants the Kansas rivalry to move to the home-and-home setup.
The other nonconference rivalry examples Haith gave were Florida-Florida State, Kentucky-Louisville, Georgia-Georgia Tech, Clemson-South Carolina and Wisconsin-Marquette. Haith could have added Creighton-Nebraska, New Mexico-New Mexico State, Utah State-BYU, Utah State-Utah and most recently Utah-BYU to that list.
But Texas has chosen not to play Texas A&M in football for the foreseeable future, once the Aggies leave for the SEC next season.
And Kansas coach Bill Self has made it clear that he doesn't feel the need to continue the rivalry with Missouri once the Tigers leave the Big 12. BYU felt scorned when Utah left the Mountain West for the Pac-12 last season. But after those bitter feelings were soothed, the two schools came to their senses and continued with a home-and-home series in football and men's basketball. That makes the most sense for Kansas and Missouri.
"I would love to continue to play Kansas because the rivalry has gone on for over 119 years,'' Haith said Tuesday. "It would be great for all of us and great for them. I'm hopeful that it will continue. I don't know how it would work, but I'd love to play the home-and-homes.''
Missouri will play football in the SEC East, but Haith is hopeful the SEC basketball schedule won't be tied to a football format the way it is this season with one 12-team alignment. Haith, like Kentucky's John Calipari, is in favor of a 16-game SEC schedule. That would call for playing each of the 13 teams once and playing three teams twice.
"I'm hoping that we would play the teams closer to us twice, like Arkansas home-and-home and maybe the Mississippi schools or Vanderbilt or maybe Texas A&M,'' Haith said.
Haith said the move to the SEC will be a benefit for Missouri in recruiting, much like it will be for Texas A&M. New Texas A&M coach Billy Kennedy, who is on a leave of absence after being diagnosed with Parkinson's disease, said recently that he is a good fit in the SEC because of his strong recruiting ties in the Southeast. Haith, who worked for only a few weeks in South Carolina, coached at Miami and Wake Forest and in Texas.
"There are a lot of ties for us in the Southeast and Southwest,'' Haith said. "We still have to do a good job recruiting in the Midwest since that is our foundation in recruiting. But I do think this opens up more doors for us. We have to be creative.''
The SEC is expected to discuss a number of scheduling scenarios throughout the season and before the spring meetings begin. Of course, Missouri still needs to officially leave the Big 12 in time for the 2012 season. The Tigers might have to wait if the Big 12 can't replace Missouri with West Virginia, which currently is in a legal battle over its departure from the Big East.
October, 21, 2011
10/21/11
8:22
AM ET
KANSAS CITY, Mo. -- In 2011-12, the Big 12 will be the only power-six conference playing a true round-robin schedule to determine a regular-season champ.
And if the decision were up to the men's basketball coaches (although it never is), they would rather see the balanced schedule continue, regardless of what Missouri decides to do with its conference affiliation.
The Big 12 has 10 remaining schools this season after losing Nebraska (Big Ten) and Colorado (Pac-12). So the conference finally was able to scrap the unbalanced schedule that was based on a north-south football split that saw Texas and Kansas playing only once every season. The need to have those two teams play twice was so real that Texas coach Rick Barnes said he looked into playing a nonconference game against the Jayhawks at one point.
Texas A&M is off to the SEC in 2012, but the Big 12 has already replaced the Aggies with TCU for next season. If Missouri were to leave at some point for the SEC, it would leave the Big 12 with nine schools. That's where Kansas coach Bill Self would stop, if it were up to him.
[+] Enlarge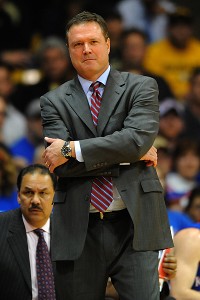 Ron Chenoy/US PresswireBill Self has certainly had plenty of opinions on the realignment occurring in college sports.
"I want nine, that's what I want, to choose to stay at nine," Self said. "That way we would have 16 league games and a round-robin instead of 18. If we don't do nine, then I'd rather do 12 for 16 games."
Multiple Big 12 sources said Mizzou is leaning toward a departure to the SEC, but there is still a chance that the Missouri board of curators could decide to stay in the Big 12 with the new revenue sharing and grant of rights for Tier I and Tier II television games.
If the Tigers leave, then the Big 12 has to decide if it wants to go to 10 (Self's wish of nine is highly unlikely) or bump up to 12. The choices for either are centered on West Virginia, Louisville and Cincinnati from the Big East and BYU, which is an independent in football and in the WCC for everything else.
"I'd like to stay at 10 for a bit and see what happens with it," Barnes said. "I'd love to see us at 10. I love the round robin. When I was in the ACC and Big East, we were at nine teams. As long as we keep Kansas, we're going to have a good league."
Barnes said that as Self walked by to give him a ribbing. But Barnes did say playing 16 games allows the Big 12 schools to play a "great non-league schedule."
Oklahoma State coach Travis Ford wants to see the Big 12 pull an ACC and be proactive, going after elite basketball schools the way the ACC did with Pitt and Syracuse.
"I have so many mixed emotions here, but I'd love for Louisville, West Virginia and Cincinnati to come in for basketball and make us a 12-team league," Ford said. "But if we went 12 and went divisions, I wouldn't be a fan of that. I do like 10. I like that the schedule is fair. And I think it will be exciting for fans to see all the teams come through the gym. We'll have a true champion. A guy like me from Kentucky, I'd love to see Louisville. Boy, what a great basketball league you'd have. But we're in a good position now."
Oklahoma coach Lon Kruger is coming off a true round-robin schedule in the Mountain West while at UNLV. He doesn't want to see a change.
"It's a true champion," Kruger said. "It's good for the fans too. It's the best way to determine a championship."
Iowa State coach Fred Hoiberg agreed with that assessment. So, too, did Baylor's Scott Drew, Kansas State's Frank Martin and Texas Tech's Billy Gillispie.
The Pac-10 used to have a true champion, the ultimate grind of home-and-home with every school. But then the additions of Utah and Colorado meant there would be unbalanced scheduling. A true champ isn't a foreign concept and happens in various conferences in Division I. The Missouri Valley comes to mind.
Less is more for the men's basketball coaches. They'd like to see the league preserve something that they've coveted for some time -- a true home-and-home with every school.
This season -- Texas A&M's last -- will give the Big 12 the feeling of truly being a conference. If Missouri is in the league next season, then the Big 12 can experience two seasons of this so-called scheduling bliss.
Beyond that is still a great unknown. The basketball coaches don't have a vote. They have a voice and they have expressed it. But clearly, like almost everything else, this will be a football-driven decision.
That seems to be a common theme of late.
September, 20, 2011
09/20/11
2:35
PM ET
Here are some quick hitters during this crazy week in college sports …
• Villanova is trying to use its rising football program as a way to get in somewhere in the ACC or a Big 12/Big East hybrid. The school is hoping the Philadelphia market and the ability to get its football to FBS status (unlike, say, Georgetown) is attractive. And by the way, Nova is not pleased about the way Pitt helped block the Wildcats from being accepted into the Big East for football.
• If what's left of the Big East became a basketball-driven league, it would still be a very attractive conference. Imagine if the league were Villanova, St. John's, Georgetown, Marquette, DePaul, Seton Hall, Providence and possibly Notre Dame, then add Xavier, Butler, Saint Louis, Dayton, Creighton and maybe Saint Joseph's.
• The remaining non-FBS teams in the Big East have to commit to unity for a setup like this to work. The problem with this idea is that it still wouldn't command major media dollars. Non-football conferences don't make the major money. Check out my colleage Dana O'Neil's take on it here.
• The Big East is saying the right things by holding Pitt and Syracuse to the 27-month departure bylaw. But it's in the best interest of the remaining Big East schools to let the schools go so that they can figure out what the conference will look like in two or three years. Multiple lame-duck seasons serve no purpose.
• Pitt is having some selective memory these days about refusing to play Boston College after the Eagles broke off to the ACC eight years ago. The Big East office was not a fan of anyone playing the Eagles in anything and made that clear to Pittsburgh. The Panthers were supposed to play BC in the Jimmy V Classic but were replaced with Indiana.
• The Barclays Arena in Brooklyn will provide the New York City area with multiple opportunities to host conference tournaments. The ACC, Big East and A-10 should all have choices for tournaments in the coming years.
• Adding Missouri to the Southeastern Conference makes the most sense for what the league wants from a 14th member. The SEC wants the perception to be that it is adding a new market (St. Louis/Kansas City) and a school that has some respect academically. Texas A&M obviously delivers a major market (Houston) and respect. But there aren't really two other natural schools out there for the SEC to bump up to 16.
• Pac-12 commissioner Larry Scott will have to do some serious convincing when he talks to his presidents -- especially the Bay Area ones -- about adding Oklahoma State and Texas Tech with Texas and Oklahoma. I would love to hear that conversation.
• I like that Mountain West commissioner Craig Thompson is being proactive, but the proposed MWC-Conference USA confederation to have a football championship that would decide a BCS bid is odd. Would it really produce an automatic qualifier to the BCS? Would there be some sort of basketball agreement?
• Texas would still rather stay in the Big 12 and have all of its program compete in the region. But it all depends on Oklahoma at this point.
• Can you imagine if the ACC added Notre Dame and Connecticut to get to 16? The Irish are always solid under Mike Brey and UConn is a three-time national champ. The top of the ACC would be scary good. But moving up from the bottom would be extremely difficult for some programs. The jobs at Wake Forest and Boston College would get even tougher.
• It really is amazing to think about how much super-conference talk is going on recently and yet Butler played in the last two national championship games and VCU was in the Final Four last season. March reminds us that there are hundreds of others schools competing in Division I and plenty of high-level players and coaches. It's not all about the big boys!
• The NCAA still hasn't decided on the fate of ousted Connecticut athletic director Jeff Hathaway. He's the men's basketball tourney committee chair yet is currently jobless. But a number of former committee members and current Big East officials want Hathaway to be on the committee for this final season as long as the NCAA can figure out a way around him not having a job. Hathaway would be able to focus solely on the task of running the committee, which meets again later in the fall.
• Michigan State coach Tom Izzo is as excited about this season as he has been in years. The Spartans are finally relatively healthy and it's clear some of the issues in the locker room are gone. Meanwhile, North Carolina coach Roy Williams, whose team will face off with Izzo in the Carrier Classic on Nov. 11, said he has been told the pickup games in Chapel Hill involving a number of locked-out NBA players have really helped his crew develop.
• UCLA's Class of 2012 commitments from the East and South, Kyle Anderson (New Jersey) and Jordan Adams (Georgia), continue to show the Bruins are a national program. Every former UCLA coach has consistently said the Bruins can't simply recruit California. UCLA has to be a national player to be a national contender. The recruiting by the Bruins and rival Arizona -- the top two teams in the latest ESPN rankings -- is a credit to Ben Howland and Sean Miller, who cut their teeth recruiting in the cut-throat East Coast. But it also shows that the down cycle of the Pac-12 elite was merely a blip on the radar.
September, 19, 2011
09/19/11
2:45
PM ET
The current 10-team Big 12 has only one season as it's currently configured.
What a shame.
When Nebraska (Big Ten) and Colorado (Pac-12) bolted, the league was left with 10 schools that are all on the upward trend. There are no bad teams. None. All of the schools are now fully committed to making men's basketball a premier sport. Finally, the Big 12 was going to have a true round-robin schedule in the sport. The Big 12 was going to be the newest and only major conference to play a balanced schedule.
And this season promises to deliver on one of the country's most competitive conference races.
But the Aggies will soon be gone for the SEC, if they can get over their legal woes, and the rest of the league is in serious doubt. If Oklahoma hadn't started the latest round of Big 12 exploration, nine remaining Big 12 schools would be together and all would be relatively well. But the Sooners are indeed exploring and that means four could bolt to the Pac-12, with Oklahoma leading Texas and those two schools dragging Oklahoma State and Texas Tech, too.
It's a tough pill to swallow for the men's basketball coaches at the remaining schools.
"Look at those nine teams in all major sports -- football, men's and women's basketball, baseball, I don't understand," Kansas State coach Frank Martin said. "What other league has what we do top to bottom?"
Added Kansas coach Bill Self: "I think every school but Iowa State [and Texas Tech] has been to the Elite Eight since 2004. No other league could probably say that."
Here are the facts the Big 12 likes to tout:
• The nine schools have combined for a total of 201 NCAA tournament appearances.
• Of the 115 NCAA victories in the history of the Big 12 (since 1996-97), a total of 109 wins (94.8 percent) have come from the nine teams that would make up the league if the Big 12 remained together.
• The Big 12 has earned 80 NCAA bids in its history (since 1996-97), all but nine (88.8 percent) have come from those nine schools.
• The Big 12 has 24 NCAA bids in the past four years and 42 since 2004. Only six of those bids came from one of the three other teams (Texas A&M).
• A total of 24 of the 26 consensus All-Americans in Big 12 history have come from the remaining nine schools.

So let's pause for a moment and actually consider what could be lost from a basketball standpoint if the remaining nine don't stay together …
[+] Enlarge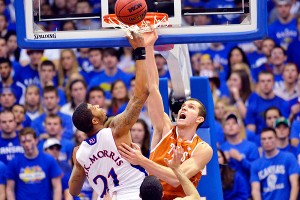 Denny Medley/US PresswireTexas and Kansas have developed a nice rivalry over the past decade. Could that soon be gone?
Kansas: This one is easy. KU is one of the five best programs in the country. Phog Allen is easily one of the top three venues in the sport. The Jayhawks consistently rank in the top 10. Bill Self won a national championship in 2008.
Texas: Rick Barnes has one of the best jobs in the country. Texas can pluck the best talent in the state or go elsewhere as it did with Kevin Durant and its host of Canadian imports (Tristan Thompson, Cory Joseph, Myck Kabongo et al). The Longhorns are consistent winners, usually play a national schedule and are regulars in the NCAA tournament.
Kansas State: The Wildcats were dormant not long ago, but Frank Martin (with an opening assist from Bob Huggins) has helped resurrect the program and ensured that Kansas State is a regular in the NCAA tournament. The Wildcats were in the Elite Eight two seasons ago. The passion for the Wildcats isn't equal to Kansas, but it's not too far behind anymore.
Baylor: The Bears were a disappointment a season ago but were in the Elite Eight in 2010. Baylor has hauled in some elite talent over the last few years, and it's clear that Scott Drew can get it done on the recruiting trail. The Bears already have the fifth-ranked class in the country lined up for 2012 and have a potential lottery pick (Perry Jones) suiting up for another year in Waco.
Iowa State: The Cyclones have hit a rough patch of late, but go back a few years and ask what opponents thought of going into Hilton Coliseum. They will tell you that it was one of the toughest environments in the league. Fred Hoiberg is going with a combination of transfers and new recruits. Let's see if that works. But you can't deny the talent he is bringing into Ames. If it works, Iowa State suddenly is relevant again.
Missouri: The Tigers have consistently had a winner in the region and been an Elite Eight team, despite coaching changes. If Frank Haith stays on despite the Miami allegations, he has an opportunity to continue the winning ways in Columbia. Athletic director Mike Alden is backing Haith, and that's a good sign for now. The Tigers have tremendous fan base, too.
Oklahoma State: The Cowboys haven't been a Big 12 title team, but Travis Ford has had them as a regular pest in the league. Oklahoma State has as passionate a following as any of these schools, and Gallagher-Iba is a gem of an arena. Ford's recruiting has picked up, and the Cowboys are clearly on the rise.
Oklahoma: The Sooners are in a rebuilding mode after the gut of early entries, attrition and an NCAA investigation sent OU down to the bottom of the league. But this is a proud program that has had a history of national talent and success. Lon Kruger is an undervalued coach who has won wherever he has coached in college. There is apathy in the hoops fan base, but this program will trend upward under Kruger.
Texas Tech: The Red Raiders haven't done much on the court lately, but they hired the right coach in Billy Gillispie. He has won in the state of Texas at UTEP and Texas A&M. He will win in Lubbock. The fan base needs to be prodded, but Gillispie will produce a product that will be a consistently decent team.
So that's what could've been.
"It would no question be an extremely strong basketball league," Ford said. "One of the positives of staying together, it keeps us all together in the region. Our rivalries would be strong. That will help with the excitement with the fans. I think it's a premier basketball league and this is the first year we're playing everybody twice. Even if it went to nine teams, it will be a battle every single night."
These schools have and will continue to produce strong, NBA-level talent. It would be too bad if they can't keep it all together.
"The Big 12 has had the most NBA lottery picks, first-round picks, total picks in the last four years and almost all of them have come from the nine schools left," Baylor coach Scott Drew said, clearly conscience of the league's talking points. "Since 2002, nine schools have had 17 Elite Eight teams and that's the most of any conference in the country. The second highest is the Big East with 14."
As you can tell, the Big 12 coaches are ready with ammunition. They don't have to be. Just look at the preseason top 25 when it comes out next month. More than likely, four of those remaining nine will be ranked -- Baylor, Missouri, Kansas and Texas (along with Texas A&M).
That speaks for itself.