Category archive:

Ole Miss Rebels
July, 11, 2013
07/11/13
4:08
PM ET
Ole Miss' staff knew that Marshall Henderson needed help.
He needed someone outside the department and university to talk with him, so the Rebels sought out Chris Herren, the former NBA and Fresno State guard who famously battled drug and alcohol addiction while playing.
[+] Enlarge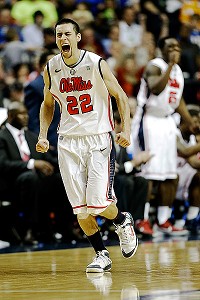 AP Photo/John BazemoreMarshall Henderson led Ole Miss to the NCAAs this past season, but he's been engulfed in controversy both on and off the court.
Herren -- who has written about his struggles in "Basketball Junkie: a Memoir" and was the subject of a 30-for-30 documentary called "Unguarded" -- has become one of the most coveted motivational speakers for college and professional teams this past year.
According to multiple sources, an Ole Miss assistant coach called Herren about six weeks ago and gave him Henderson's phone number. Herren called Henderson, left a message and expected a return call. But Henderson never called back.
Due to privacy issues, neither Herren nor Ole Miss representatives can discuss their reasons for trying to connect Henderson. But ESPN and multiple media reports confirmed Wednesday that the rising senior guard and the SEC's leading scorer from last season was suspended indefinitely for failing multiple drug tests.
This isn't the first time Henderson has dealt with controversy. The NCAA reprimanded the 6-foot-2 guard in June for making an "inappropriate gesture" once the Rebels lost to La Salle in the third round of the NCAA tournament. He was also arrested in 2009 and 2011 and served time in jail after the second arrest due to a violation of probation. And USA Today reported that last season, prior to joining Ole Miss, Henderson had tested positive for cocaine and marijuana. Before Ole Miss, he spent time at multiple schools.
This past season, Henderson led the Rebels to an NCAA tournament upset over Wisconsin, which followed a shocking SEC tournament title victory over Florida. Ole Miss hadn't made the NCAA tournament since 2002, and it rewarded coach Andy Kennedy with a new four-year contract extension for that postseason run.
Herren couldn't discuss Henderson's case when reached by phone late Wednesday night. But he did say "I'd be more than happy to take a phone call any hour of the day. I'm around 24/7 for that.''
Herren also tried to reach Henderson through Twitter this morning:
Enough on the Marshall Henderson suspension ..The kid is obviously battling a beast ...PRAY FOR HIM !!

— CHRIS HERREN (@c_herren) July 11, 2013
There is anonymity involved in a recovery from addiction. But Herren said a player who is battling an addiction "needs to step away for some time.''
College athletes tend to minimize the effects of marijuana use. Herren said marijuana has become this generation's alcohol. Herren can work with Henderson on preventing drug use and from throwing away his dream of playing in the NBA or professionally overseas.
Herren works with players in group sessions and one-on-one private sessions. He is scheduled to go to Ole Miss sometime in the fall to talk to the Rebels.
Herren was well aware of the comparisons people were making between Henderson and himself.
He was Marshall Henderson. He had been there and done that. He tried to beat the system. But he was beating himself the entire time. Those latter two sentences are his words, and he has used them over and over again.
Herren got help from outside sources for his drug addiction, which included visiting a rehab facility in Utah during his Fresno State career. The problem was too much for Fresno State to handle.
Ole Miss may be doing its best to help Henderson. And it should. The Rebels shouldn't completely dismiss him as an individual with a drug problem without offering assistance. There should be suspensions for games/practices, and there should be athletic department and academic punishments.
He may never play college basketball again. And the NBA may not have been enamored by his skill set since he was a streaky shooter. His character issues and failed drug tests, let alone his propensity to challenge opponents and fans, are a major red flag for the NBA. He might be able to get a gig overseas.
But if Henderson is completely tossed aside without any kind of help, it could be an abusive situation again.
"I believe, in my heart, it's much better to have an outside source, not connected to the school, to help someone,'' Herren said.
Henderson will need to own up to his mistakes and addiction and realize what he must do to straighten out his life before he throws it all away.
Herren made a terrific point in saying the professional career is simply a head start. Most players are done by the age of 30 or by their mid-30s, and then they have two-thirds of their lives left to live.
"There are a lot of Chris Herrens who never made it,'' Herren said. "I'm blessed with a second chance in life.''
Many athletes don't get second chances. Henderson can still overcome his latest setback. A source with direct knowledge of the situation said Henderson can come back if he meets certain conditions. The door is not closed. Based on the latest drug-test suspension, he would likely be suspended for the beginning of the season if he met those conditions.
Henderson has another chance. But first he needs to acknowledge a problem. And then he can work his way back.
Herren is waiting for him. He just needs to pick up his phone and call.
March, 6, 2013
03/06/13
9:37
PM ET
A few quick hitters for this midweek:
• USC interim coach Bob Cantu met with AD Pat Haden last week and is getting, at the very least, the respect of being treated as a legitimate head-coaching candidate. The Trojans are 7-4 since he took over for the fired Kevin O'Neill. USC finishes the regular season at Washington and Washington State this weekend. And with more offensive fluidity, the Trojans are a potential spoiler in the Pac-12 tournament next week in Las Vegas.
The odds that Cantu will get the job are not good. He is just plowing ahead with this team and isn't politicking for the job. Haden interviewed UTEP head coach Tim Floyd -- Cantu's former boss -- as well as Syracuse assistant Mike Hopkins. I'll be shocked if other top candidates don't emerge in what should be one of the best jobs in the Pac-12.
If Cantu can't get the USC job and doesn't stay on with the Trojans, he deserves a shot at another California school, if there is an opening.
• Miami coach Jim Larranaga felt very good about his team's effort last Saturday in a loss at Duke. And he certainly won't complain about the Hurricanes' 7-2 road record in the ACC.
"We played eight really good games and one poor game at Wake Forest,'' Larranaga said. "Our effort at Duke was good enough to win. But Ryan Kelly, well, there was no way we could have planned for that. We knew he was going to play, but we thought he would get 12-14 points, and we could survive that. But 36 points on 14 shots?''
Miami finishes with Georgia Tech on Wednesday and Clemson at home on Saturday, which will likely allow the Canes to win the ACC regular season outright.
"We scored 76 points and we missed two 3s that could have tied it [against Duke],'' Larranaga said. "I was not satisfied with our defense and some of that is my own responsibility.''
Reggie Johnson didn't score in the game, and Larranaga said that he may have been overhyped.
"He can play a lot better than he did,'' said Larranaga. "He didn't have a good game, and Ryan Kelly did.''
Larranaga thinks Shane Larkin should be named the ACC player of the year (and I agree) once Miami wins the ACC regular-season title.
"You should vote for the player from the team that wins the outright championship,'' said Larranaga. "We should have the player of the year for the first time in school history. We beat the No. 1 team for the first time in school history and set attendance records. But all the things we've done are a prelim to the NCAA tournament because all everybody remembers is March Madness.''
Miami should also have all-conference players in Kenny Kadji and Durand Scott.
• I've never understood why teams do senior day/night festivities after the game. Indiana had to wait until it was midnight Tuesday after losing to Ohio State to honor its seniors. Why not take care of it before the game when the house is full and the attention is on the game/players and not on getting home to beat the traffic and weather?
• St. John's Steve Lavin and Notre Dame's Mike Brey both confirmed Wednesday there will be no further suspension for Cameron Biedscheid and Sir'Dominic Pointer beyond the one-game that they must sit per NCAA rules for being ejected for fighting. Losing Pointer is more of a hit for the Red Storm, which host Marquette on Saturday. The Irish play at Louisville in a game that would be a reach for them to win even with Biedscheid.
• Boise State's four-point loss at UNLV should be a precursor to what the Broncos can do next week in Las Vegas on the same floor. Playing late in the season at the site of the conference tournament should help them in the MWC tournament.
• John Thompson III (Georgetown), Buzz Williams (Marquette) and Kevin Ollie (Connecticut) are all Big East coach-of-the-year candidates, but Providence's Ed Cooley is making a late push. The Friars play at UConn on Saturday and are looking for win No. 10 in the Big East.
• Memphis is once again undefeated in C-USA after a two-point win at UTEP on Tuesday. It was yet another road win for the Tigers, whose 15-0 league record should be applauded, not scorned, due to the perceived lower-level of competition.
• Ole Miss still has life in the NCAA tournament chase after beating Alabama by four at home Tuesday. Now the onus is on the Rebels to win at LSU on Saturday and give the committee pause when it meets next week in Indianapolis.
• Ohio State's Thad Matta has had to do one of his best coaching jobs. The Buckeyes' win at Indiana should go down as one of the most impressive in conference play this season. Everything pointed to Indiana cruising to the Big Ten regular-season title by closing out the home schedule in the final week. The Hoosiers are still the top seed and cut down the nets late Tuesday night. But Ohio State was in control in the second half and cannot be dismissed at the Big Ten tournament in Chicago next week.
February, 21, 2013
02/21/13
8:22
AM ET
COLUMBIA, S.C. -- Frank Martin made an impassioned plea to the assembled media and beyond to not punish Ole Miss for losing Wednesday night.
He made it clear that he is good friends with Ole Miss coach Andy Kennedy; the two worked together under Bob Huggins at Cincinnati and share the same agent and lawyer. But in this case, that was irrelevant.
"I don't want to hear anything about the SEC is weak and Ole Miss doesn't belong in the NCAA tournament because they lost on the road,'' Martin said after the Gamecocks snapped a six-game losing streak and beat Ole Miss 63-62.
Under normal circumstances, Martin's argument does have merit. Losing a conference road game shouldn't be an automatic disqualifier for a team making the tournament as an at-large team.
But then there is a look that a potential tourney team has. Things are going to have to change for Ole Miss to have that again.
The Rebels lack patience on offense, looking for the quick shot too early in their possessions. Marshall Henderson has been carrying the load for most of the season and when he shoots 4 of 17, and 3 of 11 on 3s, the way he did against the Gamecocks, the Rebels likely have no chance.
[+] Enlarge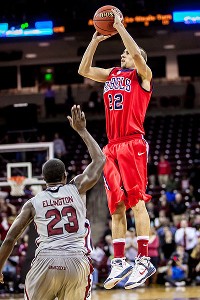 Jeff Blake/USA TODAY SportsA little patience on offense from Marshall Henderson and his teammates could help the Rebels get back on track.
Did Henderson come down on a break at one point and launch a deep 3 to get the Rebels going? Yes. But there were other empty possessions when he shot too quickly and gave no time for a rebound inside where Reginald Buckner or Murphy Holloway could come up with the ball.
The Rebels had 24 seconds left to win the game after a 3-pointer by South Carolina's Eric Smith. Henderson was going to take the shot and launched a 3-pointer with 16 seconds left. The Rebels failed to get the rebound and after a missed free throw by Smith, Henderson had one more attempt, a corner shot that Lakeem Jackson blocked.
Henderson was despondent. And like many of the Rebels, he left the building quickly after the postgame.
There wasn't much more to say. "Basically we weren't paying attention to detail,'' said Ole Miss senior Nick Williams. "We were trying to get into stuff. We didn't have the awareness to calm down and run our stuff, and there was pressure that we felt we had to make a play.''
Henderson is clearly the go-to player on the Rebels. That's why it was even more perplexing to see point guard Derrick Millinghaus launch errant shots so quickly into the possession. Millinghaus scored 11 points but took 13 shots, just four fewer than Henderson and as many as Holloway. This from a player who attempted only two shots two games ago at Missouri before scoring 13 points in 14 minutes in a loss at Texas A&M.
Kennedy chalked it up to the fact that Millinghaus is a freshman.
And he is. But that's why he needed to defer more to the experienced players on the team in a game that the Rebels could ill afford to lose. "You can't be oblivious to it if you have a television,'' Kennedy said of the bubble talk. "The reality is, the only thing we can control is the next one.''
Martin is correct in not putting too much on a road loss. But it's the cumulative effect. Ole Miss has lost four in a row on the road.
"We feel like we'll get it together,'' said Williams.
The Rebels have been hit by injuries quite a bit and that has derailed the team's flow. You can't hide from that fact.
Losing Aaron Jones to a torn ACL in the loss to Kentucky was a major hit because he was averaging 4.1 rebounds. Not having Demarco Cox, who played in seven games before being shelved with a foot injury, didn't help the frontcourt either.
The Rebels' résumé is light right now, with their best wins coming against Missouri at home and a sweep of surging Tennessee. They have no quality victories outside the SEC, losing to potential tournament teams Middle Tennessee and Indiana State. Neither one of those squads is a lock, however.
That's why losing to the last-place team in the SEC hurts, regardless of whether the game was on the road.
When the season gets into late February, appearance matters. Tennessee is playing like a tournament team and has won four straight. Alabama and Arkansas have at least picked up some significant wins of late. Missouri just beat Florida.
The selection committee doesn't look at SEC teams as a group. They are judged independently, and Ole Miss has to make a case on its own merit. "We feel it,'' said Williams of the pressure to make the NCAAs after an NIT appearance last season. "We can't lie about it. We think about it. We feel like we can still get in there, but we've got to knock the door down.''
Separating themselves would be the first step, even if it's just for perception purposes. To do that, the Rebels must sweep the home games against Auburn, Texas A&M and Alabama and take winnable games at Mississippi State and LSU. Yes, I said it, winning out would do something to differentiate themselves from the pack.
Kennedy was denied the chance to become the winningest coach at Ole Miss on Wednesday night. He is stuck at 144 for at least one more game. Yet the Rebels haven't been to the NCAA tournament during his previous six seasons, reaching the NIT in all but one of those, including two trips to the semifinals in New York.
That speaks volumes about the state of the Ole Miss program: You can become the program's winningest coach and never reach the NCAAs.
But Kennedy is no fool. He understands that he and the program are judged by NCAA appearances.
Henderson probably will be too. His early-season flourish that produced a 19.7 scoring average and plenty of attention for his on-court antics after big shots or wins (see: at Auburn) would be seen as a sideshow if the Rebels are once again in the NIT.
The onus is now on the Rebels to do what they do best: settle down on offense, share the ball and make better decisions down the stretch. Do all those things and the end game can still be reached.
"It's all jumbled [in the SEC],'' said Williams. "We have a great team. We have to show it. We've just got to win some games and separate ourselves.''
October, 11, 2012
10/11/12
6:44
PM ET
Tim Miles knows he isn't some sort of scheduling savant.
He got lucky last season. And he's not trying to camouflage how he scheduled Colorado State's nonconference games last season as the Rams' coach.
"We were fortunate," said Miles, who is now at Nebraska. "What we did was look at our league and try to figure out how many top-100 games we would get in our league. We thought we'd have them in New Mexico, UNLV and San Diego State [twice each]. We were worried about losing BYU [to the WCC], so we thought we needed one more."
The Rams scheduled a one-way guaranteed game at Duke. CSU lost by 23.
"We did it for the exposure, to play a Top 25 team and a good RPI game," said Miles.
The Rams received an NCAA bid last season because CSU won key Mountain West Conference games at home against UNLV, New Mexico and San Diego State, not because of its nonconference schedule.
As we've examined nonconference schedules in a number of high-profile leagues this week on ESPN.com, it's clear that there are exceptions to the rule. CSU was one last season.
The Rams lost to Southern Mississippi and at Stanford; the former was an NCAA team and the latter was the eventual NIT champion but not a candidate for a bubble spot in early March.
Miles said he jokingly called his athletic director State Farm because he liked being such a good neighbor by playing Denver, Colorado and Northern Colorado. The Rams won all three games last season, two of which were in Fort Collins -- including the win against the eventual Pac-12 tournament champ Buffaloes.
But don't think for a second that Miles has somehow figured out the system. He hasn't. He admits he just didn't want to play teams that would hurt him. And he didn't, as the four nonconference regular-season losses (Duke, Southern Miss, Stanford and Northern Iowa) were all "good." The problem is that, outside of beating Colorado, which at the time didn't appear to be a high-profile win, there wasn't a victory to scream about when MWC play began.
Miles left his successor, Larry Eustachy, a potential MWC top-three team and a squad that could return to the NCAAs, especially with the addition of Minnesota transfer center Colton Iverson. He said he left the Rams with games against Denver, CU and Northern Colorado, a series with UTEP and the Las Vegas tournament that doesn't have an NCAA-bound team (Portland, Virginia Tech and Bradley).
Eustachy added games at Washington, at UIC and a home game against St. Bonaventure. Eustachy also added two non-Division I games against Chadron State and Adams State.
If the Rams do get into the NCAA tournament, it will be on the strength of the MWC top-100 teams. And this season, there could be four bids, in addition to CSU, with UNLV, San Diego State, New Mexico and Nevada all viable candidates.
The scheduling dilemma for teams on the bubble is legitimate.
Ole Miss coach Andy Kennedy defended his perceived mediocre schedule on a number of fronts.
He said the Rebels had to wait to see how the SEC would divvy up the new 18-game format with the addition of Missouri and Texas A&M. The Rebels got Missouri and Tennessee twice and Kentucky (home) and Florida (road) only once. Those schools should be the top four teams in the SEC this season.
Kennedy said he didn't know who the Rebels would get in the Big East/SEC Challenge. Ole Miss will play a home game against Rutgers. But there was likely no chance it was going to get a marquee Big East team in this made-for-TV event.
Ole Miss is in the Diamond Head Classic, but the Rebels better play San Diego State in the semifinals and would benefit from playing Arizona or at least Miami to get two quality games out of the event. Ole Miss can't afford to leave Honolulu without playing (and beating) one of those teams.
Kennedy said few BCS-level teams would play at Loyola Marymount on the way to Hawaii or at Middle Tennessee State. He's right. Those are games where the team will be rewarded if they win and hurt if they lose. The rest of the schedule won't move the meter for the Rebels.
The Ole Miss coach wanted to upgrade the slate, but Kennedy had no control over the Big East/SEC Challenge or the opponents in Diamond Head. He could have added one or two quality nonconference games, but who would sign up for a home-and-home series with Ole Miss?
The Rebels nearest high-profile Division I school -- Memphis -- wants no part of them. Kennedy has used his relationship with Bob Huggins to get West Virginia to Oxford, but that series has ended.
So Ole Miss, much like CSU last season and again this season, will have to earn a bid by playing well in conference, despite the selection committee's plea to schedule up in the nonconference.
September, 27, 2011
09/27/11
7:42
PM ET
Connecticut is putting on the full-court press to join the ACC in case the league decides to expand again. And Duke coach Mike Krzyzewski and North Carolina coach Roy Williams both told ESPN.com they would like to see the league eventually go to 16 teams, with two eight-team divisions.
But there is no sense of urgency in the ACC, especially since the Big East for the moment is making Pitt and Syracuse stay for 27 months per the league's bylaws. The conference has plenty of time to figure out how to schedule its 14-team league.
So the attention now returns to the SEC with Monday's official announcement that Texas A&M will join the conference for the 2012-13 season. That gives the league 13 teams.
Should there be more?
Like Krzyzewski and Williams, Kentucky coach John Calipari would eventually like to see his conference get to 16.
"I don't think this stuff is done yet," Calipari said. "I've said for months that there may be four conferences with 16 or 18 teams each. But I can tell you that the SEC at 13, 14 or 16 is going to be stable. We're fine. If they're going to add, I'd like us to go and get Virginia Tech, Maryland and Missouri to go along with Texas A&M. We're not going to do anything at the expense of academics. You're also going to see basketball step up in the next five years in the SEC."
[+] Enlarge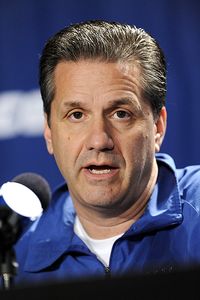 Howard Smith/US PresswireJohn Calipari would like to see the SEC add Missouri, Virginia Tech and Maryland.
Calipari tweeted Monday that he thought the move to add the Aggies was tremendous for the league and new coach Billy Kennedy, a native of SEC country (Louisiana).
"Texas A&M is a great school academically, has a well-run athletic department and will fit well," Calipari said. "Their fan base is ridiculous, just like all of us. The SEC is different. The SEC is about schools with strong fan bases and geography. We want the markets. There is no buyout in the SEC because no one wants to leave."
Vanderbilt coach Kevin Stallings said he would have been fine with the SEC staying put at 12 teams, but he's not against the expansion.
"I like the simplicity of an even number and I'm not sure it was completely necessary," Stallings said. "I don't think we're finished seeing movement and if so, if we end up at 14 or 16, if that's what the commissioner's office said we need, then I'm fine with it. Our league isn't going anywhere. We're as stable as any league in college athletics and we have visionaries who run our league. If they think we're better suited to be at 14 or 16, then I'm OK with that."
The SEC will run into issues on further expansion since it would be hard to take a team from a state where there is already a conference member. The new ACC buyout of up to $20 million poses a problem, too. But the new markets in new states is what Calipari was talking about when he rattled off Missouri, Maryland and Virginia Tech. Still, it would be extremely difficult to pry the Terrapins away from playing Duke and North Carolina every year or the Hokies from rival Virginia after Tech expended a lot of political capital with the Cavaliers to not block the school's move from the Big East to the ACC eight years ago.
The SEC's current number of 13 will be a scheduling issue for football and basketball. Football still has divisions, which is a matter unto itself as the league decides what to do with the Aggies and how to handle an unbalanced schedule.
The SEC got rid of divisions for men's basketball for this season, but the scheduling format still mirrors the football East-West split with each team playing its old side twice and the other once for the 2011-12 season.
Stallings was on an SEC committee to determine a 12-team, no-division schedule for 2012-13. The consensus was to have everyone play each other once (11 games), with seven more games coming from doubling up against league opponents to get to 18 league games. The SEC currently plays 16. The same formula is expected to be applied to a 13-team, no-division SEC next season. The Atlantic 10, which has 14 teams, has a format of playing only 16 league games with every team playing each other at least once, three teams twice.
The question for the SEC will be which rivalries are protected in a doubling-up scenario. There are a few natural ones to protect like Alabama-Auburn, Ole Miss-Mississippi State and Vanderbilt-Tennessee with newer ones like Kentucky-Florida and maybe more traditional ones like Tennessee-Kentucky or Florida-Georgia kept, as well. There could be a need to ensure Texas A&M plays LSU twice as well, or perhaps twice with Arkansas, a former rival from the Southwest Conference.
Whatever the case, Stallings doesn't seem all that worried.
"I think we just have to have an open mind going forward," he said. "We'll come to the best concept relative to 13."
June, 30, 2010
06/30/10
10:28
PM ET
Too often, news of transfers gets more attention than it deserves because of the slow offseason news cycle.
According to a source close to Josh Pastner, the Memphis coach didn't want Roburt Sallie back next season. Sallie wasn't going to be a main fixture on the team with a heralded recruiting class coming aboard, led by Will Barton and local product Joe Jackson.
And according to a source close to Andy Kennedy, the Ole Miss coach wanted no part of Eniel Polynice on the Rebels, regardless of losing another guard, Terrico White, to the NBA draft.
Sallie and Polynice are on track to graduate this summer from their respective schools and are seeking to use an NCAA rule to their advantage. Although it's quite a reach, the purpose of the rule is to legitimately allow a student-athlete who graduates the chance to pursue a graduate-school degree at another institution if it's not offered at the current one.
Sallie and Polynice are seeking an appeal to play immediately next season at Louisville and Seton Hall, respectively. There is plenty of paperwork to file but both will have to show that they are going for a graduate school major they cannot pursue at their previous schools.
The NCAA has shown lenience in granting immediately eligibility instead of the year-in-residence rule for players if there is an illness in the family or special circumstances like a postseason ban or a father-son combination (Lon and Kevin Kruger at UNLV). But a coaching change usually doesn't do the trick. That's why any attempt by Marquette to get Wisconsin native Jamil Wilson immediately eligible after transferring from Oregon might not work.
The school already put out a release that Wilson would be eligible in 2011-12, but there could be extenuating family circumstances that might work in his favor if the school chooses to pursue that plan. Wilson was a big-time 2009 recruit who chose Oregon over Texas, Michigan State and Marquette.
• Former NBA coach Jeff Bzdelik, now the coach at Wake Forest, offered this perspective on coaching:
"As an NBA coach, you have to be flexible,'' Bzdelik said. "You have to coach what you have. Everybody connects me with the Princeton offense, but my first day at Air Force I had no idea -- but I learned it because it was the best thing for those players at the time. I'm not coming here to run the Princeton offense. Like in the NBA, you have to take the talent we have here and make it work.''
• West Virginia may have picked up a coup in nabbing 6-foot-10 Kevin Noreen. The one-time Boston College signee was supposed to be the catch of the class for the Eagles. If Noreen can be a stretch-4 as he was projected for BC, he could help the Mountaineers immensely next season.
• A conference commissioner with knowledge of the expansion issues said Big Ten commissioner Jim Delany made it clear that unless Notre Dame is involved, the Big Ten is done with expansion after adding Nebraska as its 12th member.
• The source also said the Big East wasn't moving toward expanding in the near future. A recent report that Memphis and Central Florida were next in line was shot down by Big East officials.
• The WCC has made eight members work in basketball and the WAC will likely do the same. WAC commissioner Karl Benson said earlier in the week that the conference wouldn't move to replace Boise State in 2011-12. That means the league would stay at eight schools, playing seven conference games for football and 14 for men's and women's basketball. The WAC has looked at non-football-playing members like Denver and Seattle, but the league isn't moving in that direction.
• Fresno State desperately wanted to get into the Mountain West and was crushed when the MWC didn't call after Utah left and was replaced by Boise State. The Bulldogs have begged for years to get into the MWC or Pac-10, only to be left back in the WAC.
June, 25, 2010
06/25/10
6:07
PM ET
NEW YORK -- You can blame it on poor advice, workouts, injuries, the NCAA's very early early-entry withdrawal date or whatever else you might choose.
But it's hard not to think about the players who came out early and went undrafted Thursday night.
Not everyone's situation was dire, of course. There's no reason to pick on any early-entrant that went in the first round. They made a wise decision. Period.
If you want, you could point out that Elliot Williams might have gone higher next season than No. 22 or Dominique Jones could have landed at a better number than No. 25 or certainly Kentucky's Daniel Orton may have been a much higher selection next season than No. 29.
But Williams can be a fit as a solid backup guard on a likely playoff team (Portland), Jones should fit in well as a scorer off the bench in Dallas and Orton should get a shot to grow and mature with the consistently surging Magic.
But for now, let's examine the rest of the relevant early-entrants:
The Mistakes
Hassan Whiteside, Marshall (No. 33 -- Sacramento): Whiteside declared to be at least a mid-first round pick. Sure, his coach Donnie Jones split for Central Florida, but had he played for Tom Herrion next season I'd be shocked if he wasn't a lottery pick in 2011. Instead, this raw 6-foot-11, 227-pound center went No. 33 to Sacramento, where he might not make the squad after the Kings selected DeMarcus Cousins of Kentucky at No. 5 and earlier in the week made a deal to acquire veteran center Samuel Dalembert from the Sixers.
[+] Enlarge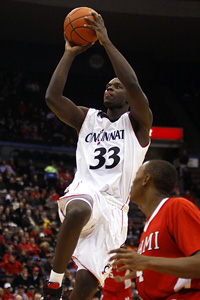 AP Photo/Tony TribbleThe much-hyped Lance "Born Ready" Stephenson was drafted 40th overall on Thursday.
Lance Stephenson, Cincinnati (No. 40 -- Indiana): The Pacers do need guards and maybe Stephenson can flourish with Indiana if he makes the squad. But there's no way, with all the hype he had coming out of New York, that he projected himself to be a middle second-round pick. Stephenson had a real shot next season with the Bearcats to be an all-Big East player. He would have refined his game and been able to mature even more. Now he'll have to scratch out a career the hard way.
Gani Lawal, Georgia Tech (No. 46 -- Phoenix): This is actually one of those cases where the player may have been better served leaving early last year. He was a borderline first-round pick a year ago. He's more mature and maybe more ready to handle the NBA now, but the middle of the second round has to be a major disappointment. His best hope is that free agent Amare Stoudemire hits the road and frees up a little room at power forward.
Solomon Alabi, Florida State (No. 50 -- Dallas to Toronto): I was stunned Alabi slipped this far. I'm sure he and his representation were too, considering he was bandied about as a first-round pick from 19 on down. Alabi could have been the dominant shot-blocking center next season in college, much like Mississippi State's Jarvis Varnado. Alabi had to work on his offensive game and would have been featured even more by Florida State. Instead, he now has to make the Raptors. Not an easy road.
Derrick Caracter, UTEP (No. 58 -- Los Angeles Lakers): Caracter had a complete transformation with his body, mind and attitude for Tony Barbee last season after a dysfunctional career at Louisville. He was a real player. Had he stayed to play for new coach Tim Floyd next season, I'd be stunned if he didn't improve his overall game and become at least a first-round pick. Instead, he chose to bolt and now he'll have a difficult time making a squad and may be forced to go overseas.
The Good Fits
Terrico White, Ole Miss (No. 36 -- Detroit): White was convinced he was a first-round pick and he nearly went to Atlanta at No. 24. Washington would have had interest had it kept its pick at No. 30. But going to the Pistons could be a good move for White. He should fit in quite well under the Joe Dumars plan and Dumars might see some of himself in White if he can become a better defender and a true pro. White has the stocky build to deal with the physical style of the NBA. He's a tremendous athlete too and could flourish on the break.
Devin Ebanks, West Virginia (No. 43 -- Los Angeles Lakers): Ebanks was a projected first-round selection when he came out of high school. He could have tantalized some NBA personnel a year ago after his freshman season. But there were questions during his sophomore season after an early, unexplained three-game absence and an offensive game that faded at times. His defensive game-changing ability made him an integral part of West Virginia's Final Four appearance. He was considered a first-round talent, but he slipped a bit. He was fortunate he landed with the Lakers. If he makes the squad, he could be a Trevor Ariza-like find for L.A. His defense would be much welcomed by the champions and he has a real shot to make this squad. Going to the best team in the league isn't a bad spot to land, even in the second round.
Hard To Know
Armon Johnson, Nevada (No. 34 -- Portland): Johnson was a relative unknown nationally. He wasn't a lock to be in the first round had he stayed around Reno, so going this high in the second was probably better than expected. But it's unclear if he can make the Blazers, so the location might not work out well.
Darington Hobson, New Mexico (No. 37 -- Milwaukee): Hobson had a stellar season for the Lobos. Had he returned he might not have been any higher than where he went this season. The Bucks probably can't keep all of their picks, so he'll have to work hard to make the squad.
Tiny Gallon, Oklahoma (No. 47 -- Milwaukee): Gallon was one of the more polite players I met during the NBA draft combine in Chicago last month. He is clearly trying to make this work. It didn't work out at OU. If he can stick with the Bucks as a second-round pick, that's better than most expected when he left after only one season.
The Enigma
Willie Warren, Oklahoma (No. 54 -- Los Angeles Clippers): Warren could be a steal for the Clippers. If he makes the team, he'll be joining former teammate Blake Griffin, who will play his rookie season next year after being hurt all of last season. But that's a big if. Warren was a preseason all-American and the preseason Sporting News player of the year. Instead, he battled injuries and illnesses throughout the season, was questioned about his poor body language and clearly wanted out of OU. His drop from headline name to afterthought is almost unheard of within one year in the basketball world. He was humbled by his play and the Sooners' swoon last season. Now he's been pushed further down by being selected at No. 54. How he reacts to his latest setback will tell us quite a bit about his desire and character going forward.
The Forgotten
Armon Bassett, Ohio: He had a memorable run in the MAC tournament and contributed to the Bobcats' stunning win over Georgetown in the first round of the NCAA tournament. He wasn't going to go back to Ohio. He didn't get selected, so it's likely off to Europe unless he can land on a summer-league team and make his way.
Charles Garcia, Seattle: Garcia was a hit early for NBA scouts. He drew their attention with his productivity on the glass. But he wasn't able to crack the second round and will have to see if he can make a squad.
[+] Enlarge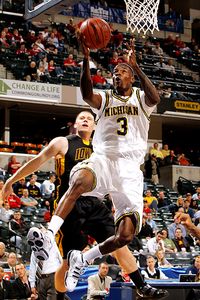 Jonathan Daniel/Getty ImagesManny Harris was one of the more notable college players left on the sidelines at the NBA draft.
Manny Harris, Michigan: Harris must not have enjoyed playing for the Wolverines much last season or got horrible advice. Or both. Harris had a chance to be a all-Big Ten first-teamer and a candidate for conference player of the year had he stayed in school. He did not and he didn't get drafted.
Courtney Fortson, Arkansas: Fortson had been suspended at Arkansas during his career. Had he been able to stay with the Hogs, he would have been one of the top point guards in the SEC. Alas, he could not. Fortson will have to find his own way and try to earn money around the globe.
Mac Koshwal, DePaul: Koshwal could have returned to play for Oliver Purnell and make some headlines in the Big East. Instead, he goes unselected. Not a good tradeoff.
Sylven Landesberg, Virginia: Landesberg couldn't have come back to the Cavs after being suspended at the end of the season. He had to make his way through the draft. It didn't happen and now he'll likely have to earn coin overseas.
Tommy Mason-Griffin, Oklahoma: There is no explanation for this decision unless he simply had no choice. He wasn't going to get drafted. He did not.
Elijah Millsap, UAB: The legacy of his family name in the NBA didn't do much for him. Had he returned to play for Mike Davis, he would have had a shot to increase his profile. Now he'll have to forge a difficult path.
A.J. Ogilvy, Vanderbilt: This one is a real shame for Kevin Stallings and his Vandy players. The Commodores would have had a real shot to compete for a top-two spot in the SEC East with the return of Ogilvy. Without him, they will likely be fending off Georgia for fourth. The Australian has a real shot to earn significant dollars overseas, but going unselected was hardly the projection he probably had for himself.
Samardo Samuels, Louisville: There was a buzz about Samuels' excellent work ethic late in the draft process. That might be enough to carry him onto a summer-league team and get a real shot to make a fall camp roster. But there's no way he thought that was his path when he decided to leave the Cardinals. Had he stayed he would have been one of the top big men in the Big East. He would have had free promotion from network television. Instead, he will have to make a team in an obscure manner.
April, 29, 2010
04/29/10
10:20
PM ET
The NBA officially released the early entrant list Thursday. Teams were allowed to start working out players Thursday as well.
But it was silent in the workout world, as no teams were expected to hold a workout.
Nineteen of the 31 teams responded to an ESPN.com poll Wednesday, and only two -- the Lakers and Blazers -- said they would hold a workout over the next week before the May 8 deadline for NCAA early entrants who haven't signed with an agent to return to school.
Early entrants can't work out for teams if they're still going to class, so exams have to be done before workouts.
"It's interesting," BYU coach Dave Rose said Thursday. "A lot of teams told us they're going to start working out guys on the ninth of May."
That's because NBA teams no longer want to play the game and work out players who aren't seriously considering staying in the draft. Having a number of high-ranking NBA personnel in Europe this week doesn't help underclassmen attempting to make decisions, either.
So what are some of the fence-sitters going to do this week to help make their decision?
Rose said guard Jimmer Fredette intends to work out with a few teams. But there's no guarantee Fredette will have a number of workouts to attend.
Ole Miss coach Andy Kennedy said Terrico White has one workout scheduled next Friday, the day before the deadline.
That workout is expected to be in Portland where the Blazers may hit the maximum allowed and bring in 12 players in two six-player sessions during the day.
The shortened window for players to declare for the draft, from two months to one week, was supposed to help coaches in recruiting and figuring out their roster for the next season. But with BYU and Ole Miss it won't matter. Neither is going to replace the caliber of player like Fredette or White for 2010-11.
"The shortened window isn't going to help regardless," Kennedy said.
Rose actually has a game on hold that is directly tied to Fredette's return. He has scheduled a game in Fredette's hometown of Glen Falls, N.Y., against Vermont on Dec. 8. If Fredette returns, the game will be a rare BYU home game just north of Albany, N.Y.
Kentucky coach John Calipari said he had three teams who he trusted that would work out freshman guard Eric Bledsoe in the next week so he could get a true gauge of his status. Of the three aforementioned players, Bledsoe is probably the one lock for the first round. White would have a chance to be selected late in the first round, and Fredette would have to earn his way.
None of these three is in the category of Butler's Gordon Hayward. He's a lock for the lottery if he decides to stay in the draft.
His draft position is the reason Hayward doesn't need to work out for anyone this week. If he stays in the draft, he'll probably work out for only a handful of teams in the lottery.
Butler coach Brad Stevens said Thursday that Hayward has sat down with a few agents to get a vibe of the process and see where he stands.
"He's trying to decide if he's two feet in or not," Stevens said. "From the way he played this year, it certainly made him a marketable guy."
Stevens said Hayward has final exams Friday, Saturday and Monday, so there was no thought of working out this weekend.
He said Hayward paid to work out with a trainer in Indianapolis to get his body in better shape. But that's the extent of anything extra at this point.
"He got good feedback, and his ceiling is high enough that people really like him early," Stevens said. "But he hasn't made a decision yet."
If Hayward returns, the Bulldogs are a top-5 team. Ole Miss has a shot to be the SEC West favorite if White returns. BYU will likely be the pick to win the MWC if Fredette comes back. Bledsoe could be the star guard on a reloaded Kentucky squad that expects to challenge for the SEC East title again.
Quick hitters
• I spoke with C.J. Leslie Wednesday night, and he said that teams did negatively recruit against NC State but that he didn't buy any of it. He said he had been around the Wolfpack program and knew that coach Sidney Lowe is safe for next season. Leslie said that his joining incoming freshmen Ryan Harrow and Lorenzo Brown gives the Wolfpack a terrific class. I concur. The Wolfpack should have one of the top three recruiting classes in the ACC, which should make NC State a possible top-5 team in the league next season.
• North Carolina coach Roy Williams said John Henson finally crossed the 200-pound weight line. Henson, who will stay in Chapel Hill to work out this summer, had some quality games in the NIT with 12 and 14 points in road wins at Mississippi State and UAB. Meanwhile, Williams said point guard Larry Drew II made much better decisions during that six-game NIT run but still commits too many turnovers. But Henson and Drew were probably two of the more positive developments for the Tar Heels during their NIT run.
Carolina's schedule isn't done yet, but the Tar Heels will get Kentucky at home; go on the road for the ACC-Big Ten Challenge; play Texas in Greensboro, N.C.; take Tyler Zeller back near his hometown to play at Evansville; and face Rutgers at Madison Square Garden. North Carolina is also the headline team in the Puerto Rico Tip-Off Classic in San Juan with West Virginia, Minnesota, Vanderbilt, Hofstra, Davidson, Nebraska and Western Kentucky.
• Gonzaga has been Guard U under Mark Few, and there is a feeling among the Zags faithful that they may have landed their best shooter yet. Gonzaga picked up a commitment from Gary Bell Jr. out of Kent, Wash., from the Class of 2011. Bell was being recruited by all the top Pac-10 schools.
December, 18, 2009
12/18/09
4:37
PM ET
Quick hitters for Friday during exam week (not for me, but for those NCAA student-athletes):
• When I was with Minnesota in Anaheim at the 76 Classic, I never got the sense that Royce White was going to return to the team. White, who announced recently that he's leaving Minnesota because of his legal troubles, had a much different case than Trevor Mbakwe in that there seemed to be only one side.
The Gophers had a hard time defending the shoplifting charge and were starting to really question if it made sense for White to be a part of the program. Mbakwe, who is currently suspended pending an assault case, always had a much better chance of joining the team if he is proven innocent. Minnesota coach Tubby Smith doesn't put up with much and he wasn't about to disrupt his program if there was no need. White's announcement that he's no longer a part of the program was likely a preemptive move on his part, before a decision was officially made for him by the Gophers.
• Boston College's plan was to bring in Brady Heslip early so he could redshirt and learn Al Skinner's system. Heslip has already graduated from Burlington, Ontario's Nelson High but has been playing at New Hampton Prep (N.H.). Skinner announced Thursday that Heslip was joining the squad. He will technically be eligible to play this month but unless there is a glaring need for a sharp shooter -- which there is -- the Eagles will likely continue to redshirt him. But if the 6-2 guard has a quick learning curve and is knocking down shots then the Eagles might be tempted to bring him off his redshirt.
• The Bob Cousy Award named its candidates for the honor for the top point guard in the country. Harvard's Jeremy Lin was not one of them. According to at least one member of the committee Lin wasn't nominated by the Crimson. But he will be added. He should. Lin is one of the top point guards in the country.
• I'm not sure you could get any basketball coach among Pitt's Jamie Dixon, Syracuse's Jim Boeheim, Rutgers' Fred Hill, Nebraska's Doc Sadler or Missouri's Mike Anderson to say they would want to leave their current conference and go to the Big Ten. Sources close to the situation in the Big East claim there is mutual interest among the Big Ten and Rutgers. That may be the case, and it is so early in the process, but I still don't get how Rutgers makes sense. I don't see the Big Ten penetrating the New York media market when Rutgers can't consistently do it. Rutgers basketball in the Big Ten would be a disaster. It's barely surviving in the Big East. Memphis would have to be the choice for the Big East if it loses a member. Central Florida is fool's gold. Memphis' faithful care about the Tigers more than any other prospective school's fan base. It's not even close. The Florida infatuation is limited to the big three in the state -- Florida, Florida State and Miami.
• There is no reason to be optimistic that Renardo Sidney will play for Mississippi State this season. The NCAA will conduct more interviews next week with the Sidney family. The key thing here is this: The NCAA is under no legal pressure to clear Sidney to play. Sidney's legal team won't sue to get a court injunction because Mississippi State won't play him without an NCAA clearance and run the risk of one day having to vacate games.
• Two of most inspirational stories so far this fall have been BYU's Dave Rose coming back from a rare pancreatic cancerous tumor and the graduation of Duquesne shooting victim Sam Ashaolu. I'm no longer a voting member of the United States Basketball Writers Association, but both are deserving honorees of the Most Courageous Award.
• Penn may flirt with current Siena and former Quaker coach Fran McCaffery but it might be considered a lateral move. McCaffery has told me in the past how much he loves his gig. Penn is arguably the best job in the Ivy League but Siena is the top job -- with scholarships -- in the MAAC.
• As much as Siena, Niagara and Rider got the early-season pub, the best team in the MAAC may end up being Fairfield. Coach Ed Cooley was raving in the preseason about his combo of Yorel Hawkins and Derek Needham, both averaging in the mid-teens.
• The A-10 is deep, but maybe too deep. There is no question that Charlotte, Rhode Island, Temple, Dayton, Richmond, La Salle, Xavier and Saint Joseph's have the capability to beat each other up and to sleep on Duquesne, George Washington and Saint Louis in league play would be a mistake. The problem for the A-10 may come if the top four to five teams have four or five losses.
• Watching high school senior Jared Sullinger play Thursday night must make Ohio State melt. The Buckeyes could desperately use Sullinger -- now. If Evan Turner comes back from his fracture in his back to play next season then the Buckeyes -- with Sullinger -- should be in line to compete for the Big Ten title and make a deep NCAA run. Sullinger holds the ball like an oversized grapefruit, can handle the ball and post up. He's everything the Buckeyes need now to shore up the middle, assuming they get Turner back.
• It's amazing that UCLA at Notre Dame Saturday has no pregame buzz. That speaks volumes about the season the Bruins are having and the drop the Irish suffered after losing at home to Loyola Marymount.
• I did say on a preseason Big East show on ESPNU that West Virginia would win the league by two games. That was before Syracuse emerged as not only a league title threat but a national championship threat as well. Still, I do like the Mountaineers quite a bit. Maybe not as much as the Orange right now, but West Virginia will continue to improve and the addition of Turkish center Deniz Kilicli in early February could be a huge boost, filling a necessary big man void.
• Good to see Mike Davis at ease at UAB. Watching Davis coach the Blazers to the rout of Cincinnati might have been the most comfortable I've seen Davis in a decade.
• Seriously, I would not be surprised if Washington State won the Pac-10. Washington and Cal should win the league but there is no reason to have complete faith in either one of those squads. No one in the league has been as dominant as Klay Thompson at Wazzu.
• Tasmin Mitchell came back to LSU for his senior season to be a leader and a productive player. He hasn't disappointed. Mitchell has been Mr. Everything and so far, averaging nearly 17 points and almost nine boards a game for the Tigers. He had a 24-point and 18-rebound game for the Tigers against SE Louisiana.
• I'm not sure I've seen a player come back from major knee surgery (ACL) as well as Ole Miss' Chris Warren. He has been superb, averaging 19 a game for the Rebels. The two Ole Miss-Mississippi State games should be dandies.
• Coach of the year so far? If you don't have Northwestern's Bill Carmody on the list then you're missing something. Carmody has done an outstanding job putting the Wildcats at 8-1 without Kevin Coble (foot injury and done for the year). The Wildcats looked toast after losing at home to Butler and now are cruising with wins over Iowa State, Notre Dame and NC State. None of those wins may be NCAA-caliber but the Wildcats will be in contention for a bid from this point forward.
August, 13, 2009
08/13/09
5:45
PM ET
Louisville coach Rick Pitino will have to face the taunts directed toward him when the Cardinals play on the road this season, regardless of what happens this fall during the extortion trial of Karen Cunagin Sypher, the woman who, according to police reports, he had consensual sex with back in August 2003.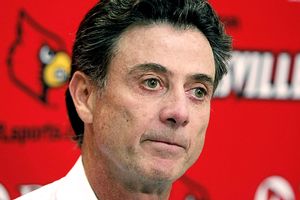 AP Photo/Garry JonesAt a press conference on Wednesday, Louisville coach Rick Pitino apologized for "an indiscretion" he committed six years ago.
Charges against Cunagin Sypher include trying to extort money from Pitino as well as lying to the FBI.
The fodder for those who want to direct their venom toward Pitino is already in place.
But how vicious it gets for Pitino on the road, months from now -- especially at his former employer and present heated rival Kentucky on Jan. 2 -- is still unknown. The case is still fluid. Yet how Pitino handles himself over the coming months, and then how he responds when he's thrust into a hostile situation remains to be seen.
"I'll probably make sure at that time to say to be respectful," Kentucky coach John Calipari said Wednesday after returning from a trip to China. "But I can't control 25,000 people." No one can. But there are plenty of coaches who have been the recipient of similar types of behavior when they've gone on the road. Every case is unique unto itself. The Louisville administration has made it clear that Pitino is going to coach the team. Pitino said Tuesday that he plans to coach the Cardinals for "as long as they'll have me." Pitino will have to face potentially rowdy crowds on the road soon after his scandal. The Louisville Courier-Journal, citing police records, reported that Pitino had sex with Cunagin Sypher in a restaurant after closing time in August 2003 and that two weeks later she called to tell him she was pregnant.
Pitino then gave Cunagin Sypher $3,000 after she said she needed an abortion and didn't have health insurance, according to a summary of Pitino's July 12 statement to police. The coach's attorney, Steve Pence, said Wednesday that the money was to help her get medical coverage, not specifically to pay for an abortion.
That's not akin to what then-Cincinnati and current West Virginia coach Bob Huggins had to deal with following the release of a video of his DUI arrest in early June 2004. Huggins was suspended by the university over the summer. He returned to coach the team that season but then was forced out the following summer.
"Any place that has any class won't do something," Huggins said. "You can have your signs and have fun but anybody that has signs about those kinds of things [referencing an affair and an abortion] is very classless. Rick is the ultimate professional. He will handle things extremely well like he always does."
[+] Enlarge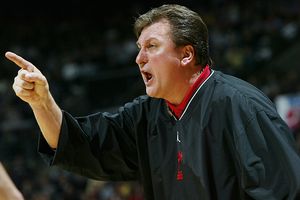 Doug Pensinger/Getty ImagesBob Huggins faced hostility from opposing fans while he was head coach of Cincinnati following his DUI arrest in 2004.
Huggins said coaching Cincinnati always meant going into hostile arenas as one of the favorite teams. Louisville has shared that experience, like many other traditional powers, during rivalry games. Still, when it got personal about his family, Huggins said that's when he had had enough.
"Places that talked about my wife and family and stuff, that's when I wanted to beat somebody's ass," Huggins said. "The other stuff people said, I just let it go. It always amazes me about the people who would be too scared to say 'boo' to you but when they pay $22 they can abuse you."
Ole Miss coach Andy Kennedy, who was an assistant under Huggins and succeeded him at Cincinnati, said he didn't see a difference in the way Huggins was treated by fans before or after the release of the video of his DUI arrest.
"It was uncomfortable but I'm not sure they wanted to beat us more," Kennedy said. Kennedy had to deal with his own public scandal after he was arrested in Cincinnati in December for an assault on a cab driver -- coincidentally the night before playing Pitino and Louisville in an SEC-Big East Invitational game. There were civil suits and countersuits filed between Kennedy's family and the alleged victim but Kennedy did plead guilty to a disorderly conduct charge last April. Kennedy said he didn't notice being treated any differently by opposing fans during the SEC season. "You get so locked into the game, in the big venues, that I never heard the individual stuff," Kennedy said. "I don't foresee Coach Pitino having a problem. He's always had to deal with a lot of scrutiny." Kennedy said the timing of Pitino's sensational story helps. The heart of basketball season, notably the game in the Commonwealth, isn't until January. "All the stuff with [new Tennessee football coach] Lane Kiffin has been pointing to the game at the Swamp," Kennedy said, referring to barbs traded between Kiffin and Florida coach Urban Meyer over recruiting. "But that's the third week of the football season -- right around the corner. By the time Kentucky and Louisville play they will have both played 10 or 12 games. Sure, it's going to be huge, but it will be regardless, because it's Kentucky and Louisville. To think the whole year will anticipate that game is ludicrous."

Rick can overcome this but it all depends on the president of the university. If he stands by him, just like my president stood by me in all my travails, then I think he'll be able to manage it.
--Former Temple coach John Chaney
Larry Eustachy, who was photographed drinking with college students at a campus party while on the road in 2003, was ultimately forced out as basketball coach at Iowa State. He resurfaced at Southern Miss a year later in a less intense Conference USA setting.
There have been plenty of other times coaches have to deal with direct personal attacks, such as last season when Connecticut coach Jim Calhoun sounded off to a local activist when he was questioned about his high salary during a recession. When Connecticut played at Marquette, one fan had made up a cardboard sign of Calhoun in the shape of a dime since Calhoun had snapped that he wasn't going to give a dime back. But that was also the night Calhoun won his 800th game and the jeering was somewhat muted as soon as the game ended. Former Temple coach John Chaney had to deal with opposing fans getting on him a few times after his own actions were played out nationally. In February 1994, following a game at UMass, Chaney charged Calipari, then the UMass head coach, during his postgame news conference and could be heard saying, "I'll kill you." Eleven years later, Chaney was suspended for five games after "Goongate," when he sent in a player for a hard foul against Saint Joseph's in a rivalry game. Signage followed Chaney around at games following that incident. Chaney, reached Wednesday in his hometown of Philadelphia, referenced politicians and their problems as an example of the current state of affairs. Plenty of politicians have survived extramarital scandals from former President Bill Clinton to current Sen. John Ensign of Nevada to current South Carolina Gov. Mark Sanford. "Rick can overcome this but it all depends on the president of the university," Chaney said. "If he stands by him, just like my president stood by me in all my travails, then I think he'll be able to manage it." Chaney said he lived with the truth that he believed in what he was doing in each of the two aforementioned situations. He said his word choice was wrong, but his anger wasn't in the Calipari incident. Referring to the Saint Joseph's incident, Chaney said he was simply calling for a hard foul, not for someone to get hurt. Still, once the stigma is attached, it's hard to shed. "Other coaches will say things [about Pitino] in recruiting just like they said things about me, saying that Temple started practice at 3 a.m.," Chaney said. "It was something I always had to live with. The people of Louisville have to stand up and stand by him but there will be a debate. I don't know much about Kentucky. But I do know that there is a greater chance of understanding and forgiving if you're brutally honest. He'll have to be when he's recruiting -- saying that he made mistakes, that he's human." Chaney said that one snapshot of a person can undue many years of good deeds. "What he did wasn't illegal," Chaney said. "It might have been immoral in the eyes of many. It will be tough to move ahead but he has the resolve to do that and I have every faith in Rick that he'll be able to do that. If he has a good president holding his hand, he'll be fine to coach there."