Category archive:

Duke Blue Devils
July, 4, 2013
07/04/13
3:37
AM ET
Brad Stevens is universally loved in the college coaching profession.
So don't take the shock and surprise of Stevens' move to the NBA's iconic franchise in Boston as a sign of disrespect.
His peers and colleagues are simply in awe by the timing, not by the move.
"The best young coach I have seen in my time," said Syracuse coach Jim Boeheim. It's high praise for Stevens, who coached in consecutive national title games in 2010 and '11.
"Coach Stevens is everything that is right about our profession, and was an absolute star at Butler," said Marquette's Buzz Williams, who was going to be a chief rival for Butler in the new Big East Conference but now will face a new coach in the fledgling league. "I anticipate he will be the exact same with the Celtics."
Stevens had professed for a few years how comfortable he was at Butler. He was hand-picked by his former mentor, Barry Collier, to be the head coach. He could have jetted off to UCLA. He would have had Illinois. He may have been next in line to be the head coach at Indiana or Duke or Kansas or North Carolina whenever those jobs were to open. Who knows? He was that highly coveted and respected.
"I am very excited for Brad, his family and the Boston Celtics," said Ohio State's Thad Matta, a former Butler coach. "He did a masterful job in his time at Butler, and as an alum I know he will be greatly missed. He has a great mind for the game and great instincts in dealing with players. I look forward to following his path to success with the Celtics."
New UCLA coach Steve Alford, a native of Indiana like Stevens, has always had incredible respect for the way Stevens has handled himself and the program.
"I'm very happy for Brad," Alford said. "He's done a phenomenal job at Butler and is very deserving of this opportunity. Great hire by the Celtics."
To Memphis coach Josh Pastner, who is just a year younger than Stevens at 35, there was immense adoration for the path Stevens has blazed for coaches younger than 40.
"I think Brad is one of the great coaches of the game, regardless of college or pro," Pastner said. "It's basketball. He'll do great with the Celtics. It's a great hire by Danny Ainge. A great hire. I think age is overrated. You either get the job done or you don't. You can do it or you can't. He's proven he can do the job. He has had tremendous success at Butler."
But no one has been more effusive in his constant praise of Stevens than Duke's Mike Krzyzewski, the USA Olympic and national team coach. Krzyzewski was quick to compliment Stevens in the lead-up to the 2010 national title game. Coach K's Blue Devils beat the Bulldogs 61-59 -- in Indianapolis -- in one of the most epic national title games in the past 25 years.
Krzyzewski said he was as surprised as everyone else by the Celtics tabbing Stevens. But he said that's because "Brad is one of the great college coaches. He's an outstanding coach. He's at a time -- he's young -- I can see him wanting to do something different. He's terrific. It's a great hire for the Celtics."
Krzyzewski said he knows exactly what Stevens was going through since he had to weigh the same decision in 1990 when the late Dave Gavitt approached him about being the head coach of the Celtics. Krzyzewski said no at the time.
"I almost did it with the Celtics," Krzyzewski said. "I can understand it."
A source told ESPN.com on Wednesday night that the Celtics tabbed Stevens as their top choice once Doc Rivers was let out of his contract and essentially traded to the Clippers. The Celtics loved his character and knowledge of the game. His demeanor didn't hurt, either. He has always been extremely even.
"He's really smart," Krzyzewski said. "His teams play that way. He's just a heckuva of a coach. He has a maturity of an established head coach right away. I just think -- forget about young coaches -- I think he's one of the best coaches. I don't think you could have a better guy. He's smart and he'll adapt. I think he'll do a really good job there."
Recent college-to-NBA head coaching gigs have been doomed to fail, including Mike Dunlap, who went from being a St. John's assistant to the head coach in Charlotte, Lon Kruger going to Atlanta, Mike Montgomery to Golden State, or Leonard Hamilton to Washington.
But this is the Celtics and Stevens, who has been penciled in for a Hall of Fame ticket after six seasons by his peers. Krzyzewski isn't worried about the veteran NBA players giving him instant credibility in the locker room and in the huddle.
"He'll have respect," Krzyzewski said. "He's accomplished. Players respect success. He's had great success right away. So I don't think he'll have any problem with the players respecting him. They'll respect him. They respect excellence. He has it. It's a terrific hire. I'm a friend of his and I wish him the very best and I'll be pulling for him. To take over one of the most storied franchises in sports in an incredible opportunity, I can understand him doing it."
June, 20, 2013
06/20/13
4:20
PM ET
The FIBA U-19 World Championships may not resonate here at home, but the goal of winning gold has never been more explicit within USA basketball.
As the seriousness of the men's national team has taken on a new level in the last eight years, the junior national team has followed that example.
Coaches are returning. Players are, too. Suddenly, playing for Team USA has value -- as it should.
But this is not an all-star team. This is a team that will compete in Prague next week, crafted to fit Florida's Billy Donovan's coaching style. He wanted a team that could press, rebound, defend and generate turnovers. The havoc fits the way one of his assistants -- VCU's Shaka Smart -- loves to coach.
"I like this team a lot,'' Donovan said. "More than anything this group of kids understands the sacrifice and attitude and work ethic.''
Here is the final 12-man roster and Donovan's assessment of what they've done and can do for Team USA, which begins play in the Czech Republic on June 27. The gold-medal game is set for July 7.
Michael Frazier, 6-4, G, So., Florida
"He comes in as the best shooter. One of the things we struggled with was behind the line. He really provides shooting. In our scrimmage against Air Force he was 4 of 6. He can be a spot-up shooter against a zone and help us space the floor a bit.''
Aaron Gordon, 6-6, F, Fr., Arizona
"He's really, really athletic. He's got a great motor. He can play the 3, the 4. He's really, really good in the press. He's really, really active, and he's going to be a very good player with a great motor.''
[+] Enlarge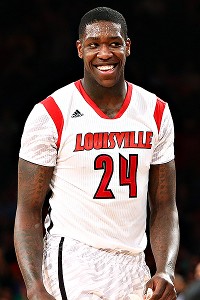 Debby Wong/USA TODAY SportsMontrezl Harrell will have an increased role at Louisville this season and his experience with Team USA should help.
Jerami Grant, 6-6, F, So., Syracuse
"He's been sick with strep throat. But he'll be healthy [for the tournament]. Like Gordon, he gives us another versatile frontcourt guy. Like Gordon, he can play a 3, 4 and 5 and his shooting has gotten better. He was on the team a year ago. He gives us great length and is versatile.''
Montrezl Harrell, 6-7, F, So., Louisville
"He's like Gordon and Grant in that he's really athletic. His skill level has gotten better [since last year]. He's really active. We can do a lot of things defensively with those three guys in Gordon, Harrell and Grant. We can press and switch and they can guard a lot of different positions, get out and run a little bit. We could play all three at the same time.''
Jahlil Okafor, 6-10, C, Whitney Young HS, Chicago
"He's really, really skilled in the low post. He's got a big body with a long wingspan. The way we're playing fast, running and pressing, he's the guy we can throw the ball inside and he'll make good things happen. He's a lot more mature than his age. He's going to play well with the pick-and-roll. He's a big, strong kid. We can go high-low with him and he can work his way to the basket. He's got a good skill level.''
Elfrid Payton, 6-3, G, Jr., Louisiana-Lafayette
"He came in as the surprise. He's really rangy and a very good defender. He can play multiple positions. He's really crafty with the ball and can get in the lane. The best thing he does is pass. He's a really good on-ball defender.''
Marcus Smart, 6-4, G, So., Oklahoma State
"He's been great leadership-wise. I think he's gotten better shooting the ball. His presence and competitiveness and strength and size will help us. So will his will. He came back to school and to us and that really helps our team. He has an incredible presence. I will play him at the point. But he'll also play the 2 and 3. We've got a lot of guys who can play different positions.''
Jarnell Stokes, 6-8, F, Jr., Tennessee
"He's really physical. He was with us last year and he can be a monster around the basket for us. Last year, we kept more guards. This year, more frontcourt guys.''
Rasheed Sulaimon, 6-3, G, So., Duke
"He's a good scorer. He was with us last year. He's shooting the ball with more consistency. He's more comfortable with the international line. We've got to get him to take over more of a leadership role. He was on the trip last year with Smart [when Donovan led them to the gold in Brazil for the U-18 title]. And he played a lot with Duke and that's important.''
Mike Tobey, 6-11, F, So., Virginia
"He's been really good. I think he'll really help us against the zone. After the first day or two, he adjusted and played really well.''
Nigel Williams-Goss, 6-3, G, Fr., Washington
"He's got a lot of the intangibles. He's a great leader and a really good motor. He's more advanced than his age. He's always played at a high level. He'll play the 2 for us.''
Justise Winslow, 6-6, F, St. John's HS, Houston
"He's a 6-6 guy that can play the 2, 3, 4 and really good in the press. The thing that's good for him is his overall skill, passing and unselfishness. He can guard several different positions. He's really athletic. He's a pass-first player that can slash to the basket.''