Category archive:

North Carolina State Wolfpack
May, 10, 2013
05/10/13
5:13
PM ET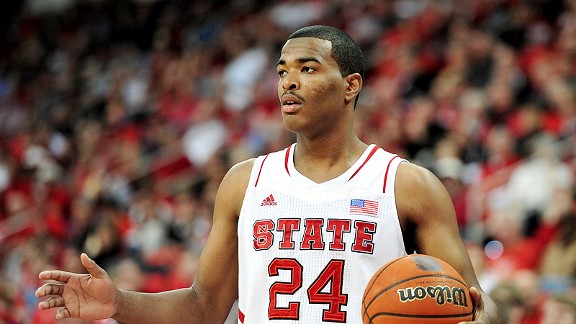 Grant Halverson/Getty ImagesT.J. Warren will be the only experienced returnee on NC State next season.
NC State was staring at a potential NIT bid in Mark Gottfried's first season with two games left in the 2011-12 regular season.
The Wolfpack won both to get to 9-7 in the ACC and then won the first two games in the conference tournament.
A tight loss to North Carolina in the ACC semifinals and upsets of San Diego State and Georgetown in the NCAA tournament propelled NC State into the Sweet 16, Gottfried to being a beloved Wolfpack coach and the team to hyped expectations entering last season.
The last was too much, too soon.
"People forget where we were [at .500], and then we wake up and we're ranked sixth in the country,'' said Gottfried, whose Wolfpack were picked to win the 2012-13 ACC title in the preseason. "I said, 'Timeout now.' We were missing key players from that season."
Gone were C.J. Williams, Alex Johnson and DeShawn Painter, three of the seven players who played regularly down the stretch.
The arrival of heralded Rodney Purvis was a dud, since Purvis struggled to get eligible. Lorenzo Brown battled injuries. Richard Howell was supposed to be a stud inside. C.J. Leslie, Scott Wood and newcomer T.J. Warren never got on the same hot stretch together.
The Wolfpack were never the story in the ACC. Miami was the team of record from the beginning of the conference season to the end, winning the regular-season and tournament titles.
Duke was always a story with Ryan Kelly's injury and triumphant return. North Carolina was left behind and surged back into NCAA bid contention and earned a spot in March Madness.
NC State sputtered at times, but it did rise up to knock off No. 1 Duke, beat archrival North Carolina and earn a second consecutive NCAA tournament bid before losing to Temple in an 8-9 matchup in the round of 64.
"We still won 24 games,'' Gottfried said. "You have to put it all in perspective. I wanted to do a lot more. I wanted to go farther, no question. But at the same time, when I took the job two years ago, if I had said [to the fans] you'll go to two straight NCAA tournaments, get to the Sweet 16, reach the ACC tournament semifinals in both years, and said who is taking that right now, raise your hands? There would have been a lot of hands up in the room.''
This NC State team wasn't ready for the expectations and the pressure put on it. Were the expectations too high? In hindsight, yes. This team lacked the experience, the drive and the overall depth in the post that Miami had last season. The Wolfpack weren't able to finish games like the Hurricanes, losing to Miami and Maryland on the final possession.
[+] Enlarge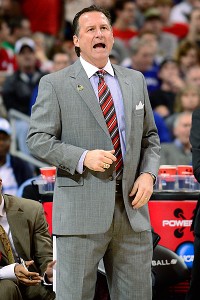 Scott Rovak/US PresswireMark Gottfried is excited about the foundation at NC State.
"We didn't finish well, and that's the one thing that's hard to get over,'' Gottfried said. "We have to learn from that. But we did a lot of great things by beating the No. 1 team in the country in Duke, beating Carolina and Wake Forest in the same season here since 1989. Miami at home and Virginia on the road [lost by three] were both winnable. We had an injury [to Brown]. We had a tip-in at Maryland at the buzzer.
"We weren't far away from 27 wins. Losing in the first round was disappointing. The problem was the expectations were too high.''
Now what? The Wolfpack are in a complete build mode in a season when the ACC will become the deepest conference in the country with the additions of Syracuse, Notre Dame and Pitt. A year from now, the ACC will get even stronger when it replaces Maryland with Louisville.
Oh, and Duke is projected to be a top-five team with North Carolina on its heels -- they'll be the top two teams in the league again. Newcomer Syracuse should be in step as well.
Leslie and Brown declared for the NBA draft. Purvis transferred to UConn. Howell and Wood were seniors. Guard Tyler Lewis returns, but the only returnee who played significant time is Warren.
"We'll have a completely new team on the floor,'' Gottfried said. "It's a restart, a regroup, reshuffle or reload -- whatever words you want to use. We're going to be tremendously inexperienced and young. It's a foundation, though, for years to come. It just so happens it comes in Year 3 for me. But we're laying a foundation to be back in a year or two to compete for a championship.''
That can happen only if the Wolfpack don't get discouraged and pounded down by the depth and strength of the 15-team league. The timing isn't ideal to be rebuilding.
"It makes us very vulnerable,'' Gottfried said. "We're in the infant stages of building a team. Our league has gotten stronger very quickly. The good news for us is that in a few years, we'll be very good. But we're going to be very vulnerable right now.''
The hope is that Warren will mesh with guards Anthony Barber and Desmond Lee and the three new bigs -- BeeJay Anya, Kyle Washington and Lennard Freeman -- will have an impact, as will returning big Jordan Vandenberg.
"It's a good nucleus,'' Gottfried said. "We're just young and inexperienced and not ready right now. It's a great group to build on, and I'm excited.''
The Wolfpack dialed back the schedule a tad. NC State will play at Cincinnati in a home-and-home series. Gottfried signed up Missouri for a home-and-home that starts in Raleigh, and he drew Northwestern in the ACC-Big Ten Challenge. He also added home games against Florida Gulf Coast and Detroit, two good names, but teams that lost key players, too. The ACC schedule isn't as daunting with the four home-and-home series coming against two teams -- Wake Forest and Miami -- that figure to be in the lower third of the league. Playing Carolina and Pitt twice will provide a major challenge, though.
Last season there were disappointed teams that had high hopes but failed to reach NCAA tournament expectations, like Georgetown, New Mexico, Gonzaga and Indiana.
But the early-season projections on all four of those teams were fair, and the teams didn't disappoint in the regular season at all. NC State was too hyped and, based on the preseason prediction, underachieved. Gottfried was adamant that the prognosis was too positive last fall. He had a good read on his team.
Now Gottfried has to deal with a low ceiling and a long climb ahead. If he can manage those projections better than expected, then he'll be praised even more than he was a year ago.
October, 12, 2012
10/12/12
6:19
PM ET
NEW YORK -- Midnight Madness has become anticlimactic.
But if that's the casualty of coaches getting more access to players, then no one will complain.
By the time practice officially begins for Division I men's teams Friday night, the majority already will be well ahead of schedule. If they took a foreign trip in the summer, then the progression is even further.
Because of a new NCAA rule, coaches could be with their teams during the summer if they were enrolled in classes. Team workouts for two hours a week could occur beginning Sept. 15.
"We already have a pretty good feel of what we need to do,'' Texas coach Rick Barnes said Wednesday afternoon, prior to the V Foundation dinner. "It doesn't dawn on me that Friday is the start of practice because I feel like we've been practicing. The rule changes have changed all of that.''
They've also changed the anxiety levels of many coaches.
"We could play a game in three days if we had to,'' Barnes said. "How good we'd be, I don't know. But there's no question that we got more in and more of a base in.''
NC State coach Mark Gottfried agreed. The Wolfpack went to Spain in August, so NC State is comfortably moving forward with the season. Getting the eligibility of freshman Rodney Purvis settled prior to the start of practice is also a relief.
"If we had to play a game pretty soon, we could and we'd be OK,'' said Gottfried. "I still think you learn a lot about your team when the lights come on and it's a game atmosphere. We still have a long way to go and learn about how our team plays in games and the rotation. You don't know how your team will handle when the lights go on.''
Still, Barnes said he learned this summer that the freshmen were more advanced and that changed recruiting in the fall.
"We actually changed what we were looking for,'' Barnes said. "We only have 11 recruited athletes, so we were never going to be able to simulate a whole game and we won't until we have our two scrimmages [of which one is the now-annual scrimmage against Gonzaga in Colorado]. But I think we have an idea.
"There's no question that you know your team so much better. You can start to think about what-ifs and now start on situational play. I think we all have a pretty good idea at the start of practice about where we're at with our teams.''
The practice time has been invaluable for Connecticut coach Kevin Ollie, who took over for this season from retiring Hall of Fame coach Jim Calhoun.
"I feel like I'm ahead,'' Ollie said. "It's an hour and an hour goes quick, so there is only so much you can put in. But you can put in your philosophy and defensive principles. I do feel like we're ahead of the game. I imagine every team in America feels the same way. Now we get to practice and we'll see how the players handle the longer grind, how they hold up and how they recover.''
This is the first year that coaches have had summer and fall access. Whether there is a burnout factor in February is to be determined. But what's not up for dispute is how ready teams are to play in mid-October -- less than a month before the regular season tips off on Nov. 9.
October, 4, 2012
10/04/12
6:19
PM ET
If anyone was wondering whether 15 schools could agree and get along in the new ACC, all they had to do was check the reaction to the new primary partners released Wednesday.
There was an unusual consensus. Every school was pleased.
The ACC had to adjust its scheduling format with the addition of Notre Dame, which could join anywhere from 2013 to 2015. The conference, committed to an 18-game schedule, had to lock in to two annual home-and-home series.
For a few schools, such as Virginia, there was nothing to ponder. The Cavaliers have two natural rivals in Virginia Tech and Maryland. Done.
"It makes sense geographically," UVa coach Tony Bennett said. "They've been our natural rivalries for years."
[+] Enlarge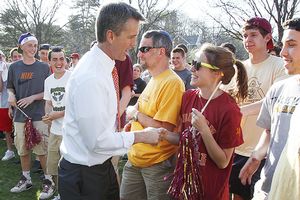 AP Photo/Michael DwyerCoach Steve Donahue believes BC's fans will be pumped to host old conference rivals Syracuse and Notre Dame each season.
Boston College landed two tough opponents, but the Eagles couldn't have been happier to get two schools that will help fill the usually staid Conte Forum. BC will play Notre Dame and Syracuse twice every season.
"It's great for our alumni and fans," Boston College coach Steve Donahue said. "I'm sure excited about it."
Understandbly, no school got both Duke and North Carolina. That would be too cruel, and it would be too hard to pull off with two other schools in the state in Wake Forest and NC State. The ACC had to balance the four schools, and it did.
Duke gets UNC and Wake Forest. NC State got UNC and Wake. Wake Forest got Duke and NC State. And of course that means Carolina got Duke and NC State, which based on the current trajectory of the four schools, is the toughest slate among the schools in North Carolina.
"I loved it," NC State coach Mark Gottfried said. "They got it right."
Wake Forest athletic director Ron Wellman, who is the 2014 chair of the men's basketball selection committee and understands the importance of getting quality teams on the schedule, said "playing two in-state rivals is the best scenario for us."
ACC associate commissioner Karl Hicks, who oversees basketball and scheduling in particular, said the majority of the matchups simply made sense.
The most intriguing issue was what to do with Notre Dame's second rivalry after Boston College. The Irish and Georgia Tech were paired up by process of elimination. Hicks said the schools have a rivalry in football, but not in basketball.
"Notre Dame has a lot of alumni in urban areas," Hicks said. "Maryland was a better fit with the partners they had [Pitt and Virginia]. Washington, D.C., would have been a good place [for Notre Dame], but Maryland's partners fit. Georgia Tech was the next one that made the most sense."
ND coach Mike Brey said it worked for him since he wanted to create new rivalries and, "I love Atlanta."
Tech coach Brian Gregory knew the Yellow Jackets would get Clemson as one rival and was overjoyed that the Irish were the other.
"I think it's great for us," Gregory said. "These are two great academic schools with great traditions. I think it will turn into a great rivalry."
Maryland coach Mark Turgeon said Pitt and Virginia are strong defensive teams which should provide four gritty games for the Terps every season. Pitt coach Jamie Dixon had no issue with Maryland and Syracuse as his school's natural rivals, saying that he expected as much based on geography.
The rest of the 14 games on the schedule will include two more home-and-home opponents (which will rotate every year) and five home and five road games that make up the other 10.
The other set partners are:
Clemson: Florida State and Georgia Tech
Florida State: Clemson and Miami
Miami: Florida State and Virginia Tech
Syracuse: Boston College and Pitt
Virginia Tech: Miami and Virginia
Hicks said the Miami-Virginia Tech series marries two former Big East rivals. Syracuse's two partners are also former Big East foes. Clemson and Florida State got natural regional rivals.
"I'm not bent out of shape one way or another," said Florida State's Leonard Hamilton, who added he wasn't against going to 20 league games. "I like the challenge night in and night out of 18 hard-nosed games."
What the two-team partner lists and the reaction proves is that a 16th team in men's basketball doesn't seem necessary. ACC commissioner John Swofford said the ACC isn't going to go to 16, and frankly, there's really no need.
September, 14, 2012
09/14/12
10:41
PM ET
NC State freshman Rodney Purvis asks the same question to the Wolfpack coaching staff each day: "Have you heard anything yet?"
The answer hasn't changed.
"No."
Purvis was cleared to take classes at NC State while the NCAA Eligibility Center reviews his transcript from Upper Room Christian Academy in Raleigh, N.C.
The Wolfpack sent in another appeal Thursday. And now they wait -- again.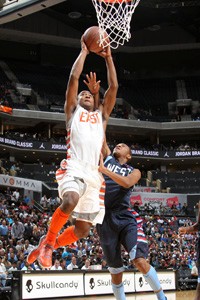 Kelly KlineMcDonald's All-American Rodney Purvis is still in limbo at NC State as the NCAA Eligibility Center reviews his transcript from Upper Room Christian Academy in Raleigh, N.C.
"Hopefully it's going to be done next week, and he'll be eligible to play,'' NC State coach Mark Gottfried said. "That's the right thing to do and the right thing to do in this particular case.''
At issue is whether or not the high school has the correct correlated core classes.
"He's a great kid and a great student,'' Gottfried said.
Purvis isn't a must for the Wolfpack to win the ACC. Last season's Sweet 16 team remains mostly intact. But not having Purvis on the trip to Europe in August showed one thing: "We're a guy short,'' Gottfried said. "We only have nine scholarship guys with Rodney, and then without him we're down to eight.''
So we posed these five questions to Gottfried as he and the Wolfpack wait to hear official word on their McDonald's All-American:
What has this been like for the staff and Purvis?
"No fun. Imagine him walking around classes every day and not knowing the outcome,'' Gottfried said. "Plus, you've got a kid who went to one school the entire career. He has a 3.0 GPA, and he's sitting here with uncertainty. You can't imagine how hard it is for him.''
What has the school been doing during this appeal process?
"We've been working with the high school for months now, and the NCAA and all three of us are working on it. We're trying to find out exactly what they wanted and what additional information they need for each course,'' Gottfried said. "It's been a lot of hours. I can't even begin to add them up.''
What happens if the latest appeal is denied?
"The school will continue to [try to] prove that the classes were college prep classes, and that could get done three weeks from now or anytime,'' Gottfried said. "If there is new information, then it could get revisited if he wasn't cleared to play.''
What has been Purvis' attitude?
"He's been great in workouts and has a great attitude,'' Gottfried said. "He's a normal college student. He's prepared. That's why it's frustrating for us and for him. It's been a tough ordeal for him, and he's handled it with great class.''
Who would play in his place if Purvis is ruled ineligible?
"T.J. Warren,'' Gottfried said. "He's likely the guy we'll play at the wing or at the forward at the 3 or 4.''
Warren is a 6-7 freshman from Durham, N.C., and is three inches taller than Purvis. The Wolfpack return the key members of the Sweet 16 team in C.J. Leslie, Lorenzo Brown, Richard Howell and Scott Wood.
June, 29, 2012
06/29/12
8:52
PM ET
The gold medal won by the USA men's under-18 team in Brazil last week will reverberate across a number of college campuses in the fall.
The players who won gold -- the majority of whom are set to begin their freshman seasons -- will benefit from the competition and the spirited workouts and playing for Florida's Billy Donovan, Gonzaga's Mark Few and VCU's Shaka Smart.
The U.S. didn't lose a game in the FIBA Americas U-18 Championships and won by an average of 39 points, including beating host Brazil twice.
High schooler Julius Randle, who still has another year at Prestonwood Christian Academy in McKinney, Texas, led the Americans in scoring at 14.2 points and 6.6 rebounds a game.
Tennessee sophomore-to-be Jarnell Stokes was second at 14 points and 5.6 rebounds a game.
I asked Donovan for five players he is convinced will have a major impact on their respective teams during their first college seasons.
He didn't hesitate on the first name (tourney averages in parentheses). Marcus Smart, 6-foot-3, SG, Oklahoma State (7.4 ppg, 3.4 rpg): "I have not been around a player in a long, long time that is as good a competitor. He can shoot the ball better (1-of-10 on 3-pointers), but he's unselfish and an unbelievable leader. He was absolutely terrific. He's a terrific player. He's special. He has the internal qualities to me.''
Jerami Grant, 6-7, SF, Syracuse (5.6 ppg, 5.0 rpg): "He didn't shoot very well (7-of-25), but he'll end up being a Kris Joseph or Wesley Johnson for Syracuse in time. He's rangy, long and can play two different positions. His upside may be greater than anyone else on the team. He's so long and athletic. Once he knocks down shots he'll be really special.''
Sam Dekker, 6-7, SF, Wisconsin (5 ppg, 2.5 rpg): "He was hurt, ended up spraining his ankle, and then someone stepped on his toe and that had to be drained. He was never quite healthy. But he's a warrior. He loves to play. He wants to win. I think he's a really good player. He takes some crazy shots. I just wish I could have coached him. He's going to be terrific.''
Shaq Goodwin, 6-8, PF, Memphis (12.4 ppg, 4.8 rpg): "He's got a chance. He scored 30 points in our first game. He's got a great feel for how to play. He's got a big body. He needs to be a bit more serious. But he played pretty well while he was there. He did a nice job for us.''
James Robinson, 6-3, PG, Pittsburgh (4.4 ppg, 2.6 rpg): "We weren't sure we were going to keep him. We cut the team from 25 to 14 and then kept guys around to 12. He was originally on the outside looking in. But once we started practicing we saw that he's a winner and a great role guy. He's a typical Pitt player. Jamie [Dixon] will love coaching him. I'm not sure of his impact on the team, but people will say, 'Where did this guy come from?' The kid is a winner. I liked coaching him. He was the same guy every day.''
Donovan had one word for NC State-bound wing Rodney Purvis (7 ppg, 1.8 rpg) and Duke-bound guard Rasheed Sulaimon. That one word? "Relax."
He said Purvis is an exceptional talent but can get too wrapped up in scoring at times. He's an exceptional athlete, according to Donovan, very physical and a really good player, but needs to check the expectations a bit. Donovan said Sulaimon (10 ppg, 3.4 rpg) needs to avoid feeling too much of the natural pressure that comes with being a highly touted Duke recruit. He said he loved Sulaimon's work ethic and enjoyed coaching him but he just needs to chill a bit.
March, 20, 2012
03/20/12
7:06
PM ET
A Sweet 16 appearance elevates a program to the next level.
A Final Four moves it up another notch.
The matchups usually make the difference in getting this far. Talent -- and star power -- also play big roles.
There is a certain level of pressure for all coaches and programs. For some, it's self-induced. For others, it comes from a passionate fan base. Some programs need to reach the Final Four for the season to be considered a success. Some do not.
With that being said, here is our Final Four pressure-meter (1 feels the least amount of pressure and 10 feels the most):
[+] Enlarge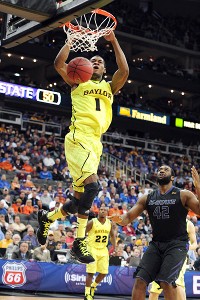 Peter G. Aiken/US PresswirePerry Jones' Bears have the talent to reach New Orleans, but they have a big hurdle to clear in the South Region.
Baylor (5): The men's team doesn't need to make a Final Four appearance. The women will take care of that, as they are the favorites to win the national title. But the men's team has the makeup to make this run a rare one. Few teams have length like the Bears do, and it's unlikely that Perry Jones III will stick around for a third season. The reason Baylor doesn't have as much pressure to reach the Final Four, even though it has the personnel to make it to New Orleans, is the bracket it's in. Kentucky could stand in the way of Baylor's potential first men's Final Four appearance. The Wildcats are the clear favorites, so expecting the Bears to advance to the Final Four from the South wouldn't be fair.
Cincinnati (3): Cincinnati has survived suspensions and a bumpy ride in the Big East. The Bearcats thrived at the end of the season and reached the conference title game. Mick Cronin and this crew have exceeded expectations by reaching the Sweet 16. Playing one of the favorites in Ohio State takes more pressure off the Bearcats. This ride now is all about extra credit for Cronin and Co.
Florida (4): The Gators won two national titles in consecutive seasons. It will be hard for any program to duplicate that -- ever again. Keeping a team together like the '04 class for the '06 and '07 titles will be extremely difficult to match unless the NBA draft rules change again. The Gators had an easier road to the Sweet 16 thanks to a depleted Virginia team and playing Norfolk State, which exhausted itself with the stunning upset over Missouri. But the Gators don't need to get to the Final Four. If Florida does reach New Orleans with this flawed group and its suspect inside game, it would be quite a feat. The Gators are the lowest remaining seed in the West, too. Expecting them to get past Marquette and possibly top seed Michigan State would be a bit much.
Indiana (3): Tom Crean has turned the corner in Bloomington. There was legitimate reason to be concerned last season. But Crean recruited exceptionally well, getting a star in Cody Zeller, and he got his players to believe they could win big-time games. The victory over Kentucky will resonate for some time. Reaching the Sweet 16 gives Crean even more credibility and respect in the state. However, for this team to get past Kentucky would be asking too much. No one should expect a win over the Wildcats again. To advance to the Elite Eight and the Final Four would be sensational accomplishments. Even though the fan base expects greatness, Indiana has already exceeded any expectations by getting this far.
Louisville (5): The Cardinals are the "pro" team in town. And like Kentucky, the expectations include Final Four appearances. But Louisville has gone through a slew of injuries, and there was no reason to believe it could maintain a high level of play throughout the season. Still, the Cards survived to reach the Sweet 16 and face top-seeded Michigan State. The most pressure may be felt in trying to keep up with rival Kentucky. The expectation is that the Wildcats will be in the Final Four, so why not join them and create even more frenzy in a hoops-crazed state?
Kansas (9): The Jayhawks have two of the top players at their positions in Thomas Robinson and Tyshawn Taylor. Kansas expects to compete for conference and national titles, regardless of personnel, every season. And while Bill Self had to deal with rotation players not being eligible, including top newcomer Ben McLemore, the Jayhawks still won the Big 12 regular-season title for the eighth straight time. Kansas survived against Purdue, but had it not been for a guard meltdown the Jayhawks may be idle right now. Instead, they have new life in the Midwest, thanks to NC State's Sweet 16 run and North Carolina potentially being without Kendall Marshall in the Elite Eight (if the Tar Heels get past Ohio). The pressure has ratcheted up for the Jayhawks. If Marshall is out for this weekend in St. Louis, the Jayhawks are the new favorites in the Midwest.
[+] Enlarge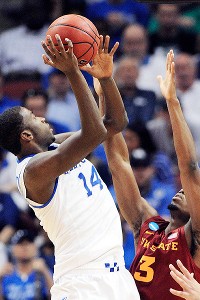 Jamie Rhodes/US PresswireAs the favorite to win the title, Michael Kidd-Gilchrist and Kentucky have to feel the pressure.
Kentucky (10): The Wildcats are the front-runners to win the national title, not just get to the Final Four. Let's be honest, anything less than a title would be a disappointment. No team in the Sweet 16 has as much pressure to get to the Final Four as Kentucky. The Wildcats have the most talent, the national player of the year in Anthony Davis, and plenty of other pro talent on the roster (Michael Kidd-Gilchrist, Terrence Jones and Doron Lamb). Darius Miller also played in the Final Four last season. John Calipari has coached in three Final Fours. The Wildcats are playing a team that handed them their only regular-season loss. A possible matchup with Baylor is more than formidable. The Bears can match Kentucky's length and shooting, but Baylor's defense has never been its strong suit. The region still lays out well for Kentucky in SEC-rich Catlanta.
Marquette (6): The Golden Eagles play as hard, if not harder, than any other team in the field. Marquette's beat down of BYU in the second half and its ability to run past Murray State late were quite impressive. Now, the Eagles get a Florida team that it matches up well with since they can defend the 3-point shot. Marquette should be the favorite in this game and has the personnel and the toughness to beat Michigan State or Louisville. A Final Four isn't expected with this group, but now the bracket has opened up a bit with Missouri gone. A loss in the Elite Eight makes more sense, but there is some pressure for Marquette to advance with Jae Crowder and Darius Johnson-Odom leading the way. The Eagles have been to a Final Four with Dwyane Wade under Crean. A berth for Buzz Williams would raise his coaching profile.
Michigan State (8): The Spartans lost one of their key rotation players in Branden Dawson in the final regular-season game against Ohio State. But they won the Big Ten tournament title without him and earned a No. 1 seed in the NCAAs. Draymond Green has been the most valuable player so far in the NCAA tournament and has a legit shot to lead the Spartans to another Final Four. Michigan State expects Final Fours under Tom Izzo, but this team certainly didn't look the part early in the season. It has matured into a title contender. And while the bracket is filled with potential hurdles, the Spartans have the pressure of being a top seed and the expectation of a Final Four appearance.
North Carolina (8): The Tar Heels would have had a 10 in this spot if Marshall didn't fracture his wrist against Creighton and have surgery on Monday. Now, the pressure of reaching the Final Four has dropped a few spots. North Carolina was as healthy as it had been in weeks at the start of the game with the Bluejays. But the Marshall injury makes the Tar Heels extremely vulnerable. Ohio is capable of pulling off another upset. And if the Tar Heels get past Ohio, a revenge-minded NC State team or title-contending Kansas awaits. The Tar Heels were built to win a title. That's why Harrison Barnes didn't opt for the NBA. Tyler Zeller had opportunities, as well. The roster is deep enough to absorb injuries to Leslie McDonald and Dexter Strickland. Let's see if it can take its worst hit and survive without Marshall or having him only on a limited basis. The expectations for a Final Four may have dropped outside of Chapel Hill, but it hasn't inside the Dean Smith Center. Carolina should expect to be in the Final Four yet again. It's just tougher with Marshall's injury and Kansas potentially looming.
NC State (2): The Wolfpack have far exceeded expectations under Mark Gottfried. NC State was the last team revealed on Selection Sunday. It had to be one of the last teams in the field prior to the four at-large teams that played in the First Four. NC State lost a 19-point lead at Duke, and the Wolfpack couldn't close out UNC in the ACC tournament. But they grinded out wins over San Diego State and Georgetown in their first two games of the tournament. This program has had low expectations for years. The Final Four would be gravy on what has already been deemed a highly successful season. The Wolfpack draw Kansas and if they somehow get past KU (not improbable), they could face a rematch with UNC. One can only imagine the scene in Raleigh if NC State, and not UNC, made the Final Four.
[+] Enlarge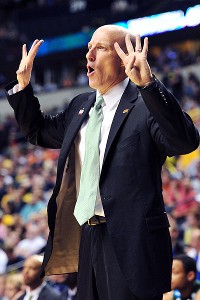 Don McPeak/US PresswireOhio coach John Groce could be walking into a difficult situation if he leaves for Illinois.
Ohio (1): The Bobcats are one of the tournament's great stories. Ohio played one of the more dramatic conference tournament title games when it knocked off Akron in thrilling fashion. The Bobcats got a decent seed at 13 and were matched up against a flawed Michigan squad. Ohio was aggressive and had the more experienced lead guard in D.J. Cooper (vs. the heralded Trey Burke) against the Wolverines. The Bobcats then faced a 12-seed in South Florida that couldn't score and was playing its third game of the tournament. Now, Ohio is playing with house money. The Bobcats have zero pressure in reaching the Final Four. Sure, they are facing a North Carolina team that will likely be sans Marshall. But to expect Ohio to win two more and get to the Final Four would be unfair. Ohio has already made its mark with this Sweet 16 appearance and coach John Groce can likely write his own ticket to a higher-paying job in the Big Ten if he chooses to do so.
Ohio State (9): The Buckeyes would have been a 1-seed if they had beaten Michigan State in the Big Ten title game. Jared Sullinger is healthy again, and the personnel hasn't changed. The Buckeyes possess some of the top players at their respective positions in Aaron Craft (top on-ball defender), William Buford (elite shooter) and Deshaun Thomas (a tough matchup as a face-up forward). Ohio State drew an instate rival in Cincinnati. The Bearcats will muck up the game and challenge everything. The top part of the bracket would be just as difficult with either a lock-down defensive team in Wisconsin or an up-and-down transition squad with a pesky zone in top seed Syracuse. But the Orange don't have Fab Melo, so if you were to re-rank the East bracket, the Buckeyes would have to be the favorites. That puts more pressure on Ohio State, and with Sullinger possibly leaving for the NBA, the window to reach the Final Four is now.
Syracuse (9): The Orange were built for a Final Four run. No team had players coming off the bench like Dion Waiters, C.J. Fair and Michael Carter-Williams. Fair is starting now, but the overall depth is still impressive. Melo's ineligibility knocks the Orange down from a 10. The expectation was Final Four or bust since they started showing their dominance during the Big East season. Syracuse has tremendous versatility with Scoop Jardine, Brandon Triche and Kris Joseph all able to make key shots. The Orange weren't tested by Kansas State after surviving a scare from UNC Asheville. The expectation is that it should beat Wisconsin and play against Ohio State. Syracuse may not be projected to beat the Buckeyes in a possible Elite Eight matchup now, sans Melo, but the pressure is there to get to a Final Four with a group that won't be together next season.
Wisconsin (4): Bo Ryan has never reached the Final Four. But he has had better teams projected to go farther. This squad has improved more than any of the previous teams he's coached at Wisconsin. The Badgers lost three early-season home games, and that rattled their confidence. But it didn't take away their resolve. Wisconsin found its shooting stroke, maintained its defensive intensity and got star-level play out of a role player in Ryan Evans. Jordan Taylor is still the leader and will take -- and make -- the big shots. The Badgers were the more polished team in wins over Montana and Vanderbilt. The expectation to knock off Syracuse isn't high. But if that occurs, then a team they already beat -- Ohio State -- could be standing in their way. The Badgers' last Final Four appearance was in 2000. The fan base is hungry for another run, but it doesn't need one. Ryan would like one, but he knows this may not be his best shot. Still, it's plausible in the current bracket.
Xavier (3): The Musketeers may not have been here had it not been for an A-10 title game appearance. Xavier had to mount a season-long repair project to get to this point. And it worked. Coach Chris Mack deserves as much credit for this run as the criticism he took for the way he initially handled the post-brawl situation. He matured as a coach during the season, dealt with his own knee injury and clearly got his lead guards, notably Tu Holloway, to refocus on the task at hand. Xavier survived Notre Dame by playing smarter than the Irish. It showed more moxie than Lehigh in finishing with a strong kick. No one is expecting Xavier to make the Final Four, even those that projected the Musketeers to do so in November. But Baylor is beatable. Taking down Kentucky would be quite a feat. The pressure is low. Xavier has already exceeded the expectations of a team that once had Final Four aspirations but didn't play that way for most of the Atlantic 10 season. Now that it's two wins away, the pressure is even lower. Xavier has already done well to finish the season on a high.
February, 20, 2012
02/20/12
7:00
PM ET
Against rival North Carolina on Tuesday night, NC State will honor recently ejected alums Tom Gugliotta and Chris Corchiani as part of a celebration involving the 1988-89 Wolfpack team.
Suffice it to say, Karl Hess is not invited.
The official who tossed Gugliotta and Corchiani from Saturday's game against Florida State worked Sunday night's South Florida-Pitt game for the Big East and the ACC has no plans to discipline him, only zinging him for not following proper procedure during the ejection.
No one claims he doesn't have the right to eject the Wolfpack legends for criticizing him, but Hess was supposed to go to the game manager, not security. Whether or not Hess works another NC State game at the RBC Center this season no one may ever know, since game officials aren't announced in advance. So any change could be made without the public's or the school's knowledge.
Those involved in the bizarre incident say they have moved on, but not without unanswered questions.
NC State athletic director Debbie Yow and, more importantly, Corchiani and Gugliotta would like to know why they were ejected.
One former official told ESPN.com on Monday that this is a consistent failure of the current system. You can debate whether it was right or wrong to toss Corchiani and Gugliotta, but publicly stating a reason would certainly lessen the noise.
All Hess or at least the ACC had to say is that they were ejected for saying "blank." Instead, the answer is crickets.
"We think we did absolutely nothing wrong and we would love an explanation why we were asked to leave," Corchiani said Sunday night. "We think that's the least that we should have, whether we were ex-players or spectators. You would want to know why you were asked to leave. That's the least we should have at this point."
According to multiple sources, Hess lost his patience over the criticism as Florida State cruised past the Wolfpack.
A student had been yelling "You suck!" at Hess and the officiating crew. A few minutes after hearing this, Hess wanted the student ejected. Hess approached the sideline, according to multiple sources, and asked why the student hadn't been ejected. Hess was told that security didn't feel the student was threatening in any manner.
When Scott Wood was fouled, with the Pack down 18, Gugliotta stood up and, according to Corchiani, yelled, "'It's about time!' And that broke the camel's back."
Corchiani said neither he nor Gugliotta used profanity. He said the security official came over to them and said they had to leave.
"We didn't want to be a problem so we got up and left," Corchiani said.
He and Gugliotta, along with other members of the 1989 team, were called Sunday morning about being honored Tuesday. He said he wouldn't miss it.
Yow told ESPN.com that what occurred this weekend was embarrassing. Yow said she doesn't believe Hess knew what was said by Corchiani and Gugliotta. She is convinced that he was angry over the student not being ejected and says she has a report from the RBC Center, as well as from game security, that will back up the claim that Gugliotta and Corchiani did nothing more than question calls.
NC State officials are convinced that Hess wouldn't have thrown out a famous North Carolina or Duke alum. Of course, we will never know that to be true and that only plays into the inferiority complex that the Pack often get painted with in the Triangle, inside the shadow of their two rivals.
Nevertheless, Yow wants to have a face-to-face meeting with ACC coordinator of officials John Clougherty in the conference office in Greensboro. Yow wants an answer and is hoping she can get one in person.
She's not the only one.
"The more it's discussed, the more it bothers me," Corchiani said. "If you get pulled over by the police, the officer will tell you the reason. We got thrown out of the game, at least tell us why? We did absolutely nothing. We were on Hess and the other officials for six or seven calls, no different than what I've done the last 20 years in going to games as a fan."
November, 30, 2011
11/30/11
5:22
PM ET
Virginia got its must win Tuesday night against Michigan in the Big Ten/ACC Challenge. It may be the Cavaliers' only quality nonconference win this season.
No team that's playing Wednesday in the Big Ten/ACC Challenge is on equal footing with the must-win needs of Virginia.
But the winner of the Indiana-North Carolina State game certainly could gain momentum and be taken a bit more seriously. Yes, that statement was written about two programs that have been stuck in neutral for years.
[+] Enlarge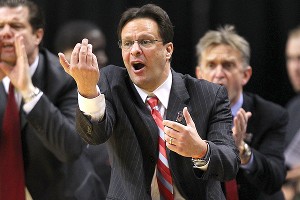 Michael Hickey/US PresswireTom Crean's Hoosiers are aiming for a 7-0 start to the season with a win in Raleigh against NC State on Wednesday.
But Indiana is starting to look as if it has turned the corner under coach Tom Crean, at least it looks as though that's the case early this season. The Hoosiers are winning games they should, including a victory over once-mighty Butler, which is going through a rebuilding process. They aren't having problems scoring and are defending well, limiting Gardner-Webb to 49 points and Butler to 59.
Indiana won at Evansville, so the Hoosiers have played on the road. They still get Kentucky at home and play a rivalry game against depleted Notre Dame in Conseco Fieldhouse. If Indiana beats NC State, there is a strong possibility the Hoosiers could go into the Big Ten season with just one loss, setting themselves up for a decent Big Ten record and joining the bubble teams for the NCAA tournament.
Too far ahead? Yes. But not unlikely in a conference that has plenty of beatable teams at the bottom (Iowa and Penn State) and a few middling teams (Minnesota and Nebraska). More importantly, the depth of the league will provide a chance for quality wins if Illinois, Northwestern and Purdue continue to play well and the top four -- Ohio State, Wisconsin, Michigan and Michigan State-- perform as expected. "For the first time, we have depth,'' said Indiana assistant Steve McClain from Raleigh, N.C., in advance of Wednesday's game against NC State. "Our veteran guys have improved. Victor [Oladipo] and Will [Sheehey] have made improvements from freshman to sophomore year and Cody [Zeller] gives us something in the middle for us that we haven't had. It's been a natural process.''
The Hoosiers have created a defensive identity, and they have had a variety of scorers. But this stretch will prove whether Indiana is to be taken seriously as a possible NCAA team.
"We'll see how they grow through this time,'' McClain said. "There's no question that these are going to be hard games. We've still got a long way to go. But this is a good stretch for us to show how we can continue to grow.''
NC State coach Mark Gottfried took over a program from Sidney Lowe that had talent. Lowe's recruiting was never an issue. C.J. Leslie was one of the top recruits in the country. And, after a three-game NCAA suspension, he has settled into being a leader on this team, averaging 16.7 points a game. Richard Howell, Lorenzo Brown, Scott Wood, DeShawn Painter, C.J. Williams and Alex Johnson are more than capable scorers.
This team is a bit wild and undisciplined at times, but it found a way to beat Texas after falling behind by 18 points in the second half in New Jersey, and it nearly upset Vanderbilt. The Wolfpack still have a daunting slate of games, including a road matchup at suddenly surging Stanford on Sunday. They also host No. 3 Syracuse on Dec. 17, visit a top-five A-10 team in St. Bonaventure in Rochester on Dec. 20 and host Northeastern -- which crushed St. John's -- on Dec. 22.
That's why winning this game against Indiana will be crucial to the overall growth, power rating and perception of the Wolfpack. "I like how we're scrapping,'' Gottfried said. "This is [Crean's] best team at Indiana. He's in his fourth year, but I'm in my fourth week of rebuilding.''
Gottfried hasn't started Leslie since his return, hoping to continue a message that he needs him off the bench and in line. And it's working for him.
"His attitude has been really good,'' Gottfried said. "He comes into the game and gives us a big lift. He told me that whatever we want, he's good.''
Wisconsin-North Carolina will get Wednesday's headline.
But Indiana-NC State is the most intriguing matchup of the day.
"This is a good opportunity for our team,'' Gottfried said. "We've got Stanford, Syracuse, St. Bonaventure and Northeastern coming up. We need to win some of them.''
September, 22, 2011
09/22/11
5:10
PM ET
The ACC's decision to add Pitt and Syracuse will undoubtedly strengthen men's basketball more than its last round of expansion (Boston College, Virginia Tech and Miami).
But it will create more controversy given how a potential 14-team league might be divided.
The Panthers and Orange may come in 2012 if they can buy their way out of the Big East's exit demands of 27 months and a $5 million departure fee. The Big East has publicly stated that it wants the two schools in for the duration and for BCS purposes it may need them to ensure that the league still has the necessary amount of teams. The ACC is in no rush to add Pitt and Syracuse, but those two schools would rather not go through more than one lame-duck season.
Nevertheless, there is already discussion about how the two will be incorporated into the ACC. Formal talks on the matter won't occur until the annual meetings later in the academic year. But if the league goes to divisions, or at the very least goes to a divisional-style scheduling format, there still might be at least one team in a difficult spot: Wake Forest.
Virginia Tech coach Seth Greenberg looks at the divisional setup along regional lines -- and it makes some sense. ACC associate commissioner Karl Hicks agrees, and he acknowledged that's the way it might turn out.
If that were to happen, the North would have to be Virginia Tech, Virginia, Maryland, Pitt, Syracuse, Boston College and one more team.
The South would be Georgia Tech, Clemson, Florida State and Miami, and then there are the three schools in the Research Triangle (Duke, UNC and NC State) that would likely demand to be in the same division together.
[+] Enlarge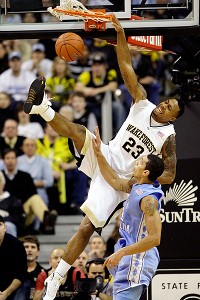 AP Photo/Chuck BurtonThroughout the years, Wake has savored its home games against powerhouses like North Carolina.
That leaves the Demon Deacons as the odd team out. Would Wake have to be put in the North, separated from its three in-state rivals?
The current 12-team divisional alignment in football isn't set up in a North-South split. Wake Forest is in the Atlantic and at least has NC State on its side with Maryland, Clemson, Florida State and Boston College. But the Demon Deacons' two in-state rivals that it would rather play more -- UNC and Duke -- are in the Coastal with Georgia Tech, Virginia Tech, Virginia and Miami.
Wake will make it clear that it doesn't want to be shipped away from the three other North Carolina schools if the league goes to two seven-team divisions. The Demon Deacons want in some form two games against the three in-state schools if there are divisions or if it's one 14-team league.
"If you do it North-South, then one North Carolina team has to be in the North,'' Wake Forest athletic director Ron Wellman said. "We want to play North Carolina more than we do. It's been four years since we played them at home in football, so we are interested in a concept where we play the North Carolina schools. That's a point of emphasis for us. As soon as we announce our schedule, our fans are disappointed that we don't play every North Carolina school in football or [twice in] basketball. Those rivalries were established before the league was in 1953.''
Wellman said when the ACC gets together next month, the topic of how to align a 14-team league will likely be discussed. Wake Forest is nearly two hours away from the Raleigh-Durham-Chapel Hill area, but Deacons fans clearly want to feel attached to the state's other ACC teams.
The other option for the conference would be to keep Wake Forest in the South and ship Miami to the North with the rationale that the Hurricanes would have to fly to every ACC school anyway due to its location (technically, the Hurricanes could drive to Tallahassee for FSU, but even that is a lengthy drive on a school night).
If the ACC were to go to 16 (which is the preferred number by Duke coach Mike Krzyzewski and North Carolina's Roy Williams, among others) and the additions were two more Big East schools (say, UConn and Rutgers), then geography naturally would put both in the North. That would be the easiest solution for the ACC, allowing Wake Forest to compete in the South.
Of course, there will be some other issues here, too. Maryland will demand that it still has its rivalry games with Duke and North Carolina. The Terps would still get to be paired with the two Virginia schools, but losing a Duke home game would seriously dampen the spirits in College Park.
In the end, Hicks said the league doesn't have to go to divisions.
"Ultimately, it will come down to a vote of the ADs and they'll decide what they'll want to do,'' Hicks said. "It will be hard to take those North Carolina schools and separate them. Rivalries and geography will be in play. The good news is that we have time to work through it. We do have permanent partners in our scheduling now. It's the same issue we have now in scheduling, but we added two more teams.''
• If Big 12 commissioner Dan Beebe is officially out of a job, then the NCAA tournament selection committee will have two of its 10 members not working while serving on the committee. The other is Jeff Hathaway, who was forced to retire at Connecticut as athletic director.
WAC commissioner Karl Benson, a former committee member, said that the personnel on the committee has always been overrated and that the committee will be fine since the system itself is all that really matters.
Hathaway's term as chair of the committee started on Sept. 1 (replacing the outgoing chair, Ohio State AD Gene Smith) and NCAA men's basketball tournament spokesperson David Worlock said there has been no change in his position. The same may be true of Beebe if he's officially out. The committee won't meet again until November, and the heart of their work doesn't really begin until January and February, anyway. Hathaway and Beebe certainly would have more time to focus on the national landscape.
The only issue that will be in play for the selection committee: Would Hathaway have to leave the room when UConn is discussed and would the same apply to Beebe when Big 12 teams are talked about, since neither would be employed by either entity?
The consensus from former committee members is that bringing in two more new members to go along with the two regularly scheduled new members to the committee wouldn't be prudent. No one wants to see a committee that has four of its 10 members doing the selections and seeding for the first time. So if Hathaway and Beebe both stay, then the only hiccup will be their role when the teams that they formerly served are being discussed.
September, 12, 2011
09/12/11
8:35
PM ET
North Carolina State hasn't been able to draw attention away from Duke and North Carolina in its backyard, let alone the ACC, since the vocal and theatrical Jim Valvano was on the sideline in Raleigh.
Sure, there were moderate success stories in the past two decades, maybe none more than Herb Sendek going to five straight NCAA tournaments. But Sendek was understated and a bit bland. Alum Sidney Lowe was a home run hire in name, but the results didn't pan out on the court.
So this spring, Mark Gottfried was tabbed to be the program's next coach, plucked from the ESPNU/ESPN studios and SEC game sites after two years out of the coaching business following his stint at his alma mater, Alabama. The Wolfpack were initially looking for the hot name, testing the waters with coaches such as Shaka Smart (VCU) and Chris Mack (Xavier).
It's hard to say what Smart or Mack would have done to get noticed, but neither would have probably gone to the extreme Gottfried is this weekend.
[+] Enlarge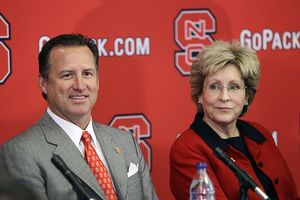 AP Photo/Gerry BroomeMark Gottfried, seen here with AD Debbie Yow, will take to the air for NC State on Saturday.
He's jumping out of an airplane.
The plan is for Gottfried to latch onto a trusted tandem jumper and land at the 50-yard line before kickoff of Wolfpack's home football game against South Alabama. The person who will be guiding Gottfried to land is the same man who helped former President George H.W. Bush jump on his 80th birthday.
"I figured if he could survive it, I could survive it,'' Gottfried said. "The No. 1 reason is to bring attention to our military, since it's military appreciation week. I want to say thank you to them. But we're also trying to get attention for NC State basketball.''
Would Duke's Mike Krzyzewski or North Carolina's Roy Williams do something like this?
"They don't have to,'' Gottfried said. "We're at a different point with our program. We have a long, long, long way to go, about as long as that fall out of the plane.''
Gottfried is afraid of heights, too.
"I'm the guy that when I went to the top of the Empire State Building, I hugged the interior wall,'' Gottfried said. "This will be interesting.''
Gottfried was on the road recruiting Monday. Thursday, he is supposed to have a 30-minute prep class on the jump. He said he has already signed a waiver to ensure that his wife won't sue if he perishes on the fall. He said his wife and children are OK with the jump, but his mother is nervous.
"My anxiety is pretty low, but it's Monday,'' Gottfried said. "By Saturday, it's going to be a little higher.''
NC State athletic director Debbie Yow said in a text, "I am worried about his safety … but he is not!''
Gottfried is doing plenty to get attention. The Wolfpack finished in 10th in the ACC last season (5-11, 15-16 overall) and don't have a squad ready to compete for a top-four finish in the league. But that didn't stop Gottfried from loading up the schedule.
He went for solid low-major programs (such as tournament teams Morehead State and Princeton), latched onto the Legends Classic (will play Vanderbilt and either Texas or Oregon State in the Meadowlands), drew upstart Indiana in the ACC-Big Ten Challenge, honored a return game with one of the Big East favorites Syracuse and has a cross-country road game at Stanford.
The most perplexing addition to the schedule was a road game at St. Bonaventure. The Bonnies, which a number of A-10 coaches have said will be sleepers in the league, have a hard time getting any major-conference team of note to come up their way. Well, here come the Pack on Dec. 20 at a "neutral-site" game in Rochester -- right when the weather should be Rockwellian in western New York.
NC State does get a bit of a lucky break in the ACC by playing Duke just once (on the road) and Florida State just once (at home). The Wolfpack always play a home-and-home with North Carolina.
"We've definitely amped up the schedule,'' Gottfried said. "We'll play anybody. This group finished 10th in the ACC and we were very aggressive with where we are.''
Gottfried said he has already decided he will put the ball in point guard Lorenzo Brown's hands from the outset of the season after Brown shared the position with Ryan Harrow last year (he's off to Kentucky). According to Gottfried, junior forward Richard Howell has seen his weight come down from 271 to 245 since the new staff arrived. And guard Scott Wood has been shooting the ball well, as usual. Then there's the extremely talented C.J. Leslie.
This team still has some players. And Gottfried said he feels as if he's close to picking up a breakthrough recruiting class for 2012 as he makes his rounds this week on the road. The Pack have a commitment from Oak Hill Academy (Va.) point guard Tyler Lewis (ranked eighth among point guards by ESPN.com) and are involved with a number of high-level players, according to ESPN's recruiting analysts.
"We're making a lot of progress,'' Gottfried said. "We're close.''