Category archive:

North Carolina Tar Heels
October, 4, 2012
10/04/12
11:19
AM ET
If anyone was wondering whether 15 schools could agree and get along in the new ACC, all they had to do was check the reaction to the new primary partners released Wednesday.
There was an unusual consensus. Every school was pleased.
The ACC had to adjust its scheduling format with the addition of Notre Dame, which could join anywhere from 2013 to 2015. The conference, committed to an 18-game schedule, had to lock in to two annual home-and-home series.
For a few schools, such as Virginia, there was nothing to ponder. The Cavaliers have two natural rivals in Virginia Tech and Maryland. Done.
"It makes sense geographically," UVa coach Tony Bennett said. "They've been our natural rivalries for years."
[+] Enlarge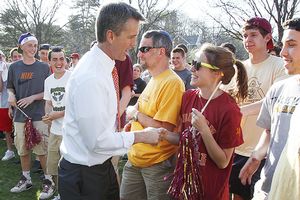 AP Photo/Michael DwyerCoach Steve Donahue believes BC's fans will be pumped to host old conference rivals Syracuse and Notre Dame each season.
Boston College landed two tough opponents, but the Eagles couldn't have been happier to get two schools that will help fill the usually staid Conte Forum. BC will play Notre Dame and Syracuse twice every season.
"It's great for our alumni and fans," Boston College coach Steve Donahue said. "I'm sure excited about it."
Understandbly, no school got both Duke and North Carolina. That would be too cruel, and it would be too hard to pull off with two other schools in the state in Wake Forest and NC State. The ACC had to balance the four schools, and it did.
Duke gets UNC and Wake Forest. NC State got UNC and Wake. Wake Forest got Duke and NC State. And of course that means Carolina got Duke and NC State, which based on the current trajectory of the four schools, is the toughest slate among the schools in North Carolina.
"I loved it," NC State coach Mark Gottfried said. "They got it right."
Wake Forest athletic director Ron Wellman, who is the 2014 chair of the men's basketball selection committee and understands the importance of getting quality teams on the schedule, said "playing two in-state rivals is the best scenario for us."
ACC associate commissioner Karl Hicks, who oversees basketball and scheduling in particular, said the majority of the matchups simply made sense.
The most intriguing issue was what to do with Notre Dame's second rivalry after Boston College. The Irish and Georgia Tech were paired up by process of elimination. Hicks said the schools have a rivalry in football, but not in basketball.
"Notre Dame has a lot of alumni in urban areas," Hicks said. "Maryland was a better fit with the partners they had [Pitt and Virginia]. Washington, D.C., would have been a good place [for Notre Dame], but Maryland's partners fit. Georgia Tech was the next one that made the most sense."
ND coach Mike Brey said it worked for him since he wanted to create new rivalries and, "I love Atlanta."
Tech coach Brian Gregory knew the Yellow Jackets would get Clemson as one rival and was overjoyed that the Irish were the other.
"I think it's great for us," Gregory said. "These are two great academic schools with great traditions. I think it will turn into a great rivalry."
Maryland coach Mark Turgeon said Pitt and Virginia are strong defensive teams which should provide four gritty games for the Terps every season. Pitt coach Jamie Dixon had no issue with Maryland and Syracuse as his school's natural rivals, saying that he expected as much based on geography.
The rest of the 14 games on the schedule will include two more home-and-home opponents (which will rotate every year) and five home and five road games that make up the other 10.
The other set partners are:
Clemson: Florida State and Georgia Tech
Florida State: Clemson and Miami
Miami: Florida State and Virginia Tech
Syracuse: Boston College and Pitt
Virginia Tech: Miami and Virginia
Hicks said the Miami-Virginia Tech series marries two former Big East rivals. Syracuse's two partners are also former Big East foes. Clemson and Florida State got natural regional rivals.
"I'm not bent out of shape one way or another," said Florida State's Leonard Hamilton, who added he wasn't against going to 20 league games. "I like the challenge night in and night out of 18 hard-nosed games."
What the two-team partner lists and the reaction proves is that a 16th team in men's basketball doesn't seem necessary. ACC commissioner John Swofford said the ACC isn't going to go to 16, and frankly, there's really no need.
March, 20, 2012
03/20/12
12:06
PM ET
A Sweet 16 appearance elevates a program to the next level.
A Final Four moves it up another notch.
The matchups usually make the difference in getting this far. Talent -- and star power -- also play big roles.
There is a certain level of pressure for all coaches and programs. For some, it's self-induced. For others, it comes from a passionate fan base. Some programs need to reach the Final Four for the season to be considered a success. Some do not.
With that being said, here is our Final Four pressure-meter (1 feels the least amount of pressure and 10 feels the most):
[+] Enlarge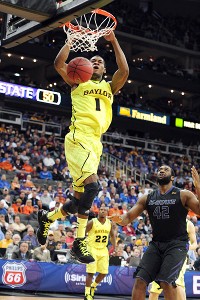 Peter G. Aiken/US PresswirePerry Jones' Bears have the talent to reach New Orleans, but they have a big hurdle to clear in the South Region.
Baylor (5): The men's team doesn't need to make a Final Four appearance. The women will take care of that, as they are the favorites to win the national title. But the men's team has the makeup to make this run a rare one. Few teams have length like the Bears do, and it's unlikely that Perry Jones III will stick around for a third season. The reason Baylor doesn't have as much pressure to reach the Final Four, even though it has the personnel to make it to New Orleans, is the bracket it's in. Kentucky could stand in the way of Baylor's potential first men's Final Four appearance. The Wildcats are the clear favorites, so expecting the Bears to advance to the Final Four from the South wouldn't be fair.
Cincinnati (3): Cincinnati has survived suspensions and a bumpy ride in the Big East. The Bearcats thrived at the end of the season and reached the conference title game. Mick Cronin and this crew have exceeded expectations by reaching the Sweet 16. Playing one of the favorites in Ohio State takes more pressure off the Bearcats. This ride now is all about extra credit for Cronin and Co.
Florida (4): The Gators won two national titles in consecutive seasons. It will be hard for any program to duplicate that -- ever again. Keeping a team together like the '04 class for the '06 and '07 titles will be extremely difficult to match unless the NBA draft rules change again. The Gators had an easier road to the Sweet 16 thanks to a depleted Virginia team and playing Norfolk State, which exhausted itself with the stunning upset over Missouri. But the Gators don't need to get to the Final Four. If Florida does reach New Orleans with this flawed group and its suspect inside game, it would be quite a feat. The Gators are the lowest remaining seed in the West, too. Expecting them to get past Marquette and possibly top seed Michigan State would be a bit much.
Indiana (3): Tom Crean has turned the corner in Bloomington. There was legitimate reason to be concerned last season. But Crean recruited exceptionally well, getting a star in Cody Zeller, and he got his players to believe they could win big-time games. The victory over Kentucky will resonate for some time. Reaching the Sweet 16 gives Crean even more credibility and respect in the state. However, for this team to get past Kentucky would be asking too much. No one should expect a win over the Wildcats again. To advance to the Elite Eight and the Final Four would be sensational accomplishments. Even though the fan base expects greatness, Indiana has already exceeded any expectations by getting this far.
Louisville (5): The Cardinals are the "pro" team in town. And like Kentucky, the expectations include Final Four appearances. But Louisville has gone through a slew of injuries, and there was no reason to believe it could maintain a high level of play throughout the season. Still, the Cards survived to reach the Sweet 16 and face top-seeded Michigan State. The most pressure may be felt in trying to keep up with rival Kentucky. The expectation is that the Wildcats will be in the Final Four, so why not join them and create even more frenzy in a hoops-crazed state?
Kansas (9): The Jayhawks have two of the top players at their positions in Thomas Robinson and Tyshawn Taylor. Kansas expects to compete for conference and national titles, regardless of personnel, every season. And while Bill Self had to deal with rotation players not being eligible, including top newcomer Ben McLemore, the Jayhawks still won the Big 12 regular-season title for the eighth straight time. Kansas survived against Purdue, but had it not been for a guard meltdown the Jayhawks may be idle right now. Instead, they have new life in the Midwest, thanks to NC State's Sweet 16 run and North Carolina potentially being without Kendall Marshall in the Elite Eight (if the Tar Heels get past Ohio). The pressure has ratcheted up for the Jayhawks. If Marshall is out for this weekend in St. Louis, the Jayhawks are the new favorites in the Midwest.
[+] Enlarge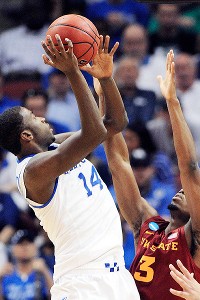 Jamie Rhodes/US PresswireAs the favorite to win the title, Michael Kidd-Gilchrist and Kentucky have to feel the pressure.
Kentucky (10): The Wildcats are the front-runners to win the national title, not just get to the Final Four. Let's be honest, anything less than a title would be a disappointment. No team in the Sweet 16 has as much pressure to get to the Final Four as Kentucky. The Wildcats have the most talent, the national player of the year in Anthony Davis, and plenty of other pro talent on the roster (Michael Kidd-Gilchrist, Terrence Jones and Doron Lamb). Darius Miller also played in the Final Four last season. John Calipari has coached in three Final Fours. The Wildcats are playing a team that handed them their only regular-season loss. A possible matchup with Baylor is more than formidable. The Bears can match Kentucky's length and shooting, but Baylor's defense has never been its strong suit. The region still lays out well for Kentucky in SEC-rich Catlanta.
Marquette (6): The Golden Eagles play as hard, if not harder, than any other team in the field. Marquette's beat down of BYU in the second half and its ability to run past Murray State late were quite impressive. Now, the Eagles get a Florida team that it matches up well with since they can defend the 3-point shot. Marquette should be the favorite in this game and has the personnel and the toughness to beat Michigan State or Louisville. A Final Four isn't expected with this group, but now the bracket has opened up a bit with Missouri gone. A loss in the Elite Eight makes more sense, but there is some pressure for Marquette to advance with Jae Crowder and Darius Johnson-Odom leading the way. The Eagles have been to a Final Four with Dwyane Wade under Crean. A berth for Buzz Williams would raise his coaching profile.
Michigan State (8): The Spartans lost one of their key rotation players in Branden Dawson in the final regular-season game against Ohio State. But they won the Big Ten tournament title without him and earned a No. 1 seed in the NCAAs. Draymond Green has been the most valuable player so far in the NCAA tournament and has a legit shot to lead the Spartans to another Final Four. Michigan State expects Final Fours under Tom Izzo, but this team certainly didn't look the part early in the season. It has matured into a title contender. And while the bracket is filled with potential hurdles, the Spartans have the pressure of being a top seed and the expectation of a Final Four appearance.
North Carolina (8): The Tar Heels would have had a 10 in this spot if Marshall didn't fracture his wrist against Creighton and have surgery on Monday. Now, the pressure of reaching the Final Four has dropped a few spots. North Carolina was as healthy as it had been in weeks at the start of the game with the Bluejays. But the Marshall injury makes the Tar Heels extremely vulnerable. Ohio is capable of pulling off another upset. And if the Tar Heels get past Ohio, a revenge-minded NC State team or title-contending Kansas awaits. The Tar Heels were built to win a title. That's why Harrison Barnes didn't opt for the NBA. Tyler Zeller had opportunities, as well. The roster is deep enough to absorb injuries to Leslie McDonald and Dexter Strickland. Let's see if it can take its worst hit and survive without Marshall or having him only on a limited basis. The expectations for a Final Four may have dropped outside of Chapel Hill, but it hasn't inside the Dean Smith Center. Carolina should expect to be in the Final Four yet again. It's just tougher with Marshall's injury and Kansas potentially looming.
NC State (2): The Wolfpack have far exceeded expectations under Mark Gottfried. NC State was the last team revealed on Selection Sunday. It had to be one of the last teams in the field prior to the four at-large teams that played in the First Four. NC State lost a 19-point lead at Duke, and the Wolfpack couldn't close out UNC in the ACC tournament. But they grinded out wins over San Diego State and Georgetown in their first two games of the tournament. This program has had low expectations for years. The Final Four would be gravy on what has already been deemed a highly successful season. The Wolfpack draw Kansas and if they somehow get past KU (not improbable), they could face a rematch with UNC. One can only imagine the scene in Raleigh if NC State, and not UNC, made the Final Four.
[+] Enlarge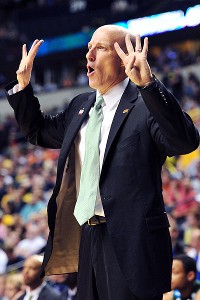 Don McPeak/US PresswireOhio coach John Groce could be walking into a difficult situation if he leaves for Illinois.
Ohio (1): The Bobcats are one of the tournament's great stories. Ohio played one of the more dramatic conference tournament title games when it knocked off Akron in thrilling fashion. The Bobcats got a decent seed at 13 and were matched up against a flawed Michigan squad. Ohio was aggressive and had the more experienced lead guard in D.J. Cooper (vs. the heralded Trey Burke) against the Wolverines. The Bobcats then faced a 12-seed in South Florida that couldn't score and was playing its third game of the tournament. Now, Ohio is playing with house money. The Bobcats have zero pressure in reaching the Final Four. Sure, they are facing a North Carolina team that will likely be sans Marshall. But to expect Ohio to win two more and get to the Final Four would be unfair. Ohio has already made its mark with this Sweet 16 appearance and coach John Groce can likely write his own ticket to a higher-paying job in the Big Ten if he chooses to do so.
Ohio State (9): The Buckeyes would have been a 1-seed if they had beaten Michigan State in the Big Ten title game. Jared Sullinger is healthy again, and the personnel hasn't changed. The Buckeyes possess some of the top players at their respective positions in Aaron Craft (top on-ball defender), William Buford (elite shooter) and Deshaun Thomas (a tough matchup as a face-up forward). Ohio State drew an instate rival in Cincinnati. The Bearcats will muck up the game and challenge everything. The top part of the bracket would be just as difficult with either a lock-down defensive team in Wisconsin or an up-and-down transition squad with a pesky zone in top seed Syracuse. But the Orange don't have Fab Melo, so if you were to re-rank the East bracket, the Buckeyes would have to be the favorites. That puts more pressure on Ohio State, and with Sullinger possibly leaving for the NBA, the window to reach the Final Four is now.
Syracuse (9): The Orange were built for a Final Four run. No team had players coming off the bench like Dion Waiters, C.J. Fair and Michael Carter-Williams. Fair is starting now, but the overall depth is still impressive. Melo's ineligibility knocks the Orange down from a 10. The expectation was Final Four or bust since they started showing their dominance during the Big East season. Syracuse has tremendous versatility with Scoop Jardine, Brandon Triche and Kris Joseph all able to make key shots. The Orange weren't tested by Kansas State after surviving a scare from UNC Asheville. The expectation is that it should beat Wisconsin and play against Ohio State. Syracuse may not be projected to beat the Buckeyes in a possible Elite Eight matchup now, sans Melo, but the pressure is there to get to a Final Four with a group that won't be together next season.
Wisconsin (4): Bo Ryan has never reached the Final Four. But he has had better teams projected to go farther. This squad has improved more than any of the previous teams he's coached at Wisconsin. The Badgers lost three early-season home games, and that rattled their confidence. But it didn't take away their resolve. Wisconsin found its shooting stroke, maintained its defensive intensity and got star-level play out of a role player in Ryan Evans. Jordan Taylor is still the leader and will take -- and make -- the big shots. The Badgers were the more polished team in wins over Montana and Vanderbilt. The expectation to knock off Syracuse isn't high. But if that occurs, then a team they already beat -- Ohio State -- could be standing in their way. The Badgers' last Final Four appearance was in 2000. The fan base is hungry for another run, but it doesn't need one. Ryan would like one, but he knows this may not be his best shot. Still, it's plausible in the current bracket.
Xavier (3): The Musketeers may not have been here had it not been for an A-10 title game appearance. Xavier had to mount a season-long repair project to get to this point. And it worked. Coach Chris Mack deserves as much credit for this run as the criticism he took for the way he initially handled the post-brawl situation. He matured as a coach during the season, dealt with his own knee injury and clearly got his lead guards, notably Tu Holloway, to refocus on the task at hand. Xavier survived Notre Dame by playing smarter than the Irish. It showed more moxie than Lehigh in finishing with a strong kick. No one is expecting Xavier to make the Final Four, even those that projected the Musketeers to do so in November. But Baylor is beatable. Taking down Kentucky would be quite a feat. The pressure is low. Xavier has already exceeded the expectations of a team that once had Final Four aspirations but didn't play that way for most of the Atlantic 10 season. Now that it's two wins away, the pressure is even lower. Xavier has already done well to finish the season on a high.
January, 17, 2012
01/17/12
1:29
PM ET
College basketball could use a Heisman-like award, one main honor instead of the five mainstream national awards.
The problem is that finding a consensus for the Wooden, Naismith, AP, Rupp and Oscar Robertson honors is no easy task.
The awards voters do tend to coalesce behind one candidate. And maybe that will be the case again.
But it seems that this season's race will be as wide open as ever. If you need more evidence, take a look at the 25 finalists for the Wooden Award, released on ESPNU and ESPN.com on Tuesday.
It appears that the only two players who are consensus candidates are Kansas' Thomas Robinson and Creighton's Doug McDermott. It's not a reach to say these two players are the favorites in mid-January, a stunning development considering how much preseason hype Ohio State's Jared Sullinger and North Carolina's Harrison Barnes received. The amazing part thus far is that I don't believe Sullinger nor Barnes would be a first-team All-American if the voting were conducted today.
Before we get to the list of players compiled by the Wooden folks, it's important to note that these are simply the 25 players who they felt should be honored on their midseason list. Players who do not show up are still very much eligible to win the Wooden Award at the end of the season and will be given equal consideration.
So players who have legitimate claims to being on this list -- Maryland's Terrell Stoglin and Seton Hall teammates Herb Pope and Jordan Theodore come to mind -- still have a shot.
So without further ado, here are the 25 Wooden finalists (in alphabetical order):
Harrison Barnes, 6-foot-8, So., F, North Carolina Stat line: 16.8 ppg, 4.8 rpg
Chances: Fading. Still has a shot to be a second-team All-American. Barnes hasn't been the dominating player on the Tar Heels. To be fair, he has some of the best talent in the country (John Henson, Tyler Zeller and Kendall Marshall) surrounding him. UNC's 33-point loss to Florida State didn't help his case, either.
Will Barton, 6-6, So., F, Memphis Stat line: 18.2 ppg, 9.0 rpg
Chances: No shot. He could be the Conference USA Player of the Year, though. Barton has greatly improved and has been the most consistent player during the Tigers' inconsistent season.
William Buford, 6-6, Sr., G, Ohio State Stat line: 15.2 ppg, 4.6 rpg
Chances: No shot. Buford won't win Big Ten POY, either. He has been OSU's best perimeter threat, but he won't be a first-team All-American. Buford might not even be first-team All-Big Ten. He is an integral part of the Buckeyes' title hopes, but is not a POY contender.
Anthony Davis, 6-10, Fr., C, Kentucky Stat line: 13.1 ppg, 10.2 rpg, 4.6 bpg
Chances: High. Davis has been the most dominant post player in the country. He blocked a last-second shot by North Carolina's John Henson in December, preventing the Tar Heels from winning a game at Rupp. He alters and changes more shots than any other player. If the Wildcats win the national title, Davis will be one of the reasons why. He would be ahead of Ohio State's Jared Sullinger on the All-America ballot if you had to choose one of them.
Marcus Denmon, 6-3, Sr., G, Missouri Stat line: 17.8 ppg, 5.5 rpg
Chances: Not great. Denmon is the leading scorer for Mizzou. But it's hard to separate him from Kim English, Ricardo Ratliffe, Michael Dixon and Flip Pressey in his importance to the Tigers. They all have played an equal role in Missouri's impressive start. It will be interesting to see which of these players earns first-team All-Big 12.
Draymond Green, 6-7, Sr., F, Michigan State Stat line: 15.8 ppg, 10.1 rpg
Chances: In the mix. If he continues his current pace of scoring and rebounding, Green could end up nudging out Sullinger for Big Ten Player of the Year. The Spartans did lose at Northwestern on Saturday, but Green has been a tremendous leader. He will stay in the chase for a first-team All-American spot if his team stays in the race for the Big Ten title.
John Henson, 6-11, Jr., C, North Carolina Stat line: 14.4 ppg, 9.7 rpg
Chances: No shot. Henson didn't convert the biggest shot of his season against Kentucky. Davis blocked it. And if Barnes isn't the national player of the year, Henson isn't either. The 33-point loss to Florida State will haunt all Tar Heels candidates.
John Jenkins, 6-4, Jr., G, Vanderbilt Stat line: 19.8 ppg, 2.8 rpg
Chances: No shot. Jenkins is a superb shooter and scorer and is leading the revitalized Commodores. But his role isn't more important than Jeffery Taylor, Brad Tinsley or Festus Ezeli -- it is equally important. The 'Dores mid-nonconference slide hurts Jenkins' campaign. The success of the Kentucky freshmen also makes it almost impossible for Jenkins to get SEC Player of the Year.
Orlando Johnson, 6-5, Sr., G, UCSB Stat line: 20.2 ppg, 6.4 rpg
Chances: No shot. Johnson is having a stellar season for the Gauchos, and he may be one of the higher draft picks on this list. But the Gauchos are 8-6 and are trailing Long Beach State in the Big West. Johnson should be an All-American, but he won't make the first team.
Darius Johnson-Odom, 6-2, Sr., G, Marquette Stat line: 18.2 ppg, 3.3 rpg
Chances: No shot. DJO has had a superb season for the Golden Eagles. He has a legit shot at Big East Player of the Year. But that won't be enough to get a first-team All-American spot or the national POY. Marquette has been decent, but not great enough for DJO to stand out on that pedestal.
Kevin Jones, 6-8, Sr., F, West Virginia Stat line: 20.6 ppg, 11.1 rpg
Chances: Decent. Jones has put it all together as a senior and has put up just a monster season for the Mountaineers. Just seems like it's double-double after double-double for Jones, who will need to keep the Mountaineers in the top 3 of the Big East in order to stay in Wooden contention.
Perry Jones III, 6-11, So., C, Baylor Stat line: 14.2 ppg, 7.5 rpg
Chances: No shot at player of the year, but he is in the hunt for a first-team All-American slot. The problem for Jones' candidacy is that Quincy Acy has been a comparable inside scorer and guard Pierre Jackson has been an integral member of this team. Jones didn't help his case when he and the Bears were dominated by Kansas' Thomas Robinson in a loss on Monday night. But he can't win national POY if he isn't the Big 12 Player of the Year. And Robinson is the favorite for that honor.
Kris Joseph, 6-7, Sr., F, Syracuse Stat line: 13.7 ppg, 4.6 rpg
Chances: No shot. Joseph is leading the Orange, but this team is so deep, so talented and so balanced that you would have a hard time picking just him. Dion Waiters may be Syracuse's MVP. A number of other players have taken turns being the star for the Orange, too.
Michael Kidd-Gilchrist, 6-7, Fr., F, Kentucky Stat line: 13.4 ppg, 7.7 rpg, 49.4 FG percentage
Chances: Solid. Kidd-Gilchrist could be the SEC Player of the Year. And if he gets that honor, he'll be in contention for the national POY. Kidd-Gilchrist took a few games to get going, but once he did he was an offensive force. He has delivered on his talent and effort.
Jeremy Lamb, 6-5, So., G, Connecticut Stat line: 17.9 ppg, 4.2 rpg
Chances: No shot. Lamb is leading the Huskies in scoring. But UConn is still finding its way in the Big East. The Huskies haven't featured Lamb as much, either. Andre Drummond may end up being the team's featured scorer by season's end. Lamb isn't the Big East Player of the Year right now, so he isn't winning the national honor.
Damian Lillard, 6-3, Jr., G, Weber State Stat line: 25.5 ppg, 5.8 rpg, 3.5 apg
Chances: He won't win national POY, but he should be in contention for second-team All-American honors. Lillard is having a stellar season for the Wildcats, who are in first place in the Big Sky. He leads the nation in scoring and his stat line is as good as any in the country. The problem is that Weber has been in obscurity so far this season. Lillard will likely not be seen by the masses until March.
Doug McDermott, 6-7, So., F, Creighton Stat line: 24.3 ppg, 8.5 rpg, 62.1 FG
Chances: High. McDermott has been one of the most complete players in the country and is a first-team All-American, at the very least. He could be this season's Jimmer Fredette, coming from outside a power six conference to win the national player of the year honor. McDermott has led the Bluejays to the top of the Missouri Valley and into the Top 25. He is the focus of every opposing defense, too.
Scott Machado, 6-1, Sr., G, Iona Stat line: 13.1 ppg, 4.7 rpg, 10.3 apg
Chances: Not happening for POY, but he's in the hunt as a first-team All-American. Machado has been the most dominant point guard this season and easily leads the country in assists. Iona has played a decent schedule and is the team to beat in the MAAC. Few teams will want to face the Gaels in March, and Machado is one of the key reasons why.
Kendall Marshall, 6-4, So., G, North Carolina Stat line: 5.8 ppg, 9.6 apg
Chances: No shot. Marshall is a key for the Tar Heels. He hasn't been the best point guard in the country, but has been a solid contributor this season and does rank second behind Machado in assists. But that isn't enough to win the award or be a first-team candidate.
Mike Moser, 6-8, So., F, UNLV Stat line: 13.9 ppg, 11.2 rpg
Chances: No shot. But Moser has to be in contention for a first- or second-team All-American spot. His rebounding has been epic (especially against North Carolina). Moser and fellow UCLA transfer Chace Stanback have been the major reasons the Runnin' Rebels are ranked and in contention for the MWC title.
Arnett Moultrie, 6-11, Jr., C, Mississippi State Stat line: 16.5 ppg, 10.9 rpg, 0.9 bpg
Chances: Not good for POY, but he's a serious candidate for first-team All-American. Outside of Moser, Moultrie has had the most impact of any transfer. He has increased MSU's chances of being a serious threat to Kentucky in the SEC. Moultrie is a double-double machine for coach Rick Stansbury and has allowed the Bulldogs to avoid relying only on Renardo Sidney.
Thomas Robinson, 6-9, Jr., F, Kansas Stat line: 17.8 ppg, 12.3 rpg
Chances: High. Robinson is the POY favorite at this juncture. He should be a consensus first-team All-American. He has had to take on immense responsibility with the departure of the Morris twins and has responded without a hitch. He carries the weight of the incredible burden of losing his mother during last season. And yet he is as focused as ever in 2011-12. Robinson dominated in the rout over Baylor on Monday night with 27 points and 14 rebounds.
Mike Scott, 6-8, Sr., F, Virginia Stat line: 16.9 ppg, 8.9 rpg
Chances: He has no shot for national POY, but Scott is one of the favorites for ACC Player of the Year. He has been the most consistent big man in the league. Take Scott off the Cavs, and they don't come close to the top of the league standings. But Virginia did lose at Duke and also fell to TCU. Scott will have to keep the Cavs in the ACC's top three to have a chance at the league's POY.
Jared Sullinger, 6-9, So., F, Ohio State Stat line: 17.3 ppg, 9.3 rpg
Chances: Still strong. Sullinger has been battling injuries (back, foot) and missed the road game at Kansas in December. That's part of the reason he is not the favorite right now. Sullinger still has plenty of time to be a first-team All-American and the Big Ten Player of the Year. But it would help if he had some dominating performances down the stretch.
Cody Zeller, 6-11, Fr., C, Indiana Stat line: 14.8 ppg, 6.4 rpg, 1.4 bpg
Chances: No shot. But Zeller is in the chase for Big Ten Player of the Year. At the very least, he'll be the Big Ten Rookie of the Year. It's amazing that he's on this list and his older brother Tyler (a senior at North Carolina) is not. Cody has helped transform Indiana into a national player, but the Hoosiers' recent two-game skid does take his chances for Big Ten POY down a peg.
My midseason All-America team choices: First team: Robinson, McDermott, Davis, Moultrie, Machado Second team: Kidd-Gilchrist, Sullinger, Green, K. Jones, C. Zeller
December, 2, 2011
12/02/11
8:07
AM ET
Editor's Note: To watch Katz's interview with Anthony Davis and Terrence Jones, visit the Nation blog.
John Calipari has had brute strength in the post at Kentucky with DeMarcus Cousins and Patrick Patterson.
[+] Enlarge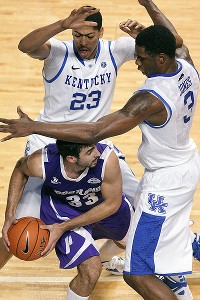 Jeff Moreland/Icon SMIUK's Anthony Davis and Terrence Jones form a uniquely talented frontcourt. The pair combined for 41 points, 24 rebounds and 12 blocks in a win over St. John's.
He's also had a rugged overachiever in Josh Harrellson, playing alongside an enigmatic Terrence Jones at forward.
But he's never had a tandem quite like he does this season with Anthony Davis and Jones, certainly not at Memphis and maybe not since he took UMass to the 1996 Final Four with Marcus Camby and Donta Bright. This pairing should dwarf that tandem in terms of overall talent. Davis has that much potential, maybe more so than Camby.
Davis offers a multitude of skills for the Wildcats with his ability to block shots, run the floor, score in the low post and face up to the basket.
Jones is the perfect complement as a college power forward that can score in a variety of ways and be the body man inside if Davis has difficulty handling the physical play.
Davis was a late-bloomer coming out of high school in the Chicago area. He's now being discussed as a potential No. 1 pick in the 2012 NBA draft. Jones thought he was a one-and-done player last season. He declared for the draft and was likely to remain in it before being humbled at a Kentucky pro day in Lexington. Calipari had NBA personnel get in Jones' ear and let him know that he wasn't going to be a top-five pick. He returned to the Wildcats, joining Davis to form one of the best frontcourts in the country.
"We just have a chemistry and we trust one another," Jones said of his partnership with Davis.
"Even in practice, we have good communication," Davis said.
No. 5 North Carolina, top-ranked Kentucky's opponent Saturday, will pose the toughest test for Davis and Jones. For the first time, Davis will have to go against a player similar to him in size, length and body type in John Henson, and to a lesser extent Tyler Zeller.
Jones will have his hands full trying to guard Harrison Barnes. That means someone else in the Wildcats' frontcourt, such as Darius Miller or Eloy Vargas, will need to provide meaningful minutes or even a few more fouls to deal with the Tar Heels' length.
"They've got a wealth of ability," said Old Dominion coach Blaine Taylor, whose Monarchs lost to Kentucky 62-52 on Nov. 20. "They make a living on their talent of overwhelming people. But my guys played toe-to-toe with them because we were physical. They'll react better to Carolina than to us because Carolina can match their length. Davis is dang long. He can pick your pocket from across the street. He's not as long as Henson but he's that kind of guy around the basket."
Taylor said that Kentucky isn't a great defensive team. But Davis certainly is a game-changer. Davis scored 15 points, corralled 15 boards and had eight of a school-record 18 blocks in a convincing 81-59 SEC-Big East Challenge win Thursday night over St. John's at Rupp Arena, while Jones added 26 points and nine boards. Davis is averaging 13 points, 9.1 rebounds and 4.9 blocks in 26.6 minutes through the season's first seven games; Jones is averaging 15.1 points and 7.6 rebounds in 30 minutes.
[+] Enlarge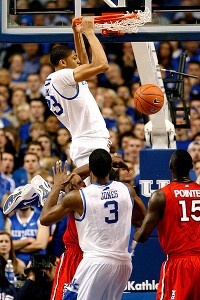 Mark Zerof/US PresswireDavis will face an opponent with similar size and a similar skill set in UNC's John Henson on Saturday.
Taylor said Davis' ability to block and alter shots may be neutralized against North Carolina due to the Tar Heels' length.
"The pair of them will have to be more creative," Taylor said. "Davis didn't play well against us and didn't cast the long shadow over the game. He's vulnerable to physical play. Jones is a bit of a prima donna. One of them is salt and pepper and the other is meat and potatoes. They're not a carbon copy of each other at all. Both can step away from the basket, though. [Davis] was the more efficient player. Jones does a lot of flashy stuff, spinning and chest bumping."
For his part, Calipari doesn't find it necessary to massage the egos of Davis and Jones. They play different positions and aren't going to replace each other on the court. And they both will play as much as possible.
"They both accept each other," Calipari said. "One kid is a little more physical. The other one is longer. They zig and they zag."
And that's why the Wildcats have been so successful early in the season. This team has the star talent of previous Calipari teams at Kentucky, but the contrasts between Davis and Jones allow roles on the team to be more easily defined.
Davis and Jones are the perfect pair for this Kentucky team. Jones provides strength, Davis length. Both can be productive in their own way and offer difficult matchups for opposing teams.
"They're really good together," Miller, a senior, said two weeks ago. "They are still learning how to work together. But so far, early in the season, they're doing a great job playing with each other. They're doing what's best for our team. Anthony isn't the power player. He's blocking shots above the rim. He can go get it. T-Jones is posting well. He's a matchup problem. And he's aggressive to get around bigger players."
November, 25, 2011
11/25/11
1:19
PM ET
The past three weeks have been quite a whirlwind.
I've seen 20 teams in a number of venues on both coasts.
So after a thankful day to be with my family -- and a big thanks to all my tremendous colleagues who grind every day on our editorial operation on ESPN.com and on both sides of the camera on ESPN -- here's a look at what I've picked up on after two weeks on the road. And remember, this only includes games I've seen in person.
[+] Enlarge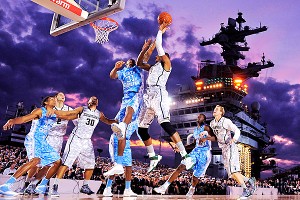 AP Photo/Mark J. TerrillIt doesn't get much more scenic than what we witnessed at the Carrier Classic.
Best venue: It was natural to be skeptical about whether or not the Carrier Classic could be pulled off. But it far exceeded my expectations. The Navy did what it does best -- tremendous organization. The enormity of the USS Carl Vinson was awe-inspiring. The men and women who serve on the ship, as well as the ship's leadership, couldn't have been more welcoming. They were so grateful to have a chance to show what they do on a daily basis. The two teams -- North Carolina and Michigan State -- were model guests and displayed tremendous appreciation. The pageantry of the event, from the patriotic opening to the scenic view of downtown San Diego, will be hard to ever duplicate due to the uniqueness of 11-11-11 and the inaugural nature of the game. And the outdoor game may have seemed like a gimmick, but it was well-played in spurts for being the season opener for both teams.
Best team: North Carolina. The Tar Heels have lived up to the hype as the No. 1 team in the country. They have flaws, especially their perimeter depth. But the overall length of the frontcourt, the ability to get out on the break and the potential to hit scoring spurts and run out on teams is impressive. The Heels have three players -- Harrison Barnes, Tyler Zeller and Kendall Marshall -- who will compete for the ACC POY and two others -- John Henson and James Michael McAdoo -- who will be tough to defend.
Signature moment: When Duke coach Mike Krzyzewski won game No. 903 against Michigan State, passed his mentor Bob Knight and became the all-time winningest men's coach in NCAA history. The impromptu embrace by Coach K and Knight was met by a swarm of photographers and a rare teary eye from Coach K. The moment was genuine, real and showed the true emotion of such an arduous task of grinding out wins in this sport for three-plus decades.
Most impressive half: Kentucky's complete domination of Penn State in the first half at the Mohegan Sun Arena. The Wildcats made it look like it was a guarantee game with an opponent from a weak Division II conference. To Penn State's credit, the Nittany Lions did respond the next day and beat South Florida. But Kentucky showed on this day that it had more offensive versatility with the emergence of Doron Lamb and Kyle Wiltjer.
Most dominating performance: Jared Cunningham, Oregon State. Cunningham went off for 37 points in an overtime win over Texas in the Legends Classic. Cunningham was a highlight reel a year ago but has settled down, working on his game and finding ways to score in a variety of ways. Hofstra coach Mo Cassara said he was the best guard they've gone against in quite some time after Cunningham lit up the Pride for 35 in Corvallis prior to the Texas game. Cunningham is a legit Pac-12 Player of the Year candidate.
Best sub: Syracuse's Dion Waiters. Waiters jump-started the Orange with 11 points off the bench in the comeback win over Virginia Tech in the NIT Season Tip-Off semifinal. Waiters is a game-changer when he's on the floor. He gives Syracuse a different look because of his ability to get into the lane quicker than Scoop Jardine. He's not as refined as Jardine and can be hit or miss, but when he's on he gives the Orange a different look.
[+] Enlarge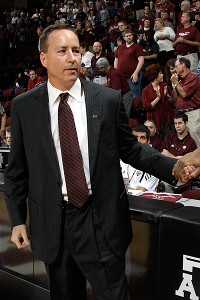 AP Photo/David J. PhillipTexas A&M's Billy Kennedy was diagnosed with Parkinson's disease before the start of the season.
Most courageous: Texas A&M coach Billy Kennedy and St. John's coach Steve Lavin. Kennedy is trying to come back from a series of health setbacks, most notably being diagnosed with Parkinson's disease. He went through incredible fatigue over a five-week stretch that weakened him and it doesn't help that he has bone spurs in his shoulder. The first-year A&M coach is beat up, but is making a comeback one step at a time. He's an inspiration and a model of perseverance.
Lavin, meanwhile, is returning from prostate cancer surgery that was more extensive than most. He had a seven-hour procedure to take out his prostate and also scrape other lymph nodes to ensure that the cancer was all gone. He said he is cancer-free, but is still working his way back from the exhausting surgery. Lavin has to manage his energy and that's why he was able to coach in the Garden for two days in a row but then needed to take a day off from the rigors of coaching earlier this week.
Biggest surprise: Stanford's blowout win over Oklahoma State. The Cowboys were obviously a bit distracted on Wednesday. Oklahoma State coach Travis Ford, who has been crushed by the horrific plane crash that cost the lives of women's coaches Kurt Budke and Miranda Serna, said there were no excuses. And there is this: Stanford was that good. Josh Owens scored 21 points and is, like Cunningham, a Pac-12 POY candidate. I'm not sure Stanford can continue this early-season success, but the Cardinal certainly have the look of an upper-division Pac-12 team.
Two to single out: Over the past three weeks, I took notice of two players who continue to exhibit maturity and professionalism in the way they handle themselves with the media and the respect they have for those older than them. Texas freshman Myck Kabongo has a tremendous presence about him. So too does Michigan State senior Draymond Green. You sense that both of these young men will be stars in whatever they choose to do going forward.
Player only scratching the surface: Kentucky's Anthony Davis will be a star by season's end with his ability to control the paint. He is such an immense talent with his length and game-changing shot-blocking. His offense will only continue to diversify.
Most important wins: Vanderbilt beating NC State and Oregon State in the closing moments. The Commodores found ways to win the Legends Classic with key defensive stops and timely shooting at the IZOD Center. The Wolfpack and Beavers are vastly improved from a year ago, but the Dores had to win these games to shed the sour taste of getting beat up by Cleveland State at home. Vandy will get big man Festus Ezeli back in a few weeks. So these wins were critical for this team's confidence.
Two teams to watch: Oregon State still has to win the games it should over the next month -- all against teams outside the power-six conferences and perhaps none against teams bound for the NCAA tournament. But the talent is in place with this team to make some noise in the Pac-12. The emergence of Ahmad Starks as a push-it point guard, the length of Eric Moreland and Devon Collier, the soft hands of Joe Burton inside and the scoring of Cunningham make this team a good watch.
NC State had talent when Mark Gottfried arrived and it has only gotten better. C.J. Leslie is a potential big-time scorer. Scott Wood can make shots. C.J. Williams and Alex Johnson are solid role players. DeShawn Painter is a rugged face-up and inside post player and the potential exists for Thomas de Thaey and Jordan Vandenberg to cause problems when they body people up in the lane. The ACC is weak beyond the top three, opening up a spot for the Wolfpack.
The great enigma: Mississippi State. After dropping a home game to Akron, the Bulldogs won the 2K Sports Classic benefiting Coaches vs. Cancer with wins over Texas A&M and Arizona. Arnett Moultrie and Renardo Sidney provide one of the tougher matchups of any big man combo. Dee Bost is a veteran point guard who knows how to run a team. But the two players who may hold the key to this team are Deville Smith and Rodney Hood, a pair of freshman guards who can change the game with their speed and shooting when inserted.
Incomplete read: Drexel. The Dragons were without two of their top three guards in Chris Fouch and Tavon Allen. Yet Drexel pulled away from Rider in impressive fashion during the Tip-Off Marathon. The CAA favorite has a tough inside, undersized player in Samme Givens and a grinding guard who can get points in Frantz Massenat. But then the Dragons fell flat in the Virgin Islands and lost to Norfolk State and scored 35 points against Virginia. Let's see how Drexel does once it's healthy before giving a full review.
Best coaching jobs: Kansas' Bill Self and Virginia Tech's Seth Greenberg. Neither team won when I saw them but they were going up against top-five squads in Kentucky and Syracuse. Self and Greenberg are maximizing the talent on their teams. They do have studs in Thomas Robinson (Kansas) and Dorenzo Hudson (Virginia Tech), but they get their teams to play as hard as they coach. Kansas' play in Maui deserves high praise and the Jayhawks will once again be in contention to win the Big 12. The Hokies will find a way to be on the bubble again. Neither team is as stocked as it has been in the past, but these two coaches will get these teams to reach their potential.
Best teams: Nothing I saw changed my opinion that North Carolina, Kentucky, Duke and Syracuse are all legitimate Final Four contenders. I have yet to see Ohio State, but put the Buckeyes in that group, as well.
Best game I missed: Well, that one is easy. The Kansas-Duke championship game at the Maui Invitational will go down as one of the best 40 minutes of the regular season. What a show that was.
September, 23, 2011
09/23/11
10:46
AM ET
Putting a basketball game on an aircraft carrier sounds like a cool event, something unique to punctuate the start of the college basketball season.
But this is much more than a gimmick on 11-11-11 -- much more than merely a game to showcase top-ranked North Carolina and perennial contender Michigan State.
Understand that this event would not have happened without the full cooperation of the United States Navy. The USS Carl Vinson was chosen as the host carrier, less than seven months removed from being the final resting place of the most sought-after war criminal since World War II, Osama Bin Laden, whose body was dumped into the sea off the deck of the Vinson.
[+] Enlarge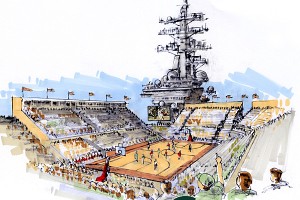 AP Photo/Andy Warfal, Morale Entertainment FoundationA temporary stadium that seats around 7,000 will be built on the flight deck of the USS Carl Vinson.
The idea, originally hatched by Michigan State athletic director Mark Hollis, had to be embraced by the Navy once it was formulated by Mike Whalen and his team at Morale Entertainment Foundation. Whalen is well-connected, counts plenty of former congressmen and Pentagon officials as friends and can certainly talk his way into getting what he wants when he wants it.
But this is no small feat.
"It's an incredible undertaking," said Rear Admiral Denny Moynihan, who has been the Navy's point person on the project. "Nobody has ever done this before. We're working through the logistical and legality of how we can do it as best we can."
Moynihan emphasized that the event will not cost the American taxpayers.
"This is costing money, but not a cost on taxpayers," he said. "And this will not have an operational impact. We're not keeping this ship from deployment to hold a basketball game."
Whalen said sponsorship dollars (Quicken Loans is the title sponsor), advertising and grants are paying for the event.
"We're hoping we can break even," Whalen said. "We've worked on Olympics, Final Fours, rock and roll shows. We've done big projects."
The Carl Vinson is on deployment now doing routine operations. It's due back in port off the coast of San Diego in time for the game, as Moynihan said a two-week window for staging setup and tear down is needed.
"If the Carl Vinson is needed between now and Veterans Day, then we'll have to find another place to play the game," Moynihan said. "We needed to make sure there was no operational impact to play the game. We can't release future operations, but it will be involved in deployment after the game."
Whalen said his agreement is to be on the ship by Nov. 1 and off by Nov. 14 or 15. The plan is for a mini-stadium to be built on the deck with lights, scoreboard and more. If weather is a major issue, then the game would be moved to the hanger below. Tipoff time is set for 4:15 p.m. PST.
The commitment is for a total of 7,000 people to witness the game: 3,000 active sailors; 500 from other branches like the Marines, Air Force and Coast Guard; veterans and retirees; those involved with the Wounded Warrior project, the San Diego Sports Commission, sponsors, Morale Entertainment and ESPN, which is televising the game. North Carolina and Michigan State are allowed 750 fans each.
Will it be a little hectic? Perhaps. But Moynihan is confident that enough preparation has gone in to the planning process that things should run fairly smoothly.
[+] Enlarge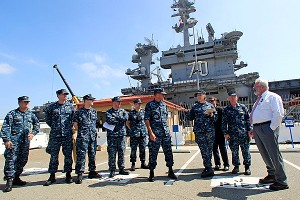 AP Photo/Lenny IgnelziMike Whalen (right) is in charge of the group organizing this unprecedented event.
"This ship is for launching jets and recovering jets and is used to doing big things at sea," Moynihan said. "That crew has never done this before, never something like this. I know the people doing the event [Morale] put together big events, but never on a carrier. There are lot of people making sure the legal pieces are right and the ethics are done properly."
Moynihan said the morale boost to the sailors will be significant. Toss in famous programs like UNC and Michigan State, famous coaches like Roy Williams and Tom Izzo, and the fact this game will be on Veterans Day on a memorable 11-11-11 date. It all adds up to what should be a truly special week off the California coast.
"This will be a huge boost for morale and we're hopeful that the two teams will be able to interact with everyone on the ship," Moynihan said. "There will be a lot of hard work put in to get the ship ready and hopefully they can rub elbows with people like Coach Izzo and Coach Williams. We're hoping that people will get a chance to learn about what an aircraft carrier does for the nation while also watching a basketball game.
"This game is a celebration of service for all veterans. This is a great opportunity for the Navy to expose people to what an aircraft carrier does and can do."
Connecticut and Arizona have committed to playing in the event in 2012. Moynihan and Whalen are both hoping this becomes an annual event.
"We're honoring our veterans that night," Moynihan said. "This is a unique opportunity to be the first college basketball game of the season, on a Friday night on Veterans Day."
September, 22, 2011
09/22/11
10:10
AM ET
The ACC's decision to add Pitt and Syracuse will undoubtedly strengthen men's basketball more than its last round of expansion (Boston College, Virginia Tech and Miami).
But it will create more controversy given how a potential 14-team league might be divided.
The Panthers and Orange may come in 2012 if they can buy their way out of the Big East's exit demands of 27 months and a $5 million departure fee. The Big East has publicly stated that it wants the two schools in for the duration and for BCS purposes it may need them to ensure that the league still has the necessary amount of teams. The ACC is in no rush to add Pitt and Syracuse, but those two schools would rather not go through more than one lame-duck season.
Nevertheless, there is already discussion about how the two will be incorporated into the ACC. Formal talks on the matter won't occur until the annual meetings later in the academic year. But if the league goes to divisions, or at the very least goes to a divisional-style scheduling format, there still might be at least one team in a difficult spot: Wake Forest.
Virginia Tech coach Seth Greenberg looks at the divisional setup along regional lines -- and it makes some sense. ACC associate commissioner Karl Hicks agrees, and he acknowledged that's the way it might turn out.
If that were to happen, the North would have to be Virginia Tech, Virginia, Maryland, Pitt, Syracuse, Boston College and one more team.
The South would be Georgia Tech, Clemson, Florida State and Miami, and then there are the three schools in the Research Triangle (Duke, UNC and NC State) that would likely demand to be in the same division together.
[+] Enlarge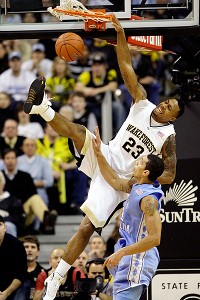 AP Photo/Chuck BurtonThroughout the years, Wake has savored its home games against powerhouses like North Carolina.
That leaves the Demon Deacons as the odd team out. Would Wake have to be put in the North, separated from its three in-state rivals?
The current 12-team divisional alignment in football isn't set up in a North-South split. Wake Forest is in the Atlantic and at least has NC State on its side with Maryland, Clemson, Florida State and Boston College. But the Demon Deacons' two in-state rivals that it would rather play more -- UNC and Duke -- are in the Coastal with Georgia Tech, Virginia Tech, Virginia and Miami.
Wake will make it clear that it doesn't want to be shipped away from the three other North Carolina schools if the league goes to two seven-team divisions. The Demon Deacons want in some form two games against the three in-state schools if there are divisions or if it's one 14-team league.
"If you do it North-South, then one North Carolina team has to be in the North,'' Wake Forest athletic director Ron Wellman said. "We want to play North Carolina more than we do. It's been four years since we played them at home in football, so we are interested in a concept where we play the North Carolina schools. That's a point of emphasis for us. As soon as we announce our schedule, our fans are disappointed that we don't play every North Carolina school in football or [twice in] basketball. Those rivalries were established before the league was in 1953.''
Wellman said when the ACC gets together next month, the topic of how to align a 14-team league will likely be discussed. Wake Forest is nearly two hours away from the Raleigh-Durham-Chapel Hill area, but Deacons fans clearly want to feel attached to the state's other ACC teams.
The other option for the conference would be to keep Wake Forest in the South and ship Miami to the North with the rationale that the Hurricanes would have to fly to every ACC school anyway due to its location (technically, the Hurricanes could drive to Tallahassee for FSU, but even that is a lengthy drive on a school night).
If the ACC were to go to 16 (which is the preferred number by Duke coach Mike Krzyzewski and North Carolina's Roy Williams, among others) and the additions were two more Big East schools (say, UConn and Rutgers), then geography naturally would put both in the North. That would be the easiest solution for the ACC, allowing Wake Forest to compete in the South.
Of course, there will be some other issues here, too. Maryland will demand that it still has its rivalry games with Duke and North Carolina. The Terps would still get to be paired with the two Virginia schools, but losing a Duke home game would seriously dampen the spirits in College Park.
In the end, Hicks said the league doesn't have to go to divisions.
"Ultimately, it will come down to a vote of the ADs and they'll decide what they'll want to do,'' Hicks said. "It will be hard to take those North Carolina schools and separate them. Rivalries and geography will be in play. The good news is that we have time to work through it. We do have permanent partners in our scheduling now. It's the same issue we have now in scheduling, but we added two more teams.''
• If Big 12 commissioner Dan Beebe is officially out of a job, then the NCAA tournament selection committee will have two of its 10 members not working while serving on the committee. The other is Jeff Hathaway, who was forced to retire at Connecticut as athletic director.
WAC commissioner Karl Benson, a former committee member, said that the personnel on the committee has always been overrated and that the committee will be fine since the system itself is all that really matters.
Hathaway's term as chair of the committee started on Sept. 1 (replacing the outgoing chair, Ohio State AD Gene Smith) and NCAA men's basketball tournament spokesperson David Worlock said there has been no change in his position. The same may be true of Beebe if he's officially out. The committee won't meet again until November, and the heart of their work doesn't really begin until January and February, anyway. Hathaway and Beebe certainly would have more time to focus on the national landscape.
The only issue that will be in play for the selection committee: Would Hathaway have to leave the room when UConn is discussed and would the same apply to Beebe when Big 12 teams are talked about, since neither would be employed by either entity?
The consensus from former committee members is that bringing in two more new members to go along with the two regularly scheduled new members to the committee wouldn't be prudent. No one wants to see a committee that has four of its 10 members doing the selections and seeding for the first time. So if Hathaway and Beebe both stay, then the only hiccup will be their role when the teams that they formerly served are being discussed.
September, 20, 2011
09/20/11
2:35
PM ET
Here are some quick hitters during this crazy week in college sports …
• Villanova is trying to use its rising football program as a way to get in somewhere in the ACC or a Big 12/Big East hybrid. The school is hoping the Philadelphia market and the ability to get its football to FBS status (unlike, say, Georgetown) is attractive. And by the way, Nova is not pleased about the way Pitt helped block the Wildcats from being accepted into the Big East for football.
• If what's left of the Big East became a basketball-driven league, it would still be a very attractive conference. Imagine if the league were Villanova, St. John's, Georgetown, Marquette, DePaul, Seton Hall, Providence and possibly Notre Dame, then add Xavier, Butler, Saint Louis, Dayton, Creighton and maybe Saint Joseph's.
• The remaining non-FBS teams in the Big East have to commit to unity for a setup like this to work. The problem with this idea is that it still wouldn't command major media dollars. Non-football conferences don't make the major money. Check out my colleage Dana O'Neil's take on it here.
• The Big East is saying the right things by holding Pitt and Syracuse to the 27-month departure bylaw. But it's in the best interest of the remaining Big East schools to let the schools go so that they can figure out what the conference will look like in two or three years. Multiple lame-duck seasons serve no purpose.
• Pitt is having some selective memory these days about refusing to play Boston College after the Eagles broke off to the ACC eight years ago. The Big East office was not a fan of anyone playing the Eagles in anything and made that clear to Pittsburgh. The Panthers were supposed to play BC in the Jimmy V Classic but were replaced with Indiana.
• The Barclays Arena in Brooklyn will provide the New York City area with multiple opportunities to host conference tournaments. The ACC, Big East and A-10 should all have choices for tournaments in the coming years.
• Adding Missouri to the Southeastern Conference makes the most sense for what the league wants from a 14th member. The SEC wants the perception to be that it is adding a new market (St. Louis/Kansas City) and a school that has some respect academically. Texas A&M obviously delivers a major market (Houston) and respect. But there aren't really two other natural schools out there for the SEC to bump up to 16.
• Pac-12 commissioner Larry Scott will have to do some serious convincing when he talks to his presidents -- especially the Bay Area ones -- about adding Oklahoma State and Texas Tech with Texas and Oklahoma. I would love to hear that conversation.
• I like that Mountain West commissioner Craig Thompson is being proactive, but the proposed MWC-Conference USA confederation to have a football championship that would decide a BCS bid is odd. Would it really produce an automatic qualifier to the BCS? Would there be some sort of basketball agreement?
• Texas would still rather stay in the Big 12 and have all of its program compete in the region. But it all depends on Oklahoma at this point.
• Can you imagine if the ACC added Notre Dame and Connecticut to get to 16? The Irish are always solid under Mike Brey and UConn is a three-time national champ. The top of the ACC would be scary good. But moving up from the bottom would be extremely difficult for some programs. The jobs at Wake Forest and Boston College would get even tougher.
• It really is amazing to think about how much super-conference talk is going on recently and yet Butler played in the last two national championship games and VCU was in the Final Four last season. March reminds us that there are hundreds of others schools competing in Division I and plenty of high-level players and coaches. It's not all about the big boys!
• The NCAA still hasn't decided on the fate of ousted Connecticut athletic director Jeff Hathaway. He's the men's basketball tourney committee chair yet is currently jobless. But a number of former committee members and current Big East officials want Hathaway to be on the committee for this final season as long as the NCAA can figure out a way around him not having a job. Hathaway would be able to focus solely on the task of running the committee, which meets again later in the fall.
• Michigan State coach Tom Izzo is as excited about this season as he has been in years. The Spartans are finally relatively healthy and it's clear some of the issues in the locker room are gone. Meanwhile, North Carolina coach Roy Williams, whose team will face off with Izzo in the Carrier Classic on Nov. 11, said he has been told the pickup games in Chapel Hill involving a number of locked-out NBA players have really helped his crew develop.
• UCLA's Class of 2012 commitments from the East and South, Kyle Anderson (New Jersey) and Jordan Adams (Georgia), continue to show the Bruins are a national program. Every former UCLA coach has consistently said the Bruins can't simply recruit California. UCLA has to be a national player to be a national contender. The recruiting by the Bruins and rival Arizona -- the top two teams in the latest ESPN rankings -- is a credit to Ben Howland and Sean Miller, who cut their teeth recruiting in the cut-throat East Coast. But it also shows that the down cycle of the Pac-12 elite was merely a blip on the radar.
July, 28, 2011
07/28/11
9:19
AM ET
LAKE BUENA VISTA, Fla. -- Quick hitters after talking to several coaches here at the AAU nationals:
• The U.S. World University Games team -- led by Purdue coach Matt Painter (U.S. team head coach) along with Butler coach Brad Stevens and Tennessee coach Cuonzo Martin (U.S. assistants) -- continues to lose key players. Xavier's Tu Holloway turned down the invite to stay and play with his XU teammates. Wisconsin's Jordan Taylor is having minor ankle surgery. And now Painter said that UConn forward Alex Oriakhi is also out in order to rest an injury. Stevens said losing Oriakhi will be a big blow since the team that heads to China next month for the competition needs a rebounder like him in the tournament. Painter said Detroit's Ray McCallum Jr. and UConn's Shabazz Napier were added to the tryout list. Pitt's Ashton Gibbs and Syracuse's Scoop Jardine are still on the roster and are certainly favored to make the squad.
• There are still 22 players trying to make the U.S. squad and they'll compete and train in Colorado Springs from Aug. 4-7. The event runs Aug. 13-22 in Shenzhen, China. A number of players could use this international stage as a springboard for their college seasons; these players include Alabama's JaMychal Green, Texas A&M's Khris Middleton, Kentucky's Darius Miller, Northwestern's John Shurna, Minnesota's Trevor Mbakwe, Vanderbilt's John Jenkins, Michigan State's Draymond Green, Missouri's Kim English and Marcus Denmon and Notre Dame's Tim Abromaitis.
But perhaps more than any other player, Cincinnati's Yancy Gates needs to make this team and show he can be a force in order for the Bearcats to continue their rise in the Big East. Last season, he was suspended for a game due to team-related issues. Cincinnati coach Mick Cronin said Gates can come out of this looking like a team player and a stronger player who can change his image with a positive performance in China.
• Painter said fifth-year senior Robbie Hummel is tired of answering questions about his right knee (ACL surgery). And so are the Boilermakers. He said Hummel should be good to go once the season starts. Meanwhile, the Boilermakers are troubled by the foot surgery for John Hart that will keep him out for an extended period. Hart has had trouble with his right foot for quite some time.
• Villanova coach Jay Wright said JayVaughn Pinkston has been cleared by the school to play for the Wildcats this season. Pinkston was not allowed to play last season due to an assault charge. He was expected to have a major impact on last season's team prior to the incident. The Wildcats are prepping for a trip to Amsterdam, where they will play a few national teams. Wright said the Wildcats will be much different than any squad he's coached in recent years, with the team centered more around big men rather than being guard-oriented.
[+] Enlarge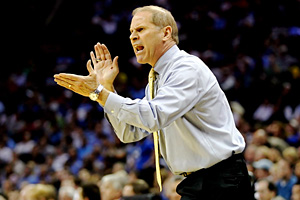 Kevin C. Cox/Getty ImagesJohn Beilein is looking forward to the two new guards he'll have on campus this season.
• Michigan coach John Beilein said the addition of freshmen guards Trey Burke and Carlton Brundidge should allow Stu Douglass to return to his natural off-guard position. Losing Darius Morris to the NBA draft was a huge blow to the Wolverines, but Tim Hardaway Jr. showed with the U-19 team in Latvia that he can create quite well with the ball in his hands. If the freshmen can be facilitators and Douglass can play off them, the Wolverines may not take a step back. Michigan is in the Maui Invitational in a loaded field, has to travel to upstart Virginia in the ACC-Big Ten Challenge, and gets a sleeper Big 12 team at home in Iowa State. The Wolverines are likely going to add a nonconference game at Arkansas that will take place during the Big Ten season.
• While on a recruiting trip in February, North Carolina coach Roy Williams took a side trip to an aircraft carrier in San Diego to see what it would be like in advance of the Carrier Classic on Nov. 11 against Michigan State. The USS Carl Vinson will be the host of the game, but it wasn't the ship that Williams toured. Williams wanted to see how this would work with a game on top of the ship deck. He couldn't get over the narrow passageways through the ship and wondered how his taller players would maneuver through the ship to get to the deck. Well, apparently there will be a lift that will help that occur so that shouldn't be a problem.
• Williams isn't ruling out Leslie McDonald coming back this season from an ACL injury. Williams said McDonald will have surgery on Aug. 3 and made it clear there's no reason to make any declarative statements at this juncture about a return.
• There was no consensus among the coaches in Orlando about whether to add a stipend, how it would be handled and how it could be divided up for all student-athletes. UConn's Jim Calhoun and Louisville's Rick Pitino said they would like to see $75 to $100 a week for the athletes -- roughly $400 a month.
• Not one coach endorsed the NCAA's new draft early-entry withdrawal date of April 10, 2012, after which no player will be allowed to enter the NBA draft. Makes you wonder why this was passed. Every coach who discussed it said it would lead to more poor decisions of players leaving early.
• Ole Miss coach Andy Kennedy tossed out this prediction about Vanderbilt: The Commodores are a Final Four contender.
• Old Dominion coach Blaine Taylor has gone to the Fred Hill makeover school. Hill, the former Rutgers head coach and current Northwestern assistant, was bald when he was head coach of the Scarlet Knights. Now he's gone with long hair in the back and new glasses. As for Taylor, he got rid of his famed mustache and dark hair. He's gone with something of an auburn or almost light red look. He was standing to the side of our TV set, and I wasn't the only one who had no idea who he was until you could read ODU on his golf shirt.
• Stanford is prepping for a trip to Spain in early September. The Cardinal and coach Johnny Dawkins need to get away to figure out who will stand out for them now that Jeremy Green is gone.
• New Fairfield coach Sydney Johnson squeezed in a team trip to Italy next month, which will be critical for him to get to know his players more and see how Boston College transfer Rakim Sanders meshes with a team that won the MAAC regular-season title last season and is back almost in full.
• The travel some of these coaches put on themselves is a bit ridiculous. Dawkins was in Orlando on Monday, then took off for Phoenix and then Los Angeles before he headed back to Orlando by Thursday. Temple coach Fran Dunphy was in Orlando on Monday and was off to Phoenix before a return to Orlando by the end of the week.
• New Maryland coach Mark Turgeon said he has reviewed his team enough to know that scoring up front will be a challenge. He said he'll likely go with four guards on the court on a consistent basis.
• Northwestern's Bill Carmody clearly wanted to be noticed in showing his school spirit. He had a rather loud pair of purple sweat pants that I'm not sure you could or would want to buy at the campus bookstore. Michigan State's Tom Izzo went with Spartan green, which Carmody pointed out, but the green was certainly more muted than the purple.
July, 21, 2011
07/21/11
11:38
AM ET
King Rice sat in jail, waiting to be picked up by his boss, Kevin Stallings, wondering whether he had finally woken up from this fantasy that he didn't have a drinking problem.
"I was 27 years old and, as soon as it happened, I looked at it as serious and knew I had to do something about it,'' Rice said.
"I was the one he called that night,'' said Stallings, who was the coach at Illinois State in 1996 with Rice as an assistant. "I got him out of jail. I was the one who went and picked him up. It was disappointing. I had hired him to be someone to emulate, and he had done the opposite.''
[+] Enlarge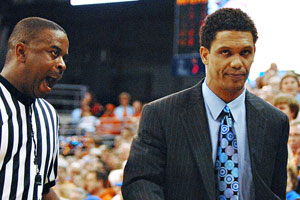 AP Photo/Phil SandlinIt took some tough love and self-awareness for King Rice to finally realize he had a problem.
Nevertheless, Stallings didn't hesitate to characterize Rice as a good person who had done something wrong. A well-meaning man who had a problem and made a mistake. Stallings was able to persuade athletic director Rick Greenspan to keep his young assistant on staff.
As for Rice, he was pushing down a secret he didn't want to admit, only realizing it once he got the DUI and finally went to rehab.
"I used to drink too much -- no question,'' Rice said. "I had a problem with drinking. But I stopped when I got the DUI because it was time. In college, I would get in arguments, fights with people, and it never would have happened if it weren't for drinking. But I didn't want to accept that it was the drinking doing it.
"I learned about alcoholism because it's in my family,'' he added. "My mom is an alcoholic; her dad was; and two of my three brothers are and my sister is, and I thought I was different because of sports. I thought I never would have a problem, that it couldn't be me, too.''
Rice said he told everyone he knew, including his college coach at North Carolina, Dean Smith, that he could stop whenever he wanted. But he could not -- and he constantly put himself in bad situations.
"But I got cleaned up and I'm happy I did,'' said Rice, now 42. "My life is way better now that I don't drink.''
That said, the past did continue to haunt his chances to advance his career fully. Just plug the name King Rice into Google, as most who would hire him would, and it's easy to find his arrest from 1990 for assaulting a female, resisting arrest and destruction of public property while playing for the Tar Heels. That incident happened when he was a player. The DUI occurred seven years later while he was a coach. Was there a pattern?
"I think King went through a period where he wondered if he was always a victim of his own past,'' Stallings said. "I think that caused him a great amount of frustration. But he owned his mistakes. He never tried to blame that for why he didn't get an opportunity. It was his mistake, he shouldn't have done it and he's still paying for it. It was always a disappointment to him that he put himself in a position where people had [a reason to] not give him an opportunity.''
Rice couldn't shed the questions. He stayed with Stallings until 1998, then moved on to Providence for two years before leaving the business for six to work in Los Angeles with friend and fellow Tar Heel Rick Fox. Rice was Fox's personal trainer, and the two also formed CarolinaPros Inc., a service organization that sponsors a variety of community-based events and mentoring programs. He also managed T-Mobile stores that the two owned and even coached the Bahamas national team for three summers. (Fox grew up in the Bahamas.)
[+] Enlarge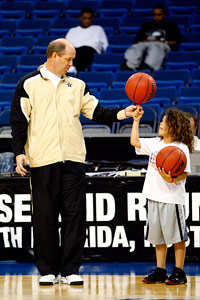 Kim Klement/US PresswireKevin Stallings, seen here with Rice's son, Alexander, stood by his assistant during the tough times.
Then, in 2006, Stallings hired him again -- this time at Vanderbilt. With the help of Rice, the Commodores went to the NCAA tournament in four of the next five seasons, and Rice attempted to parlay that into his first head-coaching job, interviewing at Wagner, Missouri-Kansas City, Tennessee State and Texas A&M-Corpus Christi.
He never quite broke through, however, and wasn't sure whether Monmouth would end up being the same old story: getting close to a job, then having his history come back and cost him in the end.
"I kept getting to the final one or two and not able to get over the hump,'' Rice said. "When I was younger, I put myself in bad situations and made bad choices, and it came back to bite me.''
Yet Rice was a tantalizing candidate, especially for a struggling program such as Monmouth. And why wouldn't he be? He came from Carolina bloodlines and played point guard in the Final Four for a legendary Hall of Famer. He was raised in Binghamton, N.Y., and has plenty of New York/New Jersey connections. He has the catchy name, the engaging smile and a track record of on-court success as an assistant under well-respected Stallings.
So Monmouth athletic director Marilyn McNeil, Ph.D., brought Rice in for an interview, but she didn't dance around The Big Question.
"You Google him and it comes up, and one has to answer to a public that's going to ask the same question: What's up with that guy, and do we want him representing our university? Within 15 minutes, I said, 'OK, the elephant in the room is this issue, so talk to me about it.' I'm a great liberal and I believe in second chances and I wasn't going to hold it against him. I told him I want to know if this is going to be something that is going to embarrass the university.''
McNeil said Rice was forthcoming and explained what had occurred in the past 15 years, notably that he had been clean and sober. After the interview, McNeil told Monmouth president Paul Gaffney that Rice would be a great role model for the program's student-athletes.
Clearly, Stallings agrees.
"He's very up front and open about what occurred and how it occurred and the details," Stallings said. "He's done what people in that situation should do, and that is to use it as motivation and to try to help others and people he coaches in particular. He understands about making a mistake and wants to be the right kind of example and right leader for young people.''
Rice said he also has counseled young coaches who have had issues with drinking.
"We all stand up there and act holier than thou about drugs and alcohol, but now here's someone who has been down that road and in a meaningful way can use that life lesson in a real way,'' McNeil said. "It was over once we talked. He has so much to offer. I laughed after he had a great line: 'How long do I have to apologize for something I did 14 years ago? I guess I'm going to have to apologize for the rest of my life.' We've all made mistakes, but we're not as high-profile. We're in a business of education, and we don't want to forget that.''
McNeil said that Rice's days at an academic bastion such as Vanderbilt immediately caught her attention and that his overall body of work indicated the type of coach she wanted.
"I thank her every day for giving me this opportunity,'' Rice said. "I have a great job. I've seen my mom more recently than I have in the last 10 years since Binghamton is close to New Jersey. It's just a matter of time before we do big things here.''
Monmouth plays in the Northeast Conference, a hodgepodge of state and private universities spanning six states. The conference is a one-bid league that has been cyclical lately in its rotation of champions. Money is being spent in large sums on facilities and coaching staffs at Quinnipiac, and other schools, such as Wagner, have gone for a home run hire such as Dan Hurley and brother Bobby.
And then there is Monmouth, a campus on the Jersey shore with a $57 million-dollar arena that is envied by most around the conference. Earlier this year, then head coach Dave Calloway resigned under pressure after 14 seasons. He led Monmouth to the NCAA tournament in 2001, '04 and '06 but was just 30-60 in league play (48-105 overall) over his last five seasons and even missed the NEC tournament in 2011 after finishing 11th in the 12-team conference.
But even with the program's lack of success in the past half-decade, McNeil isn't shying away from her expectations for Rice.
[+] Enlarge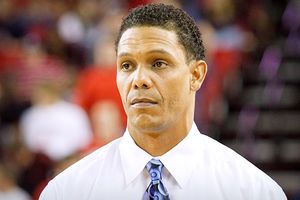 Darrell Walker/Icon SMIRice takes over a Monmouth program that has suffered through five straight losing seasons.
"In three years, we should be able to win the conference, four [years] maximum,'' McNeil said. "And then we need to win that first round. So we've got to do a good job of pre-conference scheduling. He's got enough connections, and he's bold enough. Our [NEC] coaches talk about getting a better schedule, but they want the 20 wins to get their contract extended. [Rice] gets it.''
He sure does. Despite coaching a second-division team in his first year, Rice is taking the Hawks to games at North Carolina, at Vanderbilt, at Rutgers and at the Virginia Tech regional in the NIT Season Tip-Off. They also host upstart Harvard and signed a home-and-home agreement with Villanova. Rice said he wants at least two high-majors on the schedule every year.
He stacked his staff with former Carolina teammates Brian Reese and Derrick Phelps, along with veteran assistant Rick Callahan, who was a longtime assistant to Rice mentor Eddie Fogler.
Rice said he has formed his coaching style from a combination of Stallings, Smith, Fogler and Larry Brown. He said former UNC players who go into coaching have had a tendency to shy away from the Carolina system because the personnel doesn't match the style. He said he won't do that.
He's also learning from fellow Tar Heels who are now coaches and have had bumpy roads along their careers, Jeff Lebo, Buzz Peterson and Matt Doherty.
"They've all helped me, and while they may have stumbled, they didn't fall [down for good],'' Rice said. "And I don't want to fall into the same holes they fell into.''
Rice has a shot as a head coach after coveting an opportunity for quite some time. He drank too much, got a DUI 15 years ago and said he stopped cold. Now he has finally gotten someone to give him a chance at his ultimate goal. He said he's not about to blow it.
"He may have the opportunity to move on, but I can't imagine he's not going to work his tail off and be extremely successful and leave us in a better place,'' McNeil said. "I hope he stays here forever, but I don't want to be naive, either. I see this as a very good match.''