Category archive:

Wake Forest Demon Deacons
October, 30, 2013
10/30/13
9:22
PM ET
If the 2014 NBA draft lives up to its hype, the upcoming college basketball season could rival or supersede any since the turn of the century.
That's a big if.
But the buzz isn't going away and won't unless the returning and incoming talent takes a dramatic drop from preseason projections.
Let's assume Kansas freshman Andrew Wiggins, Kentucky freshman Julius Randle and Oklahoma State sophomore Marcus Smart are locks for the top three to five spots in the NBA draft. Who else registers with NBA decision-makers to fill out the top 10?
Parker will pair up with Mississippi State transfer Rodney Hood to create a dynamic tandem for the Blue Devils. Parker's overall basketball IQ makes him a cinch to be in the top 10. He will be in the running for ACC Player of the Year with Hood, Virginia's Joe Harris and Syracuse's C.J. Fair.
Wiggins has swallowed most of the oxygen coming from Lawrence, but Bill Self potentially has one of the best big men he has coached at KU in Embiid. He is a sponge, soaking up knowledge, and could be the most dominant big man outside of Randle this season.

Robinson is described as having a pro game with excellent shooting skills. The trick will be how he handles being much more of a featured presence for the Wolverines.

McGary could have easily bolted from Michigan after its Final Four run last season. He was a hot candidate in an incredibly weak draft, yet he chose to return. Now, he's battling back issues. The upside is there, but he needs to show well for a full season.
Kentucky coach John Calipari isn't hesitating promoting Young's skill set. If he has Michael Kidd-Gilchrist's work ethic but is even better in the skill department, Young could be a sleeper to shoot up into the top five in June.
Gordon was the MVP of the United States' under-19 gold-medal-winning team in the Czech Republic in July. His athleticism was on full display in the event. But Gordon will need to show he can shoot and defend to ensure he's a top-five talent.
Harrison will step in as the Wildcats' point guard. If he stands out, the long line of highly placed Calipari-coached point guards will continue to dominate the lottery.
October, 29, 2013
10/29/13
11:56
PM ET
With alignment on hold until after next season, the lines have been drawn, the places set. Now, it's time for programs that have lost their way to lock in and start the climb out of mediocrity.
Such as:
The Demon Deacons stuck with Jeff Bzdelik for a fourth season after winning just 13 games in each of the past two seasons. Transfers have become all too common in the program. There was progress last season: winning six conference games, beating ACC champ Miami and knocking off NC State. But the Demon Deacons couldn't win on the road. Climbing out of the bottom third will be even tougher this year with the additions of Syracuse, Pitt and Notre Dame, not to mention the forthcoming switch of Maryland for Louisville. Wake Forest athletic director Ron Wellman and Bzdelik are good friends. Wellman put his stake in Bzdelik and has to see this through. Now is the time for the Demon Deacons to make a move to ensure that the rocky road was worth the wait. The Wake Forest fan base is one of the most passionate in the league. It's a shame that it hasn't had the opportunity to create a feared, frenzied atmosphere like the one it had less than 10 years ago.
The Cornhuskers are investing in basketball like never before. Nebraska is playing in $179 million Pinnacle Bank Arena. Coach Tim Miles is entering his second season. He has a young team in Lincoln, and there will be growing pains. Still, there needs to be a return investment. The Huskers must make Lincoln a feared road stop in the Big Ten going forward. Nebraska has a chance to show promise. The time is now to make a move before even the most passionate fans begin to lose interest.
The Mountaineers' transition to a new league might have been the toughest of any team that moved. That shouldn't have derailed a program Bob Huggins had rolling to a Final Four just over three years ago. Huggins has too much pride to let West Virginia wallow in mediocrity, but the talent drain was in effect last season. There were recruiting mistakes and opportunities lost. The Mountaineers must make Morgantown as difficult a road stop for opposing teams. Moving into the league's top four is more than doable for the Mountaineers.
The Pirates might be one of the biggest beneficiaries of a move to a smaller conference. Seton Hall was lost amid the bloated old Big East. Now the opportunity is there for the Hall to climb. A strong 2014-15 recruiting class should give hope. There is optimism for one of the most difficult high-major jobs in the Northeast. Kevin Willard is entering his fourth season as a .500 coach, but he could be judged with a clean slate in a new league where the true round-robin schedule will be a fair barometer. The new Big East desperately needs the New York-market teams to matter in March. St. John's appears to be ready to accept the responsibility. The Pirates must do their share, too.
If you've never seen the Huntsman Center rocking, then you've missed out on one of the top home courts in the West. The problem is that those instances, since the late Rick Majerus was on the sideline, have been limited. Crime-fighting coach Larry Krystkowiak has the right demeanor, character and credibility to deliver a winner, but the corner must be turned soon. Utah can -- and should -- be one of the rising teams in a conference that allows plenty of chances for schools to take a turn near the top. If once downtrodden Colorado can be a regular, established contender, then Utah can as well. Krystkowiak said he believes in the younger players in the program. Now it must ignite the passion that once made Salt Lake City an intimidating destination.
Georgia has always been one of the more intriguing SEC teams not named Kentucky or Florida. The Bulldogs are within range of plenty of talent, notably in Atlanta, even going against hometown Georgia Tech. The Bulldogs have a determined and loyal fan base that craves a winner. Mark Fox has coached and recruited pros, but he hasn't been able to get that talent to win consistently in the postseason. The SEC is wide open beyond the top two teams, with room after that for whoever can produce. If there ever was a time to make a move back into being a team of consequence, this is it.
When Guy Lewis was inducted into the Basketball Hall of Fame last month, it brought back memories of the Cougars' dominance in the 1980s. That era is long gone while Houston has spent time in the Witness Protection Program. Now the Cougars have come out of their shell in the American Conference, where there is a real opportunity for Houston to get on the national stage. Once Louisville leaves, UConn, Memphis and Cincinnati will need challengers. Temple and SMU might take their shot. Houston, though, can draw from as much, if not more, of a talent base than any school outside of Memphis. The Cougars might never have a better chance to be a factor than right now. The 1980s aren't coming back, but Houston has a shot to create its own revival.
October, 4, 2012
10/04/12
6:19
PM ET
If anyone was wondering whether 15 schools could agree and get along in the new ACC, all they had to do was check the reaction to the new primary partners released Wednesday.
There was an unusual consensus. Every school was pleased.
The ACC had to adjust its scheduling format with the addition of Notre Dame, which could join anywhere from 2013 to 2015. The conference, committed to an 18-game schedule, had to lock in to two annual home-and-home series.
For a few schools, such as Virginia, there was nothing to ponder. The Cavaliers have two natural rivals in Virginia Tech and Maryland. Done.
"It makes sense geographically," UVa coach Tony Bennett said. "They've been our natural rivalries for years."
[+] Enlarge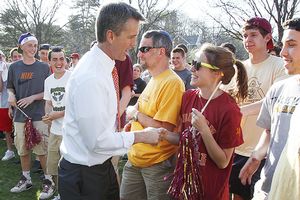 AP Photo/Michael DwyerCoach Steve Donahue believes BC's fans will be pumped to host old conference rivals Syracuse and Notre Dame each season.
Boston College landed two tough opponents, but the Eagles couldn't have been happier to get two schools that will help fill the usually staid Conte Forum. BC will play Notre Dame and Syracuse twice every season.
"It's great for our alumni and fans," Boston College coach Steve Donahue said. "I'm sure excited about it."
Understandbly, no school got both Duke and North Carolina. That would be too cruel, and it would be too hard to pull off with two other schools in the state in Wake Forest and NC State. The ACC had to balance the four schools, and it did.
Duke gets UNC and Wake Forest. NC State got UNC and Wake. Wake Forest got Duke and NC State. And of course that means Carolina got Duke and NC State, which based on the current trajectory of the four schools, is the toughest slate among the schools in North Carolina.
"I loved it," NC State coach Mark Gottfried said. "They got it right."
Wake Forest athletic director Ron Wellman, who is the 2014 chair of the men's basketball selection committee and understands the importance of getting quality teams on the schedule, said "playing two in-state rivals is the best scenario for us."
ACC associate commissioner Karl Hicks, who oversees basketball and scheduling in particular, said the majority of the matchups simply made sense.
The most intriguing issue was what to do with Notre Dame's second rivalry after Boston College. The Irish and Georgia Tech were paired up by process of elimination. Hicks said the schools have a rivalry in football, but not in basketball.
"Notre Dame has a lot of alumni in urban areas," Hicks said. "Maryland was a better fit with the partners they had [Pitt and Virginia]. Washington, D.C., would have been a good place [for Notre Dame], but Maryland's partners fit. Georgia Tech was the next one that made the most sense."
ND coach Mike Brey said it worked for him since he wanted to create new rivalries and, "I love Atlanta."
Tech coach Brian Gregory knew the Yellow Jackets would get Clemson as one rival and was overjoyed that the Irish were the other.
"I think it's great for us," Gregory said. "These are two great academic schools with great traditions. I think it will turn into a great rivalry."
Maryland coach Mark Turgeon said Pitt and Virginia are strong defensive teams which should provide four gritty games for the Terps every season. Pitt coach Jamie Dixon had no issue with Maryland and Syracuse as his school's natural rivals, saying that he expected as much based on geography.
The rest of the 14 games on the schedule will include two more home-and-home opponents (which will rotate every year) and five home and five road games that make up the other 10.
The other set partners are:
Clemson: Florida State and Georgia Tech
Florida State: Clemson and Miami
Miami: Florida State and Virginia Tech
Syracuse: Boston College and Pitt
Virginia Tech: Miami and Virginia
Hicks said the Miami-Virginia Tech series marries two former Big East rivals. Syracuse's two partners are also former Big East foes. Clemson and Florida State got natural regional rivals.
"I'm not bent out of shape one way or another," said Florida State's Leonard Hamilton, who added he wasn't against going to 20 league games. "I like the challenge night in and night out of 18 hard-nosed games."
What the two-team partner lists and the reaction proves is that a 16th team in men's basketball doesn't seem necessary. ACC commissioner John Swofford said the ACC isn't going to go to 16, and frankly, there's really no need.