Category archive:

Wake Forest Demon Deacons
October, 30, 2013
10/30/13
2:22
PM ET
If the 2014 NBA draft lives up to its hype, the upcoming college basketball season could rival or supersede any since the turn of the century.
That's a big if.
But the buzz isn't going away and won't unless the returning and incoming talent takes a dramatic drop from preseason projections.
Let's assume Kansas freshman Andrew Wiggins, Kentucky freshman Julius Randle and Oklahoma State sophomore Marcus Smart are locks for the top three to five spots in the NBA draft. Who else registers with NBA decision-makers to fill out the top 10?
Parker will pair up with Mississippi State transfer Rodney Hood to create a dynamic tandem for the Blue Devils. Parker's overall basketball IQ makes him a cinch to be in the top 10. He will be in the running for ACC Player of the Year with Hood, Virginia's Joe Harris and Syracuse's C.J. Fair.
Wiggins has swallowed most of the oxygen coming from Lawrence, but Bill Self potentially has one of the best big men he has coached at KU in Embiid. He is a sponge, soaking up knowledge, and could be the most dominant big man outside of Randle this season.

Robinson is described as having a pro game with excellent shooting skills. The trick will be how he handles being much more of a featured presence for the Wolverines.

McGary could have easily bolted from Michigan after its Final Four run last season. He was a hot candidate in an incredibly weak draft, yet he chose to return. Now, he's battling back issues. The upside is there, but he needs to show well for a full season.
Kentucky coach John Calipari isn't hesitating promoting Young's skill set. If he has Michael Kidd-Gilchrist's work ethic but is even better in the skill department, Young could be a sleeper to shoot up into the top five in June.
Gordon was the MVP of the United States' under-19 gold-medal-winning team in the Czech Republic in July. His athleticism was on full display in the event. But Gordon will need to show he can shoot and defend to ensure he's a top-five talent.
Harrison will step in as the Wildcats' point guard. If he stands out, the long line of highly placed Calipari-coached point guards will continue to dominate the lottery.
October, 29, 2013
10/29/13
4:56
PM ET
With alignment on hold until after next season, the lines have been drawn, the places set. Now, it's time for programs that have lost their way to lock in and start the climb out of mediocrity.
Such as:
The Demon Deacons stuck with Jeff Bzdelik for a fourth season after winning just 13 games in each of the past two seasons. Transfers have become all too common in the program. There was progress last season: winning six conference games, beating ACC champ Miami and knocking off NC State. But the Demon Deacons couldn't win on the road. Climbing out of the bottom third will be even tougher this year with the additions of Syracuse, Pitt and Notre Dame, not to mention the forthcoming switch of Maryland for Louisville. Wake Forest athletic director Ron Wellman and Bzdelik are good friends. Wellman put his stake in Bzdelik and has to see this through. Now is the time for the Demon Deacons to make a move to ensure that the rocky road was worth the wait. The Wake Forest fan base is one of the most passionate in the league. It's a shame that it hasn't had the opportunity to create a feared, frenzied atmosphere like the one it had less than 10 years ago.
The Cornhuskers are investing in basketball like never before. Nebraska is playing in $179 million Pinnacle Bank Arena. Coach Tim Miles is entering his second season. He has a young team in Lincoln, and there will be growing pains. Still, there needs to be a return investment. The Huskers must make Lincoln a feared road stop in the Big Ten going forward. Nebraska has a chance to show promise. The time is now to make a move before even the most passionate fans begin to lose interest.
The Mountaineers' transition to a new league might have been the toughest of any team that moved. That shouldn't have derailed a program Bob Huggins had rolling to a Final Four just over three years ago. Huggins has too much pride to let West Virginia wallow in mediocrity, but the talent drain was in effect last season. There were recruiting mistakes and opportunities lost. The Mountaineers must make Morgantown as difficult a road stop for opposing teams. Moving into the league's top four is more than doable for the Mountaineers.
The Pirates might be one of the biggest beneficiaries of a move to a smaller conference. Seton Hall was lost amid the bloated old Big East. Now the opportunity is there for the Hall to climb. A strong 2014-15 recruiting class should give hope. There is optimism for one of the most difficult high-major jobs in the Northeast. Kevin Willard is entering his fourth season as a .500 coach, but he could be judged with a clean slate in a new league where the true round-robin schedule will be a fair barometer. The new Big East desperately needs the New York-market teams to matter in March. St. John's appears to be ready to accept the responsibility. The Pirates must do their share, too.
If you've never seen the Huntsman Center rocking, then you've missed out on one of the top home courts in the West. The problem is that those instances, since the late Rick Majerus was on the sideline, have been limited. Crime-fighting coach Larry Krystkowiak has the right demeanor, character and credibility to deliver a winner, but the corner must be turned soon. Utah can -- and should -- be one of the rising teams in a conference that allows plenty of chances for schools to take a turn near the top. If once downtrodden Colorado can be a regular, established contender, then Utah can as well. Krystkowiak said he believes in the younger players in the program. Now it must ignite the passion that once made Salt Lake City an intimidating destination.
Georgia has always been one of the more intriguing SEC teams not named Kentucky or Florida. The Bulldogs are within range of plenty of talent, notably in Atlanta, even going against hometown Georgia Tech. The Bulldogs have a determined and loyal fan base that craves a winner. Mark Fox has coached and recruited pros, but he hasn't been able to get that talent to win consistently in the postseason. The SEC is wide open beyond the top two teams, with room after that for whoever can produce. If there ever was a time to make a move back into being a team of consequence, this is it.
When Guy Lewis was inducted into the Basketball Hall of Fame last month, it brought back memories of the Cougars' dominance in the 1980s. That era is long gone while Houston has spent time in the Witness Protection Program. Now the Cougars have come out of their shell in the American Conference, where there is a real opportunity for Houston to get on the national stage. Once Louisville leaves, UConn, Memphis and Cincinnati will need challengers. Temple and SMU might take their shot. Houston, though, can draw from as much, if not more, of a talent base than any school outside of Memphis. The Cougars might never have a better chance to be a factor than right now. The 1980s aren't coming back, but Houston has a shot to create its own revival.
October, 4, 2012
10/04/12
11:19
AM ET
If anyone was wondering whether 15 schools could agree and get along in the new ACC, all they had to do was check the reaction to the new primary partners released Wednesday.
There was an unusual consensus. Every school was pleased.
The ACC had to adjust its scheduling format with the addition of Notre Dame, which could join anywhere from 2013 to 2015. The conference, committed to an 18-game schedule, had to lock in to two annual home-and-home series.
For a few schools, such as Virginia, there was nothing to ponder. The Cavaliers have two natural rivals in Virginia Tech and Maryland. Done.
"It makes sense geographically," UVa coach Tony Bennett said. "They've been our natural rivalries for years."
[+] Enlarge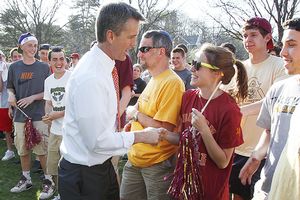 AP Photo/Michael DwyerCoach Steve Donahue believes BC's fans will be pumped to host old conference rivals Syracuse and Notre Dame each season.
Boston College landed two tough opponents, but the Eagles couldn't have been happier to get two schools that will help fill the usually staid Conte Forum. BC will play Notre Dame and Syracuse twice every season.
"It's great for our alumni and fans," Boston College coach Steve Donahue said. "I'm sure excited about it."
Understandbly, no school got both Duke and North Carolina. That would be too cruel, and it would be too hard to pull off with two other schools in the state in Wake Forest and NC State. The ACC had to balance the four schools, and it did.
Duke gets UNC and Wake Forest. NC State got UNC and Wake. Wake Forest got Duke and NC State. And of course that means Carolina got Duke and NC State, which based on the current trajectory of the four schools, is the toughest slate among the schools in North Carolina.
"I loved it," NC State coach Mark Gottfried said. "They got it right."
Wake Forest athletic director Ron Wellman, who is the 2014 chair of the men's basketball selection committee and understands the importance of getting quality teams on the schedule, said "playing two in-state rivals is the best scenario for us."
ACC associate commissioner Karl Hicks, who oversees basketball and scheduling in particular, said the majority of the matchups simply made sense.
The most intriguing issue was what to do with Notre Dame's second rivalry after Boston College. The Irish and Georgia Tech were paired up by process of elimination. Hicks said the schools have a rivalry in football, but not in basketball.
"Notre Dame has a lot of alumni in urban areas," Hicks said. "Maryland was a better fit with the partners they had [Pitt and Virginia]. Washington, D.C., would have been a good place [for Notre Dame], but Maryland's partners fit. Georgia Tech was the next one that made the most sense."
ND coach Mike Brey said it worked for him since he wanted to create new rivalries and, "I love Atlanta."
Tech coach Brian Gregory knew the Yellow Jackets would get Clemson as one rival and was overjoyed that the Irish were the other.
"I think it's great for us," Gregory said. "These are two great academic schools with great traditions. I think it will turn into a great rivalry."
Maryland coach Mark Turgeon said Pitt and Virginia are strong defensive teams which should provide four gritty games for the Terps every season. Pitt coach Jamie Dixon had no issue with Maryland and Syracuse as his school's natural rivals, saying that he expected as much based on geography.
The rest of the 14 games on the schedule will include two more home-and-home opponents (which will rotate every year) and five home and five road games that make up the other 10.
The other set partners are:
Clemson: Florida State and Georgia Tech
Florida State: Clemson and Miami
Miami: Florida State and Virginia Tech
Syracuse: Boston College and Pitt
Virginia Tech: Miami and Virginia
Hicks said the Miami-Virginia Tech series marries two former Big East rivals. Syracuse's two partners are also former Big East foes. Clemson and Florida State got natural regional rivals.
"I'm not bent out of shape one way or another," said Florida State's Leonard Hamilton, who added he wasn't against going to 20 league games. "I like the challenge night in and night out of 18 hard-nosed games."
What the two-team partner lists and the reaction proves is that a 16th team in men's basketball doesn't seem necessary. ACC commissioner John Swofford said the ACC isn't going to go to 16, and frankly, there's really no need.
March, 26, 2012
03/26/12
12:06
PM ET
Wake Forest coach Jeff Bzdelik isn't fretting about his program's most recent departures one bit.
Three more players departed the program this past week. Wake Forest's current problems sound a lot like Indiana's, which this past weekend played stellar in a Sweet 16 loss to Kentucky.
It took Hoosiers coach Tom Crean four seasons to resurrect a once-proud program. Can Bzdelik do the same? First off, there were no NCAA violations at Wake like there were at Indiana. Athletic director Ron Wellman decided to fire Dino Gaudio, so within a year the Demon Deacons had to essentially start over.
[+] Enlarge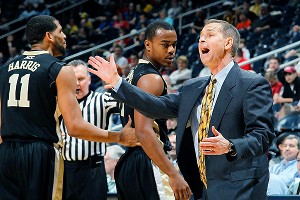 Kevin C. Cox/Getty ImagesDespite some recent player departures, Jeff Bzdelik feels good about where his program is headed.
This was one of the elite programs in the ACC under the late Skip Prosser, and that was the case initially with Gaudio at the helm. Chris Paul led the Demon Deacons to a No. 1 ranking. Tim Duncan, then coached by Dave Odom, and Rodney Rogers always made sure the Demon Deacons were a national name.
But can a program recover from its fall if players keep leaving?
The latest three to bolt bring the attrition number to a total of seven in two seasons in Winston-Salem.
"I feel good about it,'' Bzdelik said over the phone this past weekend about the program's future. "I never want players to leave, but they did for their own personal reasons. A couple of them were concerned about their playing time in the future, and one for sure wants to be closer to home. We have a great recruiting class coming in.''
Bzdelik is the eternal optimist. He does have a good recruiting class coming in, according to ESPN.com, with six players signed who were all rated highly at their respective positions.
But you cannot ignore the laundry list of defections for various reasons (courtesy of Wake Forest):
• Tony Woods was given his release in October 2010 after a suspension from the team surrounding a domestic violence arrest the previous month. Woods transferred to Oregon, where he played this season.
• Ari Stewart was suspended toward the end of 2010-11 season and transferred to USC after the season.
• Melvin Tabb was arrested late last summer on charges of breaking and entering and fraud. He withdrew from the university and played at a junior college in Texas.
• J.T. Terrell withdrew from the university in September, citing need to seek help for substance abuse problem after a DUI. He enrolled at junior college this year and signed with USC for next year.
• Tony Chennault transferred (announced Tuesday), citing personal reasons to be closer to his mother.
• Carson Desrosiers transferred (announced Friday).
Anthony Fields transferred (announced Friday).
Chennault was the team's third-leading scorer, averaging 9.0 points per game. Desrosiers averaged 4.8 ppg, and Fields averaged 1.0.
The Demon Deacons will return their top two scorers in C.J. Harris and Travis McKie.
Wake Forest won four ACC games this season and was 13-18 overall. Bzdelik cites that the Demon Deacons won only one game in the ACC and eight overall last season.
"We've got 10 players on scholarship, and we'll have more players on next year's roster,'' Bzdelik said. "Ron is supportive. We've made great strides from Year 1 to Year 2. We're heading north. We've got a great recruiting class. We expect to make another jump from Year 2 to Year 3.''
The ACC is evolving, and with the additions of Syracuse and Pitt in 2013, Wake Forest had better get its act together fast.
NC State was within a whisker of the Elite Eight. Duke and North Carolina are obviously the conference's elite programs. Florida State is as stable as it has ever been. Maryland is on the rise under Mark Turgeon, and so is Virginia with Tony Bennett. Consistency is the norm at Virginia Tech under Seth Greenberg and at Clemson with Brad Brownell.
Syracuse and Pitt will immediately catapult to the top tier and challenge for top-four finishes each season.
That leaves Wake Forest hoping to move ahead of Georgia Tech and Boston College to become competitive.
"We only had eight scholarships the first year, next year 10 and then we had a top-20 recruiting class,'' Bzdelik said. "We've got all-ACC players on our roster. We're gaining experience.''
Bzdelik said he has multiple articles on Indiana on his desk that he shows to his team.
"It took four years,'' Bzdelik said. "We could have a winning season. I'm confident we will. We still have only one senior next year. We need to defend better and shoot the ball better, and we ran out of gas in some games. But our staff is working hard, and we're moving forward and staying positive.''
September, 22, 2011
09/22/11
10:10
AM ET
The ACC's decision to add Pitt and Syracuse will undoubtedly strengthen men's basketball more than its last round of expansion (Boston College, Virginia Tech and Miami).
But it will create more controversy given how a potential 14-team league might be divided.
The Panthers and Orange may come in 2012 if they can buy their way out of the Big East's exit demands of 27 months and a $5 million departure fee. The Big East has publicly stated that it wants the two schools in for the duration and for BCS purposes it may need them to ensure that the league still has the necessary amount of teams. The ACC is in no rush to add Pitt and Syracuse, but those two schools would rather not go through more than one lame-duck season.
Nevertheless, there is already discussion about how the two will be incorporated into the ACC. Formal talks on the matter won't occur until the annual meetings later in the academic year. But if the league goes to divisions, or at the very least goes to a divisional-style scheduling format, there still might be at least one team in a difficult spot: Wake Forest.
Virginia Tech coach Seth Greenberg looks at the divisional setup along regional lines -- and it makes some sense. ACC associate commissioner Karl Hicks agrees, and he acknowledged that's the way it might turn out.
If that were to happen, the North would have to be Virginia Tech, Virginia, Maryland, Pitt, Syracuse, Boston College and one more team.
The South would be Georgia Tech, Clemson, Florida State and Miami, and then there are the three schools in the Research Triangle (Duke, UNC and NC State) that would likely demand to be in the same division together.
[+] Enlarge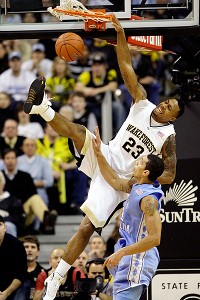 AP Photo/Chuck BurtonThroughout the years, Wake has savored its home games against powerhouses like North Carolina.
That leaves the Demon Deacons as the odd team out. Would Wake have to be put in the North, separated from its three in-state rivals?
The current 12-team divisional alignment in football isn't set up in a North-South split. Wake Forest is in the Atlantic and at least has NC State on its side with Maryland, Clemson, Florida State and Boston College. But the Demon Deacons' two in-state rivals that it would rather play more -- UNC and Duke -- are in the Coastal with Georgia Tech, Virginia Tech, Virginia and Miami.
Wake will make it clear that it doesn't want to be shipped away from the three other North Carolina schools if the league goes to two seven-team divisions. The Demon Deacons want in some form two games against the three in-state schools if there are divisions or if it's one 14-team league.
"If you do it North-South, then one North Carolina team has to be in the North,'' Wake Forest athletic director Ron Wellman said. "We want to play North Carolina more than we do. It's been four years since we played them at home in football, so we are interested in a concept where we play the North Carolina schools. That's a point of emphasis for us. As soon as we announce our schedule, our fans are disappointed that we don't play every North Carolina school in football or [twice in] basketball. Those rivalries were established before the league was in 1953.''
Wellman said when the ACC gets together next month, the topic of how to align a 14-team league will likely be discussed. Wake Forest is nearly two hours away from the Raleigh-Durham-Chapel Hill area, but Deacons fans clearly want to feel attached to the state's other ACC teams.
The other option for the conference would be to keep Wake Forest in the South and ship Miami to the North with the rationale that the Hurricanes would have to fly to every ACC school anyway due to its location (technically, the Hurricanes could drive to Tallahassee for FSU, but even that is a lengthy drive on a school night).
If the ACC were to go to 16 (which is the preferred number by Duke coach Mike Krzyzewski and North Carolina's Roy Williams, among others) and the additions were two more Big East schools (say, UConn and Rutgers), then geography naturally would put both in the North. That would be the easiest solution for the ACC, allowing Wake Forest to compete in the South.
Of course, there will be some other issues here, too. Maryland will demand that it still has its rivalry games with Duke and North Carolina. The Terps would still get to be paired with the two Virginia schools, but losing a Duke home game would seriously dampen the spirits in College Park.
In the end, Hicks said the league doesn't have to go to divisions.
"Ultimately, it will come down to a vote of the ADs and they'll decide what they'll want to do,'' Hicks said. "It will be hard to take those North Carolina schools and separate them. Rivalries and geography will be in play. The good news is that we have time to work through it. We do have permanent partners in our scheduling now. It's the same issue we have now in scheduling, but we added two more teams.''
• If Big 12 commissioner Dan Beebe is officially out of a job, then the NCAA tournament selection committee will have two of its 10 members not working while serving on the committee. The other is Jeff Hathaway, who was forced to retire at Connecticut as athletic director.
WAC commissioner Karl Benson, a former committee member, said that the personnel on the committee has always been overrated and that the committee will be fine since the system itself is all that really matters.
Hathaway's term as chair of the committee started on Sept. 1 (replacing the outgoing chair, Ohio State AD Gene Smith) and NCAA men's basketball tournament spokesperson David Worlock said there has been no change in his position. The same may be true of Beebe if he's officially out. The committee won't meet again until November, and the heart of their work doesn't really begin until January and February, anyway. Hathaway and Beebe certainly would have more time to focus on the national landscape.
The only issue that will be in play for the selection committee: Would Hathaway have to leave the room when UConn is discussed and would the same apply to Beebe when Big 12 teams are talked about, since neither would be employed by either entity?
The consensus from former committee members is that bringing in two more new members to go along with the two regularly scheduled new members to the committee wouldn't be prudent. No one wants to see a committee that has four of its 10 members doing the selections and seeding for the first time. So if Hathaway and Beebe both stay, then the only hiccup will be their role when the teams that they formerly served are being discussed.
September, 15, 2011
09/15/11
10:59
AM ET
Wake Forest's free fall from one of the top teams in the country to a complete embarrassment on and off the court is hard to fathom.
In mid-January 2009 -- not exactly ages ago -- the Demon Deacons were undefeated and No. 1 in the national polls. Now? Now the Deacons are coming off an 8-24 season and are reeling after a series of arrests, suspensions and transfers.
"I'm not going to say we've hit rock bottom," second-year coach Jeff Bzdelik said. "We haven't. All I can tell you is that we've made great strides and have a foundation for the future."
That's what a coach is supposed to say. And with three commitments so far, Wake Forest does indeed have a top-25 recruiting class for 2012.
But that doesn't mask the problems. Fast-tracking to the 2012-13 season probably doesn't seem too inviting for a passionate fan base that has constantly wanted to be considered one of the class programs in the ACC. There was a time -- just a few seasons ago -- when the noise level in Lawrence Joel Coliseum was so loud after the Deacon mascot entrance on a motorcycle that it seemed to lower one's hearing a bit. Beating Duke or North Carolina at home wasn't farfetched. It could and did happen.
[+] Enlarge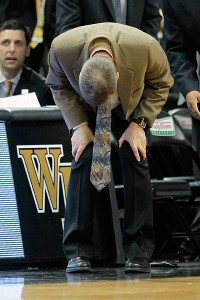 AP PhotoIf Jeff Bzdelik could barely watch last season, you can imagine how tough it was for Wake fans.
That must seem like another time and place, when college players wore high socks and short shorts. But it wasn't. Even during previous coach Dino Gaudio's final season, the Demon Deacons beat Texas in the first round of the NCAA tournament. That was 2010.
But you can excuse Wake fans if that seems to them like a long time ago. The Deacons won just one ACC game a season ago and were one of the worst power-six conference schools in the country (if not the worst), losing at home to Winthrop and Presbyterian and finishing with 24 losses.
"In my 30-something years of coaching, 34, whatever it is, personally it was the most difficult for me," Bzdelik said. "I spent 90 percent of my time with 10 percent of the players who, to be quite frank, dealt with issues that had nothing to do with being on the court."
Those issues were and are many.
Center Tony Woods was supposed to be on last season's team, but was dismissed from school in October after an assault charge (he's now at Oregon). Ari Stewart (8.5 points per game) was suspended for the 2011 ACC tournament for academic issues and was then granted his release from the program following the season (he's now at USC). Forward Melvin Tabb had multiple run-ins and was dismissed by the university in August. He was arrested on three charges: felony breaking and entering, possession of stolen goods and obtaining property by false pretense.
And that's not all.
Second-leading scorer J.T. Terrell (11.1 ppg), a promising sophomore-to-be, withdrew from school earlier this month to seek medical help following a DUI arrest. And senior big man Ty Walker, once a highly touted prospect, is suspended for the fall semester after violating the university's student code of conduct. Until Walker returns, the Deacons will be playing with just eight scholarship players (and four walk-ons).
WFU athletic director Ron Wellman said the university did its due diligence and checked out the players in advance. They were cleared academically and admissible.
"The behavioral expectations at Wake Forest are high," Wellman said. "We're doing exactly what I think you have to do. It's a process and when you lose a number of players like we have, you're starting over and now we're bringing in young players. It's beyond basketball. I'm excited about where we're going. There's no reason we can't get to that level again and be in the top four or five in the conference to where we were even before that. We were ranked No. 1 a couple of times. And there's no reason Wake shouldn't be at that level. We have had a consistent, outstanding, championship program and that's where Jeff is taking us."
Added Bzdelik: "I know what I'm doing is right. We're making young men mature. We're teaching them how to be men."
It is true that Bzdelik isn't taking any crap and isn't afraid to cut a player loose. But there clearly is a disturbing trend that can't go on.
The feeling from Wellman and Bzdelik is that this should be the end in terms of off-court problems. They'd like us to believe it was a "weeding out" sort of process.
"Jeff didn't recruit any of them," said Wellman, sticking true to his longtime friend and hand-picked successor to Gaudio. "Jeff has certain expectations, the right expectations with conduct off the floor and academic responsibilities, and all I'm saying is that Jeff is doing the right thing. It's not an indictment of anyone else. I'm just pleased with how Jeff is handling the direction of the program."
Whether it was intended or not, that statement by Wellman is a zing at Gaudio and his staff. Yet the aforementioned players recruited to Wake by the previous staff were highly coveted by schools all around the country. Passing on Walker, Woods, Stewart or Terrell was not much of an option in a big-time program.
And this was, not long ago, a big-time program.
Prior to his sudden death four years ago, Skip Prosser had the Demon Deacons in a position to be a regular atop the ACC. Sure, they were fortunate that Chris Paul grew up in the area. The recruiting of Paul and his play during his tenure was no doubt an enticement for ensuing NBA talents Jeff Teague, James Johnson and Al-Farouq Aminu.
Wake Forest won 27 games in 2004-05 and was No. 1 in the country early in the 2005-06 season. The Deacons were a bit of a disappointment in Prosser's final two seasons, but somehow Gaudio, Jeff Battle and Pat Kelsey held the program together, keeping a much-hyped recruiting class of Aminu, Walker and Woods intact.
The job those three coaches did to offset a major implosion after Prosser's stunning death can't be understated. Wellman did give Gaudio a chance. He probably had no choice at the time.
Gaudio led the Demon Deacons to a 24-win season in 2009 before being upset by Cleveland State in the first round of the NCAA tournament. The following season they won 20 before getting blown out by Kentucky in the second round of the tournament.
[+] Enlarge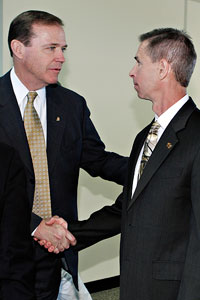 AP Photo/Chuck BurtonAD Ron Wellman (left) has known Bzdelik for decades. In April 2010, he hired him to lead WFU's men's basketball program.
After that, Gaudio was fired by Wellman, who then hired his pal Bzdelik from the University of Colorado. (He'd also coached Air Force and the Denver Nuggets.)
Everything that could go wrong has gone wrong since Bzdelik arrived.
But don't tell that to Wellman.
"I'm thrilled with the direction," Wellman said. "[Bzdelik] has made every decision that is in the best interest of the future success of our program. I could not be happier with the direction of our program.
"I've never seen a coach handle situations as well as Jeff. He has counseled and verbalized his expectations and followed them up. He's done a superb job of being in front of them and outlining expectations. He is going the extra mile to counsel them of what is expected and he understands the way they should live their lives and represent the university."
What about on the court, though? Wake Forest isn't Duke and it isn't North Carolina. Sure, there is a history of moderate success in previous decades with stars like Tim Duncan, Randolph Childress and Rodney Rogers during the Dave Odom era.
But Wake has never been able to deal well with NBA departures and it certainly hasn't been easy adjusting to this latest talent drain.
North Carolina and Duke are still and will likely always be the class of the league and in the top five in the country on a consistent basis. If the ACC stays as is with its current 12-team makeup -- a big if based on the current climate in college sports -- then Wake Forest has a chore ahead of itself.
Florida State has emerged as a top-four ACC program under Leonard Hamilton. Virginia Tech can't seem to quite break through to the Big Dance, but continues to be very competitive in conference. First-year coaches Mark Turgeon (Maryland), Mark Gottfried (NC State) and Brian Gregory (Georgia Tech) have already made their marks in recruiting before even coaching a game. It seems apparent Virginia is primed for a breakout season under Tony Bennett. It also seems apparent second-year coaches Brad Brownell and Steve Donahue were the right choices at Clemson and Boston College, respectively.
So where does that leave Wake? Will the talent level rise again? Bzdelik is confident it will.
He clearly has unquestioned support from Wellman, so the onus is now on Bzdelik and his staff to be right about the remaining players, the upcoming recruits and the ability to continue an upward trend.
Terrell's departure and Walker's fall semester suspension have to be the last black marks for a while. If there are more, climbing out of a massive sinkhole will be even more daunting. If the worst is over, there's no reason the Demon Deacons can't start to move up in an ACC that consistently has teams rotating in and out of that tier just behind Duke and Carolina.
That upward momentum might not be represented in the win column for at least two seasons, but Bzdelik is confident it will come.
"We're positive right now, everything is positive," he said. "We're moving forward now. We are moving forward. There is no doubt in my mind. This group is extremely competitive and hungry and humble and it's unified and determined to get Wake Forest to where it's always been, where it should be."
July, 26, 2011
07/26/11
1:07
PM ET
LAKE BUENA VISTA, Fla. -- Wofford assistant coach Mark Prosser was a bit bleary-eyed Monday night, fresh off a red-eye flight from Las Vegas to Orlando, Fla.
He hustled straight to the Milk House on the ESPN Wide World of Sports campus for an AAU tournament and he stayed into the evening to watch a game before heading to the hotel to shut it down and take Tuesday off.
It just made sense for him to take a day off after the red eye, but it wasn't about just that. The decision to sit idle and reflect is much deeper than that.
It was on this day four years ago that his father, George Edward "Skip" Prosser, died of a heart attack at 56 years old. Skip had taken the red-eye flight from Vegas to Orlando like countless coaches did before him and coaches continue to do to get from one recruiting event to another. Prosser then flew home so he could speak at a Wake Forest basketball camp. He went for a jog in the Carolina heat then collapsed in his office.
"It's been four years,'' said Mark, as he sat in the stands watching a game Monday night in Orlando. "I'm off the road [Tuesday]. I won't be here. That will be good.''
[+] Enlarge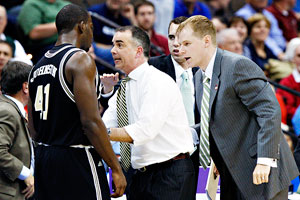 AP Photo/Steve HelberMark Prosser, right, is entering his fourth season as an assistant at Wofford.
Mark, then an assistant at Bucknell, was in a gym four years ago, when he received a phone call that his father had collapsed. He ran out of the building and headed immediately to catch a flight to North Carolina. Being in the gym that day was incredibly eerie. Seeing Mark sitting there then bolting was a haunting experience for those in the gym. The talk that day centered around Skip. When word spread throughout the gym of his death, it had a paralyzing effect on everyone there.
A year later, there was a memorial service on the Wake Forest court as those close to him spoke about what Skip meant to them.
Three years have passed since the unique church service on a basketball court. Yet, Skip's legacy is enriching and has been celebrated, not fading, in the years since his death.
There are awards named in his honor: The ACC's Skip Prosser Award to the top scholar-athlete (won by North Carolina's Tyler Zeller in 2011); the CollegeInsider.com Skip Prosser Man of the Year Award (won by Xavier's Chris Mack last spring); and the U.S. Merchant Marine Academy Alumni Association honors its fallen graduate with a Skip Prosser Achievement Award for honesty, integrity, dedication and determination to serve others.
"I miss being at these things with him,'' Mark said. "Obviously I'm happy I'm off the road [Tuesday]. It's not a sentimental thing. I just thought it made sense with the red eye coming right here. I just know my dad this week would have been so happy that the lockout ended and his Steelers are back playing. We would have talked about that.
"He would have loved the success the Pirates are having. It's been four years. And yet when I see other coaches, his friends like Ed DeChellis [now at Navy] they love telling me stories. That's what keeps everything in the forefront.''
Mark said his father would have done the red eye again. He doesn't think his dad would have changed one bit of his routine. He said he believes his father's heart attack was a cumulative effect and running in the Carolina heat didn't help him.
Yet, Skip's death still has had a tremendous effect on one of his mentees, Pat Kelsey, also a friend of Mark's. Kelsey, who played for Skip at Xavier, was on the Wake Forest staff and was on campus when Skip died. He stayed on in Winston-Salem with Dino Gaudio and Jeff Battle then went to work with another Skip Prosser pupil, Chris Mack, at Xavier. But Kelsey abruptly quit the business after this past season, saying he wanted to spend more time with his family. He mentioned Skip at the time of his decision.
Kelsey said in a statement on May 16: "For a long time I have struggled internally with this decision but I have decided to step away from college coaching at this time. Four years ago, I witnessed first-hand coach Skip Prosser's death in the basketball office at Wake Forest. That day, my perspective on the profession and life was forever altered. My role as a father and husband is everything to me and the rigors of this business can make that challenging. My family and my health comes first."
The younger Prosser said he wasn't expecting the decision.
"I was shocked when I heard that,'' Mark said. "I've talked to him. He seemed happy. I respect that. Pat is in great shape, so it's not a health thing. He wants to be around his family, his girls. I know that was a big motivating factor for him.''
Skip's legacy is important to Mark, and it has been celebrated even more in the years since his death.
"It's about doing things the right way, and what people remember most about him is that he was a normal guy,'' Mark said. "He worked his brains out. He enjoyed this on a day-to-day basis. He loved being here. He loved Vegas, Orlando and all this stuff. He wanted to go back to speaking at the camp. He went from a JV football coach in Wheeling, West Virginia, to being a head coach in the ACC. It was an unbelievable journey. He worked for it and was very fortunate to be around good people.''
Mark called his father a renaissance man who loved to travel overseas to Ireland, study history and read on the beach. He said his father originally just wanted to be a teacher.
Mark got married two years ago to Emily Criscione. Emily had a chance to meet Skip prior to his death. Six months ago the couple had their first child, a girl named Ava Grace.
"She has red hair and blue eyes like my father,'' Mark said. "She's so much fun. He would have enjoyed her. He wasn't the touchiest-feeliest kind of guy. But that would have been great for him. It would have been good to see. It's tough that she won't know him. I just know that Ava would have softened him up.''
Mark is cognizant of Ava Grace's early moments. Like most fathers, he doesn't want to miss anything significant.
"I don't want her first words to be 'Where's Daddy?' Oh, 'He's in Orlando or Vegas,''' he said.
Mark turns 33 this year. He's in his 10th year as an assistant coach and has worked at two successful lower-profile programs, coaching in four NCAA tournaments, working for Pat Flannery at Bucknell and now Mike Young at Wofford.
"I've had impeccable timing, working for two really good coaches,'' he said. "I can't believe it's 10 years as an assistant. It seems like it's been flying by.''
It has been four years since Skip Prosser died. That too seems hard to believe for his son.
"Four years,'' Mark said. "What do I miss most? I just miss talking to him on a daily basis.''
October, 19, 2010
10/19/10
10:07
AM ET
Louisville coach Rick Pitino met with former Wake Forest center Tony Woods last weekend in Louisville. Pitino has spoken with Woods' former AAU coach Norman Parker, his former Wake Forest coach Dino Gaudio and has been in contact with attorney Mike Grace, who says he's representing Woods.
Pitino has also been in contact with Woods' girlfriend, who was the victim in an assault case that led to Woods' arrest and subsequent departure from Wake Forest after he pleaded guilty to a misdemeanor charge of assaulting a female.
[+] Enlarge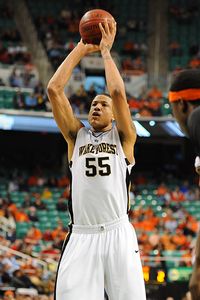 Lance King/Icon SMITony Woods pleaded guilty to a misdemeanor assault charge following an incident with his girlfriend. He has since left Wake Forest.
Parker, along with multiple sources with direct knowledge of the situation, said Pitino is checking on Woods' character to see if he merits a second chance.
"I would suspect other coaches are doing the same thing," Parker said. "But he wants to go to Louisville and he wants to take care of his [legal] obligation. He knows what he did wasn't right."
Woods was arrested in Winston-Salem, N.C., on Labor Day, after he was accused by police of kicking and pushing down his girlfriend, identified by the Winston-Salem Journal as Courtney Lorel Barbour, in front of their 8-month-old child, causing Barbour to fracture her spine. A judge dismissed two of the misdemeanor charges Woods faced -- assault inflicting serious injury and assault inflicting injury in the presence of a child.
As part of a plea agreement, Woods pleaded guilty to misdemeanor assault on a female and was given a suspended 60-day sentence. Grace said Woods also must complete 100 hours of community service, as well as anger-management classes.
If Woods fulfills his legal obligations, which could be transferred to the state of Kentucky from North Carolina, he could be enrolled at Louisville for the second semester. However, he would not be eligible for an athletic scholarship for a year because he's not in school this semester.
Even if all that occurs, Pitino still has to feel comfortable about Woods being at Louisville before he accepts him into the program, according to sources close to the program. One of the main reasons Louisville considered taking Woods initially is in large part because of the connection between assistant coach Tim Fuller and the coaching staffs of Gaudio and the late Skip Prosser. Fuller graduated from Wake Forest in 2000 and served as director of basketball operations for the Demon Deacons from 2004-06. Had there not been someone to vouch for Woods, then Pitino may not be willing to even entertain the gamble.
Woods was suspended from the Wake Forest team following his arrest. He was later dismissed from school for the fall semester by the university's student ethics and honor council. According to multiple sources who had knowledge of the WFU hearing, it was revealed that this was not the first incident involving Woods and Barbour, who has since supported Woods.
In the latest incident, according to Winston-Salem police, Woods and Barbour got into an argument in their apartment with their 8-month-old son present. Woods kicked and shoved Barbour, who told authorities she had recently fallen from her dormitory loft and hurt her back and that's what had caused the spinal fracture.
After hearing testimony, the Wake Forest ethics committee determined Woods was no longer welcome at the school for the foreseeable future. Woods could have decided to do his community service and court-appointed classes in North Carolina and returned to Wake Forest, where he would have to appeal for reinstatement. But since he didn't take the minimum six hours in the fall semester, he would have had to sit out the second semester.
Woods chose to seek a release from the school, which athletic director Ron Wellman granted without reservation.
Grace said he became familiar with Woods' situation through his son, Michael, who played AAU basketball with Demon Deacons guard C.J. Harris, a former teammate of Woods.
Grace said he has since written a letter on Woods' behalf, endorsing him to other schools, notably Louisville. Grace said that Woods was a young adult in a pressure-packed situation with another young adult and "reacted poorly."
Parker, Woods' AAU coach, concurred.
"Tony is a fine young man and he has good character, but he understands he made a mistake, even just putting a hand on a woman. He knows that now -- a push or a shove, he knows that it was inappropriate," Parker said. "It's unfortunate and he has paid the consequences. He's got to do what the state has asked him to do and he'll be stronger and a more mature young man."
Three years ago, the 6-foot-11 Woods was a part of a heralded incoming freshman class at Wake Forest, led by Ty Walker and first-round NBA draft pick Al-Farouq Aminu. Woods would have been a starting center this season had Gaudio been retained. He might have started under new coach Jeff Bzdelik if this incident didn't occur, but Bzdelik never had the chance to make that decision. Woods had modest numbers as a sophomore last season, averaging 4.6 points and 3.2 rebounds.
The one-time top-50 recruit out of Rome, Ga., still has potential and that's why there are apparently a number of schools waiting to pounce on him now that he's available, even before he completes his legal responsibilities. Is that right? Shouldn't there be even more of a gap from the time Woods pled guilty to misdemeanor assault to signing on at a new school?
Athletes with misdemeanor charges on their record aren't uncommon, but according to a high-level Demon Deacons source, no one at Wake Forest was comfortable with this misdemeanor crime.
Since Woods isn't enrolled this semester, he would need to sit out two semesters athletically and can't be on athletic aid until the spring semester of 2012, leaving him with two semesters to pay and then three remaining to play and be on scholarship.
"He can do it with student loans if that's the route he chooses," Parker said.
Parker said Woods has family in Kentucky and can take care of his legal responsibilities out of state. Grace said he can register with a probation officer in Kentucky and conduct his community service.
"He plans on attending Louisville if they offer the scholarship," Parker said. "But his first focus is to take care of his responsibilities."
Maybe Louisville and every other school interested in Woods should wait until he does just that. Perhaps they will. A source close to the U of L said the Cardinals are waiting until Woods completes his legal obligations before offering him a scholarship. But even then, is it the right time, enough time, or even the right thing to do to give him a second chance for assaulting a woman?
According to a source, Barbour has called Pitino to endorse Woods. Louisville can't confirm if Woods will be a Cardinal because he's still a recruitable athlete. But if he does end up at Louisville, the U of L administration and Pitino will have to answer as to why they feel he is worth the rehabilitation -- not in society, the law takes care of that, but to have the privilege to play college basketball again.
April, 8, 2010
04/08/10
3:42
PM ET
Athletic directors should take their cues from Wake Forest's Ron Wellman.
He doesn't give you spin. He tells you why he did what he did, and he won't hide.
That doesn't mean you have to agree with his decision to fire coach Dino Gaudio. I don't.
Gaudio's team beat Texas in the first round of the NCAA tournament game and then fell to Kentucky in the second round. He held together the Wake Forest program with the utmost class and dignity after the tragic death of Skip Prosser three years ago.
And Wellman acknowledged as much in our discussion late Wednesday night. "Our program was in tremendous flux," Wellman said after Prosser's death.
Gaudio was the choice at the time over fellow assistant Jeff Battle, who took himself out of the running because his wife was battling cancer at the time, a disease she would lose her life to soon after, leaving Battle to raise his son alone.
"Dino offered stability. He did a superb job of transitioning, of honoring Skip everywhere we went and making the No. 1 story Skip," Wellman said. "Dino did a tremendous job of honoring him while making the team his. That's a fine line to walk, and he did it exceptionally well. It was the right decision, and I would make the same decision again for us."
Wellman went on to say how much Gaudio handled the academic side of Wake Forest and that he was a fine representative of the university.
None of that was the reasoning for firing Gaudio. Wellman was direct in saying that it was the late-season on-court performance. Too often, athletic directors don't want to stand up and say why they are making a decision. They want to be everyone's best friend and don't want to appear to have blood on their hands.
If you're going to fire someone, just do it and say why.
Wellman did.
"The decision was based on the overall performance the past three years," Wellman said. "I looked at our February and March records and how the performances declined rather dramatically. We were 16-17 in February in those three years and in March 4-7, and 1-6 in postseason play, including the ACC tournament. In six of those losses, we were the higher-seeded team or better seeded in five of those losses. Yet the games weren't even close."
Wellman admits at some point he had to ask himself "can that be rectified or should we move in a different direction. I chose to move on."
Wellman said his role on the NCAA tournament men's basketball selection committee was the reason he waited until after the Final Four to call Gaudio into his office Wednesday and make the move.
"He was surprised," Wellman said. "He handled it exceptionally well. We had a 15-20 minute meeting. I answered all his questions. He was professional. He left, we shook hands, and he thanked me for the opportunity."
Wellman said there is a buyout in Gaudio's contract that he will honor. He also said he told the assistant coaches that they will have the opportunity to remain at Wake with the new coach and be given a legitimate interview. He said if they don't land a job on staff or somewhere else, they will be paid through Dec. 31, extending the contracts six months.
Wellman doesn't mess around. He tells it straight, unlike some athletic directors who talk out of both sides and don't give straight answers. He is respected for that by his peers. He stands there, dishes out his decision and then defends it without hiding. He isn't afraid to use the word "fired." Wellman also always has had a plan.
He will act quickly, not hire a search firm, and handle everything by himself.
"It has to be someone who can take over the program and reach the goals and objectives we have," Wellman said. "We're not out to win the press conference. I'm not saying we won't, but that's not the priority. I want someone for long-term success."
Wake Forest is an attractive job, with talent in abundance returning and coming to Winston-Salem, N.C.
Wake loses senior guards Ishmael Smith and L.D. Williams and big men Chas McFarland and David Weaver. Sophomore wing Al-Farouq Aminu declared for the NBA draft and signed with an agent. But the Demon Deacons still should return a quality team with surprising freshmen Ari Stewart and C.J. Harris on the wings to go with Gary Clark and Tony Woods. That's four of the top 8 returning scorers.
Wake Forest also had the No. 6-ranked recruiting class by ESPNU's Scouts Inc. with guards J.T. Terrell, Tony Chennault and frontcourt players Travis McKie, Melvin Tabb and Carson Desrosiers.
"The person we hire may or may not have a national championship under his belt or a conference championship. I don't know," Wellman said. "But I will be absolutely convinced that the coach can do the job at Wake Forest. The fit is really important at Wake Forest. We can't have someone going to change the values or the ideals or the standards of this university. We have to have a representative of the university, rather than someone changing the university."
Wellman fired Gaudio. He stood by his decision. He said why. You may disagree with it, you may not. But you can't fault Wellman for standing by his reasoning. And any coach going into the job should know what is expected going forward. There is nothing to hide. There isn't anything phony here. Win in February and March, have the players do well academically and represent the university well.
Gaudio did the latter but didn't do enough of the former. Now he's out.
January, 1, 2010
01/01/10
6:01
PM ET
How were we all so wrong about William & Mary?
Wait. Did I just say that out loud? Was there a reason to be even thinking about this historical institution founded in 1693 in the colonial hamlet of Williamsburg, Va.?
This is a school that has never been to the NCAA tournament. Its only appearance in the NIT came in 1983. The Tribe have never been ranked.
The joke of losing to Bill and Mary just isn't funny anymore. It's a tired tale. But it's time to take this men's basketball team about as serious as the students on campus must handle midterms.
[+] Enlarge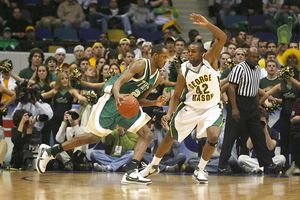 Geoff Burke/US PresswireDanny Sumner, left, and William & Mary are a CAA team to watch this season.
William & Mary was ranked No. 7 in the collegerpi.com poll through Sunday's games and that isn't likely to drop this week.
Why not? The Tribe won at Maryland on Wednesday. They had already won at Wake Forest and defeated a Richmond team that has wins over Mississippi State, Missouri and Florida and just lost to that same Demon Deacons club in overtime.
The RPI is buoyed by losing by nine at Connecticut and a triple-overtime, buzzer-beating loss at Harvard, which as we all know now is no slouch.
On Dec. 5, the Tribe also took out one of the Colonial favorites, VCU, by one to start league play. The league slate continues Saturday with a road game at Hofstra.
Blue Ribbon picked William & Mary 11th in the CAA. The Tribe's final RPI the past five years reads like this: 238, 159, 203, 263 and 286. The win totals aren't much better with 10 a year ago, a rare blip two seasons ago with 17 (and an appearance in the conference tournament final), then 15, eight and eight.
"I wouldn't blame anyone for picking us 11th,'' said sophomore guard Quinn McDowell, who scored a career-high 28 points in the win over the Terps. "We were pretty bad last year. The expectations were pretty low.''
William & Mary has as good a résumé as any school in a non-power six conference. As long as the Tribe, which now have to be considered a CAA favorite, finish in the top two in the league, they should get an at-large bid. So what happened?
"We found something that works,'' McDowell said. "We went to work in the offseason. Had a commitment to each other and found a great system that we believe in.''
William & Mary coach Tony Shaver was a Dean Smith disciple, playing at North Carolina in the 1970s. He was schooled on being a press, run and trapping team. But let's be honest here: That's just not going to fly at William & Mary. This is a school that needs to be niche.
"I made a gut-wrenching decision,'' Shaver said. "I had to abandon my system. I knew it wouldn't lead to the best results at William & Mary.''
So Shaver did what countless coaches have admittedly done from Roy Williams to John Calipari. He went poaching.
"I stole some from John Beilein [from West Virginia and Michigan], the NC State stuff [and now Arizona State] from Herb Sendek and then added some stuff we like,'' Shaver said. "It's a style offensively that is predicated on a lot of 3s, opening the floor, a bit of backdoor cuts and defensively we're doing a lot of different things from some matchup to man.''
It's hard to argue. The Tribe have won nine straight games, one shy of a school-record 10 straight by the 1929-30 team. The Tribe's two road wins against ACC schools was a first in school history.
McDowell said four of the five players on the court can all make shots. The 5-man is a passer and screener. Look at the balance as David Schneider (averaging 16.7 points and 6.2 rebounds), McDowell (16, 3.5), Danny Sumner (13.1, 3.9), Marcus Kitts (6.9, 6.4) and Sean McCurdy (6.5, 4.4 apg) make for a solid five. If it sounds similar to the hybrids out of the original Princeton offense that Georgetown, Northwestern, Arizona State, Oregon State and Richmond all run in some variation to their liking, then that's fine to toss that blanket over it if you'd like.
The interchangeable parts make it hard to guard as long as the Tribe make shots. But there has to be more than just a system. These players have to believe in themselves and not get rattled at perceived higher competition. That was the case at the Comcast Center. McDowell said Shaver made it clear in the locker room that the win over Wake Forest was solid, but beating Maryland would prove they belong.
"I wish I could tell you that there was some kind of magic pixy dust in our water,'' McDowell said. "I don't think there is. It's been a combination of things from the offense, to this team. We're not blowing out teams. But we find ways to win, especially in tough environments on the road.''
In years past, teams such as Gardner-Webb have made their mark with a stunning road win at Kentucky or something similar. But then they fade by the New Year, never to be heard from again, even within their respective conference.
That doesn't seem to apply here.
The Tribe followed an opening weekend of losses to UConn and Harvard with the Richmond and Wake wins and then won at Maryland weeks later.
This just doesn't happen at William & Mary.
"It's no secret,'' McDowell said. "It's not a rich basketball tradition here. But that's part of the excitement trying to build something that's never been done before.''
What Shaver did in switching his philosophy was make his program unique. In the Pac-10, no one enjoyed playing Oregon State, Arizona State or Washington State last season. The same is true of playing Richmond in the Atlantic 10 or Northwestern in the Big Ten.
"I wanted our program to be hard to prepare for,'' Shave said. "We do some unusual things. I wanted to have a system that skilled players could really flourish in with passing and shooting. All of those are a lost art. It helped us find good players that knew they would fit in here.''
Shaver said the Tribe clearly snuck up on Wake. But he said that wasn't the case against the Terps. Now, the Tribe are no longer the given win, the team other CAA teams will look down upon. The Tribe are suddenly the team to beat. The wins at Wake and Maryland made the Tribe the first CAA school since the league was formed in 1985 to win two road games against ACC opponents in the same season. They were only the third and fourth road wins at an ACC school for a CAA school.
Those results demand and command respect.
"We're going to get everybody's best shot now,'' McDowell said. "The programs in the CAA know us better, they've played us multiple times and in some way playing those hostile road games will be tougher than playing at Maryland.''
As the new year starts this weekend, the Tribe have a bid in front of them to earn. They have done quite enough to warrant the attention of all 10 members of the NCAA tournament selection committee. Remember, it is the best 34 at-large teams remaining after the automatic berths. History means nothing in that room. You earn your spot based on what you've done this season. William & Mary has done more than most so far.
"It would mean the world to a lot of people,'' said Shaver of a first-ever NCAA berth. "Not just to the guys here, but to the guys who have played here a long time. I know it's premature for me to talk about that, but it would mean the world.''