Category archive:

Nebraska Cornhuskers
October, 30, 2013
10/30/13
2:22
PM ET
If the 2014 NBA draft lives up to its hype, the upcoming college basketball season could rival or supersede any since the turn of the century.
That's a big if.
But the buzz isn't going away and won't unless the returning and incoming talent takes a dramatic drop from preseason projections.
Let's assume Kansas freshman Andrew Wiggins, Kentucky freshman Julius Randle and Oklahoma State sophomore Marcus Smart are locks for the top three to five spots in the NBA draft. Who else registers with NBA decision-makers to fill out the top 10?
Parker will pair up with Mississippi State transfer Rodney Hood to create a dynamic tandem for the Blue Devils. Parker's overall basketball IQ makes him a cinch to be in the top 10. He will be in the running for ACC Player of the Year with Hood, Virginia's Joe Harris and Syracuse's C.J. Fair.
Wiggins has swallowed most of the oxygen coming from Lawrence, but Bill Self potentially has one of the best big men he has coached at KU in Embiid. He is a sponge, soaking up knowledge, and could be the most dominant big man outside of Randle this season.

Robinson is described as having a pro game with excellent shooting skills. The trick will be how he handles being much more of a featured presence for the Wolverines.

McGary could have easily bolted from Michigan after its Final Four run last season. He was a hot candidate in an incredibly weak draft, yet he chose to return. Now, he's battling back issues. The upside is there, but he needs to show well for a full season.
Kentucky coach John Calipari isn't hesitating promoting Young's skill set. If he has Michael Kidd-Gilchrist's work ethic but is even better in the skill department, Young could be a sleeper to shoot up into the top five in June.
Gordon was the MVP of the United States' under-19 gold-medal-winning team in the Czech Republic in July. His athleticism was on full display in the event. But Gordon will need to show he can shoot and defend to ensure he's a top-five talent.
Harrison will step in as the Wildcats' point guard. If he stands out, the long line of highly placed Calipari-coached point guards will continue to dominate the lottery.
October, 29, 2013
10/29/13
4:56
PM ET
With alignment on hold until after next season, the lines have been drawn, the places set. Now, it's time for programs that have lost their way to lock in and start the climb out of mediocrity.
Such as:
The Demon Deacons stuck with Jeff Bzdelik for a fourth season after winning just 13 games in each of the past two seasons. Transfers have become all too common in the program. There was progress last season: winning six conference games, beating ACC champ Miami and knocking off NC State. But the Demon Deacons couldn't win on the road. Climbing out of the bottom third will be even tougher this year with the additions of Syracuse, Pitt and Notre Dame, not to mention the forthcoming switch of Maryland for Louisville. Wake Forest athletic director Ron Wellman and Bzdelik are good friends. Wellman put his stake in Bzdelik and has to see this through. Now is the time for the Demon Deacons to make a move to ensure that the rocky road was worth the wait. The Wake Forest fan base is one of the most passionate in the league. It's a shame that it hasn't had the opportunity to create a feared, frenzied atmosphere like the one it had less than 10 years ago.
The Cornhuskers are investing in basketball like never before. Nebraska is playing in $179 million Pinnacle Bank Arena. Coach Tim Miles is entering his second season. He has a young team in Lincoln, and there will be growing pains. Still, there needs to be a return investment. The Huskers must make Lincoln a feared road stop in the Big Ten going forward. Nebraska has a chance to show promise. The time is now to make a move before even the most passionate fans begin to lose interest.
The Mountaineers' transition to a new league might have been the toughest of any team that moved. That shouldn't have derailed a program Bob Huggins had rolling to a Final Four just over three years ago. Huggins has too much pride to let West Virginia wallow in mediocrity, but the talent drain was in effect last season. There were recruiting mistakes and opportunities lost. The Mountaineers must make Morgantown as difficult a road stop for opposing teams. Moving into the league's top four is more than doable for the Mountaineers.
The Pirates might be one of the biggest beneficiaries of a move to a smaller conference. Seton Hall was lost amid the bloated old Big East. Now the opportunity is there for the Hall to climb. A strong 2014-15 recruiting class should give hope. There is optimism for one of the most difficult high-major jobs in the Northeast. Kevin Willard is entering his fourth season as a .500 coach, but he could be judged with a clean slate in a new league where the true round-robin schedule will be a fair barometer. The new Big East desperately needs the New York-market teams to matter in March. St. John's appears to be ready to accept the responsibility. The Pirates must do their share, too.
If you've never seen the Huntsman Center rocking, then you've missed out on one of the top home courts in the West. The problem is that those instances, since the late Rick Majerus was on the sideline, have been limited. Crime-fighting coach Larry Krystkowiak has the right demeanor, character and credibility to deliver a winner, but the corner must be turned soon. Utah can -- and should -- be one of the rising teams in a conference that allows plenty of chances for schools to take a turn near the top. If once downtrodden Colorado can be a regular, established contender, then Utah can as well. Krystkowiak said he believes in the younger players in the program. Now it must ignite the passion that once made Salt Lake City an intimidating destination.
Georgia has always been one of the more intriguing SEC teams not named Kentucky or Florida. The Bulldogs are within range of plenty of talent, notably in Atlanta, even going against hometown Georgia Tech. The Bulldogs have a determined and loyal fan base that craves a winner. Mark Fox has coached and recruited pros, but he hasn't been able to get that talent to win consistently in the postseason. The SEC is wide open beyond the top two teams, with room after that for whoever can produce. If there ever was a time to make a move back into being a team of consequence, this is it.
When Guy Lewis was inducted into the Basketball Hall of Fame last month, it brought back memories of the Cougars' dominance in the 1980s. That era is long gone while Houston has spent time in the Witness Protection Program. Now the Cougars have come out of their shell in the American Conference, where there is a real opportunity for Houston to get on the national stage. Once Louisville leaves, UConn, Memphis and Cincinnati will need challengers. Temple and SMU might take their shot. Houston, though, can draw from as much, if not more, of a talent base than any school outside of Memphis. The Cougars might never have a better chance to be a factor than right now. The 1980s aren't coming back, but Houston has a shot to create its own revival.
December, 14, 2010
12/14/10
9:14
AM ET
Memphis junior center Angel Garcia told coach Josh Pastner that the contractual offer to play professionally in Spain was too good to turn down.
So he's gone, just like that, eight games into the season.
Iowa State junior guard Lucca Staiger said nearly the same thing after two games in the Big 12 last season. He left the Cyclones for a professional contract in Germany.
[+] Enlarge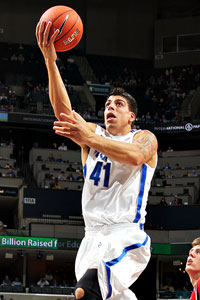 Joe Murphy/Getty ImagesAngel Garcia told Memphis his contract offer to play professionally in Spain was too good to turn down.
Nebraska sophomore forward Christian Standhardinger, who has missed the past four games due to an academic suspension, could be next after he meets with coach Doc Sadler later in the week.
When Florida sophomore guard Christian Drejer pulled this stunt in February 2004, it seemed like an anomaly.
Six years later, it seems like a trend.
"Two in less than a year? I think this, without question, has to make coaches think twice about recruiting kids from overseas,'' said Creighton coach Greg McDermott, who coached Iowa State last season. "It killed our team last year to lose your starting guard two games into the Big 12 season. What leverage do you have as a college coach? You have no leverage.''
Pastner didn't fight Garcia's decision. In his brief head-coaching tenure, he's shown that he will not stand for players who aren't buying into what he's selling/coaching. He didn't tolerate Jelan Kendrick's issues and jettisoned the talented freshman off the team. And when Garcia wanted to take his modest 6.1 ppg and 3.0 rpg overseas, Pastner couldn't say much.
Like Staiger and Drejer, Garcia is failing to fulfill a commitment. No one is asking any player, whether they're American or foreign, to play more than one season. But there is something to finishing what you started, whether you're playing soccer as an 8-year old or playing Division I basketball. You should finish a season, and if in March you're out the door for a professional contract, then go for it.
Garcia told Pastner what Staiger said to McDermott: It was an offer he couldn't refuse. But the players don't push the foreign teams to ask if the offer is available in March.
Pastner said Garcia was crying when he told his teammates. But with Kendrick gone and D.J. Stephens out with a groin injury, the Tigers are down to nine scholarship players. Hippolyte Tsafack will no longer redshirt and will replace Garcia up front. He'll play Thursday against Austin Peay.
"What this shows you is that if a guy is good enough, then at any time they can get a contract,'' Pastner said. "U.S. kids are year by year, but the foreign kids are more semester by semester.''
McDermott said he is concerned that it could get to the point where U.S. players are tempted to leave during the season, as well. "It's a scary trend, and it's bad for our game,'' McDermott said. "It's unfortunate. And it's a trend that we've had this all of a sudden twice in a short period of time.''
Nebraska has four foreign players. But Sadler doesn't see issues with the other three at this juncture (Jorge Brian Diaz, Andre Almeida and Christopher Niemann).
"The biggest question before any of us [coaches] commit a scholarship should be to get a commitment that the reason you're coming over here is for academics,'' Sadler said. "This is scary. The kid can play well in the first semester and leave. You've got to do a lot of research. Some kids are here with the wrong idea, just trying to improve their marketability over the season more than trying to get an education and help the name on the front of the jersey win.''
No one would argue against a foreign player's leaving after one season for a professional contract, even if he can't make it in the NBA (see: Vanderbilt's A.J. Ogilvy). But leaving during the season is essentially quitting on the players you've shared a locker room with for six months. "The saddest thing about it is the effect it has on the players on your team,'' Sadler said. "For the most part, they've been committed to the team and then a kid leaves midterm. It affects your team.''
November, 22, 2010
11/22/10
12:56
PM ET
SAN JUAN, Puerto Rico -- November tournaments don't make or break a season, but they can be a strong indicator.
UCLA went winless in Anaheim last season. The Bruins then missed the NCAA tournament.
West Virginia won Anaheim and eventually reached the Final Four.
Meanwhile, Butler was in the same field and looked horribly mediocre but was within one possession of the national title.
So, we report, evaluate and speculate.
Here are some impressions from four days in Puerto Rico with eight teams (and for more analysis, check out my video wrap from San Juan).
• I was convinced Minnesota would be a factor when I saw it practice last month. The Gophers were just too big inside with Trevor Mbakwe, Ralph Sampson III, Colton Iverson and Maurice Walker to be a fluke.
[+] Enlarge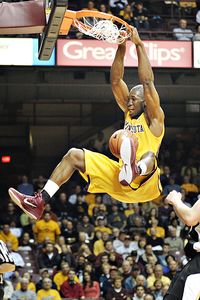 AP Photo/Tom OlmscheidTrevor Mbakwe and Minnesota's toughness and size were big factors in San Juan.
Al Nolen is back as the lead guard and top on-ball defender, Blake Hoffarber is raining down 3s, and with the possibility that Rodney Williams and eventually Devoe Joseph can slash to the basket for buckets, this team is extremely formidable.
• Minnesota didn't disappoint. The Gophers' size was the story here all week. The coaches couldn't stop talking about how physical, tall and dominating the Gophers could be in the post. The confidence that Sampson III is exhibiting -- even with his subpar game Sunday night -- could be a game-changer for this team. Mbakwe gives the Gophers the toughness they covet, and he'll be a strong man in the Big Ten.
• The Gophers keep saying how wonderful Joseph will be for this team when he gets back from his team suspension. He wasn't a dominating scorer for the Gophers, so we'll take their word on this one for now. But he'll have to fall in line with a team that has found its mojo here in the Caribbean.
• Coach Tubby Smith should be applauded for the job he has done at Minnesota. Smith has put together a defensive-minded team that has balance and enjoys being with one another. The staff is a veteran crew, and there is a sense this could be a special year.
• West Virginia will be fine and a real contender for the Big East title. The Mountaineers had some questions about perimeter shooting with the departure of Da'Sean Butler. But Casey Mitchell was phenomenal in San Juan. If Mitchell keeps his word and remains quiet, the Mountaineers will be a player. Mitchell was subdued throughout the week, almost going to the extreme of not talking back to coach Bob Huggins. Mitchell doesn't smile much, but he clearly has a shooter's mentality.
• The reason for the optimism is that Kevin Jones wasn't "on" throughout the week. He can play much better and be more of a factor than he was in this tournament. John Flowers is still working to be a consistent scorer, as well. While the Mountaineers are undersized, they do have the toughness to board in the Big East. The team just needs Deniz Kilicli to be more efficient as a starter. Backup Kevin Noreen gave them much-needed energy off the bench in Sunday's title game.
• Point guard Darryl Bryant won't have an off game like he did on Sunday too often (0-for-1 from the field, zero points). He knew it. There was no reason for it. He'll be back as a major factor for the Mountaineers. Joe Mazzulla and Bryant in the backcourt are a formidable pair. I wouldn't worry too much about this squad. As Huggins said, his teams compete for championships.
• Vanderbilt was impressive after leaving with a 2-1 mark. Coach Kevin Stallings was adamant that the Commodores could be a contender in the SEC East without A.J. Ogilvy and Jermaine Beal. The Dores have an extremely effective perimeter with Jeffery Taylor's versatility, John Jenkins' long-range shooting, and the combination of Brad Tinsley and Kyle Fuller at the point.
• But the biggest surprise from Vanderbilt was its power game. The Dores were one of the top three tough teams here, and it showed. Festus Ezeli can finish on the offensive backboard and Lance Goulbourne doesn't show fear going in for the offensive putback.
• Stallings never gets full credit. The man can coach. He was a candidate at Ohio State prior to Thad Matta taking the job. The Buckeyes couldn't have gone wrong either way. Obviously, Matta has done a tremendous job in Columbus, but Vandy should realize, if it hasn't already, that it has quite a catch in Stallings. He has made this program relevant for years and will continue to do so.
• North Carolina, well, what is there to say about the Tar Heels? UNC is just missing something. What it needs is a player in the locker room who can grab the rest of the crew and shake them up a bit. They don't have an enforcer, someone with an edge. The talent is there, but something isn't. Coach Roy Williams said that attitude and leadership will have to come from the coaches until the players develop it in the locker room. But who will be that guy? Can it be someone like freshman Kendall Marshall? Will Harrison Barnes develop that type of edge? Barnes is a phenomenal talent, but he got pushed around and had trouble fighting for his own shot in the last two games. Sure, there were missed defensive assignments, and Barnes did flourish against a zone. But in the Minnesota game, the Gophers bodied him up, and he went 0-for-12 from the field. That's not good. Tyler Zeller and John Henson have incredible length, skill and athleticism, but they just don't exude the type of personality to take over. How this team develops over the course of the season, when it is sure to take on more losses (possibly at Illinois next week), will be intriguing to watch. But know this: UNC is in the ACC mix with Florida State, Maryland, Virginia Tech and NC State for second place behind Duke. The Tar Heels aren't at all ahead of the pack. They are in the mix, just like everyone else. The bottom of the ACC has been awful so far, so there is hope that the records for those teams fighting for second won't come close to last season.
• Davidson coach Bob McKillop should be listed high if you're ranking elite coaches. The Wildcats had no business leaving 2-1 with a roster loaded with freshmen and sophomores. Western Kentucky had a few players (Juan Pattillo and Steffphon Pettigrew) who are going to play pro basketball somewhere on the globe. Davidson may not have guys like that. Yet Davidson was the better team, the more efficient team, and leaves here with oodles of confidence going forward into the Southern Conference. Western Kentucky, a Sun Belt favorite, is now confused, unsure why it can't find any cohesion. The Hilltoppers were selfish at times and lost at others. The only good news is that their press and trap allowed them to come back and beat Hofstra, or the Hilltoppers could have left here 0-3.
• Hofstra's Charles Jenkins could be this season's Rodney Stuckey. He's a lower-profile player who could be a first-round NBA draft pick. He can find his shot anywhere on the court and is also a solid leader. But he has to be more selfish on this team. He passed up one shot against Western Kentucky and then didn't command the ball on the last possession. Hofstra will be in trouble throughout the season if Jenkins doesn't dominate the ball.
• Nebraska will have issues in the Big 12 if it doesn't get better guard play. The Cornhuskers need some consistent play on the perimeter to stay in games. They can defend and board, but the perimeter is a sore spot. Nebraska coach Doc Sadler is well-respected for a reason -- his teams play hard, and he gets them to defend. But that won't be enough for the Huskers to be a winner in the last season of the Big 12. They need game-changers on the perimeter.
• And a memo to future teams -- the Coliseo de Puerto Rico was as impressive a building as I've seen in one of these early November tournaments off the grid. And surprisingly, the fans came out locally for the final. As always, West Virginia fans came strong, but there was a loyal following from Minnesota and North Carolina, too.
June, 16, 2010
06/16/10
12:49
PM ET
Nebraska and Colorado can't get out of the Big 12 fast enough for the remaining 10 schools to relish the most competitive college basketball league in the country.
"If you look at who we lost and where they've been basketball-wise, we got stronger,'' Texas A&M coach Mark Turgeon said. "It's going to be a great league. How great would it be, if, when we have 10 teams, that we get six to seven teams in the NCAA tournament in good years? As basketball coaches, we knew we wanted to save this league because we knew we had something special.''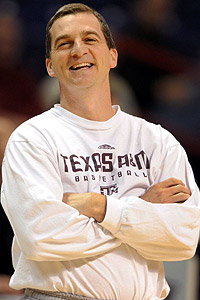 Steve Dykes/US PresswireTexas A&M coach Mark Turgeon is all smiles after hearing about his new league.
The current plan is for the Huskers to leave for the Big Ten by next summer for the fall of 2011. Meanwhile, Colorado exits for the Pac-10 in 2012, giving the league one more season of 12 teams and a 16-game men's basketball schedule, and a possible season of 11 teams and a 16- or 18-game schedule before the league goes to a tidy 10 teams in 2012. The plan for 2012-13 is an 18-game schedule with home-and-home games.
It might sound simplistic, but the Big 12 held on to a football divisional schedule even though the league standings were 1 through 12. While Kansas State and Missouri have become major national players the past two seasons, Nebraska and Colorado were still in the North. That meant the Big 12 South traditionally had tougher home-and-home games. Not having Kansas and Texas play twice in recent years, save last season's nosedive from Texas, was a disservice to the league.
Kansas coach Bill Self said the ACC, Big East, SEC, Big Ten and Big 12 didn't have true champions. Only the Pac-10 did.
But the RPI and the overall scheduling for the teams in the Big 12 North (Kansas, Kansas State, Missouri and Iowa State) will change dramatically.
"We're trading four games with Nebraska and Colorado for another game against Oklahoma, Texas, Baylor, Texas A&M and Texas Tech,'' Self said of the true home-and-home series and the jump to two more overall league games from 16 to 18.
"When we didn't get in four years ago and two years ago, we were criticized for being in the weaker Big 12 North, and therefore our conference record was weaker than teams in the Big 12 South,'' Kansas State coach Frank Martin said. "Well, the only thing that will matter is that we play everybody twice -- no ifs, ands or buts. That argument is no longer valid. ''
That's when the Big 12 becomes unquestionably the best college basketball conference in the country. No dogs. None. Not even Iowa State, which has slid toward the bottom but still has potentially one of the better home court in the country.
The Pac-10 had the envy of other power conferences because of its schedule. The true round-robin schedule produces a real regular-season champion. There is no way to hide behind the premise that the regular-season champion doesn't matter as much because the teams don't play the same schedule.
What the Pac-10 had over its fellow power conferences, it will lose once it adds Colorado and possibly Utah, which will mean 12 teams. Washington coach Lorenzo Romar said the familiarity and consistency of home-and-home games was a huge plus. He said he remembered how tough it was being in an unbalanced schedule in Conference USA with St. Louis, Cincinnati, Marquette, Louisville and Charlotte. Losing the home-and-home aspect within the Pac-10 is something Romar said he'll have to sit down, digest and figure out the best course of action for the league, assuming it will drop from 18 to 16 games.
Turgeon said he wasn't thrilled to jump from 16 to 18 league games just in number alone, but the format is the best. No one is questioning that.
No one seems to question the direction of every program in the remaining Big 12, with Kansas, Kansas State, Baylor and Missouri -- four schools that were being left out of possible expansion -- likely in the top 20 this fall. Texas won't be far behind. Oklahoma State has been a consistent winner. Oklahoma had one disastrous season but is two seasons removed from being a national title contender with then-player of the year Blake Griffin. Assuming OU coach Jeff Capel won't let the Sooners slide again, they should be in the thick of the chase soon. The coaches all agree Texas Tech's Pat Knight is ready to turn the corner this season as a factor in the Big 12 mix. The question is whether Iowa State can regroup and recruit under new coach Fred Hoiberg? If he can, there is no weak link in the bunch and there are no wins that can be counted on to get into the NCAA tournament in a given season.
If the football side agrees that other programs (Memphis, Louisville or Mountain West schools) wouldn't add serious value to the league, the compacted Big 12 could easily exist for years and become one of the most competitive leagues in the country.
The Big 12 has produced national players of the year in Griffin (Oklahoma) and Kevin Durant (Texas), and one who was close to earning it in Michael Beasley (Kansas State).
Duke and North Carolina won the past two national championships. However, outside of Memphis and Kentucky these past two seasons, Big 12 schools have had some of the top storylines in the country. That should only continue as the league matures into a 10-team conference that will become the envy of the other power-six schools because of how easily it will be managed.
Navigating wins will be tough, but there will be no letdowns. Every game will be important. As rivalries are enhanced, interest in conference games will increase, and to the benefit of the Big 12, the ratings might rise, too.
June, 14, 2010
06/14/10
9:09
AM ET
Nebraska coach Doc Sadler gathered his staff on Friday night, shortly after the announcement that the Cornhuskers were moving from the Big 12 to the Big Ten, and immediately changed his July recruiting itinerary.
He cut out trips to the South and made sure he was headed to the Midwest, and the upper Midwest, as many times as possible in the first 10 days of the July recruiting period.
[+] Enlarge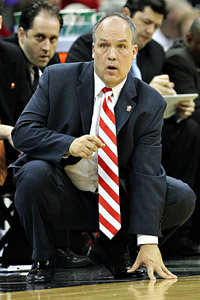 Jamie Squire/Getty ImagesNebraska coach Doc Sadler needs to sell the Huskers program to Midwest recruits.
"I'm only going to spend one or two days outside of the Big Ten states now," Sadler said. "When you're at Nebraska before, all the population is down in Oklahoma and Texas in the [Big 12] league [so] that you had to be involved with kids from that area. I would go to Iowa, Minnesota and Illinois but those kids want to be in the Big Ten. I'm now closer to that than before."
Nebraska will join the Big Ten as its 12th member for the 2011-12 season, meaning Sadler's July evaluation recruiting period gives him the first chance to sell the Huskers as a Big Ten program.
Going into Big Ten country for recruits is not foreign for Nebraska. As Sadler said, he has attempted that before and so too did previous Nebraska coaches Barry Collier and Danny Nee.
One source with direct knowledge of Nebraska recruiting said that the Huskers will still have a difficult time penetrating the Big Ten markets. But at least they "won't disappear into the Big 12" with the players from Big Ten states.
"The move will be a success if the Huskers can recruit and continue to recruit," said the source.
Sadler is well aware of that fact. Last season, Nebraska's roster was from all over the map, including two players who were from outside the continental United States. Only three players were from Big Ten states (none of the three players signed for Fall 2010 are from Big Ten states). Nebraska finished last in the Big 12 at 2-14 last season and 15-18 overall, the worst record in Sadler's four seasons. He had shown improvement in the previous three seasons, winning six, seven and eight Big 12 games. Sadler has four seasons remaining on his contract, so he'll have three left when the Huskers officially join the Big Ten.
"This is going to be a great fit for us," Sadler said. "But nothing supersedes winning. That's the key. We've got to go in there and win. Right now, if you put us in the Big Ten or the Big 12, we have a lot of work to do. We had momentum my first three-and-a-half years, and after a couple of injuries, we took a step back. We've got to get the momentum back before we go to the new league."
The last team to join the Big Ten was Penn State in 1992. The Nittany Lions are still trying to find their niche. Penn State is on its third coach since joining the league, which isn't actually that bad over an 18-year stretch. But the Nittany Lions have made only two NCAA tournament appearances and have been above .500 in the Big Ten just twice. Penn State did make six NIT appearances, including winning an NIT title in 2009.
Wisconsin coach Bo Ryan said rivalries in the Big Ten have been cyclical, but it's still hard to find a rival for Penn State. That will be a bit of an issue for Nebraska when it enters the league.
"

This is going to be a great fit for us. But nothing supersedes winning. That's the key. We've got to go in there and win.

"

-- Nebraska coach Doc Sadler
Ryan added that the Huskers will have to establish a home-court presence, put people in the stands and then be competitive on the road. He said that's what Wisconsin had to do to change the perception so that the Badgers were seen as a real player in the Big Ten.
"I think the people in Lincoln will recognize the importance of Ohio State, Michigan State and Illinois coming in," Ryan said. "How we ended up being conference champs was taking care of business at home and then on the road. In order to be considered, you have to start knocking somebody out, play real close games and winning two out of three of them."
Sadler said he views the Big Ten as more of a defensive league and has tried to model his program after Michigan State. He said his defensive approach mirrors former Wisconsin and Washington State coach Dick Bennett, and he has regularly tried to call Tony Bennett, the former Washington State and current Virginia coach, to discuss defensive issues.
"I want us to be like Michigan State's toughness with defense, to give it all you've got," Sadler said.
The unknown is whether Nebraska remains the only addition to the Big Ten.
Ryan said the basketball coaches discussed scheduling at their annual spring meetings in May if expansion occurred. The Big Ten moved to an 18-game schedule in 2007-08, but if the league stays at 12 for 2011-12, it might go back to a 16-game schedule.
Ryan said talk of playing 10 games against teams in a division and then six against the other division (three home and three road) was the most likely scenario.
Even if the Big Ten doesn't use divisions for men's basketball like it probably will for football, the schedule could mirror those divisions. The Big 12, which will enter its final year under its current makeup this fall, currently schedules that way in men's basketball.
June, 8, 2010
06/08/10
1:12
PM ET
The NBA draft's early-entry withdrawal deadline is June 14, which gives Mississippi State guard
Dee Bost
one week to ensure his name won't be on the league's official early-entry list before the draft.
Bost already missed one cutoff date, the NCAA's new May 8 deadline to withdraw from the draft and return to school.
[+] Enlarge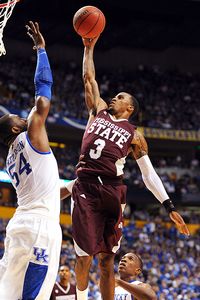 Don McPeak/US PresswireBost has enrolled in summer classes at Mississippi State. But will he ever again compete for MSU?
Bost wasn't going to be selected in the first round and was likely a reach for the second even after averaging 13 points and 5.2 assists a game as the lone point guard for the Bulldogs, who played in the NIT this past season.
Yet Bost is a victim of poor advice and not having his ears fully tuned to the Bulldogs, according to multiple sources within the Mississippi State program.
Bost is attending summer school and wants to come back for his junior season, so he's launching an appeal with the NCAA's reinstatement committee on the grounds that he didn't know the new rule. His case is that he assumed -- wrongly -- that the former rule (that a player could go through the draft process and return to college if he didn't sign with an agent) still existed.
But the NCAA scrapped its former deadline in a pretty public manner, and the NBA did acknowledge it May 11 with a list of players who withdrew from the draft and others who remained in consideration. Somehow, Bost's teammate and classmate Ravern Johnson got the message and withdrew in time for the May 8 deadline.
Bost's defense -- and Mississippi State is supporting his appeal but isn't overly confident -- is that he didn't know the rule and made his decision within 12 hours after the deadline passed. But according to sources, MSU wasn't told before May 8 that Bost was thinking about pulling his name out of the draft.
Look, the rule is absurd. No one can get a true read on whether he should stay or go based on one week with limited to zero workouts. The NCAA and NBA should say together that the players must decide whether they're in or out of the draft, or they should give the players all of May to decide and let them work out. There's probably more movement toward the former, which is fine. You should know whether you're NBA-worthy or not by the end of the season. Scouts have had enough time to analyze.
• If Bost can't play next season, the Bulldogs will have plenty of options at the point with Twany Beckham, junior college transfer Brian Bryant and shooting guard Jalen Steele.
The returns of Johnson and forward Kodi Augustus as well as the additions of redshirt freshman Shaunessy Smith and (finally) Renardo Sidney up front should give the Bulldogs more than enough to compete in the SEC West.
• Mississippi State might have one of the more bizarre road trips of the 2010-11 season. The Bulldogs will face Virginia Tech in the Bahamas in December (Georgia Tech versus Richmond is the other game at the Atlantis hotel), then fly to Honolulu for the Diamond Head Classic, which features a loaded field that includes Butler and Baylor. The Bulldogs are trying to add a game with BYU on New Year's Day in Las Vegas on the way back from that trip.
• Following up on Monday's Daily Word, here are a few more conference-realignment thoughts from highly knowledgeable sources:
1. The Pac-10 is selling a promise of a network deal to the Big 12 schools, but Texas and Oklahoma can stay put and get a lucrative network deal of their own in their preferred comfort zone rather than change leagues.
2. Nebraska is the one school everyone should worry about in the Big 12. No one will care if Missouri leaves.
3. Even if the Huskers bolt, and even if Mizzou goes as well, the Big 12 can more than survive as a 10- or 12-team league and command more television revenue than a number of conferences, possibly the ACC or the Big East. The Big 12's value as a 10-team league (or a 12-teamer with two additions) wouldn't drop as much as is being speculated.
4. The Mountain West can look at adding teams all it wants, but Colorado would join the MWC -- the conference of Colorado State and Wyoming -- only if it had no other options.
5. The 16-team model isn't ideal. Sure, it's somehow working for basketball, but in football it failed in the WAC in the late '90s because not everyone was pulling for it to be successful. Forget about everyone talking about the great matchups. It would take an eight-year cycle to get everyone to play. That means Washington State, for example, would play Texas twice in an eight-year cycle.
6. The two-time-zone deal is a real issue for Pac-10 and Big 12 schools. It's also a problem for networks, as teams might be playing conference games at 10 p.m. Central time when on the West Coast or 5 p.m. on the West Coast when the teams are in the Central time zone.
June, 7, 2010
06/07/10
12:17
PM ET
Big 12 commissioner Dan Beebe is one of the 10 members of the NCAA tournament selection committee and was on the inside of the decision-making process that led to the change from a 65- to a 68-team field, despite the assumption nationally that the 96-team format was a done deal.
On Sunday night, Beebe emphasized that difference between perception and reality as he deals with the swirling rumors that his conference will implode after getting raided by the Big Ten and the Pac-10.
And that's why we need some perspective here before the assumption is made that the entire current format will be thrown into chaos with a land grab by the Big Ten and Pac-10.
Based on discussions Sunday night with a number of high-ranking sources throughout the NCAA (including those who have been in some of the direct talks on these topics during the past decade), here is some relevant information on the various possibilities:
• If the Big Ten can persuade Notre Dame to join the league, the expansion discussion is over. The Big Ten doesn't need anyone else but the Irish to accomplish its goal of increasing its value. The networks have lined up to get the Irish deal from NBC, and adding ND would enhance the Big Ten television property. All conference television contracts have a clause that they are subject to change if there is a membership change, meaning they can be worth more money (with Notre Dame) or less (if, say, the ACC were to lose members even after doubling its current deal).
• Being in the Association of American Universities is a major deal for the academic side of Notre Dame. If the Irish could be assured that they would get an 11-vote bloc of Big Ten schools to usher in Notre Dame as a member, that could sway the Irish hierarchy to move toward the Big Ten. If the Irish have no shot at the AAU, that could be a deciding factor against their joining the Big Ten. Getting into the AAU makes a Big Ten acceptance a lot easier.
• Romancing Notre Dame has been going on since the 1920s. The timing has to be right. There will be a critical mass of alumni who will want to remain as a football independent. For every other sport, being in the Big Ten makes more sense than the Big East, although this isn't a decision about the rest of them.
• Notre Dame wouldn't want to be one of five additions to the Big Ten. The Irish won't want their addition to be devalued.
• Big Ten commissioner Jim Delaney and Notre Dame athletic director Jack Swarbrick have a longstanding relationship. Swarbrick was instrumental in bringing Big Ten championship games to Indianapolis while working in Indiana with the sports commission.
• Delaney won't get burned here. He's considered one of the most savvy and shrewdest negotiators in college athletics. He's not going to issue an invitation and get turned down.
• If Notre Dame were to join the Big Ten, the rest of the chatter would halt. The Big East could bump up Villanova football to FBS to avoid expansion, or it could add a member to stay at 16.
• If Notre Dame is the only grab by the Big Ten, there is no need to toy with Missouri and Nebraska.
• That means the ultimatum doesn't make any sense. Why would the Big 12 tell Missouri and Nebraska they have to be in or else? What's the consequence? The Big 12 isn't going to boot them out of the league. If they don't get an invite to the Big Ten, the chances are that nothing happens to the Big 12.
• The Longhorns won't do anything that won't benefit Texas. They don't want to leave unless they have to get out. Texas enjoys being the deal-maker in the Big 12 rather than just another school, albeit an important one, in the Pac-10 or even the Big Ten.
• Pac-10 presidents gave commissioner Larry Scott the go-ahead to look at expansion, but the academic profile of schools the league would invite is critical, much like the Big Ten. Not all the Big 12 schools meet this standard.
• UCLA and USC get the most money in the Pac-10 because of appearances. Both schools won't want to lose that status in a new, expanded conference.
• The Pac-10 can only expand and expect to make enough money on a television deal with Texas. Adding random Big 12 and/or MWC schools won't increase the value of a proposed television deal.
• The Big Ten Network deal that Delaney has is based on subscription fees and makes more money than the Pac-10 could on its own.
• The Pac-10's best hope is for a television merger with the Big 12, forming a mega TV deal. The Pac-10 and Big 12 television deals are up in 2012, and both leagues have confirmed discussions on a television agreement.
• A number of sources find it hard to believe that Kansas would somehow be left with nothing. Football drives this, but the power; prestige; tradition; and, most important, ratings of basketball do have serious value. It's akin to leaving out Duke in some sort of ACC chaos.
• Underselling the value of the new $10.8 billion deal with the NCAA tournament is a mistake. It matters. This is a football-driven discussion, but it's not at the expense of disrupting the entire NCAA tournament plan.
• A number of conference presidents are trying to ensure that any potential move makes sense. (For example, did Boston College to the ACC make sense?)
• Boise State would probably take a MWC invite, but does the MWC want to invite Boise State without knowing what will happen to the Big 12?
• All of this is relative to the discussions going on at the Pac-10 and the Big Ten. But so many of the doomsday scenarios could be tamed if Notre Dame were to tell the Big Ten yes.
September, 2, 2009
09/02/09
1:00
PM ET
In a league with heavyweights like Kansas and Texas, Nebraska can't compete by going about the traditional way of recruiting.
The Cornhuskers have to mix and match their roster to be highly competitive. That means sprinkling in high school seniors, transfers and foreign players. That also means taking chances, even if the news on the eligibility of a foreign player isn't always known.
The Huskers tried that approach with Germany's Christian Standhardinger. The questions arose about his amateur status and how he would be classified by the NCAA. According to Nebraska coach Doc Sadler, the school was told that Standhardinger's grades (based on the grading scale from Germany) meant that he was not a qualifier when Nebraska went to an NCAA seminar in the spring on the subject of foreign admission.
However, Sadler said the information was a year old and Standhardinger was actually eligible. But that news didn't get to Nebraska until after it had committed to giving one-time UAB signee Adrien Coleman a scholarship in July. Coleman signed to play at UAB in November 2008 but failed to be admitted to the university, releasing him to sign a financial aid agreement with another school. Coleman's addition meant the Huskers were at the NCAA limit of 13 scholarships.
"We were trying to get Christian to a prep school to get the three courses he needed when we got the information last week that he was eligible,'' Sadler said.
Once it was clear that a mistake was made, the Huskers were at 14 scholarship players. Nebraska and the NCAA came to a unique agreement which allows NU to move up to 14 for this season -- with a condition. The Huskers could have only 13 players available on scholarship. They would have to redshirt a player.
Well, Sadler wasn't planning on redshirting anyone -- that is until sophomore center Christopher Niemann tore his ACL and was ruled out for the season. So, in a cruel twist, Sadler lost one German for the season but gained another. But there was also a catch with the 6-8 Standhardinger. He has to sit 50 percent of the team's games this season because he played on what was termed a German professional team.
The Huskers have had their issues before with eligibility, losing Roburt Sallie to Memphis after he was denied admission on a Big 12 rule. Sallie took a class at Nebraska, but then wasn't eligible so he left for junior college. But under an obscure Big 12 rule, a player who takes one class at a Big 12 school cannot reattend if he's deemed a nonqualifier and leaves. Sallie played last season at Memphis, averaging 5.8 points in 36 games, including scoring 35 in an NCAA tournament first-round win over Cal State-Northridge.
Finally, now that the eligibility issue is done, Sadler said he has a Big 12-level squad.
"This is the first time that I felt like athletically and sizewise, we can compete in this league,'' said Sadler, who had the 7-foot Aleks Maric his first two seasons but not much else in terms of size around him. "We've got size on the perimeter and inside now.''
But the Huskers are young at the wrong time in the league. They have 11 freshmen or sophomores on the roster for a season in which the Big 12 boasts two potential No. 1 seeds in Kansas and Texas and a host of possible NCAA teams led by Kansas State, Oklahoma State, Oklahoma, Texas A&M and possibly Missouri.
But lost among Nebraska's problems and relative anonymity nationally are the numbers Sadler's teams have produced in his first three seasons. It's hard to dismiss that he has had three straight winning seasons and improved in league play each time, going 17-14 (6-10) in Year 1, 20-13 (7-9) in Year 2 and 18-13 (8-8), capped off by a second straight NIT berth, in Year 3. Two late-game losses to Texas A&M and Oklahoma State last season really hurt NU's chances for the Big Dance.
This season the Huskers are rebuilding with talent that Sadler is convinced can win in the Big 12. Games against Oregon State and USC and a tournament in Las Vegas with BYU, Tulsa and Nevada should reveal how much this squad needs to mature before conference play.
"I think with this group, down the road, in the next two or three years, we can compete [for a top spot in the Big 12],'' Sadler said. "We can compete now, and even though we've been a seventh- or eighth-place team in the Big 12, that's not our goal. Being an NIT team is not our goal.''
• Rhode Island was ready to replace Florida International if the Golden Panthers had withdrawn from the Coaches vs. Cancer tournament. The Gazelle Group, which organizes college basketball's season-opening event, had URI ready to replace FIU and was going to send the Rams to North Carolina for a Nov. 9 date and then have them host the three games set for FIU against North Carolina Central, James Madison and Murray State.
URI coach Jim Baron said the issue is moot now that FIU has agreed to play at UNC, but the Rams are likely going to be given an opportunity for a Gazelle-sponsored event in 2010 or 2011 for offering themselves as a replacement. Meanwhile, the Rams already have a unique nonconference game against Oklahoma State in a Jan. 2 event at the Mohegan Sun in Uncasville, Conn. The game is a return for URI playing the Cowboys last season in Oklahoma City.
Baron recently returned from Turkey, where he was getting his son, Jimmy, situated for a pro career, before going to Worcester Academy (Mass.) to get his other son, Billy, set for his post-grad year. Jim Baron was noncommittal as to whether Billy Baron, who is being recruited by some Big East schools, will play for him like Jim did so well.
"I want to let him breathe for a bit,'' the elder Baron said. "Jimmy won 63 games here. It was tremendous. We had two postseasons, two coach of the years, it was a tremendous run. It was a fabulous experience and one that we will treasure the rest of our lives."
• FIU athletic director Pete Garcia and coach Isiah Thomas cited the American Cancer Society and the benefit of the program playing in the event as the reason they abided by the contract. Garcia said there was a miscommunication with the Gazelle Group about playing Ohio State as opposed to North Carolina. "What's gone on has actually given more exposure to the American Cancer Society,'' Garcia said. "What's great is that Isiah ended his college career against North Carolina and now he'll start his college coaching career against North Carolina."
• Mississippi State coach Rick Stansbury said Renardo Sidney, who is awaiting clearance from the NCAA Eligibility Center on his amateur status, has been able to practice in individual workouts. Stansbury said Sidney needs to get in shape and "toughen up." But the skill set is in place. John Riek is also working on his conditioning, getting his slender frame up to 245-250 pounds, according to Stansbury. Riek, a one-time NBA draft entrant and Cincinnati recruit, has been a tease but unable to deliver for two years. He should be ready to play once he sits out the first nine games of the season, per an NCAA decision. "He's got size and a work ethic that you can't teach,'' Stansbury said.
• Mississippi State, which always seems to be searching for games late into the summer, finalized its schedule with an opener against Wright State. That's not an easy opener, considering the Raiders should be the second pick behind Butler in the Horizon League. The Bulldogs will play eight of their 14 nonleague games away from Starkville, playing at Western Kentucky, at Houston, at San Diego, against DePaul in Tampa in the SEC-Big East Invitational, against UCLA in the Wooden Classic in Anaheim, against Louisiana Tech in Jackson, Miss., and against Richmond and likely Missouri in a tournament in South Padre Island, Texas. The Bulldogs will make two trips to California within a span of three weeks to play San Diego and UCLA.
• The Pitt staff doesn't appear to be too moved by the ineligibility of Gilbert Brown for the fall semester. Brown has been limited by injuries the past three seasons and averaged just 5.4 points and shot 28.2 percent on 3s.
• Every case of discipline is unique, but it's not hard to see why there is some grumbling within the Big East that Joe Mazzulla was reinstated by coach Bob Huggins for the season after he was suspended in the offseason for a violation of team rules, while Brown will miss the fall for academics and Reggie Redding at Villanova will miss the first semester of games for possession of marijuana.
Mazzulla was out for most of last season with a shoulder injury, but then was suspended in the offseason for an altercation at a Morgantown bar, which was his second arrest in nine months. He pleaded no contest to disorderly conduct and was sentenced to community service.
Fellow Mountaineers point guard Darryl Bryant is still awaiting his fate for the fall semester. On Wednesday, it was announced he would not face any jail time in two court cases involving traffic accidents this summer, but a university spokesman said Bryant is still indefinitely suspended from all basketball-related activities.