Category archive:

Princeton Tigers
April, 15, 2011
04/15/11
7:29
PM ET
Sydney Johnson cried during an on-court interview after Princeton beat Harvard on a last-second shot in a thrilling, one-game playoff for an NCAA bid on March 12.
[+] Enlarge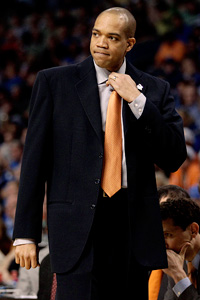 AP Photo/Chris O'MearaSydney Johnson surprised many when he left alma mater Princeton to become head coach at Fairfield.
He cried again at a postgame news conference after Princeton lost to Kentucky in the final seconds in the second round of the NCAA tournament.
He said he may get just as emotional in his new position as head coach at Fairfield, now that he has left his alma mater in a stunning move to replace Ed Cooley.
"My emotions, as they relate to coaching, are genuine," said Johnson by phone from his new office in Fairfield, Conn. "One thing you'll be surprised by is the connection I have and will have with our guys at Fairfield whether I wore that jersey or not. I can relate to what the guys are going through; the grind of being a student and a player.
"I don't feel like that since I left my alma mater, that it makes me any less sincere in how much I invest emotionally in coaching," said Johnson, who will turn 37 on April 26. "I don't accept that."
Johnson's move from Princeton to Fairfield has been one of the most surprising of any during the spring coaching carousel, mostly because of Johnson's public display of emotion while leading his alma mater into the postseason. However, a closer examination of the move makes it much more explainable.
Princeton's pay scale for Johnson was estimated at around $200,000. According to sources, Johnson was able to secure more than double his salary at Fairfield and will be paid in the $400,000 range that Cooley was making before he returned to his native Rhode Island to coach Providence.
Princeton athletic director Gary Walters, also an alumnus, didn't want to comment further on Johnson's departure. He was not pleased that Johnson's representatives were sending out feelers about openings at Towson and Bradley prior to the Fairfield opening. Walters has long held firm to the belief that coaching at Princeton is a privilege. Having someone like legendary former coach Pete Carril, who guided the Tigers from 1967 to 1996, is a luxury that won't occur anymore.
John Thompson III, who like Johnson played at Princeton, was the Tigers' head coach for four seasons before taking over at Georgetown, where his father had built a legacy.
"It was extremely difficult for me to leave Princeton," Thompson III said. "People didn't initially believe that since I was going Ivy to the Big East. But Princeton in many ways was, and still is, home for me and leaving that program was extremely difficult for me."
Johnson was a part of Carril's final team that scored an historic upset over defending champion UCLA in the first round of the 1996 NCAA tournament. He was part of Thompson's staff at Georgetown before taking over a Princeton program that was in shambles. He coached the Tigers to six wins in Year 1, 13 in Year 2 (8-6 in the Ivy), a 22-9 record (11-3 in the Ivy) and a CBI semifinal appearance against Saint Louis in Year 3.
In 2011, he matched Harvard game for game; the Tigers shared the regular-season title with the Crimson but earned the Ivy's NCAA bid after winning a one-game playoff. The Tigers finished 25-7 (12-2 in Ivy).
"As a graduate of the class of '88, it was a great four years to watch," Thompson III said of Johnson's Princeton tenure. "World order was restored. We have a long, proud tradition and one of the best basketball programs in the country. Sydney said it best before the playoff game: There is an expectation to win and added pressure to win and it's different sitting in that Princeton locker room. He's leaving the program where it should be at this point."
Walters said he's going through a national head-coaching search but the Princeton alumni in college basketball want Johnson's successor to be one of three Princeton alums: Thompson III assistant Mike Brennan, Bill Carmody assistant Mitch Henderson or Johnson assistant Brian Earl.
"One of the things that we're proud to be associated with is the success of the former players as head coaches," Thompson III said. "Given that opportunity, they've been successful."
Johnson saw things at Fairfield -- such as a higher salary and the ability to cast a wider net in recruiting -- that he didn't see at Princeton, while Ivy League rival Harvard is taking steps in that direction, according to those close to the program.
Johnson wouldn't go into detail about his departure, but said he was impressed after listening to Fairfield's vision.
"Clearly Fairfield is aspiring to be something just as meaningful in terms of educating kids, student-athlete mentoring and aspiring to be something bigger," Johnson said. "There is momentum here. Clearly, Ed put it in place."
Fairfield won the MAAC regular-season title and reached the second round of the NIT, finishing with a 25-8 record. Fairfield hadn't won a conference title since 1996 and had never won one outright.
The Stags will be the favorite again with the return of guard Derek Needham, Ryan Olander, Colin Nickerson and the transfer of Rakim Sanders from Boston College.
"Ed and the university helped improve and change the lives of these young men and there are resources here around this program that will help them," Johnson said. "I'm not embarrassed to want to be associated with that."
He sees a chance to develop Fairfield even more.
"I can be emotionally attached to this school and I do believe there's a lot of room to grow behind what Ed Cooley did," Johnson said. "I have nothing negative to say about Princeton. I don't think conference affiliation matters. With all due respect to the Big East and the ACC, just because those teams are in those leagues doesn't make them great basketball programs. Sure, they get a bump. But Butler and VCU have shown that if you pop the hood and look underneath you can see something better. Fairfield looks a little different but it looks good and might not to others. But once you start talking to the recruits, the alumni, you see what this program is about."
Still, the emotion that Johnson felt after the Harvard win and near-miss against Kentucky was real.
"Those are the type of moments in your coaching career that you'll always remember," Johnson said. "Those players were working their entire lives for those moments and didn't know it. It validated everything we did from that first 6-23 season."
Johnson doesn't have to rebuild Fairfield. The Stags are ready to win again next season, and Johnson said he'll be just as emotionally attached in his new venture as he was at Princeton.
February, 9, 2011
02/09/11
8:03
PM ET
The villains are missing.
The hatred, the jealousy and the nastiness are no more.
Rivalries have tamed in college basketball.
My two favorites from covering the sport for the past 20 years -- outside of the obvious North Carolina-Duke -- were obscure nationally but not in the region in which I worked.
The New Mexico State-New Mexico and BYU-Utah rivalries in the 1990s had real venom between the coaches, programs and schools.
Then-New Mexico State coach Neil McCarthy was a classic villain. He loved and relished that role. He recruited off the radar, trolling around for junior college- and four-year transfers. He was his own breed. He didn't conform. He would smoke a clove cigarette on the ramp leading down to the Pit floor at New Mexico, despite the clear violation of doing so in the building. He didn't care. I witnessed him scoff at those who passed by as he puffed. He loved to challenge the media, once pounding the press table after a key play during the game and saying to a colleague of mine, "How'd you like that?" This was during the game.
He loved being the one person who everyone in the building wanted to boo. And, of course, he loved to send Dave Bliss and the Lobos cowering back three hours from Las Cruces to Albuquerque if they won at the Pan Am Center.
New Mexico was the favored state school. New Mexico State? It was the less-publicized of the two since it was closer to Texas than the state capital in Santa Fe.
McCarthy and Bliss didn't like each other. The players weren't chums. And the fan bases couldn't stand one another, either.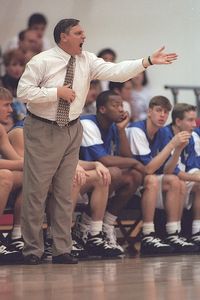 Jamie Squire/Allsport Former BYU coach Roger Reid's hatred for Utah's Rick Majerus made the Cougars-Utes rivalry one to watch in the 1990s.
The hatred between BYU and Utah was even more intense. BYU coach Roger Reid, now the coach at Southern Utah, couldn't stand Utah's Rick Majerus, now the coach at Saint Louis, because of Majerus' popularity with the national media and the power brokers in the state. They weren't friends. They didn't pretend to be buddies. There was an obvious jealousy that Reid had of Majerus that was apparent every time their teams played.
The games were nasty, chippy and intense. It helped that, as was the case in the Lobos-Aggies rivalry, both teams performed at a high level in the '90s. But what made Utah-BYU even more intense was that they were in the WAC together. Utah was the state school and BYU was owned and operated by the Mormon Church. The players were familiar with each other and there was an intensity that existed in every game.
When Reid left, the Cougars sunk (before their revival began under Steve Cleveland and now has flourished under Dave Rose), and the rivalry was tempered. Ray Giacoletti of Utah was not an antagonist, either, and the intensity of the rivalry waned. The common respect between current coaches Rose and Utah's Jim Boylen has lessened the rivalry as well. Now that the schools are heading off to different conferences -- Utah to the Pac-12 and BYU the WCC -- it will be hard to replicate the rivalry. If the schools choose to do what New Mexico and New Mexico State still do -- play home-and-home despite being in different leagues -- then it has a chance to survive. But much like the Lobos-Aggies rivalry has been diminished because of the calm nature of Steve Alford (UNM) and Marvin Menzies (NMSU), the BYU-Utah rivalry may be hard to go back to its angry stage of the '90s.
I asked my colleagues on ESPNU's "The Experts" on Tuesday what were their favorite rivalries in the sport as a player, coach or fan. Here's what they had to say:
Mark Gottfried, former Alabama player: "To me it was Auburn-Alabama back when it was Wimp Sanderson and Sonny Smith. The recruiting battles were nasty."
Stephen Bardo, former Illinois player: "Our rival was Iowa. We hated Iowa. They had pros like B.J. Armstrong, Roy Marble, Brad Lohaus; they had eight pros. We never won in Iowa City. And you had the whole Bruce Pearl thing [turning in Illinois as an Iowa assistant for a recruiting violation]. Now that's come full circle."
Adrian Branch, former Maryland player and area product: "Growing up for me it was NC State versus Maryland. Whoever beat each other was going to win the national championship in 1974. When I played, it was us and Virginia, the two most Northern schools before Virginia Tech got in the ACC. In my four years, it was us then. But growing up it was Len Elmore of Maryland against David Thompson of NC State. "
Len Elmore, former Maryland player, native of New York: "Back then, it was St. John's before the Big East. The rivalries were with all the other New York schools. There was a lot of good college basketball. But I'd also say Davidson versus North Carolina when it was Lefty Driesell versus Dean Smith."
Fran Fraschilla, who was once a former assistant at Providence: "The Providence-Rhode Island rivalry was the most hated I've been a part of.''
Going forward, these are the rivalries I'm interested in seeing develop:
[+] Enlarge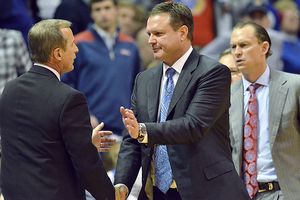 Denny Medley/US PresswireKansas coach Bill Self (right) and Texas' Rick Barnes have a friendly rivalry that should only get better in future seasons.
Kansas-Texas: Bill Self and Rick Barnes don't have a testy relationship. They like each other quite well. But these are clearly the two best teams in the Big 12 and now the 10-team Big 12. Finally, the two will play home-and-home every season, allowing the fans for both squads to get a look at the other each season. The rivalry has a real chance of developing, even if it's not nasty, because it will be the two elite programs going forward in the league.
Baylor-Texas A&M: There is no love between these two staffs. They play twice each season and the games have been very competitive. This trend should continue. The rivalry doesn't get much attention out of Texas, but it should.
St. John's-Rutgers: There is no way Steve Lavin could have a tense rivalry with anyone. It's not in his nature. But there will be a rivalry between the two staffs in recruiting now that Mike Rice is at Rutgers. And if Rutgers can continue to improve, this should be a competitive rivalry, which would be good for the New York-area market.
Memphis-UTEP: Josh Pastner is hardly someone to dislike, either. But Tim Floyd's presence in El Paso means Memphis will have a competitor in recruiting for the long haul. Expect these two programs to set the standard in Conference USA.
Harvard-Princeton: Penn coach Jerome Allen will have something to say about the top two spots in the Ivy. And nothing in the Ivy can or will replace Penn-Princeton. But the top spot for the foreseeable future is Harvard-Princeton. It might be the most competitive competition for the next few years as Sydney Johnson and Tommy Amaker build conference powers.
Arizona-UCLA: Welcome back this rivalry. Sean Miller has the Wildcats atop the Pac-10. UCLA isn't going to fade. And while Washington has been a consistent top-four Pac-10 program, the two elites in this conference in the '90s were UCLA and Arizona. They have the most national reach. And it should be the best annual rivalry in the future. Hopefully, under the new Pac-12 basketball schedule, this is a protected rivalry that ensures they play twice every season.