Category archive:

New Mexico State Aggies
June, 15, 2011
06/15/11
9:05
PM ET
The name
Troy Gillenwater
wasn't on the NCAA's early-entry withdrawal list that was released May 11.
The name of New Mexico State's leading scorer was, however, on the NBA's official withdrawal list that was issued by the league Tuesday.
But fear not, NCAA, you won't have to deal with a suspension for Gillenwater, as was the case last year with Mississippi State's Dee Bost. Bost was the first casualty of the NCAA's rule because he supposedly was unaware of the new May date. That mental lapse (combined with being ineligible for the fall semester) cost Bost the first 14 games of the season.
Gillenwater may have been looking at a similar suspension, but instead he signed with agent Scott Nichols after the May 8 deadline.
"He can't go back to New Mexico State. I'm representing him,'' said Nichols, a Los Angeles-based agent who also represents San Diego State's D.J. Gay and former Maryland player D.J. Strawberry. Nichols has done marketing for Memphis Grizzlies guard Greivis Vasquez.
"Schoolwise, he wouldn't have qualified academically,'' Nichols said. "It didn't go well for him.''
Nichols said Gillenwater is looking at the NBA Developmental League or overseas for the immediate future. But Nichols had to get a clear understanding that Gillenwater could still re-enter the NBA draft in 2012 even after withdrawing his name this year. He can and he will. Gillenwater, a 6-foot-8 junior from Boston, led the Aggies with 18.9 ppg and 6.3 rpg last season, but was a long shot to get drafted this month anyway.
NMSU coach Marvin Menzies said he knew Gillenwater was withdrawing from the draft, but never planned on his rejoining the team. Since he can't anyway now that he has an agent, there's no reason to fret about the situation.
But Gillenwater's move is a precursor to what may occur next year when the NCAA pushes the early-entry withdrawal deadline to April 10. There will likely be some players who make a quick decision to go into the draft, and then once they determine that they're not going to be selected, will attempt to withdraw by the NBA's deadline (10 days prior to the draft).
If that occurs, the players -- assuming they haven't signed with an agent -- will have the option of seeing if the NCAA penalizes them with a suspension.
Nichols said he was hopeful the NCAA and NBA would come up with the same withdrawal date. They once did -- two years ago. Then the NCAA took matters into its own hands and pushed the withdrawal deadline to May this year and April next year. The NBA can alter its withdrawal date in the negotiated collective bargaining agreement, but that is hardly a front-burner issue. The NBA will likely keep its current date of 10 days prior to the draft because of the need for international players to make an informed decision.
So that leaves the NCAA off on its own and might lead to more players deciding, like Gillenwater, to withdraw from the draft on their own schedule and see what their options are once that decision is made. Gillenwater signed with Nichols, so he is done as an amateur. But he can still re-enter the draft. He gave himself at least a chance to one day be drafted by taking the time to discover through the lack of interest that he wasn't ready for the draft.
American college players who withdrew from the NBA draft:
Olu Ashaolu. Louisiana Tech (transferred to Oregon)
Keion Bell, Pepperdine
Jacob Blankenship, Southeastern (Fla.)
Laurence Bowers, Missouri
TyShwan Edmondson, Austin Peay
Kim English, Missouri
Ashton Gibbs, Pittsburgh
Troy Gillenwater, New Mexico State
Desmond Holloway, Coastal Carolina (left the program)
Tu Holloway, Xavier
Orlando Johnson, UC Santa Barbara
Reggie Johnson, Miami (Fla.)
Tiondre Johnson, Coastal Bend JC (TX)
Kevin Jones, West Virginia
Terrence Jones, Kentucky
David Loubeau, Texas A&M
Greg Mangano, Yale
Cameron Moore, UAB
Darrion Pellum, Hampton
J.P. Primm, UNC-Asheville
Ralph Sampson III, Minnesota
John Shurna, Northwestern
Tony Taylor, George Washington
Hollis Thompson, Georgetown
Thomas Tibbs Jr., Staten Island
Charlie Westbrook, South Dakota
Brandon Wood, Valparaiso (transferred to Michigan State)

American college players who stayed in the NBA draft:
Alec Burks, Colorado
DeAngelo Casto, Washington State
Roscoe Davis, Midland JC (Texas)
Mamadou Diarra, Chaminade
Jeremy Green, Stanford
Jordan Hamilton, Texas
Tobias Harris, Tennessee
Tyler Honeycutt, UCLA
Scotty Hopson, Tennessee
Kyrie Irving, Duke
Reggie Jackson, Boston College
Terrence Jennings, Louisville
Cory Joseph, Texas
Enes Kanter, Kentucky
Ryan Kelley, Colorado
Dan Kelm, Viterbo (Wisc.)
Brandon Knight, Kentucky
Malcolm Lee, UCLA
Kawhi Leonard, San Diego State
Travis Leslie, Georgia
DeAndre Liggins, Kentucky
Shelvin Mack, Butler
Keishawn Mayes, Campbell
Darius Morris, Michigan
Marcus Morris, Kansas
Markieff Morris, Kansas
Willie Reed, Saint Louis
Jereme Richmond, Illinois
Carleton Scott, Notre Dame
Josh Selby, Kansas
Iman Shumpert, Georgia Tech
Chris Singleton, Florida State
Greg Smith, Fresno State
Isaiah Thomas, Washington
Trey Thompkins, Georgia
Klay Thompson, Washington State
Tristan Thompson, Texas
Nikola Vucevic, USC
Kemba Walker, Connecticut
Antoine Watson, Florida International
Derrick Williams, Arizona
Jordan Williams, Maryland

February, 9, 2011
02/09/11
8:03
PM ET
The villains are missing.
The hatred, the jealousy and the nastiness are no more.
Rivalries have tamed in college basketball.
My two favorites from covering the sport for the past 20 years -- outside of the obvious North Carolina-Duke -- were obscure nationally but not in the region in which I worked.
The New Mexico State-New Mexico and BYU-Utah rivalries in the 1990s had real venom between the coaches, programs and schools.
Then-New Mexico State coach Neil McCarthy was a classic villain. He loved and relished that role. He recruited off the radar, trolling around for junior college- and four-year transfers. He was his own breed. He didn't conform. He would smoke a clove cigarette on the ramp leading down to the Pit floor at New Mexico, despite the clear violation of doing so in the building. He didn't care. I witnessed him scoff at those who passed by as he puffed. He loved to challenge the media, once pounding the press table after a key play during the game and saying to a colleague of mine, "How'd you like that?" This was during the game.
He loved being the one person who everyone in the building wanted to boo. And, of course, he loved to send Dave Bliss and the Lobos cowering back three hours from Las Cruces to Albuquerque if they won at the Pan Am Center.
New Mexico was the favored state school. New Mexico State? It was the less-publicized of the two since it was closer to Texas than the state capital in Santa Fe.
McCarthy and Bliss didn't like each other. The players weren't chums. And the fan bases couldn't stand one another, either.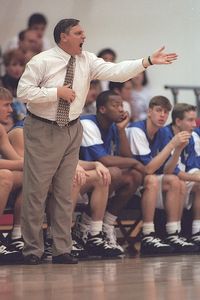 Jamie Squire/Allsport Former BYU coach Roger Reid's hatred for Utah's Rick Majerus made the Cougars-Utes rivalry one to watch in the 1990s.
The hatred between BYU and Utah was even more intense. BYU coach Roger Reid, now the coach at Southern Utah, couldn't stand Utah's Rick Majerus, now the coach at Saint Louis, because of Majerus' popularity with the national media and the power brokers in the state. They weren't friends. They didn't pretend to be buddies. There was an obvious jealousy that Reid had of Majerus that was apparent every time their teams played.
The games were nasty, chippy and intense. It helped that, as was the case in the Lobos-Aggies rivalry, both teams performed at a high level in the '90s. But what made Utah-BYU even more intense was that they were in the WAC together. Utah was the state school and BYU was owned and operated by the Mormon Church. The players were familiar with each other and there was an intensity that existed in every game.
When Reid left, the Cougars sunk (before their revival began under Steve Cleveland and now has flourished under Dave Rose), and the rivalry was tempered. Ray Giacoletti of Utah was not an antagonist, either, and the intensity of the rivalry waned. The common respect between current coaches Rose and Utah's Jim Boylen has lessened the rivalry as well. Now that the schools are heading off to different conferences -- Utah to the Pac-12 and BYU the WCC -- it will be hard to replicate the rivalry. If the schools choose to do what New Mexico and New Mexico State still do -- play home-and-home despite being in different leagues -- then it has a chance to survive. But much like the Lobos-Aggies rivalry has been diminished because of the calm nature of Steve Alford (UNM) and Marvin Menzies (NMSU), the BYU-Utah rivalry may be hard to go back to its angry stage of the '90s.
I asked my colleagues on ESPNU's "The Experts" on Tuesday what were their favorite rivalries in the sport as a player, coach or fan. Here's what they had to say:
Mark Gottfried, former Alabama player: "To me it was Auburn-Alabama back when it was Wimp Sanderson and Sonny Smith. The recruiting battles were nasty."
Stephen Bardo, former Illinois player: "Our rival was Iowa. We hated Iowa. They had pros like B.J. Armstrong, Roy Marble, Brad Lohaus; they had eight pros. We never won in Iowa City. And you had the whole Bruce Pearl thing [turning in Illinois as an Iowa assistant for a recruiting violation]. Now that's come full circle."
Adrian Branch, former Maryland player and area product: "Growing up for me it was NC State versus Maryland. Whoever beat each other was going to win the national championship in 1974. When I played, it was us and Virginia, the two most Northern schools before Virginia Tech got in the ACC. In my four years, it was us then. But growing up it was Len Elmore of Maryland against David Thompson of NC State. "
Len Elmore, former Maryland player, native of New York: "Back then, it was St. John's before the Big East. The rivalries were with all the other New York schools. There was a lot of good college basketball. But I'd also say Davidson versus North Carolina when it was Lefty Driesell versus Dean Smith."
Fran Fraschilla, who was once a former assistant at Providence: "The Providence-Rhode Island rivalry was the most hated I've been a part of.''
Going forward, these are the rivalries I'm interested in seeing develop:
[+] Enlarge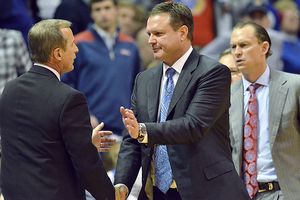 Denny Medley/US PresswireKansas coach Bill Self (right) and Texas' Rick Barnes have a friendly rivalry that should only get better in future seasons.
Kansas-Texas: Bill Self and Rick Barnes don't have a testy relationship. They like each other quite well. But these are clearly the two best teams in the Big 12 and now the 10-team Big 12. Finally, the two will play home-and-home every season, allowing the fans for both squads to get a look at the other each season. The rivalry has a real chance of developing, even if it's not nasty, because it will be the two elite programs going forward in the league.
Baylor-Texas A&M: There is no love between these two staffs. They play twice each season and the games have been very competitive. This trend should continue. The rivalry doesn't get much attention out of Texas, but it should.
St. John's-Rutgers: There is no way Steve Lavin could have a tense rivalry with anyone. It's not in his nature. But there will be a rivalry between the two staffs in recruiting now that Mike Rice is at Rutgers. And if Rutgers can continue to improve, this should be a competitive rivalry, which would be good for the New York-area market.
Memphis-UTEP: Josh Pastner is hardly someone to dislike, either. But Tim Floyd's presence in El Paso means Memphis will have a competitor in recruiting for the long haul. Expect these two programs to set the standard in Conference USA.
Harvard-Princeton: Penn coach Jerome Allen will have something to say about the top two spots in the Ivy. And nothing in the Ivy can or will replace Penn-Princeton. But the top spot for the foreseeable future is Harvard-Princeton. It might be the most competitive competition for the next few years as Sydney Johnson and Tommy Amaker build conference powers.
Arizona-UCLA: Welcome back this rivalry. Sean Miller has the Wildcats atop the Pac-10. UCLA isn't going to fade. And while Washington has been a consistent top-four Pac-10 program, the two elites in this conference in the '90s were UCLA and Arizona. They have the most national reach. And it should be the best annual rivalry in the future. Hopefully, under the new Pac-12 basketball schedule, this is a protected rivalry that ensures they play twice every season.
January, 26, 2010
01/26/10
10:25
PM ET
Siena is in the midst of a three-game road swing and is currently without its best player,
Edwin Ubiles
, who is out with a shoulder injury.
If the Saints, who are cruising in the MAAC with a 10-0 record, can survive this stretch -- let alone another five-game string against upstart Iona and Fairfield at home and Niagara, Canisius and Rider on the road -- still unbeaten in the league, then the BracketBusters opponent on either Feb. 19 or 20 will be even more important to the Saints' NCAA at-large hopes.
It's essentially Butler or bust.
If the Saints can win this week (at St. Peter's Thursday and at Marist on Saturday), there's a very good chance the Saints will be Butler's opponent in the highest-profile BracketBusters game. Matchups will be made this weekend so teams have a few weeks to deal with travel and scouting.
The concept has done wonders for some and been irrelevant for others, but one thing is certain: Teams that have an outside shot at an NCAA tourney at-large or are looking for a seed boost once they qualify as an automatic can't go wrong with another quality nonconference game in late February.
Some teams won't get that chance. The West Coast Conference isn't participating in the event and there are some omissions from other conferences like the Summit (only Oral Roberts and not Oakland), the America East (no Maine), the Big Sky (served up only Montana State and not Northern Colorado or Weber State).
There are 98 teams involved in 49 games during BracketBusters. The 11 games that will air on the ESPN family of networks are determined first and then the conference commissioners will pair up the remaining 76 teams.
Home and road teams are already set for the event, so it's a bit difficult to maneuver who can go where. But the most important aspect of matching teams should be done based on who has a shot to be in the field. Not all of the 22 set teams are in that group. Actually, maybe only six could have an outside shot at an at-large.
[+] Enlarge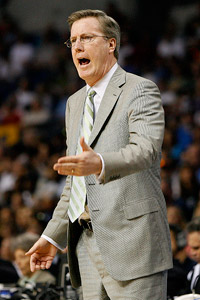 AP Photo/Mike CarlsonFran McCaffery is hoping BracketBusters provides a way to boost his team's NCAA at-large chances.
Siena is one of them.
"It's going to mean something and I would say if we could have a phenomenal league record and beat Butler and then not lose until the finals of the [MAAC] then we'd have a shot," said Siena coach Fran McCaffery. "We'll be right there in that discussion, but we don't want to get ahead of ourselves and assume the next five or six games."
McCaffery would actually be in favor of holding off on announcing the BracketBusters matchups until a few more weeks. But nevertheless, he still wants that Butler game. From a storyline perspective, it makes sense. Those are two of the better-known programs in the field and each has had some NCAA tournament success (Siena has won its last two first-round games).
"We're hoping we can put ourselves in position to get an at-large bid," McCaffery said. The problem for the Saints will be the six games prior to a possible showdown with Butler at Hinkle Fieldhouse in Indianapolis.
Ubiles didn't play against Manhattan on Jan. 18, played 33 minutes in a win over Loyola (Md.) on Jan. 21, but then missed the road game at Manhattan on Sunday. Meanwhile, guard Kyle Downey, who scored 16 points in Ubiles' absence in the first Manhattan game, broke his foot and is now out, possibly for the season.
"We're short-handed for this tough stretch, but I know we have to keep winning," said McCaffery.
Siena did beat Northeastern early in the season for what might turn out to be a solid win. It was a game McCaffery said was scheduled because "nobody wanted to play us and nobody wanted to play them and we're two hours away." But losses to Temple, St. John's, Georgia Tech and Northern Iowa were the supposed "up" games that the Saints failed to win.
Meanwhile, Butler has been rolling in the Horizon at 9-0 with a 16-4 record overall. That mark includes a win at Northwestern and home victories against Ohio State (without Evan Turner) and Xavier. Playing Clemson on a neutral court and UAB on the road (both losses) will help the power rating.
A year ago, Butler coach Brad Stevens said beating Davidson on the road was a key win for helping the Bulldogs get an at-large bid after losing to eventual champ Cleveland State in the conference tournament.
"We were coming off two losses that week before the Davidson game," Stevens said. "And you don't want to be on a losing streak at that time of the year. Doubt starts to creep in. That was a good win that got us going in the right direction."
Stevens knows the Bulldogs will get a quality BracketBusters opponent as the premier home team. There was a time when the staff was anticipating Wichita State as a possible opponent, but two losses last week for the Shockers have led to a belief that it could be Siena. Louisiana Tech, which tops the WAC, is also a possibility, but the name value of a Siena-Butler matchup may have more cachet.
The Bulldogs are handling their business in the Horizon as they become the top draw in every opposing building. That won't change as the Bulldogs go to Green Bay on Friday (ESPNU, 9 ET) and then to Milwaukee, two places the Bulldogs lost last season.
With Matt Howard staying out of foul trouble in the league after being in it throughout the nonconference, the Bulldogs are getting more of a complete effort. Gordon Hayward has been a Horizon MVP and barring a complete collapse, the Bulldogs are in good shape as far as the NCAA tournament is concerned.
Joining Butler as a BracketBusters home squad is Northern Iowa (8-1, 17-2), which leads the Missouri Valley. But Siena has already played Northern Iowa (the Panthers won 82-65) and that's why it makes more sense to send Siena to Butler and Louisiana Tech to Northern Iowa. The latter matchup may not seem headline-worthy to the mainstream fan, but these are the leaders in the WAC and MVC and both teams are talented enough to win a first-round NCAA tournament game.
If you were to pit Siena-Butler and Louisiana Tech-Northern Iowa, you'd likely have four teams that are going to be in the field of 65 matching up a few weeks before Selection Sunday.
The other hot teams are in the Colonial, but they obviously can't go up against each other. Northeastern, Old Dominion, George Mason and William & Mary all could be in play for the CAA's automatic bid with the Tribe the most likely at-large candidate because of nonconference wins over Wake Forest and Maryland on the road and Richmond at home.
That's why the question of who will play at GMU and Northeastern and where ODU and William & Mary will play during BracketBusters will be a fluid process this week.
I'd like to see the following: Wichita State at Northeastern as two of the top teams in the MVC and CAA; William & Mary hitting the road to play the best team in the Ohio Valley (Murray State); ODU traveling to Green Bay, pitting one of the top teams in the CAA against the second-best in the Horizon; and Charleston, which took out North Carolina, makes sense at George Mason in a matchup of two of the best from the Southern and CAA.
"We need a good game," said Northeastern coach Bill Coen, whose Huskies have won 11 games in a row, the third-longest streak in the country. "We've used all our mulligans and probably need to stay perfect the rest of the way to get an at-large berth. But in the spirit of the BracketBusters, we'd like to play our way into the conversation."
Northeastern failed to win games in the nonconference against potential NCAA teams Siena, Rhode Island and Saint Mary's before a humbling loss to Western Michigan in Honolulu on Dec. 23 -- its last loss -- set the team straight.
"It was good for us to be on the road because we had to take a hard look at ourselves," Coen said. "It was like a foreign tour. We were together all the time and had to go eat together breakfast, lunch and dinner and figure it out."
What happened was Northeastern got back to defending and Chaisson Allen started to play the point like Coen expected, teaming up with potential CAA Player of the Year Matt Janning.
Now Coen says the Huskies are cheering for a BracketBusters game "that will help us the most."
They're not alone.