Category archive:

New Mexico Lobos
August, 23, 2013
08/23/13
5:05
PM ET
ALBUQUERQUE, N.M. -- Janet Neal's instincts from her nursing school classes, nearly two decades earlier, made her look closely at her son's discharge papers and medication after a simple diagnosis of gastroenteritis by a Sydney hospital doctor.
She knew something didn't seem right. The blood count results were not at a normal level, and her son Cullen's face told her things weren't well. The look was one only a mother or father knows. Cullen was scared. He was in pain. He didn't want to leave the hospital. He was convinced this was serious, much more so than any physician was noticing.
"I told [my mother] that I wasn't OK," Cullen said. "I couldn't get up."
So Janet grabbed the nearest nurse, a man standing nearby. She demanded someone take a closer look at the results. An ER doctor came to their aid and administered what should have probably been done a lot sooner -- an ultrasound.
No one wasted any time once the picture popped up on the screen. Cullen Neal's appendix had ruptured. An infection was spreading throughout his abdomen. His spleen and liver were being compromised.
"That's when they rushed," said Janet of the staff at the Royal Prince Alfred Hospital.
A few blocks away, first-year New Mexico coach Craig Neal, already distracted and distraught over his son's condition, was conducting practice for the Lobos' first game of their Australian tour.
"I was in the middle of practice and got word and then left as soon as I found out," Craig said. "There is a 10 percent mortality rate once it bursts. They told us it was the worst rupture of an appendix they had ever seen at this hospital."
Earlier in the evening of Aug. 5, in the final four hours of a 14-hour flight from Los Angeles to Sydney, Cullen Neal had been incredibly uncomfortable. He was sitting with his parents and brother Dalton. He didn't eat. He didn't drink. He didn't go to the bathroom.
He hadn't been 100 percent in the previous week while practicing with the team or with his high school all-star team, but he didn't say anything. This feeling on the flight was different, though. It was intense. When he got off the plane, Craig said he jokingly told Cullen to carry the luggage with the rest of the newcomers. He had no idea of the severity of the situation. There was idle time in the hotel lobby, and when the team got to its rooms, Cullen lay down and then couldn't get out of bed. He told his roommate, Australian native Hugh Greenwood, that he was in trouble.
"I literally couldn't move," Cullen said. "I nearly started screaming in pain."
His parents were called, and they jumped into a cab.
"Luckily we guessed the right hospital," Craig said. "We told the taxi cab driver to take us to the biggest one."
While the Neals weren't pleased with the initial treatment, they would end up being thankful they had landed at the Royal Prince Alfred, where Cullen would stay for 11 days. The surgery, the follow-up treatment, the consultations, the help with insurance, the phone calls, the warmth and the comfort are being remembered with fondness less than a week after they returned to the United States.
As soon as the rupture was evident, there was no decision on the surgery. It had to be done.
"I wasn't scared at that moment," Cullen said. "I was mad. I was mad because I wanted to play."
This was supposed to be the trip of a lifetime for the Neal family. It was, but for all the wrong reasons. Cullen Neal was an accomplished scorer at Eldorado High School in Albuquerque, and the plan was -- and still may be -- for Cullen to start next to Kendall Williams and Greenwood for the reigning Mountain West champs and prohibitive favorites this season.
But in those moments, as he was quickly being dressed for surgery, all of that seemed so distant and suddenly no longer possible.
Cullen didn't leave the hospital until the 24 hours prior to flying back to Albuquerque. Janet didn't much either. Craig had to be with the team in Sydney and Melbourne, so trainer Nate Burney was with them as much as possible.
The surgery was supposed to be brief, but the infection had spread so much that doctors needed to wash out his spleen, liver and intestines.
"It was that dicey," Craig said.
"Scary" is how Janet described it.
The post-op recovery was worse. For seven days, Cullen was attached to a sack, draining out the infected fluid.
Doctors told the Neals that the rupture either happened on the plane or shortly thereafter.
"I'm almost glad I didn't know when, especially if it were on the plane," Janet said. "I was worried enough."
Cullen wasn't in the clear even seven days out of surgery. His stomach was swollen. There was concern more surgery was needed due to a possible bowel obstruction.
"We sat there for two days, worried about another surgery," Janet said.
But it subsided in time to avoid a second procedure. Still, there was the issue of a return flight home.
Janet was with Cullen as Craig was coaching the team. She knew he felt helpless. She had no phone until they purchased a local number so she could call to get updates on the team and update family in the States.
Craig finished up the tour to Melbourne and the Gold Coast and got back to Sydney. Once Cullen was given the OK to travel, he had to be put on blood thinners for the trip home. That added another layer of anxiety. The flights were booked too, meaning the Neals had to be even more uncomfortable in coach. Fortunately, there was an open seat next to Cullen, allowing him much-needed space.
But he was weak. He didn't eat for two weeks. He had lost 20 pounds, down to a shrinking 160 on his 6-foot-4 frame.
"I think I only had one bag of fluid," Cullen said.
Craig Neal said UNM athletic director Paul Krebs helped him through the anxious moments while the team traveled. He said he's indebted to Burney as well.
"I knew how badly Cullen wanted to play," Craig said. "Our team went to see him, and they could see how sick he was. It was weird to then coach games. Before the games and as soon as the games were over, all I was thinking about was Cullen."
Cullen has been back in New Mexico for a week. He's gained five pounds but said he still has very little energy. He's staying at home so Janet can manage his diet. School started Monday, but Cullen will wait another week or so to start his freshman year until he has the stamina to stay in class. His plan is to move into the dorms next week, but that has Janet even more anxious. She worries about him eating right and getting his strength. The Neals met with a local surgeon who was pleased with the Australian doctors. A nutritionist has been planning his recovery too.
As Janet and Cullen sat in Craig's office Thursday, they were relieved that the worst was over. Patience has replaced fear.
"He's got to play," Craig said. "We need him in our backcourt. He's the guy we were counting on to provide a lot of minutes. As a dad, I think about redshirting him. But as a coach, I want him to play."
So, too, does Cullen. He said within six weeks he should be cleared to play. He can start some light conditioning once he has his weight and strength. But no contact for quite a while. There are internal stitches that need to heal.
"I'm pretty fatigued," Cullen said. "I don't have much energy. But it's coming back."
And so is he, as he prepares to play for his doting father, to play in front of his devoted mother, to play for his hometown team and to play a few months after the worst week and trip of his life -- one that could have had tragic consequences had it not been for his mother's perseverance and his own tenacity.
April, 25, 2013
04/25/13
6:40
PM ET
It's not fair to say Craig Neal was forever content to be an assistant coach. He tried to get the head jobs at Georgia Tech and Colorado State in recent years. The effort was made.
But it's also safe to say Neal wasn't heartbroken when the offers didn't come.
He was coaching with -- not really ever under -- his best friend Steve Alford at New Mexico. His son Cullen was tearing up the Albuquerque high school scene as a big-time scorer. He loved taking his motorcycle on rides through the mesa and beyond. He was in a good place.
"The more Steve took care of me, the harder it was to take certain jobs,'' Neal said. "If I never became a head coach, I was good with it. I was at peace. I was doing this with my best friend. I was good where I was professionally.''
And then, in a 48-hour whirlwind a few weeks ago, his life and career forever changed.
Alford was approached by UCLA athletic director Dan Guerrero a week after the third-seeded Lobos' stunning Round of 64 loss to Harvard. Alford hesitated at first, but then jumped at the chance to take over the iconic program.
"We never talked about a [succession plan],'' Neal said. "This really came out of the blue. He made a decision in a 48-hour window and it happened real fast. He loved the state. His family loved it here. He had his son Kory playing here and Bryce coming here. [But] it was too good an opportunity to pass up."
So New Mexico athletic director Paul Krebs had to decide whether he was ready to commit to Neal. The players said publicly they wanted it to happen. If it still mattered, Alford certainly wanted it to happen. And it probably didn't matter, but countless members of the coaching fraternity were in his corner as well.
And so it happened. On April 2, the 49-year-old man known by so many as "Noodles" -- who starred at Georgia Tech in the 1980s, played eight years professionally, spent several more in the Toronto Raptors organization, and then enjoyed the past nine years as Alford's loyal assistant at Iowa and New Mexico -- became a head coach for the first time in his career.
And with it, the Lobos picked up a new signee.
The Alford boys -- one on the team and one coming to the squad -- followed their dad to UCLA, but the father-son connection didn't end when the Alfords left town. Cullen Neal, who had battled Bryce Alford in city and state high school hoops the past four years, got out of his letter of intent at Saint Mary's and will play for his father. But it wasn't an easy decision.
Neal said his son was torn. He said Saint Mary's coach Randy Bennett was great to deal with and understood the decision. But nevertheless, Cullen did his homework, calling Bryce Drew about what it's like to play for your father at the college level. He also talked to the Krugers (Lon coached Kevin at UNLV) and he texted back and forth with Doug McDermott about playing for his father Greg. Craig Neal also spoke with Greg about how to coach his son.
"There was a lot of talk about this,'' Neal said. "It wasn't just a slam dunk. I even had him spend some time at the Final Four with Rick Barnes to talk about this. He did his homework. We ended up getting a top-150 recruit, which they haven't had a lot here. I'm excited about the things he can do with passing, scoring and really help us out on the perimeter. His shooting will help us a lot.
"The biggest pull was that he grew up here. He is considered a kid from New Mexico and they love their own here. He's excited to come and give a different dimension to the team. He's a great fit. We're losing Snell and this gives us another shooter. We've also added [late signee] Arthur Edwards and had Merv Lindsay sitting out [from Kansas]. We have added some pieces.''
UNM also had 6-foot-8 Devin Williams sitting out, and he should be a rotation contributor as well.
Tony Snell was going to declare for the NBA no matter who was the head coach, and so he did. But the return of Mountain West player of the year Kendall Williams, rising big man Alex Kirk and guard Hugh Greenwood, as well as forward Cameron Bairstow, gives the Lobos a nucleus that should put them in position to be the Mountain West preseason favorite.
"The biggest thing that we had to get accomplished was keeping everyone together,'' Neal said. "With Steve leaving there could have been adversity, but everyone stayed. When there is a change, you have to make sure everyone is doing the right things academically. When I was the interim coach I had to make sure they were doing the right things academically. I had to hire the right staff. I hired Lamont Smith as my associate head coach. I kept Drew Adams and Craig Snow. The only person on the staff who went with Steve was Duane Broussard. I've got to hire an operations guy, but I'm not in a hurry.'
"A lot isn't going to change,'' Neal added. "We've got the blueprint for a championship.''
But to erase the disappointment of the Harvard loss -- something that he continues to remind the players about as an unfinished business moment -- the Lobos must have a good start to the 2013-14 season. That's why Neal is pumped about the Aug. 2-13 trip to Australia, where they'll play three games in Sydney, Melbourne and the Gold Coast.
"Australia will be a good time for me, to take our freshmen and all our players and give me a chance to experiment and coach three games,'' Neal said.
The Lobos have a rugged schedule too, playing Kansas in Kansas City, competing in the Charleston Classic, hosting Cincinnati, and possibly partaking in a two-day event in Las Vegas, where Neal is hoping Marquette signs on to be the other marquee team. He also hopes to be back in the ESPN Tip-Off Marathon, where UNM hosted Davidson last year.
The Mountain West will once again be full of potential NCAA teams, with UNLV, San Diego State and Boise State joining New Mexico as the most likely contenders. But will the conference -- and the Lobos in particular -- deliver when it matters the most?
"All our fans were disappointed,'' said Neal on the team's disappointing loss to a 14-seed. "We were more so than they were. The last month we were playing as well as anyone. We won some big games and then played Harvard and it was the worst game we played in three years. It hurts, but our guys are motivated. We've got to do better in the tournament.''
But instead of Alford picking up that responsibility, it's all on Neal now.
Don't expect him to back down from the challenge.
"I've been ready," Neal said. "I spent 12 years in total with the Raptors and then making the transition to college [in 2004] it was a bit like starting over. But my patience paid off and it worked out well. I'm taking over a program that has won six championships in six years, has four starters back and should be ranked in the top 20.
"To get your first head-coaching job in this situation with this fan support and fan base and the resources we have, I'm very fortunate.''
Editor's Note: For more on the Lobos and their transition to Neal, check out Eamonn Brennan's take here.
August, 28, 2012
08/28/12
7:25
PM ET
ALBUQUERQUE, N.M. -- Craig Neal knew the pasta Steve Alford would like for lunch at this particular Nob Hill area restaurant a mile or so from New Mexico's campus.
Alford took Neal's recommendation, and after a few bites knew it was a good call.
Throughout lunch, and on the car ride back to campus, it became obvious how much Alford and Neal are alike. Finishing each other's sentences isn't an uncommon thing.
They are all about basketball and family, with the two interwoven throughout the past five seasons -- a period in which a sense of stability has returned to New Mexico.
The Lobos have been to the NCAA tournament twice in the past three seasons, winning a game in each of those two appearances. UNM has also won or shared the Mountain West Conference title in three of Alford's five seasons and won a combined 58 games in the two NCAA seasons.
New Mexico is expected to challenge for a tourney bid again, pushing league favorites UNLV and San Diego State along with Colorado State and Nevada in a top-heavy MWC.
Part of the reason for UNM's success is Alford's ability to keep Neal. He could've easily returned to the NBA as an assistant coach by now. He's been a finalist for several college head-coaching jobs.
But Alford has made Neal one of the top-paid assistant coaches (an estimated $250,000 salary), with plenty of perks. And their friendship has made it extremely difficult to leave.
"It's easy when you get along and you're best friends," said Neal, who was with Alford for the latter part of his eight-year tenure at Iowa.
"[Also] I pay him too much," Alford interjected with a laugh. "He gets a country club membership and he's got Harleys."
"He does pay me too much and it makes it hard for me to leave," Neal said. "I get to play golf with my boss. I've got a good gig. It's not always easier somewhere else. I found a place where my family is happy and I'm raising them in a good place.
"It's been very helpful for both of us here that it's a place that reminds us of home with the enthusiasm of basketball. It's not always greener on the other side. We have a great thing going and it's hard to leave. It would have to be a special situation. He'll let me know what that is."
The two former Indiana high school stars competed against each other in the early 1980s. They went to two high-profile colleges -- Alford to Indiana and Neal to Georgia Tech -- and then both had stints in the NBA, with Neal enjoying a 16-year professional career as a player and coach.
Alford was an Olympian. Neal stayed in the pros longer. Alford has been a head coach at multiple levels of basketball. Neal has been a trusted assistant in the pros and in college, lately for Alford.
They played for their fathers in high school, Steve in New Castle, Ind., and Craig in Washington, Ind.
"We grew up in basketball families and then Steve and I went our separate ways," Neal said. "But we kind of always viewed things the same way."
"We were both coaches' kids and played at a high level," Alford said. "We've been around a lot of good programs -- him in the NBA and me in college. He played for [Bobby] Cremins and I played for Coach [Bob] Knight. We played for our dads. If you can't figure out a blueprint then you should be doing something different. We've been together for eight years and averaged 25 wins a season with six championships of some sort in those eight years. They gave us the opportunity to really do the things we want to do with that blueprint here."
And in an interesting twist, for the past few seasons they have watched their sons compete against each other in Albuquerque, last spring playing for the 5-A state title.
Eldorado, where Saint Mary's-bound senior Cullen Neal plays, beat La Cueva, where UNM-bound senior Bryce Alford plays, in the state title game at the Pit. Bryce will join his brother Kory on the Lobos' roster in 2013 as Kory begins playing this season after redshirting in 2011-12.
The state final in March between Eldorado and La Cueva tipped off after the Lobos beat San Diego State in the Mountain West Conference tournament in Las Vegas. Soon after the net cutting and postgame news conference, Alford hustled to his hotel room and Neal to his and they watched the state title game online, on their respective laptops.
Neal said they were texting each other throughout the game. Neal had the final say, as Cullen scored 34 points for the Eagles' first state championship since 2005. The two teams will be favorites to meet again in the state final this school year.
"It's been fun with the kids growing up together the last eight years from the end of elementary to middle school to high school," Alford said. "We've watched them grow and mature from boys into young men. Our families are very close. Kory is here. Bryce is coming here. Cullen is going to Saint Mary's and [younger brother] Dalton is looking around. We've got four boys that are here instead of New Castle and Washington."
Added Neal: "It's been fun, even though they're at different schools. The most satisfying thing is when they work out with our guys and spend time with us."
New Mexico helped Alford and Neal quite a bit by upgrading the famed Pit and producing a quality practice facility with basketball-only weight and training rooms, as well as plush locker and meeting rooms.
The departure of San Diego State to the Big West in 2013 means UNM and UNLV will be the clear leaders in facilities and coaching salaries in the Mountain West.
On the court, the Lobos lost Drew Gordon off last season's NCAA third-round and MWC champion team, but they should challenge again.
The return of 7-foot center Alex Kirk from a back injury will help. The backcourt is as good as any in the West with Kendall Williams, Demetrius Walker, Tony Snell and Hugh Greenwood all back.
The schedule is improving under Alford with road games against Cincinnati and Saint Louis, an appearance at the Paradise Jam in the Virgin Islands (which includes UConn, among others), home games against likely SoCon favorite Davidson, possible Pac-12 sleeper USC, co-Horizon favorite Valparaiso, Summit League champ South Dakota State and the annual home-and-home rivalry games against New Mexico State.
Tack on a round-robin slate against possible NCAA teams UNLV, San Diego State, Colorado State and Nevada and the Lobos have plenty of power-rating points to be back in position for a bid again.
"This year we have a chance to be really good," Alford said. "Alex Kirk is back and should be one of the best big men out West. Our guards are back and we have really good guards. Anytime you have good guard play you can make things happen. We've got that. Next year we should be even better with the majority of our team back."
UNM basketball is the state's pro team. The fan base expects NCAA bids. And under Alford and Neal there is no reason to believe the Lobos won't be in the hunt for a bid every season going forward.
Lose Neal and the Lobos would take a hit.
But for now he's sticking with his best friend.
They look out for each other -- and the Lobos program and its passionate fan base has been the beneficiary.
July, 18, 2012
07/18/12
6:41
PM ET
It's only July, but Steve Alford isn't holding back one bit about the Mountain West Conference race.
Pick UNLV or perhaps San Diego State. Go ahead. Most will.
But before you do, Alford would like to remind you of what the Lobos have done in the past four seasons.
"If you're going to list the other favorites," he said, "make sure that you mention three of the last four [titles] have gone to New Mexico in 2009, 2010 and 2012."
Alford has never been one to lack confidence -- as a player or as a coach.
And there's nothing wrong with that. There needs to be more of that in the business. He's confident, yet not too cocky.
He knows the Lobos have their deficiencies, notably inside after the departure of Drew Gordon and the knee injury that will sideline 7-foot incoming freshman center Obij Aget for the season.
That means the onus will be on 6-11 Alex Kirk and 6-9 Cameron Bairstow to suddenly become contributors as the lone post players. Kirk missed last season with a herniated disc in his back, while Bairstow played just 15.4 minutes a game last season with seniors Gordon and A.J. Hardeman in front of him.
"We've been one or two in the league for five straight years and to lose a guy like Gordon, that's going to be an issue,'' Alford said.
But the guards? Well, the guards are the most talented in the Mountain West and will allow Alford to go with a quicker, four-out and one-in lineup next season.
Kendall Williams, Tony Snell, Demetrius Walker and Australian Hugh Greenwood, who was a late cut by his country's Olympic team, are the reasons for Alford's optimism.
"Our guard play is as good as anybody,'' said Alford, who's been able to watch the fourssome work out this summer. "I think it's second to none in our league. That's always going to keep us alive and well. If we stay healthy in the front line, then we'll sustain what we're doing.''
Last season, UNM shared the regular-season title with San Diego State at 10-4, beat Long Beach State in the NCAA tournament and then lost to Louisville by three to finish 28-7.
The Lobos won't be picked to win the league this time around. UNLV will likely be the favorite, with San Diego State and Colorado State pushing the Rebels. But New Mexico should be in the mix with league newcomer Nevada as a real threat for a top-four finish and an NCAA tourney bid.
"Colorado State returns all five starters plus [Colton] Iverson from Minnesota,'' Alford said. "Vegas will be very good. San Diego State, too. Nevada won 28 games last season. Once you start looking at all of them, it's hard to pick a favorite.''
Alford will get a chance to coach his son Kory, who redshirted last season (his second son, Bryce, has committed for the fall of 2013). Alford is familiar with this arrangement, having played for his father Sam in high school.
"It will be fun," he said. "It was fun last year when he was a part of practice. It's got its challenges. I played for my dad and I remember those days and how rewarding it was for me.''
And Alford will give Kory and the rest of the Lobos another shot at a challenging schedule, something that previous UNM coaches weren't able to do. In the past, New Mexico was so restricted by needing to play upwards of 20-plus home games that it limited the scheduling for previous head coaches. But Alford has been given more flexibility and is taking advantage.
The Lobos and the Mountain West sold the rights to a home game to ESPN so it could televise the Davidson game as part of the network's Tip-Off Marathon. New Mexico will also take a two-game road trip against likely NCAA-bound teams Saint Louis and Cincinnati after Christmas.
USC plays at the Pit and the Lobos are continuing their two-games-a-season series with rival New Mexico State. New Mexico will also travel to the U.S. Virgin Islands in November for a Paradise Jam field that includes Connecticut, George Mason, Iona, Mercer, Quinnipiac, UIC and Wake Forest.
And the Lobos are bringing in South Dakota State for a guarantee game after SDSU played at the Pit in the NCAA tournament in March once it won the Summit League conference tournament. The Jackrabbits will be picked to win the Summit again with the return of 21-point scorer Nate Wolters.
"The landscape has changed in the past 20 years here,'' Alford said. "You have to be creative. The magic number used to be 20 wins [to get a bid], but now we're all RPI-driven. You have to be creative and get in exempt tournaments and neutral-site games. On paper, and an RPI standpoint, we've had as hard a schedule as anybody at New Mexico.''
February, 21, 2012
02/21/12
11:45
PM ET
No one could've seen
Drew Gordon
performing at an All-American level.
Not even Gordon -- who arrived at New Mexico in 2010-11 as a castoff from a UCLA program that was watching players transfer out in search of higher, more stable ground.
Part of Gordon's problem has been injuries. The rash of bad luck started with a broken hand suffered during his junior season in high school in San Jose. Then he suffered a stress fracture in his foot. He tore his meniscus in his right knee when he was at UCLA and tore the same ligament while recovering.
His numbers at UCLA were decent in his second season, when he averaged 11.2 points and 5.3 rebounds a game. And last season, he averaged a double-double at 13.0 ppg and 10.5 rpg, but he wasn't completely ready to lead the Lobos.
He said he transferred from UCLA to New Mexico because he wanted to run and didn't like playing in a half-court offense. But if he wasn't completely healthy, he'd settle and be a half-court player.
And this season started with Gordon unsure if he was going to live up to his potential yet again.
"I tweaked my knee, and it was pretty sore for a while," Gordon said. "I was real hesitant and cautious about going to the basket. I thought that it could be coming to an end. I thought what if I can't play the game. I had put in so much hard work."
Gordon finally got healthy, and so did the Lobos. New Mexico struggled in the nonconference part of the schedule, losing to rival New Mexico State at the Pit and falling to Santa Clara in overtime in the 76 Classic in Anaheim in November.
Then the team started to mesh. Kendall Williams and Hugh Greenwood were more than capable at the point. The depth, which included Tony Snell, Jamal Fenton, Demetrius Walker, Phillip McDonald and Cameron Bairstow, gave the Lobos options. And the defense was on lockdown, holding Saint Louis to 60 points, Oklahoma State to 56 points or most recently UNLV to 45 points.
The Lobos haven't had a bad loss since the Santa Clara game on Nov. 24. The only two losses since November have been to San Diego State on Jan. 18 and at UNLV on Jan. 21. They've won seven in a row, highlighted by the best week of Gordon's career. He scored 17 points and grabbed 17 boards in the win over the Aztecs in San Diego and then scored 27 points and grabbed 20 boards in the home win over UNLV.
"We were confident for the wrong reasons early," Gordon said. "We were confident, but we had too much hype in the preseason. We were about us rather than being a really good team.
"Now we're more confident in ourselves," Gordon said. "It's make or break time for us three seniors. And the younger kids really want to win. UNLV and San Diego State were getting a lot of love, and we weren't. We had to rely on each other."
Gordon has now moved ahead of Mike Moser, a former UCLA Bruin, as the favorite for MWC player of the year.
The Lobos are done playing UNLV and SDSU until the MWC tournament in Las Vegas. And they hold a two-game lead over both those schools in the standings. New Mexico plays at Colorado State on Tuesday night and visits TCU on Saturday before hosting Air Force and Boise State to close the regular season.
"We've got to be focused, we're coming off two really good wins against ranked teams," Gordon said. "Coach [Steve] Alford is pushing us to make sure we don't do anything like sit back and relax."
February, 15, 2012
02/15/12
5:55
PM ET
The Mountain West and Conference USA had to do something to survive, but the conference conglomerate that was formed is still ripe with unanswered questions.
"Our basketball will remain very strong," said Colorado State coach Tim Miles. "The MWC and C-USA couldn't stand still any longer."
The potential exists for a conference with multiple bids to the NCAA tournament.
Of course, that's the first question that doesn't have an exact answer yet when posed to the NCAA on Tuesday. Does the C-USA/MWC league retain an automatic berth? Commissioners Craig Thompson, a former NCAA tournament selection committee chair, and Britton Banowsky are seasoned NCAA committee members at various levels. They had to know this answer before making such a bold move. But the NCAA didn't have a set answer on the topic Tuesday.
The only natural rivalry that is now rekindled with the move is the return of New Mexico and UTEP to the same conference. These are two long-time old WAC partners that played countless quality games for decades.
Other than that, the similarities between the two leagues is minimal at best. "I'm not sure yet about how this will work," said New Mexico coach Steve Alford. "We had to do something with us losing so many teams. But I really haven't seen how the league schedule will be done or where the tournament will be. There are still a lot of questions."
Tulsa coach Doug Wojcik said it best when he added that there is stability in the move but the travel was worse than the current situation.
The apparent goal of this conference is to have two essential regional conferences with one umbrella title league and a playoff to determine a champion.
The 2013 membership isn't expected to stay as is since there is hope of expanding.
As it stands now, the 16 teams in football would be: 1. Fresno State; 2. Nevada; 3. UNLV; 4. New Mexico; 5. Hawaii; 6. Air Force; 7. Colorado State; 8. Wyoming; 9. Tulsa; 10. UAB; 11. Rice; 12. Southern Miss; 13. Marshall; 14. East Carolina; 15. Tulane; 16. UTEP.
Hawaii will join the Big West in 2012-13 in all other sports, leaving the league with 15 basketball-playing schools in the fall of 2013.
One complaint already levied Tuesday by one school was that there are only two members in the Eastern time zone: Marshall and East Carolina.
The news release from C-USA and the MWC discussed raising the membership to 18 to 24 schools. And already programs are jockeying for position to join this league.
There are a number of options, none of which may move the meter in ratings or command a higher dollar fee in television rights. But there is potential to improve the basketball power rating if this occurs.
According to multiple sources, the candidates include Charlotte (A-10), which is about to start playing football; Florida International (Sun Belt); North Texas (Sun Belt); UT-San Antonio (WAC); Louisiana Tech (WAC); Middle Tennessee State (Sun Belt); Western Kentucky (Sun Belt), if the Hilltoppers want to bump up the football program; Old Dominion (CAA), if the Monarchs bump up football as well; and UMass and Temple (both would be coming from MAC in football, A-10 in other sports).
The West doesn't need to be shored up, but there are obvious candidates -- New Mexico State, Utah State and San Jose State are all possibilities -- if this league wanted to raid the WAC.
There are plenty of rich basketball-playing schools this group could pluck to add to the competitive nature of the league. Temple is atop the list, and if the Big East doesn't grab the Owls, they are ready to be taken (if they deem this a better fit than their current state).
Of course, if these raids happen, it would potentially weaken other solid basketball leagues like the A-10 and to some extent the Sun Belt and possibly CAA.
But Alford's concerns are shared by many. The MWC has done a tremendous job of creating a high-level conference with limited numbers. The rivalries among San Diego State, UNLV and New Mexico -- and previously with BYU and Utah before the departures of those two schools -- were some of the best in the Pacific and Mountain time zones. The MWC had captured the vacuum in the West amid the Pac-12's demise. The WCC has had its moments at the top of its league, but it didn't have the depth the MWC had recently.
The MWC's dominance has been fractured with the departures of BYU (to the WCC in all sports but football, in which the Cougars are now an independent), once-proud Utah and the pending exit of the Aztecs from the conference in 2013.
Had Memphis stayed in C-USA instead of bolting for the Big East, this league would have had a bookend of elite programs in UNLV and Memphis -- two of the powers from outside the "power six" leagues in the past 20 years. Instead, UNLV will have to carry a heavy burden as the flagship of this merger.
The onus will be on New Mexico, UTEP, UAB, Southern Miss, Tulsa, Marshall and any newcomer to continue to raise their game and be top 30-40 programs on a consistent basis. Short of that, and this league won't have the necessary relevance to command the media rights dollars and/or the multiple bids that are necessary for the survival of a mega-conference.
November, 10, 2011
11/10/11
6:51
PM ET
The elite powers have resurfaced at the top of the Top 25 and across the high-major conferences.
A few schools, like Xavier, Gonzaga and Memphis, as well as newcomers Baylor, Marquette and Vanderbilt are expected to challenge with deep NCAA tournament runs and possible Final Four berths.
But what about the programs that missed the NCAA tournament a season ago? The ones that appear destined to rise this season?
A run to New Orleans might not be prudent to predict. But then again, no one had VCU headed to Houston last April. But even the Rams didn't have a consistent regular season. VCU squeaked into the field and then enjoyed a magnificent postseason run. Connecticut, another team that had been nearly as erratic, albeit against superior competition, won the national title.
Below are 10 programs headed for breakout seasons. If they fall flat, they may have no one to blame but themselves. The talent is in place. The landscape is open. And the opportunity exists for any team in this group to make the bracket its own for a weekend or two in March.
[+] Enlarge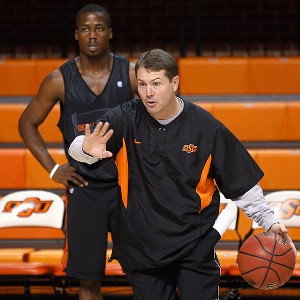 AP Photo/Sue OgrockiThe addition of freshman LeBryan Nash makes Travis Ford's Cowboys a team to watch in the Big 12.
Oklahoma State: The Cowboys are picked to finish in the middle of the pack in the Big 12 -- and with good reason. Baylor, Texas A&M, Kansas and Missouri should all be deemed favorites. Texas arguably could finish higher than the Cowboys. But Oklahoma State has one of the top freshmen in the country who few discuss outside of the region in LeBryan Nash. He could be a star by midseason. Oklahoma State coach Travis Ford has assembled a cast that is more apt to run this season and cause havoc the way he's envisioned. The Cowboys have a loaded schedule after picking up a challenging game versus Pitt at Madison Square Garden on Dec. 10. Oklahoma State may still finish as low as fifth or sixth in the Big 12. But if they get into the NCAA field, consider the Cowboys a potential breakthrough team with an ability to cause problems in March.
Marshall: Memphis is the clear favorite in Conference USA. But the Thundering Herd have two guards -- DeAndre Kane and Damier Pitts -- who can match up with any of the players on the Tigers. Marshall has plenty to prove to be worthy of a team that should be taken seriously. There are a number of nonconference games -- Belmont, Iona, West Virginia and Cincinnati -- that will show if Marshall is worthy of significant hype. And of course the Herd must make Huntington a tough place to play and be consistent to nudge at Memphis throughout the winter. If Marshall does that, you'll take the Herd seriously in March.
Harvard: The Crimson are the pick to win the Ivy. They technically won a share of the regular-season title with Princeton last season. But Harvard lost the playoff game against the Tigers on a buzzer-beater and then got blasted at Oklahoma State in the NIT. Harvard is finally ready to be the Ivy leader from the season's start to its finish. Coach Tommy Amaker has the core of his team returning, and Harvard can compete with most teams in the country. Keith Wright is a legit All-America candidate. Kyle Casey, Brandyn Curry, Christian Webster and Oliver McNally are all experienced. The Crimson can make a name for themselves with a win at Connecticut on Dec. 8, easily the most recognizable game on the schedule. But if not, don't fade on Harvard during the winter. This team will be relevant in March and a trendy first-weekend upset pick.
Detroit: Slaying Butler in the Horizon League has been like the search for the Holy Grail for conference opponents. Milwaukee thought it had the Bulldogs beaten when it hosted the conference tournament title game, only to lose. Detroit has the personnel to dethrone Butler, even with Eli Holman's status in doubt. The majority of coaches in the league tab the Titans as the team to beat and the most talented with Ray McCallum Jr., Chase Simon, Nick Minnerath and Doug Anderson. Members of the Valparaiso staff said last week that the Titans look like a formidable Big Ten team when they step on the court. Detroit has the opportunity to make the NCAAs with a solid schedule. Get there, and the Titans will be a hard out.
Creighton: Greg McDermott was no fool when he left Iowa State on his own terms and seized the Bluejays' job once Dana Altman went to Oregon last year. McDermott had been in the Missouri Valley at Northern Iowa and seen the success and potential of arguably the top job in the conference. The Bluejays have a number of hidden gems who are flying under the national radar in Doug McDermott, Greg Echenique and Antoine Young. The problem for Creighton is that the schedule could have been stronger. It may need to have a significant run during the Valley tournament, which won't be easy at all due to the strength of Wichita State and Indiana State, to ensure a bid. But once they're in, the Bluejays have the personnel in the right positions to be a serious pest.
New Mexico: Coach Steve Alford is going through a bit of a renaissance in Albuquerque. The Lobos had a big-time run two seasons ago but then took a dip last season. The ability to bounce back quickly will be on display in 2011-12. Alford has found the right mix of four-year transfers (Drew Gordon and Demetrius Walker), hidden gems out of high school (Kendall Williams and A.J. Hardeman) and an international sharp shooter (Australia's Hugh Greenwood) to put together a conference champ. The Lobos will have to manage the nonconference well and get past UNLV, but this team has the ability to be a second-weekend squad in the tournament.
Saint Louis: Rick Majerus had a horrendous personal year with the death of his mother and multiple injuries and illnesses. He's also had to deal with the suspensions of his two best players. But he seems energized this fall and has a team that is committed to making serious strides in the A-10. Kwamain Mitchell is back after a suspension. He joins Mike McCall and Kyle Cassity as the core of this team. Majerus put together a challenging slate of nonconference games, giving the Billikens ample tests to see if they're worthy of the praise. Xavier and Temple are the standards in the A-10. St. Bonaventure is a legitimate upstart with perhaps the best all-around player in the league in Andrew Nicholson. But Saint Louis should a formidable team, poised to get Majerus back to the NCAA tournament.
Virginia: The plan at Washington State was to get players out of high schools and take chances, in hopes they develop and reach their potential. The Cougars did, and Tony Bennett got them to the NCAA tournament. Wazzu's program isn't close to Virginia's. The Cavs have more resources, finances and access to players. Still, Bennett hasn't deviated from his plan. And now that Mike Scott is healthy inside, Bennett has a team that gets him, his style and his commitment to defense. The Cavs should be able to score and close games, rather than sit on the doorstep, unable to get significant wins. The timing is perfect for Virginia, too. The ACC is in a rebuilding mode outside of North Carolina, Duke and to some extent Florida State. The rest of the league is in flux, giving Virginia ample chances for wins and to establish itself as a top-four team en route to the NCAAs.
Oregon: The Ducks have the Nike resources, the state-of-the-art everything and have been consistently recruiting talented players to the Northwest from urban centers in the Midwest -- regardless of the coach. Dana Altman also fully understood the need to infuse a few transfers, one is a risk in Wake Forest's Tony Woods, and another is a lock for success in Louisiana Tech graduate Olu Ashaolu. The infusion of newcomer Jabari Brown, who was a hit on a summer trip to Italy, is a game-changer for the Ducks. Altman said Brown still needs to be consistent, but who doesn't at this stage in the season? Oregon has a challenging schedule, which includes opening at Vanderbilt, so be patient with the Ducks. In a Pac-12 where there is no clear favorite (not Cal, UCLA, Washington or Arizona), the opportunity is there for Oregon to surprise. The Ducks won the CBI tournament over Altman's old team, Creighton. The natural next step will be the NCAAs.
Long Beach State: Dan Monson has had a long road back to the point where he feels comfortable in the game. He left Gonzaga to try to rebuild Minnesota after NCAA violations. He wasn't able to turn that program around on a consistent basis. Now he's done that at Long Beach State. The 49ers were atop the Big West last season but didn't win the conference tournament. Long Beach will have to fend off Orlando Johnson and UC Santa Barbara again, but with Casper Ware and Larry Anderson, the 49ers should prevail. Long Beach has a monster nonconference schedule that could set up an at-large berth if it falls short in the Big West tourney. Long Beach will have the talent to win a game in March.
October, 3, 2011
10/03/11
6:17
PM ET
At this time last year, Ben Hansbrough's name didn't appear on the Wooden Award preseason watch list.
Five months later, he edged out Connecticut's Kemba Walker for Big East Player of the Year.
Using that as a backdrop, let's remember that the list of 50 Wooden nominees is flawed, much like any of the award lists. The Wooden Award does not allow its voters to nominate any freshmen or transfers (either four-year or junior college) on their ballots.
And with college basketball as loaded with talent as any year since 2007-08, narrowing it down to 50 is not easy. So below I've attempted to come up with the names that didn't make it, either as "just missed the cut" omissions or just because they're freshmen or transfers. These guys aren't on the list (which can be found here), but might show up when it's updated during the season.
This group is by no means definitive, either. There's no telling who else might emerge nationally as the games get under way.
Let's take a look …
The omissions (in alphabetical order):
Julian Boyd, Long Island: The Blackbirds are the favorite again in the Northeast Conference and the main reason is because Boyd is back and ready to dominate the stat sheet.
D.J. Cooper, Ohio: The diminutive point guard does a little bit of everything; he averaged 15.8 ppg, 7.5 apg and 5.0 rpg for the Bobcats last season.
[+] Enlarge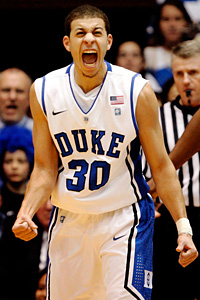 Streeter Lecka/Getty ImagesSeth Curry hasn't done enough to warrant a mention on a preseason watch list, but he might end up being a Wooden addition.
Jared Cunningham, Oregon State: Cunningham has some of the best hops in the sport and a chance to be a Pac-12 star, allowing the Beavers to finally move up in the standings this season.
Seth Curry, Duke: Curry was a standout shooter for the Blue Devils on their trip to China and could be one of the top scorers on the team.
Brandon Davies, BYU: Davies was recently reinstated to the Cougars, and the offense is expected to flow through him inside and out as BYU mounts a campaign to win the WCC in its first year in the league.
Matthew Dellavedova, Saint Mary's: SMC coach Randy Bennett envisions this as one of the best teams he's ever had, but a lot of that will have to do with whether Dellavedova can shoot like Mickey McConnell did last season.
Greg Echenique, Creighton: Echenique was a rebounding force for Venezuela this summer and should do even more for the Bluejays with a full season to work with.
TyShwan Edmondson, Austin Peay: The Governors should be the favorite in the Ohio Valley with a legit scorer like Edmondson, who has a strong man, Will Triggs, to take pressure off him.
Kyle Fogg, Arizona: Fogg is next in line to assume a leadership position for the Wildcats, who are in a position to compete for Pac-12 titles for years to come.
Kevin Foster, Santa Clara: As a sophomore, Foster sort of came out of nowhere to average 20.2 ppg and become one of the nation's top 3-point shooters.
Chris Gaston, Fordham: The Rams aren't any good, but the nation's leading returning rebounder (11.3 rpg) at least deserves a shout-out in this space.
Yancy Gates, Cincinnati: UC coach Mick Cronin said he'd be surprised if Gates wasn't one of the 10 names on the Big East preseason first team.
Malcolm Grant, Miami (Fla.): The Hurricanes have to play most of the season without big man Reggie Johnson, so Grant will have more opportunities to shine.
Rob Jones, Saint Mary's: Jones could be a double-double regular for the Gaels, and for Saint Mary's to win the WCC, Jones will have to be a star.
Doron Lamb, Kentucky: John Calipari says Lamb will be the Wildcats' best player. Just Coach Cal mind games, or the truth?
Meyers Leonard, Illinois: Leonard didn't contribute a whole lot as a freshman, but he was a hidden gem on the U.S. U-19 team in Latvia this summer. The Illini are expecting big things out of him.
C.J. McCollum, Lehigh: McCollum is the nation's leading returning scorer (21.8 ppg) and is in the top five in steals (2.5 spg). Oh, and he did that as a freshman. What more do you need to know?
Cameron Moore, UAB: The Blazers have been consistently good under Mike Davis and have had unheralded C-USA stars. Moore is the latest.
Toure' Murry, Wichita State: If the Shockers win the Missouri Valley over Creighton, a lot of the credit will end up going to the veteran Murry.
[+] Enlarge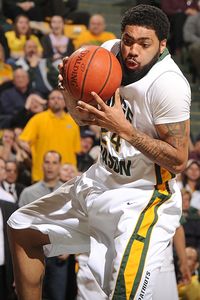 Rafael Suanes/US PresswireRyan Pearson looks to lead Mason to another run to the NCAAs.
Brandon Paul, Illinois: Illini coach Bruce Weber was a bit surprised Paul didn't crack the top 50 on the Wooden list, given his overall importance to this team.
Ryan Pearson, George Mason: The Patriots are a trendy pick for the Top 25 and a lot of that has to do with the versatility of Pearson.
Damier Pitts, Marshall: The Thundering Herd are a real sleeper to gain an NCAA tourney berth out of Conference USA in large part because of Pitts.
Herb Pope, Seton Hall: Pope has come back from multiple life-threatening situations and has a real shot as a senior to put it all together and finally shine.
Terrence Ross, Washington: The Huskies can't be dismissed as a major player for the Pac-12 title, and if they win it, Ross will be a significant reason why.
Robert Sacre, Gonzaga: Sacre has matured into a solid post player, and that progress shows no signs of stopping as the Zags once again compete for the West Coast title.
Mike Scott, Virginia: If the sleeper Cavs mount a run to the NCAA tournament, the oft-injured Scott will be the reason why.
Renardo Sidney, Mississippi State: If Sidney is in shape and plays up to his potential, he has SEC Player of the Year potential and could be the difference between the Bulldogs making the NCAAs or NIT.
Andrew Smith, Butler: The Bulldogs will have fewer stars this season, but Smith has a chance to outshine Khyle Marshall and newcomer Roosevelt Jones with his scoring prowess in the post.
Chace Stanback, UNLV: Stanback's suspension to start the season is only one game, so that won't diminish his ability to lead the Rebels in their hunt for a Mountain West title.
Raymond Taylor, Florida Atlantic: FAU quietly won the Sun Belt East Division last season and Mike Jarvis' diminutive point guard was the catalyst behind the regular-season championship.
Hollis Thompson, Georgetown: If the Hoyas are to make the NCAA tournament again and be a pest in the upper half of the Big East, then Thompson needs a breakout season.
Kyle Weems, Missouri State: Doug McDermott is the one everyone is talking about in the Valley, but let's not forget that Weems is the reigning MVC Player of the Year. Too bad for the Bears he's their only returning starter.
Kendall Williams, New Mexico: The sophomore guard was the leading scorer in four postseason NIT games for the Lobos and should only get better with the addition of Australian Hugh Greenwood.
The transfers
Dewayne Dedmon, USC: Trojans coach Kevin O'Neill firmly believes this JC transfer is an NBA talent who could dominate the post and average a double-double for SC.
Arnett Moultrie, Mississippi State: The former UTEP big man is ready to have a bust-out season for a team that has serious bounce-back potential after a disappointing 2010-11 campaign.
Mike Rosario, Florida: The former Rutgers scoring guard finally has plenty of support around him and will put up numbers for a winner.
Rakim Sanders, Fairfield: The Boston College transfer should flourish after dropping down a level, and he should get coach Sydney Johnson another trip to the NCAA tourney. Johnson is beginning his first year at Fairfield after leading Princeton to the 2011 tourney.
Royce White, Iowa State: White is finally ready to be a star on the college scene after multiple transgressions at Minnesota.
Brandon Wood, Michigan State: The Spartans picked up a rare senior transfer (taking advantage of the graduate transfer rule) from Valparaiso who could be one of the best shooters in the Big Ten.
Tony Woods, Oregon: The embattled Woods arrived from Wake Forest after legal issues and has a chance to really shine as a double-double player for the first time in his career.
The freshmen
Bradley Beal, Florida: Beal has a chance to be a productive player in a frontcourt that has a vacuum after multiple seniors departed.
Gary Bell Jr., Gonzaga: Coach Mark Few has been anticipating Bell's arrival for over a year now. He's expected to step in and deliver right away.
Wayne Blackshear, Louisville: The Cardinals fancy themselves a Big East title contender, and that's partly because they consider Blackshear a star in the making.
Jabari Brown, Oregon: Brown was the star of the Ducks' trip to Italy with his scoring prowess, and expect that to continue in the Pac-12.
Jahii Carson, Arizona State: There is some question right now as to Carson's eligibility, but if he's good to go, the Sun Devils might become relevant in the Pac-12 again.
[+] Enlarge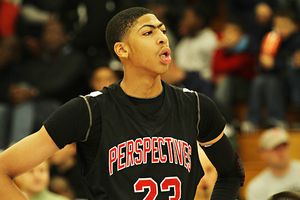 Brendan NolanThere seems to be little doubt that freshman Anthony Davis will have a major impact for UK.
Erik Copes, George Mason: Copes was bound for George Washington before Karl Hobbs was fired; now he'll be a headline performer for the Patriots and first-year coach Paul Hewitt.
Anthony Davis, Kentucky: Davis has a chance to be the SEC Player of the Year and the No. 1 pick in the NBA draft, so expect him to be on the midseason list when freshmen are allowed.
Andre Drummond, Connecticut: He will be an immediate star and help lift the Huskies into the national title chase again. He's more than likely a future top-five pick in the NBA.
Myck Kabongo, Texas: Coach Rick Barnes has had quite a bit of success with big-time freshmen guards, and Kabongo is next in line.
Michael Kidd-Gilchrist, Kentucky: Gilchrist will be another star on what will be a headline team throughout the season.
Johnny O'Bryant, LSU: Coach Trent Johnson needs the Tigers to start trending upward again, and he has a shot with the arrival of the big man from Mississippi.
LeBryan Nash, Oklahoma State: OSU is a bit of a mystery team in the Big 12, but the All-American from Dallas could push the Cowboys into contention.
Austin Rivers, Duke: Rivers will have the ball in his hands quite a bit and appears to be the next Duke star in a lengthy list of recognizable names.
Josiah Turner, Arizona: The Wildcats will win the Pac-12 regular-season title if Turner is as good as advertised.
Cody Zeller, Indiana: If coach Tom Crean is going to turn the Hoosiers into a relevant team this season, it will be because of Zeller and his impact in the Big Ten.