Category archive:

Cornell Big Red
February, 2, 2010
02/02/10
2:41
PM ET
Cornell's No. 25 ranking in this week's coaches' poll was deserved not because of the teams the Big Red have beaten, or even played, but because of what the Big Red could become in the next month.
This might be a step out of the norm for your traditional rankings. It's a projection based on what could be in store for the bracket in March.
Sure, Cornell smoked Harvard by 36 in Ithaca on Saturday. Normally, beating Harvard, even by 30-plus, is hardly enough to push a team into the Top 25.
But this is a new era in Cambridge, and for Cornell, it's the appreciation of a team that has the look of a real first-round winner.
The Big Red did have higher major wins at Alabama, at UMass and at St. John's. But they also lost at home to Seton Hall and at Syracuse and pushed Kansas at Phog Allen Fieldhouse as much as Kansas State did in Manhattan last weekend.
The coaches recognized that Cornell didn't need to beat a big-time opponent to earn a ranking. They can clearly see that this team has something special going on with a veteran lineup led by Ryan Wittman and Louis Dale on the perimeter and a scoring big man in the post in Jeff Foote.
"That's a team capable of making a Davidson kind of run like two years ago," Harvard coach Tommy Amaker said, referring to the Wildcats' Elite Eight run led by Stephen Curry in 2008. "You could see them in the Sweet 16, and from there, anything is possible. They are very talented and have a lot of seniors. They've been in the tournament. They're legit. They pounded us. I voted for them in the Top 25 well before we played them."
Amaker said the balance the Big Red possess makes this Cornell team much different from previous Ivy League teams. That means Foote.
"He's the key to their team, and at the end of the day, if your shooters are cold, you can drop the ball inside and come away with something," Amaker said. "He can equalize things for you. He can block shots, he can score and make foul shots. I can see them being a force to be reckoned with."
The easy thing to do is to tear down Cornell as a possible NCAA first-round winner. Our ESPN research team provided some facts to try to dismiss Cornell's ranking and relevance -- the first time an Ivy League team other than Princeton or Penn was ranked since 1970.
Since Princeton won a first-round game as a five-seed in 1998, the Ivy League champ has bowed out in the first round 11 straight seasons. Only two of those games were decided by single digits.
Cornell, in the last two NCAAs, lost by 19 to Missouri and then by 24 to Stanford.
So of course we should just dump the Big Red and not consider them as a possible first-round winner, right?
First off, the seeds have mattered. Cornell got a 14-seed the last two seasons, while Penn received a 14, 15 and 13 and Princeton a 14 in 2004. Penn did have two 11s in a row in 2002 and '03, but Princeton had a 15 in 2001. The 2000 Penn team had a 13, and the '99 team had an 11. Cornell probably wouldn't be a lower number than 10, so the Big Red would be in a similar ballpark. A 15 is unlikely if the Big Red continue to win. A 14 is probably a stretch, too. So expect Cornell to fall in the 10- to 13-seed range.
But there are plenty of reasons to believe the losing streak won't continue in March.
"You have to judge those other teams by how they did in the preconference part of the season," Cornell coach Steve Donahue said. "Those other 11 teams hadn't fared as well or challenged for big wins. Our '94 team at Penn beat St. John's, Georgia and Michigan, so we were prepared to win in the NCAA."
A No. 11-seed Penn won a first-round game in 1994, beating No. 6 seed Nebraska before losing to No. 3 Florida in the second round.
"We're a much better team than last year," Donahue said. "We've add a player that started at Kentucky in [center] Mark Coury. [Guard] Max Groebe is healthy for us. Foote added 50 pounds. We've proven we're much more prepared for the NCAA tournament."
Donahue isn't getting ahead of himself and wants to reiterate that he's not thinking about the NCAA tournament. There is still plenty of work to do in the Ivy. Princeton has improved to 2-0 in the conference, and there is another date with Harvard in Cambridge on Feb. 19.
Donahue wants to embrace the ranking and prove the team is worthy by playing well over the next 10 games.
"We don't have a conference tournament, and every weekend for us is a mini-tournament," said Donahue, a former Penn assistant. "I've been trained to think like that for the last 20 years."
For the Ivy dream scenario (two league bids), there is really only one path: Cornell (34 in the RPI) would have to win out but lose at Harvard (67 RPI). The Crimson couldn't drop another game and would have to win in a neutral-site, late-game playoff with Cornell.
And even that wouldn't be a cinch for the Big Red.
The Crimson are led by Jeremy Lin but have a younger set around him. On Saturday, Amaker said it was the first time Harvard players got a sniff of what an intense atmosphere is like on the road in the league.
"We're still trying to find ourselves, we still have a lot of growth to have happen," Amaker said. "You can see [Cornell's] focus. They have seniors. They've won before."
And if Amaker is right, Cornell will win again -- in March.
January, 5, 2010
01/05/10
2:53
PM ET
There are a number of hot topics to discuss this afternoon:
• On Wednesday, Cornell plays at top-ranked Kansas at 8 p.m. ET on ESPN360.com.
The Jayhawks, who crushed Temple in Philadelphia on Saturday, have won 50 straight home games, easily the longest active streak in the country and third all-time at KU. Kansas is 13-0 overall.
So it's crazy to think the 12-2 Big Red could pull off an upset, right?
[+] Enlarge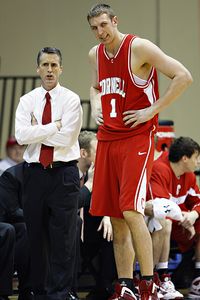 AP Photo/Matt SlocumDo Steve Donahue, Jeff Foote and the rest of the Big Red have a shot against mighty KU?
Here's how it could happen:
"The one thing we've got is a big kid who we can go to," said Cornell coach Steven Donahue on Tuesday en route to Lawrence. "We can go to him and that takes the pressure off the other guys."
Donahue is referring to 7-foot center Jeff Foote. If you've seen him you know that he's more than serviceable. Bryant's Tim O'Shea, who coached in the Ivy at Yale and has been at Boston College, Rhode Island and Ohio, said Foote is the best center in the Ivy since Chris Dudley. Foote has proved he can produce with 28 points and 18 boards at Bucknell and in games against higher-level competition he had 19 and 11 in the win over St. John's and 17 points in the win at Alabama. (Granted, the Red Storm and Crimson Tide aren't exactly KU.)
The Big Red have a stellar shooter in Ryan Wittman, who is shooting 43.8 percent on 3s, scored 34 points in a win at La Salle and like Foote is a senior.
Fellow senior point guard Louis Dale is back from an Achilles/ankle injury after missing the last three games. He has had his stellar moments at the point, like dishing out nine assists without a turnover in a win at Toledo.
Cornell has played only four home games, winning at Alabama, UMass, Toledo, Drexel, Bucknell, St. John's and La Salle and beating Davidson on a neutral court in New York. The only losses were at home to Seton Hall and at Syracuse. Now, of course none of the wins came against anyone the caliber of the Jayhawks, but Cornell goes into Phog Allen incredibly confident.
"Kansas has great length and athleticism and will provide a lot of pressure, but with Jeff we have options inside," Donahue said. "We expect Jeff to score and pass it out."
Donahue said he also sees opportunities for transition buckets on KU's defense.
"This group has been through so much over the last four years with 100 games under their belt," Donahue said. "These guys have been looking forward to this game all year and are excited to play on this stage. We'll play with confidence and play hard."
But like any typical Ivy League team, win or lose the Big Red have a ridiculous road trip. They leave Kansas to bus to Vermillion, S.D., to play the South Dakota Coyotes at the DakotaDome two days later.
"I don't even know where it is," Donahue said. "I just know we're busing from Lawrence and will stop in Blair, Neb. [home of Cornell senior forward Pete Reynolds] to practice."
• As it starts Mountain West play, UNLV faces its toughest week of the season by going to BYU on Wednesday and New Mexico on Saturday. To expect the Runnin' Rebels to sweep this week would be fairly unrealistic -- a split should be applauded nationally. And even if the Rebels did get swept, that wouldn't necessarily be cause for alarm.
"I think BYU has lost one conference home game in the last four years and New Mexico doesn't lose many either," UNLV coach Lon Kruger said. "If you win one of those two you put yourself in good position after the first week of conference play. If you lose two, it's a matter of maintaining. I'm not worried as much either way."
Kruger said the hoops nation doesn't fully appreciate how difficult the Mountain West will be this season. BYU is ranked No. 23 and blew out Arizona by 30 behind Jimmer Fredette's 49 at McKale Arena. The 14-1 Cougars finally got some national love this week. New Mexico, ranked No. 14, has already beaten Texas A&M in Houston; Cal, Texas Tech and Dayton at home; and is 14-1 (with the one loss coming at Oral Roberts).
UNLV's two losses were to Kansas State at the Orleans Arena in Vegas and to USC in the final of the Diamond Head Classic in Honolulu. The Rebels had already won at Arizona in overtime and knocked off Louisville at home. A year ago, UNLV stunned Louisville at Freedom Hall, but couldn't put together a quality MWC résumé, finishing 9-7 in the league and ending up in the NIT.
"We need to do much more in the league this year than a year ago," Kruger said. "This year's group is deeper and more players can make plays off the dribble. We're more athletic too."
Kruger said the Rebels have more room for growth as well. They have their share of transfers in Tre'Von Willis (14.5 ppg), Chace Stanback (8.6) and Derrick Jasper (7.6), but sophomore Oscar Bellfield (11.1) has been just as important and consistent.
Kruger said the Rebels didn't progress as much as he hoped after the Louisville win. They have a much better shot now. The offense was out of sorts against USC and K-State, but a lot of that credit has to go to the respective defenses.
How UNLV plays in these two road games, regardless of the ultimate outcome, should let us know if the Rebels are worth discussing in March.
"For us [MWC] to get four teams in, those four teams have to separate themselves and beat each other," Kruger said. "But I don't think that will happen. Every other team is good, too."
Kruger still believes there are at least four NCAA-bound teams in the Mountain West. He's right. UNLV and San Diego State, which hosts New Mexico this week, have to do their part to stay with the Lobos and Cougars as the résumés are being built.
• Marquette should be considered one of the hardest-working teams in the country. Of course, every coach usually thinks his team plays hard. But the Golden Eagles clearly aren't as talented as Villanova or West Virginia, yet went down to the final possession with a chance to win each game.
[+] Enlarge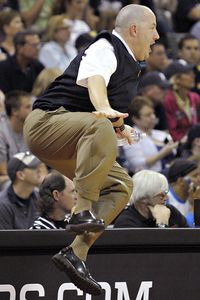 AP Photo/Phelan M. EbenhackBuzz Williams hasn't exactly been jumping for joy in the final moments of his team's last two games.
So what does Marquette coach Buzz Williams do to get these players to overachieve?
"Everything in practice is competitive," said Marquette assistant Tony Benford. "We compete in every drill. He puts them in a position to do that, whether it's 4-on-4, 3-on-3, 2-on-2 or 1-on-2. We keep score every time."
Jimmy Butler had a chance to beat Villanova, but missed a bucket in close to the basket. Of course, the Golden Eagles couldn't stop the fantastic plays made by Nova's Scottie Reynolds and West Virginia's Da'Sean Butler to put their teams ahead in the last two games.
Marquette hosts Georgetown Wednesday in a game the Golden Eagles must win to start building an NCAA case. The Golden Eagles did beat Xavier and Michigan in Orlando, but it's unclear how much those wins will matter in March. Marquette has already missed chances by losing to Florida State in the final of that event, falling to NC State at home, losing at Wisconsin and starting 0-2 in the Big East.
If the Eagles can find a way to go 3-3 in the first six league games (that's Georgetown, at Villanova, Providence, at DePaul), they'll at least be in position to make a run. But every game is going to be a grind, in large part because of the way Williams coaches this squad.
• When we spoke last week, William & Mary coach Tony Shaver knew the red-hot Tribe were now going to get everyone's best shot in the Colonial. The Tribe survived a road win at Hofstra by one, but UNC Wilmington clipped them 62-61 on Monday night. This is how it's going to be in the CAA this season. Unfortunately, the Tribe must finish first or second for a shot at an at-large and must do so with a quality record. The nonconference wins at Maryland, Wake Forest and over Richmond will have shelf life.
• Officiating roundup:
Officials have been at the center of a lot of controversial plays/calls this season. Time to add another one to the list. Mercer's Jeff Smith beat Jacksonville 74-72 on a so-called buzzer-beater, but if you watch the video, the shot leaves his hand after the sound of the buzzer. Jacksonville complained to the Atlantic Sun office and associate athletic director Joel Lamp said the school was told that the game wouldn't be overturned. Lamp said the school was told the shot did come after the horn and that officials mishandled the final possession.
I was told by an officiating source who reviewed the tape that Jacksonville's in-house camera does show the ball in the hands of the shooter with the red light from the backboard lit. That would mean no basket, but there was no courtside monitor and so by rule officials could not review the call made on the floor. The source said that about 40 percent of Division I college games do not have a courtside monitor. This was just an example of a poor judgment call, not a misapplication of a rule.
• John Adams, the NCAA's chair of officiating, said the officials correctly handled the skirmish in the first minute of Saturday's Kentucky-Louisville game. Technical fouls were assessed to Kentucky's DeMarcus Cousins and Louisville's Jared Swopshire and Reginald Delk. At issue was whether Cousins threw a purposeful elbow at Swopshire's head and should have been ejected. UK claims Cousins can be seen taking a knee to the head prior to the elbow.
"[The officials] reviewed the play and assessed an intentional personal foul to Cousins," Adams said. "It was offset by an intentional personal four on a Louisville player and they had a taunting T on another Louisville player. That taunting T resulted in the two free throws that Cousins shot as he was designated by Kentucky to shoot free throws."
• Adams and Bill McCabe, the Pac-10's coordinator of officials, said the officiating crew for last Thursday's Oregon-Washington State game also made the correct call to assess a technical on the Cougars' bench after it ran on the court following a go-ahead basket with three-tenths of a second remaining in the first overtime. The two-shot technical foul put Oregon's Tajuan Porter at the line. He made the free throws and Oregon won in double overtime in Pullman.
Adams cited Rule 10, Section 2, Article 9, d.: "It is an administrative technical foul for delaying the game by preventing the ball from being promptly made live or by preventing continuous play, such as but not limited to, followers entering the playing court before the player activity has been terminated. When the delay does not interfere with play, it shall be ignored."
Oregon's Ernie Kent said after the game that the Ducks couldn't inbound the ball because of the Wazzu players on the court.
McCabe said the officials were put in a difficult situation, but handled the play correctly.
"When there are three-tenths of a second to play, Oregon has the right to try to score a basket and every right to complete that," said McCabe. "Players or managers came on the court and you have no choice but to shut down the play. You can't force Oregon to throw over additional players. Once you shut it down, now the rule is applied and it was pretty clear. You can't ignore it or you face suspension [as an official] for not citing a rule. You do what you're supposed to do and assess a technical. It put them in a difficult position, but did they do the right thing? Yes."
October, 29, 2009
10/29/09
10:04
AM ET
WINSTON-SALEM, N.C. -- Dino Gaudio played the game, attempting to woo Jeff Teague in the 11th hour at his home in Indianapolis before the sophomore made his mid-June decision to stay in the NBA draft.
Teague was probably gone anyway, even before the third-year Wake Forest head coach wasted the time trying to convince Teague he should return for his junior season. Teague's teammate and classmate James Johnson was already out the door, listening to the chatter that he was ready for the league.
Once it was official the one-time No. 1-ranked Demon Deacons and first-round flameout (to Cleveland State, of all teams) were without two first-round draft picks, the easy thing to do was toss this season's team onto the irrelevant heap.
"To be honest with you, if I was somebody in the media, I'd probably think the same way," said Wake Forest senior guard Ishmael Smith. "We lost 34 points, two guys that go 16 and 19 in the NBA draft. I would think the same thing."
Well, that thinking isn't going on here. It would be foolish to dismiss this squad. Let's not forget Wake Forest still has one of the more potentially prolific scoring wings in the country in Al-Farouq Aminu, who would assuredly been a lottery pick had he bolted with his teammates after last season. There's a beefy, developing and deep frontcourt led by seniors Chas McFarland, David Weaver and hyped sophomores Tony Woods and Ty Walker. Senior guards Smith and L.D. Williams are also still around.
You can certainly wonder if this team can consistently shoot from the perimeter and whether or not they'll be as difficult a matchup at small forward with Johnson gone.
But don't think for a second this team lacks confidence.
"Ish was our leader last year," Woods said. "Jeff was our point guard, but Ish was our leader."
Smith doesn't stop smiling, either. Talk to him and he is beaming with confidence and pride about Wake Forest. He's not Chris Paul. He's not Justin Gray. He's not Teague. But he'll be just as important to this team.
"He's one of the most talented point guards in the league," said Gaudio of Smith, who has started 60 games at Wake, was the sixth man last season and has quite a career assist-to-turnover ratio (427-255).
"He's a playmaker, but more so a big-shot maker," Gaudio said. "He hit the game-winner against Virginia Tech [as a sophomore] and Miami [later that same season]. He takes big shots, and he made them as a sophomore."
Smith was injured to start last season and lost the starting position he had held as a sophomore. Teague was the big-shot maker when he returned. Now the onus is on him.
"Everyone has been telling me on Facebook that 'It's your team.' There's a lot of pressure, but we've got really talented guys, good bigs and guards that are back," Smith said. "Chris [Paul] was more of a facilitator. Jeff [Teague] was more of a scorer. I'm more of a facilitator who will get people involved. I know when to score and when to pass. I know when to set a team up and get the ball to who's hot."
That will undoubtedly include Aminu, who was overshadowed by Teague and Johnson last season. Aminu is about as reserved a player as you'll find. He's a bit of a low-talker and doesn't show much emotion. Gaudio got right in on him early in practice to ensure that Aminu understood this season was different. He told him directly that he had to win every drill.
"I told him he's got to hold himself to a completely different standard," Gaudio said. "He has to dominate every possession. He's understanding the pace of practice and how hard he has to work."
[+] Enlarge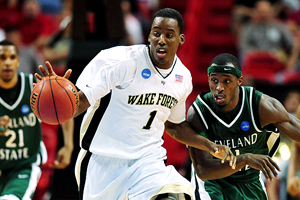 Steve Mitchell/US PresswireThe 84-69 first-round loss to Cleveland State was a bitter pill to swallow for Al-Farouq Aminu and WFU.
Aminu chose to blow off USA Basketball and work out this summer, going to the Nike skill camps instead. He said he was advised to stay home and hone his craft. He said his circle is tight and he wasn't swayed by talk that he was lottery material. Aminu knew he was nowhere near ready for the real man's world of the NBA.
He has worked on his shot, ballhandling and footwork. Without Teague and Johnson, you can be assured Aminu will score more than 12.9 points a game. He'll also take more than 4.7 shots a game.
Aminu said he'll embrace the attention. His teammates have no issue with shifting it to him, either.
"You'll see a more aggressive, more attacking Al-Farouq Aminu," Smith said. "He'll prove to be one of the best small forwards in the country."
Bring up that 15-point Cleveland State loss and you'll get a bitter response. The players say they've been quizzed incessantly about how they could have laid an egg to the Vikings in Miami.
Woods said it had been developing and wasn't a shock, considering the second half of the season. The Deacons posted a 16-0 start, rising to the top of the poll after wins at BYU, at Clemson and over North Carolina and Duke at home.
At that point, Wake looked like a title contender (and was a Final Four pick by, ahem, yours truly). But what followed was a roller-coaster finish. The players all said they weren't ready to handle the success. They are now. It's clear the loss to the Vikings had a lasting effect on them.
"That was a big reason why I came back," Aminu said. "To get put out in the first round, I didn't want that to be my only NCAA tournament experience. I want to win a couple of games, hopefully get to the Final Four. No disrespect to Cleveland State, but to get upset like that -- our team was dejected. We had a Final Four-type team, and to lose like that and go home was devastating."
Wake Forest won't be picked to win the ACC this season -- Duke and North Carolina can argue about that. The Demon Deacons aren't perceived to be better than Georgia Tech, Clemson or Maryland, either. But you can expect Wake will be with those clubs, as well as Boston College and Florida State, throughout the ACC chase.
If McFarland makes himself a factor, if Weaver and Woods are as productive as they have shown early in practice, if Aminu scores, if Williams makes perimeter shots and if Smith leads, then Wake Forest will certainly remain plenty relevant.
The Demon Deacons will know how tough they are early, with road games at Purdue (ACC-Big Ten Challenge) and at Gonzaga in consecutive games in early December. Winning one of those true road games could go a long way toward earning key power-rating points for an NCAA berth in March.
"These seniors have won more games each of their three seasons and put us in the tournament last year," Gaudio said. "If they get us in the tournament again, they'll get to leave a little bit of a legacy at Wake Forest."
• South Carolina coach Darrin Horn says junior forward Sam Muldrow has been boarding and blocking shots extremely well in practice. The Gamecocks need balance on a squad that will be dominated by guard Devan Downey and forward Dominique Archie. Muldrow is also scoring well around the basket, but Horn said he needs to see it in a live game. Downey, meanwhile, has been an exceptional leader. "He's always vocal and passionate but he's also bringing the younger guys along," Horn said. The second-year head coach projected that home losses could decide the SEC East since winning on the road will be at a premium. Whoever can't protect their home court will likely lose the division title.
• Cornell was picked for a three-peat as the Ivy League champ in the preseason poll. Princeton was slotted second, followed by Penn, Harvard, Yale, Columbia, Brown and Dartmouth. The Big Red will have player of the year candidates in Ryan Wittman and Louis Dale. But don't sleep on Harvard's Jeremy Lin as a possible POY, even if the Crimson don't win the league.
• Akron coach Keith Dambrot is building the program to beat in the MAC. The Zips are tabbed as the favorites in the MAC East, followed by Kent State, Buffalo, Miami, Bowling Green and Ohio. Central Michigan was picked first in the MAC West with Northern Illinois, Eastern Michigan, Ball State, Western Michigan and Toledo trailing. Kent State's Chris Singletary and Akron's guards Brett McKnight and Anthony Hitches lead the all-MAC preseason team. What the league lacks this season is an NBA player. There's still time, but the league needs a standout like it has had in the past. Multiple bids would finally be a nice thing, too.