June, 20, 2013
06/20/13
4:20
PM ET
The FIBA U-19 World Championships may not resonate here at home, but the goal of winning gold has never been more explicit within USA basketball.
As the seriousness of the men's national team has taken on a new level in the last eight years, the junior national team has followed that example.
Coaches are returning. Players are, too. Suddenly, playing for Team USA has value -- as it should.
But this is not an all-star team. This is a team that will compete in Prague next week, crafted to fit Florida's Billy Donovan's coaching style. He wanted a team that could press, rebound, defend and generate turnovers. The havoc fits the way one of his assistants -- VCU's Shaka Smart -- loves to coach.
"I like this team a lot,'' Donovan said. "More than anything this group of kids understands the sacrifice and attitude and work ethic.''
Here is the final 12-man roster and Donovan's assessment of what they've done and can do for Team USA, which begins play in the Czech Republic on June 27. The gold-medal game is set for July 7.
Michael Frazier, 6-4, G, So., Florida
"He comes in as the best shooter. One of the things we struggled with was behind the line. He really provides shooting. In our scrimmage against Air Force he was 4 of 6. He can be a spot-up shooter against a zone and help us space the floor a bit.''
Aaron Gordon, 6-6, F, Fr., Arizona
"He's really, really athletic. He's got a great motor. He can play the 3, the 4. He's really, really good in the press. He's really, really active, and he's going to be a very good player with a great motor.''
Jerami Grant, 6-6, F, So., Syracuse
"He's been sick with strep throat. But he'll be healthy [for the tournament]. Like Gordon, he gives us another versatile frontcourt guy. Like Gordon, he can play a 3, 4 and 5 and his shooting has gotten better. He was on the team a year ago. He gives us great length and is versatile.''
Montrezl Harrell, 6-7, F, So., Louisville
"He's like Gordon and Grant in that he's really athletic. His skill level has gotten better [since last year]. He's really active. We can do a lot of things defensively with those three guys in Gordon, Harrell and Grant. We can press and switch and they can guard a lot of different positions, get out and run a little bit. We could play all three at the same time.''
Jahlil Okafor, 6-10, C, Whitney Young HS, Chicago
"He's really, really skilled in the low post. He's got a big body with a long wingspan. The way we're playing fast, running and pressing, he's the guy we can throw the ball inside and he'll make good things happen. He's a lot more mature than his age. He's going to play well with the pick-and-roll. He's a big, strong kid. We can go high-low with him and he can work his way to the basket. He's got a good skill level.''
Elfrid Payton, 6-3, G, Jr., Louisiana-Lafayette
"He came in as the surprise. He's really rangy and a very good defender. He can play multiple positions. He's really crafty with the ball and can get in the lane. The best thing he does is pass. He's a really good on-ball defender.''
Marcus Smart, 6-4, G, So., Oklahoma State
"He's been great leadership-wise. I think he's gotten better shooting the ball. His presence and competitiveness and strength and size will help us. So will his will. He came back to school and to us and that really helps our team. He has an incredible presence. I will play him at the point. But he'll also play the 2 and 3. We've got a lot of guys who can play different positions.''
Jarnell Stokes, 6-8, F, Jr., Tennessee
"He's really physical. He was with us last year and he can be a monster around the basket for us. Last year, we kept more guards. This year, more frontcourt guys.''
Rasheed Sulaimon, 6-3, G, So., Duke
"He's a good scorer. He was with us last year. He's shooting the ball with more consistency. He's more comfortable with the international line. We've got to get him to take over more of a leadership role. He was on the trip last year with Smart [when Donovan led them to the gold in Brazil for the U-18 title]. And he played a lot with Duke and that's important.''
Mike Tobey, 6-11, F, So., Virginia
"He's been really good. I think he'll really help us against the zone. After the first day or two, he adjusted and played really well.''
Nigel Williams-Goss, 6-3, G, Fr., Washington
"He's got a lot of the intangibles. He's a great leader and a really good motor. He's more advanced than his age. He's always played at a high level. He'll play the 2 for us.''
Justise Winslow, 6-6, F, St. John's HS, Houston
"He's a 6-6 guy that can play the 2, 3, 4 and really good in the press. The thing that's good for him is his overall skill, passing and unselfishness. He can guard several different positions. He's really athletic. He's a pass-first player that can slash to the basket.''
June, 29, 2012
06/29/12
8:52
PM ET
The gold medal won by the USA men's under-18 team in Brazil last week will reverberate across a number of college campuses in the fall.
The players who won gold -- the majority of whom are set to begin their freshman seasons -- will benefit from the competition and the spirited workouts and playing for Florida's Billy Donovan, Gonzaga's Mark Few and VCU's Shaka Smart.
The U.S. didn't lose a game in the FIBA Americas U-18 Championships and won by an average of 39 points, including beating host Brazil twice.
High schooler Julius Randle, who still has another year at Prestonwood Christian Academy in McKinney, Texas, led the Americans in scoring at 14.2 points and 6.6 rebounds a game.
Tennessee sophomore-to-be Jarnell Stokes was second at 14 points and 5.6 rebounds a game.
I asked Donovan for five players he is convinced will have a major impact on their respective teams during their first college seasons.
He didn't hesitate on the first name (tourney averages in parentheses). Marcus Smart, 6-foot-3, SG, Oklahoma State (7.4 ppg, 3.4 rpg): "I have not been around a player in a long, long time that is as good a competitor. He can shoot the ball better (1-of-10 on 3-pointers), but he's unselfish and an unbelievable leader. He was absolutely terrific. He's a terrific player. He's special. He has the internal qualities to me.''
Jerami Grant, 6-7, SF, Syracuse (5.6 ppg, 5.0 rpg): "He didn't shoot very well (7-of-25), but he'll end up being a Kris Joseph or Wesley Johnson for Syracuse in time. He's rangy, long and can play two different positions. His upside may be greater than anyone else on the team. He's so long and athletic. Once he knocks down shots he'll be really special.''
Sam Dekker, 6-7, SF, Wisconsin (5 ppg, 2.5 rpg): "He was hurt, ended up spraining his ankle, and then someone stepped on his toe and that had to be drained. He was never quite healthy. But he's a warrior. He loves to play. He wants to win. I think he's a really good player. He takes some crazy shots. I just wish I could have coached him. He's going to be terrific.''
Shaq Goodwin, 6-8, PF, Memphis (12.4 ppg, 4.8 rpg): "He's got a chance. He scored 30 points in our first game. He's got a great feel for how to play. He's got a big body. He needs to be a bit more serious. But he played pretty well while he was there. He did a nice job for us.''
James Robinson, 6-3, PG, Pittsburgh (4.4 ppg, 2.6 rpg): "We weren't sure we were going to keep him. We cut the team from 25 to 14 and then kept guys around to 12. He was originally on the outside looking in. But once we started practicing we saw that he's a winner and a great role guy. He's a typical Pitt player. Jamie [Dixon] will love coaching him. I'm not sure of his impact on the team, but people will say, 'Where did this guy come from?' The kid is a winner. I liked coaching him. He was the same guy every day.''
Donovan had one word for NC State-bound wing Rodney Purvis (7 ppg, 1.8 rpg) and Duke-bound guard Rasheed Sulaimon. That one word? "Relax."
He said Purvis is an exceptional talent but can get too wrapped up in scoring at times. He's an exceptional athlete, according to Donovan, very physical and a really good player, but needs to check the expectations a bit. Donovan said Sulaimon (10 ppg, 3.4 rpg) needs to avoid feeling too much of the natural pressure that comes with being a highly touted Duke recruit. He said he loved Sulaimon's work ethic and enjoyed coaching him but he just needs to chill a bit.
June, 11, 2012
06/11/12
8:34
PM ET
The text messages from the USA Basketball staff came back with one name:
Marcus Smart
.
He was the player who stood out the most on the U-18 roster, which leaves for Brazil on Wednesday for the FIBA Americas U18 Championships held in Sao Sebastiao de Paraiso from June 16-20.
Smart's impact on the trials in Colorado Springs shouldn't come as surprise. Nor should comments that he was one of the most competitive players coming out of high school the staff has seen, a "flat-out stud, a winner and a warrior.''
The 6-foot-3 wing from Marcus High School in Flower Mound, Texas, might have the most impact of any newcomer in the Big 12 in 2012-13.
He is being described as a player who loves to play defense. A competitive, coachable talent who can drive the lane and make the right pass. His body type has been billed as a bigger version of Tim Hardaway Sr., with strong shoulders, arms and legs.
"There aren't many Marcus Smart's out there,'' said Oklahoma State coach Travis Ford. "He's extremely talented and cares about winning, not how many points he scores or needs to score. He's an incredible passer. I knew he'd be a hit for this team.''
The U-18 coaching staff, led by Florida's Billy Donovan and assisted by Gonzaga's Mark Few and VCU's Shaka Smart, will rely on Smart's talents to lead the 12-man roster.
So, too, will Oklahoma State.
The Cowboys also added Smart's teammate and friend Phil Forte, a 5-10 shooting guard, and 6-8 power forward Kamari Murphy out of Brooklyn.
The Cowboys lost Keiton Page, the team's top scorer and leader, but highly-touted Le'Bryan Nash returns to a team that finished 15-18 overall and 7-11 in the Big 12.
If Nash (13.3 ppg, 5.0 rpg) can play like he did at Iowa State on Jan. 18 (18 points) or against Missouri on Jan. 25 (27 points) and Smart delivers, the Cowboys should have one of the most talented set of wings in the Big 12.
And Oklahoma State will be a team that could be in the mix in what should be a wide-open Big 12 race.
Ford said Smart is going to be play at least 30 minutes per game. He said he's physically ready and mature to step in immediately. USA Basketball will be the right springboard for Smart heading into the season.
"He's the type of player you want on these all-star teams,'' Ford said. "He's the ultimate team guy. It's important for us because we're losing one of the best leaders I've ever coached in Keiton Page. [Marcus] is a freshman, but he'll be a leader.''
Ford said scouting Smart in high school was easy since he was the one who was always talking. His leadership, apparently, was infectious.
"Marcus has such a high motor,'' Ford said. "He is all about winning. His team won back-to-back 5A state championships. Phil Forte was the MVP, and nobody was happier for him than Marcus. He's a great teammate.''
Ford said Smart's ability to post up and block shots from his position makes him very versatile.
Ford understands that some may be cautious in celebrating another high-profile Oklahoma State freshman. Nash didn't exactly roar out of the gate last season.
But the Oklahoma State coach said Nash has been stellar so far in individual workouts.
"It's going to be fun to have those two guys on the same team,'' Ford said. "There's a learning curve, and we knew it would be there.''
The Cowboys will carry Smart's USA Basketball momentum into an August trip to Spain and then into a season where they have once again put together a topflight schedule. They'll play in the Puerto Rico Tip-Off Classic (NC State and Tennessee are the other headliners), host Gonzaga, South Florida and Missouri State, and visit rebuilding Virginia Tech.
Texas and Kansas will be the two Big 12 favorites next season. The rest of the spots are wide open, and Oklahoma State has as good a chance as any team to finish in the top four in the league.
November, 23, 2011
11/23/11
5:17
PM ET
NEW YORK -- Travis Ford handed out his cellphone number to each women's basketball player and staffer.
The coach was clear about his intentions. If any of them needed anything -- to talk, to ask a question, anything -- while his Oklahoma State men's team is in New York for the NIT Season Tip-Off, they can call.
"I don't care if it's five minutes before tipoff," Ford said Tuesday. "I told them all, 'You call me if you need something.'"
Ford was distraught that the men's team had to leave Stillwater this week, especially after Monday's memorial, a celebration of the life of women's coach Kurt Budke and assistant Miranda Serna, who along with the pilot (Otis Branstetter) and his wife (Paula) were killed last Thursday in a plane crash while on a recruiting trip to Arkansas.
"I hate that we're leaving," Ford said in advance of Oklahoma State's Wednesday night's game against Stanford at Madison Square Garden. "I wish we could be there for all of them. We're very close to them. There are things I could be doing. We'll be back for their game Saturday [against Coppin State]. We'll be the first people in the stands. It's tough; they're struggling right now."
So, too, is Ford. He put on a brave face during an interview session Tuesday. But he can't hide that he lost a friend, a mentor of sorts, and the tragedy shook him to the core.
He travels the exact same way all the time to go recruiting. "It's what many of us do," Ford said. "You don't think about it. You think about getting that recruit and going to see the next great Cowgirl or Cowboy and let them see you in the stands. That's what Kurt was thinking. He was a great recruiter. He spent an enormous amount of time and had pride in it and that's what he was thinking."
Ford said he now has pause about what to do. "It makes you think, no question, goodness, the tragedy happened the same way I go recruiting all the time," Ford said. "We take private planes. We do that. It's not unusual. Is it going to stop me from recruiting? No. But will it put it in perspective for me? Absolutely yes."
Ford and Budke had become close friends. They shared ideas. They discussed recruiting, game situations. They had no issue sharing court time. There are plenty of adversarial relationships between men's and women's programs. This was not one of them. "Kurt was a really good friend and mentor," Ford said. "I've been lucky to be surrounded by some of the greatest coaches in America my whole career as a player and as a coach. He's one of the greatest I've been around.
"His relationship with his players was something I marveled at," Ford said. "It's something that I learned from."
Ford said he and Budke would sit in each other's offices and share plays, "almost on a daily basis."
"He was a great family man," Ford said. "He loved talking about his wife and children. He was what coaching is all about. He loved the game. He wasn't just about winning and losing. He loved being at practice. I learned a lot from him, to be a better father, husband and coach."
Ford is still dealing with denial. He said he would pass Budke nearly every day as one team went onto the practice floor to pass the other. "We met each other's recruits," Ford said. "We live in the same world. It's almost surreal. I don't know what their families are going through."
Ford said his players are grappling with the tragedy as well. He said they are all dealing with it in their own way.
Oklahoma State is trying to sift through two horrific tragedies within a 10-year period. January was the 10-year anniversary of the plane crash that killed 10 members of the men's basketball family on a return trip from a game at Colorado. The team was split up on three planes. Two made it back to Stillwater, a third did not. Former OSU coach Eddie Sutton said last week that a day doesn't go by that he doesn't think about those 10.
Ford said you can't rationalize the fact that this has occurred on the same campus, within the same sport, in the same athletic department. "I marvel at the job Eddie Sutton and the administration did to keep everyone together," Ford said. "It was amazing how they got through it. I've met many of the families from that time and heard so many of their stories. It has taken longer for some of them to come back."
Monday's memorial was a celebration, not a moment of silence, Ford said. There was an ovation to celebrate Budke and Serna. "They were two ultra competitors," Ford said. "Hopefully it celebrated the lives of these two people that meant so much to Oklahoma State."
Ford was wearing an orange ribbon sticker on his jersey. A similar ribbon, to honor the four people who lost their lives, will be on the men's team's uniforms. A number of teams and coaches in the Big 12 are wearing some sort of orange ribbon to honor Oklahoma State.
"Part of my job is to recruit and a big part is to win games," Ford said. "And I'm not going to stop recruiting or stop coaching. But hopefully I'll do it the right way, the way Kurt Budke did, and have more fun and enjoy it more rather than think it's all about winning."
November, 14, 2011
11/14/11
9:50
PM ET
The atmosphere of the Carrier Classic, with its overwhelming sense of patriotism and the sheer uniqueness of playing a game on the deck of the USS Carl Vinson, along with the historical significance of that vessel, will be hard to top.
The view was magnificent. The Naval presence in all its glory and uniformity was as impressive as one would imagine. And the appreciation from the sailors for the break from the daily routine was genuine.
If you missed that game or any of the matchups on opening weekend, you're in for a treat because you won't be able to turn on the ESPN family of networks from 11:59 p.m. ET on Monday until about 1 a.m. ET on Wednesday without seeing college basketball on the screen.
Here are some questions to ponder as the fourth annual Tip-Off Marathon begins with Washington State at Gonzaga and ends with an NIT Season Tip-Off game the following night from Stanford.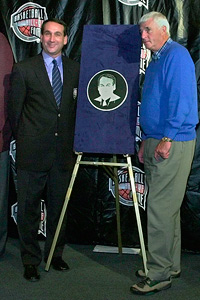 AP Photo/Charles KrupaMike Krzyzewski and Bob Knight are tied atop the all-time wins list, but Krzyzewski could set the new mark against Michigan State at the Champions Classic.
1. Will Duke coach Mike Krzyzewski become the NCAA's all-time winningest coach? The Blue Devils play Michigan State in the first game at the Champions Classic (ESPN, 7 p.m. ET) from Madison Square Garden. Duke struggled against Belmont in its opener and then blasted Presbyterian on Saturday. Neither result should come as a surprise. The Blue Devils are usually the home team in New York, but it will be interesting to see how many Spartans fans are able to make the trip, especially if some of them just went to San Diego. Still, Michigan State has a real shot to upstage Coach K. Despite their loss to North Carolina, the Spartans were the aggressor, outrebounding the Tar Heels convincingly 42-31. The Blue Devils have as much size as North Carolina, so the challenge will be similar. But MSU must shoot better from 3-point range than it did against UNC (2-of-20). Another key to the game is seeing which team converts timely perimeter shots. If Duke wins, we'll have the unique setting of Krzyzewski winning No. 903 and passing his former coach Bob Knight, who will sit courtside calling the game for ESPN.
2. How will the Thomas Robinson-Anthony Davis matchup unfold? This could turn out to be one of the more anticipated frontcourt showdowns during the nonconference schedule, as this individual battle highlights the second game of the Champions Classic between Kentucky and Kansas (ESPN, 9:30 ET). Robinson began the season as the go-to guy for Kansas, finishing with 18 points and 11 rebounds against Towson. Meanwhile, Davis, UK's highly touted freshman, blitzed Marist with 23 points and 10 boards in the Wildcats' 50-point rout. Kentucky has more options than KU and can lean on Doron Lamb or Terrence Jones to get it plenty of points. But the tussle between Robinson and Davis will be good theater throughout the night.
3. How will Ohio State's Aaron Craft and William Buford handle Florida's perimeter? We're not conceding the Jared Sullinger-Patric Young matchup (well, we will for these purposes), but this game may come down to the guards. Florida's set of Kenny Boynton, Mike Rosario, Brad Beal and Erving Walker is off to a sensational start. Rosario scored 19 points off the bench, while Boynton scored 19 and Beal 14 (Walker added 10) in a rout of Jackson State. Craft and Buford will be tested defensively more so than they were a year ago, when Ohio State won easily at UF during this same event. The Buckeyes, who host the Gators at 8 p.m. ET (ESPN2), are the No. 3 team in the nation because of Sullinger. But this will be the first time OSU may feel the loss of defensive specialist David Lighty.
4. Can Belmont emerge from the brutal opening weekend with a split? The Bruins nearly nipped Duke in a comeback that fell one possession short. The next challenge is a visit to in-state Memphis at noon ET on ESPN. Belmont won't have any awe factor in playing the Tigers. The Bruins should come into this game oozing with confidence after their showing versus the Blue Devils. Memphis is still a young team and a work in progress. The Tigers have more talent, but the question is whether they will show patience against a Belmont team that will want to run and run and run. This could be one of the most entertaining games of the day.
5. How will Baylor handle its one and likely only test during Perry Jones III's suspension? Jones must sit for three more games after accepting an extra benefit. The Bears beat Texas Southern on Friday and Jackson State on Sunday. The two games that follow Baylor's home matchup with San Diego State (ESPN, 2 p.m. ET) are South Carolina State and Texas-Arlington. This is not the same Aztecs team from last season after the roster was gutted by graduating seniors and an early-entry NBA departure. Still, they are athletic enough to cause problems. The Bears have options with Quincy Acy, Quincy Miller and Anthony Jones, but this game should at least push Baylor a tad more than the first two did during Jones' suspension.
[+] Enlarge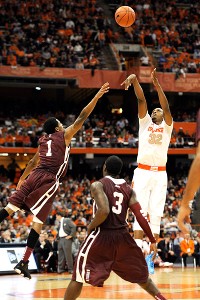 Richard Mackson/US PresswireIf Syracuse beats Manhattan on Monday, Kris Joseph and the Orange will face either Albany or Brown in the NIT Season Tip-Off.
6. How will Gonzaga's guards respond after a poor first outing? The Bulldogs showed in a tight win over Eastern Washington that they can rely heavily on Robert Sacre (22 points and 10 boards). But the perimeter shooters went 3-of-13 on 3s, and Marquise Carter was 2-of-11 and Mike Hart, Gary Bell, Kevin Pangos and David Stockton were a combined 6-of-15 from the field. Washington State is a team in transition, and the Zags should win this game. But Gonzaga has plenty of tougher challenges ahead, and so its guard play will need to improve. Still, this will be a good chance to see Sacre and Elias Harris on display against the Cougars, tipping off the Marathon at 11:59 p.m. ET on Monday night (ESPN).
7. As for the two women's games on the Marathon schedule … How will Tennessee perform after coach Pat Summitt's health diagnosis? If you saw Robin Roberts' piece on "Good Morning America," you know it is clear that the Lady Vols are determined to win a national title for Summitt. The Tennessee coach also seems as driven as ever in her quest to keep coaching while she battles early-onset dementia. This should be an emotional game, as they all may turn out to be, for the No. 3 Lady Vols as they host No. 7 Miami (ESPN2, 6 p.m. ET). And how will Texas A&M handle its status as the reigning champs? The Aggies aren't expected to repeat as national champs, but they have established themselves as an elite program. The primer to the Tennessee game won't involve as much theater, but may be as competitive a game when No. 9 Louisville goes to College Station to play the No. 6 Aggies (ESPNU, 4 p.m. ET).
8. What should we expect from Texas' Myck Kabongo? Kabongo is an impressive young man who handles himself with poise and class. Now he has to translate that onto the court against a talented Rhode Island squad that lost at George Mason by two points in its season opener Friday. The Longhorns will lean heavily on Kabongo to start the season. How he handles this first assignment will be a strong indicator on what to expect, as URI will push Texas from the outset (ESPN, 4 p.m. ET).
9. How will Drexel handle the hype as the CAA's favorite? The Dragons play at Rider (ESPN, 6 a.m. ET) when most people might be waking up to watch the Marathon. Drexel is the early pick to win the Colonial Athletic Association, a conference that's receiving some buzz after placing its second team (VCU) in the Final Four since 2006. Drexel will be minus the injured Chris Fouch, but Samme Givens and Frantz Massenat should be enough to beat Rider. But the Dragons could do themselves a service by looking impressive, too.
10. How productive can the Saint Mary's frontcourt be this season? Randy Bennett anticipates that this frontcourt will be more productive than the one led by Omar Samhan, who led the Gaels to the Sweet 16 two seasons ago. That means Rob Jones will be getting help from Kyle Rowley, Brad Waldow, Mitchell Young and Beau Levesque. Jones dominated Fresno Pacific with 25 points and 12 boards, but Northern Iowa -- coming off an impressive road route of ODU -- will be a much more formidable foe for the Gaels (ESPN, 2 a.m. ET).
11. What should we expect from LeBryan Nash? Well, if you believe the hype, Oklahoma State has an all-Big 12 player who can elevate it to the NCAA tournament. The Cowboys will likely have plenty of chances to feature Nash against Arkansas-Pine Bluff in the NIT Season Tip-Off (ESPN3, 8 p.m. ET).
12. How polished will Syracuse look? If they defeat Manhattan on Monday, the Orange will face either Albany or Brown on Tuesday (ESPN3, 7 p.m. ET) in the NIT Season Tip-Off. The early indication is that this veteran team will be ready to compete for the Final Four. Of course, Syracuse isn't being challenged as much as some other teams, but the Orange smacked Fordham in the opener as Dion Waiters complemented Kris Joseph quite well.
13. A surprisingly close game? I'm going with Austin Peay at Cal (ESPN2, 10 p.m. ET). The Governors should be one of the favorites in the Ohio Valley Conference. Will Triggs and TyShwan Edmondson could play at any level. California is one of the Pac-12 favorites, but the Golden Bears will be tested in this CBE Classic matchup. Guards Allen Crabbe and Jorge Gutierrez will be tested versus Austin Peay.
14. What are the chances of a surprise to end the Marathon? I think Stanford will have a tough time with either SMU or Colorado State at home in the NIT Season Tip-Off. The Mustangs or the Rams are fully capable of being a pest and upsetting the Cardinal (ESPNU, 11 p.m. ET). Stanford first has to get past Fresno State, of course, to be in this matchup. To do that, Aaron Bright, Chasson Randle and Josh Owens will have to really take control.
15. How will Miami score inside? The Hurricanes are sans Reggie Johnson and Julian Gamble due to injuries. The given has been that the Canes have the guard play with Malcolm Grant and Durand Scott. But Rutgers will try and make Miami (ESPN3, 7 p.m. ET) beat the Scarlet Knights on the inside. This could turn out to be one of the closer games in the Marathon.
16. What should we expect from Villanova? This is somewhat of a blank slate. The Coreys -- Mr. Fisher and Mr. Stokes -- are gone. Maalik Wayns will be the dominant presence, but there are plenty of other options as Mouphtaou Yarou, JayVaughn Pinkston, Dominic Cheek and James Bell could all star against La Salle (ESPN3, 7 p.m. ET). The Wildcats are an unknown in the Big East, and this game will at least give us a taste of what we may see.
17. Is Kevin Jones ready to be a star? For two seasons, West Virginia's Bob Huggins has been waiting for Jones to emerge. He scored 20 points and grabbed eight rebounds in a season-opening seven-point win over Oral Roberts. Kent State will hardly be a walk for the Mountaineers (ESPN, 10 a.m. ET). Darryl Bryant can offset Jones' production, but the offense will likely flow through Jones as he adapts to being the front man for the Mountaineers.
18. How ready is Hawaii to make a run at Utah State? Gib Arnold has gone through a complete roster makeover and coached the Warriors to an impressive 19-13 record in his first season in Honolulu. Utah State beat BYU to open the season while one of the WAC favorites, Nevada, was flat at home in losing to Missouri State. Hawaii has a real shot to make a move in its final season in the WAC before heading to the Big West. Establishing an identity in a new conference is always key and ensuring that Cal State-Northridge (ESPN, 4 a.m. ET) is well aware of what it is in for when it visits the Stan Sheriff Center would do wonders for a first impression.
19. What will Morehead State and College of Charleston look like after losing their stars? This game could be one of the more competitive because of who both teams lost, rather than who they gained. Morehead State no longer has Kenneth Faried, while Charleston is without Andrew Goudelock. The Eagles made the NCAA tournament last season, defeating Louisville and then falling to Richmond. The Cougars reached the NIT quarterfinals before losing to eventual champ Wichita State. Regardless of how these teams look (ESPN, 8 a.m. ET) on Tuesday, you can expect them both to be factors in their respective conferences by February.
20. What are the chances Virginia Tech doesn't end up in New York for the NIT semifinals? We'll find out Tuesday night. The Hokies will likely play George Mason, assuming the Patriots beat Florida International and Virginia Tech knocks off Monmouth on Monday. Mason beat Rhode Island by two in overtime in its opener, and while it is a more depleted roster than expected when Paul Hewitt took the job, this is still a formidable squad. Virginia Tech used balanced scoring to beat East Tennessee State by 11 in its opener, but hitting 5-of-18 on 3s was an indicator that the perimeter shooting may not be the Hokies' strong suit.
Other notable names to watch: Does Tu Holloway have a monster game for Xavier against IPFW (7 p.m. ET)? Will Cincinnati's Yancy Gates dominate against Jacksonville State (7 p.m. ET)? How will Harvard fare as the hunted team on the road, even against a rebuilding Holy Cross squad (7 p.m. ET)? How will Dayton's Archie Miller fare in his road debut as head coach at Miami-Ohio (7 p.m. ET)? Will Mike Scott be a double-double performer for Virginia against Winthrop (7 p.m. ET)? Will LSU avoid plunging into irrelevance by winning at Coastal Carolina (7 p.m. ET)? Will Butler avoid a shaky 0-2 start by winning at home against Chattanooga (7 p.m. ET)? Will Saint Louis prove to be the team projected as an A-10 contender and win games it should -- even on the road at Southern Illinois (8 p.m. ET)? Will Missouri State continue to win on the road and take down Arkansas State (8 p.m. ET)? How impressive will Royce White be for Iowa State against Drake (9 p.m. ET)? How will Wyoming play for new coach Larry Shyatt against Northern Colorado (9 p.m.)? Will Arizona State start its climb toward respectability by winning a game at home versus Pepperdine (8:30 p.m. ET)? Will Utah State follow up its BYU win by beating rival Weber State (9 p.m.) on the road?
Andy Katz is a senior writer for ESPN.com.
November, 10, 2011
11/10/11
6:51
PM ET
The elite powers have resurfaced at the top of the Top 25 and across the high-major conferences.
A few schools, like Xavier, Gonzaga and Memphis, as well as newcomers Baylor, Marquette and Vanderbilt are expected to challenge with deep NCAA tournament runs and possible Final Four berths.
But what about the programs that missed the NCAA tournament a season ago? The ones that appear destined to rise this season?
A run to New Orleans might not be prudent to predict. But then again, no one had VCU headed to Houston last April. But even the Rams didn't have a consistent regular season. VCU squeaked into the field and then enjoyed a magnificent postseason run. Connecticut, another team that had been nearly as erratic, albeit against superior competition, won the national title.
Below are 10 programs headed for breakout seasons. If they fall flat, they may have no one to blame but themselves. The talent is in place. The landscape is open. And the opportunity exists for any team in this group to make the bracket its own for a weekend or two in March.
Oklahoma State: The Cowboys are picked to finish in the middle of the pack in the Big 12 -- and with good reason. Baylor, Texas A&M, Kansas and Missouri should all be deemed favorites. Texas arguably could finish higher than the Cowboys. But Oklahoma State has one of the top freshmen in the country who few discuss outside of the region in LeBryan Nash. He could be a star by midseason. Oklahoma State coach Travis Ford has assembled a cast that is more apt to run this season and cause havoc the way he's envisioned. The Cowboys have a loaded schedule after picking up a challenging game versus Pitt at Madison Square Garden on Dec. 10. Oklahoma State may still finish as low as fifth or sixth in the Big 12. But if they get into the NCAA field, consider the Cowboys a potential breakthrough team with an ability to cause problems in March.
Marshall: Memphis is the clear favorite in Conference USA. But the Thundering Herd have two guards -- DeAndre Kane and Damier Pitts -- who can match up with any of the players on the Tigers. Marshall has plenty to prove to be worthy of a team that should be taken seriously. There are a number of nonconference games -- Belmont, Iona, West Virginia and Cincinnati -- that will show if Marshall is worthy of significant hype. And of course the Herd must make Huntington a tough place to play and be consistent to nudge at Memphis throughout the winter. If Marshall does that, you'll take the Herd seriously in March.
Harvard: The Crimson are the pick to win the Ivy. They technically won a share of the regular-season title with Princeton last season. But Harvard lost the playoff game against the Tigers on a buzzer-beater and then got blasted at Oklahoma State in the NIT. Harvard is finally ready to be the Ivy leader from the season's start to its finish. Coach Tommy Amaker has the core of his team returning, and Harvard can compete with most teams in the country. Keith Wright is a legit All-America candidate. Kyle Casey, Brandyn Curry, Christian Webster and Oliver McNally are all experienced. The Crimson can make a name for themselves with a win at Connecticut on Dec. 8, easily the most recognizable game on the schedule. But if not, don't fade on Harvard during the winter. This team will be relevant in March and a trendy first-weekend upset pick.
Detroit: Slaying Butler in the Horizon League has been like the search for the Holy Grail for conference opponents. Milwaukee thought it had the Bulldogs beaten when it hosted the conference tournament title game, only to lose. Detroit has the personnel to dethrone Butler, even with Eli Holman's status in doubt. The majority of coaches in the league tab the Titans as the team to beat and the most talented with Ray McCallum Jr., Chase Simon, Nick Minnerath and Doug Anderson. Members of the Valparaiso staff said last week that the Titans look like a formidable Big Ten team when they step on the court. Detroit has the opportunity to make the NCAAs with a solid schedule. Get there, and the Titans will be a hard out.
Creighton: Greg McDermott was no fool when he left Iowa State on his own terms and seized the Bluejays' job once Dana Altman went to Oregon last year. McDermott had been in the Missouri Valley at Northern Iowa and seen the success and potential of arguably the top job in the conference. The Bluejays have a number of hidden gems who are flying under the national radar in Doug McDermott, Greg Echenique and Antoine Young. The problem for Creighton is that the schedule could have been stronger. It may need to have a significant run during the Valley tournament, which won't be easy at all due to the strength of Wichita State and Indiana State, to ensure a bid. But once they're in, the Bluejays have the personnel in the right positions to be a serious pest.
New Mexico: Coach Steve Alford is going through a bit of a renaissance in Albuquerque. The Lobos had a big-time run two seasons ago but then took a dip last season. The ability to bounce back quickly will be on display in 2011-12. Alford has found the right mix of four-year transfers (Drew Gordon and Demetrius Walker), hidden gems out of high school (Kendall Williams and A.J. Hardeman) and an international sharp shooter (Australia's Hugh Greenwood) to put together a conference champ. The Lobos will have to manage the nonconference well and get past UNLV, but this team has the ability to be a second-weekend squad in the tournament.
Saint Louis: Rick Majerus had a horrendous personal year with the death of his mother and multiple injuries and illnesses. He's also had to deal with the suspensions of his two best players. But he seems energized this fall and has a team that is committed to making serious strides in the A-10. Kwamain Mitchell is back after a suspension. He joins Mike McCall and Kyle Cassity as the core of this team. Majerus put together a challenging slate of nonconference games, giving the Billikens ample tests to see if they're worthy of the praise. Xavier and Temple are the standards in the A-10. St. Bonaventure is a legitimate upstart with perhaps the best all-around player in the league in Andrew Nicholson. But Saint Louis should a formidable team, poised to get Majerus back to the NCAA tournament.
Virginia: The plan at Washington State was to get players out of high schools and take chances, in hopes they develop and reach their potential. The Cougars did, and Tony Bennett got them to the NCAA tournament. Wazzu's program isn't close to Virginia's. The Cavs have more resources, finances and access to players. Still, Bennett hasn't deviated from his plan. And now that Mike Scott is healthy inside, Bennett has a team that gets him, his style and his commitment to defense. The Cavs should be able to score and close games, rather than sit on the doorstep, unable to get significant wins. The timing is perfect for Virginia, too. The ACC is in a rebuilding mode outside of North Carolina, Duke and to some extent Florida State. The rest of the league is in flux, giving Virginia ample chances for wins and to establish itself as a top-four team en route to the NCAAs.
Oregon: The Ducks have the Nike resources, the state-of-the-art everything and have been consistently recruiting talented players to the Northwest from urban centers in the Midwest -- regardless of the coach. Dana Altman also fully understood the need to infuse a few transfers, one is a risk in Wake Forest's Tony Woods, and another is a lock for success in Louisiana Tech graduate Olu Ashaolu. The infusion of newcomer Jabari Brown, who was a hit on a summer trip to Italy, is a game-changer for the Ducks. Altman said Brown still needs to be consistent, but who doesn't at this stage in the season? Oregon has a challenging schedule, which includes opening at Vanderbilt, so be patient with the Ducks. In a Pac-12 where there is no clear favorite (not Cal, UCLA, Washington or Arizona), the opportunity is there for Oregon to surprise. The Ducks won the CBI tournament over Altman's old team, Creighton. The natural next step will be the NCAAs.
Long Beach State: Dan Monson has had a long road back to the point where he feels comfortable in the game. He left Gonzaga to try to rebuild Minnesota after NCAA violations. He wasn't able to turn that program around on a consistent basis. Now he's done that at Long Beach State. The 49ers were atop the Big West last season but didn't win the conference tournament. Long Beach will have to fend off Orlando Johnson and UC Santa Barbara again, but with Casper Ware and Larry Anderson, the 49ers should prevail. Long Beach has a monster nonconference schedule that could set up an at-large berth if it falls short in the Big West tourney. Long Beach will have the talent to win a game in March.
October, 21, 2011
10/21/11
3:22
PM ET
KANSAS CITY, Mo. -- In 2011-12, the Big 12 will be the only power-six conference playing a true round-robin schedule to determine a regular-season champ.
And if the decision were up to the men's basketball coaches (although it never is), they would rather see the balanced schedule continue, regardless of what Missouri decides to do with its conference affiliation.
The Big 12 has 10 remaining schools this season after losing Nebraska (Big Ten) and Colorado (Pac-12). So the conference finally was able to scrap the unbalanced schedule that was based on a north-south football split that saw Texas and Kansas playing only once every season. The need to have those two teams play twice was so real that Texas coach Rick Barnes said he looked into playing a nonconference game against the Jayhawks at one point.
Texas A&M is off to the SEC in 2012, but the Big 12 has already replaced the Aggies with TCU for next season. If Missouri were to leave at some point for the SEC, it would leave the Big 12 with nine schools. That's where Kansas coach Bill Self would stop, if it were up to him.
"I want nine, that's what I want, to choose to stay at nine," Self said. "That way we would have 16 league games and a round-robin instead of 18. If we don't do nine, then I'd rather do 12 for 16 games."
Multiple Big 12 sources said Mizzou is leaning toward a departure to the SEC, but there is still a chance that the Missouri board of curators could decide to stay in the Big 12 with the new revenue sharing and grant of rights for Tier I and Tier II television games.
If the Tigers leave, then the Big 12 has to decide if it wants to go to 10 (Self's wish of nine is highly unlikely) or bump up to 12. The choices for either are centered on West Virginia, Louisville and Cincinnati from the Big East and BYU, which is an independent in football and in the WCC for everything else.
"I'd like to stay at 10 for a bit and see what happens with it," Barnes said. "I'd love to see us at 10. I love the round robin. When I was in the ACC and Big East, we were at nine teams. As long as we keep Kansas, we're going to have a good league."
Barnes said that as Self walked by to give him a ribbing. But Barnes did say playing 16 games allows the Big 12 schools to play a "great non-league schedule."
Oklahoma State coach Travis Ford wants to see the Big 12 pull an ACC and be proactive, going after elite basketball schools the way the ACC did with Pitt and Syracuse.
"I have so many mixed emotions here, but I'd love for Louisville, West Virginia and Cincinnati to come in for basketball and make us a 12-team league," Ford said. "But if we went 12 and went divisions, I wouldn't be a fan of that. I do like 10. I like that the schedule is fair. And I think it will be exciting for fans to see all the teams come through the gym. We'll have a true champion. A guy like me from Kentucky, I'd love to see Louisville. Boy, what a great basketball league you'd have. But we're in a good position now."
Oklahoma coach Lon Kruger is coming off a true round-robin schedule in the Mountain West while at UNLV. He doesn't want to see a change.
"It's a true champion," Kruger said. "It's good for the fans too. It's the best way to determine a championship."
Iowa State coach Fred Hoiberg agreed with that assessment. So, too, did Baylor's Scott Drew, Kansas State's Frank Martin and Texas Tech's Billy Gillispie.
The Pac-10 used to have a true champion, the ultimate grind of home-and-home with every school. But then the additions of Utah and Colorado meant there would be unbalanced scheduling. A true champ isn't a foreign concept and happens in various conferences in Division I. The Missouri Valley comes to mind.
Less is more for the men's basketball coaches. They'd like to see the league preserve something that they've coveted for some time -- a true home-and-home with every school.
This season -- Texas A&M's last -- will give the Big 12 the feeling of truly being a conference. If Missouri is in the league next season, then the Big 12 can experience two seasons of this so-called scheduling bliss.
Beyond that is still a great unknown. The basketball coaches don't have a vote. They have a voice and they have expressed it. But clearly, like almost everything else, this will be a football-driven decision.
That seems to be a common theme of late.
October, 3, 2011
10/03/11
6:17
PM ET
At this time last year, Ben Hansbrough's name didn't appear on the Wooden Award preseason watch list.
Five months later, he edged out Connecticut's Kemba Walker for Big East Player of the Year.
Using that as a backdrop, let's remember that the list of 50 Wooden nominees is flawed, much like any of the award lists. The Wooden Award does not allow its voters to nominate any freshmen or transfers (either four-year or junior college) on their ballots.
And with college basketball as loaded with talent as any year since 2007-08, narrowing it down to 50 is not easy. So below I've attempted to come up with the names that didn't make it, either as "just missed the cut" omissions or just because they're freshmen or transfers. These guys aren't on the list (which can be found here), but might show up when it's updated during the season.
This group is by no means definitive, either. There's no telling who else might emerge nationally as the games get under way.
Let's take a look …
The omissions (in alphabetical order):
Julian Boyd, Long Island: The Blackbirds are the favorite again in the Northeast Conference and the main reason is because Boyd is back and ready to dominate the stat sheet.
D.J. Cooper, Ohio: The diminutive point guard does a little bit of everything; he averaged 15.8 ppg, 7.5 apg and 5.0 rpg for the Bobcats last season.
Jared Cunningham, Oregon State: Cunningham has some of the best hops in the sport and a chance to be a Pac-12 star, allowing the Beavers to finally move up in the standings this season.
Seth Curry, Duke: Curry was a standout shooter for the Blue Devils on their trip to China and could be one of the top scorers on the team.
Brandon Davies, BYU: Davies was recently reinstated to the Cougars, and the offense is expected to flow through him inside and out as BYU mounts a campaign to win the WCC in its first year in the league.
Matthew Dellavedova, Saint Mary's: SMC coach Randy Bennett envisions this as one of the best teams he's ever had, but a lot of that will have to do with whether Dellavedova can shoot like Mickey McConnell did last season.
Greg Echenique, Creighton: Echenique was a rebounding force for Venezuela this summer and should do even more for the Bluejays with a full season to work with.
TyShwan Edmondson, Austin Peay: The Governors should be the favorite in the Ohio Valley with a legit scorer like Edmondson, who has a strong man, Will Triggs, to take pressure off him.
Kyle Fogg, Arizona: Fogg is next in line to assume a leadership position for the Wildcats, who are in a position to compete for Pac-12 titles for years to come.
Kevin Foster, Santa Clara: As a sophomore, Foster sort of came out of nowhere to average 20.2 ppg and become one of the nation's top 3-point shooters.
Chris Gaston, Fordham: The Rams aren't any good, but the nation's leading returning rebounder (11.3 rpg) at least deserves a shout-out in this space.
Yancy Gates, Cincinnati: UC coach Mick Cronin said he'd be surprised if Gates wasn't one of the 10 names on the Big East preseason first team.
Malcolm Grant, Miami (Fla.): The Hurricanes have to play most of the season without big man Reggie Johnson, so Grant will have more opportunities to shine.
Rob Jones, Saint Mary's: Jones could be a double-double regular for the Gaels, and for Saint Mary's to win the WCC, Jones will have to be a star.
Doron Lamb, Kentucky: John Calipari says Lamb will be the Wildcats' best player. Just Coach Cal mind games, or the truth?
Meyers Leonard, Illinois: Leonard didn't contribute a whole lot as a freshman, but he was a hidden gem on the U.S. U-19 team in Latvia this summer. The Illini are expecting big things out of him.
C.J. McCollum, Lehigh: McCollum is the nation's leading returning scorer (21.8 ppg) and is in the top five in steals (2.5 spg). Oh, and he did that as a freshman. What more do you need to know?
Cameron Moore, UAB: The Blazers have been consistently good under Mike Davis and have had unheralded C-USA stars. Moore is the latest.
Toure' Murry, Wichita State: If the Shockers win the Missouri Valley over Creighton, a lot of the credit will end up going to the veteran Murry.
Brandon Paul, Illinois: Illini coach Bruce Weber was a bit surprised Paul didn't crack the top 50 on the Wooden list, given his overall importance to this team.
Ryan Pearson, George Mason: The Patriots are a trendy pick for the Top 25 and a lot of that has to do with the versatility of Pearson.
Damier Pitts, Marshall: The Thundering Herd are a real sleeper to gain an NCAA tourney berth out of Conference USA in large part because of Pitts.
Herb Pope, Seton Hall: Pope has come back from multiple life-threatening situations and has a real shot as a senior to put it all together and finally shine.
Terrence Ross, Washington: The Huskies can't be dismissed as a major player for the Pac-12 title, and if they win it, Ross will be a significant reason why.
Robert Sacre, Gonzaga: Sacre has matured into a solid post player, and that progress shows no signs of stopping as the Zags once again compete for the West Coast title.
Mike Scott, Virginia: If the sleeper Cavs mount a run to the NCAA tournament, the oft-injured Scott will be the reason why.
Renardo Sidney, Mississippi State: If Sidney is in shape and plays up to his potential, he has SEC Player of the Year potential and could be the difference between the Bulldogs making the NCAAs or NIT.
Andrew Smith, Butler: The Bulldogs will have fewer stars this season, but Smith has a chance to outshine Khyle Marshall and newcomer Roosevelt Jones with his scoring prowess in the post.
Chace Stanback, UNLV: Stanback's suspension to start the season is only one game, so that won't diminish his ability to lead the Rebels in their hunt for a Mountain West title.
Raymond Taylor, Florida Atlantic: FAU quietly won the Sun Belt East Division last season and Mike Jarvis' diminutive point guard was the catalyst behind the regular-season championship.
Hollis Thompson, Georgetown: If the Hoyas are to make the NCAA tournament again and be a pest in the upper half of the Big East, then Thompson needs a breakout season.
Kyle Weems, Missouri State: Doug McDermott is the one everyone is talking about in the Valley, but let's not forget that Weems is the reigning MVC Player of the Year. Too bad for the Bears he's their only returning starter.
Kendall Williams, New Mexico: The sophomore guard was the leading scorer in four postseason NIT games for the Lobos and should only get better with the addition of Australian Hugh Greenwood.
The transfers
Dewayne Dedmon, USC: Trojans coach Kevin O'Neill firmly believes this JC transfer is an NBA talent who could dominate the post and average a double-double for SC.
Arnett Moultrie, Mississippi State: The former UTEP big man is ready to have a bust-out season for a team that has serious bounce-back potential after a disappointing 2010-11 campaign.
Mike Rosario, Florida: The former Rutgers scoring guard finally has plenty of support around him and will put up numbers for a winner.
Rakim Sanders, Fairfield: The Boston College transfer should flourish after dropping down a level, and he should get coach Sydney Johnson another trip to the NCAA tourney. Johnson is beginning his first year at Fairfield after leading Princeton to the 2011 tourney.
Royce White, Iowa State: White is finally ready to be a star on the college scene after multiple transgressions at Minnesota.
Brandon Wood, Michigan State: The Spartans picked up a rare senior transfer (taking advantage of the graduate transfer rule) from Valparaiso who could be one of the best shooters in the Big Ten.
Tony Woods, Oregon: The embattled Woods arrived from Wake Forest after legal issues and has a chance to really shine as a double-double player for the first time in his career.
The freshmen
Bradley Beal, Florida: Beal has a chance to be a productive player in a frontcourt that has a vacuum after multiple seniors departed.
Gary Bell Jr., Gonzaga: Coach Mark Few has been anticipating Bell's arrival for over a year now. He's expected to step in and deliver right away.
Wayne Blackshear, Louisville: The Cardinals fancy themselves a Big East title contender, and that's partly because they consider Blackshear a star in the making.
Jabari Brown, Oregon: Brown was the star of the Ducks' trip to Italy with his scoring prowess, and expect that to continue in the Pac-12.
Jahii Carson, Arizona State: There is some question right now as to Carson's eligibility, but if he's good to go, the Sun Devils might become relevant in the Pac-12 again.
Erik Copes, George Mason: Copes was bound for George Washington before Karl Hobbs was fired; now he'll be a headline performer for the Patriots and first-year coach Paul Hewitt.
Anthony Davis, Kentucky: Davis has a chance to be the SEC Player of the Year and the No. 1 pick in the NBA draft, so expect him to be on the midseason list when freshmen are allowed.
Andre Drummond, Connecticut: He will be an immediate star and help lift the Huskies into the national title chase again. He's more than likely a future top-five pick in the NBA.
Myck Kabongo, Texas: Coach Rick Barnes has had quite a bit of success with big-time freshmen guards, and Kabongo is next in line.
Michael Kidd-Gilchrist, Kentucky: Gilchrist will be another star on what will be a headline team throughout the season.
Johnny O'Bryant, LSU: Coach Trent Johnson needs the Tigers to start trending upward again, and he has a shot with the arrival of the big man from Mississippi.
LeBryan Nash, Oklahoma State: OSU is a bit of a mystery team in the Big 12, but the All-American from Dallas could push the Cowboys into contention.
Austin Rivers, Duke: Rivers will have the ball in his hands quite a bit and appears to be the next Duke star in a lengthy list of recognizable names.
Josiah Turner, Arizona: The Wildcats will win the Pac-12 regular-season title if Turner is as good as advertised.
Cody Zeller, Indiana: If coach Tom Crean is going to turn the Hoosiers into a relevant team this season, it will be because of Zeller and his impact in the Big Ten.
September, 20, 2011
09/20/11
9:35
PM ET
Here are some quick hitters during this crazy week in college sports …
• Villanova is trying to use its rising football program as a way to get in somewhere in the ACC or a Big 12/Big East hybrid. The school is hoping the Philadelphia market and the ability to get its football to FBS status (unlike, say, Georgetown) is attractive. And by the way, Nova is not pleased about the way Pitt helped block the Wildcats from being accepted into the Big East for football.
• If what's left of the Big East became a basketball-driven league, it would still be a very attractive conference. Imagine if the league were Villanova, St. John's, Georgetown, Marquette, DePaul, Seton Hall, Providence and possibly Notre Dame, then add Xavier, Butler, Saint Louis, Dayton, Creighton and maybe Saint Joseph's.
• The remaining non-FBS teams in the Big East have to commit to unity for a setup like this to work. The problem with this idea is that it still wouldn't command major media dollars. Non-football conferences don't make the major money. Check out my colleage Dana O'Neil's take on it here.
• The Big East is saying the right things by holding Pitt and Syracuse to the 27-month departure bylaw. But it's in the best interest of the remaining Big East schools to let the schools go so that they can figure out what the conference will look like in two or three years. Multiple lame-duck seasons serve no purpose.
• Pitt is having some selective memory these days about refusing to play Boston College after the Eagles broke off to the ACC eight years ago. The Big East office was not a fan of anyone playing the Eagles in anything and made that clear to Pittsburgh. The Panthers were supposed to play BC in the Jimmy V Classic but were replaced with Indiana.
• The Barclays Arena in Brooklyn will provide the New York City area with multiple opportunities to host conference tournaments. The ACC, Big East and A-10 should all have choices for tournaments in the coming years.
• Adding Missouri to the Southeastern Conference makes the most sense for what the league wants from a 14th member. The SEC wants the perception to be that it is adding a new market (St. Louis/Kansas City) and a school that has some respect academically. Texas A&M obviously delivers a major market (Houston) and respect. But there aren't really two other natural schools out there for the SEC to bump up to 16.
• Pac-12 commissioner Larry Scott will have to do some serious convincing when he talks to his presidents -- especially the Bay Area ones -- about adding Oklahoma State and Texas Tech with Texas and Oklahoma. I would love to hear that conversation.
• I like that Mountain West commissioner Craig Thompson is being proactive, but the proposed MWC-Conference USA confederation to have a football championship that would decide a BCS bid is odd. Would it really produce an automatic qualifier to the BCS? Would there be some sort of basketball agreement?
• Texas would still rather stay in the Big 12 and have all of its program compete in the region. But it all depends on Oklahoma at this point.
• Can you imagine if the ACC added Notre Dame and Connecticut to get to 16? The Irish are always solid under Mike Brey and UConn is a three-time national champ. The top of the ACC would be scary good. But moving up from the bottom would be extremely difficult for some programs. The jobs at Wake Forest and Boston College would get even tougher.
• It really is amazing to think about how much super-conference talk is going on recently and yet Butler played in the last two national championship games and VCU was in the Final Four last season. March reminds us that there are hundreds of others schools competing in Division I and plenty of high-level players and coaches. It's not all about the big boys!
• The NCAA still hasn't decided on the fate of ousted Connecticut athletic director Jeff Hathaway. He's the men's basketball tourney committee chair yet is currently jobless. But a number of former committee members and current Big East officials want Hathaway to be on the committee for this final season as long as the NCAA can figure out a way around him not having a job. Hathaway would be able to focus solely on the task of running the committee, which meets again later in the fall.
• Michigan State coach Tom Izzo is as excited about this season as he has been in years. The Spartans are finally relatively healthy and it's clear some of the issues in the locker room are gone. Meanwhile, North Carolina coach Roy Williams, whose team will face off with Izzo in the Carrier Classic on Nov. 11, said he has been told the pickup games in Chapel Hill involving a number of locked-out NBA players have really helped his crew develop.
• UCLA's Class of 2012 commitments from the East and South, Kyle Anderson (New Jersey) and Jordan Adams (Georgia), continue to show the Bruins are a national program. Every former UCLA coach has consistently said the Bruins can't simply recruit California. UCLA has to be a national player to be a national contender. The recruiting by the Bruins and rival Arizona -- the top two teams in the latest ESPN rankings -- is a credit to Ben Howland and Sean Miller, who cut their teeth recruiting in the cut-throat East Coast. But it also shows that the down cycle of the Pac-12 elite was merely a blip on the radar.