Category archive:

Akron Zips
January, 26, 2010
01/26/10
2:25
PM ET
Siena is in the midst of a three-game road swing and is currently without its best player,
Edwin Ubiles
, who is out with a shoulder injury.
If the Saints, who are cruising in the MAAC with a 10-0 record, can survive this stretch -- let alone another five-game string against upstart Iona and Fairfield at home and Niagara, Canisius and Rider on the road -- still unbeaten in the league, then the BracketBusters opponent on either Feb. 19 or 20 will be even more important to the Saints' NCAA at-large hopes.
It's essentially Butler or bust.
If the Saints can win this week (at St. Peter's Thursday and at Marist on Saturday), there's a very good chance the Saints will be Butler's opponent in the highest-profile BracketBusters game. Matchups will be made this weekend so teams have a few weeks to deal with travel and scouting.
The concept has done wonders for some and been irrelevant for others, but one thing is certain: Teams that have an outside shot at an NCAA tourney at-large or are looking for a seed boost once they qualify as an automatic can't go wrong with another quality nonconference game in late February.
Some teams won't get that chance. The West Coast Conference isn't participating in the event and there are some omissions from other conferences like the Summit (only Oral Roberts and not Oakland), the America East (no Maine), the Big Sky (served up only Montana State and not Northern Colorado or Weber State).
There are 98 teams involved in 49 games during BracketBusters. The 11 games that will air on the ESPN family of networks are determined first and then the conference commissioners will pair up the remaining 76 teams.
Home and road teams are already set for the event, so it's a bit difficult to maneuver who can go where. But the most important aspect of matching teams should be done based on who has a shot to be in the field. Not all of the 22 set teams are in that group. Actually, maybe only six could have an outside shot at an at-large.
[+] Enlarge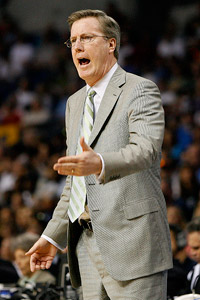 AP Photo/Mike CarlsonFran McCaffery is hoping BracketBusters provides a way to boost his team's NCAA at-large chances.
Siena is one of them.
"It's going to mean something and I would say if we could have a phenomenal league record and beat Butler and then not lose until the finals of the [MAAC] then we'd have a shot," said Siena coach Fran McCaffery. "We'll be right there in that discussion, but we don't want to get ahead of ourselves and assume the next five or six games."
McCaffery would actually be in favor of holding off on announcing the BracketBusters matchups until a few more weeks. But nevertheless, he still wants that Butler game. From a storyline perspective, it makes sense. Those are two of the better-known programs in the field and each has had some NCAA tournament success (Siena has won its last two first-round games).
"We're hoping we can put ourselves in position to get an at-large bid," McCaffery said. The problem for the Saints will be the six games prior to a possible showdown with Butler at Hinkle Fieldhouse in Indianapolis.
Ubiles didn't play against Manhattan on Jan. 18, played 33 minutes in a win over Loyola (Md.) on Jan. 21, but then missed the road game at Manhattan on Sunday. Meanwhile, guard Kyle Downey, who scored 16 points in Ubiles' absence in the first Manhattan game, broke his foot and is now out, possibly for the season.
"We're short-handed for this tough stretch, but I know we have to keep winning," said McCaffery.
Siena did beat Northeastern early in the season for what might turn out to be a solid win. It was a game McCaffery said was scheduled because "nobody wanted to play us and nobody wanted to play them and we're two hours away." But losses to Temple, St. John's, Georgia Tech and Northern Iowa were the supposed "up" games that the Saints failed to win.
Meanwhile, Butler has been rolling in the Horizon at 9-0 with a 16-4 record overall. That mark includes a win at Northwestern and home victories against Ohio State (without Evan Turner) and Xavier. Playing Clemson on a neutral court and UAB on the road (both losses) will help the power rating.
A year ago, Butler coach Brad Stevens said beating Davidson on the road was a key win for helping the Bulldogs get an at-large bid after losing to eventual champ Cleveland State in the conference tournament.
"We were coming off two losses that week before the Davidson game," Stevens said. "And you don't want to be on a losing streak at that time of the year. Doubt starts to creep in. That was a good win that got us going in the right direction."
Stevens knows the Bulldogs will get a quality BracketBusters opponent as the premier home team. There was a time when the staff was anticipating Wichita State as a possible opponent, but two losses last week for the Shockers have led to a belief that it could be Siena. Louisiana Tech, which tops the WAC, is also a possibility, but the name value of a Siena-Butler matchup may have more cachet.
The Bulldogs are handling their business in the Horizon as they become the top draw in every opposing building. That won't change as the Bulldogs go to Green Bay on Friday (ESPNU, 9 ET) and then to Milwaukee, two places the Bulldogs lost last season.
With Matt Howard staying out of foul trouble in the league after being in it throughout the nonconference, the Bulldogs are getting more of a complete effort. Gordon Hayward has been a Horizon MVP and barring a complete collapse, the Bulldogs are in good shape as far as the NCAA tournament is concerned.
Joining Butler as a BracketBusters home squad is Northern Iowa (8-1, 17-2), which leads the Missouri Valley. But Siena has already played Northern Iowa (the Panthers won 82-65) and that's why it makes more sense to send Siena to Butler and Louisiana Tech to Northern Iowa. The latter matchup may not seem headline-worthy to the mainstream fan, but these are the leaders in the WAC and MVC and both teams are talented enough to win a first-round NCAA tournament game.
If you were to pit Siena-Butler and Louisiana Tech-Northern Iowa, you'd likely have four teams that are going to be in the field of 65 matching up a few weeks before Selection Sunday.
The other hot teams are in the Colonial, but they obviously can't go up against each other. Northeastern, Old Dominion, George Mason and William & Mary all could be in play for the CAA's automatic bid with the Tribe the most likely at-large candidate because of nonconference wins over Wake Forest and Maryland on the road and Richmond at home.
That's why the question of who will play at GMU and Northeastern and where ODU and William & Mary will play during BracketBusters will be a fluid process this week.
I'd like to see the following: Wichita State at Northeastern as two of the top teams in the MVC and CAA; William & Mary hitting the road to play the best team in the Ohio Valley (Murray State); ODU traveling to Green Bay, pitting one of the top teams in the CAA against the second-best in the Horizon; and Charleston, which took out North Carolina, makes sense at George Mason in a matchup of two of the best from the Southern and CAA.
"We need a good game," said Northeastern coach Bill Coen, whose Huskies have won 11 games in a row, the third-longest streak in the country. "We've used all our mulligans and probably need to stay perfect the rest of the way to get an at-large berth. But in the spirit of the BracketBusters, we'd like to play our way into the conversation."
Northeastern failed to win games in the nonconference against potential NCAA teams Siena, Rhode Island and Saint Mary's before a humbling loss to Western Michigan in Honolulu on Dec. 23 -- its last loss -- set the team straight.
"It was good for us to be on the road because we had to take a hard look at ourselves," Coen said. "It was like a foreign tour. We were together all the time and had to go eat together breakfast, lunch and dinner and figure it out."
What happened was Northeastern got back to defending and Chaisson Allen started to play the point like Coen expected, teaming up with potential CAA Player of the Year Matt Janning.
Now Coen says the Huskies are cheering for a BracketBusters game "that will help us the most."
They're not alone.
October, 29, 2009
10/29/09
10:04
AM ET
WINSTON-SALEM, N.C. -- Dino Gaudio played the game, attempting to woo Jeff Teague in the 11th hour at his home in Indianapolis before the sophomore made his mid-June decision to stay in the NBA draft.
Teague was probably gone anyway, even before the third-year Wake Forest head coach wasted the time trying to convince Teague he should return for his junior season. Teague's teammate and classmate James Johnson was already out the door, listening to the chatter that he was ready for the league.
Once it was official the one-time No. 1-ranked Demon Deacons and first-round flameout (to Cleveland State, of all teams) were without two first-round draft picks, the easy thing to do was toss this season's team onto the irrelevant heap.
"To be honest with you, if I was somebody in the media, I'd probably think the same way," said Wake Forest senior guard Ishmael Smith. "We lost 34 points, two guys that go 16 and 19 in the NBA draft. I would think the same thing."
Well, that thinking isn't going on here. It would be foolish to dismiss this squad. Let's not forget Wake Forest still has one of the more potentially prolific scoring wings in the country in Al-Farouq Aminu, who would assuredly been a lottery pick had he bolted with his teammates after last season. There's a beefy, developing and deep frontcourt led by seniors Chas McFarland, David Weaver and hyped sophomores Tony Woods and Ty Walker. Senior guards Smith and L.D. Williams are also still around.
You can certainly wonder if this team can consistently shoot from the perimeter and whether or not they'll be as difficult a matchup at small forward with Johnson gone.
But don't think for a second this team lacks confidence.
"Ish was our leader last year," Woods said. "Jeff was our point guard, but Ish was our leader."
Smith doesn't stop smiling, either. Talk to him and he is beaming with confidence and pride about Wake Forest. He's not Chris Paul. He's not Justin Gray. He's not Teague. But he'll be just as important to this team.
"He's one of the most talented point guards in the league," said Gaudio of Smith, who has started 60 games at Wake, was the sixth man last season and has quite a career assist-to-turnover ratio (427-255).
"He's a playmaker, but more so a big-shot maker," Gaudio said. "He hit the game-winner against Virginia Tech [as a sophomore] and Miami [later that same season]. He takes big shots, and he made them as a sophomore."
Smith was injured to start last season and lost the starting position he had held as a sophomore. Teague was the big-shot maker when he returned. Now the onus is on him.
"Everyone has been telling me on Facebook that 'It's your team.' There's a lot of pressure, but we've got really talented guys, good bigs and guards that are back," Smith said. "Chris [Paul] was more of a facilitator. Jeff [Teague] was more of a scorer. I'm more of a facilitator who will get people involved. I know when to score and when to pass. I know when to set a team up and get the ball to who's hot."
That will undoubtedly include Aminu, who was overshadowed by Teague and Johnson last season. Aminu is about as reserved a player as you'll find. He's a bit of a low-talker and doesn't show much emotion. Gaudio got right in on him early in practice to ensure that Aminu understood this season was different. He told him directly that he had to win every drill.
"I told him he's got to hold himself to a completely different standard," Gaudio said. "He has to dominate every possession. He's understanding the pace of practice and how hard he has to work."
[+] Enlarge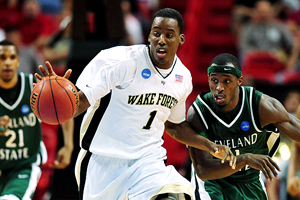 Steve Mitchell/US PresswireThe 84-69 first-round loss to Cleveland State was a bitter pill to swallow for Al-Farouq Aminu and WFU.
Aminu chose to blow off USA Basketball and work out this summer, going to the Nike skill camps instead. He said he was advised to stay home and hone his craft. He said his circle is tight and he wasn't swayed by talk that he was lottery material. Aminu knew he was nowhere near ready for the real man's world of the NBA.
He has worked on his shot, ballhandling and footwork. Without Teague and Johnson, you can be assured Aminu will score more than 12.9 points a game. He'll also take more than 4.7 shots a game.
Aminu said he'll embrace the attention. His teammates have no issue with shifting it to him, either.
"You'll see a more aggressive, more attacking Al-Farouq Aminu," Smith said. "He'll prove to be one of the best small forwards in the country."
Bring up that 15-point Cleveland State loss and you'll get a bitter response. The players say they've been quizzed incessantly about how they could have laid an egg to the Vikings in Miami.
Woods said it had been developing and wasn't a shock, considering the second half of the season. The Deacons posted a 16-0 start, rising to the top of the poll after wins at BYU, at Clemson and over North Carolina and Duke at home.
At that point, Wake looked like a title contender (and was a Final Four pick by, ahem, yours truly). But what followed was a roller-coaster finish. The players all said they weren't ready to handle the success. They are now. It's clear the loss to the Vikings had a lasting effect on them.
"That was a big reason why I came back," Aminu said. "To get put out in the first round, I didn't want that to be my only NCAA tournament experience. I want to win a couple of games, hopefully get to the Final Four. No disrespect to Cleveland State, but to get upset like that -- our team was dejected. We had a Final Four-type team, and to lose like that and go home was devastating."
Wake Forest won't be picked to win the ACC this season -- Duke and North Carolina can argue about that. The Demon Deacons aren't perceived to be better than Georgia Tech, Clemson or Maryland, either. But you can expect Wake will be with those clubs, as well as Boston College and Florida State, throughout the ACC chase.
If McFarland makes himself a factor, if Weaver and Woods are as productive as they have shown early in practice, if Aminu scores, if Williams makes perimeter shots and if Smith leads, then Wake Forest will certainly remain plenty relevant.
The Demon Deacons will know how tough they are early, with road games at Purdue (ACC-Big Ten Challenge) and at Gonzaga in consecutive games in early December. Winning one of those true road games could go a long way toward earning key power-rating points for an NCAA berth in March.
"These seniors have won more games each of their three seasons and put us in the tournament last year," Gaudio said. "If they get us in the tournament again, they'll get to leave a little bit of a legacy at Wake Forest."
• South Carolina coach Darrin Horn says junior forward Sam Muldrow has been boarding and blocking shots extremely well in practice. The Gamecocks need balance on a squad that will be dominated by guard Devan Downey and forward Dominique Archie. Muldrow is also scoring well around the basket, but Horn said he needs to see it in a live game. Downey, meanwhile, has been an exceptional leader. "He's always vocal and passionate but he's also bringing the younger guys along," Horn said. The second-year head coach projected that home losses could decide the SEC East since winning on the road will be at a premium. Whoever can't protect their home court will likely lose the division title.
• Cornell was picked for a three-peat as the Ivy League champ in the preseason poll. Princeton was slotted second, followed by Penn, Harvard, Yale, Columbia, Brown and Dartmouth. The Big Red will have player of the year candidates in Ryan Wittman and Louis Dale. But don't sleep on Harvard's Jeremy Lin as a possible POY, even if the Crimson don't win the league.
• Akron coach Keith Dambrot is building the program to beat in the MAC. The Zips are tabbed as the favorites in the MAC East, followed by Kent State, Buffalo, Miami, Bowling Green and Ohio. Central Michigan was picked first in the MAC West with Northern Illinois, Eastern Michigan, Ball State, Western Michigan and Toledo trailing. Kent State's Chris Singletary and Akron's guards Brett McKnight and Anthony Hitches lead the all-MAC preseason team. What the league lacks this season is an NBA player. There's still time, but the league needs a standout like it has had in the past. Multiple bids would finally be a nice thing, too.