Category archive:

Oklahoma Sooners
December, 20, 2011
12/20/11
1:37
PM ET
Oklahoma pulled off a solid coaching hire when it brought Lon Kruger back to the Big 12 to replace Jeff Capel.
How so? Kruger can be labeled as a bit bland, but he has been remarkably consistent wherever he has been, which includes stops at Kansas State (in the Big Eight), Florida, Illinois and UNLV. (It's not fair to lump in his coaching tenure with the NBA's Atlanta Hawks because that was a no-win situation.)
[+] Enlarge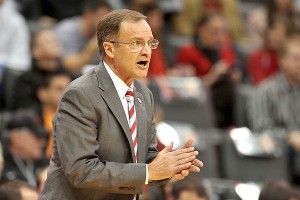 Mark D. Smith/US PresswireIn his first season at Oklahoma, Lon Kruger's Sooners are off to a fast start.
Kruger isn't likely to compete for a national title with the Sooners. But his teams will be in the hunt for the postseason on a regular basis. His squads defend and improve over the course of a season, and trouble usually doesn't follow them around.
Kruger came in to replace Capel, who had a glorious run with Blake Griffin. But what followed was a hyped recruiting class that backfired and imploded on him, ultimately leading to violations within the program and Capel's exit from Oklahoma and back to Duke as an assistant.
Oklahoma was 14-18 overall last season and 5-11 in the Big 12 last season. The Sooners lost eight straight during conference play.
Kruger's first Oklahoma team, consisting of a number of unknowns heading into the season, is off to an 8-1 start. Its only loss was a 20-point defeat to Saint Louis in the 76 Classic final in Anaheim last month.
The schedule has decent names on it, but all of the programs except the Billikens are in a rebuilding phase (Washington State, Santa Clara, Arkansas and Houston). The Sooners' best victory might have been against Oral Roberts on Dec. 8.
Regardless, the fast start for a team projected to finish near the bottom of the Big 12 has given the Sooners confidence and relevance that they have lacked since Griffin left for the NBA. "The schedule is fair,'' Kruger said. "There were a half-dozen games that were [a] toss-up. We're gaining confidence while we're learning, and that's not always a luxury in certain situations.''
Oklahoma did return 70 percent of its scoring and 72 percent of its rebounding from 2010-11. But that production is from a team that finished with a subpar season.
And it doesn't take into account the improvement of Steven Pledger. Kruger is getting contributions from Pledger that Capel didn't, and his production has had a dramatic result on Oklahoma's win-loss record.
Last season, Pledger played in 32 games and averaged 30 minutes a game, but he produced only 10.9 points and 2.1 rebounds per game.
Now a season later: Pledger is averaging 29.5 minutes a game, scoring 19.5 points and leading all Division I guards with a 60.4 field goal percentage, including 51.2 percent on 3s. He was the Big 12's player of the week after scoring 31 points and grabbing 10 boards in the win over Houston in Oklahoma City on Saturday.
Pledger has already scored at least 20 points in four of the eight games he's played in. He accomplished that only three times in 32 games last season. His most impressive recent stat may be that he's averaging 18.5 points in the second halves of the past two games, converting all three 3s and 13 of 15 field goals during that stretch.
The 6-foot-4 junior guard has been the surprise player in the Big 12.
Kruger said he told Pledger to expect more from himself. And he's responded.
Sound simple? Apparently it was a mere matter of working hard over the summer and lofting countless shots at home in Virginia.
"Coach has given us so much confidence,'' Pledger said. "He's giving us a little bit of praise, and we're doing the right things on the court and off the court. Around campus, we're respectful, and it shows with what we're doing. Last year when we were losing, people didn't feel like talking much to other people.''
The Sooners are defending well in spots, and most Kruger teams get stingier as he puts his handprint on the program. "Our tempo is much faster and more up and down than last [season],'' Pledger said. "We're getting up more shots, and we're making our opponents tired.''
The Sooners visit Cincinnati on Thursday (ESPNU, 9 p.m. ET) before opening a brutal Big 12 conference stretch at Missouri and against Kansas in early January.
Oklahoma returns most of the team next season and add Wyoming transfer Amath M'Baye for two seasons. The word out of OU practice is that he'll have an impact.
But the rebuilding stage is ahead of schedule. There's no reason to believe the Sooners will finish in the top six ahead of Missouri, Baylor, Kansas, Texas A&M, Texas or Kansas State. But the start has given this team more confidence that it could have imagined.
Kruger said the Sooners have a long way to go and haven't been physical enough, especially on the boards. That will be an issue in the heart of the Big 12 season. "We can't get pushed around,'' Kruger said.
Kruger said he didn't plan on making the coaching move from UNLV, a place where he had become incredibly comfortable. But OU athletic director Joe Castiglione made the financial offer too rich to turn down. The NCAA issue has not affected the team, since it mainly hits the Sooners with official visits and some days on the road for recruiting.
All seems to be going quite well for a program that seemed in disarray just a season ago. "We'll have more challenges, but I really think we can pull off probably finishing closer to third, fourth or fifth,'' Pledger said. "I know we'll be in the postseason.''
October, 21, 2011
10/21/11
8:22
AM ET
KANSAS CITY, Mo. -- In 2011-12, the Big 12 will be the only power-six conference playing a true round-robin schedule to determine a regular-season champ.
And if the decision were up to the men's basketball coaches (although it never is), they would rather see the balanced schedule continue, regardless of what Missouri decides to do with its conference affiliation.
The Big 12 has 10 remaining schools this season after losing Nebraska (Big Ten) and Colorado (Pac-12). So the conference finally was able to scrap the unbalanced schedule that was based on a north-south football split that saw Texas and Kansas playing only once every season. The need to have those two teams play twice was so real that Texas coach Rick Barnes said he looked into playing a nonconference game against the Jayhawks at one point.
Texas A&M is off to the SEC in 2012, but the Big 12 has already replaced the Aggies with TCU for next season. If Missouri were to leave at some point for the SEC, it would leave the Big 12 with nine schools. That's where Kansas coach Bill Self would stop, if it were up to him.
[+] Enlarge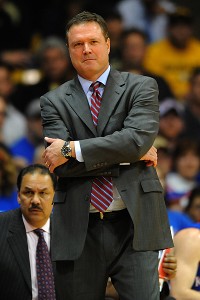 Ron Chenoy/US PresswireBill Self has certainly had plenty of opinions on the realignment occurring in college sports.
"I want nine, that's what I want, to choose to stay at nine," Self said. "That way we would have 16 league games and a round-robin instead of 18. If we don't do nine, then I'd rather do 12 for 16 games."
Multiple Big 12 sources said Mizzou is leaning toward a departure to the SEC, but there is still a chance that the Missouri board of curators could decide to stay in the Big 12 with the new revenue sharing and grant of rights for Tier I and Tier II television games.
If the Tigers leave, then the Big 12 has to decide if it wants to go to 10 (Self's wish of nine is highly unlikely) or bump up to 12. The choices for either are centered on West Virginia, Louisville and Cincinnati from the Big East and BYU, which is an independent in football and in the WCC for everything else.
"I'd like to stay at 10 for a bit and see what happens with it," Barnes said. "I'd love to see us at 10. I love the round robin. When I was in the ACC and Big East, we were at nine teams. As long as we keep Kansas, we're going to have a good league."
Barnes said that as Self walked by to give him a ribbing. But Barnes did say playing 16 games allows the Big 12 schools to play a "great non-league schedule."
Oklahoma State coach Travis Ford wants to see the Big 12 pull an ACC and be proactive, going after elite basketball schools the way the ACC did with Pitt and Syracuse.
"I have so many mixed emotions here, but I'd love for Louisville, West Virginia and Cincinnati to come in for basketball and make us a 12-team league," Ford said. "But if we went 12 and went divisions, I wouldn't be a fan of that. I do like 10. I like that the schedule is fair. And I think it will be exciting for fans to see all the teams come through the gym. We'll have a true champion. A guy like me from Kentucky, I'd love to see Louisville. Boy, what a great basketball league you'd have. But we're in a good position now."
Oklahoma coach Lon Kruger is coming off a true round-robin schedule in the Mountain West while at UNLV. He doesn't want to see a change.
"It's a true champion," Kruger said. "It's good for the fans too. It's the best way to determine a championship."
Iowa State coach Fred Hoiberg agreed with that assessment. So, too, did Baylor's Scott Drew, Kansas State's Frank Martin and Texas Tech's Billy Gillispie.
The Pac-10 used to have a true champion, the ultimate grind of home-and-home with every school. But then the additions of Utah and Colorado meant there would be unbalanced scheduling. A true champ isn't a foreign concept and happens in various conferences in Division I. The Missouri Valley comes to mind.
Less is more for the men's basketball coaches. They'd like to see the league preserve something that they've coveted for some time -- a true home-and-home with every school.
This season -- Texas A&M's last -- will give the Big 12 the feeling of truly being a conference. If Missouri is in the league next season, then the Big 12 can experience two seasons of this so-called scheduling bliss.
Beyond that is still a great unknown. The basketball coaches don't have a vote. They have a voice and they have expressed it. But clearly, like almost everything else, this will be a football-driven decision.
That seems to be a common theme of late.
September, 20, 2011
09/20/11
2:35
PM ET
Here are some quick hitters during this crazy week in college sports …
• Villanova is trying to use its rising football program as a way to get in somewhere in the ACC or a Big 12/Big East hybrid. The school is hoping the Philadelphia market and the ability to get its football to FBS status (unlike, say, Georgetown) is attractive. And by the way, Nova is not pleased about the way Pitt helped block the Wildcats from being accepted into the Big East for football.
• If what's left of the Big East became a basketball-driven league, it would still be a very attractive conference. Imagine if the league were Villanova, St. John's, Georgetown, Marquette, DePaul, Seton Hall, Providence and possibly Notre Dame, then add Xavier, Butler, Saint Louis, Dayton, Creighton and maybe Saint Joseph's.
• The remaining non-FBS teams in the Big East have to commit to unity for a setup like this to work. The problem with this idea is that it still wouldn't command major media dollars. Non-football conferences don't make the major money. Check out my colleage Dana O'Neil's take on it here.
• The Big East is saying the right things by holding Pitt and Syracuse to the 27-month departure bylaw. But it's in the best interest of the remaining Big East schools to let the schools go so that they can figure out what the conference will look like in two or three years. Multiple lame-duck seasons serve no purpose.
• Pitt is having some selective memory these days about refusing to play Boston College after the Eagles broke off to the ACC eight years ago. The Big East office was not a fan of anyone playing the Eagles in anything and made that clear to Pittsburgh. The Panthers were supposed to play BC in the Jimmy V Classic but were replaced with Indiana.
• The Barclays Arena in Brooklyn will provide the New York City area with multiple opportunities to host conference tournaments. The ACC, Big East and A-10 should all have choices for tournaments in the coming years.
• Adding Missouri to the Southeastern Conference makes the most sense for what the league wants from a 14th member. The SEC wants the perception to be that it is adding a new market (St. Louis/Kansas City) and a school that has some respect academically. Texas A&M obviously delivers a major market (Houston) and respect. But there aren't really two other natural schools out there for the SEC to bump up to 16.
• Pac-12 commissioner Larry Scott will have to do some serious convincing when he talks to his presidents -- especially the Bay Area ones -- about adding Oklahoma State and Texas Tech with Texas and Oklahoma. I would love to hear that conversation.
• I like that Mountain West commissioner Craig Thompson is being proactive, but the proposed MWC-Conference USA confederation to have a football championship that would decide a BCS bid is odd. Would it really produce an automatic qualifier to the BCS? Would there be some sort of basketball agreement?
• Texas would still rather stay in the Big 12 and have all of its program compete in the region. But it all depends on Oklahoma at this point.
• Can you imagine if the ACC added Notre Dame and Connecticut to get to 16? The Irish are always solid under Mike Brey and UConn is a three-time national champ. The top of the ACC would be scary good. But moving up from the bottom would be extremely difficult for some programs. The jobs at Wake Forest and Boston College would get even tougher.
• It really is amazing to think about how much super-conference talk is going on recently and yet Butler played in the last two national championship games and VCU was in the Final Four last season. March reminds us that there are hundreds of others schools competing in Division I and plenty of high-level players and coaches. It's not all about the big boys!
• The NCAA still hasn't decided on the fate of ousted Connecticut athletic director Jeff Hathaway. He's the men's basketball tourney committee chair yet is currently jobless. But a number of former committee members and current Big East officials want Hathaway to be on the committee for this final season as long as the NCAA can figure out a way around him not having a job. Hathaway would be able to focus solely on the task of running the committee, which meets again later in the fall.
• Michigan State coach Tom Izzo is as excited about this season as he has been in years. The Spartans are finally relatively healthy and it's clear some of the issues in the locker room are gone. Meanwhile, North Carolina coach Roy Williams, whose team will face off with Izzo in the Carrier Classic on Nov. 11, said he has been told the pickup games in Chapel Hill involving a number of locked-out NBA players have really helped his crew develop.
• UCLA's Class of 2012 commitments from the East and South, Kyle Anderson (New Jersey) and Jordan Adams (Georgia), continue to show the Bruins are a national program. Every former UCLA coach has consistently said the Bruins can't simply recruit California. UCLA has to be a national player to be a national contender. The recruiting by the Bruins and rival Arizona -- the top two teams in the latest ESPN rankings -- is a credit to Ben Howland and Sean Miller, who cut their teeth recruiting in the cut-throat East Coast. But it also shows that the down cycle of the Pac-12 elite was merely a blip on the radar.
September, 19, 2011
09/19/11
2:45
PM ET
The current 10-team Big 12 has only one season as it's currently configured.
What a shame.
When Nebraska (Big Ten) and Colorado (Pac-12) bolted, the league was left with 10 schools that are all on the upward trend. There are no bad teams. None. All of the schools are now fully committed to making men's basketball a premier sport. Finally, the Big 12 was going to have a true round-robin schedule in the sport. The Big 12 was going to be the newest and only major conference to play a balanced schedule.
And this season promises to deliver on one of the country's most competitive conference races.
But the Aggies will soon be gone for the SEC, if they can get over their legal woes, and the rest of the league is in serious doubt. If Oklahoma hadn't started the latest round of Big 12 exploration, nine remaining Big 12 schools would be together and all would be relatively well. But the Sooners are indeed exploring and that means four could bolt to the Pac-12, with Oklahoma leading Texas and those two schools dragging Oklahoma State and Texas Tech, too.
It's a tough pill to swallow for the men's basketball coaches at the remaining schools.
"Look at those nine teams in all major sports -- football, men's and women's basketball, baseball, I don't understand," Kansas State coach Frank Martin said. "What other league has what we do top to bottom?"
Added Kansas coach Bill Self: "I think every school but Iowa State [and Texas Tech] has been to the Elite Eight since 2004. No other league could probably say that."
Here are the facts the Big 12 likes to tout:
• The nine schools have combined for a total of 201 NCAA tournament appearances.
• Of the 115 NCAA victories in the history of the Big 12 (since 1996-97), a total of 109 wins (94.8 percent) have come from the nine teams that would make up the league if the Big 12 remained together.
• The Big 12 has earned 80 NCAA bids in its history (since 1996-97), all but nine (88.8 percent) have come from those nine schools.
• The Big 12 has 24 NCAA bids in the past four years and 42 since 2004. Only six of those bids came from one of the three other teams (Texas A&M).
• A total of 24 of the 26 consensus All-Americans in Big 12 history have come from the remaining nine schools.

So let's pause for a moment and actually consider what could be lost from a basketball standpoint if the remaining nine don't stay together …
[+] Enlarge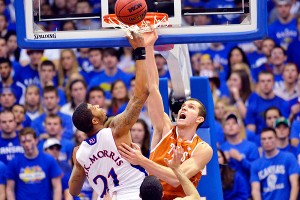 Denny Medley/US PresswireTexas and Kansas have developed a nice rivalry over the past decade. Could that soon be gone?
Kansas: This one is easy. KU is one of the five best programs in the country. Phog Allen is easily one of the top three venues in the sport. The Jayhawks consistently rank in the top 10. Bill Self won a national championship in 2008.
Texas: Rick Barnes has one of the best jobs in the country. Texas can pluck the best talent in the state or go elsewhere as it did with Kevin Durant and its host of Canadian imports (Tristan Thompson, Cory Joseph, Myck Kabongo et al). The Longhorns are consistent winners, usually play a national schedule and are regulars in the NCAA tournament.
Kansas State: The Wildcats were dormant not long ago, but Frank Martin (with an opening assist from Bob Huggins) has helped resurrect the program and ensured that Kansas State is a regular in the NCAA tournament. The Wildcats were in the Elite Eight two seasons ago. The passion for the Wildcats isn't equal to Kansas, but it's not too far behind anymore.
Baylor: The Bears were a disappointment a season ago but were in the Elite Eight in 2010. Baylor has hauled in some elite talent over the last few years, and it's clear that Scott Drew can get it done on the recruiting trail. The Bears already have the fifth-ranked class in the country lined up for 2012 and have a potential lottery pick (Perry Jones) suiting up for another year in Waco.
Iowa State: The Cyclones have hit a rough patch of late, but go back a few years and ask what opponents thought of going into Hilton Coliseum. They will tell you that it was one of the toughest environments in the league. Fred Hoiberg is going with a combination of transfers and new recruits. Let's see if that works. But you can't deny the talent he is bringing into Ames. If it works, Iowa State suddenly is relevant again.
Missouri: The Tigers have consistently had a winner in the region and been an Elite Eight team, despite coaching changes. If Frank Haith stays on despite the Miami allegations, he has an opportunity to continue the winning ways in Columbia. Athletic director Mike Alden is backing Haith, and that's a good sign for now. The Tigers have tremendous fan base, too.
Oklahoma State: The Cowboys haven't been a Big 12 title team, but Travis Ford has had them as a regular pest in the league. Oklahoma State has as passionate a following as any of these schools, and Gallagher-Iba is a gem of an arena. Ford's recruiting has picked up, and the Cowboys are clearly on the rise.
Oklahoma: The Sooners are in a rebuilding mode after the gut of early entries, attrition and an NCAA investigation sent OU down to the bottom of the league. But this is a proud program that has had a history of national talent and success. Lon Kruger is an undervalued coach who has won wherever he has coached in college. There is apathy in the hoops fan base, but this program will trend upward under Kruger.
Texas Tech: The Red Raiders haven't done much on the court lately, but they hired the right coach in Billy Gillispie. He has won in the state of Texas at UTEP and Texas A&M. He will win in Lubbock. The fan base needs to be prodded, but Gillispie will produce a product that will be a consistently decent team.
So that's what could've been.
"It would no question be an extremely strong basketball league," Ford said. "One of the positives of staying together, it keeps us all together in the region. Our rivalries would be strong. That will help with the excitement with the fans. I think it's a premier basketball league and this is the first year we're playing everybody twice. Even if it went to nine teams, it will be a battle every single night."
These schools have and will continue to produce strong, NBA-level talent. It would be too bad if they can't keep it all together.
"The Big 12 has had the most NBA lottery picks, first-round picks, total picks in the last four years and almost all of them have come from the nine schools left," Baylor coach Scott Drew said, clearly conscience of the league's talking points. "Since 2002, nine schools have had 17 Elite Eight teams and that's the most of any conference in the country. The second highest is the Big East with 14."
As you can tell, the Big 12 coaches are ready with ammunition. They don't have to be. Just look at the preseason top 25 when it comes out next month. More than likely, four of those remaining nine will be ranked -- Baylor, Missouri, Kansas and Texas (along with Texas A&M).
That speaks for itself.
July, 6, 2011
07/06/11
3:41
PM ET
The Cleveland Cavaliers made a highly publicized play for Michigan State coach Tom Izzo in June 2010, but Izzo turned down a lucrative financial offer to stay with the Spartans.
A year later, Minnesota Timberwolves general manager David Kahn asked about Washington coach Lorenzo Romar. But it's not going any further than that initial inquiry. Romar isn't heading to Minneapolis.
Will that be the only flirtation with a college coach in the NBA this offseason? Have we entered an era when college coaches may not venture into the NBA because for the high-level coaches, the money won't be much of a difference?
Possibly.
"If it's based on money, I'm not sure coaches will make that transition, especially if they like where they are," Romar said. "The guys that make that type of NBA money are already established."
It seems NBA teams are now seeking the coaches who have been players or assistants such as Mark Jackson or Dwane Casey.
"I just don't see it happening," Pitt coach Jamie Dixon said of elite college coaches making the jump. "I think the NBA will continue to recycle guys unless it's a former college guy like Kelvin Sampson."
Sampson has been an assistant with the Milwaukee Bucks and was recently interviewed by the Pistons. He's gone the assistant route after running afoul of NCAA rules at Oklahoma and Indiana.
"Once you take the top guys out, guys like Phil Jackson, Doc Rivers, the average salary is much more comparable to the college coaches," said Duke associate coach Chris Collins, whose father, Doug, is the head coach of the Philadelphia 76ers. Elite college coaches like John Calipari, Billy Donovan and Mike Krzyzewski are already making more than $3-4 million per year.
"To do it, it has to be that you want to challenge yourself in something new," Collins said. "Financially, coaches like Lon Kruger and some of those other guys, it was a such a big-money deal it was hard to say no. Mike Montgomery, did it and it was something he couldn't turn down."
Leonard Hamilton was in a similar situation when Michael Jordan plucked him from Miami to coach the Washington Wizards. Hamilton got a significant payday but was fired, then landed back in Florida, this time coaching Florida State.
"The trend is to go find a coach that has a relationship with the players," Hamilton said. "But I'm not so sure it won't come back again. The rules are changing with allowing zone, and teams aren't running as many sets."
Still, Hamilton said there will be coaches who see the allure of coaching in the NBA regardless of the financial terms that may be similar.
"A lot of coaches have the aspiration to coach at the highest level," Hamilton said. "If they had the opportunity, I think most coaches, regardless of pay, would welcome it. I think it will change in the near future where college coaches will get the chance again."
A few more news and notes ...
• The schedules for the 2011-12 season are starting to shape up, including in the Hoosier State. As previously announced, Butler will play Purdue, and Indiana will take on Notre Dame at an event at Conseco Fieldhouse in Indianapolis. But the Bulldogs also will play at Indiana after the two schools agreed to be part of a multiteam event during which they'll play three home games against weaker teams. Butler associate head coach Matthew Graves said the Bulldogs aren't in a traditional neutral-site tournament this season but will play in the Maui Invitational in 2012. Butler also signed a home-and-home series with Gonzaga beginning next season in Spokane with the Bulldogs getting the return game in 2012-13. Butler also will host Xavier and Louisville and travel to Stanford next season.
• Missouri coach Frank Haith is trying to offset a number of departures, as the Tigers have only three scholarship players for 2012-13. That's why he took on transfers Keion Bell (Pepperdine), George Goode (Louisville) and Earnest Ross (Auburn) and is now looking at Brian Oliver (Georgia Tech). Oliver is deciding among Penn State, Seton Hall and Missouri, according to a source.
• Former Arkansas sharpshooter Rotnei Clarke is down to Butler and Oklahoma for his new destination, according to a source. Clarke would have one season of eligibility remaining but must sit out next season.
June, 25, 2010
06/25/10
11:07
AM ET
NEW YORK -- You can blame it on poor advice, workouts, injuries, the NCAA's very early early-entry withdrawal date or whatever else you might choose.
But it's hard not to think about the players who came out early and went undrafted Thursday night.
Not everyone's situation was dire, of course. There's no reason to pick on any early-entrant that went in the first round. They made a wise decision. Period.
If you want, you could point out that Elliot Williams might have gone higher next season than No. 22 or Dominique Jones could have landed at a better number than No. 25 or certainly Kentucky's Daniel Orton may have been a much higher selection next season than No. 29.
But Williams can be a fit as a solid backup guard on a likely playoff team (Portland), Jones should fit in well as a scorer off the bench in Dallas and Orton should get a shot to grow and mature with the consistently surging Magic.
But for now, let's examine the rest of the relevant early-entrants:
The Mistakes
Hassan Whiteside, Marshall (No. 33 -- Sacramento): Whiteside declared to be at least a mid-first round pick. Sure, his coach Donnie Jones split for Central Florida, but had he played for Tom Herrion next season I'd be shocked if he wasn't a lottery pick in 2011. Instead, this raw 6-foot-11, 227-pound center went No. 33 to Sacramento, where he might not make the squad after the Kings selected DeMarcus Cousins of Kentucky at No. 5 and earlier in the week made a deal to acquire veteran center Samuel Dalembert from the Sixers.
[+] Enlarge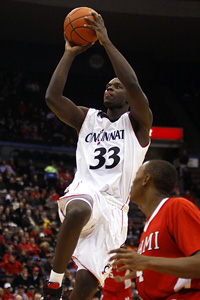 AP Photo/Tony TribbleThe much-hyped Lance "Born Ready" Stephenson was drafted 40th overall on Thursday.
Lance Stephenson, Cincinnati (No. 40 -- Indiana): The Pacers do need guards and maybe Stephenson can flourish with Indiana if he makes the squad. But there's no way, with all the hype he had coming out of New York, that he projected himself to be a middle second-round pick. Stephenson had a real shot next season with the Bearcats to be an all-Big East player. He would have refined his game and been able to mature even more. Now he'll have to scratch out a career the hard way.
Gani Lawal, Georgia Tech (No. 46 -- Phoenix): This is actually one of those cases where the player may have been better served leaving early last year. He was a borderline first-round pick a year ago. He's more mature and maybe more ready to handle the NBA now, but the middle of the second round has to be a major disappointment. His best hope is that free agent Amare Stoudemire hits the road and frees up a little room at power forward.
Solomon Alabi, Florida State (No. 50 -- Dallas to Toronto): I was stunned Alabi slipped this far. I'm sure he and his representation were too, considering he was bandied about as a first-round pick from 19 on down. Alabi could have been the dominant shot-blocking center next season in college, much like Mississippi State's Jarvis Varnado. Alabi had to work on his offensive game and would have been featured even more by Florida State. Instead, he now has to make the Raptors. Not an easy road.
Derrick Caracter, UTEP (No. 58 -- Los Angeles Lakers): Caracter had a complete transformation with his body, mind and attitude for Tony Barbee last season after a dysfunctional career at Louisville. He was a real player. Had he stayed to play for new coach Tim Floyd next season, I'd be stunned if he didn't improve his overall game and become at least a first-round pick. Instead, he chose to bolt and now he'll have a difficult time making a squad and may be forced to go overseas.
The Good Fits
Terrico White, Ole Miss (No. 36 -- Detroit): White was convinced he was a first-round pick and he nearly went to Atlanta at No. 24. Washington would have had interest had it kept its pick at No. 30. But going to the Pistons could be a good move for White. He should fit in quite well under the Joe Dumars plan and Dumars might see some of himself in White if he can become a better defender and a true pro. White has the stocky build to deal with the physical style of the NBA. He's a tremendous athlete too and could flourish on the break.
Devin Ebanks, West Virginia (No. 43 -- Los Angeles Lakers): Ebanks was a projected first-round selection when he came out of high school. He could have tantalized some NBA personnel a year ago after his freshman season. But there were questions during his sophomore season after an early, unexplained three-game absence and an offensive game that faded at times. His defensive game-changing ability made him an integral part of West Virginia's Final Four appearance. He was considered a first-round talent, but he slipped a bit. He was fortunate he landed with the Lakers. If he makes the squad, he could be a Trevor Ariza-like find for L.A. His defense would be much welcomed by the champions and he has a real shot to make this squad. Going to the best team in the league isn't a bad spot to land, even in the second round.
Hard To Know
Armon Johnson, Nevada (No. 34 -- Portland): Johnson was a relative unknown nationally. He wasn't a lock to be in the first round had he stayed around Reno, so going this high in the second was probably better than expected. But it's unclear if he can make the Blazers, so the location might not work out well.
Darington Hobson, New Mexico (No. 37 -- Milwaukee): Hobson had a stellar season for the Lobos. Had he returned he might not have been any higher than where he went this season. The Bucks probably can't keep all of their picks, so he'll have to work hard to make the squad.
Tiny Gallon, Oklahoma (No. 47 -- Milwaukee): Gallon was one of the more polite players I met during the NBA draft combine in Chicago last month. He is clearly trying to make this work. It didn't work out at OU. If he can stick with the Bucks as a second-round pick, that's better than most expected when he left after only one season.
The Enigma
Willie Warren, Oklahoma (No. 54 -- Los Angeles Clippers): Warren could be a steal for the Clippers. If he makes the team, he'll be joining former teammate Blake Griffin, who will play his rookie season next year after being hurt all of last season. But that's a big if. Warren was a preseason all-American and the preseason Sporting News player of the year. Instead, he battled injuries and illnesses throughout the season, was questioned about his poor body language and clearly wanted out of OU. His drop from headline name to afterthought is almost unheard of within one year in the basketball world. He was humbled by his play and the Sooners' swoon last season. Now he's been pushed further down by being selected at No. 54. How he reacts to his latest setback will tell us quite a bit about his desire and character going forward.
The Forgotten
Armon Bassett, Ohio: He had a memorable run in the MAC tournament and contributed to the Bobcats' stunning win over Georgetown in the first round of the NCAA tournament. He wasn't going to go back to Ohio. He didn't get selected, so it's likely off to Europe unless he can land on a summer-league team and make his way.
Charles Garcia, Seattle: Garcia was a hit early for NBA scouts. He drew their attention with his productivity on the glass. But he wasn't able to crack the second round and will have to see if he can make a squad.
[+] Enlarge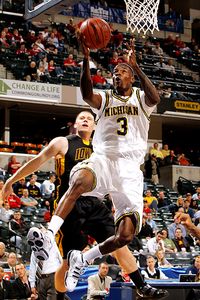 Jonathan Daniel/Getty ImagesManny Harris was one of the more notable college players left on the sidelines at the NBA draft.
Manny Harris, Michigan: Harris must not have enjoyed playing for the Wolverines much last season or got horrible advice. Or both. Harris had a chance to be a all-Big Ten first-teamer and a candidate for conference player of the year had he stayed in school. He did not and he didn't get drafted.
Courtney Fortson, Arkansas: Fortson had been suspended at Arkansas during his career. Had he been able to stay with the Hogs, he would have been one of the top point guards in the SEC. Alas, he could not. Fortson will have to find his own way and try to earn money around the globe.
Mac Koshwal, DePaul: Koshwal could have returned to play for Oliver Purnell and make some headlines in the Big East. Instead, he goes unselected. Not a good tradeoff.
Sylven Landesberg, Virginia: Landesberg couldn't have come back to the Cavs after being suspended at the end of the season. He had to make his way through the draft. It didn't happen and now he'll likely have to earn coin overseas.
Tommy Mason-Griffin, Oklahoma: There is no explanation for this decision unless he simply had no choice. He wasn't going to get drafted. He did not.
Elijah Millsap, UAB: The legacy of his family name in the NBA didn't do much for him. Had he returned to play for Mike Davis, he would have had a shot to increase his profile. Now he'll have to forge a difficult path.
A.J. Ogilvy, Vanderbilt: This one is a real shame for Kevin Stallings and his Vandy players. The Commodores would have had a real shot to compete for a top-two spot in the SEC East with the return of Ogilvy. Without him, they will likely be fending off Georgia for fourth. The Australian has a real shot to earn significant dollars overseas, but going unselected was hardly the projection he probably had for himself.
Samardo Samuels, Louisville: There was a buzz about Samuels' excellent work ethic late in the draft process. That might be enough to carry him onto a summer-league team and get a real shot to make a fall camp roster. But there's no way he thought that was his path when he decided to leave the Cardinals. Had he stayed he would have been one of the top big men in the Big East. He would have had free promotion from network television. Instead, he will have to make a team in an obscure manner.
June, 22, 2010
06/22/10
12:06
PM ET
The calls from NBA teams have come into Texas coach Rick Barnes and Oklahoma coach Jeff Capel asking for answers.
And the response has been clear.
There was nothing secret about why Avery Bradley didn't play the point for the Longhorns. And no, according to Capel, Willie Warren wasn't uncoachable.
Yet, as Thursday's NBA draft approaches, these two players are still sort of a mystery. A year ago, Warren was a lock for the lottery if he decided to come out and was considered a preseason contender for national player of the year. Meanwhile, Bradley was ranked No. 1 in his class in the ESPNU 100 and was expected to be one of the top freshmen in the country. That didn't happen, either.
Still, Bradley could land anywhere from No. 10 on down in the first round, while Warren certainly has the talent to be in the middle-to-late first round (but could easily be a second-round pick).
[+] Enlarge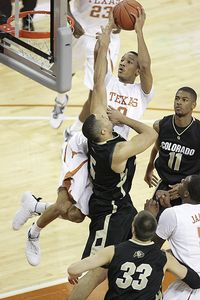 Brett Davis/US PresswireAvery Bradley had an up-and-down freshman season for a disappointing Texas team.
Barnes tried a slew of point guards in what ended up being a disappointing season for the Longhorns. But he never used Bradley at the position.
He started out with the plan of having Varez Ward and Dogus Balbay on the perimeter. But Ward tore his quad in November and was done for the season, and Balbay was the point guard until he tore his ACL in February. Balbay's offensive limitations limited him at times, and Barnes used J'Covan Brown, Justin Mason and Jai Lucas once he was eligible in December after transferring from Florida.
Bradley was the team's second-leading scorer (11.6 ppg), but he contributed only 2.1 assists per game. After rising to No. 1 in the nation in January, the Longhorns limped into the NCAA tournament and exited quickly with a first-round loss to Wake Forest.
"Avery was on the court a lot,'' Barnes said. "When Avery got a rebound, he was welcomed to go with it.''
Barnes' quip was direct, implying that plenty of players who aren't "true" point guards bring up the ball in the NBA, like Dwayne Wade and Lamar Odom.
"There aren't that many pure point guards,'' Barnes said. "It's a different game up there. Avery is still a kid. Dogus plays the point. Avery is a player.''
Remember, the same questions were circling around Russell Westbrook when he came out of UCLA. He made the transition as a combo guard. And that's the hope for Bradley after one season in college.
The Pacers desperately need a point at No. 10, but Bradley may not fit their need. The Grizzlies want to come out of the draft with a point, but they aren't convinced Bradley is the answer.
After Kentucky's John Wall and Ohio State's Evan Turner, who is a new kind of point guard as a lead guard who performs best when he has the ball in his hands to create, the next "true" point guard might be Maryland's Greivis Vasquez. But he's unlikely to go ahead of Bradley or Kentucky's Eric Bledsoe because the other two have more upside as guards.
Had Bradley returned to Texas, he wouldn't have been the point next season either. That position will be handed to incoming freshman Cory Joseph, a 6-3 guard from Pickering, Ontario. Landing Joseph away from Minnesota, Connecticut, Villanova and UNLV was a major coup for Texas, which continues to recruit across the country and now across the continent. Joseph, who played last season at Findlay Prep in suburban Las Vegas, will have the ball in his hands quite a bit.
Balbay will often be on the court right next to Joseph. Barnes said Balbay, who was hurt against Texas Tech on Feb. 20, has made a remarkable recovery from the ACL injury.
"He's a freak,'' Barnes said. "He tore his ACL and he could play right now. I've never seen a guy bounce back like that in my life. He will be the best defensive player in the country.''
Barnes said Ward hasn't been cleared yet to play but likely will by the fall.
As for Warren, Capel said there was a misconception about their relationship.
Warren, who led the Sooners in scoring at 16.3 points in 21 games (after averaging 14.6 in 36 games as a freshman), had a "frustrating season,'' Capel said. Warren had an ankle injury and battled mononucleosis as well as back spasms. Oklahoma slumped badly, finishing 13-18 overall and 4-12 in the Big 12 after the Blake Griffin-led Sooners recorded a 30-6 record (13-3 Big 12) and an Elite Eight appearance the year before.
"There was a big misperception,'' said Capel, who is coaching a junior national team in San Antonio this week. "I wasn't happy all the time with his body language. I had to explain it to him, but it was never personal.''
Capel has been asked by several NBA teams what he thought of Warren. What does he think of him now that he's no longer a Sooner? Can he be coached?
"To say there was drama with he and I, there was nothing further from the truth,'' Capel said. "He can definitely play. I don't think the one season he had last year is indicative of who he is as a player. The same people who were buzzing about him after his freshman year shouldn't think that all of a sudden he got worse as a basketball player. He had an injury-riddled year.''
Capel said the best thing for Warren would be getting drafted by a playoff team toward the end of the first round -- one that would allow him to be around some seasoned and successful veterans.
"He can learn how to be a pro,'' Capel said. "He was humbled last year. It made him work harder. He understood that he has to be in the best possible position and shape to compete at the highest level.''
June, 16, 2010
06/16/10
12:49
PM ET
Nebraska and Colorado can't get out of the Big 12 fast enough for the remaining 10 schools to relish the most competitive college basketball league in the country.
"If you look at who we lost and where they've been basketball-wise, we got stronger,'' Texas A&M coach Mark Turgeon said. "It's going to be a great league. How great would it be, if, when we have 10 teams, that we get six to seven teams in the NCAA tournament in good years? As basketball coaches, we knew we wanted to save this league because we knew we had something special.''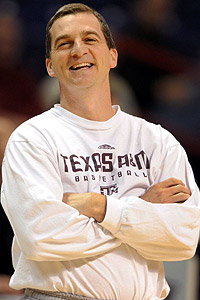 Steve Dykes/US PresswireTexas A&M coach Mark Turgeon is all smiles after hearing about his new league.
The current plan is for the Huskers to leave for the Big Ten by next summer for the fall of 2011. Meanwhile, Colorado exits for the Pac-10 in 2012, giving the league one more season of 12 teams and a 16-game men's basketball schedule, and a possible season of 11 teams and a 16- or 18-game schedule before the league goes to a tidy 10 teams in 2012. The plan for 2012-13 is an 18-game schedule with home-and-home games.
It might sound simplistic, but the Big 12 held on to a football divisional schedule even though the league standings were 1 through 12. While Kansas State and Missouri have become major national players the past two seasons, Nebraska and Colorado were still in the North. That meant the Big 12 South traditionally had tougher home-and-home games. Not having Kansas and Texas play twice in recent years, save last season's nosedive from Texas, was a disservice to the league.
Kansas coach Bill Self said the ACC, Big East, SEC, Big Ten and Big 12 didn't have true champions. Only the Pac-10 did.
But the RPI and the overall scheduling for the teams in the Big 12 North (Kansas, Kansas State, Missouri and Iowa State) will change dramatically.
"We're trading four games with Nebraska and Colorado for another game against Oklahoma, Texas, Baylor, Texas A&M and Texas Tech,'' Self said of the true home-and-home series and the jump to two more overall league games from 16 to 18.
"When we didn't get in four years ago and two years ago, we were criticized for being in the weaker Big 12 North, and therefore our conference record was weaker than teams in the Big 12 South,'' Kansas State coach Frank Martin said. "Well, the only thing that will matter is that we play everybody twice -- no ifs, ands or buts. That argument is no longer valid. ''
That's when the Big 12 becomes unquestionably the best college basketball conference in the country. No dogs. None. Not even Iowa State, which has slid toward the bottom but still has potentially one of the better home court in the country.
The Pac-10 had the envy of other power conferences because of its schedule. The true round-robin schedule produces a real regular-season champion. There is no way to hide behind the premise that the regular-season champion doesn't matter as much because the teams don't play the same schedule.
What the Pac-10 had over its fellow power conferences, it will lose once it adds Colorado and possibly Utah, which will mean 12 teams. Washington coach Lorenzo Romar said the familiarity and consistency of home-and-home games was a huge plus. He said he remembered how tough it was being in an unbalanced schedule in Conference USA with St. Louis, Cincinnati, Marquette, Louisville and Charlotte. Losing the home-and-home aspect within the Pac-10 is something Romar said he'll have to sit down, digest and figure out the best course of action for the league, assuming it will drop from 18 to 16 games.
Turgeon said he wasn't thrilled to jump from 16 to 18 league games just in number alone, but the format is the best. No one is questioning that.
No one seems to question the direction of every program in the remaining Big 12, with Kansas, Kansas State, Baylor and Missouri -- four schools that were being left out of possible expansion -- likely in the top 20 this fall. Texas won't be far behind. Oklahoma State has been a consistent winner. Oklahoma had one disastrous season but is two seasons removed from being a national title contender with then-player of the year Blake Griffin. Assuming OU coach Jeff Capel won't let the Sooners slide again, they should be in the thick of the chase soon. The coaches all agree Texas Tech's Pat Knight is ready to turn the corner this season as a factor in the Big 12 mix. The question is whether Iowa State can regroup and recruit under new coach Fred Hoiberg? If he can, there is no weak link in the bunch and there are no wins that can be counted on to get into the NCAA tournament in a given season.
If the football side agrees that other programs (Memphis, Louisville or Mountain West schools) wouldn't add serious value to the league, the compacted Big 12 could easily exist for years and become one of the most competitive leagues in the country.
The Big 12 has produced national players of the year in Griffin (Oklahoma) and Kevin Durant (Texas), and one who was close to earning it in Michael Beasley (Kansas State).
Duke and North Carolina won the past two national championships. However, outside of Memphis and Kentucky these past two seasons, Big 12 schools have had some of the top storylines in the country. That should only continue as the league matures into a 10-team conference that will become the envy of the other power-six schools because of how easily it will be managed.
Navigating wins will be tough, but there will be no letdowns. Every game will be important. As rivalries are enhanced, interest in conference games will increase, and to the benefit of the Big 12, the ratings might rise, too.