Category archive:

Tulsa Golden Hurricane
February, 15, 2012
02/15/12
9:55
AM ET
The Mountain West and Conference USA had to do something to survive, but the conference conglomerate that was formed is still ripe with unanswered questions.
"Our basketball will remain very strong," said Colorado State coach Tim Miles. "The MWC and C-USA couldn't stand still any longer."
The potential exists for a conference with multiple bids to the NCAA tournament.
Of course, that's the first question that doesn't have an exact answer yet when posed to the NCAA on Tuesday. Does the C-USA/MWC league retain an automatic berth? Commissioners Craig Thompson, a former NCAA tournament selection committee chair, and Britton Banowsky are seasoned NCAA committee members at various levels. They had to know this answer before making such a bold move. But the NCAA didn't have a set answer on the topic Tuesday.
[+] Enlarge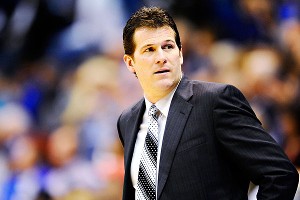 Ron Chenoy/US PresswireNew Mexico coach Steve Alford's concerns about the MWC/C-USA league are shared by many.
The only natural rivalry that is now rekindled with the move is the return of New Mexico and UTEP to the same conference. These are two long-time old WAC partners that played countless quality games for decades.
Other than that, the similarities between the two leagues is minimal at best. "I'm not sure yet about how this will work," said New Mexico coach Steve Alford. "We had to do something with us losing so many teams. But I really haven't seen how the league schedule will be done or where the tournament will be. There are still a lot of questions."
Tulsa coach Doug Wojcik said it best when he added that there is stability in the move but the travel was worse than the current situation.
The apparent goal of this conference is to have two essential regional conferences with one umbrella title league and a playoff to determine a champion.
The 2013 membership isn't expected to stay as is since there is hope of expanding.
As it stands now, the 16 teams in football would be: 1. Fresno State; 2. Nevada; 3. UNLV; 4. New Mexico; 5. Hawaii; 6. Air Force; 7. Colorado State; 8. Wyoming; 9. Tulsa; 10. UAB; 11. Rice; 12. Southern Miss; 13. Marshall; 14. East Carolina; 15. Tulane; 16. UTEP.
Hawaii will join the Big West in 2012-13 in all other sports, leaving the league with 15 basketball-playing schools in the fall of 2013.
One complaint already levied Tuesday by one school was that there are only two members in the Eastern time zone: Marshall and East Carolina.
The news release from C-USA and the MWC discussed raising the membership to 18 to 24 schools. And already programs are jockeying for position to join this league.
There are a number of options, none of which may move the meter in ratings or command a higher dollar fee in television rights. But there is potential to improve the basketball power rating if this occurs.
According to multiple sources, the candidates include Charlotte (A-10), which is about to start playing football; Florida International (Sun Belt); North Texas (Sun Belt); UT-San Antonio (WAC); Louisiana Tech (WAC); Middle Tennessee State (Sun Belt); Western Kentucky (Sun Belt), if the Hilltoppers want to bump up the football program; Old Dominion (CAA), if the Monarchs bump up football as well; and UMass and Temple (both would be coming from MAC in football, A-10 in other sports).
The West doesn't need to be shored up, but there are obvious candidates -- New Mexico State, Utah State and San Jose State are all possibilities -- if this league wanted to raid the WAC.
There are plenty of rich basketball-playing schools this group could pluck to add to the competitive nature of the league. Temple is atop the list, and if the Big East doesn't grab the Owls, they are ready to be taken (if they deem this a better fit than their current state).
Of course, if these raids happen, it would potentially weaken other solid basketball leagues like the A-10 and to some extent the Sun Belt and possibly CAA.
But Alford's concerns are shared by many. The MWC has done a tremendous job of creating a high-level conference with limited numbers. The rivalries among San Diego State, UNLV and New Mexico -- and previously with BYU and Utah before the departures of those two schools -- were some of the best in the Pacific and Mountain time zones. The MWC had captured the vacuum in the West amid the Pac-12's demise. The WCC has had its moments at the top of its league, but it didn't have the depth the MWC had recently.
The MWC's dominance has been fractured with the departures of BYU (to the WCC in all sports but football, in which the Cougars are now an independent), once-proud Utah and the pending exit of the Aztecs from the conference in 2013.
Had Memphis stayed in C-USA instead of bolting for the Big East, this league would have had a bookend of elite programs in UNLV and Memphis -- two of the powers from outside the "power six" leagues in the past 20 years. Instead, UNLV will have to carry a heavy burden as the flagship of this merger.
The onus will be on New Mexico, UTEP, UAB, Southern Miss, Tulsa, Marshall and any newcomer to continue to raise their game and be top 30-40 programs on a consistent basis. Short of that, and this league won't have the necessary relevance to command the media rights dollars and/or the multiple bids that are necessary for the survival of a mega-conference.
October, 14, 2010
10/14/10
11:26
AM ET
NEW YORK -- If you put Memphis in a corner and asked the Tigers where they want their program to be, the answer would be the Big East.
If you directed that question toward UTEP and Houston, it would probably be the Mountain West.
Football decisions drive the direction of conferences, though, and Conference USA isn't exactly a football powerhouse.
"Basketball coaches aren't in control of any of that," said new UTEP coach Tim Floyd. "They were humbled this summer to find out how important college basketball was in the overall scheme."
So the collection of C-USA schools are stuck with each other for the foreseeable future and what that means is that this league has to make its basketball marquee this season, as in a multiple-bid league that advances in the NCAA tournament.
Conference USA needs to become at least as valuable a basketball property as non-Big Six leagues like the Atlantic 10 and Mountain West.
UTEP went 26-6 and 15-1 in the conference last season, but was one of the final at-large teams selected to the NCAA tourney after losing to Houston in the conference finals. The fact that the Miners had to sweat out Selection Sunday is unacceptable.
"We need multiple teams in the tournament, and last year with UTEP going 15-1 and barely getting in is a little bit scary," said Tulsa coach Doug Wojcik, in New York City on Wednesday for a media day event intended to get the league more national attention.
[+] Enlarge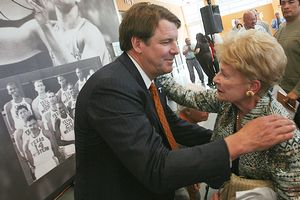 AP Photo/El Paso Times/Victor CalzadaFloyd, seen here with the widow of Don Haskins, landed at UTEP after his controversial tenure at USC.
What's the identity of this league? It certainly has a host of second-chance coaches who have had plenty of on-court success elsewhere, like Floyd, UAB's Mike Davis, Southern Miss' Larry Eustachy, SMU's Matt Doherty, Rice's Ben Braun, East Carolina's Jeff Lebo and Houston's James Dickey. All of those coaches were considered on the rise at one point in their careers, but losing or off-court issues led to their search for a new home.
Donnie Jones went from Marshall to Central Florida, and former Division I head coach Tom Herrion took over the Thundering Herd. Those are two of the league's six new head coaches -- exactly half the league.
Conference USA's coaches preach the league party line -- as they did Wednesday -- about having more draft picks since 2005 than the Big Ten or Pac-10 (including this past draft). Memphis coach Josh Pastner said the league is played above the rim with plenty of athletes, "which makes watching this league fun for everyone."
Still, there is a perception problem. It's undeniable.
From March 2006 to January 2010, the Tigers played and beat 64 straight opponents from C-USA. It is tied for the longest Division I conference win streak of all time. So whether it was fair or not, the national attitude about Conference USA was that Memphis steamrolled through an inferior conference.
"I grew up around the Pac-10, coached in the SEC and coached in the Big 12 and it's strange to me how underrated this league is," Eustachy said. "My only thinking is that Memphis made such a mockery of it for [64] straight games, but then they made a mockery of Texas [and Michigan State and UCLA] in the NCAA tournament and should have won the national championship [in 2008]. People look at our league and think no one could beat them for [64] straight games.
"Memphis was great, but the league has never been more competitive and has great coaches."
UAB's Davis, who has been on the cusp of getting an at-large bid the past few seasons, said Memphis' dominance under Calipari completely overshadowed the league. Having the conference tournament in Memphis also hindered getting a second bid for the league. But a year ago, the tournament was in Tulsa and the league was nearly left with just one again after Houston upset UTEP in the championship game.
"Does this league have the opportunity to be better than the WCC, when it had three teams in with Gonzaga, Saint Mary's and San Diego? My guess is certainly yes, when you see the history of this league with the coaches and the players," Floyd said. "This league has to do what the Mountain West did last year and get four teams in and win."
The coaches know who has to be good for this league to ultimately survive in a changing, challenging college landscape. Memphis, UTEP, Tulsa, UAB and Houston have the most national name recognition with a national title in the group (Texas Western) and a few national championship game appearances (Memphis and Houston).
Eustachy says Southern Miss, with Angelo Johnson and Gary Flowers, are ready to challenge for the conference title. Their continued improvement would certainly help the league, but the Golden Eagles still don't resonate much nationally.
[+] Enlarge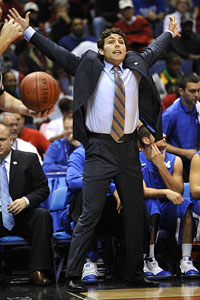 Scott Rovak/US PresswireExpectations weren't high for Josh Pastner's first season at Memphis. They certainly are for his second.
The pressure to be at the top still resides in Memphis.
"We need to be good; there's no doubt about that. We need to be good," Pastner said. "We've recruited well. We now have to perform well on the floor. That's the bottom line."
Eustachy disputes that Memphis has come back to the pack, despite missing the NCAAs this past season after four straight trips that included a title-game appearance, three Elite Eights and a Sweet 16.
"Memphis may have as good a players as Cal's better teams," Eustachy said.
Tulsa has had a rich history of NCAA tournament success under a plethora of name coaches like Tubby Smith, Nolan Richardson and Bill Self. Buzz Peterson won an NIT. Wojcik won a College Basketball Invitational. The Golden Hurricane had a great shot to be an NCAA tourney team last season, but weren't able to stand up and win the key games down the stretch when they had an elite center in Jerome Jordan, a second-round NBA draft pick.
"I think from a fan enthusiasm standpoint, they need us to be successful," Wojcik said. "What we need is multiple teams in the tournament."
To do that, though, the league's teams will need to start playing tough nonconference schedules in November and December -- and win some of those games, too.
That's not an issue for Memphis, which did that under John Calipari and still does so with Pastner. The Tigers play Miami and Georgetown at home, Tennessee and Gonzaga on the road and face Kansas at Madison Square Garden.
UAB has generally the same philosophy, and beat Butler and Cincinnati last season. The Blazers play Duke, Arizona State, Arkansas and Georgia this season. Floyd said he wants UTEP to have the scheduling attitude he had at USC, where he scheduled just about anyone to upgrade the team's power rating.
Tulsa has had solid shots to upgrade and does play in the Big 12 footprint, allowing it to get games with the Oklahoma schools. Southern Miss could use some success in Cancun this season, along with road wins at Ole Miss, South Florida and Cal that would greatly improve its national perception. Road wins always help.
"This is a process, but you've got to win those nonconference games and you've got to have 23 or 24 wins going into the conference tournament," Davis said. "It's difficult not to take a team that has closer to 30 wins than one that has 23 or 24. So if you can get to 25 or 26 or 27, you've got a better chance to get in."
A new identity for a host of schools that would probably like to be somewhere else would come if it could get multiple bids in the NCAA tournament and advance. Sounds easy enough, right?
"There are a lot of coaches in this league that have won a lot of games, a lot more than I have," Pastner said. "The league has gotten better. Memphis' dominance made everyone raise the level of recruiting and now the league has better players and is as athletic as ever before."
Five more observations from Conference USA media day:
1. So much talk was about the Memphis freshmen -- and it is a top-five class that deserves plenty of attention. But the consensus is that if the Tigers are going to be one of the nation's elite, then Wesley Witherspoon has to be a major presence. Memphis coach Josh Pastner is convinced that Witherspoon will be, or rather has to be, the star of this team.
2. C-USA put out its all-conference team, and one player was missing that could end up being a stud. UAB coach Mike Davis said Jamarr Sanders, a onetime guard at Alabama State, could be one of the best players he has ever coached. Sanders averaged 10.4 points and 4.9 rebounds a game for the Blazers last season, but Davis said he was just figuring out how to play the game after sitting out a year.
3. UTEP's Randy Culpepper was tabbed as the preseason player of the year, but the question Davis had was whether Culpepper was going to be set free to go up and down or if he would be in more of a half-court set. If it's the latter, that could change Culpepper's effectiveness. UTEP coach Tim Floyd has been known to change to his personnel, and that's why without a real serious post threat (no Derrick Caracter or Arnett Moultrie), it's hard to see this team slowing down too much.
4. The best news for the teams that might be struggling in the bottom half of the league is that at least three have a star. Rice coach Ben Braun said Iranian Arsalan Kazemi, who played for the national team at the world championships in Turkey, had a sensational summer and should be ready for a major season. East Carolina's Brock Young and SMU's Papa Dia, who made the preseason first- and second-teams respectively, will at least provide a reason to watch the Pirates and Mustangs this season.
5. When you sit at lunch and see the collection of coaches in this league, it really is amazing. When you look around the table and see Larry Eustachy, Tim Floyd, Matt Doherty, Jeff Lebo, Ben Braun, James Dickey and Mike Davis and know that they were all in high-major conferences and are now in this league, it says a lot about the coaching business. It is a fickle one at best. Fame is fleeting in this profession, but there is almost always a second chance. Conference USA is the epitome of that.
September, 14, 2009
09/14/09
11:09
AM ET
Angel Garcia hasn't played a minute for Memphis since he arrived a year ago.
Yet, the news that he tore his ACL made headlines across the country, including on the front page of ESPN.com.
"I had never heard of the kid, I wasn't aware he was on the roster," Houston coach Tom Penders said. "[Former Memphis coach John Calipari] is a good friend of mine and he had never talked about him."
[+] Enlarge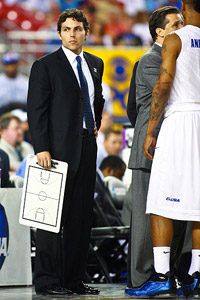 Chris Morrison/US PresswireNew Memphis coach Josh Pastner won't have to look far to see the rest of C-USA trying to catch him.
Meanwhile, the Tigers received two high-profile commitments for 2010-11 over the past few months -- one earlier in the summer from the top shooting guard on the ESPNU Top 100, Will Barton (Brewster Academy, Baltimore, Md.), and one last week on the same day as the Garcia injury, from the No. 5 point guard in the class, Joe Jackson (White Station High School, Memphis). And with each commitment the Tigers were the only headline from Conference USA.
"We don't announce commitments until they're signed," said Penders. Memphis didn't announce the commitments but the news, like many items about top players, tends to leak out.
The Calipari-less Tigers, now led by Josh Pastner in his first head-coaching gig, still are the team of record in Conference USA. It doesn't matter what they do, the news follows them. And nothing done by Houston, Tulsa or UTEP -- arguably the three schools that could make a strong case to be tabbed as favorites this season instead of Memphis -- seems to matter.
Tulsa was ranked No. 21 in my latest preseason top 25. Memphis was not ranked.
"They've done it, they've got stuff UTEP, Tulsa and Houston don't have and that doesn't bother me at all," Tulsa coach Doug Wojcik said of the Tigers' national recognition, NCAA tournament appearances, NBA arena and passionate fan base that does top the league.
"Nothing is going to change until something happens on the court," UTEP coach Tony Barbee said. "All of the news and the offseason articles [about Memphis], well none of that will change. Wins and losses change the perception."
Wojcik disagrees a bit. He said the publicity Tulsa received in the offseason has changed the perception of the Golden Hurricane. The word is out that Tulsa will likely be tabbed as the conference favorite.
"There's no doubt it has shifted for me a bit," Wojcik said. "But we've all got to go out and win some games in the nonconference. Memphis did play for the national title. You can't forget that."
Conference USA has had a serious image problem for the past few seasons. Memphis has dominated the conference the past three seasons, winning 58 straight league games. C-USA hasn't had multiple bids to the NCAA tournament since 2006, when UAB got in with Memphis, one year after the league lost marquee members Louisville, Cincinnati and Marquette to the Big East.
The conference could have done a better job of lobbying for its most marketable player in Tulsa senior center Jerome Jordan, a lock for the NBA first round. Jordan wasn't named one of the top 50 preseason Wooden Award candidates, something that befuddled Wojcik.
The change in thinking about Conference USA won't occur in the preseason. It might not happen until March. But it could happen in February if Tulsa can pull off an upset at Duke. Barbee said he likes the Duke game for Tulsa and Conference USA, but only if Tulsa wins.
Wojcik jumped at the chance to play at Cameron Indoor on Feb. 25 on ESPN. Wojcik, who was an assistant to Matt Doherty at North Carolina, knows the importance of playing in Durham late in the season. He said he wanted the experience for his seniors Jordan and Ben Uzoh.
"I love it, why not play that game in November, December, January or February?" Wojcik said. "It will give them a lifetime memory. That will be a huge RPI game for us, on national TV, and will prepare us for the tournament. I love that game."
He's right. Rarely do teams that are possibly on the bubble get a game like Tulsa's at Duke in late February. The BracketBusters event doesn't produce a matchup like that. Tulsa plays host to Oklahoma State, a likely NCAA team out of the Big 12 on Dec. 2, and based on the rest of the nonconference schedule the Cowboys might be the only NCAA-bound team the Golden Hurricane play prior to the Duke game.
Wojcik added the last piece to a team that won 25 games last season when Donte Medder joined the team. Through individual workouts Medder has been everything Wojcik hoped for with his "old-style game" and his strength at the point that allow Uzoh to move to shooting guard. Jordan Clarkson, a 6-foot-4 shooting guard out of San Antonio, the No. 63-ranked guard on ESPNU's list, is Wojcik's Joe Jackson-like recruit -- a potential game changer even though few outside of the region have noticed the commitment.
"[The changing perception] is not going to happen until someone else steps up on the national stage," Barbee said. "This is a high-level league and Tulsa and Houston have been a few wins away from getting over the hump. Someone else has to prove it. If you look at Memphis' roster they still have the talent to win the league."
While Pastner did add Duke guard Elliot Williams for this season after he was granted a waiver to play immediately due to an ailing relative in his hometown of Memphis, Pastner is quick to point out not everything has been going smoothly. The Tigers did lose expected frontcourt contributor Latavious Williams to an overseas contract. The Tigers will lean on Willie Kemp, Doneal Mack and Roburt Sallie, all returnees but none of them stars yet, to lead a depleted roster (eight scholarship players) this season.
Memphis' season isn't affected by the ruling by the NCAA's committee on infractions that its wins in the 2007-08 season, including the national finals appearance, had to be vacated for the use of an ineligible player (Derrick Rose). Of course that was a headline for weeks and deservedly so. But the Tigers are the team of record in Conference USA, regardless of what is occurring on the other contenders' campuses.
"All of this is a credit to what Coach Cal built at Memphis, making this an elite program," said Pastner, who worked one season for Calipari as an assistant. "We don't want there to be a drop-off. Our assistants are doing a super job in recruiting so far. We know this is a really good league and we want to be right there."
The Tigers do have four high-profile nonconference games that are leftovers from the Calipari era. Memphis will play Kansas in St. Louis on Nov. 17 in a rematch of the 2008 title game; play Tennessee on Dec. 31; are at Syracuse on Jan. 6; and host Gonzaga on Feb. 6.
"Josh has the toughest job in the country," Penders said. "There's no question he does. But he had to take the job [when Calipari went to Kentucky]. People forget about the Tic Price or Larry Finch stuff before Calipari. Memphis has had good players, but there is no Tyreke Evans or Derrick Rose. But I hope they are still good for all of us. We need them to be."
Putting Houston near the top of C-USA wouldn't be a reach, either. The backcourt of Aubrey Coleman and Kelvin Lewis averaged a combined 37 points a game last season. Sophomore point Desmond Wade was just the sixth freshman to reach triple digits in assists (113).
And Penders, never shy promoting his squad, said even Coleman and Lewis are being pushed for playing time by "the new guys." Penders was referring to JC transfers Adam Brown and Maurice McNeil. He said two freshmen, power forward Kirk Van Slyke and guard Nick Haywood, are impact players, too.
"We've got a lot of good pieces," Penders said. "I know how good we are. It's the best team we've had."
If that's the case then Houston needs to win games like its matchups against Oklahoma in the first round of the Great Alaska Shootout Nov. 26, against top-25 team Mississippi State at Hofheinz Pavilion on Dec. 19, and versus Sun Belt favorite Western Kentucky in Bowling Green, Ky., on Feb. 9.
The league finally moved the tournament out of Memphis and shifted it to Tulsa. The advantage is now for the Golden Hurricane.
"The chances are greater for getting more than one team in the tournament if someone else wins the league and Tulsa wins the playoffs," Penders said.
But if Conference USA is going to shake the news blackout outside of Memphis the change may come from UTEP. No player entering the league this season has had more written about him during his college career than Derrick Caracter, the much-maligned former Louisville center. Caracter will be eligible in mid-December. Caracter is now listed at 6-9, 275. Barbee said he arrived last January at 300 pounds.
"He's been the most impressive player I've ever seen skillwise in individual workouts," said Barbee, who was a Calipari assistant prior to getting the UTEP job in 2006. "He's been great the last two weeks."
Louisville coach Rick Pitino had issues with Caracter's conditioning. Barbee said that hasn't been a problem for him.
"Whether he's looking at this as a second chance or last chance, he's highly motivated right now," Barbee said.
Once Caracter is eligible, it will be hard to find a more imposing tandem of big men in the league than Caracter and 6-11, 240-pound Arnett Moultrie. Moultrie was a key big man for the gold medal-winning U.S. under-19 world championship team in New Zealand last July.
"[Moultrie] came back with the confidence I thought he would return with," Barbee said. "He's put on [nearly] 20 pounds. He knows he belongs."
Arizona State transfer wing Christian Polk, who Barbee said is playing with a bit of a chip, and the return of one of the more maligned backcourts in the country in Randy Culpepper and Julyan Stone give the Miners a possible C-USA championship lineup. The Miners did lose 24-point scorer Stefon Jackson off a 23-win team last season. But the newcomers and the returnees make the Miners a formidable option atop the league.
UTEP's schedule has the potential to produce power-rating points if Ole Miss (in Southhaven, Miss., on Dec. 16), Oklahoma (in Oklahoma City on Dec. 21) and BYU (Jan. 9) live up to expectations of being NCAA-bound teams.
Clearly, the rest of the league -- UAB, Southern Miss, Central Florida, Tulane, SMU, Rice, Marshall and East Carolina -- can't be in power-rating purgatory if the image is going to change this season.
The window is open for UTEP, Houston and Tulsa to grab the league from Memphis and make this a multiple-bid conference in March and ensure that there are headlines from the members other than the Tigers from January to March. If it doesn't happen this season, if these squads can't make themselves relevant now, then the league will have an even harder time convincing television executives that there is more to see here. The NCAA tournament selection committee will have the final say in March. But there are no gifts. The opportunity is now to earn the bids and make the news themselves.