Category archive:

Oregon State Beavers
September, 7, 2012
09/07/12
6:44
PM ET
Craig Robinson was on a plane Friday morning, heading home from Charlotte, N.C., to Corvallis, Ore., in time to host recruits this weekend.
It has been by far the busiest time since he took over at Oregon State four years ago.
And it doesn't appear it will slow down until March.
Robinson coached the Beavers on a 4-0 trip to Spain that concluded last week. The team and Robinson didn't arrive in Corvallis until Aug. 29.
Two days later, he was on a plane with his wife, two youngest children and oldest son, Avery. (His oldest daughter, Leslie, had to stay behind for high school.) The Robinsons headed east to drop off Avery for his sophomore season at Division III Wesleyan in Middletown, Conn.
Two days after that, the Robinsons were in Charlotte for the Democratic National Convention, where Robinson spoke in front of the DNC about his sister, first lady Michelle Obama.
Thursday night, Robinson and wife Kelly were among the family members on stage at the Time Warner Cable Arena after President Barack Obama accepted the Democratic Party nomination.
"It has been exhausting," said Robinson. "When I get back, we've got an official visit coming in, and then I've got to hit the road recruiting. There has been no break."
Four years ago, Robinson had just gotten the Oregon State job. He spent the summer trying to build the program while actively campaigning for his brother-in-law. His role was much more pronounced in 2008 as a surrogate on the campaign.
He hadn't been as involved this summer during the re-election campaign, due to his scheduling commitments and no need to introduce the Obama family to the public. But his role will now increase, with a slew of appearances wedged in among visits, recruiting, workouts and coaching the Beavers in practice between Oct. 12 and Election Day on Nov. 6.
"I'll go all over the place for the campaign," said Robinson. "There's a lot of stuff to be done."
But Robinson's focus is on the Beavers. For the second consecutive year, he sees a chance for a significant breakthrough.
The Beavers were supposed to do so a year ago, finally shedding the nonconference losses to teams off the national grid.
The Beavers performed well in nonconference play, beating Texas in New Jersey. With the Pac-12's most exciting player in Jared Cunningham, they had a chance heading into the conference. Oregon State beat UCLA but couldn't win the close games again, losing overtime games to Arizona and Stanford and ultimately fading in the league with a five-game skid to finish 7-11 in the Pac-12. That meant another College Basketball Invitational appearance, the third in four years for the Beavers.
Cunningham left for the NBA as a first-round draft pick, but the trip to Spain convinced Robinson that Oregon State has a chance to surprise this season in a wide-open conference where Arizona, UCLA and Stanford should be the top three. Nothing has been a given lately in this league, producing Colorado as Pac-12 tournament champ and the top two regular-season finishers -- Washington and Oregon -- failing to earn an NCAA bid.
"I love this team," said Robinson. "I thought we would take a huge drop in production with Jared leaving, since that's 18 points, but everybody is better."
The Beavers averaged 78.9 points a game in the Pac-12 last season. They averaged 82.8 in the four games in Spain, allowing 66 a contest.
The reason for Robinson's optimism lies with the play of forward Angus Brandt (15.8 ppg, 8.8 rpg on the trip), the renewed leadership of Roberto Nelson (15 ppg) and the evidence that Devon Collier and Eric Moreland have the ability to carry the Beavers.
Collier made 23 of 32 field goals on the trip. Moreland averaged nine points and 9.2 rebounds and had 13 blocks in four games.
"I used to say that this team goes as Jared goes, but it will go as Devon Collier goes," said Robinson. "If he plays well and Eric Moreland plays well, then we'll be a better basketball team. I was really pleased overall by their posture on this trip on and off the court. They showed maturity and leadership and [are] capable of guarding the 2 through 5."
Robinson said the defense must pick up and that was a focus on the trip.
Nelson, who hasn't been as assertive as needed, showed he could be a leader.
"It's clear to me he's one of the leaders of this team, if not the leader," said Robinson. "It's his spot to lose."
Joe Burton still needs to work on his conditioning, but the player who took the biggest leap was Brandt.
"He was confident, and before he was just figuring everything out," said Robinson.
Point guard Ahmad Starks was under control. Robinson said he can be a 16-point, five-assist player this season.
The sleeper on the team didn't make the trip.
The Beavers just added Olaf Schaftenaar, younger brother of former Beavers stretch power forward Roeland Schaftenaar. The 6-9 Dutch freshman was cleared to play and was arriving this week for class. Robinson said he starts out at a higher level than his brother when he arrived in Corvallis.
Oregon State will have a shot to prove itself early in the season when it plays Alabama in the 2K Sports Classic benefiting the Wounded Warrior Project at Madison Square Garden on Nov. 15. Beat Alabama and the team could face Purdue or Villanova for the title to get some early national attention. The Beavers also play Kansas in Kansas City, Mo.
For the first time since Robinson has been at Oregon State, no games are in his hometown of Chicago or in the D.C. area near the White House.
Still, this team can't afford to lose any lower-level games, like its loss to Idaho at home last season. The schedule has a few chances for recognition early before a Pac-12 slate that will determine plenty in the first half, with road trips to UCLA, USC, Cal and Stanford.
"There's no reason why we can't be in the mix," said Robinson, "but I like the fact that we're expected to be down without Jared. I like our chances."
May, 17, 2012
05/17/12
9:17
PM ET
Oregon State put the full-court press on
Victor Robbins
as soon as
Jared Cunningham
declared for the NBA draft by the NCAA's April 10 deadline.
The Beavers nabbed the 6-foot-6 forward from Compton, Calif., to give them a much-needed body up front who has length and athleticism.
"After Jared stayed in the draft, [Robbins] will fit in perfectly with us like the guys that we've been recruiting of late," coach Craig Robinson said. "For us to get Victor, the planets had to be aligned. We were aware of him, but not heavily recruiting him and hadn't any big plans to push unless Jared was gone for good."
Cunningham made up his mind before April 10, thus allowing the Beavers to get heavily involved in recruiting Robbins.
Robbins is Exhibit A for the coaches in the ACC who support the April 10 draft deadline. Those coaches initially pushed for the early-entry draft rule of May 8 and then again last year, when the legislation came through to set a unilateral NCAA deadline of April 10.
The NBA still respects only one deadline, which is its own on April 29. Baylor's Quincy Miller announced he was returning to Baylor by the April 10 deadline but then changed his mind before April 29 for the NBA. He couldn't go back to Baylor, but he was eligible for the NBA draft. Maryland's Terrell Stoglin, who was ultimately banned for a year by the Terps for a violation of team rules, didn't say anything by the April 10 deadline but declared by April 29.
The purpose of the April 10 deadline was to give college coaches more time to fill scholarships used by early entrants. But it is a selfish rule for the college coaches to not allow the underclassmen to test the draft process anymore. If they declare by April 29, they are no longer an amateur in the eyes of the NCAA.
"It's possible that we might not have gotten him if the deadline were April 29," Robinson said. "Knowing in the middle of April helps us just like knowing in March would help us. The earlier that we know the better it is."
Villanova coach Jay Wright also benefited from the early notification that two of his players, Maalik Wayns and Dominic Cheek, were declaring for the draft.
"It worked out exactly how the rule is planned to," Wright said. "Those two made decisions that allowed us to get involved with two transfers [who] we probably wouldn't have taken if we had those two back."
Villanova picked up Wake Forest's Tony Chennault and Rice's Dylan Ennis.
Connecticut was in a unique situation. The Huskies, who are banned from the 2013 postseason for poor APR scores, lost Alex Oriakhi to Missouri and saw two other big men -- Roscoe Smith and Michael Bradley -- transfer. In addition, they lost Jeremy Lamb and Andre Drummond to the draft.
Adding 6-10 Phillip Nolan in the spring was a result of all the available roster spots. UConn assistant coach Kevin Ollie said that the Huskies offered playing time, and Nolan jumped at the chance. But the early entries definitely did open up a void that the Huskies saw a need to fill.
Kentucky knew it was going to be replacing early entrants during the season. Picking up Nerlens Noel late to fill Anthony Davis' spot was planned. It wasn't a result of any early deadline or Davis' inability to test the draft process.
The same is true for Duke. The Blue Devils were recruiting 6-7 Amile Jefferson, even before Austin Rivers decided to leave early for the NBA draft. An early-entry deadline had no bearing on the Blue Devils' spring recruiting.
"It had nothing to do with the NBA draft," Duke coach Mike Krzyzewski said. "We wanted him on our roster no matter what. He's a great get and a perfect fit for Duke. He certainly solidifies our team and makes our team more athletic."
Krzyzewski added that Duke isn't in a position to suddenly add players late (although the Blue Devils were recruiting transfers like Oriakhi and Central Michigan's Trey Zeigler, who went to Pitt).
"It's pretty tough for us to do it here," Krzyzewski said of adding late signees who weren't recruited until April.
Robbins is a huge addition to Oregon State. But don't think Robinson is in favor of preventing underclassmen from working out for teams to see if they'll be drafted in the first or second round.
"I think we should do what's best for the student athletes," Robinson said. "If they can test the market to see where they stood, then they'd have a more realistic opinion of their talents, and we would have an easier job of keeping them in school."
Robinson said that he would favor a more flexible approach/rule from the NCAA.
"You should be able to come back to your school and finish your eligibility," said Robinson in regard to a player's poor draft status or being undrafted. The latter was once a rule but has since been removed by the NCAA (assuming the player doesn't sign with an agent). "I still think we're in the business of educating kids and getting them college degrees. We would wait to see where Jared got drafted. We would love to have him back. If he didn't [come back] we would have a list of guys to jump on. I think everyone should have a chance to come back one time as a student-athlete."
That was once the rule, as late as two seasons ago.
And like Robinson, Wright would like one date instead of two.
Of course, the early date means the coaches benefit and the players don't. But that's only if they can find a player who fits their program. If it's just a warm body to fill a spot, it won't matter much. If it's a player who will actually contribute and make a difference, it will be a success.
Don't expect the Oregon State and Villanova pickups to replace the pro-level talent that's gone. And ultimately that's the reality: Having a unilateral early-entry date may get the school a player to fill the spot, but he's not going to be a star who can replace the production that's left. If it was just about filling the roster and adding length, size or athleticism, it has the potential to be deemed a modest success once in a while for a few schools.
May, 4, 2012
05/04/12
7:58
PM ET
UCLA's recent mediocrity hasn't been celebrated or seen by the rest of the Pac-12 as an opportunity.
Instead, the conference desperately needs the Bruins to come back -- and fast. Having Arizona dip, even just for one season, didn't help either.
So when the coaches gathered this week for the annual spring meetings in Phoenix, the mood was upbeat. The Pac-12 -- that ultimate big-boy punching bag in college basketball lately -- has two of the nation's top three recruiting classes. And they're from the league's two most prestigious programs.
[+] Enlarge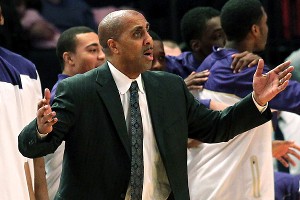 Anthony Gruppuso/US PresswireYou know it's a down year when your regular-season champ doesn't make the NCAA tournament.
"I think any buzz for our league is good for everybody,'' Oregon State coach Craig Robinson said. "As competitors, we would like the buzz to be about us, but as long as it's somebody in our conference and especially a brand name like UCLA, that can only be good for the rest of us.''
The Pac-12 had only two teams make the NCAA tournament in 2012, and one of those (Cal) was in the First Four in Dayton and lost. Regular-season champ Washington didn't get a bid, an embarrassing situation for the conference, which became the first big six league to not have its regular-season winner receive a bid.
Utah arrived in the conference and was abysmal in its first season, finishing 3-15 in the Pac-12 and 6-25 overall. Arizona State fell apart and finished 10-21. USC was decimated by injuries and was the worst of all, finishing a stunning 1-17 in league play and 6-26 overall.
The saving face of the Pac-12 was actually new member Colorado. The Buffaloes won the conference tournament, beat UNLV in the NCAA tourney and hung around with Baylor before losing in the Round of 32.
But perception of the league being down wasn't a reach. It was reality. The numbers and results didn't lie. The Pac-12 was an almost hard-to-fathom 1-25 against the RPI top 40 in nonconference play.
So with Arizona loaded up with four ESPNU 100 recruits in the Class of 2012 and UCLA having secured Kyle Anderson in the fall, the Bruins kept up the momentum in the spring by grabbing another top-five recruit (Shabazz Muhammad) and a four-star big man (Tony Parker).
That's not just good for those two schools, it's welcomed by the rest of the league.
Don't think Pac-12 commissioner Larry Scott didn't take notice of the Bruins' big April.
"It's extremely important,'' Scott said. "The public and media follow big brands, and it doesn't get any bigger than UCLA basketball in our conference.
"Having them have a strong recruiting class [and] a new Pauley Pavilion to move into is great news for our conference. We've got new TV deals. The timing couldn't be better.''
The conference's coaches have long complained about the television package and a general lack of national exposure. A few years ago, first-place Cal was at USC in a critical game and it wasn't even televised.
Well, the Pac-12 finally has a new TV package that will allow every conference game to be televised on one of three networks: ESPN, Fox or the new Pac-12 Network. The league will shift from a straight Thursday-Saturday/Sunday schedule to one that has more flexibility.
[+] Enlarge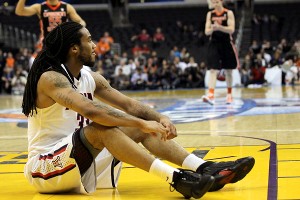 Stephen Dunn/Getty ImagesThe Pac-12 tourney has had some thrillers over the years, but few in L.A. bothered to notice.
In addition, the conference tournament now has a chance to have a sellout with the league choosing Las Vegas as the neutral destination. The Pac-12 had struggled mightily to draw consistent crowds to the Staples Center in Los Angeles. That shouldn't be the case at a destination venue like the MGM Grand, where the Pac-12 will become the fourth conference to play its conference tournament in Vegas, joining the Mountain West (Thomas & Mack Center), WCC and WAC (both at the Orleans Arena).
What will this conference look like by next March, though?
A year ago, the league was gutted by early entrants to the NBA draft at USC, UCLA, Washington, Washington State, Arizona and Stanford.
"Our league wasn't going to be good in the nonconference in November or December because of who left,'' Oregon coach Dana Altman said. "And then UCLA lost Reeves Nelson [dismissed early in the season] and so we weren't in a position to do well.''
Now they must be.
"We need some top-10 teams,'' said Cal coach Mike Montgomery, who has consistently been a Pac-12 title contender at Stanford and Cal. "We didn't have any, and it hurt us. Based on the recruiting, Arizona and UCLA should be in the mix.
"You need good teams going in. It will help us all if we're competing against better teams. Our RPI goes up. One through nine we were pretty good last year.''
The early onus will be on UCLA. The Bruins have to show well at the Legends Classic in Brooklyn, N.Y., with Georgetown and ESPN.com preseason No. 1 Indiana in the four-team field.
"We've had some bad losses out there,'' Montgomery said of the Pac-12's shoddy nonconference record lately. "Typically, everyone looks at UCLA and makes a judgment. It may not be fair or right and they haven't been the best team, but when they [are down], it hurts everybody. It's incumbent on everybody to win the games [you're supposed to win] in the pre-conference.''
Montgomery didn't excuse his own team. The Bears beat no one of significance outside league play last season and were annihilated by Missouri and UNLV.
"We didn't perform well, and that hurt our league,'' Montgomery said. "The impressions start early. We shouldn't lose games we shouldn't lose, because then when the league plays each other, we're screwed. We can't do anything to improve the reputation. That's on all of us to have a better November and December heading into the conference.''
USC coach Kevin O'Neill isn't doubting the Pac-12's ability to bounce back this season with several NCAA tournament teams.
"And we plan on being one of them,'' O'Neill said of the Trojans, led by Jio Fontan, who missed last season with a knee injury. "UCLA and Arizona had top recruiting classes, and that helps everybody improve. I think it's great. We'll see how they react to stressful situations.
"All our teams look good on paper, and we should be one of the top leagues in the country. We lost more pros in this league than the five other power leagues together the last few years. We're producing great players and most are doing well. But all of that is going to change. It's going to be a great year for our league.''