Category archive:

Butler Bulldogs
July, 8, 2013
07/08/13
10:44
AM ET
Danny Ainge mentioned poise and intelligence in describing Brad Stevens at the Boston Celtics' news conference on Friday. He continued to go back to his new coach's demeanor under pressure.
The qualities Stevens possesses will serve him well in the NBA.
[+] Enlarge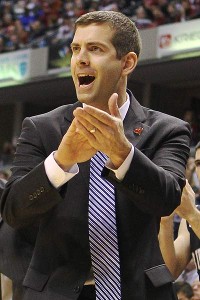 Brian Spurlock/USA TODAY SportsNew Celtics coach Brad Stevens said he'll make mistakes. But he'll be quick to learn from them.
On the laundry list of potential college coaches going to the NBA, Stevens was probably not at the top for those who speculate on those types of moves. But he was for Ainge.
The assumption was that Michigan State's Tom Izzo, who flirted with Cleveland and Detroit, Kansas' Bill Self or maybe Louisville's Rick Pitino or Kentucky's John Calipari again, would be interested in pursuing an NBA gig before Stevens. Of course Florida's Billy Donovan had an NBA job -- Orlando -- and then gave it back within a few days to return to the Gators.
Those coaches are all now the faces of their respective programs and, to some extent, their universities. There is no need for them to leave.
Stevens didn't have to go, either. But his job has changed. By joining the Big East, Butler is now in the most competitive conference it has been in during its history. The expectations to win at a high level have never been stronger. Yet, through it all, Stevens remained the same.
He never feared the change. He embraced it. He also continued to do things with honor and always respected the process. Ainge pulled off the stealth move by hiring Stevens without anyone outside of a tight circle knowing. Stevens was never one to discuss interest in any place but Butler. Having his wife, Tracy, as his agent/attorney limited any leaks. Ainge and his ownership group were the only sources of information on this one, and they weren't talking.
Ainge said Friday that had this gotten out, there was a chance the move might not have occurred. Butler would have had an opportunity to woo Stevens back. His players may have had time to work on him. The alumni could have attempted to pressure him. That may have been the case with the administration, as well. None of that occurred. There were phone calls that happened over the week between Ainge and Stevens and one in-person meeting last Wednesday, the day the deal was agreed on and signed.
I've always believed Donovan would have been the Orlando Magic head coach had he not gone back to do his news conference in Gainesville, Fla., after the one he had in Orlando. Heading back to Florida to say goodbye and to be with his family allowed the emotional pull to strengthen. The Magic had no shot to keep him when he was back in the comfort of Gainesville.
Boston didn't allow Stevens to have that time to think. And he was smart to take the offer. Stevens wasn't going to take a bad NBA job or join an NBA franchise that doesn't have a rich history. He was only going to leave Butler for an elite job -- either in college or in the NBA. If the Sacramento Kings offered him a three-year deal for more money, I doubt he would have left.
Even a six-year deal, with guarantees from the Kings or a similar franchise, might have been off limits. The Celtics made sense on so many levels, mostly because of the brand name and the security.
The Celtics' ownership and Ainge are as invested in Stevens' success as he is in taking the leap of faith.
Ainge mentioned that to deal with All-Star point guard Rajon Rondo you need to listen to him. Stevens was always a great listener at Butler. He never appeared to be dictating everything. That's not his style, and it won't work in the NBA.
Stevens kept saying he's a process guy. Well, his players should react to that well, since he wants them involved in the process of building up the franchise again.
Stevens wants to have a collegial atmosphere with the Celtics. Having his family around quite a lot, his two young children running around at times, will help in fostering that feeling with the team.
Former Sacramento and Golden State coach Eric Musselman, now an associate head coach at Arizona State, said there are a number of differences Stevens will have to face as an NBA coach.
The game preps are done in a smaller window and will come fast. The terminology is different. The personnel, the sets, the 24-second shot clock, the late-game situations, the length of the game (48 minutes versus 40 minutes), the media responsibilities, the skill level, the travel, the professionalism, the outside interests for the players and their families, the practices, the free-agency/draft decisions and trades are all unique to the NBA, said Musselman.
Stevens admits to his learning curve. He said he'll make mistakes. But he'll be quick to learn from them. He has an unbelievable patience that matches his passion.
Stevens' humility makes him more attractive to the NBA. He blends and offers measured comments. That should work well in this new era of the league when the tendency will lean toward a Stevens-type coach. Of course, his success will determine if he has any coattails from college to the NBA.
The time was right for Stevens. He'll likely seize the opportunity as well as, if not better than, any who has tried before him.
July, 3, 2013
07/03/13
8:37
PM ET
Brad Stevens is universally loved in the college coaching profession.
So don't take the shock and surprise of Stevens' move to the NBA's iconic franchise in Boston as a sign of disrespect.
His peers and colleagues are simply in awe by the timing, not by the move.
"The best young coach I have seen in my time," said Syracuse coach Jim Boeheim. It's high praise for Stevens, who coached in consecutive national title games in 2010 and '11.
"Coach Stevens is everything that is right about our profession, and was an absolute star at Butler," said Marquette's Buzz Williams, who was going to be a chief rival for Butler in the new Big East Conference but now will face a new coach in the fledgling league. "I anticipate he will be the exact same with the Celtics."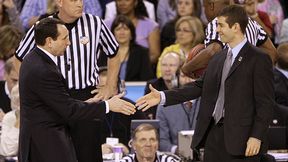 AP Photo/Amy SancettaMike Krzyzewski, left, and Brad Stevens meet before the national title game in 2010 where Duke beat Butler 61-59.
Stevens had professed for a few years how comfortable he was at Butler. He was hand-picked by his former mentor, Barry Collier, to be the head coach. He could have jetted off to UCLA. He would have had Illinois. He may have been next in line to be the head coach at Indiana or Duke or Kansas or North Carolina whenever those jobs were to open. Who knows? He was that highly coveted and respected.
"I am very excited for Brad, his family and the Boston Celtics," said Ohio State's Thad Matta, a former Butler coach. "He did a masterful job in his time at Butler, and as an alum I know he will be greatly missed. He has a great mind for the game and great instincts in dealing with players. I look forward to following his path to success with the Celtics."
New UCLA coach Steve Alford, a native of Indiana like Stevens, has always had incredible respect for the way Stevens has handled himself and the program.
"I'm very happy for Brad," Alford said. "He's done a phenomenal job at Butler and is very deserving of this opportunity. Great hire by the Celtics."
To Memphis coach Josh Pastner, who is just a year younger than Stevens at 35, there was immense adoration for the path Stevens has blazed for coaches younger than 40.
"I think Brad is one of the great coaches of the game, regardless of college or pro," Pastner said. "It's basketball. He'll do great with the Celtics. It's a great hire by Danny Ainge. A great hire. I think age is overrated. You either get the job done or you don't. You can do it or you can't. He's proven he can do the job. He has had tremendous success at Butler."
But no one has been more effusive in his constant praise of Stevens than Duke's Mike Krzyzewski, the USA Olympic and national team coach. Krzyzewski was quick to compliment Stevens in the lead-up to the 2010 national title game. Coach K's Blue Devils beat the Bulldogs 61-59 -- in Indianapolis -- in one of the most epic national title games in the past 25 years.
Krzyzewski said he was as surprised as everyone else by the Celtics tabbing Stevens. But he said that's because "Brad is one of the great college coaches. He's an outstanding coach. He's at a time -- he's young -- I can see him wanting to do something different. He's terrific. It's a great hire for the Celtics."
Krzyzewski said he knows exactly what Stevens was going through since he had to weigh the same decision in 1990 when the late Dave Gavitt approached him about being the head coach of the Celtics. Krzyzewski said no at the time.
"I almost did it with the Celtics," Krzyzewski said. "I can understand it."
A source told ESPN.com on Wednesday night that the Celtics tabbed Stevens as their top choice once Doc Rivers was let out of his contract and essentially traded to the Clippers. The Celtics loved his character and knowledge of the game. His demeanor didn't hurt, either. He has always been extremely even.
"He's really smart," Krzyzewski said. "His teams play that way. He's just a heckuva of a coach. He has a maturity of an established head coach right away. I just think -- forget about young coaches -- I think he's one of the best coaches. I don't think you could have a better guy. He's smart and he'll adapt. I think he'll do a really good job there."
Recent college-to-NBA head coaching gigs have been doomed to fail, including Mike Dunlap, who went from being a St. John's assistant to the head coach in Charlotte, Lon Kruger going to Atlanta, Mike Montgomery to Golden State, or Leonard Hamilton to Washington.
But this is the Celtics and Stevens, who has been penciled in for a Hall of Fame ticket after six seasons by his peers. Krzyzewski isn't worried about the veteran NBA players giving him instant credibility in the locker room and in the huddle.
"He'll have respect," Krzyzewski said. "He's accomplished. Players respect success. He's had great success right away. So I don't think he'll have any problem with the players respecting him. They'll respect him. They respect excellence. He has it. It's a terrific hire. I'm a friend of his and I wish him the very best and I'll be pulling for him. To take over one of the most storied franchises in sports in an incredible opportunity, I can understand him doing it."
March, 8, 2013
03/08/13
9:08
AM ET
AMHERST, Mass. -- Brad Stevens gathered Butler in the postgame locker room and made it clear that these Bulldogs had finally found their identity.
They were a Butler team now.
[+] Enlarge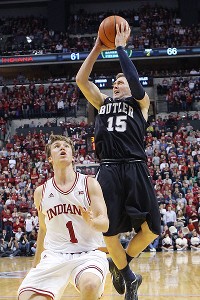 AP Photo/Pat LovellRotnei Clarke provides scoring and toughness for the Butler Bulldogs.
The Bulldogs had provided college basketball with three of the best finishes this season: beating Marquette on a wild running 3-point shot by Rotnei Clarke in Maui; an Alex Barlow shot in the lane to knock off then-undefeated Indiana in Indianapolis; an epic driving midrange floater by Roosevelt Jones to beat Gonzaga at Hinkle.
But all of those highlights meant nothing when Butler was getting blitzed by VCU last Saturday, exposed during the Rams' havoc as a team that looked like it couldn't handle the pressure -- on the court or off -- of being an elite team this season.
Suddenly, Butler appeared to be pedestrian, losing at home to Saint Louis by four and at VCU by 32. If Butler was to be taken seriously in the NCAA tournament, or even next week in Brooklyn at the A-10 tourney, then it had to show it against a pesky UMass on Thursday and certainly in a home finale against Xavier on Saturday.
On Thursday, at least, the Bulldogs did.
"We responded,'' said Stevens. "I told the team, 'You're a real Butler team now, because when people doubt you or you find yourself getting beat like that, it's how you respond.' I told them, 'You earn your stripes in games like this.' I'm proud of them, really proud of them.''
UMass can disturb a team with its frenetic pace. But the Minutemen, who had visions of being a bubble team after winning at Xavier, don't take care of the basketball well enough. There was a stretch when Butler turned it over due to the pesky nature of UMass point guard Chaz Williams (four steals), but the Bulldogs didn't wilt and ultimately had more steals (8-7) than UMass and won 73-62.
Under Stevens, Butler hadn't been beaten down before like it was against VCU. This was a true test for the Bulldogs.
Stevens said he couldn't take Sunday off and let that result linger, so Butler practiced the day after losing to the Rams, took Monday off and locked in the UMass game with the hope that the real Bulldogs would emerge in that game. The players also had a team meeting, not to complain or whine but to discuss roles.
"I couldn't sugarcoat things,'' said Stevens. "This is what it is. VCU is a tough team for us, a tough matchup. We didn't play very well. They played great, and they made us play that way. I've coached in Assembly Hall and coached at Saint Louis when it's rocking, and Xavier rocks, too. I'm not sure I've ever been in a place that rocked like VCU did that day.''
Center Andrew Smith said during the team meeting, the players went around the room and made sure everyone knew what they were supposed to do. "We got hit pretty hard and had to make some changes,'' Smith said.
The Bulldogs have a quality shooter in Clarke (17 points against UMass despite going 3-of-12 on 3s). Smith brings production in the post (15 boards and 13 points against UMass). Roosevelt Jones (eight assists Thursday), Barlow (four steals) and Kellen Dunham provide a combination of energy, rebounds, assists, steals and can be other scoring options. Khyle Marshall has always been a potential X factor as a small forward and was efficient Thursday (14 points).
But sophomore Kameron Woods, who scored a career-high 17 points in 19 minutes off the bench, was an unexpected offensive threat, which may be a good omen. He made athletic plays, including two consecutive alley-oop dunks, and buried shots with range while making it difficult for the Minutemen to defend the power forward spot.
If an opposing defense focuses on Clarke, Dunham (1 of 7) or even Jones, then Woods has the ability to answer. Woods played his best Thursday night, despite slamming the back of his head on the floor at one point.
"It hurt really bad,'' Woods said. "What I did was think about what I could do to help this team: hustle and rebound and score."
Smith said Woods hitting his head and then coming back five minutes later and playing hard motivated the team.
[+] Enlarge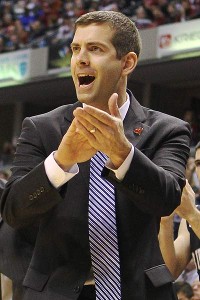 Brian Spurlock/USA TODAY SportsWith the VCU loss behind him, Brad Stevens feels better about his team.
"I told him that moving forward, as Butler moves forward, he has to be one of our leaders,'' Stevens said of the lanky 6-9 Woods. "As he continues to play as he does, that gives him more cache as a guy who can be that rock for us.''
The Bulldogs played Saint Louis twice in the A-10 and went to VCU, La Salle and UMass without a return. They also opened up against Xavier in a nonconference game that was scheduled before Butler left the Horizon League to join the A-10. Stevens said that essentially gave the Bulldogs a hard (if not the hardest) A-10 schedule.
This may be the Bulldogs' only season in the A-10 if the new Big East, led by the departing Catholic 7, comes calling as expected in the next few weeks for fall 2013. If so, then Butler earned its name in the conference in the Bulldogs' only year in the league.
But Butler has never been just about league wins or conference titles. Playing in consecutive national championship games puts the focus on a higher goal. That's why Butler still needing a win over Xavier on Saturday to earn a bye in the A-10 tournament next week didn't register with Stevens. He said he didn't care about the bye and was completely indifferent. All he wanted to do was play good basketball.
The Bulldogs did that Thursday night after the VCU loss naturally created questions.
"We got rocked, but now I feel like we got better,'' Stevens said. "That's the most important thing. We've done quite a bit in this regular season. It's hard to argue we haven't accomplished quite a bit. But we need to play better. I feel good about our team, though, I do.''
Stevens now has a "true" Butler team again, which means only one thing: It could be one of the toughest outs in the NCAA tournament.
January, 25, 2013
01/25/13
12:58
PM ET
Every team in the A-10 needs to thank the Horizon League and the Colonial Athletic Association for their stringent rules preventing Butler and VCU from playing in the conference tournament.
That was the reason the Bulldogs and Rams bolted a year early to the A-10 once the leagues said a pending departure meant they couldn't represent the league in the conference tournament or play for the automatic berth per the bylaws.
Take those two teams out of the A-10 this season, and suddenly the league is suspect and loses the high-profile matchups that have occurred this past week and resulted in court storming.
[+] Enlarge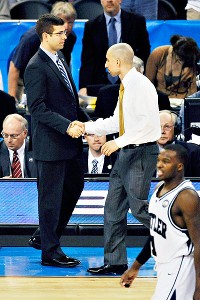 Richard Mackson/US PresswireBrad Stevens and Shaka Smart have brought a new legitimacy to the A-10.
La Salle's win over Butler helped validate the Explorers. Take Butler out of the league and suddenly La Salle doesn't have the same opportunity. Xavier is not ranked, and while the Musketeers are doing their normal thing in the A-10 and hovering atop the standings, beating X doesn't mean as much this season. The same is true of Temple.
"The win for us is a great one because we beat a top-50 team, and top-20 wins are key to getting in the NCAA tournament,'' said La Salle coach John Giannini. "It's also a great perception win for your recruits and alums because [Butler is] a recognized national program.
"From a coaching perspective, they play so hard and are so sound, they force you to be better yourself,'' said Giannini. "If you could scrimmage them every day you would become a top team, because they raise your bar so high. For the league, they give you the opportunity for a marquee win, they raise the RPI and give exposure.''
The same applies for VCU. Richmond and VCU were once in the CAA together in the late '90s. Having the two programs in the same league again for the first time since 2001 means they will play twice a season. The game created interest in the local media and will be a key rivalry going forward in the A-10. They are also guaranteed sellouts for both VCU and Richmond.
La Salle's win over Butler produced a court storming. Would La Salle storm on any other A-10 school, outside of VCU, now?
The A-10 has had a number of teams take turns at the top, with the two most consistent programs being Xavier and Temple. Temple will be gone to the Big East next season. When the A-10 secured Butler and VCU as members and then actually got them a year earlier, it turned out to be the biggest coup in all of the realignment moves.
Clearly, there have been moves made for financial and football reasons that have helped and will help some of the top conferences. But the Butler and VCU moves, while not done for money, have improved the competitive balance, national recognition and profile of the A-10 more than any other expansion moves in recent memory.
And that's why it will be imperative for the A-10 to do whatever it can to keep them from being poached by the departing Big East Catholic seven schools. If those schools take Xavier and/or Dayton, then it will be a hit for the league. Losing Butler, though, would be devastating. The Butler brand resonates with this class of students more than any other school in the A-10 because they remember the consecutive title-game appearances. Butler will likely be courted and will probably go if the offer is too good. The schools departing the Big East will likely go only with private schools, not just religiously based, which means VCU is out. But it's still a fluid situation.
No one would have noticed if La Salle was atop the standings and had beaten Xavier or Temple. But knocking off Butler and the subsequent court storm gets the league and its programs the national recognition they so desperately need.
January, 21, 2013
01/21/13
9:39
AM ET
Monday musings on the day to celebrate Dr. Martin Luther King's life, a once-in-a-generation American and one of the most important figures in American/world history:
[+] Enlarge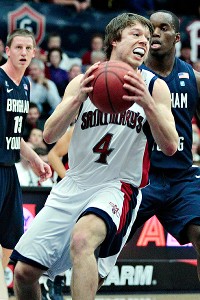 Cary Edmondson/US PresswireMatthew Dellavedova played a big role in one of the weekend's frantic finishes.
• March Madness' opening weekend has plenty of drama. But is there any way to bottle this past week, preserving and recreating it in late March?
Think about this: Ole Miss' Marshall Henderson connected on a 3-pointer at the buzzer to force overtime in a win at Vanderbilt. Saint Mary's Matthew Dellavedova hit a shot to beat BYU at the buzzer in Provo. Butler's Roosevelt Jones sank a floater off of a steal to shock Gonzaga at the horn at Hinkle. And I'll toss in Bradley's Will Lemon Jr., who beat Missouri State on a final shot, too.
Those were last shots, but there were also thrilling final moments in Syracuse's win at Louisville, Michigan State's defense of Ohio State at the end of its victory in East Lansing, and Wichita State successfully defending Creighton on two 3-point attempts to preserve a win.
• The more I watch the final possession in the Gonzaga-Butler game, the more I don't understand why David Stockton didn't throw the ball toward his own basket rather than in the middle of the court. If the ball goes to that end, and even if it gets stolen, then Butler would have had to go nearly 90 feet and someone like Jones would have had to take a 3-pointer, not a floater in the lane.
The Gonzaga meltdown on the final possession was reminiscent of the 2006 Sweet 16 loss to UCLA in Oakland. In that game, the Zags would have won if J.P. Batista hadn't been picked when he brought the ball down, allowing Jordan Farmar to steal and feed Luc Richard Mbah a Moute for a layup and a one-point lead with 8.6 seconds left. That play ultimately propelled the Bruins to the first of three consecutive Final Fours. Few can forget Adam Morrison crying in disbelief after that game.
• How did Texas A&M beat Kentucky again at Rupp? The Aggies have lost their last two games to Florida at home and at Alabama. Elston Turner, who went for 40 against Kentucky, scored four against Florida, going 1 of 10 from the floor. He scored 13 against the Tide.
• Kentucky's defense has been tighter since the loss to Texas A&M. The Wildcats gave up 65 points to Tennessee and 53 to Auburn, including shutting down the Tigers on 3s (0-for-15).
• Playing Purdue in a regional CBS game may have sounded like a good plan for West Virginia last year. But it made no sense for the Mountaineers to wedge that game in between Big 12 contests, and it looks even worse three days after losing at Iowa State. West Virginia got hammered 79-52 to fall to 8-9 overall and is currently 1-3 in the Big 12. A non-conference game in mid-January or mid-February should have purpose, especially if it's on the road.
• I was starting to be intrigued by Washington's 4-0 start to the Pac-12 (with three road wins) until the previously Pac-12-winless Utah Utes won in Seattle. Now, it appears the Huskies' wins were a product of a soft start to the conference schedule.
[+] Enlarge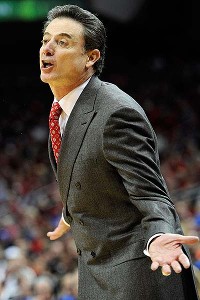 Jamie Rhodes/USA TODAY SportsRick Pitino has one more shot at Syracuse and then will have to wait until they meet in the ACC.
• The Syracuse-Louisville rivalry has been one of the better matchups in the past five years. It will take a hiatus next season when the Orange go to the ACC, only to resume in 2014-15 when the Cardinals join the league, too. When they do play in the ACC, can we call it a Big East game, because that's what it will feel like?
• When the season ends, don't be surprised if it looks like Larry Eustachy walked into the best situation of the first-year coaches. Colorado State was a ready-made conference contender and NCAA team when Eustachy took over.
• I don't understand how San Diego State scored only nine points in a half at Wyoming. I know Xavier Thames was hurt, but the Aztecs simply didn't show up.
• Wyoming gets credit for making me eat my words from our "First Take" show last Friday. The Luke Martinez brawl story and his subsequent suspension appeared to have zapped the energy out of the Cowboys in a loss at Fresno State. But Wyoming locked up on defense, stunned the Aztecs and are right back in the mix. Larry Shyatt deserves praise for getting this team refocused quickly.
• The most anticipated coaching matchup this week is in Manhattan, Kan., where Bruce Weber and Kansas State have a legitimate chance to upset Kansas and fuel the rivalry between he and Kansas coach Bill Self just a wee bit.
• North Carolina and Kentucky will make the NCAA tournament. There is too much mediocrity in the ACC and SEC, and both teams have too much talent to completely fold. We've seen flashes this past week of the potential in UNC's win over Maryland as well as Kentucky's win over Auburn. Neither team has a true leader, and both teams still make plenty of mistakes on the defensive end and, at times, in shot selection. But I'll be surprised now if either misses the field.
• I love that Harvard played Memphis close on Saturday. This was good scheduling by Memphis' Josh Pastner to give his team a challenging game in the middle of Conference USA play. The majority of teams in CUSA won't give the Tigers as many issues as Harvard did over the course of 40 minutes.
• Arizona State coach Herb Sendek wasn't a bad coach a year ago. He didn't have Jahii Carson -- he was supposed to, but Carson was ineligible. It's about players.
• Criticizing Tom Crean for the blow-by handshake with Bo Ryan was all in good fun after Indiana lost to Wisconsin last Tuesday. But Crean was classy with his Saturday tweet celebrating "College GameDay" at Butler and what it means to the state to have Indiana and Butler recognized nationally within a three-week period.
• I can't imagine how down Iowa coach Fran McCaffery would have been if his Hawkeyes had blown the Wisconsin game after failing to close out close games against Indiana and Michigan State at home.
• Louisville fans are a passionate bunch, and I love it. I had more reaction to my tweet that Michigan's guards Trey Burke and Tim Hardaway Jr., were the top backcourt by a nudge over Louisville's Russ Smith and Peyton Siva than any other I have posted in the past few weeks.
• Congrats to St. Bonaventure for winning at Temple, for the first time ever, in what is the Owls' final season in the A-10. The Bonnies get picked on for being in a remote outpost in New York. Yet, they have held their own in the conference as evident by winning the league tournament last March. Good for the Bonnies to stand up and be noticed yet again with this final sendoff to Temple.
• The most befuddling result of the weekend may have been Rhode Island winning at Saint Louis.
• Michael White was an out-of-the-box hire at Louisiana Tech. The Bulldogs are 7-0 in the WAC and appear ready to push Utah State and New Mexico State out of the favored status perch.
[+] Enlarge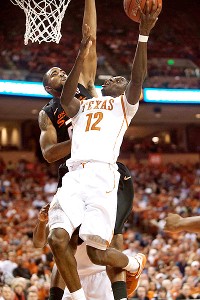 Brendan Maloney/US PresswireWhen Myck Kabongo returns, it may be too late to save Texas.
• This Texas season has been probably Rick Barnes' most frustrating in Austin. The Longhorns have had multiple chances to win marquee games and, outside of North Carolina at home, have swung and missed. The Big 12 winless 'Horns get Myck Kabongo back on Feb. 13, but it's hard to believe there will be enough time or games left for Kabongo to make enough of a difference for his team to make a tourney run.
• Put Mark Lyons in the category of most important one-year players recently after he lit up Arizona State in the rivalry game to keep Arizona on Oregon's heels.
• Xavier hasn't played Butler or VCU yet, but the Musketeers are still undefeated in the A-10 after a rocky non-conference.
• Does it seem like Marquette always plays late-possession games in the Big East?
• Wichita State coach Gregg Marshall told me having forward Carl Hall return to the team was like getting an appendage back. You could see why, as Hall was such a key piece in the Shockers' win over Creighton. His presence inside and ability to get to the line was a difference.
• Creighton forward Doug McDermott has so many ways to score that I see him successfully finding a rotation spot on an NBA roster.
• I saw Fran Fraschilla tweet this out, but he's onto something about the Sunflower State. The three atmospheres at Kansas, Kansas State and Wichita State have to rank up there with any state in the country. If they're all full -- and most of the time they are -- then each venue can rock.
• If you thought Phil Pressey was Missouri's most important player, you may have been wrong. In my opinion, it is clearly Laurence Bowers. The Tigers aren't the same team without him, losing badly at Ole Miss and Florida without his inside presence.
• Florida versus the field in the SEC for the regular-season and conference tourney titles? I'll take Florida. Propose the same scenario for Kansas in the Big 12, and I'm taking Kansas.
September, 13, 2012
09/13/12
11:58
AM ET
Butler's Brad Stevens has coached within minutes of winning two national championship games, but he hasn't had to dismiss one player during his five-year career as a head coach.
Until now.
The decision to dump starting guard Chrishawn Hopkins this week didn't come easily. But according to Stevens it was a necessity because Hopkins violated an unspecified team rule.
[+] Enlarge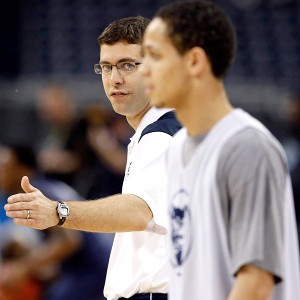 AP Photo/Mark HumphreyCoach Brad Stevens and Butler will be without starting guard Chrishawn Hopkins (right), who was dismissed from the team this week for violating team rules, for their inaugural Atlantic 10 season.
"People refer to all the celebrations and good times in coaching but these are the hard days,'' said Stevens. "If you're going to talk about and live by the standards that you set for the program, then regardless of wins and losses you have to move forward. You have to [take] the importance of the program and the privilege to play seriously. There was an unfortunate situation and now we have to wish Hop the best. It was a difficult thing to do as a head coach.''
Butler failed to make the NCAA tournament last season a year after reaching the 2011 title game, where it fell 53-41 to Connecticut. The Bulldogs went through a transition period last season after losing Matt Howard and Shelvin Mack. They ended up reaching the College Basketball Invitational semifinals before losing to Pitt.
The hope was that Hopkins would be a fixture on the floor for Butler during what should still be an NCAA tournament-caliber season as they move from the Horizon League to the more challenging Atlantic 10 conference.
"He was a very good player and we were looking to him for consistency,'' said Stevens. "But we've got a number of guys under consideration for that spot. We have depth, and there are players who weren't necessarily in the top six who now have an opportunity.''
Stevens said he may go with a bigger wing in place of Hopkins, such as Chase Stigall (who is two inches taller than Hopkins, at 6-3) or "talented freshman" Kellen Dunham, who is 6-5. Or Butler could go with a combination of smaller ballhandlers in 5-11 Alex Barlow and 6-foot Jackson Aldridge as well as 5-11 freshman Chris Harrison-Docks.
Hopkins' departure doesn't change who will handle the ball for Butler. Arkansas transfer Rotnei Clarke will be in control on the perimeter. Clarke is a deft shooter who also can create on the fly.
"Clearly Rotnei will play a lot,'' said Stevens. "He's a very, very, very good player and he's gotten better during his year sitting out. He's down six or seven pounds. He's worked extremely hard on his upper body. He took advantage of this year off as well as anybody I've seen.''
The frontcourt is stable with Andrew Smith and Khyle Marshall. The key will be if the newcomers can help Clarke immediately.
Butler will face Marquette on Nov. 19 in the Maui Invitational, where the Bulldogs will be on the same side of the bracket as North Carolina. Before leaving for Maui, Butler will play a non-conference game against new league foe Xavier. The Musketeers are depleted this season but still a tough out at the Cintas Center.
Butler had little time to finish its home schedule after a late-May decision to leave the Horizon League and join the A-10 a year early, instead of in 2013-14 as originally planned. The move forced the Bulldogs to pick up four games. They were able to schedule Penn and New Orleans at home and will start a home-and-home series at Northwestern on Dec. 8.
Stevens had to be creative in putting together his team's schedule. Now he has to be just as sharp about dealing with a sudden departure from his team. Stevens has handled every challenge so far in his brief career. Losing a rotation player a month before the season begins should pale in comparison to the pressure of winning the conference tournament, earning NCAA tournament bids and surviving five brutal games to reach the championship game.
LAKE BUENA VISTA, Fla. -- After Temple decided to bolt for the Big East, coach Fran Dunphy never even considered the possibility that the Owls wouldn't be allowed to play in the 2013 Atlantic 10 tournament.
And why would he? That's not the way the A-10 operates. The league wanted no part of being bitter and vindictive, especially toward one of its most recognizable and successful programs.
[+] Enlarge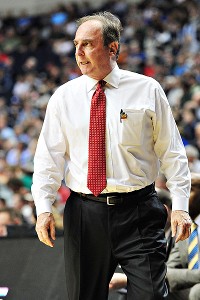 Don McPeak/US Presswire Fran Dunphy's Owls prepare for one final season in the Atlantic 10.
"I never thought about it,'' Dunphy said as he watched a recent AAU game at ESPN's Wide World of Sports Complex. "There are a lot of bittersweet feelings from the Temple point of view. I hope we've been great members of the Atlantic 10 over the years. In my six years, it has been a fabulous basketball conference and this year could be off the charts with as many good teams as there are.''
Why will there be so many good teams? Partly because of the bitterness emanating from the Horizon League and Colonial Athletic Association toward its most recognizable and successful programs, Butler and VCU.
Apologists for both leagues will argue that there are bylaws that clearly state if a school announces its future departure, it can't play in a championship. The America East is doing the same to Boston University, which is bound for the Patriot League but will be stuck with one final lame-duck season before departing. Same goes for Old Dominion (C-USA) and Georgia State (Sun Belt) in the CAA.
The presidents in those respective leagues easily could have voted to put grudges aside and be grown-ups. Instead, they acted like scorned children who didn't get their way and won't have their best teams represent them in the NCAA tournament.
The A-10, meanwhile, was ready to pounce once Temple and Charlotte made football moves for their own perceived athletic department survival. The Owls football team, once tossed aside by the Big East and eventually forced to prove itself again in the MAC, was invited back for the 2012 season to replace West Virginia. Charlotte started its football program up and found a home in a desperate C-USA looking for new members after the Big East's raid of Memphis, UCF, Houston and SMU.
Atlantic 10 commissioner Bernadette McGlade couldn't believe Butler and VCU would be available so soon, but with the backing of the A-10 presidents, she led a charge for early entry once those programs were officially banned from their league postseasons.
McGlade said the A-10 CEOs had developed a plan in November 2010 to solidify membership in the event of realignment. The September 2011 move of Pitt and Syracuse from the Big East to the ACC forced the A-10 into a proactive posture. That's when the league sought out Butler and VCU as possibilities (along with Old Dominion and George Mason).
McGlade gobbled up the two recent Final Four teams for the 2013-14 season. When they were possibly available for the 2012-13 season, there was no question that the A-10's welcoming policy of not booting out Temple and Charlotte a year early was going to be enticing.
McGlade had already led the charge to move the A-10 tournament from the dormant atmosphere of Atlantic City to the suddenly vibrant Brooklyn neighborhood where the new Barclays Center was being built. And she had already taken a bit of flak privately from the old guard at the A-10 offices for the questionable move of the conference office to southern Virginia instead of leaving it in more centralized Philadelphia.
But no one seems to be questioning the Atlantic 10 now.
Two programs that have produced three Final Four appearances in the past three seasons have been added. The league tournament moved to a media center and a trendy new spot at Barclays that might rival the Big East tournament in 2013 with the possibility of at least a half-dozen NCAA tournament bids at stake (Saint Louis, Butler, VCU, Temple, Xavier, UMass and St. Joe's, along with a few sleepers).
The Owls will no doubt be in the mix in March -- and for that, Dunphy is grateful.
"I never thought anyone would say to us, 'By the way, you're not allowed to be in the conference tournament.' And it didn't happen and I appreciate that stance from the Atlantic 10,'' Dunphy said.
"Would we have then sped up going to the Big East like our football team this year? I don't know."
The answer to Dunphy's question is probably yes. And that ultimately would have hurt the A-10.
The conference wasn't about to waste an opportunity of having a record amount of bids, even if one of them is from a departing member. And so what if it is? Temple will still be representing the A-10, not the Big East, if it earns a bid.
"I hope we're one of them,'' Dunphy said. "This will be a great challenge for us. But we're really excited.''
How about that? A coach that can't wait for the season, in a conference that is treating it with respect before it departs.
Bravo to the grown-ups in the room. The A-10 gets it. Too bad the other conferences do not.
Why not live in the moment rather than constantly worrying about the future? This is about games and who gets to play in them. Nothing more. Nothing less.
The Atlantic 10 understood that. The CAA and Horizon did not -- and the consequence is that both leagues will slip off the main grid this season, while the A-10 surges way ahead.
July, 6, 2012
07/06/12
11:59
AM ET
When it came to bylaws about departing teams, the Horizon, Colonial and America East didn't buckle.
There are consequences that come along with a departure. Being ineligible for the conference tournament is one of them for these leagues. Butler (Horizon) and Virginia Commonwealth (CAA) accepted that and got to the Atlantic 10 as fast as possible.
What school wouldn't do the same if the opportunity existed? Scheduling, television exposure and tourney access are the most important reasons -- outside of the financial benefits -- for being in a conference.
Take away the ability to play for an automatic NCAA tournament berth and the season can seem like a waste. Postseason bans, such as the one USC had recently and the one Connecticut will endure this season, take the air out of the season -- even if the schools and coaches do all they can to create a new goal of winning a regular-season title.
Even though both would likely be contenders for at-large berths, Butler and VCU took no chances.
Boston University, on the other hand, probably would leave for the Patriot League tomorrow if it could. The Terriers weren't pleased with the decision by the America East to uphold its bylaws, but they are stuck. The current team will have to deal with it.
Old Dominion and Georgia State were hoping the CAA would lift its ban, but it did not. Georgia State went as far as to explore trying to get into the Sun Belt sooner, but that didn't happen.
The Horizon, CAA and America East are actually not the norm historically.
After losing members in the past decade, the Big East, Atlantic 10, Big West, C-USA, Mountain West and WAC have not even broached the subject, much like the Big 12 didn't when it lost members to the Pac-12, Big Ten and SEC. The Big East didn't block West Virginia from playing in the conference tournament a year ago after it announced its hasty departure to the Big 12. Perhaps the smaller conferences are worried that the league will have only one bid and don't want it to go to the school with one foot out the door.
[+] Enlarge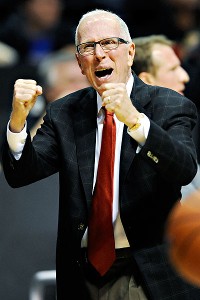 Christopher Hanewinckel/US PresswireSteve Fisher and the Aztecs will get a chance to compete in their final MWC tourney.
But when I asked some of the coaches playing in their final season in a conference, the question was met with near astonishment.
Pitt coach Jamie Dixon wanted to know if I was joking. San Diego State's Steve Fisher said he hadn't even heard of these conferences not allowing schools to participate. Utah State's Stew Morrill said he didn't think the WAC would do such a thing since previous schools that left weren't treated in that manner. Memphis coach Josh Pastner said he would be incredibly disappointed if that occurred. (C-USA took away the conference tournament from the city of Memphis but didn't remove the Tigers' ability to play for the title.)
But what would happen if these conferences turned on the departing teams in 2013? It's too late to change the bylaws and isn't going to happen, but it's still fun to play the "what if" game.
What effect would it have had on the Big East to take Pittsburgh and Syracuse out of the tournament?
A serious blow. The league may be squabbling with the two schools -- and will do so in court with Pitt -- but it needs these two in the conference tournament as long as possible. Syracuse is a natural draw at Madison Square Garden. Taking the Orange out of the Big East would have been a major mistake. The Orange and Panthers still don't have a definitive arrival date in the ACC, but it's likely to be in the summer of 2013.
What would it have done to Syracuse and Pitt for a potential at-large berth?
Likely no issue at all. Both have teams that look like virtual locks for an at-large bid.
What would happen to the Atlantic 10 if Temple and Charlotte weren't allowed in the tournament?
Let's be honest: Charlotte won't be missed on its way back to Conference USA. But Temple's departure will be a hit, as the Owls have consistently been a major part of the A-10 tournament. Not having a Temple presence, prior to the Owls' exit to the Big East, would have hurt the tourney's debut in Brooklyn. Bringing in Butler and VCU will offset the loss, but Temple still is very much associated with the A-10 brand.
What if the Big West banned Pacific?
That would be just cruel. The Big West has had teams leave before, and it might happen again. Plus, this is coach Bob Thomason's final season after a quarter-century at his alma mater, and he said he has a team that could challenge for the Big West title. He has been a loyal member, and Pacific is leaving for the all-private WCC. No harm in letting the Tigers finish up, and it won't hurt the Big West one bit.
What if Conference USA blocked Memphis, SMU, UCF and Houston?
Then C-USA would have a tournament that lacked any sort of buzz. Marshall is a legitimate title challenger to Memphis, and UTEP should be in contention. If the Tigers had been blocked from being in the tournament, after it was taken from the city, C-USA's relevance during Championship Week would have been diminished even more. It's still hard to say how many Memphis fans will travel to Tulsa, Okla., but the Tigers do have a significant following. This was a smart move by the league to not play bitter politics with the departing members.
What would the Mountain West tournament be like without San Diego State and Boise State?
A bit less exciting. The Aztecs have been one of the consistent winners in the MWC with UNLV and New Mexico. Take SDSU, off to the Big West, out of the event in Las Vegas, and the tournament would lose luster. No offense to Boise, but no one would likely notice if the Broncos weren't invited. But SDSU matters a great deal. The Aztecs will be a top-25 team alongside UNLV. Taking them out of the conference tournament would have been a storyline the MWC doesn't need in March.
What would a WAC tournament look like without Utah State and San Jose State?
Not worth it. USU has been the benchmark program in the WAC since Morrill arrived. New Mexico State can't anchor the conference on its own. NMSU needs a rival, and Utah State has been that nemesis. San Jose State wouldn't be missed, but the Aggies' absence would have been a glaring omission in Las Vegas. Rebuilding Utah State will likely need the tournament to get a bid this season, but the WAC was in no position to be punitive. So the Aggies will have one final chance to represent the WAC before it joins SJSU and former WAC members Fresno State and Nevada in the Mountain West.
March, 21, 2012
03/21/12
11:08
AM ET
Editor's Note: Shaka Smart announced Wednesday afternoon that he will not take the Illinois job and will remain at VCU.
Shaka Smart may like living in Richmond.
He might really enjoy being the head coach at VCU.
He actually may want to stay put.
Or not.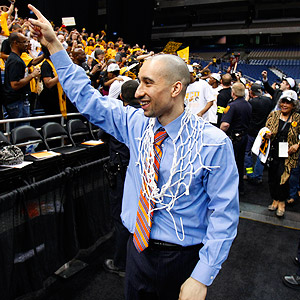 Bob Donnan/US PresswireWill Illinois be able to convince Shaka Smart to leave VCU?
Two coaches who know exactly what he's going through as he mulls over a possible offer from Illinois are Gonzaga's Mark Few and Butler's Brad Stevens.
Both coaches could have had their pick of jobs recently. But they have stayed for the very reasons that might keep Smart at VCU.
They each got significant pay raises, which provided longevity and security. Both love living and working at their respective spots in Spokane (Gonzaga) and Indianapolis (Butler).
"The most important thing and the advice I always give to somebody is that you have to make a decision that is for you and your family,'' said Stevens. "And that may not be the same for everybody.
"There is usually a long list, and happiness is on there,'' Stevens said. "People that you work with every day and where you live have to factor into everything. I would also say, don't take the advice of someone that's not impacted by the decision.''
Stevens genuinely loves his situation at Butler, and he loves working for athletic director Barry Collier. It would take a Herculean job to extricate Stevens from the program. He is now well-compensated financially, too.
Few has had countless chances to leave Gonzaga. But he is native to the area and has no desire to start over somewhere else. Smart is from the Midwest but has been a bit nomadic as an assistant, and he has recruiting ties to the Southeast, too.
Smart hasn't hid his affinity for VCU, especially after the Rams reached the Final Four, and he was compensated well for that run. The Rams, who've had a revolving door among quality head coaches (such as Smart's predecessor, Anthony Grant) gave Smart an eight-year deal after the Final Four.
Illinois certainly offers a high-profile job in a fertile recruiting ground. There's also a comfort in knowing that quality NCAA-bid type games are plentiful in the Big Ten.
If Smart turns down Illinois, he's making a Stevens/Few-like commitment to VCU. In the NCAA tournament this past weekend, the Rams knocked off Wichita State in the second round and lost to Indiana in the third round in Portland, Ore.
"The biggest mistake is that everybody tries to project their own feelings and own thoughts and own values into what you think a guy should do,'' said Few. "It comes down to what that individual person wants in life.
"The only people that matter is the coach and the family and what they want and value and where they're at in life,'' said Few. "Do you want to pack up and move young kids, kids in junior high, high school? That's where it becomes an individual choice and situation.''
Few said that advancing to the NCAA tournament, which VCU has done in consecutive seasons under Smart, is paramount to the definition of a good job.
"If you're winning and advancing to the NCAA tournament and your teams are good enough to go far in the tournament, then what else do you need?'' Few said.
Few could have gone to Oregon. Indiana made a run at him, too. There were others. Gonzaga hasn't won a national title, but the Zags have been in the NCAA tournament every season he has coached, which is more than those jobs can claim.
"I just watched Butler compete for two titles in a row,'' Few said. "That's a pretty strong statement [to stay put].''
November, 3, 2011
11/03/11
9:26
AM ET
Butler lost its exhibition opener Wednesday night 53-50 to Northern State.
But that won't change the opinion of Detroit's Ray McCallum or most of the coaches in the Horizon League.
The Titans may have the most talent, but the Bulldogs are still the pick to win the conference.
"They've gone to the national championship game two straight seasons,'' said Valparaiso coach Bryce Drew, who is entering his first year as head coach after serving as a Valpo assistant. "It's hard not to pick them to win the league. They still have some of the best talent in the league.''
The common theme among the league's coaches is that if Detroit senior center Eli Holman is playing, the Titans can dethrone Butler.
But he won't be playing -- at least for the immediate future. McCallum said Wednesday night that Holman is still not with the team after being removed from all team-related activities in late September. The Varsity News reported on Sept. 28 that Holman assaulted a student in mid-September. Holman led the team in rebounding (9.8 ppg) and was third in scoring (11.8) last season. Take Holman, a former Indiana recruit for Kelvin Sampson, out of the lineup, and the Titans remain formidable. But they lose their inside presence.
"Eli is still away from the team right now, and he's trying to work his way back,'' McCallum said.
But Detroit has the best backcourt in the conference: sophomore Ray McCallum Jr. (13.5 ppg, 4.9 apg, preseason player of the year), senior Chase Simon (13.5 ppg) and junior Jason Calliste (8.6 ppg). Add senior forward Nick Minnerath (11.2 ppg, 4.8 rpg) -- whom McCallum Sr. said will be a superb power forward who can knock down 3s -- to the mix, and the Travis Leslie-like Doug Anderson at small forward, and the Titans have a good squad. McCallum is already calling Anderson a human highlight film for his dunks.
"They're still pretty good without him, but they're not the same force inside without Eli,'' said Milwaukee coach Rob Jeter.
"I think Detroit can [knock off Butler],'' said Cleveland State coach Gary Waters. "Detroit has three of the top five players in the league. It surprised me that they weren't picked No. 1. Butler has been good for so long, and they lost the player who was the best player, in my estimation, the past four years and that's Matt Howard. [Detroit] has a very good point guard in McCallum, great size and great length. Minnerath may be the best 4-man in the league. I won't be surprised if he's leading them in scoring. They're on the verge, but they haven't completed the task. They've got the veterans now.''
McCallum isn't sold yet.
Detroit finished tied for the fifth-best record in the Horizon last season at 10-8, three games behind the three-team tie for first -- Milwaukee, Butler and Cleveland State. The Titans were one game above .500 overall at 17-16. McCallum was quick to point out that in his team's combined eight games against the four league schools that finished ahead of Detroit (including second-place Valparaiso), the Titans won only one game -- Cleveland State at home in early February.
But Detroit was picked to finish second to Butler in the preseason poll, losing out by 15 points. The Titans did receive 19 first-place votes to Butler's 28 in a vote from the conference's coaches, media and sports information directors.
The Titans had three of the five players on the preseason first team: McCallum, Holman and Simon. Butler had none.
"I'm not falling for it,'' McCallum Sr. said. "We're just crawling along from going 10th to seventh to fifth. We're getting closer, but we'll see. We haven't done it yet. We haven't done it yet. It's time for us to step up with Cleveland State, Butler, Milwaukee and Valparaiso.''
Butler has its own identity. The Bulldogs will grind out games and have a defensive mindset, and they never seem to beat themselves. They are a bear to play in nonconference and can hang with any team in the country.
Detroit must become relevant in November and December to chase Butler in February and March.
"Butler knows who they are,'' McCallum said. "[Coach] Brad [Stevens] has the program to the point where they've lost key players, and they just fill in the blanks and then they're household names. Nothing fazes them. They just go out and play the same way every night.''
McCallum isn't worried about rebounding or scoring, but consistent defense is a concern. The Titans will shoot more 3s without Holman, McCallum said, but they have to figure out who they are from the outset. Butler knows. Detroit must figure it out in order to get through a decent nonconference schedule that has the Titans playing at Notre Dame, hosting St. John's and Mississippi State, and visiting Alabama and Akron.
Jeter said Butler has always had the mindset that it can play with any team in the country. Where the Bulldogs have struggled, according to Jeter, is when the competition is mediocre.
"It seems like there is a big weight off of them, and they play a lot differently once they get to the [NCAA] tournament,'' Jeter said. "You see it when they've had to play a team like Old Dominion or Murray State early in the tournament.''
Milwaukee swept the Bulldogs during the regular season, but couldn't beat Butler when the game mattered most -- at home in the Horizon League tournament title game with the NCAA automatic berth on the line. Detroit needs to adopt that mindset of finishing off Butler when the games count.
"Butler deserves the limelight; they've earned it,'' Jeter said. "But there are teams in this league that have pushed them.''
To Stevens' credit, he has constantly mentioned how tough it is to win on the road in the Horizon League. Butler has consistently been the hunted team and easily the biggest game on the road in the league, whether it's at Youngstown State or UIC. Detroit won't get that same rep this season, even with a potential first-place team. But the Titans have to approach every game like they are the team to beat.
"We've got 11 postseason teams on our schedule, with no easy games on our schedule,'' McCallum said. "We'll be in a position to win some of those games. But we've got to approach it that we've got to win the Horizon League tournament. To go to the Big Dance, we've gone out and scheduled up this year. Hopefully it will work out for us.''