Category archive:

Cincinnati Bearcats
February, 22, 2013
02/22/13
9:50
PM ET
HARTFORD, Conn. -- The game(s) of the year in the Big East are upcoming between Georgetown and Syracuse and Syracuse and Louisville in the final three weeks of the season.
The game of the conference going forward occurred Thursday night and will again next Saturday in Cincinnati.
UConn beat Cincinnati 73-66 in overtime Thursday at the XL Center. The two teams have played competitive games, usually down to the final possession, in the past five years. The games have been physical but fair, always intense but respectful.
The new Big East, the one that for now will have the name, will need to be anchored by Cincinnati and Connecticut going forward. They are the two most established programs left behind after others fled to the ACC or chose to soon form their own conference.
Like it or not, Cincinnati and Connecticut are linked together. They both desperately wanted to be in the ACC but were passed over for Louisville. They would still jump at the chance to join the ACC and may if the Big Ten completes its British Empire-like expansion and gobbles up more land (grant-universities) areas out of its geographic footprint to get to 16.
The Big East looks like it will survive after a healthy competition between ESPN and NBC Sports to secure media rights, with sources confirming that ESPN matched NBC's offer. Barring a hiccup, ESPN will retain/acquire the new league's rights for the next seven years.
The Big East will have 18 members for next season, barring a last-minute dash by the seven Catholic schools. In 2014-15, Louisville and Notre Dame will be gone to the ACC, Rutgers to the Big Ten, and the Catholic seven to a new league. That will leave UConn, Cincinnati, South Florida with newbies Memphis, Temple, Central Florida, SMU, Houston, Tulane and likely East Carolina for a 10-team league. Adding Tulsa and/or UMass to increase the membership to 11 or 12 in all sports is possible.
Memphis and Temple have rich histories in men's basketball. But the new Big East will need anchors, programs that have been established to help shepherd in this new era. The only choices are UConn and Cincinnati.
After the game Thursday night, UConn coach Kevin Ollie said rivalries are with your conference foes and acknowledged that there is something healthy brewing between the Huskies and Bearcats.
"I think it already is (a rivalry)'' said UConn athletic director Warde Manuel. Manuel tossed in South Florida as well as a program committed to football and basketball. But this is strictly a men's basketball discussion and for the league to have a chance, UConn and Cincinnati have to maintain a high level of play, bring in NBA-type talent and play games down to the finish -- like Thursday night -- to keep viewers interested.
"I'm looking forward to the years competing against them,'' said Manuel. "We haven't played any of those other schools on a regular basis like Cincinnati. I like the feel of what we saw (Thursday night). We are in a similar position moving forward. And for the strength of the league, until the others can come up and develop a rivalry, this is the one. There is a lot of respect for both sides, and games like this solidify the rivalry.''
UConn, which would be an NCAA tournament team if it were eligible but is not due to an APR postseason ban, frustrated the NCAA-bound Bearcats by taking advantage of poor Cincinnati execution down the stretch and Shabazz Napier getting free for three 3s in overtime. Cincinnati coach Mick Cronin labored over the "inexcusable mistakes'' toward the end of the game and the need to play smarter.
But Cronin also spoke of the Big East's grind and how the league shows no mercy. The Bearcats are in a stretch where they played Pitt (loss), Villanova (win), Georgetown (loss), at UConn (loss) and play at Notre Dame, at Louisville and get UConn at home in the next week.
When the league splits, the gauntlet of conference games will mostly consist of two games against UConn with the hope that Memphis and Temple can be tough as well, albeit maybe not as intense.
"There's no doubt we're linked, but where it's going to be at going forward I don't know,'' said Cronin of the two schools. "Kevin and I have developed a friendship. We've talked a lot about taking over programs and we've sat together recruiting. He's one of the nicest guys in the world. Hopefully we can both stay relevant. If we both win, then it's a good blood rivalry for both of our programs.''
Cronin said the key will be for both schools to continue to recruit at a high level. That's a given.
But the players are already feeling as if there is something between the two schools, regardless if they'll be there when the league breaks up.
"I think you'll see Cincinnati and UConn be the two powerhouses no matter what,'' said Napier. "It has always come down to the last minute and in overtime. I enjoy playing that team.''
And the underclassmen and incoming recruits better as well. They are all stuck together until there is another shift in expansion. Who knows when that will occur. For now, UConn and Cincinnati have to be the two anchors of a league that desperately needs them to be elite.
December, 27, 2012
12/27/12
11:48
PM ET
The beauty of the college basketball regular season is that a team can lose a few games and still be in fine position for a national championship run.
But there is always an allure about those who enter their conference season unblemished to see how invincible they will be entering the New Year.
Prior to Thursday night's games, there were five remaining unbeaten teams and 19 one-loss teams, as well as two others (Florida, 8-2) and (Kentucky, 8-3) that cannot and should not be dismissed from any Final Four discussion. Both the Wildcats and Gators have played a much more difficult schedule than the majority of one-loss and undefeated teams.
There are a slew of one-loss teams that are more than capable of winning the national title such as Kansas (10-1), Louisville (11-1), Syracuse (10-1), Indiana (11-1), Creighton (11-1), UNLV (11-1), Missouri (10-1) and Gonzaga (11-1). And it's easy to make the argument that those teams, such as Kansas, Louisville, Syracuse and Indiana, are more likely to challenge for the national title than the five remaining undefeated teams.
But for the purposes of this argument, let's look at the remaining unbeatens as they stand today:
Duke (11-0)

Most impressive wins: Minnesota, VCU and Louisville in successive days in Atlantis; Kentucky in Atlanta; Ohio State at home and Temple in New Jersey.
Biggest question answered: Quinn Cook is a starting point guard and has been a stable presence.
National player of the year candidate: Mason Plumlee. Plumlee has been a double-double machine for the Blue Devils. He may be the most reliable player at his position in the country.
Difference-maker: When Seth Curry is making 3s, the Blue Devils are even harder to beat.
What to watch for: How will Duke handle true road games in the ACC? The three toughest games on the schedule would seem to be at NC State (Jan. 12), at Maryland (Feb. 16) and at North Carolina (March 9).
Final Four potential: Duke has to be considered a favorite to land in Atlanta. The team possesses experience at key positions, younger players who are becoming increasingly comfortable, there is size inside and now a growing confidence that it can win the championship.
Michigan (12-0)

Most impressive wins: Pitt in New York at the NIT Season Tip-Off and NC State in the ACC-Big Ten Challenge.
Biggest question answered: The Wolverines don't miss Stu Douglass and Zach Novak as much as was predicted. The youthful Wolverines have bought into John Beilein's defensive concepts.
National player of the year candidate: Trey Burke is an exceptional point guard. He gets the Wolverines up and running as efficiently as any point in the country. His play has allowed Tim Hardaway Jr., to flourish in his natural position.
Difference-maker: The continued development of the Michigan big men in Jordan Morgan, Mitch McGary and Glen Robinson III as well as the stretch shooting of Nik Stauskas.
What to watch for: How does Michigan get through the Big Ten gauntlet? The Big Ten is the toughest conference this season, and Michigan will have to navigate trips to Ohio State (Jan. 13), Minnesota (Jan. 17), Illinois (Jan. 27), Indiana (Feb. 2), Wisconsin (Feb. 9) and Michigan State (Feb. 12). I would put that conference road schedule against any other contender in the country. It's not close. This is the toughest.
Final Four potential: Michigan has proved that it has the point guard play, the shooting, the power play inside and can defend well enough to get to Atlanta.
Arizona (12-0)

Most impressive wins: Florida in Tucson and San Diego State in the final of the Diamond Head Classic in Honolulu.
Biggest question answered: Mark Lyons has adjusted as well as any one-year transfer I can remember. He was handed a leadership role and has excelled, making a game-winning shot to beat Florida. He has proved to be a consistent presence for the Wildcats at the point.
National player of the year candidate: Lyons, Solomon Hill and Nick Johnson have all had their moments and will be in contention for Pac-12 player of the year. But none will get enough momentum for consideration for national player of the year.
Difference-maker: Johnson. He has been the ultimate glue guy, making key plays in a variety of ways, none bigger than blocking Chase Tapley's potential game-winning layup in the Diamond Head final.
What to watch for: Arizona is the favorite in the Pac-12 and enters the conference doing more than enough to raise the conference's profile. The road wins at Texas Tech and Clemson were games the Wildcats should have won and they did. The comeback win over Florida was a tremendous effort and confidence boost. Getting through the rugged Diamond Head proved they had the stamina. Now, Arizona has to rise to the challenge of being the team to beat in the Pac-12. It is more than doable based on the inconsistency of the rest of the conference.
Final Four potential: This squad has it. The key will be the continued development of the newcomers, notably Kaleb Tarczewski, who is getting featured more and more as he improves his activity on the court.
Cincinnati (12-0)

Most impressive wins: Oregon in Las Vegas; Xavier in a rivalry game and Alabama at home when the Tide were playing well.
Biggest question answered: The Bearcats are never going to be a dominant low-post scoring team. But when needed, the Bearcats have been able to finish around the basket. Titus Rubles, JaQuon Parker, Justin Jackson and Cheikh Mbodj can take care of business of scoring and defending the post when locked in to the task at hand. The Bearcats have bigs serviceable enough to get by in the Big East.
National player of the year candidate: Sean Kilpatrick will enter the Big East as a legit player of the year contender. He has the ability to score in bunches. He flourishes playing off Cashmere Wright, who has stabilized the point.
Difference-maker: Wright. Mick Cronin has the confidence to hand him the ball and let him make a play, as he did against Alabama. Wright is a senior and has asserted himself as much more of a leader on a team that desperately needed to be led.
What to watch for: The Bearcats take possessions off and sometimes go through the motions. That cannot happen in the Big East with a host of teams that could easily knock them from their perch. Cincinnati believes it is in the same category as Louisville and Syracuse and above Pitt, Georgetown and Notre Dame in the pecking order of Big East title contenders. Now the Bearcats have to prove it. The schedule didn't do them any favors since they go to Syracuse (Jan. 21) and Louisville (March 4) without a return game. Cincinnati will find out about itself early at Pitt (Dec. 31) and at home against Notre Dame (Jan. 7).
Final Four potential: The Bearcats have it, but I'd be surprised. The lack of a proven post player may cost them in trying to win four in the NCAA tournament. Their lack of focus at times could bite them in an early round.
Wyoming (12-0)

Most impressive wins: Colorado and at Illinois State.
Biggest question answered: Leonard Washington has been a leader for the Cowboys despite all his issues, including a suspension last year. The Cowboys weren't sure who they could rely on early on but Washington has done everything asked of him so far.
National player of the year candidate: Washington is a Mountain West Conference Player of the Year candidate, but he won't be in the conversation for the national honor.
Difference-maker: Larry Nance Jr. The sophomore has played up in the big games for Wyoming, scoring 14 against Colorado, 19 in the win over Illinois State and 21 in a win over rival Denver. The Cowboys' staple has been their defense, as you'd expect from a Larry Shyatt-coached team, but it's their surprisingly-balanced offense that has been a pleasant plus.
What to watch for: Wyoming may be in the most balanced league in the country. It has to deal with two games against UNLV, San Diego State, New Mexico, Colorado State and Boise State, let alone playing Nevada and Air Force. There are zero easy games on this schedule. To expect Wyoming to get through this without getting beaten up is unrealistic.
Final Four potential: No shot. But the Cowboys are going to the postseason. Shyatt has already put the Cowboys in the NIT conversation, barring a complete collapse. An NCAA berth is hardly out of the question if they can hold serve at the Arena Auditorium.
December, 20, 2012
12/20/12
7:46
AM ET
CINCINNATI -- Father Michael Graham is an avid sports fan who likes to reminisce about his time as a graduate student at Georgetown, working games as a young Jesuit student at the old Cap Center during the Patrick Ewing era in the mid-1980s.
He loves being the president of Xavier and cheering on the Musketeers.
But he was ready to move past the Crosstown Classic game against Cincinnati. He wanted to move on, get a year or more past the black mark that last season's brawl at the Cintas Center put on the rivalry.
"There was talk early on that they should cancel this game altogether,'' Graham said earlier Wednesday in a conference room at the Cintas Center in a meeting with Cincinnati president Santa Ono.
"But our point of view is that this game doesn't belong to us. This is a community tradition and it belongs to the community. We needed to remind everybody of this. It's good for Cincinnati and is one of the great rivalries in the country.''
Cincinnati coach Mick Cronin wasn't at the meeting, but he picked up on the theme of Graham's comments from somewhere else. Minutes after shaking Xavier coach Chris Mack's hand following UC's 60-45 victory at neutral U.S. Bank Arena, Cronin proclaimed where the rivalry should be played -- every year.
"I don't know how anybody doesn't say this wasn't off the chart,'' said Cronin, a native of the Queen City. "It reminded me of the Final Four when Louisville played Kentucky. It was the way it should be.''
The crowd was fairly evenly split. Xavier fans and Cincinnati fans were divided from midcourt to the left and right with one side mostly in blue and white and the other clad in red and black.
"It's the city's game, and if it's the city's game then it needs to be in downtown Cincinnati,'' Cronin said. "This shouldn't just be for season-ticket holders only. I'm a firm believer that what happened last year had been building for three years. This game [at U.S. Bank Arena] eliminates the hatred that spewed in a campus environment. It keeps it positive for everybody.''
Cronin added that he doesn't want the game to return to campus where "stuff was thrown at my 71-year old father. That shouldn't happen. I have no interest in being a part of that. This was all positive.''
Cronin's boss, UC athletic director Whit Babcock, was listening to Cronin's plea to keep the game at a neutral site.
"I support my coach,'' Babcock said. "I support what Mick said. We talked about this being a two-year series and we would evaluate it. But I thought it was a fantastic environment. I liken it to Missouri-Illinois in St. Louis. That's the model I see and I like, and I think this a good step in the direction.''
Cincinnati senior guard Cashmere Wright said that he loved having the two schools represented. But the two sides have to agree.
They don't. If the game does return to a campus, then it would be at Cincinnati in 2013 or 2014 -- both sides agree on that. But will it remain at a neutral site or go back to campuses?
"I love Mick, but I don't agree with him,'' Xavier coach Chris Mack said. "[Playing the game] on campus has always been good. It's one man's opinion and he's entitled to it. But it was a great atmosphere.''
Cronin said he doesn't have a say in where the game is played. Neither does Mack.
"We said after two years we would think about it,'' Xavier athletic director Mike Bobinski said. "It was a loud atmosphere. It had a great feel to it. But he doesn't make the decision. Both of us have a vested interest in having it on campus.''
Bobinski was referring to his season-ticket holders, who want this game on the schedule every other year.
"You have to have the whole picture,'' said Bobinski. "But I agree that this was good.''
Ono said that it was important for the two schools to play the game and do even more since the brawl last year. The two presidents rattled off joint events over the past year, from the student governments working for the Boys& Girls Club, a joined walk for awareness of a multicultural, faith and diverse society and the two men's and women's teams going together to the National Underground Railroad Freedom Center, next to the U.S. Bank Arena.
"Our students got a black eye since it was in our house,'' Graham said. "They were eager to show the world that's not who we are.''
Ono added that the two schools have service in their missions and should be working together more in the future. Ono, who said he's a huge sports fan and during the game Wednesday was lifted up by the cheering squad, said the relationship between the two schools is imperative for the city.
As for Wednesday, it was a game of two halves as Xavier's pressure defense flustered the Bearcats in the first 20 minutes. Cronin called the Bearcats' offense a debacle in the first half as Xavier scored plenty off transition. But cramps to Semaj Christon and Dee Davis -- as well as allowing the Bearcats to completely flip the script by getting to the basket, rebounding and forcing turnovers -- led to a UC reversal.
The Bearcats' win kept them undefeated at 11-0, while Xavier dropped to 7-3.
And more important, the game survived. No incidents. No embarrassments.
The question now will be where it lives -- on campus or on a neutral court?
The two schools are getting along well and showing unity, but it's unknown if they can agree on where to play this game in 2013 and beyond.
November, 29, 2012
11/29/12
11:07
PM ET
Connecticut athletic director Warde Manuel said late Wednesday night that his charge is to continue to make the Huskies better.
He could have added more attractive too. The same applies at Cincinnati.
There is a perception at Cincinnati and, to some extent, UConn that the ACC will at some point lose at least two more programs to the SEC (Florida State and Clemson?) and two to the Big Ten (some combination of North Carolina, Virginia and Georgia Tech?). The idea is that UC and UConn will get into the ACC -- not a question of if but when.
ACC commissioner John Swofford made it clear -- yet again -- that he likes the number 14 for football (15 for hoops with Notre Dame) and that there is no fear the league will lose any other members. North Carolina and Virginia have publicly stated their commitment to the ACC. Remember, though, no one had visions of Maryland leaving a few months ago either.
All this spin from Cincinnati and Connecticut is in reaction to Louisville being chosen to go to the ACC over the two Big East rivals. Now the question is what to do next.
[+] Enlarge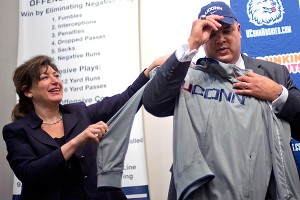 AP Photo/Jessica HillUConn AD Warde Manuel has to make his school as attractive as possible in case there's future realignment.
The issue for both schools is that they have no other option. As Manuel acknowledges, they have to keep doing well and prove that their athletic programs are worth the ACC's investment. North Carolina's outgoing chancellor, Holden Thorp, didn't mince words on Wednesday's teleconference. The choice of Louisville had nothing to do with academics and everything to do with deliverables on the field and court and in financial support and facilities.
Forget about newcomers Tulane, Houston, Central Florida, SMU or even Providence, Seton Hall, South Florida and DePaul. If the Big East is going to survive in the short term, the marquee programs with rich history and sustained success -- UConn, Cincinnati, Marquette, Georgetown, St. John's, Villanova, Memphis and Temple -- must become or stay elite in the Big East.
The assumption that the Big East is done or fading away doesn't sit well with Hall of Fame coach Jim Calhoun, who retired from UConn in September.
Calhoun is clearly frustrated by his school's ACC snub. He said he isn't sure what more UConn has to do since it has won three national championships in men's basketball and seven in women's basketball, played in a BCS bowl game two years ago and consistently competed for the national title in men's soccer.
"We have to make the best of the Big East as much as we possibly can and yet have the ability to listen to anything else," Calhoun said. "We've got to keep being the best that we can be. I still think we can win a Big East championship and a national championship down the line. We can still play teams like Syracuse and national games like North Carolina."
He said if you were to match the core hoop teams of UConn, Cincy, Marquette, Georgetown, St. John's, Villanova, Memphis and Temple against any other league, the Big East would more than hold its own. Calhoun would like to see the Big East add one more basketball (non-football) program and mentioned Dayton as a possibility. As of now, there is no public stand toward adding non-football schools.
"We're still in the cities you want to be in," said Calhoun of the major hoop hotbeds in the Northeast and upper Midwest. "I still believe if you look from a purely basketball perspective, we still have three of the four Final Four teams that were here when I came into the league [in 1985] in St. John's, Villanova and Georgetown. And we added [the other], Memphis."
But Calhoun said he is convinced the reshaping of college sports isn't over. He would love to see some stability at UConn and continues to push for his former assistant Kevin Ollie to be named the permanent head coach with a long-term deal, not just a seven-month contract.
Manuel said Wednesday that nothing new had occurred on the Ollie front but reiterated that Ollie is doing an outstanding job with the one-loss Huskies.
The next step for Connecticut and Cincinnati is to hope Big East commissioner Mike Aresco can secure a lucrative television contract for dollars and exposure. But now the Huskies and Bearcats have to lobby him -- the way Rick Pitino and Louisville did to get basketball-crazed Memphis and Temple in the league -- to add another significant basketball member, unlike the Tulane addition. Poaching the A-10 is still a viable option for the Big East to enhance its basketball brand.
For now, all the Huskies and Bearcats can do is win. UConn can't go to the postseason in March. Cincinnati can. Advancing deep in the tournament would certainly help the cause, at the very least making the ACC reconsider standing at 14.
Until then, the Huskies and Bearcats have no choice but to continue to be noticed, relevant and, more than anything else, highly competitive in every major sport.