Category archive:

Davidson Wildcats
Colonial Athletic Association commissioner Tom Yeager called Southern Conference commissioner John Iamarino on Thursday to give him the professional courtesy of knowing that he would be contacting a few of Iamarino's member schools, widely believed to be Davidson and College of Charleston.
[+] Enlarge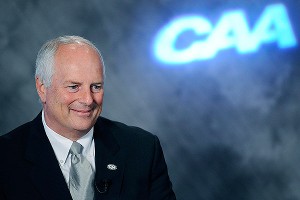 Rafael Suanes/US PresswireCAA commissioner Tom Yeager has seen three member schools depart in recent weeks.
"I appreciate that and I'm hoping to convince them [to stay]," Iamarino said. "We've got league meetings coming up [May 29-June 1 in Asheville, N.C.] and like every other conference, except the Ivy League, I suspect, 85 to 90 percent of the issues will be centered around realignment issues."
The trickle-down effect of conference realignment seems to never end. The CAA loses anchor programs VCU (to the Atlantic 10 in the fall of 2012) and Old Dominion (to Conference USA in the fall of 2013). Those two moves came on the heels of Georgia State moving to the Sun Belt.
The CAA has to do something to maintain relevance, and the Southern Conference, and possibly the America East Conference, are ripe for the pickings. (America East commissioner Amy Huchthausen said the league won't comment on any overtures from the CAA or anyone else toward its programs, such as Boston University and Stony Brook.)
"[The CAA] is such a Southern league I think they have to replace them with Southern teams," Delaware coach Monte Ross said. "I think they have to have that Southern flavor that the league is known for, and Davidson is a quality name and program."
Said Towson coach Pat Skerry: "But we've got to get someone in the North, too. Stony Brook could be a viable option."
Davidson and College of Charleston are the most obvious choices.
Iamarino is well aware of the interest in his league's programs. But he said he has every intent of reminding the schools that they are in a competitive league and the proximity of the member schools offers low travel costs.
"We're all within the geographic footprint," Iamarino said. "We avoid missing class time. The fans can travel to road games. That's why conferences were normally put together in the first place."
Iamarino said the exit fee is $300,000 for notice of two years or more and $600,000 for less than two years.
Charleston athletic director Joe Hull said the school doesn't have a position on the matter yet and said his school was happy in the Southern Conference.
Davidson athletic director James Murphy said it wouldn't be appropriate to comment on conference affiliation. But head coach Bob McKillop was willing to speak.
He said that 25 percent of the 1,800 students on campus play a sport, meaning that a move to the CAA affects a high percentage of the student population.
[+] Enlarge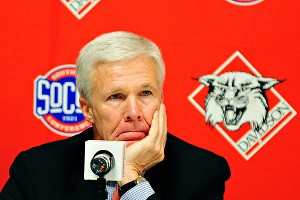 Jeff Siner/Getty ImagesDavidson head coach Bob McKillop doesn't necessarily believe the Wildcats' prospects would be improved by a move out of the Southern Conference.
"We have rigorous academic standards," McKillop said. "We've been to the NCAA tournament five times and the NIT twice in the past 10 years. We present a unique situation. But any decision will be made at the presidential level, not just a basketball decision."
Translation: Davidson is doing just fine in the Southern and doesn't necessarily need to move to the CAA. It also means that their options may not be limited to the CAA. The CAA needs Davidson to beef up its membership and provide a consistent competitor for the likes of George Mason and Drexel.
"VCU left the Colonial for the A-10, but who is to say the A-10 isn't going to change in the next three to four months? Who is to say the Big East or who is to say the Colonial won't change more?" McKillop said. "The dominoes have been blowing from the BCS. There are so many kinds of hypotheticals. Maybe James Madison and Delaware will go to the MAC in football or William & Mary to the Patriot."
Northeastern coach Bill Coen said he's hopeful that there are no knee-jerk reactions in the CAA.
"I think everyone needs to take a breath," Coen said. "You have to guard against doing something quickly that might not be a long-term solution."
George Mason athletic director Tom O'Connor said the onus is on the remaining schools to continue to show a commitment to remaining in the league.
"We all need to be proactive," O'Connor said. "You can't be stagnant. If you look internally and basketball is important to you then make sure you give the program all the tools to be successful."
Georgia State and Old Dominion are in the Colonial next season, but league bylaws prohibit their participation in the conference tournament. Towson and UNC Wilmington are ineligible for the tournament based on poor academic scores; Towson is appealing.
At this juncture, unless something changes, only seven schools would be eligible for the conference tournament in 2013.
O'Connor said the bylaw preventing Old Dominion and Georgia State from postseason participation should be changed when the league meets next week.
"My philosophy is that we should let the student-athletes play in championships," O'Connor said. "I think we can have conversations about our bylaws in the CAA."
O'Connor said there should be discussion about suspending or doing away with the rule altogether. He said the bylaw was put in place 10 years ago but "the world has changed in a lot of different ways. Student-athletes should have an opportunity to participate in championships."
If the membership can resolve the tournament issue, that might be the first step in trying to move ahead as one conference thinking about each other rather than the individual interests.
The CAA has to stick together at this point, or it will quickly fade from relevance.
January, 27, 2011
01/27/11
1:59
PM ET
Jimmer Fredette
is not Stephen Curry. They are not the same type of player. Fredette is not a lock for the lottery, as Curry was. And BYU is hardly Davidson.
[+] Enlarge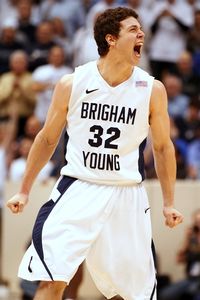 AP Photo/George FreyBYU's Jimmer Fredette has scored 40 or more points in three of his past four games.
BYU is not a mid-major. The Cougars play in front of 22,000 fans at the Marriott Center. BYU has enough money to venture off as an independent in football and not sweat. Few schools could do this. BYU also has a lengthy list of NCAA tournament appearances (25) but never reached a Final Four.
And BYU is possibly headed for a seed on the two or three line while Davidson under Curry in 2008 was a No. 10.
But there is a similarity between the two special talents.
Fredette is the focus of his team every game, and for every opposing scout, yet he still is putting up monster numbers. And he's a fantastic shooter.
Curry had to deal with the same and was characterized in a similar light as a specialist at times.
How much is what Fredette is doing for BYU similar to what Curry had to deal with at Davidson?
"You have to have that competitive spirit and know that you're going to be defended very hard and physically," said Dell Curry, Stephen's father, who was a shooter himself in the NBA in Charlotte (then Hornets) and is now working as a broadcaster for the Bobcats. "The opposing team is doing whatever it can to take you out [of what you're doing]. You have to be a smart player, tough minded and [know] how to use your teammates."
And while the spotlight continues to shine on Fredette because of how much he is dominating the point production of his team, it is a credit to his teammates that they fully understand he needs to be fed.
"Your teammates have to buy into the system," Curry said. "There can't be any animosity or jealousy because you need this guy to play well for us to be successful. That's the bottom line."
And that's what worked so well for Davidson in getting to the Elite Eight and a possession away from beating Kansas en route to the Final Four in 2008.
"He had a great group of teammates," Davidson coach Bob McKillop said. "It was a powerful mixture for us. They worked to get him shots."
McKillop cited Curry's unselfishness when Loyola (Md.) coach Jimmy Patsos basically huddled his squad around Curry in the corner, challenging the other four players to beat his team.
"And they did and we won by 20," McKillop said. "How many guys in the country that have a chance to lead the country in scoring would make that kind of sacrifice? He just sat there in the corner holding the double-team. That was the special nature of Stephen."
Fredette does have a better supporting cast. Jackson Emery is more than capable of making 3s in bunches. Brandon Davies has emerged as a solid face-up 4 and Noah Hartsock can convert putbacks. But Fredette did take 24 of the team's 56 shots in the win Wednesday over San Diego State, scoring 43 of the team's 71 points.
[+] Enlarge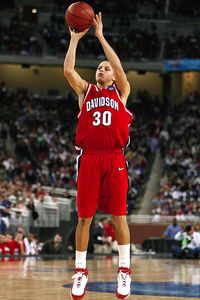 Gregory Shamus/Getty ImagesStephen Curry nearly led Davidson to the Final Four in 2008.
Stephen Curry proved with his play for the Warriors and USA Basketball that his game could transition to the NBA. It didn't matter that he played at a lower-level or that he was slight of build.
Dell Curry isn't worrying about Fredette's 6-foot-2 size, either.
"He has wonderful form," Curry said. "Regardless of where he's at on the court, every shot is the same. He has unlimited and unbelievable range. That's what makes him so dangerous. You can't let your guard down at all. He's very crafty and he knows when and how he wants to shoot it. I may be biased but any time you can shoot the basketball there should be a place for you on a team. In the NBA, you don't see a lot of shooters. I think Steph is more of a point guard but in the right system. [Fredette] is a guy who can shoot the basketball and there will be a place for him in the league."
But like Curry, Fredette can lead the Cougars deep in March, even with every opposing scout focusing on him. He is essentially always open, with the ability to light up an opponent, bail out bad offense and change the momentum of a game.
"It gives you great confidence as a coach," McKillop said. "It makes your other players better than they really are. Because of Stephen's presence he was able to get open looks for other people. Bryant Barr hit [three] 3s against Kansas. He was a capable shooter but he got open because of Steph."
Emery may benefit from that in March from Fredette. And if not there's a good chance Fredette can take and make the shots even when he's defended well -- just like Curry.
October, 27, 2010
10/27/10
11:11
AM ET
Butler has maintained excellence for more than a decade through various coaching changes. It's still riding the wave of being one basket away from a national title and has the pieces to make another deep run in March.
Out West, Gonzaga has continued to be a Top 25 and NCAA tournament regular for a dozen years under Mark Few.
These programs aren't fading from the national scene.
But like George Mason -- which hasn't exactly been a player on the national scene since its magical run in 2006 -- Davidson could be viewed as a one-year wonder, a program that caught the sport's heart and then dropped back into relative obscurity.
Davidson's Stephen Curry-led run to the Elite Eight in 2008 was similar to George Mason's Final Four appearance two years earlier. The Wildcats were within a whisker of upsetting eventual national champion Kansas and earning a trip to San Antonio.
Curry returned the following season, but his ankle injury left the Cats short of the NCAAs, and the season ended in the second round of the NIT. And the first year of the post-Curry era was humbling. Davidson finished 16-15 overall (11-7 in the Southern Conference), didn't play in the postseason and suddenly became an afterthought behind Wofford and the College of Charleston.
Lacking consistency from one year to the next in the NCAAs can make fame fleeting for programs outside the power six leagues. Failing to make the NCAA tournament again with Curry was a crushing blow to Davidson's image.
"We had a good run after the Elite Eight, winning 25 [regular-season games and finishing with 27 wins overall]. But if Stephen doesn't get an ankle injury maybe we play Butler differently [in a late BracketBusters game in which Curry was 6-of-23 in a 12-point loss] and maybe we [play better] in the conference tournament," said Davidson's longtime coach, Bob McKillop. "We had enough holdovers and connectors and role players [from the Elite Eight] to do damage that next year, but without Stephen full strength …."
And without Curry at all last season, the Wildcats really struggled to find an identity.
"We carried some of the swagger [into the season], but once we started losing games we didn't have Stephen to rely on anymore and we fell to a mediocre year," McKillop said. "You need to have a caliber of a player like Curry and that doesn't happen every so often. It's difficult to stay at the elite level. That's the elusive goal at our level. You don't want to be a shooting star. You'd rather be a shining star of excellence. George Mason hasn't had the elite level of success since the Final Four."
[+] Enlarge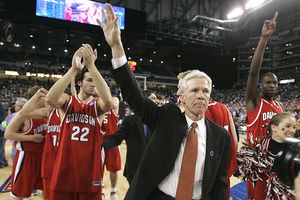 AP Photo/Michael ConroyCoach Bob McKillop is still around, but not much else is left from Davidson's memorable 2008 tourney run.
But McKillop -- much the same way George Mason's Jim Larranaga has done -- doesn't want to cut the ties from the Elite Eight run. He wants to embrace it as much as he can without expecting the Wildcats to duplicate.
"You can't detach yourself from the history that put you on the national level," McKillop said. "I don't ever want to detach ourselves from that."
Only two players from that team remain on the roster: senior point guard Brendan McKillop (the coach's son) and junior forward Ben Allison.
This season's team will have seven or eight sophomores or freshmen in the rotation, and if the Wildcats are going to challenge the new elite in the SoCon, McKillop said it will have to be behind sophomore guard J.P. Kuhlman and sophomore forward Jake Cohen.
"This will be one of our most talented rosters in my 22 years here, but it's also one of the more inexperienced," McKillop said. "How quickly they mature will depend on how good we can become."
Curry was a draw, and his team was a made-for-TV entity. Those games have essentially ceased, although the Wildcats will get a chance to be on display in the Puerto Rico Tip-Off next month with a first-round game against West Virginia. Vanderbilt plays Nebraska in the other matchup in that bracket with North Carolina-Hofstra and Minnesota-Western Kentucky on the other side of the bracket. That field was set two years ago.
"People want to see a success story, and we had a good chance to win and that's why that happened [in scheduling]," McKillop said. "That has all died down. There's nothing we can do about that now."
Gonzaga and Butler are on another plane, established high-major programs despite playing in leagues that are mid-major in financial terms and tournament success. The rotation of teams that have made runs out of the Missouri Valley, the CAA and SoCon have struggled to maintain their momentum on the national level. But that is the nature of their lot in this sport -- get a star or a team that sticks together, make a run and become a drawing card for a year or two and then slip back to the pack for a bit.
The top of the Southern Conference is improving and that can only help push Davidson. Teams responded when the Wildcats were dominant and garnered national attention, something that occurred in the West Coast Conference and Horizon in response to Gonzaga and Butler.
"This is the strongest I've seen the Southern Conference," McKillop said. "We're not starting at ground level. But the margin of error in our league is ever so slight. Wofford battled Wisconsin in the first round last season [53-49 loss] and that is an indicator how strong our league is. Charleston is going to be as strong as it has ever been now that Bobby [Cremins] has been there for a few years and they've got a candidate for player of the year [Andrew Goudelock]."
McKillop said the preseason has been great so far. He loves his newcomers, especially freshmen Tom Droney (a 6-foot-6 forward from Pittsburgh) and De'Mon Brooks (a 6-7 forward from Charlotte), whom he said "is one of the steals we've had in my tenure here, other than Stephen. He's really good. He's really explosive with two or three jumps in him. He's high-energy, a quick learner and has a real sense of how to play the game."
Now the trick is to turn someone like Brooks into a star and ensure that Davidson isn't just a flash in the sky, but instead stays bright for quite some time.
McKillop has pulled off that trick before, of course, and he'll need to do it again. The 60-year-old coach could have chased a higher-profile job after the Elite Eight, but like Curry decided to stay put in Davidson, N.C., where he's been since 1989.
"I love the challenge," McKillop said. "I'm more energized than I've ever been."
September, 22, 2009
09/22/09
12:44
PM ET
Maybe no team needed a summer trip more than Davidson, as the Wildcats attempt to get through a season without
Stephen Curry
.
Taking the trip to Italy and Slovenia in August allowed the Wildcats to learn to play without their former All-American. So when Davidson convened for the first team practice last week, there was no reason for introductions of new roles.
"We got a taste of what it was going to be like," coach Bob McKillop said. "We needed that then, rather than find that out in November. The timing of having to understand how to play without Stephen was good."
In Europe, Will Archambault led the Wildcats with 18.5 points a game, with Bryant Barr scoring 15, Aaron Bond 14.3 and Brendan McKillop 12.1.
"We learned we're going to have to have an equal opportunity offense," McKillop said. "We can't have guys stand around waiting for Steph to shoot it. They all have to swing the bat."
McKillop originally was slated to coach the Under-19 USA Basketball team in the FIBA World Championship in New Zealand. He coached the U.S. to a silver medal in Argentina the previous summer. But McKillop opted to stay home once Curry declared for the NBA draft. He needed to figure out how his team was going to respond without its superstar.
Steve Rossiter, who will be the team captain, averaged 7.8 points and nine rebounds a game on the trip, and his leadership was noted by McKillop. Rossiter was a classic role player to Curry a year ago and didn't hesitate to take over the more vocal aspects of being a team captain this summer.
"He was a valuable role player on the [2008] Elite Eight team and has experience winning games," McKillop said.
A number of players on this squad were a part of the Elite Eight team and have been consistent winners in the program. That shouldn't change, although Davidson won't be picked to win the league with College of Charleston being the likely favorite.
McKillop, who is a proponent of taking a foreign trip every four seasons and has the full backing of the administration on these trips, said the Wildcats might never have another star like Curry.
"But we never had that in my 20 years at Davidson outside of Stephen," McKillop said. "We have tremendous balance and we will have experience and now we have six games under our belt [the Wildcats went 4-2]. We have an understanding of what it takes."
McKillop isn't slinking back into things with the schedule, either. Davidson isn't a marquee squad without Curry, but there is still interest. Davidson is in the Charleston Classic with teams such as Miami and Penn State, is in the Holiday Festival with St. John's, is playing Gonzaga in Seattle, travels to Butler, and plays host to UMass and Rhode Island.
"It's an aggressive schedule," McKillop said.
The hope is that Frank Ben-Eze, who played in 22 games and averaged 7.6 minutes and 1.3 points, will be cleared for practice on Oct. 16. He didn't make the trip to Europe because of a knee injury. The Wildcats need Ben-Eze to be a vital part of the board work inside.
Easing the pain of losing Curry for McKillop is how much the team has become his family, with son Brendan expected to be a major player for the Wildcats in his junior season, and son Matt on the bench as a full-time assistant coach.
"I've got one on the bench, one on the court," McKillop said of his sons. "I'm pretty lucky to have this opportunity to share it with my boys."
• North Dakota State will unfurl its NCAA tournament banner and hand out its NCAA rings at its Midnight Madness ceremony Oct. 16. The Bison were a classic March Madness story last season, earning their bid in the first season they were eligible. NDSU coach Saul Phillips and former coach Tim Miles had the plan to redshirt a class, knowing that in the seniors' fifth season of eligibility they would be primed for a Summit League title run. Senior Ben Woodside was the key member of this class, averaging 23.2 points a game.
"We graduated the No. 1, 2 and 7 all-time scorers, but we've still got four seniors left on the roster and we're still thinking of redshirting players again," Phillips said.
Oakland will be picked as the favorite to win the league, but the Grizzlies and Bison have different approaches to scheduling. Oakland plays a crazy slate of games at Wisconsin, Kansas, Memphis, Michigan State, Oregon and Syracuse in a 30-day period. Meanwhile, the Bison play a much more manageable slate with road games at Utah Valley, UC Davis, Fresno State, Wichita State and Iowa State. They might not win more than two of those, but this team shouldn't lose any confidence. Phillips is doing a solid job of getting some home games, too, with improving Idaho of the WAC and Horizon League teams Green Bay and Milwaukee making the trip to Fargo, N.D.
• The Spokesman-Review of Spokane, Wash., put out the good word from Gonzaga and the Zags' staff confirmed Tuesday that Canadian Bol Kong is enrolled on campus and eligible for this season. The Zags have anxiously awaited Kong's arrival since the former Sudanese national had visa issues going from Canada to the United States. Kong, a 6-7 forward, is expected to be a talent for the Zags, but his role will be a complementary one. Meanwhile, the bigger get is that German Elias Harris, who is expected on campus this week, is eligible, as well. Harris, who was playing with the German national team, could be a starter this season. Harris, a 6-7 forward, is the talk among the staff. He is a scorer who won't steal the headlines from Matt Bouldin or Steven Gray but is expected to be a major contributor from the opening tip. Kong had to be on campus and enrolled in class by this past Friday to make the deadline to be eligible this semester (12 class days after the semester starts). Harris received an exemption because he was playing on his national team.
• Blue Ribbon put out its Missouri Valley predictions, and if Wichita State is the seventh-best team in the Valley, it could be another banner season for the league. The rankings were hard to argue against at the top with Northern Iowa, Illinois State, Creighton and Southern Illinois as the top four. Indiana State and Bradley were five and six before the Shockers at No. 7. Drake, Evansville and Missouri State wrapped up the bottom three. WSU coach Gregg Marshall has the Shockers on the verge of being quite a pest this season, and they could cause some havoc in the CBE Classic when they play Pitt in the semifinals in Kansas City, Mo. Don't be surprised if Iowa, not Wichita State, is the team that leaves the event winless. Texas plays the Hawkeyes in the other semifinal.