Category archive:

Dayton Flyers
June, 27, 2011
06/27/11
9:34
PM ET
Quick hitters for Monday:
• The speculation about whether 6-foot-10 Andre Drummond, the No. 1 player in 2012 (currently at St. Thomas More School in Middletown, Conn.), could end up playing in the fall at UConn is over. It's not happening. According to Drummond's representatives, including his mother, he will not be in college this fall but will instead go for a post-graduate year. That plan is St. Thomas More for now. There had been plenty of chatter about the possibility that Drummond could be ready for the Huskies in the fall, but that point is moot. He hasn't committed to UConn, either. He's a serious player for Kentucky, North Carolina and Florida. And according to ESPN's recruiting site, he's still considering Pitt, Georgetown and Duke. Drummond will likely be shadowed by the aforementioned schools' head coaches at various stops in July. He'll be in Indianapolis on July 6-9; in New England at various events, including Springfield on July 10-18; in Las Vegas July 22-26 and Orlando on July 27-Aug. 1.
• As a preseason top-25 team, Cincinnati's nonconference schedule is certainly worthy of criticism. But coach Mick Cronin makes a good point in the difficulties of getting into the elite tournaments as a Big East team. Tournaments are not allowed to take two teams from a conference, and a team can return to a tournament on a four-year cycle. That makes it very tough for a team like Cincinnati, which doesn't have as high a profile, to move ahead of teams such as Connecticut, Syracuse, Georgetown and Villanova for some of the elite tournaments. Pitt has chosen to stay away from the neutral-site events of late, so that takes the Panthers out of the mix for a Maui or Orlando event. That's why Cronin elected for a makeshift, multi-team event. He landed Marshall as a partner, and the Thundering Herd will be a viable contender for second behind Memphis in Conference USA. Still, the schedule, which includes Xavier (an annual series), at Georgia, Oklahoma and Marshall, could have used at least one more given top-25 team. Xavier is the only squad on this list that the Bearcats can comfortably say will be an NCAA tournament team -- as of now.
• Bruce Weber is in a no-win situation at times at Illinois. He lands an elite player such as Jereme Richmond, and it's a big deal. And then the player ends up failing to have a major impact and bolts for the NBA draft, only to go undrafted and have a relative spout out about how he was wronged. I won't be surprised at some point if Weber pulls a Herb Sendek and takes another gig to restart the career.
• John Calipari's contract with Kentucky is another indicator that we've entered a new era when the Wildcats will continue to be in step with any other elite school for the top recruits. I just don't see that ending anytime soon.
• Dayton was tabbed as the site for the First Four in 2012 and 2013. The NCAA men's basketball selection committee is spending the week in Utah also discussing the issues that arose from the First Four. Clemson shouldn't have been forced to go from Dayton to Tampa inMarch and play an early game. If a team has to travel to a different part of the country, then there must be consideration given for the start time of the game.
• The NCAA should look into other venues, though, such as the Palestra.
• The NCAA is selling that VCU went to the Final Four through Dayton's First Four. If it continues, then we've entered a new era in the tournament.
• Butler assistant Matt Graves lost out to BC assistant Joe Jones for the Boston University job. This confirms former Butler assistant Micah Shrewsberry's claim that it's hard to become a head coach as an assistant out of a Horizon League-like conference, including Butler. Jones was down the road as a head coach at Columbia. Obviously I wasn't in the interviewing process, but it's hard to compare that with the recent success of Butler, which is coming off consecutive national championship game appearances. Well, there is no comparison.
• The NCAA will do the right thing in allowing Michigan to help Austin Hatch in any way it can during this horrific tragedy. Hatch is struggling for his life after going through the second plane crash in his young life. Hatch recently committed to the Wolverines for the 2013 season.
• It will be interesting to see how USA U19 handles being blitzed by Lithuania's U20 team in an exhibition game 101-72 on Sunday in Panevezys, Lithuania. Michigan's Tim Hardaway Jr. came off the bench to score 18 points for the Americans. Butler's Khyle Marshall didn't make a field goal (0-for-7). This tournament will be critical for Marshall, UConn's Jeremy Lamb and Michigan State's Keith Appling to prove they can shoulder more responsibility. Lamb was 2-of-6, and Appling missed his only two shot attempts. Memphis' Joe Jackson did have a highlight dunk toward the end of this clip. Jackson scored 13 points and was 5-of-13 from the floor.
April, 12, 2011
04/12/11
5:56
PM ET
Quick hitters on a Tuesday morning:
• Bill Grier had a clause in his contract to succeed Mark Few at Gonzaga. It was an agreement that the two and athletic director Mike Roth had agreed to years ago, but once it became clear Few wasn't going anywhere, Grier got his own gig at the University of San Diego.
Grier is one of the most well-liked coaches I've come across and has a slew of friends in the business. I've never heard an ill word about him from anyone.
[+] Enlarge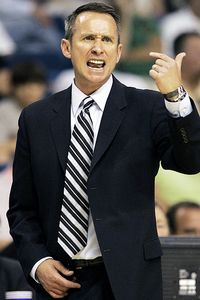 AP Photo/John RaouxThings have gone south quickly for Bill Grier and USD.
That's why it's difficult for so many to witness what has happened at USD over the last few seasons. The bad run that has befallen Grier since the Toreros upset Connecticut in the 2008 NCAA tournament -- Grier's first season on the job -- is hard to fathom.
His teams have fallen off the map on the court, following that NCAA tourney momentum with a disappointing 16-16 season, then 11-21, then a horrific 6-24 this past season. The Toreros did have one highlight this season, beating Saint Mary's at home when the Gaels were atop the WCC. But there have been costly defections, notably losing the team's top rebounder and inside presence in Rob Jones to the rival Gaels.
And now this -- a point-shaving scandal that led to the arrests of former assistant coach Thaddeus Brown and the school's all-time leading scorer, Brandon Johnson.
There is no way anyone could have guessed that this quaint Catholic school up on the hill in a scenic part of San Diego would be a part of such a sordid scandal.
This is a crushing blow for the West Coast Conference, which had been on a roll as of late. BYU joined the league and just locked up coach Dave Rose with a lucrative new deal. Gonzaga continues to roll along. Saint Mary's survived another coaching carousel and kept Randy Bennett. And now USD, the worst team in the league, is embroiled in a scandal.
Grier wasn't named in the charges, nor is there any indication that he had any knowledge of the schemes. But Toledo coach Stan Joplin wasn't involved in a point-shaving scandal at that school, either. He was fired there because of a losing season, not the point-shaving scandal. But he's also still trying to find a job.
So the emotional stress on Grier has to be daunting. He was trying to rebuild the program in anonymity and now that's not possible. The point-shaving scandal will keep the spotlight on the Toreros -- and it's not a spotlight any program wants to be under.
• BYU really had no choice but to re-sign Rose. Athletic director Tom Holmoe couldn't afford to lose his successful head coach at a time when the Cougars are entering unchartered waters in the move to the WCC.
• If Reggie Theus can't get the head-coaching job at his alma mater, UNLV, where exactly is he going to get one? Theus was a successful coach at New Mexico State, making that program relevant again. He had a tough situation with the Sacramento Kings. The former Rick Pitino assistant at Louisville should be applauded for working his way up, instead of expecting a free pass to a head-coaching job. He's an NBA assistant now and desperately wants back in college, but can't seem to get a serious sniff outside being considered by UNLV and USC.
• Miami's Reggie Johnson declared for the NBA draft but didn't sign with an agent. If the Hurricanes have a chance to move up the ACC standings under their new head coach, Johnson has to return.
• Archie Miller's decision to hire Kevin Kuwik as an assistant at Dayton will go down as one of his best during his career as a head coach with the Flyers. Kuwik was the video coordinator for Ohio State the past two seasons under Thad Matta. I have documented many times what Kuwik has done in his career, from serving two tours in Iraq with the Indiana National Guard while an assistant at Ohio to his best work, helping change commuter airline legislation after the tragic death of his girlfriend Lorin Maurer and the other victims on Continental Flight 3407 from Newark, N.J., to Buffalo two years ago. Matta's decision to have the Buckeyes wear 3407 patches the past two years to honor the victims was one of the best gestures I've seen in my two decades of covering the sport. It was all class. Ohio State will miss Kuwik, but he deserved a chance to be a full-time assistant. Few will work harder. Dayton got better the moment Kuwik got the job.
• Baylor will almost certainly be in the preseason top 25 now with the surprising return of Perry Jones III. But let's not dismiss the importance of losing LaceDarius Dunn. The Bears had some leadership issues on last season's team and really didn't beat anyone of significance all season. There is still more work to be done, but getting Jones back was huge.
• I'm not sure you'll find a state without a major league baseball team that has more of a divide than Connecticut does with the Red Sox and Yankees. And that's why it was fitting that the national champs decided to split the first-pitch offers from the Red Sox and Yankees. Die-hard Sox fan and Boston-area native Jim Calhoun was in his element throwing out the first pitch at Fenway Park. Kemba Walker and the players will do so at Yankee Stadium on Wednesday. Calhoun won't be in the Bronx and the UConn players weren't at Fenway. The majority of the players, save Alex Oriakhi and Shabazz Napier, are Yankees fans.
• In case you didn't notice, BYU's Jimmer Fredette won every player of the year award. Seems like that went by quietly as Fredette took home the Wooden, Naismith, Oscar Robertson, Rupp and AP national player of the year honors. I thought at some point there would be one that would go to Walker, but Fredette swept all of them. Both Fredette and Walker should be applauded for how hard they worked to get to the top of their sport this season.
July, 8, 2010
07/08/10
9:38
PM ET
Credit Duke coach Mike Krzyzewski for giving college upperclassmen more opportunities to not only get seen, but to improve for a quick sojourn in Las Vegas later this month.
The USA Basketball experience at the national team level has become an NBA deal.
But according to Syracuse coach Jim Boeheim, an assistant on the national team since 2006, Coach K pushed to solely fill the USA Select Team that will compete against the national team with collegiate upperclassmen.
"Hopefully we didn't miss anybody," Boeheim said. "The only reason this is happening is because Mike made sure of it. It's a great thing to get the college guys exposure and a chance to play like this."
Boeheim met with the junior national team committee last month to come up with a roster, combing through some of the nation's elite upperclassmen. Incoming freshmen like Harrison Barnes (North Carolina), Jared Sullinger (Ohio State) and Kyrie Irving (Duke) have already been on a USA team (Irving just won gold in San Antonio at the U18 tournament last month) or will likely get the opportunity shortly when they're in the NBA.
But giving these upperclassmen a chance to compete for the United States and improve their all-around games this summer was a must. Potential star seniors like Purdue's Robbie Hummel (knee surgery), Michigan State's Kalin Lucas (Achilles) and Northwestern's Kevin Coble (foot) were all still rehabbing and not ready to be invited to the event.
Boeheim said they tried to include all of the top players heading into next season, but there were some omissions like Washington's Isaiah Thomas, Ole Miss' Chris Warren, Michigan State's Durrell Summers, Colorado's Alec Burks and Virginia Tech's Malcolm Delaney. They all have legitimate gripes for not being on the roster.
Washington coach Lorenzo Romar, who, along with Villanova's Jay Wright, will be a co-head coach during the July 19-24 training camp in Las Vegas, was a bit miffed at Thomas being left off the roster. Still, Romar, who was back from Germany on Thursday after watching the U17 team compete at the world championships, is looking forward to the opportunity to coach an all-star collegiate team for a week.
Despite some omissions, the roster is still a who's who of potential stars for this season:
Lavoy Allen, Temple: Should compete for A-10 Player of the Year honors with Richmond's Kevin Anderson.
William Buford, Ohio State: Should be the go-to shooter for the Buckeyes as they learn to play without Evan Turner.
LaceDarius Dunn, Baylor: Will have to go solo without Tweety Carter in the backcourt, but has Perry Jones instead of Ekpe Udoh to help form an elite outside-inside combination.
Jimmer Fredette, BYU: Fredette is having a terrific summer so far and his game is improving daily. His shooting will get him drafted and if he can prove in Vegas that he can defend, it will help his stock even more.
[+] Enlarge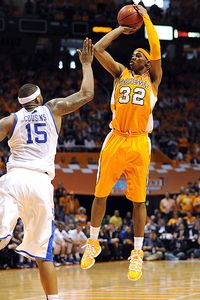 Don McPeak/US PresswireOnce a McDonald's All-American, will Hopson make "the leap" to stardom this season?
Scotty Hopson, Tennessee: Hopson could really step out and show NBA personnel that he can be a deft shooter for the Vols during the season.
Scoop Jardine, Syracuse: This is an interesting selection, but with Boeheim as the chair of the committee it makes sense to give Jardine a shot. He should be one of the better point guards in the Big East.
JaJuan Johnson, Purdue: Johnson decided against declaring for the NBA draft and should be one of the top shot-blockers this season as he tries to lead the Boilermakers to the national title.
Jon Leuer, Wisconsin: Leuer's profile continues to rise. He'll be the go-to player for the Badgers, a Big Ten Player of the Year candidate and an NBA draft pick next year.
Shelvin Mack, Butler: He could and should be one of the top guards in the country. Mack has a pro body and will only increase his scoring load without Gordon Hayward. This is another golden chance to prove to the NBA how good of a pick he will be in a year.
Marcus Morris, Kansas: KU coach Bill Self said Morris is a star in waiting. Morris will get his shot at proving that to everyone in Las Vegas.
Jacob Pullen, Kansas State: Pullen is a shooter and will need to be on the ball even more without Denis Clemente. This should provide good preparation for him.
John Shurna, Northwestern: Shurna got plenty of pop for making the gold-medal-winning U19 team last summer. He continues to grow into top talent in the Big Ten.
Kyle Singler, Duke: Singler enters the season as one of the favorites for national player of the year honors. He made a sound, intelligent choice to remain in school as he rounds his game out even more.
Chris Singleton, Florida State: Singleton is a very solid defender, and if he's a real leader he could be the reason the Seminoles stay relevant this season.
Nolan Smith, Duke: Smith might be the best late-clock shooter on this team and in all of college. If he plays well here, he'll certainly improve his draft profile. He's one of the reasons Duke could win the title again.
Trey Thompkins, Georgia: The Bulldogs are my sleeper pick this season and a lot of it is because of Thompkins. He blossomed for the U.S. last summer and is getting another shot to prove how much he has developed.
Mike Tisdale, Illinois: Tisdale cut late last summer by USA Basketball. He gets another shot to prove he belongs in this group. He's long and lanky as well as a good shooter, but he'll have to prove that he can board and defend against strength.
Kemba Walker, Connecticut: The Huskies will be his team next season. He can fly up court, but has to learn to play under control in order to be an NBA-level player.
Chris Wright, Dayton: Wright flew under the radar a bit and this could give him plenty of opportunities to raise his profile if he can play well during this week.
Tyler Zeller, North Carolina: The Tar Heels will be led by Barnes and John Henson, but Zeller still has NBA skills with his fundamentals, size and reach. But during this week, he needs to prove that he is durable.
You'll notice that no Pitt players like point guard Ashton Gibbs or big man Gary McGhee are on the roster. That's because the Panthers will be in Ireland on a summer trip.
It is unknown as to how many scrimmages this select team will have against the national team, which is prepping to go to the World Championships in Turkey next month.
"This is a great opportunity for these guys to go out and play and get a little bit of structure," Romar said by phone from Cleveland's King City Classic. "They'll be playing against great players."