Category archive:

Detroit Titans
November, 10, 2011
11/10/11
6:51
PM ET
The elite powers have resurfaced at the top of the Top 25 and across the high-major conferences.
A few schools, like Xavier, Gonzaga and Memphis, as well as newcomers Baylor, Marquette and Vanderbilt are expected to challenge with deep NCAA tournament runs and possible Final Four berths.
But what about the programs that missed the NCAA tournament a season ago? The ones that appear destined to rise this season?
A run to New Orleans might not be prudent to predict. But then again, no one had VCU headed to Houston last April. But even the Rams didn't have a consistent regular season. VCU squeaked into the field and then enjoyed a magnificent postseason run. Connecticut, another team that had been nearly as erratic, albeit against superior competition, won the national title.
Below are 10 programs headed for breakout seasons. If they fall flat, they may have no one to blame but themselves. The talent is in place. The landscape is open. And the opportunity exists for any team in this group to make the bracket its own for a weekend or two in March.
Oklahoma State: The Cowboys are picked to finish in the middle of the pack in the Big 12 -- and with good reason. Baylor, Texas A&M, Kansas and Missouri should all be deemed favorites. Texas arguably could finish higher than the Cowboys. But Oklahoma State has one of the top freshmen in the country who few discuss outside of the region in LeBryan Nash. He could be a star by midseason. Oklahoma State coach Travis Ford has assembled a cast that is more apt to run this season and cause havoc the way he's envisioned. The Cowboys have a loaded schedule after picking up a challenging game versus Pitt at Madison Square Garden on Dec. 10. Oklahoma State may still finish as low as fifth or sixth in the Big 12. But if they get into the NCAA field, consider the Cowboys a potential breakthrough team with an ability to cause problems in March.
Marshall: Memphis is the clear favorite in Conference USA. But the Thundering Herd have two guards -- DeAndre Kane and Damier Pitts -- who can match up with any of the players on the Tigers. Marshall has plenty to prove to be worthy of a team that should be taken seriously. There are a number of nonconference games -- Belmont, Iona, West Virginia and Cincinnati -- that will show if Marshall is worthy of significant hype. And of course the Herd must make Huntington a tough place to play and be consistent to nudge at Memphis throughout the winter. If Marshall does that, you'll take the Herd seriously in March.
Harvard: The Crimson are the pick to win the Ivy. They technically won a share of the regular-season title with Princeton last season. But Harvard lost the playoff game against the Tigers on a buzzer-beater and then got blasted at Oklahoma State in the NIT. Harvard is finally ready to be the Ivy leader from the season's start to its finish. Coach Tommy Amaker has the core of his team returning, and Harvard can compete with most teams in the country. Keith Wright is a legit All-America candidate. Kyle Casey, Brandyn Curry, Christian Webster and Oliver McNally are all experienced. The Crimson can make a name for themselves with a win at Connecticut on Dec. 8, easily the most recognizable game on the schedule. But if not, don't fade on Harvard during the winter. This team will be relevant in March and a trendy first-weekend upset pick.
Detroit: Slaying Butler in the Horizon League has been like the search for the Holy Grail for conference opponents. Milwaukee thought it had the Bulldogs beaten when it hosted the conference tournament title game, only to lose. Detroit has the personnel to dethrone Butler, even with Eli Holman's status in doubt. The majority of coaches in the league tab the Titans as the team to beat and the most talented with Ray McCallum Jr., Chase Simon, Nick Minnerath and Doug Anderson. Members of the Valparaiso staff said last week that the Titans look like a formidable Big Ten team when they step on the court. Detroit has the opportunity to make the NCAAs with a solid schedule. Get there, and the Titans will be a hard out.
Creighton: Greg McDermott was no fool when he left Iowa State on his own terms and seized the Bluejays' job once Dana Altman went to Oregon last year. McDermott had been in the Missouri Valley at Northern Iowa and seen the success and potential of arguably the top job in the conference. The Bluejays have a number of hidden gems who are flying under the national radar in Doug McDermott, Greg Echenique and Antoine Young. The problem for Creighton is that the schedule could have been stronger. It may need to have a significant run during the Valley tournament, which won't be easy at all due to the strength of Wichita State and Indiana State, to ensure a bid. But once they're in, the Bluejays have the personnel in the right positions to be a serious pest.
New Mexico: Coach Steve Alford is going through a bit of a renaissance in Albuquerque. The Lobos had a big-time run two seasons ago but then took a dip last season. The ability to bounce back quickly will be on display in 2011-12. Alford has found the right mix of four-year transfers (Drew Gordon and Demetrius Walker), hidden gems out of high school (Kendall Williams and A.J. Hardeman) and an international sharp shooter (Australia's Hugh Greenwood) to put together a conference champ. The Lobos will have to manage the nonconference well and get past UNLV, but this team has the ability to be a second-weekend squad in the tournament.
Saint Louis: Rick Majerus had a horrendous personal year with the death of his mother and multiple injuries and illnesses. He's also had to deal with the suspensions of his two best players. But he seems energized this fall and has a team that is committed to making serious strides in the A-10. Kwamain Mitchell is back after a suspension. He joins Mike McCall and Kyle Cassity as the core of this team. Majerus put together a challenging slate of nonconference games, giving the Billikens ample tests to see if they're worthy of the praise. Xavier and Temple are the standards in the A-10. St. Bonaventure is a legitimate upstart with perhaps the best all-around player in the league in Andrew Nicholson. But Saint Louis should a formidable team, poised to get Majerus back to the NCAA tournament.
Virginia: The plan at Washington State was to get players out of high schools and take chances, in hopes they develop and reach their potential. The Cougars did, and Tony Bennett got them to the NCAA tournament. Wazzu's program isn't close to Virginia's. The Cavs have more resources, finances and access to players. Still, Bennett hasn't deviated from his plan. And now that Mike Scott is healthy inside, Bennett has a team that gets him, his style and his commitment to defense. The Cavs should be able to score and close games, rather than sit on the doorstep, unable to get significant wins. The timing is perfect for Virginia, too. The ACC is in a rebuilding mode outside of North Carolina, Duke and to some extent Florida State. The rest of the league is in flux, giving Virginia ample chances for wins and to establish itself as a top-four team en route to the NCAAs.
Oregon: The Ducks have the Nike resources, the state-of-the-art everything and have been consistently recruiting talented players to the Northwest from urban centers in the Midwest -- regardless of the coach. Dana Altman also fully understood the need to infuse a few transfers, one is a risk in Wake Forest's Tony Woods, and another is a lock for success in Louisiana Tech graduate Olu Ashaolu. The infusion of newcomer Jabari Brown, who was a hit on a summer trip to Italy, is a game-changer for the Ducks. Altman said Brown still needs to be consistent, but who doesn't at this stage in the season? Oregon has a challenging schedule, which includes opening at Vanderbilt, so be patient with the Ducks. In a Pac-12 where there is no clear favorite (not Cal, UCLA, Washington or Arizona), the opportunity is there for Oregon to surprise. The Ducks won the CBI tournament over Altman's old team, Creighton. The natural next step will be the NCAAs.
Long Beach State: Dan Monson has had a long road back to the point where he feels comfortable in the game. He left Gonzaga to try to rebuild Minnesota after NCAA violations. He wasn't able to turn that program around on a consistent basis. Now he's done that at Long Beach State. The 49ers were atop the Big West last season but didn't win the conference tournament. Long Beach will have to fend off Orlando Johnson and UC Santa Barbara again, but with Casper Ware and Larry Anderson, the 49ers should prevail. Long Beach has a monster nonconference schedule that could set up an at-large berth if it falls short in the Big West tourney. Long Beach will have the talent to win a game in March.
November, 3, 2011
11/03/11
4:26
PM ET
Butler lost its exhibition opener Wednesday night 53-50 to Northern State.
But that won't change the opinion of Detroit's Ray McCallum or most of the coaches in the Horizon League.
The Titans may have the most talent, but the Bulldogs are still the pick to win the conference.
"They've gone to the national championship game two straight seasons,'' said Valparaiso coach Bryce Drew, who is entering his first year as head coach after serving as a Valpo assistant. "It's hard not to pick them to win the league. They still have some of the best talent in the league.''
The common theme among the league's coaches is that if Detroit senior center Eli Holman is playing, the Titans can dethrone Butler.
But he won't be playing -- at least for the immediate future. McCallum said Wednesday night that Holman is still not with the team after being removed from all team-related activities in late September. The Varsity News reported on Sept. 28 that Holman assaulted a student in mid-September. Holman led the team in rebounding (9.8 ppg) and was third in scoring (11.8) last season. Take Holman, a former Indiana recruit for Kelvin Sampson, out of the lineup, and the Titans remain formidable. But they lose their inside presence.
"Eli is still away from the team right now, and he's trying to work his way back,'' McCallum said.
But Detroit has the best backcourt in the conference: sophomore Ray McCallum Jr. (13.5 ppg, 4.9 apg, preseason player of the year), senior Chase Simon (13.5 ppg) and junior Jason Calliste (8.6 ppg). Add senior forward Nick Minnerath (11.2 ppg, 4.8 rpg) -- whom McCallum Sr. said will be a superb power forward who can knock down 3s -- to the mix, and the Travis Leslie-like Doug Anderson at small forward, and the Titans have a good squad. McCallum is already calling Anderson a human highlight film for his dunks.
"They're still pretty good without him, but they're not the same force inside without Eli,'' said Milwaukee coach Rob Jeter.
"I think Detroit can [knock off Butler],'' said Cleveland State coach Gary Waters. "Detroit has three of the top five players in the league. It surprised me that they weren't picked No. 1. Butler has been good for so long, and they lost the player who was the best player, in my estimation, the past four years and that's Matt Howard. [Detroit] has a very good point guard in McCallum, great size and great length. Minnerath may be the best 4-man in the league. I won't be surprised if he's leading them in scoring. They're on the verge, but they haven't completed the task. They've got the veterans now.''
McCallum isn't sold yet.
Detroit finished tied for the fifth-best record in the Horizon last season at 10-8, three games behind the three-team tie for first -- Milwaukee, Butler and Cleveland State. The Titans were one game above .500 overall at 17-16. McCallum was quick to point out that in his team's combined eight games against the four league schools that finished ahead of Detroit (including second-place Valparaiso), the Titans won only one game -- Cleveland State at home in early February.
But Detroit was picked to finish second to Butler in the preseason poll, losing out by 15 points. The Titans did receive 19 first-place votes to Butler's 28 in a vote from the conference's coaches, media and sports information directors.
The Titans had three of the five players on the preseason first team: McCallum, Holman and Simon. Butler had none.
"I'm not falling for it,'' McCallum Sr. said. "We're just crawling along from going 10th to seventh to fifth. We're getting closer, but we'll see. We haven't done it yet. We haven't done it yet. It's time for us to step up with Cleveland State, Butler, Milwaukee and Valparaiso.''
Butler has its own identity. The Bulldogs will grind out games and have a defensive mindset, and they never seem to beat themselves. They are a bear to play in nonconference and can hang with any team in the country.
Detroit must become relevant in November and December to chase Butler in February and March.
"Butler knows who they are,'' McCallum said. "[Coach] Brad [Stevens] has the program to the point where they've lost key players, and they just fill in the blanks and then they're household names. Nothing fazes them. They just go out and play the same way every night.''
McCallum isn't worried about rebounding or scoring, but consistent defense is a concern. The Titans will shoot more 3s without Holman, McCallum said, but they have to figure out who they are from the outset. Butler knows. Detroit must figure it out in order to get through a decent nonconference schedule that has the Titans playing at Notre Dame, hosting St. John's and Mississippi State, and visiting Alabama and Akron.
Jeter said Butler has always had the mindset that it can play with any team in the country. Where the Bulldogs have struggled, according to Jeter, is when the competition is mediocre.
"It seems like there is a big weight off of them, and they play a lot differently once they get to the [NCAA] tournament,'' Jeter said. "You see it when they've had to play a team like Old Dominion or Murray State early in the tournament.''
Milwaukee swept the Bulldogs during the regular season, but couldn't beat Butler when the game mattered most -- at home in the Horizon League tournament title game with the NCAA automatic berth on the line. Detroit needs to adopt that mindset of finishing off Butler when the games count.
"Butler deserves the limelight; they've earned it,'' Jeter said. "But there are teams in this league that have pushed them.''
To Stevens' credit, he has constantly mentioned how tough it is to win on the road in the Horizon League. Butler has consistently been the hunted team and easily the biggest game on the road in the league, whether it's at Youngstown State or UIC. Detroit won't get that same rep this season, even with a potential first-place team. But the Titans have to approach every game like they are the team to beat.
"We've got 11 postseason teams on our schedule, with no easy games on our schedule,'' McCallum said. "We'll be in a position to win some of those games. But we've got to approach it that we've got to win the Horizon League tournament. To go to the Big Dance, we've gone out and scheduled up this year. Hopefully it will work out for us.''
August, 10, 2011
08/10/11
9:53
PM ET
The World University Games is usually the one international competition, outside of the Olympics, the U.S. expects to win.
Elite European players aren't usually in school. And in an Olympic qualifying year, the likelihood that national teams would have top players playing in this event is low.
Still, the Americans lost this event two years ago, falling to Russia in the semifinals. The U.S. beat Israel in the consolation game to take home the bronze medal with a 6-1 mark. Host Serbia won the gold.
Purdue coach Matt Painter is well-aware of the stakes in China over the next two weeks. The U.S. is coming off a disappointing fifth-place finish at the FIBA U-19 World Championships in Latvia last month. The gold in the World University Games isn't with Team USA, either.
And that's exactly why Painter, who will be assisted by Butler's Brad Stevens and Tennessee's Cuonzo Martin, wanted to put together a team, not an all-star tour.
"We have three weeks together and we have to have the right mindset,'' Painter said prior to leaving for China on Monday. Painter was an assistant on the U-19 gold medal team two years ago in New Zealand. "It's very important to be on the same page.''
That's why he was thrilled to see two players from that U-19 gold medal-winning team on this roster in Pitt's Ashton Gibbs and Kentucky's Darius Miller.
"It was important for them to talk about their experience in New Zealand and what it meant to sacrifice minutes and how important this was,'' Painter said.
On Thursday in Huizhou, the Americans play a Chinese team called New Century in an exhibition game before pool play starts Saturday. Based on the groupings, the U.S. should win its group with the toughest challenger probably being Israel (Finland, Hungary, Mexico and South Korea are also in Group D). Host China and Brazil are in Group A; Serbia, Turkey, Canada and Australia are in Group B; and Russia and Lithuania headline Group C. The medal round is Aug. 20-22.
Here is Painter's breakdown of the 12 finalists representing the United States:
Tim Abromaitis, Sr., F, Notre Dame: "He's a very good player, and a guy that we can swing between small forward and power forward. He'll cause a lot of matchup problems for other teams.''
Marcus Denmon, Sr., G, Missouri: "When he's on, he changes the game. He can be a high-energy guy. His performances in practice have been strong. He has the potential to carry this team with his shooting and energy.''
Ashton Gibbs, Sr., G, Pitt: "He's a tough, hard-nosed player that simply gets the job done. He comes early and stays late. He's a very good shooter, can make 3s and will knock down the shots for us. He's our point like he was for us on the U-19 team.''
Draymond Green, Sr., F, Michigan State: "He's a very versatile, intelligent basketball player. He knows what's going on. He plays hard and he cares. He wants to win. He will impact the game for us.''
JaMychal Green, Sr., F, Alabama: "He's a guy that is going to have to score down low for us. He's a very talented kid. He's going to have score and rebound for this team to win.''
Scoop Jardine, Sr., G, Syracuse: "He's a very experienced player who has played in a lot of big-time games. He will help us get through the dog days of pool play to the medal round. He's a point guard who will help us and create for himself.''
John Jenkins, Jr., G, Vanderbilt: "He's a big-time shooter. He needs to score for us. He has to be aggressive. He will look for his shot and help us defensively at the 2-guard. I think we'll win the battle at the 2-guard with him.''
Orlando Johnson, Sr., G, UC Santa Barbara: "He can score the basketball. He's a good shooter, can drive the ball, post-up and pull-up with his left hand. He has to help us defensively and put points on the board. He was someone who positively surprised us at the trials. We recruited him when he left Loyola Marymount, and I'm kicking myself now that we didn't get him. He's a really good player.''
Greg Mangano, Sr., F, Yale: "I think he was the right piece for this team. He plays his role. He defends and plays post defense. He runs the court and does the little things. He could do for us what Arnett Moultrie and John Shurna did for the U-19 team two years ago -- doing key things down the stretch in the medal round. We wanted that last spot on the team to be a player with size and it came down to him and Aaric Murray [West Virginia] and Yancy Gates [Cincinnati], and we just felt that Greg would complement the other guys.''
Trevor Mbakwe, Sr., F, Minnesota: "He's tough. He's hard to handle. He's got great energy. He's got a great motor. He can really move his feet on the perimeter. He's got an impressive work ethic and a joy to coach. We were always in awe of him at Purdue. He's got brute strength and athleticism and will do a great job for us around the basket.''
Ray McCallum, So., G, Detroit: "He's so talented. His young. But he can play either guard spot and you can tell how hungry he was to make this team. He was one of the last guys we invited but he has a chance to really impact these games.''
Darius Miller, Sr., G, Kentucky: "If we throw Darius in there with Abromaitis and Green, we can play different ways. He can help us play bigger or smaller. He has really improved his shooting since we had him in New Zealand. He's going to be good against a zone, and we'll just have to find the right place to play him. He's a very good player and will help us a lot defensively.''
November, 12, 2010
11/12/10
8:05
PM ET
College basketball starts with a heavy dose of weekend games, before ESPN's 24-hour Tip-Off Marathon offers up a slew of must-see affairs Tuesday. But before looking forward, there must be some housecleaning done on a few issues. So here are my first impressions from a sprinkling of games this week: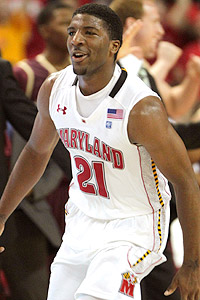 AP Photo/Rob CarrPe'Shon Howard made quite a first impression for Maryland this week.
Name to remember: Maryland freshman point guard Pe'Shon Howard
The offseason question for the Terps was who would replace Greivis Vasquez's leadership, moxie and overall late-game magic. The answer came rather quickly toward the end of the College of Charleston game. Howard made not just one, but two big-time shots to beat the Cougars. The second was all Howard, taking the ball down court and hitting a fall-back dagger of a jumper to win the game at the last second. I loved Maryland coach Gary Williams' stunned face as the buzzer sounded. He was obviously relieved, but also had to be thrilled that he had found a player who shares Vasquez's drive to do something special when the game matters most. Howard was an efficient 8-of-11 (2-of-7 at the line, though) in two games this week, scoring 19 points, dishing out 12 assists and snagging five steals.
Illinois can score: The Fighting Illini have been offensively challenged in recent years (who can forget the 38-33 loss to Penn State in '09?). But in two games this week -- albeit against poor competition -- Illinois averaged 81.5 points a game. That bodes well for a team that has plenty of talent that can push the basketball (expect games against North Carolina and at Gonzaga to be high-scoring affairs).
Texas has another stud freshman: Forward Tristan Thompson averaged 14.5 points in two games, but was even more impressive with a 17-point, seven-rebound, three-steal performance in a win over Louisiana Tech on Wednesday.
Pitt will rely on its veteran backcourt to win big: The Panthers played without injured forward Nasir Robinson in the first two games, and the consistency and production of the frontcourt is still an unknown. But Pittsburgh has two players in Ashton Gibbs and Brad Wanamaker who have matured into leaders, reliable scorers and money players in the final few minutes. Jamie Dixon can rely on these two to take over a game when needed. They carry themselves as mature young adults, ready to take the baton of leading Pitt to a possible Final Four.
Still-unresolved situations:
• Baylor coach Scott Drew said in a text message Thursday night that there had been no movement on reinstating senior guard LaceDarius Dunn for Friday's opener against Grambling State. The Bears can get by without Dunn for some time since the schedule is soft until Arizona State on Dec. 2 and Gonzaga in Dallas on Dec. 18.
• Kansas coach Bill Self said in a text Thursday night that he was hopeful there will soon be a resolution on the eligibility of point guard Josh Selby. But it didn't sound promising for the immediate future: Friday's game against Longwood and Monday against Valparaiso. Kansas starts the meat of its nonconference schedule with a rugged seven-game stretch -- Ohio, Arizona, UCLA, Memphis in New York, Colorado State, USC and at California. All of those teams, save perhaps Cal, should be in postseason contention. But the game against the defending Pac-10 champion is in Berkeley, which still makes it a difficult stop.
• Minnesota coach Tubby Smith suspended Devoe Joseph for a violation of team rules. The Gophers open against Wofford and then play Siena on Monday before going to Puerto Rico for three games, starting with Western Kentucky. Joseph is one of the better scorers for the Gophers, but this Minnesota team can take at least one suspension (unlike last season's team). In discussing this with the Minnesota staff Thursday night, I got the sense Joseph will be back sooner rather than later as long as he adheres to Smith's rules.
And now a glimpse at the weekend ahead:
Best games
No. 21 Georgetown at Old Dominion, Friday, 7 p.m. ET: The Monarchs are a CAA cofavorite, while Georgetown is a top-five Big East team. The Hoyas, who have lost two of their past three against the Monarchs, will be entering a rocking arena and will have to play well to win. This should have a February feel to it. Clearly, an ODU win will have more shelf life than a Georgetown road win. And the Hoyas have already started the season with one setback, as the school announced Friday that freshman center Moses Ayegba has to sit out the first nine games because someone who wasn't an immediate family member paid for his plane ticket to come to the United States before he enrolled in high school.
[+] Enlarge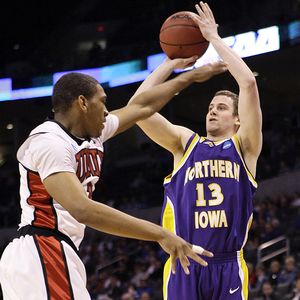 AP Photo/Tony GutierrezFresh off charming America in March, Johnny Moran and his UNI teammates open Friday at Syracuse.
Northern Iowa at No. 13 Syracuse, Friday, 7 ET (ESPN3): Don't be fooled into thinking this is the same Panthers team that upset Kansas. It's not. The Panthers lost too much of that squad to be looked at as a major threat to win at the Carrier Dome. But they will test the Orange zone. How well Kris Joseph emerges as the go-to guy and the impact of Fab Melo along the backline will be interesting developments to track.
Seton Hall at No. 22 Temple, Friday, 7:30 ET: The Pirates have been flying under the radar during all the Big East preseason talk, but still have enough talent to be a major player in the league's muddled middle. Meanwhile, Temple is the Atlantic 10 favorite and the one school at the top of the conference that has had no drama in the offseason. But a loss here at home could start the questions for Fran Dunphy's group.
Sneaky game to watch
Southern Miss at South Florida, Friday, 7 ET: The Golden Eagles project themselves as a real threat to take down Memphis in Conference USA. The Bulls are rebuilding a bit after losing Dominique Jones to the NBA. But USF is still a Big East team that won 20 games last season, so a road win here by Larry Eustachy's crew will go a long way toward earning credibility.
Notable debuts
East Tennessee State at No. 10 Kentucky, Friday, 7 ET (ESPN3): How well Brandon Knight plays at the point, Doron Lamb and Terrence Jones play on the wing and Eloy Vargas plays inside will all be interesting subplots for an Enes Kanter-less Kentucky squad. Don't forget that ETSU has gone to the NCAA tournament in each of the past two years. An upset is highly unlikely, but a young UK team had all sorts of problems with teams like Miami (Ohio) and Sam Houston State early this past season.
North Carolina A&T at No. 5 Ohio State, Friday, 7 ET (ESPN3): The Buckeyes' new stud forward, Jared Sullinger, is being billed as the possible Big Ten player/freshman of the year. Let's see if he lives up to the early-season hype.
Lipscomb at No. 9 North Carolina, Friday, 7 ET: The Tar Heels will be major players if freshman Harrison Barnes is a stud. This is our first look at America's No. 1 recruit, his fellow stud freshmen and a motivated group of UNC returnees.
Chattanooga at No. 20 Tennessee, Friday, 9 ET: The Vols have been the center of controversy this offseason due to the admitted NCAA violations by head coach Bruce Pearl and his staff. Then Tennessee lost an exhibition game to Indianapolis this week and had the critics howling. But the focus can, at least for now, return to the court and the expectations around Tobias Harris in his first game.
Detroit at New Mexico, Saturday, 9:30 ET: The Titans start the season at the refurbished Pit and get to unveil the hyped Ray McCallum Jr. The Lobos will play Tennessee transfer Emmanuel Negedu, who had to have a defibrillator put in his chest after he nearly died in 2009.
Tricky road starts
San Diego State at Long Beach State, Saturday, 7 ET: The MWC favorites begin a five-game road swing to start the season that will take them next to Spokane and then to Oxford, Ohio. Long Beach State is a Big West title contender and a heck of an opening challenge for a team with the highest expectations in SDSU history.
Florida State at UNC Greensboro, Sunday, 3:30 ET: The Seminoles, who fancy themselves to be a possible second-place finisher in the ACC, are going out of their way to challenge themselves this season with interesting road games. Florida State also goes to FIU on Nov. 18 and Loyola Marymount on Dec. 18 before opening up the Diamond Head Classic in Honolulu with a true road game against host Hawaii on Dec. 22.