Category archive:

Pittsburgh Panthers
October, 4, 2012
10/04/12
11:19
AM ET
If anyone was wondering whether 15 schools could agree and get along in the new ACC, all they had to do was check the reaction to the new primary partners released Wednesday.
There was an unusual consensus. Every school was pleased.
The ACC had to adjust its scheduling format with the addition of Notre Dame, which could join anywhere from 2013 to 2015. The conference, committed to an 18-game schedule, had to lock in to two annual home-and-home series.
For a few schools, such as Virginia, there was nothing to ponder. The Cavaliers have two natural rivals in Virginia Tech and Maryland. Done.
"It makes sense geographically," UVa coach Tony Bennett said. "They've been our natural rivalries for years."
[+] Enlarge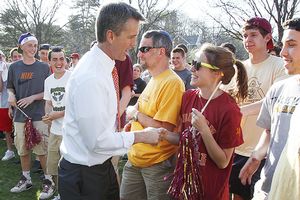 AP Photo/Michael DwyerCoach Steve Donahue believes BC's fans will be pumped to host old conference rivals Syracuse and Notre Dame each season.
Boston College landed two tough opponents, but the Eagles couldn't have been happier to get two schools that will help fill the usually staid Conte Forum. BC will play Notre Dame and Syracuse twice every season.
"It's great for our alumni and fans," Boston College coach Steve Donahue said. "I'm sure excited about it."
Understandbly, no school got both Duke and North Carolina. That would be too cruel, and it would be too hard to pull off with two other schools in the state in Wake Forest and NC State. The ACC had to balance the four schools, and it did.
Duke gets UNC and Wake Forest. NC State got UNC and Wake. Wake Forest got Duke and NC State. And of course that means Carolina got Duke and NC State, which based on the current trajectory of the four schools, is the toughest slate among the schools in North Carolina.
"I loved it," NC State coach Mark Gottfried said. "They got it right."
Wake Forest athletic director Ron Wellman, who is the 2014 chair of the men's basketball selection committee and understands the importance of getting quality teams on the schedule, said "playing two in-state rivals is the best scenario for us."
ACC associate commissioner Karl Hicks, who oversees basketball and scheduling in particular, said the majority of the matchups simply made sense.
The most intriguing issue was what to do with Notre Dame's second rivalry after Boston College. The Irish and Georgia Tech were paired up by process of elimination. Hicks said the schools have a rivalry in football, but not in basketball.
"Notre Dame has a lot of alumni in urban areas," Hicks said. "Maryland was a better fit with the partners they had [Pitt and Virginia]. Washington, D.C., would have been a good place [for Notre Dame], but Maryland's partners fit. Georgia Tech was the next one that made the most sense."
ND coach Mike Brey said it worked for him since he wanted to create new rivalries and, "I love Atlanta."
Tech coach Brian Gregory knew the Yellow Jackets would get Clemson as one rival and was overjoyed that the Irish were the other.
"I think it's great for us," Gregory said. "These are two great academic schools with great traditions. I think it will turn into a great rivalry."
Maryland coach Mark Turgeon said Pitt and Virginia are strong defensive teams which should provide four gritty games for the Terps every season. Pitt coach Jamie Dixon had no issue with Maryland and Syracuse as his school's natural rivals, saying that he expected as much based on geography.
The rest of the 14 games on the schedule will include two more home-and-home opponents (which will rotate every year) and five home and five road games that make up the other 10.
The other set partners are:
Clemson: Florida State and Georgia Tech
Florida State: Clemson and Miami
Miami: Florida State and Virginia Tech
Syracuse: Boston College and Pitt
Virginia Tech: Miami and Virginia
Hicks said the Miami-Virginia Tech series marries two former Big East rivals. Syracuse's two partners are also former Big East foes. Clemson and Florida State got natural regional rivals.
"I'm not bent out of shape one way or another," said Florida State's Leonard Hamilton, who added he wasn't against going to 20 league games. "I like the challenge night in and night out of 18 hard-nosed games."
What the two-team partner lists and the reaction proves is that a 16th team in men's basketball doesn't seem necessary. ACC commissioner John Swofford said the ACC isn't going to go to 16, and frankly, there's really no need.
September, 5, 2012
09/05/12
2:20
PM ET
A few years ago, Pittsburgh coach Jamie Dixon sent his assistant Tom Herrion to New Zealand to see if
Rob Loe
was worth a scholarship offer.
Loe, who eventually landed at Saint Louis, had interest from others, "but Jamie heard about this young kid down in Wellington,'' Herrion recalled.
The young kid was Steven Adams. And he just may be one of the most intriguing players in college basketball this season, not to mention one of the most physically impressive at 7-foot, 250 pounds.
When he played professionally in New Zealand, Dixon played against two of Steven's brothers, Warren and Ralph, and was teammates with his coach in Wellington, Kenny McFadden. McFadden told Dixon about Adams in 2009, when Dixon was coaching the U.S. U-19 team to a gold medal in New Zealand.
[+] Enlarge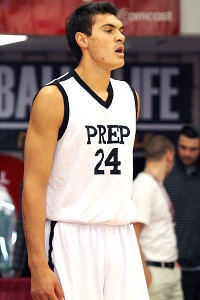 Brendan Nolan/ESPN.comSteven Adams was discovered at Scots College Prep in New Zealand.
So when Herrion got the assignment, he knew this was no junket. He was on the ground for a max of 18 hours, not even long enough to get adjusted to the time zone or rest for jet leg. Herrion walked into a gym in Wellington and knew immediately what to report.
"It was one of the biggest no-brainers,'' said Herrion, now the head coach at Marshall. "He reminded me immediately of those older guys at Kansas, players like Raef LaFrentz. He was physical. He had big shoulders. He had a big frame. It was obviously worth the trip. [Due to jet lag] I don't think I was the same for two weeks after coming back, but it was well worth it.''
"He was a 6-10, 15-year old," Dixon said. "What more do you need to know?"
Adams made a commitment to Pitt in the summer of 2010, and the commitment held.
At just 19 years old, he's already got quite a life story. Adams is the youngest of 18 children. His father passed away of cancer when he was 13. His mother, who is Tongan (his father was of English descent), still lives in their hometown of Rotorua. But the death of his dad left him adrift until older brother Warren sent for him to come to Wellington.
He ended up living with a coach, trainer and guardian in Blossom Cameron and was placed in a school called Scots College Prep. He quickly became a budding star in the country's sports landscape, as detailed here by local New Zealand television.
His family remains athletic as his older sister, Valerie Kassanita Vili-Adams, won her second gold medal in as many Olympics in the shot put. She won the gold in Beijing and was just awarded the gold in London after Belarus' Nadzeya Ostapchuk was stripped of her medal for a failed drug test.
Adams has so many nieces and nephews that he has lost count (he thinks he has 11).
"They're all older then me,'' Adams said. "They were changing my diapers when I was first born. Weird, huh? It shouldn't happen.''
Adams said all but two of his 18 siblings grew up in the same house. He said there was once a family reunion, but only 14 or 15 of the siblings could make it.
"I was the smallest one there,'' said Adams with a laugh. "My sisters are big.''
Even as he grew as a player and matured as a person, the commitment to come to Pittsburgh stuck.
"I came on a visit, sat in the stadium and they were going crazy,'' Adams said of the Petersen Events Center. "I was like holy shizz. It's loud and going crazy here.''
He played for New Zealand junior teams and in January was placed by Pitt at Notre Dame Prep, where he starred and went against Kentucky incoming big man Nerlens Noel. Adams came to the America to get adjusted and more importantly become academically eligible. As a foreigner, it's always easier to become eligible from a U.S. prep school than to rely strictly on the transcripts from another country for initial eligibility.
He spent the last few months playing summer basketball in Pittsburgh and is now enrolled for the fall, working out with the Panthers and loving the experience of being stateside.
"It's fun," Adams said. "It gets pretty wild, but I find it cool. This part of the town, it's a city and campus put together. It's a pretty cool area. There's some green, some forest area. It's a nice little balance.''
[+] Enlarge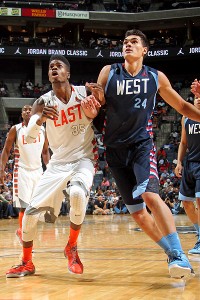 Ned Dishman/Getty ImagesAdams went head to head with
top-ranked Nerlens Noel at the Jordan Brand Classic in April.
Adams is a bit of a character. It doesn't take long to pick up on his quirky personality -- as fellow students in his acting class are no doubt picking up on.
"[I'm having] fun with it,'' Adams said of the course. "Some of the girls in the class don't like to do anything. But I'll have fun with it.''
There's a real connection between Adams and Dixon, who is still remembered in New Zealand and once put up 61 points against Sam Houston State for a Kiwi traveling all-star team.
"He's cool,'' Adams said. "He's pretty funny and cool to hang around with. He's a good coach. He breaks it down and any questions he can answer. I ask a lot of questions of why and when we should do stuff. He always has the answers. He always smiles. Not sure if that's weird, too.''
Adams knows he has to polish his low-post game -- right now he would rather face up than plow through the post. Dixon wouldn't commit to saying Pitt will run its system through its big newcomer.
"He's a very good rebounder, he's a good passer and he's very unselfish,'' Dixon said. "How many teams play through a freshman, though?''
But now that Khem Birch is gone to UNLV, Adams is the focal point inside. He isn't some international man of mystery after all. He is a known commodity who played in plenty of games against elite players in his class over the past year.
The Panthers, who won the CBI last season but missed the NCAA tournament for the first time under Dixon, should be a major factor in their last season in the Big East. They're boosted by the return of Tray Woodall, who is healthy after an injury-plagued season, along with Central Michigan transfer Trey Zeigler, freshman James Robinson and returnees Talib Zanna, Dante Taylor, J.J. Moore and Lamar Patterson.
Dixon is downplaying Adams' potential to dominate during his first season, but it's not out of the question. One thing is for sure: He will be a treat for anyone who covers the team or hangs around this crew.
"Everyone loves him,'' Pitt associate athletic director Greg Hotchkiss said. "He's got a vivacious personality. He's a big guy. And for three-plus years he's been dreaming of coming to Pitt.''
He's there now. And he's not planning on leaving anytime soon.
"I want to get a ring,'' Adams said. "The time will come when [the NBA] will present itself. But I don't give a crap about that. I'm worried right now about getting to the NCAA tournament and a ring.''
July, 6, 2012
07/06/12
11:59
AM ET
When it came to bylaws about departing teams, the Horizon, Colonial and America East didn't buckle.
There are consequences that come along with a departure. Being ineligible for the conference tournament is one of them for these leagues. Butler (Horizon) and Virginia Commonwealth (CAA) accepted that and got to the Atlantic 10 as fast as possible.
What school wouldn't do the same if the opportunity existed? Scheduling, television exposure and tourney access are the most important reasons -- outside of the financial benefits -- for being in a conference.
Take away the ability to play for an automatic NCAA tournament berth and the season can seem like a waste. Postseason bans, such as the one USC had recently and the one Connecticut will endure this season, take the air out of the season -- even if the schools and coaches do all they can to create a new goal of winning a regular-season title.
Even though both would likely be contenders for at-large berths, Butler and VCU took no chances.
Boston University, on the other hand, probably would leave for the Patriot League tomorrow if it could. The Terriers weren't pleased with the decision by the America East to uphold its bylaws, but they are stuck. The current team will have to deal with it.
Old Dominion and Georgia State were hoping the CAA would lift its ban, but it did not. Georgia State went as far as to explore trying to get into the Sun Belt sooner, but that didn't happen.
The Horizon, CAA and America East are actually not the norm historically.
After losing members in the past decade, the Big East, Atlantic 10, Big West, C-USA, Mountain West and WAC have not even broached the subject, much like the Big 12 didn't when it lost members to the Pac-12, Big Ten and SEC. The Big East didn't block West Virginia from playing in the conference tournament a year ago after it announced its hasty departure to the Big 12. Perhaps the smaller conferences are worried that the league will have only one bid and don't want it to go to the school with one foot out the door.
[+] Enlarge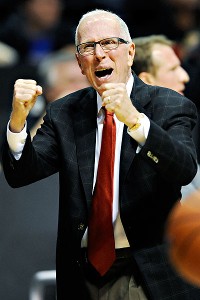 Christopher Hanewinckel/US PresswireSteve Fisher and the Aztecs will get a chance to compete in their final MWC tourney.
But when I asked some of the coaches playing in their final season in a conference, the question was met with near astonishment.
Pitt coach Jamie Dixon wanted to know if I was joking. San Diego State's Steve Fisher said he hadn't even heard of these conferences not allowing schools to participate. Utah State's Stew Morrill said he didn't think the WAC would do such a thing since previous schools that left weren't treated in that manner. Memphis coach Josh Pastner said he would be incredibly disappointed if that occurred. (C-USA took away the conference tournament from the city of Memphis but didn't remove the Tigers' ability to play for the title.)
But what would happen if these conferences turned on the departing teams in 2013? It's too late to change the bylaws and isn't going to happen, but it's still fun to play the "what if" game.
What effect would it have had on the Big East to take Pittsburgh and Syracuse out of the tournament?
A serious blow. The league may be squabbling with the two schools -- and will do so in court with Pitt -- but it needs these two in the conference tournament as long as possible. Syracuse is a natural draw at Madison Square Garden. Taking the Orange out of the Big East would have been a major mistake. The Orange and Panthers still don't have a definitive arrival date in the ACC, but it's likely to be in the summer of 2013.
What would it have done to Syracuse and Pitt for a potential at-large berth?
Likely no issue at all. Both have teams that look like virtual locks for an at-large bid.
What would happen to the Atlantic 10 if Temple and Charlotte weren't allowed in the tournament?
Let's be honest: Charlotte won't be missed on its way back to Conference USA. But Temple's departure will be a hit, as the Owls have consistently been a major part of the A-10 tournament. Not having a Temple presence, prior to the Owls' exit to the Big East, would have hurt the tourney's debut in Brooklyn. Bringing in Butler and VCU will offset the loss, but Temple still is very much associated with the A-10 brand.
What if the Big West banned Pacific?
That would be just cruel. The Big West has had teams leave before, and it might happen again. Plus, this is coach Bob Thomason's final season after a quarter-century at his alma mater, and he said he has a team that could challenge for the Big West title. He has been a loyal member, and Pacific is leaving for the all-private WCC. No harm in letting the Tigers finish up, and it won't hurt the Big West one bit.
What if Conference USA blocked Memphis, SMU, UCF and Houston?
Then C-USA would have a tournament that lacked any sort of buzz. Marshall is a legitimate title challenger to Memphis, and UTEP should be in contention. If the Tigers had been blocked from being in the tournament, after it was taken from the city, C-USA's relevance during Championship Week would have been diminished even more. It's still hard to say how many Memphis fans will travel to Tulsa, Okla., but the Tigers do have a significant following. This was a smart move by the league to not play bitter politics with the departing members.
What would the Mountain West tournament be like without San Diego State and Boise State?
A bit less exciting. The Aztecs have been one of the consistent winners in the MWC with UNLV and New Mexico. Take SDSU, off to the Big West, out of the event in Las Vegas, and the tournament would lose luster. No offense to Boise, but no one would likely notice if the Broncos weren't invited. But SDSU matters a great deal. The Aztecs will be a top-25 team alongside UNLV. Taking them out of the conference tournament would have been a storyline the MWC doesn't need in March.
What would a WAC tournament look like without Utah State and San Jose State?
Not worth it. USU has been the benchmark program in the WAC since Morrill arrived. New Mexico State can't anchor the conference on its own. NMSU needs a rival, and Utah State has been that nemesis. San Jose State wouldn't be missed, but the Aggies' absence would have been a glaring omission in Las Vegas. Rebuilding Utah State will likely need the tournament to get a bid this season, but the WAC was in no position to be punitive. So the Aggies will have one final chance to represent the WAC before it joins SJSU and former WAC members Fresno State and Nevada in the Mountain West.
June, 29, 2012
06/29/12
1:52
PM ET
The gold medal won by the USA men's under-18 team in Brazil last week will reverberate across a number of college campuses in the fall.
The players who won gold -- the majority of whom are set to begin their freshman seasons -- will benefit from the competition and the spirited workouts and playing for Florida's Billy Donovan, Gonzaga's Mark Few and VCU's Shaka Smart.
The U.S. didn't lose a game in the FIBA Americas U-18 Championships and won by an average of 39 points, including beating host Brazil twice.
High schooler Julius Randle, who still has another year at Prestonwood Christian Academy in McKinney, Texas, led the Americans in scoring at 14.2 points and 6.6 rebounds a game.
Tennessee sophomore-to-be Jarnell Stokes was second at 14 points and 5.6 rebounds a game.
I asked Donovan for five players he is convinced will have a major impact on their respective teams during their first college seasons.
He didn't hesitate on the first name (tourney averages in parentheses). Marcus Smart, 6-foot-3, SG, Oklahoma State (7.4 ppg, 3.4 rpg): "I have not been around a player in a long, long time that is as good a competitor. He can shoot the ball better (1-of-10 on 3-pointers), but he's unselfish and an unbelievable leader. He was absolutely terrific. He's a terrific player. He's special. He has the internal qualities to me.''
Jerami Grant, 6-7, SF, Syracuse (5.6 ppg, 5.0 rpg): "He didn't shoot very well (7-of-25), but he'll end up being a Kris Joseph or Wesley Johnson for Syracuse in time. He's rangy, long and can play two different positions. His upside may be greater than anyone else on the team. He's so long and athletic. Once he knocks down shots he'll be really special.''
Sam Dekker, 6-7, SF, Wisconsin (5 ppg, 2.5 rpg): "He was hurt, ended up spraining his ankle, and then someone stepped on his toe and that had to be drained. He was never quite healthy. But he's a warrior. He loves to play. He wants to win. I think he's a really good player. He takes some crazy shots. I just wish I could have coached him. He's going to be terrific.''
Shaq Goodwin, 6-8, PF, Memphis (12.4 ppg, 4.8 rpg): "He's got a chance. He scored 30 points in our first game. He's got a great feel for how to play. He's got a big body. He needs to be a bit more serious. But he played pretty well while he was there. He did a nice job for us.''
James Robinson, 6-3, PG, Pittsburgh (4.4 ppg, 2.6 rpg): "We weren't sure we were going to keep him. We cut the team from 25 to 14 and then kept guys around to 12. He was originally on the outside looking in. But once we started practicing we saw that he's a winner and a great role guy. He's a typical Pitt player. Jamie [Dixon] will love coaching him. I'm not sure of his impact on the team, but people will say, 'Where did this guy come from?' The kid is a winner. I liked coaching him. He was the same guy every day.''
Donovan had one word for NC State-bound wing Rodney Purvis (7 ppg, 1.8 rpg) and Duke-bound guard Rasheed Sulaimon. That one word? "Relax."
He said Purvis is an exceptional talent but can get too wrapped up in scoring at times. He's an exceptional athlete, according to Donovan, very physical and a really good player, but needs to check the expectations a bit. Donovan said Sulaimon (10 ppg, 3.4 rpg) needs to avoid feeling too much of the natural pressure that comes with being a highly touted Duke recruit. He said he loved Sulaimon's work ethic and enjoyed coaching him but he just needs to chill a bit.
May, 22, 2012
05/22/12
12:22
PM ET
The Big East will send out its annual straw poll to its coaches to get their preseason predictions about the strength of the league's teams to help put together next season's conference schedule.
The league office said Syracuse's Jim Boeheim and Pitt's Jamie Dixon will be allowed to vote in the poll, even though the schools are leaving the conference for the ACC. They weren't invited to the conference meetings earlier this week in Florida.
The results of the poll will determine which teams face each other twice during the conference schedule. Having a tiered system based on those predictions has worked well for the Big East, rather than the predetermined rotations of which teams play each other twice used by the Big Ten, ACC and SEC.
[+] Enlarge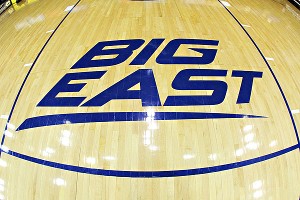 Bill Streicher/Icon SMIBig East coaches are confident the formula the league uses to determine conference schedules ahead of each season has helped in getting more NCAA tournament bids.
The Big East had 11 teams in the NCAA tournament in 2011; it sent nine teams last season. Coaches firmly believe handling scheduling this way is the reason.
"We've been able to give the league the flexibility to balance the schedule," Cincinnati's Mick Cronin said after the Big East meetings wrapped up Tuesday morning in Ponte Vedra Beach. "The repeat opponents have been set up by the hierarchy of the league in the summer. Something has been done right. We've had 11 teams and then nine teams in the NCAA. The coaches were against 18 league games but then it has helped us get more teams in [the tournament]."
Notre Dame coach Mike Brey agreed that the formula has worked for the Big East.
"It has driven us to get more bids," said Brey, who added it was odd not to have Boeheim at the Big East meetings for the first time during Brey's tenure at Notre Dame. "We've got to stay with this formula. It's not too constrictive. We don't want a rotation. We've got to keep an open mind. Some of it is by design, some of it is by luck, but it has really worked. You can sit there as a coach and say, 'If you're in the top eight, you're in the tournament.'"
There were 13 men's basketball coaches in attendance at Monday's meeting. Four coaches stayed to meet with athletic directors Tuesday. UConn's Jim Calhoun and Louisville's Rick Pitino weren't in attendance and neither were coaches from incoming 2013 members Temple (Fran Dunphy), Memphis (Josh Pastner) and SMU (Larry Brown).
According to Brey, the 11 other coaches in attendance, outside of him and Cronin, were: Stan Heath (South Florida), Ed Cooley (Providence), Kevin Willard (Seton Hall), Steve Lavin (St. John's), Mike Rice (Rutgers), Jay Wright (Villanova), Buzz Williams (Marquette), John Thompson III (Georgetown), Oliver Purnell (DePaul) and 2013 new members Donnie Jones (Central Florida) and James Dickey (Houston).
Heath said that there was even discussion about possibly opening up to 20 games from 18 when the new teams come into the conference.
"We had some conversation, but nothing was shot down," Heath said.
Heath, Cronin and Brey all said there was a renewed sense of optimism in the room, especially with presentations from television executives from NBC and Fox. ESPN and CBS have the current Big East rights, but the league will enter a new negotiating period in the fall.
"There was excitement over the TV presentation possibilities," Cronin said. "The Big East can't negotiate now but there was interest in our product. You could see people spending valuable time on the presentations and they say we'll be even stronger with the media market changes in adding Dallas, Houston and Orlando, which only helps the big picture."
The coaches agreed that the conference tournament must include all members in 2013, regardless of that number.
Heath said he brought up to the coaches that former USF player Kentrell Gransberry never played at Madison Square Garden during his career at South Florida because all the teams weren't invited.
"It's meaningful to the players and the teams even if it's one game," Heath said. "It's a big part of being in the Big East."
The format for the 2013 Big East tournament is still being discussed. There are 15 teams in the league this season with West Virginia's departure. Connecticut is currently not eligible for the tournament since it is not allowed to play in the postseason because of an NCAA ban for poor academics.
The coaches said the plan would be a for 14-team tournament with two games on Tuesday (instead of the previous four) and the rest of the schedule going forward from Wednesday on during championship week with the remaining teams.
Brey said the number of games for an 18-team Big East is still an issue.
"Everybody wants to play everybody," Brey said. "We can't have no-plays. And we need all of the schools to come to New York. A lot of these schools do a lot of business around the Big East tournament. We've got to figure out a way to do this. We're going to figure this all out together."
April, 4, 2012
04/04/12
3:35
PM ET
Quick hitters post-Final Four:
• Pitt and Syracuse representatives won't be at the Big East meetings, but they will be at the ACC meetings in May. The respective coaches will be at the ACC meetings, too.
When will the two schools join the ACC? "Hopefully, we'll get everything worked out here soon,'' Pitt athletic director Steve Pederson said. "Their league is reconfigured and ready to move, and when you get to that point where everybody is on the next page, everybody should move on.''
Pederson wouldn't commit to the fall of 2013, but that seems to be the goal. The ACC is ready to receive Pitt and Syracuse, and the Big East is ready to move on with its new members.
• NBA commissioner David Stern isn't a fan of his league's draft rule. But the players association has to agree on it, and it hasn't been on board. The best-case scenario would be to go back to the original deal, which allows players to go to the NBA from high school or have a two-year minimum agreement of staying in college -- similar to baseball -- before being allowed to enter the draft.
That would skim off some -- but not all -- of the top players from attending college. Anthony Davis may have gone straight to the NBA, but Michael Kidd-Gilchrist may not have done the same.
John Wall may have left. But Eric Bledsoe most likely would not. The onus is on the NBAPA to make a concession and cut a deal with the league if this rule is going to change.
But once again, this isn't the NCAA's rule. The one-and-done rule is the NBA's rule. And coaches such as Kentucky's John Calipari and Duke's Mike Krzyzewski are simply taking advantage. Duke has had "one-and-done" point guards in consecutive seasons in Kyrie Irving and Austin Rivers.
And every coach in the country would have taken Davis for one season if they had the choice.
• When I caught up with Calipari Tuesday night, he was extremely tired. "Everyone said I looked sad,'' Calipari said. "I'm just exhausted.''
Calipari has been going at warp speed for months, and especially in the past three weeks.
• Calipari said he will meet with his five underclassmen this week and see what their intentions are for the NBA draft. The assumption is Davis and Kidd-Gilchrist will declare, but the decisions for Doron Lamb, Terrence Jones and Marquis Teague will be more intriguing since they aren't lottery locks.
"I'll meet with each of them, get information,'' Calipari said. "I want them to breathe, come back and then go home for a few days [over Easter weekend] and come back and finish their academics.''
Calipari is telling his players they don't have to decide by April 10, the unilateral NCAA deadline. And he's right. The players can wait until the NBA's April 29th deadline, the only date that really matters.
"They don't have to follow that April 10 date,'' Calipari said.
The NBA won't put out a draft list until after the April 29 early-entry date. The only binding agreement is a player cannot return to college if he declares for the draft on April 29, even if he doesn't sign with an agent.
January, 31, 2012
01/31/12
3:16
PM ET
Pitt coach Jamie Dixon didn't dismiss the Panthers' NCAA tournament chances even after his team lost eight straight games.
And neither did the selection committee. They never do when it comes to ruling a team dead on arrival for the selection process.
Of course, it helps if the team dealt with injuries, like the Panthers did with Tray Woodall, and plays in a conference like the Big East, where opportunities for quality wins exist every week. "The one thing we don't do is project," said Jeff Hathaway, the chair of the NCAA tournament selection committee and a current Big East conference consultant. "We don't predict or project. Pitt won the last three [games]. They've got good opponents.
[+] Enlarge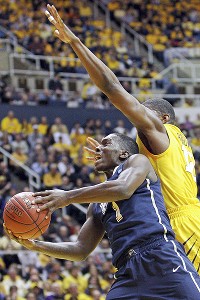 AP Photo/David SmithPitt struggled without Tray Woodall, which didn't go unnoticed by the NCAA selection committee.
"We know this team had injuries. Nobody has deleted this team or put any team from being considered [for the NCAAs] at this point."
The Panthers started the losing skid with a home loss to Wagner on Dec. 23 and then dropped seven consecutive Big East games. The streak ended with a home win over Providence, and Pitt also beat Georgetown at home before shocking West Virginia on Monday night in Morgantown.
"Having Tray out there changes everything since everyone plays their position," Dixon said. "I was hoping he would be back even earlier."
Woodall, who had a groin injury, missed 11 of 12 games earlier this season. He returned for the Jan. 21 game at Louisville but was held scoreless, with three turnovers and two assists. But in the past three games, all wins, he's averaging 15 points and 7.3 assists.
Dixon said the Panthers never panicked during the rough stretch. There have been other illnesses and injuries that have befallen this club and have not been widely reported. Finally, Dixon said, the Panthers have been practicing with a full complement of players (save the Khem Birch transfer to UNLV).
Dixon said the Panthers never discussed the NCAA tournament or what lies ahead. They can't take any game for granted at this stage. A home game versus Villanova is next up on Sunday, and then Pitt visits surging South Florida and Seton Hall.
"I didn't see a change in attitude," Dixon said. "We have our rotation down. We're more comfortable. I feel good that we're getting better."
The Panthers have the opportunities in the Big East to get quality wins. A number of teams in other conferences do not.
And that's why Hathaway said the BracketBuster event is critical for the teams involved.
"There's no question that there are chances for road victories," said Hathaway of matchups like Long Beach State at Creighton, Saint Mary's at Murray State and Nevada at Iona on Feb. 18.
"It gives those teams another crack at a quality opponent. It's something important for their résumés. It's another game that will catch the committee's eye."
Hathaway said a Murray State win over Saint Mary's will give the Racers another top-50 win. Murray State currently owns two top-50 victories over Southern Miss (11) and Memphis (28). Murray also beat Dayton, which is just outside at 59. Saint Mary's is at 25.
"They get another game against a quality opponent that you say will be in the tournament," Hathaway said. "Anything that gives us more information is a plus. It comes at a crucial and intriguing time. It gives these schools another crack at the bat to play top-50 teams. It stands off the sheet more."
Hathaway said he was impressed that Middle Tennessee State chose to play Vanderbilt (and for the Commodores to do so, as well) in January. The Sun Belt and the Blue Raiders weren't participating in BracketBusters this season.
"Those schools are doing what the committee asked to do," Hathaway said. "They're going out and playing people."
The fallout from the Big East's shakeup in football and basketball this week will continue for weeks, if not months or years.
[+] Enlarge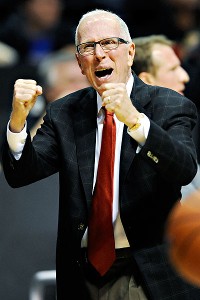 Christopher Hanewinckel/US PresswireSan Diego State could be the Gonzaga of the Big West under Steve Fisher.
So after another week of changes, the basketball winners and losers can be summed up this way:
Winner
The Big West: Getting San Diego State is a major coup for this league. Steve Fisher's Aztecs are going to be an NCAA tournament team on a regular basis and a national player for getting marquee games. SDSU has a chance to be the Gonzaga of the Big West. The Aztecs won't be as good as the old UNLV teams that won a national title, but being the dominant player that can attract marquee games and attention for the Big West is a great get.
Loser
The Big East: You simply can't make this three-team trade (Out: Pitt, Syracuse, West Virginia; In: Central Florida, Houston, SMU) and not come out looking worse. The pool of teams the Big East had to choose from was small, but it still could have made a few more moves to appease football and basketball. The conference acquired new television markets, but the quality of play will go down and the matchups for the television partners won't be as palatable.
Biggest mess
The 2013 season: If Big East commissioner John Marinatto gets his way, the Big East will have 19 members for one season when the three new schools come aboard and Pitt, Syracuse and West Virginia have to stay. Big East associate commissioner Tom Odjakjian will have a thankless job as he tries to schedule a season that will keep him up at night.
The ongoing fight
West Virginia: The Mountaineers want to play in the Big 12. The Big East says they have to stay. This will likely end up being decided by a judge.
The unknown
Boise State: If coach Leon Rice can continue to improve the program, the Broncos can flourish in the WAC and become a player for a bid quicker there than in the Mountain West.
The potential
Houston, which has a solid recruiting class in 2012, and SMU have had their moments in the past, but the school that gets the tag as the one with the most potential of all the additions could be Central Florida. The Knights have a shot to make more of an impact in the Big East than South Florida has because of UCF's location and facilities. The Knights must stay out of the way of the NCAA's enforcement group after getting caught with violations that cost coach Donnie Jones the first three games of the C-USA season. Still, Jones has taken down Florida and Connecticut on neutral courts in each of the past two seasons.
The biggest question
When the 2014 season begins, will Louisville, Connecticut and Notre Dame be in the Big East? We just don't know.
September, 21, 2011
09/21/11
3:00
PM ET
Despite the losses of Syracuse and Pitt, Louisville coach Rick Pitino is confident the Big East brand of basketball will not only survive but thrive.
He said the Cardinals have no desire to go to another conference and are committed to making the Big East a strong and stable conference.
"I'm happy with Big East basketball," said Pitino, who was on the road recruiting when reached by ESPN.com on Wednesday afternoon. "I didn't want to lose Pitt and Syracuse, but now we're at a manageable 15 teams. We still have top-20 teams in Cincinnati, Georgetown, Marquette, Louisville, Villanova and West Virginia. We still have a great league. The schools like Rutgers and DePaul are getting much better. Losing Syracuse and Pitt hurts our quality, but 17 was going to be ridiculous."
The Big East still may have 17 teams in men's and women's basketball when TCU joins the conference in 2012-'13, unless Pitt and Syracuse can buy their way out of the 27-month departure bylaw that the conference is going to enforce before those schools leave for the ACC. The exit fee is $5 million.
"None of us here want to leave the Big East or playing in Madison Square Garden," Pitino said. "We want to be in the Big East in recruiting. We're very happy in the Big East."
Pitino said he was told that the Big East will add service academies Air Force and Navy by the end of the week -- but only in football. The conference will have football-playing members Louisville, Cincinnati, South Florida, Rutgers, Connecticut, TCU and West Virginia in 2012 if Pitt and Syracuse leave, making it imperative to add more football programs. Of course, at the same time, UConn is actively trying to get into the ACC with Pitt and Syracuse.
Pitino said the Big East was trying to secure Air Force and Navy before the departures of Pitt and Syracuse. Navy is an independent, but Air Force would have to decide if it makes sense to leave the Mountain West for football and keep its other sports in the league. The MWC has a similar reverse deal with Hawaii joining the conference in 2012 only for football. The Warriors will play in the Big West in all other sports. Hawaii is currently in the WAC in all sports.
As he first pointed out in a blog he wrote earlier this week, Pitino is skeptical of what Boston College has gained from joining the ACC.
"What has it done for them?" Pitino said. "Syracuse and Pitt are risking everything and all these great traditions and for what?"
Pitt and Syracuse will say for security and stability.
SU coach Jim Boeheim told ESPN.com that his program would continue to play St. John's and Georgetown after the Orange move to the ACC. Pitino said there won't be room on UL's schedule to take on Syracuse and Pitt.
"It's not that I wouldn't play them, but we can't," he said. "There is no animosity. I don't blame them. But there's no reason for them to play us and no reason for us to play them."
Pitino said going to 15 teams in men's basketball is a much more palatable situation. He said he'd like to see 14 league games then two repeat teams to get up to 16 league games. Having a 17-team basketball conference would be a long-term nightmare, he added.
"We don't want any more basketball teams," Pitino said. "I feel very comfortable saying that we're going to be in the Big East. Now if you said to me two months ago that Syracuse and Pitt would leave the Big East, I never thought that.
"We have a great conference. If it stays at 15, then we could get eight or nine in the NCAA tournament. We just had 11 out of 16. We will still have one of the strongest conferences in the country."
Louisville will be one of the favorites in the Big East this season, along with Connecticut, Syracuse and Pitt. The latter two are on their way to the ACC and the first wouldn't mind going, too.
"I feel very comfortable today that Big East basketball will be fine," Pitino said. "I never thought a charter member like Syracuse would leave. We don't know what will happen, but my feeling is that we will continue to have a great conference."
September, 20, 2011
09/20/11
2:35
PM ET
Here are some quick hitters during this crazy week in college sports …
• Villanova is trying to use its rising football program as a way to get in somewhere in the ACC or a Big 12/Big East hybrid. The school is hoping the Philadelphia market and the ability to get its football to FBS status (unlike, say, Georgetown) is attractive. And by the way, Nova is not pleased about the way Pitt helped block the Wildcats from being accepted into the Big East for football.
• If what's left of the Big East became a basketball-driven league, it would still be a very attractive conference. Imagine if the league were Villanova, St. John's, Georgetown, Marquette, DePaul, Seton Hall, Providence and possibly Notre Dame, then add Xavier, Butler, Saint Louis, Dayton, Creighton and maybe Saint Joseph's.
• The remaining non-FBS teams in the Big East have to commit to unity for a setup like this to work. The problem with this idea is that it still wouldn't command major media dollars. Non-football conferences don't make the major money. Check out my colleage Dana O'Neil's take on it here.
• The Big East is saying the right things by holding Pitt and Syracuse to the 27-month departure bylaw. But it's in the best interest of the remaining Big East schools to let the schools go so that they can figure out what the conference will look like in two or three years. Multiple lame-duck seasons serve no purpose.
• Pitt is having some selective memory these days about refusing to play Boston College after the Eagles broke off to the ACC eight years ago. The Big East office was not a fan of anyone playing the Eagles in anything and made that clear to Pittsburgh. The Panthers were supposed to play BC in the Jimmy V Classic but were replaced with Indiana.
• The Barclays Arena in Brooklyn will provide the New York City area with multiple opportunities to host conference tournaments. The ACC, Big East and A-10 should all have choices for tournaments in the coming years.
• Adding Missouri to the Southeastern Conference makes the most sense for what the league wants from a 14th member. The SEC wants the perception to be that it is adding a new market (St. Louis/Kansas City) and a school that has some respect academically. Texas A&M obviously delivers a major market (Houston) and respect. But there aren't really two other natural schools out there for the SEC to bump up to 16.
• Pac-12 commissioner Larry Scott will have to do some serious convincing when he talks to his presidents -- especially the Bay Area ones -- about adding Oklahoma State and Texas Tech with Texas and Oklahoma. I would love to hear that conversation.
• I like that Mountain West commissioner Craig Thompson is being proactive, but the proposed MWC-Conference USA confederation to have a football championship that would decide a BCS bid is odd. Would it really produce an automatic qualifier to the BCS? Would there be some sort of basketball agreement?
• Texas would still rather stay in the Big 12 and have all of its program compete in the region. But it all depends on Oklahoma at this point.
• Can you imagine if the ACC added Notre Dame and Connecticut to get to 16? The Irish are always solid under Mike Brey and UConn is a three-time national champ. The top of the ACC would be scary good. But moving up from the bottom would be extremely difficult for some programs. The jobs at Wake Forest and Boston College would get even tougher.
• It really is amazing to think about how much super-conference talk is going on recently and yet Butler played in the last two national championship games and VCU was in the Final Four last season. March reminds us that there are hundreds of others schools competing in Division I and plenty of high-level players and coaches. It's not all about the big boys!
• The NCAA still hasn't decided on the fate of ousted Connecticut athletic director Jeff Hathaway. He's the men's basketball tourney committee chair yet is currently jobless. But a number of former committee members and current Big East officials want Hathaway to be on the committee for this final season as long as the NCAA can figure out a way around him not having a job. Hathaway would be able to focus solely on the task of running the committee, which meets again later in the fall.
• Michigan State coach Tom Izzo is as excited about this season as he has been in years. The Spartans are finally relatively healthy and it's clear some of the issues in the locker room are gone. Meanwhile, North Carolina coach Roy Williams, whose team will face off with Izzo in the Carrier Classic on Nov. 11, said he has been told the pickup games in Chapel Hill involving a number of locked-out NBA players have really helped his crew develop.
• UCLA's Class of 2012 commitments from the East and South, Kyle Anderson (New Jersey) and Jordan Adams (Georgia), continue to show the Bruins are a national program. Every former UCLA coach has consistently said the Bruins can't simply recruit California. UCLA has to be a national player to be a national contender. The recruiting by the Bruins and rival Arizona -- the top two teams in the latest ESPN rankings -- is a credit to Ben Howland and Sean Miller, who cut their teeth recruiting in the cut-throat East Coast. But it also shows that the down cycle of the Pac-12 elite was merely a blip on the radar.