Category archive:

Cal State Fullerton Titans
February, 17, 2012
02/17/12
11:16
AM ET
Sometimes we fault coaches for not saying enough.
Sometimes we fault coaches for saying too much.
Illinois coach Bruce Weber was emotional after a loss to Purdue on Wednesday. It was a game that the Illini should have won, but didn't, and the breakdowns could be attributed to the coaching staff and the execution of the players. It was a team loss.
Weber unloaded during the news conference, as though the media members in front of him were his therapist. But there was no confidentiality in the room; every word was public record.
[+] Enlarge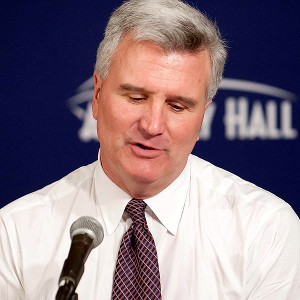 Bradley Leeb/US PresswireBruce Weber has spent much of the week responding to questions about his job status.
He called out his own players and put plenty of blame on himself, saying he has coached not to lose all year.
He apologized for his comments Thursday. He reiterated his desire to remain at Illinois in a press conference Friday.
If any coach on the hot seat has reason to be defensive about his job, it's Weber. He was within minutes of a national championship in 2005. And don't start with the "he didn't recruit the players, Bill Self did." That argument holds no water when it comes to the accomplishments of that particular season, just like a similar argument does not hold for Frank Haith at Missouri this season.
It's fair game to criticize Weber's program for its recruiting misses and disciplinary problems, as well as the Illini's erratic play in the Big Ten. But Weber has won multiple Big Ten titles, hasn't had academic issues and is widely regarded as a genuine, decent, humble man.
It's a shame that his tenure at Illinois has come to this, since he's someone that has been good for the game. If this does end up being his final season with the Illini, he would be a perfect fit for a school in a conference like the Missouri Valley, where he coached at Southern Illinois before arriving at Illinois.
He has consistently worn his emotions on his sleeve for all the world to see. He has made mistakes on the recruiting trail, including a glaring one in bringing Jereme Richmond to Champaign. He had Eric Gordon before Kelvin Sampson scooped him up and kept the Indiana native in Bloomington. He thought he had a shot with Chicago native Derrick Rose, though that seemed unlikely.
Many coaches have tried to figure out how to successfully recruit Chicago. Many more have failed than flourished.
Weber noted that he has turned down three jobs in the past two years due to the loyalty he has to Illinois. I spoke with him last offseason about one of those jobs and he simply didn't want to leave Illinois. He said the Illini could be special in the next two years with recruiting trending in their favor.
In hindsight, that was probably a mistake, since a change in administration was coming -- Ron Guenther was out as athletic director and Mike Thomas was in. It's never a good sign for a coach experiencing a rough patch to have a new boss inserted into the equation. Thomas was noncommittal when asked to give Weber a vote of confidence recently.
Which means he could be mustering up a reported $3.9 million buyout for Weber. That's a tough figure for a state school in these trying economic times, especially one that's already hired a new football coach. And even if Illinois were to pay that price, it would still have to pay a considerable amount to lure potential replacements such as VCU's Shaka Smart, Butler's Brad Stevens or even Duke associate coach Chris Collins.
The best-case scenario for all parties would be if Weber found another gig and left Illinois of his own volition, giving himself and the program a fresh start.
There's a feeling of uncertainty now, and it's there for everyone to see. The questions will only intensify if the Illini continue to sputter down the stretch; they've lost four games in a row and play three of their remaining five on the road, including at Ohio State and Wisconsin.
Of course, there's always that chance of a run to the NCAA tournament. The opportunities are ahead of Illinois in the next three weeks, and this team can surprise people if there is uniformity on how to execute.
The staff is focused on getting a bid and the players deserve their full attention. All is not lost, for this season at least. There will be time to assess the staff and the roster after the season and that should be done as soon as Illinois' season is over. But that time is not now. The staff hasn't quit; the administration shouldn't relinquish its support, either. If the players are still buying into the coaching and the team's goals, then at least the rest of this season can be salvaged. What happens next should be discussed in late March.