Category archive:

Hofstra Pride
August, 28, 2013
08/28/13
1:31
PM ET
Editor's Note: All week ESPN.com is taking a look at new faces in new places. As part of our coverage, Andy Katz will be diving into the mid-major ranks to profile a first-year coach each day.
Joe Mihalich had a flight out of Atlanta back to Western New York on Sunday of the Final Four in April.
He didn't take it.
He had heard that Hofstra athletic director Jeff Hathaway might call him. So he took a chance.
"I woke up Sunday and never heard from him," said Mihalich, who was prepared to go back to Niagara for his 16th season. "Then thankfully Jeff called at 1:30 p.m. We met at 2:30 p.m. and were there for hours talking about Hofstra. I realized it was a special place. The next day I flew back to Niagara and there was a voice mail to come back down Tuesday."
Mihalich took the job, making what could be perceived as a lateral move, but upon further review is not.
Niagara is in the MAAC, a largely one-bid league. Hofstra is in the Colonial Athletic Association, which through attrition and the departures of VCU, George Mason and Old Dominion is now essentially a one-bid league.
The attention, though, on Long Island versus Western New York isn't close, along with the the proximity to top recruits and his roots in Philadelphia.
The time was right for a move. And the spot made sense. Mihalich could have pined for a traditional football school gig in a power-five league. He had the pedigree, résumé and connections. But he fits at a basketball school.
Mihalich loves the leadership at Hofstra. While Hathaway had his battles at UConn with Hall of Fame coach Jim Calhoun, the relationship couldn't be smoother right now with Mihalich. Hathaway has to make this work, because Mihalich is his guy after firing Mo Cassara, who replaced Tim Welsh after Tom Pecora left Hofstra for nearby Fordham.
[+] Enlarge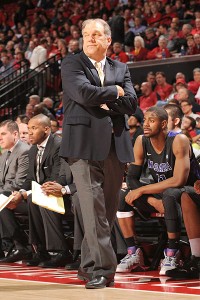 Mitchell Layton/Getty ImagesJoe Mihalich said he wouldn't leave Niagara unless for a special place, which ended up being Hofstra.
Mihalich said he had no plans to leave Niagara. The Purple Eagles had just won the MAAC. They had been to two NCAA tournaments and three NITs, with winning records in 12 of his 15 seasons. But he also said he could be swayed to leave for what he termed "a special place, never knowing that special place would be Hofstra."
Mihalich dismisses the streamlining of the CAA. The addition of the College of Charleston certainly staves a bit of the sting of losing Old Dominion. But the absence of VCU and George Mason still hurts. Northern teams in the CAA haven't been able to break through since joining -- Hofstra, Drexel, Northeastern and Towson. But along with Delaware, there is a distinct Northern influence now; four of the nine schools -- Charleston, James Madison, UNC Wilmington and William & Mary -- are south of Washington, D.C.
"There are a lot of great basketball programs not in football conferences, and there is still a league as good as ever and it's still called the Big East," Mihalich said. "It all starts with players. I don't know how good we're going to be, but I just love being with these kids. Our goal is to surprise a lot of people this year. We've got [a] great work ethic. These guys get along so well."
The Pride have only nine eligible players this season with three transfers. Mihalich told them that conditioning will be critical since getting hurt or in foul trouble is not acceptable.
The goal is to be in play for three days in March. Mihalich has gotten used to dealing with the stress of having to win a conference tournament. He had to do that in the MAAC and the same will occur in the CAA, which has moved its tournament to Baltimore just in time for Towson under Pat Skerry to be a legitimate contender. The usual advantage Southern teams had in Richmond, Va., (see VCU and ODU) has now shifted to Baltimore and Towson.
"Our staff is used to this," Mihalich said of having one bid. "The league has become a bit of an unknown with all the changing parts. The league has changed. We all looked around and said, 'Why not us?' Who will be the next VCU or George Mason? Who is going to be that team? We feel it could be Hofstra. I'm sure Charleston is staying it and so is James Madison."
And so is Towson, Drexel, Northeastern, Delaware, Wilmington and William & Mary. This league is wide open for years to come.
"We have a new attitude, a new culture, a new team," Mihalich said. "It all starts from the top. Everything is in place here. It's a great opportunity."
The Pride picked up two fifth-year transfers in Zeke Upshaw, who played behind Jackie Cunningham at Illinois State, and Dion Nesmith, from Monmouth. Two of the three transfers sitting out came from Niagara, Juan'ya Green and Ameen Tanksley. The pressure will be on them and SMU transfer Brian Bernardi to produce in practice, because there are only nine eligible players, including three freshmen.
"[The transfers] are all very good players," Mihalich said. "[Upshaw] couldn't get on the court [at Illinois State]. Dion is a good basketball player. This is a chance for these guys. They've embraced it."
And Mihalich has done the same with the area and the school.
Living in Western New York was suburban life. The faster pace of Long Island has re-energized the 56-year-old (he turns 57 Thursday).
"For me and my wife, it's like we're back in Philly 15 years ago," Mihalich said. "It's tough to get a parking spot. No one will let you in to merge. Up there, oh gosh, people are so nice."
Mihalich said he probably went to Niagara Falls roughly 75 times in 15 years. It was regular spot on a recruit's tour. There is no sightseeing on Long Island for the recruits, although they have easy access to everything in Manhattan by train. The campus is the selling point.
The timing was perfect for Mihalich and his wife, Mary. His three sons are all out of the house. Two are coaching basketball and the other track.
"Everything has been pointing to what a great opportunity this is," Mihalich said. "It's hard to explain. Somebody said when you least expect it, that perfect job would come along. I didn't realize it would be here."
But it is. Now he can't wait to see if it's as wonderful, productive and satisfying as he claims it is since his arrival.
October, 30, 2012
10/30/12
2:05
PM ET
Hofstra has had no sense of normalcy to start this season.
The Pride desperately needed to have a productive preseason after finishing 3-15 in the CAA, 10-22 overall last season. The team also has six new faces this season.
But the second presidential debate pushed the team out of its arena and practice facility for two weeks before the Oct. 16 event. Cleanup kept the Pride out of the building for one more week. The team and staff weren't even allowed on that part of the campus. The Pride used a nearby gym every day for individual workouts and eventually team practices.
[+] Enlarge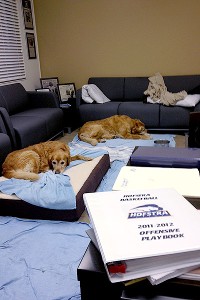 Courtesy of Mo CassaraThis is what Mo Cassara's office looks like this week.
Nearly two weeks later, the Pride were disrupted again -- this time by a force of nature.
On Monday, post-tropical storm Sandy unleashed its wind, rain and storm surge on Long Island and Hofstra, like countless other schools and structures that were in its path.
"It's been a real challenge for us," Hofstra coach Mo Cassara said Tuesday morning. "But I give the kids a lot of credit for their resiliency. Hopefully we won't see any more challenges coming our way."
Cassara lives on the beach and had to evacuate. So he took his two dogs and hunkered down in his office Monday night after the team practiced. The players were sent to the dorms, where it was deemed safe to ride out the storm.
The power went out at 11 p.m., and the scoreboard horn was triggered. It lasted for more than 30 minutes.
"I was walking around with my two golden retrievers and a flashlight to find a breaker," Cassara said. "My dogs were howling. It was really bad outside."
Cassara called facility managers Jay Artinian and Colm Kennedy. They braved the elements, came in and helped turn off the buzzer.
The Pride had just scrimmaged Hartford over the weekend, and the Hawks left right before Sandy. A year ago, Hofstra scrimmaged Hartford and got out right before a snowstorm that left the West Hartford area without power for a week.
"I texted [Hartford coach] John Gallagher and said, We're never scrimmaging you again," Cassara said. "It's been bad luck."
Cassara said the team was scheduled to be off Tuesday, and he hopes practice can be held Wednesday.
"I'm hoping we can get back to work Wednesday, but I'm not sure if we'll have electricity," Cassara said. "We probably won't have classes. It's a big commuter school.
"If we had a veteran team, I'd feel a lot better. It's been hard to spend time together, watch film and build the team with such a young group."
The Pride open the season at Monmouth on Nov. 9 before playing at Purdue in the 2K Sports Classic benefiting the Wounded Warrior Project. Hofstra is then scheduled to host other teams in the tournament from Nov. 16-18, with games against South Dakota State, Division II University of District of Columbia and Marshall. South Dakota State and Marshall are possible NCAA tournament teams as a favorite in the Summit and likely a second-place finisher in Conference USA, respectively.
Colonial Athletic Association commissioner Tom Yeager called Southern Conference commissioner John Iamarino on Thursday to give him the professional courtesy of knowing that he would be contacting a few of Iamarino's member schools, widely believed to be Davidson and College of Charleston.
[+] Enlarge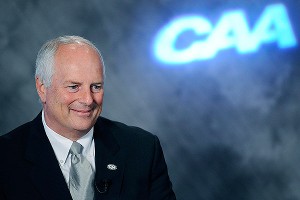 Rafael Suanes/US PresswireCAA commissioner Tom Yeager has seen three member schools depart in recent weeks.
"I appreciate that and I'm hoping to convince them [to stay]," Iamarino said. "We've got league meetings coming up [May 29-June 1 in Asheville, N.C.] and like every other conference, except the Ivy League, I suspect, 85 to 90 percent of the issues will be centered around realignment issues."
The trickle-down effect of conference realignment seems to never end. The CAA loses anchor programs VCU (to the Atlantic 10 in the fall of 2012) and Old Dominion (to Conference USA in the fall of 2013). Those two moves came on the heels of Georgia State moving to the Sun Belt.
The CAA has to do something to maintain relevance, and the Southern Conference, and possibly the America East Conference, are ripe for the pickings. (America East commissioner Amy Huchthausen said the league won't comment on any overtures from the CAA or anyone else toward its programs, such as Boston University and Stony Brook.)
"[The CAA] is such a Southern league I think they have to replace them with Southern teams," Delaware coach Monte Ross said. "I think they have to have that Southern flavor that the league is known for, and Davidson is a quality name and program."
Said Towson coach Pat Skerry: "But we've got to get someone in the North, too. Stony Brook could be a viable option."
Davidson and College of Charleston are the most obvious choices.
Iamarino is well aware of the interest in his league's programs. But he said he has every intent of reminding the schools that they are in a competitive league and the proximity of the member schools offers low travel costs.
"We're all within the geographic footprint," Iamarino said. "We avoid missing class time. The fans can travel to road games. That's why conferences were normally put together in the first place."
Iamarino said the exit fee is $300,000 for notice of two years or more and $600,000 for less than two years.
Charleston athletic director Joe Hull said the school doesn't have a position on the matter yet and said his school was happy in the Southern Conference.
Davidson athletic director James Murphy said it wouldn't be appropriate to comment on conference affiliation. But head coach Bob McKillop was willing to speak.
He said that 25 percent of the 1,800 students on campus play a sport, meaning that a move to the CAA affects a high percentage of the student population.
[+] Enlarge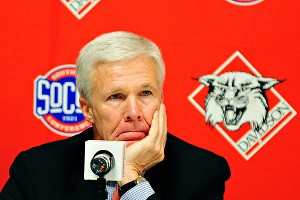 Jeff Siner/Getty ImagesDavidson head coach Bob McKillop doesn't necessarily believe the Wildcats' prospects would be improved by a move out of the Southern Conference.
"We have rigorous academic standards," McKillop said. "We've been to the NCAA tournament five times and the NIT twice in the past 10 years. We present a unique situation. But any decision will be made at the presidential level, not just a basketball decision."
Translation: Davidson is doing just fine in the Southern and doesn't necessarily need to move to the CAA. It also means that their options may not be limited to the CAA. The CAA needs Davidson to beef up its membership and provide a consistent competitor for the likes of George Mason and Drexel.
"VCU left the Colonial for the A-10, but who is to say the A-10 isn't going to change in the next three to four months? Who is to say the Big East or who is to say the Colonial won't change more?" McKillop said. "The dominoes have been blowing from the BCS. There are so many kinds of hypotheticals. Maybe James Madison and Delaware will go to the MAC in football or William & Mary to the Patriot."
Northeastern coach Bill Coen said he's hopeful that there are no knee-jerk reactions in the CAA.
"I think everyone needs to take a breath," Coen said. "You have to guard against doing something quickly that might not be a long-term solution."
George Mason athletic director Tom O'Connor said the onus is on the remaining schools to continue to show a commitment to remaining in the league.
"We all need to be proactive," O'Connor said. "You can't be stagnant. If you look internally and basketball is important to you then make sure you give the program all the tools to be successful."
Georgia State and Old Dominion are in the Colonial next season, but league bylaws prohibit their participation in the conference tournament. Towson and UNC Wilmington are ineligible for the tournament based on poor academic scores; Towson is appealing.
At this juncture, unless something changes, only seven schools would be eligible for the conference tournament in 2013.
O'Connor said the bylaw preventing Old Dominion and Georgia State from postseason participation should be changed when the league meets next week.
"My philosophy is that we should let the student-athletes play in championships," O'Connor said. "I think we can have conversations about our bylaws in the CAA."
O'Connor said there should be discussion about suspending or doing away with the rule altogether. He said the bylaw was put in place 10 years ago but "the world has changed in a lot of different ways. Student-athletes should have an opportunity to participate in championships."
If the membership can resolve the tournament issue, that might be the first step in trying to move ahead as one conference thinking about each other rather than the individual interests.
The CAA has to stick together at this point, or it will quickly fade from relevance.
June, 6, 2011
06/06/11
2:31
PM ET
On Feb. 22, former Connecticut assistant Patrick Sellers found himself in China, where he had gone to keep his coaching career alive after being let go by the Huskies. Upon waking up that morning, he checked his email and couldn't contain his emotion.
An email from his attorney had popped into his inbox overnight. Sellers had been exonerated by the NCAA and wouldn't face any sanctions when the Committee on Infractions released its report on UConn. That was four months after he had gone in front of the COI in Indianapolis, pleading his case that he had done nothing wrong but did what he has done for years: talk to agents on the phone about prospective recruits.
"I went to practice that day and was dunking and shooting so well," said the 42-year-old Sellers, who spent last season as an assistant with the Shanxi Dragons. "It felt so good."
In May 2010, as one of two assistant coaches (Beau Archibald was the other) cited for misleading investigators during the investigation into the recruitment of former player Nate Miles, Sellers saw his UConn coaching stint end when the school didn't renew his contract.
[+] Enlarge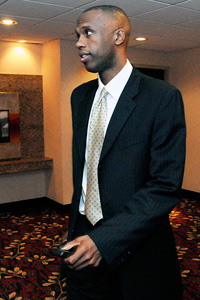 AP Photo/Tom StricklandSellers, seen here at last year's COI hearing, is back in Division I.
It was a trying time to say the least.
"I was embarrassed," Sellers said. "When this came out, it put me in a bad light. I've never been in a bad light. I think I've only had about three speeding tickets in my life. I was sad. I was down. I've always tried to do things the right way. Coaches would ask me for advice coming up. I was always trying to help people and then this happens and you're just so embarrassed. I felt like I didn't do anything and I couldn't believe my name was in it."
Sellers returned to the United States on March 21, just in time to witness the UConn players he helped recruit go on a magnificent run toward the national championship. He was there in Houston at the Final Four, sitting in the stands for the two wins at Reliant Stadium -- feeling as if he had a part in the development of the program but still far removed from a second chance. He spent countless hours trying to get the word out that he was fair game for an assistant-coaching job, making it clear to everyone he knew in Houston that he was hirable.
In its reporting on the Connecticut violations, Yahoo! Sports detailed Sellers' 223 calls or text messages to the agent/manager in question (Josh Nochimson), as well as six hours of conversation with Nochimson from his office phone.
Sellers said he believes he was initially tagged with the misleading tag by the NCAA because he challenged the notion that he had done something wrong. He said he was told by his attorney that he was a bad witness.
"I told the NCAA that I call agents all the time, I talk to a lot of agents," Sellers said. "It also probably didn't help that the day I was interviewed I had food poisoning like a lot of the players that day. We had just played Michigan and none of us were feeling well that next day. It was something that we all ate. I was a bad witness. I didn't know how to react."
Sellers said when he went in front of the COI last October he told the committee there was a miscommunication from his first interview with the enforcement staff.
"I didn't lie to them," Sellers said. "I wasn't trying to mislead anyone. I was just trying to answer a question. I just told them the truth."
And the COI sided with Sellers because they didn't tag him with a show-cause or any penalty that would inhibit his ability to get another job.
Sellers interviewed with Louisville earlier this spring but didn't get the job. Then he heard his friend, Mo Cassara, had an opening at Hofstra after Allen Griffin left the staff to go to Dayton. Cassara had been the coach at Worcester (Mass.) Academy when Sellers worked at Central Connecticut.
"There was so much publicity when I left but nothing when I got cleared," Sellers said. "It's great to be with Mo now."
Cassara didn't hesitate with Sellers. He has known Sellers for a while, and his entire staff is about second chances.
Cassara was fired from Boston College with the rest of Al Skinner's staff. Steve DeMeo was fired at Providence. Wayne Morgan was fired as head coach at Iowa State.
Cassara got the gig when Tim Welsh got a DUI a few weeks into his job. A year later, Cassara is on stable ground with a new five-year contract after leading the Pride to 21 wins and 14 in the Colonial Athletic Association (tying for second with Old Dominion) in his first season as a Division I head coach.
Sellers fit the profile for Cassara -- a Northeast coach who had strong recruiting ties. There was the personal relationship, yes. But there was also the idea of giving a nod to someone who needed a boost.
"If anybody appreciates giving a chance, it's me," Cassara said. "Look at where we were a few years ago and where we are now. Things have really spun around. I'm thrilled to have him on the staff."
Sellers said he knew there would be thorough checks. Cassara said calls were made to the UConn compliance office, athletic director Jeff Hathaway and of course the NCAA.
"We did our homework and everyone was positive," Cassara said. "We've got three younger, single guys on the staff who are all close in age and Wayne obviously also has a lot of experience."
The New York-area/Big East ties are already in play. Former Arizona guard Lamont Jones will visit later this week in an effort to move closer to his Harlem home. Former UConn wing Jamal Coombs-McDaniel is also coming in.
"I'm such a better coach now than when I was before all of this happened because of the coaching in China," said Sellers, who was both an associate head coach and interim head coach with the Dragons. "I just wanted another chance to jump back in there. I just want to coach."
Now he has a chance, which didn't seem possible when the initial notice of allegations was reported and Sellers' appearance in front of the COI was documented.
Now, eight months later, Sellers is in a good place: "I'm a happy-go-lucky guy again."
May, 31, 2011
05/31/11
1:01
PM ET
Missouri and Missouri Southern officials are working on getting a waiver from the NCAA to conduct a charity exhibition game in late October, with all the proceeds going to the people of Joplin, Mo.
The NCAA shouldn't hesitate.
It would be a public relations disaster for the NCAA to turn down this request. The Tigers have already committed and budgeted for two exhibition games in the fall. And the purpose is not to take money out of the school budget for a game. The intent would be to have all of the proceeds for a game at the Division II school in Joplin go toward disaster relief from the deadly tornado that ripped through the city on May 22.
The death toll will likely rise. The reconstruction will take months, if not years, to complete.
"What we want to do is continue to bring awareness to their struggle," said new Missouri coach Frank Haith. "As soon as things like this happen, people are motivated and aware. But then they forget about it. We want to make sure this stays in people's mind."
Haith was part of a University of Missouri contingent that made the three-hour drive to Joplin last Thursday. St. Louis Post-Dispatch columnist Bryan Burwell documented the day.
"You can't imagine until you see the destruction," Haith said. "It was unbelievable. There was sheet metal wrapped around trees. The cars were tossed around like toy cars. Buildings were flattened. But the people there were so resilient. We saw it when we were in the shelters. We tried to put smiles on their faces."
Joplin is roughly three hours from Columbia. It's much closer to the University of Arkansas. But Missouri is the state school and there is a real push to ensure there is a strong presence by the university in the reconstruction.
Giving Mizzou a third exhibition game, likely before the first two, shouldn't even be an issue for the NCAA. Not approving this would not only be a PR disaster, but also simply the wrong thing to do.
• Damon Stoudamire told me two weeks ago in Chicago that he never played with Josh Pastner at Arizona but he respected him, really liked him and admired what he was doing at Memphis in such a short time.
Pastner was recruiting Stoudamire away from the NBA, in much the same manner that he recruits a player. He was convincing him that the Tigers would be better off with the longtime NBA guard on board. And they will be. The hiring of Stoudamire away from the local Memphis Grizzlies staff is a home run for Pastner. There's little doubt Stoudamire will help the team's guards play with more confidence, intelligence and purpose on every possession.
Pastner wasn't intimidated when he hired veteran assistant Glynn Cyprien for the original top assistant spot. He wasn't threatened by hiring former head coach Willis Wilson, either. Now both are gone -- Cyprien to Texas A&M as an assistant and Wilson as head coach at Texas A&M-Corpus Christi.
"He's going to help us a lot," Pastner said. "He's been at the highest level. He's got a ton of experience."
Stoudamire also has a presence, even though he's a compact guard. None of the Memphis guards are going to trick Stoudamire or fool him in any manner. He knows the game these young guys will play at times. He has seen it all and will know how to motivate the players. Adding strength and conditioning coach Frank Matrisciano, who helped remold Blake Griffin's body in San Francisco, will also help.
• Kudos to Hofstra head coach Mo Cassara for giving Patrick Sellers a second chance. Sellers was exonerated by the NCAA in the UConn case, even though he was forced out during the investigation. Sellers coached last season in China. He said he thought he was on the verge of a head-coaching job before the NCAA investigation. Now he has to work his way back up again, joining Steve DeMeo on the Cassara staff. Sellers is well-connected in the Northeast and is personable. This should help him restart his career.
February, 8, 2011
02/08/11
5:17
PM ET
Wisconsin coach Bo Ryan sat down with Bob Cousy recently to discuss the definition of a true point guard.
[+] Enlarge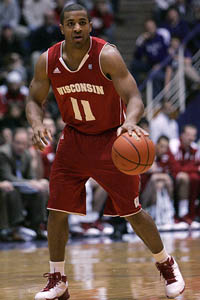 Tommy Giglio/US PresswireWisconsin's Jordan Taylor averages close to 18 points and dishes out almost 5 assists per game.
Ryan said Cousy laid out the essential qualities of the position: a player who sees the floor and makes his team better.
"Jordan Taylor is exactly what Cousy was talking about," Ryan said.
So, too, is Xavier's Tu Holloway. Yet, somehow neither Taylor nor Holloway made the list of 10 finalists for the award released Monday.
The finalists include some obvious choices like BYU's Jimmer Fredette, Connecticut's Kemba Walker, Kentucky's Brandon Knight, Villanova's Corey Fisher, Washington's Isaiah Thomas and even Duke's Nolan Smith, who is more of a shooting guard than point, but still can be on this list since Kyrie Irving has been sidelined with a toe injury. San Diego State's D.J. Gay merits inclusion on the list, too, with the Aztecs sitting with one loss so far this season.
Saint Mary's Mickey McConnell is a bit of a push since you could make the argument that Matthew Dellavedova handles the ball as well and has dished it out as much as McConnell (5.7 assists per game to McConnell's 6.3).
But Illinois' Demetri McCamey over Taylor? Illinois is 5-5 in the Big Ten, 15-8 overall, and McCamey is the epitome of inconsistency. His production in Illini losses (five assists and four turnovers in a loss at home to Ohio State; five turnovers and three assists in a three-point loss at Indiana) stands in stark contrast to his more impressive games (21 points, seven assists and two turnovers in a win over Wisconsin).
Taylor leads the nation in assist-to-turnover ratio at 3.88 (101 assists and 26 turnovers). He's turned the ball over only 43 times in 46 career Big Ten games. He's second in scoring in Big Ten play at 20.7 points a game and is averaging 35.5 minutes a game. And he is a tremendous defender, taking on McCamey, Michigan State's Kalin Lucas and Michigan's Darius Morris in key assignments.
But most importantly, Wisconsin is 7-3 in the Big Ten, 17-5 overall and ranked No. 14. No offense to Josh Gasser but it's not as if Taylor has an all-league player next to him on the perimeter. And Taylor has made life a lot easier for Jon Leuer and Keaton Nankivil.
[+] Enlarge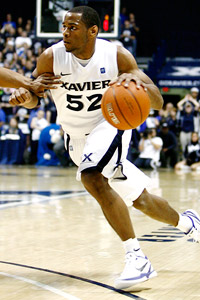 Icon SMIXavier's Holloway is a shoo-in for A-10 Player of the Year.
"He doesn't turn it over, he makes the extra pass and it's like a hockey assist, he makes the pass to the pass that gets the assist," Ryan said. "He's always thinking about one play ahead. I think Cousy was the same kind of guy, making that pass. He could always see the next pass, two passes ahead. And when teammates relish the time on the floor with somebody, I know the impact he's had on our team."
Taylor should be a first-team All-Big Ten selection. McCamey should not.
And Cleveland State's Norris Cole over Holloway? Cole is having an exceptional season with 20.3 points, 5.6 rebounds and 5.3 assists a game. But the Vikings are 21-5 overall, without a signature nonconference win, and tied for second place in the Horizon (10-4) behind Valparaiso.
Holloway leads the A-10 in scoring (20.8) and free throw percentage (86.6) and is second in assists (5.0). He plays 38.4 minutes a game and is handling a depleted roster. He has scored 20 or more points in 14 games and can drive to the hoop as well as pull up. Saint Louis went box-and-one on Holloway and he got 12 first-half points for Kenny Frease. He then adjusted to score 20 of his 24 points in the second half. He's one of four Division I players averaging 20 points and five assists.
Hofstra's Charles Jenkins isn't on the list for some reason, either, with his 23.2 points and 5.1 assists for the 9-4, 15-9 Pride. But Holloway has the Musketeers at 8-1 and tied with Duquesne atop the A-10 and 16-6 overall heading into Tuesday's game at Georgia.
"His numbers are better than half of the players listed," Xavier coach Chris Mack said. "Not sure of the exact criteria but it can't be based on his production."
Not sure, either, but Taylor, Holloway and of course Jenkins should have been listed as Cousy finalists.
January, 14, 2011
01/14/11
4:51
PM ET
Jimmer Fredette
is carrying BYU to a high national ranking, a shot at a Mountain West championship and a chance to go deep into March.
Kemba Walker is doing the same for Connecticut, carrying the Huskies to a high national ranking, a shot at Big East contention and a chance to go deep into March.
Barring some sort of injury, Fredette and Walker are locks to be first-team All-Americans.
Duke's Nolan Smith deserves a spot on the first team at this point with Jared Sullinger of Ohio State and Marcus Morris of Kansas filling out the top five.
But if you're looking for a sixth man on this team, a player who is doing as much and bears a comparable amount of burden for his team's success as Fredette and Walker, your choice should be Hofstra's Charles Jenkins.
The Pride are a surprising 5-0 in the Colonial Athletic Association heading into Saturday's home showdown against Old Dominion. The Monarchs, coming off a road loss at Drexel, could fall three games behind the Pride with a loss on Long Island, N.Y. ODU was picked to win the league, while Hofstra was selected in the middle of the pack.
[+] Enlarge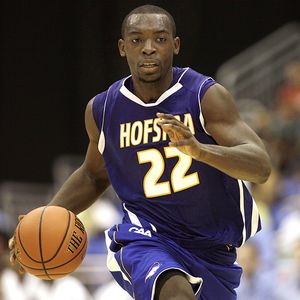 AP Photo/Ricardo ArduengoCharles Jenkins is fifth in the nation in scoring (23.5 points per game).
But the rise of the Pride is all attributable to their 6-foot-3 senior guard.
Jenkins, who is averaging 23.5 points, 4.6 assists, 3.6 rebounds and 2.0 steals while shooting 49.3 percent on 3-pointers and 58.3 percent overall, has led an underclassmen-dominated team to the top of the CAA.
"When you're the best player on the floor, you have to be aggressive, and in my case my team feeds off my energy,'' Jenkins said Friday. "If I'm not feeling it, we can lose. One thing is body language and that can transfer to my team. I've got to stay aggressive. I have to step up and make baskets.''
Coincidentally, Jenkins, Walker and Fredette are all New York natives.
All three have to deal with the opposing scouting report focusing exclusively on ensuring those three don't beat the opponent.
"They're all similar,'' first-year Hofstra coach Mo Cassara said. "But if you look at Charles' stat line, you'll see how efficient he is. He doesn't take bad shots. I can barely get him to take 12 to 13 attempts a game. He's incredibly efficient. He shares the ball. He sacrifices himself. He's an incredible talent.''
The Pride struggled out of the gate, losing three in a row at the Puerto Rico Tip-Off Classic. In the loss to Western Kentucky, a game in which the Pride held a lead only to succumb to the Hilltoppers' pressure, Jenkins passed up a chance to win the game when he dished off to Mike Moore for a 3-pointer instead of taking it himself.
Jenkins knows now that he has to be more selfish. The Pride have won 10 of their last 12 games and four in a row.
"We're practicing better and coach has been pushing us hard, and it's paying off,'' Jenkins said. "We came back after a bad loss [87-62 at Iona] and didn't want that to happen again, and it's showing the last few games.''
Old Dominion has the size and strength to push the Pride around, but ODU will have trouble containing Jenkins. A win over the Monarchs would send a strong message to the rest of the league that the Pride aren't going anywhere. This is the only time Hofstra plays Old Dominion in the unbalanced CAA scheduling. Hofstra has already won at Drexel, and while it still has to go to VCU and George Mason, the Pride don't have to play at James Madison -- another possible title contender.
"Charles challenged our guys after we lost that Iona game, and I'm proud how we responded,'' said Cassara, who was an assistant at Boston College last season. "But I'm really proud of our 6-1 record on the road. That's a great Al Skinner trait to prepare and win on the road. We've got confidence to win on the road, and they believe in each other and Charles.''
November, 22, 2010
11/22/10
12:56
PM ET
SAN JUAN, Puerto Rico -- November tournaments don't make or break a season, but they can be a strong indicator.
UCLA went winless in Anaheim last season. The Bruins then missed the NCAA tournament.
West Virginia won Anaheim and eventually reached the Final Four.
Meanwhile, Butler was in the same field and looked horribly mediocre but was within one possession of the national title.
So, we report, evaluate and speculate.
Here are some impressions from four days in Puerto Rico with eight teams (and for more analysis, check out my video wrap from San Juan).
• I was convinced Minnesota would be a factor when I saw it practice last month. The Gophers were just too big inside with Trevor Mbakwe, Ralph Sampson III, Colton Iverson and Maurice Walker to be a fluke.
[+] Enlarge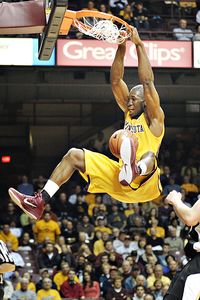 AP Photo/Tom OlmscheidTrevor Mbakwe and Minnesota's toughness and size were big factors in San Juan.
Al Nolen is back as the lead guard and top on-ball defender, Blake Hoffarber is raining down 3s, and with the possibility that Rodney Williams and eventually Devoe Joseph can slash to the basket for buckets, this team is extremely formidable.
• Minnesota didn't disappoint. The Gophers' size was the story here all week. The coaches couldn't stop talking about how physical, tall and dominating the Gophers could be in the post. The confidence that Sampson III is exhibiting -- even with his subpar game Sunday night -- could be a game-changer for this team. Mbakwe gives the Gophers the toughness they covet, and he'll be a strong man in the Big Ten.
• The Gophers keep saying how wonderful Joseph will be for this team when he gets back from his team suspension. He wasn't a dominating scorer for the Gophers, so we'll take their word on this one for now. But he'll have to fall in line with a team that has found its mojo here in the Caribbean.
• Coach Tubby Smith should be applauded for the job he has done at Minnesota. Smith has put together a defensive-minded team that has balance and enjoys being with one another. The staff is a veteran crew, and there is a sense this could be a special year.
• West Virginia will be fine and a real contender for the Big East title. The Mountaineers had some questions about perimeter shooting with the departure of Da'Sean Butler. But Casey Mitchell was phenomenal in San Juan. If Mitchell keeps his word and remains quiet, the Mountaineers will be a player. Mitchell was subdued throughout the week, almost going to the extreme of not talking back to coach Bob Huggins. Mitchell doesn't smile much, but he clearly has a shooter's mentality.
• The reason for the optimism is that Kevin Jones wasn't "on" throughout the week. He can play much better and be more of a factor than he was in this tournament. John Flowers is still working to be a consistent scorer, as well. While the Mountaineers are undersized, they do have the toughness to board in the Big East. The team just needs Deniz Kilicli to be more efficient as a starter. Backup Kevin Noreen gave them much-needed energy off the bench in Sunday's title game.
• Point guard Darryl Bryant won't have an off game like he did on Sunday too often (0-for-1 from the field, zero points). He knew it. There was no reason for it. He'll be back as a major factor for the Mountaineers. Joe Mazzulla and Bryant in the backcourt are a formidable pair. I wouldn't worry too much about this squad. As Huggins said, his teams compete for championships.
• Vanderbilt was impressive after leaving with a 2-1 mark. Coach Kevin Stallings was adamant that the Commodores could be a contender in the SEC East without A.J. Ogilvy and Jermaine Beal. The Dores have an extremely effective perimeter with Jeffery Taylor's versatility, John Jenkins' long-range shooting, and the combination of Brad Tinsley and Kyle Fuller at the point.
• But the biggest surprise from Vanderbilt was its power game. The Dores were one of the top three tough teams here, and it showed. Festus Ezeli can finish on the offensive backboard and Lance Goulbourne doesn't show fear going in for the offensive putback.
• Stallings never gets full credit. The man can coach. He was a candidate at Ohio State prior to Thad Matta taking the job. The Buckeyes couldn't have gone wrong either way. Obviously, Matta has done a tremendous job in Columbus, but Vandy should realize, if it hasn't already, that it has quite a catch in Stallings. He has made this program relevant for years and will continue to do so.
• North Carolina, well, what is there to say about the Tar Heels? UNC is just missing something. What it needs is a player in the locker room who can grab the rest of the crew and shake them up a bit. They don't have an enforcer, someone with an edge. The talent is there, but something isn't. Coach Roy Williams said that attitude and leadership will have to come from the coaches until the players develop it in the locker room. But who will be that guy? Can it be someone like freshman Kendall Marshall? Will Harrison Barnes develop that type of edge? Barnes is a phenomenal talent, but he got pushed around and had trouble fighting for his own shot in the last two games. Sure, there were missed defensive assignments, and Barnes did flourish against a zone. But in the Minnesota game, the Gophers bodied him up, and he went 0-for-12 from the field. That's not good. Tyler Zeller and John Henson have incredible length, skill and athleticism, but they just don't exude the type of personality to take over. How this team develops over the course of the season, when it is sure to take on more losses (possibly at Illinois next week), will be intriguing to watch. But know this: UNC is in the ACC mix with Florida State, Maryland, Virginia Tech and NC State for second place behind Duke. The Tar Heels aren't at all ahead of the pack. They are in the mix, just like everyone else. The bottom of the ACC has been awful so far, so there is hope that the records for those teams fighting for second won't come close to last season.
• Davidson coach Bob McKillop should be listed high if you're ranking elite coaches. The Wildcats had no business leaving 2-1 with a roster loaded with freshmen and sophomores. Western Kentucky had a few players (Juan Pattillo and Steffphon Pettigrew) who are going to play pro basketball somewhere on the globe. Davidson may not have guys like that. Yet Davidson was the better team, the more efficient team, and leaves here with oodles of confidence going forward into the Southern Conference. Western Kentucky, a Sun Belt favorite, is now confused, unsure why it can't find any cohesion. The Hilltoppers were selfish at times and lost at others. The only good news is that their press and trap allowed them to come back and beat Hofstra, or the Hilltoppers could have left here 0-3.
• Hofstra's Charles Jenkins could be this season's Rodney Stuckey. He's a lower-profile player who could be a first-round NBA draft pick. He can find his shot anywhere on the court and is also a solid leader. But he has to be more selfish on this team. He passed up one shot against Western Kentucky and then didn't command the ball on the last possession. Hofstra will be in trouble throughout the season if Jenkins doesn't dominate the ball.
• Nebraska will have issues in the Big 12 if it doesn't get better guard play. The Cornhuskers need some consistent play on the perimeter to stay in games. They can defend and board, but the perimeter is a sore spot. Nebraska coach Doc Sadler is well-respected for a reason -- his teams play hard, and he gets them to defend. But that won't be enough for the Huskers to be a winner in the last season of the Big 12. They need game-changers on the perimeter.
• And a memo to future teams -- the Coliseo de Puerto Rico was as impressive a building as I've seen in one of these early November tournaments off the grid. And surprisingly, the fans came out locally for the final. As always, West Virginia fans came strong, but there was a loyal following from Minnesota and North Carolina, too.
November, 1, 2010
11/01/10
2:40
PM ET
Charles Jenkins
checks in with his new coach at Hofstra, Mo Cassara, multiple times a day. He checks in using various forms of technology. He checks in before and after practice.
He has to. The two need each other to be successful. If Cassara fails in his first head-coaching job in Division I, the CAA Player of the Year could be culpable. If Jenkins suddenly flounders after being tabbed preseason POY again, then the finger-pointing could be directed at Cassara.
"I have to help [Cassara]," Jenkins said. "We're helping each other."
It's a good thing they have found common ground.
"He's an unbelievable person, a terrific player. If I were still at BC, he'd be one of the top players for us," said Cassara, who is Jenkins' third head coach in the past eight months. "It would be a much tougher transition if he weren't here."
Cassara's elevation to the head-coaching job at one of the hidden gems in the New York metro area was meteoric. Cassara was an assistant at Boston College under Al Skinner and his responsibilities were geared more toward scheduling, individual workouts and advance scouting. When Skinner was fired this spring, Cassara landed quickly on his feet when former Providence coach and ESPN analyst Tim Welsh got the gig to replace Tom Pecora, who had left Hofstra for nearby Fordham.
But Welsh didn't last long on the job after a DWI on Long Island forced him to resign on May 3, just a month after he was hired.
Enter Cassara, the choice among the Hofstra administration over former Syracuse player and current assistant Allen Griffin and longtime Welsh assistant Steve DeMeo, who stayed on to be a part of Cassara's staff. Cassara then added another Syracuse-connected coach in former Jim Boeheim assistant and Iowa State head coach Wayne Morgan.
[+] Enlarge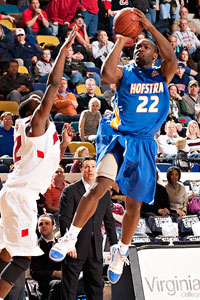 AP Photo/Scott K. BrownJenkins averaged 20.6 ppg for the Pride last season.
But the key to Cassara's transition was keeping Jenkins, easily one of the best-kept secrets in the nation. Jenkins had no intention of transferring and decided not to leave early for a shot at the NBA. Halil Kanacevic transferred to Saint Joseph's after averaging 8.6 points and 7.6 rebounds a game in his one season with Hofstra. Second-leading scorer Chaz Williams took his 9.8 points and 4.2 assists per game and transferred to UMass. So that left Jenkins (20.6 ppg, 4.5 rpg, 3.9 apg) as the anchor of a team that is thin on numbers. Nathaniel Lester averaged eight points and 24.9 minutes a game, but suffered a quad injury and will have to redshirt.
So Jenkins needs returnees Greg Washington and David Imes, who combined for seven points a game last season, to offer him some balance. Translation: Hofstra's ability to be a contender in the CAA is all on Jenkins.
Cassara said Jenkins has handled the chaos at Hofstra the way Jared Dudley handed any bout of adversity at BC, recalling the period after Sean Williams was booted off the Eagles.
"I remember our staff had our heads down and then we went into practice and Jared was acting as if nothing was wrong. We won 10 more games and made the NCAA tournament," Cassara said. "Jared wouldn't let anyone panic. Charles has those same qualities. As good a player as he is, he's a better kid. We talk on BlackBerry, the phone, all the time. He's incredible."
Jenkins said Cassara was more reserved when he first met him during individual workouts. When he was tabbed as the head coach, there was a slow transition. Now he's the primary voice.
"His passion changed tremendously," Jenkins said of the 37-year-old Cassara. "He really wants us to be successful. He's getting into us more and expecting a lot out of us. He's pushing us."
As far as X's and O's, the Pride are introducing a hybrid of a system. Cassara said he's using what he learned from working for Skinner and Dayton head coach Brian Gregory, and is absorbing the Syracuse zone from Griffin and Morgan.
"Our lack of depth means we'll have to play a lot of zone to protect some of our guys," Cassara said. "We will have to be more creative."
Jenkins, who added that he wanted to be the first one in his family to graduate from college, said that there are built-in excuses for the Pride to be unsuccessful this season. The systems changes, the defections, the injuries and the coaching turmoil are all easy outs for Hofstra.
But no one around the program seems pessimistic.
"It was a chaotic first couple of months and now the staff is feeling like we have our feet on the ground," Cassara said. "We're picking up the terminology and there is starting to be a sense of normalcy now."
A lot of that credit goes to Jenkins, just the right tonic for a young coach thrust into his first big gig.
May, 6, 2010
05/06/10
11:01
AM ET
Mo Cassara sat in his bed Tuesday night, making up a list of coaches to call to see about getting a job.
For two days, Cassara had been working Hofstra athletic director Jack Hayes to see if his former boss Al Skinner would be a viable candidate to replace Tim Welsh, who had embarrassed himself, the staff and the university with a DWI last weekend within a month of getting the head coaching job.
Welsh resigned Monday. Cassara had no reason to believe he had a shot to be the head coach. He wasn't even officially hired yet after Welsh tabbed him from Skinner's fired staff at Boston College. The one coach from the Hofstra staff who was actively pursuing the head coaching job after Welsh's resignation was assistant Steve DeMeo, who worked with Welsh at Providence and left a head coaching job at Division II Newberry College (S.C.) with three years left on his contract to work for Welsh again.
Early Wednesday, Cassara was still in the dark on what his fate was at Hofstra, not to mention that of DeMeo and assistant Allen Griffin. He even lamented that Griffin was, perhaps, in the most tenuous situation because his wife was about to have a baby.
And then, suddenly, Cassara was asked to meet with Hayes and university president Stuart Rabinowitz, and -- just like that -- was offered the job. He obviously accepted. There was no news conference because the university didn't want to go through answering questions about Welsh or the embarrassment of having a second presser in as many months for a head coach, almost like having a formal wedding just a month after the first heralded event failed and ended in a quick divorce.
The decision to go with Cassara over DeMeo surprised even the two of them. DeMeo agreed to stay on as associate head coach. Griffin will remain on staff as well.
What Hofstra did was make a long-term commitment to Cassara (they wouldn't release the number of years, saying only it was a multiyear deal) in large part because Hayes said he believed Cassara was the best choice and that he didn't want to go through another coaching search.
"No one thought we would do this again,'' Hayes said of another coaching search. "We thought we had made and were comfortable that we made the right hire. We wanted to find a head coach and thought we had one [in Welsh]. But we weren't about to go through a third staff in the last six weeks.''
The reason for the initial search was because Tom Pecora left for Fordham after failing to get the Pride to the NCAA tournament in nine previous seasons. The Pride finished 19-15 last season, appeared in the CBI and will return CAA player of the year Charles Jenkins, a guard who averaged 20.6 ppg as a junior.
"

We wanted to find a head coach and thought we had one [in Welsh]. But we weren't about to go through a third staff in the last six weeks.

"

-- Hofstra AD Jack Hayes
While Hayes reiterated he didn't want to go through another search, he was quick to say he didn't settle for Cassara.
While acknowledging that Cassara wouldn't have been a viable head coaching candidate five weeks ago, Hayes said the circumstances had changed.
"I didn't feel the pressure,'' Hayes said. "I didn't want them to face a third coaching staff in a one- or two-month period. It was not a rush to judgment or a quick fix. Five weeks ago it was completely different.
"Four or five days ago none of us saw this,'' Hayes said of Welsh's DWI and subsequent resignation. "We weren't thinking whether we'd hire Mo as a head coach. The last two days Mo may not have been thinking it, but I was and so was President Rabinowitz.''
Hayes said he talked to "people" at Cassara's previous schools.
"This wasn't a rash decision,'' Hayes said. "We wanted to make it clear it wasn't an interim position.''
Hayes said he would have gone through another search if he "didn't think there was a quality person on the staff. The quality staff avoided us having to have a search. If there were no other options, then I would have reluctantly done that.''
Cassara, who was a head coach at Clark University before joining the BC staff, said over the last few weeks how excited he was to get on the road and recruit under Welsh, jumpstarting his path toward a head coaching position. He was working out the current Hofstra players and his familiarity with them while living in the dorms clearly helped his case in securing the job.
Hayes said how much he liked the staff the past five weeks and how comfortable he felt with them.
"The team had rallied around them,'' Hayes said. "I didn't think the timing was right to start from scratch with a third coaching staff.''
Hayes said that anybody who wasn't a head coach could be considered a gamble. And he's right ... to an extent.
[+] Enlarge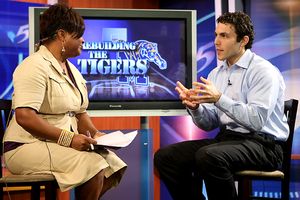 David C. MinkinLike Cassara this week, Memphis coach Josh Pastner was an assistant unexpectedly thrust into the head-coaching seat last spring.
Josh Pastner's hire at Memphis drew similar criticism because he was the stunning choice to replace John Calipari a year ago when Calipari left to go to Kentucky. But Pastner had been the top recruiter for Lute Olson in his final two seasons at Arizona and was the top assistant during an interim year under Kevin O'Neill. Pastner then learned for another year under Calipari at Memphis as the Tigers locked up another elite recruiting class.
His first season at Memphis turned out to be a success based on the low expectations. He led the Tigers to 24 wins and the NIT and prior to finishing the season had already secured one of the top-5 recruiting classes for the 2010-11 season.
Pastner said he wasn't thinking he had a shot to be the head coach at Memphis. He was planning on going with Calipari to Kentucky when athletic director R.C. Johnson suddenly called Pastner into his office. The difference here was that Pastner wasn't the first choice after Memphis had flirted with other candidates, including Leonard Hamilton of Florida State and Tim Floyd, then of USC.
"Your world changes,'' Pastner said. "You go from waking up that morning to a few hours later your accountability changes. You have no idea and then you're thrown into a new role.
"You can go back and forth about it. But when this happens [an assistant unexpectedly getting the head gig], it's like boom, you're in survival mode. You have no time to think about it. When you get an unexpected job like I did, like Mo, you're in complete survival mode.''
Pastner drew a comparison to new Oregon coach Dana Altman, who had time to consider whether to leave a comfortable gig at Creighton. Pastner said Altman could have turned down Oregon. He was a head coach. Pastner said he couldn't pass on the chance. Neither could Cassara.
"You can't turn it down,'' Pastner said. "You've got to take and learn on the fly.''