Category archive:

Kansas Jayhawks
July, 25, 2013
07/25/13
11:57
PM ET
Watch Katz Korner on Thursday (9-11 p.m. ET, ESPNU) as Andy Katz sits down with Self, Michigan State's Tom Izzo, Indiana's Tom Crean and many more head coaches across the country for two hours of hoops talk.
May, 14, 2013
05/14/13
10:40
PM ET
A musings column looking at what Andrew Wiggins' decision to attend Kansas means for next season:
• Kansas will be predicted to win the Big 12 after Oklahoma State was the pre-preseason favorite once Marcus Smart decided to return to the Cowboys.
• Coaches in the Big 12 aren't thrilled to scout against Wiggins, but they understand how much better it is to have him in the league.
"He's the best high school player who has come around in a long time," Iowa State coach Fred Hoiberg said Tuesday. "He's freakishly athletic and has great size and great length. He's a special player and a special talent in our conference."
Baylor coach Scott Drew, whose Bears return Cory Jefferson and Isaiah Austin after both could have declared for the NBA draft, said "the addition of Wiggins and the players that have chosen to return to the Big 12 instead of leaving for the NBA, means the Big 12 fans will get a special year next season."
Said Oklahoma State coach Travis Ford in a text message: "Andrew Wiggins immediately makes any team and league better! Wiggins is an exciting player that all [Big] 12 fans will enjoy watching! Also, this definitely makes Kansas a top 5 team in the country! Loaded with enormous incoming talent and many talented returners!"
• Players want to go against the best. Coaches in the league won't have to worry about getting their players ready for big games in the Big 12. Of course, every team gets up for Kansas, since the Jayhawks are the marquee event/game every season in the conference. Still, having Wiggins in the league will resonate with every player.
"When you go against a guy compared to LeBron James, that's a once-in-a-lifetime experience for a lot of guys in our league," Hoiberg said. "The hype surrounding him is the main story. I'm sure everyone is taking note of that and the opportunity to play against him."
• Kansas and Duke will now provide a rare matchup at the Champions Classic in Chicago on Nov. 12 when the top two freshmen, Wiggins and Duke's Jabari Parker, go up against each other.
That event at the United Center will also be littered with other talent, from Duke's Rodney Hood to Kentucky's No. 1 recruiting class -- highlighted by Julius Randle and Andrew and Aaron Harrison -- to returning stars Keith Appling and Gary Harris of Michigan State.
• I love what Kansas coach Bill Self said in a news release: "This was a pleasant surprise because we never had an idea which way he was leading." There was hype but nothing over the top. Wiggins actually made the decision and didn't leak it out on any social media. No sources needed on this story for the schools, fans or media.
• Self has never hidden from hype and was clear in the release, saying Wiggins could be "not just a good player but have the chance to be a great one."
• The Kansas recruiting class isn't as deep or as touted as that of Kentucky, but it now has an anchor to go with Brannen Greene, Joel Embiid, Conner Frankamp, Frank Mason and Wayne Selden. All but Mason are ranked in the top 40. Embiid could be the difference-maker inside for the Jayhawks with the departure of Jeff Withey.
• Kansas lost Ben McLemore, Travis Releford, Kevin Young, Withey and Elijah Johnson. But the returning core veterans, guards Naadir Tharpe and Jamari Traylor and forward Perry Ellis, have a chance to be the locker room leaders needed to lead this crew.
• The Battle 4 Atlantis on Nov. 28-30 took a hit when Tennessee lost Trae Golden. Kansas was still the headline act in the event, but now it gives Wiggins even more of a platform as the star in the field (bracket to be determined with USC, UTEP, Villanova, Wake Forest, Xavier and Iowa joining the Jayhawks and Vols).
• Florida State would have been a top 15-20 team with Wiggins. The Seminoles will still be in the top half of the ACC but now will have to grind it a bit more. Leonard Hamilton was upbeat and optimistic about the upcoming season before Wiggins made his announcement; knowing him, he won't fade from that prediction.
• Kentucky would have had a potential playing-time issue had Wiggins chosen the Wildcats -- for others, not Wiggins. No other coach could handle that better than Kentucky's John Calipari, but he doesn't need to massage any more egos with this team. He'll have his hands full keeping so many talented players pleased.
• Kansas' schedule includes plenty of tests for Wiggins and crew. Going to Colorado (Dec. 7), a top-five Pac-12 team, is a return game. New Mexico, the favorite in the MWC, was originally going to be a game at Phog Allen but was moved to the Sprint Center in Kansas City on Dec. 14.
The SEC Challenge game given to Kansas was a home run for both Kansas and Florida. Kentucky-Baylor in Dallas will be loaded with NBA-level talent, but the KU-UF game in Gainesville on Dec. 10 will involve two teams picked to finish first or second in their respective conferences. Kansas is the brand of the Big 12 in hoops, and getting the Jayhawks to go on the road in the first year of this event was a major coup for the SEC and ESPN.
• OK, to this point, I haven't mentioned a big-time home game at Phog Allen. Duke, the games in Atlantis, Colorado, Florida and New Mexico are all out of Lawrence. That's almost unheard of for a team of Kansas' stature.
The Jayhawks do have home games against quality "lower-level" teams in Iona (Nov. 19), Towson (Nov. 22) and Toledo (Dec. 30) in addition to Louisiana Monroe (Nov. 8). Iona and Toledo were originally scheduled for 2012, but due to conflict and APR issues, respectively, they couldn't get on last season's schedule. But the coup came in landing the series with Georgetown (Dec. 21) and San Diego State (Jan. 5) for home games at Phog Allen.
• The Big 12 looked bleak a few weeks ago, but look what has happened since: Wiggins to Kansas; Smart back to Oklahoma State; Austin and Jefferson returning to Baylor. Kansas State lost Angel Rodriguez, clipping the Wildcats a bit. Iowa State will be fine, and Oklahoma is on an upward tick. There's no reason to rule out West Virginia with Bob Huggins hungrier than ever to get the Mountaineers back. The same is true for Trent Johnson at TCU. And Texas Tech hired a national championship coach in Tubby Smith.
Where does Texas fit into this? Good question. This is a critical season for the Longhorns to stay relevant in the upper half of the league.
• The Big 12 has had tremendous success with players competing for one season in the league. Look at this list:
Ben McLemore, Kansas (2012-13)
Royce White, Iowa State (2011-12)
Quincy Miller, Baylor (2011-12)
Tristan Thompson, Texas (2010-11)
Cory Joseph, Texas (2010-11)
Josh Selby, Kansas (2010-11)
Ekpe Udoh, Baylor (2009-10)
Michael Beasley, Kansas State (2007-08)
Kevin Durant, Texas (2006-07)
• Self fully expects Wiggins to be the top pick in 2014. The Big 12 has had at least one of the top six picks in the NBA draft in each of the past seven seasons. That will go up to nine in 2014 after McLemore goes in the top three this June and Wiggins likely No. 1 or No. 2 in 2014.
• We're all living in a Canadian basketball world now. Mercy. Seriously, the talent coming from our northern neighbors is historic for that country's basketball program.
February, 7, 2013
02/07/13
8:40
AM ET
Trent Johnson saw the Saturday Kansas loss to Oklahoma State on tape.
He saw his TCU team every day in practice.
He wasn't about to predict a Horned Frogs upset of No. 5 Kansas prior to Wednesday's game in Fort Worth, Texas. He knew better. There may not be a coach in the country with a more transparent view of his own team than Johnson, regardless of his previous stops at Nevada, Stanford or LSU.
He knew what he had and that was a team riddled with injuries, low on talent and beaten down with eight straight Big 12 losses, all but one by double figures. Stats showed TCU was ranked in the bottom third in Division I in scoring, assists, field-goal percentage and rebounds.
"They haven't shown signs or talked about quitting," Johnson said by phone from Fort Worth late Wednesday night. "I told them that the easy thing for players to do is to blame somebody, cry to their mom and dad. We live in an environment of the quick fix. But look at our statistics coming into the game. We were god-awful. They had the opportunity to quit."
Kansas was the team that looked like it had checked out instead, going 1-of-17 from the field early in the game and trailing 22-13 at the half, the Jayhawks' lowest point total since 1988-89.
"The only thing that we talked about is that we're going to have to keep this thing simple," Johnson said. "When they make runs, we can't do too much. But they didn't shoot the ball well and it happens. It was the perfect storm for us."
And it ended up being the most legitimate storm ever in the Big 12.
TCU held on for a stunning 62-55 victory for its first win ever in the Big 12 after nearly going to the Big East and a year ago barely being able to stay above water at times in the Mountain West. Jim Christian opted to go to Ohio, avoiding being fired. Then Johnson got out of LSU in what appeared to be an odd move.
Throughout his career, Johnson has always been a stoic sort. He is extremely serious but intense, as was the case when he had a bit of a meltdown in an NCAA tournament ejection while coaching at Stanford that ultimately left a television damaged in a locker room. But he has always been a stand-up coach, who is averse to any off-court controversy and rarely had teams with issues while he was coaching.
Johnson has never been one to be too high or too low. You could see it in his demeanor after the win as students stormed the court. He high-fived students passing by him but never smiled, pumped his fist or jumped up and down.
"You've been around me long enough to know, this was one game," Johnson said. "We've got so much further to go. I told the kids to enjoy it, but it's one game. We'll take [Thursday] off go to class and be back Friday for West Virginia, who handled us [by 21 in Morgantown]."
Johnson didn't even want to bite on what this win may have done for his credibility on campus or in the Big 12. Hogwash.
"Have we arrived? We're not close to arriving," Johnson said. "There was a coaching change, the talent level, we lost two starters to ACL injuries. We have to stay the course. I don't pay attention to that. We lost our first eight. We could lose our next nine if we're not playing with maximum amount of energy."
He's right. TCU has hardly turned the corner. This was about a Kansas team that punted on this game, was completely out of sync from the opening tip and looked like it still hadn't shaken off the loss to Oklahoma State. TCU capitalized but hardly dominated to the point that the Horned Frogs will be feared in the Big 12. But they should at least be respected now.
"I'm not a glass half-full guy," Johnson said. "We played the game right [Wednesday night]."
TCU has made a commitment to Johnson. He said the promise is for facility upgrades. I don't doubt it with the passion for football and the desire to be winners in the Big 12, TCU won't slack. Whether Johnson wants to admit it or not, this win helps with perception among the Horned Frogs' faithful that he can redirect a seemingly irrelevant program that hadn't been worthy of a national look since Billy Tubbs was running wild behind Lee Nailon and an entertaining team in the 1990s.
Johnson had nothing but positive comments about Kansas and Bill Self. He has known Self for quite some time.
"I've got too much respect for Bill, Bill's damn good," Johnson said. "Nobody wants to play that group. They'll be fine."
Johnson wasn't going to spend too much time dwelling on this win. He had to get to sleep for an 8 a.m. recruiting trip Thursday.
But before he hung up he finally admitted the magnitude of the win, even if his voice never changed from an even tone.
"Obviously, this is a big upset," Johnson said. "This is for me personally, this is one of the best wins I've been around in."
I couldn't see, but I have to believe there was at least a smile in there somewhere. And if not he deserved to be smiling.
January, 29, 2013
01/29/13
8:36
AM ET
Katz's Korner with Kansas coach Bill Self (a portion of this interview is in this week's edition of ESPN The Magazine):
How has redshirting helped Ben McLemore
?
"He appreciates things more. He appreciates the opportunity to play college basketball more. He didn't need to be woke up but it made him appreciate schoolwork and doing well in school when you don't focus and take it as seriously as you should. He naturally matured. I do think he took advantage of not playing and turned it into a positive.''
Why have you had such great success of having players pass the baton?

"The thing we try to sell is that names change but expectations don't. No matter who is out there we expect them to perform at the same level as those before them when they get their opportunity. The roles change every year with the better they get and that's why we have been able to sustain it with guys waiting in the wings. We've also recruited better than people give us credit. My staff has done a great job evaluating. We've had players who were just as great as the great ones but it took three years for them to get it done.''
Why have you been so successful with players waiting their turn?
"The first year [Jeff] Withey played he was our sixth-best big guy. The next year he was our fourth-best big guy and got a couple of minutes. And then he played a ton last year. It's amazing how those things work out. Travis Releford couldn't get in the game. But it's been fun to watch.''
What have you learned since you took over the job in 2003 about yourself and the program?
"You have to embrace the expectations. That's something I've learned. I think I've learned that the best players don't necessarily make the best teams, but you can't win the biggest games without good players. Having guys that understand their roles and buying in and understanding who the best players are on the court is a pretty fun way to play. We've had so many guys that have been great players for us that have come in and understood their role that the first-rounders need to get their touches, but they got better. When those guys left, they were ready to take over.''
What does the Big 12 regular-season title streak of eight straight mean to you?
"It's something we talk about every day. We end every huddle saying 'Big 12 champs.' It's something that we start to engrave in their mind even though some people here take it for granted. Whenever you're the best team in a really competitive league, you're going to play for the highest stakes. I've always said why be concerned about being the best team in the country if you can't be the best team within the league you're trying to win and compete for. I want to be the best. But I always think there are stages. For us to be the best in the country we have to be the best in this league.''
What makes Phog Allen the best home court in the country?
"There are other places that get amped up for a game and sell out. But the thing about here is that it doesn't make any difference if we're playing Texas, Oklahoma State, Kentucky, Ohio State, American, Belmont or Richmond. You're going to have the exact same number of people at the game. The consistency of their participation is unequal to anywhere I've seen night in and night out.''
Why doesn't Kansas play Wichita State?
"Kansas hasn't played Wichita State for years, way before I was the coach at Kansas. … Iowa plays Northern Iowa because the state legislature says you have to. If someone were to come and say something that it's law, then we would have to. But you schedule to benefit your own school, not to benefit others. You have to benefit your own school. I want to play games that benefit us, and, from a financial standpoint, it's hard to play games away from Allen Fieldhouse since that's our main source of budget every year.''
What's your reaction to Bruce Weber being at Kansas State?
"I think he's a good coach, and they're off to a great start and he's done a good job with the players and he's a good coach. It's nothing more than that. That he's coaching at a rival means nothing to me. He took over 10 years ago at Illinois, and a lot of water passed under the bridge since then. All I care about is beating his team. I could care less about any more than that."
How much are Kansas and Kentucky rivals?
"Kansas and Kentucky are the two winningest programs of all time. There is a natural mutual respect, and, also, the main orchestrator of Kentucky basketball over time was a Kansas grad in Adolph Rupp. There is unbelievable history and tradition between the two schools. I don't see them as our biggest rival, nor do they [see Kansas as their biggest rival]. But from a recruiting standpoint, we have gone head-to-head. I'll be the first to say they're hard to beat and they've got it going. We've had to recruit differently than them since they've been signing elite guy after elite guy, but at the end of the day, we go back it differently. If they're a big rival for us then that bodes well for both of us to play in big games.''
How nervous were you about Kansas being left out during the alignment craze two summers ago?
"I was never nervous we would be left out. But I was certainly nervous that it wouldn't be as good as what we have now. A lot of rumors were if Kansas were to be left out, then Kansas was going to the Big East. Well, the Big East isn't the Big East anymore. Who knows what would have happened. I was nervous. But it wasn't panic mode. I feel good about our league. We're in terrific shape. Whatever we do with expansion going forward, if we do, it will do nothing but enhance it because we have the best of both worlds in a football and basketball standpoint.''
What would be your next move and who would you lean on for advice?
"If we're ever going to move again, which I certainly don't see, want or anticipate because we love it here, I would lean on my dad and my wife. And then maybe some experts in the field. I haven't looked at another situation seriously since I've been here. A lot was made of the Oklahoma State situation five years ago, but that was one that the timing was not right and I don't see the timing being right any time in the near future.''
What about the NBA?
" I don't feel it. I can't say never because there have been a lot of people tell me that it would be an unbelievable situation to get into, and coaches yearn for that, but I think I've got a better job than a lot of guys in the league.''
What does this team need to do between now and Selection Sunday to compete for the title?
"We're going to have to stay healthy. We have to get to a point where we defend better and be sound defensively. We've got to bring our freshmen along to a point and Perry Ellis and Jamari Traylor and get us 16 points collectively, and I don't think we're that far away.
How is it coaching your son Tyler on the team this season?
"It's awesome. It's absolutely awesome. He doesn't play, but he tries hard. The players all like him. He's not a goody-too-shoes. It's perfect.''
October, 1, 2012
10/01/12
3:56
PM ET
Bill Self didn't invent the game of basketball, so he's not going to pass James Naismith at Kansas.
The building is named after Phog Allen, so Self is behind him, too.
But if the next 10 years are anything like the previous nine for Self, it will be hard to place him any lower than No. 3 in the all-time list of Kansas coaches.
And that, ultimately, could put Self on the sport's high pedestal when he's eventually done with coaching.
Kansas made a proactive move last week and signed Self to a long-term deal through the 2021-22 season. He has the demeanor to succeed in the NBA, but he hasn't been lured by the temptation. I never believed that he would leave Kansas for another college job, even for his alma mater in the same league (Oklahoma State) when there were rumblings that the Cowboys would pay anything to get him.
Along with Kentucky, North Carolina, Indiana and Duke, Kansas should always be in the discussion of one of the top five jobs in college basketball.
Sure, Self's career could have had a much different trajectory had Kansas not held off Davidson in the final possession of the 2008 Elite Eight in Detroit that sent him to his first Final Four.
Of course, if Memphis had made free throws and Mario Chalmers hadn't hit a game-tying 3-pointer to send the game into overtime, Self's career might have been different, too. But Chalmers did make the shot, and Kansas did beat Memphis for the national title. Then again, his Elite Eight teams at Tulsa and Illinois could have had possessions go their way, too.
But it's silly to look back at what could have happened.
Look at what did occur. And the numbers don't lie.
• Self's 197 wins since 2006-07 are the most in a six-year span in NCAA Division I history.
• His 29.9 wins a year are more than Roy Williams (27.9), Larry Brown (27), Ted Owens (18.3) or Phog Allen (15.1).
• Self's winning percentage of 83.5 is the highest of any of the eight head coaches in Kansas history.
• Kansas has won eight straight Big 12 regular-season titles -- a school record -- under Self.
• Kansas won the Big 12 tournament five times under Self.
• At Kansas, he has been to five Elite Eights and two Final Fours (one national championship, one national runner-up) and produced nine NBA first-round picks, all of which drowned out those early "B" losses (to Bucknell and Bradley).
Look, there have been eligibility issues with some key recruits. Not everything has always gone smoothly off the court for his players, either. But that's the nature of coaching at a top-five program.
The results on the court, barring an NCAA or personal scandal, are what coaches are ultimately judged by.
I asked Self's mentor and former Kansas coach Larry Brown to put in perspective what he has done during his nine years.
Brown, now the head coach at SMU, couldn't hold back the effusive praise for how Self has handled the job.
"He's respected everything that's been done there,'' said Brown, who coached the Jayhawks to their previous national title when Danny Manning helped the Jayhawks win it all in 1988. Manning later joined Self's staff and is now the head coach at Tulsa.
"He has embraced the tradition of the school,'' said Brown. "He's made everybody that's been a part of KU basketball, a part of the program. The guy is a great coach and just an unbelievable human being.''
Brown said he's not just one of the greatest coaches at Kansas, "but one of the greatest in our sport. That's the way I feel. He worked for me, and we remained real close. I'm so proud of what he's done. What he's meant to that school. That school means a lot to me. He made us all feel so special, and he didn't need to do that. He has won a national championship and played for another and owns eight straight conference titles in a row. Nobody could have done better than that.''
This isn't meant to put down Williams. But it's a projection of what Self may accomplish if the trend continues. We love ranking coaches, players and teams. And if you're going to look at where Self ranks at Kansas, it's hard to argue that he shouldn't be in the top three.
Oh, and this Jayhawks team will be picked to win the Big 12 yet again and has a legitimate chance to get back to the Final Four, only adding to Self's KU legacy.
May, 2, 2012
05/02/12
5:54
PM ET
If the most pressing issue for the Big 12 in its new configuration is how to schedule West Virginia road trips, there isn't much to be concerned about going forward.
The Big 12 men's basketball coaches wrapped up their meetings Tuesday in Phoenix with its new members -- West Virginia and TCU -- replacing the departed Missouri and Texas A&M.
And the consensus was that the league is actually as strong as it's ever been.
"I never questioned the stability," Texas coach Rick Barnes said. "The anchors were always the ones that wanted to keep it together -- Texas, Oklahoma and Kansas. I know our AD [DeLoss Dodds] never wavered on keeping the league together. We're very comfortable with where it is right now."
The Big 12 made an easy switch in adding West Virginia and TCU. The league will continue as a 10-team conference for the foreseeable future with a new television agreement that will ensure even more status quo.
Kansas is coming off an appearance in the national title game. Baylor made an Elite Eight trip for the second time in three years. And four others made the NCAA tournament, meaning 60 percent of the league went dancing. The odds are high that the Big 12 can duplicate that percentage going forward.
And keeping the conference at 10 teams also ensures that the round-robin schedule will continue. The Big 12 is now the only conference among the power six that plays a true round-robin.
"It's the best basketball league in the country," Barnes said. "Divisional play wasn't fair. [With the round-robin] you play everybody twice and the rivalries continue, so we can build our league."
Even though his team won the conference yet again last season, Kansas coach Bill Self said the 18-game, round-robin schedule was "tiring."
"I thought it was long. My opinion is that the perfect number of league games is 16," he said. "But it was still great and it was better from a fan perspective to play everybody twice. But it's a long season."
Iowa State coach Fred Hoiberg called the league slate a "grind" but added that crowning a true champion was a "great format, and it really prepared you for the postseason."
New Kansas State coach Bruce Weber didn't have a true round-robin with Illinois in the Big Ten. But he did when he was at Southern Illinois in the Missouri Valley.
"As far as getting in the NCAA tournament, it helps your RPI and gets you more quality games," Weber said.
Trent Johnson, who came over from LSU to TCU, said he enjoyed the Pac-10's round-robin schedule while head coach at Stanford and that it "was the right way to determine a true champion."
West Virginia coach Bob Huggins agreed.
"It just makes it hard if you don't play everybody twice," Huggins said. "It's more fair to play everybody home-and-home. I think we went to Syracuse 12 years in a row. Well, maybe it was three, maybe four."
Weber, Johnson and Huggins all said they were impressed by the growing sense of stability in the Big 12.
As for going to Morgantown, a place that is 870 miles away from its nearest Big 12 neighbor (Iowa State)? Well, this is an era in which every team travels by charter, so by and large the coaches contacted by ESPN.com didn't seem all that concerned. Hoiberg said the trip to WVU will be looked at like the road trip to Colorado in the Big 12 before the Buffaloes left.
As for the Mountaineers' schedule, Huggins said he wouldn't be against playing several road games -- a Texas road trip for example -- in early January, when school isn't in session.
The Big 12 said that's unlikely, however.
"It's not my call," Huggins said. "I'll do what they want."
April, 2, 2012
04/02/12
3:36
AM ET
NEW ORLEANS -- Kansas versus Kentucky was the undercard on Nov. 15, the junior varsity game at the Champions Classic.
Now, they are playing for the title.
That night in New York at Madison Square Garden was all about Duke coach Mike Krzyzewski and his attempt to break Bob Knight's all-time wins record. He did when Duke knocked off Michigan State.
Kentucky and Kansas officials weren't overly thrilled at the time that the lead-up to the game was all about Duke and Coach K.
But that was the news of the weekend. It's not now.
And while the rematch shouldn't carry too much weight for Monday night's title game, it does open a window to what might occur.
Kentucky won 75-65 after the game was tied at 28-28 at the half.
"I would just say it would behoove us not to play behind like we have," Kansas coach Bill Self said. "We did a good job of guarding their best offense but they got a lot of run-outs and dunks off bad shots. Our offense was awful.
"In the second half, they just wore us out," Self said. "They played so well in the second half. We're two totally different teams and we're a lot better and they're a lot better."
Kentucky coach John Calipari said that the Wildcats were getting hammered early in the first half.
"We made shots, turned them over," Calipari said. "But this [Monday] is going to be a 40-minute game."
The players don't put too much stock in the game.
But the familiar faces played well, even then.
Anthony Davis scored 14 points and had seven blocks for Kentucky. Michael Kidd-Gilchrist scored 12 and had nine boards. The one major difference for Kentucky is that point guard Marquis Teague had a poor assist-to-turnover rate with three assists and six turnovers. He has improved tremendously since then.
Kansas' Thomas Robinson had a double-double with 11 points and 12 boards. Tyshawn Taylor was 3-of-13 from the field, but did get to the line to make 15-of-17.
Jeff Withey then was hardly what he is now, even though he did have four blocks for the Jayhawks.
"They beat us up," Robinson said. "They beat us up pretty bad and they got the best of me emotionally and physically. I can't let that happen anymore."
Taylor said the Wildcats ran away from the Jayhawks in the second half.
"That feels like a whole another season since that game," Taylor said. "It's a game of runs and they kind of blew us out. We'll have to slow them down and not let them have transition. We have to take good shots and defend. If we do that we'll be fine."
Travis Releford said he only remembered that the Jayhawks lost the game.
Kentucky's Doron Lamb had to think for a moment that it was even played.
"I forgot about that game," Lamb said. "But they've got a great team, great guards and a great big man that will be a challenge [Monday]."
A nonconference rematch doesn't matter much in March or April. Even though Kansas just won one against Ohio State to get to the title game, the game was totally different since Jared Sullinger did not play in the first meeting.
Kansas and Kentucky are using the same players now as they were in November. But if you haven't seen either team play since, you won't recognize them as much Monday night. They have all improved mightily and the stage they're playing on isn't even close. That was for a win and a ranking in November. This is for a title in April.
March, 30, 2012
03/30/12
2:05
AM ET
NEW ORLEANS -- Kansas was going to be left out, marginalized in college sports because of the grand realignment of the potential Pac-16.
Remember that nonsense?
It was just a year ago that there was actual talk that Kansas' basketball program, the flagship team in the athletic department and in the Big 12 conference, was not going to have a home.
The Big 12 was going to be divvied up as Texas, Texas Tech, Oklahoma and Oklahoma State would join Colorado and Utah in the new frontier of the Pac-16. The latter two were already on their way, but the first four never left.
Kansas got to exhale. But did it really worry? Was there a chance that Kansas was going to be left out? Sure, this was a football decision and the Jayhawks aren't a marquee program in that sport (although they may have more of a chance now with Charlie Weis as head coach). But did anyone really believe that the Kansas basketball program would be tucked away in a lesser-known league? Seriously?
Kansas says now it wasn't overly anxious, even though at the time it appeared as though the Jayhawks were fretting the uncertainty.
Now, a little more than a year later, its appearance in the Final Four this weekend in New Orleans should be yet another example of how much KU is a dominant player in the sport.
Big East commissioner John Marinatto said this week that he had had conversations with Kansas. If this great rift had occurred then the Jayhawks would have received an invitation to the Big East. And in an emergency situation the school would have gone. So they would have been fine, competing with Louisville, Connecticut and Georgetown, among others, (under the assumption that Syracuse and Pitt would have still departed for the ACC).
"We were always confident that we were going to end up in the right place,'' Kansas associate athletic director Jim Marchiony said. "There were disappointments. But we were right. We wound up in the right place. We're happy to be where we are, and the Big 12 is a strong, viable conference of the schools that are in it. We were confident we would end up in the right place.''
Missouri and Texas A&M bolted for the SEC. And the Big 12 acted quickly to nab West Virginia and TCU, which allowed the conference to remain at 10 schools. A number of sources fully expect the conference to stay put for the foreseeable future. Television rights aren't an issue. A new commissioner is being sought, with one of the top candidates being current Conference USA commissioner Britton Banowsky.
And Kansas is the flagship program in the league again. Well, it never lost the title. KU coach Bill Self said Thursday at the Louisiana Superdome that it's unbelievable that the Jayhawks are here. They lost four starters, but two key returnees in Thomas Robinson and Tyshawn Taylor turned in phenomenal seasons. Sure, the Jayhawks were fortunate to get a North Carolina team in the Elite Eight sans injured point guard Kendall Marshall.
But it doesn't matter. KU still won.
The program is as strong as ever.
"I don't know what the word is, maybe it's satisfaction,'' Marchiony said. "We knew we would be fine. We're just looking forward. We're excitedly looking forward because we believe the Big 12 is as strong as ever. We're happy to be a part of it.''
March, 20, 2012
03/20/12
7:06
PM ET
A Sweet 16 appearance elevates a program to the next level.
A Final Four moves it up another notch.
The matchups usually make the difference in getting this far. Talent -- and star power -- also play big roles.
There is a certain level of pressure for all coaches and programs. For some, it's self-induced. For others, it comes from a passionate fan base. Some programs need to reach the Final Four for the season to be considered a success. Some do not.
With that being said, here is our Final Four pressure-meter (1 feels the least amount of pressure and 10 feels the most):
Baylor (5): The men's team doesn't need to make a Final Four appearance. The women will take care of that, as they are the favorites to win the national title. But the men's team has the makeup to make this run a rare one. Few teams have length like the Bears do, and it's unlikely that Perry Jones III will stick around for a third season. The reason Baylor doesn't have as much pressure to reach the Final Four, even though it has the personnel to make it to New Orleans, is the bracket it's in. Kentucky could stand in the way of Baylor's potential first men's Final Four appearance. The Wildcats are the clear favorites, so expecting the Bears to advance to the Final Four from the South wouldn't be fair.
Cincinnati (3): Cincinnati has survived suspensions and a bumpy ride in the Big East. The Bearcats thrived at the end of the season and reached the conference title game. Mick Cronin and this crew have exceeded expectations by reaching the Sweet 16. Playing one of the favorites in Ohio State takes more pressure off the Bearcats. This ride now is all about extra credit for Cronin and Co.
Florida (4): The Gators won two national titles in consecutive seasons. It will be hard for any program to duplicate that -- ever again. Keeping a team together like the '04 class for the '06 and '07 titles will be extremely difficult to match unless the NBA draft rules change again. The Gators had an easier road to the Sweet 16 thanks to a depleted Virginia team and playing Norfolk State, which exhausted itself with the stunning upset over Missouri. But the Gators don't need to get to the Final Four. If Florida does reach New Orleans with this flawed group and its suspect inside game, it would be quite a feat. The Gators are the lowest remaining seed in the West, too. Expecting them to get past Marquette and possibly top seed Michigan State would be a bit much.
Indiana (3): Tom Crean has turned the corner in Bloomington. There was legitimate reason to be concerned last season. But Crean recruited exceptionally well, getting a star in Cody Zeller, and he got his players to believe they could win big-time games. The victory over Kentucky will resonate for some time. Reaching the Sweet 16 gives Crean even more credibility and respect in the state. However, for this team to get past Kentucky would be asking too much. No one should expect a win over the Wildcats again. To advance to the Elite Eight and the Final Four would be sensational accomplishments. Even though the fan base expects greatness, Indiana has already exceeded any expectations by getting this far.
Louisville (5): The Cardinals are the "pro" team in town. And like Kentucky, the expectations include Final Four appearances. But Louisville has gone through a slew of injuries, and there was no reason to believe it could maintain a high level of play throughout the season. Still, the Cards survived to reach the Sweet 16 and face top-seeded Michigan State. The most pressure may be felt in trying to keep up with rival Kentucky. The expectation is that the Wildcats will be in the Final Four, so why not join them and create even more frenzy in a hoops-crazed state?
Kansas (9): The Jayhawks have two of the top players at their positions in Thomas Robinson and Tyshawn Taylor. Kansas expects to compete for conference and national titles, regardless of personnel, every season. And while Bill Self had to deal with rotation players not being eligible, including top newcomer Ben McLemore, the Jayhawks still won the Big 12 regular-season title for the eighth straight time. Kansas survived against Purdue, but had it not been for a guard meltdown the Jayhawks may be idle right now. Instead, they have new life in the Midwest, thanks to NC State's Sweet 16 run and North Carolina potentially being without Kendall Marshall in the Elite Eight (if the Tar Heels get past Ohio). The pressure has ratcheted up for the Jayhawks. If Marshall is out for this weekend in St. Louis, the Jayhawks are the new favorites in the Midwest.
Kentucky (10): The Wildcats are the front-runners to win the national title, not just get to the Final Four. Let's be honest, anything less than a title would be a disappointment. No team in the Sweet 16 has as much pressure to get to the Final Four as Kentucky. The Wildcats have the most talent, the national player of the year in Anthony Davis, and plenty of other pro talent on the roster (Michael Kidd-Gilchrist, Terrence Jones and Doron Lamb). Darius Miller also played in the Final Four last season. John Calipari has coached in three Final Fours. The Wildcats are playing a team that handed them their only regular-season loss. A possible matchup with Baylor is more than formidable. The Bears can match Kentucky's length and shooting, but Baylor's defense has never been its strong suit. The region still lays out well for Kentucky in SEC-rich Catlanta.
Marquette (6): The Golden Eagles play as hard, if not harder, than any other team in the field. Marquette's beat down of BYU in the second half and its ability to run past Murray State late were quite impressive. Now, the Eagles get a Florida team that it matches up well with since they can defend the 3-point shot. Marquette should be the favorite in this game and has the personnel and the toughness to beat Michigan State or Louisville. A Final Four isn't expected with this group, but now the bracket has opened up a bit with Missouri gone. A loss in the Elite Eight makes more sense, but there is some pressure for Marquette to advance with Jae Crowder and Darius Johnson-Odom leading the way. The Eagles have been to a Final Four with Dwyane Wade under Crean. A berth for Buzz Williams would raise his coaching profile.
Michigan State (8): The Spartans lost one of their key rotation players in Branden Dawson in the final regular-season game against Ohio State. But they won the Big Ten tournament title without him and earned a No. 1 seed in the NCAAs. Draymond Green has been the most valuable player so far in the NCAA tournament and has a legit shot to lead the Spartans to another Final Four. Michigan State expects Final Fours under Tom Izzo, but this team certainly didn't look the part early in the season. It has matured into a title contender. And while the bracket is filled with potential hurdles, the Spartans have the pressure of being a top seed and the expectation of a Final Four appearance.
North Carolina (8): The Tar Heels would have had a 10 in this spot if Marshall didn't fracture his wrist against Creighton and have surgery on Monday. Now, the pressure of reaching the Final Four has dropped a few spots. North Carolina was as healthy as it had been in weeks at the start of the game with the Bluejays. But the Marshall injury makes the Tar Heels extremely vulnerable. Ohio is capable of pulling off another upset. And if the Tar Heels get past Ohio, a revenge-minded NC State team or title-contending Kansas awaits. The Tar Heels were built to win a title. That's why Harrison Barnes didn't opt for the NBA. Tyler Zeller had opportunities, as well. The roster is deep enough to absorb injuries to Leslie McDonald and Dexter Strickland. Let's see if it can take its worst hit and survive without Marshall or having him only on a limited basis. The expectations for a Final Four may have dropped outside of Chapel Hill, but it hasn't inside the Dean Smith Center. Carolina should expect to be in the Final Four yet again. It's just tougher with Marshall's injury and Kansas potentially looming.
NC State (2): The Wolfpack have far exceeded expectations under Mark Gottfried. NC State was the last team revealed on Selection Sunday. It had to be one of the last teams in the field prior to the four at-large teams that played in the First Four. NC State lost a 19-point lead at Duke, and the Wolfpack couldn't close out UNC in the ACC tournament. But they grinded out wins over San Diego State and Georgetown in their first two games of the tournament. This program has had low expectations for years. The Final Four would be gravy on what has already been deemed a highly successful season. The Wolfpack draw Kansas and if they somehow get past KU (not improbable), they could face a rematch with UNC. One can only imagine the scene in Raleigh if NC State, and not UNC, made the Final Four.
Ohio (1): The Bobcats are one of the tournament's great stories. Ohio played one of the more dramatic conference tournament title games when it knocked off Akron in thrilling fashion. The Bobcats got a decent seed at 13 and were matched up against a flawed Michigan squad. Ohio was aggressive and had the more experienced lead guard in D.J. Cooper (vs. the heralded Trey Burke) against the Wolverines. The Bobcats then faced a 12-seed in South Florida that couldn't score and was playing its third game of the tournament. Now, Ohio is playing with house money. The Bobcats have zero pressure in reaching the Final Four. Sure, they are facing a North Carolina team that will likely be sans Marshall. But to expect Ohio to win two more and get to the Final Four would be unfair. Ohio has already made its mark with this Sweet 16 appearance and coach John Groce can likely write his own ticket to a higher-paying job in the Big Ten if he chooses to do so.
Ohio State (9): The Buckeyes would have been a 1-seed if they had beaten Michigan State in the Big Ten title game. Jared Sullinger is healthy again, and the personnel hasn't changed. The Buckeyes possess some of the top players at their respective positions in Aaron Craft (top on-ball defender), William Buford (elite shooter) and Deshaun Thomas (a tough matchup as a face-up forward). Ohio State drew an instate rival in Cincinnati. The Bearcats will muck up the game and challenge everything. The top part of the bracket would be just as difficult with either a lock-down defensive team in Wisconsin or an up-and-down transition squad with a pesky zone in top seed Syracuse. But the Orange don't have Fab Melo, so if you were to re-rank the East bracket, the Buckeyes would have to be the favorites. That puts more pressure on Ohio State, and with Sullinger possibly leaving for the NBA, the window to reach the Final Four is now.
Syracuse (9): The Orange were built for a Final Four run. No team had players coming off the bench like Dion Waiters, C.J. Fair and Michael Carter-Williams. Fair is starting now, but the overall depth is still impressive. Melo's ineligibility knocks the Orange down from a 10. The expectation was Final Four or bust since they started showing their dominance during the Big East season. Syracuse has tremendous versatility with Scoop Jardine, Brandon Triche and Kris Joseph all able to make key shots. The Orange weren't tested by Kansas State after surviving a scare from UNC Asheville. The expectation is that it should beat Wisconsin and play against Ohio State. Syracuse may not be projected to beat the Buckeyes in a possible Elite Eight matchup now, sans Melo, but the pressure is there to get to a Final Four with a group that won't be together next season.
Wisconsin (4): Bo Ryan has never reached the Final Four. But he has had better teams projected to go farther. This squad has improved more than any of the previous teams he's coached at Wisconsin. The Badgers lost three early-season home games, and that rattled their confidence. But it didn't take away their resolve. Wisconsin found its shooting stroke, maintained its defensive intensity and got star-level play out of a role player in Ryan Evans. Jordan Taylor is still the leader and will take -- and make -- the big shots. The Badgers were the more polished team in wins over Montana and Vanderbilt. The expectation to knock off Syracuse isn't high. But if that occurs, then a team they already beat -- Ohio State -- could be standing in their way. The Badgers' last Final Four appearance was in 2000. The fan base is hungry for another run, but it doesn't need one. Ryan would like one, but he knows this may not be his best shot. Still, it's plausible in the current bracket.
Xavier (3): The Musketeers may not have been here had it not been for an A-10 title game appearance. Xavier had to mount a season-long repair project to get to this point. And it worked. Coach Chris Mack deserves as much credit for this run as the criticism he took for the way he initially handled the post-brawl situation. He matured as a coach during the season, dealt with his own knee injury and clearly got his lead guards, notably Tu Holloway, to refocus on the task at hand. Xavier survived Notre Dame by playing smarter than the Irish. It showed more moxie than Lehigh in finishing with a strong kick. No one is expecting Xavier to make the Final Four, even those that projected the Musketeers to do so in November. But Baylor is beatable. Taking down Kentucky would be quite a feat. The pressure is low. Xavier has already exceeded the expectations of a team that once had Final Four aspirations but didn't play that way for most of the Atlantic 10 season. Now that it's two wins away, the pressure is even lower. Xavier has already done well to finish the season on a high.
February, 13, 2012
02/13/12
9:25
PM ET
Quick hitters for a Monday as we hit the stretch run of the season:
• Kentucky freshman Anthony Davis should be the new front-runner for national player of the year. Kansas' Thomas Robinson deserves all the adulation he has received for what he has done to this point in his career and this season for the Jayhawks. But no player changes the game the way Davis has in the SEC this season. He should be the SEC player of the year and at the very least a runner-up if he's not the choice for national player of the year.
[+] Enlarge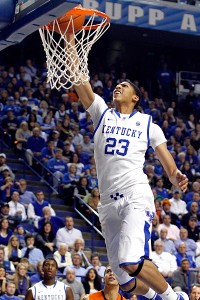 AP Photo/James CrispFreshman forward Anthony Davis "changes the game for everybody, for our team, for everybody," says Kentucky coach John Calipari.
Kentucky coach John Calipari said Monday, "He changes the game for everybody, for our team, for everybody. He does it without changing his demeanor. He doesn't have a selfish bone in his body. That's what makes him the most valuable player out there."
• When asked about Illinois coach Bruce Weber's job security, Illini athletic director Mike Thomas gave the standard response about evaluating the entire program, like he would for all 18 sports, at the end of the season. That doesn't necessarily sound like he's backing Weber.
One source close to the situation said Weber has had a good relationship with Thomas and that Thomas hasn't given him any indication that he's out.
Know this: Weber is a genuinely nice man. He attempts to do everything the right way. He coached the 2005 Illinois team exceptionally well and was within five minutes of a national title in St. Louis. The program has been on and off the bubble ever since, it seems.
The best-case scenario at some point may be if Weber moved on, on his own, for a fresh start. Regardless of what occurs in 2012-13, the Illini have enough talent to be an elite Big Ten team next season. That's of course if Meyers Leonard decides to stay put.
• Staying too long in one place isn't a false theory. That's why some coaches may regret not jumping when they had the chance. Weber may be one of them. Jim Baron at Rhode Island could be another.
• I won't be surprised if Northwestern's Bill Carmody leaves even if the Wildcats make the NCAA tournament for the first time ever. Carmody has put every ounce of his sweat into trying to get this program into the tournament. He constantly looks like the weight of the world is on his shoulders. If he doesn't make the tournament, there's nothing wrong with knowing he gave it everything he had and the program never quite got over the hump. The Wildcats have to win a few key upcoming home games to try to influence the committee that they are worthy. Of course, if Carmody were to finally break through and make the NCAAs, the recruiting may go to another level and he would have to stay. But at Northwestern, just making the tournament would qualify as enough for him to move on.
• The BracketBuster games looked tantalizing good a few weeks ago. But losses by Nevada, Iona, Creighton, Murray State and Saint Mary's have lowered the interest/importance a tad. The hottest teams since the matchups were announced are Long Beach State, Wichita State, Drexel and VCU. If you could reseed and have those four teams play in some form, that would still provide plenty of pop. Long Beach State is at Creighton, Wichita at Davidson, Drexel at Cleveland State and VCU hosts Northern Iowa. The Saint Mary's-Murray State game still has enormous value for the Racers. A win and everyone will settle down a bit about the Racers' at-large hopes. A loss and suddenly they are tossed back into the pool. The expectations for these teams to run the table from the moment the matchups are announced is simply an unfair expectation.
• I don't think I've ever picked a team in November to make the Final Four and then not have that squad even make the NCAA tournament. Xavier could be the first.
• There is a strong chance multiple teams from power six conferences will have double-digit conference wins and not get bids. This is the repercussion of having unbalanced schedules. Two teams to watch for this are South Florida and NC State. The coaches know they can't complain about winning 10 games in the Big East or ACC if they didn't beat any of the top four teams in the conference.
• Valparaiso coach Bryce Drew won't win national coach of the year. But he better win the Horizon League honor. I saw this team in an exhibition game in November. There was no reason to suspect the Crusaders would be leading the Horizon and on their way to a possible NCAA tournament berth. If you had to take which Drew brother would be in first place on Feb. 13 in his respective conference, it wouldn't have been close. Scott Drew of Baylor would have been the choice.
• San Diego State's new rival in the Big West in 2013 will be Long Beach State. But the games simply won't feel as grand as when the Aztecs play UNLV. Everyone squawks about Missouri and Kansas playing in the future. Well, SDSU and UNLV should continue their series, as well. It's regional, easy travel and both programs are going to stay at a high level for the near future.
• Murray State has tremendous respect among the coaches to only fall seven spots to No. 14 in the ESPN/USA Today poll after losing at home to Tennessee State. But what about Wichita State? The Shockers got no respect from the coaches after rocking Creighton in Omaha and establishing themselves as the premier team in the Valley. Wichita wasn't in the Top 25 released Monday.
• I don't know which way I would lean for the national coach of the year award. The candidate list is quite long with Kentucky's John Calipari, Syracuse's Jim Boeheim, Missouri's Frank Haith, Kansas' Bill Self, Georgetown's John Thompson III, Notre Dame's Mike Brey, UNLV's Dave Rice, San Diego State's Steve Fisher, Saint Mary's Randy Bennett, Murray State's Steve Prohm and Michigan State's Tom Izzo.