Category archive:

La Salle Explorers
August, 6, 2013
08/06/13
10:50
AM ET
La Salle coach John Giannini has certainly reaped the benefits of a magical March run.
He threw out the first pitch at a Phillies game. He picked up transfers from out of the region, not the norm for a school considered more or less regional for much of its history.
And most importantly, he picked up a contract extension after the team's Sweet 16 appearance. The loyalty both sides have shown to each other since Dr. John arrived in 2004 -- despite only reaching the postseason the past two seasons -- is admirable.
Still, Giannini is well aware that for the Explorers to be nationally relevant again they cannot shrink from A-10 title contention and have to be a consistent visitor to the NCAA tournament. Last season's tourney berth was the school's first since 1992 and the trip to the regional semifinals was its best run since 1955.
[+] Enlarge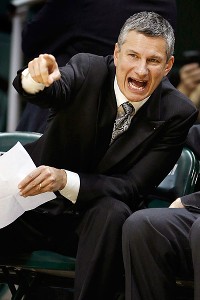 Robert Mayer/USA TODAY SportsAfter winning three NCAA tourney games in 2013, John Giannini received a contract extension from a patient La Salle administration.
"First we had to win consistently in the A-10,'' Giannini said. "We did. Then making the NIT was the next step, then making the NCAA tournament. I like our team. We're talented. We're experienced. We're bigger. We're confident. But we're also realistic.''
The Explorers finished 24-10 last season (11-5 in the A-10), but the margin between a great season and another merely decent one was razor thin.
"We won Villanova on a last possession, beat Butler on a last possession, beat Northeastern on a last possession, won at St. Bonaventure on a last possession, beat Kansas State and Ole Miss on last possessions [in the NCAAs],'' Giannini said. "Whether we're going to win games at the buzzer and be as consistent, I can't say right now. But we'll play good basketball.''
The Explorers lost their best player in Ramon Galloway. He wasn't just the team's leading scorer, but also "the heart and soul of our team," Giannini said. "His energy and enthusiasm will be very difficult to replace.''
Galloway is the only significant player gone, though. Tyreek Duren (14.2 PPG) will have the ball in his hands more and Giannini said opposing teams won't be thrilled by that prospect. Tyrone Garland also will get more minutes, which may mean more points than the 13 he averaged last season.
Giannini said the addition of Delaware transfer Khalid Lewis helps offset some of the loss of Galloway. Lewis was the starting point guard for the Blue Hens two years ago. The rebounding will need to come from the guards and of course, returnee Jerrell Wright, who grabbed 6.7 a game last season.
Adding Georgia Southern transfer Cleon Roberts (a Miami native) and Auburn transfer Jordan Price (from Georgia) gives Giannini a feeling that the Explorers are expanding their reach.
"I think the kids watched us play and I think our style of play and the success we had helped their decision to come to La Salle,'' Giannini said. "Most of our transfers have been local kids. Now we're getting kids out of the area.''
That may be the case, but the team's Sweet 16 run didn't translate into any high-profile, home-and-home nonconference games this season. Hardly anyone from a power conference wanted to play La Salle, which should not come as a shock.
"We needed more RPI games,'' Giannini said. "So we added some low- to mid-major games that will help. We called just about everybody in the top 50 to 60.''
The Explorers play Manhattan, Siena, Quinnipiac, Hartford, Wagner, Stony Brook (at Madison Square Garden), Big 5 rivals Temple, Penn and Villanova, a rebuilding Miami and struggling Penn State. They will participate in the Paradise Jam in the Virgin Islands, but the field isn't terribly strong this season. La Salle will open with Morgan State and face either Providence or Vanderbilt in the second round. Maryland likely would await in the title game.
In terms of beefing up the RPI, the A-10 didn't exactly help the Explorers with the conference schedule. La Salle plays George Washington, St. Bonaventure, Saint Joseph's and Duquesne as the home-and-home games, but potential A-10 title contenders VCU, Saint Louis and UMass (road) only once. The lack of overall power-rating games on this schedule will put even more emphasis on those three games against the fellow conference contenders.
But what's really important is the Explorers making March matter for a second straight season. Make some noise in people's brackets again, and perhaps the name La Salle will resonate well beyond Philadelphia -- and for many years to come.
January, 28, 2013
01/28/13
8:53
AM ET
Monday musings from a weekend that had looked like a dull slate of games only to deliver plenty of storylines and court storms:
• Dr. John Giannini has been a Division I head coach for 16 seasons, the past eight at La Salle. He didn't have a shot at an NCAA tournament berth, or at least not much of one, at Maine (still looking for its first NCAA tournament appearance). La Salle has hardly been a lock for any kind of postseason. Well, the wait may finally be over if the Explorers can capitalize on a tremendous week of knocking off the two newest A-10 teams in Butler at home (court storm) and VCU on the road.
[+] Enlarge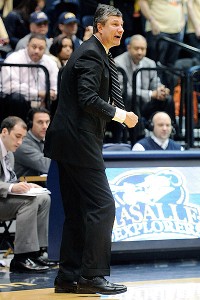 G Fiume/Getty ImagesUnder Dr. John Giannini, La Salle has followed a consistent path of progression.
Giannini says this season isn't as huge of a turnaround as it appears after the Explorers made the NIT last season with 21 wins, including nine in the A-10. But it has been a slog the past few seasons after La Salle made the mistake of trying to build its team around Aaric Murray, who subsequently transferred to West Virginia.
"This year is a natural progression,'' Giannini said. "We have had four upper-half A-10 finishes in the last seven years [third, fifth, fifth and seventh]. That's up from zero prior to us being here. So first we had to compete in the A-10. We did that. Then, last year, we took another step with the NIT. So this has been natural growth.''
But La Salle still can't find consistency, losing earlier this season to a struggling Central Connecticut State.
"Our talent was just as good a few years ago, but our chemistry was not as good,'' Giannini said. "We have great chemistry now. We also have one senior playing a lot, so the future is good, too. Rebuilding takes time. You have to recruit good players but also develop them, get experience, build a culture and recover from any mistakes in recruiting, which can happen.''
One of the biggest pluses for Giannini is that he has been given time -- eight years so far at La Salle where no one is calling for the Explorers in any kind of realignment pursuit.
"Fortunately, I'm with a great administration who has allowed us to build something,'' Giannini said.
Now the key for La Salle is to beat the teams it should in the A-10 and compete for the regular-season title to earn an NCAA berth. The Explorers are done playing Butler and VCU but still have to play at St. Bonaventure, Temple and Saint Louis, so they still have challenges ahead.
• The Catholic 7 Big East schools are trying to show television leverage. Of course, the past 10 years should be taken into consideration, but it doesn't hurt that Marquette is contending for the Big East regular-season title and Villanova, Syracuse and Georgetown beat Louisville. Oh, St. John's is above .500 and looking like a real pest in the Big East.
• Oregon's staff isn't too worried about Dominic Artis' foot injury that kept him out of the Washington game Saturday. The Ducks are expecting him to be fine but won't know more until Monday or Tuesday. The Ducks may need Artis at full speed in the backcourt to ultimately hold off Arizona, UCLA and Arizona State.
• Arizona State coach Herb Sendek has adjusted to Jahii Carson's playing style, much like he did when he had James Harden. Sendek's struggles last season had nothing to do with his coaching. He simply didn't have the talent. He does now.
[+] Enlarge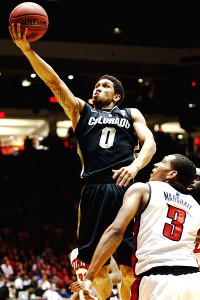 AP Photo/Matt YorkAskia Booker and Colorado can be a dangerous bunch come March.
• Don't sleep on Colorado. The Buffaloes' long, arduous climb back to respectability is at hand with Sunday's win over Cal moving them to .500 in the Pac-12. The core of this team was in the NCAA tournament last season and is starting to find its groove.
• The theme for March may just be veteran teams, in contrast with the freshmen who led Kentucky to a title last season. Kansas, Michigan, Indiana, Florida, Miami, Arizona, Louisville, Syracuse, Gonzaga and Butler are all relying on experienced core players to lead them. And it shows.
• Miami hasn't dipped and is finding ways to win after a big-time win over Duke last week. NC State now needs to beat Miami on Saturday to keep up with the Canes.
• The two best nonconference road wins might not have as much shelf life as I once thought if Illinois (win at Gonzaga) and Boise State (win at Creighton) don't rectify their conference situations very soon.
• Marshall Henderson may be the most polarizing player this season. He has been a sensational scorer for Ole Miss, but he needs to dial it back just a tad. He can be an in-your-face performer on the court, but there is no reason to incite the fans like he did at Auburn on Saturday.
• I've got Florida over the field in the SEC, Gonzaga over the field in the WCC and Kansas over the field in the Big 12. I don't think it will be close in any of the three conferences.
• Lehigh's win at Bucknell still has shelf life in the Patriot League even after reality struck the C.J. McCollum-less Mountain Hawks, who fell at home Sunday to rival Lafayette.
• Air Force was due to snip one of the perceived elites in the Mountain West with an experienced lot. The Falcons got rival Wyoming, and now the Pokes' NCAA résumé has a few holes in it.
• The scary thing about New Mexico is that when the Lobos lose, they lose. The loss at Saint Louis and this latest one at San Diego State have to be concerning.
• No team needed a win as much as the Aztecs did this past weekend.
[+] Enlarge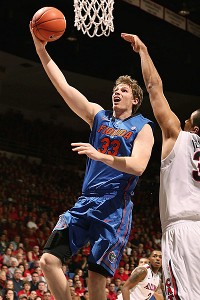 Christian Petersen/Getty ImagesErik Murhpy and the Gators are playing as well as any team in the country.
• Michigan and Kansas are playing like two of the best teams in the country and deserve to push for No. 1. But there might not be another team clicking as well as Florida.
• Florida State coach Leonard Hamilton oversold the Seminoles in the preseason. So, too, did Marshall coach Tom Herrion on the Herd.
• I'm starting to believe Iowa State's loss at Texas Tech was a blip.
• Get ready to learn the name Will Cherry of Montana in March. Cherry scored 28 points as the Grizzlies took out rival Weber State and moved to 10-0 in the Big Sky.
• Pacific coach Bob Thomason said he would have a Big West contender in his final season, and he was right. The Tigers are in a race with Long Beach State for the title.
• Southern Miss' Donnie Tyndall has fit in as well as any new coach in recent memory, as the Golden Eagles are a threat to challenge Memphis for the C-USA title.
• 8-0 Northeastern coach Bill Coen should win CAA Coach of the Year hands down.
• If you're looking for a potential sleeper NCAA team, file away Indiana State. The Sycamores beat Miami and Ole Miss at the Diamond Head Classic, two wins that are looking better with each passing day. ISU has two shots at Wichita State and one more against Creighton for high-profile Valley wins.
• Maryland will love the money in the Big Ten, but the Terps certainly will miss playing Duke. Next season will be the Terps' last playing the Blue Devils in the ACC.
• Norfolk State struggled in nonconference play after beating Missouri in the NCAA tournament last season, but a 7-0 MEAC start means the Spartans are positioning themselves for a return.
• I was way off on Stanford. I thought the Cardinal would be a Pac-12 title contender.
• The absolute lock of the weekend was Duke beating Maryland after the Blue Devils were hammered at Miami by 27.
• I think North Carolina likely will miss the NCAA tournament, but Kentucky still has a few chances left to build its case, beginning Tuesday at Ole Miss.
• Saint Mary's has a gaudy record (17-4), but it had better beat Gonzaga at home on Feb. 14, or else the Gaels might not have a win over an NCAA team.
• I have four All-Americans if the season ended today: Doug McDermott (Creighton), Trey Burke (Michigan), Ben McLemore (Kansas) and Kelly Olynyk (Gonzaga). The fifth spot is wide-open.
October, 15, 2012
10/15/12
1:50
PM ET
BROOKLYN, N.Y. -- There are storylines aplenty in the Atlantic 10 this season, led by Saint Louis trying to recover from Rick Majerus' absence and the arrival of mid-major darlings Butler and VCU to create the greatest depth in the league's history.
But what I learned at A-10 media day earlier this month is that the overriding theme this season is all about Philadelphia.
The conference office fled the heart of the league for southern Virginia awhile back, but this season, the league center will be back in Philly.
Saint Joseph's is the preseason pick to win the title, with five starters returning, potentially completing Phil Martelli's long, arduous climb back to the top after his glorious run to the Elite Eight in 2004.
Elsewhere in the City of Brotherly Love, La Salle was the overwhelming selection by the league's coaches when asked by ESPN.com which team will be a legitimate sleeper to be in the hunt deep into February.
Oh, and no one wants Temple to leave.
The Owls, who have been at the heart of the conference since its inception, are off to the Big East next season. Charlotte is leaving, too, as the 49ers head to Conference USA. But Charlotte is no Temple.
[+] Enlarge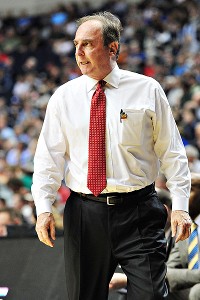 Don McPeak/US Presswire Fran Dunphy's Owls prepare for one final season in the Atlantic 10.
The Owls' departure is sort of like when a close childhood friend had to move to a new school. The good friends, like St. Joe's and La Salle, know they'll still see Temple around, but it won't be the same.
"On a personal level, my best friend in coaching is Fran Dunphy,'' Martelli said of the Temple coach. "To not interact with him here, on the phone talking about various league issues, that will be very different. Temple has served this league with such a positive fashion from top to bottom.''
Martelli said replacing Dunphy with Butler's Brad Stevens and VCU's Shaka Smart, as well as a newcomer at Rhode Island (Dan Hurley), will soften the blow of losing a league power.
"But it's a difficult blow,'' Martelli said.
And it has been for Dunphy, too.
The veteran coach knows the university had to be concerned about football first. And no one is going to suggest Temple won't be better off by going to the Big East and being on equal footing with its longtime rival Villanova. The exposure will increase and the strength of schedule will kick up a notch. And requiring the Temple basketball team to play nonconference games against MAC schools just never felt quite right.
"We've always been concerned about where the football program was going to be,'' Dunphy said. "This will be great for the university. But the A-10 has been a great home for us in Philadelphia.''
Dunphy said he hopes the Owls will be in the heart of the race at the end of the season, despite being picked fourth.
The Owls still have a preseason first-team all-conference player, Khalif Wyatt; a preseason third-team member, Scootie Randall; and two key transfers, Dalton Pepper (from West Virginia) and Jake O'Brien (from Boston University).
"We're as deep as we've ever been since I've been here,'' said Dunphy, who moved over from Penn six years ago. "We lost some key veteran players [Ramone Moore and Juan Fernandez], but we think we can be there at the end.''
La Salle was projected to finish seventh, with the return of preseason second-team guard Ramon Galloway and backcourt mate Tyreek Duren. The Explorers return 71 percent of their scoring and 73 percent of rebounding from a team that finished 21-13 (9-7 in A-10) and reached the NIT.
"They're a team with a lot of firepower that can spread you out with a four-guard look,'' Xavier coach Chris Mack said. "They came out in the first conference game last season and handed it to us. They're building a program that there's no question in my mind that they could be one of the teams that fights for the championship.''
Dayton coach Archie Miller thinks the Explorers could be this season's St. Bonaventure, which tied for fourth in the league in 2012 and advanced to the NCAAs after winning the A-10 tournament.
"[La Salle] didn't get enough credit last year," Miller said. "They've got the personnel to be really good. Their guards are really good. They play a difficult style to play against.''
But to win the title, they'll have to beat fellow Big 5 school Saint Joseph's.
Truthfully, the Hawks may not have been picked to win the conference if Saint Louis' Majerus had been healthy enough to coach. Martelli said he picked the Billikens to win it, and he agreed Saint Louis would have been the choice if it weren't for the coaching situation (although the A-10 coaches are all huge fans of SLU interim coach Jim Crews).
"We have an opportunity in front of us,'' Martelli said. "Our execution has to meet a proper championship level in order for us to expect it to be met. We might get the most [NCAA tourney] teams we've ever had in our league's history.''
The Hawks didn't have a preseason first-team all-conference player, but they dominated the second and third teams with guards Langston Galloway and Carl Jones and forwards C.J. Aiken and Halil Kanacevic.
St. Joe's has had patience with Martelli and the program as it went through hiccups in recent years.
"It has gone similar to the way we built our program in the past,'' said Martelli, who is the dean of the A-10 coaches after 17 years with the Hawks. "We can't overreact to a great day or a bad day. I really believe administratively I've always been comfortable and always said this was the place for me. It fits who I was. I'm about building a program, not a team. I've always felt appreciated here.''
So, too, have the Philadelphia schools in the A-10. And they should dominate the discussion in March if the projections hold true.