Category archive:

Memphis Tigers
July, 3, 2013
07/03/13
8:37
PM ET
Brad Stevens is universally loved in the college coaching profession.
So don't take the shock and surprise of Stevens' move to the NBA's iconic franchise in Boston as a sign of disrespect.
His peers and colleagues are simply in awe by the timing, not by the move.
"The best young coach I have seen in my time," said Syracuse coach Jim Boeheim. It's high praise for Stevens, who coached in consecutive national title games in 2010 and '11.
"Coach Stevens is everything that is right about our profession, and was an absolute star at Butler," said Marquette's Buzz Williams, who was going to be a chief rival for Butler in the new Big East Conference but now will face a new coach in the fledgling league. "I anticipate he will be the exact same with the Celtics."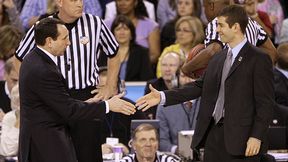 AP Photo/Amy SancettaMike Krzyzewski, left, and Brad Stevens meet before the national title game in 2010 where Duke beat Butler 61-59.
Stevens had professed for a few years how comfortable he was at Butler. He was hand-picked by his former mentor, Barry Collier, to be the head coach. He could have jetted off to UCLA. He would have had Illinois. He may have been next in line to be the head coach at Indiana or Duke or Kansas or North Carolina whenever those jobs were to open. Who knows? He was that highly coveted and respected.
"I am very excited for Brad, his family and the Boston Celtics," said Ohio State's Thad Matta, a former Butler coach. "He did a masterful job in his time at Butler, and as an alum I know he will be greatly missed. He has a great mind for the game and great instincts in dealing with players. I look forward to following his path to success with the Celtics."
New UCLA coach Steve Alford, a native of Indiana like Stevens, has always had incredible respect for the way Stevens has handled himself and the program.
"I'm very happy for Brad," Alford said. "He's done a phenomenal job at Butler and is very deserving of this opportunity. Great hire by the Celtics."
To Memphis coach Josh Pastner, who is just a year younger than Stevens at 35, there was immense adoration for the path Stevens has blazed for coaches younger than 40.
"I think Brad is one of the great coaches of the game, regardless of college or pro," Pastner said. "It's basketball. He'll do great with the Celtics. It's a great hire by Danny Ainge. A great hire. I think age is overrated. You either get the job done or you don't. You can do it or you can't. He's proven he can do the job. He has had tremendous success at Butler."
But no one has been more effusive in his constant praise of Stevens than Duke's Mike Krzyzewski, the USA Olympic and national team coach. Krzyzewski was quick to compliment Stevens in the lead-up to the 2010 national title game. Coach K's Blue Devils beat the Bulldogs 61-59 -- in Indianapolis -- in one of the most epic national title games in the past 25 years.
Krzyzewski said he was as surprised as everyone else by the Celtics tabbing Stevens. But he said that's because "Brad is one of the great college coaches. He's an outstanding coach. He's at a time -- he's young -- I can see him wanting to do something different. He's terrific. It's a great hire for the Celtics."
Krzyzewski said he knows exactly what Stevens was going through since he had to weigh the same decision in 1990 when the late Dave Gavitt approached him about being the head coach of the Celtics. Krzyzewski said no at the time.
"I almost did it with the Celtics," Krzyzewski said. "I can understand it."
A source told ESPN.com on Wednesday night that the Celtics tabbed Stevens as their top choice once Doc Rivers was let out of his contract and essentially traded to the Clippers. The Celtics loved his character and knowledge of the game. His demeanor didn't hurt, either. He has always been extremely even.
"He's really smart," Krzyzewski said. "His teams play that way. He's just a heckuva of a coach. He has a maturity of an established head coach right away. I just think -- forget about young coaches -- I think he's one of the best coaches. I don't think you could have a better guy. He's smart and he'll adapt. I think he'll do a really good job there."
Recent college-to-NBA head coaching gigs have been doomed to fail, including Mike Dunlap, who went from being a St. John's assistant to the head coach in Charlotte, Lon Kruger going to Atlanta, Mike Montgomery to Golden State, or Leonard Hamilton to Washington.
But this is the Celtics and Stevens, who has been penciled in for a Hall of Fame ticket after six seasons by his peers. Krzyzewski isn't worried about the veteran NBA players giving him instant credibility in the locker room and in the huddle.
"He'll have respect," Krzyzewski said. "He's accomplished. Players respect success. He's had great success right away. So I don't think he'll have any problem with the players respecting him. They'll respect him. They respect excellence. He has it. It's a terrific hire. I'm a friend of his and I wish him the very best and I'll be pulling for him. To take over one of the most storied franchises in sports in an incredible opportunity, I can understand him doing it."
March, 6, 2013
03/06/13
1:37
PM ET
A few quick hitters for this midweek:
• USC interim coach Bob Cantu met with AD Pat Haden last week and is getting, at the very least, the respect of being treated as a legitimate head-coaching candidate. The Trojans are 7-4 since he took over for the fired Kevin O'Neill. USC finishes the regular season at Washington and Washington State this weekend. And with more offensive fluidity, the Trojans are a potential spoiler in the Pac-12 tournament next week in Las Vegas.
The odds that Cantu will get the job are not good. He is just plowing ahead with this team and isn't politicking for the job. Haden interviewed UTEP head coach Tim Floyd -- Cantu's former boss -- as well as Syracuse assistant Mike Hopkins. I'll be shocked if other top candidates don't emerge in what should be one of the best jobs in the Pac-12.
If Cantu can't get the USC job and doesn't stay on with the Trojans, he deserves a shot at another California school, if there is an opening.
• Miami coach Jim Larranaga felt very good about his team's effort last Saturday in a loss at Duke. And he certainly won't complain about the Hurricanes' 7-2 road record in the ACC.
"We played eight really good games and one poor game at Wake Forest,'' Larranaga said. "Our effort at Duke was good enough to win. But Ryan Kelly, well, there was no way we could have planned for that. We knew he was going to play, but we thought he would get 12-14 points, and we could survive that. But 36 points on 14 shots?''
Miami finishes with Georgia Tech on Wednesday and Clemson at home on Saturday, which will likely allow the Canes to win the ACC regular season outright.
"We scored 76 points and we missed two 3s that could have tied it [against Duke],'' Larranaga said. "I was not satisfied with our defense and some of that is my own responsibility.''
Reggie Johnson didn't score in the game, and Larranaga said that he may have been overhyped.
"He can play a lot better than he did,'' said Larranaga. "He didn't have a good game, and Ryan Kelly did.''
Larranaga thinks Shane Larkin should be named the ACC player of the year (and I agree) once Miami wins the ACC regular-season title.
"You should vote for the player from the team that wins the outright championship,'' said Larranaga. "We should have the player of the year for the first time in school history. We beat the No. 1 team for the first time in school history and set attendance records. But all the things we've done are a prelim to the NCAA tournament because all everybody remembers is March Madness.''
Miami should also have all-conference players in Kenny Kadji and Durand Scott.
• I've never understood why teams do senior day/night festivities after the game. Indiana had to wait until it was midnight Tuesday after losing to Ohio State to honor its seniors. Why not take care of it before the game when the house is full and the attention is on the game/players and not on getting home to beat the traffic and weather?
• St. John's Steve Lavin and Notre Dame's Mike Brey both confirmed Wednesday there will be no further suspension for Cameron Biedscheid and Sir'Dominic Pointer beyond the one-game that they must sit per NCAA rules for being ejected for fighting. Losing Pointer is more of a hit for the Red Storm, which host Marquette on Saturday. The Irish play at Louisville in a game that would be a reach for them to win even with Biedscheid.
• Boise State's four-point loss at UNLV should be a precursor to what the Broncos can do next week in Las Vegas on the same floor. Playing late in the season at the site of the conference tournament should help them in the MWC tournament.
• John Thompson III (Georgetown), Buzz Williams (Marquette) and Kevin Ollie (Connecticut) are all Big East coach-of-the-year candidates, but Providence's Ed Cooley is making a late push. The Friars play at UConn on Saturday and are looking for win No. 10 in the Big East.
• Memphis is once again undefeated in C-USA after a two-point win at UTEP on Tuesday. It was yet another road win for the Tigers, whose 15-0 league record should be applauded, not scorned, due to the perceived lower-level of competition.
• Ole Miss still has life in the NCAA tournament chase after beating Alabama by four at home Tuesday. Now the onus is on the Rebels to win at LSU on Saturday and give the committee pause when it meets next week in Indianapolis.
• Ohio State's Thad Matta has had to do one of his best coaching jobs. The Buckeyes' win at Indiana should go down as one of the most impressive in conference play this season. Everything pointed to Indiana cruising to the Big Ten regular-season title by closing out the home schedule in the final week. The Hoosiers are still the top seed and cut down the nets late Tuesday night. But Ohio State was in control in the second half and cannot be dismissed at the Big Ten tournament in Chicago next week.
August, 30, 2012
08/30/12
3:45
PM ET
The NCAA will have a potentially precedent-setting case if it decides to grant expelled Xavier forward
Dezmine Wells
immediate eligibility.
Wells took a visit Thursday to Kentucky. If he doesn't commit to the Wildcats right away, according to a source, he likely would visit Maryland during the weekend. Terrapins assistant coach Bino Ranson was on the Xavier staff while Wells was being recruited to the school. Memphis is also very much in the mix.
Each school would try to get Wells a waiver so he could play this season, despite the fall semester already starting. But the NCAA has a clear rule on this matter. NCAA spokesperson Stacey Osburn said schools have the ability to file a waiver to allow immediate competition due to special circumstances.
The rule is 14.5.1.2, detailing disciplinary suspension:
A student who transfers to any NCAA institution from a collegiate institution while the student is disqualified or suspended from the previous institution for disciplinary reasons (as opposed to academic reasons) must complete one calendar year of residence at the certifying institution. (Revised: 1/14/97 effective 8/1/97)
Osburn said the NCAA staff would review the waiver and consider several factors, including what "caused the dismissal from school and the results of any institutional appellate processes."
But would the NCAA grant immediate eligibility to a player who was expelled from another school? That is the question. It would certainly put Xavier in a poor light if that were to occur.
Wells was expelled for a "serious violation of the Code of Student Conduct.'' Xavier athletic director Mike Bobinski told ESPN.com that the athletic department had nothing to do with the decision and that this was the university's call.
The Xavier conduct board ruled on the matter, which involved allegations of a sexual assault. The ruling was upheld by an appeals board at the university, but a county grand jury declined to charge Wells on Tuesday, and Hamilton County prosecutor Joe Deters and Wells attorney Merlyn Shiverdecker issued strong statements about the way in which Xavier handled the case
On the court, the Wells departure is a crushing blow for the Musketeers, who already were losing Tu Holloway, Mark Lyons and Kenny Frease off last season's Sweet 16 team.
Wells started 32 games as a freshman in 2011-12 and was set to be the team's leading returning scorer. He was on the Atlantic 10 all-rookie team and averaged 9.8 points and 4.9 rebounds.
So where will he end up? If Wells was cleared to play immediately, he obviously would be a huge boost for any of the reported finalists.
He would give scoring and rebounding help, as well as much-needed game experience to Kentucky's youthful team. The Wildcats will lean heavily on freshmen like Willie Cauley, Alex Poythress and Nerlens Noel, along with sophomore Kyle Wiltjer and Wright State transfer Julius Mays. But Wells would add even more depth and pop to the defending champs.
Memphis would have playing time available next to Tarik Black, Shaq Goodwin, Ferrakohn Hall and Adonis Thomas.
But Maryland may need his game experience more than any other team, with the youngest roster among the three contenders. The Terrapins have some veteran experience, but also will be trying to incorporate five freshmen into the mix, including Shaquille Cleare and Jake Layman. Evan Smotrycz is a Michigan transfer and has to sit out the year.
Will Wells have to do the same? First he has to pick a school, then he'll wait to see on the waiver.
The case is tricky. A precedent would be set. And the direction of a season could change for one of the schools, with the decision on his eligibility possibility not coming until the start of practice in October.
August, 1, 2012
08/01/12
2:15
PM ET
The Big East couldn't afford to lose Boise State and San Diego State in football for 2013, so it didn't hesitate to help out their men's basketball programs with marquee nonconference opponents.
When the two schools agreed to become football-only members, there was a promise made about four guaranteed nonconference games in hoops in their first four years as members.
It was never publicly announced, but two of those games will come against new all-sport members Memphis and Temple, the last two programs added to the Big East. The schools for the two other home-and-home series are to be determined with the help of the league office.
The biggest winner in this deal is Boise State, but San Diego State, Memphis and Temple may not be as pleased with the forced partnership.
The Broncos are playing their last season in the Mountain West and are expected (like the Aztecs) to join the Big West in all non-football sports, although that won't be known until that league's presidents vote at the end of the month.
To get two home-and-home series over a two-year period against Memphis and Temple is a coup for Boise, which struggles to get nonconference games regardless of league affiliation.
"I don't care who you are, it's really tough to get home games," Boise State coach Leon Rice said. "Memphis is a perennial top 25 program, and in the last eight years, Fran [Dunphy] has Temple rolling. You can't get those type of teams into Taco Bell Arena. That's terrific."
[+] Enlarge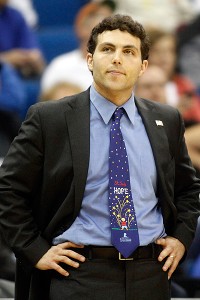 AP Staff PhotoSafe to say Memphis coach Josh Pastner isn't thrilled with two mandated nonconference games.
For some.
Memphis coach Josh Pastner isn't exactly gung-ho about the arrangement. He's wondering if the Tigers should be getting into guaranteed nonconference games against Boise State and San Diego State or anyone else without knowing how many Big East games the league will play in 2013-14.
"Will it be 20 or 18 or 16?" said Pastner of the future 18-team Big East, which will lose Syracuse and Pitt after this season but is adding Memphis, Temple, SMU, UCF and Houston for men's basketball.
"We have some commitments prior to joining the Big East with other events," added Pastner, who has Memphis in the 2013 Old Spice Classic in Orlando. "We've got a lot of balls we're juggling in our schedule starting next year. We need to have some concrete decisions before we move forward."
In addition, the Tigers' series with Tennessee ends after this season. There will be public pressure to continue the annual rivalry, but it's not a lock. Pastner said he wanted to hold off on renewing the in-state series so he has a clean slate to review the commitments from the Big East.
"Is there going to be an SEC/Big East Challenge? Then you add Boise State and San Diego State? There isn't a lot of room for error," Pastner said.
San Diego State coach Steve Fisher didn't want to publicly comment on the subject yet. He has heard about Temple and Memphis being locked in, but Fisher wants scheduling flexibility -- and anticipates being able to lure top 25-type teams to San Diego, even as a member of the Big West.
Of course, Temple and Memphis would fit that criteria quite well as both have been perennially successful programs over the years.
As for the Owls, they do have some recent experience with football-related scheduling mandates. As the school's football team competed in the Mid-American Conference, the men's basketball team was saddled with four MAC games last season, two home and two away.
But Temple could adjust to playing San Diego State and Boise State without having to worry about the MAC games. In conference play, the Owls are swapping two Big 5 teams (Saint Joseph's and La Salle) for one (Villanova), but they will still have to play St. Joe's and La Salle outside the league, along with Penn.
Still, the Owls, Tigers and Aztecs don't even come close to the scheduling problems of Boise State.
Rice said this has been the most challenging year scheduling-wise for him, even going back to his time as a Gonzaga assistant. The Broncos were in conference limbo for so long that it couldn't really schedule any Mountain West, WAC or Big West teams in nonconference games. Boise did commit to a tournament at UNLV in 2013, taking a chance that they wouldn't be conference members at the time.
The Broncos have a return game this season against Big West member UC Santa Barbara, but no Big West teams for 2013-14. They have a four-year deal with Utah and host LSU in a return game of a home-and-home series. They also play at Creighton in the MWC/MVC Challenge and at Michigan State in an exempt one-game event.
"And we have the MWC schedule this year, which will have some top-15 teams," Rice said. "We're trying to build a high-quality non-league schedule. Next year would be one of our veteran teams as we move into the Big West. I wanted to stack the scheduling going into the league, but that hasn't happened yet."
But Rice said he saw "in writing" that Memphis and Temple were locked in for 2013-14. So if they do indeed get in the Big West alongside San Diego State, they suddenly have quality games on the schedule for that season.
Boise State is also expected to get financial help from the Big East to offset any travel costs with the Big West, since all the schools are in California and Hawaii.
For a move that was made strictly for football purposes, it sure seems as if the Boise State men's basketball program will reap the benefits.
July, 6, 2012
07/06/12
11:59
AM ET
When it came to bylaws about departing teams, the Horizon, Colonial and America East didn't buckle.
There are consequences that come along with a departure. Being ineligible for the conference tournament is one of them for these leagues. Butler (Horizon) and Virginia Commonwealth (CAA) accepted that and got to the Atlantic 10 as fast as possible.
What school wouldn't do the same if the opportunity existed? Scheduling, television exposure and tourney access are the most important reasons -- outside of the financial benefits -- for being in a conference.
Take away the ability to play for an automatic NCAA tournament berth and the season can seem like a waste. Postseason bans, such as the one USC had recently and the one Connecticut will endure this season, take the air out of the season -- even if the schools and coaches do all they can to create a new goal of winning a regular-season title.
Even though both would likely be contenders for at-large berths, Butler and VCU took no chances.
Boston University, on the other hand, probably would leave for the Patriot League tomorrow if it could. The Terriers weren't pleased with the decision by the America East to uphold its bylaws, but they are stuck. The current team will have to deal with it.
Old Dominion and Georgia State were hoping the CAA would lift its ban, but it did not. Georgia State went as far as to explore trying to get into the Sun Belt sooner, but that didn't happen.
The Horizon, CAA and America East are actually not the norm historically.
After losing members in the past decade, the Big East, Atlantic 10, Big West, C-USA, Mountain West and WAC have not even broached the subject, much like the Big 12 didn't when it lost members to the Pac-12, Big Ten and SEC. The Big East didn't block West Virginia from playing in the conference tournament a year ago after it announced its hasty departure to the Big 12. Perhaps the smaller conferences are worried that the league will have only one bid and don't want it to go to the school with one foot out the door.
[+] Enlarge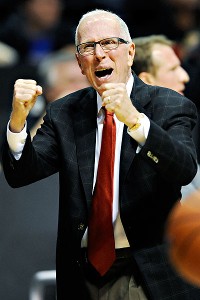 Christopher Hanewinckel/US PresswireSteve Fisher and the Aztecs will get a chance to compete in their final MWC tourney.
But when I asked some of the coaches playing in their final season in a conference, the question was met with near astonishment.
Pitt coach Jamie Dixon wanted to know if I was joking. San Diego State's Steve Fisher said he hadn't even heard of these conferences not allowing schools to participate. Utah State's Stew Morrill said he didn't think the WAC would do such a thing since previous schools that left weren't treated in that manner. Memphis coach Josh Pastner said he would be incredibly disappointed if that occurred. (C-USA took away the conference tournament from the city of Memphis but didn't remove the Tigers' ability to play for the title.)
But what would happen if these conferences turned on the departing teams in 2013? It's too late to change the bylaws and isn't going to happen, but it's still fun to play the "what if" game.
What effect would it have had on the Big East to take Pittsburgh and Syracuse out of the tournament?
A serious blow. The league may be squabbling with the two schools -- and will do so in court with Pitt -- but it needs these two in the conference tournament as long as possible. Syracuse is a natural draw at Madison Square Garden. Taking the Orange out of the Big East would have been a major mistake. The Orange and Panthers still don't have a definitive arrival date in the ACC, but it's likely to be in the summer of 2013.
What would it have done to Syracuse and Pitt for a potential at-large berth?
Likely no issue at all. Both have teams that look like virtual locks for an at-large bid.
What would happen to the Atlantic 10 if Temple and Charlotte weren't allowed in the tournament?
Let's be honest: Charlotte won't be missed on its way back to Conference USA. But Temple's departure will be a hit, as the Owls have consistently been a major part of the A-10 tournament. Not having a Temple presence, prior to the Owls' exit to the Big East, would have hurt the tourney's debut in Brooklyn. Bringing in Butler and VCU will offset the loss, but Temple still is very much associated with the A-10 brand.
What if the Big West banned Pacific?
That would be just cruel. The Big West has had teams leave before, and it might happen again. Plus, this is coach Bob Thomason's final season after a quarter-century at his alma mater, and he said he has a team that could challenge for the Big West title. He has been a loyal member, and Pacific is leaving for the all-private WCC. No harm in letting the Tigers finish up, and it won't hurt the Big West one bit.
What if Conference USA blocked Memphis, SMU, UCF and Houston?
Then C-USA would have a tournament that lacked any sort of buzz. Marshall is a legitimate title challenger to Memphis, and UTEP should be in contention. If the Tigers had been blocked from being in the tournament, after it was taken from the city, C-USA's relevance during Championship Week would have been diminished even more. It's still hard to say how many Memphis fans will travel to Tulsa, Okla., but the Tigers do have a significant following. This was a smart move by the league to not play bitter politics with the departing members.
What would the Mountain West tournament be like without San Diego State and Boise State?
A bit less exciting. The Aztecs have been one of the consistent winners in the MWC with UNLV and New Mexico. Take SDSU, off to the Big West, out of the event in Las Vegas, and the tournament would lose luster. No offense to Boise, but no one would likely notice if the Broncos weren't invited. But SDSU matters a great deal. The Aztecs will be a top-25 team alongside UNLV. Taking them out of the conference tournament would have been a storyline the MWC doesn't need in March.
What would a WAC tournament look like without Utah State and San Jose State?
Not worth it. USU has been the benchmark program in the WAC since Morrill arrived. New Mexico State can't anchor the conference on its own. NMSU needs a rival, and Utah State has been that nemesis. San Jose State wouldn't be missed, but the Aggies' absence would have been a glaring omission in Las Vegas. Rebuilding Utah State will likely need the tournament to get a bid this season, but the WAC was in no position to be punitive. So the Aggies will have one final chance to represent the WAC before it joins SJSU and former WAC members Fresno State and Nevada in the Mountain West.
June, 29, 2012
06/29/12
1:52
PM ET
The gold medal won by the USA men's under-18 team in Brazil last week will reverberate across a number of college campuses in the fall.
The players who won gold -- the majority of whom are set to begin their freshman seasons -- will benefit from the competition and the spirited workouts and playing for Florida's Billy Donovan, Gonzaga's Mark Few and VCU's Shaka Smart.
The U.S. didn't lose a game in the FIBA Americas U-18 Championships and won by an average of 39 points, including beating host Brazil twice.
High schooler Julius Randle, who still has another year at Prestonwood Christian Academy in McKinney, Texas, led the Americans in scoring at 14.2 points and 6.6 rebounds a game.
Tennessee sophomore-to-be Jarnell Stokes was second at 14 points and 5.6 rebounds a game.
I asked Donovan for five players he is convinced will have a major impact on their respective teams during their first college seasons.
He didn't hesitate on the first name (tourney averages in parentheses). Marcus Smart, 6-foot-3, SG, Oklahoma State (7.4 ppg, 3.4 rpg): "I have not been around a player in a long, long time that is as good a competitor. He can shoot the ball better (1-of-10 on 3-pointers), but he's unselfish and an unbelievable leader. He was absolutely terrific. He's a terrific player. He's special. He has the internal qualities to me.''
Jerami Grant, 6-7, SF, Syracuse (5.6 ppg, 5.0 rpg): "He didn't shoot very well (7-of-25), but he'll end up being a Kris Joseph or Wesley Johnson for Syracuse in time. He's rangy, long and can play two different positions. His upside may be greater than anyone else on the team. He's so long and athletic. Once he knocks down shots he'll be really special.''
Sam Dekker, 6-7, SF, Wisconsin (5 ppg, 2.5 rpg): "He was hurt, ended up spraining his ankle, and then someone stepped on his toe and that had to be drained. He was never quite healthy. But he's a warrior. He loves to play. He wants to win. I think he's a really good player. He takes some crazy shots. I just wish I could have coached him. He's going to be terrific.''
Shaq Goodwin, 6-8, PF, Memphis (12.4 ppg, 4.8 rpg): "He's got a chance. He scored 30 points in our first game. He's got a great feel for how to play. He's got a big body. He needs to be a bit more serious. But he played pretty well while he was there. He did a nice job for us.''
James Robinson, 6-3, PG, Pittsburgh (4.4 ppg, 2.6 rpg): "We weren't sure we were going to keep him. We cut the team from 25 to 14 and then kept guys around to 12. He was originally on the outside looking in. But once we started practicing we saw that he's a winner and a great role guy. He's a typical Pitt player. Jamie [Dixon] will love coaching him. I'm not sure of his impact on the team, but people will say, 'Where did this guy come from?' The kid is a winner. I liked coaching him. He was the same guy every day.''
Donovan had one word for NC State-bound wing Rodney Purvis (7 ppg, 1.8 rpg) and Duke-bound guard Rasheed Sulaimon. That one word? "Relax."
He said Purvis is an exceptional talent but can get too wrapped up in scoring at times. He's an exceptional athlete, according to Donovan, very physical and a really good player, but needs to check the expectations a bit. Donovan said Sulaimon (10 ppg, 3.4 rpg) needs to avoid feeling too much of the natural pressure that comes with being a highly touted Duke recruit. He said he loved Sulaimon's work ethic and enjoyed coaching him but he just needs to chill a bit.
January, 17, 2012
01/17/12
1:29
PM ET
College basketball could use a Heisman-like award, one main honor instead of the five mainstream national awards.
The problem is that finding a consensus for the Wooden, Naismith, AP, Rupp and Oscar Robertson honors is no easy task.
The awards voters do tend to coalesce behind one candidate. And maybe that will be the case again.
But it seems that this season's race will be as wide open as ever. If you need more evidence, take a look at the 25 finalists for the Wooden Award, released on ESPNU and ESPN.com on Tuesday.
It appears that the only two players who are consensus candidates are Kansas' Thomas Robinson and Creighton's Doug McDermott. It's not a reach to say these two players are the favorites in mid-January, a stunning development considering how much preseason hype Ohio State's Jared Sullinger and North Carolina's Harrison Barnes received. The amazing part thus far is that I don't believe Sullinger nor Barnes would be a first-team All-American if the voting were conducted today.
Before we get to the list of players compiled by the Wooden folks, it's important to note that these are simply the 25 players who they felt should be honored on their midseason list. Players who do not show up are still very much eligible to win the Wooden Award at the end of the season and will be given equal consideration.
So players who have legitimate claims to being on this list -- Maryland's Terrell Stoglin and Seton Hall teammates Herb Pope and Jordan Theodore come to mind -- still have a shot.
So without further ado, here are the 25 Wooden finalists (in alphabetical order):
Harrison Barnes, 6-foot-8, So., F, North Carolina Stat line: 16.8 ppg, 4.8 rpg
Chances: Fading. Still has a shot to be a second-team All-American. Barnes hasn't been the dominating player on the Tar Heels. To be fair, he has some of the best talent in the country (John Henson, Tyler Zeller and Kendall Marshall) surrounding him. UNC's 33-point loss to Florida State didn't help his case, either.
Will Barton, 6-6, So., F, Memphis Stat line: 18.2 ppg, 9.0 rpg
Chances: No shot. He could be the Conference USA Player of the Year, though. Barton has greatly improved and has been the most consistent player during the Tigers' inconsistent season.
William Buford, 6-6, Sr., G, Ohio State Stat line: 15.2 ppg, 4.6 rpg
Chances: No shot. Buford won't win Big Ten POY, either. He has been OSU's best perimeter threat, but he won't be a first-team All-American. Buford might not even be first-team All-Big Ten. He is an integral part of the Buckeyes' title hopes, but is not a POY contender.
Anthony Davis, 6-10, Fr., C, Kentucky Stat line: 13.1 ppg, 10.2 rpg, 4.6 bpg
Chances: High. Davis has been the most dominant post player in the country. He blocked a last-second shot by North Carolina's John Henson in December, preventing the Tar Heels from winning a game at Rupp. He alters and changes more shots than any other player. If the Wildcats win the national title, Davis will be one of the reasons why. He would be ahead of Ohio State's Jared Sullinger on the All-America ballot if you had to choose one of them.
Marcus Denmon, 6-3, Sr., G, Missouri Stat line: 17.8 ppg, 5.5 rpg
Chances: Not great. Denmon is the leading scorer for Mizzou. But it's hard to separate him from Kim English, Ricardo Ratliffe, Michael Dixon and Flip Pressey in his importance to the Tigers. They all have played an equal role in Missouri's impressive start. It will be interesting to see which of these players earns first-team All-Big 12.
Draymond Green, 6-7, Sr., F, Michigan State Stat line: 15.8 ppg, 10.1 rpg
Chances: In the mix. If he continues his current pace of scoring and rebounding, Green could end up nudging out Sullinger for Big Ten Player of the Year. The Spartans did lose at Northwestern on Saturday, but Green has been a tremendous leader. He will stay in the chase for a first-team All-American spot if his team stays in the race for the Big Ten title.
John Henson, 6-11, Jr., C, North Carolina Stat line: 14.4 ppg, 9.7 rpg
Chances: No shot. Henson didn't convert the biggest shot of his season against Kentucky. Davis blocked it. And if Barnes isn't the national player of the year, Henson isn't either. The 33-point loss to Florida State will haunt all Tar Heels candidates.
John Jenkins, 6-4, Jr., G, Vanderbilt Stat line: 19.8 ppg, 2.8 rpg
Chances: No shot. Jenkins is a superb shooter and scorer and is leading the revitalized Commodores. But his role isn't more important than Jeffery Taylor, Brad Tinsley or Festus Ezeli -- it is equally important. The 'Dores mid-nonconference slide hurts Jenkins' campaign. The success of the Kentucky freshmen also makes it almost impossible for Jenkins to get SEC Player of the Year.
Orlando Johnson, 6-5, Sr., G, UCSB Stat line: 20.2 ppg, 6.4 rpg
Chances: No shot. Johnson is having a stellar season for the Gauchos, and he may be one of the higher draft picks on this list. But the Gauchos are 8-6 and are trailing Long Beach State in the Big West. Johnson should be an All-American, but he won't make the first team.
Darius Johnson-Odom, 6-2, Sr., G, Marquette Stat line: 18.2 ppg, 3.3 rpg
Chances: No shot. DJO has had a superb season for the Golden Eagles. He has a legit shot at Big East Player of the Year. But that won't be enough to get a first-team All-American spot or the national POY. Marquette has been decent, but not great enough for DJO to stand out on that pedestal.
Kevin Jones, 6-8, Sr., F, West Virginia Stat line: 20.6 ppg, 11.1 rpg
Chances: Decent. Jones has put it all together as a senior and has put up just a monster season for the Mountaineers. Just seems like it's double-double after double-double for Jones, who will need to keep the Mountaineers in the top 3 of the Big East in order to stay in Wooden contention.
Perry Jones III, 6-11, So., C, Baylor Stat line: 14.2 ppg, 7.5 rpg
Chances: No shot at player of the year, but he is in the hunt for a first-team All-American slot. The problem for Jones' candidacy is that Quincy Acy has been a comparable inside scorer and guard Pierre Jackson has been an integral member of this team. Jones didn't help his case when he and the Bears were dominated by Kansas' Thomas Robinson in a loss on Monday night. But he can't win national POY if he isn't the Big 12 Player of the Year. And Robinson is the favorite for that honor.
Kris Joseph, 6-7, Sr., F, Syracuse Stat line: 13.7 ppg, 4.6 rpg
Chances: No shot. Joseph is leading the Orange, but this team is so deep, so talented and so balanced that you would have a hard time picking just him. Dion Waiters may be Syracuse's MVP. A number of other players have taken turns being the star for the Orange, too.
Michael Kidd-Gilchrist, 6-7, Fr., F, Kentucky Stat line: 13.4 ppg, 7.7 rpg, 49.4 FG percentage
Chances: Solid. Kidd-Gilchrist could be the SEC Player of the Year. And if he gets that honor, he'll be in contention for the national POY. Kidd-Gilchrist took a few games to get going, but once he did he was an offensive force. He has delivered on his talent and effort.
Jeremy Lamb, 6-5, So., G, Connecticut Stat line: 17.9 ppg, 4.2 rpg
Chances: No shot. Lamb is leading the Huskies in scoring. But UConn is still finding its way in the Big East. The Huskies haven't featured Lamb as much, either. Andre Drummond may end up being the team's featured scorer by season's end. Lamb isn't the Big East Player of the Year right now, so he isn't winning the national honor.
Damian Lillard, 6-3, Jr., G, Weber State Stat line: 25.5 ppg, 5.8 rpg, 3.5 apg
Chances: He won't win national POY, but he should be in contention for second-team All-American honors. Lillard is having a stellar season for the Wildcats, who are in first place in the Big Sky. He leads the nation in scoring and his stat line is as good as any in the country. The problem is that Weber has been in obscurity so far this season. Lillard will likely not be seen by the masses until March.
Doug McDermott, 6-7, So., F, Creighton Stat line: 24.3 ppg, 8.5 rpg, 62.1 FG
Chances: High. McDermott has been one of the most complete players in the country and is a first-team All-American, at the very least. He could be this season's Jimmer Fredette, coming from outside a power six conference to win the national player of the year honor. McDermott has led the Bluejays to the top of the Missouri Valley and into the Top 25. He is the focus of every opposing defense, too.
Scott Machado, 6-1, Sr., G, Iona Stat line: 13.1 ppg, 4.7 rpg, 10.3 apg
Chances: Not happening for POY, but he's in the hunt as a first-team All-American. Machado has been the most dominant point guard this season and easily leads the country in assists. Iona has played a decent schedule and is the team to beat in the MAAC. Few teams will want to face the Gaels in March, and Machado is one of the key reasons why.
Kendall Marshall, 6-4, So., G, North Carolina Stat line: 5.8 ppg, 9.6 apg
Chances: No shot. Marshall is a key for the Tar Heels. He hasn't been the best point guard in the country, but has been a solid contributor this season and does rank second behind Machado in assists. But that isn't enough to win the award or be a first-team candidate.
Mike Moser, 6-8, So., F, UNLV Stat line: 13.9 ppg, 11.2 rpg
Chances: No shot. But Moser has to be in contention for a first- or second-team All-American spot. His rebounding has been epic (especially against North Carolina). Moser and fellow UCLA transfer Chace Stanback have been the major reasons the Runnin' Rebels are ranked and in contention for the MWC title.
Arnett Moultrie, 6-11, Jr., C, Mississippi State Stat line: 16.5 ppg, 10.9 rpg, 0.9 bpg
Chances: Not good for POY, but he's a serious candidate for first-team All-American. Outside of Moser, Moultrie has had the most impact of any transfer. He has increased MSU's chances of being a serious threat to Kentucky in the SEC. Moultrie is a double-double machine for coach Rick Stansbury and has allowed the Bulldogs to avoid relying only on Renardo Sidney.
Thomas Robinson, 6-9, Jr., F, Kansas Stat line: 17.8 ppg, 12.3 rpg
Chances: High. Robinson is the POY favorite at this juncture. He should be a consensus first-team All-American. He has had to take on immense responsibility with the departure of the Morris twins and has responded without a hitch. He carries the weight of the incredible burden of losing his mother during last season. And yet he is as focused as ever in 2011-12. Robinson dominated in the rout over Baylor on Monday night with 27 points and 14 rebounds.
Mike Scott, 6-8, Sr., F, Virginia Stat line: 16.9 ppg, 8.9 rpg
Chances: He has no shot for national POY, but Scott is one of the favorites for ACC Player of the Year. He has been the most consistent big man in the league. Take Scott off the Cavs, and they don't come close to the top of the league standings. But Virginia did lose at Duke and also fell to TCU. Scott will have to keep the Cavs in the ACC's top three to have a chance at the league's POY.
Jared Sullinger, 6-9, So., F, Ohio State Stat line: 17.3 ppg, 9.3 rpg
Chances: Still strong. Sullinger has been battling injuries (back, foot) and missed the road game at Kansas in December. That's part of the reason he is not the favorite right now. Sullinger still has plenty of time to be a first-team All-American and the Big Ten Player of the Year. But it would help if he had some dominating performances down the stretch.
Cody Zeller, 6-11, Fr., C, Indiana Stat line: 14.8 ppg, 6.4 rpg, 1.4 bpg
Chances: No shot. But Zeller is in the chase for Big Ten Player of the Year. At the very least, he'll be the Big Ten Rookie of the Year. It's amazing that he's on this list and his older brother Tyler (a senior at North Carolina) is not. Cody has helped transform Indiana into a national player, but the Hoosiers' recent two-game skid does take his chances for Big Ten POY down a peg.
My midseason All-America team choices: First team: Robinson, McDermott, Davis, Moultrie, Machado Second team: Kidd-Gilchrist, Sullinger, Green, K. Jones, C. Zeller
November, 14, 2011
11/14/11
1:50
PM ET
The atmosphere of the Carrier Classic, with its overwhelming sense of patriotism and the sheer uniqueness of playing a game on the deck of the USS Carl Vinson, along with the historical significance of that vessel, will be hard to top.
The view was magnificent. The Naval presence in all its glory and uniformity was as impressive as one would imagine. And the appreciation from the sailors for the break from the daily routine was genuine.
If you missed that game or any of the matchups on opening weekend, you're in for a treat because you won't be able to turn on the ESPN family of networks from 11:59 p.m. ET on Monday until about 1 a.m. ET on Wednesday without seeing college basketball on the screen.
Here are some questions to ponder as the fourth annual Tip-Off Marathon begins with Washington State at Gonzaga and ends with an NIT Season Tip-Off game the following night from Stanford.
1. Will Duke coach Mike Krzyzewski become the NCAA's all-time winningest coach? The Blue Devils play Michigan State in the first game at the Champions Classic (ESPN, 7 p.m. ET) from Madison Square Garden. Duke struggled against Belmont in its opener and then blasted Presbyterian on Saturday. Neither result should come as a surprise. The Blue Devils are usually the home team in New York, but it will be interesting to see how many Spartans fans are able to make the trip, especially if some of them just went to San Diego. Still, Michigan State has a real shot to upstage Coach K. Despite their loss to North Carolina, the Spartans were the aggressor, outrebounding the Tar Heels convincingly 42-31. The Blue Devils have as much size as North Carolina, so the challenge will be similar. But MSU must shoot better from 3-point range than it did against UNC (2-of-20). Another key to the game is seeing which team converts timely perimeter shots. If Duke wins, we'll have the unique setting of Krzyzewski winning No. 903 and passing his former coach Bob Knight, who will sit courtside calling the game for ESPN.
2. How will the Thomas Robinson-Anthony Davis matchup unfold? This could turn out to be one of the more anticipated frontcourt showdowns during the nonconference schedule, as this individual battle highlights the second game of the Champions Classic between Kentucky and Kansas (ESPN, 9:30 ET). Robinson began the season as the go-to guy for Kansas, finishing with 18 points and 11 rebounds against Towson. Meanwhile, Davis, UK's highly touted freshman, blitzed Marist with 23 points and 10 boards in the Wildcats' 50-point rout. Kentucky has more options than KU and can lean on Doron Lamb or Terrence Jones to get it plenty of points. But the tussle between Robinson and Davis will be good theater throughout the night.
3. How will Ohio State's Aaron Craft and William Buford handle Florida's perimeter? We're not conceding the Jared Sullinger-Patric Young matchup (well, we will for these purposes), but this game may come down to the guards. Florida's set of Kenny Boynton, Mike Rosario, Brad Beal and Erving Walker is off to a sensational start. Rosario scored 19 points off the bench, while Boynton scored 19 and Beal 14 (Walker added 10) in a rout of Jackson State. Craft and Buford will be tested defensively more so than they were a year ago, when Ohio State won easily at UF during this same event. The Buckeyes, who host the Gators at 8 p.m. ET (ESPN2), are the No. 3 team in the nation because of Sullinger. But this will be the first time OSU may feel the loss of defensive specialist David Lighty.
4. Can Belmont emerge from the brutal opening weekend with a split? The Bruins nearly nipped Duke in a comeback that fell one possession short. The next challenge is a visit to in-state Memphis at noon ET on ESPN. Belmont won't have any awe factor in playing the Tigers. The Bruins should come into this game oozing with confidence after their showing versus the Blue Devils. Memphis is still a young team and a work in progress. The Tigers have more talent, but the question is whether they will show patience against a Belmont team that will want to run and run and run. This could be one of the most entertaining games of the day.
5. How will Baylor handle its one and likely only test during Perry Jones III's suspension? Jones must sit for three more games after accepting an extra benefit. The Bears beat Texas Southern on Friday and Jackson State on Sunday. The two games that follow Baylor's home matchup with San Diego State (ESPN, 2 p.m. ET) are South Carolina State and Texas-Arlington. This is not the same Aztecs team from last season after the roster was gutted by graduating seniors and an early-entry NBA departure. Still, they are athletic enough to cause problems. The Bears have options with Quincy Acy, Quincy Miller and Anthony Jones, but this game should at least push Baylor a tad more than the first two did during Jones' suspension.
6. How will Gonzaga's guards respond after a poor first outing? The Bulldogs showed in a tight win over Eastern Washington that they can rely heavily on Robert Sacre (22 points and 10 boards). But the perimeter shooters went 3-of-13 on 3s, and Marquise Carter was 2-of-11 and Mike Hart, Gary Bell, Kevin Pangos and David Stockton were a combined 6-of-15 from the field. Washington State is a team in transition, and the Zags should win this game. But Gonzaga has plenty of tougher challenges ahead, and so its guard play will need to improve. Still, this will be a good chance to see Sacre and Elias Harris on display against the Cougars, tipping off the Marathon at 11:59 p.m. ET on Monday night (ESPN).
7. As for the two women's games on the Marathon schedule … How will Tennessee perform after coach Pat Summitt's health diagnosis? If you saw Robin Roberts' piece on "Good Morning America," you know it is clear that the Lady Vols are determined to win a national title for Summitt. The Tennessee coach also seems as driven as ever in her quest to keep coaching while she battles early-onset dementia. This should be an emotional game, as they all may turn out to be, for the No. 3 Lady Vols as they host No. 7 Miami (ESPN2, 6 p.m. ET). And how will Texas A&M handle its status as the reigning champs? The Aggies aren't expected to repeat as national champs, but they have established themselves as an elite program. The primer to the Tennessee game won't involve as much theater, but may be as competitive a game when No. 9 Louisville goes to College Station to play the No. 6 Aggies (ESPNU, 4 p.m. ET).
8. What should we expect from Texas' Myck Kabongo? Kabongo is an impressive young man who handles himself with poise and class. Now he has to translate that onto the court against a talented Rhode Island squad that lost at George Mason by two points in its season opener Friday. The Longhorns will lean heavily on Kabongo to start the season. How he handles this first assignment will be a strong indicator on what to expect, as URI will push Texas from the outset (ESPN, 4 p.m. ET).
9. How will Drexel handle the hype as the CAA's favorite? The Dragons play at Rider (ESPN, 6 a.m. ET) when most people might be waking up to watch the Marathon. Drexel is the early pick to win the Colonial Athletic Association, a conference that's receiving some buzz after placing its second team (VCU) in the Final Four since 2006. Drexel will be minus the injured Chris Fouch, but Samme Givens and Frantz Massenat should be enough to beat Rider. But the Dragons could do themselves a service by looking impressive, too.
10. How productive can the Saint Mary's frontcourt be this season? Randy Bennett anticipates that this frontcourt will be more productive than the one led by Omar Samhan, who led the Gaels to the Sweet 16 two seasons ago. That means Rob Jones will be getting help from Kyle Rowley, Brad Waldow, Mitchell Young and Beau Levesque. Jones dominated Fresno Pacific with 25 points and 12 boards, but Northern Iowa -- coming off an impressive road route of ODU -- will be a much more formidable foe for the Gaels (ESPN, 2 a.m. ET).
11. What should we expect from LeBryan Nash? Well, if you believe the hype, Oklahoma State has an all-Big 12 player who can elevate it to the NCAA tournament. The Cowboys will likely have plenty of chances to feature Nash against Arkansas-Pine Bluff in the NIT Season Tip-Off (ESPN3, 8 p.m. ET).
12. How polished will Syracuse look? If they defeat Manhattan on Monday, the Orange will face either Albany or Brown on Tuesday (ESPN3, 7 p.m. ET) in the NIT Season Tip-Off. The early indication is that this veteran team will be ready to compete for the Final Four. Of course, Syracuse isn't being challenged as much as some other teams, but the Orange smacked Fordham in the opener as Dion Waiters complemented Kris Joseph quite well.
13. A surprisingly close game? I'm going with Austin Peay at Cal (ESPN2, 10 p.m. ET). The Governors should be one of the favorites in the Ohio Valley Conference. Will Triggs and TyShwan Edmondson could play at any level. California is one of the Pac-12 favorites, but the Golden Bears will be tested in this CBE Classic matchup. Guards Allen Crabbe and Jorge Gutierrez will be tested versus Austin Peay.
14. What are the chances of a surprise to end the Marathon? I think Stanford will have a tough time with either SMU or Colorado State at home in the NIT Season Tip-Off. The Mustangs or the Rams are fully capable of being a pest and upsetting the Cardinal (ESPNU, 11 p.m. ET). Stanford first has to get past Fresno State, of course, to be in this matchup. To do that, Aaron Bright, Chasson Randle and Josh Owens will have to really take control.
15. How will Miami score inside? The Hurricanes are sans Reggie Johnson and Julian Gamble due to injuries. The given has been that the Canes have the guard play with Malcolm Grant and Durand Scott. But Rutgers will try and make Miami (ESPN3, 7 p.m. ET) beat the Scarlet Knights on the inside. This could turn out to be one of the closer games in the Marathon.
16. What should we expect from Villanova? This is somewhat of a blank slate. The Coreys -- Mr. Fisher and Mr. Stokes -- are gone. Maalik Wayns will be the dominant presence, but there are plenty of other options as Mouphtaou Yarou, JayVaughn Pinkston, Dominic Cheek and James Bell could all star against La Salle (ESPN3, 7 p.m. ET). The Wildcats are an unknown in the Big East, and this game will at least give us a taste of what we may see.
17. Is Kevin Jones ready to be a star? For two seasons, West Virginia's Bob Huggins has been waiting for Jones to emerge. He scored 20 points and grabbed eight rebounds in a season-opening seven-point win over Oral Roberts. Kent State will hardly be a walk for the Mountaineers (ESPN, 10 a.m. ET). Darryl Bryant can offset Jones' production, but the offense will likely flow through Jones as he adapts to being the front man for the Mountaineers.
18. How ready is Hawaii to make a run at Utah State? Gib Arnold has gone through a complete roster makeover and coached the Warriors to an impressive 19-13 record in his first season in Honolulu. Utah State beat BYU to open the season while one of the WAC favorites, Nevada, was flat at home in losing to Missouri State. Hawaii has a real shot to make a move in its final season in the WAC before heading to the Big West. Establishing an identity in a new conference is always key and ensuring that Cal State-Northridge (ESPN, 4 a.m. ET) is well aware of what it is in for when it visits the Stan Sheriff Center would do wonders for a first impression.
19. What will Morehead State and College of Charleston look like after losing their stars? This game could be one of the more competitive because of who both teams lost, rather than who they gained. Morehead State no longer has Kenneth Faried, while Charleston is without Andrew Goudelock. The Eagles made the NCAA tournament last season, defeating Louisville and then falling to Richmond. The Cougars reached the NIT quarterfinals before losing to eventual champ Wichita State. Regardless of how these teams look (ESPN, 8 a.m. ET) on Tuesday, you can expect them both to be factors in their respective conferences by February.
20. What are the chances Virginia Tech doesn't end up in New York for the NIT semifinals? We'll find out Tuesday night. The Hokies will likely play George Mason, assuming the Patriots beat Florida International and Virginia Tech knocks off Monmouth on Monday. Mason beat Rhode Island by two in overtime in its opener, and while it is a more depleted roster than expected when Paul Hewitt took the job, this is still a formidable squad. Virginia Tech used balanced scoring to beat East Tennessee State by 11 in its opener, but hitting 5-of-18 on 3s was an indicator that the perimeter shooting may not be the Hokies' strong suit.
Other notable names to watch: Does Tu Holloway have a monster game for Xavier against IPFW (7 p.m. ET)? Will Cincinnati's Yancy Gates dominate against Jacksonville State (7 p.m. ET)? How will Harvard fare as the hunted team on the road, even against a rebuilding Holy Cross squad (7 p.m. ET)? How will Dayton's Archie Miller fare in his road debut as head coach at Miami-Ohio (7 p.m. ET)? Will Mike Scott be a double-double performer for Virginia against Winthrop (7 p.m. ET)? Will LSU avoid plunging into irrelevance by winning at Coastal Carolina (7 p.m. ET)? Will Butler avoid a shaky 0-2 start by winning at home against Chattanooga (7 p.m. ET)? Will Saint Louis prove to be the team projected as an A-10 contender and win games it should -- even on the road at Southern Illinois (8 p.m. ET)? Will Missouri State continue to win on the road and take down Arkansas State (8 p.m. ET)? How impressive will Royce White be for Iowa State against Drake (9 p.m. ET)? How will Wyoming play for new coach Larry Shyatt against Northern Colorado (9 p.m.)? Will Arizona State start its climb toward respectability by winning a game at home versus Pepperdine (8:30 p.m. ET)? Will Utah State follow up its BYU win by beating rival Weber State (9 p.m.) on the road?
Andy Katz is a senior writer for ESPN.com.
October, 11, 2011
10/11/11
10:27
AM ET
Throughout the years, Willis Wilson has interviewed for the head-coaching job at Illinois, Ohio State, Minnesota and Clemson.
He had his shots. But Rice's all-time winningest coach was always the fall-back candidate, a guy with a clean reputation who was the sensible-but-not-splashy choice.
So Wilson plodded along in Houston, making Rice competitive at times but never putting the Owls in the NCAA tournament. He spent 16 years at his alma mater at a time when the program played in a glorified high school gym with a big blue curtain that separated one side of the gym from intramural badminton on the other.
[+] Enlarge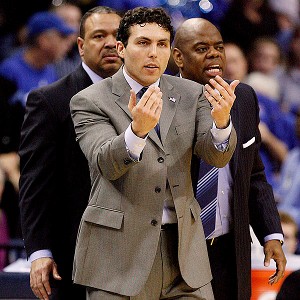 AP Photo/Lance MurpheyWillis Wilson (left) was Josh Pastner's assistant at Memphis the past two seasons.
So when he was let go by Rice in 2008 after a miserable 3-27 season, Wilson wanted a taste of big-time basketball. In 2009, he accepted an offer from Josh Pastner to become the rookie coach's trusted sidekick at Memphis. Pastner, a Houston native whose father, Hal, was a local AAU organizer, had known Wilson for years.
The environment Josh created in Memphis was great," Wilson said. "He was great to work for."
But Wilson wanted to get back to being a head coach, hopeful he could find a job that would be considered the best in its league.
So he jumped at the chance to replace Perry Clark at Texas A&M-Corpus Christi, convinced the Islanders fit that criterion despite finishing with the second-worst record in the Southland Conference last season.
"I wanted to be a head coach again at some point,'' said Wilson, 51. "I had a timetable in mind."
Did he take the right job, though? Having never gotten a shot in a "power six" league, Wilson has now taken a second brutally tough job in the state of Texas.
"I can see where someone sees that," Wilson said. "The only thing I would say is that this is one of those situations where, three years from now, they'll say, 'Holy cow, how'd they do that?' It's an ideal time to be in this job."
The Islanders are a relatively new member of Division I, but they have had some modest success. They advanced to the NCAA tournament in 2007 under Ronnie Arrow, who later took the South Alabama job.
Texas A&M-CC struggled to find its footing under Clark, though. After finishing just 10-21 in his fourth season, the former Tulane and Miami coach resigned in March.
At the time, Clark told ESPN.com that "coaching at this level was harder than I thought. I want them to find someone who can do this and thought it was better for everyone."
Well, apparently Wilson considers himself fit to coach at "this level." Wilson had to scrap for plenty at Rice. And if you listen to him long enough, he'll convince you his new program has the potential to be what Memphis is in C-USA or Butler is in the Horizon or Gonzaga in the WCC.
Wilson said that he has the enthusiastic backing of the administration and that the emphasis at Texas A&M-CC is to make the basketball program the face of the school. He said there is chatter about improving the practice facility, and he is convinced the locals will flock to the arena if the Islanders start winning.
"This program offers more potential than Rice," Wilson said. "Memphis was the class of the league, but Conference USA has been essentially a one-bid league. We're in a similar one-bid league. But there isn't a Memphis in our league. There isn't a Butler in our league. There isn't a Gonzaga in our league. There isn't an Old Dominion, for that matter, in our league."
The Southland has had a rotation of teams take a turn at the top, from Sam Houston State to McNeese State to Northwestern State to UT-San Antonio to Stephen F. Austin to Texas A&M-CC.
"We can position ourselves as being the top seed in our tournament, and, if you can consistently put yourself in a position to do that, then you can win games at a national level," Wilson said.
Of course, you need players to be successful. Four players were dismissed from the program this summer, so the Islanders are looking at a depleted roster that will largely be led by seven newcomers.
[+] Enlarge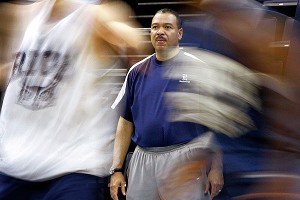 AP Photo/Mark HumphreyWilson spent 21 years as assistant then head coach at his alma mater Rice.
"It all boils down to getting players," Wilson said. "And I think we have the means to show that we can be the class of this league with facilities. We want to say something special here."
Wilson has had quite an offseason. He left Memphis, took the Corpus Christi job, then found out he was embroiled in an alleged Ponzi scheme led by Houston financial adviser David Salinas, who took his own life this summer as the Securities and Exchange Commission investigated him.
Salinas had been a Rice booster and made his inroads into the college basketball community through the Owls' staff in the 1990s, when Wilson was an assistant to Scott Thompson. Salinas later created an AAU program called Houston Select.
Wilson said that he last invested with Salinas in 1996 or '97 and that, with interest, his last statement said he was due $650,000.
"But I don't have a canceled check," Wilson said. "That's what it should have been with interest. I have to show proof that the money was there, and I don't have the bank records back that far."
That likely means the money Wilson thought he had invested for his retirement will never be seen.
So making the Islanders a success to help his own long-term security becomes even more crucial.
"You define success by getting to the tournament, and here we don't have to beat a Memphis or a Butler or a Gonzaga or the big three in the Colonial," Wilson said. "If we field good teams, we've got a chance to win our league and be better than anyone else. In Conference USA, no one in the league is ever going to have what Memphis has, and, in the WCC, no one is going to have what Gonzaga has. In our case, we have a chance to have more than everybody else in our league."
And that, in short, is why Wilson finds himself back at a small school in the Lone Star State.
"Will I have a greater opportunity to get to the NCAA or conference championship here?" Wilson said while comparing this job to his previous one at Rice. "The answer to that is yes."
October, 10, 2011
10/10/11
9:04
AM ET
Memphis will be ranked somewhere in the top 15, possibly in the top 10.
Marshall won't be in the top 25. The Thundering Herd probably won't be even close to the top 30.
Is the difference that wide between the projected top two teams in Conference USA?
"I think Marshall is really, really good. I think Marshall could easily win the conference and are worthy of [being] a top 25 team,'' Memphis coach Josh Pastner said. "Just look at [its] roster. I wouldn't be surprised if the rest of the league picked them as the favorite to win the league title. The perception on Marshall hasn't caught up to the reality.''
[+] Enlarge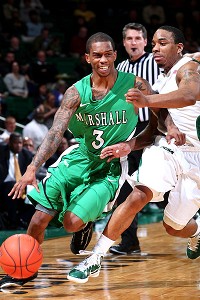 Marvin Gentry/US PresswireDamier Pitts and Marshall have the potential to challenge Memphis in Conference USA.
This is called spin. This is called deflection. Or is it? Could Marshall really be a serious challenger to Memphis with the Tigers' loaded roster of Tarik Black, Joe Jackson, Will Barton and Wesley Witherspoon, and the addition of Adonis Thomas?
Marshall does return its top scorers in Damier Pitts and DeAndre Kane, but the Herd may not have the depth.
One Conference USA coach was quick to point out that Marshall is getting an awful lot of publicity for a team that hasn't even made it to the conference championship game.
"Marshall is really strong in the backcourt and [it] can match Memphis in the backcourt, and that alone is a big statement,'' Tulsa coach Doug Wojcik said. "But I still say Tarik Black isn't getting enough credit. To me Memphis has the better combination of inside and out, and no one has someone like Wesley Witherspoon.''
The Herd finished 9-7 in the league last season (22-12 overall) and were tied for fifth with Southern Miss -- another team which is supposed to be a challenger, according to its coach, Larry Eustachy.
Marshall coach Tom Herrion playfully said that Kane should have been on my Wooden Award snub list. He wasn't. Maybe he should have been.
"He had great numbers last year,'' Herrion said of Kane (15.2 ppg, 5.5 rpg and 3.4 apg). "We're perceived to be a better team than last year. We had the rookie of the year last year and with what we have coming back we're not going to be worse. We're only going to get better.''
Herrion said he's not grandstanding about the Herd's potential. Marshall split the two games with Memphis last season, with each team winning its game at home. But Herrion is not going to dismiss the obvious: This Herd team hasn't won anything substantial so far.
"We haven't done anything yet,'' Herrion said. "I feel good about our personnel, and it's nice that other coaches in the league think our team is good, but we haven't proven anything yet.''
The Herd have had a relatively quiet summer, save for the addition of former Miami assistant Jorge Fernandez. Former Miami booster Nevin Shapiro said in a Yahoo! Sports report that he witnessed Fernandez having impermissible contact with Miami football players in 2008 and entertaining then-AAU coach Moe Hicks (now on St. John's staff). Herrion said Fernandez talked to the NCAA enforcement staff, but he was given no indication that Fernandez would be in any trouble.
"It won't be a distraction at all,'' Herrion said.
A new assistant can't be trouble at any time, let alone with a team that is poised for a breakout season. Herrion has scheduled as if he is confident this team will be a threat.
[+] Enlarge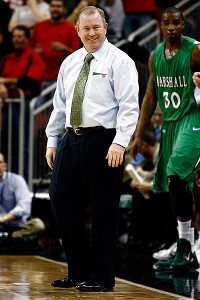 Icon SMIThanks to a solid foundation and an experienced staff, Herd coach Tom Herrion feels good about his team's prospects for the season.
Marshall is playing at a top-25 team in Cincinnati, at Big East tri-favorite Syracuse and the annual series against West Virginia in Charleston, W.Va. But Herrion found three games versus teams that don't get the publicity, and they should be just as tough as playing any other contender in C-USA, save Memphis. The Herd will have a home-and-home series with Belmont and a home game against MAAC co-favorite Iona.
Herrion, who had an 80-38 record at College of Charleston in his only other head-coaching stint, has Marshall in line to be a contender just as quickly as he did when he was in the Southern Conference. The difference, of course, is that there was never a team in the SoCon quite like Memphis. "I feel much better in Year 2 here,'' Herrion said. "We've got a very good foundation on how to build this thing. We've got a much more experienced staff here.''
The experience up front isn't the same as it is in the backcourt. And that will be the difference against the higher-level teams. If Herrion can play to the perimeter strengths, he has a chance to have sustained success this season. But the Herd will know early and often if they are contenders or pretenders.
Doing well in C-USA won't be enough to warrant an NCAA at-large berth. They have to do something significant with this nonconference slate -- like win a few of the key games -- or at least one against one of the three Big East teams.
"I know we scheduled aggressively,'' Herrion said. "Now we have to go out and win games. We've got great opportunities and have a tremendous challenge. We're playing three Big East teams but none are in our building.
As for Pastner, he won't quit on his pumping of the Herd.
"People just don't give them credit,'' he said. "Marshall could compete in the top three or four in a number of leagues. Marshall is totally underrated nationally.''
OK, well let's see if that's the case. The onus is on the Herd now to prove it, and not just to their fan base and to Herrion for putting together the schedule. Marshall needs to back up Pastner's claim that it can be a legitimate top-25 squad this season.
We'll find out soon enough.