Category archive:

Memphis Tigers
July, 4, 2013
07/04/13
3:37
AM ET
Brad Stevens is universally loved in the college coaching profession.
So don't take the shock and surprise of Stevens' move to the NBA's iconic franchise in Boston as a sign of disrespect.
His peers and colleagues are simply in awe by the timing, not by the move.
"The best young coach I have seen in my time," said Syracuse coach Jim Boeheim. It's high praise for Stevens, who coached in consecutive national title games in 2010 and '11.
"Coach Stevens is everything that is right about our profession, and was an absolute star at Butler," said Marquette's Buzz Williams, who was going to be a chief rival for Butler in the new Big East Conference but now will face a new coach in the fledgling league. "I anticipate he will be the exact same with the Celtics."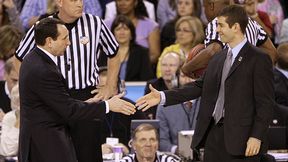 AP Photo/Amy SancettaMike Krzyzewski, left, and Brad Stevens meet before the national title game in 2010 where Duke beat Butler 61-59.
Stevens had professed for a few years how comfortable he was at Butler. He was hand-picked by his former mentor, Barry Collier, to be the head coach. He could have jetted off to UCLA. He would have had Illinois. He may have been next in line to be the head coach at Indiana or Duke or Kansas or North Carolina whenever those jobs were to open. Who knows? He was that highly coveted and respected.
"I am very excited for Brad, his family and the Boston Celtics," said Ohio State's Thad Matta, a former Butler coach. "He did a masterful job in his time at Butler, and as an alum I know he will be greatly missed. He has a great mind for the game and great instincts in dealing with players. I look forward to following his path to success with the Celtics."
New UCLA coach Steve Alford, a native of Indiana like Stevens, has always had incredible respect for the way Stevens has handled himself and the program.
"I'm very happy for Brad," Alford said. "He's done a phenomenal job at Butler and is very deserving of this opportunity. Great hire by the Celtics."
To Memphis coach Josh Pastner, who is just a year younger than Stevens at 35, there was immense adoration for the path Stevens has blazed for coaches younger than 40.
"I think Brad is one of the great coaches of the game, regardless of college or pro," Pastner said. "It's basketball. He'll do great with the Celtics. It's a great hire by Danny Ainge. A great hire. I think age is overrated. You either get the job done or you don't. You can do it or you can't. He's proven he can do the job. He has had tremendous success at Butler."
But no one has been more effusive in his constant praise of Stevens than Duke's Mike Krzyzewski, the USA Olympic and national team coach. Krzyzewski was quick to compliment Stevens in the lead-up to the 2010 national title game. Coach K's Blue Devils beat the Bulldogs 61-59 -- in Indianapolis -- in one of the most epic national title games in the past 25 years.
Krzyzewski said he was as surprised as everyone else by the Celtics tabbing Stevens. But he said that's because "Brad is one of the great college coaches. He's an outstanding coach. He's at a time -- he's young -- I can see him wanting to do something different. He's terrific. It's a great hire for the Celtics."
Krzyzewski said he knows exactly what Stevens was going through since he had to weigh the same decision in 1990 when the late Dave Gavitt approached him about being the head coach of the Celtics. Krzyzewski said no at the time.
"I almost did it with the Celtics," Krzyzewski said. "I can understand it."
A source told ESPN.com on Wednesday night that the Celtics tabbed Stevens as their top choice once Doc Rivers was let out of his contract and essentially traded to the Clippers. The Celtics loved his character and knowledge of the game. His demeanor didn't hurt, either. He has always been extremely even.
"He's really smart," Krzyzewski said. "His teams play that way. He's just a heckuva of a coach. He has a maturity of an established head coach right away. I just think -- forget about young coaches -- I think he's one of the best coaches. I don't think you could have a better guy. He's smart and he'll adapt. I think he'll do a really good job there."
Recent college-to-NBA head coaching gigs have been doomed to fail, including Mike Dunlap, who went from being a St. John's assistant to the head coach in Charlotte, Lon Kruger going to Atlanta, Mike Montgomery to Golden State, or Leonard Hamilton to Washington.
But this is the Celtics and Stevens, who has been penciled in for a Hall of Fame ticket after six seasons by his peers. Krzyzewski isn't worried about the veteran NBA players giving him instant credibility in the locker room and in the huddle.
"He'll have respect," Krzyzewski said. "He's accomplished. Players respect success. He's had great success right away. So I don't think he'll have any problem with the players respecting him. They'll respect him. They respect excellence. He has it. It's a terrific hire. I'm a friend of his and I wish him the very best and I'll be pulling for him. To take over one of the most storied franchises in sports in an incredible opportunity, I can understand him doing it."
March, 6, 2013
03/06/13
9:37
PM ET
A few quick hitters for this midweek:
• USC interim coach Bob Cantu met with AD Pat Haden last week and is getting, at the very least, the respect of being treated as a legitimate head-coaching candidate. The Trojans are 7-4 since he took over for the fired Kevin O'Neill. USC finishes the regular season at Washington and Washington State this weekend. And with more offensive fluidity, the Trojans are a potential spoiler in the Pac-12 tournament next week in Las Vegas.
The odds that Cantu will get the job are not good. He is just plowing ahead with this team and isn't politicking for the job. Haden interviewed UTEP head coach Tim Floyd -- Cantu's former boss -- as well as Syracuse assistant Mike Hopkins. I'll be shocked if other top candidates don't emerge in what should be one of the best jobs in the Pac-12.
If Cantu can't get the USC job and doesn't stay on with the Trojans, he deserves a shot at another California school, if there is an opening.
• Miami coach Jim Larranaga felt very good about his team's effort last Saturday in a loss at Duke. And he certainly won't complain about the Hurricanes' 7-2 road record in the ACC.
"We played eight really good games and one poor game at Wake Forest,'' Larranaga said. "Our effort at Duke was good enough to win. But Ryan Kelly, well, there was no way we could have planned for that. We knew he was going to play, but we thought he would get 12-14 points, and we could survive that. But 36 points on 14 shots?''
Miami finishes with Georgia Tech on Wednesday and Clemson at home on Saturday, which will likely allow the Canes to win the ACC regular season outright.
"We scored 76 points and we missed two 3s that could have tied it [against Duke],'' Larranaga said. "I was not satisfied with our defense and some of that is my own responsibility.''
Reggie Johnson didn't score in the game, and Larranaga said that he may have been overhyped.
"He can play a lot better than he did,'' said Larranaga. "He didn't have a good game, and Ryan Kelly did.''
Larranaga thinks Shane Larkin should be named the ACC player of the year (and I agree) once Miami wins the ACC regular-season title.
"You should vote for the player from the team that wins the outright championship,'' said Larranaga. "We should have the player of the year for the first time in school history. We beat the No. 1 team for the first time in school history and set attendance records. But all the things we've done are a prelim to the NCAA tournament because all everybody remembers is March Madness.''
Miami should also have all-conference players in Kenny Kadji and Durand Scott.
• I've never understood why teams do senior day/night festivities after the game. Indiana had to wait until it was midnight Tuesday after losing to Ohio State to honor its seniors. Why not take care of it before the game when the house is full and the attention is on the game/players and not on getting home to beat the traffic and weather?
• St. John's Steve Lavin and Notre Dame's Mike Brey both confirmed Wednesday there will be no further suspension for Cameron Biedscheid and Sir'Dominic Pointer beyond the one-game that they must sit per NCAA rules for being ejected for fighting. Losing Pointer is more of a hit for the Red Storm, which host Marquette on Saturday. The Irish play at Louisville in a game that would be a reach for them to win even with Biedscheid.
• Boise State's four-point loss at UNLV should be a precursor to what the Broncos can do next week in Las Vegas on the same floor. Playing late in the season at the site of the conference tournament should help them in the MWC tournament.
• John Thompson III (Georgetown), Buzz Williams (Marquette) and Kevin Ollie (Connecticut) are all Big East coach-of-the-year candidates, but Providence's Ed Cooley is making a late push. The Friars play at UConn on Saturday and are looking for win No. 10 in the Big East.
• Memphis is once again undefeated in C-USA after a two-point win at UTEP on Tuesday. It was yet another road win for the Tigers, whose 15-0 league record should be applauded, not scorned, due to the perceived lower-level of competition.
• Ole Miss still has life in the NCAA tournament chase after beating Alabama by four at home Tuesday. Now the onus is on the Rebels to win at LSU on Saturday and give the committee pause when it meets next week in Indianapolis.
• Ohio State's Thad Matta has had to do one of his best coaching jobs. The Buckeyes' win at Indiana should go down as one of the most impressive in conference play this season. Everything pointed to Indiana cruising to the Big Ten regular-season title by closing out the home schedule in the final week. The Hoosiers are still the top seed and cut down the nets late Tuesday night. But Ohio State was in control in the second half and cannot be dismissed at the Big Ten tournament in Chicago next week.