Category archive:

Loyola (IL) Ramblers
November, 3, 2011
11/03/11
9:26
AM ET
Butler lost its exhibition opener Wednesday night 53-50 to Northern State.
But that won't change the opinion of Detroit's Ray McCallum or most of the coaches in the Horizon League.
The Titans may have the most talent, but the Bulldogs are still the pick to win the conference.
"They've gone to the national championship game two straight seasons,'' said Valparaiso coach Bryce Drew, who is entering his first year as head coach after serving as a Valpo assistant. "It's hard not to pick them to win the league. They still have some of the best talent in the league.''
The common theme among the league's coaches is that if Detroit senior center Eli Holman is playing, the Titans can dethrone Butler.
But he won't be playing -- at least for the immediate future. McCallum said Wednesday night that Holman is still not with the team after being removed from all team-related activities in late September. The Varsity News reported on Sept. 28 that Holman assaulted a student in mid-September. Holman led the team in rebounding (9.8 ppg) and was third in scoring (11.8) last season. Take Holman, a former Indiana recruit for Kelvin Sampson, out of the lineup, and the Titans remain formidable. But they lose their inside presence.
"Eli is still away from the team right now, and he's trying to work his way back,'' McCallum said.
But Detroit has the best backcourt in the conference: sophomore Ray McCallum Jr. (13.5 ppg, 4.9 apg, preseason player of the year), senior Chase Simon (13.5 ppg) and junior Jason Calliste (8.6 ppg). Add senior forward Nick Minnerath (11.2 ppg, 4.8 rpg) -- whom McCallum Sr. said will be a superb power forward who can knock down 3s -- to the mix, and the Travis Leslie-like Doug Anderson at small forward, and the Titans have a good squad. McCallum is already calling Anderson a human highlight film for his dunks.
"They're still pretty good without him, but they're not the same force inside without Eli,'' said Milwaukee coach Rob Jeter.
"I think Detroit can [knock off Butler],'' said Cleveland State coach Gary Waters. "Detroit has three of the top five players in the league. It surprised me that they weren't picked No. 1. Butler has been good for so long, and they lost the player who was the best player, in my estimation, the past four years and that's Matt Howard. [Detroit] has a very good point guard in McCallum, great size and great length. Minnerath may be the best 4-man in the league. I won't be surprised if he's leading them in scoring. They're on the verge, but they haven't completed the task. They've got the veterans now.''
McCallum isn't sold yet.
Detroit finished tied for the fifth-best record in the Horizon last season at 10-8, three games behind the three-team tie for first -- Milwaukee, Butler and Cleveland State. The Titans were one game above .500 overall at 17-16. McCallum was quick to point out that in his team's combined eight games against the four league schools that finished ahead of Detroit (including second-place Valparaiso), the Titans won only one game -- Cleveland State at home in early February.
But Detroit was picked to finish second to Butler in the preseason poll, losing out by 15 points. The Titans did receive 19 first-place votes to Butler's 28 in a vote from the conference's coaches, media and sports information directors.
The Titans had three of the five players on the preseason first team: McCallum, Holman and Simon. Butler had none.
"I'm not falling for it,'' McCallum Sr. said. "We're just crawling along from going 10th to seventh to fifth. We're getting closer, but we'll see. We haven't done it yet. We haven't done it yet. It's time for us to step up with Cleveland State, Butler, Milwaukee and Valparaiso.''
Butler has its own identity. The Bulldogs will grind out games and have a defensive mindset, and they never seem to beat themselves. They are a bear to play in nonconference and can hang with any team in the country.
Detroit must become relevant in November and December to chase Butler in February and March.
"Butler knows who they are,'' McCallum said. "[Coach] Brad [Stevens] has the program to the point where they've lost key players, and they just fill in the blanks and then they're household names. Nothing fazes them. They just go out and play the same way every night.''
McCallum isn't worried about rebounding or scoring, but consistent defense is a concern. The Titans will shoot more 3s without Holman, McCallum said, but they have to figure out who they are from the outset. Butler knows. Detroit must figure it out in order to get through a decent nonconference schedule that has the Titans playing at Notre Dame, hosting St. John's and Mississippi State, and visiting Alabama and Akron.
Jeter said Butler has always had the mindset that it can play with any team in the country. Where the Bulldogs have struggled, according to Jeter, is when the competition is mediocre.
"It seems like there is a big weight off of them, and they play a lot differently once they get to the [NCAA] tournament,'' Jeter said. "You see it when they've had to play a team like Old Dominion or Murray State early in the tournament.''
Milwaukee swept the Bulldogs during the regular season, but couldn't beat Butler when the game mattered most -- at home in the Horizon League tournament title game with the NCAA automatic berth on the line. Detroit needs to adopt that mindset of finishing off Butler when the games count.
"Butler deserves the limelight; they've earned it,'' Jeter said. "But there are teams in this league that have pushed them.''
To Stevens' credit, he has constantly mentioned how tough it is to win on the road in the Horizon League. Butler has consistently been the hunted team and easily the biggest game on the road in the league, whether it's at Youngstown State or UIC. Detroit won't get that same rep this season, even with a potential first-place team. But the Titans have to approach every game like they are the team to beat.
"We've got 11 postseason teams on our schedule, with no easy games on our schedule,'' McCallum said. "We'll be in a position to win some of those games. But we've got to approach it that we've got to win the Horizon League tournament. To go to the Big Dance, we've gone out and scheduled up this year. Hopefully it will work out for us.''
March, 29, 2011
03/29/11
12:33
PM ET
Grace Calhoun wanted to make sure when she left Indiana for the athletic director's job at Loyola of Illinois that the school was committed to chasing down Butler in the Horizon League.
Back-to-back Final Four appearances by Butler has changed the Horizon League. How much is still to be determined as the schools still try to schedule and win nonconference games with the hope of multiple at-large berths.
[+] Enlarge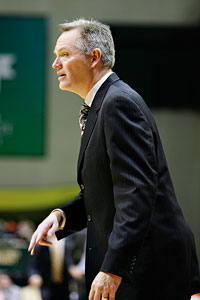 Tim G. Zechar/Icon SMIJim Whitesell went 109-107 overall and 50-70 in the Horizon League in his seven seasons with the Ramblers.
While that didn't happen this spring -- Cleveland State and Milwaukee, the two teams that tied with Butler for the league title, didn't do enough outside the league to earn an at-large berth -- Calhoun has a chance to make a statement with the only open position in the league. She fired coach Jim Whitesell after he went 16-15 overall, 7-11 in the Horizon. Whitesell had been at Loyola for seven seasons.
Calhoun said she hopes to land a coach by the end of the Final Four in Houston. There are a number of top assistants in the Midwest pursuing the job, some head coaches and one high-profile name in Florida International's Isiah Thomas, a native Chicagoan, who would certainly be a headline act. Thomas finished last in the Sun Belt in his second season with FIU, but would be more in his comfort zone in Chicago. Of course, Loyola would have to have assurances that Thomas wouldn't soon bolt to the New York Knicks or anywhere in the NBA if given the chance.
Butler's run last season and the assurances that Loyola would invest in the program both factored into Calhoun's decision to become AD.
"We've got a gorgeous new facility, they're financially investing in the program and we're heading in the right direction," Calhoun said. "We want Loyola to be competitive and it's hard not to look at the Butlers and think we could be there. We're a great school in a fantastic location."
But what also has to happen is for the schools to continue to compete salary-wise with Butler, which pushed Brad Stevens closer to the $1 million per year mark with last year's 12-year deal.
"The schools do have to make the investment and they have," Horizon League commissioner John LeCrone said. "We've managed the transitions well. Brad Brownell leaves for Clemson and Wright State hires Billy Donlon. Tod Kowalczyk leaves [for Toledo] and Green Bay had Brian Wardle ready. We've got Gary [Waters] at Cleveland State and Homer Drew at Valparaiso."
LeCrone was a former member of the NCAA tournament selection committee, so he knows the Horizon League teams have to win more nonconference games against power-six schools.
"They didn't have the balance needed in their schedule," LeCrone said of Cleveland State, which won 25 regular-season games but lost to West Virginia and at Old Dominion in BracketBusters. "They've got to win those games."
The Horizon League has a small deal with ESPN, but LeCrone obviously wants more exposure for his conference.
"I feel good about the television package, and do I think we deserve more with two Final Fours? That's not up to me," LeCrone said. "We just have to continue what we're doing and the rest will take care of itself."
Quick hitters:
• UCLA coach Ben Howland wasn't totally shocked by the departure of Tyler Honeycutt to the NBA draft. Honeycutt, he said, should be a first-round draft pick. The decision by Malcolm Lee to test the draft waters is a bit of a surprise, but Lee should return since he is hardly a lock to be selected.
Howland probably has more issues dealing with the draft than others because L.A. is the home to so many agents that can get in the heads of his players and inflate their opinions of their stock.
Losing Honeycutt will slow the Bruins' growth, though, for next season. UCLA will have a formidable front line with Josh Smith joining North Carolina transfers David and Travis Wear on the inside, but losing Honeycutt takes away a scoring forward and puts the Bruins still behind Washington and possibly Arizona, if Derrick Williams were to decide to stay.
UCLA is filling a void by accepting UNC transfer Larry Drew II. He has to sit out next season to be eligible for 2012-13.
• Keep in mind with all these players testing the draft like Ashton Gibbs of Pitt and UCLA's Lee -- they won't be getting many workouts. The window to test is only two weeks, since players have to withdraw by May 8, and NBA teams, especially those in the playoffs, aren't going to conduct workouts with players that may not be in the draft. So it's not really testing if all they're getting is verbal feedback from the league without a slew of physical workouts to truly get a read on their draft position.