Category archive:

Stanford Cardinal
December, 19, 2013
12/19/13
12:01
AM ET
HARTFORD, Conn. -- Shabazz Napier had his chances. He was so confident that the Connecticut Huskies would score, he even he passed on the final one, opting for a more open Omar Calhoun.
But none of them dropped for Napier, Calhoun or No. 10 UConn against the Stanford Cardinal's enveloping 2-3 zone. Not much went well in the second half as the Huskies went from leading by 10 at the half to a brutal 13-point, 5-for-31 shooting second half and lost for the first time this season 53-51 to a hungrier and more desperate Stanford team.
What happens next for both teams in their ensuing games -- Stanford against Michigan on Saturday at Barclays Center in Brooklyn and UConn at Washington on Saturday in Seattle -- could say a lot about their ultimate chase for a high finish in their respective conferences.
"We just had a bad shooting second half,'' said Napier, who entered the game as one of the national front-runners for national player of the year but had a mortal, 2-of-7 3-point shooting night. "We've got to get ready for Washington.''
UConn coach Kevin Ollie said earlier Wednesday he was approaching the Stanford game as a road game. He mirrored the scheduling to his time in the NBA in which the next day would bring a long trip. The Huskies are scheduled to leave Thursday for Seattle to get adjusted to the time change. UConn had lived on the edge to climb to No. 10, winning last-possession games against Maryland, Boston College, Indiana and the most thrilling one over Florida two weeks ago at Gampel Pavilion on a buzzer-beating, midrange shot by Napier.
[+] Enlarge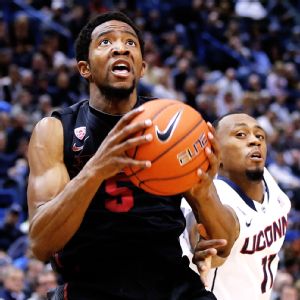 David Butler II/USA TODAY SportsStanford's Chasson Randle led the Cardinal in its upset win over UConn on Wednesday with 22 points.
The Huskies, though, were exposed a bit by Stanford's zone. Not every team will choose the style against UConn nor have the length the Cardinal guarded Napier with as Stanford coach Johnny Dawkins put Anthony Brown and Chasson Randle on Napier, a decision Dawkins said was a necessity to win.
But the Huskies will need to solve their interior issues if they are to win in Seattle, as well as stay with Louisville, Memphis and Cincinnati in the American Athletic Conference over the next three months. The Cardinal's length, Ollie's primary concern, was a factor that allowed Stanford to continue to limit UConn's second- and third-shot opportunities.
"This was huge for us,'' Stanford's Josh Huestis said."We knew inside our locker room we could compete with anybody, but not until you prove it.''
Stanford whiffed on its previous big games, giving up 112 points and losing at home to BYU on Nov. 11, getting blown out in the second half against Pittsburgh in the Legends Classic and fading from the list of any Pac-12 contenders as Oregon, Colorado and Arizona State all had at least one win to stand up and shout about.
"This was one of those big moments,'' Dawkins said. "This was big not just for us, but also for the Pac-12."
Dawkins was well aware the Cardinal needed to do their part to raise the profile of the conference. Beat Michigan in Barclays and suddenly Stanford, which lost senior guard Aaron Bright to a season-ending shoulder injury after the Pitt game, has to be taken seriously in the NCAA-bid chase.
Beating the No. 10 team in a true road game gives the Cardinal a signature win they coveted. Sweeping this second road swing to the East Coast can be a season changer. UConn has to make sure its season doesn't swing the other way on its road trip.
This was one game that showed the Huskies can look one dimensional, while the Cardinal proved they can diversify. UConn needs to make sure this was more of an anomaly, while Stanford must hope this is its norm.
June, 6, 2012
06/06/12
9:25
AM ET
Johnny Dawkins is close to turning Stanford into a consistent winner.
He led the Cardinal to an NIT championship this past March, and they should be in contention -- behind UCLA and Arizona -- for a top-three Pac-12 finish and an NCAA tournament berth in 2012-13.
Dawkins made the right move in his first head-coaching job when he hired one of the most respected coaches in the country in former Santa Clara coach Dick Davey. He was promised three years from Davey. He got four.
[+] Enlarge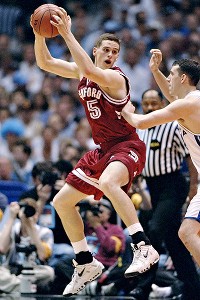 Todd Warshaw/Getty ImagesFormer Stanford player Mark Madsen will bring energy and passion to the Cardinal sideline.
And now he has made another astute decision to improve his staff and the program at a critical time.
In hiring Mark Madsen to replace Davey, Dawkins added the most enthusiastic player from the past 14 years in college basketball -- and the one available coach who knows exactly what it means to be recruited by, play for and succeed at Stanford.
The timing was perfect. Madsen had been at Stanford the past two seasons working on his MBA. He was around the program and went on the team's summer trip to Spain.
"He was great to be around, and it was a great chance for us to get to know him better,'' Dawkins said. "I had a better feel for Mark. I had heard amazing things as a player. He has had great experiences, a terrific career in college and in the NBA. He did a stint in the D-League as an assistant coach. He comes in with experience.''
And Madsen is a winner.
He won at Stanford; as a player, his teams compiled a 105-24 record under Mike Montgomery, now the head coach at Cal. Madsen was on the first No. 1-seeded Cardinal team in 2000, and even more impressive, the 1998 Final Four team. He was a two-time All-American. He was also on two Lakers' title teams in 2001 and '02 and played six seasons for the Timberwolves.
Few players in the NBA and college played every possession with as much passion as Madsen.
Dawkins has a statesman-like presence. He is above reproach because he has treated those around him with respect. But he was still a Stanford outsider, as there wasn't a tie to the past success of the program.
And if he was going to bring such a Stanford guy back, then why not deliver to his staff a coach who knows exactly how to play with passion and energy? Dawkins said Madsen knows the culture at Stanford since he's been through it.
But Madsen can do more. He said he can teach with passion and energy, and that it isn't -- nor should it be -- instinctual.
"Phil Jackson talked about energy all the time with the Lakers,'' Madsen said. "Jerry West said playing with energy and passion is a skill like shooting is a skill. I hope to convey that to all the players, that when they step on the court they have to have that energy. It can be a huge asset for the team, the program and the university.''
As a a player, Madsen never got everything handed to him. He earned it. He was an aggressive performer who bulldozed his way into the lane; he grabbed rebounds off the backboard and 50-50 balls on the floor. But he didn't expect a handout when he was done playing. He became an assistant coach with the Utah Flash in the D-League in 2009-10 and then went back to school for an MBA.
"I'd love to be a head coach,'' Madsen said as he headed to his professor's house Tuesday night for a graduation get-together. "I wanted to come back and be around this campus. I hope I can come in and chip in and do my part. I'm excited to be with Johnny and his whole staff, recruiting, X's and O's and every element of building an elite program. I want to learn from them and share my unique inside aspect of playing at Stanford and in the NBA.''
Stanford has its core back from the NIT title win over Minnesota. The top returning scorer is guard Chasson Randle, a sophomore-to be. Three of the next four top scorers -- guard Aaron Bright, Anthony Brown and Dwight Powell, all rising juniors -- are back, too. The only significant top-five scorer who is gone: senior forward Josh Owens.
With top-five recruiting classes, both UCLA and Arizona have the offseason buzz. But Stanford has experience and can't be dismissed in the race.
The Cardinal visit potential ACC title team NC State and are in arguably the top nonconference tournament -- the Battle 4 Atlantis with Louisville, Duke, Missouri, Minnesota, VCU, Memphis and Northern Iowa. And Saint Louis, one of the A-10's top teams, will come to the Farm.
"The biggest thing is that these players have had a taste of success and realized how good they are individually and collectively,'' Madsen said. "They've demonstrated that. The guys are confident now.
"Arizona, UCLA and Washington and UC Berkeley have always had strong traditions," Madsen said, "but Stanford always competed to win a championship, even in years when our record hasn't been perfect. The Stanford tradition is to give it all you have and to win a [Pac-12] championship, and get to the NCAA tournament, where anything can happen.''
Dawkins couldn't have added another coach who better understands how to do that like Madsen does.
The Cardinal got better on Tuesday without a point being scored.
May, 4, 2012
05/04/12
12:58
PM ET
UCLA's recent mediocrity hasn't been celebrated or seen by the rest of the Pac-12 as an opportunity.
Instead, the conference desperately needs the Bruins to come back -- and fast. Having Arizona dip, even just for one season, didn't help either.
So when the coaches gathered this week for the annual spring meetings in Phoenix, the mood was upbeat. The Pac-12 -- that ultimate big-boy punching bag in college basketball lately -- has two of the nation's top three recruiting classes. And they're from the league's two most prestigious programs.
[+] Enlarge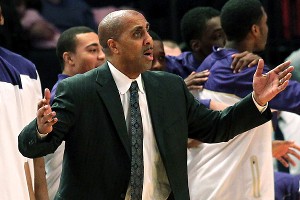 Anthony Gruppuso/US PresswireYou know it's a down year when your regular-season champ doesn't make the NCAA tournament.
"I think any buzz for our league is good for everybody,'' Oregon State coach Craig Robinson said. "As competitors, we would like the buzz to be about us, but as long as it's somebody in our conference and especially a brand name like UCLA, that can only be good for the rest of us.''
The Pac-12 had only two teams make the NCAA tournament in 2012, and one of those (Cal) was in the First Four in Dayton and lost. Regular-season champ Washington didn't get a bid, an embarrassing situation for the conference, which became the first big six league to not have its regular-season winner receive a bid.
Utah arrived in the conference and was abysmal in its first season, finishing 3-15 in the Pac-12 and 6-25 overall. Arizona State fell apart and finished 10-21. USC was decimated by injuries and was the worst of all, finishing a stunning 1-17 in league play and 6-26 overall.
The saving face of the Pac-12 was actually new member Colorado. The Buffaloes won the conference tournament, beat UNLV in the NCAA tourney and hung around with Baylor before losing in the Round of 32.
But perception of the league being down wasn't a reach. It was reality. The numbers and results didn't lie. The Pac-12 was an almost hard-to-fathom 1-25 against the RPI top 40 in nonconference play.
So with Arizona loaded up with four ESPNU 100 recruits in the Class of 2012 and UCLA having secured Kyle Anderson in the fall, the Bruins kept up the momentum in the spring by grabbing another top-five recruit (Shabazz Muhammad) and a four-star big man (Tony Parker).
That's not just good for those two schools, it's welcomed by the rest of the league.
Don't think Pac-12 commissioner Larry Scott didn't take notice of the Bruins' big April.
"It's extremely important,'' Scott said. "The public and media follow big brands, and it doesn't get any bigger than UCLA basketball in our conference.
"Having them have a strong recruiting class [and] a new Pauley Pavilion to move into is great news for our conference. We've got new TV deals. The timing couldn't be better.''
The conference's coaches have long complained about the television package and a general lack of national exposure. A few years ago, first-place Cal was at USC in a critical game and it wasn't even televised.
Well, the Pac-12 finally has a new TV package that will allow every conference game to be televised on one of three networks: ESPN, Fox or the new Pac-12 Network. The league will shift from a straight Thursday-Saturday/Sunday schedule to one that has more flexibility.
[+] Enlarge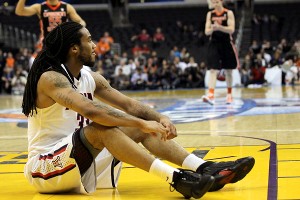 Stephen Dunn/Getty ImagesThe Pac-12 tourney has had some thrillers over the years, but few in L.A. bothered to notice.
In addition, the conference tournament now has a chance to have a sellout with the league choosing Las Vegas as the neutral destination. The Pac-12 had struggled mightily to draw consistent crowds to the Staples Center in Los Angeles. That shouldn't be the case at a destination venue like the MGM Grand, where the Pac-12 will become the fourth conference to play its conference tournament in Vegas, joining the Mountain West (Thomas & Mack Center), WCC and WAC (both at the Orleans Arena).
What will this conference look like by next March, though?
A year ago, the league was gutted by early entrants to the NBA draft at USC, UCLA, Washington, Washington State, Arizona and Stanford.
"Our league wasn't going to be good in the nonconference in November or December because of who left,'' Oregon coach Dana Altman said. "And then UCLA lost Reeves Nelson [dismissed early in the season] and so we weren't in a position to do well.''
Now they must be.
"We need some top-10 teams,'' said Cal coach Mike Montgomery, who has consistently been a Pac-12 title contender at Stanford and Cal. "We didn't have any, and it hurt us. Based on the recruiting, Arizona and UCLA should be in the mix.
"You need good teams going in. It will help us all if we're competing against better teams. Our RPI goes up. One through nine we were pretty good last year.''
The early onus will be on UCLA. The Bruins have to show well at the Legends Classic in Brooklyn, N.Y., with Georgetown and ESPN.com preseason No. 1 Indiana in the four-team field.
"We've had some bad losses out there,'' Montgomery said of the Pac-12's shoddy nonconference record lately. "Typically, everyone looks at UCLA and makes a judgment. It may not be fair or right and they haven't been the best team, but when they [are down], it hurts everybody. It's incumbent on everybody to win the games [you're supposed to win] in the pre-conference.''
Montgomery didn't excuse his own team. The Bears beat no one of significance outside league play last season and were annihilated by Missouri and UNLV.
"We didn't perform well, and that hurt our league,'' Montgomery said. "The impressions start early. We shouldn't lose games we shouldn't lose, because then when the league plays each other, we're screwed. We can't do anything to improve the reputation. That's on all of us to have a better November and December heading into the conference.''
USC coach Kevin O'Neill isn't doubting the Pac-12's ability to bounce back this season with several NCAA tournament teams.
"And we plan on being one of them,'' O'Neill said of the Trojans, led by Jio Fontan, who missed last season with a knee injury. "UCLA and Arizona had top recruiting classes, and that helps everybody improve. I think it's great. We'll see how they react to stressful situations.
"All our teams look good on paper, and we should be one of the top leagues in the country. We lost more pros in this league than the five other power leagues together the last few years. We're producing great players and most are doing well. But all of that is going to change. It's going to be a great year for our league.''
November, 25, 2011
11/25/11
1:19
PM ET
The past three weeks have been quite a whirlwind.
I've seen 20 teams in a number of venues on both coasts.
So after a thankful day to be with my family -- and a big thanks to all my tremendous colleagues who grind every day on our editorial operation on ESPN.com and on both sides of the camera on ESPN -- here's a look at what I've picked up on after two weeks on the road. And remember, this only includes games I've seen in person.
[+] Enlarge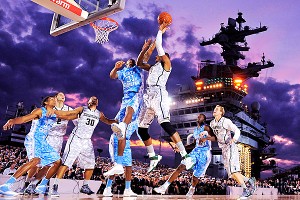 AP Photo/Mark J. TerrillIt doesn't get much more scenic than what we witnessed at the Carrier Classic.
Best venue: It was natural to be skeptical about whether or not the Carrier Classic could be pulled off. But it far exceeded my expectations. The Navy did what it does best -- tremendous organization. The enormity of the USS Carl Vinson was awe-inspiring. The men and women who serve on the ship, as well as the ship's leadership, couldn't have been more welcoming. They were so grateful to have a chance to show what they do on a daily basis. The two teams -- North Carolina and Michigan State -- were model guests and displayed tremendous appreciation. The pageantry of the event, from the patriotic opening to the scenic view of downtown San Diego, will be hard to ever duplicate due to the uniqueness of 11-11-11 and the inaugural nature of the game. And the outdoor game may have seemed like a gimmick, but it was well-played in spurts for being the season opener for both teams.
Best team: North Carolina. The Tar Heels have lived up to the hype as the No. 1 team in the country. They have flaws, especially their perimeter depth. But the overall length of the frontcourt, the ability to get out on the break and the potential to hit scoring spurts and run out on teams is impressive. The Heels have three players -- Harrison Barnes, Tyler Zeller and Kendall Marshall -- who will compete for the ACC POY and two others -- John Henson and James Michael McAdoo -- who will be tough to defend.
Signature moment: When Duke coach Mike Krzyzewski won game No. 903 against Michigan State, passed his mentor Bob Knight and became the all-time winningest men's coach in NCAA history. The impromptu embrace by Coach K and Knight was met by a swarm of photographers and a rare teary eye from Coach K. The moment was genuine, real and showed the true emotion of such an arduous task of grinding out wins in this sport for three-plus decades.
Most impressive half: Kentucky's complete domination of Penn State in the first half at the Mohegan Sun Arena. The Wildcats made it look like it was a guarantee game with an opponent from a weak Division II conference. To Penn State's credit, the Nittany Lions did respond the next day and beat South Florida. But Kentucky showed on this day that it had more offensive versatility with the emergence of Doron Lamb and Kyle Wiltjer.
Most dominating performance: Jared Cunningham, Oregon State. Cunningham went off for 37 points in an overtime win over Texas in the Legends Classic. Cunningham was a highlight reel a year ago but has settled down, working on his game and finding ways to score in a variety of ways. Hofstra coach Mo Cassara said he was the best guard they've gone against in quite some time after Cunningham lit up the Pride for 35 in Corvallis prior to the Texas game. Cunningham is a legit Pac-12 Player of the Year candidate.
Best sub: Syracuse's Dion Waiters. Waiters jump-started the Orange with 11 points off the bench in the comeback win over Virginia Tech in the NIT Season Tip-Off semifinal. Waiters is a game-changer when he's on the floor. He gives Syracuse a different look because of his ability to get into the lane quicker than Scoop Jardine. He's not as refined as Jardine and can be hit or miss, but when he's on he gives the Orange a different look.
[+] Enlarge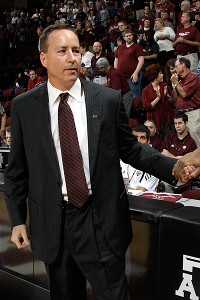 AP Photo/David J. PhillipTexas A&M's Billy Kennedy was diagnosed with Parkinson's disease before the start of the season.
Most courageous: Texas A&M coach Billy Kennedy and St. John's coach Steve Lavin. Kennedy is trying to come back from a series of health setbacks, most notably being diagnosed with Parkinson's disease. He went through incredible fatigue over a five-week stretch that weakened him and it doesn't help that he has bone spurs in his shoulder. The first-year A&M coach is beat up, but is making a comeback one step at a time. He's an inspiration and a model of perseverance.
Lavin, meanwhile, is returning from prostate cancer surgery that was more extensive than most. He had a seven-hour procedure to take out his prostate and also scrape other lymph nodes to ensure that the cancer was all gone. He said he is cancer-free, but is still working his way back from the exhausting surgery. Lavin has to manage his energy and that's why he was able to coach in the Garden for two days in a row but then needed to take a day off from the rigors of coaching earlier this week.
Biggest surprise: Stanford's blowout win over Oklahoma State. The Cowboys were obviously a bit distracted on Wednesday. Oklahoma State coach Travis Ford, who has been crushed by the horrific plane crash that cost the lives of women's coaches Kurt Budke and Miranda Serna, said there were no excuses. And there is this: Stanford was that good. Josh Owens scored 21 points and is, like Cunningham, a Pac-12 POY candidate. I'm not sure Stanford can continue this early-season success, but the Cardinal certainly have the look of an upper-division Pac-12 team.
Two to single out: Over the past three weeks, I took notice of two players who continue to exhibit maturity and professionalism in the way they handle themselves with the media and the respect they have for those older than them. Texas freshman Myck Kabongo has a tremendous presence about him. So too does Michigan State senior Draymond Green. You sense that both of these young men will be stars in whatever they choose to do going forward.
Player only scratching the surface: Kentucky's Anthony Davis will be a star by season's end with his ability to control the paint. He is such an immense talent with his length and game-changing shot-blocking. His offense will only continue to diversify.
Most important wins: Vanderbilt beating NC State and Oregon State in the closing moments. The Commodores found ways to win the Legends Classic with key defensive stops and timely shooting at the IZOD Center. The Wolfpack and Beavers are vastly improved from a year ago, but the Dores had to win these games to shed the sour taste of getting beat up by Cleveland State at home. Vandy will get big man Festus Ezeli back in a few weeks. So these wins were critical for this team's confidence.
Two teams to watch: Oregon State still has to win the games it should over the next month -- all against teams outside the power-six conferences and perhaps none against teams bound for the NCAA tournament. But the talent is in place with this team to make some noise in the Pac-12. The emergence of Ahmad Starks as a push-it point guard, the length of Eric Moreland and Devon Collier, the soft hands of Joe Burton inside and the scoring of Cunningham make this team a good watch.
NC State had talent when Mark Gottfried arrived and it has only gotten better. C.J. Leslie is a potential big-time scorer. Scott Wood can make shots. C.J. Williams and Alex Johnson are solid role players. DeShawn Painter is a rugged face-up and inside post player and the potential exists for Thomas de Thaey and Jordan Vandenberg to cause problems when they body people up in the lane. The ACC is weak beyond the top three, opening up a spot for the Wolfpack.
The great enigma: Mississippi State. After dropping a home game to Akron, the Bulldogs won the 2K Sports Classic benefiting Coaches vs. Cancer with wins over Texas A&M and Arizona. Arnett Moultrie and Renardo Sidney provide one of the tougher matchups of any big man combo. Dee Bost is a veteran point guard who knows how to run a team. But the two players who may hold the key to this team are Deville Smith and Rodney Hood, a pair of freshman guards who can change the game with their speed and shooting when inserted.
Incomplete read: Drexel. The Dragons were without two of their top three guards in Chris Fouch and Tavon Allen. Yet Drexel pulled away from Rider in impressive fashion during the Tip-Off Marathon. The CAA favorite has a tough inside, undersized player in Samme Givens and a grinding guard who can get points in Frantz Massenat. But then the Dragons fell flat in the Virgin Islands and lost to Norfolk State and scored 35 points against Virginia. Let's see how Drexel does once it's healthy before giving a full review.
Best coaching jobs: Kansas' Bill Self and Virginia Tech's Seth Greenberg. Neither team won when I saw them but they were going up against top-five squads in Kentucky and Syracuse. Self and Greenberg are maximizing the talent on their teams. They do have studs in Thomas Robinson (Kansas) and Dorenzo Hudson (Virginia Tech), but they get their teams to play as hard as they coach. Kansas' play in Maui deserves high praise and the Jayhawks will once again be in contention to win the Big 12. The Hokies will find a way to be on the bubble again. Neither team is as stocked as it has been in the past, but these two coaches will get these teams to reach their potential.
Best teams: Nothing I saw changed my opinion that North Carolina, Kentucky, Duke and Syracuse are all legitimate Final Four contenders. I have yet to see Ohio State, but put the Buckeyes in that group, as well.
Best game I missed: Well, that one is easy. The Kansas-Duke championship game at the Maui Invitational will go down as one of the best 40 minutes of the regular season. What a show that was.
November, 14, 2011
11/14/11
1:50
PM ET
The atmosphere of the Carrier Classic, with its overwhelming sense of patriotism and the sheer uniqueness of playing a game on the deck of the USS Carl Vinson, along with the historical significance of that vessel, will be hard to top.
The view was magnificent. The Naval presence in all its glory and uniformity was as impressive as one would imagine. And the appreciation from the sailors for the break from the daily routine was genuine.
If you missed that game or any of the matchups on opening weekend, you're in for a treat because you won't be able to turn on the ESPN family of networks from 11:59 p.m. ET on Monday until about 1 a.m. ET on Wednesday without seeing college basketball on the screen.
Here are some questions to ponder as the fourth annual Tip-Off Marathon begins with Washington State at Gonzaga and ends with an NIT Season Tip-Off game the following night from Stanford.
1. Will Duke coach Mike Krzyzewski become the NCAA's all-time winningest coach? The Blue Devils play Michigan State in the first game at the Champions Classic (ESPN, 7 p.m. ET) from Madison Square Garden. Duke struggled against Belmont in its opener and then blasted Presbyterian on Saturday. Neither result should come as a surprise. The Blue Devils are usually the home team in New York, but it will be interesting to see how many Spartans fans are able to make the trip, especially if some of them just went to San Diego. Still, Michigan State has a real shot to upstage Coach K. Despite their loss to North Carolina, the Spartans were the aggressor, outrebounding the Tar Heels convincingly 42-31. The Blue Devils have as much size as North Carolina, so the challenge will be similar. But MSU must shoot better from 3-point range than it did against UNC (2-of-20). Another key to the game is seeing which team converts timely perimeter shots. If Duke wins, we'll have the unique setting of Krzyzewski winning No. 903 and passing his former coach Bob Knight, who will sit courtside calling the game for ESPN.
2. How will the Thomas Robinson-Anthony Davis matchup unfold? This could turn out to be one of the more anticipated frontcourt showdowns during the nonconference schedule, as this individual battle highlights the second game of the Champions Classic between Kentucky and Kansas (ESPN, 9:30 ET). Robinson began the season as the go-to guy for Kansas, finishing with 18 points and 11 rebounds against Towson. Meanwhile, Davis, UK's highly touted freshman, blitzed Marist with 23 points and 10 boards in the Wildcats' 50-point rout. Kentucky has more options than KU and can lean on Doron Lamb or Terrence Jones to get it plenty of points. But the tussle between Robinson and Davis will be good theater throughout the night.
3. How will Ohio State's Aaron Craft and William Buford handle Florida's perimeter? We're not conceding the Jared Sullinger-Patric Young matchup (well, we will for these purposes), but this game may come down to the guards. Florida's set of Kenny Boynton, Mike Rosario, Brad Beal and Erving Walker is off to a sensational start. Rosario scored 19 points off the bench, while Boynton scored 19 and Beal 14 (Walker added 10) in a rout of Jackson State. Craft and Buford will be tested defensively more so than they were a year ago, when Ohio State won easily at UF during this same event. The Buckeyes, who host the Gators at 8 p.m. ET (ESPN2), are the No. 3 team in the nation because of Sullinger. But this will be the first time OSU may feel the loss of defensive specialist David Lighty.
4. Can Belmont emerge from the brutal opening weekend with a split? The Bruins nearly nipped Duke in a comeback that fell one possession short. The next challenge is a visit to in-state Memphis at noon ET on ESPN. Belmont won't have any awe factor in playing the Tigers. The Bruins should come into this game oozing with confidence after their showing versus the Blue Devils. Memphis is still a young team and a work in progress. The Tigers have more talent, but the question is whether they will show patience against a Belmont team that will want to run and run and run. This could be one of the most entertaining games of the day.
5. How will Baylor handle its one and likely only test during Perry Jones III's suspension? Jones must sit for three more games after accepting an extra benefit. The Bears beat Texas Southern on Friday and Jackson State on Sunday. The two games that follow Baylor's home matchup with San Diego State (ESPN, 2 p.m. ET) are South Carolina State and Texas-Arlington. This is not the same Aztecs team from last season after the roster was gutted by graduating seniors and an early-entry NBA departure. Still, they are athletic enough to cause problems. The Bears have options with Quincy Acy, Quincy Miller and Anthony Jones, but this game should at least push Baylor a tad more than the first two did during Jones' suspension.
6. How will Gonzaga's guards respond after a poor first outing? The Bulldogs showed in a tight win over Eastern Washington that they can rely heavily on Robert Sacre (22 points and 10 boards). But the perimeter shooters went 3-of-13 on 3s, and Marquise Carter was 2-of-11 and Mike Hart, Gary Bell, Kevin Pangos and David Stockton were a combined 6-of-15 from the field. Washington State is a team in transition, and the Zags should win this game. But Gonzaga has plenty of tougher challenges ahead, and so its guard play will need to improve. Still, this will be a good chance to see Sacre and Elias Harris on display against the Cougars, tipping off the Marathon at 11:59 p.m. ET on Monday night (ESPN).
7. As for the two women's games on the Marathon schedule … How will Tennessee perform after coach Pat Summitt's health diagnosis? If you saw Robin Roberts' piece on "Good Morning America," you know it is clear that the Lady Vols are determined to win a national title for Summitt. The Tennessee coach also seems as driven as ever in her quest to keep coaching while she battles early-onset dementia. This should be an emotional game, as they all may turn out to be, for the No. 3 Lady Vols as they host No. 7 Miami (ESPN2, 6 p.m. ET). And how will Texas A&M handle its status as the reigning champs? The Aggies aren't expected to repeat as national champs, but they have established themselves as an elite program. The primer to the Tennessee game won't involve as much theater, but may be as competitive a game when No. 9 Louisville goes to College Station to play the No. 6 Aggies (ESPNU, 4 p.m. ET).
8. What should we expect from Texas' Myck Kabongo? Kabongo is an impressive young man who handles himself with poise and class. Now he has to translate that onto the court against a talented Rhode Island squad that lost at George Mason by two points in its season opener Friday. The Longhorns will lean heavily on Kabongo to start the season. How he handles this first assignment will be a strong indicator on what to expect, as URI will push Texas from the outset (ESPN, 4 p.m. ET).
9. How will Drexel handle the hype as the CAA's favorite? The Dragons play at Rider (ESPN, 6 a.m. ET) when most people might be waking up to watch the Marathon. Drexel is the early pick to win the Colonial Athletic Association, a conference that's receiving some buzz after placing its second team (VCU) in the Final Four since 2006. Drexel will be minus the injured Chris Fouch, but Samme Givens and Frantz Massenat should be enough to beat Rider. But the Dragons could do themselves a service by looking impressive, too.
10. How productive can the Saint Mary's frontcourt be this season? Randy Bennett anticipates that this frontcourt will be more productive than the one led by Omar Samhan, who led the Gaels to the Sweet 16 two seasons ago. That means Rob Jones will be getting help from Kyle Rowley, Brad Waldow, Mitchell Young and Beau Levesque. Jones dominated Fresno Pacific with 25 points and 12 boards, but Northern Iowa -- coming off an impressive road route of ODU -- will be a much more formidable foe for the Gaels (ESPN, 2 a.m. ET).
11. What should we expect from LeBryan Nash? Well, if you believe the hype, Oklahoma State has an all-Big 12 player who can elevate it to the NCAA tournament. The Cowboys will likely have plenty of chances to feature Nash against Arkansas-Pine Bluff in the NIT Season Tip-Off (ESPN3, 8 p.m. ET).
12. How polished will Syracuse look? If they defeat Manhattan on Monday, the Orange will face either Albany or Brown on Tuesday (ESPN3, 7 p.m. ET) in the NIT Season Tip-Off. The early indication is that this veteran team will be ready to compete for the Final Four. Of course, Syracuse isn't being challenged as much as some other teams, but the Orange smacked Fordham in the opener as Dion Waiters complemented Kris Joseph quite well.
13. A surprisingly close game? I'm going with Austin Peay at Cal (ESPN2, 10 p.m. ET). The Governors should be one of the favorites in the Ohio Valley Conference. Will Triggs and TyShwan Edmondson could play at any level. California is one of the Pac-12 favorites, but the Golden Bears will be tested in this CBE Classic matchup. Guards Allen Crabbe and Jorge Gutierrez will be tested versus Austin Peay.
14. What are the chances of a surprise to end the Marathon? I think Stanford will have a tough time with either SMU or Colorado State at home in the NIT Season Tip-Off. The Mustangs or the Rams are fully capable of being a pest and upsetting the Cardinal (ESPNU, 11 p.m. ET). Stanford first has to get past Fresno State, of course, to be in this matchup. To do that, Aaron Bright, Chasson Randle and Josh Owens will have to really take control.
15. How will Miami score inside? The Hurricanes are sans Reggie Johnson and Julian Gamble due to injuries. The given has been that the Canes have the guard play with Malcolm Grant and Durand Scott. But Rutgers will try and make Miami (ESPN3, 7 p.m. ET) beat the Scarlet Knights on the inside. This could turn out to be one of the closer games in the Marathon.
16. What should we expect from Villanova? This is somewhat of a blank slate. The Coreys -- Mr. Fisher and Mr. Stokes -- are gone. Maalik Wayns will be the dominant presence, but there are plenty of other options as Mouphtaou Yarou, JayVaughn Pinkston, Dominic Cheek and James Bell could all star against La Salle (ESPN3, 7 p.m. ET). The Wildcats are an unknown in the Big East, and this game will at least give us a taste of what we may see.
17. Is Kevin Jones ready to be a star? For two seasons, West Virginia's Bob Huggins has been waiting for Jones to emerge. He scored 20 points and grabbed eight rebounds in a season-opening seven-point win over Oral Roberts. Kent State will hardly be a walk for the Mountaineers (ESPN, 10 a.m. ET). Darryl Bryant can offset Jones' production, but the offense will likely flow through Jones as he adapts to being the front man for the Mountaineers.
18. How ready is Hawaii to make a run at Utah State? Gib Arnold has gone through a complete roster makeover and coached the Warriors to an impressive 19-13 record in his first season in Honolulu. Utah State beat BYU to open the season while one of the WAC favorites, Nevada, was flat at home in losing to Missouri State. Hawaii has a real shot to make a move in its final season in the WAC before heading to the Big West. Establishing an identity in a new conference is always key and ensuring that Cal State-Northridge (ESPN, 4 a.m. ET) is well aware of what it is in for when it visits the Stan Sheriff Center would do wonders for a first impression.
19. What will Morehead State and College of Charleston look like after losing their stars? This game could be one of the more competitive because of who both teams lost, rather than who they gained. Morehead State no longer has Kenneth Faried, while Charleston is without Andrew Goudelock. The Eagles made the NCAA tournament last season, defeating Louisville and then falling to Richmond. The Cougars reached the NIT quarterfinals before losing to eventual champ Wichita State. Regardless of how these teams look (ESPN, 8 a.m. ET) on Tuesday, you can expect them both to be factors in their respective conferences by February.
20. What are the chances Virginia Tech doesn't end up in New York for the NIT semifinals? We'll find out Tuesday night. The Hokies will likely play George Mason, assuming the Patriots beat Florida International and Virginia Tech knocks off Monmouth on Monday. Mason beat Rhode Island by two in overtime in its opener, and while it is a more depleted roster than expected when Paul Hewitt took the job, this is still a formidable squad. Virginia Tech used balanced scoring to beat East Tennessee State by 11 in its opener, but hitting 5-of-18 on 3s was an indicator that the perimeter shooting may not be the Hokies' strong suit.
Other notable names to watch: Does Tu Holloway have a monster game for Xavier against IPFW (7 p.m. ET)? Will Cincinnati's Yancy Gates dominate against Jacksonville State (7 p.m. ET)? How will Harvard fare as the hunted team on the road, even against a rebuilding Holy Cross squad (7 p.m. ET)? How will Dayton's Archie Miller fare in his road debut as head coach at Miami-Ohio (7 p.m. ET)? Will Mike Scott be a double-double performer for Virginia against Winthrop (7 p.m. ET)? Will LSU avoid plunging into irrelevance by winning at Coastal Carolina (7 p.m. ET)? Will Butler avoid a shaky 0-2 start by winning at home against Chattanooga (7 p.m. ET)? Will Saint Louis prove to be the team projected as an A-10 contender and win games it should -- even on the road at Southern Illinois (8 p.m. ET)? Will Missouri State continue to win on the road and take down Arkansas State (8 p.m. ET)? How impressive will Royce White be for Iowa State against Drake (9 p.m. ET)? How will Wyoming play for new coach Larry Shyatt against Northern Colorado (9 p.m.)? Will Arizona State start its climb toward respectability by winning a game at home versus Pepperdine (8:30 p.m. ET)? Will Utah State follow up its BYU win by beating rival Weber State (9 p.m.) on the road?
Andy Katz is a senior writer for ESPN.com.
July, 28, 2011
07/28/11
9:19
AM ET
LAKE BUENA VISTA, Fla. -- Quick hitters after talking to several coaches here at the AAU nationals:
• The U.S. World University Games team -- led by Purdue coach Matt Painter (U.S. team head coach) along with Butler coach Brad Stevens and Tennessee coach Cuonzo Martin (U.S. assistants) -- continues to lose key players. Xavier's Tu Holloway turned down the invite to stay and play with his XU teammates. Wisconsin's Jordan Taylor is having minor ankle surgery. And now Painter said that UConn forward Alex Oriakhi is also out in order to rest an injury. Stevens said losing Oriakhi will be a big blow since the team that heads to China next month for the competition needs a rebounder like him in the tournament. Painter said Detroit's Ray McCallum Jr. and UConn's Shabazz Napier were added to the tryout list. Pitt's Ashton Gibbs and Syracuse's Scoop Jardine are still on the roster and are certainly favored to make the squad.
• There are still 22 players trying to make the U.S. squad and they'll compete and train in Colorado Springs from Aug. 4-7. The event runs Aug. 13-22 in Shenzhen, China. A number of players could use this international stage as a springboard for their college seasons; these players include Alabama's JaMychal Green, Texas A&M's Khris Middleton, Kentucky's Darius Miller, Northwestern's John Shurna, Minnesota's Trevor Mbakwe, Vanderbilt's John Jenkins, Michigan State's Draymond Green, Missouri's Kim English and Marcus Denmon and Notre Dame's Tim Abromaitis.
But perhaps more than any other player, Cincinnati's Yancy Gates needs to make this team and show he can be a force in order for the Bearcats to continue their rise in the Big East. Last season, he was suspended for a game due to team-related issues. Cincinnati coach Mick Cronin said Gates can come out of this looking like a team player and a stronger player who can change his image with a positive performance in China.
• Painter said fifth-year senior Robbie Hummel is tired of answering questions about his right knee (ACL surgery). And so are the Boilermakers. He said Hummel should be good to go once the season starts. Meanwhile, the Boilermakers are troubled by the foot surgery for John Hart that will keep him out for an extended period. Hart has had trouble with his right foot for quite some time.
• Villanova coach Jay Wright said JayVaughn Pinkston has been cleared by the school to play for the Wildcats this season. Pinkston was not allowed to play last season due to an assault charge. He was expected to have a major impact on last season's team prior to the incident. The Wildcats are prepping for a trip to Amsterdam, where they will play a few national teams. Wright said the Wildcats will be much different than any squad he's coached in recent years, with the team centered more around big men rather than being guard-oriented.
[+] Enlarge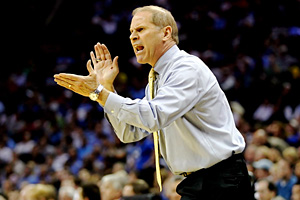 Kevin C. Cox/Getty ImagesJohn Beilein is looking forward to the two new guards he'll have on campus this season.
• Michigan coach John Beilein said the addition of freshmen guards Trey Burke and Carlton Brundidge should allow Stu Douglass to return to his natural off-guard position. Losing Darius Morris to the NBA draft was a huge blow to the Wolverines, but Tim Hardaway Jr. showed with the U-19 team in Latvia that he can create quite well with the ball in his hands. If the freshmen can be facilitators and Douglass can play off them, the Wolverines may not take a step back. Michigan is in the Maui Invitational in a loaded field, has to travel to upstart Virginia in the ACC-Big Ten Challenge, and gets a sleeper Big 12 team at home in Iowa State. The Wolverines are likely going to add a nonconference game at Arkansas that will take place during the Big Ten season.
• While on a recruiting trip in February, North Carolina coach Roy Williams took a side trip to an aircraft carrier in San Diego to see what it would be like in advance of the Carrier Classic on Nov. 11 against Michigan State. The USS Carl Vinson will be the host of the game, but it wasn't the ship that Williams toured. Williams wanted to see how this would work with a game on top of the ship deck. He couldn't get over the narrow passageways through the ship and wondered how his taller players would maneuver through the ship to get to the deck. Well, apparently there will be a lift that will help that occur so that shouldn't be a problem.
• Williams isn't ruling out Leslie McDonald coming back this season from an ACL injury. Williams said McDonald will have surgery on Aug. 3 and made it clear there's no reason to make any declarative statements at this juncture about a return.
• There was no consensus among the coaches in Orlando about whether to add a stipend, how it would be handled and how it could be divided up for all student-athletes. UConn's Jim Calhoun and Louisville's Rick Pitino said they would like to see $75 to $100 a week for the athletes -- roughly $400 a month.
• Not one coach endorsed the NCAA's new draft early-entry withdrawal date of April 10, 2012, after which no player will be allowed to enter the NBA draft. Makes you wonder why this was passed. Every coach who discussed it said it would lead to more poor decisions of players leaving early.
• Ole Miss coach Andy Kennedy tossed out this prediction about Vanderbilt: The Commodores are a Final Four contender.
• Old Dominion coach Blaine Taylor has gone to the Fred Hill makeover school. Hill, the former Rutgers head coach and current Northwestern assistant, was bald when he was head coach of the Scarlet Knights. Now he's gone with long hair in the back and new glasses. As for Taylor, he got rid of his famed mustache and dark hair. He's gone with something of an auburn or almost light red look. He was standing to the side of our TV set, and I wasn't the only one who had no idea who he was until you could read ODU on his golf shirt.
• Stanford is prepping for a trip to Spain in early September. The Cardinal and coach Johnny Dawkins need to get away to figure out who will stand out for them now that Jeremy Green is gone.
• New Fairfield coach Sydney Johnson squeezed in a team trip to Italy next month, which will be critical for him to get to know his players more and see how Boston College transfer Rakim Sanders meshes with a team that won the MAAC regular-season title last season and is back almost in full.
• The travel some of these coaches put on themselves is a bit ridiculous. Dawkins was in Orlando on Monday, then took off for Phoenix and then Los Angeles before he headed back to Orlando by Thursday. Temple coach Fran Dunphy was in Orlando on Monday and was off to Phoenix before a return to Orlando by the end of the week.
• New Maryland coach Mark Turgeon said he has reviewed his team enough to know that scoring up front will be a challenge. He said he'll likely go with four guards on the court on a consistent basis.
• Northwestern's Bill Carmody clearly wanted to be noticed in showing his school spirit. He had a rather loud pair of purple sweat pants that I'm not sure you could or would want to buy at the campus bookstore. Michigan State's Tom Izzo went with Spartan green, which Carmody pointed out, but the green was certainly more muted than the purple.
May, 6, 2011
05/06/11
11:34
AM ET
To put it simply, Maryland is one of the best jobs in the country.
The Terrapins can boast fertile recruiting territory in the Beltway and surrounding areas. Maryland fans are as loyal and passionate as any in college basketball. The facilities are top-notch.
Yes, North Carolina and Duke are the perennial favorites in the ACC, but there's no shame in being the third-best job in the conference behind those two. That just means it's among the top 10 or 15 in the country. So why wouldn't top-tier coaches run to College Park if athletic director Kevin Anderson calls to find a replacement for Gary Williams, who abruptly resigned Thursday?
Well, after discussing the topic with a number of sources that have direct knowledge on the subject as it relates to these coaches, there are reasons that make moving to Maryland difficult.
Some of the key points that have come up:
• How many coaches leave an elite job to go to another elite job when things are going well?
• How many coaches in their late 40s or early 50s want to rebuild again if they don't have to?
• How many coaches want to go to a team next season that will likely miss the postseason when they have an NCAA tourney team on their own campus?
• How many want to re-invent themselves in a new community and go through the rigors of establishing new contacts?
• How many are willing to go laterally financially if they're already making millions in their current job?

A while back, moving to Maryland from a school like Pittsburgh (see Jamie Dixon) would've been a no-brainer. But now schools like Pitt have emerged as national players, which makes a decision to leave a good situation a tough one to digest.
[+] Enlarge

AP Photo/Rob CarrKevin Anderson has already hired a football coach during his short tenure as Maryland's AD. Now he has the monumental task of replacing Gary Williams.
The big-to-big moves of note recently were easy to explain. Roy Williams went from Kansas to North Carolina. That's two of the top five jobs in the country and Williams is a UNC alumnus. Bill Self left Illinois to replace Williams at Kansas, and that one made sense too.
Herb Sendek going from NC State to Arizona State was a geographic move and one in which he simply didn't feel appreciated enough at his old school.
Ben Howland left Pittsburgh for UCLA. Pitt was a new player in the Big East at the time. UCLA is, well, UCLA and Howland is from Santa Barbara. No need for an explanation.
Frank Haith going from Miami to Missouri was an obvious move. Missouri is a much better job. Mike Anderson going from Missouri to Arkansas was an easy choice since he had once coached at Arkansas.
But not every situation provides an obvious answer.
Let's look at the candidates Maryland will likely pursue based on a number of sources. It may not be limited to this list, but these guys will likely be among the first to get a call, if they haven't already:
Mike Brey, Notre Dame: This one seems obvious. Brey, 52, is from Maryland. He has a beach home in Delaware. He coached at Delaware. He played at George Washington. But he also hasn't lived in the area for more than two decades. Yes, Brey had a senior-laden team last season, including Big East player of the year Ben Hansbrough. But the Fighting Irish will be better than the Terrapins next season and Brey feels like he has created his own program in South Bend. He doesn't necessarily have the energy to re-start his career. He loves coaching the Irish and doesn't need a new challenge. If he were in his 40s, he might reconsider. But if he were asked now if he wants to stay at Notre Dame or coach at Maryland, his answer would likely be to stick with the Irish.
Jamie Dixon, Pitt: Dixon and Anderson have a special relationship. Anderson was the athletic director who hired Dixon's late sister Maggie at Army. They have shared a closeness since her death. So Dixon will likely be asked by his friend for advice, but it's not likely he will take the Maryland job if asked unless something were to change. Pitt is a Big East power now and has been within a layup of the Final Four. Dixon is entrenched in the Pittsburgh community. There is no reason for him to leave.
Jay Wright, Villanova: Wright has built Nova into a Big East perennial power. He has recruiting locked up in the corridor. He has coached the Wildcats to the Final Four. And he is extremely comfortable in Philadelphia. If there is a next move for Wright, it's likely to the NBA. Wright doesn't need to jump to a basketball-football school. According to sources, Wright wouldn't leave Villanova for Maryland.
Tubby Smith, Minnesota: Smith was reportedly high on the lists at Georgia Tech and NC State but claimed all along he had no plans of leaving Minneapolis. Georgia Tech couldn't have paid him what he could command anyway. Smith is from Maryland, so it would make sense for him to go home. But is that what Anderson wants? Smith is in his 60s and Williams just retired at 66. Smith is in the same coaching era as Williams, Mike Krzyzewski, Jim Boeheim, Jim Calhoun and Roy Williams. He has coaching left in him, but Maryland is in a rebuilding situation. Yes, Jim Larranaga at age 61 just went to Miami, but the Hurricanes have players and can win next season. Smith is an intriguing name with a national title to his credit, but would he be a long-term solution?
Mark Few, Gonzaga: Few has flirted with plenty of jobs in the past, notably Indiana. But he's never bitten. He loves his life in Spokane and with the Zags. He has built a national name at Gonzaga and the Zags recruit at a high level now. He makes over $1 million and is firmly entrenched in the Northwest. He would listen, according to sources, but would he really be willing to go from Spokane to College Park? Does Anderson want to pluck someone who doesn't have any ties to the area, as good a name as he is nationally?
Brad Stevens, Butler: Stevens should only leave Butler for a top 10-15 national job after coaching the Bulldogs to consecutive national title games. This is one of those jobs he would have to listen to if called. But Stevens has never worked outside Indiana. Is this the right fit for him? Anderson would hit a home run with this hire. Stevens has become one of the most well-respected coaches in the business in such a short time, drawing immense praise from none other than Krzyzewski the past two seasons. But would Stevens leave the two-time defending national runner-up? Tough call. If Stevens is going to move, he'll likely stay in the Midwest at an elite job in the Big Ten.
Mark Turgeon, Texas A&M: Turgeon played at Kansas. He fully understands what it's like to be at a basketball-crazed school. He coached at one in Wichita State. He would enjoy being at a basketball-first school like Maryland. He has done a wonderful job keeping the Aggies relevant in the Big 12 and A&M will again be in the mix in the conference title race next season. But would Turgeon be the choice for Anderson? That's still an unknown. As one source said, Turgeon may not be the news conference name that Tubby Smith would be on day one, but two years into his tenure at Maryland they would know they had an elite coach and a winner.
Sean Miller, Arizona: This is by far the most intriguing name. If this were a year ago, Miller would have probably run to Maryland. His first year at Arizona wasn't easy after taking over for two interim coaches who succeeded Hall of Famer Lute Olson. But Miller then coached the Wildcats to the Pac-10 title and a trip to the Elite Eight. He has an elite recruiting class coming to Tucson. This is a great time to be in the Pac-12 at a school like Arizona because it is winnable with so many programs in flux. Unlike Dixon, Wright, Brey, Few or even Stevens, Miller isn't entrenched in his community or the school. He went from Xavier to Tucson just two years ago. He is an East Coast coach, he played at Pitt and coached in the ACC at NC State. So he would be a great fit at Maryland, but is he willing to move after bringing back some of the glory to Zona? Is he willing to start over again and rebuild? Does he have the energy for that type of move again? This might be the most agonizing call.
Shaka Smart, VCU: Obviously Smart's name wouldn't have been on this list a year ago. But that was before he coached the Rams to an improbable Final Four run. He committed to VCU by staying put this offseason and the school upped his salary quite a bit. But he would almost certainly jump at an offer from Maryland. The question: Is this too big a leap for Maryland to make?
Johnny Dawkins, Stanford: Dawkins is from Maryland. He is an all-time great Duke player. He is trying to establish himself at Stanford, but it doesn't appear he's done enough to warrant interest from the Terps. But he does have a name that would resonate locally and in the ACC.
There likely will be others, possibly some names from the NBA. But any list that Anderson checks off should at least begin with the aforementioned coaches. Maryland shouldn't aim for anything less.
September, 29, 2010
09/29/10
2:38
PM ET
The new 12-team Pac-10 will likely follow the lead of the new 12-team Big Ten. In other words, starting in the 2011-12 school year, it looks like the conference will split into two divisions for football but remain one, 12-team entity in basketball that plays 18 conference games.
The Big Ten already formally announced its two football divisions and will make its official decision about basketball at its annual meetings this spring, with the consensus being there will be 18 league games with every team playing each other at least once, rivalries protected and the other crossover games done on a random basis for competitive balance.
The Pac-10 athletic directors meet next week (Oct. 6-7) and are likely to follow a similar path, with the final say going to the presidents and chancellors who will meet on Oct. 21.
There are still a number of options for the football divisions, from a simple split between North (Washington, Washington State, Oregon State, Oregon, Utah, Colorado) and South (Cal, Stanford, UCLA, USC, Arizona State, Arizona) and variations off that, as well as a zipper option with each rivalry split to form the two divisions (Washington and Washington State on different sides with Utah and Colorado being the two new rivals). Of course, in football, much like the Big Ten did with Ohio State-Michigan, if a rivalry was split in divisions, that game would be one of the mandatory crossover games every season.
More than likely, the men's basketball schedule will have 11 games against every other team, the 12th game would be against the natural rival and then the other six games would be chosen at random, leaving four schools that a team would play only once a season.
The hitch in the Pac-10's scheduling is that every school wants at least one road trip to L.A. and the Bay Area for recruiting and alumni purposes. League officials have to be cognizant of that sentiment.
Oregon State coach Craig Robinson said it was his preference to make sure the Beavers, or for that matter every school, gets to L.A. and the Bay Area each season.
"And we have to play Oregon every year twice, I don't think we should skip that one," Robinson said.
The Pac-10 is the last power-six conference to still play a true round robin schedule in men's basketball. But when the Pac-10 gives up that title, the Big 12 will assume the role of being the only power-six conference that anoints a true champion. The Big 12 will be a 10-team league in 2011-12 with the departure of Nebraska (Big Ten) and Colorado (Pac-10). The conference has already made it known it will play a true, 18-game round-robin schedule when it's a 10-team league.
Twelve teams might be the perfect number for football with two six-team divisions and a championship game. But going from 10 to 12 in men's basketball takes away the equitable scheduling and the true champion and creates a competitively imbalanced schedule. That's what the Big East, Big Ten, SEC, ACC and Big 12 have dealt with lately. The Pac-10 has not.
"I would select the model that gives the opportunity for us to play each other home-and-home as many times as possible in the shortest window of years," Arizona State coach Herb Sendek said. "You want every team to touch each other in the shortest time possible. That's the fairest way to do it."
UCLA athletic director Dan Guerrero said there have been a number of different models discussed, such as playing 16, 18 or even 20 or 22 league games.
"But the overall sentiment is to stay at 18," Guerrero said. "You want a scheduling model where you play your natural rival and do some home-and-homes. We might go to Oregon but they don't come and return. We might play host to Oregon State but not go to Corvallis. Nothing is definitive."
Guerrero said a number of athletic directors are on record as saying they covet being in the Los Angeles market and "we're looking at ways to make that happen."
Guerrero said the consensus among the athletic directors was to go with one division, 18 games and avoid any no-plays in basketball.
"Those are the parameters to build a model around," Guerrero said. "We could have gone with a 22-game model and still kept the double round robin, but that limits nonconference flexibility. I think 18 is the most appropriate."
Guerrero just came off leading the men's basketball selection committee, which created the "First Four" format under the newly expanded 68-team tournament. In that format, Guerrero and the other nine members of the committee reached a compromise where two of the games will involve the last four 16th-seeded teams and two of the games will include the last four at-large teams.
Guerrero has been a peacemaker/mediator with these types of NCAA issues and his experience should serve him well at the Pac-10 meetings next week.
January, 4, 2010
01/04/10
10:56
AM ET
USC coach Kevin O'Neill assembled his players early Sunday morning to deliver the news that the Trojans' eight-game win streak and their newfound status as a Pac-10 title contender won't matter for an NCAA tournament berth.
The school had decided to self-impose penalties related to former player O.J. Mayo and his relationship with agent/runner/booster Rodney Guillory. But vacated wins from two seasons ago and a scholarship being taken away weren't tangible to this crew. Having their season end March 7 was all the players heard.
[+] Enlarge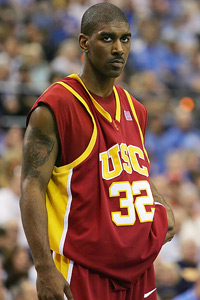 Lisa Blumenfeld/Getty ImagesO.J. Mayo's involvement with Rodney Guillory led to USC's self-imposed sanctions, including a postseason ban.
"My heart sank for a second," said senior point guard Mike Gerrity, a two-time Division I transfer from Pepperdine to Charlotte to USC. "I was frustrated. That's what you play college basketball for -- to play in March."
The Trojans haven't lost since Gerrity became eligible. Since beating Sacramento State and Idaho State before he was cleared to play Dec. 18, they've won six games with him as their lead guard. They beat Tennessee by 22 points, won the Diamond Head Classic with wins over Western Michigan, Saint Mary's and UNLV, then earned a Pac-10 season-opening home sweep of Arizona and Arizona State. The Trojans are on a roll heading into a three-game road swing to Stanford, Cal and UCLA in the next 12 days.
"It was pretty silent," Gerrity said of Sunday's team meeting. "There wasn't any yelling. Basically everybody was caught off guard. Everybody just left after that. There wasn't much talking."
O'Neill said the staff hadn't been given a choice, and the conversations about taking away the postseason had been going on for some time at the upper level of the administration. But he said he respected the decision. USC had been working with the Pac-10, which has its own investigative arm, and the NCAA.
"For our players, it's terrible; I feel terrible for them," O'Neill said. "I'm a 52-year-old professional. These guys did nothing. The people in question are not here."
The three players hurt most by the decision are the seniors: Dwight Lewis, Gerrity and Marcus Johnson. Lewis is the only one who was recruited initially by the school. Gerrity has bounced around, and when he transferred to USC, he initially wasn't on scholarship. The plan under former coach Tim Floyd was to have Gerrity as a backup with stud newcomers such as Lamont Jones coming on board this past fall. But Floyd resigned in the spring amid allegations that he paid Guillory $1,000.
Once Floyd resigned, high-profile recruits such as Jones (who's now at Arizona) bailed, and suddenly Gerrity would be the point guard when he was eligible in December. For months, O'Neill knew Gerrity was the difference between the Trojans being toast in the Pac-10 and a real contender.
Johnson had started his career at Connecticut before transferring to USC. He declared for the NBA draft this past spring, but returned to the Trojans once he knew he wouldn't be selected. There were questions regarding his senior-season eligibility even though he played only in an exhibition game in his final season at UConn, but he ultimately was granted another season. Johnson also was playing hurt much of last season with a shoulder injury, so he is taking six years to play four seasons.
USC lost to Loyola Marymount in November without Gerrity, ineligible forward Leonard Washington and injured former North Carolina forward Alex Stepheson. Stepheson returned for consecutive losses to Nebraska at home and at Texas and Georgia Tech. But Gerrity wasn't cleared to compete until just before the Dec. 19 game against Tennessee. Washington made his debut against Saint Mary's on Dec. 23.
"Life throws you a lot of curves," O'Neill said. "All three seniors were major contributors for the first time in their careers. None of that will change for the next 16 games. Our guys were shocked, disappointed, dismayed and stunned, but there was no anger."

For our players, it's terrible; I feel terrible for them. I'm a 52-year-old professional. These guys did nothing. The people in question are not here.
--USC coach Kevin O'Neill
What O'Neill did in that meeting was prey on the Trojans' competitive fire. He made it clear that USC has never won the Pac-10 title outright. Pac-10 assistant commissioner Dave Hirsch said Sunday night that the Pac-10's regular-season champ is considered the conference champion. The tournament champ is just the automatic qualifier to the NCAA tournament.
"We still have a chance to be a part of something special," Gerrity said. "When I heard that, there was a little motivation. We're still frustrated, but we can still do something that USC has never done before. We've got something to play for. No matter what, we've got our pride, and the teammates and coaches have it. We still can win a championship."
Gerrity said he was watching when the Trojans won the Pac-10 tournament title last season, beat Boston College in the first round of the NCAA tournament and flirted with a second-round upset of Michigan State before falling. He wondered about his chance the following season.
"Even though we were picked down toward the bottom [of the conference], I honestly thought we had a chance to do it," Gerrity said of winning the Pac-10 tournament.
The Pac-10 had a brutal nonconference performance except for USC the past two weeks. The Trojans arguably had the best nonconference résumé among Pac-10 schools and owned the only two wins over ranked teams at the time of the game. (Washington beat Texas A&M, but not when the Aggies were ranked.)
"I said we could compete for the league title, and I still believe we can compete for the league title," O'Neill said. "I know we've got some really good guys with high character and high integrity.
"We've never won the title outright. I'm not saying we're going to win it. But we're trying to play as best as we can."
Gerrity said the difference in the Trojans since the full complement of players were cleared is that they are a confident group that has figured out how to play together.
[+] Enlarge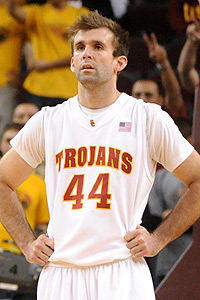 Kirby Lee/Image of Sport/US PresswireMike Gerrity is eligible for his senior season after a transferring whirlwind but now is unable to play in the postseason.
"I thought they were one of the top three teams in the Pac-10," said Saint Mary's coach Randy Bennett, whose Gaels lost to the Trojans 60-49 in the semifinals of the Diamond Head Classic in Honolulu on Dec. 23. "I don't think they have enough shooting, though, and that might make them struggle to score on the road. But they definitely defend it well.
"Gerrity is a special player. He's so smart. He's old-school. He knows his teammates and knows what they can do. I'm really impressed with what he's done."
Bennett said he was stunned that the Trojans won't be able to play in the postseason after viewing them as an NCAA tournament team following his team's game.
"It's unfortunate, but it's one of those things that's not in your control," Gerrity said. "As players, you show up and you work hard, but in a situation like this, you don't have control. I'm not happy about it, but you've got to move forward."
NCAA member schools usually self-impose a postseason ban to ease the potential harsh penalties forthcoming from the committee once the enforcement staff has issued a report on infractions. But handing down a postseason ban once the season already has started is rare.
It occurred twice in 2003 when Fresno State, fresh off winning the WAC regular-season title, was told before the conference tournament on March 3 that it wasn't eligible for the postseason because of violations related to academic fraud. That same week, Georgia was given the same news by its administration. The Bulldogs had just finished the regular season at 19-8, but violations related to academic fraud, unethical conduct and improper benefits led to the postseason ban.
James Holland was an assistant with Georgia at the time of the ban and was named the interim coach for a brief spell in the offseason once Jim Harrick was pushed out.
"We were getting ready to go to New Orleans for the SEC tournament when we got the news," Holland said. "We thought we were an Elite Eight-, Final Four-type of team. We thought we had a chance to make a nice run."
Holland said telling the players that they weren't able to go to the SEC tournament or NCAA tournament was crushing.
"Those kids had worked so hard," Holland said. "It was very, very tough to tell those kids. I thought of Southern Cal and Coach O'Neill having to do the same thing. We didn't have to keep our players motivated because the season was over, but they've got the rest of the season."
O'Neill is adamant that his reaction would have been the same had the news come during the Trojans' losing skid last month. Gerrity said that even then, the Trojans knew that they would have a much better team once they were all healthy and eligible. But, of course, he said the news of no postseason stings more after an eight-game winning streak, including a 2-0 start in the Pac-10 for the first time since 2002.
Hirsch said the league office will discuss the conference tournament Monday, but the decision essentially has been made. There will be only one instead of two opening-round games at the Staples Center in Los Angeles on March 10. Teams that finish No. 8 and No. 9 will play each other. The No. 7 team will be slotted to play the No. 2 team. Every seed will move up a line depending on where USC finishes in the standings. If USC wins the title, No. 2 would become No. 1 and so on. If USC finishes fifth, whoever is sixth will slide up to fifth.
How the NCAA tournament selection committee handles the Pac-10 will be another matter.
Former selection committee chair Tom O'Connor, the athletic director at George Mason, said all the Pac-10 teams will be treated as at-large teams as usual. He said the committee doesn't single out regular-season champions but instead looks at each team separately. So if USC wins the league, and let's say Cal or Washington finishes second and third and UCLA gets the automatic qualifier by winning the conference tournament, then Cal and Washington will be judged on their own merits against the rest of the at-large pool.
As for what happens to wins and losses against USC, Greg Shaheen, the vice president of the NCAA who is in charge of the NCAA tournament, said in an e-mail that an institution's eligibility "for postseason play [self-imposed or not] doesn't impact whether it's games appear in the current season's assessment of other teams which compete against them."
David Worlock, the NCAA tournament's media relations director and liaison to the selection committee, said that although USC will no longer be considered for the tournament, the results against the Trojans will appear on each school's team sheet. If the Trojans maintain a high RPI, any team that owns a victory over USC would benefit because the selection committee would consider it a quality win.
None of that is much solace to a senior like Gerrity, but he and the Trojans have vowed to move on.
"We've seen what we can do," Gerrity said. "We've realized how good we are. I guess right now, we see the potential of our team, the possibility of where we could take this thing. The timing is definitely hard because things are going so well."
October, 20, 2009
10/20/09
11:00
AM ET
DURHAM, N.C. -- Bob Knight hasn't said publicly whether he'll show up at Indiana for his induction into the university's athletics Hall of Fame on Nov. 6.
Knight's good friend, Duke coach Mike Krzyzewski -- a former player and fellow Naismith Hall of Fame member -- said it's not imperative that Knight attend the ceremony until the university does a bit more to recognize its former coach's achievements.
Krzyzewski said Knight, who currently serves as an ESPN college basketball analyst, should do what he wants, and he said he thinks Knight should still be at Indiana -- as head coach.
"I do think before coach Knight ever goes there, people at Indiana should think about what happened since he left [in 2000] and celebrate him instead of taking down the things he did," Krzyzewski said. "Over three decades he represented that school, won championships and produced great young men. That record is not talked about. You can't just say you're in the Hall of Fame. That's not enough. In order to have a great future, you need to celebrate the greatness of the past. I think Indiana basketball needs to celebrate coach Knight's time."
Krzyzewski said the school should celebrate the long list of players who came through the program and share the stories of what they've accomplished instead of simply putting up banners.
"Do that, and you're not just celebrating the man, but the men who were developed under his leadership," Krzyzewski said. "That should be done before he goes into the Hall of Fame. Coach Knight is one of the great coaches of all time in any sport. He's a brilliant man. He's very loyal and has a lot of pride.
All those qualities turned him into the winningest coach in history in college basketball and a three-time national champ. Don't just say 'Hall of Fame' and that's it. If coach Knight didn't go at this time, it's very understandable. It's not a slight to anyone."
Krzyzewski said that if they were to honor Knight's legacy in the way in which he described, only then should they "bring him into Assembly Hall, and maybe change the [arena's] name."
• The NCAA tournament selection committee will meet in the first week of November. The topic of expanding the field of 65 is always a possible discussion point, especially in the coming years when the current television contract is up.
Krzyzewski said the committee shouldn't change a thing.
"As long as we have the end-of-season conference tournament -- to me the NCAA tournament starts with the conference tournament, and everybody has a chance except the Ivy League, and if they wanted to do that, they could, but they choose to have their regular-season champion," Krzyzewski said. "I believe we're already doing it. If we expand it you would have to get rid of the end-of-season tournament. I'd rather have the end-of-season tournament. It's a celebration of each conference."
Krzyzewski said expanding the field would dilute "what we already have and we have a great product right now."
North Carolina coach Roy Williams was in agreement, saying he didn't want to see the NCAAs go from 65 to 96, which is an idea that has been discussed.
"I want making the tournament to really mean something, and I think it does in college basketball," Williams said, referencing the fact that 6-6 college football teams can earn a bowl bid.
"To me, that's not a great accomplishment, but making the NCAA tournament is a great accomplishment," Williams said.
• Pencil German national team member Elias Harris into Gonzaga's starting lineup. Harris has been a huge hit since he arrived from Europe. A scorer on the wing, he will pair up with Robert Sacre inside with the Zags using Matt Bouldin, Demetri Goodson and Steven Gray on the perimeter. The celebrated arrival of Sudanese/Canadian national Bol Kong should be muted a bit. Kong will be a player, but is coming along slowly. So slow down on the hype.
• Stanford's loss of freshman Andy Brown with a season-ending ACL injury is a hit because the Cardinal lacked post depth. Brown wouldn't have started, but he was expected to play key minutes.
• Oregon State freshman forward Rhys Murphy is out for a month with a fracture in his right foot. Like Brown, Murphy wouldn't have started, but may have logged 10 minutes a game. Murphy, a 6-7 forward from Australia, still has time to get into game shape by late November. How much he plays may depend on fellow freshman Roberto Nelson, who is still awaiting clearance by the NCAA's Eligibility Center.
• All the injuries at UCLA (five players were out of practice Monday) emphasize how much the Bruins may have to struggle to win the 76 Classic next month. The Bruins play WCC upstart Portland in the first round of the event at the Anaheim Convention Center. The winner of that game gets the winner of the game between Butler and Minnesota, two teams expected to be in the Top 25.
• Just how deep is the SEC East? Florida was picked fifth. The Gators' shot at avoiding three straight seasons without an NCAA tournament appearance was made more difficult with the shift in power in the SEC. Kentucky, Tennessee, Vanderbilt and South Carolina are all projected ahead of the Gators and are likely NCAA tournament teams. Georgia coach Mark Fox has quite a tough road being picked sixth in this lot. The state of Mississippi should have its best year in hoops in quite a while, with Mississippi State and Ole Miss expected to tussle for the SEC West title. Alabama, LSU, Arkansas and Auburn finished out the rest of the predicted West standings.
South Carolina's Devan Downey; Ole Miss' Terrico White; Tennessee's Tyler Smith; Mississippi State's Jarvis Varnado; and Kentucky's Patrick Patterson, tabbed as the preseason player of the year, were on the first team. Who was missing? Well, the potential No. 1 pick in the 2010 NBA draft, Kentucky freshman guard John Wall. Wall will likely supplant White on the first team, but it's also easy to see how a preseason list wouldn't have him, since it's hard to project without having seen a player in college. Still, Wall made the second team, along with LSU's Tasmin Mitchell; Vandy's A.J. Ogilvy; Auburn's DeWayne Reed; and Ole Miss' Chris Warren, who is back from an ACL injury.
• As expected, Oakland was predicted to win the Summit League with Oral Roberts, IUPUI and South Dakota State trailing. Last season's darling, North Dakota State, was picked to finish fifth. Oakland's Johnathon Jones was tabbed as the player of the year. Oakland put three players on the preseason first team in center Keith Benson, Jones and forward Derick Nelson.
• Old Dominion was the consensus pick to win the CAA. The Monarchs return the core of their team, led by Gerald Lee, a first-team all-conference member. Northeastern was tabbed second and had Matt Janning selected first-team all-conference. VCU, with all-conference member Larry Sanders, was third in the poll. George Mason, James Madison, Hofstra and Drexel rounded out the top seven in the 12-team league.