Category archive:

Morgan State Golden Bears
January, 11, 2012
01/11/12
3:54
PM ET
Todd Bozeman was at a high school game watching -- and possibly recruiting -- on Tuesday night, but it wasn't in his capacity as Morgan State's head coach.
He has been suspended indefinitely while the university investigates an incident with one of his players. And a hearing that was scheduled for Wednesday at 5 p.m. ET could determine his long-term future with the Bears and in the sport.
Bozeman professes his innocence over an allegation that he struck senior Larry Bastfield during last week's win at South Carolina State.
[+] Enlarge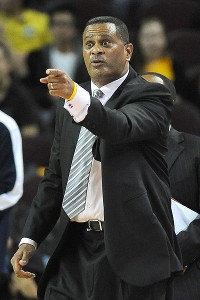 Jayne Kamin-Oncea/US PresswireMorgan State coach Todd Bozeman has denied that he punched one of his players during a game.
Bozeman and Bastfield have denied the charge. Bozeman told ESPN.com, and other media outlets, he didn't strike Bastfield. Bastfield, who didn't return calls from ESPN.com, told the Baltimore Sun that he wasn't struck, either. The charge came from South Carolina State president George E. Cooper, who says he witnessed the alleged incident.
Regardless of the outcome of the Morgan State hearing, the damage has already been done.
Bozeman spent 10 years out of college basketball, the first eight because of an NCAA-imposed show-cause penalty as a result of a $30,000 payment he made to the family of Cal recruit Jelani Gardner.
Bozeman, who coached Jason Kidd after he took over for Lou Campanelli at Cal, took the Bears to the Sweet 16. His resurgence at Morgan State has been very successful.
He led the Bears to two NCAA tournaments, one NIT appearance and three regular-season MEAC titles. Morgan State has gained respect as a legitimate team out of the MEAC.
The Cal violation made him toxic during his show cause. Morgan State gave him a chance. A bizarre incident from two years ago, when he was initially accused of assaulting a worker over postgame sandwiches in Longwood, Va., was later dropped. The Sun reported an out-of-court settlement.
It's hard to say if that latest run-in hampered his attempts to get another job in the Northeast or Mid-Atlantic region. Bozeman tried to no avail. He couldn't get interviewed.
This latest allegation will likely make it even tougher for someone to give him another chance. Moving out of the MEAC is rare. To do so, a coach probably can't have baggage. Fair or not, that seems to be the trend.
Bozeman said he pleaded with his superiors that if they wanted to investigate the punching charge, he was OK with it. But he asked that they not suspend him because of the repercussions. He wanted to finish the team's road trip to Savannah State, but was instead ordered to come home. He knew that once he was suspended for such an inflammatory charge, he'd be dealing with an even bigger mess.
He was right. He has an attorney working on damage control.
Now Bozeman is dealing with possibly irreparable damage.
"They say I punched a kid,'' Bozeman said. "There's nothing to the story. I didn't hit the kid. The tape shows it. Isn't the first reaction if I hit you in the face to grab your face? That didn't happen.''
Bozeman said he is animated on the sidelines and his demonstrative manner was not perceived correctly as Bastfield came to the sideline. He was trying to calm him down and used his arms to display his emotion.
It wasn't until after the game that Cooper approached him and told him that he needed to apologize. Bozeman said he didn't know who Cooper was and dismissed him at the time. He said Cooper said he was going to call the administration. The situation escalated from there. Bastfield was asked if he was going to press charges by South Carolina State officials. Bozeman said he talked to Bastfield, and he told him he didn't think he was struck.
But by the next morning, Bozeman was told he would be suspended while the investigation continues.
Morgan State athletic director Floyd Kerr hasn't respond to a number of phone calls.
"I've done a great job at Morgan State,'' Bozeman said. "But this didn't happen.''
Bozeman is no longer focused on another gig. He's trying to save the one he has. His reputation is also at stake. He couldn't afford to be perceived of doing anything wrong again.
When Bozeman first got the job, he said it would be idiotic for him to commit another NCAA violation. He hasn't. But two odd incidents related to potential anger management issues have now sullied him.
It's unclear if he'll get through this latest situation. And if it were to end in this manner, it would be a shame. He had a shot. He made a run at Morgan State. And now he's in limbo over something that may not be conclusive enough to warrant dismissal.
Regardless, there are consequences. And he is going to be judged differently because of his past.
The sensational nature of this story makes it even harder to overcome.
The NCAA ban was difficult to beat. But he did, albeit at a lower level in Division I. This charge, if it isn't dismissed soon, may be just as difficult to change as far as perception goes. He would need an endorsement from Morgan State, South Carolina State and the MEAC that he is in the clear.
If that doesn't happen, he'll remain on an island trying to defend his character and integrity. He clearly can't do it alone. He will need support if he's going to save his career and reputation.