Category archive:

Rice Owls
September, 19, 2012
09/19/12
4:06
PM ET
Rice basketball doesn't show up on the national radar. The Owls have struggled to stay on the grid in pro-focused Houston. And the program's recent rash of transfers is likely to make its attempted climb to prominence even steeper.
Fellow Conference USA coaches contacted by ESPN.com described the Owls' recent losses as "devastating," "bad" and "unfortunate" because the perception within the league was that Rice had a bevy of young, developing talent returning from a team that produced a 19-16 record while going .500 in conference play and advancing to the CollegeInsider.com Postseason Tournament quarterfinals last season.
[+] Enlarge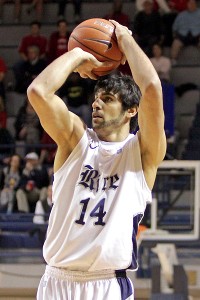 Troy Taormina/US PRESSWIREArsalan Kazemi, the first native Iranian to play Division I basketball, is seeking a larger stage to play on during his final season.
But losing senior forward
Arsalan Kazemi
-- who was
granted his release on Monday
-- on the heels of center
Omar Oraby
(USC), guard
Dylan Ennis
(Villanova), forward
Jarelle Reischel
(URI), forward
Ahmad Ibrahim
(turning pro) and forward
David Chadwick
(Valparaiso), who have all left the program this offseason, makes it seem likely that the Owls will be silenced this season.
The natural reaction is to wonder if coach Ben Braun has suddenly lost his team and his program. Earlier in the offseason he jettisoned assistant coach Marco Morcos, who was tight with Kazemi. The reason for the dismissal wasn't released.
But, diving deeper into the situation, it's clear that not all six transfers were created equal. Ibrahim chose to go overseas. Chadwick wanted more playing time -- which, ironically, he would have gotten had he stayed now that Oraby and Kazemi are out of the mix.
No question, losing the depth Kazemi, Oraby, Ennis and Reischel provided hurts the program. Kazemi -- who in 2009 became the first native Iranian to play Division I basketball -- is the biggest loss. Rice gave him a shot and sponsored him here in the U.S. Now Kazemi is searching for a larger stage on which to play during his final season. He is looking at schools, such as Oregon and possibly Washington, that operate on the quarter system and have yet to begin fall classes. The Houston Chronicle reported that Kazemi met with Oregon on Monday, and ESPN.com learned Wednesday that the discussions with Kazemi are ongoing. Kazemi -- who plans to petition the NCAA for a hardship waiver to play in 2012-13 -- is the one leading the transfer and isn't being funneled by any third party, according to a source with knowledge of the situation.
"There have been more than 450 basketball transfers -- a record high -- in collegiate athletics over the past year, and unfortunately, Rice is not immune," said Owls athletic director Rick Greenspan in a statement. Greenspan and Braun serve on an ad hoc C-USA committee that is studying the transfer trend. Sources said that Braun was particularly irritated that Rice, easily the highest-profile academic school in the league, would be hit so hard.
Rice was already one of the toughest schools in major Division I at which to achieve consistency, thanks in part to a smaller recruiting pool because of its academic standards and smaller facilities.
But one rival C-USA coach believes Braun's experience will allow him to salvage the season in spite of the exodus. "It's a big hit, but I do believe Braun will take this team and make [it] hard to play against," said the coach. "They'll play a style that will not be easy to go against. He did win nearly 600 games."
Braun -- whose teams went 10-22 and 8-23, respectively, in his first two seasons at Rice -- has increased the team's win totals the past two seasons. Braun coached the Owls to 14 wins in 2010-11 and then an 8-8 league record (equaling their best C-USA record) last season.
If nothing untoward is revealed about the reason for the transfers then it's hard to dismiss what Braun has achieved there. He has this program headed in the right direction at a time when the league is undergoing a complete makeover. Cross-city rival Houston is off to the Big East in 2013, as are in-state foe SMU, rising power Central Florida and Memphis, long C-USA's dominant program. Adding schools like Louisiana Tech and North Texas to the league shouldn't be as threatening to a program such as Rice.
If Rice and Braun can survive this attrition then they should be able to stay with C-USA holdovers Marshall, Tulsa, UAB, UTEP and Southern Miss, let alone Tulane and East Carolina.
The Owls have, however, lost significant depth and size inside this season. They have only nine scholarship players, but one of them is top returning guard Tamir Jackson and another is a rising star in sophomore Julian DeBose. All five incoming freshmen will have to play this season. The Owls fully expect 5-foot-9 freshman point guard Max Guercy to be a major contributor, and the same is being said of 6-1 guard Keith Washington.
Landing 6-11 Andrew Drone of Junction, Ill. -- who verbally committed to Rice in June -- for 2013 now looms even larger following the departures of Oraby and Kazemi. The Owls were going to need to add a big man to their stable next year anyway, but Drone's addition seems even more crucial after these departures.
October, 11, 2011
10/11/11
10:27
AM ET
Throughout the years, Willis Wilson has interviewed for the head-coaching job at Illinois, Ohio State, Minnesota and Clemson.
He had his shots. But Rice's all-time winningest coach was always the fall-back candidate, a guy with a clean reputation who was the sensible-but-not-splashy choice.
So Wilson plodded along in Houston, making Rice competitive at times but never putting the Owls in the NCAA tournament. He spent 16 years at his alma mater at a time when the program played in a glorified high school gym with a big blue curtain that separated one side of the gym from intramural badminton on the other.
[+] Enlarge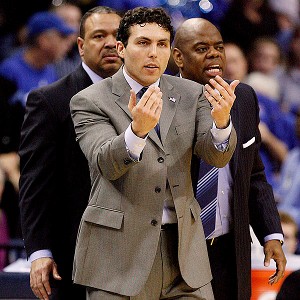 AP Photo/Lance MurpheyWillis Wilson (left) was Josh Pastner's assistant at Memphis the past two seasons.
So when he was let go by Rice in 2008 after a miserable 3-27 season, Wilson wanted a taste of big-time basketball. In 2009, he accepted an offer from Josh Pastner to become the rookie coach's trusted sidekick at Memphis. Pastner, a Houston native whose father, Hal, was a local AAU organizer, had known Wilson for years.
The environment Josh created in Memphis was great," Wilson said. "He was great to work for."
But Wilson wanted to get back to being a head coach, hopeful he could find a job that would be considered the best in its league.
So he jumped at the chance to replace Perry Clark at Texas A&M-Corpus Christi, convinced the Islanders fit that criterion despite finishing with the second-worst record in the Southland Conference last season.
"I wanted to be a head coach again at some point,'' said Wilson, 51. "I had a timetable in mind."
Did he take the right job, though? Having never gotten a shot in a "power six" league, Wilson has now taken a second brutally tough job in the state of Texas.
"I can see where someone sees that," Wilson said. "The only thing I would say is that this is one of those situations where, three years from now, they'll say, 'Holy cow, how'd they do that?' It's an ideal time to be in this job."
The Islanders are a relatively new member of Division I, but they have had some modest success. They advanced to the NCAA tournament in 2007 under Ronnie Arrow, who later took the South Alabama job.
Texas A&M-CC struggled to find its footing under Clark, though. After finishing just 10-21 in his fourth season, the former Tulane and Miami coach resigned in March.
At the time, Clark told ESPN.com that "coaching at this level was harder than I thought. I want them to find someone who can do this and thought it was better for everyone."
Well, apparently Wilson considers himself fit to coach at "this level." Wilson had to scrap for plenty at Rice. And if you listen to him long enough, he'll convince you his new program has the potential to be what Memphis is in C-USA or Butler is in the Horizon or Gonzaga in the WCC.
Wilson said that he has the enthusiastic backing of the administration and that the emphasis at Texas A&M-CC is to make the basketball program the face of the school. He said there is chatter about improving the practice facility, and he is convinced the locals will flock to the arena if the Islanders start winning.
"This program offers more potential than Rice," Wilson said. "Memphis was the class of the league, but Conference USA has been essentially a one-bid league. We're in a similar one-bid league. But there isn't a Memphis in our league. There isn't a Butler in our league. There isn't a Gonzaga in our league. There isn't an Old Dominion, for that matter, in our league."
The Southland has had a rotation of teams take a turn at the top, from Sam Houston State to McNeese State to Northwestern State to UT-San Antonio to Stephen F. Austin to Texas A&M-CC.
"We can position ourselves as being the top seed in our tournament, and, if you can consistently put yourself in a position to do that, then you can win games at a national level," Wilson said.
Of course, you need players to be successful. Four players were dismissed from the program this summer, so the Islanders are looking at a depleted roster that will largely be led by seven newcomers.
[+] Enlarge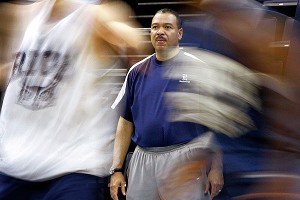 AP Photo/Mark HumphreyWilson spent 21 years as assistant then head coach at his alma mater Rice.
"It all boils down to getting players," Wilson said. "And I think we have the means to show that we can be the class of this league with facilities. We want to say something special here."
Wilson has had quite an offseason. He left Memphis, took the Corpus Christi job, then found out he was embroiled in an alleged Ponzi scheme led by Houston financial adviser David Salinas, who took his own life this summer as the Securities and Exchange Commission investigated him.
Salinas had been a Rice booster and made his inroads into the college basketball community through the Owls' staff in the 1990s, when Wilson was an assistant to Scott Thompson. Salinas later created an AAU program called Houston Select.
Wilson said that he last invested with Salinas in 1996 or '97 and that, with interest, his last statement said he was due $650,000.
"But I don't have a canceled check," Wilson said. "That's what it should have been with interest. I have to show proof that the money was there, and I don't have the bank records back that far."
That likely means the money Wilson thought he had invested for his retirement will never be seen.
So making the Islanders a success to help his own long-term security becomes even more crucial.
"You define success by getting to the tournament, and here we don't have to beat a Memphis or a Butler or a Gonzaga or the big three in the Colonial," Wilson said. "If we field good teams, we've got a chance to win our league and be better than anyone else. In Conference USA, no one in the league is ever going to have what Memphis has, and, in the WCC, no one is going to have what Gonzaga has. In our case, we have a chance to have more than everybody else in our league."
And that, in short, is why Wilson finds himself back at a small school in the Lone Star State.
"Will I have a greater opportunity to get to the NCAA or conference championship here?" Wilson said while comparing this job to his previous one at Rice. "The answer to that is yes."
October, 14, 2010
10/14/10
11:26
AM ET
NEW YORK -- If you put Memphis in a corner and asked the Tigers where they want their program to be, the answer would be the Big East.
If you directed that question toward UTEP and Houston, it would probably be the Mountain West.
Football decisions drive the direction of conferences, though, and Conference USA isn't exactly a football powerhouse.
"Basketball coaches aren't in control of any of that," said new UTEP coach Tim Floyd. "They were humbled this summer to find out how important college basketball was in the overall scheme."
So the collection of C-USA schools are stuck with each other for the foreseeable future and what that means is that this league has to make its basketball marquee this season, as in a multiple-bid league that advances in the NCAA tournament.
Conference USA needs to become at least as valuable a basketball property as non-Big Six leagues like the Atlantic 10 and Mountain West.
UTEP went 26-6 and 15-1 in the conference last season, but was one of the final at-large teams selected to the NCAA tourney after losing to Houston in the conference finals. The fact that the Miners had to sweat out Selection Sunday is unacceptable.
"We need multiple teams in the tournament, and last year with UTEP going 15-1 and barely getting in is a little bit scary," said Tulsa coach Doug Wojcik, in New York City on Wednesday for a media day event intended to get the league more national attention.
[+] Enlarge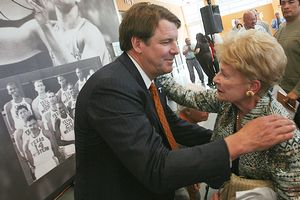 AP Photo/El Paso Times/Victor CalzadaFloyd, seen here with the widow of Don Haskins, landed at UTEP after his controversial tenure at USC.
What's the identity of this league? It certainly has a host of second-chance coaches who have had plenty of on-court success elsewhere, like Floyd, UAB's Mike Davis, Southern Miss' Larry Eustachy, SMU's Matt Doherty, Rice's Ben Braun, East Carolina's Jeff Lebo and Houston's James Dickey. All of those coaches were considered on the rise at one point in their careers, but losing or off-court issues led to their search for a new home.
Donnie Jones went from Marshall to Central Florida, and former Division I head coach Tom Herrion took over the Thundering Herd. Those are two of the league's six new head coaches -- exactly half the league.
Conference USA's coaches preach the league party line -- as they did Wednesday -- about having more draft picks since 2005 than the Big Ten or Pac-10 (including this past draft). Memphis coach Josh Pastner said the league is played above the rim with plenty of athletes, "which makes watching this league fun for everyone."
Still, there is a perception problem. It's undeniable.
From March 2006 to January 2010, the Tigers played and beat 64 straight opponents from C-USA. It is tied for the longest Division I conference win streak of all time. So whether it was fair or not, the national attitude about Conference USA was that Memphis steamrolled through an inferior conference.
"I grew up around the Pac-10, coached in the SEC and coached in the Big 12 and it's strange to me how underrated this league is," Eustachy said. "My only thinking is that Memphis made such a mockery of it for [64] straight games, but then they made a mockery of Texas [and Michigan State and UCLA] in the NCAA tournament and should have won the national championship [in 2008]. People look at our league and think no one could beat them for [64] straight games.
"Memphis was great, but the league has never been more competitive and has great coaches."
UAB's Davis, who has been on the cusp of getting an at-large bid the past few seasons, said Memphis' dominance under Calipari completely overshadowed the league. Having the conference tournament in Memphis also hindered getting a second bid for the league. But a year ago, the tournament was in Tulsa and the league was nearly left with just one again after Houston upset UTEP in the championship game.
"Does this league have the opportunity to be better than the WCC, when it had three teams in with Gonzaga, Saint Mary's and San Diego? My guess is certainly yes, when you see the history of this league with the coaches and the players," Floyd said. "This league has to do what the Mountain West did last year and get four teams in and win."
The coaches know who has to be good for this league to ultimately survive in a changing, challenging college landscape. Memphis, UTEP, Tulsa, UAB and Houston have the most national name recognition with a national title in the group (Texas Western) and a few national championship game appearances (Memphis and Houston).
Eustachy says Southern Miss, with Angelo Johnson and Gary Flowers, are ready to challenge for the conference title. Their continued improvement would certainly help the league, but the Golden Eagles still don't resonate much nationally.
[+] Enlarge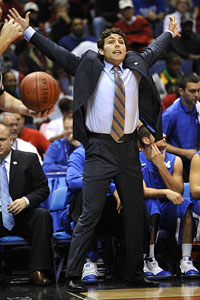 Scott Rovak/US PresswireExpectations weren't high for Josh Pastner's first season at Memphis. They certainly are for his second.
The pressure to be at the top still resides in Memphis.
"We need to be good; there's no doubt about that. We need to be good," Pastner said. "We've recruited well. We now have to perform well on the floor. That's the bottom line."
Eustachy disputes that Memphis has come back to the pack, despite missing the NCAAs this past season after four straight trips that included a title-game appearance, three Elite Eights and a Sweet 16.
"Memphis may have as good a players as Cal's better teams," Eustachy said.
Tulsa has had a rich history of NCAA tournament success under a plethora of name coaches like Tubby Smith, Nolan Richardson and Bill Self. Buzz Peterson won an NIT. Wojcik won a College Basketball Invitational. The Golden Hurricane had a great shot to be an NCAA tourney team last season, but weren't able to stand up and win the key games down the stretch when they had an elite center in Jerome Jordan, a second-round NBA draft pick.
"I think from a fan enthusiasm standpoint, they need us to be successful," Wojcik said. "What we need is multiple teams in the tournament."
To do that, though, the league's teams will need to start playing tough nonconference schedules in November and December -- and win some of those games, too.
That's not an issue for Memphis, which did that under John Calipari and still does so with Pastner. The Tigers play Miami and Georgetown at home, Tennessee and Gonzaga on the road and face Kansas at Madison Square Garden.
UAB has generally the same philosophy, and beat Butler and Cincinnati last season. The Blazers play Duke, Arizona State, Arkansas and Georgia this season. Floyd said he wants UTEP to have the scheduling attitude he had at USC, where he scheduled just about anyone to upgrade the team's power rating.
Tulsa has had solid shots to upgrade and does play in the Big 12 footprint, allowing it to get games with the Oklahoma schools. Southern Miss could use some success in Cancun this season, along with road wins at Ole Miss, South Florida and Cal that would greatly improve its national perception. Road wins always help.
"This is a process, but you've got to win those nonconference games and you've got to have 23 or 24 wins going into the conference tournament," Davis said. "It's difficult not to take a team that has closer to 30 wins than one that has 23 or 24. So if you can get to 25 or 26 or 27, you've got a better chance to get in."
A new identity for a host of schools that would probably like to be somewhere else would come if it could get multiple bids in the NCAA tournament and advance. Sounds easy enough, right?
"There are a lot of coaches in this league that have won a lot of games, a lot more than I have," Pastner said. "The league has gotten better. Memphis' dominance made everyone raise the level of recruiting and now the league has better players and is as athletic as ever before."
Five more observations from Conference USA media day:
1. So much talk was about the Memphis freshmen -- and it is a top-five class that deserves plenty of attention. But the consensus is that if the Tigers are going to be one of the nation's elite, then Wesley Witherspoon has to be a major presence. Memphis coach Josh Pastner is convinced that Witherspoon will be, or rather has to be, the star of this team.
2. C-USA put out its all-conference team, and one player was missing that could end up being a stud. UAB coach Mike Davis said Jamarr Sanders, a onetime guard at Alabama State, could be one of the best players he has ever coached. Sanders averaged 10.4 points and 4.9 rebounds a game for the Blazers last season, but Davis said he was just figuring out how to play the game after sitting out a year.
3. UTEP's Randy Culpepper was tabbed as the preseason player of the year, but the question Davis had was whether Culpepper was going to be set free to go up and down or if he would be in more of a half-court set. If it's the latter, that could change Culpepper's effectiveness. UTEP coach Tim Floyd has been known to change to his personnel, and that's why without a real serious post threat (no Derrick Caracter or Arnett Moultrie), it's hard to see this team slowing down too much.
4. The best news for the teams that might be struggling in the bottom half of the league is that at least three have a star. Rice coach Ben Braun said Iranian Arsalan Kazemi, who played for the national team at the world championships in Turkey, had a sensational summer and should be ready for a major season. East Carolina's Brock Young and SMU's Papa Dia, who made the preseason first- and second-teams respectively, will at least provide a reason to watch the Pirates and Mustangs this season.
5. When you sit at lunch and see the collection of coaches in this league, it really is amazing. When you look around the table and see Larry Eustachy, Tim Floyd, Matt Doherty, Jeff Lebo, Ben Braun, James Dickey and Mike Davis and know that they were all in high-major conferences and are now in this league, it says a lot about the coaching business. It is a fickle one at best. Fame is fleeting in this profession, but there is almost always a second chance. Conference USA is the epitome of that.
November, 12, 2009
11/12/09
10:22
AM ET
Here are 10 programs that will jump within their respective conferences after a disappointing 2008-09 season:

Georgia Tech
2008-09 record: 2-14 ACC, 12-19 overall
Reason for optimism: The Yellow Jackets brought in arguably the best freshman center in Derrick Favors. He'll team with Gani Lawal to form a formidable frontcourt. Georgia Tech is healthy on the perimeter and deeper than it was a year ago. The Yellow Jackets also should finally know how to close out games. (Yes, I know they needed overtime to hold off Indiana of Pennsylvania in an exhibition game.) They're the only team in the ACC that will play North Carolina and Duke twice, so they should have the best power rating of any of the 12 ACC teams.
What could happen: Georgia Tech could win the ACC. Yes, the talent is in place for the team to go from two wins to the league title.
What's likely to happen: The Yellow Jackets should win nine to 11 games in conference play. That would be at least a seven-win swing, good enough to get them into the NCAA tournament.

Iowa State
2008-09 record: 4-12 Big 12, 15-17 overall
Reason for optimism: Craig Brackins returns to the Cyclones, and he has the potential to be a Big 12 Player of the Year candidate and All-American. Add junior college transfer Marquis Gilstrap, and the Cyclones could have one of the best one-two scoring punches besides Kansas and Texas in the Big 12. Iowa State's Hilton Coliseum also is one of the best home courts in the country. Don't be surprised if the Cyclones knock off one of the big boys at home this season.
What could happen: The Cyclones could pluck off a few key wins -- perhaps winning at least one game among Duke, Kansas (twice) and Texas to earn an NCAA tournament berth.
What's likely to happen: Iowa State should improve to at least a nine-win team in the Big 12 and be squarely on the tourney bubble in March.

Oregon
2008-09 record: 2-16 in the Pac-10, 8-23 overall
Reason for optimism: Coach Ernie Kent is billing Jamil Wilson as one of the top freshmen he has coached. If Wilson is as good as advertised, the Ducks have a real shot to climb in what should be a shaky Pac-10. The return of senior point guard Tajuan Porter and the likely improvement of a sophomore class that underachieved last season should give this team hope. Adding assistant Mike Dunlap should help in game management, too.
What could happen: The Ducks have enough talent to finish third in the Pac-10, jumping from two wins to 10 or 11.
What's likely to happen: Oregon probably will be in a tussle with Oregon State, UCLA and Arizona to finish in some order of 3 through 6 in the conference and be on the NCAA tournament bubble. The problem is the Ducks' nonconference slate might not be ranked high enough to earn a bid.

St. John's
2008-09 record: 6-12 Big East, 16-18 overall
Reason for optimism: The Red Storm are the only Big East team that returns all five starters. Coach Norm Roberts has focused on this season to be his best. Losing Anthony Mason Jr. for the start of the season hasn't hurt as much because Mason didn't play last season or on the team's trip to Canada during Labor Day weekend. This team already has learned how to play without him. The other thing going for St. John's -- if the Red Storm are ready to handle the pressure -- is the Big East is open to change this season. Plenty of moves could happen, with teams such as Marquette and Providence sliding to the bottom of the league, and that should allow the Red Storm to climb. That challenge will be daunting but nowhere near as imposing as it was a year ago.
What could happen: This is still the same group of players who finished 6-12 in the Big East, albeit in a stronger conference. Moving ahead of Seton Hall, Cincinnati, Pitt, Notre Dame and Syracuse would be quite a feat.
What's likely to happen: The Red Storm will be in the mix for a top-10 finish in the Big East and could move into the eight- or nine-win range in the league. But even that is likely to mean more of an NIT berth than an NCAA one.

Indiana
2008-09 record: 1-17 in the Big Ten, 6-25 overall
Reason for optimism: The carnage of the Kelvin Sampson era has finally subsided, and under the leadership of coach Tom Crean, the Hoosiers finally can begin to rebuild. Indiana adds an experienced transfer in former Georgetown guard Jeremiah Rivers, who will team with sophomore Verdell Jones III. The Hoosiers still will be one of the youngest teams in the Big Ten, but there is plenty of fight in this group.
What could happen: The Hoosiers could move past Iowa and Penn State to finish at least ninth in the Big Ten with possibly five wins in the league.
What's likely to happen: The problem is the league may be the best it has been this decade. The Hoosiers draw tough road games at Illinois, Michigan, Ohio State, Purdue and Minnesota. The only break is that Michigan State will visit Indiana, but the Hoosiers won't make a return trip to East Lansing. Indiana probably won't make the postseason, but it will show an improvement in the win-loss record in the league and be a peskier putout.

Charlotte
2008-09 record: 5-11 Atlantic 10, 11-20 overall
Reason for optimism: The 49ers are banking on Boston College transfer Shamari Spears to be their go-to inside scorer. He already proved to have soft hands during exhibition play. Finishing in practice was never an issue for Spears at BC, but when the lights were on, his fingers became butter at times. If he can be a lock for the 49ers inside, he'll prove to be the perfect balance to guards Ian Andersen and DiJuan Harris. Losing Lamont Mack hurts the scoring pop, but this team may be better-balanced.
What could happen: The Atlantic 10 will be dominated by Dayton, with Xavier and Richmond on the Flyers' heels. But don't dismiss the 49ers. They have the potential to make a significant jump into the nine- or 10-win mark. Charlotte will play Xavier twice and get two shots at Richmond. Playing at Dayton won't help, but the 49ers will have a chance to compete with the others for second.
What's likely to happen: Charlotte still should finish no higher than fourth, but it will earn enough good will through its record and ranking (playing at Louisville, at Old Dominion, home against Georgia Tech and at Tennessee) to earn a postseason berth of some kind.

Fresno State
2008-09 season: 3-13 WAC, 13-21 overall
Reason for optimism: Paul George. Can I say it again? Paul George. He is a star and one of the NEXT athletes ESPN has been pushing. The Bulldogs under Steve Cleveland have been all over the place, but there is a sense that things should settle down in a league that doesn't have an intimidating team. Sure, Utah State is the favorite in the WAC, and Nevada has Luke Babbitt, but it's not as if Fresno State can't climb from three wins to at least eight in the league.
What could happen: The Bulldogs should be in the mix, at least in the middle of the pack.
What's likely to happen: Expect Fresno State to affect the WAC race but fall short of a postseason berth.

Rice
2008-09 season: 4-12 in CUSA, 10-22 overall
Reason for optimism: The Owls recruited well under Ben Braun. The freshman class should increase the talent quickly in Houston.
What could happen: If the freshmen can produce quickly, a four-win improvement isn't totally out of the question.
What's likely to happen: The problem with moving up to eight wins is that the league is even more balanced this season with Memphis, UTEP, Tulsa and Houston capable of winning the conference.
Florida Atlantic
2008-09 season: 2-16 in the Sun Belt, 6-26 overall
Reason for optimism: Owls coach Mike Jarvis is talking up freshman point guard Raymond Taylor as the next Shawnta Rogers, his former diminutive but highly productive scorer at George Washington. The Owls will be one of the youngest teams in the league, but they should be more talented and productive.
What could happen: The Sun Belt will be led by Western Kentucky, North Texas and Denver, but it's not as if any of those teams is intimidating. There is room for FAU to climb significantly in the league standings from two wins into the seven or eight range.
What's likely to happen: FAU will climb, but it won't be enough to yield a postseason berth. If there is improvement this season, then postseason could be in the discussion in 2011.

Hartford
2008-09 season: 2-14 in the America East, 7-26 overall
Reason for optimism: Let's start with Binghamton's implosion. That should send last season's champ down to the bottom of the league, pushing up a team like Hartford. The rest of the conference is solid and has some noteworthy players, including Vermont's Maurice Joseph and Marqus Blakely. New Hampshire and Boston University should be in the mix for the title, too. But there is room for advancement for the Hawks. Newly named assistant Rick Brunson, a longtime NBA player, was added to Dan Leibovitz's staff and has raved about junior college transfer Milton Burton. Having a healthy Joe Zeglinski on the perimeter will help the balance. If this team can defend and rebound, it will have a shot to move into the eight-win range in the America East.
What could happen: Remember, the Hawks played for the America East automatic berth in 2008, and they'll host the first two rounds of the conference tournament this season. So a run to the title game isn't out of the question if they can make the Chase Arena at Reich Family Pavilion rock.
What's likely to happen: The Hawks will improve their win total but won't reach the postseason.