Category archive:

Northern Illinois Huskies
September, 15, 2010
09/15/10
11:20
AM ET
When Northern Illinois decided to give
Sean Kowal
his release this summer to transfer to another university in pursuit of a graduate degree, Kowal said at the time that his plan was to find a Jesuit-based school and get a master's in theology.
NIU's leading rebounder (6.4) and third-leading scorer (10.5) last season, Kowal said he wanted to earn that master's so ultimately he could go back and coach at his high school alma mater, De Smet Jesuit High in St. Louis.
[+] Enlarge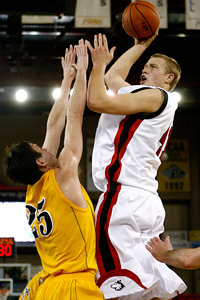 AP Photo/Al GrilloSean Kowal won't be playing basketball anywhere this season.
Ultimately, that might be his career choice. But the plan to play this season at a school such as Saint Louis, Marquette, Xavier or Creighton -- his preferred destinations when he finally was more forthright with NIU about his intentions and his choices -- is over.
The reason Kowal is sitting at home in St. Louis, working out instead of attending classes at a school such as SLU, is because the NCAA is investigating whether he or a school initiated his departure from Northern Illinois before his announced intentions to leave.
A distraught Kowal said he met with NCAA associate director of enforcement Dan Matheson on SLU's campus for 90 minutes late last month and answered questions about his intentions. Kowal said he followed that up in the first week of September with e-mail correspondence with the NCAA seeking answers as to why there was an investigation, who was making the charge of tampering and why there hasn't been closure on the matter.
Kowal said the NCAA made it clear in its response to Kowal that interviewing him was part of an information-gathering process and didn't prohibit him from enrolling at an NCAA school. But Kowal said he believes the shadow of an NCAA investigation made him too toxic for a school to take a chance on a player for one season.
The NCAA, as per its normal response, declined to comment on the investigation. Matheson referred all questions to an NCAA spokesperson and declined to say whether he was in St. Louis for the interview with Kowal.
Northern Illinois coach Ricardo Patton, who coached the 6-11 big man at Colorado and then at Northern Illinois, was miffed initially by Kowal's decision to leave when contacted earlier this summer. Kowal said he later admitted that he wasn't as forthright about his intentions. Patton didn't want to discuss Kowal when reached earlier this summer, but those close to the coach said he had a suspicion that someone was tampering with Kowal.
Saint Louis did have a scholarship for the hometown kid and, according to sources, was considering him after talking to Kowal and his father late last month. But those close to the Billikens said there was no contact with Kowal before he got his release.
"As soon as I talked to SLU, I got a call from the NCAA saying I was under investigation because someone had been tampering with me," Kowal said. "I had a very detailed meeting. I told them everything."
There was even a request for Kowal's phone records. And as the days quickly went by, Kowal said he implored the NCAA to stop so he could attend a school before the semester started. Classes at Saint Louis started Aug. 23, and Kowal's correspondence with the NCAA after that date and into September made it even more difficult for SLU to consider taking Kowal.
"I felt that no school would want more problems," Kowal said. "No one wants to take a problem. The NCAA shined a light on me. They projected me in that image to any of the schools considering me. The investigation is currently still going on. But they've made me forfeit my last year of eligibility that I could receive financial aid."
While the NCAA was pursuing Kowal, Patton's former manager at Colorado, Marc Ost, who works for Cornerstone Management in Philadelphia and knew Kowal, set up a deal for him to play professionally in Holland. Kowal initially agreed, but then upon further review declined, putting Ost in an awkward position. Kowal said he just wasn't ready to play overseas.
"It wasn't the deal for me," Kowal said.
Kowal had a chance to do what has been done by a number of players recently in men's basketball and football -- play immediately without sitting out because he had graduated at one school and was looking to pursue a graduate degree at another.
The delay in getting his release, which is based on Kowal not being up-front initially with his intentions and then Northern Illinois taking its time, can be blamed on the school and the player. The NCAA inquiry, though, took this matter to another level and made a player unworthy of an accompanying headache.
So Kowal is done in college basketball after four years, playing one at Colorado, sitting out one year and playing two at Northern Illinois. He has his degree and can still pursue that master's in theology if he wants, but he'll have to pay just like most traditional students.
"It's not right what the NCAA did," Kowal said. "It may not be the end of it with them and me. What they did was wrong, and whoever accused me of these false allegations, whoever did that, should feel terrible about themselves. It's a mess.
"I don't know what's next. I went back to my old high school and saw a professor of mine. I want to teach religion and coach basketball at my old high school. I want to be a basketball coach, but not at the college level. There are too many politics. That has been reinforced to me over these last few months. The NCAA will say they didn't stop me from enrolling, but no institution will take a chance on me. They don't want to do that. It's a real shame the way the NCAA handled this matter."
August, 4, 2010
08/04/10
11:39
AM ET
Northern Illinois graduate Sean Kowal finally got his release from the school late Tuesday night after the Huskies had originally denied his request to pursue a master's degree at another school. NIU said he initially didn't provide it with specific information on his intended academic choice.
Kowal, a center, gave Northern Illinois a list of five programs -- his hometown St. Louis Billikens, Xavier, Marquette, Creighton and SMU -- all of which are religious-based schools that he wanted to pursue to see if they had theology master's programs.
[+] Enlarge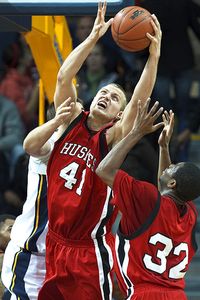 Rick Osentoski/Icon SMISean Kowal hopes to land at a school that offers a master's program in theology.
If Kowal hadn't been granted a release, he would have had to apply for admission to the graduate school, pay his own tuition, walk on and then the new school would have to decide if it wanted to pursue a waiver to get him eligible immediately. If the school agrees to grant a release, Kowal can accept a scholarship and know going in if that school would be willing to gain a waiver.
The legislation is a one-time transfer exception called 14.1.9.1, which allows a graduated player to pursue a graduate degree at another school if that person has eligibility remaining. If the waiver is granted and the previous school sponsors the appeal, the player can play immediately.
Kowal had already transferred from Colorado to NIU to play for Ricardo Patton after he was fired in Boulder and then hired in DeKalb, Ill. He had already sat out the 2007-08 season.
Kowal isn't going to be a pro athlete. He is much more of the spirit of this legislation than a few other higher-profile athletes pursuing waivers, according to a long-time major Division I compliance director.
"This isn't a rule, but it's a waiver that can be granted and regularly is," said the compliance director, who wished to remain anonymous. "The legislation isn't saying you can play immediately. It just says you're allowed to do this. The problem is that the reasons for the waiver should be legitimate. A lot of these players are transferring because they have to get out of their previous school. They don't want to sit out. They may have no real interest in the master's. This is not what the legislation was intended to do."
Northern Illinois athletic director Jeff Compher said Wednesday that the Huskies didn't have all the information from Kowal. Once it found out it was about a master's degree that NIU didn't have, it could resolve the matter quickly.
"We didn't offer it, and he wants to pursue a theology major," Compher said. "This shouldn't become a loophole. It has become that in some instances."
One of the more notable exceptions was when Kevin Kruger went to play for his father, Lon, at UNLV for his last season without sitting out. Kruger had been at Arizona State and graduated. He left when Rob Evans was fired and played for UNLV in 2006-07, helping his father reach the Sweet 16.
Kowal's case is lower profile in comparison to three others the NCAA will have to deal with this fall:
• Eniel Polynice graduated from Ole Miss after he declared for the NBA draft. According to a source, Ole Miss coach Andy Kennedy wasn't unhappy that Polynice wasn't returning, so Ole Miss hasn't blocked Polynice's attempt to gain immediate eligibility at Seton Hall. There wasn't an immediate response as to what Polynice would be pursuing at Seton Hall, but on Tuesday an official with the school said he would pursue a master's in communications. Ole Miss offers master's degrees in journalism and communications sciences and disorders, but not a master's in communications.
• Louisville hasn't been able to say what master's program Roburt Sallie will pursue if he is to play this season with the Cardinals (assuming he does graduate at Memphis, which he hasn't done yet according to Louisville). Sallie and Memphis coach Josh Pastner weren't at odds, but according to a source close to the situation and similar to Kennedy with Polynice, Pastner had no problem with Sallie going elsewhere. Sallie, at one point, couldn't get eligible at Nebraska before landing at Memphis.
• In college football, Jeremiah Masoli is attempting to play right away at quarterback for Ole Miss this fall. Masoli is reportedly applying to graduate school to pursue a degree in parks and recreation management, which isn't offered at Oregon. Masoli had no choice but to leave Oregon, even after he graduated, since he was dismissed from the Ducks in June for possession of less than one ounce of marijuana at a traffic stop. He had already pleaded guilty to a misdemeanor charge of burglary after he was involved in a fraternity house theft in Eugene. Oregon coach Chip Kelly suspended Masoli for the upcoming season after the guilty plea.
"The Masoli case will be a real test," the compliance director said. "Masoli was kicked off for multiple transgressions, and now he's suddenly transferring to Ole Miss to walk on and play immediately?"
Kowal told ESPN.com Wednesday morning that NIU compliance director Christian Spears told him that he wasn't clear about his intentions when his request was originally denied. Spears told Kowal that it was a new case once he made it apparent he wanted to pursue a master's in theology, with the hope of one day being a coach at his high school alma mater, Jesuit-based De Smet High in St. Louis.
Kowal had been told by Compher in a July 21 e-mail that "I made this decision because I feel it is in the best interest of our basketball program." According to a source, Patton was miffed by the timing of Kowal's decision (mid-June), the vagueness of his reasoning (failed to specifically offer the theology master's upfront at first) and the belief that a school was tampering to secure the services of a 6-foot-11 center, who was the Huskies' third-leading scorer (10.5 ppg) and tops in rebounding (6.4).
Kowal said he has not had any contact with a school.
"It wasn't a tampering issue; that doesn't come into play for me," Compher said. "For me, it was a question of following the process in place. If the program he wants to pursue is unique to an institution, and we don't have it, then that is the spirit of the rule."
Kowal did graduate, and so the Huskies' graduation rate and APR wouldn't be affected by his departure. He played for Patton at two different schools. A source close to Patton said the coach was disappointed since he took Kowal in after his replacement at Colorado, Jeff Bzdelik, wasn't interested in him.
Kowal said he told NIU that under no circumstances would he be returning to school for graduate studies. Kowal is still fighting with NIU over payment for an online class that he was told to take to graduate but ultimately didn't need for the degree.
"I played for Coach Patton at Colorado and at Northern Illinois, and basketball was one of the bigger reasons I went to college," said Kowal, who added that his family would have a hard time paying for graduate school. If he did not receive a release, he would have taken out a student loan (like countless other regular students).
"I wasn't a superstar my freshman year. I knew Coach Patton, and I didn't see a reason not to follow him. And everything has gone really well, and while the records [10-20 in each of the past two seasons] didn't show we were rebuilding, I'm grateful for my time at NIU."
But Kowal is savvy about the bigger picture. While he said Patton told him he only needs a teacher's certificate to work at a high school, Kowal wanted to have a master's and two degrees from two different institutions (a B.A. from NIU and a master's from another).
"It makes you more diverse and more marketable," Kowal said. "I've always wanted to be a high school basketball coach, especially at my previous high school, a Jesuit school. It's a fit for me."
Kowal appears to be dealing with the true spirit of the waiver. He could have stayed. He chose not to so he could find a master's degree program at another school. That's not the case with the others in question. They weren't returning to their previous schools for reasons other than academics.
"The mission of intercollegiate athletics is about undergraduate education," the compliance director said. "In this case, [Kowal] fulfilled it. If the player is seeking a waiver for anything other than academics, then the NCAA has to figure that out. That is not what the rule was intended to do."
NIU has a stud returning in wing Xavier Silas, who averaged 19.7 points per game. Patton signed two JC forwards in Cameron Madlock and Tim Toler, who should fill Kowal's void in the Huskies' attempt to improve on their 6-10 MAC finish last season.
If Kowal lands at any of his choices -- St. Louis, Xavier, Creighton, Marquette or SMU -- his role may just be a rotation player to help improve the squad. That's it. If he is truly seeking a home to pursue a master's with basketball helping to pay for the education, then he is honoring the spirit of the rule.
Compher said there needs to be more communication with players who decide to go on this track so the school can be prepared. He said it shouldn't be a surprise to the program.
"Hopefully, along the way, there will be conversations so that administrations know the intentions," Compher said. "This way they can help them in the process, if in fact, they don't have that master's degree program. The more people that go to summer school and redshirt, the more will be in this position by graduating in three years [in Kowal's case, he was going to be a fifth-year senior after transferring]. It shouldn't be a loophole. This [waiver] should be used for academic purposes, not for competitive purposes."