Category archive:

Houston Cougars
October, 30, 2013
10/30/13
2:22
PM ET
If the 2014 NBA draft lives up to its hype, the upcoming college basketball season could rival or supersede any since the turn of the century.
That's a big if.
But the buzz isn't going away and won't unless the returning and incoming talent takes a dramatic drop from preseason projections.
Let's assume Kansas freshman Andrew Wiggins, Kentucky freshman Julius Randle and Oklahoma State sophomore Marcus Smart are locks for the top three to five spots in the NBA draft. Who else registers with NBA decision-makers to fill out the top 10?
Parker will pair up with Mississippi State transfer Rodney Hood to create a dynamic tandem for the Blue Devils. Parker's overall basketball IQ makes him a cinch to be in the top 10. He will be in the running for ACC Player of the Year with Hood, Virginia's Joe Harris and Syracuse's C.J. Fair.
Wiggins has swallowed most of the oxygen coming from Lawrence, but Bill Self potentially has one of the best big men he has coached at KU in Embiid. He is a sponge, soaking up knowledge, and could be the most dominant big man outside of Randle this season.

Robinson is described as having a pro game with excellent shooting skills. The trick will be how he handles being much more of a featured presence for the Wolverines.

McGary could have easily bolted from Michigan after its Final Four run last season. He was a hot candidate in an incredibly weak draft, yet he chose to return. Now, he's battling back issues. The upside is there, but he needs to show well for a full season.
Kentucky coach John Calipari isn't hesitating promoting Young's skill set. If he has Michael Kidd-Gilchrist's work ethic but is even better in the skill department, Young could be a sleeper to shoot up into the top five in June.
Gordon was the MVP of the United States' under-19 gold-medal-winning team in the Czech Republic in July. His athleticism was on full display in the event. But Gordon will need to show he can shoot and defend to ensure he's a top-five talent.
Harrison will step in as the Wildcats' point guard. If he stands out, the long line of highly placed Calipari-coached point guards will continue to dominate the lottery.
October, 29, 2013
10/29/13
4:56
PM ET
With alignment on hold until after next season, the lines have been drawn, the places set. Now, it's time for programs that have lost their way to lock in and start the climb out of mediocrity.
Such as:
The Demon Deacons stuck with Jeff Bzdelik for a fourth season after winning just 13 games in each of the past two seasons. Transfers have become all too common in the program. There was progress last season: winning six conference games, beating ACC champ Miami and knocking off NC State. But the Demon Deacons couldn't win on the road. Climbing out of the bottom third will be even tougher this year with the additions of Syracuse, Pitt and Notre Dame, not to mention the forthcoming switch of Maryland for Louisville. Wake Forest athletic director Ron Wellman and Bzdelik are good friends. Wellman put his stake in Bzdelik and has to see this through. Now is the time for the Demon Deacons to make a move to ensure that the rocky road was worth the wait. The Wake Forest fan base is one of the most passionate in the league. It's a shame that it hasn't had the opportunity to create a feared, frenzied atmosphere like the one it had less than 10 years ago.
The Cornhuskers are investing in basketball like never before. Nebraska is playing in $179 million Pinnacle Bank Arena. Coach Tim Miles is entering his second season. He has a young team in Lincoln, and there will be growing pains. Still, there needs to be a return investment. The Huskers must make Lincoln a feared road stop in the Big Ten going forward. Nebraska has a chance to show promise. The time is now to make a move before even the most passionate fans begin to lose interest.
The Mountaineers' transition to a new league might have been the toughest of any team that moved. That shouldn't have derailed a program Bob Huggins had rolling to a Final Four just over three years ago. Huggins has too much pride to let West Virginia wallow in mediocrity, but the talent drain was in effect last season. There were recruiting mistakes and opportunities lost. The Mountaineers must make Morgantown as difficult a road stop for opposing teams. Moving into the league's top four is more than doable for the Mountaineers.
The Pirates might be one of the biggest beneficiaries of a move to a smaller conference. Seton Hall was lost amid the bloated old Big East. Now the opportunity is there for the Hall to climb. A strong 2014-15 recruiting class should give hope. There is optimism for one of the most difficult high-major jobs in the Northeast. Kevin Willard is entering his fourth season as a .500 coach, but he could be judged with a clean slate in a new league where the true round-robin schedule will be a fair barometer. The new Big East desperately needs the New York-market teams to matter in March. St. John's appears to be ready to accept the responsibility. The Pirates must do their share, too.
If you've never seen the Huntsman Center rocking, then you've missed out on one of the top home courts in the West. The problem is that those instances, since the late Rick Majerus was on the sideline, have been limited. Crime-fighting coach Larry Krystkowiak has the right demeanor, character and credibility to deliver a winner, but the corner must be turned soon. Utah can -- and should -- be one of the rising teams in a conference that allows plenty of chances for schools to take a turn near the top. If once downtrodden Colorado can be a regular, established contender, then Utah can as well. Krystkowiak said he believes in the younger players in the program. Now it must ignite the passion that once made Salt Lake City an intimidating destination.
Georgia has always been one of the more intriguing SEC teams not named Kentucky or Florida. The Bulldogs are within range of plenty of talent, notably in Atlanta, even going against hometown Georgia Tech. The Bulldogs have a determined and loyal fan base that craves a winner. Mark Fox has coached and recruited pros, but he hasn't been able to get that talent to win consistently in the postseason. The SEC is wide open beyond the top two teams, with room after that for whoever can produce. If there ever was a time to make a move back into being a team of consequence, this is it.
When Guy Lewis was inducted into the Basketball Hall of Fame last month, it brought back memories of the Cougars' dominance in the 1980s. That era is long gone while Houston has spent time in the Witness Protection Program. Now the Cougars have come out of their shell in the American Conference, where there is a real opportunity for Houston to get on the national stage. Once Louisville leaves, UConn, Memphis and Cincinnati will need challengers. Temple and SMU might take their shot. Houston, though, can draw from as much, if not more, of a talent base than any school outside of Memphis. The Cougars might never have a better chance to be a factor than right now. The 1980s aren't coming back, but Houston has a shot to create its own revival.
September, 5, 2013
09/05/13
10:41
AM ET
Jimmy Duffer is one of the people you probably never knew was a part of the famed Phi Slama Jama.
Duffer and Ralph Adams were student managers. And yet they felt treated as equals by coach Guy V. Lewis -- on par with superstars Hakeem Olajuwon and Clyde Drexler.
"I don't know if words can do justice from someone as simple as me,'' said Duffer, now 51, and in his 11th year as head boys basketball coach at Milby High School in Houston. "I owe a lot to this man.''
This man, Guy V. Lewis, will be inducted into the Basketball Hall of Fame Sunday in Springfield, Mass., at age 91. He will be overshadowed by coaches Rick Pitino and Jerry Tarkanian in one sense because he has been out of the game longer.
[+] Enlarge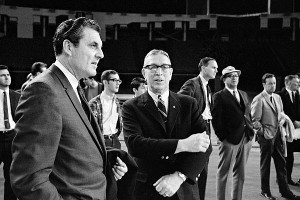 AP Photo/Ed KolenovskyGuy Lewis, seen here with John Wooden before 1968's "Game of the Century," was one of college basketball's true trailblazers.
But Lewis' five Final Four appearances, his coaching of the famed Cougars in that epic 1983 title game loss to NC State, and his ability to bring in immense talent like the aforementioned Olajuwon and Drexler and iconic names like Elvin Hayes, Don Chaney and Otis Birdsong put Lewis on a historic level. He will forever be remembered for coaching Hayes and the Cougars in what was termed the "Game of the Century,'' as Houston upset UCLA at the Astrodome in front of 50,000-plus and a national TV audience in 1968.
Yet throughout his career, Lewis had a tremendous effect on those who few knew -- people like Duffer.
"My parents didn't go to college, they were just hardworking people,'' Duffer said. "I wouldn't have gone to college. I couldn't afford to go. But this gentleman gave me a chance to be a small part of the team.
"I washed clothes, gave people shoes, I straightened chairs. My role on the team was a small one. But here's a guy, he paid for my school by giving me a scholarship and then gave me an extra year to finish. Ralph Adams had the same deal. That's how well he treated us. He made us feel special. I wouldn't be in this profession if it weren't for Guy Lewis.''
When Duffer and Adams were entering school, managers were allowed to be on scholarship, and Duffer said Lewis didn't hesitate to make it right for them. Lewis had known and recruited a few players at Milby, where Duffer was attending. So he offered a chance to Duffer, who was there to witness one of the most glorious runs in college basketball history from 1981-85 as the Cougars played in three straight Final Fours, losing in the title games to NC State and Georgetown in the last two.
"At that time, the majority of the people on the team were Houston products,'' Duffer said. "Everyone knew everybody. Houston was a small school in the Southwest Conference. We were different. We felt different. We all had a chip on our shoulder and didn't feel the conference treated us the same way. If we ever needed anything, we went to Coach Lewis.''
Lewis coached the Cougars from 1956 to 1986. That's it. His only stop. And Houston has never been the same since he left -- having gone to the tourney only four times since then, with zero wins.
"When he had his stroke [in 2002], we were all there in the hospital,'' Duffer said. "That's how it was. He's a part of all of our families. He felt like he was our granddad.''
Duffer said Lewis' small-town upbringing in Arp, Texas, may have had something to do with his ability to blend with anyone in a number of different situations. He certainly had a diverse team and pulled in players from all over the region, regardless of ethnicity or color of skin. Dave Rose, the current head coach of BYU, speaks so glowingly of Lewis and what playing for him has meant. Rose was a guard on the Phi Slama Jama team, hardly the high flyer but treated equally by his coach.
"Coach Lewis made a commitment to everyone he signed that if you played basketball at the University of Houston, he was going to pay for your education [with a scholarship], even if you went 15 years before you came back,'' Duffer said. "He was loyal to them and they were loyal to him. We were all Cougar family.''
[+] Enlarge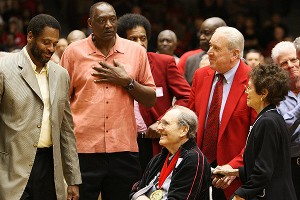 Bob Levey/Getty ImagesDon Chaney and Elvin Hayes helped Lewis put Houston basketball on the map in the 1960s.
Duffer said managers in the 1960s, who were there for the Elvin Hayes era, relayed to him that they were given the same privileges as the players then as they were during his era in the '80s.
Duffer said the '83 loss haunted Lewis for a long time. He said he wouldn't say how much, but it did. And for so many years, there was a growing concern among the Cougar family that Lewis' induction, if it came at all, would come too late.
"We all worried it would come after he passed away,'' Duffer said. "It was so important to all of us that he see this. He was such a pioneer in the game. He was in Houston, Texas, in the 1960s and going into small-town Louisiana and recruiting Elvin Hayes and Don Chaney and bringing them to Houston, which was still the Deep South. That was unheard of, and he did it.
"He wasn't someone who just rolled the balls out and didn't coach. He coached his ass off and everybody knew it.''
There was a strong push to get Lewis in over the years, and Duffer credits Olajuwon, Drexler, Birdsong and CBS broadcaster Jim Nantz, a UH graduate. Duffer said health problems will prevent him from being in attendance this weekend, but Adams, his fellow manager, and a number of other "Cougar family" members will be there Sunday.
"I wouldn't be in this profession I'm in without Guy Lewis,'' Duffer said. "I feel like my career has meaning now. I've been on cloud nine since it was announced. My players have no idea who Guy V. Lewis is, but they know he was Coach Duffer's coach. It means the world to me. I'm glad he's alive to see it.''
Editor's Note: For more reflections on Guy Lewis' career, read our full coverage in the Nation blog.
July, 6, 2012
07/06/12
11:59
AM ET
When it came to bylaws about departing teams, the Horizon, Colonial and America East didn't buckle.
There are consequences that come along with a departure. Being ineligible for the conference tournament is one of them for these leagues. Butler (Horizon) and Virginia Commonwealth (CAA) accepted that and got to the Atlantic 10 as fast as possible.
What school wouldn't do the same if the opportunity existed? Scheduling, television exposure and tourney access are the most important reasons -- outside of the financial benefits -- for being in a conference.
Take away the ability to play for an automatic NCAA tournament berth and the season can seem like a waste. Postseason bans, such as the one USC had recently and the one Connecticut will endure this season, take the air out of the season -- even if the schools and coaches do all they can to create a new goal of winning a regular-season title.
Even though both would likely be contenders for at-large berths, Butler and VCU took no chances.
Boston University, on the other hand, probably would leave for the Patriot League tomorrow if it could. The Terriers weren't pleased with the decision by the America East to uphold its bylaws, but they are stuck. The current team will have to deal with it.
Old Dominion and Georgia State were hoping the CAA would lift its ban, but it did not. Georgia State went as far as to explore trying to get into the Sun Belt sooner, but that didn't happen.
The Horizon, CAA and America East are actually not the norm historically.
After losing members in the past decade, the Big East, Atlantic 10, Big West, C-USA, Mountain West and WAC have not even broached the subject, much like the Big 12 didn't when it lost members to the Pac-12, Big Ten and SEC. The Big East didn't block West Virginia from playing in the conference tournament a year ago after it announced its hasty departure to the Big 12. Perhaps the smaller conferences are worried that the league will have only one bid and don't want it to go to the school with one foot out the door.
[+] Enlarge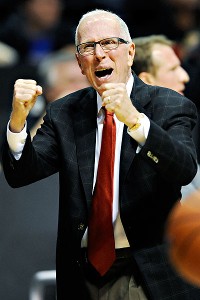 Christopher Hanewinckel/US PresswireSteve Fisher and the Aztecs will get a chance to compete in their final MWC tourney.
But when I asked some of the coaches playing in their final season in a conference, the question was met with near astonishment.
Pitt coach Jamie Dixon wanted to know if I was joking. San Diego State's Steve Fisher said he hadn't even heard of these conferences not allowing schools to participate. Utah State's Stew Morrill said he didn't think the WAC would do such a thing since previous schools that left weren't treated in that manner. Memphis coach Josh Pastner said he would be incredibly disappointed if that occurred. (C-USA took away the conference tournament from the city of Memphis but didn't remove the Tigers' ability to play for the title.)
But what would happen if these conferences turned on the departing teams in 2013? It's too late to change the bylaws and isn't going to happen, but it's still fun to play the "what if" game.
What effect would it have had on the Big East to take Pittsburgh and Syracuse out of the tournament?
A serious blow. The league may be squabbling with the two schools -- and will do so in court with Pitt -- but it needs these two in the conference tournament as long as possible. Syracuse is a natural draw at Madison Square Garden. Taking the Orange out of the Big East would have been a major mistake. The Orange and Panthers still don't have a definitive arrival date in the ACC, but it's likely to be in the summer of 2013.
What would it have done to Syracuse and Pitt for a potential at-large berth?
Likely no issue at all. Both have teams that look like virtual locks for an at-large bid.
What would happen to the Atlantic 10 if Temple and Charlotte weren't allowed in the tournament?
Let's be honest: Charlotte won't be missed on its way back to Conference USA. But Temple's departure will be a hit, as the Owls have consistently been a major part of the A-10 tournament. Not having a Temple presence, prior to the Owls' exit to the Big East, would have hurt the tourney's debut in Brooklyn. Bringing in Butler and VCU will offset the loss, but Temple still is very much associated with the A-10 brand.
What if the Big West banned Pacific?
That would be just cruel. The Big West has had teams leave before, and it might happen again. Plus, this is coach Bob Thomason's final season after a quarter-century at his alma mater, and he said he has a team that could challenge for the Big West title. He has been a loyal member, and Pacific is leaving for the all-private WCC. No harm in letting the Tigers finish up, and it won't hurt the Big West one bit.
What if Conference USA blocked Memphis, SMU, UCF and Houston?
Then C-USA would have a tournament that lacked any sort of buzz. Marshall is a legitimate title challenger to Memphis, and UTEP should be in contention. If the Tigers had been blocked from being in the tournament, after it was taken from the city, C-USA's relevance during Championship Week would have been diminished even more. It's still hard to say how many Memphis fans will travel to Tulsa, Okla., but the Tigers do have a significant following. This was a smart move by the league to not play bitter politics with the departing members.
What would the Mountain West tournament be like without San Diego State and Boise State?
A bit less exciting. The Aztecs have been one of the consistent winners in the MWC with UNLV and New Mexico. Take SDSU, off to the Big West, out of the event in Las Vegas, and the tournament would lose luster. No offense to Boise, but no one would likely notice if the Broncos weren't invited. But SDSU matters a great deal. The Aztecs will be a top-25 team alongside UNLV. Taking them out of the conference tournament would have been a storyline the MWC doesn't need in March.
What would a WAC tournament look like without Utah State and San Jose State?
Not worth it. USU has been the benchmark program in the WAC since Morrill arrived. New Mexico State can't anchor the conference on its own. NMSU needs a rival, and Utah State has been that nemesis. San Jose State wouldn't be missed, but the Aggies' absence would have been a glaring omission in Las Vegas. Rebuilding Utah State will likely need the tournament to get a bid this season, but the WAC was in no position to be punitive. So the Aggies will have one final chance to represent the WAC before it joins SJSU and former WAC members Fresno State and Nevada in the Mountain West.
The fallout from the Big East's shakeup in football and basketball this week will continue for weeks, if not months or years.
[+] Enlarge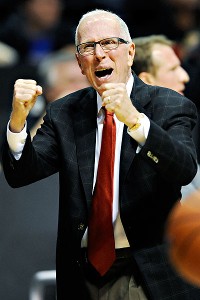 Christopher Hanewinckel/US PresswireSan Diego State could be the Gonzaga of the Big West under Steve Fisher.
So after another week of changes, the basketball winners and losers can be summed up this way:
Winner
The Big West: Getting San Diego State is a major coup for this league. Steve Fisher's Aztecs are going to be an NCAA tournament team on a regular basis and a national player for getting marquee games. SDSU has a chance to be the Gonzaga of the Big West. The Aztecs won't be as good as the old UNLV teams that won a national title, but being the dominant player that can attract marquee games and attention for the Big West is a great get.
Loser
The Big East: You simply can't make this three-team trade (Out: Pitt, Syracuse, West Virginia; In: Central Florida, Houston, SMU) and not come out looking worse. The pool of teams the Big East had to choose from was small, but it still could have made a few more moves to appease football and basketball. The conference acquired new television markets, but the quality of play will go down and the matchups for the television partners won't be as palatable.
Biggest mess
The 2013 season: If Big East commissioner John Marinatto gets his way, the Big East will have 19 members for one season when the three new schools come aboard and Pitt, Syracuse and West Virginia have to stay. Big East associate commissioner Tom Odjakjian will have a thankless job as he tries to schedule a season that will keep him up at night.
The ongoing fight
West Virginia: The Mountaineers want to play in the Big 12. The Big East says they have to stay. This will likely end up being decided by a judge.
The unknown
Boise State: If coach Leon Rice can continue to improve the program, the Broncos can flourish in the WAC and become a player for a bid quicker there than in the Mountain West.
The potential
Houston, which has a solid recruiting class in 2012, and SMU have had their moments in the past, but the school that gets the tag as the one with the most potential of all the additions could be Central Florida. The Knights have a shot to make more of an impact in the Big East than South Florida has because of UCF's location and facilities. The Knights must stay out of the way of the NCAA's enforcement group after getting caught with violations that cost coach Donnie Jones the first three games of the C-USA season. Still, Jones has taken down Florida and Connecticut on neutral courts in each of the past two seasons.
The biggest question
When the 2014 season begins, will Louisville, Connecticut and Notre Dame be in the Big East? We just don't know.
October, 14, 2010
10/14/10
11:26
AM ET
NEW YORK -- If you put Memphis in a corner and asked the Tigers where they want their program to be, the answer would be the Big East.
If you directed that question toward UTEP and Houston, it would probably be the Mountain West.
Football decisions drive the direction of conferences, though, and Conference USA isn't exactly a football powerhouse.
"Basketball coaches aren't in control of any of that," said new UTEP coach Tim Floyd. "They were humbled this summer to find out how important college basketball was in the overall scheme."
So the collection of C-USA schools are stuck with each other for the foreseeable future and what that means is that this league has to make its basketball marquee this season, as in a multiple-bid league that advances in the NCAA tournament.
Conference USA needs to become at least as valuable a basketball property as non-Big Six leagues like the Atlantic 10 and Mountain West.
UTEP went 26-6 and 15-1 in the conference last season, but was one of the final at-large teams selected to the NCAA tourney after losing to Houston in the conference finals. The fact that the Miners had to sweat out Selection Sunday is unacceptable.
"We need multiple teams in the tournament, and last year with UTEP going 15-1 and barely getting in is a little bit scary," said Tulsa coach Doug Wojcik, in New York City on Wednesday for a media day event intended to get the league more national attention.
[+] Enlarge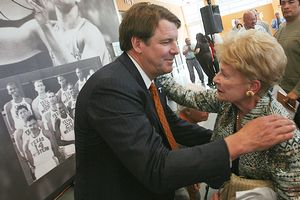 AP Photo/El Paso Times/Victor CalzadaFloyd, seen here with the widow of Don Haskins, landed at UTEP after his controversial tenure at USC.
What's the identity of this league? It certainly has a host of second-chance coaches who have had plenty of on-court success elsewhere, like Floyd, UAB's Mike Davis, Southern Miss' Larry Eustachy, SMU's Matt Doherty, Rice's Ben Braun, East Carolina's Jeff Lebo and Houston's James Dickey. All of those coaches were considered on the rise at one point in their careers, but losing or off-court issues led to their search for a new home.
Donnie Jones went from Marshall to Central Florida, and former Division I head coach Tom Herrion took over the Thundering Herd. Those are two of the league's six new head coaches -- exactly half the league.
Conference USA's coaches preach the league party line -- as they did Wednesday -- about having more draft picks since 2005 than the Big Ten or Pac-10 (including this past draft). Memphis coach Josh Pastner said the league is played above the rim with plenty of athletes, "which makes watching this league fun for everyone."
Still, there is a perception problem. It's undeniable.
From March 2006 to January 2010, the Tigers played and beat 64 straight opponents from C-USA. It is tied for the longest Division I conference win streak of all time. So whether it was fair or not, the national attitude about Conference USA was that Memphis steamrolled through an inferior conference.
"I grew up around the Pac-10, coached in the SEC and coached in the Big 12 and it's strange to me how underrated this league is," Eustachy said. "My only thinking is that Memphis made such a mockery of it for [64] straight games, but then they made a mockery of Texas [and Michigan State and UCLA] in the NCAA tournament and should have won the national championship [in 2008]. People look at our league and think no one could beat them for [64] straight games.
"Memphis was great, but the league has never been more competitive and has great coaches."
UAB's Davis, who has been on the cusp of getting an at-large bid the past few seasons, said Memphis' dominance under Calipari completely overshadowed the league. Having the conference tournament in Memphis also hindered getting a second bid for the league. But a year ago, the tournament was in Tulsa and the league was nearly left with just one again after Houston upset UTEP in the championship game.
"Does this league have the opportunity to be better than the WCC, when it had three teams in with Gonzaga, Saint Mary's and San Diego? My guess is certainly yes, when you see the history of this league with the coaches and the players," Floyd said. "This league has to do what the Mountain West did last year and get four teams in and win."
The coaches know who has to be good for this league to ultimately survive in a changing, challenging college landscape. Memphis, UTEP, Tulsa, UAB and Houston have the most national name recognition with a national title in the group (Texas Western) and a few national championship game appearances (Memphis and Houston).
Eustachy says Southern Miss, with Angelo Johnson and Gary Flowers, are ready to challenge for the conference title. Their continued improvement would certainly help the league, but the Golden Eagles still don't resonate much nationally.
[+] Enlarge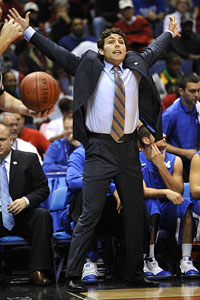 Scott Rovak/US PresswireExpectations weren't high for Josh Pastner's first season at Memphis. They certainly are for his second.
The pressure to be at the top still resides in Memphis.
"We need to be good; there's no doubt about that. We need to be good," Pastner said. "We've recruited well. We now have to perform well on the floor. That's the bottom line."
Eustachy disputes that Memphis has come back to the pack, despite missing the NCAAs this past season after four straight trips that included a title-game appearance, three Elite Eights and a Sweet 16.
"Memphis may have as good a players as Cal's better teams," Eustachy said.
Tulsa has had a rich history of NCAA tournament success under a plethora of name coaches like Tubby Smith, Nolan Richardson and Bill Self. Buzz Peterson won an NIT. Wojcik won a College Basketball Invitational. The Golden Hurricane had a great shot to be an NCAA tourney team last season, but weren't able to stand up and win the key games down the stretch when they had an elite center in Jerome Jordan, a second-round NBA draft pick.
"I think from a fan enthusiasm standpoint, they need us to be successful," Wojcik said. "What we need is multiple teams in the tournament."
To do that, though, the league's teams will need to start playing tough nonconference schedules in November and December -- and win some of those games, too.
That's not an issue for Memphis, which did that under John Calipari and still does so with Pastner. The Tigers play Miami and Georgetown at home, Tennessee and Gonzaga on the road and face Kansas at Madison Square Garden.
UAB has generally the same philosophy, and beat Butler and Cincinnati last season. The Blazers play Duke, Arizona State, Arkansas and Georgia this season. Floyd said he wants UTEP to have the scheduling attitude he had at USC, where he scheduled just about anyone to upgrade the team's power rating.
Tulsa has had solid shots to upgrade and does play in the Big 12 footprint, allowing it to get games with the Oklahoma schools. Southern Miss could use some success in Cancun this season, along with road wins at Ole Miss, South Florida and Cal that would greatly improve its national perception. Road wins always help.
"This is a process, but you've got to win those nonconference games and you've got to have 23 or 24 wins going into the conference tournament," Davis said. "It's difficult not to take a team that has closer to 30 wins than one that has 23 or 24. So if you can get to 25 or 26 or 27, you've got a better chance to get in."
A new identity for a host of schools that would probably like to be somewhere else would come if it could get multiple bids in the NCAA tournament and advance. Sounds easy enough, right?
"There are a lot of coaches in this league that have won a lot of games, a lot more than I have," Pastner said. "The league has gotten better. Memphis' dominance made everyone raise the level of recruiting and now the league has better players and is as athletic as ever before."
Five more observations from Conference USA media day:
1. So much talk was about the Memphis freshmen -- and it is a top-five class that deserves plenty of attention. But the consensus is that if the Tigers are going to be one of the nation's elite, then Wesley Witherspoon has to be a major presence. Memphis coach Josh Pastner is convinced that Witherspoon will be, or rather has to be, the star of this team.
2. C-USA put out its all-conference team, and one player was missing that could end up being a stud. UAB coach Mike Davis said Jamarr Sanders, a onetime guard at Alabama State, could be one of the best players he has ever coached. Sanders averaged 10.4 points and 4.9 rebounds a game for the Blazers last season, but Davis said he was just figuring out how to play the game after sitting out a year.
3. UTEP's Randy Culpepper was tabbed as the preseason player of the year, but the question Davis had was whether Culpepper was going to be set free to go up and down or if he would be in more of a half-court set. If it's the latter, that could change Culpepper's effectiveness. UTEP coach Tim Floyd has been known to change to his personnel, and that's why without a real serious post threat (no Derrick Caracter or Arnett Moultrie), it's hard to see this team slowing down too much.
4. The best news for the teams that might be struggling in the bottom half of the league is that at least three have a star. Rice coach Ben Braun said Iranian Arsalan Kazemi, who played for the national team at the world championships in Turkey, had a sensational summer and should be ready for a major season. East Carolina's Brock Young and SMU's Papa Dia, who made the preseason first- and second-teams respectively, will at least provide a reason to watch the Pirates and Mustangs this season.
5. When you sit at lunch and see the collection of coaches in this league, it really is amazing. When you look around the table and see Larry Eustachy, Tim Floyd, Matt Doherty, Jeff Lebo, Ben Braun, James Dickey and Mike Davis and know that they were all in high-major conferences and are now in this league, it says a lot about the coaching business. It is a fickle one at best. Fame is fleeting in this profession, but there is almost always a second chance. Conference USA is the epitome of that.
March, 25, 2010
03/25/10
9:19
AM ET
If you put up blind résumés for coaches, much like we do with bubble teams, then you would probably pick Billy Gillispie and Tim Floyd for available jobs over a number of other candidates.
Rebuilding programs, win totals and NCAA appearances, save Gillispie's second season at Kentucky, would probably indicate that these two would be solid choices to take over programs.
Both coaches are well respected in terms of practice, game and tactical decisions. Both are hard-working. Both are tireless recruiters.
But both have baggage.
And yet Gillispie and Floyd are seriously in the running for three open Conference USA jobs: Houston, Central Florida and now UTEP.
Both have ties to UTEP. Gillispie engineered quite a turnaround at the school by taking the Miners to the NCAAs. He did the same at Texas A&M before his tumultuous stint at Kentucky. Gillispie took the Miners from six wins to 24 in his two seasons with the school. He took the Aggies to two NCAA tournaments in three seasons and one of two at Kentucky. Gillispie was fired at Kentucky and then had a rough offseason, as he was arrested for a DUI before checking himself into rehab.
The UTEP job might be more of a rebuilding situation if Derrick Caracter leaves, as expected, for the NBA draft. Caracter wasn't on the team charter back from San Jose last week after losing to Butler. UTEP officials are expecting him to declare for the draft and possibly not return to school to finish the semester.
Meanwhile, Floyd has coached in the NBA for the Chicago Bulls and New Orleans Hornets and all levels in college (Idaho, New Orleans, Iowa State and USC). He was an assistant to Don Haskins at UTEP before moving on to a head-coaching job.
Floyd's last college stint, at USC, ended with his abrupt resignation last year, and was marred by an NCAA investigation of violations, including an allegation that he paid O.J. Mayo's confidant Rodney Guillory $1,000 cash -- a charge Floyd denied. USC appeared in front of the committee on infractions in February, with a decision due sometime in the next month. Floyd was out of coaching for the first part of this season before being hired as an assistant on the Hornets' staff.
But what will it take to hire Gillispie or Floyd at one of these three jobs?
According to a few sources, at least one within Conference USA, there has to be a few things going for the schools to make these hires:
• A school president who is willing to take a gamble, who puts a premium on winning and who can stand in front of the media and handle the tough questions.
• A strong athletic director who is empowered by the president. The AD can't make this hire alone. But by making the hire, he is saying that he wants to win. At the time then-Indiana athletic director Rick Greenspan hired Kelvin Sampson, Greenspan was in a powerful position. Sampson had already had NCAA issues at Oklahoma, and when similar violations occurred at Indiana the coach was forced out and, eventually, so too was Greenspan.
• Whichever school makes the hire, it would need to have a sympathetic community and fan base. Clearly, UTEP and Houston would fit this more than a potentially apathetic Orlando community around Central Florida.
If you remember, at the time Bob Knight was available, he needed this base to line up at Texas Tech after he was fired at Indiana. He had all of the above elements in place in Lubbock. The same was true for Bob Huggins when he was looking for work at Kansas State after being fired at Cincinnati.
No one disputes that Gillispie deserves a second chance. Floyd, however, will be an interesting case to watch. It might be hard to see if a school hires him before the NCAA renders its decision on USC. There is also a split view among a number of coaches of the timing of Floyd's decision to resign. His former assistants were a bit miffed at the time that Floyd didn't stand his ground and fight the allegations. He might not have had a choice from USC athletic director Mike Garrett, but the resignation caught a number of coaches, including his staff, off guard. Floyd has started to become more outspoken recently about not being supported by Garrett. That's why Floyd will need a sympathetic ear, and his best chance is likely at UTEP, where he is fondly remembered. Houston would likely do the same for Gillispie since he was so well-liked at nearby Texas A&M for helping turn the program around.
If they both end up in Conference USA, then it would truly be the landing ground for coaches in search of a second or third chance. Southern Miss' Larry Eustachy, one of Floyd's good friends, and SMU's Matt Doherty are two of the latest examples. East Carolina just hired Auburn's fired Jeff Lebo. Rice coach Ben Braun was fired at Cal.
Houston is looking closely at Floyd, Gillispie, Sam Houston State's Bob Marlin and Texas assistant Rodney Terry. UTEP will likely focus on Gillispie, Floyd and Marlin, while UCF has already targeted Gillispie, Floyd, Murray State's Billy Kennedy, Marshall's Donnie Jones, former Sacramento Kings and New Mexico State coach Reggie Theus, Morgan State coach Todd Bozeman and former Alabama and current ESPN analyst Mark Gottfried.
If Floyd and Gillispie are going to get back in as Division I head coaches at a high level, then it appears one of these three Conference USA jobs might be their best chance.
September, 14, 2009
09/14/09
11:09
AM ET
Angel Garcia hasn't played a minute for Memphis since he arrived a year ago.
Yet, the news that he tore his ACL made headlines across the country, including on the front page of ESPN.com.
"I had never heard of the kid, I wasn't aware he was on the roster," Houston coach Tom Penders said. "[Former Memphis coach John Calipari] is a good friend of mine and he had never talked about him."
[+] Enlarge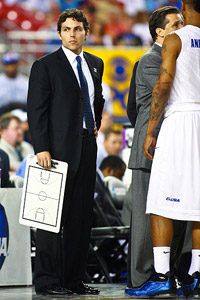 Chris Morrison/US PresswireNew Memphis coach Josh Pastner won't have to look far to see the rest of C-USA trying to catch him.
Meanwhile, the Tigers received two high-profile commitments for 2010-11 over the past few months -- one earlier in the summer from the top shooting guard on the ESPNU Top 100, Will Barton (Brewster Academy, Baltimore, Md.), and one last week on the same day as the Garcia injury, from the No. 5 point guard in the class, Joe Jackson (White Station High School, Memphis). And with each commitment the Tigers were the only headline from Conference USA.
"We don't announce commitments until they're signed," said Penders. Memphis didn't announce the commitments but the news, like many items about top players, tends to leak out.
The Calipari-less Tigers, now led by Josh Pastner in his first head-coaching gig, still are the team of record in Conference USA. It doesn't matter what they do, the news follows them. And nothing done by Houston, Tulsa or UTEP -- arguably the three schools that could make a strong case to be tabbed as favorites this season instead of Memphis -- seems to matter.
Tulsa was ranked No. 21 in my latest preseason top 25. Memphis was not ranked.
"They've done it, they've got stuff UTEP, Tulsa and Houston don't have and that doesn't bother me at all," Tulsa coach Doug Wojcik said of the Tigers' national recognition, NCAA tournament appearances, NBA arena and passionate fan base that does top the league.
"Nothing is going to change until something happens on the court," UTEP coach Tony Barbee said. "All of the news and the offseason articles [about Memphis], well none of that will change. Wins and losses change the perception."
Wojcik disagrees a bit. He said the publicity Tulsa received in the offseason has changed the perception of the Golden Hurricane. The word is out that Tulsa will likely be tabbed as the conference favorite.
"There's no doubt it has shifted for me a bit," Wojcik said. "But we've all got to go out and win some games in the nonconference. Memphis did play for the national title. You can't forget that."
Conference USA has had a serious image problem for the past few seasons. Memphis has dominated the conference the past three seasons, winning 58 straight league games. C-USA hasn't had multiple bids to the NCAA tournament since 2006, when UAB got in with Memphis, one year after the league lost marquee members Louisville, Cincinnati and Marquette to the Big East.
The conference could have done a better job of lobbying for its most marketable player in Tulsa senior center Jerome Jordan, a lock for the NBA first round. Jordan wasn't named one of the top 50 preseason Wooden Award candidates, something that befuddled Wojcik.
The change in thinking about Conference USA won't occur in the preseason. It might not happen until March. But it could happen in February if Tulsa can pull off an upset at Duke. Barbee said he likes the Duke game for Tulsa and Conference USA, but only if Tulsa wins.
Wojcik jumped at the chance to play at Cameron Indoor on Feb. 25 on ESPN. Wojcik, who was an assistant to Matt Doherty at North Carolina, knows the importance of playing in Durham late in the season. He said he wanted the experience for his seniors Jordan and Ben Uzoh.
"I love it, why not play that game in November, December, January or February?" Wojcik said. "It will give them a lifetime memory. That will be a huge RPI game for us, on national TV, and will prepare us for the tournament. I love that game."
He's right. Rarely do teams that are possibly on the bubble get a game like Tulsa's at Duke in late February. The BracketBusters event doesn't produce a matchup like that. Tulsa plays host to Oklahoma State, a likely NCAA team out of the Big 12 on Dec. 2, and based on the rest of the nonconference schedule the Cowboys might be the only NCAA-bound team the Golden Hurricane play prior to the Duke game.
Wojcik added the last piece to a team that won 25 games last season when Donte Medder joined the team. Through individual workouts Medder has been everything Wojcik hoped for with his "old-style game" and his strength at the point that allow Uzoh to move to shooting guard. Jordan Clarkson, a 6-foot-4 shooting guard out of San Antonio, the No. 63-ranked guard on ESPNU's list, is Wojcik's Joe Jackson-like recruit -- a potential game changer even though few outside of the region have noticed the commitment.
"[The changing perception] is not going to happen until someone else steps up on the national stage," Barbee said. "This is a high-level league and Tulsa and Houston have been a few wins away from getting over the hump. Someone else has to prove it. If you look at Memphis' roster they still have the talent to win the league."
While Pastner did add Duke guard Elliot Williams for this season after he was granted a waiver to play immediately due to an ailing relative in his hometown of Memphis, Pastner is quick to point out not everything has been going smoothly. The Tigers did lose expected frontcourt contributor Latavious Williams to an overseas contract. The Tigers will lean on Willie Kemp, Doneal Mack and Roburt Sallie, all returnees but none of them stars yet, to lead a depleted roster (eight scholarship players) this season.
Memphis' season isn't affected by the ruling by the NCAA's committee on infractions that its wins in the 2007-08 season, including the national finals appearance, had to be vacated for the use of an ineligible player (Derrick Rose). Of course that was a headline for weeks and deservedly so. But the Tigers are the team of record in Conference USA, regardless of what is occurring on the other contenders' campuses.
"All of this is a credit to what Coach Cal built at Memphis, making this an elite program," said Pastner, who worked one season for Calipari as an assistant. "We don't want there to be a drop-off. Our assistants are doing a super job in recruiting so far. We know this is a really good league and we want to be right there."
The Tigers do have four high-profile nonconference games that are leftovers from the Calipari era. Memphis will play Kansas in St. Louis on Nov. 17 in a rematch of the 2008 title game; play Tennessee on Dec. 31; are at Syracuse on Jan. 6; and host Gonzaga on Feb. 6.
"Josh has the toughest job in the country," Penders said. "There's no question he does. But he had to take the job [when Calipari went to Kentucky]. People forget about the Tic Price or Larry Finch stuff before Calipari. Memphis has had good players, but there is no Tyreke Evans or Derrick Rose. But I hope they are still good for all of us. We need them to be."
Putting Houston near the top of C-USA wouldn't be a reach, either. The backcourt of Aubrey Coleman and Kelvin Lewis averaged a combined 37 points a game last season. Sophomore point Desmond Wade was just the sixth freshman to reach triple digits in assists (113).
And Penders, never shy promoting his squad, said even Coleman and Lewis are being pushed for playing time by "the new guys." Penders was referring to JC transfers Adam Brown and Maurice McNeil. He said two freshmen, power forward Kirk Van Slyke and guard Nick Haywood, are impact players, too.
"We've got a lot of good pieces," Penders said. "I know how good we are. It's the best team we've had."
If that's the case then Houston needs to win games like its matchups against Oklahoma in the first round of the Great Alaska Shootout Nov. 26, against top-25 team Mississippi State at Hofheinz Pavilion on Dec. 19, and versus Sun Belt favorite Western Kentucky in Bowling Green, Ky., on Feb. 9.
The league finally moved the tournament out of Memphis and shifted it to Tulsa. The advantage is now for the Golden Hurricane.
"The chances are greater for getting more than one team in the tournament if someone else wins the league and Tulsa wins the playoffs," Penders said.
But if Conference USA is going to shake the news blackout outside of Memphis the change may come from UTEP. No player entering the league this season has had more written about him during his college career than Derrick Caracter, the much-maligned former Louisville center. Caracter will be eligible in mid-December. Caracter is now listed at 6-9, 275. Barbee said he arrived last January at 300 pounds.
"He's been the most impressive player I've ever seen skillwise in individual workouts," said Barbee, who was a Calipari assistant prior to getting the UTEP job in 2006. "He's been great the last two weeks."
Louisville coach Rick Pitino had issues with Caracter's conditioning. Barbee said that hasn't been a problem for him.
"Whether he's looking at this as a second chance or last chance, he's highly motivated right now," Barbee said.
Once Caracter is eligible, it will be hard to find a more imposing tandem of big men in the league than Caracter and 6-11, 240-pound Arnett Moultrie. Moultrie was a key big man for the gold medal-winning U.S. under-19 world championship team in New Zealand last July.
"[Moultrie] came back with the confidence I thought he would return with," Barbee said. "He's put on [nearly] 20 pounds. He knows he belongs."
Arizona State transfer wing Christian Polk, who Barbee said is playing with a bit of a chip, and the return of one of the more maligned backcourts in the country in Randy Culpepper and Julyan Stone give the Miners a possible C-USA championship lineup. The Miners did lose 24-point scorer Stefon Jackson off a 23-win team last season. But the newcomers and the returnees make the Miners a formidable option atop the league.
UTEP's schedule has the potential to produce power-rating points if Ole Miss (in Southhaven, Miss., on Dec. 16), Oklahoma (in Oklahoma City on Dec. 21) and BYU (Jan. 9) live up to expectations of being NCAA-bound teams.
Clearly, the rest of the league -- UAB, Southern Miss, Central Florida, Tulane, SMU, Rice, Marshall and East Carolina -- can't be in power-rating purgatory if the image is going to change this season.
The window is open for UTEP, Houston and Tulsa to grab the league from Memphis and make this a multiple-bid conference in March and ensure that there are headlines from the members other than the Tigers from January to March. If it doesn't happen this season, if these squads can't make themselves relevant now, then the league will have an even harder time convincing television executives that there is more to see here. The NCAA tournament selection committee will have the final say in March. But there are no gifts. The opportunity is now to earn the bids and make the news themselves.