Category archive:

Houston Cougars
October, 30, 2013
10/30/13
9:22
PM ET
If the 2014 NBA draft lives up to its hype, the upcoming college basketball season could rival or supersede any since the turn of the century.
That's a big if.
But the buzz isn't going away and won't unless the returning and incoming talent takes a dramatic drop from preseason projections.
Let's assume Kansas freshman Andrew Wiggins, Kentucky freshman Julius Randle and Oklahoma State sophomore Marcus Smart are locks for the top three to five spots in the NBA draft. Who else registers with NBA decision-makers to fill out the top 10?
Parker will pair up with Mississippi State transfer Rodney Hood to create a dynamic tandem for the Blue Devils. Parker's overall basketball IQ makes him a cinch to be in the top 10. He will be in the running for ACC Player of the Year with Hood, Virginia's Joe Harris and Syracuse's C.J. Fair.
Wiggins has swallowed most of the oxygen coming from Lawrence, but Bill Self potentially has one of the best big men he has coached at KU in Embiid. He is a sponge, soaking up knowledge, and could be the most dominant big man outside of Randle this season.

Robinson is described as having a pro game with excellent shooting skills. The trick will be how he handles being much more of a featured presence for the Wolverines.

McGary could have easily bolted from Michigan after its Final Four run last season. He was a hot candidate in an incredibly weak draft, yet he chose to return. Now, he's battling back issues. The upside is there, but he needs to show well for a full season.
Kentucky coach John Calipari isn't hesitating promoting Young's skill set. If he has Michael Kidd-Gilchrist's work ethic but is even better in the skill department, Young could be a sleeper to shoot up into the top five in June.
Gordon was the MVP of the United States' under-19 gold-medal-winning team in the Czech Republic in July. His athleticism was on full display in the event. But Gordon will need to show he can shoot and defend to ensure he's a top-five talent.
Harrison will step in as the Wildcats' point guard. If he stands out, the long line of highly placed Calipari-coached point guards will continue to dominate the lottery.
October, 29, 2013
10/29/13
11:56
PM ET
With alignment on hold until after next season, the lines have been drawn, the places set. Now, it's time for programs that have lost their way to lock in and start the climb out of mediocrity.
Such as:
The Demon Deacons stuck with Jeff Bzdelik for a fourth season after winning just 13 games in each of the past two seasons. Transfers have become all too common in the program. There was progress last season: winning six conference games, beating ACC champ Miami and knocking off NC State. But the Demon Deacons couldn't win on the road. Climbing out of the bottom third will be even tougher this year with the additions of Syracuse, Pitt and Notre Dame, not to mention the forthcoming switch of Maryland for Louisville. Wake Forest athletic director Ron Wellman and Bzdelik are good friends. Wellman put his stake in Bzdelik and has to see this through. Now is the time for the Demon Deacons to make a move to ensure that the rocky road was worth the wait. The Wake Forest fan base is one of the most passionate in the league. It's a shame that it hasn't had the opportunity to create a feared, frenzied atmosphere like the one it had less than 10 years ago.
The Cornhuskers are investing in basketball like never before. Nebraska is playing in $179 million Pinnacle Bank Arena. Coach Tim Miles is entering his second season. He has a young team in Lincoln, and there will be growing pains. Still, there needs to be a return investment. The Huskers must make Lincoln a feared road stop in the Big Ten going forward. Nebraska has a chance to show promise. The time is now to make a move before even the most passionate fans begin to lose interest.
The Mountaineers' transition to a new league might have been the toughest of any team that moved. That shouldn't have derailed a program Bob Huggins had rolling to a Final Four just over three years ago. Huggins has too much pride to let West Virginia wallow in mediocrity, but the talent drain was in effect last season. There were recruiting mistakes and opportunities lost. The Mountaineers must make Morgantown as difficult a road stop for opposing teams. Moving into the league's top four is more than doable for the Mountaineers.
The Pirates might be one of the biggest beneficiaries of a move to a smaller conference. Seton Hall was lost amid the bloated old Big East. Now the opportunity is there for the Hall to climb. A strong 2014-15 recruiting class should give hope. There is optimism for one of the most difficult high-major jobs in the Northeast. Kevin Willard is entering his fourth season as a .500 coach, but he could be judged with a clean slate in a new league where the true round-robin schedule will be a fair barometer. The new Big East desperately needs the New York-market teams to matter in March. St. John's appears to be ready to accept the responsibility. The Pirates must do their share, too.
If you've never seen the Huntsman Center rocking, then you've missed out on one of the top home courts in the West. The problem is that those instances, since the late Rick Majerus was on the sideline, have been limited. Crime-fighting coach Larry Krystkowiak has the right demeanor, character and credibility to deliver a winner, but the corner must be turned soon. Utah can -- and should -- be one of the rising teams in a conference that allows plenty of chances for schools to take a turn near the top. If once downtrodden Colorado can be a regular, established contender, then Utah can as well. Krystkowiak said he believes in the younger players in the program. Now it must ignite the passion that once made Salt Lake City an intimidating destination.
Georgia has always been one of the more intriguing SEC teams not named Kentucky or Florida. The Bulldogs are within range of plenty of talent, notably in Atlanta, even going against hometown Georgia Tech. The Bulldogs have a determined and loyal fan base that craves a winner. Mark Fox has coached and recruited pros, but he hasn't been able to get that talent to win consistently in the postseason. The SEC is wide open beyond the top two teams, with room after that for whoever can produce. If there ever was a time to make a move back into being a team of consequence, this is it.
When Guy Lewis was inducted into the Basketball Hall of Fame last month, it brought back memories of the Cougars' dominance in the 1980s. That era is long gone while Houston has spent time in the Witness Protection Program. Now the Cougars have come out of their shell in the American Conference, where there is a real opportunity for Houston to get on the national stage. Once Louisville leaves, UConn, Memphis and Cincinnati will need challengers. Temple and SMU might take their shot. Houston, though, can draw from as much, if not more, of a talent base than any school outside of Memphis. The Cougars might never have a better chance to be a factor than right now. The 1980s aren't coming back, but Houston has a shot to create its own revival.
September, 5, 2013
09/05/13
5:41
PM ET
Jimmy Duffer is one of the people you probably never knew was a part of the famed Phi Slama Jama.
Duffer and Ralph Adams were student managers. And yet they felt treated as equals by coach Guy V. Lewis -- on par with superstars Hakeem Olajuwon and Clyde Drexler.
"I don't know if words can do justice from someone as simple as me,'' said Duffer, now 51, and in his 11th year as head boys basketball coach at Milby High School in Houston. "I owe a lot to this man.''
This man, Guy V. Lewis, will be inducted into the Basketball Hall of Fame Sunday in Springfield, Mass., at age 91. He will be overshadowed by coaches Rick Pitino and Jerry Tarkanian in one sense because he has been out of the game longer.
But Lewis' five Final Four appearances, his coaching of the famed Cougars in that epic 1983 title game loss to NC State, and his ability to bring in immense talent like the aforementioned Olajuwon and Drexler and iconic names like Elvin Hayes, Don Chaney and Otis Birdsong put Lewis on a historic level. He will forever be remembered for coaching Hayes and the Cougars in what was termed the "Game of the Century,'' as Houston upset UCLA at the Astrodome in front of 50,000-plus and a national TV audience in 1968.
Yet throughout his career, Lewis had a tremendous effect on those who few knew -- people like Duffer.
"My parents didn't go to college, they were just hardworking people,'' Duffer said. "I wouldn't have gone to college. I couldn't afford to go. But this gentleman gave me a chance to be a small part of the team.
"I washed clothes, gave people shoes, I straightened chairs. My role on the team was a small one. But here's a guy, he paid for my school by giving me a scholarship and then gave me an extra year to finish. Ralph Adams had the same deal. That's how well he treated us. He made us feel special. I wouldn't be in this profession if it weren't for Guy Lewis.''
When Duffer and Adams were entering school, managers were allowed to be on scholarship, and Duffer said Lewis didn't hesitate to make it right for them. Lewis had known and recruited a few players at Milby, where Duffer was attending. So he offered a chance to Duffer, who was there to witness one of the most glorious runs in college basketball history from 1981-85 as the Cougars played in three straight Final Fours, losing in the title games to NC State and Georgetown in the last two.
"At that time, the majority of the people on the team were Houston products,'' Duffer said. "Everyone knew everybody. Houston was a small school in the Southwest Conference. We were different. We felt different. We all had a chip on our shoulder and didn't feel the conference treated us the same way. If we ever needed anything, we went to Coach Lewis.''
Lewis coached the Cougars from 1956 to 1986. That's it. His only stop. And Houston has never been the same since he left -- having gone to the tourney only four times since then, with zero wins.
"When he had his stroke [in 2002], we were all there in the hospital,'' Duffer said. "That's how it was. He's a part of all of our families. He felt like he was our granddad.''
Duffer said Lewis' small-town upbringing in Arp, Texas, may have had something to do with his ability to blend with anyone in a number of different situations. He certainly had a diverse team and pulled in players from all over the region, regardless of ethnicity or color of skin. Dave Rose, the current head coach of BYU, speaks so glowingly of Lewis and what playing for him has meant. Rose was a guard on the Phi Slama Jama team, hardly the high flyer but treated equally by his coach.
"Coach Lewis made a commitment to everyone he signed that if you played basketball at the University of Houston, he was going to pay for your education [with a scholarship], even if you went 15 years before you came back,'' Duffer said. "He was loyal to them and they were loyal to him. We were all Cougar family.''
Duffer said managers in the 1960s, who were there for the Elvin Hayes era, relayed to him that they were given the same privileges as the players then as they were during his era in the '80s.
Duffer said the '83 loss haunted Lewis for a long time. He said he wouldn't say how much, but it did. And for so many years, there was a growing concern among the Cougar family that Lewis' induction, if it came at all, would come too late.
"We all worried it would come after he passed away,'' Duffer said. "It was so important to all of us that he see this. He was such a pioneer in the game. He was in Houston, Texas, in the 1960s and going into small-town Louisiana and recruiting Elvin Hayes and Don Chaney and bringing them to Houston, which was still the Deep South. That was unheard of, and he did it.
"He wasn't someone who just rolled the balls out and didn't coach. He coached his ass off and everybody knew it.''
There was a strong push to get Lewis in over the years, and Duffer credits Olajuwon, Drexler, Birdsong and CBS broadcaster Jim Nantz, a UH graduate. Duffer said health problems will prevent him from being in attendance this weekend, but Adams, his fellow manager, and a number of other "Cougar family" members will be there Sunday.
"I wouldn't be in this profession I'm in without Guy Lewis,'' Duffer said. "I feel like my career has meaning now. I've been on cloud nine since it was announced. My players have no idea who Guy V. Lewis is, but they know he was Coach Duffer's coach. It means the world to me. I'm glad he's alive to see it.''
Editor's Note: For more reflections on Guy Lewis' career, read our full coverage in the Nation blog.
July, 6, 2012
07/06/12
6:59
PM ET
When it came to bylaws about departing teams, the Horizon, Colonial and America East didn't buckle.
There are consequences that come along with a departure. Being ineligible for the conference tournament is one of them for these leagues. Butler (Horizon) and Virginia Commonwealth (CAA) accepted that and got to the Atlantic 10 as fast as possible.
What school wouldn't do the same if the opportunity existed? Scheduling, television exposure and tourney access are the most important reasons -- outside of the financial benefits -- for being in a conference.
Take away the ability to play for an automatic NCAA tournament berth and the season can seem like a waste. Postseason bans, such as the one USC had recently and the one Connecticut will endure this season, take the air out of the season -- even if the schools and coaches do all they can to create a new goal of winning a regular-season title.
Even though both would likely be contenders for at-large berths, Butler and VCU took no chances.
Boston University, on the other hand, probably would leave for the Patriot League tomorrow if it could. The Terriers weren't pleased with the decision by the America East to uphold its bylaws, but they are stuck. The current team will have to deal with it.
Old Dominion and Georgia State were hoping the CAA would lift its ban, but it did not. Georgia State went as far as to explore trying to get into the Sun Belt sooner, but that didn't happen.
The Horizon, CAA and America East are actually not the norm historically.
After losing members in the past decade, the Big East, Atlantic 10, Big West, C-USA, Mountain West and WAC have not even broached the subject, much like the Big 12 didn't when it lost members to the Pac-12, Big Ten and SEC. The Big East didn't block West Virginia from playing in the conference tournament a year ago after it announced its hasty departure to the Big 12. Perhaps the smaller conferences are worried that the league will have only one bid and don't want it to go to the school with one foot out the door.
[+] Enlarge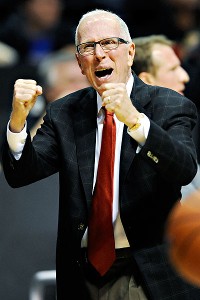 Christopher Hanewinckel/US PresswireSteve Fisher and the Aztecs will get a chance to compete in their final MWC tourney.
But when I asked some of the coaches playing in their final season in a conference, the question was met with near astonishment.
Pitt coach Jamie Dixon wanted to know if I was joking. San Diego State's Steve Fisher said he hadn't even heard of these conferences not allowing schools to participate. Utah State's Stew Morrill said he didn't think the WAC would do such a thing since previous schools that left weren't treated in that manner. Memphis coach Josh Pastner said he would be incredibly disappointed if that occurred. (C-USA took away the conference tournament from the city of Memphis but didn't remove the Tigers' ability to play for the title.)
But what would happen if these conferences turned on the departing teams in 2013? It's too late to change the bylaws and isn't going to happen, but it's still fun to play the "what if" game.
What effect would it have had on the Big East to take Pittsburgh and Syracuse out of the tournament?
A serious blow. The league may be squabbling with the two schools -- and will do so in court with Pitt -- but it needs these two in the conference tournament as long as possible. Syracuse is a natural draw at Madison Square Garden. Taking the Orange out of the Big East would have been a major mistake. The Orange and Panthers still don't have a definitive arrival date in the ACC, but it's likely to be in the summer of 2013.
What would it have done to Syracuse and Pitt for a potential at-large berth?
Likely no issue at all. Both have teams that look like virtual locks for an at-large bid.
What would happen to the Atlantic 10 if Temple and Charlotte weren't allowed in the tournament?
Let's be honest: Charlotte won't be missed on its way back to Conference USA. But Temple's departure will be a hit, as the Owls have consistently been a major part of the A-10 tournament. Not having a Temple presence, prior to the Owls' exit to the Big East, would have hurt the tourney's debut in Brooklyn. Bringing in Butler and VCU will offset the loss, but Temple still is very much associated with the A-10 brand.
What if the Big West banned Pacific?
That would be just cruel. The Big West has had teams leave before, and it might happen again. Plus, this is coach Bob Thomason's final season after a quarter-century at his alma mater, and he said he has a team that could challenge for the Big West title. He has been a loyal member, and Pacific is leaving for the all-private WCC. No harm in letting the Tigers finish up, and it won't hurt the Big West one bit.
What if Conference USA blocked Memphis, SMU, UCF and Houston?
Then C-USA would have a tournament that lacked any sort of buzz. Marshall is a legitimate title challenger to Memphis, and UTEP should be in contention. If the Tigers had been blocked from being in the tournament, after it was taken from the city, C-USA's relevance during Championship Week would have been diminished even more. It's still hard to say how many Memphis fans will travel to Tulsa, Okla., but the Tigers do have a significant following. This was a smart move by the league to not play bitter politics with the departing members.
What would the Mountain West tournament be like without San Diego State and Boise State?
A bit less exciting. The Aztecs have been one of the consistent winners in the MWC with UNLV and New Mexico. Take SDSU, off to the Big West, out of the event in Las Vegas, and the tournament would lose luster. No offense to Boise, but no one would likely notice if the Broncos weren't invited. But SDSU matters a great deal. The Aztecs will be a top-25 team alongside UNLV. Taking them out of the conference tournament would have been a storyline the MWC doesn't need in March.
What would a WAC tournament look like without Utah State and San Jose State?
Not worth it. USU has been the benchmark program in the WAC since Morrill arrived. New Mexico State can't anchor the conference on its own. NMSU needs a rival, and Utah State has been that nemesis. San Jose State wouldn't be missed, but the Aggies' absence would have been a glaring omission in Las Vegas. Rebuilding Utah State will likely need the tournament to get a bid this season, but the WAC was in no position to be punitive. So the Aggies will have one final chance to represent the WAC before it joins SJSU and former WAC members Fresno State and Nevada in the Mountain West.
December, 9, 2011
12/09/11
11:34
PM ET
The fallout from the Big East's shakeup in football and basketball this week will continue for weeks, if not months or years.
So after another week of changes, the basketball winners and losers can be summed up this way:
Winner
The Big West: Getting San Diego State is a major coup for this league. Steve Fisher's Aztecs are going to be an NCAA tournament team on a regular basis and a national player for getting marquee games. SDSU has a chance to be the Gonzaga of the Big West. The Aztecs won't be as good as the old UNLV teams that won a national title, but being the dominant player that can attract marquee games and attention for the Big West is a great get.
Loser
The Big East: You simply can't make this three-team trade (Out: Pitt, Syracuse, West Virginia; In: Central Florida, Houston, SMU) and not come out looking worse. The pool of teams the Big East had to choose from was small, but it still could have made a few more moves to appease football and basketball. The conference acquired new television markets, but the quality of play will go down and the matchups for the television partners won't be as palatable.
Biggest mess
The 2013 season: If Big East commissioner John Marinatto gets his way, the Big East will have 19 members for one season when the three new schools come aboard and Pitt, Syracuse and West Virginia have to stay. Big East associate commissioner Tom Odjakjian will have a thankless job as he tries to schedule a season that will keep him up at night.
The ongoing fight
West Virginia: The Mountaineers want to play in the Big 12. The Big East says they have to stay. This will likely end up being decided by a judge.
The unknown
Boise State: If coach Leon Rice can continue to improve the program, the Broncos can flourish in the WAC and become a player for a bid quicker there than in the Mountain West.
The potential
Houston, which has a solid recruiting class in 2012, and SMU have had their moments in the past, but the school that gets the tag as the one with the most potential of all the additions could be Central Florida. The Knights have a shot to make more of an impact in the Big East than South Florida has because of UCF's location and facilities. The Knights must stay out of the way of the NCAA's enforcement group after getting caught with violations that cost coach Donnie Jones the first three games of the C-USA season. Still, Jones has taken down Florida and Connecticut on neutral courts in each of the past two seasons.
The biggest question
When the 2014 season begins, will Louisville, Connecticut and Notre Dame be in the Big East? We just don't know.