Category archive:

Pepperdine Waves
December, 29, 2011
12/29/11
7:37
PM ET
The West Coast Conference season officially started with Gonzaga's blowout win over Portland on Wednesday night. But the race to the top truly begins with Thursday's opener between BYU and Saint Mary's at McKeon Pavilion in Moraga, Calif. Here's a look at what to expect in WCC play:
[+] Enlarge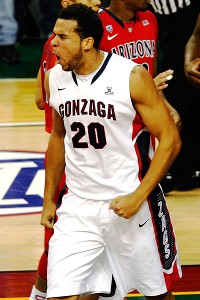 AP Photo/Kevin P. CaseyElias Harris is again the favorite to win the West Coast Conference.
The favorite: Gonzaga, winner of 11 straight regular-season titles, was the favorite in the preseason and nothing has changed heading into conference play. The Zags have rebounded well from consecutive losses to Big Ten teams (at Illinois, vs. Michigan State) with a solid stretch that includes wins against Arizona and Butler. And a 20-point win over Notre Dame in November now looks even more impressive after the Irish took apart Pitt earlier this week.
The Zags still have the most experienced big man in Robert Sacre and one of the toughest matchups in Elias Harris on the wing. The guard play is erratic, but freshman Kevin Pangos has the potential to go off with a flurry of made shots. The league schedule is loaded at the front with road games at Saint Mary's and BYU in the first half of the schedule. But that means Gonzaga will be able to finish strong with both contenders at home.
Other contenders: BYU has the talent to win the WCC, but coach Dave Rose is concerned that none of his players have played in any of the league's unique gyms. Then again, none of the WCC players have experienced the raucous Marriott Center, either.
Fact is, the Cougars are a different team now with UCLA transfer Matt Carlino as the do-everything guard. He is a playmaker and is averaging 17.3 points and 4.8 assists in the first four games of his college career. If Carlino had been eligible from the start, BYU would've likely won its opener at Utah State and at least come closer against Wisconsin.
The Cougars have enough size inside to be disruptive with Noah Hartsock and Brandon Davies and wing Charles Abouo has had his moments. Gonzaga is the favorite but if BYU were to win the WCC in its first season, no one should be stunned.
Saint Mary's isn't as balanced and doesn't have the imposing force (Omar Samhan) it did during the Sweet 16 run of 2010, but the Gaels do have two blowout wins over Missouri Valley contenders Northern Iowa and Missouri State. This team can't be dismissed.
For SMC to pull it off, it will need an exceptionally consistent season from Rob Jones inside and Matthew Dellavedova on the perimeter. Kenton Walker II has been a solid complement to Jones as well, but guards Clint Steindl, Stephen Holt and Jorden Page must have their moments for the Gaels to be a true contender.
Player of the year (so far): This is a tough one. The race is wide open. You could make a case for sharpshooting freshman Kevin Pangos, but ultimately Elias Harris is the Zags' star and has the most potential to post a double-double every game. The sleeper MVP pick could be Carlino. The early returns are strong, as he's already made a significant impact in Provo. If BYU wins the WCC, Carlino will likely be in the mix. Same goes for Rob Jones if Saint Mary's can end the Gonzaga hex.
Freshman of the year (so far): OK, this award can definitely be reserved for Pangos. The Canadian came in highly touted and hasn't disappointed one bit, leading Gonzaga with 14.9 points per game and 43 percent 3-point shooting. No other player in the league can go off in stretches the way Pangos has so far this season.
[+] Enlarge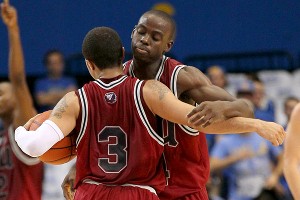 Stephen Dunn/Getty ImagesLoyola Marymount is inconsistent, but does have two of the WCC's most impressive wins.
Wins to brag about: LMU over Saint Louis and UCLA; Gonzaga over Arizona; Santa Clara over New Mexico and Villanova; Saint Mary's over Northern Iowa and Missouri State; BYU over Oregon.
Losses that sting: Pepperdine to Cal State-Bakersfield; BYU to rival Utah State; Santa Clara to Houston Baptist and by 38 to Washington State; San Francisco to Holy Cross.
Pleasant surprises: LMU and Santa Clara had erratic but solid starts to the season that proved both schools could be tough outs throughout the conference season. … BYU doesn't appear to be headed for a down cycle despite the loss of Jimmer Fredette and Jackson Emery. … The WCC continues to schedule up and get quality nonconference games, many of which its teams are winning (see above).
Biggest disappointments: Portland coach Eric Reveno is one of the most solid individuals in the coaching business, but the Pilots have lost their core group of guys and are really struggling. They've lost 11 of their past 12 against a tough slate. … Loyola Marymount wins at UCLA and beats Saint Louis yet can't find any consistency. There's no shame in losing to Middle Tennessee or Harvard this season, but one would think the Lions could've taken out North Texas and Morgan State. … Santa Clara's Marc Trasolini suffered a season-ending injury in September, which has really kept the Broncos from reaching their full potential.
Three questions
Will Gonzaga finally reach the Elite Eight for the first time since 1999?
The Zags have had a few Sweet 16s, but haven't reached a regional final since that initial magical run nearly 13 years ago. Gonzaga has a shot this season if Sacre can be the strong man in the post every night. There are decent rotation players to complement him, but he has to raise his game to be a more dominant player in March.
Which team not named Gonzaga, BYU or Saint Mary's could crack the top three?
LMU hasn't shown the consistency needed to be a real contender, so the team that might have the goods is Santa Clara. The Broncos' Kevin Foster is talented enough to carry this team to some big wins and coach Kerry Keating has now been in this league long enough to understand the nuances of winning on the road.
Why should BYU be looked at as a possible favorite to win the conference tournament?
The Cougars' core is tourney-tested and that'll help, but maybe a hidden reason will be the crowd. The Brigham Young faithful have a history of traveling well to Las Vegas and there is also a strong Cougar alumni base in the area. Don't be shocked if BYU matches or surpasses the famed Gonzaga travel party at the Orleans Arena, making BYU the de facto home team.
Revised predictions
1. Gonzaga: The Zags may be just too deep for everyone else in the league.
2. BYU: The Cougars can win the title, but it might come down to three straight road games down the stretch (USF, SCU, GU).
3. Saint Mary's: The Gaels have been here before. They aren't expected to win the title, yet they'll be pushing the favorite at the end.
4. Santa Clara: Kevin Foster is a star for the Broncos and they've developed a legit home-court presence.
5. Loyola Marymount: The Lions have top-three potential, but lack the overall depth to get it done.
6. San Francisco: The Dons have been a bit of a disappointment so far, so finishing in sixth is probably just right for this crew.
7. Pepperdine: This is a complete rebuilding situation for the Waves under first-year coach Marty Wilson.
8. San Diego: Meanwhile, the rebuilding project continues for embattled coach Bill Grier.
9. Portland: The Pilots could easily climb a few spots eventually, but it's hard to put them any higher during this 1-11 stretch.