Category archive:

BYU Cougars
September, 25, 2013
09/25/13
7:46
PM ET
The scans have been occurring twice a year for four years now.
And in each of the past eight scans, as Dave and Cheryl Rose waited for the doctor to return with the news, there was that moment, those agonizing minutes that left them wondering the worst.
They always knew there was the possibility the cancer would come back in some form. Dave escaped one of the least desirable diagnoses -- a pancreatic tumor. Instead, he "only" lost his spleen, a piece of his liver and part of his pancreas.
When you're facing what could be a life-threatening situation -- he writhed in pain and spit up blood on a flight to Las Vegas in June 2009 -- the news of cancer reappearing is hard to digest. But it is doable.
Rose had already been at his lowest physically. He had no reason to believe there was anything wrong, since the BYU coach was trailblazing as usual this summer in recruiting. But cancer can strike without warning.
[+] Enlarge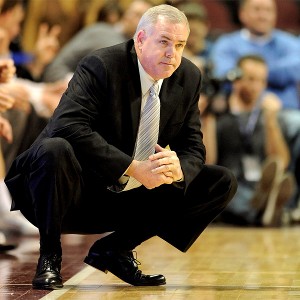 Ethan Miller/Getty ImagesDave Rose won't let cancer keep him off the BYU sideline.
"For 4½ years, you're hoping it wouldn't come back,'' Rose said. "Now they tell you it is. So you change gears. This is how we'll manage it. Eight scans clean and it wasn't an issue. But after each one, we had the conversation of what if the scan showed something. And then you hear it. It slaps you in the face. But then you realize, 'OK, this is what I've got, let's go.' We're looking at the positive things. It could be a lot worse.''
Rose said the first tumor was the size of an orange. The cancerous spots that were removed earlier this month, after the late August scan, "were half the size of a peanut.''
His doctors are aggressive. They won't wait for Rose to tell them when it's a good time to check. He has his regular visits set, with the next one in January. The recovery from this latest surgery won't be as long. No organs were removed. The incision was bigger, but the internal disruption was minimal compared to the previous procedure.
"I'm making sure I'm taking as much time as possible before the grind,'' Rose said.
Under a NCAA new rule, schools can start practicing 42 days before the time of their first game, meaning some programs can open Friday. The Cougars open their game schedule like much of the sport on Nov. 8, hosting Weber State. But the staff decided before Rose's surgery to start practicing Oct. 7 because of campus scheduling conflicts the following week. The surgery made holding off a better choice, too.
Rose has spent a few minutes a day in the office the past week. He was able to host recruits for the Utah-BYU football game last weekend. His strength and stamina are improving daily.
The appointments for the next scans are set for January and June. If there is an interruption in the season, to remove spots again, then so be it.
"This is my life now,'' Rose said. "There are a lot less invasive ways to remove the spots. Hopefully they don't have to do it but if they do, they could do same-day surgery. You could be out in the afternoon.''
His attitude has been tremendous. Cheryl has been a rock. His children have been strong, too. The BYU community's support has never wavered.
Oh, and the Cougars continue to win.
Since Rose's 2009 diagnosis, the Cougars have made the NCAA tournament three times and the NIT once. They have four NCAA wins and three in last year's NIT.
The Cougars are expected once again to be a potential thorn in the side of West Coast Conference leaders Gonzaga and Saint Mary's. It's a young and inexperienced frontcourt with a veteran backcourt.
"I like our chances,'' Rose said. "We've got a tough schedule, games I didn't want to turn down.''
BYU signed up for a loaded slate, including a date with Stanford on Nov. 11 as part of the Tipoff Marathon on ESPN2. They also play at the CBE in Kansas City with Texas and possibly Wichita State. Other games include Iowa State, rival Utah State in Salt Lake City, and on the road against Utah, Oregon and UMass
Freshmen Eric Mika and Luke Worthington will be expected to contribute immediately with returnee Nate Austin. Rose said Mika is one of the top recruits he has ever signed. If they can produce with Tyler Haws and Matt Carlino in the backcourt, the Cougars have a chance to be back in the NCAA tournament.
This team, like the four previous ones, continues to drive Rose to stay healthy, to get back as soon as can. Cancer isn't going to take away his career. For now, it is a stumbling block he can still hurdle.
The clean scans never meant he was always going to be cancer-free. He knew the possibilities, the odds of a return.
"Any time you mention cancer or a re-occurrence, then everyone's mind runs wild,'' Rose said. "The bottom line is for an abnormal situation, this is normal. This is the way it is designed to play out. The odds were this would happen. We're always hoping to beat the odds.''
But don't think for a second he is down or discouraged. He gets scared. Everyone does. But the care in Salt Lake City has been embraced. His optimism always high. His fight always on.
"The prognosis for me is so upbeat,'' Rose said. "I'm so positive. The tumor I have can be managed. That's not the case with all cancerous tumors. I've got one we can manage. Now we move on. I'm excited about this team. I'm going to be here for it. I can't wait.''
October, 10, 2012
10/10/12
4:27
PM ET
No Division I coach has to balance recruiting classes as much as BYU's Dave Rose.
And now his job has gotten even more difficult.
The Church of Jesus Christ of Latter-day Saints has announced that the minimum age requirement for church members' missions will be lowered. Men can take their missions at age 18, instead of 19, and women at age 19, down from 21.
For a men's basketball coach, that means that high school seniors who in the past went to BYU for a year -- either playing or as a redshirt -- and then went on a mission if they chose can now defer admission and go on the two-year mission first.
The player would then be able to stay at BYU upon returning for four or five years (if he were to redshirt) continuously. Of course, no one is made to go on a mission. Consensus player of the year Jimmer Fredette chose not to go on a mission. Former BYU star Danny Ainge didn't, either.
Rose said he has had players stay one year, leave for two, some go on missions, some not, and others go later in school.
"It's such a personal decision if you're going to serve or not," Rose said. "What this does is give them another option. I still believe we'll see more missionaries go at 19 or 20 or 21 but it will be interesting to see how it affects the players we sign."
The Cougars are counting heavily on Tyler Haws this season after he returned from his mission. He was one of their top scorers three seasons ago when he was a freshman.
Rose said Haws has returned in the best shape of any returning missionary. That's not always the case. There can be an adjustment period because the missionaries aren't usually playing basketball, sometimes at all, during the two-year absence.
"There are a lot of players we're involved with right now where that could be an issue," said Rose.
The most important recruit -- Chicago's Jabari Parker -- now has the option of deferring his enrollment and going on a mission after his senior year in high school. Parker reduced his list to five -- BYU, Duke, Stanford, Florida State and Michigan State (in no particular order) -- last week. Of course the expectation is that Parker would still go to school and then to the NBA, where he is projected as a possible top pick in 2014. But Parker now has an option.
"There is going to be a transition period while players decide how they're going to handle this," said Rose. "We have a spreadsheet that is very complicated and gets very full as we look at the next two or three years depending on the decisions they make.
"They can serve right away now, play one and then serve, not serve, come for two years and serve and then come back," said Rose. "For 2013-14, 14-15, 15-16, there could be some real challenges in the process. We'll try to get a good idea of what these players want to do."
But Rose said serving is a personal decision within the family and has a lot to do with the maturity of the individual. He said a lot of families would rather their son go to school for a year and deal with being homesick and then go on a mission, where it's much harder to be away for two-year period.
"You want your child to be comfortable and have them work through the homesickness first," said Rose. "These are personal decisions the families have to make. You have to get a feel that your child is ready to go out on his own. Every player has to decide this for themselves. My role as the head coach at BYU is to support it 100 percent. I tell them all make a decision and we'll support you."
Rose said it's hard to tell the advantages or disadvantages yet on when a player serves a mission. Regardless, the seven-year clock for BYU players -- four seasons of eligibility in a five-year period with the additional two missionary years -- hasn't changed.
"We have a group of players in the class of 2013-14 that we hope to sign in November and once they sign we'll go through to see what their individual situations will be," said Rose. "We've had it all here. Jimmer Fredette was the player of the year and didn't serve. We've had players leave and come back. Now all the options are available. So we'll have to see how it plays out."
Editor's Note: For more on how this might affect the recruitment of Jabari Parker, read Eamonn Brennan's take here.
September, 25, 2012
09/25/12
9:39
PM ET
BYU's decision to leave the Mountain West Conference, go independent in football, and join the West Coast Conference in all other sports for the 2011-12 season was supposed to hurt the Cougars' basketball program because it would effectively end BYU's rivalries with UNLV, San Diego State and New Mexico.
Well, San Diego State is leaving the Mountain West for the Big West. And BYU can still schedule nonconference games with UNLV and New Mexico.
[+] Enlarge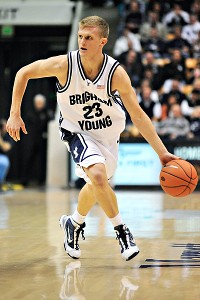 Boyd Ivey/Icon SMISophomore forward Tyler Haws, who missed two seasons while serving a Mormon mission, averaged 11.3 points and 4.2 rebounds in 2009-10 while playing alongside Jimmer Fredette.
Losing those matchups from the schedule didn't seem to hurt BYU much. The Cougars were still challenged plenty during their first season in the WCC, finishing third behind Saint Mary's and Gonzaga.
And BYU still built a profile that was respectable enough to secure an NCAA tournament at-large bid. The Cougars recovered from a 25-point hole against Iona to win 78-72 in the First Four before losing by 20 to No. 3 seed Marquette in the second round.
BYU lost to Baylor and Saint Mary's at home -- as well as to unranked Loyola Marymount 82-68 in a stunner that showed the depth of the conference -- but beat Gonzaga in Provo (the Cougars lost to the Zags in Spokane and again in the WCC tournament).
The Cougars' experience in the WCC should serve as an example for teams that are supposedly stepping down in conference, as San Diego State will do when it moves to the Big West. But the Aztecs, like the Cougars, will find the road won't be easy. And the conference the Cougars and Aztecs left -- the Mountain West -- is essentially now a glorified version of the old WAC.
So what did the Cougars and coach Dave Rose learn during their first season in the WCC?
"The most important thing is for our guys to have a sense of urgency,'' said Rose. "We need to improve and to get better talent. The bottom line is that there are more good teams at the top [in the WCC]. The fact that Gonzaga won this thing for 11 straight years is amazing [before Saint Mary's snapped the streak last season].''
The hierarchy in the WCC won't change heading into this season. Gonzaga will be picked first, followed in some order by BYU and Saint Mary's.
But change is a constant for the Cougars.
"Almost every year it's like a new team,'' said Rose. "We just figure it out. We've always got guys going and coming [because of Mormon missions]. Our guys aren't going [early] to the NBA, but when they leave on a mission they do come back.''
The latest high-profile player to return is sophomore Tyler Haws. Haws averaged 11.3 points and 4.2 rebounds two seasons ago in 2009-10 behind Jimmer Fredette and Jackson Emery.
Haws, a 6-6 forward, will be counted on to produce plenty of points and boards to complement guard Matt Carlino (12.2 ppg, 4.6 apg last season) and forward Brandon Davies (15.2 ppg, 7.7 rpg).
"[Haws] is in great shape and he looks good, feels good,'' said Rose. "What he really needs right now is to start and play every day, not a day here or a day there [during the few workouts allowed prior to Oct. 12]. He needs to get back into the grind.''
Rose said Carlino looks strong and has gained upper-body strength. He said Davies arrived for the fall semester in the best shape he's been in the past four years.
"Matt, Tyler and Brandon are the three guys who have stood out the most," said Rose.
And they should. Put that scoring threesome against any other team in the West Coast Conference and the Cougars should be competitive in every game they play.
Despite losing Fredette (and Emery) after the '10-11 season, Rose still led his team to the NCAAs after changing leagues -- yet another example of how underrated he is as a coach. He is also a medical marvel. Rose had a pancreatic tumor removed three years ago and has been declared free of cancer (he still has to go for checkups a few times a year). His teams continue to feed off his passion, too.
The Cougars will have plenty of chances to make statements during their nonconference slate this season, with games against Florida State on Nov. 16 and then either Notre Dame or Saint Joseph's on Nov. 17 (at the Barclays Center in Brooklyn) before playing potential NCAA tournament teams Iowa State in Ames, Utah State in Provo and Baylor in Waco. That's all before WCC play begins.
"I think we're going to be good," said Rose. "It's going to be interesting."
December, 29, 2011
12/29/11
7:37
PM ET
The West Coast Conference season officially started with Gonzaga's blowout win over Portland on Wednesday night. But the race to the top truly begins with Thursday's opener between BYU and Saint Mary's at McKeon Pavilion in Moraga, Calif. Here's a look at what to expect in WCC play:
[+] Enlarge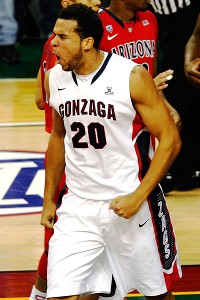 AP Photo/Kevin P. CaseyElias Harris is again the favorite to win the West Coast Conference.
The favorite: Gonzaga, winner of 11 straight regular-season titles, was the favorite in the preseason and nothing has changed heading into conference play. The Zags have rebounded well from consecutive losses to Big Ten teams (at Illinois, vs. Michigan State) with a solid stretch that includes wins against Arizona and Butler. And a 20-point win over Notre Dame in November now looks even more impressive after the Irish took apart Pitt earlier this week.
The Zags still have the most experienced big man in Robert Sacre and one of the toughest matchups in Elias Harris on the wing. The guard play is erratic, but freshman Kevin Pangos has the potential to go off with a flurry of made shots. The league schedule is loaded at the front with road games at Saint Mary's and BYU in the first half of the schedule. But that means Gonzaga will be able to finish strong with both contenders at home.
Other contenders: BYU has the talent to win the WCC, but coach Dave Rose is concerned that none of his players have played in any of the league's unique gyms. Then again, none of the WCC players have experienced the raucous Marriott Center, either.
Fact is, the Cougars are a different team now with UCLA transfer Matt Carlino as the do-everything guard. He is a playmaker and is averaging 17.3 points and 4.8 assists in the first four games of his college career. If Carlino had been eligible from the start, BYU would've likely won its opener at Utah State and at least come closer against Wisconsin.
The Cougars have enough size inside to be disruptive with Noah Hartsock and Brandon Davies and wing Charles Abouo has had his moments. Gonzaga is the favorite but if BYU were to win the WCC in its first season, no one should be stunned.
Saint Mary's isn't as balanced and doesn't have the imposing force (Omar Samhan) it did during the Sweet 16 run of 2010, but the Gaels do have two blowout wins over Missouri Valley contenders Northern Iowa and Missouri State. This team can't be dismissed.
For SMC to pull it off, it will need an exceptionally consistent season from Rob Jones inside and Matthew Dellavedova on the perimeter. Kenton Walker II has been a solid complement to Jones as well, but guards Clint Steindl, Stephen Holt and Jorden Page must have their moments for the Gaels to be a true contender.
Player of the year (so far): This is a tough one. The race is wide open. You could make a case for sharpshooting freshman Kevin Pangos, but ultimately Elias Harris is the Zags' star and has the most potential to post a double-double every game. The sleeper MVP pick could be Carlino. The early returns are strong, as he's already made a significant impact in Provo. If BYU wins the WCC, Carlino will likely be in the mix. Same goes for Rob Jones if Saint Mary's can end the Gonzaga hex.
Freshman of the year (so far): OK, this award can definitely be reserved for Pangos. The Canadian came in highly touted and hasn't disappointed one bit, leading Gonzaga with 14.9 points per game and 43 percent 3-point shooting. No other player in the league can go off in stretches the way Pangos has so far this season.
[+] Enlarge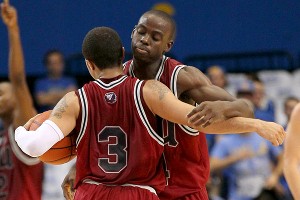 Stephen Dunn/Getty ImagesLoyola Marymount is inconsistent, but does have two of the WCC's most impressive wins.
Wins to brag about: LMU over Saint Louis and UCLA; Gonzaga over Arizona; Santa Clara over New Mexico and Villanova; Saint Mary's over Northern Iowa and Missouri State; BYU over Oregon.
Losses that sting: Pepperdine to Cal State-Bakersfield; BYU to rival Utah State; Santa Clara to Houston Baptist and by 38 to Washington State; San Francisco to Holy Cross.
Pleasant surprises: LMU and Santa Clara had erratic but solid starts to the season that proved both schools could be tough outs throughout the conference season. … BYU doesn't appear to be headed for a down cycle despite the loss of Jimmer Fredette and Jackson Emery. … The WCC continues to schedule up and get quality nonconference games, many of which its teams are winning (see above).
Biggest disappointments: Portland coach Eric Reveno is one of the most solid individuals in the coaching business, but the Pilots have lost their core group of guys and are really struggling. They've lost 11 of their past 12 against a tough slate. … Loyola Marymount wins at UCLA and beats Saint Louis yet can't find any consistency. There's no shame in losing to Middle Tennessee or Harvard this season, but one would think the Lions could've taken out North Texas and Morgan State. … Santa Clara's Marc Trasolini suffered a season-ending injury in September, which has really kept the Broncos from reaching their full potential.
Three questions
Will Gonzaga finally reach the Elite Eight for the first time since 1999?
The Zags have had a few Sweet 16s, but haven't reached a regional final since that initial magical run nearly 13 years ago. Gonzaga has a shot this season if Sacre can be the strong man in the post every night. There are decent rotation players to complement him, but he has to raise his game to be a more dominant player in March.
Which team not named Gonzaga, BYU or Saint Mary's could crack the top three?
LMU hasn't shown the consistency needed to be a real contender, so the team that might have the goods is Santa Clara. The Broncos' Kevin Foster is talented enough to carry this team to some big wins and coach Kerry Keating has now been in this league long enough to understand the nuances of winning on the road.
Why should BYU be looked at as a possible favorite to win the conference tournament?
The Cougars' core is tourney-tested and that'll help, but maybe a hidden reason will be the crowd. The Brigham Young faithful have a history of traveling well to Las Vegas and there is also a strong Cougar alumni base in the area. Don't be shocked if BYU matches or surpasses the famed Gonzaga travel party at the Orleans Arena, making BYU the de facto home team.
Revised predictions
1. Gonzaga: The Zags may be just too deep for everyone else in the league.
2. BYU: The Cougars can win the title, but it might come down to three straight road games down the stretch (USF, SCU, GU).
3. Saint Mary's: The Gaels have been here before. They aren't expected to win the title, yet they'll be pushing the favorite at the end.
4. Santa Clara: Kevin Foster is a star for the Broncos and they've developed a legit home-court presence.
5. Loyola Marymount: The Lions have top-three potential, but lack the overall depth to get it done.
6. San Francisco: The Dons have been a bit of a disappointment so far, so finishing in sixth is probably just right for this crew.
7. Pepperdine: This is a complete rebuilding situation for the Waves under first-year coach Marty Wilson.
8. San Diego: Meanwhile, the rebuilding project continues for embattled coach Bill Grier.
9. Portland: The Pilots could easily climb a few spots eventually, but it's hard to put them any higher during this 1-11 stretch.

November, 4, 2011
11/04/11
9:06
PM ET
During the conference alignment feeding frenzy, one of the best moves was made by a league that doesn't play in the Football Bowl Subdivision.
And one team may benefit more than most.
The West Coast Conference's quick decision to offer a soft landing spot for Brigham Young as it sought football independence may ultimately help Saint Mary's more than any other school in the league. The Gaels, who have fancied themselves as Gonzaga's chief rival, needed another team to chase, to compete with to enhance their constant quest for an improved conference power rating.
[+] Enlarge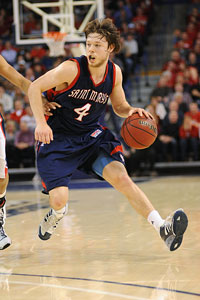 Robert Johnson/Icon SMIMatthew Dellavedova and the Gaels will be right there in the mix.
The Zags will always be the team to chase in the WCC. Gonzaga plays a national schedule, recruits two-thirds of the country and internationally, and isn't going to take a dip anytime soon. But Saint Mary's needed someone else to give the Gaels a chance to pick up power-rating points within the conference and earn important status points among the selection committee by winning conference games. Sure, Santa Clara and San Francisco seem to be on the rise, but the Gaels needed another national program. BYU can deliver just that. The Cougars will slip without Jimmer Fredette and Jackson Emery and won't be a top-25 team, let alone a lock for the NCAA tournament this season, but they will be in the mix for a bid and won't fall too far under Dave Rose.
"I think this is great for our league,'' Saint Mary's coach Randy Bennett said. "It means this league is better. I don't think Gonzaga is getting any worse. We're not getting any worse.''
WCC commissioner Jamie Zaninovich is grinning over getting all six combinations of the Gonzaga-Saint Mary's-BYU games on ESPN's networks in its conference package. The league needed to diversify its profile programs to ensure there was more depth.
"I think Saint Mary's and BYU will give Gonzaga fits,'' Zaninovich said. "Saint Mary's and Gonzaga know each other so well, and BYU will have the strength in there too. There will be big-time frontlines in all cases.''
Zaninovich is touting the Gaels as perhaps Bennett's best team, comparing this squad to his Sweet 16 team from two years ago. Bennett isn't going to go there yet. Gonzaga is still the team to beat with Elias Harris, Robert Sacre, Sam Dower, Kelly Olynyk and Ryan Spangler making up possibly Mark Few's most talented and certainly deepest frontcourt during his tenure.
The backcourt of Marquise Carter, Kevin Pangos, Gary Bell Jr. and David Stockton is still relatively inexperienced, but the potential is there for this team to once again make a run.
Saint Mary's has experience returning in Matthew Dellavedova and Clint Steindl, but it's the Gaels' frontcourt that could be the difference for them. Getting Jordan Page back after a season-ending knee injury last season is critical if SMC wants to hang with the Zags and Cougars. And Rob Jones now has help inside with Mitchell Young, Kyle Rowley and Brad Waldow.
"We're bigger inside. We didn't have that last year,'' Bennett said. "We will have a physical presence at the 5. We got worn down last season. We're going to have more of a low-post guy. People forget that Page is coming back. He was pretty good as a freshman. We have experience. If we do what we're supposed to do and stay healthy, then we can be in those big games.''
Bennett said if going from the Sweet 16 to not making the NCAAs but still playing for the league title is a dip, then so be it. Competing for the league title is where the Gaels want to be every season. Now they've got even more competition, which is even better for this team and the league.
"BYU is coming here while we're on the upswing,'' Bennett said of the WCC. "Bringing BYU over changes the landscape.''
The Cougars can offer up Brandon Davies, Stephen Rogers, Noah Hartsock, Ian Harward and Nate Austin, while UCLA transfer Matt Carlino will help on the perimeter once he's eligible in December with Charles Abouo and Brock Zylstra.
"The toughest challenge yet for us," Rose said. "They are both really good and we won't have a player or a coach that has competed in their buildings. We have no experience at all to take on the road."
That won't always be fun for the Cougars, but it should be big things for the West Coast Conference.
"Everybody's got people back," Few said. "Its literally the best the league has ever been -- and I've been in it 23 years -- with the depth of teams."
October, 3, 2011
10/03/11
6:17
PM ET
At this time last year, Ben Hansbrough's name didn't appear on the Wooden Award preseason watch list.
Five months later, he edged out Connecticut's Kemba Walker for Big East Player of the Year.
Using that as a backdrop, let's remember that the list of 50 Wooden nominees is flawed, much like any of the award lists. The Wooden Award does not allow its voters to nominate any freshmen or transfers (either four-year or junior college) on their ballots.
And with college basketball as loaded with talent as any year since 2007-08, narrowing it down to 50 is not easy. So below I've attempted to come up with the names that didn't make it, either as "just missed the cut" omissions or just because they're freshmen or transfers. These guys aren't on the list (which can be found here), but might show up when it's updated during the season.
This group is by no means definitive, either. There's no telling who else might emerge nationally as the games get under way.
Let's take a look …
The omissions (in alphabetical order):
Julian Boyd, Long Island: The Blackbirds are the favorite again in the Northeast Conference and the main reason is because Boyd is back and ready to dominate the stat sheet.
D.J. Cooper, Ohio: The diminutive point guard does a little bit of everything; he averaged 15.8 ppg, 7.5 apg and 5.0 rpg for the Bobcats last season.
[+] Enlarge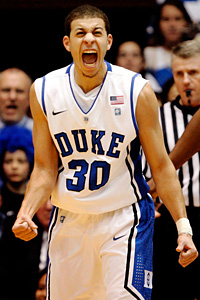 Streeter Lecka/Getty ImagesSeth Curry hasn't done enough to warrant a mention on a preseason watch list, but he might end up being a Wooden addition.
Jared Cunningham, Oregon State: Cunningham has some of the best hops in the sport and a chance to be a Pac-12 star, allowing the Beavers to finally move up in the standings this season.
Seth Curry, Duke: Curry was a standout shooter for the Blue Devils on their trip to China and could be one of the top scorers on the team.
Brandon Davies, BYU: Davies was recently reinstated to the Cougars, and the offense is expected to flow through him inside and out as BYU mounts a campaign to win the WCC in its first year in the league.
Matthew Dellavedova, Saint Mary's: SMC coach Randy Bennett envisions this as one of the best teams he's ever had, but a lot of that will have to do with whether Dellavedova can shoot like Mickey McConnell did last season.
Greg Echenique, Creighton: Echenique was a rebounding force for Venezuela this summer and should do even more for the Bluejays with a full season to work with.
TyShwan Edmondson, Austin Peay: The Governors should be the favorite in the Ohio Valley with a legit scorer like Edmondson, who has a strong man, Will Triggs, to take pressure off him.
Kyle Fogg, Arizona: Fogg is next in line to assume a leadership position for the Wildcats, who are in a position to compete for Pac-12 titles for years to come.
Kevin Foster, Santa Clara: As a sophomore, Foster sort of came out of nowhere to average 20.2 ppg and become one of the nation's top 3-point shooters.
Chris Gaston, Fordham: The Rams aren't any good, but the nation's leading returning rebounder (11.3 rpg) at least deserves a shout-out in this space.
Yancy Gates, Cincinnati: UC coach Mick Cronin said he'd be surprised if Gates wasn't one of the 10 names on the Big East preseason first team.
Malcolm Grant, Miami (Fla.): The Hurricanes have to play most of the season without big man Reggie Johnson, so Grant will have more opportunities to shine.
Rob Jones, Saint Mary's: Jones could be a double-double regular for the Gaels, and for Saint Mary's to win the WCC, Jones will have to be a star.
Doron Lamb, Kentucky: John Calipari says Lamb will be the Wildcats' best player. Just Coach Cal mind games, or the truth?
Meyers Leonard, Illinois: Leonard didn't contribute a whole lot as a freshman, but he was a hidden gem on the U.S. U-19 team in Latvia this summer. The Illini are expecting big things out of him.
C.J. McCollum, Lehigh: McCollum is the nation's leading returning scorer (21.8 ppg) and is in the top five in steals (2.5 spg). Oh, and he did that as a freshman. What more do you need to know?
Cameron Moore, UAB: The Blazers have been consistently good under Mike Davis and have had unheralded C-USA stars. Moore is the latest.
Toure' Murry, Wichita State: If the Shockers win the Missouri Valley over Creighton, a lot of the credit will end up going to the veteran Murry.
[+] Enlarge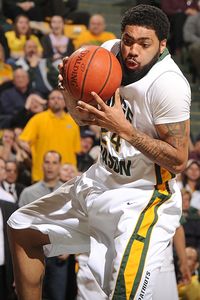 Rafael Suanes/US PresswireRyan Pearson looks to lead Mason to another run to the NCAAs.
Brandon Paul, Illinois: Illini coach Bruce Weber was a bit surprised Paul didn't crack the top 50 on the Wooden list, given his overall importance to this team.
Ryan Pearson, George Mason: The Patriots are a trendy pick for the Top 25 and a lot of that has to do with the versatility of Pearson.
Damier Pitts, Marshall: The Thundering Herd are a real sleeper to gain an NCAA tourney berth out of Conference USA in large part because of Pitts.
Herb Pope, Seton Hall: Pope has come back from multiple life-threatening situations and has a real shot as a senior to put it all together and finally shine.
Terrence Ross, Washington: The Huskies can't be dismissed as a major player for the Pac-12 title, and if they win it, Ross will be a significant reason why.
Robert Sacre, Gonzaga: Sacre has matured into a solid post player, and that progress shows no signs of stopping as the Zags once again compete for the West Coast title.
Mike Scott, Virginia: If the sleeper Cavs mount a run to the NCAA tournament, the oft-injured Scott will be the reason why.
Renardo Sidney, Mississippi State: If Sidney is in shape and plays up to his potential, he has SEC Player of the Year potential and could be the difference between the Bulldogs making the NCAAs or NIT.
Andrew Smith, Butler: The Bulldogs will have fewer stars this season, but Smith has a chance to outshine Khyle Marshall and newcomer Roosevelt Jones with his scoring prowess in the post.
Chace Stanback, UNLV: Stanback's suspension to start the season is only one game, so that won't diminish his ability to lead the Rebels in their hunt for a Mountain West title.
Raymond Taylor, Florida Atlantic: FAU quietly won the Sun Belt East Division last season and Mike Jarvis' diminutive point guard was the catalyst behind the regular-season championship.
Hollis Thompson, Georgetown: If the Hoyas are to make the NCAA tournament again and be a pest in the upper half of the Big East, then Thompson needs a breakout season.
Kyle Weems, Missouri State: Doug McDermott is the one everyone is talking about in the Valley, but let's not forget that Weems is the reigning MVC Player of the Year. Too bad for the Bears he's their only returning starter.
Kendall Williams, New Mexico: The sophomore guard was the leading scorer in four postseason NIT games for the Lobos and should only get better with the addition of Australian Hugh Greenwood.
The transfers
Dewayne Dedmon, USC: Trojans coach Kevin O'Neill firmly believes this JC transfer is an NBA talent who could dominate the post and average a double-double for SC.
Arnett Moultrie, Mississippi State: The former UTEP big man is ready to have a bust-out season for a team that has serious bounce-back potential after a disappointing 2010-11 campaign.
Mike Rosario, Florida: The former Rutgers scoring guard finally has plenty of support around him and will put up numbers for a winner.
Rakim Sanders, Fairfield: The Boston College transfer should flourish after dropping down a level, and he should get coach Sydney Johnson another trip to the NCAA tourney. Johnson is beginning his first year at Fairfield after leading Princeton to the 2011 tourney.
Royce White, Iowa State: White is finally ready to be a star on the college scene after multiple transgressions at Minnesota.
Brandon Wood, Michigan State: The Spartans picked up a rare senior transfer (taking advantage of the graduate transfer rule) from Valparaiso who could be one of the best shooters in the Big Ten.
Tony Woods, Oregon: The embattled Woods arrived from Wake Forest after legal issues and has a chance to really shine as a double-double player for the first time in his career.
The freshmen
Bradley Beal, Florida: Beal has a chance to be a productive player in a frontcourt that has a vacuum after multiple seniors departed.
Gary Bell Jr., Gonzaga: Coach Mark Few has been anticipating Bell's arrival for over a year now. He's expected to step in and deliver right away.
Wayne Blackshear, Louisville: The Cardinals fancy themselves a Big East title contender, and that's partly because they consider Blackshear a star in the making.
Jabari Brown, Oregon: Brown was the star of the Ducks' trip to Italy with his scoring prowess, and expect that to continue in the Pac-12.
Jahii Carson, Arizona State: There is some question right now as to Carson's eligibility, but if he's good to go, the Sun Devils might become relevant in the Pac-12 again.
[+] Enlarge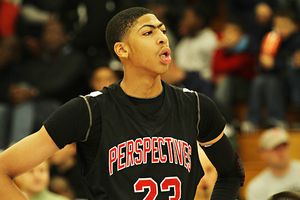 Brendan NolanThere seems to be little doubt that freshman Anthony Davis will have a major impact for UK.
Erik Copes, George Mason: Copes was bound for George Washington before Karl Hobbs was fired; now he'll be a headline performer for the Patriots and first-year coach Paul Hewitt.
Anthony Davis, Kentucky: Davis has a chance to be the SEC Player of the Year and the No. 1 pick in the NBA draft, so expect him to be on the midseason list when freshmen are allowed.
Andre Drummond, Connecticut: He will be an immediate star and help lift the Huskies into the national title chase again. He's more than likely a future top-five pick in the NBA.
Myck Kabongo, Texas: Coach Rick Barnes has had quite a bit of success with big-time freshmen guards, and Kabongo is next in line.
Michael Kidd-Gilchrist, Kentucky: Gilchrist will be another star on what will be a headline team throughout the season.
Johnny O'Bryant, LSU: Coach Trent Johnson needs the Tigers to start trending upward again, and he has a shot with the arrival of the big man from Mississippi.
LeBryan Nash, Oklahoma State: OSU is a bit of a mystery team in the Big 12, but the All-American from Dallas could push the Cowboys into contention.
Austin Rivers, Duke: Rivers will have the ball in his hands quite a bit and appears to be the next Duke star in a lengthy list of recognizable names.
Josiah Turner, Arizona: The Wildcats will win the Pac-12 regular-season title if Turner is as good as advertised.
Cody Zeller, Indiana: If coach Tom Crean is going to turn the Hoosiers into a relevant team this season, it will be because of Zeller and his impact in the Big Ten.
August, 29, 2011
08/29/11
9:20
PM ET
In case BYU didn't get a stark enough reminder in March of what life is like in the paint without
Brandon Davies
, the Cougars were reminded with force during their recent tour of Greece.
[+] Enlarge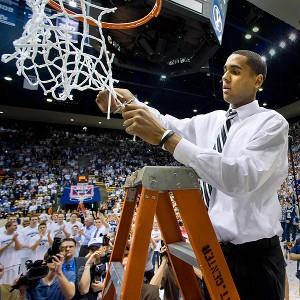 Douglas C. Pizac/US PresswireBrandon Davies was able to take part in the MWC title celebration, but his absence severely hurt the team's Final Four chances.
Having Davies might not have changed the outcome against the talented Greek and Italian national teams (BYU lost to Italy by 39 points), but there's no question the return of Davies will change everything for the Cougars in the post-Jimmer Fredette world they are set to embark upon in the West Coast Conference. Friday, Brigham Young University announced it was reinstating Davies, who was issued a much-publicized season-ending suspension March 1 after a violation of the school's honor code.
"Jimmer is impossible to replace, but Davies gives them a great go-to guy in the post,'' said New Mexico coach Steve Alford, who doesn't have to face the Cougars this season since BYU left the Mountain West for the WCC. "He is a very talented, hard-working post guy. He should be close to a double-double guy.''
BYU was ranked No. 2 in the country and in line for a possible No. 1 seed after beating San Diego State on the road by 13 Feb. 26. Davies had a modest statistical game with six boards and four points but helped neutralize the Aztecs' bigs. He was averaging 11.1 points and 6.2 rebounds before being dismissed from the team in the days after the SDSU game after having admitted to pre-marital sex, which is strictly prohibited at BYU.
The program didn't just toss Davies to the curb. Instead, the Cougars and their fans embraced him, and he was a fixture on the bench, cheering on the team throughout the rest of the regular season and during the postseason, which ended in an overtime loss to Florida in the Sweet 16.
But could BYU have gone even further and made its first Final Four appearance if it had its only true frontcourt presence on the court during the stretch run? We'll never know. But we do know the Cougars would not have been blown out by New Mexico and San Diego State late in the season with Davies patrolling the paint. His importance to this team is simply not up for debate.
"He means everything to them,'' said Colorado State coach Tim Miles, whose Rams had trouble containing Davies in multiple meetings last season. Davies had 15 boards and 14 points in a win over the Rams three days before the Aztecs game. "BYU went zone to protect the perimeter guys and Brandon would end the possession with a big rebound. It's just a matter of time before they should be able to run their offense through him. He should be a first-team All-West Coast Conference player.''
If the plan being drawn up in Provo proves successful, Davies might even have a shot at WCC Player of the Year.
BYU coach Dave Rose said the Cougars will go back to the way they played a few years ago when Trent Plaisted was manning the post.
"The ball went into Trent four out of five possessions, and then the past two years we changed things because of Jimmer,'' Rose said. "We'll go back to playing the majority of the possessions with the ball going in the post first."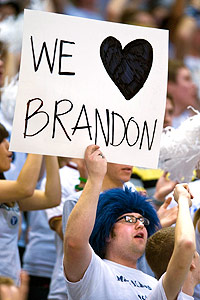 Douglas C. Pizac/US PresswireEven though his loss hurt, most fans in Provo still embraced their hometown favorite.
Clearly, Davies is a critical part of that strategy.
"The one thing that was difficult in those last two games on the trip was to play through our post guys,'' said Rose, who was also without big men and recent missionaries Nate Austin and Ian Harward. "We were a little bit undersized and had to play Noah [Hartsock] at the 5. With Brandon, he can go back to being a 4. There's no question our offense will work better. Brandon's experience with what he's been through will definitely help.''
The Cougars got stellar play out of junior Brock Zylstra on the four-game trip, as he averaged 17.3 points and six rebounds. Zylstra didn't get much time behind Jackson Emery on the wing last season, but he has loads of experience and is on the seven-year BYU plan after redshirting then going on a two-year mission.
Charles Abouo averaged 14.8 points on the trip to give the Cougars a solid backcourt presence, and freshman Damarcus Harrison averaged 9.3 points, just behind Hartsock's 10.8 and forward Stephen Rogers' 12.3 a game.
• According to a number of sources at the school, nearly everyone involved with BYU is looking forward to beginning play in the WCC and as an independent in football. The Cougars were waiting to get the chance to play on their own in football and once there was no chance they would be with Utah, which joined the Pac-12, they jumped at the opportunity.
That's why there is no movement, according to sources, to be a possible replacement for Texas A&M in the Big 12 if the Aggies go to the SEC. BYU is not an easy addition for conferences with its restrictions on playing on Sundays. The Cougars do have their own television network and a new deal with ESPN, and the football team has had no issues scheduling for the upcoming season. Sources said the Cougars want to see how this plays out before joining a conference such as the Big 12 that may have some stability issues.
Meanwhile, according to a number of sources, the SEC is more than likely going to pause for a bit if it adds the Aggies. There is clearly a movement within the conference members to block any in-state additions such as Georgia Tech (by Georgia), Florida State (Florida) and Clemson (South Carolina). Big East member Louisville (by Kentucky) fits into this as well. Blocking in-state schools in the same conference has gone on for quite some time (think Utah-Utah State, New Mexico-New Mexico State).
Virginia was never enamored with Virginia Tech joining the ACC, but politics forced the two together, so it wouldn't be out of the realm of possibility for the Hokies to leave. The one new intriguing name out there is North Carolina State, which is very similar to Texas A&M in the Big 12. The Wolfpack are the constantly overlooked "little brother" in the shadow of the all-consuming Duke-North Carolina rivalry.
One thing that is certain is no one wants to leave the comfort of the SEC (see: Arkansas). Missouri's location and TV markets make it a more realistic alternative than Big East teams such as West Virginia or Pitt. But one certainty is that the SEC will take its time on what to do with a possible 14th school and could easily go with 13 for a year rather than rush into a decision.
July, 12, 2011
07/12/11
6:45
PM ET
Quick hitters for this Tuesday:
• Florida coach Billy Donovan has been working the mental side of his suddenly loaded perimeter to get the guards ready for a heavy load next season.
The Gators return guards Erving Walker, Kenny Boynton and Scottie Wilbekin, while also adding Rutgers transfer Mike Rosario, a high-scoring talent who did well in the Big East. Toss in impact-freshman wing Brad Beal and the Gators will tip heavily toward the perimeter with the departures of forwards Alex Tyus, Vernon Macklin and Chandler Parsons. Patric Young, fresh off competing for Team USA at the U-19 World Championships in Latvia, will be the focal point in the post.
"The last two years we played with a lack of depth on the perimeter,'' Donovan said. "Now we add Rosario and Beal and we're going to be a much better shooting team and will have more experience. Now the test is how much will those four guys make each other better.''
Donovan said Rosario had everything run through him at Rutgers and he anticipated he'd be on his way to the NBA after two years. But it didn't happen. Now he has to check the ego at the door and become a winner, something that never materialized at Rutgers.
Donovan said he has told Walker that he wants him to lead the SEC in assists since there will be more than enough offense on the wings this season. Walker's assists actually went down from his sophomore to junior year, from 4.9 to 3.4 a game.
"We want everyone to understand a good shot,'' Donovan said. "I'm excited with the challenges of dealing with the guards.''
Donovan said Kentucky will have the most talent in the SEC, while Vanderbilt returns its team intact and will also be a contender. But he fully expects the Gators to be right in the mix for the SEC title.
• Duke held its first two practices on Sunday and Monday in advance of the team's trip to China and Dubai next month. Duke will take a break this week as the coaches go on the road recruiting, but the team will resume workouts here shortly.
[+] Enlarge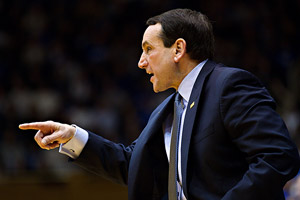 Peyton Williams/Getty ImagesDuke coach Mike Krzyzewski is open to adding Notre Dame to the ACC, but he would like to see revenue sharing as part of the deal.
Duke coach Mike Krzyzewski said the practices will be a huge benefit for the Blue Devils in trying to figure out how to play this season, let alone on the trip.
"We're giving these guys opportunities to show us who they are,'' Krzyzewski said. "How we do this trip obviously won't be how we do the season. We have to get to know our guys, not just individually but how they interact with each other. It's a great opportunity for us, a big-time trip.''
This will be Krzyzewski's first time to see all three Plumlees on the floor together in competitive games. Marshall Plumlee joins his older brothers Mason and Miles on the Blue Devils' roster.
"Marshall is a real good player with a great attitude,'' Krzyzewski said. "It's time for Miles and Mason to take a huge step forward as a senior and junior. That's the same for Seth [Curry] and Andre [Dawkins]. Seth would normally be a senior [after transferring from Liberty]. Andre is a junior but he's finally older [on the court] since he's still only 19 [he came to school early out of high school]. It's a rite of passage for these guys.''
Krzyzewski said there is plenty of work to do but he's pleased with the early progress. This is the first time the Blue Devils have taken an overseas trip since they went to London in October 2002.
"Most schools do this every four years, but with my involvement in USA basketball we haven't been able to,'' Krzyzewski said. "Another benefit of winning the World Championships last summer is that we can go to China and Dubai. This is great for us.''
The title last summer in Turkey allowed the Americans to qualify for the London Olympics so they wouldn't have to this summer, giving Krzyzewski the summer off from USA Basketball.
• The summer lockout could help BYU prep even more for its trip to Greece in August. Jimmer Fredette is expected in Provo next month to work out, and BYU coach Dave Rose is hopeful that former Cougars can scrimmage against the current crop in preparation for the trip.
• The benefits of being in the West Coast Conference are already helping the Cougars in scheduling. The WCC had no issue holding off its formation of the conference schedule to work in a bye date for BYU so it could schedule a home-and-home series with Virginia Tech with the first game in Blacksburg in January. The return game will be the following year in Salt Lake City.
• Kansas' staff continues to believe that Thomas Robinson is headed for a banner season after sitting behind three first-round draft picks -- Cole Aldrich and the Morris twins, Marcus and Markieff -- the past two seasons. Robinson is expected to be the go-to guy at forward for the Jayhawks. Apparently Elijah Johnson is also ready to take on even more of a featured role.
• In discussing the Big 12 race with a few coaches, the one school that keeps coming up as the favorite may be surprising to some: Texas A&M. The Aggies return the core of their team from a year ago, led by Khris Middleton. The consensus seems to be that the coaching change from Mark Turgeon to Billy Kennedy is similar enough that there shouldn't be a hiccup.
• The Maui Invitational bracket is being worked on this month with an expected announcement coming soon. A few things you can expect: Duke won't play Chaminade in the first round and Memphis won't play Tennessee, since the two teams have a regular series. Duke doesn't like to play non-Division I teams and makes it quite clear when it signs up for these events that it would rather not be matched in the first round with the host school.
If the tournament were seeded it would probably go: 1. Duke; 2. Memphis; 3. Michigan; 4. Kansas; 5. UCLA; 6. Georgetown; 7. Tennessee; 8. Chaminade. But the tournament won't be matched by seeds. One possible grouping that makes sense based on the parameters is: Kansas-Chaminade and UCLA-Memphis on one side of the bracket; Georgetown-Michigan and Duke-Tennessee on the other. No one would deny that a possible Duke-Kansas final helps the overall health of the tournament and would rate well. But KU would have to possibly get by Conference USA-favorite Memphis and that's with the assumption that Duke can beat Michigan if the two were to meet in the semifinals. The Blue Devils defeated the Wolverines by just two in last season's NCAA tournament.
May, 23, 2011
05/23/11
9:52
PM ET
CHICAGO -- Brigham Young coach Dave Rose watched consensus national player of the year
Jimmer Fredette
go through drills at the combine here, observing him one last time in a competitive format before he officially becomes a professional in next month's NBA draft.
Rose answered questions about Jimmer when asked. He promoted Jimmer as much as he could. But as he exited the Attack Athletics gym on the West Side of Chicago on Friday, he was reminded that Jimmer isn't coming back with him to the Marriott Center.
The first-name-only phenom is done at BYU and Rose is left to rebuild his perennial NCAA tournament team in a way he hasn't had to do since he took over in 2005. The Cougars had won Mountain West titles before, but never had they relied so much on one player as they did the past two seasons.
Fredette dominated the ball and with good reason. He was instant offense. He was the face of the program -- and this past year, of the entire BYU athletic department and university as a whole.
Rose was courted by a few Big 12 schools during the coaching carousel but chose to stay put. And now with the Cougars headed to the West Coast Conference, he is faced with his toughest job yet.
Fredette isn't the only player he has to replace. Gone as well is Fredette's backcourt mate Jackson Emery.
"We had a really good backcourt," Rose said.
Whether or not the Cougars stay in contention with Gonzaga for the WCC regular-season title may rest on the decision by the university on whether or not to readmit forward Brandon Davies.
[+] Enlarge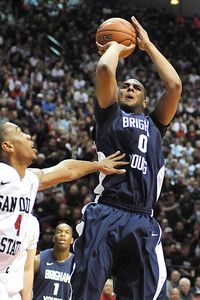 Christopher Hanewinckel/US PresswireA new-look BYU team could certainly use familiar face Brandon Davies in its transition.
Davies was dismissed from the team in February after an honor code violation, which was reportedly for pre-marital sex. But the school allowed him to be a part of the team (sitting on the bench, cutting down the nets, etc.) throughout the rest of the regular season and in the postseason.
Davies, though, had to withdraw from school and will now re-apply for admission. But Rose said Davies won't know the answer until September. He plans to stay in his hometown of Provo, also the home of BYU, throughout the summer.
The 6-foot-9 forward has the potential to be a double-figure scorer, giving the Cougars a rising power in the post and an athleticism defensively they clearly lacked in March.
"Hopefully Brandon can get back in school and if that happens then we'll rely on our front line a lot," Rose said.
That front line took a hit when senior James Anderson decided against playing his senior season, but the Cougars still bring back Noah Hartsock inside, and if he can be more assertive in the post that will certainly make the Cougars more formidable.
Elsewhere, Charles Abouo will be counted on to be more of a scorer from the wing. But someone will have to set everyone up the way Fredette did.
Who will that be?
Rose said he'll lean on UCLA transfer Matt Carlino (eligible in mid-December), redshirt freshman Anson Winder and rising junior Brock Zylstra -- not exactly household names outside Provo.
And that's why the sleeper in the group who may come in and star is freshman DeMarcus Harrison out of Greenwood, S.C.
"We've got a group of guys coming in that will get opportunities, especially DeMarcus," Rose said. "He's got a chance to play major minutes at guard."
The Cougars will take a trip to Greece in August that should help them form a new identity. Davis can't go on the trip, though, since Rose won't know if he'll be on the team until the fall.
"That trip will be good for us since we'll learn who can play the major minutes without Jimmer," Rose said. "We're also adding a new coach [Mark Pope replaces new UNLV head coach Dave Rice]. We'll practice for 10 days, go on the road together and be ready for October. If Brandon is back, then our front line will score a lot of points for us. This will be a transition year for us."
A couple of other notes from the coaching world:
• New Texas A&M coach Billy Kennedy said the previous staff did a tremendous job of keeping everyone eligible and on board. He said it was the smoothest transition he's ever had. The Aggies should be a top-25 team and a Big 12 contender next season. Kennedy made a solid hire in adding Memphis assistant Glynn Cyprien to his staff. Kennedy and Cyprien came into the business together and the new assistant is well-connected all over the country, but especially in the Southeast.
• Memphis coach Josh Pastner now has two openings on his staff after Willis Wilson left for the head-coaching job at Texas A&M-Corpus Christi. Pastner has talked to Memphis Grizzlies assistant coach Damon Stoudamire, who was in Chicago last week for the NBA draft combine. Stoudamire would be a home run hire. He has recruiting connections and would be a terrific model for players to learn from and earn their way to an NBA spot. He would help toughen up the players on the court while new strength and conditioning coach Frank Matrisciano would handle them off the court. It will be tough to pry Stoudamire from the NBA, but it would be quite a get for the Tigers if Pastner is able to pull it off.
April, 12, 2011
04/12/11
5:56
PM ET
Quick hitters on a Tuesday morning:
• Bill Grier had a clause in his contract to succeed Mark Few at Gonzaga. It was an agreement that the two and athletic director Mike Roth had agreed to years ago, but once it became clear Few wasn't going anywhere, Grier got his own gig at the University of San Diego.
Grier is one of the most well-liked coaches I've come across and has a slew of friends in the business. I've never heard an ill word about him from anyone.
[+] Enlarge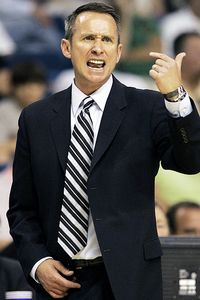 AP Photo/John RaouxThings have gone south quickly for Bill Grier and USD.
That's why it's difficult for so many to witness what has happened at USD over the last few seasons. The bad run that has befallen Grier since the Toreros upset Connecticut in the 2008 NCAA tournament -- Grier's first season on the job -- is hard to fathom.
His teams have fallen off the map on the court, following that NCAA tourney momentum with a disappointing 16-16 season, then 11-21, then a horrific 6-24 this past season. The Toreros did have one highlight this season, beating Saint Mary's at home when the Gaels were atop the WCC. But there have been costly defections, notably losing the team's top rebounder and inside presence in Rob Jones to the rival Gaels.
And now this -- a point-shaving scandal that led to the arrests of former assistant coach Thaddeus Brown and the school's all-time leading scorer, Brandon Johnson.
There is no way anyone could have guessed that this quaint Catholic school up on the hill in a scenic part of San Diego would be a part of such a sordid scandal.
This is a crushing blow for the West Coast Conference, which had been on a roll as of late. BYU joined the league and just locked up coach Dave Rose with a lucrative new deal. Gonzaga continues to roll along. Saint Mary's survived another coaching carousel and kept Randy Bennett. And now USD, the worst team in the league, is embroiled in a scandal.
Grier wasn't named in the charges, nor is there any indication that he had any knowledge of the schemes. But Toledo coach Stan Joplin wasn't involved in a point-shaving scandal at that school, either. He was fired there because of a losing season, not the point-shaving scandal. But he's also still trying to find a job.
So the emotional stress on Grier has to be daunting. He was trying to rebuild the program in anonymity and now that's not possible. The point-shaving scandal will keep the spotlight on the Toreros -- and it's not a spotlight any program wants to be under.
• BYU really had no choice but to re-sign Rose. Athletic director Tom Holmoe couldn't afford to lose his successful head coach at a time when the Cougars are entering unchartered waters in the move to the WCC.
• If Reggie Theus can't get the head-coaching job at his alma mater, UNLV, where exactly is he going to get one? Theus was a successful coach at New Mexico State, making that program relevant again. He had a tough situation with the Sacramento Kings. The former Rick Pitino assistant at Louisville should be applauded for working his way up, instead of expecting a free pass to a head-coaching job. He's an NBA assistant now and desperately wants back in college, but can't seem to get a serious sniff outside being considered by UNLV and USC.
• Miami's Reggie Johnson declared for the NBA draft but didn't sign with an agent. If the Hurricanes have a chance to move up the ACC standings under their new head coach, Johnson has to return.
• Archie Miller's decision to hire Kevin Kuwik as an assistant at Dayton will go down as one of his best during his career as a head coach with the Flyers. Kuwik was the video coordinator for Ohio State the past two seasons under Thad Matta. I have documented many times what Kuwik has done in his career, from serving two tours in Iraq with the Indiana National Guard while an assistant at Ohio to his best work, helping change commuter airline legislation after the tragic death of his girlfriend Lorin Maurer and the other victims on Continental Flight 3407 from Newark, N.J., to Buffalo two years ago. Matta's decision to have the Buckeyes wear 3407 patches the past two years to honor the victims was one of the best gestures I've seen in my two decades of covering the sport. It was all class. Ohio State will miss Kuwik, but he deserved a chance to be a full-time assistant. Few will work harder. Dayton got better the moment Kuwik got the job.
• Baylor will almost certainly be in the preseason top 25 now with the surprising return of Perry Jones III. But let's not dismiss the importance of losing LaceDarius Dunn. The Bears had some leadership issues on last season's team and really didn't beat anyone of significance all season. There is still more work to be done, but getting Jones back was huge.
• I'm not sure you'll find a state without a major league baseball team that has more of a divide than Connecticut does with the Red Sox and Yankees. And that's why it was fitting that the national champs decided to split the first-pitch offers from the Red Sox and Yankees. Die-hard Sox fan and Boston-area native Jim Calhoun was in his element throwing out the first pitch at Fenway Park. Kemba Walker and the players will do so at Yankee Stadium on Wednesday. Calhoun won't be in the Bronx and the UConn players weren't at Fenway. The majority of the players, save Alex Oriakhi and Shabazz Napier, are Yankees fans.
• In case you didn't notice, BYU's Jimmer Fredette won every player of the year award. Seems like that went by quietly as Fredette took home the Wooden, Naismith, Oscar Robertson, Rupp and AP national player of the year honors. I thought at some point there would be one that would go to Walker, but Fredette swept all of them. Both Fredette and Walker should be applauded for how hard they worked to get to the top of their sport this season.