Category archive:

Rider Broncos
November, 14, 2011
11/14/11
1:50
PM ET
The atmosphere of the Carrier Classic, with its overwhelming sense of patriotism and the sheer uniqueness of playing a game on the deck of the USS Carl Vinson, along with the historical significance of that vessel, will be hard to top.
The view was magnificent. The Naval presence in all its glory and uniformity was as impressive as one would imagine. And the appreciation from the sailors for the break from the daily routine was genuine.
If you missed that game or any of the matchups on opening weekend, you're in for a treat because you won't be able to turn on the ESPN family of networks from 11:59 p.m. ET on Monday until about 1 a.m. ET on Wednesday without seeing college basketball on the screen.
Here are some questions to ponder as the fourth annual Tip-Off Marathon begins with Washington State at Gonzaga and ends with an NIT Season Tip-Off game the following night from Stanford.
1. Will Duke coach Mike Krzyzewski become the NCAA's all-time winningest coach? The Blue Devils play Michigan State in the first game at the Champions Classic (ESPN, 7 p.m. ET) from Madison Square Garden. Duke struggled against Belmont in its opener and then blasted Presbyterian on Saturday. Neither result should come as a surprise. The Blue Devils are usually the home team in New York, but it will be interesting to see how many Spartans fans are able to make the trip, especially if some of them just went to San Diego. Still, Michigan State has a real shot to upstage Coach K. Despite their loss to North Carolina, the Spartans were the aggressor, outrebounding the Tar Heels convincingly 42-31. The Blue Devils have as much size as North Carolina, so the challenge will be similar. But MSU must shoot better from 3-point range than it did against UNC (2-of-20). Another key to the game is seeing which team converts timely perimeter shots. If Duke wins, we'll have the unique setting of Krzyzewski winning No. 903 and passing his former coach Bob Knight, who will sit courtside calling the game for ESPN.
2. How will the Thomas Robinson-Anthony Davis matchup unfold? This could turn out to be one of the more anticipated frontcourt showdowns during the nonconference schedule, as this individual battle highlights the second game of the Champions Classic between Kentucky and Kansas (ESPN, 9:30 ET). Robinson began the season as the go-to guy for Kansas, finishing with 18 points and 11 rebounds against Towson. Meanwhile, Davis, UK's highly touted freshman, blitzed Marist with 23 points and 10 boards in the Wildcats' 50-point rout. Kentucky has more options than KU and can lean on Doron Lamb or Terrence Jones to get it plenty of points. But the tussle between Robinson and Davis will be good theater throughout the night.
3. How will Ohio State's Aaron Craft and William Buford handle Florida's perimeter? We're not conceding the Jared Sullinger-Patric Young matchup (well, we will for these purposes), but this game may come down to the guards. Florida's set of Kenny Boynton, Mike Rosario, Brad Beal and Erving Walker is off to a sensational start. Rosario scored 19 points off the bench, while Boynton scored 19 and Beal 14 (Walker added 10) in a rout of Jackson State. Craft and Buford will be tested defensively more so than they were a year ago, when Ohio State won easily at UF during this same event. The Buckeyes, who host the Gators at 8 p.m. ET (ESPN2), are the No. 3 team in the nation because of Sullinger. But this will be the first time OSU may feel the loss of defensive specialist David Lighty.
4. Can Belmont emerge from the brutal opening weekend with a split? The Bruins nearly nipped Duke in a comeback that fell one possession short. The next challenge is a visit to in-state Memphis at noon ET on ESPN. Belmont won't have any awe factor in playing the Tigers. The Bruins should come into this game oozing with confidence after their showing versus the Blue Devils. Memphis is still a young team and a work in progress. The Tigers have more talent, but the question is whether they will show patience against a Belmont team that will want to run and run and run. This could be one of the most entertaining games of the day.
5. How will Baylor handle its one and likely only test during Perry Jones III's suspension? Jones must sit for three more games after accepting an extra benefit. The Bears beat Texas Southern on Friday and Jackson State on Sunday. The two games that follow Baylor's home matchup with San Diego State (ESPN, 2 p.m. ET) are South Carolina State and Texas-Arlington. This is not the same Aztecs team from last season after the roster was gutted by graduating seniors and an early-entry NBA departure. Still, they are athletic enough to cause problems. The Bears have options with Quincy Acy, Quincy Miller and Anthony Jones, but this game should at least push Baylor a tad more than the first two did during Jones' suspension.
6. How will Gonzaga's guards respond after a poor first outing? The Bulldogs showed in a tight win over Eastern Washington that they can rely heavily on Robert Sacre (22 points and 10 boards). But the perimeter shooters went 3-of-13 on 3s, and Marquise Carter was 2-of-11 and Mike Hart, Gary Bell, Kevin Pangos and David Stockton were a combined 6-of-15 from the field. Washington State is a team in transition, and the Zags should win this game. But Gonzaga has plenty of tougher challenges ahead, and so its guard play will need to improve. Still, this will be a good chance to see Sacre and Elias Harris on display against the Cougars, tipping off the Marathon at 11:59 p.m. ET on Monday night (ESPN).
7. As for the two women's games on the Marathon schedule … How will Tennessee perform after coach Pat Summitt's health diagnosis? If you saw Robin Roberts' piece on "Good Morning America," you know it is clear that the Lady Vols are determined to win a national title for Summitt. The Tennessee coach also seems as driven as ever in her quest to keep coaching while she battles early-onset dementia. This should be an emotional game, as they all may turn out to be, for the No. 3 Lady Vols as they host No. 7 Miami (ESPN2, 6 p.m. ET). And how will Texas A&M handle its status as the reigning champs? The Aggies aren't expected to repeat as national champs, but they have established themselves as an elite program. The primer to the Tennessee game won't involve as much theater, but may be as competitive a game when No. 9 Louisville goes to College Station to play the No. 6 Aggies (ESPNU, 4 p.m. ET).
8. What should we expect from Texas' Myck Kabongo? Kabongo is an impressive young man who handles himself with poise and class. Now he has to translate that onto the court against a talented Rhode Island squad that lost at George Mason by two points in its season opener Friday. The Longhorns will lean heavily on Kabongo to start the season. How he handles this first assignment will be a strong indicator on what to expect, as URI will push Texas from the outset (ESPN, 4 p.m. ET).
9. How will Drexel handle the hype as the CAA's favorite? The Dragons play at Rider (ESPN, 6 a.m. ET) when most people might be waking up to watch the Marathon. Drexel is the early pick to win the Colonial Athletic Association, a conference that's receiving some buzz after placing its second team (VCU) in the Final Four since 2006. Drexel will be minus the injured Chris Fouch, but Samme Givens and Frantz Massenat should be enough to beat Rider. But the Dragons could do themselves a service by looking impressive, too.
10. How productive can the Saint Mary's frontcourt be this season? Randy Bennett anticipates that this frontcourt will be more productive than the one led by Omar Samhan, who led the Gaels to the Sweet 16 two seasons ago. That means Rob Jones will be getting help from Kyle Rowley, Brad Waldow, Mitchell Young and Beau Levesque. Jones dominated Fresno Pacific with 25 points and 12 boards, but Northern Iowa -- coming off an impressive road route of ODU -- will be a much more formidable foe for the Gaels (ESPN, 2 a.m. ET).
11. What should we expect from LeBryan Nash? Well, if you believe the hype, Oklahoma State has an all-Big 12 player who can elevate it to the NCAA tournament. The Cowboys will likely have plenty of chances to feature Nash against Arkansas-Pine Bluff in the NIT Season Tip-Off (ESPN3, 8 p.m. ET).
12. How polished will Syracuse look? If they defeat Manhattan on Monday, the Orange will face either Albany or Brown on Tuesday (ESPN3, 7 p.m. ET) in the NIT Season Tip-Off. The early indication is that this veteran team will be ready to compete for the Final Four. Of course, Syracuse isn't being challenged as much as some other teams, but the Orange smacked Fordham in the opener as Dion Waiters complemented Kris Joseph quite well.
13. A surprisingly close game? I'm going with Austin Peay at Cal (ESPN2, 10 p.m. ET). The Governors should be one of the favorites in the Ohio Valley Conference. Will Triggs and TyShwan Edmondson could play at any level. California is one of the Pac-12 favorites, but the Golden Bears will be tested in this CBE Classic matchup. Guards Allen Crabbe and Jorge Gutierrez will be tested versus Austin Peay.
14. What are the chances of a surprise to end the Marathon? I think Stanford will have a tough time with either SMU or Colorado State at home in the NIT Season Tip-Off. The Mustangs or the Rams are fully capable of being a pest and upsetting the Cardinal (ESPNU, 11 p.m. ET). Stanford first has to get past Fresno State, of course, to be in this matchup. To do that, Aaron Bright, Chasson Randle and Josh Owens will have to really take control.
15. How will Miami score inside? The Hurricanes are sans Reggie Johnson and Julian Gamble due to injuries. The given has been that the Canes have the guard play with Malcolm Grant and Durand Scott. But Rutgers will try and make Miami (ESPN3, 7 p.m. ET) beat the Scarlet Knights on the inside. This could turn out to be one of the closer games in the Marathon.
16. What should we expect from Villanova? This is somewhat of a blank slate. The Coreys -- Mr. Fisher and Mr. Stokes -- are gone. Maalik Wayns will be the dominant presence, but there are plenty of other options as Mouphtaou Yarou, JayVaughn Pinkston, Dominic Cheek and James Bell could all star against La Salle (ESPN3, 7 p.m. ET). The Wildcats are an unknown in the Big East, and this game will at least give us a taste of what we may see.
17. Is Kevin Jones ready to be a star? For two seasons, West Virginia's Bob Huggins has been waiting for Jones to emerge. He scored 20 points and grabbed eight rebounds in a season-opening seven-point win over Oral Roberts. Kent State will hardly be a walk for the Mountaineers (ESPN, 10 a.m. ET). Darryl Bryant can offset Jones' production, but the offense will likely flow through Jones as he adapts to being the front man for the Mountaineers.
18. How ready is Hawaii to make a run at Utah State? Gib Arnold has gone through a complete roster makeover and coached the Warriors to an impressive 19-13 record in his first season in Honolulu. Utah State beat BYU to open the season while one of the WAC favorites, Nevada, was flat at home in losing to Missouri State. Hawaii has a real shot to make a move in its final season in the WAC before heading to the Big West. Establishing an identity in a new conference is always key and ensuring that Cal State-Northridge (ESPN, 4 a.m. ET) is well aware of what it is in for when it visits the Stan Sheriff Center would do wonders for a first impression.
19. What will Morehead State and College of Charleston look like after losing their stars? This game could be one of the more competitive because of who both teams lost, rather than who they gained. Morehead State no longer has Kenneth Faried, while Charleston is without Andrew Goudelock. The Eagles made the NCAA tournament last season, defeating Louisville and then falling to Richmond. The Cougars reached the NIT quarterfinals before losing to eventual champ Wichita State. Regardless of how these teams look (ESPN, 8 a.m. ET) on Tuesday, you can expect them both to be factors in their respective conferences by February.
20. What are the chances Virginia Tech doesn't end up in New York for the NIT semifinals? We'll find out Tuesday night. The Hokies will likely play George Mason, assuming the Patriots beat Florida International and Virginia Tech knocks off Monmouth on Monday. Mason beat Rhode Island by two in overtime in its opener, and while it is a more depleted roster than expected when Paul Hewitt took the job, this is still a formidable squad. Virginia Tech used balanced scoring to beat East Tennessee State by 11 in its opener, but hitting 5-of-18 on 3s was an indicator that the perimeter shooting may not be the Hokies' strong suit.
Other notable names to watch: Does Tu Holloway have a monster game for Xavier against IPFW (7 p.m. ET)? Will Cincinnati's Yancy Gates dominate against Jacksonville State (7 p.m. ET)? How will Harvard fare as the hunted team on the road, even against a rebuilding Holy Cross squad (7 p.m. ET)? How will Dayton's Archie Miller fare in his road debut as head coach at Miami-Ohio (7 p.m. ET)? Will Mike Scott be a double-double performer for Virginia against Winthrop (7 p.m. ET)? Will LSU avoid plunging into irrelevance by winning at Coastal Carolina (7 p.m. ET)? Will Butler avoid a shaky 0-2 start by winning at home against Chattanooga (7 p.m. ET)? Will Saint Louis prove to be the team projected as an A-10 contender and win games it should -- even on the road at Southern Illinois (8 p.m. ET)? Will Missouri State continue to win on the road and take down Arkansas State (8 p.m. ET)? How impressive will Royce White be for Iowa State against Drake (9 p.m. ET)? How will Wyoming play for new coach Larry Shyatt against Northern Colorado (9 p.m.)? Will Arizona State start its climb toward respectability by winning a game at home versus Pepperdine (8:30 p.m. ET)? Will Utah State follow up its BYU win by beating rival Weber State (9 p.m.) on the road?
Andy Katz is a senior writer for ESPN.com.
October, 24, 2011
10/24/11
11:09
AM ET
Late last week Iona received news that
Lamont "MoMo" Jones
, instrumental in helping Arizona to the Elite Eight last season, has been granted a hardship waiver and can play immediately, instead of sitting in residence under NCAA rules.
The MAAC regular-season conference race and postseason automatic qualifier berth just got more interesting and competitive with Jones joining the Gaels.
The truth is this league was already locked in to having one of the best races, outside of the power six, with or without Jones.
But now that he's eligible, the stakes are even higher with Fairfield and Iona preparing for what should be a chase to the finish. At the MAAC level, it will rival anything the Horizon or Missouri Valley has to offer this season.
[+] Enlarge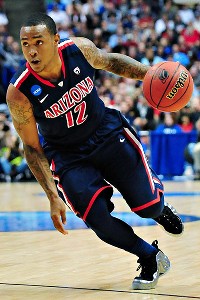 Gary A. Vasquez/US PresswireAdding MoMo Jones to Iona's lineup makes the Gaels better. But will it be good enough to get past Fairfield in the MAAC?
"This league is very top heavy,'' said St. Peter's coach John Dunne, whose Peacocks stunned the field by winning the MAAC AQ on Fairfield's home court in Bridgeport, Conn., last season. "Iona and Fairfield are the most talented. The additions they have clearly make them much more talented. But it will be interesting to see how the dynamic changes those teams.''
Loyola (Md.) and Rider, both with many returnees, are seen as the potential St. Peter's in this league -- a team that could surprise the favorites and win the automatic berth with three strong days in Springfield, Mass. (site of this season's MAAC tournament).
"We got Jordan Latham eligible from Xavier, too,'' Loyola coach Jimmy Patsos said. "I like Fairfield 1, Iona 2 and us and Rider after that. I think it could be a great race. We're deep. We're not as talented. But we're as deep as any team in the league. The key will be Jeff Jones from Virginia for Rider. Can he light it up or not? Fairfield has a new coach, but [it'll] be fine. And [Iona's] [Mike] Glover will be a targeted man.''
MoMo Jones joins an Iona team that is led by returnees Scott Machado on the wing and Glover inside.
Boston College transfer Rakim Sanders is eligible to join the Stags, last season's regular-season MAAC champs, alongside returnees Derek Needham and center Ryan Olander.
The difference between the Stags and Gaels is that Fairfield has two high-profile transfers instead of just one. Former Houston point guard Desmond Wade is also eligible, and he'll take over as the playmaker, sliding Needham to the wing with Sanders as a forward. "I think Rakim is the best player in the league,'' said former Fairfield coach Ed Cooley, now the head coach at Providence. "I don't think there is one matchup in the MAAC [that doesn't favor] him. There is an answer for Glover in the MAAC, and that's length in Olander. The question will be Fairfield's overall chemistry. Now there is a true point guard in Desmond Wade. But the X factor will be Rakim, because no one is close to him.''
Sanders was a tough matchup for ACC teams that played the Eagles. But his last season with BC started poorly with an ankle injury, and neither he nor the team recovered, as he couldn't fit back into the lineup with Reggie Jackson. Sanders found a new home with Cooley, a former BC assistant with strong ties to Sanders and Eagles coach Al Skinner. Cooley is gone, but new coach Sydney Johnson, formerly of Princeton, has been pleasantly surprised by Sanders so far.
The team went to Italy in August, and through the first week of practice, Sanders has lived up to the hype. "He has been very good for us, and there is a reason he started his career in the ACC,'' Johnson said. "He has that caliber of talent. He has a high basketball IQ. He looks the part, too. He's a strong physical kid, who is fast and quick and has an understanding of how to play. He does the right things, and he's unselfish. I'm very pleased with him.''
Johnson said Wade is much more of a natural point, but he can play off the ball like Needham. He said he plans to alternate who handles the ball.
That question is an ongoing issue at Iona now that MoMo Jones is eligible. Machado handled it last season. And Jones did the same for Arizona. Cooley said taking the ball out of Machado's hands could hurt the chemistry, unless this team jells quickly together.
Iona coach Tim Cluess hadn't addressed this topic, because he didn't know Jones' fate for this season. Jones got the waiver because he transferred back to New York, his hometown, to be closer to his ailing grandmother.
How does he solve the problem with who has the ball? "Get two balls,'' Cluess said. "That's the interesting part. Realistically we're just starting to work on it on the court since we didn't want to invest time since we didn't know if they could play together. We will look at who has the ball, will they be interchangeable or if either can play the wing.''
Finding consistency next to Glover inside is also a question for the next few weeks. The expectation was that junior forward Taaj Ridley could be that person, but he has been hampered by foot and Achilles issues.
"I think it's wide-open,'' said Cluess, whose Gaels lost to St. Peter's in the MAAC final last March after the Peacocks upset Fairfield. "Fairfield has the edge. They won it last year, and they have two high-major players. But Loyola has five starters back and is a team that is dangerous. We have to make sure we have that team chemistry. Fairfield has the Boston College transfer, and he could be the best player in the league. They added Wade to what should be a powerhouse. But I like our chances against anybody with the way we shoot the ball.''
Iona and Fairfield have the mix of high-level transfers and four-year players who have blossomed into high-level college players. Each team could win a NCAA tournament game or two in the right scenario. But getting an at-large berth will be determined in the next two months.
The schedules for each favor getting recognized by the selection committee in March. Iona is in the wide-open Puerto Rico Tip-Off with an opener against Purdue on Nov. 17 and the possibility of playing Temple if the Gaels can knock off the Boilermakers. Playing at Marshall, a C-USA top-two team and going on the road in a winnable matchup at Richmond highlight the schedule. It doesn't hurt for power-rating points that Iona plays 11 road games before January.
Fairfield plays at Minnesota, a sleeper in the Big Ten, and has a legit shot to win the weakened Old Spice Classic in Orlando, Fla. Beating Old Dominion in December in Springfield will help, too. Drawing top-five UConn in Hartford, Conn., and visiting Drexel in late December will also assist the power rating.
Johnson walked into a ready-made situation to win again. "This isn't a rebuilding project,'' said Johnson, who led the Tigers to a thrilling Ivy League playoff win over Harvard and then nearly clipped Kentucky in the NCAA tournament opener for both teams. "Ed positioned us. We don't have a lot of excuses. We're preparing ourselves the best we can for March. I want to look in the mirror and when the time comes I want us to have done everything we can to seize the moment and this opportunity.''