Category archive:

Utah Utes
October, 30, 2013
10/30/13
9:22
PM ET
If the 2014 NBA draft lives up to its hype, the upcoming college basketball season could rival or supersede any since the turn of the century.
That's a big if.
But the buzz isn't going away and won't unless the returning and incoming talent takes a dramatic drop from preseason projections.
Let's assume Kansas freshman Andrew Wiggins, Kentucky freshman Julius Randle and Oklahoma State sophomore Marcus Smart are locks for the top three to five spots in the NBA draft. Who else registers with NBA decision-makers to fill out the top 10?
Parker will pair up with Mississippi State transfer Rodney Hood to create a dynamic tandem for the Blue Devils. Parker's overall basketball IQ makes him a cinch to be in the top 10. He will be in the running for ACC Player of the Year with Hood, Virginia's Joe Harris and Syracuse's C.J. Fair.
Wiggins has swallowed most of the oxygen coming from Lawrence, but Bill Self potentially has one of the best big men he has coached at KU in Embiid. He is a sponge, soaking up knowledge, and could be the most dominant big man outside of Randle this season.

Robinson is described as having a pro game with excellent shooting skills. The trick will be how he handles being much more of a featured presence for the Wolverines.

McGary could have easily bolted from Michigan after its Final Four run last season. He was a hot candidate in an incredibly weak draft, yet he chose to return. Now, he's battling back issues. The upside is there, but he needs to show well for a full season.
Kentucky coach John Calipari isn't hesitating promoting Young's skill set. If he has Michael Kidd-Gilchrist's work ethic but is even better in the skill department, Young could be a sleeper to shoot up into the top five in June.
Gordon was the MVP of the United States' under-19 gold-medal-winning team in the Czech Republic in July. His athleticism was on full display in the event. But Gordon will need to show he can shoot and defend to ensure he's a top-five talent.
Harrison will step in as the Wildcats' point guard. If he stands out, the long line of highly placed Calipari-coached point guards will continue to dominate the lottery.
October, 29, 2013
10/29/13
11:56
PM ET
With alignment on hold until after next season, the lines have been drawn, the places set. Now, it's time for programs that have lost their way to lock in and start the climb out of mediocrity.
Such as:
The Demon Deacons stuck with Jeff Bzdelik for a fourth season after winning just 13 games in each of the past two seasons. Transfers have become all too common in the program. There was progress last season: winning six conference games, beating ACC champ Miami and knocking off NC State. But the Demon Deacons couldn't win on the road. Climbing out of the bottom third will be even tougher this year with the additions of Syracuse, Pitt and Notre Dame, not to mention the forthcoming switch of Maryland for Louisville. Wake Forest athletic director Ron Wellman and Bzdelik are good friends. Wellman put his stake in Bzdelik and has to see this through. Now is the time for the Demon Deacons to make a move to ensure that the rocky road was worth the wait. The Wake Forest fan base is one of the most passionate in the league. It's a shame that it hasn't had the opportunity to create a feared, frenzied atmosphere like the one it had less than 10 years ago.
The Cornhuskers are investing in basketball like never before. Nebraska is playing in $179 million Pinnacle Bank Arena. Coach Tim Miles is entering his second season. He has a young team in Lincoln, and there will be growing pains. Still, there needs to be a return investment. The Huskers must make Lincoln a feared road stop in the Big Ten going forward. Nebraska has a chance to show promise. The time is now to make a move before even the most passionate fans begin to lose interest.
The Mountaineers' transition to a new league might have been the toughest of any team that moved. That shouldn't have derailed a program Bob Huggins had rolling to a Final Four just over three years ago. Huggins has too much pride to let West Virginia wallow in mediocrity, but the talent drain was in effect last season. There were recruiting mistakes and opportunities lost. The Mountaineers must make Morgantown as difficult a road stop for opposing teams. Moving into the league's top four is more than doable for the Mountaineers.
The Pirates might be one of the biggest beneficiaries of a move to a smaller conference. Seton Hall was lost amid the bloated old Big East. Now the opportunity is there for the Hall to climb. A strong 2014-15 recruiting class should give hope. There is optimism for one of the most difficult high-major jobs in the Northeast. Kevin Willard is entering his fourth season as a .500 coach, but he could be judged with a clean slate in a new league where the true round-robin schedule will be a fair barometer. The new Big East desperately needs the New York-market teams to matter in March. St. John's appears to be ready to accept the responsibility. The Pirates must do their share, too.
If you've never seen the Huntsman Center rocking, then you've missed out on one of the top home courts in the West. The problem is that those instances, since the late Rick Majerus was on the sideline, have been limited. Crime-fighting coach Larry Krystkowiak has the right demeanor, character and credibility to deliver a winner, but the corner must be turned soon. Utah can -- and should -- be one of the rising teams in a conference that allows plenty of chances for schools to take a turn near the top. If once downtrodden Colorado can be a regular, established contender, then Utah can as well. Krystkowiak said he believes in the younger players in the program. Now it must ignite the passion that once made Salt Lake City an intimidating destination.
Georgia has always been one of the more intriguing SEC teams not named Kentucky or Florida. The Bulldogs are within range of plenty of talent, notably in Atlanta, even going against hometown Georgia Tech. The Bulldogs have a determined and loyal fan base that craves a winner. Mark Fox has coached and recruited pros, but he hasn't been able to get that talent to win consistently in the postseason. The SEC is wide open beyond the top two teams, with room after that for whoever can produce. If there ever was a time to make a move back into being a team of consequence, this is it.
When Guy Lewis was inducted into the Basketball Hall of Fame last month, it brought back memories of the Cougars' dominance in the 1980s. That era is long gone while Houston has spent time in the Witness Protection Program. Now the Cougars have come out of their shell in the American Conference, where there is a real opportunity for Houston to get on the national stage. Once Louisville leaves, UConn, Memphis and Cincinnati will need challengers. Temple and SMU might take their shot. Houston, though, can draw from as much, if not more, of a talent base than any school outside of Memphis. The Cougars might never have a better chance to be a factor than right now. The 1980s aren't coming back, but Houston has a shot to create its own revival.
May, 4, 2012
05/04/12
7:58
PM ET
UCLA's recent mediocrity hasn't been celebrated or seen by the rest of the Pac-12 as an opportunity.
Instead, the conference desperately needs the Bruins to come back -- and fast. Having Arizona dip, even just for one season, didn't help either.
So when the coaches gathered this week for the annual spring meetings in Phoenix, the mood was upbeat. The Pac-12 -- that ultimate big-boy punching bag in college basketball lately -- has two of the nation's top three recruiting classes. And they're from the league's two most prestigious programs.
[+] Enlarge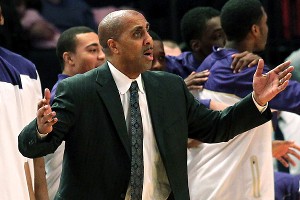 Anthony Gruppuso/US PresswireYou know it's a down year when your regular-season champ doesn't make the NCAA tournament.
"I think any buzz for our league is good for everybody,'' Oregon State coach Craig Robinson said. "As competitors, we would like the buzz to be about us, but as long as it's somebody in our conference and especially a brand name like UCLA, that can only be good for the rest of us.''
The Pac-12 had only two teams make the NCAA tournament in 2012, and one of those (Cal) was in the First Four in Dayton and lost. Regular-season champ Washington didn't get a bid, an embarrassing situation for the conference, which became the first big six league to not have its regular-season winner receive a bid.
Utah arrived in the conference and was abysmal in its first season, finishing 3-15 in the Pac-12 and 6-25 overall. Arizona State fell apart and finished 10-21. USC was decimated by injuries and was the worst of all, finishing a stunning 1-17 in league play and 6-26 overall.
The saving face of the Pac-12 was actually new member Colorado. The Buffaloes won the conference tournament, beat UNLV in the NCAA tourney and hung around with Baylor before losing in the Round of 32.
But perception of the league being down wasn't a reach. It was reality. The numbers and results didn't lie. The Pac-12 was an almost hard-to-fathom 1-25 against the RPI top 40 in nonconference play.
So with Arizona loaded up with four ESPNU 100 recruits in the Class of 2012 and UCLA having secured Kyle Anderson in the fall, the Bruins kept up the momentum in the spring by grabbing another top-five recruit (Shabazz Muhammad) and a four-star big man (Tony Parker).
That's not just good for those two schools, it's welcomed by the rest of the league.
Don't think Pac-12 commissioner Larry Scott didn't take notice of the Bruins' big April.
"It's extremely important,'' Scott said. "The public and media follow big brands, and it doesn't get any bigger than UCLA basketball in our conference.
"Having them have a strong recruiting class [and] a new Pauley Pavilion to move into is great news for our conference. We've got new TV deals. The timing couldn't be better.''
The conference's coaches have long complained about the television package and a general lack of national exposure. A few years ago, first-place Cal was at USC in a critical game and it wasn't even televised.
Well, the Pac-12 finally has a new TV package that will allow every conference game to be televised on one of three networks: ESPN, Fox or the new Pac-12 Network. The league will shift from a straight Thursday-Saturday/Sunday schedule to one that has more flexibility.
[+] Enlarge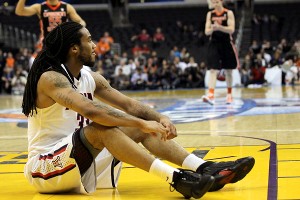 Stephen Dunn/Getty ImagesThe Pac-12 tourney has had some thrillers over the years, but few in L.A. bothered to notice.
In addition, the conference tournament now has a chance to have a sellout with the league choosing Las Vegas as the neutral destination. The Pac-12 had struggled mightily to draw consistent crowds to the Staples Center in Los Angeles. That shouldn't be the case at a destination venue like the MGM Grand, where the Pac-12 will become the fourth conference to play its conference tournament in Vegas, joining the Mountain West (Thomas & Mack Center), WCC and WAC (both at the Orleans Arena).
What will this conference look like by next March, though?
A year ago, the league was gutted by early entrants to the NBA draft at USC, UCLA, Washington, Washington State, Arizona and Stanford.
"Our league wasn't going to be good in the nonconference in November or December because of who left,'' Oregon coach Dana Altman said. "And then UCLA lost Reeves Nelson [dismissed early in the season] and so we weren't in a position to do well.''
Now they must be.
"We need some top-10 teams,'' said Cal coach Mike Montgomery, who has consistently been a Pac-12 title contender at Stanford and Cal. "We didn't have any, and it hurt us. Based on the recruiting, Arizona and UCLA should be in the mix.
"You need good teams going in. It will help us all if we're competing against better teams. Our RPI goes up. One through nine we were pretty good last year.''
The early onus will be on UCLA. The Bruins have to show well at the Legends Classic in Brooklyn, N.Y., with Georgetown and ESPN.com preseason No. 1 Indiana in the four-team field.
"We've had some bad losses out there,'' Montgomery said of the Pac-12's shoddy nonconference record lately. "Typically, everyone looks at UCLA and makes a judgment. It may not be fair or right and they haven't been the best team, but when they [are down], it hurts everybody. It's incumbent on everybody to win the games [you're supposed to win] in the pre-conference.''
Montgomery didn't excuse his own team. The Bears beat no one of significance outside league play last season and were annihilated by Missouri and UNLV.
"We didn't perform well, and that hurt our league,'' Montgomery said. "The impressions start early. We shouldn't lose games we shouldn't lose, because then when the league plays each other, we're screwed. We can't do anything to improve the reputation. That's on all of us to have a better November and December heading into the conference.''
USC coach Kevin O'Neill isn't doubting the Pac-12's ability to bounce back this season with several NCAA tournament teams.
"And we plan on being one of them,'' O'Neill said of the Trojans, led by Jio Fontan, who missed last season with a knee injury. "UCLA and Arizona had top recruiting classes, and that helps everybody improve. I think it's great. We'll see how they react to stressful situations.
"All our teams look good on paper, and we should be one of the top leagues in the country. We lost more pros in this league than the five other power leagues together the last few years. We're producing great players and most are doing well. But all of that is going to change. It's going to be a great year for our league.''
October, 31, 2011
10/31/11
4:07
PM ET
Utah and Colorado have a chance to create a first impression in the Pac-12 that could resonate for years.
Both schools can ensure that making the road swing through the only two conference schools at high altitude is trouble for opponents.
It is imperative that each school, regardless of the rebuilding that it is heavily involved in at this juncture, creates an atmosphere that would concern any conference foe.
It's one way to guarantee that the Utes and Buffaloes can make themselves stand out in the first year of the conference.
"We've got to win games; that's how you become relevant in a conference," said second-year Colorado coach Tad Boyle. "I'm going into a new league for the second year in a row. I didn't know what the Big 12 held for us, and I don't know what the Pac-12 holds for us. We lost 75 percent of our scoring. But no one knows Colorado. No one knows what we're about. We could sneak up on people."
[+] Enlarge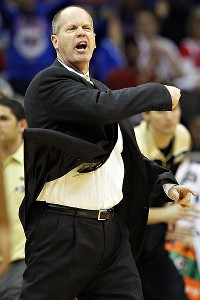 Jamie Squire/Getty ImagesTad Boyle hopes the Colorado altitude will be an advantage to the Buffs in their first season in the Pac-12.
Colorado was 18-2 at home last season. But the Buffs lost their best players in Cory Higgins and Alec Burks, as well as Levi Knutson, so they're going through a complete overhaul. But Boyle created a buzz last season when the team was on the doorstep of an NCAA berth, only to lose out in the final selection process.
In an unbalanced schedule, the Buffs and the Utes get Washington, Washington State, Arizona State, Arizona, Oregon State, Oregon, Stanford and Cal at home. That means Colorado can be a potential spoiler for the Huskies, Wildcats, Bears and Ducks in their quests to win the conference. UCLA could potentially have an advantage since the Bruins don't go to Boulder.
Colorado and Utah also have a home-and-home series against each other since they are travel partners.
"Every other team except Utah is coming from sea level," Boyle said. "Establishing a home court is critical and what we have is unique. But the only way it becomes that is if our fans show up and buy into that. I do think we'll put a team on the floor that's capable of winning. I have no feel for this league, though. I don't know what we're getting into."
Utah coach Larry Krystkowiak has less to work with than Boyle. His roster has had a complete makeover since he arrived last spring.
Utah's Huntsman Center was once one of the toughest places to play in the country. But that was when Rick Majerus had a top-10 team on the court.
The Utes went 12-11 at home last season. "I think people will be excited about the effort level," Krystkowiak said. "Utah and Colorado are the only two schools in the league that play at elevation. So that means we have to be good in shape. We can't take a chance and not be in shape."
Krystkowiak is thinking small. He wants his team to be the best screening team in the country. He also said he expects to run more of a system than NBA clear-out sets.
Whatever niche Krystkowiak comes up with, the Utes will need to win and be a tough out at home to recapture the powerful Utah atmosphere that pervaded in the late 1990s.
Utah and Colorado come into the Pac-12 and are not feared. Nebraska, another former Big 12 member, does have the rep of a difficult home court, something that Big Ten schools will have to deal with at the outset this season. Whenever Pitt and Syracuse join the ACC, both schools will be in line with Duke and North Carolina as the toughest places to earn a win in the conference. West Virginia is sure to have a similar stature when it joins the Big 12.
Utah and Colorado must have that same perception after their first season in the Pac-12. That could help both programs gain a first step toward respectability in the conference.
March, 24, 2011
03/24/11
7:02
PM ET
NEW ORLEANS -- Some quick hitters:
• Coach Mike Anderson created a niche in Missouri with his style of play, but the Tigers were rarely able to take that act on the road. He managed to quiet the turmoil from the Quin Snyder era after his own first few rocky seasons. Reaching the Elite Eight in 2009 and the NCAA tournament three consecutive years can go a long way toward settling things, but now Missouri athletic director Mike Alden is in a bit of quandary after Anderson's departure for Arkansas. Alden has a potential Big 12 contender on his hands next season but can't hire a coach with a completely different style from Anderson's. He would be wise to make a play for BYU's Dave Rose, who is expected to be on the radar of rival Oklahoma as well.
Rose could stay in Provo, Utah, for the rest of his career and be very content, but he deserves a shot to coach at a higher level in a conference like the Big 12. Rose is a Houston native and is familiar with recruiting the Southwest dating back to his time coaching junior college.
If the Tigers don't go in that direction, Missouri State's Cuonzo Martin should be high on the list as well as VCU's Shaka Smart, who will be a hot commodity for a number of coaching vacancies from Tennessee to NC State and now possibly Missouri. So will Richmond's Chris Mooney, but as I said above, he might not fit the Tigers' playing style. Rose, Martin and Smart likely would adapt easier to this crew.
Alden can't afford for the Tigers to slip, especially with the talent that is in place, else some players could leave.
As for Anderson, his move to Arkansas makes sense, but you have to wonder whether this should have happened two coaches ago for the Razorbacks.
• If you're looking for a coach to pull a Herb Sendek and leave a team even though he's not in danger of being fired, the coach who may take that cue is Illinois' Bruce Weber. If Weber could land another quality power-six job, he should get a change of scenery.
• Good thing the Southeast Regional isn't in the Louisiana Superdome (which is under renovation), the site of the 2012 Final Four. The NCAA is expecting 12,000 fans inside the New Orleans Arena for Thursday night's games. That wouldn't look good inside the Superdome, which has a capacity of more than 55,000.
• Saint Mary's coach Randy Bennett won't go to Utah after interviewing for the position. Whether that was his call is unknown. Regardless, Bennett has built a program in Moraga, Calif., that is now a consistent challenger to Gonzaga and should be to BYU as well once the Cougars join the WCC. The Gaels will have company, though, with San Francisco on the rise, Santa Clara improving and the always-formidable Portland.
Bennett has built a niche in the beautiful valley area in Moraga outside Oakland. The Gaels have tapped into an Australian pipeline but also have sprinkled in plenty of big-time talents like Diamon Simpson, Omar Samhan and of course this year's WCC Player of the Year, Mickey McConnell.
• It's amazing how the Utah job has become such an afterthought in the coaching carousel. It should make Utes fans appreciate everything Rick Majerus did during his tenure as head coach. The Utes were a few possessions from winning the national championship in 1998, but Utah basketball pales in comparison to the level BYU is at right now. Utah's move from the MWC to the Pac-12 sounds much grander than BYU's move to the WCC next season, but it may not be as significant. Any chatter of trying to get Rose to switch addresses within Utah is foolish. There's no way that will happen.
• Utah athletic director Chris Hill has done an outstanding job of hiring football coaches, but he'd better get this college basketball hire right; the program is in dire need of an infusion of energy.
• Fresno State is one of the better jobs open outside the power-six conferences. Various camps have sent feelers connected to the following coaches: Montana's Wayne Tinkle; former Arizona State and Ole Miss coach Rob Evans, who was most recently on John Pelphrey's staff at Arkansas; and Minnesota Timberwolves assistant Reggie Theus. Each would be a quality hire if the Bulldogs decide to go in any of these directions.
• Wyoming would love to get Old Dominion's Blaine Taylor for its coaching vacancy, but he's not going from one of the best jobs in the Colonial to one of the worst in the Mountain West. Wyoming also wouldn't have minded getting Utah State's Stew Morrill, another coach who won't move to Laramie.
February, 9, 2011
02/09/11
8:03
PM ET
The villains are missing.
The hatred, the jealousy and the nastiness are no more.
Rivalries have tamed in college basketball.
My two favorites from covering the sport for the past 20 years -- outside of the obvious North Carolina-Duke -- were obscure nationally but not in the region in which I worked.
The New Mexico State-New Mexico and BYU-Utah rivalries in the 1990s had real venom between the coaches, programs and schools.
Then-New Mexico State coach Neil McCarthy was a classic villain. He loved and relished that role. He recruited off the radar, trolling around for junior college- and four-year transfers. He was his own breed. He didn't conform. He would smoke a clove cigarette on the ramp leading down to the Pit floor at New Mexico, despite the clear violation of doing so in the building. He didn't care. I witnessed him scoff at those who passed by as he puffed. He loved to challenge the media, once pounding the press table after a key play during the game and saying to a colleague of mine, "How'd you like that?" This was during the game.
He loved being the one person who everyone in the building wanted to boo. And, of course, he loved to send Dave Bliss and the Lobos cowering back three hours from Las Cruces to Albuquerque if they won at the Pan Am Center.
New Mexico was the favored state school. New Mexico State? It was the less-publicized of the two since it was closer to Texas than the state capital in Santa Fe.
McCarthy and Bliss didn't like each other. The players weren't chums. And the fan bases couldn't stand one another, either.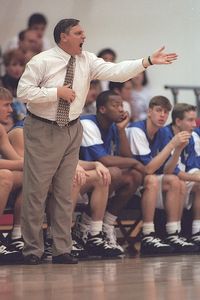 Jamie Squire/Allsport Former BYU coach Roger Reid's hatred for Utah's Rick Majerus made the Cougars-Utes rivalry one to watch in the 1990s.
The hatred between BYU and Utah was even more intense. BYU coach Roger Reid, now the coach at Southern Utah, couldn't stand Utah's Rick Majerus, now the coach at Saint Louis, because of Majerus' popularity with the national media and the power brokers in the state. They weren't friends. They didn't pretend to be buddies. There was an obvious jealousy that Reid had of Majerus that was apparent every time their teams played.
The games were nasty, chippy and intense. It helped that, as was the case in the Lobos-Aggies rivalry, both teams performed at a high level in the '90s. But what made Utah-BYU even more intense was that they were in the WAC together. Utah was the state school and BYU was owned and operated by the Mormon Church. The players were familiar with each other and there was an intensity that existed in every game.
When Reid left, the Cougars sunk (before their revival began under Steve Cleveland and now has flourished under Dave Rose), and the rivalry was tempered. Ray Giacoletti of Utah was not an antagonist, either, and the intensity of the rivalry waned. The common respect between current coaches Rose and Utah's Jim Boylen has lessened the rivalry as well. Now that the schools are heading off to different conferences -- Utah to the Pac-12 and BYU the WCC -- it will be hard to replicate the rivalry. If the schools choose to do what New Mexico and New Mexico State still do -- play home-and-home despite being in different leagues -- then it has a chance to survive. But much like the Lobos-Aggies rivalry has been diminished because of the calm nature of Steve Alford (UNM) and Marvin Menzies (NMSU), the BYU-Utah rivalry may be hard to go back to its angry stage of the '90s.
I asked my colleagues on ESPNU's "The Experts" on Tuesday what were their favorite rivalries in the sport as a player, coach or fan. Here's what they had to say:
Mark Gottfried, former Alabama player: "To me it was Auburn-Alabama back when it was Wimp Sanderson and Sonny Smith. The recruiting battles were nasty."
Stephen Bardo, former Illinois player: "Our rival was Iowa. We hated Iowa. They had pros like B.J. Armstrong, Roy Marble, Brad Lohaus; they had eight pros. We never won in Iowa City. And you had the whole Bruce Pearl thing [turning in Illinois as an Iowa assistant for a recruiting violation]. Now that's come full circle."
Adrian Branch, former Maryland player and area product: "Growing up for me it was NC State versus Maryland. Whoever beat each other was going to win the national championship in 1974. When I played, it was us and Virginia, the two most Northern schools before Virginia Tech got in the ACC. In my four years, it was us then. But growing up it was Len Elmore of Maryland against David Thompson of NC State. "
Len Elmore, former Maryland player, native of New York: "Back then, it was St. John's before the Big East. The rivalries were with all the other New York schools. There was a lot of good college basketball. But I'd also say Davidson versus North Carolina when it was Lefty Driesell versus Dean Smith."
Fran Fraschilla, who was once a former assistant at Providence: "The Providence-Rhode Island rivalry was the most hated I've been a part of.''
Going forward, these are the rivalries I'm interested in seeing develop:
[+] Enlarge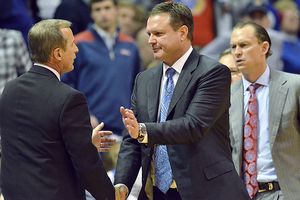 Denny Medley/US PresswireKansas coach Bill Self (right) and Texas' Rick Barnes have a friendly rivalry that should only get better in future seasons.
Kansas-Texas: Bill Self and Rick Barnes don't have a testy relationship. They like each other quite well. But these are clearly the two best teams in the Big 12 and now the 10-team Big 12. Finally, the two will play home-and-home every season, allowing the fans for both squads to get a look at the other each season. The rivalry has a real chance of developing, even if it's not nasty, because it will be the two elite programs going forward in the league.
Baylor-Texas A&M: There is no love between these two staffs. They play twice each season and the games have been very competitive. This trend should continue. The rivalry doesn't get much attention out of Texas, but it should.
St. John's-Rutgers: There is no way Steve Lavin could have a tense rivalry with anyone. It's not in his nature. But there will be a rivalry between the two staffs in recruiting now that Mike Rice is at Rutgers. And if Rutgers can continue to improve, this should be a competitive rivalry, which would be good for the New York-area market.
Memphis-UTEP: Josh Pastner is hardly someone to dislike, either. But Tim Floyd's presence in El Paso means Memphis will have a competitor in recruiting for the long haul. Expect these two programs to set the standard in Conference USA.
Harvard-Princeton: Penn coach Jerome Allen will have something to say about the top two spots in the Ivy. And nothing in the Ivy can or will replace Penn-Princeton. But the top spot for the foreseeable future is Harvard-Princeton. It might be the most competitive competition for the next few years as Sydney Johnson and Tommy Amaker build conference powers.
Arizona-UCLA: Welcome back this rivalry. Sean Miller has the Wildcats atop the Pac-10. UCLA isn't going to fade. And while Washington has been a consistent top-four Pac-10 program, the two elites in this conference in the '90s were UCLA and Arizona. They have the most national reach. And it should be the best annual rivalry in the future. Hopefully, under the new Pac-12 basketball schedule, this is a protected rivalry that ensures they play twice every season.
September, 29, 2010
09/29/10
9:38
PM ET
The new 12-team Pac-10 will likely follow the lead of the new 12-team Big Ten. In other words, starting in the 2011-12 school year, it looks like the conference will split into two divisions for football but remain one, 12-team entity in basketball that plays 18 conference games.
The Big Ten already formally announced its two football divisions and will make its official decision about basketball at its annual meetings this spring, with the consensus being there will be 18 league games with every team playing each other at least once, rivalries protected and the other crossover games done on a random basis for competitive balance.
The Pac-10 athletic directors meet next week (Oct. 6-7) and are likely to follow a similar path, with the final say going to the presidents and chancellors who will meet on Oct. 21.
There are still a number of options for the football divisions, from a simple split between North (Washington, Washington State, Oregon State, Oregon, Utah, Colorado) and South (Cal, Stanford, UCLA, USC, Arizona State, Arizona) and variations off that, as well as a zipper option with each rivalry split to form the two divisions (Washington and Washington State on different sides with Utah and Colorado being the two new rivals). Of course, in football, much like the Big Ten did with Ohio State-Michigan, if a rivalry was split in divisions, that game would be one of the mandatory crossover games every season.
More than likely, the men's basketball schedule will have 11 games against every other team, the 12th game would be against the natural rival and then the other six games would be chosen at random, leaving four schools that a team would play only once a season.
The hitch in the Pac-10's scheduling is that every school wants at least one road trip to L.A. and the Bay Area for recruiting and alumni purposes. League officials have to be cognizant of that sentiment.
Oregon State coach Craig Robinson said it was his preference to make sure the Beavers, or for that matter every school, gets to L.A. and the Bay Area each season.
"And we have to play Oregon every year twice, I don't think we should skip that one," Robinson said.
The Pac-10 is the last power-six conference to still play a true round robin schedule in men's basketball. But when the Pac-10 gives up that title, the Big 12 will assume the role of being the only power-six conference that anoints a true champion. The Big 12 will be a 10-team league in 2011-12 with the departure of Nebraska (Big Ten) and Colorado (Pac-10). The conference has already made it known it will play a true, 18-game round-robin schedule when it's a 10-team league.
Twelve teams might be the perfect number for football with two six-team divisions and a championship game. But going from 10 to 12 in men's basketball takes away the equitable scheduling and the true champion and creates a competitively imbalanced schedule. That's what the Big East, Big Ten, SEC, ACC and Big 12 have dealt with lately. The Pac-10 has not.
"I would select the model that gives the opportunity for us to play each other home-and-home as many times as possible in the shortest window of years," Arizona State coach Herb Sendek said. "You want every team to touch each other in the shortest time possible. That's the fairest way to do it."
UCLA athletic director Dan Guerrero said there have been a number of different models discussed, such as playing 16, 18 or even 20 or 22 league games.
"But the overall sentiment is to stay at 18," Guerrero said. "You want a scheduling model where you play your natural rival and do some home-and-homes. We might go to Oregon but they don't come and return. We might play host to Oregon State but not go to Corvallis. Nothing is definitive."
Guerrero said a number of athletic directors are on record as saying they covet being in the Los Angeles market and "we're looking at ways to make that happen."
Guerrero said the consensus among the athletic directors was to go with one division, 18 games and avoid any no-plays in basketball.
"Those are the parameters to build a model around," Guerrero said. "We could have gone with a 22-game model and still kept the double round robin, but that limits nonconference flexibility. I think 18 is the most appropriate."
Guerrero just came off leading the men's basketball selection committee, which created the "First Four" format under the newly expanded 68-team tournament. In that format, Guerrero and the other nine members of the committee reached a compromise where two of the games will involve the last four 16th-seeded teams and two of the games will include the last four at-large teams.
Guerrero has been a peacemaker/mediator with these types of NCAA issues and his experience should serve him well at the Pac-10 meetings next week.
June, 22, 2010
06/22/10
12:49
AM ET
Quick hitters on Monday:
Florida is the pick of the SEC East because the Gators return all five starters, the only school in the loaded division that doesn't take a hit.
But if the development of Patric Young continues on the Under-18 National Team in San Antonio, then the Gators will be a top-10 team.
The 6-foot-9, 222-pound forward has been a major hit so far during practices as the team gets ready to host the international tournament.
"He's playing really, really well," said Georgia Tech's Paul Hewitt, an assistant coach along with Buffalo's Reggie Witherspoon to head coach Jeff Capel of Oklahoma.
Hewitt said Young is making an impact in all aspects of the game.
"He's making plays, rebounding and running the floor well," Hewitt said. "Offensively, he's looking good. He gives tremendous effort every time -- great effort -- and he'll help Florida even if he doesn't score a ton of buckets. He's going to help them. He'll defend, set screens and do all those things without scoring points."
Duke-bound guard Kyrie Irving is the other headline player so far on the team. Irving is projected to be a starting guard with Nolan Smith on next season's projected No. 1 team. Irving will replace Jon Scheyer in the starting lineup along with Liberty transfer Seth Curry.
Irving has been the playmaker on the squad and has also been defending and shooting the ball.
"He's got a chance to be a real special player," said Capel, who played for Duke coach Mike Krzyzewski. "He's got a great feel for the game -- the ability to pass, score and change speeds. He's going to be a real good one."
Capel is convinced that Irving will be the true point guard for the Blue Devils, something he said they've been lacking.
"They haven't had that in a while," he said. "Not taking away from anyone else, but Kyrie is something they haven't had. He's a true, elite-level point guard. He'll fit in great. It will be helpful for him to have older guys like Kyle Singler and Nolan Smith. He'll have the Plumlee brothers [Mason and Miles] and Andre Dawkins. He brings the intangible."
The one player on the team with college experience is Washington's Abdul Gaddy. He was expected to be a major impact player for the Huskies this past season but was much more of a role player for Washington in its run to the Sweet 16. Having Gaddy on this team should help his development.
"His maturity first and foremost helps this team," Capel said.
Gaddy was a backup to Isaiah Thomas and Venoy Overton. Gaddy averaged 3.9 points and 2.3 assists in playing 18.2 minutes per game.
"He truly understands how hard you have to work," Capel said. "He has a clue on it. So many of these players come from great high school programs but don't have a reference point of what it's like. Abdul does and he's done a really good job of showing them. He really has stood out."
• Utah athletic director Chris Hill said he intends on keeping the Utah-BYU rivalry going for years to come. But BYU coach Dave Rose said he's not sure where and how often the game will be played once Utah moves to the Pac-10.
"It's been a great rivalry, but it changes a bit," Rose said. "The game has usually had a lot on the line. That's what made it so special."
Rose is right, although it opens up some interesting possibilities if the Cougars and Utes were to play in a bowl game or the NCAA tournament, which they will be free to do after 2012.
Rose said the natural reaction to how Utah's move to the Pac-10 will affect BYU's recruiting is "I don't know." He said the "BCS-thing" is much more about football. He doesn't see there being a hit in recruiting when they have equal access to the NCAA tournament.
• Jimmer Fredette's homecoming game against Vermont is now set for BYU. The Cougars were holding off on securing the game on Dec. 8 in Glen Falls, N.Y., until Fredette confirmed he was withdrawing from the NBA draft.
• Georgetown's hiring of Robert Kirby off Mississippi State's staff is a clear sign the Hoyas intend on being a player in the South. Georgetown secured Greg Monroe out of Louisiana. Kirby had been one of the primary recruiting assistants for Rick Stansbury. Georgetown is a national brand, but Kirby's Southern contacts will help expand the reach.
June, 17, 2010
06/17/10
10:05
PM ET
Utah's decision to leave the Mountain West for the Pac-10 might be the least surprising of any of the realignment moves.
For decades, the Utes have fancied themselves as a more elite program than their conference rivals. Academically, Utah wants to be closer to the programs in the Pac-10, and the Utes have always tried to be more West Coast than intermountain.
The Pac-10 will always be more glamorous overall than the Mountain West, even after a season in which the MWC grabbed four NCAA tourney bids to the Pac-10's two. That was more cyclical than the norm.
So the move isn't a surprise. But the most distressing part of the split from the MWC will be the elimination of the home-and-home series with longtime bitter rival BYU. Unless you're an alumnus, have lived in the state, or played in, coached or covered the rivalry, it's hard to appreciate the hatred between the two fan bases.
I have. And it was real during the nine years I saw it firsthand covering the WAC.
BYU is a private school, owned by the Mormon Church; Utah is the state school. BYU's Provo home is a quiet, suburban sprawl an hour south of the Utes' Salt Lake City metropolis.
The games I saw between the Rick Majerus-coached Utes and Roger Reid-coached Cougars were something special in the '90s. There was testiness between the coaches, the players and the fans.
[+] Enlarge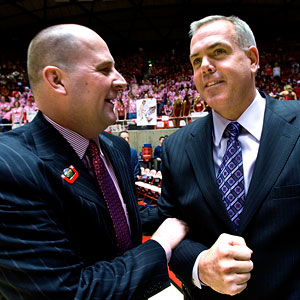 Douglas C. Pizac/US PresswireJim Boylen and Dave Rose are friends, but there's not much else that's friendly about the Utah-BYU rivalry.
Alex Jensen knows the rivalry well. He grew up a BYU fan and then played at Utah under Majerus, including a trip to the national championship game in 1998.
"There's no doubt it will continue. It has to,'' said Jensen, now an assistant for Majerus at Saint Louis.
The rivalry is no longer as intense at the coaching level. The current admiration between Jim Boylen (Utah) and Dave Rose (BYU) carries over to the players.
What will be lost, though, is the importance of the game for conference championships, which BYU and Utah challenged each other for on many occasions in the old WAC and, at times, in the MWC.
"It will be strange [not being in the same league],'' Jensen said. "A lot of friends and family have been talking about it. But it will be interesting to see how it affects everything.''
Jensen said there could be jealousy that arises out of this. For years there was talk of Utah and BYU going to the Pac-10 together, not with one leaving the other behind.
If anything, Jensen said, Utah's departure to the Pac-10 will add to the rivalry since BYU will want to beat the Utes even more and the Utes will want to appear to be at a higher level in a power-six league.
Jensen said he remembered losing to BYU in the conference tournament during his senior year and having to hear the Cougar players in the locker room euphorically cheering that they had taken down Utah to break a losing streak. "It was the litmus test for us,'' Jensen said. "Even if you were having a bad year, if you beat them, it was still OK. Any big rivalry there was that week leading up to it that there was more of a buzz.''
Austin Ainge, who played at BYU from 2002 to 2007 and is currently the head coach of the Maine Red Claws (the Boston Celtics' D-League team), echoed that sentiment.
"It was a lot of fun," he said. "Obviously the intensity was there. I got in a couple of scraps against them. You could feel the difference."
Ainge, the son of former BYU great Danny Ainge, said playing just once a season would be unfortunate, "but it will make it even that much more intense."
"You know you don't have a chance to get them next time -- recruiting, everything will hang in the balance on that one game," he said.
There is always the chance that the two schools could choose to play a home-and-home in the same season like New Mexico and New Mexico State do. It could help scheduling if nothing else.
But if there cannot be an agreement on something of that nature and neither side wants to get into a rotation of hosting, the best option would be to play the game at the EnergySolutions Arena in Salt Lake City (the home of the Utah Jazz) and split the tickets. One thing that should be a given is that a game has to be played in basketball and, of course, football. The two schools have been playing Utah State without hesitation, and while there is a deep rivalry with the Aggies, it's not as intense as the Cougars-Utes.
Besides, there are plenty of examples of two major schools in a state playing an annual nonconference game. I would challenge anyone to say these games aren't the most anticipated, or among the most anticipated, for these teams each year.
Louisville (Big East) vs. Kentucky (SEC)
Clemson (ACC) vs. South Carolina (SEC)
Georgia Tech (ACC) vs. Georgia (SEC)
Florida State (ACC) vs. Florida (SEC)
West Virginia (Big East) vs. Marshall (C-USA)
Marquette (Big East) vs. Wisconsin (Big Ten)
Colorado (Big 12) vs. Colorado State (MWC)
Iowa State (Big 12) vs. Iowa (Big Ten)
Nebraska (Big 12) vs. Creighton (MVC)
New Mexico (MWC) vs. New Mexico State (WAC)
Providence (Big East) vs. Rhode Island (A-10)
Memphis (C-USA) vs. Tennessee (SEC)
Boston College (ACC) vs. UMass (A-10)
Tulsa (C-USA) vs. Oral Roberts (Summit)
UNLV (MWC) vs. Nevada (WAC)
Gonzaga (WCC) vs. Washington State (Pac-10)
Cincinnati (Big East) vs. Xavier (A-10)
Villanova (Big East) vs. Saint Joe's (A-10), Temple (A-10) and Penn (Ivy) in Big Five games

What this illustrates is that the need to drag Oklahoma State with Oklahoma or Kansas State with Kansas, from a scheduling standpoint, wasn't a must in the realignment models. Of course, the legislatures were looking out for the overall interests of the programs, but scheduling shouldn't have been an issue since they can easily still play at least once a year.
So can BYU and Utah.
September, 30, 2009
09/30/09
7:55
PM ET
SALT LAKE CITY -- What made Arizona and USC send out back-channel inquiries to Utah's Jim Boylen for their open head-coaching jobs this offseason?
Boylen was courted by Arizona as the fallback candidate to Sean Miller, then signed a new five-year deal with Utah in May -- and yet USC showed interest when its job suddenly became open in June. Clearly, the third-year coach has found a niche that is working well for him in Salt Lake.
He's got a football fetish. He's obsessed with having a tough-minded, defensive team. He's aggressively scheduling in nonconference play. And he's a disciple of Michigan State's Tom Izzo and former Houston Rockets coach Rudy Tomjanovich.
Boylen was a fallback candidate at Arizona had then-Xavier coach Sean Miller turned the job down, according to multiple sources. USC was poking around about Boylen before it went harder after longtime NBA assistant and college head coach Kevin O'Neill to replace Tim Floyd. All of this occurred even though Boylen got a new five-year deal that pushes his salary up to potentially $1 million with incentives from his $850,000 guaranteed annual deal. That deal came after a 42-25 record in just two seasons on the job.
Spend an evening with this man and it's hard not to see how Boylen sells himself and his program.
[+] Enlarge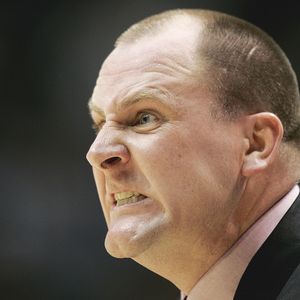 AP Photo/Douglas C. PizacJim Boylen doesn't try to disguise his intensity.
The Boylen you get when you see him is a piston full of energy. First off, if the weather cooperates, Boylen arrives in a top-down, red Jeep, with Utah magnets that he can slap on the side doors when he's in friendly territory (i.e. not in BYU-loving Provo).
Boylen's energy is hard to cap. He has been known to be a bit overzealous at times after games and doesn't mind challenging an opposing coach if he's not pleased with something that occurred (see: getting a reprimand in 2008 for getting in the grill of Wyoming's Heath Schroyer after a last-second dunk during an eight-point Cowboys win). Boylen has also grabbed the microphone and cheered on the crowd over the PA system after a home game.
The rah-rah energy stems from his football background that permeates his way of thinking.
Boylen grew up in East Grand Rapids, Mich., and played football at East Grand Rapids College Education High. He went on to play football at the University of Maine, but his heart was in hoops.
"I bet few Division I coaches were all-state in football,'' Boylen said. "I was higher in all-state [football] than I was in basketball. Maine was my only Division I offer. But I love the game, I love to hoop.''
Boylen's passion for the football mentality of coaching was even more enhanced while working with Izzo on Jud Heathcote's staff in the late 1980s and then as an assistant coach under Izzo from 2005 to '07. In between he spent time as a video coordinator and assistant coach with the Houston Rockets from 1992 to 2003 before single seasons with the Warriors and Bucks.
While the football mentality might not work in the NBA, he can use the props he loves without hesitation in college ball. Throughout his tenure at Utah, he has positioned shoulder pads, a helmet and boxing gloves on the practice floor. They have been present during individual workouts the past few weeks and will continue to be out on the floor when practice officially starts on Oct. 16.
Boylen wants his players to play with a rugged sense, so much that he says he will have the players put the pads on and encourage them to set a screen pad to pad. He said he would put an X on the chest of one set of pads so the player can see where to make contact.
The boxing gloves are present as a means to get the players to own up to their own challenges within practice. He said his late father was a boxer and if there was a disagreement, the gloves would be where it was settled.
"If someone wants to fight then you should put the gloves on,'' Boylen said. "If someone wants to fight the system, then put the gloves on.''
He said one set of gloves says right, and the other says wrong.
"I tell them all the time if they think they're right, then go put the gloves on,'' Boylen said. "They never do. It's a visual. It works though. I'm big on visual things. That's how we built the culture here so fast.''
Utah's culture, though, didn't need an overhaul. It's not as if the Utes were suffering through some sort of downturn. Under Rick Majerus, they were a regional -- and at times national -- power. The Utes went to the NCAA tournament 10 times under Majerus, including an Elite Eight in 1997 and a national title game in 1998 in which they were five minutes away from knocking off Kentucky and winning it all. Then Kerry Rupp took the Utes to the NCAA tournament in 2004 after Majerus left.
Utah athletic director Chris Hill hired Ray Giacoletti for the 2004-05 season after he had successfully coached Eastern Washington to its first-ever NCAA tournament berth. Giacoletti convinced Andrew Bogut to stay in Salt Lake and the Utes ended up in the Sweet 16. A few months later, Bogut was the No. 1 overall pick in the 2005 draft, selected by the Milwaukee Bucks, where Boylen had just finished his one season as an assistant with the Bucks.
Giacoletti struggled the next two seasons, going 14-15 in 2006 and then 11-19 in 2007. Only three years into his tenure, and two removed from a Sweet 16, he was sacked by Hill.
Replacing Majerus was a no-win situation long-term. Rarely does the coach who immediately succeeds a legend survive for long. There are exceptions. Bill Self has kept Kansas as a premier program like Roy Williams did during his tenure. Williams has won two national titles at North Carolina, but didn't have to replace Dean Smith. Bill Guthridge and Matt Doherty served as buffers.
Boylen has had the buffer between himself and Majerus. He is careful not to criticize Giacoletti, but was clearly trying to emphasize that the culture has changed at the U.
"We're in Year 3 and some of my hopes have been realized,'' Boylen said. "But my dreams haven't. I had hoped to become a defensive team. I hoped that we could have over a 3.0 GPA and my guys would be men off campus and around town. But my dreams haven't been realized. We haven't won an NCAA tournament game.''
Boylen went 18-15 in Year 1, losing to Tulsa in the CBI. The Utes finished 24-10 last season and garnered a 5-seed after winning the Mountain West tournament title. However, they were bounced from the NCAA tourney quickly, falling to 12th-seeded Arizona.
"That still stings,'' Boylen said. "We had 14 turnovers in the first half [19 for the game] and we missed 14 wide-open 3s [8-of-32 on the game]. I tell my wife and my staff every day how much that game hurts. They kicked our butts. We played a schedule to win a game in the NCAA tournament and we didn't do it.''
Like Izzo, Boylen has used the pads in practice. He also took from Izzo a method of accountability by having each player write down his goals for the season.
"Once you've got that piece of paper, you've got them,'' Boylen said. "[Izzo] is the best in the world at holding them accountable.''
Izzo has also been a master at scheduling up during nonconference play to challenge his players. Izzo often talks about the schedule being too daunting, but he's at Michigan State, which has won a national title and appeared in five Final Fours over the past decade and is a program that television loves. Utah doesn't have the same luxury in scheduling.
Yet the Utes continue to get games. In the past few years, they've played home-and-home series with Gonzaga, Oregon, Cal, Oklahoma and LSU, all quality opponents.
It's no different with this season's schedule. Utah plays Illinois and then either Bradley or Oklahoma State in the Las Vegas Invitational in late November. Even more impressive, Utah has Michigan and Oklahoma coming to Salt Lake City for games Dec. 9 and 12. Playing Illinois State in the MWC-Missouri Valley Challenge could prove to be a quality game since the Redbirds are a possible MVC title contender, and then going to LSU in a return game on Jan. 2 is another challenge.
[+] Enlarge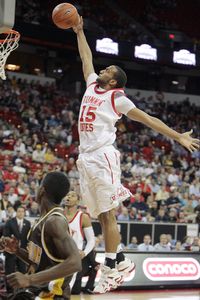 AP Photo/Jae C. HongThe departure of Utah's four leading scorers means Carlon Brown (9.3 ppg) is the team's top returning player.
Boylen has to get the toughness quotient out of this squad with the departure of the team's top four scorers: Luke Nevill, Lawrence Borha, Shaun Green and Tyler Kepkay.
BYU, which is 3-1 against Utah in Boylen's two seasons, is the favorite to win the Mountain West. UNLV and San Diego State will be picked ahead of the Utes, too. Maybe New Mexico as well. With the consensus in the league that TCU and Wyoming will be improved, the Utes will need an edge to ensure they're staying near the top of the conference.
Boylen says he's got the formula.
"If you play six or eight real good opponents, win two or three and then win your league, you're in,'' Boylen said of a Mountain West path to a bid. The Utes won the MWC automatic berth last season by winning the conference tournament in Las Vegas after tying with BYU and UNM for the regular-season title at 12-4.
Boylen said he professes his Izzo-like approach to be close to his players, keeping his office door open but at the same time expecting them to put the pads on and run into a wall. And if there is a disagreement, head to the gloves and at least make the attempt to box -- although that hasn't happened yet.
The pressure on Boylen is immense since this is a program that expects to be in the NCAA tournament. Football's success last season added even more self-imposed heat.
"I knew we had to follow that up,'' Boylen said of the football team's 31-17 win over Alabama in the Sugar Bowl that capped a perfect 13-0 season for the Utes. "Nobody knew about us [basketball] until February. There's a lot of pressure on this program. This is one of the toughest jobs in the country because of the expectations."
The Jazz take some of the pressure off within the city, but on the campus where Majerus built a power, the expectations are high. If Boylen is going to pull this off, he has to follow up an NCAA tournament berth with another one soon after.
The symbols Boylen employs are important to him. But the symbolism of wins in the NCAAs and of course in the MWC will ultimately be what he is judged on by the alumni and the administration.
Still, the manner in which the Utes win is what Boylen is after now and creating this tough-guy mentality is starting anew with a younger roster that includes three freshmen and two junior college transfers.
"I want us to be tough, tough, tough,'' Boylen said. "They used to say, 'That Boylen wasn't a good player.' But they said, 'That's a tough dude.' Tom Izzo wasn't the fastest, but they would say, 'That's a tough guy.'"
So far the props are working, turning out to be much more than just talk. But in a transition season, the props have to do more than be symbols of toughness.
They also have to help this team win.