Category archive:

Siena Saints
August, 30, 2013
08/30/13
8:14
PM ET
Editor's Note: All week ESPN.com is taking a look at new faces in new places. As part of our coverage, Andy Katz will be diving into the mid-major ranks to profile a first-year coach each day.
If Loyola (Md.) had stayed in the MAAC, Jimmy Patsos would not be the coach at Siena.
No chance.
He knows it. Siena knows it.
He wouldn't have attempted to make a play for the gig, but Loyola bolted for the more academic Patriot League. And that was the signal to Patsos that if the Siena job opened, he was all over it to stay in the MAAC.
"I got the offer and I just took it," Patsos said. "I went to lunch with my AD [Jim Paquette] and he understood. Everyone was on board. I had four years left on an extension. But I just felt I should go and got a five-year deal at Siena."
Patsos helped transform Loyola into a contender within the MAAC. The Greyhounds weren't a regular in the conversation for conference title. But he slugged through a rebuilding project and led the them to the MAAC championship in 2012. He did this during a down era at Siena.
The Saints had a lengthy list of successful runs by coaches such as Mike Deane, Louis Orr and Fran McCaffery before Mitch Buonaguro's three-year run. Buonaguro was 35-59 in three years and never finished with a winning record in the MAAC.
The Catholic school just outside of Albany, N.Y., had always been deemed the top job in the conference. The Saints played in a pro-style arena. They had a passionate fan base. They had history. They were the team of record in their city, which isn't the norm in an urban league like the MAAC.
"I wouldn't say I had my eye on it," Patsos said. "I was happy. But I knew that the kids I was recruiting in the MAAC, I wouldn't be able to always get as many of them in the Patriot League."
Patsos said he leaned heavily on his mentor, Gary Williams, whom he worked for at Maryland when the two were a part of multiple Final Four appearances and a national title in 2002. Williams told him to go to a job in a capital city if he could (he loved Ohio State) and more than anything to take the advice of the late Dave Gavitt: Always try to have the best job in your league.
"We put all the pieces together and said if the offer came I would take it," Patsos said. "I loved the job. I love Albany. I love politics and culture. I live in Saratoga. I was the only coach in the MAAC who said keep the tournament in Albany at Siena [it got moved to Connecticut and then Massachusetts for fear of too much of an advantage for the Saints]."
Patsos had seen the top at Maryland. He didn't covet going back. He pursued College of Charleston to no avail. If an ACC job opened, and he was approached, he wouldn't dismiss it. Patsos could be a great fit at a number of spots with his energy, bombastic personality and overall exuberance for life.
He's a Bostonian who has flourished in the Beltway and Baltimore from Catholic U to Maryland. But he has constantly -- and correctly -- looked for the right fit.
"Sure, do I want more money, the money would be great," Patsos said. "But I would spend it no matter what. I like a traditional basketball school. I love Loyola but it's always going to be a lacrosse school. I was always supportive of that. But North Carolina is basketball, Syracuse is basketball, Cal State Fullerton is baseball, Boston College is hockey and Siena is basketball. We added Monmouth and Quinnipiac, which both have great facilities, to the MAAC, so the league has gotten better."
Patsos said Siena should always be one of the premier jobs. He's not hiding who he is and what the Saints should be in the college basketball landscape.
Patsos isn't going to say Siena is going to be the next Gonzaga or Butler. It's not. He's no fool.
"It's not Gonzaga, it's not VCU, it's more of a mid-major minus," Patsos said. "We're the old-school mid-major, but a good one. I like it. I'm happy in the MAAC. It's really tough. It will always be up for grabs with Manhattan, Iona and that's OK. I'm a challenge guy. I would have been happy to stay at Loyola, but we're not getting 10,000 fans at a game like we will for our opener against Albany. We never played in an arena."
The Patriot League academic perception had Patsos a bit on edge. He's not looking for low-rent students. But he didn't want his pool to be too limited. He's telling it as clear as can be -- saying he wanted to be able to recruit a wide swath of talent.
"Patriot scared me a bit," Patsos said. "It's hard to get transfers in. They don't want to drop down to a transfer league. I like transfers. This was a good fit for me."
Patsos knows who he is and what should be expected at Siena. The Saints were originally going to take a trip to Italy in August. But Patsos looked at the real numbers, saw the trip could cost over $100,000 and decided to bus to Montreal.
"A great $30-35,000 trip," Patsos said. "We played five games, won four, really enjoyed Montreal. I know all these guys since we played against them when I was at Loyola. Now I have to get them to play fast, run and trap. We had a great week. It was cheaper. I really recommend going to Montreal."
The Saints have a difficult slate of games, playing at La Salle, going to Purdue, opening with Memphis in the Old Spice Classic in Orlando, Fla., with LSU or Saint Joseph's in the second game. The MAAC schedule is 20 games, a full round-robin, only to likely produce a stressful four-day tournament in Springfield to produce an automatic bid.
Patsos will play five freshmen in his top nine, so the 46-year-old Patsos isn't prepared to claim a MAAC title. But he is convinced this team will be a viable contender in late February.
"It's the right fit," Patsos said. "It really is."
October, 24, 2011
10/24/11
6:09
PM ET
Late last week Iona received news that
Lamont "MoMo" Jones
, instrumental in helping Arizona to the Elite Eight last season, has been granted a hardship waiver and can play immediately, instead of sitting in residence under NCAA rules.
The MAAC regular-season conference race and postseason automatic qualifier berth just got more interesting and competitive with Jones joining the Gaels.
The truth is this league was already locked in to having one of the best races, outside of the power six, with or without Jones.
But now that he's eligible, the stakes are even higher with Fairfield and Iona preparing for what should be a chase to the finish. At the MAAC level, it will rival anything the Horizon or Missouri Valley has to offer this season.
[+] Enlarge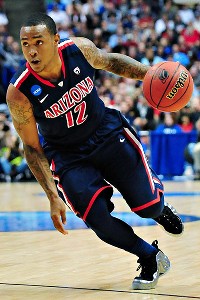 Gary A. Vasquez/US PresswireAdding MoMo Jones to Iona's lineup makes the Gaels better. But will it be good enough to get past Fairfield in the MAAC?
"This league is very top heavy,'' said St. Peter's coach John Dunne, whose Peacocks stunned the field by winning the MAAC AQ on Fairfield's home court in Bridgeport, Conn., last season. "Iona and Fairfield are the most talented. The additions they have clearly make them much more talented. But it will be interesting to see how the dynamic changes those teams.''
Loyola (Md.) and Rider, both with many returnees, are seen as the potential St. Peter's in this league -- a team that could surprise the favorites and win the automatic berth with three strong days in Springfield, Mass. (site of this season's MAAC tournament).
"We got Jordan Latham eligible from Xavier, too,'' Loyola coach Jimmy Patsos said. "I like Fairfield 1, Iona 2 and us and Rider after that. I think it could be a great race. We're deep. We're not as talented. But we're as deep as any team in the league. The key will be Jeff Jones from Virginia for Rider. Can he light it up or not? Fairfield has a new coach, but [it'll] be fine. And [Iona's] [Mike] Glover will be a targeted man.''
MoMo Jones joins an Iona team that is led by returnees Scott Machado on the wing and Glover inside.
Boston College transfer Rakim Sanders is eligible to join the Stags, last season's regular-season MAAC champs, alongside returnees Derek Needham and center Ryan Olander.
The difference between the Stags and Gaels is that Fairfield has two high-profile transfers instead of just one. Former Houston point guard Desmond Wade is also eligible, and he'll take over as the playmaker, sliding Needham to the wing with Sanders as a forward. "I think Rakim is the best player in the league,'' said former Fairfield coach Ed Cooley, now the head coach at Providence. "I don't think there is one matchup in the MAAC [that doesn't favor] him. There is an answer for Glover in the MAAC, and that's length in Olander. The question will be Fairfield's overall chemistry. Now there is a true point guard in Desmond Wade. But the X factor will be Rakim, because no one is close to him.''
Sanders was a tough matchup for ACC teams that played the Eagles. But his last season with BC started poorly with an ankle injury, and neither he nor the team recovered, as he couldn't fit back into the lineup with Reggie Jackson. Sanders found a new home with Cooley, a former BC assistant with strong ties to Sanders and Eagles coach Al Skinner. Cooley is gone, but new coach Sydney Johnson, formerly of Princeton, has been pleasantly surprised by Sanders so far.
The team went to Italy in August, and through the first week of practice, Sanders has lived up to the hype. "He has been very good for us, and there is a reason he started his career in the ACC,'' Johnson said. "He has that caliber of talent. He has a high basketball IQ. He looks the part, too. He's a strong physical kid, who is fast and quick and has an understanding of how to play. He does the right things, and he's unselfish. I'm very pleased with him.''
Johnson said Wade is much more of a natural point, but he can play off the ball like Needham. He said he plans to alternate who handles the ball.
That question is an ongoing issue at Iona now that MoMo Jones is eligible. Machado handled it last season. And Jones did the same for Arizona. Cooley said taking the ball out of Machado's hands could hurt the chemistry, unless this team jells quickly together.
Iona coach Tim Cluess hadn't addressed this topic, because he didn't know Jones' fate for this season. Jones got the waiver because he transferred back to New York, his hometown, to be closer to his ailing grandmother.
How does he solve the problem with who has the ball? "Get two balls,'' Cluess said. "That's the interesting part. Realistically we're just starting to work on it on the court since we didn't want to invest time since we didn't know if they could play together. We will look at who has the ball, will they be interchangeable or if either can play the wing.''
Finding consistency next to Glover inside is also a question for the next few weeks. The expectation was that junior forward Taaj Ridley could be that person, but he has been hampered by foot and Achilles issues.
"I think it's wide-open,'' said Cluess, whose Gaels lost to St. Peter's in the MAAC final last March after the Peacocks upset Fairfield. "Fairfield has the edge. They won it last year, and they have two high-major players. But Loyola has five starters back and is a team that is dangerous. We have to make sure we have that team chemistry. Fairfield has the Boston College transfer, and he could be the best player in the league. They added Wade to what should be a powerhouse. But I like our chances against anybody with the way we shoot the ball.''
Iona and Fairfield have the mix of high-level transfers and four-year players who have blossomed into high-level college players. Each team could win a NCAA tournament game or two in the right scenario. But getting an at-large berth will be determined in the next two months.
The schedules for each favor getting recognized by the selection committee in March. Iona is in the wide-open Puerto Rico Tip-Off with an opener against Purdue on Nov. 17 and the possibility of playing Temple if the Gaels can knock off the Boilermakers. Playing at Marshall, a C-USA top-two team and going on the road in a winnable matchup at Richmond highlight the schedule. It doesn't hurt for power-rating points that Iona plays 11 road games before January.
Fairfield plays at Minnesota, a sleeper in the Big Ten, and has a legit shot to win the weakened Old Spice Classic in Orlando, Fla. Beating Old Dominion in December in Springfield will help, too. Drawing top-five UConn in Hartford, Conn., and visiting Drexel in late December will also assist the power rating.
Johnson walked into a ready-made situation to win again. "This isn't a rebuilding project,'' said Johnson, who led the Tigers to a thrilling Ivy League playoff win over Harvard and then nearly clipped Kentucky in the NCAA tournament opener for both teams. "Ed positioned us. We don't have a lot of excuses. We're preparing ourselves the best we can for March. I want to look in the mirror and when the time comes I want us to have done everything we can to seize the moment and this opportunity.''
September, 3, 2011
09/03/11
12:02
AM ET
Siena freshman and Dakar, Senegal, native Lionel Gomis said he saw his mother die when he was 14.
He said he and his sister, Reinie-Marie, were left helpless when their 47-year-old mother, Eugenie Badgi, suddenly passed away from an illness.
Gomis tried to live with his estranged father but that didn't last long. He joined his sister at his grandparents'. Money was scarce for the private school he had been attending. And for two years he stopped going to school. He passed the time with two hobbies, one old -- drawing -- and one new -- basketball.
"I didn't do much of anything," Gomis said. "It was very hard."
"We first met when he was eight years old," incoming Cincinnati junior and fellow Senegal native Cheikh Mbodj said. "He was really close with his mother. It was very hard on him. We all have a lack of means. We try to get basketball to get us an education and that's why we come here for scholarships. He had a very tough childhood."
Ultimately, Gomis was scooped up, essentially saved by the same place as Mbodj -- the Sports for Education and Economic Development Foundation (SEEDS), a program of basketball and education created by NBA Africa director Amadou Gallo Fall and aided in the U.S. by Brian Benjamin.
The payoff for making the trek from Dakar to the SEEDS home nearly two hours away in Thies, Senegal, was a scholarship to Blair Academy (N.J.), where he spent three years. He arrived in the United States, unable to speak English, only fluent in French. The language barrier led to him being reclassified as a sophomore instead of a junior.
Gomis wasn't an NBA-level player. The 6-foot-9 Gomis was more of a mid-major talent. Siena saw the potential and signed him.
Wednesday, Gomis' world came crashing down as he was given a bizarre eligibility decision. Gomis has to sit out this season, can play one season as a sophomore but then is done in college athletically. The NCAA is basing its decision on new legislation that was adopted in April 2010 but enacted in August. The legislation stipulates that a student-athlete must complete his or her high school core-curriculum requirements no later than the high school graduation date in a five-year period or the international equivalent.
The two years Gomis missed not going to school in Senegal count on his clock. He missed those two years so he will miss them in college. The one year he has to miss this season is due to a reclassification at Blair.
Siena athletic director John D'Argenio said Thursday the Saints will exhaust every waiver possible to reverse the decision. Gomis said the university has assured him it will cover his education if he chooses to stay. D'Argenio backed up that statement and said the school would do whatever is allowed and work with the financial aid office to ensure that he can graduate.
But the ruling has left Gomis and those close to him flabbergasted and wondering if the NCAA fully grasps the hardship he endured. Benjamin said that since January the NCAA has been asking for documentation of the two years absent from his academic record. Benjamin said Gomis' older sister, Maryse, now married and living in Paris, had to return to Senegal and go to their deceased mother's former work place to ask people for her mother's wage statements before she died. But the business is no longer operating. Benjamin said Gomis was asked to produce his birth certificate and a death certificate of his mother.
"I don't know what to say and I wonder if the subcommittee actually listened to his story and took it into consideration," said Benjamin of the 19-year-old Gomis, who will turn 20 Jan. 8, 2012. "He was traumatized at age 14. His mother was sick and then died. His father wasn't around much. They were asking for bank accounts from 2003 that he couldn't produce. They don't have bank accounts. He was at Blair for three years. His SATs were good. I've lost faith in the system."
NCAA spokesperson Stacey Osburn said Friday "the review process is ongoing. NCAA has been in communication with Siena College since July, and is actively working with the school to reach a final decision on the case."
"I don't have enough documentation for what they said to support my case," Gomis said. "I don't have bank records for my mother. She didn't have a bank account. My mother didn't work for three years before she passed. And then she couldn't provide anymore the year before she died. So I didn't go to school then and I didn't go the year she passed."
One of the goals out of the Mark Emmert-sponsored retreat last month was to streamline the phone book-sized rule book.
The purpose is to make the organization work more efficiently. Emmert, the relatively new NCAA president, has been making the media rounds to discuss the importance of change.
Yet, there are still rules that seem to be interpreted as unbreakable and this may be one of them.
"The legislation is that you can't delay enrollment," D'Argenio said. "The new rule is that you have one year to delay your enrollment before you begin losing your eligibility. You lose a year for each year you delay your enrollment."
There are exceptions for the military. Siena officials say there are 15 to 20 cases like Gomis' within the NCAA membership that were denied recently and are seeking some sort of appeal waiver.
"We are not a diploma mill," said Blair Academy coach Joe Mantegna, whose school has produced NBA players Charlie Villanueva, Royal Ivey and Luol Deng. "He was reclassified because he didn't speak English. Even though this rule was changed, why isn't he grandfathered in?"
Gomis said Fall saw him playing basketball, noted his size and determined that he was worth bringing to SEEDS. The daily rigors of SEEDS start with a 6 a.m. run, breakfast, classes, lunch, practice and study hall.
"I don't think [the NCAA] understands what goes on there," Gomis said of Senegal. "I came here to get an education and to play basketball. I felt like it was wrong that they took away those two years. I told them I couldn't go to school for two years. I couldn't afford to. I don't know this system. I don't know why they are denying me. I'm trying to understand."
Gomis and Mbodj talk nearly every day.
"I just think he deserves an education with what he went through to get here," Mbodj said. "We're from Africa. We got to use basketball to get an education. He went through a lot of things. He's had a tough childhood. He had to be a strong kid to get through those situations."
"It's just unfair," Benjamin said. "This is the kid they question? For him to be allowed to play only one [season] just doesn't make any sense."
March, 17, 2010
03/17/10
10:23
PM ET
Fran McCaffery has had quite a run of late, taking Siena to three straight NCAA tournaments, including two upsets in the first round.
The Saints are a trendy pick to win a third straight first-round game as No. 13 Siena goes up against No. 4 Purdue in Spokane on Friday.
Whenever McCaffery is done coaching this month, he'll have a decision to make.
Does he stay at Siena, where he has recently ruled the MAAC, or chase a bigger payday in a tougher conference?
Two years ago, he could have been a major player for the Providence job that Drake's Keno Davis ended up taking. McCaffery, however, was smart to stay put and not push for the job.
Now, McCaffery is definitely high up on the lists at Seton Hall and DePaul. If Norm Roberts isn't able to survive at St. John's, he could be in play there as well. McCaffery has the pedigree of someone who would be marketable to these Catholic schools. He was an assistant at Notre Dame under Digger Phelps. He is coaching at a similar institution now, though it is smaller and in a less rigorous conference. He has strong ties in the New York metro area, and there are no NCAA violations or any behavioral issues on his record. It would also make sense for Charlotte to look at him since he was once at UNC-Greensboro.
Still, he has to balance what would be a big payday with the assurance that it's the absolute right job he's taking.
He's a winner. But this is an intriguing situation for someone like McCaffery. There always seems to be the assumption that you have to go where the money and the league says you should. But do you?
I've covered the game for 20 years now, and I've seen plenty of questionable moves. The most recognizable ones came out of Butler. Few coaches have realized just how good a gig they've had in Indianapolis. Todd Lickliter left for Iowa and was fired three years later. Lickliter believed he could turn the Hawkeyes around. Barry Collier left for Nebraska. He was fired and ended up back at Butler as the athletic director.
McCaffery has to be careful here. He must make the right decision at a critical point in his career. Does also he look at Iowa, where he could be a fit since he was at Notre Dame and knows the Midwest?
The same could be true of someone like UTEP's Tony Barbee, who is a strong candidate at Auburn and DePaul. Barbee has the Miners in the NCAA tournament as a 12-seed and regular-season champions of Conference USA.
UTEP should be just as good next season, assuming the NBA doesn't grab Derrick Caracter and/or Randy Culpepper as early entrants. Barbee could be even hotter as a candidate with another successful season in El Paso. Another strong season could really improve his position in the market; he might not have to take a job at the bottom of a league that doesn't present much of an opportunity to move up in the standings quickly.
The most intriguing development Wednesday was Rutgers' announcement that it was sticking with Fred Hill. That news came to light hours after it was reported by the Newark Star-Ledger that Bobby Gonzalez was out at Seton Hall. Hill's contract situation didn't help Rutgers make a move -- he's reportedly owed over $1 million. But while Hill has had some attrition lately, such as losing big man Greg Echenique, he didn't draw attention to himself like Gonzo.
Gonzo's antics didn't help him. That fact was clear Wednesday. The lack of decorum of his Second Chance U. players -- from Keon Lawrence's wrong-way driving in the fall to Herb Pope's punch in the groin Tuesday night in the NIT loss to Texas Tech -- the Hall's appearance was not appealing.
Seton Hall should try to woo someone like McCaffery or Davidson's Bob McKillop, but the school is also smart enough to know that both coaches are in good situations. McKillop loves his life in the Davidson community north of Charlotte. Why would someone want to leave what makes sense for the craziness of the bottom of the Big East in the competitive New York metro area?
Still, the Hall will have to go with someone who has had no trouble in his past. Likewise, Fordham is trying to do that in looking for a replacement for Dereck Whittenburg. The Rams are looking to make a splash with the hire, but instead they need to ensure it is someone who makes sense, who wants to rebuild and doesn't mind grinding. That's why someone like Rhode Island's Jim Baron -- who might have overstayed his situation at URI after failing to make the NCAAs -- would be an interesting call. But why not look at a coach at a school that can't compete financially, like Northeastern's Bill Coen? There are coaches out there who need to take a gamble to move up rather than leave a comfortable situation. That's why places like Fordham and Seton Hall should also consider Tom Herrion, the top assistant at Pitt, or Hofstra's Tom Pecora. These might be jobs at which NCAA tournament appearances or success isn't the issue, but character and personality fit are more likely the answers. Pitt promoted Jamie Dixon as an assistant and that worked, right? Robert Morris' Mike Rice worked at Fordham, where he is an alum.
Some other quick hitters

• Hawaii already interviewed Gib Arnold, the former USC assistant, and Saint Mary's Kyle Smith. Arnold and Smith have strong ties to Honolulu. UH officials were on the mainland in Los Angeles on Wednesday talking to Gonzaga assistant and former Utah and Eastern Washington head coach Ray Giacoletti, Colorado assistant and former Wyoming coach Steve McClain and Southern Miss assistant and former San Jose State coach Steve Barnes. The Warriors couldn't go wrong with any of these choices. All have a sense of the difficulties of the job at Hawaii. I still contend it is a quality job.
• Charlotte is lurking as a quality gig for someone who can move quickly up the A-10 ladder. What will be interesting is whether former Charlotte assistant Dalonte Hill, now at Kansas State, can get a serious look after he left the 49ers and took committed player Michael Beasley with him to Manhattan. I would think the 49ers would get a lot of hits from head coaches.
• Oregon will wait until Gonzaga's Mark Few finishes the season before an official push. After that, expect the Oregon program to look long and hard at coaches with Nike ties who have been at a national-championship level. That's why Minnesota's Tubby Smith will be dangled as a candidate.
• Would Providence's Keno Davis go back to Iowa to coach the Hawkeyes after his father Tom was pushed out? I would say yes. Would they hire him? I think it would be hard after the way the Friars' season ended.
• I find it hard to believe that Trent Johnson would leave LSU and head back home to Boise State. Coaches are squawking about this occurring. I would be surprised if Johnson left an SEC job for the WAC. This was one bad year at LSU after winning the SEC West the previous season, but give him time.
• I'm not just shilling for a fellow colleague. I do love the knowledge Fran Fraschilla and Tim Welsh share with me on the game. They both were and should coach again if they feel it's right for them and their families. One coach just started with us and I wouldn't be surprised if he got a call this spring: former Alabama coach Mark Gottfried. He won with the Tide and reached the Elite Eight but had a number of injuries that derailed him late in his tenure. Gottfried deserves another shot.
• Was the Ernie Kent firing the longest, most drawn-out process recently? Why didn't Oregon just make it official when Mike Bellotti informed Kent? It made no sense to wait.
January, 26, 2010
01/26/10
10:25
PM ET
Siena is in the midst of a three-game road swing and is currently without its best player,
Edwin Ubiles
, who is out with a shoulder injury.
If the Saints, who are cruising in the MAAC with a 10-0 record, can survive this stretch -- let alone another five-game string against upstart Iona and Fairfield at home and Niagara, Canisius and Rider on the road -- still unbeaten in the league, then the BracketBusters opponent on either Feb. 19 or 20 will be even more important to the Saints' NCAA at-large hopes.
It's essentially Butler or bust.
If the Saints can win this week (at St. Peter's Thursday and at Marist on Saturday), there's a very good chance the Saints will be Butler's opponent in the highest-profile BracketBusters game. Matchups will be made this weekend so teams have a few weeks to deal with travel and scouting.
The concept has done wonders for some and been irrelevant for others, but one thing is certain: Teams that have an outside shot at an NCAA tourney at-large or are looking for a seed boost once they qualify as an automatic can't go wrong with another quality nonconference game in late February.
Some teams won't get that chance. The West Coast Conference isn't participating in the event and there are some omissions from other conferences like the Summit (only Oral Roberts and not Oakland), the America East (no Maine), the Big Sky (served up only Montana State and not Northern Colorado or Weber State).
There are 98 teams involved in 49 games during BracketBusters. The 11 games that will air on the ESPN family of networks are determined first and then the conference commissioners will pair up the remaining 76 teams.
Home and road teams are already set for the event, so it's a bit difficult to maneuver who can go where. But the most important aspect of matching teams should be done based on who has a shot to be in the field. Not all of the 22 set teams are in that group. Actually, maybe only six could have an outside shot at an at-large.
[+] Enlarge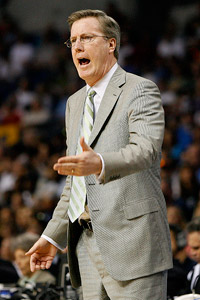 AP Photo/Mike CarlsonFran McCaffery is hoping BracketBusters provides a way to boost his team's NCAA at-large chances.
Siena is one of them.
"It's going to mean something and I would say if we could have a phenomenal league record and beat Butler and then not lose until the finals of the [MAAC] then we'd have a shot," said Siena coach Fran McCaffery. "We'll be right there in that discussion, but we don't want to get ahead of ourselves and assume the next five or six games."
McCaffery would actually be in favor of holding off on announcing the BracketBusters matchups until a few more weeks. But nevertheless, he still wants that Butler game. From a storyline perspective, it makes sense. Those are two of the better-known programs in the field and each has had some NCAA tournament success (Siena has won its last two first-round games).
"We're hoping we can put ourselves in position to get an at-large bid," McCaffery said. The problem for the Saints will be the six games prior to a possible showdown with Butler at Hinkle Fieldhouse in Indianapolis.
Ubiles didn't play against Manhattan on Jan. 18, played 33 minutes in a win over Loyola (Md.) on Jan. 21, but then missed the road game at Manhattan on Sunday. Meanwhile, guard Kyle Downey, who scored 16 points in Ubiles' absence in the first Manhattan game, broke his foot and is now out, possibly for the season.
"We're short-handed for this tough stretch, but I know we have to keep winning," said McCaffery.
Siena did beat Northeastern early in the season for what might turn out to be a solid win. It was a game McCaffery said was scheduled because "nobody wanted to play us and nobody wanted to play them and we're two hours away." But losses to Temple, St. John's, Georgia Tech and Northern Iowa were the supposed "up" games that the Saints failed to win.
Meanwhile, Butler has been rolling in the Horizon at 9-0 with a 16-4 record overall. That mark includes a win at Northwestern and home victories against Ohio State (without Evan Turner) and Xavier. Playing Clemson on a neutral court and UAB on the road (both losses) will help the power rating.
A year ago, Butler coach Brad Stevens said beating Davidson on the road was a key win for helping the Bulldogs get an at-large bid after losing to eventual champ Cleveland State in the conference tournament.
"We were coming off two losses that week before the Davidson game," Stevens said. "And you don't want to be on a losing streak at that time of the year. Doubt starts to creep in. That was a good win that got us going in the right direction."
Stevens knows the Bulldogs will get a quality BracketBusters opponent as the premier home team. There was a time when the staff was anticipating Wichita State as a possible opponent, but two losses last week for the Shockers have led to a belief that it could be Siena. Louisiana Tech, which tops the WAC, is also a possibility, but the name value of a Siena-Butler matchup may have more cachet.
The Bulldogs are handling their business in the Horizon as they become the top draw in every opposing building. That won't change as the Bulldogs go to Green Bay on Friday (ESPNU, 9 ET) and then to Milwaukee, two places the Bulldogs lost last season.
With Matt Howard staying out of foul trouble in the league after being in it throughout the nonconference, the Bulldogs are getting more of a complete effort. Gordon Hayward has been a Horizon MVP and barring a complete collapse, the Bulldogs are in good shape as far as the NCAA tournament is concerned.
Joining Butler as a BracketBusters home squad is Northern Iowa (8-1, 17-2), which leads the Missouri Valley. But Siena has already played Northern Iowa (the Panthers won 82-65) and that's why it makes more sense to send Siena to Butler and Louisiana Tech to Northern Iowa. The latter matchup may not seem headline-worthy to the mainstream fan, but these are the leaders in the WAC and MVC and both teams are talented enough to win a first-round NCAA tournament game.
If you were to pit Siena-Butler and Louisiana Tech-Northern Iowa, you'd likely have four teams that are going to be in the field of 65 matching up a few weeks before Selection Sunday.
The other hot teams are in the Colonial, but they obviously can't go up against each other. Northeastern, Old Dominion, George Mason and William & Mary all could be in play for the CAA's automatic bid with the Tribe the most likely at-large candidate because of nonconference wins over Wake Forest and Maryland on the road and Richmond at home.
That's why the question of who will play at GMU and Northeastern and where ODU and William & Mary will play during BracketBusters will be a fluid process this week.
I'd like to see the following: Wichita State at Northeastern as two of the top teams in the MVC and CAA; William & Mary hitting the road to play the best team in the Ohio Valley (Murray State); ODU traveling to Green Bay, pitting one of the top teams in the CAA against the second-best in the Horizon; and Charleston, which took out North Carolina, makes sense at George Mason in a matchup of two of the best from the Southern and CAA.
"We need a good game," said Northeastern coach Bill Coen, whose Huskies have won 11 games in a row, the third-longest streak in the country. "We've used all our mulligans and probably need to stay perfect the rest of the way to get an at-large berth. But in the spirit of the BracketBusters, we'd like to play our way into the conversation."
Northeastern failed to win games in the nonconference against potential NCAA teams Siena, Rhode Island and Saint Mary's before a humbling loss to Western Michigan in Honolulu on Dec. 23 -- its last loss -- set the team straight.
"It was good for us to be on the road because we had to take a hard look at ourselves," Coen said. "It was like a foreign tour. We were together all the time and had to go eat together breakfast, lunch and dinner and figure it out."
What happened was Northeastern got back to defending and Chaisson Allen started to play the point like Coen expected, teaming up with potential CAA Player of the Year Matt Janning.
Now Coen says the Huskies are cheering for a BracketBusters game "that will help us the most."
They're not alone.