Category archive:

Richmond Spiders
August, 24, 2011
08/24/11
2:33
PM ET
Saint Louis is in the midst of a Canadian tour, prepping to be the new challenger to Xavier in the Atlantic 10.
The Billikens will be just the latest team to take a turn trying to catch the Musketeers, who finished 15-1 and won another league title last season.
Temple has for the most part remained a consistent challenger. The Owls tied for the regular-season title in 2010 and finished just one game back last season. Richmond has had a recent run under Chris Mooney. Dayton, George Washington, Saint Joseph's and, at times, Duquesne and Rhode Island have flirted with reaching the top of the league.
But let's be honest: The A-10 has become Xavier's world, and everyone else is living in it for the foreseeable future.
"I wouldn't be surprised to see Xavier as a dark-horse Final Four team or even standing at the end," Saint Joseph's coach Phil Martelli said. "The program, the university seek domination. Some schools seek wins; others seek championships. They're seeking championships.
"They are also great front-runners. When they get out ahead of you, they want to crush you."
[+] Enlarge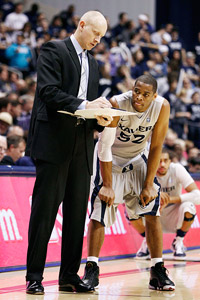 Frank Victores/US PresswireChris Mack and Tu Holloway will look to lead X to its sixth straight league title.
XU's domination of late has been quite remarkable and is akin to what Gonzaga has done in the West Coast Conference. Xavier has been in the NCAA tournament 10 of the past 11 seasons. The Musketeers have won or shared the league title five years in a row. Two years ago, in Chris Mack's first season after taking over for Sean Miller, the Musketeers reached the Sweet 16. They have made appearances in the Elite Eight.
And ticket sales, according to XU athletic director Mike Bobinski, are at 97 percent capacity with the Muskies drawing an average of 10,098 in an arena that seats 10,250.
"With the world around us, in order for us to stay relevant, we don't try to be good every three or four years," Bobinski said. "We try to be as good as we can be every year. We consciously talk about it."
Bobinski locked up Mack, an X alumnus, with a new seven-year deal after last season. Mack could have entertained serious attempts by Missouri, NC State and Tennessee but declined. Sean Miller, Thad Matta and the late Skip Prosser moved on to better-paying and higher-profile jobs at the time. But Mack stayed put, and the consistency will only help Xavier continue to be the team to chase in the A-10.
Martelli said the Musketeers have created a separation from the others in their ability to get nonconference home games, lining up schools like Georgia, Purdue and Vanderbilt for home-and-home series.
"Not too many A-10 teams can get those games," Martelli said, with Temple being one of the lone exceptions.
The return of Tu Holloway gives the Musketeers a star attraction at the point. Having big man Kenny Frease, Jeff Robinson, Mark Lyons and a healthy Brad Redford returning gives the Musketeers plenty of offensive options.
Saint Louis, with Kwamain Mitchell and Mike McCall leading the way, as well as a talented but young Temple team led by Juan Fernandez, are the two likely challengers to Xavier.
Richmond is now a perennial contender under Mooney, but the Spiders are rebuilding a bit after losing Kevin Anderson, Justin Harper and Dan Geriot off last season's Sweet 16 squad. Dayton has also been in the mix as well. The Flyers had a coaching change in the spring as Brian Gregory left for Georgia Tech and Archie Miller, a former assistant to his brother Sean Miller at Arizona, was hired to keep the Flyers in the mix. Dayton has the facilities, the support and the history to be a regular contender, but hasn't been a regular in the NCAA tournament like Xavier.
"Our league has to have more promotion," Rhode Island coach Jim Baron said. "I think this league has been as tough as it's ever been. Xavier has been above everyone else. The players really do develop. But there are some good coaches in this league. I see these Big East teams that win 17 or 18 games, and what's the difference? Our top to bottom deserves more credit. We've won 109 games in five years. There are a lot of teams that don't want to play you home and away."
Baron added in his former team and alma mater St. Bonaventure as a possible sleeper because of the return of seniors Andrew Nicholson and Michael Davenport, two consistent scorers for the Bonnies.
"It's the same old stuff; we all have to overachieve," Baron said. "But the perception should be that this is a helluva league with a lot of good coaches. We don't get the splash."
No one will until there is a consistent challenger to Xavier. Plenty of teams take turns and have significant runs in the conference and in the NCAA tournament. But maintaining that consistency has been the biggest chore.
"We've got a lead dog and a strong middle that's chasing," Martelli said of the conference. "You need universitywide commitment, you need creative scheduling, you need effective recruiting, and you need to catch a break and you need a player who can help get you there. Xavier has handled being the target. But we've had other good teams, and the challenge in our league is to promote a team, like Saint Louis that isn't in our time zone, as a postseason team."
Ultimately, Xavier has, as Martelli said, exceeded its ceiling nearly every season. The rest of the programs have to do so as well to keep up with the Musketeers.
February, 11, 2010
02/11/10
12:34
PM ET
Editor's Note: To hear Chris Mooney talk about the Spiders on Andy Katz's latest ESPNU podcast, click here

Richmond coach Chris Mooney had just received the call that the contract with Florida for a game in Sunrise, Fla., had been signed.
It was July. Mooney was back from recruiting and called the players, who were still around for workouts, to a 9 p.m. meeting. He had his assistants print out the schedule with a breakdown of home, road and neutral-site games.
"We wanted them to take a look at the schedule as soon as we had it done, to make sure that they knew more than anything else how confident we were as coaches in what we can accomplish," Mooney said Wednesday night after yet another significant win for the Spiders, this time a 69-67 win at Rhode Island that pulled Richmond (19-6, 8-2) into a tie with Charlotte and Xavier for first place in the Atlantic 10.
[+] Enlarge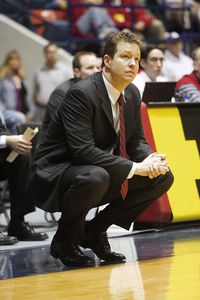 Geoff Burke/US PresswireChris Mooney has Richmond poised for its first NCAA tournament berth since 2004.
"I wanted to make sure they were prepared for the season," Mooney said. "The meeting lasted about 15 or 20 minutes. You could tell right then and there that they were very enthused."
For a program in search of relevance and an identity in the crowded footprint of ACC country, the Spiders had to do something to differentiate themselves this season.
If you think a coach in a league like the A-10 doesn't ponder how to work the NCAA tournament selection process to his advantage, you don't know how much the coaches think about scheduling.
Members of power-six conferences can count on securing a handful of home-and-home games, a neutral-site matchup and, in most cases, a made-for-TV game or a conference challenge game.
Richmond has no such luxury. The Spiders have to go it alone and create opportunities. And when they get them, they have to win. Mooney was no fool here. The Spiders were a veteran crew with the return of oft-injured center Dan Geriot and scoring guards and wings Kevin Anderson, David Gonzalvez, Justin Harper and Ryan Butler. If there was ever a time to make some noise in the A-10 and in the NCAA tournament, this was it.
Richmond got into the South Padre Island Invitational, playing Mississippi State and Missouri. The Spiders won both on a neutral court. The Bulldogs and Tigers are likely bubble teams, so the wins have value. Then came a road game at South Carolina (ultimately a loss), the game with Florida (a win) and a road game at Wake Forest (an overtime loss). There were other blips, such as losing to nearby William & Mary on the road and losing at VCU. Within the league, Richmond lost at Saint Louis and at home to Charlotte in what Mooney said was UR's worst game this season.
The Spiders, who have won five in a row and seven of their last eight, can tell the committee that they challenged themselves on the road and on neutral courts and that they have something to show for their effort.
The only game the Spiders will get back in 2010-11 is Wake Forest. Mooney will have to start the schedule from scratch as he searches for an exempt tournament, neutral sites and a home-and-home series with a power-six school.
In its attempt at a conference title, Richmond finishes with three road games (at St. Bonaventure on Saturday, at Xavier on Feb. 28 and at Charlotte on March 6) and three at home (Fordham on Feb. 17, George Washington on Feb. 20 and Dayton on March 4). Beating competitors Temple and URI in consecutive games certainly helps, and with three to go against the other rivals (Xavier, Dayton, Charlotte), the Spiders can play their way in or, if they lose all three, play their way out.
"For a mid-major in the A-10 to win, you have to have older guys," Mooney said. "You can't put a value on that."
Mooney played at Princeton and joined Joe Scott's staff at Air Force after Scott left Princeton. Mooney then replaced Scott for a season before he jumped at the UR job.
The Spiders have had quite a run of coaches of late but only a few NCAA tournament appearances. Jerry Wainwright took the Spiders to the 2004 tournament. John Beilein coached Richmond to the 1998 tourney. Those were the lone appearances for the program during the short tenure of each coach. The school still might be remembered most for being the first No. 15 to beat a No. 2 seed, when Dick Tarrant coached the Spiders to an upset of Syracuse in 1991.
Like most coaches in a new job, Mooney had to rebuild. The Spiders won 13 games in his first season (13-17, 6-10 A-10), then dipped to eight in his second year (8-22, 4-12) and climbed over .500 in the third (16-15, 9-7) before last season's 20-16, 9-7 mark.
This is the natural progression. Now the Spiders are healthy, play disciplined basketball, rarely beat themselves and have met the challenge that Mooney laid out in front of them in July. Now the chore is to finish.
On Wednesday night, Richmond shot 73.7 percent in the second half (14-of-19) to beat the Rams as Gonzalvez scored 19 points. Gonzalvez hit a 3-pointer to put the Spiders up 67-66 with 1:22 to go, and then Anderson made a layup with 23 seconds left to create distance.
Making key shots and holding up under the pressure of a difficult road game has been the norm for this squad this season. The Rams had the Spiders down 9-0 to start the game. But like the issues with travel -- the Spiders had to switch hotels from Newport to Kingston on the morning of the game Wednesday to ensure they could get to the game in the snowstorm -- Richmond doesn't seem to mind distractions.
"We're a veteran team that plays calm and composed and continues to play," Mooney said. "We make timely shots and make the big play defensively. What these wins in the A-10 have done is validate what we did earlier this season. We showed we had confidence in this team when we passed out those schedules."
And the players are proving that they deserved to play those games.
"Now the most important thing is that we're in first place with six games to go," Mooney said.
And barring a collapse, after toughing through the schedule set up for them, the Spiders will be dancing in the the NCAA tournament come March.
January, 1, 2010
01/01/10
6:01
PM ET
How were we all so wrong about William & Mary?
Wait. Did I just say that out loud? Was there a reason to be even thinking about this historical institution founded in 1693 in the colonial hamlet of Williamsburg, Va.?
This is a school that has never been to the NCAA tournament. Its only appearance in the NIT came in 1983. The Tribe have never been ranked.
The joke of losing to Bill and Mary just isn't funny anymore. It's a tired tale. But it's time to take this men's basketball team about as serious as the students on campus must handle midterms.
[+] Enlarge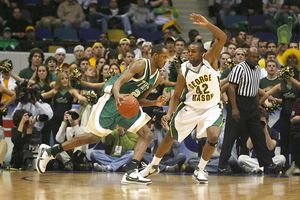 Geoff Burke/US PresswireDanny Sumner, left, and William & Mary are a CAA team to watch this season.
William & Mary was ranked No. 7 in the collegerpi.com poll through Sunday's games and that isn't likely to drop this week.
Why not? The Tribe won at Maryland on Wednesday. They had already won at Wake Forest and defeated a Richmond team that has wins over Mississippi State, Missouri and Florida and just lost to that same Demon Deacons club in overtime.
The RPI is buoyed by losing by nine at Connecticut and a triple-overtime, buzzer-beating loss at Harvard, which as we all know now is no slouch.
On Dec. 5, the Tribe also took out one of the Colonial favorites, VCU, by one to start league play. The league slate continues Saturday with a road game at Hofstra.
Blue Ribbon picked William & Mary 11th in the CAA. The Tribe's final RPI the past five years reads like this: 238, 159, 203, 263 and 286. The win totals aren't much better with 10 a year ago, a rare blip two seasons ago with 17 (and an appearance in the conference tournament final), then 15, eight and eight.
"I wouldn't blame anyone for picking us 11th,'' said sophomore guard Quinn McDowell, who scored a career-high 28 points in the win over the Terps. "We were pretty bad last year. The expectations were pretty low.''
William & Mary has as good a résumé as any school in a non-power six conference. As long as the Tribe, which now have to be considered a CAA favorite, finish in the top two in the league, they should get an at-large bid. So what happened?
"We found something that works,'' McDowell said. "We went to work in the offseason. Had a commitment to each other and found a great system that we believe in.''
William & Mary coach Tony Shaver was a Dean Smith disciple, playing at North Carolina in the 1970s. He was schooled on being a press, run and trapping team. But let's be honest here: That's just not going to fly at William & Mary. This is a school that needs to be niche.
"I made a gut-wrenching decision,'' Shaver said. "I had to abandon my system. I knew it wouldn't lead to the best results at William & Mary.''
So Shaver did what countless coaches have admittedly done from Roy Williams to John Calipari. He went poaching.
"I stole some from John Beilein [from West Virginia and Michigan], the NC State stuff [and now Arizona State] from Herb Sendek and then added some stuff we like,'' Shaver said. "It's a style offensively that is predicated on a lot of 3s, opening the floor, a bit of backdoor cuts and defensively we're doing a lot of different things from some matchup to man.''
It's hard to argue. The Tribe have won nine straight games, one shy of a school-record 10 straight by the 1929-30 team. The Tribe's two road wins against ACC schools was a first in school history.
McDowell said four of the five players on the court can all make shots. The 5-man is a passer and screener. Look at the balance as David Schneider (averaging 16.7 points and 6.2 rebounds), McDowell (16, 3.5), Danny Sumner (13.1, 3.9), Marcus Kitts (6.9, 6.4) and Sean McCurdy (6.5, 4.4 apg) make for a solid five. If it sounds similar to the hybrids out of the original Princeton offense that Georgetown, Northwestern, Arizona State, Oregon State and Richmond all run in some variation to their liking, then that's fine to toss that blanket over it if you'd like.
The interchangeable parts make it hard to guard as long as the Tribe make shots. But there has to be more than just a system. These players have to believe in themselves and not get rattled at perceived higher competition. That was the case at the Comcast Center. McDowell said Shaver made it clear in the locker room that the win over Wake Forest was solid, but beating Maryland would prove they belong.
"I wish I could tell you that there was some kind of magic pixy dust in our water,'' McDowell said. "I don't think there is. It's been a combination of things from the offense, to this team. We're not blowing out teams. But we find ways to win, especially in tough environments on the road.''
In years past, teams such as Gardner-Webb have made their mark with a stunning road win at Kentucky or something similar. But then they fade by the New Year, never to be heard from again, even within their respective conference.
That doesn't seem to apply here.
The Tribe followed an opening weekend of losses to UConn and Harvard with the Richmond and Wake wins and then won at Maryland weeks later.
This just doesn't happen at William & Mary.
"It's no secret,'' McDowell said. "It's not a rich basketball tradition here. But that's part of the excitement trying to build something that's never been done before.''
What Shaver did in switching his philosophy was make his program unique. In the Pac-10, no one enjoyed playing Oregon State, Arizona State or Washington State last season. The same is true of playing Richmond in the Atlantic 10 or Northwestern in the Big Ten.
"I wanted our program to be hard to prepare for,'' Shave said. "We do some unusual things. I wanted to have a system that skilled players could really flourish in with passing and shooting. All of those are a lost art. It helped us find good players that knew they would fit in here.''
Shaver said the Tribe clearly snuck up on Wake. But he said that wasn't the case against the Terps. Now, the Tribe are no longer the given win, the team other CAA teams will look down upon. The Tribe are suddenly the team to beat. The wins at Wake and Maryland made the Tribe the first CAA school since the league was formed in 1985 to win two road games against ACC opponents in the same season. They were only the third and fourth road wins at an ACC school for a CAA school.
Those results demand and command respect.
"We're going to get everybody's best shot now,'' McDowell said. "The programs in the CAA know us better, they've played us multiple times and in some way playing those hostile road games will be tougher than playing at Maryland.''
As the new year starts this weekend, the Tribe have a bid in front of them to earn. They have done quite enough to warrant the attention of all 10 members of the NCAA tournament selection committee. Remember, it is the best 34 at-large teams remaining after the automatic berths. History means nothing in that room. You earn your spot based on what you've done this season. William & Mary has done more than most so far.
"It would mean the world to a lot of people,'' said Shaver of a first-ever NCAA berth. "Not just to the guys here, but to the guys who have played here a long time. I know it's premature for me to talk about that, but it would mean the world.''