Category archive:

Southern Miss Golden Eagles
July, 25, 2012
07/25/12
11:57
AM ET
Southern Miss and Conference USA are a step up from Morehead State and the Ohio Valley Conference, but there are still inherent struggles at a program that is off the national grid.
At the latter, Donnie Tyndall took the Eagles to the NCAA tournament twice and produced a first-round pick, Kenneth Faried, who helped upset Louisville in the Big Dance. At the former, Tyndall looks to continue the momentum built by Larry Eustachy, who took USM to the NCAA tourney for the first time in 20 years before heading off to Colorado State.
[+] Enlarge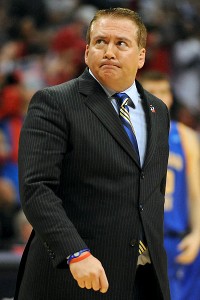 Andrew Carpenean/US PresswireAfter turning around Morehead State, Donnie Tyndall sets his aim at Southern Miss.
Neither stop is along the main road. Like he had to do at Morehead, Tyndall has to be creative to make Southern Miss relevant. He had a number of issues to tackle when he took over in Hattiesburg and discussed them in detail with ESPN.com this week.
Transfers: There are four on the roster for 2013-14, but two really stand out. Johnny Zuppardo (Arkansas State) and Stefon Johnson (Gardner-Webb) are lesser known, but Aaron Brown (Temple) and Chip Armelin (Minnesota) played at big-time programs and should contribute once they're eligible.
Tyndall said it was critical to add players like Armelin and Brown, who played significant minutes at big six schools. Incoming freshman Davon Hayes will be a contributor, but there simply wasn't enough firepower in the Class of 2012 to make much impact.
"We felt like it was really hard at our level to find four or five players who could play right away and eligible this late," Tyndall said.
At a school that has thrived by picking up second-chance players, transfers are sometimes a means of survival.
Retaining Neil Watson: Tyndall had to re-recruit the junior guard who led the Golden Eagles with 12.3 points and 4.4 assists a game last season.
"Guard play is so important, and he's one of the best guards in the league," Tyndall said. "They won 25 games last season. We lost a lot, but there is residue from a team that now expects to win."
Create an identity: Tyndall wants to impress upon his players that he will be pushing them in the fall. He hammered home some tough offseason workouts, especially in this new era of being able to work out with the players.
"We wanted tough conditioning practices and the tempo in which we're going to practice and play," Tyndall said.
Scheduling: Southern Miss is a program that will always struggle to get games. Hattiesburg isn't a destination for a home-and-home series. That's why Tyndall had to scramble to find quality games, even if the series starts on the road. He landed a road game at Wichita State and signed off on Southern Miss being in the Georgia pod for the Legends Classic. Georgia will move on to the semifinals in Brooklyn, N.Y., against Indiana (UCLA-Georgetown is the other matchup), while USM simply gets neutral-site games.
Patience: Eustachy eventually established a winning culture at Southern Miss. The makeup of Conference USA is changing now that Memphis, Houston, SMU and Central Florida will depart for the Big East in 2013. C-USA is adding a traditional postseason team in Old Dominion as well as two programs with the potential to be competitors for Southern Miss in Louisiana Tech and Texas-San Antonio. Also in the fray are solid programs such as Marshall, Tulsa, UTEP and UAB.
"I think when we took over Morehead State six years ago, it was one of the bottom five programs in America," Tyndall said. "We had four wins, and the program hadn't been to the NCAAs in 25 years. Then we had three 20-win seasons and two NCAA tournaments. That's a pretty good program. We had a first-round draft pick in Kenneth Faried. We didn't have much tradition or success. I was the first guy to move to a better or lateral job from Morehead State.
"It was thought to be a dead-end job, but I graduated and played there. There was a great deal of passion, and that is at Southern Miss too. It's got a great football program, baseball program, and Larry had a great team last year that won 25 games. We can sell a lot about Southern Miss and Conference USA."
February, 3, 2012
02/03/12
3:13
PM ET
Darnell Dodson was given a second chance by Larry Eustachy, a coach who had to get one of his own from Southern Miss after problems with alcohol got him pushed out at Iowa State.
Dodson nearly threw the opportunity away.
He had recently arrived at Southern Miss after transferring from Kentucky when he was arrested and pleaded guilty to grand larceny charges, according to the Hattiesburg American. He was dismissed from the team in April and was reinstated Dec. 16 after sitting out the fall semester.
"I made a bad mistake. I shouldn't have been out late that night," Dodson said. "Coach was sympathetic to my situation."
"He was drunk," Eustachy said. "It triggers all sorts of actions, and he did something stupid."
Eustachy got Dodson in touch with a mutual friend -- John Lucas, who has counseled several high-profile athletes with substance abuse problems. Dodson traveled to Houston to meet and work with Lucas over the summer while he was serving his suspension.
"I understand addiction," Eustachy said. "I was given a second chance. I know how to stay sober for a length of time. It was a natural fit for us. He's a good kid who made a poor decision. He has good times ahead of him."
Eustachy said Dodson could have gone to Europe to play professionally after he was dismissed from the team but opted instead to finish the spring semester. He wasn't able to go to school in the summer or fall and wasn't eligible to get aid during that time.
"But he had a great summer with John Lucas," Eustachy said. "We talked over the phone a lot. He had bottomed out. And once the charges were behind him, he had to go in front of a committee and be treated like other students. He wasn't allowed to be here."
[+] Enlarge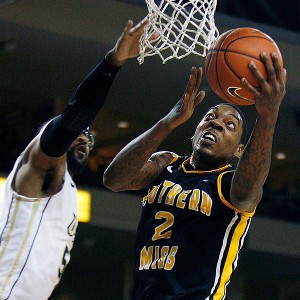 Stephen M. Dowell/Orlando Sentinel/Getty ImagesDarnell Dodson is averaging 13.3 points and 5.6 rebounds a game for Southern Miss since being reinstated Dec. 16.
Dodson said Eustachy was incredibly supportive throughout the ordeal.
"He kept telling me to stay positive," he said. "I had to go talk to the dean of the school, the student committee and basically tell my side of the story and admit that I was wrong and that I made a mistake."
After meeting with the dean of students and a student council committee, the school accepted Dodson back for the spring semester. It's his final semester of eligibility as a college basketball player.
Dodson has been one of the main reasons the Golden Eagles are in first place in Conference USA and in contention for an NCAA tournament berth. A return to the postseason would mean Eustachy's comeback has come full circle after an embarrassing photo at a college party shamed him out of Iowa State.
His rebuilding efforts at Southern Miss have had mixed results, and it's not until this season that the Golden Eagles (20-3, 7-1 C-USA) have been in such a strong position to reach the tourney.
Dodson, who returned to practice Dec. 16, played his first game Dec. 19 at Arizona State, scoring 17 points in 15 minutes. The Golden Eagles have lost one game since he arrived -- at Memphis -- a loss they avenged Wednesday night behind Dodson's 23 points.
"He's a good shooter, a good player, and he was good enough to play at Kentucky," said Memphis coach Josh Pastner. "He makes a difference."
"I was so anxious to be out there and get back to playing, but I wasn't sure I'd be able to," said Dodson. "I'm still getting in a groove and trying to improve my production. I'm just trying to work hard."
Eustachy said Dodson deserves credit for getting to this point on his own. Dodson maintained a 3.0 GPA during the spring while knowing he was going to be suspended at the end of the semester, the coach said.
"He's good, really good, and he might be as talented a player I've had at this position since coaching Jamaal Tinsley at Iowa State," Eustachy said. "He has the potential to be in the NBA.
"Dodson got help. He understands how this works and how things change quickly. And I understand him better than anybody."
Now a coach and a player, both given second chances, are in position to win a league title and earn a place in the NCAA tournament.
February, 25, 2011
02/25/11
12:23
PM ET
SEC commissioner Mike Slive started a trend of suspending a head coach for a significant indiscretion by sitting Tennessee coach Bruce Pearl for eight SEC games.
The NCAA's committee on infractions took the lead and penalized Connecticut coach Jim Calhoun for the first three games of the Big East season in 2011-12.
Pearl was forced to sit because he misled NCAA investigators about a cookout at his house that had high school juniors in attendance on an unofficial visit. Calhoun is being punished for failing to create an atmosphere of compliance in the recruitment of Nate Miles.
The trend is to discipline coaches for their actions or their inability to police their staffs.
Conference USA must not be paying attention to the news.
Twice this season Conference USA commissioner Britton Banowsky has had an opportunity to send a strong message to his conference and coaches everywhere. But he whiffed on both occasions.
Southern Miss coach Larry Eustachy was ejected from a game at Marshall on Jan. 8. His behavior was so threatening that a policeman had to come onto the court to escort him off the floor.
Then on Wednesday, in a odd coincidence, Eustachy's good friend, UTEP coach Tim Floyd, was ejected from a game at East Carolina and had to be escorted off the court by a policeman. Floyd's longtime assistant Phil Johnson was also ejected but at least he walked off without the help of police.
Conference USA spokesperson Courtney Morrison-Archer said it is standard game-operating procedure to have a policeman escort a coach off the floor if he doesn't leave. One of the officials who worked one of the games told ESPN.com that is the case. Police are expected to come onto the court and help the officials if the coach won't get off the floor.
The obvious response from Banowsky should have been to suspend Eustachy and Floyd for a game. Banowsky discussed the possibility of suspending Eustachy with Southern Miss in January and did the same with UTEP on Thursday. But in both cases he chose to issue a statement admonishing the action and calling it unacceptable.
Banowsky said this in a statement Thursday:
"I have spoken with [UTEP Athletics Director] Bob Stull and [UTEP Head Coach] Tim Floyd about the ejections in last night's game. When a coach is ejected, I expect them to leave the floor. Coach Floyd's actions were unacceptable. I have made our expectations clear going forward and do not expect this to happen again."
But didn't it already happen in the conference? It did with Eustachy, and the rest of the coaches should have seen him suspended in January so that another occurrence would warrant the same penalty.
Floyd and Eustachy have been highly successful during their careers. They both had meltdown moments. And they both should have been suspended for a game. The NCAA and the SEC have sent a strong message to coaches that a violation, or failing to prevent a violation within the program, won't be tolerated without a coach having to face a consequence of missing his team's game. The Big East suspended former Seton Hall coach Bobby Gonzalez for his postgame antics.
How is this behavior not in line for a suspension? One coach said Thursday that the message sent by Banowsky to younger coaches is that you can behave in this manner and still get away without any real penalty.
Conference USA doesn't have a dominant team this season. The league may only get one bid. But the competitive basketball being played among Memphis, Southern Miss, UAB, UTEP coupled with the turnarounds by SMU, Tulsa and Marshall and to some extent East Carolina and Central Florida, are now overshadowed by how the league handled Eustachy and Floyd.
Banowsky is on the NCAA's committee on infractions. He knows about how to penalize a coach to ensure it matters. The COI isn't supposed to be in the business of sending a message. But a conference commissioner can dole out punishment to do just that. Banowsky failed to do so and his league is the lesser for it.
November, 12, 2010
11/12/10
12:05
PM ET
College basketball starts with a heavy dose of weekend games, before ESPN's 24-hour Tip-Off Marathon offers up a slew of must-see affairs Tuesday. But before looking forward, there must be some housecleaning done on a few issues. So here are my first impressions from a sprinkling of games this week: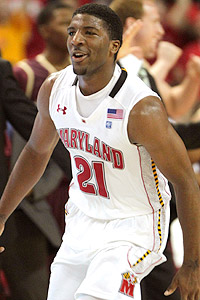 AP Photo/Rob CarrPe'Shon Howard made quite a first impression for Maryland this week.
Name to remember: Maryland freshman point guard Pe'Shon Howard
The offseason question for the Terps was who would replace Greivis Vasquez's leadership, moxie and overall late-game magic. The answer came rather quickly toward the end of the College of Charleston game. Howard made not just one, but two big-time shots to beat the Cougars. The second was all Howard, taking the ball down court and hitting a fall-back dagger of a jumper to win the game at the last second. I loved Maryland coach Gary Williams' stunned face as the buzzer sounded. He was obviously relieved, but also had to be thrilled that he had found a player who shares Vasquez's drive to do something special when the game matters most. Howard was an efficient 8-of-11 (2-of-7 at the line, though) in two games this week, scoring 19 points, dishing out 12 assists and snagging five steals.
Illinois can score: The Fighting Illini have been offensively challenged in recent years (who can forget the 38-33 loss to Penn State in '09?). But in two games this week -- albeit against poor competition -- Illinois averaged 81.5 points a game. That bodes well for a team that has plenty of talent that can push the basketball (expect games against North Carolina and at Gonzaga to be high-scoring affairs).
Texas has another stud freshman: Forward Tristan Thompson averaged 14.5 points in two games, but was even more impressive with a 17-point, seven-rebound, three-steal performance in a win over Louisiana Tech on Wednesday.
Pitt will rely on its veteran backcourt to win big: The Panthers played without injured forward Nasir Robinson in the first two games, and the consistency and production of the frontcourt is still an unknown. But Pittsburgh has two players in Ashton Gibbs and Brad Wanamaker who have matured into leaders, reliable scorers and money players in the final few minutes. Jamie Dixon can rely on these two to take over a game when needed. They carry themselves as mature young adults, ready to take the baton of leading Pitt to a possible Final Four.
Still-unresolved situations:
• Baylor coach Scott Drew said in a text message Thursday night that there had been no movement on reinstating senior guard LaceDarius Dunn for Friday's opener against Grambling State. The Bears can get by without Dunn for some time since the schedule is soft until Arizona State on Dec. 2 and Gonzaga in Dallas on Dec. 18.
• Kansas coach Bill Self said in a text Thursday night that he was hopeful there will soon be a resolution on the eligibility of point guard Josh Selby. But it didn't sound promising for the immediate future: Friday's game against Longwood and Monday against Valparaiso. Kansas starts the meat of its nonconference schedule with a rugged seven-game stretch -- Ohio, Arizona, UCLA, Memphis in New York, Colorado State, USC and at California. All of those teams, save perhaps Cal, should be in postseason contention. But the game against the defending Pac-10 champion is in Berkeley, which still makes it a difficult stop.
• Minnesota coach Tubby Smith suspended Devoe Joseph for a violation of team rules. The Gophers open against Wofford and then play Siena on Monday before going to Puerto Rico for three games, starting with Western Kentucky. Joseph is one of the better scorers for the Gophers, but this Minnesota team can take at least one suspension (unlike last season's team). In discussing this with the Minnesota staff Thursday night, I got the sense Joseph will be back sooner rather than later as long as he adheres to Smith's rules.
And now a glimpse at the weekend ahead:
Best games
No. 21 Georgetown at Old Dominion, Friday, 7 p.m. ET: The Monarchs are a CAA cofavorite, while Georgetown is a top-five Big East team. The Hoyas, who have lost two of their past three against the Monarchs, will be entering a rocking arena and will have to play well to win. This should have a February feel to it. Clearly, an ODU win will have more shelf life than a Georgetown road win. And the Hoyas have already started the season with one setback, as the school announced Friday that freshman center Moses Ayegba has to sit out the first nine games because someone who wasn't an immediate family member paid for his plane ticket to come to the United States before he enrolled in high school.
[+] Enlarge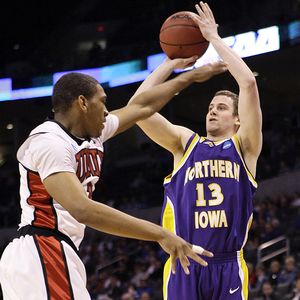 AP Photo/Tony GutierrezFresh off charming America in March, Johnny Moran and his UNI teammates open Friday at Syracuse.
Northern Iowa at No. 13 Syracuse, Friday, 7 ET (ESPN3): Don't be fooled into thinking this is the same Panthers team that upset Kansas. It's not. The Panthers lost too much of that squad to be looked at as a major threat to win at the Carrier Dome. But they will test the Orange zone. How well Kris Joseph emerges as the go-to guy and the impact of Fab Melo along the backline will be interesting developments to track.
Seton Hall at No. 22 Temple, Friday, 7:30 ET: The Pirates have been flying under the radar during all the Big East preseason talk, but still have enough talent to be a major player in the league's muddled middle. Meanwhile, Temple is the Atlantic 10 favorite and the one school at the top of the conference that has had no drama in the offseason. But a loss here at home could start the questions for Fran Dunphy's group.
Sneaky game to watch
Southern Miss at South Florida, Friday, 7 ET: The Golden Eagles project themselves as a real threat to take down Memphis in Conference USA. The Bulls are rebuilding a bit after losing Dominique Jones to the NBA. But USF is still a Big East team that won 20 games last season, so a road win here by Larry Eustachy's crew will go a long way toward earning credibility.
Notable debuts
East Tennessee State at No. 10 Kentucky, Friday, 7 ET (ESPN3): How well Brandon Knight plays at the point, Doron Lamb and Terrence Jones play on the wing and Eloy Vargas plays inside will all be interesting subplots for an Enes Kanter-less Kentucky squad. Don't forget that ETSU has gone to the NCAA tournament in each of the past two years. An upset is highly unlikely, but a young UK team had all sorts of problems with teams like Miami (Ohio) and Sam Houston State early this past season.
North Carolina A&T at No. 5 Ohio State, Friday, 7 ET (ESPN3): The Buckeyes' new stud forward, Jared Sullinger, is being billed as the possible Big Ten player/freshman of the year. Let's see if he lives up to the early-season hype.
Lipscomb at No. 9 North Carolina, Friday, 7 ET: The Tar Heels will be major players if freshman Harrison Barnes is a stud. This is our first look at America's No. 1 recruit, his fellow stud freshmen and a motivated group of UNC returnees.
Chattanooga at No. 20 Tennessee, Friday, 9 ET: The Vols have been the center of controversy this offseason due to the admitted NCAA violations by head coach Bruce Pearl and his staff. Then Tennessee lost an exhibition game to Indianapolis this week and had the critics howling. But the focus can, at least for now, return to the court and the expectations around Tobias Harris in his first game.
Detroit at New Mexico, Saturday, 9:30 ET: The Titans start the season at the refurbished Pit and get to unveil the hyped Ray McCallum Jr. The Lobos will play Tennessee transfer Emmanuel Negedu, who had to have a defibrillator put in his chest after he nearly died in 2009.
Tricky road starts
San Diego State at Long Beach State, Saturday, 7 ET: The MWC favorites begin a five-game road swing to start the season that will take them next to Spokane and then to Oxford, Ohio. Long Beach State is a Big West title contender and a heck of an opening challenge for a team with the highest expectations in SDSU history.
Florida State at UNC Greensboro, Sunday, 3:30 ET: The Seminoles, who fancy themselves to be a possible second-place finisher in the ACC, are going out of their way to challenge themselves this season with interesting road games. Florida State also goes to FIU on Nov. 18 and Loyola Marymount on Dec. 18 before opening up the Diamond Head Classic in Honolulu with a true road game against host Hawaii on Dec. 22.
October, 14, 2010
10/14/10
11:26
AM ET
NEW YORK -- If you put Memphis in a corner and asked the Tigers where they want their program to be, the answer would be the Big East.
If you directed that question toward UTEP and Houston, it would probably be the Mountain West.
Football decisions drive the direction of conferences, though, and Conference USA isn't exactly a football powerhouse.
"Basketball coaches aren't in control of any of that," said new UTEP coach Tim Floyd. "They were humbled this summer to find out how important college basketball was in the overall scheme."
So the collection of C-USA schools are stuck with each other for the foreseeable future and what that means is that this league has to make its basketball marquee this season, as in a multiple-bid league that advances in the NCAA tournament.
Conference USA needs to become at least as valuable a basketball property as non-Big Six leagues like the Atlantic 10 and Mountain West.
UTEP went 26-6 and 15-1 in the conference last season, but was one of the final at-large teams selected to the NCAA tourney after losing to Houston in the conference finals. The fact that the Miners had to sweat out Selection Sunday is unacceptable.
"We need multiple teams in the tournament, and last year with UTEP going 15-1 and barely getting in is a little bit scary," said Tulsa coach Doug Wojcik, in New York City on Wednesday for a media day event intended to get the league more national attention.
[+] Enlarge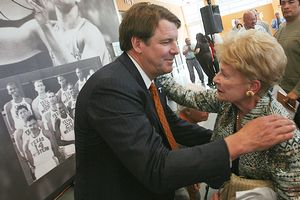 AP Photo/El Paso Times/Victor CalzadaFloyd, seen here with the widow of Don Haskins, landed at UTEP after his controversial tenure at USC.
What's the identity of this league? It certainly has a host of second-chance coaches who have had plenty of on-court success elsewhere, like Floyd, UAB's Mike Davis, Southern Miss' Larry Eustachy, SMU's Matt Doherty, Rice's Ben Braun, East Carolina's Jeff Lebo and Houston's James Dickey. All of those coaches were considered on the rise at one point in their careers, but losing or off-court issues led to their search for a new home.
Donnie Jones went from Marshall to Central Florida, and former Division I head coach Tom Herrion took over the Thundering Herd. Those are two of the league's six new head coaches -- exactly half the league.
Conference USA's coaches preach the league party line -- as they did Wednesday -- about having more draft picks since 2005 than the Big Ten or Pac-10 (including this past draft). Memphis coach Josh Pastner said the league is played above the rim with plenty of athletes, "which makes watching this league fun for everyone."
Still, there is a perception problem. It's undeniable.
From March 2006 to January 2010, the Tigers played and beat 64 straight opponents from C-USA. It is tied for the longest Division I conference win streak of all time. So whether it was fair or not, the national attitude about Conference USA was that Memphis steamrolled through an inferior conference.
"I grew up around the Pac-10, coached in the SEC and coached in the Big 12 and it's strange to me how underrated this league is," Eustachy said. "My only thinking is that Memphis made such a mockery of it for [64] straight games, but then they made a mockery of Texas [and Michigan State and UCLA] in the NCAA tournament and should have won the national championship [in 2008]. People look at our league and think no one could beat them for [64] straight games.
"Memphis was great, but the league has never been more competitive and has great coaches."
UAB's Davis, who has been on the cusp of getting an at-large bid the past few seasons, said Memphis' dominance under Calipari completely overshadowed the league. Having the conference tournament in Memphis also hindered getting a second bid for the league. But a year ago, the tournament was in Tulsa and the league was nearly left with just one again after Houston upset UTEP in the championship game.
"Does this league have the opportunity to be better than the WCC, when it had three teams in with Gonzaga, Saint Mary's and San Diego? My guess is certainly yes, when you see the history of this league with the coaches and the players," Floyd said. "This league has to do what the Mountain West did last year and get four teams in and win."
The coaches know who has to be good for this league to ultimately survive in a changing, challenging college landscape. Memphis, UTEP, Tulsa, UAB and Houston have the most national name recognition with a national title in the group (Texas Western) and a few national championship game appearances (Memphis and Houston).
Eustachy says Southern Miss, with Angelo Johnson and Gary Flowers, are ready to challenge for the conference title. Their continued improvement would certainly help the league, but the Golden Eagles still don't resonate much nationally.
[+] Enlarge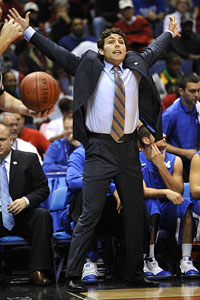 Scott Rovak/US PresswireExpectations weren't high for Josh Pastner's first season at Memphis. They certainly are for his second.
The pressure to be at the top still resides in Memphis.
"We need to be good; there's no doubt about that. We need to be good," Pastner said. "We've recruited well. We now have to perform well on the floor. That's the bottom line."
Eustachy disputes that Memphis has come back to the pack, despite missing the NCAAs this past season after four straight trips that included a title-game appearance, three Elite Eights and a Sweet 16.
"Memphis may have as good a players as Cal's better teams," Eustachy said.
Tulsa has had a rich history of NCAA tournament success under a plethora of name coaches like Tubby Smith, Nolan Richardson and Bill Self. Buzz Peterson won an NIT. Wojcik won a College Basketball Invitational. The Golden Hurricane had a great shot to be an NCAA tourney team last season, but weren't able to stand up and win the key games down the stretch when they had an elite center in Jerome Jordan, a second-round NBA draft pick.
"I think from a fan enthusiasm standpoint, they need us to be successful," Wojcik said. "What we need is multiple teams in the tournament."
To do that, though, the league's teams will need to start playing tough nonconference schedules in November and December -- and win some of those games, too.
That's not an issue for Memphis, which did that under John Calipari and still does so with Pastner. The Tigers play Miami and Georgetown at home, Tennessee and Gonzaga on the road and face Kansas at Madison Square Garden.
UAB has generally the same philosophy, and beat Butler and Cincinnati last season. The Blazers play Duke, Arizona State, Arkansas and Georgia this season. Floyd said he wants UTEP to have the scheduling attitude he had at USC, where he scheduled just about anyone to upgrade the team's power rating.
Tulsa has had solid shots to upgrade and does play in the Big 12 footprint, allowing it to get games with the Oklahoma schools. Southern Miss could use some success in Cancun this season, along with road wins at Ole Miss, South Florida and Cal that would greatly improve its national perception. Road wins always help.
"This is a process, but you've got to win those nonconference games and you've got to have 23 or 24 wins going into the conference tournament," Davis said. "It's difficult not to take a team that has closer to 30 wins than one that has 23 or 24. So if you can get to 25 or 26 or 27, you've got a better chance to get in."
A new identity for a host of schools that would probably like to be somewhere else would come if it could get multiple bids in the NCAA tournament and advance. Sounds easy enough, right?
"There are a lot of coaches in this league that have won a lot of games, a lot more than I have," Pastner said. "The league has gotten better. Memphis' dominance made everyone raise the level of recruiting and now the league has better players and is as athletic as ever before."
Five more observations from Conference USA media day:
1. So much talk was about the Memphis freshmen -- and it is a top-five class that deserves plenty of attention. But the consensus is that if the Tigers are going to be one of the nation's elite, then Wesley Witherspoon has to be a major presence. Memphis coach Josh Pastner is convinced that Witherspoon will be, or rather has to be, the star of this team.
2. C-USA put out its all-conference team, and one player was missing that could end up being a stud. UAB coach Mike Davis said Jamarr Sanders, a onetime guard at Alabama State, could be one of the best players he has ever coached. Sanders averaged 10.4 points and 4.9 rebounds a game for the Blazers last season, but Davis said he was just figuring out how to play the game after sitting out a year.
3. UTEP's Randy Culpepper was tabbed as the preseason player of the year, but the question Davis had was whether Culpepper was going to be set free to go up and down or if he would be in more of a half-court set. If it's the latter, that could change Culpepper's effectiveness. UTEP coach Tim Floyd has been known to change to his personnel, and that's why without a real serious post threat (no Derrick Caracter or Arnett Moultrie), it's hard to see this team slowing down too much.
4. The best news for the teams that might be struggling in the bottom half of the league is that at least three have a star. Rice coach Ben Braun said Iranian Arsalan Kazemi, who played for the national team at the world championships in Turkey, had a sensational summer and should be ready for a major season. East Carolina's Brock Young and SMU's Papa Dia, who made the preseason first- and second-teams respectively, will at least provide a reason to watch the Pirates and Mustangs this season.
5. When you sit at lunch and see the collection of coaches in this league, it really is amazing. When you look around the table and see Larry Eustachy, Tim Floyd, Matt Doherty, Jeff Lebo, Ben Braun, James Dickey and Mike Davis and know that they were all in high-major conferences and are now in this league, it says a lot about the coaching business. It is a fickle one at best. Fame is fleeting in this profession, but there is almost always a second chance. Conference USA is the epitome of that.
August, 18, 2010
08/18/10
3:28
PM ET
Louisville coach Rick Pitino was humiliated by his testimony in a Louisville court room during the trial of a woman who was accused of trying to extort millions of dollars from him.
The woman, Karen Cunagin Sypher, was found guilty on all six counts she was charged with and faces sentencing this fall.
But when the Cardinals play on the road this season, Pitino will likely still be razzed by opposing fans about the matter.
Few college basketball coaches know what it's like to be embarrassed and then have it thrown back in their face more than Southern Miss' Larry Eustachy.
Eustachy was forced to resign from Iowa State in May 2003 after reports surfaced in a local newspaper that he was seen drinking and hanging around co-eds at parties at Kansas State and Missouri after Iowa State road games, including a photo of him at a party at Missouri.
Eustachy said he didn't have the type of support at Iowa State under former athletic director Bruce Van De Velde that Pitino has under Tom Jurich, who has been steadfast in his support for Pitino since news of the extramarital affair and subsequent extortion attempt became public in the past year.
"If I'd talk to Rick, I would tell him, 'Don't worry about tomorrow, or worry about yesterday, only about today,'" Eustachy said. "The administration is the biggest difference. I had an athletic director who put his finger in the wind and said, 'Let's get rid of Larry.' Tom Jurich is as good as they come. The difference is the administration."
Eustachy said time will heal everything for Pitino.
"Time has taken care of it for me," Eustachy said. "There are very few signs anymore. It's gone. We've moved on."
Eustachy admitted to being an alcoholic, received treatment, and after a year out of the business landed in 2004 at Southern Miss, where he is about to start his seventh season. The Golden Eagles have their best chance to reach the NCAA tournament under him due to the return of leading scorers Gary Flowers and USC transfer Angelo Johnson.
Eustachy said he dealt with signs at opposing arenas taunting him about the issues in his personal life when he returned to coaching. He said signs at Rice and UAB were probably the worst in Conference USA.
"Those guys were clever," Eustachy said. "As a coach, you see brutal signs. When I walked into Missouri or Kansas you would get that but it was personal. I was comfortable in my skin that year off and I'm comfortable with who I was and blocked it out … . I couldn't do that in the past."
Eustachy said he has been sober for seven years and four months.
"I didn't realize I had an issue and it's called alcoholism," Eustachy said. "I had to reinvent myself. I didn't know how deadly this thing is. The past seven years and four months have been the best time in my life even though I lost a $12 million contract, a divorce, etc. It's a different way of life and I'm grateful to what has happened to me."
Southern Miss finished 20-14 last season, 8-8 in C-USA. A number of C-USA coaches told ESPN.com they expect the Golden Eagles to be a contender with Memphis for the league title.
Eustachy had a revolving door of players early in his tenure. He struggled to win in his first two years but was above .500 in the league before a dip down to 4-12 in the 2008-09 season.
"We have the best players now," Eustachy said. "Right after we moved here we had a used trailer for over two years with an old toilet. We now have a $12 million addition to the arena and state-of-the-art stuff. We don't get Angelo Johnson from USC if we still have the trailer."
Eustachy said Flowers is one of the most talented players he's ever coached and that includes Marcus Fizer and Jamaal Tinsley, players he coached at Iowa State who went on to play in the NBA.
"I think we have a chance to compete for our league championships, I really mean that," Eustachy said. "We're there. We're close."
The Golden Eagles return their top eight players and play in the Cancun Governor's Cup on ESPN's family of networks this season. They could tussle with Ole Miss for the championship if they can get past Saint Louis. Games at Ole Miss along with visits to South Florida and Cal should prepare Southern Miss for a run at the C-USA title.
"Resentment is a terrible quality a person can have," Eustachy said. "You have to move on. I wouldn't change a thing."