Category archive:

South Carolina Gamecocks
September, 27, 2011
09/27/11
7:42
PM ET
Connecticut is putting on the full-court press to join the ACC in case the league decides to expand again. And Duke coach Mike Krzyzewski and North Carolina coach Roy Williams both told ESPN.com they would like to see the league eventually go to 16 teams, with two eight-team divisions.
But there is no sense of urgency in the ACC, especially since the Big East for the moment is making Pitt and Syracuse stay for 27 months per the league's bylaws. The conference has plenty of time to figure out how to schedule its 14-team league.
So the attention now returns to the SEC with Monday's official announcement that Texas A&M will join the conference for the 2012-13 season. That gives the league 13 teams.
Should there be more?
Like Krzyzewski and Williams, Kentucky coach John Calipari would eventually like to see his conference get to 16.
"I don't think this stuff is done yet," Calipari said. "I've said for months that there may be four conferences with 16 or 18 teams each. But I can tell you that the SEC at 13, 14 or 16 is going to be stable. We're fine. If they're going to add, I'd like us to go and get Virginia Tech, Maryland and Missouri to go along with Texas A&M. We're not going to do anything at the expense of academics. You're also going to see basketball step up in the next five years in the SEC."
[+] Enlarge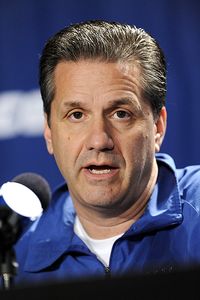 Howard Smith/US PresswireJohn Calipari would like to see the SEC add Missouri, Virginia Tech and Maryland.
Calipari tweeted Monday that he thought the move to add the Aggies was tremendous for the league and new coach Billy Kennedy, a native of SEC country (Louisiana).
"Texas A&M is a great school academically, has a well-run athletic department and will fit well," Calipari said. "Their fan base is ridiculous, just like all of us. The SEC is different. The SEC is about schools with strong fan bases and geography. We want the markets. There is no buyout in the SEC because no one wants to leave."
Vanderbilt coach Kevin Stallings said he would have been fine with the SEC staying put at 12 teams, but he's not against the expansion.
"I like the simplicity of an even number and I'm not sure it was completely necessary," Stallings said. "I don't think we're finished seeing movement and if so, if we end up at 14 or 16, if that's what the commissioner's office said we need, then I'm fine with it. Our league isn't going anywhere. We're as stable as any league in college athletics and we have visionaries who run our league. If they think we're better suited to be at 14 or 16, then I'm OK with that."
The SEC will run into issues on further expansion since it would be hard to take a team from a state where there is already a conference member. The new ACC buyout of up to $20 million poses a problem, too. But the new markets in new states is what Calipari was talking about when he rattled off Missouri, Maryland and Virginia Tech. Still, it would be extremely difficult to pry the Terrapins away from playing Duke and North Carolina every year or the Hokies from rival Virginia after Tech expended a lot of political capital with the Cavaliers to not block the school's move from the Big East to the ACC eight years ago.
The SEC's current number of 13 will be a scheduling issue for football and basketball. Football still has divisions, which is a matter unto itself as the league decides what to do with the Aggies and how to handle an unbalanced schedule.
The SEC got rid of divisions for men's basketball for this season, but the scheduling format still mirrors the football East-West split with each team playing its old side twice and the other once for the 2011-12 season.
Stallings was on an SEC committee to determine a 12-team, no-division schedule for 2012-13. The consensus was to have everyone play each other once (11 games), with seven more games coming from doubling up against league opponents to get to 18 league games. The SEC currently plays 16. The same formula is expected to be applied to a 13-team, no-division SEC next season. The Atlantic 10, which has 14 teams, has a format of playing only 16 league games with every team playing each other at least once, three teams twice.
The question for the SEC will be which rivalries are protected in a doubling-up scenario. There are a few natural ones to protect like Alabama-Auburn, Ole Miss-Mississippi State and Vanderbilt-Tennessee with newer ones like Kentucky-Florida and maybe more traditional ones like Tennessee-Kentucky or Florida-Georgia kept, as well. There could be a need to ensure Texas A&M plays LSU twice as well, or perhaps twice with Arkansas, a former rival from the Southwest Conference.
Whatever the case, Stallings doesn't seem all that worried.
"I think we just have to have an open mind going forward," he said. "We'll come to the best concept relative to 13."
December, 16, 2010
12/16/10
11:08
PM ET
Georgia and South Carolina are the two programs in the SEC East that probably get the least amount of publicity.
But that could change if the SEC East continues its upward climb.
Three of six East teams are ranked in the Top 25 (No. 7 Tennessee, No. 16 Kentucky and No. 24 Florida) and a fourth -- Vanderbilt -- has made its case to be included. South Carolina is 7-1 and its loss was at Michigan State on Nov. 16. The Gamecocks' double-OT victory at Western Kentucky could be a quality win, too. And beating rival Clemson at home keeps South Carolina moving in the right direction heading into Saturday's game at No. 2 Ohio State. The last test on the nonconference slate comes from suddenly surging Boston College on New Year's Day.
South Carolina coach Darrin Horn was prophetic when he promoted freshman point guard Bruce Ellington as Devan Downey's replacement. Ellington is the team's leading scorer (13.4 ppg) and assist man (4.1 apg).
"He's good, really good, an athletic point guard, and he's going to make plays when they count,'' Horn said. "He's been so good, and the scary part is he's going to be a lot better.''
[+] Enlarge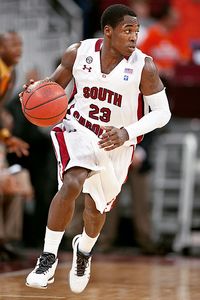 Jake Drake/Icon SMIAs Devan Downey's replacement at South Carolina, point guard Bruce Ellington is averaging a team-best 13.4 ppg.
The preseason expectation for South Carolina was sixth in the division because of Downey's departure.
Horn said he knew his team would compete from the first day of practice. "I never thought this team wouldn't bring it,'' Horn said.
The Gamecocks will have played four true road games before they hit the SEC schedule (at Michigan State, at Western Kentucky, at Ohio State and at Furman). The key for this team will be to survive a brutal SEC stretch (everyone will have something similar in the East) at Vanderbilt (Feb. 5), Florida (Feb. 9), Georgia (Feb. 12), at Tennessee (Feb. 16) and at Kentucky (Feb. 19).
Georgia coach Mark Fox has more talent at his disposal with preseason SEC player of the year Trey Thompkins. The forward missed the first month of the season with a high ankle sprain, and the Bulldogs stumbled in Orlando by losing in double overtime to Notre Dame and to then-No. 20 Temple. But those are losses to teams that will likely be in the NCAA tournament. Wins over Colorado, at Saint Louis, UAB and at Georgia Tech may not be against NCAA teams, but they showed Georgia's steady improvement.
The SEC West has two of the worst teams in major college basketball (Auburn and LSU), two average squads (Arkansas and Alabama) and two programs in Mississippi State (once it gets its whole team back Jan. 1) and erratic Ole Miss that can at least make runs as bubble teams.
But the SEC East by itself could place all six teams in the NCAA tournament, which would be a first for the conference, according to league spokesperson Craig Pinkerton.
"There are no bad teams,'' Fox said. "Every team in the SEC East is good. It's got to be the strongest from top to bottom ever in the SEC East.''
The reason for NCAA tournament optimism at Georgia and South Carolina is due to the quality schedules both teams with benefit from playing in the SEC East. Each SEC East team gets 10 games against potential NCAA teams. The SEC West teams have only six, three at home and three on the road. "I went and played at Michigan State without a return to get some national exposure. I'm going to Ohio State [and will get a return next season], and I know this year I'll get Georgia, Florida, Kentucky, Tennessee and Vanderbilt -- all at home,'' Horn said.
"That's 10 for sure résumé games in our division,'' said Fox, almost finishing Horn's statement. "I don't think the other power conferences, except the Big Ten, are as deep."
"I think if you win eight or nine games in the SEC, but four or five are within our division, which would be against NCAA tournament teams, [then you've got a great chance to get an at-large bid],'' Horn said. But he added that Georgia can't afford to lose a home game like Arkansas State, or South Carolina can't lose a home game against Jacksonville State.
The Bulldogs have options on offense with Thompkins, Gerald Robinson Jr., Travis Leslie and Jeremy Price, who are all capable of putting up more than 15 ppg. But their 3-point shooting (33.6 percent) is still suspect and the free throw shooting is mediocre (61.8 percent).
"Trey is probably at 95 percent right now, and once the league starts he'll be good to go,'' Fox said. "We had to reinvent our team when he got hurt [Thompkins missed the first three games]. And we had no time with Colorado, at Saint Louis, Orlando, UAB and at Georgia Tech. But I'm happy at 6-2. It could have been a disaster. We've got more guys who can score, and it takes the heat off a bit [from Thompkins and Leslie]. Both have to be good for us to do what we want to accomplish.''
And that's get to the NCAA tournament. This collection of Bulldogs still hasn't won in the postseason. Georgia has a tremendous opportunity to get out in front in the SEC East with a three-game homestand against Tennessee (Jan. 18), Mississippi State (Jan. 22) and Florida (Jan. 25) before a game at Kentucky (Jan. 29). The toughest sledding for the Bulldogs may come soon after with a nonconference home game versus Xavier on Feb. 8. They then visit South Carolina (Feb. 12), play Vanderbilt at home (Feb. 16), visit Tennessee (Feb. 19) and Florida (Feb. 24) and host South Carolina (Feb. 26).
"We have raised our programs at Georgia and South Carolina,'' said Fox, "where none of us are afraid to put our five against your five.''
October, 29, 2009
10/29/09
5:04
PM ET
WINSTON-SALEM, N.C. -- Dino Gaudio played the game, attempting to woo Jeff Teague in the 11th hour at his home in Indianapolis before the sophomore made his mid-June decision to stay in the NBA draft.
Teague was probably gone anyway, even before the third-year Wake Forest head coach wasted the time trying to convince Teague he should return for his junior season. Teague's teammate and classmate James Johnson was already out the door, listening to the chatter that he was ready for the league.
Once it was official the one-time No. 1-ranked Demon Deacons and first-round flameout (to Cleveland State, of all teams) were without two first-round draft picks, the easy thing to do was toss this season's team onto the irrelevant heap.
"To be honest with you, if I was somebody in the media, I'd probably think the same way," said Wake Forest senior guard Ishmael Smith. "We lost 34 points, two guys that go 16 and 19 in the NBA draft. I would think the same thing."
Well, that thinking isn't going on here. It would be foolish to dismiss this squad. Let's not forget Wake Forest still has one of the more potentially prolific scoring wings in the country in Al-Farouq Aminu, who would assuredly been a lottery pick had he bolted with his teammates after last season. There's a beefy, developing and deep frontcourt led by seniors Chas McFarland, David Weaver and hyped sophomores Tony Woods and Ty Walker. Senior guards Smith and L.D. Williams are also still around.
You can certainly wonder if this team can consistently shoot from the perimeter and whether or not they'll be as difficult a matchup at small forward with Johnson gone.
But don't think for a second this team lacks confidence.
"Ish was our leader last year," Woods said. "Jeff was our point guard, but Ish was our leader."
Smith doesn't stop smiling, either. Talk to him and he is beaming with confidence and pride about Wake Forest. He's not Chris Paul. He's not Justin Gray. He's not Teague. But he'll be just as important to this team.
"He's one of the most talented point guards in the league," said Gaudio of Smith, who has started 60 games at Wake, was the sixth man last season and has quite a career assist-to-turnover ratio (427-255).
"He's a playmaker, but more so a big-shot maker," Gaudio said. "He hit the game-winner against Virginia Tech [as a sophomore] and Miami [later that same season]. He takes big shots, and he made them as a sophomore."
Smith was injured to start last season and lost the starting position he had held as a sophomore. Teague was the big-shot maker when he returned. Now the onus is on him.
"Everyone has been telling me on Facebook that 'It's your team.' There's a lot of pressure, but we've got really talented guys, good bigs and guards that are back," Smith said. "Chris [Paul] was more of a facilitator. Jeff [Teague] was more of a scorer. I'm more of a facilitator who will get people involved. I know when to score and when to pass. I know when to set a team up and get the ball to who's hot."
That will undoubtedly include Aminu, who was overshadowed by Teague and Johnson last season. Aminu is about as reserved a player as you'll find. He's a bit of a low-talker and doesn't show much emotion. Gaudio got right in on him early in practice to ensure that Aminu understood this season was different. He told him directly that he had to win every drill.
"I told him he's got to hold himself to a completely different standard," Gaudio said. "He has to dominate every possession. He's understanding the pace of practice and how hard he has to work."
[+] Enlarge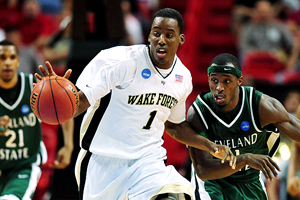 Steve Mitchell/US PresswireThe 84-69 first-round loss to Cleveland State was a bitter pill to swallow for Al-Farouq Aminu and WFU.
Aminu chose to blow off USA Basketball and work out this summer, going to the Nike skill camps instead. He said he was advised to stay home and hone his craft. He said his circle is tight and he wasn't swayed by talk that he was lottery material. Aminu knew he was nowhere near ready for the real man's world of the NBA.
He has worked on his shot, ballhandling and footwork. Without Teague and Johnson, you can be assured Aminu will score more than 12.9 points a game. He'll also take more than 4.7 shots a game.
Aminu said he'll embrace the attention. His teammates have no issue with shifting it to him, either.
"You'll see a more aggressive, more attacking Al-Farouq Aminu," Smith said. "He'll prove to be one of the best small forwards in the country."
Bring up that 15-point Cleveland State loss and you'll get a bitter response. The players say they've been quizzed incessantly about how they could have laid an egg to the Vikings in Miami.
Woods said it had been developing and wasn't a shock, considering the second half of the season. The Deacons posted a 16-0 start, rising to the top of the poll after wins at BYU, at Clemson and over North Carolina and Duke at home.
At that point, Wake looked like a title contender (and was a Final Four pick by, ahem, yours truly). But what followed was a roller-coaster finish. The players all said they weren't ready to handle the success. They are now. It's clear the loss to the Vikings had a lasting effect on them.
"That was a big reason why I came back," Aminu said. "To get put out in the first round, I didn't want that to be my only NCAA tournament experience. I want to win a couple of games, hopefully get to the Final Four. No disrespect to Cleveland State, but to get upset like that -- our team was dejected. We had a Final Four-type team, and to lose like that and go home was devastating."
Wake Forest won't be picked to win the ACC this season -- Duke and North Carolina can argue about that. The Demon Deacons aren't perceived to be better than Georgia Tech, Clemson or Maryland, either. But you can expect Wake will be with those clubs, as well as Boston College and Florida State, throughout the ACC chase.
If McFarland makes himself a factor, if Weaver and Woods are as productive as they have shown early in practice, if Aminu scores, if Williams makes perimeter shots and if Smith leads, then Wake Forest will certainly remain plenty relevant.
The Demon Deacons will know how tough they are early, with road games at Purdue (ACC-Big Ten Challenge) and at Gonzaga in consecutive games in early December. Winning one of those true road games could go a long way toward earning key power-rating points for an NCAA berth in March.
"These seniors have won more games each of their three seasons and put us in the tournament last year," Gaudio said. "If they get us in the tournament again, they'll get to leave a little bit of a legacy at Wake Forest."
• South Carolina coach Darrin Horn says junior forward Sam Muldrow has been boarding and blocking shots extremely well in practice. The Gamecocks need balance on a squad that will be dominated by guard Devan Downey and forward Dominique Archie. Muldrow is also scoring well around the basket, but Horn said he needs to see it in a live game. Downey, meanwhile, has been an exceptional leader. "He's always vocal and passionate but he's also bringing the younger guys along," Horn said. The second-year head coach projected that home losses could decide the SEC East since winning on the road will be at a premium. Whoever can't protect their home court will likely lose the division title.
• Cornell was picked for a three-peat as the Ivy League champ in the preseason poll. Princeton was slotted second, followed by Penn, Harvard, Yale, Columbia, Brown and Dartmouth. The Big Red will have player of the year candidates in Ryan Wittman and Louis Dale. But don't sleep on Harvard's Jeremy Lin as a possible POY, even if the Crimson don't win the league.
• Akron coach Keith Dambrot is building the program to beat in the MAC. The Zips are tabbed as the favorites in the MAC East, followed by Kent State, Buffalo, Miami, Bowling Green and Ohio. Central Michigan was picked first in the MAC West with Northern Illinois, Eastern Michigan, Ball State, Western Michigan and Toledo trailing. Kent State's Chris Singletary and Akron's guards Brett McKnight and Anthony Hitches lead the all-MAC preseason team. What the league lacks this season is an NBA player. There's still time, but the league needs a standout like it has had in the past. Multiple bids would finally be a nice thing, too.
October, 27, 2009
10/27/09
6:38
PM ET
In roughly six weeks, you'll know if Vanderbilt is a real serious player for the SEC East title.
By that time, the Commodores could be through the Maui Invitational with a title, or at least with two wins over projected NCAA teams Cincinnati and Maryland, and through a gauntlet of nonconference games that includes Missouri at home, Illinois on the road and always-tough Western Kentucky on a neutral court in Nashville.
Vanderbilt coach Kevin Stallings isn't shying away from pushing his veteran team early in practice. On Monday, Stallings made it quite clear to his players that there needs to be a sense of urgency every day in practice because of the ensuing slate of games.
"I hope there's a positive buzz about how we're playing," Stallings said of his goal for how the Commodores will be perceived after Thanksgiving week in Maui. "But in order for that to happen, we've got a lot of work to do now, because everyone else is working just as hard."
The 'Dores have been slowed a bit by injuries early with junior center A.J. Ogilvy, a candidate for SEC player of the year, suffering a concussion on the first day of practice. There have been foot and shoulder injuries to a few players, too.
[+] Enlarge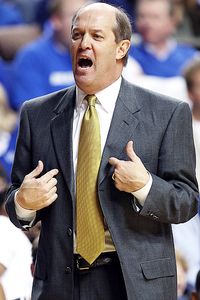 Andy Lyons/Getty ImagesKevin Stallings' fellow SEC coaches picked Vandy third in the East, behind UK and Tennessee.
But there have also been two surprises in the first two weeks of practice that have Stallings feeling pretty pumped about this squad. He didn't have to worry about returnees Ogilvy up front or guards Jermaine Beal, Brad Tinsley or top defender Jeffrey Taylor. That foursome should be the core of this squad. But what Stallings wasn't sure of was how much he could get out of redshirt sophomore Festus Ezeli or highly touted freshman guard John Jenkins.
Ezeli played in 29 games last season, occassionally spelling Ogilvy. He's a big body at 6-11 and 255 pounds, but averaged a modest 3.8 points and 2.6 rebounds. But on the summer trip to Australia, Ezeli emerged as a productive threat, even on the scoring end. He hasn't disappointed in practice, either, giving the Commodores an option either next to Ogilvy or as his replacement.
As for Jenkins, we knew he was going to be a scorer. That much was known. He averaged a whopping 42.3 ppg at Station Camp (Tenn.) High School last season. But Stallings needed him to be a defensive pest and an assist man to ensure the bigs could get the ball.
"He's going to defend just fine," said Stallings of Jenkins, who isn't getting even close to the hype of Kentucky's or Florida's freshmen in the SEC East. "But I really like the way he can pass the ball, especially into the post. He sees and feels the game well. Post-feeding is an important skill on our team. He can really, really shoot. But we didn't know he could be as good a post feeder as he is. He also moves his feet really well."
Still, Stallings is old school and isn't ready to push Jenkins past his older guards like Beal and Tinsley. He said there is still a gap between those who have played and Jenkins.
"It's nice having a highly regarded freshman, but he's not there yet," Stallings said. "He will impact our team and there will be times in games when he'll make a big string of 3s. He's a prolific shooter. Every time he shoots the ball I think it's going to go in."
Stallings doesn't fret the noticeable SEC attention shift to Lexington this season. He has come to accept that during his 11-year tenure. Despite a pair of Sweet 16 appearances since 2004, Vanderbilt never seems to get quite the amount of attention of some of its SEC peers.
"Kentucky's program is always going to get more attention and more hype in the preseason than most of the rest of the programs in the SEC," Stallings said. "That's the way it is going to be and nothing we can control or care about."
For what Stallings can control, he's done quite a job of lately.
ESPNU's Scouts Inc. recently reported that Vanderbilt landed 6-8 Rod Odom, rated the No. 14 small forward on the ESPNU 100. Odom originally committed to Arizona, but got out of the commitment and immediately switched to the Commodores. Odom joins 6-11 center Josh Henderson in the class of 2010.
ESPNU wrote that Odom is a solid ballhandler, can make jumpers and 3s and has a high basketball IQ.
• Stallings paid for his team's trip to Australia out of his own contract after the cash-strapped university offered up concern over the $100,000 tab. Going on foreign trips has been a major hit for schools over the years as they enrich the players, give them ample viewings for international scouts and can help teams find their own identity. Schools are allowed to make the trips every four years. Usually, teams fund raise for these trips, thus not taking money out from the general pool of cash in the athletic department. Yet for some reason, the Pac-10 figured cutting these foreign trips out all together would be a way of cutting costs. Well, common sense prevailed this week. The Pac-10 announced through its compliance center that it had withdrawn the proposal in advance of this week's NCAA board of directors meeting in Indianapolis.
• The Missouri Valley predictions were somewhat predictable. Northern Iowa, which returns its core, was picked first with 38 first-place votes, followed by Creighton (one). The rest of the order: Illinois State, Southern Illinois, Wichita State, Bradley, Indiana State, Drake, Missouri State and Evansville. Illinois State's Osiris Eldridge was tabbed as the preseason player of the year.
• Western Kentucky was predicted to win the Sun Belt East Division while North Texas, a sleeper team if you're looking for one, was tabbed to win the West Division. Troy and Middle Tennessee were projected to be Western's challengers (followed by South Alabama, Florida Atlantic and FIU), while Denver and Louisiana-Lafayette were slated to push UNT (followed by Little Rock, Louisiana-Monroe, Arkansas State and New Orleans). Western Kentucky's A.J. Slaughter and North Texas' Eric Tramiel were two of the five on the first team (Denver's Nate Rohnert, Middle's Desmond Yates and Troy's Brandon Hazzard finished the first team).
• The Maui Invitational named former South Carolina and Wake Forest coach Dave Odom, who is becoming a bit of a statesman of the game, to be its new tournament chairman. He's replacing former Big East commissioner Dave Gavitt, who has been battling health problems. Odom is also the non-active coaching member on the newly formed coaches' ethics committee.
• If you'd watched Syracuse's Jim Boeheim deliver his postgame news conference Sunday on SU's athletic Web site, you'd have no idea that it was Oct. 25. Boeheim is in perfect mid-season form evaluating his team after a game. Yes, the Orange was the first team to open up with a real exhibition game, just 10 days after the official start of practice. Syracuse played Cal State Los Angeles at the Carrier Dome in preparation for the early start to the season next week. SU is in the Coaches vs. Cancer Classic with two games at home before joining Cal, Ohio State and North Carolina in New York.
Boeheim was in a somewhat good mood because of the play of freshman James Southerland, who may warm up to the Syracuse fans quite quickly. While it was just an exhibition, Southerland made all seven shots he attempted, including five 3s. The Orange expects Andy Rautins and Iowa State transfer Wesley Johnson to be their top two 3-point threats, but they were a combined 0-for-6. The competition between Scoop Jardine and freshman Brandon Triche to start at the point continues. Jardine got to the line to make 8 of 10 free throws, had 11 assists and no turnovers. Triche was just 1-of-3 at the line and had three assists and no turnovers. The Orange won rather easily, 97-54.
• The NCAA board of directors has a major meeting Thursday with a slew of basketball-related proposals. Among those that continue to resurface is the one allowing players to practice with their coaching staff (can you imagine?) during the summer as long as they are enrolled in summer school. Schools that don't have a summer session would be exempt. Also: reducing the maximum number of regular-season games from 29 to 28 or 26 plus a multiple-team event (that can be up to four games); allowing team practice to begin on Oct. 1 (and going up from two to four of the allowable eight hours of practice to be devoted to team practice the first week) before getting up to the regular 20-hour practice week beginning Oct. 15; allowing schools to pay for travel expenses for official visits for parents and legal guardians (maybe this would cut down on questionable funding of unofficial visits?); allowing student-athletes to stay on financial aid if they decide not to play after a coach departs but not counting it toward the maximum 13 scholarships; preventing JC or CC transfers from using more than two PE credits.
• Former Kentucky coach Billy Gillispie has been making the rounds, visiting his coaching friends and watching practice. He was at Kansas last week and had also planned to visit Marquette. Gillispie worked for KU head coach Bill Self at Tulsa and Illinois while Marquette head coach Buzz Williams worked under Gillispie at Texas A&M.
• Freshman Xavier Henry is ready to take on a major role with top-rated Kansas, according to Self. Henry's play in the last few days at practice has shown that he "gets it," Self said. Henry is expected to be a major scoring option for the Jayhawks behind guard Sherron Collins and forward Cole Aldrich. Henry isn't necessarily hunting his shot, but isn't having an issue finding his role as a player around the ball at all times. Self said guard Tyshawn Taylor, who injured his thumb during the now infamous basketball-football fracas last month, hasn't missed an official practice yet. Taylor averaged 10.8 points for the gold-winning U.S. Under-19 team in New Zealand this summer.