Category archive:

Virginia Tech Hokies
November, 5, 2012
11/05/12
10:39
PM ET
Allan Chaney
was incredibly nervous to play Mars Hill.
This wasn't a game in the SEC, where he used to play for Florida. This wasn't Duke or North Carolina, the two schools he was hoping to go against when he made the decision to leave the Gators and transfer to Virginia Tech.
This was Mars Hill, in an exhibition. And he was playing for High Point University.
And you know what? He couldn't be happier to be on the court competing.
Chaney scored 16 points, grabbed six boards and blocked two shots in Saturday's game. He has a chance, alongside JC forward John Brown, to put High Point in contention for the Big South championship.
"It felt great to be out there for 40 minutes," Chaney said. "The first half was so nerve-wracking. But the second half I was straight. I don't know what to say about it. It was so stressful, having to be patient and not knowing when I would play again. I had this opportunity to play Saturday and I'm so grateful."
Earlier Monday afternoon, Jeff Goodman of CBSSports.com detailed at length Chaney's struggles over the past two years to get to this point.
Chaney is playing with an implanted wireless defibrillator and on Saturday wore a vest to protect his chest. Former Virginia Tech coach Seth Greenberg, now an ESPN analyst, said he used to battle with Chaney to get him to wear the protective vest. But it was a moot point anyway. Chaney was never cleared to play by the school's medical staff after he collapsed on April 24, 2010, during an individual workout.
Greenberg couldn't be happier for Chaney, whom he spoke with Monday and congratulated on making it back on the court. The Greenberg family and Chaney became close once he arrived in Blacksburg and the families still stay in touch.
Greenberg said his wife, Karen, found Dr. Francis Marchlinski at Penn through a mutual friend. Marchlinski ultimately was the one who cleared Chaney to play again.
But Chaney needed to find a place to play. High Point coach Scott Cherry said he was informed of Chaney's situation when they had a scholarship open up. Greenberg had been fired and was replaced by former assistant James Johnson, a friend and former fellow assistant at George Mason with Cherry. Cherry said he did his due diligence checking on Chaney with doctors, family and, of course, the university.
"We felt like the risk was something we could take on," he said. "I don't want to say it was easy, but it was smoother than we thought. Our administration and medical staff on campus didn't see anything that stood out. They read all the medical reports. Our cardiologist in town was familiar with Dr. Marchlinski. He respected his work and believed very much in his report that he was cleared to play and should be fine.''
Of course, there was the NCAA to get through, too.
Chaney played one season at Florida. He was now 22 years old. He had to get a waiver to play immediately and get a sixth year of eligibility back.
Cherry said the waiver had to be submitted since Chaney had graduated from school and was a 4-4-4 transfer, going to his third four-year school. Cherry said the waiver for him to play this season came back positive immediately. Getting the second waiver to get him a sixth year of eligibility took a personal note from Chaney detailing his medical hardship.
"The first one came through in two to three days," recalled Cherry, "but the second one had to take longer since Allan had to write his personal statement."
"I just explained what had happened and what I had been going through the last two years," Chaney said. "I talked about all the back-and-forth with doctors and explained my one year at Florida and presented my medical records and the steps it took me to get back to this point. I was fortunate to get back these years. It's a blessing."
The second waiver came through two weeks ago, giving Chaney two seasons of eligibility remaining.
"I applaud the NCAA for granting this kid the second year," Cherry said. "He deserves it. We're really excited."
There are conditions and precautions being taken.
Cherry said Chaney has to wear the protective vest. He said that a defibrillator is at practice and workouts and all the staff, including the coaches, have been trained on how to use it. He said the defibrillator, which is there as a secondary emergency device in addition to his implant, goes with the team and Chaney wherever he travels -- in a restaurant, on the bus, in the locker room and in the hotel.
"It has to be hands-on, no matter what," Cherry said. "That's the only additional thing to do with him. We won't also give him any punishment runs. But he's a great kid so there is no need to worry."
Cherry said Chaney's conditioning still isn't up to speed yet, which is to be expected.
"He's like a true freshman or a JC kid," he said. "When he gets a little more active he can get more fatigued. He tends to stand around and watch. But to have a 6-9 player that skilled who can shoot 3s and has length and can rebound at our level -- we're blessed to have a guy of his caliber."
Cherry said he will work the offense through Chaney and Brown, beginning with Friday's opener against a fellow North Carolina alumnus in Wes Miller of UNC Greensboro.
"Nobody can do the things like Allan and John, so we'll rely on their balanced scoring," Cherry said.
The head coach is also hopeful guards Derrell Edwards and Justin Cheek will give him his most balanced team in his four seasons at High Point.
"I've never had frontcourt scoring like this," Cherry said. "We were picked third in our division but nobody has seen Allan. He's an unknown right now. John Brown sat out last year. He couldn't practice. I brought in six other guys, and two will start. It's a new team with talent. We've got a chance. I feel like this is the best team I've had since I've been here. We've got good guys at every position. We've got a team that has a chance to fight for a championship this year."
Chaney doesn't want to think about the two years he has remaining in college, per the NCAA.
Instead, he's dealing with each day as a gift.
"I can't look too far ahead," Chaney said. "It's one game, one day at a time. I'm just trying to get better every day."
October, 4, 2012
10/04/12
6:19
PM ET
If anyone was wondering whether 15 schools could agree and get along in the new ACC, all they had to do was check the reaction to the new primary partners released Wednesday.
There was an unusual consensus. Every school was pleased.
The ACC had to adjust its scheduling format with the addition of Notre Dame, which could join anywhere from 2013 to 2015. The conference, committed to an 18-game schedule, had to lock in to two annual home-and-home series.
For a few schools, such as Virginia, there was nothing to ponder. The Cavaliers have two natural rivals in Virginia Tech and Maryland. Done.
"It makes sense geographically," UVa coach Tony Bennett said. "They've been our natural rivalries for years."
Boston College landed two tough opponents, but the Eagles couldn't have been happier to get two schools that will help fill the usually staid Conte Forum. BC will play Notre Dame and Syracuse twice every season.
"It's great for our alumni and fans," Boston College coach Steve Donahue said. "I'm sure excited about it."
Understandbly, no school got both Duke and North Carolina. That would be too cruel, and it would be too hard to pull off with two other schools in the state in Wake Forest and NC State. The ACC had to balance the four schools, and it did.
Duke gets UNC and Wake Forest. NC State got UNC and Wake. Wake Forest got Duke and NC State. And of course that means Carolina got Duke and NC State, which based on the current trajectory of the four schools, is the toughest slate among the schools in North Carolina.
"I loved it," NC State coach Mark Gottfried said. "They got it right."
Wake Forest athletic director Ron Wellman, who is the 2014 chair of the men's basketball selection committee and understands the importance of getting quality teams on the schedule, said "playing two in-state rivals is the best scenario for us."
ACC associate commissioner Karl Hicks, who oversees basketball and scheduling in particular, said the majority of the matchups simply made sense.
The most intriguing issue was what to do with Notre Dame's second rivalry after Boston College. The Irish and Georgia Tech were paired up by process of elimination. Hicks said the schools have a rivalry in football, but not in basketball.
"Notre Dame has a lot of alumni in urban areas," Hicks said. "Maryland was a better fit with the partners they had [Pitt and Virginia]. Washington, D.C., would have been a good place [for Notre Dame], but Maryland's partners fit. Georgia Tech was the next one that made the most sense."
ND coach Mike Brey said it worked for him since he wanted to create new rivalries and, "I love Atlanta."
Tech coach Brian Gregory knew the Yellow Jackets would get Clemson as one rival and was overjoyed that the Irish were the other.
"I think it's great for us," Gregory said. "These are two great academic schools with great traditions. I think it will turn into a great rivalry."
Maryland coach Mark Turgeon said Pitt and Virginia are strong defensive teams which should provide four gritty games for the Terps every season. Pitt coach Jamie Dixon had no issue with Maryland and Syracuse as his school's natural rivals, saying that he expected as much based on geography.
The rest of the 14 games on the schedule will include two more home-and-home opponents (which will rotate every year) and five home and five road games that make up the other 10.
The other set partners are:
Clemson: Florida State and Georgia Tech
Florida State: Clemson and Miami
Miami: Florida State and Virginia Tech
Syracuse: Boston College and Pitt
Virginia Tech: Miami and Virginia
Hicks said the Miami-Virginia Tech series marries two former Big East rivals. Syracuse's two partners are also former Big East foes. Clemson and Florida State got natural regional rivals.
"I'm not bent out of shape one way or another," said Florida State's Leonard Hamilton, who added he wasn't against going to 20 league games. "I like the challenge night in and night out of 18 hard-nosed games."
What the two-team partner lists and the reaction proves is that a 16th team in men's basketball doesn't seem necessary. ACC commissioner John Swofford said the ACC isn't going to go to 16, and frankly, there's really no need.
June, 14, 2012
06/14/12
4:25
PM ET
Virginia Tech is in the news -- but only because of decisions from two of its high-profile departures.
Incoming freshman Montrezl Harrell got out of his national letter of intent and landed at Louisville.
And Dorian Finney-Smith, one of the top freshman forwards in the ACC last season, visited Memphis and is also seriously considering transferring to Florida, Louisville or Iowa State.
New coach James Johnson would have liked to make his own headlines with the arrival of significant newcomers.
But there isn't much to discover at this late date.
"I'm trying to find something,'' said Johnson, who has been on the job for six weeks. "I'm not going to rush anything. I need to find the right fit for the team and the right fit for Virginia Tech. We've got room to take another guy or two, and we are still looking.''
The Hokies are down to nine scholarship players, eight who are eligible for next season since Adam Smith will sit out after leaving UNC Wilmington after his freshman season.
The Hokies do return starters Erick Green, one of the top guards in the ACC, a healthy Cadarian Raines and Jarell Eddie. C.J. Barksdale and newcomer Marshall Wood will also have an impact. But the team will lack depth and won't be projected to finish high in the ACC.
"We can't afford any injuries,'' Johnson said.
This wasn't the plan Johnson or Seth Greenberg envisioned. The latter was convinced the Hokies would be a player in the ACC next season. But he was abruptly fired by athletic director Jim Weaver after a late offseason review of recent mediocre seasons. Greenberg was so blindsided by the firing that the topic of the news conference was unknown to him until an hour before it began on April 23. He compiled a 170-123 record in nine seasons, but reached the NCAA tournament just once during that stretch. The Hokies finished 15-16 this past season, including 4-12 in the ACC.
Johnson wasn't planning on taking the job. He left a few weeks earlier to go to Clemson and spent a weekend recruiting for Tigers coach Brad Brownell. A week after Greenberg was fired, Johnson was hired at Virginia Tech.
Johnson never moved from Blacksburg, since he wasn't at Clemson long enough to even pay a deposit on a rental property.
He is now looking to upgrade his home near the Virginia Tech campus, so he has a larger space to entertain players and recruits.
His head is spinning. He didn't seek this job. He was nestled into his new gig at Clemson when he said he received a phone call from Virginia Tech to see if he was interested in replacing his former boss Greenberg.
"I had some other opportunities during my five years [at Virginia Tech],'' Johnson said. "But never as close as this one.''
"I was at Clemson getting my feet on the ground and getting started as to how they do things there,'' said Johnson. "Then I got a phone call. It was odd, leaving and then having the opportunity to come back. I worked for [Greenberg], and we had a great relationship and success during five years. But it was an opportunity to be a head coach in the ACC. I couldn't turn that down.''
Johnson said he believes he was chosen because of his familiarity with the program, the players and the timing.
But losing Harrell and Finney-Smith on the heels of seniors Dorenzo Hudson and Victor Davila finishing their eligibility and JT Thompson's transfer to Charlotte means Johnson will be in a tough spot in his inaugural ACC season.
North Carolina and Duke are the benchmarks for the league, but NC State is ready to join them next season to compete for the title. Florida State has now established itself as a consistent NCAA team. And Maryland is poised to make a turn upward. Virginia is on the climb, too. In a year, Pitt and Syracuse should be in the league and crowd the top half even more.
That's why this July evaluation period is critical for Johnson to stay afloat in 2013-14. He can't afford to fall behind, nor hand out scholarships in June to players who can't help him long term.
"It's going to be a challenge,'' Johnson said. "There are some of the best coaches in the country in the ACC. But we have a special place with great academics. We just have to get the kids on campus for them to see what we have. Virginia Tech is perceived as a football school with not much to do in the area, but once you get here the perception isn't the reality. It will continue to be a challenge, but we can sell Virginia Tech and our brand.''
November, 25, 2011
11/25/11
9:19
PM ET
The past three weeks have been quite a whirlwind.
I've seen 20 teams in a number of venues on both coasts.
So after a thankful day to be with my family -- and a big thanks to all my tremendous colleagues who grind every day on our editorial operation on ESPN.com and on both sides of the camera on ESPN -- here's a look at what I've picked up on after two weeks on the road. And remember, this only includes games I've seen in person.
[+] Enlarge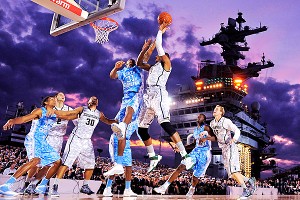 AP Photo/Mark J. TerrillIt doesn't get much more scenic than what we witnessed at the Carrier Classic.
Best venue: It was natural to be skeptical about whether or not the Carrier Classic could be pulled off. But it far exceeded my expectations. The Navy did what it does best -- tremendous organization. The enormity of the USS Carl Vinson was awe-inspiring. The men and women who serve on the ship, as well as the ship's leadership, couldn't have been more welcoming. They were so grateful to have a chance to show what they do on a daily basis. The two teams -- North Carolina and Michigan State -- were model guests and displayed tremendous appreciation. The pageantry of the event, from the patriotic opening to the scenic view of downtown San Diego, will be hard to ever duplicate due to the uniqueness of 11-11-11 and the inaugural nature of the game. And the outdoor game may have seemed like a gimmick, but it was well-played in spurts for being the season opener for both teams.
Best team: North Carolina. The Tar Heels have lived up to the hype as the No. 1 team in the country. They have flaws, especially their perimeter depth. But the overall length of the frontcourt, the ability to get out on the break and the potential to hit scoring spurts and run out on teams is impressive. The Heels have three players -- Harrison Barnes, Tyler Zeller and Kendall Marshall -- who will compete for the ACC POY and two others -- John Henson and James Michael McAdoo -- who will be tough to defend.
Signature moment: When Duke coach Mike Krzyzewski won game No. 903 against Michigan State, passed his mentor Bob Knight and became the all-time winningest men's coach in NCAA history. The impromptu embrace by Coach K and Knight was met by a swarm of photographers and a rare teary eye from Coach K. The moment was genuine, real and showed the true emotion of such an arduous task of grinding out wins in this sport for three-plus decades.
Most impressive half: Kentucky's complete domination of Penn State in the first half at the Mohegan Sun Arena. The Wildcats made it look like it was a guarantee game with an opponent from a weak Division II conference. To Penn State's credit, the Nittany Lions did respond the next day and beat South Florida. But Kentucky showed on this day that it had more offensive versatility with the emergence of Doron Lamb and Kyle Wiltjer.
Most dominating performance: Jared Cunningham, Oregon State. Cunningham went off for 37 points in an overtime win over Texas in the Legends Classic. Cunningham was a highlight reel a year ago but has settled down, working on his game and finding ways to score in a variety of ways. Hofstra coach Mo Cassara said he was the best guard they've gone against in quite some time after Cunningham lit up the Pride for 35 in Corvallis prior to the Texas game. Cunningham is a legit Pac-12 Player of the Year candidate.
Best sub: Syracuse's Dion Waiters. Waiters jump-started the Orange with 11 points off the bench in the comeback win over Virginia Tech in the NIT Season Tip-Off semifinal. Waiters is a game-changer when he's on the floor. He gives Syracuse a different look because of his ability to get into the lane quicker than Scoop Jardine. He's not as refined as Jardine and can be hit or miss, but when he's on he gives the Orange a different look.
[+] Enlarge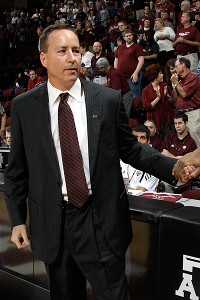 AP Photo/David J. PhillipTexas A&M's Billy Kennedy was diagnosed with Parkinson's disease before the start of the season.
Most courageous: Texas A&M coach Billy Kennedy and St. John's coach Steve Lavin. Kennedy is trying to come back from a series of health setbacks, most notably being diagnosed with Parkinson's disease. He went through incredible fatigue over a five-week stretch that weakened him and it doesn't help that he has bone spurs in his shoulder. The first-year A&M coach is beat up, but is making a comeback one step at a time. He's an inspiration and a model of perseverance.
Lavin, meanwhile, is returning from prostate cancer surgery that was more extensive than most. He had a seven-hour procedure to take out his prostate and also scrape other lymph nodes to ensure that the cancer was all gone. He said he is cancer-free, but is still working his way back from the exhausting surgery. Lavin has to manage his energy and that's why he was able to coach in the Garden for two days in a row but then needed to take a day off from the rigors of coaching earlier this week.
Biggest surprise: Stanford's blowout win over Oklahoma State. The Cowboys were obviously a bit distracted on Wednesday. Oklahoma State coach Travis Ford, who has been crushed by the horrific plane crash that cost the lives of women's coaches Kurt Budke and Miranda Serna, said there were no excuses. And there is this: Stanford was that good. Josh Owens scored 21 points and is, like Cunningham, a Pac-12 POY candidate. I'm not sure Stanford can continue this early-season success, but the Cardinal certainly have the look of an upper-division Pac-12 team.
Two to single out: Over the past three weeks, I took notice of two players who continue to exhibit maturity and professionalism in the way they handle themselves with the media and the respect they have for those older than them. Texas freshman Myck Kabongo has a tremendous presence about him. So too does Michigan State senior Draymond Green. You sense that both of these young men will be stars in whatever they choose to do going forward.
Player only scratching the surface: Kentucky's Anthony Davis will be a star by season's end with his ability to control the paint. He is such an immense talent with his length and game-changing shot-blocking. His offense will only continue to diversify.
Most important wins: Vanderbilt beating NC State and Oregon State in the closing moments. The Commodores found ways to win the Legends Classic with key defensive stops and timely shooting at the IZOD Center. The Wolfpack and Beavers are vastly improved from a year ago, but the Dores had to win these games to shed the sour taste of getting beat up by Cleveland State at home. Vandy will get big man Festus Ezeli back in a few weeks. So these wins were critical for this team's confidence.
Two teams to watch: Oregon State still has to win the games it should over the next month -- all against teams outside the power-six conferences and perhaps none against teams bound for the NCAA tournament. But the talent is in place with this team to make some noise in the Pac-12. The emergence of Ahmad Starks as a push-it point guard, the length of Eric Moreland and Devon Collier, the soft hands of Joe Burton inside and the scoring of Cunningham make this team a good watch.
NC State had talent when Mark Gottfried arrived and it has only gotten better. C.J. Leslie is a potential big-time scorer. Scott Wood can make shots. C.J. Williams and Alex Johnson are solid role players. DeShawn Painter is a rugged face-up and inside post player and the potential exists for Thomas de Thaey and Jordan Vandenberg to cause problems when they body people up in the lane. The ACC is weak beyond the top three, opening up a spot for the Wolfpack.
The great enigma: Mississippi State. After dropping a home game to Akron, the Bulldogs won the 2K Sports Classic benefiting Coaches vs. Cancer with wins over Texas A&M and Arizona. Arnett Moultrie and Renardo Sidney provide one of the tougher matchups of any big man combo. Dee Bost is a veteran point guard who knows how to run a team. But the two players who may hold the key to this team are Deville Smith and Rodney Hood, a pair of freshman guards who can change the game with their speed and shooting when inserted.
Incomplete read: Drexel. The Dragons were without two of their top three guards in Chris Fouch and Tavon Allen. Yet Drexel pulled away from Rider in impressive fashion during the Tip-Off Marathon. The CAA favorite has a tough inside, undersized player in Samme Givens and a grinding guard who can get points in Frantz Massenat. But then the Dragons fell flat in the Virgin Islands and lost to Norfolk State and scored 35 points against Virginia. Let's see how Drexel does once it's healthy before giving a full review.
Best coaching jobs: Kansas' Bill Self and Virginia Tech's Seth Greenberg. Neither team won when I saw them but they were going up against top-five squads in Kentucky and Syracuse. Self and Greenberg are maximizing the talent on their teams. They do have studs in Thomas Robinson (Kansas) and Dorenzo Hudson (Virginia Tech), but they get their teams to play as hard as they coach. Kansas' play in Maui deserves high praise and the Jayhawks will once again be in contention to win the Big 12. The Hokies will find a way to be on the bubble again. Neither team is as stocked as it has been in the past, but these two coaches will get these teams to reach their potential.
Best teams: Nothing I saw changed my opinion that North Carolina, Kentucky, Duke and Syracuse are all legitimate Final Four contenders. I have yet to see Ohio State, but put the Buckeyes in that group, as well.
Best game I missed: Well, that one is easy. The Kansas-Duke championship game at the Maui Invitational will go down as one of the best 40 minutes of the regular season. What a show that was.