Category archive:

St. John's Red Storm
June, 19, 2012
06/19/12
9:08
AM ET
Mike Dunlap saved a season at Arizona.
He did something similar at St. John's.
Now he faces his toughest challenge yet with the NBA's Charlotte Bobcats.
[+] Enlarge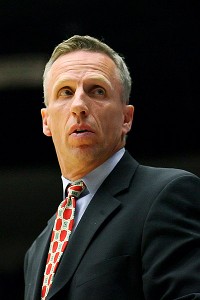 Chris Morrison/US PresswireMike Dunlap's ability to handle adversity should help in his new gig with the Charlotte Bobcats.
A revered basketball savant among his coaching peers, Dunlap has become the "fix-it man."
One of Dunlap's disciples in the NBA said Monday night upon learning the Bobcats hired him: "He has the most organized approach to player development ever. He makes players better. He's brutally honest and extremely loyal. He will not stop working. He gets through obstacles with unbelievable problem-solving lenses. He's very thorough."
He'll need to be with the Bobcats, who finished with the worst record (7-59) in the NBA's lockout-shortened season.
Of course, he'll need players to succeed. But his ability to handle adversity has been on display at two high-profile stops in college.
Dunlap was not the face of Arizona when he served as interim coach in 2008, when Lute Olson retured. Russ Pennell was the one who stood up on the sideline and handled the postgame and weekly media responsibilities.
But it was Dunlap who was the conductor of a team that somehow managed to go 21-14 in 2008-09 and reach the NCAA Sweet 16.
Former Oregon coach Ernie Kent, who knew his job was on the line, tabbed Dunlap to help with the tactical aspect of the game in 2009-10. Kent didn't survive a 16-16 season, but Dunlap was one of the most sought-after assistants again.
When Steve Lavin got the St. John's job, he pursued two people -- Dunlap and his mentor Gene Keady. He knew he needed both to be successful in his return to coaching.
Dunlap has his quirks. He is much more at home on the court and watching tape than he is promoting himself or a program/franchise.
Yet he was in the spotlight again this past season, his second at St. John's. He pursued a few head coaching jobs a year ago, getting deep in the interview process at Wyoming before going back to the Red Storm when the Cowboys chose former coach Larry Shyatt.
His decision to stay put was a blessing to Lavin, who had major prostate cancer surgery in the fall and lasted only four games on the bench before retreating to a suite at Madison Square Garden or his home to watch games and avoid stress. The strain of coaching was too much for Lavin's battered body to handle during the recovery stage.
The team was young and took a number of hits during the season, but still finished 13-19 overall and 6-12 in the Big East.
Sure, Keady was on the bench in an emeritus, sage-like role. But Dunlap was the reason Lavin believed he could take his time recovering. If someone with less experience had to handle the day-to-day operations, Lavin may not have stayed away as long to focus on recruiting and rehabilitation.
"During this past season, Coach Dunlap and the rest of the staff held it down on campus, which allowed me to better focus on a full recuperation from surgery while simultaneously hauling in another stellar recruiting class,'' Lavin said Monday night.
Last week, St. John's added the No. 77-ranked player to the 2012 class in 6-foot-8 Chris Obekpa, a defender and shot-blocker the Red Storm desperately needed. They had already recommitted Jakarr Sampson after he had to go to prep school for a year and nabbed junior college scorer Orlando Sanchez.
Lavin crisscrossed the country, New England and New York to recruit while Dunlap ran the day-to-day operations.
Dunlap helped develop NBA talent at Arizona and St. John's, including Moe Harkless, a certain first-round pick in next week's NBA draft.
His connections to Charlotte's brass are strong. He worked under George Raveling at USC and Iowa. Raveling is extremely close with Charlotte owner Michael Jordan through Nike. The respect Dunlap has in Denver hasn't withered, as George Karl and Tim Grgurich are known to be fans. If Grgurich joins Dunlap in Charlotte, it would give the Bobcats two recognizable development coaches on one bench.
Bobcats general manager Rich Cho said Monday night that getting a coach with a "strong emphasis in player development was extremely high on our priority list."
The roster, with Kemba Walker and the No. 2 pick, demands this. They are the new faces and future of the franchise. Bismack Biyombo is a potential rising talent, too.
"Mike is more than prepared for this job," said Wake Forest coach Jeff Bzdelik, a former Denver Nuggets coach who got to know Dunlap when he was the head coach at Metro State.
"He's simply a basketball junkie,'' Bzdelik said. "He has traveled the world -- literally -- to study the game. Everyone needs talent. No one is a genius of the game. But he'll do a great job with the X's and O's and the preparation and the motivation and teaching and developing.
"They'll need to be patient, so he can develop a team that obviously needs an injection of talent," Bzdelik said.
Lavin said Dunlap was in the picture throughout the search process, even though his name wasn't mentioned with Jerry Sloan, Brian Shaw or Quin Snyder.
And that's exactly how Dunlap has operated in his career -- never front and center.
He had no choice at Arizona or at St. John's. He had to take over a significant role and stabilize two critical seasons. The Arizona situation set up the program for Sean Miller's arrival. He gave Lavin the freedom to recruit and recover, knowing he didn't have to rush back.
Lavin and St. John's owe Dunlap are in debt for his service.
Now, Charlotte will receive the benefits. The hire may seem odd to the mainstream public. The talent level is low by NBA standards, so he will have a hard time winning. But he won't shirk his responsibilities as a teacher of the game. And he won't give anything less than his best.
His departure is a major hit to the St. John's staff. But to NBA personnel, it was a sign that the Red Storm had a well-respected, hidden gem who needed a chance to succeed where others have failed.
May, 22, 2012
05/22/12
12:22
PM ET
The Big East will send out its annual straw poll to its coaches to get their preseason predictions about the strength of the league's teams to help put together next season's conference schedule.
The league office said Syracuse's Jim Boeheim and Pitt's Jamie Dixon will be allowed to vote in the poll, even though the schools are leaving the conference for the ACC. They weren't invited to the conference meetings earlier this week in Florida.
The results of the poll will determine which teams face each other twice during the conference schedule. Having a tiered system based on those predictions has worked well for the Big East, rather than the predetermined rotations of which teams play each other twice used by the Big Ten, ACC and SEC.
[+] Enlarge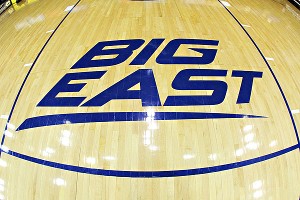 Bill Streicher/Icon SMIBig East coaches are confident the formula the league uses to determine conference schedules ahead of each season has helped in getting more NCAA tournament bids.
The Big East had 11 teams in the NCAA tournament in 2011; it sent nine teams last season. Coaches firmly believe handling scheduling this way is the reason.
"We've been able to give the league the flexibility to balance the schedule," Cincinnati's Mick Cronin said after the Big East meetings wrapped up Tuesday morning in Ponte Vedra Beach. "The repeat opponents have been set up by the hierarchy of the league in the summer. Something has been done right. We've had 11 teams and then nine teams in the NCAA. The coaches were against 18 league games but then it has helped us get more teams in [the tournament]."
Notre Dame coach Mike Brey agreed that the formula has worked for the Big East.
"It has driven us to get more bids," said Brey, who added it was odd not to have Boeheim at the Big East meetings for the first time during Brey's tenure at Notre Dame. "We've got to stay with this formula. It's not too constrictive. We don't want a rotation. We've got to keep an open mind. Some of it is by design, some of it is by luck, but it has really worked. You can sit there as a coach and say, 'If you're in the top eight, you're in the tournament.'"
There were 13 men's basketball coaches in attendance at Monday's meeting. Four coaches stayed to meet with athletic directors Tuesday. UConn's Jim Calhoun and Louisville's Rick Pitino weren't in attendance and neither were coaches from incoming 2013 members Temple (Fran Dunphy), Memphis (Josh Pastner) and SMU (Larry Brown).
According to Brey, the 11 other coaches in attendance, outside of him and Cronin, were: Stan Heath (South Florida), Ed Cooley (Providence), Kevin Willard (Seton Hall), Steve Lavin (St. John's), Mike Rice (Rutgers), Jay Wright (Villanova), Buzz Williams (Marquette), John Thompson III (Georgetown), Oliver Purnell (DePaul) and 2013 new members Donnie Jones (Central Florida) and James Dickey (Houston).
Heath said that there was even discussion about possibly opening up to 20 games from 18 when the new teams come into the conference.
"We had some conversation, but nothing was shot down," Heath said.
Heath, Cronin and Brey all said there was a renewed sense of optimism in the room, especially with presentations from television executives from NBC and Fox. ESPN and CBS have the current Big East rights, but the league will enter a new negotiating period in the fall.
"There was excitement over the TV presentation possibilities," Cronin said. "The Big East can't negotiate now but there was interest in our product. You could see people spending valuable time on the presentations and they say we'll be even stronger with the media market changes in adding Dallas, Houston and Orlando, which only helps the big picture."
The coaches agreed that the conference tournament must include all members in 2013, regardless of that number.
Heath said he brought up to the coaches that former USF player Kentrell Gransberry never played at Madison Square Garden during his career at South Florida because all the teams weren't invited.
"It's meaningful to the players and the teams even if it's one game," Heath said. "It's a big part of being in the Big East."
The format for the 2013 Big East tournament is still being discussed. There are 15 teams in the league this season with West Virginia's departure. Connecticut is currently not eligible for the tournament since it is not allowed to play in the postseason because of an NCAA ban for poor academics.
The coaches said the plan would be a for 14-team tournament with two games on Tuesday (instead of the previous four) and the rest of the schedule going forward from Wednesday on during championship week with the remaining teams.
Brey said the number of games for an 18-team Big East is still an issue.
"Everybody wants to play everybody," Brey said. "We can't have no-plays. And we need all of the schools to come to New York. A lot of these schools do a lot of business around the Big East tournament. We've got to figure out a way to do this. We're going to figure this all out together."
November, 25, 2011
11/25/11
1:19
PM ET
The past three weeks have been quite a whirlwind.
I've seen 20 teams in a number of venues on both coasts.
So after a thankful day to be with my family -- and a big thanks to all my tremendous colleagues who grind every day on our editorial operation on ESPN.com and on both sides of the camera on ESPN -- here's a look at what I've picked up on after two weeks on the road. And remember, this only includes games I've seen in person.
[+] Enlarge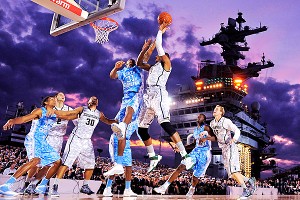 AP Photo/Mark J. TerrillIt doesn't get much more scenic than what we witnessed at the Carrier Classic.
Best venue: It was natural to be skeptical about whether or not the Carrier Classic could be pulled off. But it far exceeded my expectations. The Navy did what it does best -- tremendous organization. The enormity of the USS Carl Vinson was awe-inspiring. The men and women who serve on the ship, as well as the ship's leadership, couldn't have been more welcoming. They were so grateful to have a chance to show what they do on a daily basis. The two teams -- North Carolina and Michigan State -- were model guests and displayed tremendous appreciation. The pageantry of the event, from the patriotic opening to the scenic view of downtown San Diego, will be hard to ever duplicate due to the uniqueness of 11-11-11 and the inaugural nature of the game. And the outdoor game may have seemed like a gimmick, but it was well-played in spurts for being the season opener for both teams.
Best team: North Carolina. The Tar Heels have lived up to the hype as the No. 1 team in the country. They have flaws, especially their perimeter depth. But the overall length of the frontcourt, the ability to get out on the break and the potential to hit scoring spurts and run out on teams is impressive. The Heels have three players -- Harrison Barnes, Tyler Zeller and Kendall Marshall -- who will compete for the ACC POY and two others -- John Henson and James Michael McAdoo -- who will be tough to defend.
Signature moment: When Duke coach Mike Krzyzewski won game No. 903 against Michigan State, passed his mentor Bob Knight and became the all-time winningest men's coach in NCAA history. The impromptu embrace by Coach K and Knight was met by a swarm of photographers and a rare teary eye from Coach K. The moment was genuine, real and showed the true emotion of such an arduous task of grinding out wins in this sport for three-plus decades.
Most impressive half: Kentucky's complete domination of Penn State in the first half at the Mohegan Sun Arena. The Wildcats made it look like it was a guarantee game with an opponent from a weak Division II conference. To Penn State's credit, the Nittany Lions did respond the next day and beat South Florida. But Kentucky showed on this day that it had more offensive versatility with the emergence of Doron Lamb and Kyle Wiltjer.
Most dominating performance: Jared Cunningham, Oregon State. Cunningham went off for 37 points in an overtime win over Texas in the Legends Classic. Cunningham was a highlight reel a year ago but has settled down, working on his game and finding ways to score in a variety of ways. Hofstra coach Mo Cassara said he was the best guard they've gone against in quite some time after Cunningham lit up the Pride for 35 in Corvallis prior to the Texas game. Cunningham is a legit Pac-12 Player of the Year candidate.
Best sub: Syracuse's Dion Waiters. Waiters jump-started the Orange with 11 points off the bench in the comeback win over Virginia Tech in the NIT Season Tip-Off semifinal. Waiters is a game-changer when he's on the floor. He gives Syracuse a different look because of his ability to get into the lane quicker than Scoop Jardine. He's not as refined as Jardine and can be hit or miss, but when he's on he gives the Orange a different look.
[+] Enlarge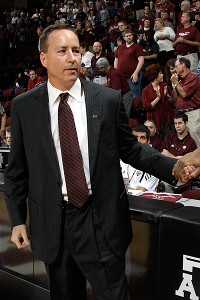 AP Photo/David J. PhillipTexas A&M's Billy Kennedy was diagnosed with Parkinson's disease before the start of the season.
Most courageous: Texas A&M coach Billy Kennedy and St. John's coach Steve Lavin. Kennedy is trying to come back from a series of health setbacks, most notably being diagnosed with Parkinson's disease. He went through incredible fatigue over a five-week stretch that weakened him and it doesn't help that he has bone spurs in his shoulder. The first-year A&M coach is beat up, but is making a comeback one step at a time. He's an inspiration and a model of perseverance.
Lavin, meanwhile, is returning from prostate cancer surgery that was more extensive than most. He had a seven-hour procedure to take out his prostate and also scrape other lymph nodes to ensure that the cancer was all gone. He said he is cancer-free, but is still working his way back from the exhausting surgery. Lavin has to manage his energy and that's why he was able to coach in the Garden for two days in a row but then needed to take a day off from the rigors of coaching earlier this week.
Biggest surprise: Stanford's blowout win over Oklahoma State. The Cowboys were obviously a bit distracted on Wednesday. Oklahoma State coach Travis Ford, who has been crushed by the horrific plane crash that cost the lives of women's coaches Kurt Budke and Miranda Serna, said there were no excuses. And there is this: Stanford was that good. Josh Owens scored 21 points and is, like Cunningham, a Pac-12 POY candidate. I'm not sure Stanford can continue this early-season success, but the Cardinal certainly have the look of an upper-division Pac-12 team.
Two to single out: Over the past three weeks, I took notice of two players who continue to exhibit maturity and professionalism in the way they handle themselves with the media and the respect they have for those older than them. Texas freshman Myck Kabongo has a tremendous presence about him. So too does Michigan State senior Draymond Green. You sense that both of these young men will be stars in whatever they choose to do going forward.
Player only scratching the surface: Kentucky's Anthony Davis will be a star by season's end with his ability to control the paint. He is such an immense talent with his length and game-changing shot-blocking. His offense will only continue to diversify.
Most important wins: Vanderbilt beating NC State and Oregon State in the closing moments. The Commodores found ways to win the Legends Classic with key defensive stops and timely shooting at the IZOD Center. The Wolfpack and Beavers are vastly improved from a year ago, but the Dores had to win these games to shed the sour taste of getting beat up by Cleveland State at home. Vandy will get big man Festus Ezeli back in a few weeks. So these wins were critical for this team's confidence.
Two teams to watch: Oregon State still has to win the games it should over the next month -- all against teams outside the power-six conferences and perhaps none against teams bound for the NCAA tournament. But the talent is in place with this team to make some noise in the Pac-12. The emergence of Ahmad Starks as a push-it point guard, the length of Eric Moreland and Devon Collier, the soft hands of Joe Burton inside and the scoring of Cunningham make this team a good watch.
NC State had talent when Mark Gottfried arrived and it has only gotten better. C.J. Leslie is a potential big-time scorer. Scott Wood can make shots. C.J. Williams and Alex Johnson are solid role players. DeShawn Painter is a rugged face-up and inside post player and the potential exists for Thomas de Thaey and Jordan Vandenberg to cause problems when they body people up in the lane. The ACC is weak beyond the top three, opening up a spot for the Wolfpack.
The great enigma: Mississippi State. After dropping a home game to Akron, the Bulldogs won the 2K Sports Classic benefiting Coaches vs. Cancer with wins over Texas A&M and Arizona. Arnett Moultrie and Renardo Sidney provide one of the tougher matchups of any big man combo. Dee Bost is a veteran point guard who knows how to run a team. But the two players who may hold the key to this team are Deville Smith and Rodney Hood, a pair of freshman guards who can change the game with their speed and shooting when inserted.
Incomplete read: Drexel. The Dragons were without two of their top three guards in Chris Fouch and Tavon Allen. Yet Drexel pulled away from Rider in impressive fashion during the Tip-Off Marathon. The CAA favorite has a tough inside, undersized player in Samme Givens and a grinding guard who can get points in Frantz Massenat. But then the Dragons fell flat in the Virgin Islands and lost to Norfolk State and scored 35 points against Virginia. Let's see how Drexel does once it's healthy before giving a full review.
Best coaching jobs: Kansas' Bill Self and Virginia Tech's Seth Greenberg. Neither team won when I saw them but they were going up against top-five squads in Kentucky and Syracuse. Self and Greenberg are maximizing the talent on their teams. They do have studs in Thomas Robinson (Kansas) and Dorenzo Hudson (Virginia Tech), but they get their teams to play as hard as they coach. Kansas' play in Maui deserves high praise and the Jayhawks will once again be in contention to win the Big 12. The Hokies will find a way to be on the bubble again. Neither team is as stocked as it has been in the past, but these two coaches will get these teams to reach their potential.
Best teams: Nothing I saw changed my opinion that North Carolina, Kentucky, Duke and Syracuse are all legitimate Final Four contenders. I have yet to see Ohio State, but put the Buckeyes in that group, as well.
Best game I missed: Well, that one is easy. The Kansas-Duke championship game at the Maui Invitational will go down as one of the best 40 minutes of the regular season. What a show that was.
June, 29, 2011
06/29/11
3:41
PM ET
Some news and notes on this Wednesday afternoon:
• Team USA's two exhibition losses to Lithuania have caused some concern stateside, but the Lithuanians are considered the favorites heading into the U-19 World Championship tournament in Latvia this week.
The Americans lost 101-72 to the U-20 Lithuanian team and then 108-75 to the U-19 team, which got 23 points out of the Toronto Raptors' No. 5 draft pick Jonas Valanciunas.
The Americans start pool play Thursday against Egypt and play Serbia and China before the second round begins. Medal round games begin on July 9.
"Lithuania is the best team and we didn't play well,'' said Syracuse coach Jim Boeheim, who is the chair of the junior national team and helped select the squad in Colorado Springs earlier this month. "We're not as strong as we'd like. But we're better than we've played so far.''
Boeheim said UConn's Jeremy Lamb, expected to be a star on this squad, hasn't played as well as expected yet. In the two exhibition games, Lamb is shooting 22.2 percent on 3s and 35 percent overall. He's averaging 9.5 points a game. Butler's Kyhle Marshall is even worse, shooting 23.1 percent overall.
Boeheim also singled out Tony Mitchell, the former Missouri recruit who is headed to North Texas. Mitchell has taken only four shots, making one.
"They've gotten off to a slow start,'' Boeheim said. "They've struggled more than we thought they would.''
The surprise has been the play of Creighton's Doug McDermott, son of Bluejays coach Greg McDermott. The rising sophomore has been the most consistent player so far, averaging a team-high 13.5 points a game. He is shooting 61.1 percent from the field. Memphis' Joe Jackson is at 12.5 ppg on 40.9 percent shooting and Michigan's Tim Hardaway Jr. is averaging 11.5 points a game but is shooting a woeful 26.9 percent (taking a team-high 26 shots) and 16.7 percent on 3s (2-of-12).
It's perhaps worth noting that the foul calls on the road were noticeably different, with the two Lithuanian teams taking a combined 88 free throws to the Americans' 54.
"We knew this would be a tough tournament,'' Boeheim said. "We [also] don't have some guys who chose to go to summer school. That happens.''
Duke guard Austin Rivers or Ohio State freshman forward Jared Sullinger both chose to stay home rather than play. Clearly, Sullinger would have had a major impact on this team had he decided to play. The U.S. team got outrebounded by an average of 12 boards in the two games.
This is the same tournament in which the Americans won gold in New Zealand in 2009, the first time the U.S. had won the gold medal since 1991. Pitt's Jamie Dixon coached that team, assisted by Purdue's Matt Painter (who will coach the University Games team heading to China in August) and Southern Illinois' Chris Lowery. New George Mason coach Paul Hewitt is coaching this squad in Latvia, assisted by Saint Mary's Randy Bennett and Jacksonville's Cliff Warren, who was an assistant under Hewitt at Georgia Tech.
• The Washington Times reported on Shaka Smart's new deal with Virginia Commonwealth. The eight-year contract is worth $1.2 million annually. VCU got creative by bumping up his salary from $325,000 to $450,000 and adding in a supplemental income of $700,000 that is paid quarterly. Smart could have gone to a power-six job -- possibly NC State -- but stayed put with the Rams. The Final Four run pushed his package over $1 million, a significant bump for a school like VCU but also a necessity in order to stay competitive at an elite level. That's what Gonzaga and Butler have had to do to keep their respective coaches content.
• A number of college coaches are gearing up for 20 days on the road next month by finalizing their nonconference schedules now. One school that needs a quality nonconference slate is Marshall. Thundering Herd coach Tom Herrion fancies his team to be an NCAA tournament squad and a real challenger to Memphis in Conference USA. The Herd return Damier Pitts (16.2 ppg, 4.7 apg) at the point, whom Herrion said should be considered the top point guard in C-USA, along with last season's freshman of the year in the league in DeAndre Kane (15.1 ppg, 5.6 rpg). MU has four starters returning and brings in a recruiting class that has two highly rated JC transfers in power forwards Robert Goff and Dennis Tinnon. Shooting guard Justin Coleman, a one-time Louisville commit, is also eligible after sitting out the year. He was never able to get eligible for the Cardinals.
So what did Herrion do for his schedule? He is playing at Cincinnati in a multiple-team event that has three home games against low-level teams in Alabama State, Jacksonville State and Northwestern State. He will play the annual game in Charleston against West Virginia. That gives him two Big East opponents, one road and one neutral. The Bearcats will be a top-25 team in the preseason, and West Virginia will always be in play for a bid under Bob Huggins.
Herrion also did a home-and-home with perennial Atlantic Sun favorite Belmont, bought a home game against MAAC favorite Iona, has home games against MAC favorites Ohio and Akron and will play at UNC Wilmington out of the Colonial. Herrion is trying to grab a successful team from the A-10, Missouri Valley or CAA -- someone like an Old Dominion or Creighton. He'll need at least one more of those games.
Scheduling is an art form for these coaches. And if a school like Marshall can't get elite home-and-home games out of region, then it has to be creative by plucking some of the best mid-major schools for home-and-home series. That can be a plus for power-rating points. The C-USA schedule helps Marshall too, since the Herd will play perennial contenders Memphis and UAB twice as well as UCF, Southern Miss and upstart East Carolina in the unbalanced schedule.
"Now we've got to go out and win games,'' said Herrion, whose team was 22-12 (9-7 C-USA) in his first season as head coach in Huntington. "We've got to get another projected NCAA team. But we've got to go out and win those games. I do think we can be an NCAA tournament team. But we can't come out of Conference USA with six or seven or eight losses and expect to be.''
• Texas fans are probably down about losing three underclassmen to the NBA, but having a trio of three first-round players (Tristan Thompson, Jordan Hamilton and Cory Joseph) can come in handy. The Longhorns now have the most first-round NBA draft picks (eight) of any school over the past six years. Kansas and Kentucky are tied for second with seven. If you push it back to 2000, Texas is third with 10 but just one behind North Carolina and Kansas for the lead. Connecticut, Duke and Kentucky have had nine in that span. The Longhorns have also had six lottery picks since 2000, which is tied for fifth with Arizona. Kansas tops that list with nine, followed by UConn and Duke with eight and North Carolina with seven.
• St. John's is quietly putting together one of the top nonconference schedules in the country. The Red Storm will play at Duke, at Kentucky in the SEC-Big East Challenge, host UCLA, play in the 2K Sports Classic benefiting Coaches vs. Cancer with Arizona, Texas A&M and Mississippi State, and open up Dick Vitale Court against Horizon upstart Detroit. That's all with a team dominated by freshmen. Kudos to coach Steve Lavin, who isn't afraid to challenge his team.
February, 9, 2011
02/09/11
12:03
PM ET
The villains are missing.
The hatred, the jealousy and the nastiness are no more.
Rivalries have tamed in college basketball.
My two favorites from covering the sport for the past 20 years -- outside of the obvious North Carolina-Duke -- were obscure nationally but not in the region in which I worked.
The New Mexico State-New Mexico and BYU-Utah rivalries in the 1990s had real venom between the coaches, programs and schools.
Then-New Mexico State coach Neil McCarthy was a classic villain. He loved and relished that role. He recruited off the radar, trolling around for junior college- and four-year transfers. He was his own breed. He didn't conform. He would smoke a clove cigarette on the ramp leading down to the Pit floor at New Mexico, despite the clear violation of doing so in the building. He didn't care. I witnessed him scoff at those who passed by as he puffed. He loved to challenge the media, once pounding the press table after a key play during the game and saying to a colleague of mine, "How'd you like that?" This was during the game.
He loved being the one person who everyone in the building wanted to boo. And, of course, he loved to send Dave Bliss and the Lobos cowering back three hours from Las Cruces to Albuquerque if they won at the Pan Am Center.
New Mexico was the favored state school. New Mexico State? It was the less-publicized of the two since it was closer to Texas than the state capital in Santa Fe.
McCarthy and Bliss didn't like each other. The players weren't chums. And the fan bases couldn't stand one another, either.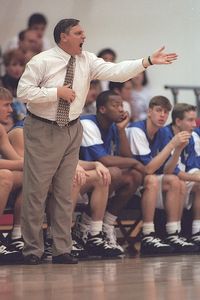 Jamie Squire/Allsport Former BYU coach Roger Reid's hatred for Utah's Rick Majerus made the Cougars-Utes rivalry one to watch in the 1990s.
The hatred between BYU and Utah was even more intense. BYU coach Roger Reid, now the coach at Southern Utah, couldn't stand Utah's Rick Majerus, now the coach at Saint Louis, because of Majerus' popularity with the national media and the power brokers in the state. They weren't friends. They didn't pretend to be buddies. There was an obvious jealousy that Reid had of Majerus that was apparent every time their teams played.
The games were nasty, chippy and intense. It helped that, as was the case in the Lobos-Aggies rivalry, both teams performed at a high level in the '90s. But what made Utah-BYU even more intense was that they were in the WAC together. Utah was the state school and BYU was owned and operated by the Mormon Church. The players were familiar with each other and there was an intensity that existed in every game.
When Reid left, the Cougars sunk (before their revival began under Steve Cleveland and now has flourished under Dave Rose), and the rivalry was tempered. Ray Giacoletti of Utah was not an antagonist, either, and the intensity of the rivalry waned. The common respect between current coaches Rose and Utah's Jim Boylen has lessened the rivalry as well. Now that the schools are heading off to different conferences -- Utah to the Pac-12 and BYU the WCC -- it will be hard to replicate the rivalry. If the schools choose to do what New Mexico and New Mexico State still do -- play home-and-home despite being in different leagues -- then it has a chance to survive. But much like the Lobos-Aggies rivalry has been diminished because of the calm nature of Steve Alford (UNM) and Marvin Menzies (NMSU), the BYU-Utah rivalry may be hard to go back to its angry stage of the '90s.
I asked my colleagues on ESPNU's "The Experts" on Tuesday what were their favorite rivalries in the sport as a player, coach or fan. Here's what they had to say:
Mark Gottfried, former Alabama player: "To me it was Auburn-Alabama back when it was Wimp Sanderson and Sonny Smith. The recruiting battles were nasty."
Stephen Bardo, former Illinois player: "Our rival was Iowa. We hated Iowa. They had pros like B.J. Armstrong, Roy Marble, Brad Lohaus; they had eight pros. We never won in Iowa City. And you had the whole Bruce Pearl thing [turning in Illinois as an Iowa assistant for a recruiting violation]. Now that's come full circle."
Adrian Branch, former Maryland player and area product: "Growing up for me it was NC State versus Maryland. Whoever beat each other was going to win the national championship in 1974. When I played, it was us and Virginia, the two most Northern schools before Virginia Tech got in the ACC. In my four years, it was us then. But growing up it was Len Elmore of Maryland against David Thompson of NC State. "
Len Elmore, former Maryland player, native of New York: "Back then, it was St. John's before the Big East. The rivalries were with all the other New York schools. There was a lot of good college basketball. But I'd also say Davidson versus North Carolina when it was Lefty Driesell versus Dean Smith."
Fran Fraschilla, who was once a former assistant at Providence: "The Providence-Rhode Island rivalry was the most hated I've been a part of.''
Going forward, these are the rivalries I'm interested in seeing develop:
[+] Enlarge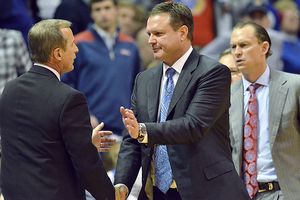 Denny Medley/US PresswireKansas coach Bill Self (right) and Texas' Rick Barnes have a friendly rivalry that should only get better in future seasons.
Kansas-Texas: Bill Self and Rick Barnes don't have a testy relationship. They like each other quite well. But these are clearly the two best teams in the Big 12 and now the 10-team Big 12. Finally, the two will play home-and-home every season, allowing the fans for both squads to get a look at the other each season. The rivalry has a real chance of developing, even if it's not nasty, because it will be the two elite programs going forward in the league.
Baylor-Texas A&M: There is no love between these two staffs. They play twice each season and the games have been very competitive. This trend should continue. The rivalry doesn't get much attention out of Texas, but it should.
St. John's-Rutgers: There is no way Steve Lavin could have a tense rivalry with anyone. It's not in his nature. But there will be a rivalry between the two staffs in recruiting now that Mike Rice is at Rutgers. And if Rutgers can continue to improve, this should be a competitive rivalry, which would be good for the New York-area market.
Memphis-UTEP: Josh Pastner is hardly someone to dislike, either. But Tim Floyd's presence in El Paso means Memphis will have a competitor in recruiting for the long haul. Expect these two programs to set the standard in Conference USA.
Harvard-Princeton: Penn coach Jerome Allen will have something to say about the top two spots in the Ivy. And nothing in the Ivy can or will replace Penn-Princeton. But the top spot for the foreseeable future is Harvard-Princeton. It might be the most competitive competition for the next few years as Sydney Johnson and Tommy Amaker build conference powers.
Arizona-UCLA: Welcome back this rivalry. Sean Miller has the Wildcats atop the Pac-10. UCLA isn't going to fade. And while Washington has been a consistent top-four Pac-10 program, the two elites in this conference in the '90s were UCLA and Arizona. They have the most national reach. And it should be the best annual rivalry in the future. Hopefully, under the new Pac-12 basketball schedule, this is a protected rivalry that ensures they play twice every season.
November, 29, 2010
11/29/10
3:17
PM ET
The Big East was supposed to take a back seat to the Big Ten in the conference rankings.
So far no other conference is close to the Big East -- at least in winning early season tournaments.
The Big East has won six traditional tournaments (those with at least semifinals and finals played on a neutral court):
Pitt beat Texas to win the Coaches vs. Cancer Classic in New York. Georgetown beat NC State to win the Charleston Classic. Connecticut beat Kentucky to win the Maui Invitational. Syracuse beat Georgia Tech to win the Legends Classic in Atlantic City.
Notre Dame beat Wisconsin to win the Old Spice Classic in Orlando.
St. John's beat Arizona State to win the Great Alaska Shootout.
West Virginia lost to Minnesota in the final of the Puerto Rico Tip-Off.
Villanova lost in the final to Tennessee in the NIT Season Tip-Off.

On the flip side, DePaul had an 0-3 showing in the 76 Classic in Anaheim and Seton Hall won only one game in the Paradise Jam in St. Thomas. Marquette failed to reach the title game at the CBE Classic in Kansas City, losing in the semifinals to No. 1 Duke.
But those last three are hardly blemishes for the league. The six wins and the two title losses speak much louder to its overall strength.
[+] Enlarge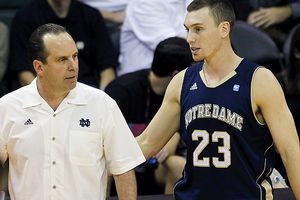 Cliff Welch/Icon SMINotre Dame coach Mike Brey is pleased with his team's 7-0 start, which includes a win at the Old Spice Classic.
"Every year the media wants to come up with another best league, some other conference," said Pitt coach Jamie Dixon. "Yet, we've done this year after year. We're easy to dismiss. But then we'll beat each other up in January and February and our RPI won't be as high so we won't get as many higher seeds."
The wins by Pitt, Georgetown, Syracuse and St. John's, based on the overall fields in each tournament, shouldn't have been a shock.
More surprising was Notre Dame winning in Orlando and certainly Connecticut's run in Maui.
The Irish were picked seventh in the Big East by the coaches in the preseason; UConn was picked 10th.
Notre Dame had to knock off a possible SEC darling in Georgia (playing without a healthy Trey Thompkins at the start of the event), then an offensively challenged Cal before disposing of the always pesky Wisconsin. UConn, though, had the more formidable task of beating Missouri Valley favorite Wichita State, then Big Ten favorite Michigan State and the uber-talented Kentucky.
"We're going to get eight bids [to the NCAA tournament] again," said Notre Dame coach Mike Brey. "That's what it looks like based on these early returns."
Connecticut has a national player of the year candidate in Kemba Walker. The Huskies also have some time to avoid a hangover from their Maui win with a soft five-game schedule (save a game against a surging Harvard, which just beat Colorado) prior to their Big East opener at Pitt on Dec. 27. The Huskies' next major nonconference games aren't until January (at Texas on Jan. 8 and home against Tennessee on Jan. 22).
Meanwhile, Notre Dame's week includes a matchup with Valley upstart Indiana State on Tuesday before going to Kentucky on Dec. 8 and then hosting Gonzaga on Dec. 11.
"It's a Big East week," Brey said. "That's why we set it up. There's nothing like having this experience."
Brey said the experience of having Tim Abromaitis, Ben Hansbrough, Tyrone Nash, Carleton Scott and even Purdue transfer Scott Martin play three games in four days in Orlando paid off. Brey also got much-needed scoring out of freshman guard Eric Atkins in Orlando, who scored 12 points in the title win over Wisconsin on Sunday night.
"We need Atkins and Martin to emerge for us to be really good," Brey said. "Ultimately, those two guys played well and found a rhythm. I really love this team. I've got a good vibe about them now. I'm so impressed with their focus and concentration. They all chased a common goal."
And that was to win a tournament championship. Ultimately by doing that, just like Georgetown, UConn, Pitt, Syracuse and St. John's did, the Irish proved that the Big East will have the depth to be an even tougher conference with enough good teams to possibly land 50 percent of its membership in the NCAAs in March.
August, 25, 2010
08/25/10
2:54
PM ET
While the Big East decided it won't change its tournament format for 2011, where and when its conference games will be played this season remains a long, drawn-out process.
The Big East handles its 18-game conference schedule using a poll voted on by the league's coaches in May. According to where teams are ranked, they're placed into tiers. In some years, there have been just three tiers, sometimes four, sometimes five or even six, depending on the discrepancy between the teams' point totals.
Creating a schedule for a 16-team league is inherently difficult, especially taking into consideration games played on national television. This season, the league is facing the toughest time it has had in finalizing its conference schedule because of the late release dates of schedules for professional sports teams that share venues with half of the league's teams.
The AHL minor league hockey schedule was released Tuesday, which affected home dates for the Providence Friars at the Dunkin' Donuts Center, the UConn Huskies at the XL Center, DePaul at Allstate Arena and Marquette at the Bradley Center. The NBA schedule was released later than normal this season (due in large part, the Big East thinks, because of the reshuffling of games to accommodate the changes brought on by LeBron James' free agency saga). The NHL television schedule was supposed to be released Wednesday, which would help with arenas that house NHL and Big East teams (Georgetown at the Verizon Center, St. John's at Madison Square Garden, Seton Hall at the Prudential Arena and Villanova for its handful of games at the Wachovia Center).
Georgetown and St. John's also share their venues with NBA teams as well as other events that come through New York and Washington, D.C., in the winter months. Even Louisville had scheduling issues in the past with events when it played at Freedom Hall. The new arena is still a public facility, although the Cardinals are the primary tenant.
Big East associate commissioner Tom Odjakjian, who has to put the master schedule together, has no idea when it will be finalized.
Associate commissioner Dan Gavitt said scheduling at the Wachovia Center, Madison Square Garden and the Verizon Center has historically been the most difficult to finalize.
For the 2010-11 season, there were five tiers, determining which teams are paired up together for their three repeat games.
The tiers, based on the coaches' poll, went like this:
Tier 1: Pitt and Villanova
Tier 2: Syracuse, West Virginia, Georgetown.
Tier 3: Louisville, St. John's, Notre Dame, Connecticut.
Tier 4: Marquette, Cincinnati, Seton Hall.
Tier 5: South Florida, Providence, Rutgers, DePaul.
Pitt and Villanova received 13 of the 16 first-place votes. One of the three first-place votes went to St. John's. Louisville coach Rick Pitino admitted he gave the Red Storm and new coach Steve Lavin a first-place vote May 14. "I was debating between St. John's, Pittsburgh, Villanova and Cincinnati, but I didn't want to put that on Mick [Cronin, Pitino's former assistant] so I went with St. John's."
Pitino told ESPN.com Wednesday that he was sticking with St. John's, saying in a text: "Nine seniors. Everyone but Pitt and Villanova lost key players."
St. John's was picked in the ballot to finish anywhere from first to 13th while Cincinnati's range spread from fourth to 13th. Coaches couldn't vote for their own teams.
Gavitt said the Big East has been fortunate that some of the league's notable rivalries, such as Pitt-West Virginia and Rutgers-Seton Hall, have been in tiers that allow the teams to play each other twice.
"If you're in one of the bottom [tiers] then you generally get one very difficult repeat and two repeats against your peers," Gavitt said. "If you are picked in the middle, then you don't end up playing one of the top-tier teams. But you don't get a bottom-tier team either. It hasn't happened yet where a rival is way down away from the other team."
Below is a list of each team's repeat assignments for the upcoming season:
Tier 1
Pitt: Villanova (1), West Virginia (2), South Florida (5).
Villanova: Pitt (1), Syracuse (2), Rutgers (5)
Tier 2
Syracuse: Villanova (1), Georgetown (2), Seton Hall (4).
Georgetown: Syracuse (2), St. John's (3), Cincinnati (4).
West Virginia: Pitt (1), Louisville (3), DePaul (5).
Tier 3
Louisville: West Virginia (2), Connecticut (3), Providence (5).
St. John's: Georgetown (2), Notre Dame (3), Cincinnati (4).
Notre Dame: St. John's (3), Marquette (4), Connecticut (3).
Connecticut: Louisville (3), Notre Dame (3), Marquette (4).
Tier 4
Marquette: Connecticut (3), Notre Dame (3), Seton Hall (4).
Cincinnati: Georgetown (2), St. John's (3), DePaul (5).
Seton Hall: Syracuse (2), Marquette (4), Rutgers (5).
Tier 5
South Florida: Pitt (1), Providence (5), DePaul (5).
Providence: Louisville (3), South Florida (5), Rutgers (5).
Rutgers: Villanova (1), Seton Hall (4), Providence (5).
DePaul: West Virginia (2), Cincinnati (4), South Florida (5).
Gavitt said that the Big East attempts to get the best intelligence it can from its coaches when pairing teams for their conference schedules.
"Over the last five years it has been right about 75 percent of the time," Gavitt said. "We're always going to have teams finish higher like Pitt and Syracuse did last year. You can't bat a thousand."
• The Big East is also mulling what to do with the SEC/Big East Invitational. The event is in its final year of its current format of playing at neutral sites, which it has struggled to schedule and fill. The Big East has been fortunate with the home run of Kentucky-Connecticut last December at MSG but even Syracuse-Florida in Tampa wasn't a sellout. Coaches would like to see the event continue but on campus sites with all 12 SEC schools going against 12 of the 16 Big East schools. There would be a three-year rotation for the 16 Big East schools of home/road and off (out of the event) over an eight-year time frame.
• The Big East is trying to lessen the number of Saturday-Monday turnarounds for teams to around three this season.
• A source in the Big East said there would have been serious discussion within the league to add Kansas and Kansas State had both schools been made available if expansion dismantled the Big 12 but that there has never been any real discussion about adding Memphis. Football coaches haven't been shy about the need for a ninth member for scheduling purposes but basketball coaches are against a 17th school, and for the Big East to add one or two members it has to be a home run on all fronts. Kansas and Kansas State would have been if they were available. But they're not.
March, 23, 2010
03/23/10
6:08
PM ET
Quick hitters for a Tuesday during Sweet 16 week:
• Oregon is shooting large by going after Gonzaga's Mark Few, Pitt's Jamie Dixon and Florida's Billy Donovan. I'd be surprised if any of them were to take the bait. The money isn't as grand as what apparently is being bandied about. The facilities are expected to be beautiful, but Nike czar Phil Knight has always been about improving the infrastructure at Oregon more so than supplementing a coaching salary. Former Oregon AD Pat Kilkenny probably will be making the call. Oregon would likely go with a Nike coach and there is one that I think would be a great fit if the Ducks thought out of the box: BYU's Dave Rose, who has done a tremendous job with the Cougars. Everyone at the school from the president on down was superb in helping Rose out during his horrific pancreatic cancer battle over the summer. But it would be hard for Rose to turn down Oregon, if the Ducks were to look at him. Rose coaches an entertaining style that would be a great fit, and he's an A-plus person who would do wonders with the boosters. If not Rose, then non-Nike coaches Randy Bennett of Saint Mary's and Mark Turgeon of Texas A&M should be given a shot to at least decide if they want to move.
• I wouldn't be shocked if Tubby Smith listened to Oregon. But staying at Minnesota also makes sense with the Gophers poised to be in the Big Ten title chase next season. If Paul Hewitt were to leave Georgia Tech, that's the better fit for Smith.
• Hewitt to St. John's sounds great, but does Hewitt want to give up on Georgia Tech and the ACC? He has always told me how much his family loves Atlanta. He hasn't had problems recruiting talent to Georgia Tech. Unless it were a necessity, a coach shouldn't leave a football power-six school for a basketball-only school, regardless of its conference affiliation.
• There was no shot Donovan was leaving Florida for St. John's. I don't buy he's leaving Florida for anywhere at this juncture. He didn't go to Kentucky. He turned his back on the NBA. His family loves Gainesville. He's close with the top athletic director in the country, Jeremy Foley, and he makes $3.5 million a year.
•Houston coach Tom Penders was adamant that he was just resigning from Houston, not retiring. He said he has a lot of coaching left in him. Penders said the decision was his, not the school's. Penders, whose moniker is "Turnaround Tom" (not sure who coined that phrase), said he wants to coach again, as soon as next season. But he has to have a destination.
• Texas assistant Rodney Terry would certainly make a lot of sense at Houston. He has support. Let's see if he can get the gig. Keep hearing conflicting reports on whether Billy Gillispie of Kentucky, UTEP and Texas A&M fame can get the job. Marquette assistant Tony Benford, a native of Hobbs, N.M., and former Texas Tech player, has always recruited Texas well and deserves a look.
• Seton Hall alumnus Adrian Griffin, now an assistant with the Milwaukee Bucks, has had initial conversations with the school about the opening. He is pushing his loyalty to the institution, his ties to the NBA, his MBA and his tutoring under Rick Pitino, P.J. Carlesimo, Scott Skiles, Jeff Van Gundy and others in the NBA. Griffin would likely be behind Siena's Fran McCaffery, Robert Morris' Mike Rice and Richmond's Chris Mooney. Still, the former Pirate will at least get a chance to be heard. He should since he's so passionate about the school.
• Central Florida's opening is creating quite an interest with Minnesota Timberwolves assistant Reggie Theus, Murray State's Billy Kennedy and possibly Marshall's Donnie Jones, who was an assistant at Florida.
• Boise State's list continues to be a solid group: former Montana coach Larry Krystkowiak, Portland coach Eric Reveno, Weber State's Randy Rahe and Gonzaga assistant Leon Rice.
• If DePaul is serious about an on-campus arena with approximately 8,000 seats, it could change the job for the foreseeable future. But the Blue Demons must put a shovel in the ground for potential coaches to feel like there can be serious movement on the subject.
• Jeff Lebo's bounce back from fired at Auburn to hired at East Carolina is one of the better moves for a dispatched coach.
• Former St. John's coach Norm Roberts would go back to Kansas if Bill Self had an opening on the staff. But he also would like to be a head coach again -- next season. Roberts had the Red Storm playing at a high level, but couldn't close out a number of close games.
• A number of NBA personnel officials expect a floodgate of players to declare for the NBA draft with plenty making poor decisions with only a short window (end of April to May 8) to withdraw under a new NCAA rule.
• Fordham getting Hofstra's Tom Pecora would be a great get for local ties within the city. But Pecora still never coached Hofstra in the NCAA tournament. You can't hide from that fact. That doesn't mean he shouldn't deserve a shot at another school, but Fordham needs someone who has experienced the NCAAs to rise up from the depths of the A-10. Pecora is well liked in the city and beyond but hasn't been able to get over the hump in the CAA since Jay Wright left for Villanova. Hofstra would be a coveted job if it were open and assistants like Pitt's Tom Herrion would be near the top of the list.
• Penn hasn't officially hired Jerome Allen yet. Does that mean Lafayette's Fran O'Hanlon could be in the mix?
• UC Irvine has a wide net to cast and it should include BYU assistant Dave Rice, who is as well connected in the West as any other assistant.
• Iowa was once a plum job. The Hawkeyes could do no wrong going with Dayton's Brian Gregory or Utah State's Stew Morrill, but UTEP's Tony Barbee would also be an interesting call if he's not in play at DePaul.
• Charlotte is one of the top jobs open with a chance to move up quickly in the A-10.
• It's still early, but if a major job opened, the coaching carousel will spin at a much quicker rate. So far the job list isn't as high profile yet.
March, 22, 2010
03/22/10
11:10
AM ET
The coaching carousel is in full tilt for the spring, and there were plenty of rumors to chase this weekend. Many of them proved to be untrue. Here are some of the things I culled from various sources over the weekend:
St. John's: Rick Pitino told ESPN.com on Sunday that he intends to finish his career at Louisville. Florida coach Billy Donovan told ESPN.com he's not involved at St. John's and he's "happy where I'm at." Florida athletic director Jeremy Foley also confirmed to ESPN.com that he hasn't been contacted by St. John's, calling the bluff on any Donovan-to-St. John's story.
So where does that leave the Red Storm after the heavy hitters? Well, there is plenty out to choose from. If the Red Storm want Virginia Tech's Seth Greenberg or Georgia Tech's Paul Hewitt, they'll have to get them in a clandestine way without any kind of formal search. Can it be done? Possibly. But the money has to be large, with assurances that there is a real commitment in place. I concur with Dick Vitale. If it ends up being another solid coach who doesn't have national name recognition, even someone with strong New York ties, why get rid of Norm Roberts?
Seton Hall: Siena's Fran McCaffery and Richmond's Chris Mooney appear to be strong candidates. That doesn't mean they're the only candidates, but the Pirates are said to be looking for a fresh face with a clean track record after the Bobby Gonzalez debacle. If the Pirates push, they can probably land McCaffery, while Mooney might be harder to pry away from an elite A-10 job. But both may have to think twice, given the talent returning to their respective teams next season.
Oregon: Mike Bellotti's decision to step down as athletic director makes it even more clear that former AD and influential Oregon booster Pat Kilkenny will make the hire with the nod from Nike's Phil Knight, who has invested in Oregon as much as any high-profile alumnus at any other school. Don't be surprised to see the next Oregon coach coming from the family of coaches who work with Nike. The next Oregon coach has be someone who can sell the program to the boosters and aid in filling the arena and the boxes. Gonzaga's Mark Few gets first crack, and then it could down the line with elite Nike-sponsored coaches such as Minnesota's Tubby Smith and recent Nike addition Jamie Dixon of Pitt. The level of interest for any on these coaches is unknown.
Iowa: The Hawkeyes formed a search committee on campus. This isn't a search for a new professor. The basketball coach must be a fantastic recruiter and energize a sleeping fan base at this moment. But they also need a proven coach. That's why the Hawkeyes could do no wrong with Utah State's Stew Morrill or Dayton's Brian Gregory. According to sources, both would listen if called. Morrill has been one of the most underrated coaches in the country for over a decade. Gregory has Dayton as an A-10 contender. Gregory was once in the Big Ten as an assistant under Tom Izzo.
Central Florida: Three interesting names keep floating up here: Minnesota Timberwolves assistant Reggie Theus, former Alabama coach and current ESPN analyst Mark Gottfried, and Appalachian State coach Buzz Peterson. UCF needs to make a splash of a hire. Theus would certainly fit that description.
Boise State: Here's who is not going to Boise: LSU's Trent Johnson. I spoke with him Sunday, and he reassured me that any chatter of him going back to Boise was ridiculous. He said he has one of the top recruiting classes coming to Baton Rouge. Now, former Montana coach Larry Krystkowiak is a viable candidate and is seriously in the mix. But so too should be Portland's Eric Reveno. Weber State's Randy Rahe and Gonzaga assistant Leon Rice are on the radar. Boise State should be a coveted job since there could be a day in the near future when Boise State joins the MWC.
• If Penn hasn't hired interim coach Jerome Allen yet, there could be some movement with Lafayette's Fran O'Hanlon. I'd still be surprised if Allen didn't get the job.
• IPFW's Dane Fife is expected to be in play at Toledo. But the more Ohio State wins, the likelier it becomes that you could see someone like Jeff Boals. Don't be surprised when the MAC looks to the Big Ten for hires.
• Hawaii hired former USC assistant Gib Arnold because of his strong local ties. His father, Frank, was the former coach there. Expect Arnold to keep up a mix of international players with mainland JC players and high school seniors to get the Warriors back to relevance.
• As for Charlotte, Buzz Peterson worked for the Charlotte Bobcats, so going to Charlotte from Appalachian State would make perfect sense. I've had a number of coaches say the Charlotte job is one of the best in the A-10.
• Houston coach Tom Penders resigned Sunday, according to multiple reports. While Texas assistant Rodney Terry should be in the mix, is there anyone who doesn't think former Kentucky and Texas A&M coach Billy Gillispie gets the job?
• Fordham should just hire alumnus Mike Rice of Robert Morris. He's a sound, intense coach. Would they get a bigger name? Probably not.
The hot names: Ben Jacobson, Northern Iowa; Steve Donahue, Cornell; Tony Barbee, UTEP.
Barbee should be in play at DePaul and Auburn if he chooses to leave what could be another CUSA champ at UTEP next season.
Jacobson should be patient and make sure he doesn't do something that doesn't make sense (such as going to a bottom-dweller).
Donahue needs to leave Cornell if he wants to climb. The Big Red may never be at this point again. But Donahue is comfortable, so if the right move isn't out there, he should be patient.
A few random thoughts from the first weekend:
• The Mountain West Conference did a sensational job of getting four teams in the NCAA tournament. All four teams represented well in either the first or second round. But not getting a team in the Sweet 16 still limits the MWC from being treated with true credibility as a proven elite league. The MWC must break through with a Sweet 16 team soon.
• Decisions abound for the NBA draft among players who were ousted in the first weekend. Remember, under a new NCAA rule, players have until May 8 to withdraw from the NBA draft. That means there will be roughly a week to make a decision on staying in the draft (the NBA deadline to withdraw is still 10 days before the draft). There won't be much time for workouts.
So from the teams that have lost, who has to make decisions about leaving for the NBA or at least testing the draft for a week?
Kansas: Cole Aldrich and Xavier Henry.
Georgetown: Greg Monroe
Georgia Tech: Gani Lawal and Derrick Favors.
Gonzaga: Elias Harris.
Florida State: Solomon Alabi.
UTEP: Derrick Caracter.
BYU: Jimmer Fredette
Texas: Avery Bradley and Jordan Hamilton.
• For the record, Butler athletic director Barry Collier said he wasn't fired at Nebraska and left more than $1 million on his contract to return to his alma mater.
November, 12, 2009
11/12/09
10:22
AM ET
Here are 10 programs that will jump within their respective conferences after a disappointing 2008-09 season:

Georgia Tech
2008-09 record: 2-14 ACC, 12-19 overall
Reason for optimism: The Yellow Jackets brought in arguably the best freshman center in Derrick Favors. He'll team with Gani Lawal to form a formidable frontcourt. Georgia Tech is healthy on the perimeter and deeper than it was a year ago. The Yellow Jackets also should finally know how to close out games. (Yes, I know they needed overtime to hold off Indiana of Pennsylvania in an exhibition game.) They're the only team in the ACC that will play North Carolina and Duke twice, so they should have the best power rating of any of the 12 ACC teams.
What could happen: Georgia Tech could win the ACC. Yes, the talent is in place for the team to go from two wins to the league title.
What's likely to happen: The Yellow Jackets should win nine to 11 games in conference play. That would be at least a seven-win swing, good enough to get them into the NCAA tournament.

Iowa State
2008-09 record: 4-12 Big 12, 15-17 overall
Reason for optimism: Craig Brackins returns to the Cyclones, and he has the potential to be a Big 12 Player of the Year candidate and All-American. Add junior college transfer Marquis Gilstrap, and the Cyclones could have one of the best one-two scoring punches besides Kansas and Texas in the Big 12. Iowa State's Hilton Coliseum also is one of the best home courts in the country. Don't be surprised if the Cyclones knock off one of the big boys at home this season.
What could happen: The Cyclones could pluck off a few key wins -- perhaps winning at least one game among Duke, Kansas (twice) and Texas to earn an NCAA tournament berth.
What's likely to happen: Iowa State should improve to at least a nine-win team in the Big 12 and be squarely on the tourney bubble in March.

Oregon
2008-09 record: 2-16 in the Pac-10, 8-23 overall
Reason for optimism: Coach Ernie Kent is billing Jamil Wilson as one of the top freshmen he has coached. If Wilson is as good as advertised, the Ducks have a real shot to climb in what should be a shaky Pac-10. The return of senior point guard Tajuan Porter and the likely improvement of a sophomore class that underachieved last season should give this team hope. Adding assistant Mike Dunlap should help in game management, too.
What could happen: The Ducks have enough talent to finish third in the Pac-10, jumping from two wins to 10 or 11.
What's likely to happen: Oregon probably will be in a tussle with Oregon State, UCLA and Arizona to finish in some order of 3 through 6 in the conference and be on the NCAA tournament bubble. The problem is the Ducks' nonconference slate might not be ranked high enough to earn a bid.

St. John's
2008-09 record: 6-12 Big East, 16-18 overall
Reason for optimism: The Red Storm are the only Big East team that returns all five starters. Coach Norm Roberts has focused on this season to be his best. Losing Anthony Mason Jr. for the start of the season hasn't hurt as much because Mason didn't play last season or on the team's trip to Canada during Labor Day weekend. This team already has learned how to play without him. The other thing going for St. John's -- if the Red Storm are ready to handle the pressure -- is the Big East is open to change this season. Plenty of moves could happen, with teams such as Marquette and Providence sliding to the bottom of the league, and that should allow the Red Storm to climb. That challenge will be daunting but nowhere near as imposing as it was a year ago.
What could happen: This is still the same group of players who finished 6-12 in the Big East, albeit in a stronger conference. Moving ahead of Seton Hall, Cincinnati, Pitt, Notre Dame and Syracuse would be quite a feat.
What's likely to happen: The Red Storm will be in the mix for a top-10 finish in the Big East and could move into the eight- or nine-win range in the league. But even that is likely to mean more of an NIT berth than an NCAA one.

Indiana
2008-09 record: 1-17 in the Big Ten, 6-25 overall
Reason for optimism: The carnage of the Kelvin Sampson era has finally subsided, and under the leadership of coach Tom Crean, the Hoosiers finally can begin to rebuild. Indiana adds an experienced transfer in former Georgetown guard Jeremiah Rivers, who will team with sophomore Verdell Jones III. The Hoosiers still will be one of the youngest teams in the Big Ten, but there is plenty of fight in this group.
What could happen: The Hoosiers could move past Iowa and Penn State to finish at least ninth in the Big Ten with possibly five wins in the league.
What's likely to happen: The problem is the league may be the best it has been this decade. The Hoosiers draw tough road games at Illinois, Michigan, Ohio State, Purdue and Minnesota. The only break is that Michigan State will visit Indiana, but the Hoosiers won't make a return trip to East Lansing. Indiana probably won't make the postseason, but it will show an improvement in the win-loss record in the league and be a peskier putout.

Charlotte
2008-09 record: 5-11 Atlantic 10, 11-20 overall
Reason for optimism: The 49ers are banking on Boston College transfer Shamari Spears to be their go-to inside scorer. He already proved to have soft hands during exhibition play. Finishing in practice was never an issue for Spears at BC, but when the lights were on, his fingers became butter at times. If he can be a lock for the 49ers inside, he'll prove to be the perfect balance to guards Ian Andersen and DiJuan Harris. Losing Lamont Mack hurts the scoring pop, but this team may be better-balanced.
What could happen: The Atlantic 10 will be dominated by Dayton, with Xavier and Richmond on the Flyers' heels. But don't dismiss the 49ers. They have the potential to make a significant jump into the nine- or 10-win mark. Charlotte will play Xavier twice and get two shots at Richmond. Playing at Dayton won't help, but the 49ers will have a chance to compete with the others for second.
What's likely to happen: Charlotte still should finish no higher than fourth, but it will earn enough good will through its record and ranking (playing at Louisville, at Old Dominion, home against Georgia Tech and at Tennessee) to earn a postseason berth of some kind.

Fresno State
2008-09 season: 3-13 WAC, 13-21 overall
Reason for optimism: Paul George. Can I say it again? Paul George. He is a star and one of the NEXT athletes ESPN has been pushing. The Bulldogs under Steve Cleveland have been all over the place, but there is a sense that things should settle down in a league that doesn't have an intimidating team. Sure, Utah State is the favorite in the WAC, and Nevada has Luke Babbitt, but it's not as if Fresno State can't climb from three wins to at least eight in the league.
What could happen: The Bulldogs should be in the mix, at least in the middle of the pack.
What's likely to happen: Expect Fresno State to affect the WAC race but fall short of a postseason berth.

Rice
2008-09 season: 4-12 in CUSA, 10-22 overall
Reason for optimism: The Owls recruited well under Ben Braun. The freshman class should increase the talent quickly in Houston.
What could happen: If the freshmen can produce quickly, a four-win improvement isn't totally out of the question.
What's likely to happen: The problem with moving up to eight wins is that the league is even more balanced this season with Memphis, UTEP, Tulsa and Houston capable of winning the conference.
Florida Atlantic
2008-09 season: 2-16 in the Sun Belt, 6-26 overall
Reason for optimism: Owls coach Mike Jarvis is talking up freshman point guard Raymond Taylor as the next Shawnta Rogers, his former diminutive but highly productive scorer at George Washington. The Owls will be one of the youngest teams in the league, but they should be more talented and productive.
What could happen: The Sun Belt will be led by Western Kentucky, North Texas and Denver, but it's not as if any of those teams is intimidating. There is room for FAU to climb significantly in the league standings from two wins into the seven or eight range.
What's likely to happen: FAU will climb, but it won't be enough to yield a postseason berth. If there is improvement this season, then postseason could be in the discussion in 2011.

Hartford
2008-09 season: 2-14 in the America East, 7-26 overall
Reason for optimism: Let's start with Binghamton's implosion. That should send last season's champ down to the bottom of the league, pushing up a team like Hartford. The rest of the conference is solid and has some noteworthy players, including Vermont's Maurice Joseph and Marqus Blakely. New Hampshire and Boston University should be in the mix for the title, too. But there is room for advancement for the Hawks. Newly named assistant Rick Brunson, a longtime NBA player, was added to Dan Leibovitz's staff and has raved about junior college transfer Milton Burton. Having a healthy Joe Zeglinski on the perimeter will help the balance. If this team can defend and rebound, it will have a shot to move into the eight-win range in the America East.
What could happen: Remember, the Hawks played for the America East automatic berth in 2008, and they'll host the first two rounds of the conference tournament this season. So a run to the title game isn't out of the question if they can make the Chase Arena at Reich Family Pavilion rock.
What's likely to happen: The Hawks will improve their win total but won't reach the postseason.