Category archive:

Saint Joseph's Hawks
October, 15, 2012
10/15/12
1:50
PM ET
BROOKLYN, N.Y. -- There are storylines aplenty in the Atlantic 10 this season, led by Saint Louis trying to recover from Rick Majerus' absence and the arrival of mid-major darlings Butler and VCU to create the greatest depth in the league's history.
But what I learned at A-10 media day earlier this month is that the overriding theme this season is all about Philadelphia.
The conference office fled the heart of the league for southern Virginia awhile back, but this season, the league center will be back in Philly.
Saint Joseph's is the preseason pick to win the title, with five starters returning, potentially completing Phil Martelli's long, arduous climb back to the top after his glorious run to the Elite Eight in 2004.
Elsewhere in the City of Brotherly Love, La Salle was the overwhelming selection by the league's coaches when asked by ESPN.com which team will be a legitimate sleeper to be in the hunt deep into February.
Oh, and no one wants Temple to leave.
The Owls, who have been at the heart of the conference since its inception, are off to the Big East next season. Charlotte is leaving, too, as the 49ers head to Conference USA. But Charlotte is no Temple.
[+] Enlarge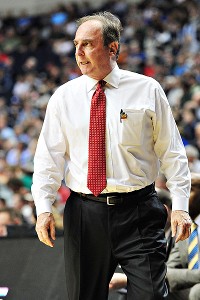 Don McPeak/US Presswire Fran Dunphy's Owls prepare for one final season in the Atlantic 10.
The Owls' departure is sort of like when a close childhood friend had to move to a new school. The good friends, like St. Joe's and La Salle, know they'll still see Temple around, but it won't be the same.
"On a personal level, my best friend in coaching is Fran Dunphy,'' Martelli said of the Temple coach. "To not interact with him here, on the phone talking about various league issues, that will be very different. Temple has served this league with such a positive fashion from top to bottom.''
Martelli said replacing Dunphy with Butler's Brad Stevens and VCU's Shaka Smart, as well as a newcomer at Rhode Island (Dan Hurley), will soften the blow of losing a league power.
"But it's a difficult blow,'' Martelli said.
And it has been for Dunphy, too.
The veteran coach knows the university had to be concerned about football first. And no one is going to suggest Temple won't be better off by going to the Big East and being on equal footing with its longtime rival Villanova. The exposure will increase and the strength of schedule will kick up a notch. And requiring the Temple basketball team to play nonconference games against MAC schools just never felt quite right.
"We've always been concerned about where the football program was going to be,'' Dunphy said. "This will be great for the university. But the A-10 has been a great home for us in Philadelphia.''
Dunphy said he hopes the Owls will be in the heart of the race at the end of the season, despite being picked fourth.
The Owls still have a preseason first-team all-conference player, Khalif Wyatt; a preseason third-team member, Scootie Randall; and two key transfers, Dalton Pepper (from West Virginia) and Jake O'Brien (from Boston University).
"We're as deep as we've ever been since I've been here,'' said Dunphy, who moved over from Penn six years ago. "We lost some key veteran players [Ramone Moore and Juan Fernandez], but we think we can be there at the end.''
La Salle was projected to finish seventh, with the return of preseason second-team guard Ramon Galloway and backcourt mate Tyreek Duren. The Explorers return 71 percent of their scoring and 73 percent of rebounding from a team that finished 21-13 (9-7 in A-10) and reached the NIT.
"They're a team with a lot of firepower that can spread you out with a four-guard look,'' Xavier coach Chris Mack said. "They came out in the first conference game last season and handed it to us. They're building a program that there's no question in my mind that they could be one of the teams that fights for the championship.''
Dayton coach Archie Miller thinks the Explorers could be this season's St. Bonaventure, which tied for fourth in the league in 2012 and advanced to the NCAAs after winning the A-10 tournament.
"[La Salle] didn't get enough credit last year," Miller said. "They've got the personnel to be really good. Their guards are really good. They play a difficult style to play against.''
But to win the title, they'll have to beat fellow Big 5 school Saint Joseph's.
Truthfully, the Hawks may not have been picked to win the conference if Saint Louis' Majerus had been healthy enough to coach. Martelli said he picked the Billikens to win it, and he agreed Saint Louis would have been the choice if it weren't for the coaching situation (although the A-10 coaches are all huge fans of SLU interim coach Jim Crews).
"We have an opportunity in front of us,'' Martelli said. "Our execution has to meet a proper championship level in order for us to expect it to be met. We might get the most [NCAA tourney] teams we've ever had in our league's history.''
The Hawks didn't have a preseason first-team all-conference player, but they dominated the second and third teams with guards Langston Galloway and Carl Jones and forwards C.J. Aiken and Halil Kanacevic.
St. Joe's has had patience with Martelli and the program as it went through hiccups in recent years.
"It has gone similar to the way we built our program in the past,'' said Martelli, who is the dean of the A-10 coaches after 17 years with the Hawks. "We can't overreact to a great day or a bad day. I really believe administratively I've always been comfortable and always said this was the place for me. It fits who I was. I'm about building a program, not a team. I've always felt appreciated here.''
So, too, have the Philadelphia schools in the A-10. And they should dominate the discussion in March if the projections hold true.
January, 19, 2012
01/19/12
2:18
PM ET
Saint Joseph's has finally won. It's over. Todd O'Brien won't play college basketball this season for UAB.
O'Brien lost his last waiver appeal to play immediately at UAB after the NCAA sent an email to the Blazers late Wednesday night, when they were playing at Rice. O'Brien's last-ditch effort was snuffed.
O'Brien said he found out when he checked his email in Birmingham before going to bed late Wednesday.
"I don't know why this happened,'' O'Brien said Thursday afternoon. "I'm mad. It's so stupid. It's so petty.''
The Hawks and coach Phil Martelli won here. But they lost mightily in the court of public opinion. The school and Martelli haven't given one reason why they wouldn't endorse a waiver for O'Brien to play immediately. As a result, they've taken a public relations hit that is immeasurable.
Martelli, who is on an NCAA coaching ethics committee, was once one of the most quotable and affable coaches in the country. Now no one calls for his opinion. He's been silent unless he is talking about his team and the upcoming game.
Saint Joseph's spokesperson Marie Wozniak said last week that this was an institutional decision, not a yes or no box that Martelli chose to check. Saint Joseph's athletic director Don DiJulia said last month that there was another side to the story, but couldn't speak on the matter due to privacy laws. Martelli hasn't returned any calls and didn't again on Thursday.
An NCAA spokesperson said after the appeal was initially denied, Saint Joseph's refusal to endorse O'Brien's waiver did have an effect. The waiver rule has been controversial but hasn't had any real denials of late. If a player graduates from one school, he or she can pursue a waiver to play immediately so that they can be in grad school in a major that wasn't at the previous school.
One example was Oregon quarterback Jeremiah Masoli, who was kicked off the Ducks, graduated and was given clearance to play immediately at Ole Miss.
"I didn't get kicked off,'' O'Brien said. "I told Don DiJulia that I wanted to go to grad school. He understood. He was real cool. He said we'll take care of all the paperwork.''
O'Brien, who was a marginal role player for the Hawks and wouldn't count against Saint Joe's APR because he would leave as a graduate in good standing, said he never signed his financial aid for the fall. Yet, he said he was put on the list. He had signed up for summer classes.
"I offered to pay for them,'' O'Brien said. "I think if I would have told him earlier that I was going to leave he would have done something not to let me leave. He said he was going to sue me.''
O'Brien said he doesn't understand why they had renewed his financial aid for the fall. But he said he never signed the fall scholarship paper.
He has been practicing with the Blazers and taking classes in public administration with a focus in community development. He is the equivalent of a redshirt who won't ever play.
"It's unbelievable,'' said UAB coach Mike Davis. "He's a good kid. He's really a good kid. He would start for us. I know a professor here wrote a letter for him. We couldn't believe it was denied.''
Davis said he has never spoken to Martelli about the matter and doesn't plan on doing so.
"Saint Joe's isn't going to budge,'' Davis said. "It's such a shame.''
O'Brien wasn't without sin at Saint Joseph's. He was allegedly involved in a stolen laptop incident last season. O'Brien was disciplined at the time for his role in it. But that would seem to matter little in the denial of a waiver since UAB doesn't compete against Saint Joe's.
"I didn't play much; it wasn't like they needed me,'' said the 7-foot O'Brien, who averaged 7.2 minutes a game in 23 of the team's 33 games last season. O'Brien tallied just 1 point per game to go along with 1.3 rebounds.
O'Brien said he will meet with his attorney, Don Jackson of Montgomery, Ala., and decide if there is another course for legal action. In the interim, Davis said O'Brien will continue to practice and work out. O'Brien said Davis would help him try to play overseas, too, if he can in some form.
Saint Joseph's is 2-3 in the A-10 and 12-7 overall without O'Brien. UAB is 1-3 in Conference USA, 6-11 overall. He may not have made a difference in either team's record. But that's not the point. He never had a chance to make a dent for UAB.
"If they would [endorse the waiver], I could play tomorrow," O'Brien said of Saint Joe's.
But the Hawks won't budge and as a result there are really three losers here: O'Brien's last college season, UAB's depth at center and, of course, the Hawks' and Martelli's public perception in the sport.
It appears the first two can't be retrieved. It may be difficult to change the last one, too.
December, 12, 2011
12/12/11
12:00
PM ET
Phil Martelli had heard the silence when it was his turn to speak on an A-10 conference call. He'd known what it meant, too.
Saint Joseph's was no longer cool. There was no reason to hype this program, and there was practically no reason to pay attention to it -- outside of the alumni and the fans around Hawk Hill.
"We didn't matter,'' Martelli said. "I didn't take it personally. But there were never any questions. I knew what it meant. It meant we didn't matter. There was no buzz at the Fieldhouse. There was no buzz on game day. I felt it.''
The Hawks, who had captured the sport for one season in 2003-04 when they made an Elite Eight run and had a player of the year in Jameer Nelson, had become irrelevant in the years since their run.
"The fall was dramatic,'' Martelli said. "The only description I could give you was it was like an avalanche. It kept hitting us.''
The Hawks followed up their Elite Eight appearance with an NIT runner-up finish in 2004-05 and finished in the second round of the NIT in 2005-06. They missed the postseason in 2006-07 before making a return to the NCAA tournament in 2007-08, losing in the first round. Then came no postseason in 2008-09 and sub .500 records in 2009-10 and 2010-11.
[+] Enlarge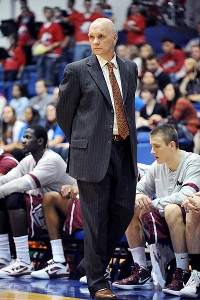 Mitchell Layton/Getty ImagesPhil Martelli is looking to make Saint Joseph's relevant again.
While Saint Joseph's struggled, Xavier and city rival Temple were atop the A-10 standings, and Richmond went through its own renaissance, reaching the NCAA tournament the past two seasons.
"I felt badly that the players weren't experiencing what Saint Joe's basketball is all about, what it was built on,'' Martelli said. "I was hurting for my players, for my assistant coaches and for my secretary and for my family. We weren't even getting a beat reporter covering our games, just a stringer.''
The season is still in its toddler stage, but the Hawks (7-3) are starting to click and return to relevance. Saint Joseph's beat No. 17 Creighton 80-71 on Saturday. But the win came at home, which prompted Martelli to downplay the victory because the Hawks are a "very good home team" in their refurbished home court. They lost to a decent Seton Hall team in Charleston, fell at Iona in double overtime and lost at American.
Now, struggling Villanova (5-4), which had easily surpassed Saint Joe's since its memorable 2004 season, will visit Hawk Hill's Hagan Arena on Saturday for the first time in Martelli's Hawks tenure.
"We had caught Villanova and Temple, and then we fell back,'' Martelli said. "Villanova was always going to be league affiliation [with the Big East]. … That was always going to be a fluid situation. so it was going to be hard to sustain that [success for Saint Joe's].''
Martelli said Jay Wright's coaching and persona at Nova and Fran Dunphy's coaching style at Temple made for some tough competition in the area. "I acknowledge that it was going to be tough in Philadelphia with those two,'' Martelli said.
Saint Joseph's, though, has to take chances with its schedule that Nova does not. For the first time in seven seasons, Martelli had confidence at the start of the season that this team could be relevant and competitive in the league. The Hawks may not be able to overtake Xavier or Saint Louis but should be in contention with Temple for a third-place finish, if the Owls are even in contention for the third spot.
"For this team, this schedule has the proper amount of challenges,'' Martelli said. "That's the one thing that had to change. Who in their right mind would go to Iona this year or go to Harvard [Dec. 31]? And the decision to bring Villanova to campus for the first time in history wasn't easy to come about.
"My word has always been that the Philly games [Big Five] should be played at the Palestra. But for this team and this program at this time, I thought we should [host]. I don't know if this is a fact or not, but we have five straight home games [wins over BU and Creighton with visits from Villanova, Coppin State and Morgan State on tap]. I don't think I ever remember a stretch like that. We spent hours and hours scheduling for this team and wanted to get these fans re-engaged.''
The Hawks have talent, not at the level of Nelson and Delonte West, but they have players more than capable of competing at a higher level in the conference. Just watch the the dunk by Ronald Roberts Jr. against Creighton. Carl Jones, Langston Galloway and C.J. Aiken can score and get this team in contention for a top-four finish in the A-10.
"I'm watching these guys have so much fun,'' Martelli said. "They're building it. They're not rebuilding. They're building their own niche and their own Saint Joe's history.''
August, 24, 2009
08/24/09
12:15
PM ET
The 1985 Final Four banner that Memphis earned is down for the summer.
The plan, as is the case every year, is to put it back up at FedExForum in the fall.
[+] Enlarge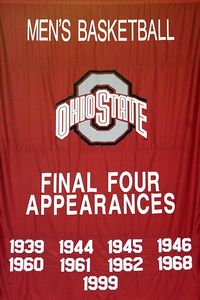 AP Photo/Terry GilliamOhio State was forced to vacate its 1999 Final Four run.
Memphis officials say the NCAA's ruling against the Tigers in 1985, in which then-Memphis State was accused of several NCAA violations, never forbade the school from hanging the Final Four banner it earned that season. But last week's ruling that required the Tigers to vacate their 2008 Final Four appearance and wins from that season is much more specific.
If the Tigers lose the appeal they vow to file, all references on stationery and signage relating to the event will have to be removed. The record books will have to be aligned to reflect that the Tigers' 38 wins, including five in the NCAA tournament, are no longer valid.
For the NCAA's part, it can't redo its cover for the 2009 Men's Final Four Records Book. That edition features former Memphis coach John Calipari and former Tigers players Derrick Rose -- who was found to be ineligible -- and Chris Douglas-Roberts among the nine photos. And you can visit the NCAA's site and buy for the low, low price of $24.99 a DVD of your favorite Memphis 2008 tournament game. You know, one of those that never happened.
Since the 1980s, in an effort to put more teeth into its enforcement, the NCAA has tried to enforce its signage ban for the guilty schools -- to varying degrees of effect. UMass officials say the Final Four banner and trophy recognizing its 1996 NCAA tournament team, coached by Calipari, are on display at the Mullens Center. UMass proudly hangs its Final Four banner and treats the event as if it happened -- and in reality it did, although not according to the NCAA, which forced the school to vacate its wins from that season. Two Big Ten schools that had Final Fours vacated have taken more drastic approaches to the rule. Michigan's 1992 and '93 Final Four banners were taken down at Crisler Arena and are now in storage at the school's Bentley Historical Library, according to Michigan officials. The records from the Fab Five teams have been removed from the Michigan record books, although the Michigan sports information staff continues to keep two record books -- one with the totals from those two seasons and one without. When Ohio State went to the 2006 Final Four, there was no mention of its 1999 Final Four appearance in any of the school's promotional literature. The 1999 Final Four banner hung in the main bowl of Value City Arena for the 1999-2000 season before it was moved to the Buckeyes' practice facility for the 2000-01 season. The banner was taken down after a graphics project incorporated the Buckeyes' overall success, rather than just banners. The banner was donated to a charity after the 2001 season.
According to Ohio State, all references to the 1999 Final Four team as well as the records from 1999 to 2002 -- the seasons for which the Buckeyes were penalized for using an ineligible player -- were removed from the school's media guides.
UCLA had an easy solution when it came to dealing with its vacated 1980 Final Four team: ignore it. Why? The Bruins hang only championship banners at Pauley Pavilion. UCLA officials say they have never been forced to change the record books.
Other Final Four teams that have had their appearances vacated were Minnesota (1997), Saint Joseph's (1961), Villanova (1971) and Western Kentucky (1971).
What would have happened to the national title had Kansas' Mario Chalmers missed the game-tying 3-pointer that sent the game into overtime, and Memphis had won? The banner still wouldn't be in Lawrence.
According to the NCAA, if Memphis had won the game and the committee on infractions forced the school to vacate the title, there would have been no official champion for 2008. The records book would have listed Memphis' defeating Kansas with an asterisk noting that the Tigers' participation in the 2008 championship was later vacated by the COI. There would be no acknowledgment that Kansas had won the title. The precedent for this occurred in men's lacrosse in 1990, when Syracuse won the national title but later had to vacate it because it used an ineligible player. Syracuse says it has 11 national championships, but the NCAA recognizes only 10. The runner-up in 1990 -- Loyola of Maryland -- was not given the title. • Conference USA isn't making any statements on the decision to vacate Memphis' Final Four appearance until the Tigers' appeal is heard. This is a tough spot for C-USA commissioner Britton Banowsky. He is on the committee on infractions but had to recuse himself from the entire Memphis case. • More than 28,000 people responded to our
poll within last week's Daily Word
on who should lead the list for the 2010 national player of the year race. The top vote-getter was Kentucky junior forward
Patrick Patterson
, who certainly could make a run at the award. In second place was his new teammate, incoming freshman guard
John Wall
.
Kansas' duo of forward Cole Aldrich and guard Sherron Collins were third and fourth, respectively, with Notre Dame senior forward Luke Harangody rounding out the top five.
Michigan State junior guard Kalin Lucas was a close sixth. What does this tell us? That the race is wide-open, and Kentucky and Kansas fans might be the most passionate in voting for their respective players. It's unlikely that KU and UK would have four of the five All-Americans, but they do have four legitimate candidates. The possibility exists for the second straight season that the player of the year could be the top pick in the NBA draft (Wall).
• There was one glaring omission on the Wooden Award list and on
my ballot
. His name is
James Anderson
of Oklahoma State. Mike Noteware, Oklahoma State's sports information director, provided plenty of stats to back up criticism of Anderson's omission, which should be viewed as a poor oversight.
Anderson ranked in the top five in four different statistical categories in the Big 12. He is the third-leading returning scorer behind Iowa State's Craig Brackins and Kansas' Collins, and only he and Aldrich ranked in the top five in field goal percentage last season. Among Big 12 returnees, Anderson ranked fourth in scoring, fifth in field goal percentage, fifth in 3-point percentage, fifth in free throw percentage and 15th in rebounding.
Anderson also was on the World University Games squad that won the bronze medal in Serbia. He outscored Brackins, Mississippi State's Jarvis Varnado, Ohio State's Evan Turner and Clemson's Trevor Booker. Oklahoma State coach Travis Ford expressed his dismay with Anderson's absence from the list. All points are valid, and going forward, Anderson will be included on the Wooden watch list.
• The combination of NBA voters' likely not being enamored with Rick Pitino's or John Calipari's time in the league, as well as the events of the past two weeks, likely means that neither will get into the Basketball Hall of Fame in Springfield, Mass. This is merely a prediction. Past entrants are hardly without a transgression, but the criteria might get tougher in the years to come for all these types of museums. The scrutiny placed on potential entrants is higher than it has ever been because the 24-hour news cycle constantly churns out information. • Before clearing
Renardo Sidney
to play at Mississippi State, the NCAA is asking for the financial records of his family in its attempt to prove how it was able to afford lodging in the Fairfax High district in Los Angeles. But does the NCAA do this in different cases? Did it ask for Reggie Rose's financial records to see how Derrick's older brother would pay for the flights and lodging on Memphis' trips? Just curious as to whether the NCAA is consistent in this manner.